Here we share our redwood deck resource including how this material is used for decking, designs, different grades of redwood, types, pros and cons, sizes, cost, and wood staining tips.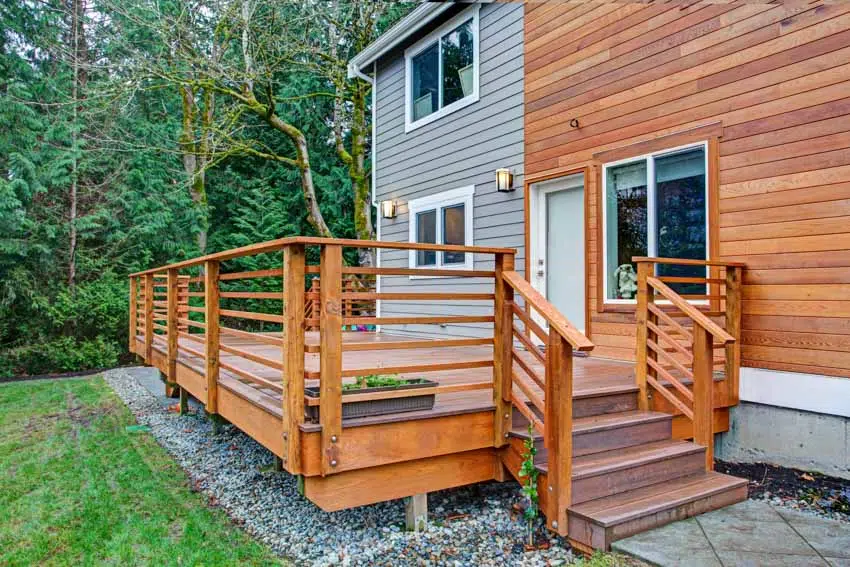 Because of its superb appearance and eco-friendliness, redwood, a classic building material, is making a comeback as a premium option for decking. In contrast to widespread assumption, when compared to other forms of composite decking, redwood can be an extremely ecologically friendly construction material.
The only key to keeping your redwood deck eco-friendly is to use redwood obtained from old-growth trees, which lived for 30 to 50 years old from responsibly managed and replenished forests.
However, is redwood a really great decking material? What are the types of redwood decking? We will go over these questions and you will see the necessary information about redwood deck designs.
Why Use Redwood as a Decking Material
In practically every way, redwood is an exceptional deck material. It is exceptionally sturdy and straight, and its heartwood is inherently impervious to wood-penetrating pests and weathering without the application of chemical treatments. It gets its name from its fragrant, rustic reddish brown heartwood.
If left untreated, redwood will first turn black and then gradually turn silvery gray. Because of its excellent stability, it is less inclined to cup and warp than treated wood. It is valued for its low shrinkage tendency, which reduces splitting.
The wonder wood, Redwoods have long been esteemed not just for their majesty and beauty, but also for their utility. – Best Short Hikes in Redwood National and State Parks, Gisela Rohde and Jerry Rohde
Redwood tightens and reacts well to machines. However, it is somehow brittle. Hence, you have to pre-drill holes at the extremities of boards to avoid breaking. Nonetheless, its milled or sanded surfaces are easily painted or stained. It is advised to employ a protective finish that contains a water repellant, mildewcide, and UV inhibitor.
Under ideal conditions, a well-maintained redwood deck can last up to 30 years. In fact, the best decking material for preventing fires is redwood. This decking material is generally accessible in a variety of sizes and grades, although it is quite scarce elsewhere.
Because of these qualities, redwood has traditionally been the most favored deck material. Its use as structural cladding is recognized for reducing the massive fire in San Francisco after the 1906 earthquake.
Unfortunately, due to scarcity and environmental reasons, it is currently less common and frequently the most pricey option. Furthermore, second-growth trees do not perform quite as strongly as the old-growth trees that built redwood's exceptional reputation since they lack the same degrees of decay resistance.
Grades of Redwood for Decking
The redwood grading system is determined by the measurable percentage of wood boards that are clear, of high quality and free of defects.
Con Heart (Construction Heart)
Con Heart redwood deck comes from the center of the log, commonly termed the "heartwood." Its color is more consistent and has less noticeable knots than common redwood decks.
Moreover, Con Heart is typically more impervious to pests and decay, particularly in its early years. This implies that it may come into direct contact with the ground. Redwood Con Heart is slightly pricey due to its greater quality and endurance.
This grade is substantially more expensive, but it is a fantastic choice for anyone who wants their fencing to look smooth and consistent. It is advised that you have an annual sealant for both Con Heart to keep the deck in decent condition. This is usually done two to three weeks after the deck is built.
A construction heart looks and functions similarly to a deck heart; however, it is not graded for strength. It is an outstanding heartwood grade that is recommended for a variety of applications around the house, garden, and in general construction. This redwood decking grade contains a limited quantity of knots as well as certain flaws.
Furthermore, the construction heart might be smooth or rough, seasoned or unseasoned. Decks, posts, retaining walls, fences, and garden constructions can all benefit from it.
Deck Heart
Deck heart is an all-heartwood grade with varying-sized knots and other minor flaws. It is also available seasoned or unseasoned. This extremely valuable grade is offered in surfaced or rough form. A Deck heart looks and functions similarly to a construction heart, but it is also assessed for strength.
Furthermore, the deck heart is only obtainable in 2 x 4 as well as 2 x 6. Deck heart can be used for decks, fencing, posts, retaining walls, garden constructions, stairs, and other types of outdoor structures that are on or near the soil.
Select Heart
This redwood decking grade is a step lower than clear heart and has fewer knots. This grade is a fantastic value, allowing for knots up to 2-inch diameter on a 6-inch wide section, and bigger knots in wider face widths. Every knot should be tight and evenly spaced. Some pieces of Select Heart redwood might have edge sapwood.
For lengths up to 14 feet, Super Select heart grade allows two knots up to 1.5-inch diameter on a 6-inch wide piece, and three knots for lengths 16 to 20 feet. Super Select wood that is 4 inches and thicker might have more knots, but all should be tight and sturdy. Certain pieces may contain edge sapwood as well.
Clear Heart
Clear Heart redwood is the ultimate architectural heartwood grade. It is normally guaranteed kiln-dried, although it is also obtainable unseasoned, well-manufactured, and defect-free on at least one surface.
It is available surfaced or saw-textured as well. This is a high-quality grade with knot-free surfaces. Its applications include the different types of house siding, paneling, cabinetry, millwork, and outdoor constructions.
There are no grading flaws in the Clear Heart grade. This is a high-quality finish grade that is on par with Heart Clear in terms of overall quality. The main distinction between the two classes is that Clear Heart contains sapwood.
Clear redwood is also used for trim, molding, fascia, and soffits. Quality decking, garden buildings, and other above-ground applications are also included in its uses.
Types Of Redwood Deck
Here's some of the most popular redwood varieties available for building decks.
California Redwood
California Redwoods are named after the color of their bark and heartwood. Because of the considerable tannin composition of the wood, the trees are extremely resistant to fungus diseases and insect attacks.
The dense, fibrous bark contains an even greater tannin composition and protects the trees from the natural fires that have happened in the redwood region throughout the years.
California Redwood is an inherently strong and long-lasting decking material valued for its rich reddish-brown hues and tones. California Redwood decking's warm chromatic range establishes a statement and offers a dramatic impact that very few construction materials can accomplish without the use of a deep stain. This high-performance softwood does not check, shrink, or warp readily.
California Redwood is instinctually insect- and rot-resistant as well as warp- and split-resistant. California redwood decking can endure up to 15 to 20 years with appropriate maintenance.
In addition, California Redwood's distinctive color can be preserved at any step of the maturation process by merely adding a sealer, or it can be left to age gradually to a silvery patina.
Sealants, paints, and other finishes are not necessary to finish a Redwood construction, which is resistant to UV rays and will retain its stunning colorful appearance for generations.
California Redwood decking is very lightweight, uncomplicated to cut, drill, and hence a very simple material to handle. Furthermore, the National Fire Protection Association has classified this redwood decking as Class B fire-resistant.
Lastly, California Redwood remains pleasant underfoot even in scorching temperatures. Redwood is typically less expensive per square foot than tropical hardwoods. It is also far lighter in weight than tropical hardwoods and composites, and it is also easier to work with.
Despite its low weight, California Redwood is resistant to the elements and robust enough to provide a strong, secure, and, of course, an attractive platform that stays cool beneath your feet.
African Redwood
African Redwood, or Mukulungu, has excellent working characteristics, making it perfect for platforms, siding, as well as other outdoor uses. Because of its endurance, rich color, and exquisite texture, African Redwood is an exotic hardwood that is perfect for commercial or residential projects such as decking.
It is also a terrific buy, with prices cheaper than both composites and equivalent exotic hardwoods like Ipe. This type of redwood's most enticing feature, aside from its inexpensive cost and beauty, is that it is an organic product.
There are no chemicals or preservation treatments required for African Redwood. Because of its inherent toughness, it is exceptionally durable, long-lasting, and immune to termites, fungi, or even dry wood insect infestation.
Similar to other hardwood decking materials, there are several best practices for using African Redwood. As with any construction, you must always consult with local building codes and an architect before beginning construction.
Indeed, you must ensure that the ground is sufficiently sloped to minimize standing water. You can pre-drill holes for attaching hardwood deck planks and provide for cross-ventilation beneath the deck.
Furthermore, you must be mindful of the distinctive qualities of the wood. African redwood is lightweight and easy to sand, level, and polish, but it can be too thick to glue or nail. Because of its exceptional hardness, sawing and machining necessitate powerful blades.
Brazilian Redwood
Brazilian Redwood, commonly referred to as Massaranduba, is a stunning and tough hardwood whose toughness makes it a popular option for decking and also flooring. The heartwood's natural splendor ranges from light to deep brownish-red, with patterns that can be linear, slightly wavy, or interlaced.
Additionally, Brazilian Redwood is typically extremely easy to care for, and its amazing durability assures that it will withstand impacts in the short term along with decay in the long term. Massaranduba Hardwood Decking, which is extremely hard and inherently long-lasting, has been utilized as a reliable outdoor decking material in North America and Europe for many decades.
Reclaimed Redwood
Reclaimed redwood is frequently sourced from huge timbers used in ancient bridges or other large architectural projects. These massive heartland timbers can only be obtained as salvaged lumber and cannot be replicated by today's young-growth woods.
Reclaimed redwood decks, predominantly old growth, are obtainable with or without knots. They can also be cut in half to make a one-of-a-kind, primitive siding material. See our gallery of wood deck ideas here.

Redwood Deck Pros And Cons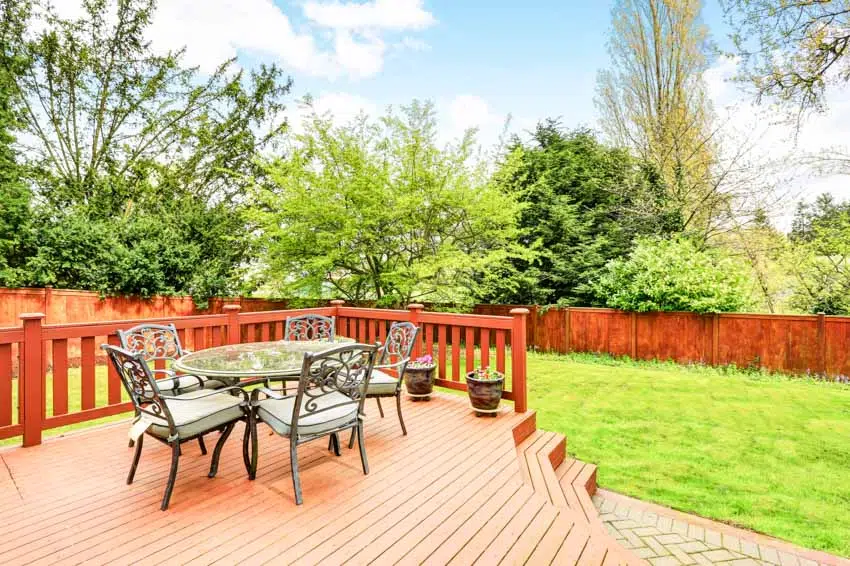 Pros of Redwood Decks
• Naturally insect resistant – Redwood has natural insect and rot resistance. Even on scorching summer days, it withstands warping, extreme heat, and cracking. It is pleasant to walk barefoot.
• Environmentally friendly – As per the California Redwood Association (CRA), redwood is produced and harvested in line with the world's best environmental standards, capturing the sun's vitality and basking in the legendary North Coast fog.
Approximately 90% of all product-producing redwood trees are recognized as ecologically responsible building materials by the Forest Stewardship Council and the Sustainable Forestry Initiative. Furthermore, redwood requires 97% less energy to produce than plastic.
Redwoods are excellent in decreasing carbon emissions. The trees collect carbon dioxide from the environment as they develop, storing it in the wood and emitting oxygen into the environment.
When the trees are taken, the carbon they have absorbed is retained: a typical redwood deck has 500 pounds of carbon. Using redwood as a building material can help homeowners lower their carbon adverse effects.
• Sustainable material – Bark, sawdust, and scraps are gathered and utilized to generate biomass energy when redwood lumber is turned into the decking and other items. You will not be disappointed with a redwood deck when it comes to sustainability.
• Long lasting – Under ideal conditions, a well-maintained redwood deck can last up to 30 years. It is also a 23% harder wood than cedar which is another popular deck material.

• Termite resistant – Redwood naturally carries oils or tannins in the wood that termites dislike, thus they avoid it. Near to the core of the tree, the heartwood, the wood is more packed with tannins.
• Resistant to moisture – Redwood is naturally moisture resistant and doesn't rot making it an ideal choice for decking.
• Beautiful deck material – The natural look of redwood is very attractive with its rich colors and deep natural wood grain.

Cons of Redwood Decks
• Uneven wear – Because tannins are not consistently distributed across all redwood, its decay resistance varies. As a corollary, before installing redwood deck boards, you must always stain or finish all sides.
• May have staining around metal areas – The tannins in redwood react negatively with metal, discoloring the wood. It is not harmful to the wood, but it does affect its appearance. When working with metal on fresh, unsealed redwood, you must use extreme caution.
• Can be susceptible to dents – Even with regular usage, redwood's delicate nature would be prone to dents and dings. If dents and dings concern you, redwood boards might not be a great pick for decking.
• Expensive – Obtaining redwood for decking boards necessitates the logging of sequoia trees, which are now rare species. Redwood is, therefore, more expensive than other decking materials.
Deck Sizes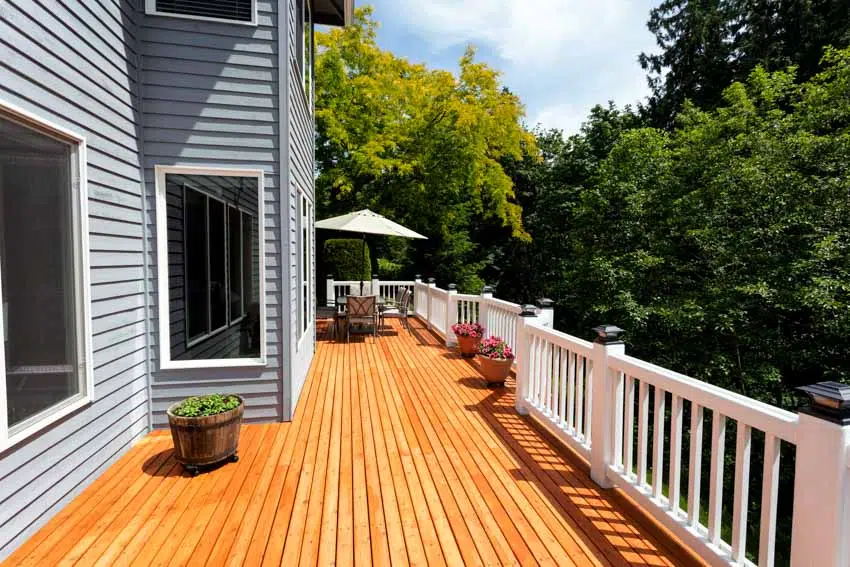 2 x 4 and 2 x 6 lumber are widely available in a variety of grades ranging from Construction Heart to Clear Heart, with numerous grades in between.
Moreover, 2 x 8, 2 x 10, and 2 x 12 are used for deck skirting, while 2 x 2 is readily accessible to build a lovely Redwood railing.
To determine the optimum deck size and grade fit for your application, you must consider the style you want, your budget, as well as the area where the deck will be constructed. See our guide to deck sizes on this page.

Cost of Decking Using Redwood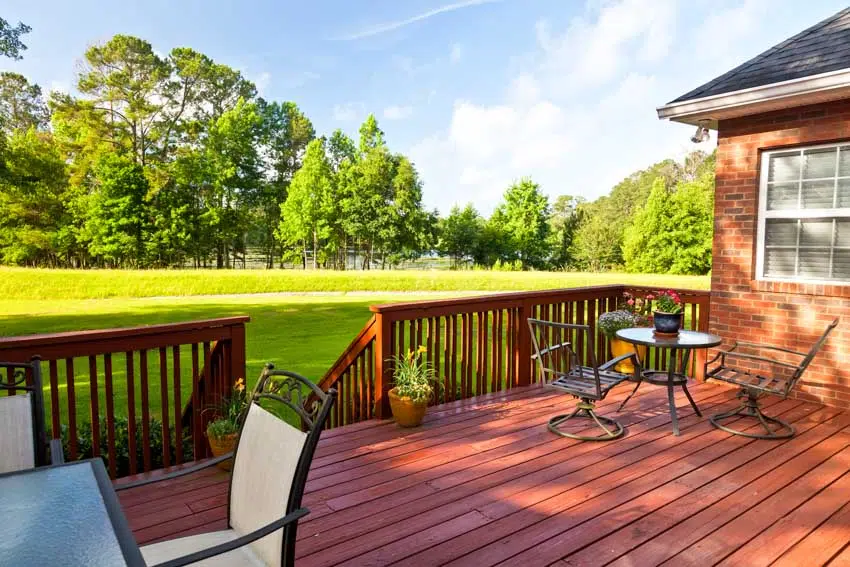 Redwood costs vary depending on deck sizes, types, and grades, but supplies alone cost $5 to $35 per square foot. You can anticipate paying around $500 to $3,500 for materials needed to install a 100-square-foot deck.
Redwood is a high-quality lumber type in terms of color, durability, and price. The amount you spend is also affected by whether you utilize sapwood or heartwood.
Consider paying $25 to $40 per square foot to install a redwood deck, with labor costs ranging from $15 to $35 per square foot. The cost of installing the deck will vary based on the grade of lumber used, the complexity of the project, as well as the contractor's licensing level.
To sum it up, a 320-square-foot redwood deck will cost around $10,000 to $24,000, or an average of $17,000, which includes deck supplies, labor, and sealer.
Types of Deck Stains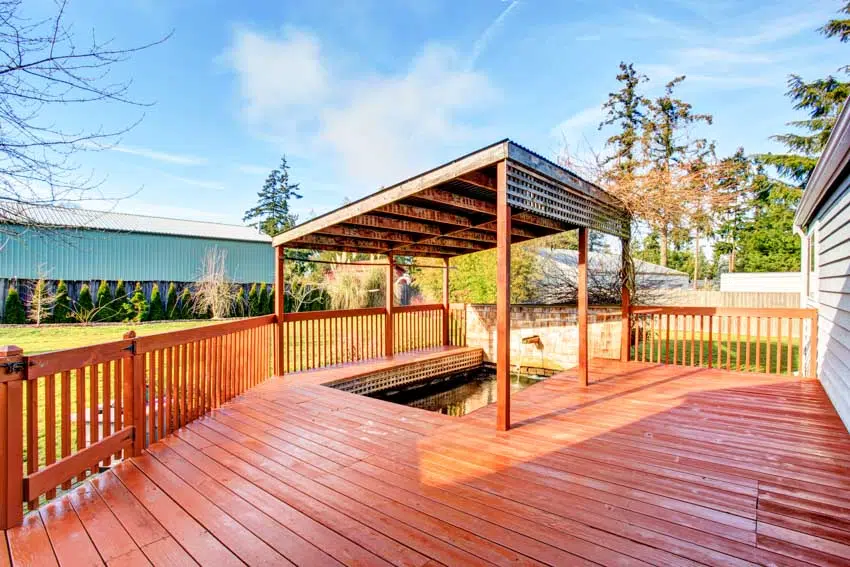 When looking for deck stains for any wood job, you will most likely be bewildered by the enormous number of options. Choosing the best stain for your redwood deck is contingent on several factors. When looking for the best redwood stain, keep the following factors in mind.
Redwood stains are normally classified into two types based on their base component: oil-based stains and acrylic-based stains.
Oil-based stains have the following benefits:
• Easily penetrates into wood fibers
• Simple to use
• Longer dry times make it more accommodating – it will not be leaving lap marks.
• Restores some of the natural oils or tannins in the wood to minimize warping and cracking.
Acrylic stains are water-based and offer various benefits, which include:
• Fast drying times of one to two hours
• They contain fewer VOCs (Volatile Organic Compounds), making them safer to use.
• Cleanup can be simply done with soap and water.
• Coats can last much longer and require less maintenance
Deck Stain Colors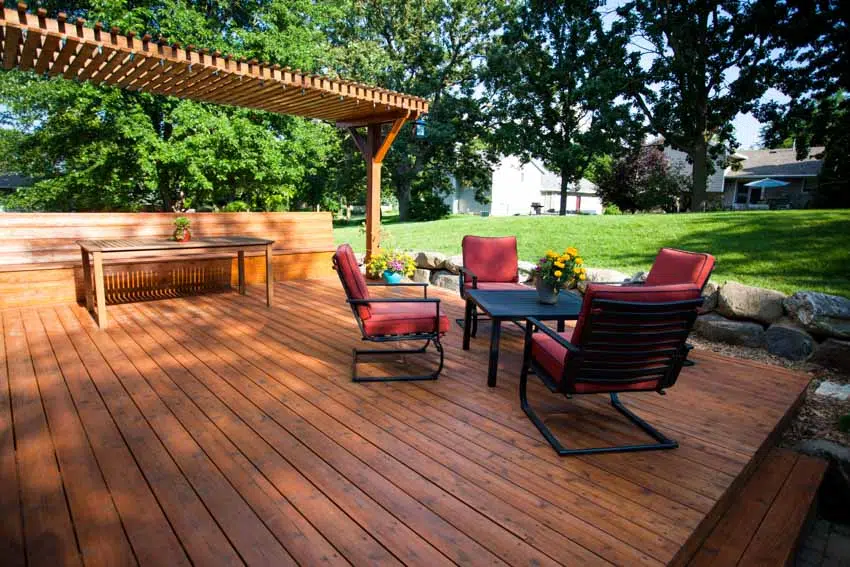 Here are the most widely available stain colors you can use for your redwood decking:
• Brown
• Tan
• Barn Red
• Brickstone
• Tile Red
• Badlands Red
• Napa Wine
• Royal Garnet
• Sunlit Copper
Best Stain For Decks Made of Redwood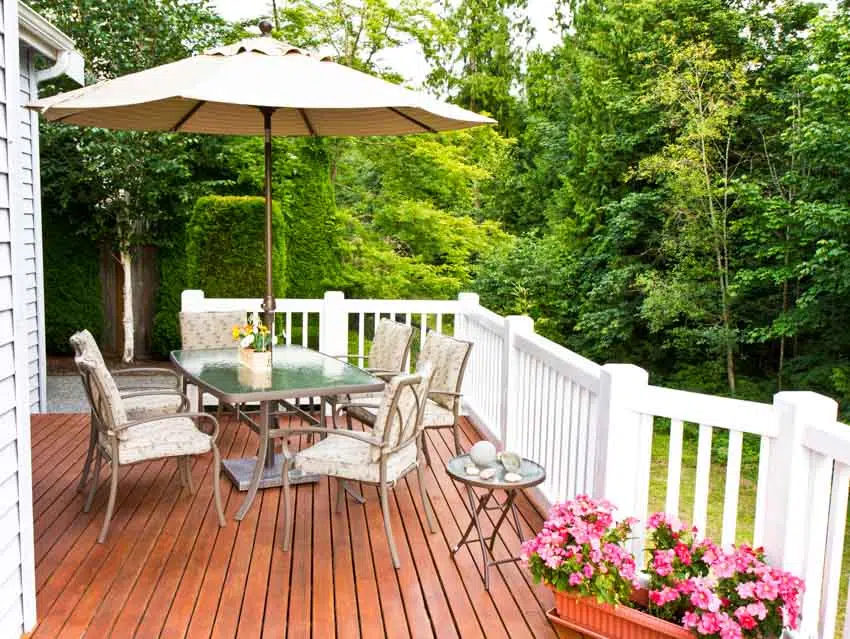 To bring out the underlying richness of redwood, we usually suggest transparent or semi-transparent staining products.
You should also take into account a complementary color that matches the natural redwood tones. Avoid darker colors that provide more opaque and uniform shadows.
Additionally, a water-based, penetrating wood stain will typically last the longest because it gets deep inside the pores of the wood. You can read more about how deck stain compares to paint on this page.

Can You Paint Redwood Surfaces?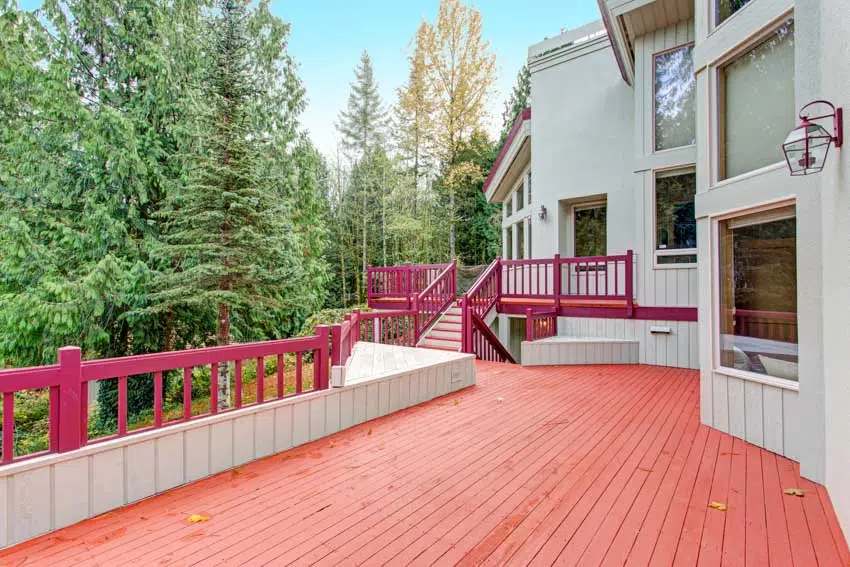 Redwood can be painted if the right preparation procedures are followed. Unless it receives a priming base coating, bare redwood resists painted finishes. Depending on the location and use of the redwood surface, you can use a suitable primer and paint.
Paint, on the other hand, will not stick to unclean redwood surfaces. Before painting, you should use a sticky tack cloth to wipe off inner redwood surfaces. Using a power washer, rinse the outer side of the redwood. Those who skip this critical stage should expect adhesion issues.
When the redwood is clean, it will absorb the primer base coat more effectively. For internal redwood surfaces that are not exposed to harsh conditions, a conventional latex primer would be enough. For external redwood that is subjected to temperature fluctuations, an acrylic latex primer would be recommended.
Interior redwood surfaces can be painted using semi-gloss and glossy latex paints. They will not, nevertheless, withstand strong weather and friction-based pressure on redwood. Pick an acrylic latex paint for exterior redwood surfaces as well as an acrylic deck paint for underfoot redwood.
Redwood Refinishing for Decks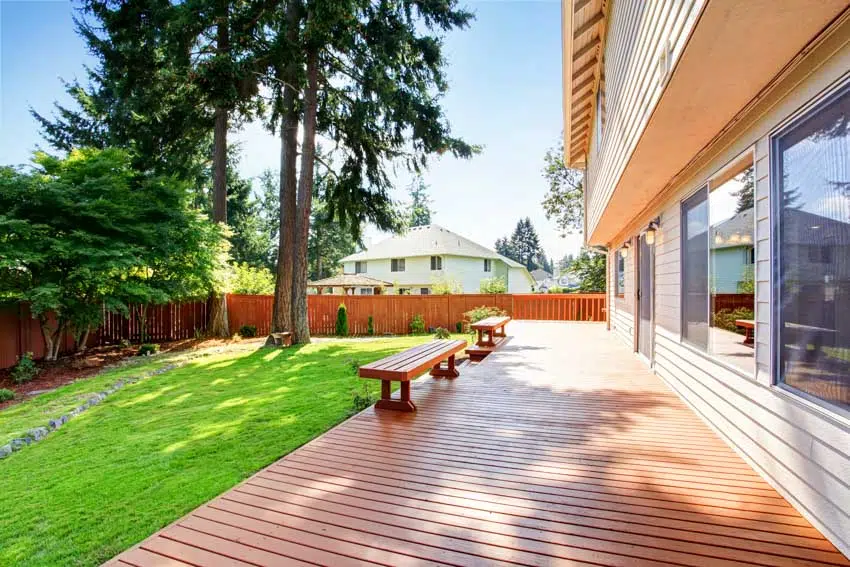 We propose making a basic experiment to consider during the process to determine exactly how the deck will strip and refinish. It would be a smart idea to sand out a section of a deck board and apply finish samples to get a concept of the eventual result. This allows you to choose and acquire the preferred finish so that it may be applied immediately after the deck has been sanded.
• Professionals with a successful track history in chemically stripping redwood decks should utilize a power washer and stripping chemicals. For the purposes of this study, it is sufficient to establish that chemical stripping consists of two steps – stripping and neutralizing.
• The basic procedure is a rather drastic chemical reaction in which the damaged coating is removed from the redwood surface as well as the wood's pH equilibrium is regained during the neutralizing step.
• At this stage, stripping film coatings takes time. It necessitates numerous chemical passes and re-applications as well as extensive rinsing with clean water.
• Allow for a day or two of suitable drying weather before continuing. Early sanding of softwood that is still moist can quickly break up the grain. The most practical technique would be to use an upright floor sander. If this is not a possibility, powerful electric hand sanders can be used.
• We recommend penetrating oil treatments on softer wood species to let the depth of the wood grain shine out. Trans-Oxide pigment mixes that are clear or mildly pigmented would be an excellent choice. Always follow the manufacturer's instructions before applying a finish.
Deck Maintenance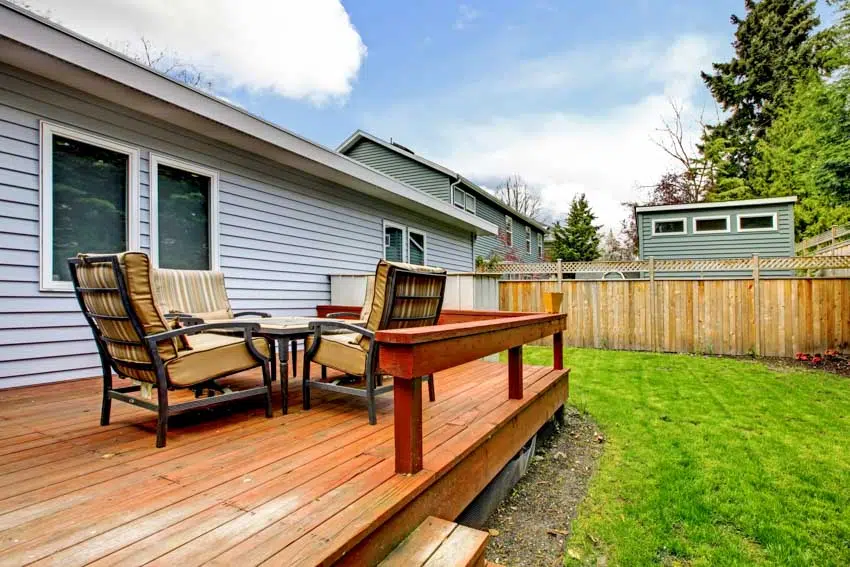 Here are some steps on maintaining a redwood deck:
• Your deck should be pressure washed rather than sanded.
• Every 2 years, clean and seal your deck with a preservative.
• Eliminate any mildew by properly power washing.
• Use a pressure washer with a minimum of 1,500 psi.
• To avoid a rippling effect, use the fan setting on the nozzle and keep it running.
• For extremely dirty redwood decks, use a chemical deck cleaning.
• Seal or stain the surface.
How Long Does a Deck Made from Redwood Last?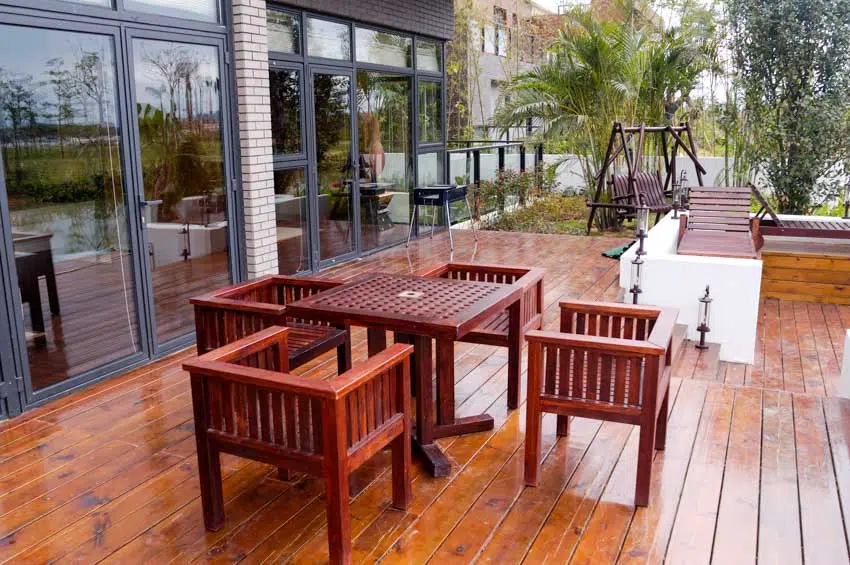 Redwood decks generally last approximately 30 years. Nevertheless, if homeowners disregard periodic maintenance, refinishing, and sealing, redwood can darken and become more silver-grey than reddish-brown, and its lifespan might be reduced.
​​Do you have any experiences using a redwood deck for your home. Let us know what you think about this type of wood in the comments below. See more related content in our article about Douglas Fir decking on this page.