Here's our guide to PVC vs composite decking including their pros and cons, cost differences, warranty and which deck types are best.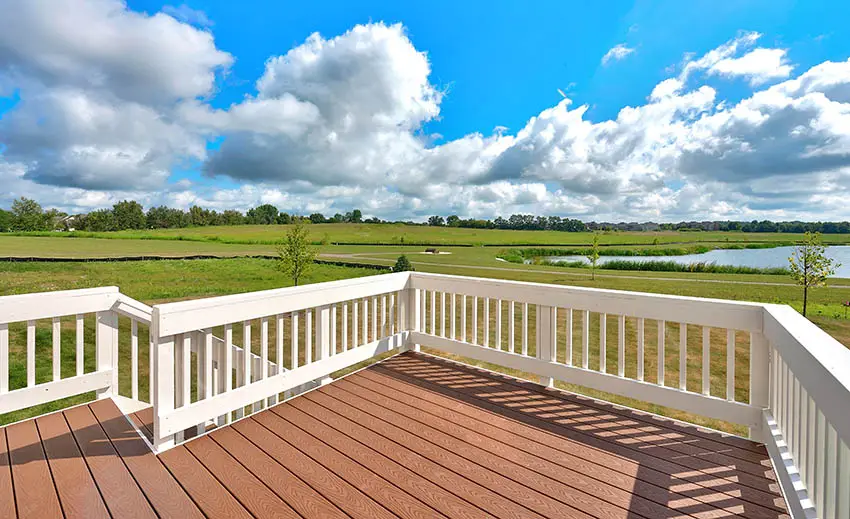 A deck, with its sturdy railing and meticulously placed posts, provides a great place to visit with family and friends, have a barbecue, and enjoy your morning coffee. Traditionally, decks were made with wood and stained with a high-quality oil stain, which was further embellished with well-designed caps at the top of each post for aesthetic appeal.
However, composite and PVC, both alternatives to wood, are fast outselling wood when homeowners choose to install a deck in their yard or the front of their house. These synthetic materials are forecast by researchers to represent 40% of the total value of decking sold in years to come.
PVC and composite decking materials have a long lifespan and are low maintenance, long-lasting. Both materials stand up well to rigorous environmental conditions: the hot sun, frigid winters, and severe weather, providing excellent protection to the overall structure.
No two decks are alike, and the materials a homeowner chooses are based on the look, design, functionality, and certainly, the budget they have for their deck.
PVC and composite decking are very similar, yet have several differences. For instance, while all decks require periodic sealing for long-term protection, the sealing frequency majorly differs between these material types.
This guide explains what PVC and composite decking is made from, the type of maintenance required, durability, the pros and cons, and the cost to help you make the best choice for your outdoor deck project.
Whether you are choosing the materials for the deck boards, railings, posts, or the caps, each decision will influence your deck's longevity and aesthetic appeal.
What are PVC Deck Boards?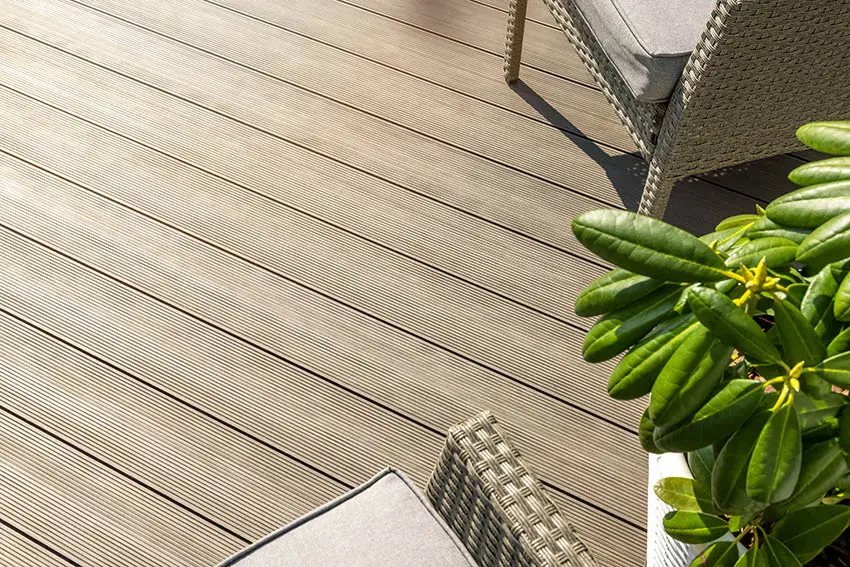 PVC is short for polyvinyl chloride, a common plastic used worldwide to manufacture products such as packaging, building materials, window frames, and decking. PVC decking is not the same as vinyl decking. There are significant differences between the two.
PVC deck boards are manufactured with materials that include high-strength plastic. Vinyl cannot be made into deck boards. Instead, it's used to create a rolled-out material used for weatherproofing an existing deck.
PVC deck boards contain plastic and synthetic materials only. They won't promote mold growth and are moisture resistant. And because they're not made with any organic materials, PVC deck boards resist insect infestation and damages. For eco-friendly options, PVC deck boards are often made from recycled plastic.
PVC deck boards are slip-resistant, do not easily dent, and are flame resistant. They make a superior product for decks with a lot of foot traffic and use. Because of their water-resistant qualities, they are appropriate for decking in areas near bodies of water or around a pool.
PVC Decking Pros and Cons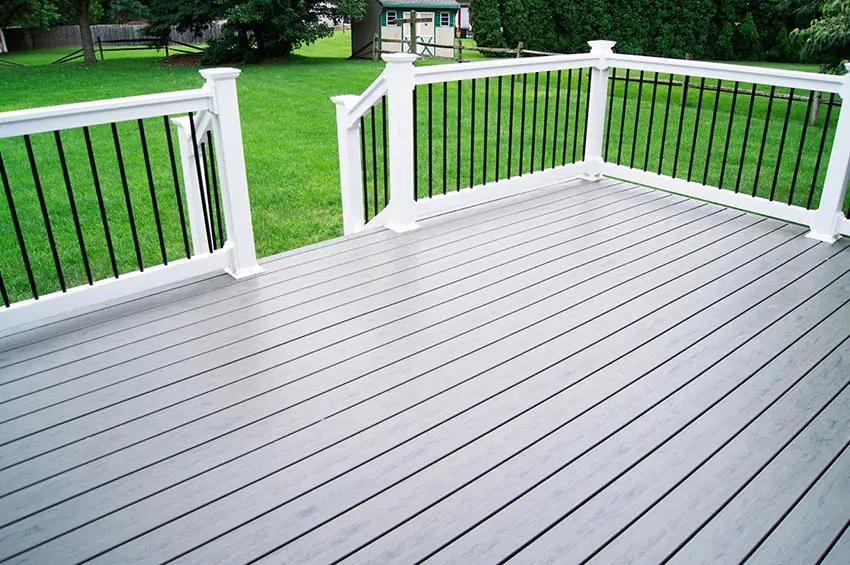 PVC decking includes pros and cons that are essential to consider when choosing the material for your deck project. The location of the deck and the amount of use it gets affects the decision to choose one material over the other.
Pros
Water and mold resistant
Insect infestation resistant
Resistant to color fading
No painting or staining needed
Lightweight yet durable
Often manufactured from recycled materials
Cons
Some materials such as rubber may cause discoloring when used on the deck
Does not look as much like natural wood as a composite deck does
What is Composite Decking?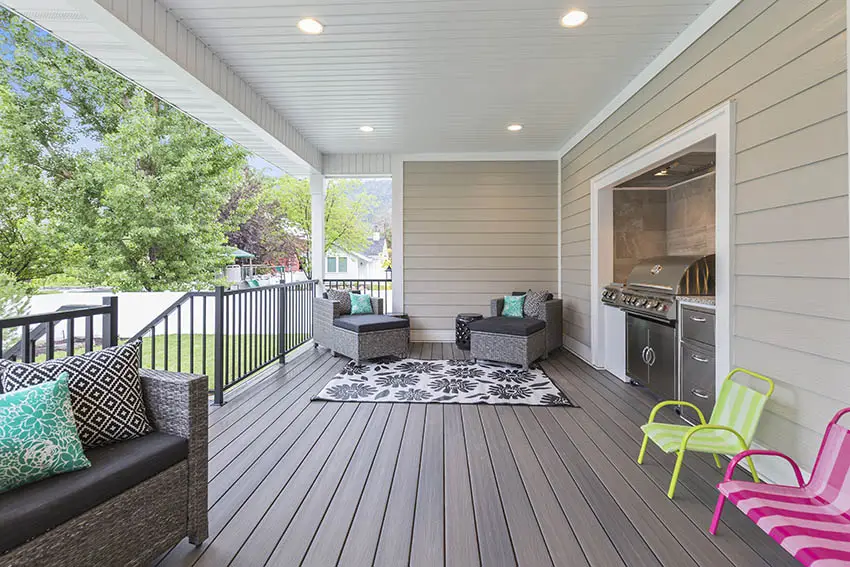 Composite decking is made by mixing plastics and wood fibers and then molding the material into boards. The reason manufacturers mix the two materials is to provide a stronger product by adding wood fiber and using plastic to protect the wood from moisture.
Brands of composite decking may contain some recycled materials. The original inventors of composite materials designed them for window and door frames.
If composite decking manufacturers do not use the proper mixture of wood fiber and plastic, the boards may absorb moisture, causing cracking, warping, or rotting. Composite decking looks more like natural wood than PVC decking and comes at a higher cost.
Composite Decking Pros and Cons
Here's the pros and cons of composite decking to see how it compares against PVC deck material.
Pros
Long lasting & durable
Looks more natural compared to PVC decking
Wide range of colors available
Less maintenance compared to wood
Can be constructed using recycled materials
Cons
Composite is more expensive then wood
Not fully maintenance free
Needs to be built on a treated lumber frame
Colors (Especially darker) may fade over time
PVC vs Composite Decking Cost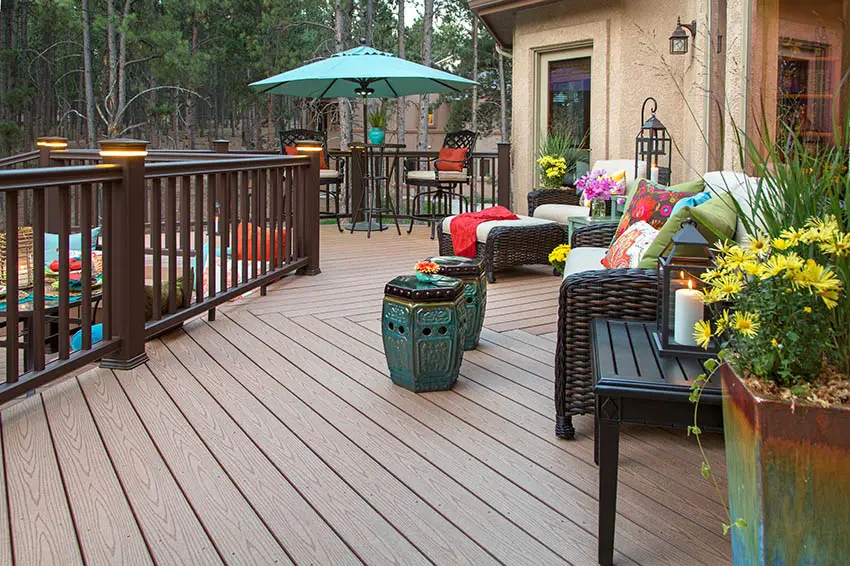 The quality of both PVC and composite decking affects the price, but in general, composite decking is more expensive. Another essential item to consider is the length of the manufacturer's warranty.
There have been brands in the past that absorbed too much moisture and cracked or warped. While companies can offer a refund, they typically don't offer to come to your home and remove the defective decking.
The cost, trouble, and labor to replace a deck with cracked and warped boards can be more expensive than the original deck project cost.
The chart below is a guide to average costs for PVC and composite decking, including the brand warranty. Composite decking is typically more expensive.
As mentioned, the quality and color choices and whether grooved or not, make a difference in the price. This chart is provided as an idea of the price differences between PVC and composite decking. Several factors, like your location and the experience of your chosen contractors, will affect the cost of deck projects.
BRAND
MATERIAL
STRUCTURAL WARRANTY
STAIN & FADE WARRANTY
12 FOOT BOARD AVG PRICE
TimberTech

AZEK

PVC
Limited Lifetime
50-Years
$60 to $85
Fiberon Paramount
PVC
Lifetime
50-Years
$57 to $65
Timber Tech Pro
Composite
30-Years
30-Years
$40 to $70
Fortress Building Products Apex
Composite
30-Years
30-Years
$110 to $75
Evaluating the cost, trouble, and labor to replace a deck with cracked and warped boards and taking into account the property's overall aesthetic can be a daunting measure.
This entire process can be more expensive than the original deck project cost, which involves not just the construction but also the installation of the decking. Read more about Timbertech vs Trex decking here.
Pros and Cons of PVC vs Composite Decking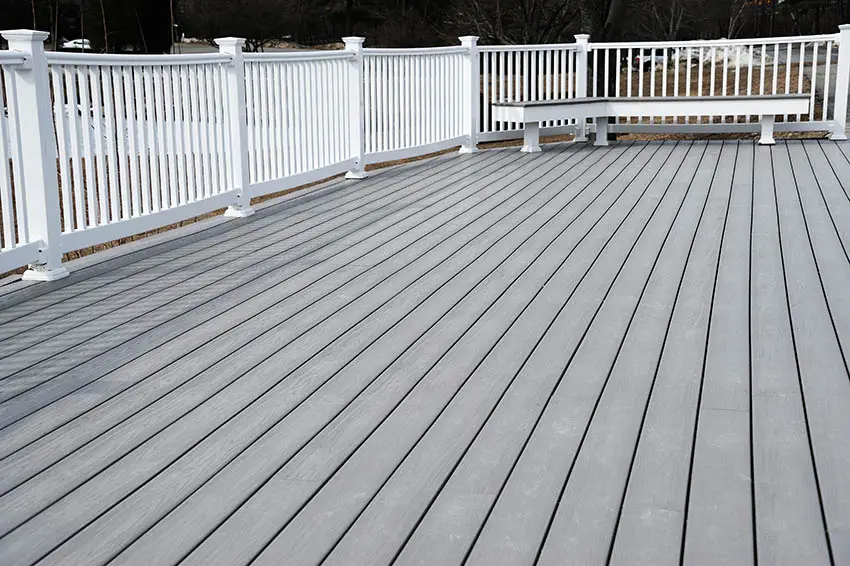 Gray PVC material with deck railing.
While there are pros and cons for both materials, there are many similarities between PVC and composite decking. The similarities and benefits are listed below:
Cost-saving
Low maintenance
Durable
Resists moisture and mold
Insect-resistant
Both products have various color choices
Lighter than wood decking
Do not have to be restained or painted
Easy to install
PVC decking, although more synthetic in appearance, imparts a unique visual property to your space. In contrast, composite decking better resembles natural wood, enhancing the overall experience.
Composite decking has a shorter structural warranty than PVC, and both products have similar stain and fade warranties. Stains from food items such as ketchup, mustard, sauces, spilled foods, and drinks are rarely hard to clean on both PVC and composite decking.
Maintenance for both PVC and composite deck boards is easy. Sweeping, hosing down the deck with water, and removing the debris between the boards keeps the deck clean and looking good.
Both products are eco-friendly, with PVC typically made from recycled plastic that can be recycled again.
Composite decking may be eco-friendly but is commonly made with both wood fibers and plastics and not recyclable. Still, many companies make their composite decking with recycled materials.
Compared to conventional wood decking, PVC and composite are lighter and easier to install. PVC, being more lightweight than composite, may bounce when in use.
However, this also means easier installation, especially when working with professional contractors experienced in decking installation.
Both products include hidden fastening options to create a clean and polished look for your deck. To see more inspiring backyard deck ideas and explore more decking options, you can find the most popular deck design software programs here.
Which is Better PVC or Composite Decking?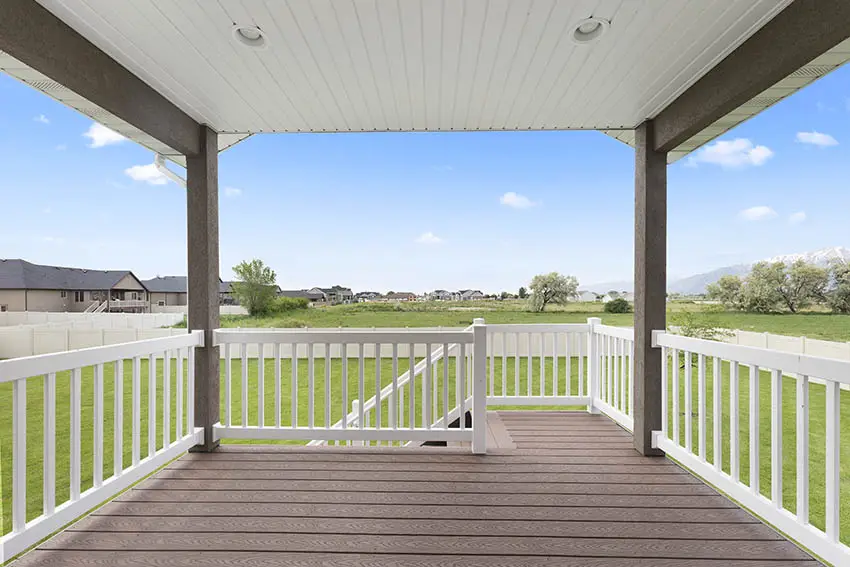 Visually, PVC deck boards have a surface texture with a linear wood grain pattern. Composite decking typically has a surface texture made with a wood grain pattern, closely resembling natural wood. Depending on your preference, either choice can be a captivating addition to your outdoor property.
While there are other options, composite decking tends to look more like natural wood. PVC can have a more pronounced wood texture, which could make it look more synthetic.
Both PVC and composite deck board manufacturers offer multi-toned or streaked boards to look even more natural.
Manufacturers offer both PVC and composite in various shades and textures. The color stays for the deck's lifetime because both PVC and composite decking cannot be painted or stained.
In areas where there are high levels of rain or if building a deck used in water, such as a lake or river, PVC is the better choice. PVC is much more water-resistant and anti-mold than composite.
The differences between PVC and composite decking are few. A homeowner's choice for decking material depends on each brand's quality, colors, and options.
Installing a deck in a yard is not only a structural undertaking; the design choices, shape, and purpose have a bearing on the type of deck boards. If you are interested in creating your own deck layout you can find the most popular deck design software programs on this page.
Knowing the pros and cons, and options offered by each decking material helps you to decide which material type is the best for your project.
So, what's your pick when it comes to PVC vs composite decking? Let us hear your thoughts, feel free to share any questions or concerns in the comments below.