Here's our outdoor porcelain tile patio guide including what they are, pros and cons, cost and maintenance tips.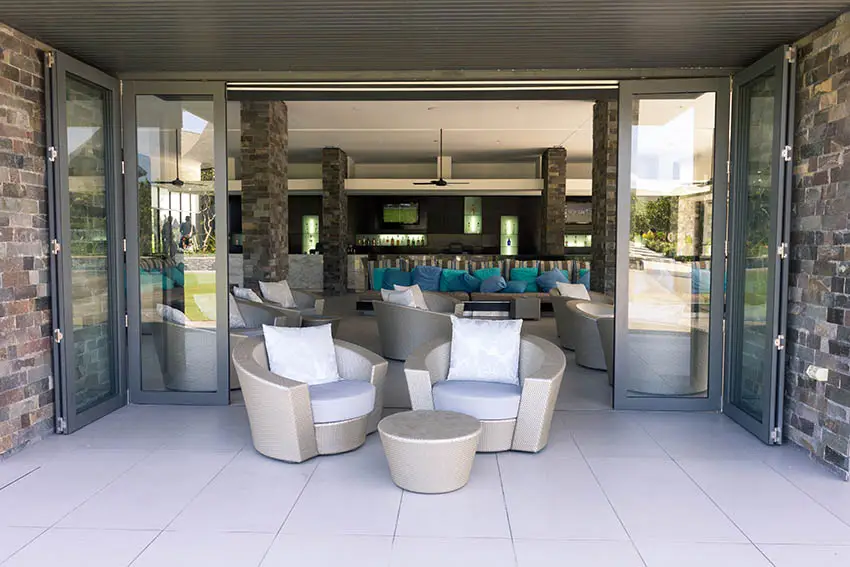 Patios are a place for you to entertain your loved ones and enjoy some fresh air when you want it. So, it's worth considering all of your options when it comes to choosing the best design for your patio. One option that offers a lot is the use of outdoor porcelain tile in patios.
Here, we'll break down everything you need to know about outdoor porcelain tile for your patio!
What are Porcelain Patio Tiles?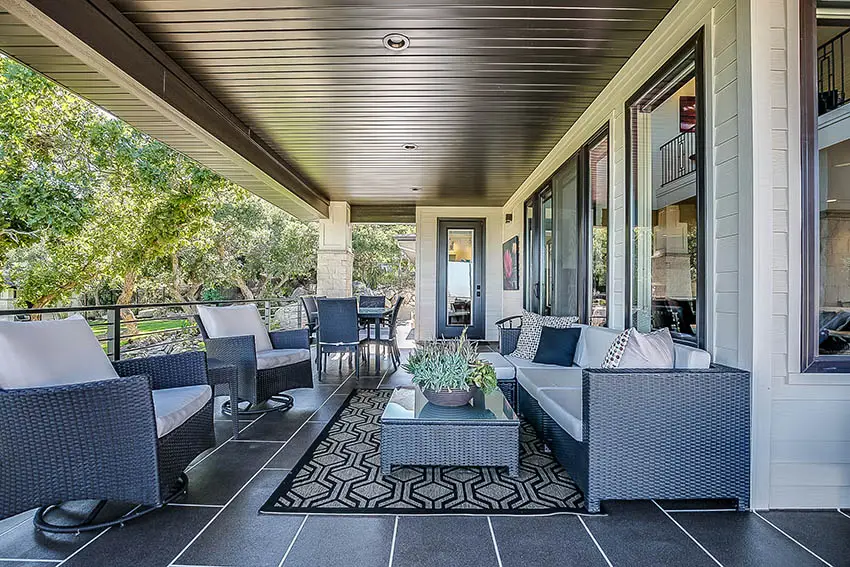 Porcelain is a strong material but what is it? Well, porcelain is a strong and dense type of ceramic that's used in a variety of applications. (See our article on porcelain vs ceramic tile here)
When it comes to home renovations, though, the porcelain material you're likely working with is porcelain tile. These are often used in bathrooms because they offer a low rate of water absorption.
Another area that you can use porcelain tile in, however, is in your outdoor renovations. You might also see outdoor porcelain patio tiles referred to as porcelain pavers in this context. In this case, using outdoor porcelain tiles when designing or renovating your patio.
Before using just any porcelain tiles for outdoor flooring you should ensure they are thick enough and rated for that use. These types of tiles can offer a variety of benefits which we'll look into more deeply in a moment.
Porcelain Tile Patio Pros and Cons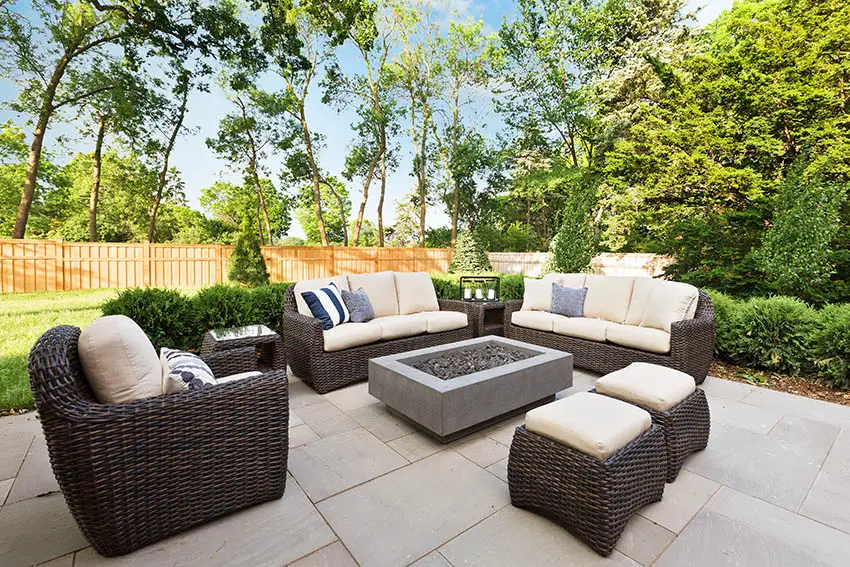 Of course, just like anything else, porcelain tiles for your patio come with both pros and cons. After all, no material is absolutely perfect.
Since it's so important to consider both what material can offer as well as its trade-offs, we've listed both here to break down both sides. Luckily, porcelain tile has far more pros than cons.
Pros of Porcelain Tile Patios
Variety of styles – For one, you can take advantage of a variety of styles when you're working with porcelain tiles.
Because of this variety, there is plenty of room to experiment with different design options as you finalize your patio. You can even use porcelain to imitate other materials such as stone or natural wood.
Lightweight – Another concept that boosts the value of porcelain is that its lightweight. This means that it's going to cost less to transport and take less effort to install than an option like a concrete paver patio.
Durable – Plus, porcelain is a lasting and durable material. This is true even in high traffic areas like patios where the porcelain tiles will have to accommodate frequent foot traffic.
This means that you aren't likely to damage them from regular wear. Even better, since porcelain doesn't absorb much water, you don't have to worry about it cracking due to freezing and thawing. To put this another way, it means that you won't need to fear the effects of cold weather.
Low maintenance – Helping this durability along, you don't have to worry about putting too much energy into maintaining your porcelain tile patio.
Great for all types of weather environments – Since they don't absorb much water, there's no need to seal or reseal the patio surface when using porcelain.
Stain resistant – In addition, this is useful in removing spills and splashes since porcelain is less likely to stain when a spill is properly taken care of. So, you can grill or serve drinks on your patio without fear!
Resistant to mold – There is yet another benefit to this low water absorption rate. With no water retained inside the pavers, there's less of a chance that this material will experience problems with mold, mildew, or moss. Despite being mold, mildew, and moss resistant, you can remove it without much trouble.
Not slippery – As mentioned porcelain tiles are suitable for wet areas and along with this they have the benefit of not being slippery.
Can be installed on top of old flooring – Finally, porcelain offers a benefit in that it can be installed on top of existing concrete pavers.
This makes them a great choice when you're trying to renovate a patio that's starting to show its age. Since porcelain tiles are so thin, they'll only add as little as an inch to the existing height of the patio floor.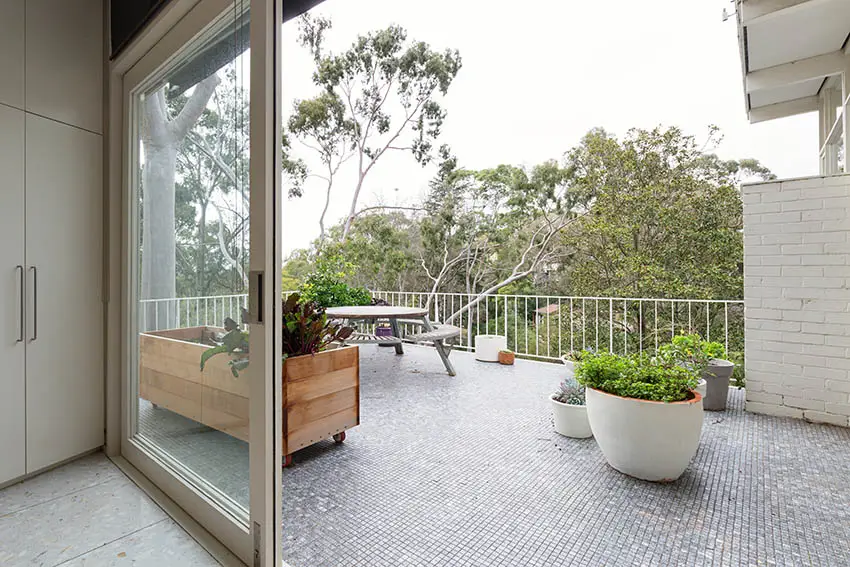 Cons of Porcelain Tile Patios
Can have a higher cost – As we said, porcelain, like any other materials, does come with some drawbacks. For one, porcelain comes at a high cost compared to options like concrete pavers. We'll take a look at the exact cost that comes with porcelain tiles in a moment.
Needs a completely level surface area – This is partially thanks to the installation process of porcelain. Porcelain needs a level surface, so if you're starting on soil, sand, or gravel, the base must be carefully compacted and leveled first.
Can get hot – Porcelain tiles tend to get hotter than other types of patios such as natural stone or concrete pavers in the sun. This can be a drawback if your patio gets a lot of direct sun and you live in an area with extreme heat.
Can be damaged easily during installation – In particular, their thinner nature means that the people installing the porcelain tiles have to take care to avoid damaging them.
They also require specific tools like diamond blades and wet saws to avoid damaging the porcelain. It's particularly difficult to drill through porcelain without tools like these.
Another issue is the brittle nature of porcelain. As we mentioned earlier, porcelain is an incredibly durable material. However, that doesn't mean that it's indestructible.
Luckily, this brittleness is mostly a problem when it comes to transporting and installing individual pavers rather than a fully installed patio.
For instance, if you drop something on your porcelain tile patio, it probably won't do much damage. On the other hand, dropping a paver is likely to shatter it.
Outdoor Porcelain Tile Cost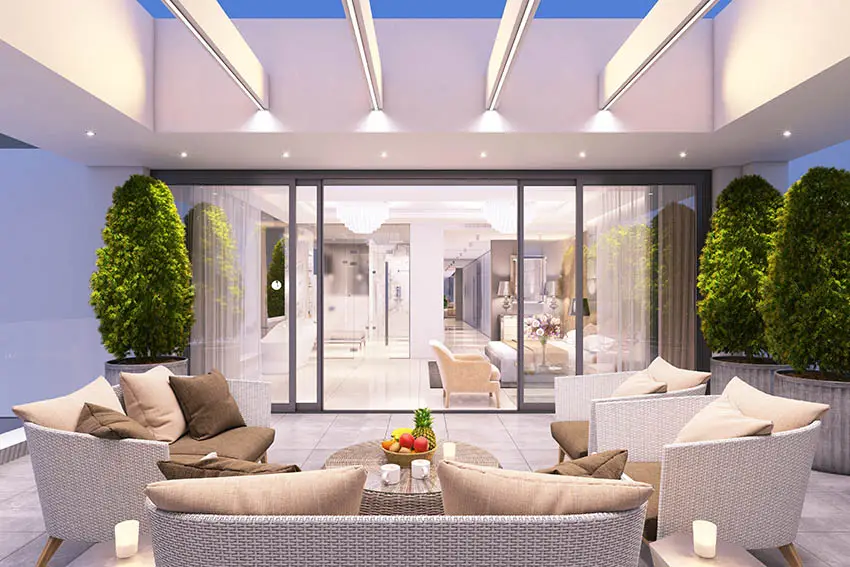 Generally speaking, porcelain tile costs an average of $15 to $20 per square foot when you're including the average price of installation in the cost.
It's worth noting that this cost can change depending on where you are, where you're buying the materials from, and who you work with on the installation process.
How to Clean Porcelain Patio Tiles
There are times that you'll need to clean your porcelain patio tiles to make sure they stay looking at beautiful as the day they were installed.
The good news is that cleaning your porcelain tile patio is easy. On top of that, you only need to clean them a few times a year and when you have a specific mess you want to tackle.
The easiest option is likely to leave the cleaning up to a pressure washer. In its place, you can use a bucket full of water and a handy soft-bristled cleaning brush.
For general cleaning, liquid soap is enough to handle porcelain, but you'll need a specialized cleaner for problems like algae. Remember, you'll want to sweep the patio before getting started on scrubbing.
After sweeping fill up a bucket with a mixture of soap and warm water. Dip a scrubbing brush in to the soapy water and clean the tiles to remove any embedded dirt.
Another solution to keep porcelain flooring looking great is to do a monthly maintenance routine. This includes mixing ¼ cup white vinegar with 2 gallons of water.
Apply the mixture with a sponge mop to the flooring. Once the surface is thoroughly mopped, rinse the floor with water and dry with a towel.
For another related article visit our page about stamped concrete patio designs here.