Welcome to our deck designs ultimate guide including popular styles, materials, cost and tips to creating your perfect backyard space.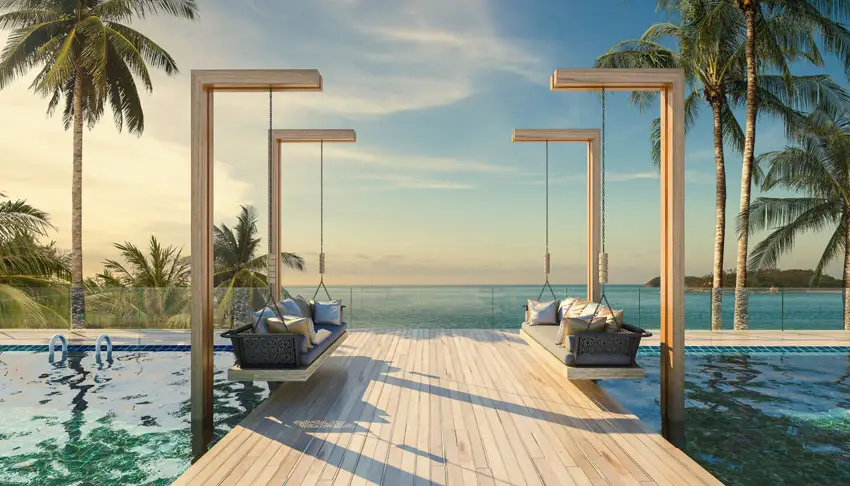 A well-designed deck is a very attractive outdoor feature for any home. A deck provides homeowners with a convenient place to relax and enhance their home's outdoor living area. It's also a great place for entertaining and can increase the property value of your home should you decide to sell.
Before you start building your deck, you need to consider the design of your deck. Things that you should really consider are both the size of the area your deck will occupy, and the style of deck that will best suit your overall home design. In addition you'll want to think about the materials you use for its construction and any other custom features you would like added.
Here are some of the most popular backyard deck designs available:
Platform Decks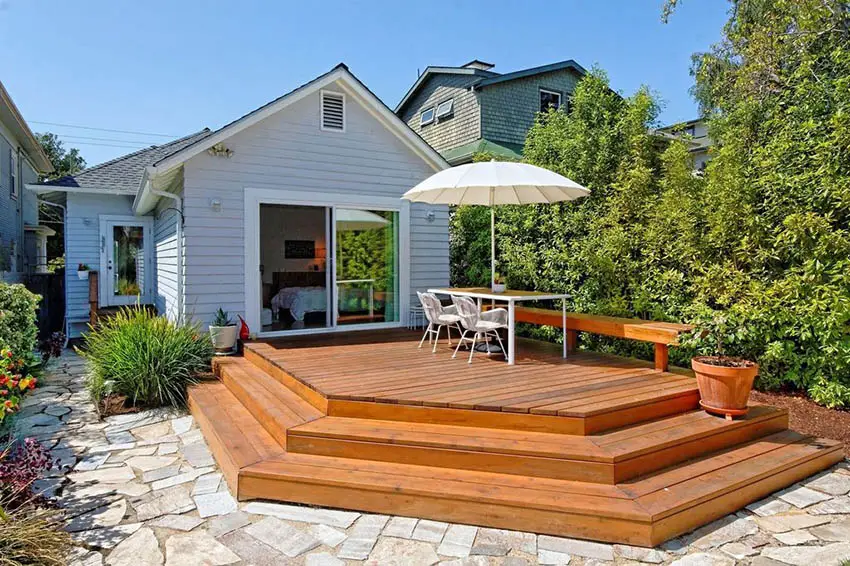 This is the simplest, most basic type of deck design. Platform decks are build low to the ground and on a level surface. They are often built attached to single-level homes and don't need railings. Instead, the perimeters of platform decks are often designated by other features like built in benches or planters.
Raised Decks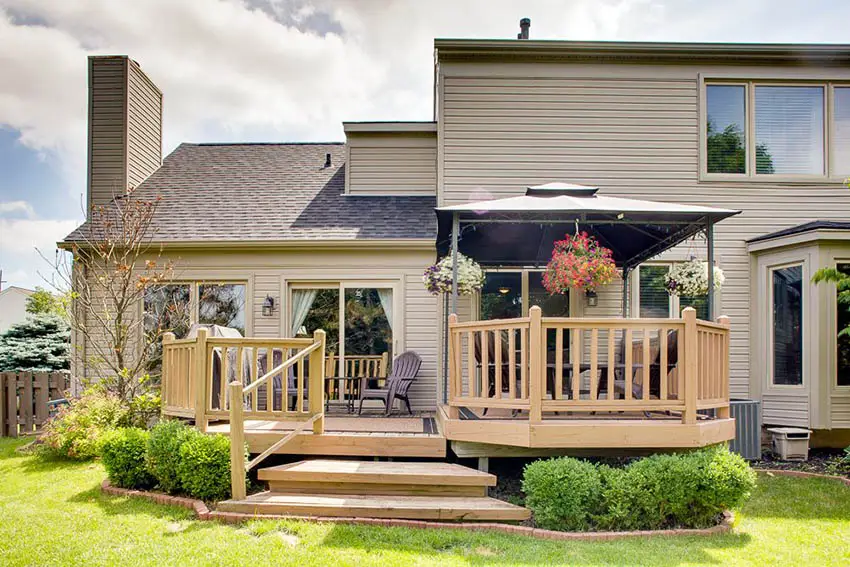 Raised deck is a deck that is build raised off the ground. It can be raised to just a few feet off the ground or as high as the second story of a house. If you live in an area that sees a lot of rainfall or even flooding, this is a good deck to have. Many people with raised decks take advantage of the space under the deck and use it as a storage space.
Freestanding Decks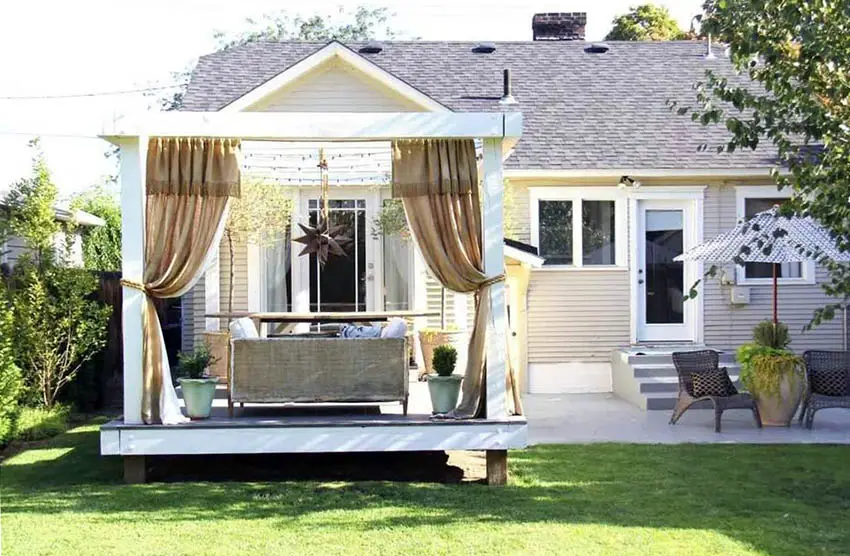 A free standing deck is similar to a platform deck in the sense that it's only built to stand a few inches off the ground. However, it differs in the sense that it is built so that it is not attached to a house or structure, hence, it is free standing. Another name for this type of design is a floating deck.
Multi-Level Decks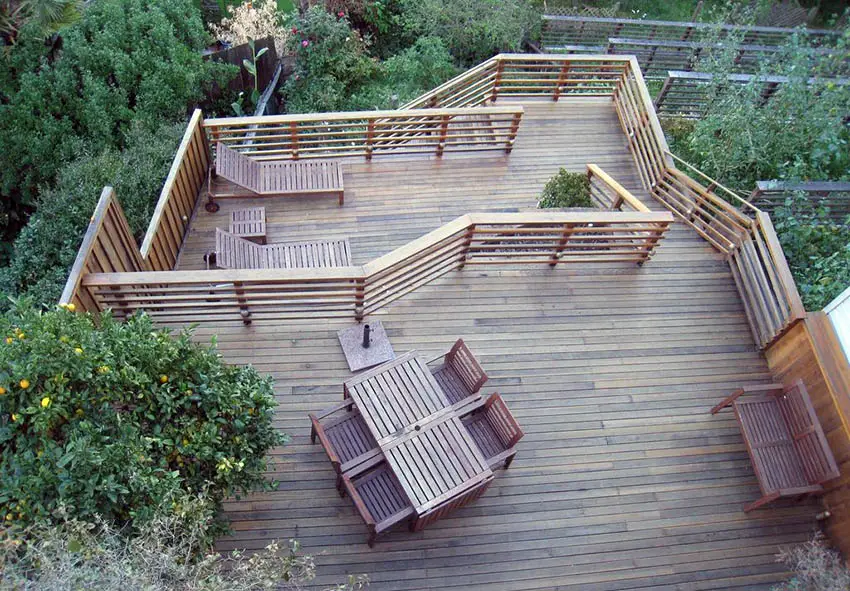 A multi-level deck is one that is build to incorporate one or two raised levels or platforms. Each of these platforms are designed for different multiple uses. While the difference between the levels might just be a step or two down, it still gives you the feeling of space and allows you to have different "rooms" for different activities.
For example, you can have a multi-level deck where the first platform or raised area is placed next to the house. This first area can be used as a cooking and dining area. Then you can have a second lower deck, maybe a step down, that can be designed to be a comfortable lounging area where you and your guests can lounge comfortably and enjoy the fresh air and conversation. Then, you can have yet another level, maybe off to the side where you can install a hot tub or a fire pit or even a ping-pong table.
Having a multi-level deck allows you to have a lot of activities going on on your deck at the same time, without crowding. It's a good design to have if you plan to be doing a lot of entertaining on your deck. It is, however, a design that might require a lot of space and maintenance so keep that in mind when deciding if a multi-level deck style is appropriate to your home.
Two-Story Decks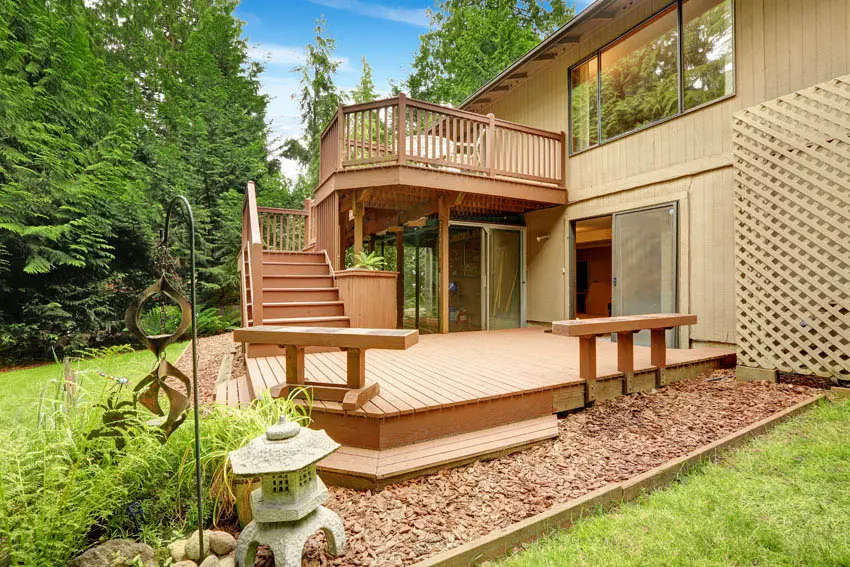 A two-story deck is a multi-level deck where the second story is raised or elevated so that it sits atop of the first level. The two levels are joined by a staircase. Two-story decks are built attached to structures that are also at least two stories high.
Two-story decks are the most spacious type of deck design. But they are also the most costly because of the effort needed to build them. Some designs feature a lower platform space with an upper veranda area. Read more about what is a veranda for backyard decks here.
Styles of Decks
There are also specific styles of decks that can match the overall design of your home and give you the exact look you want. Popular styles include traditional, contemporary, modern, colonial, Asian, mountain and coastal. Here are pictures and descriptions of the most popular styles of decks for the home.
Traditional Deck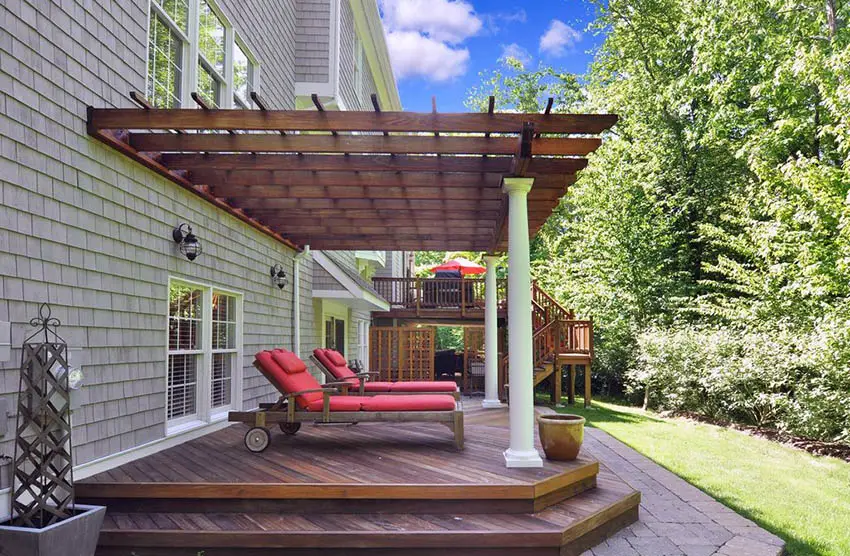 A traditional deck is usually built of wood or material deliberately designed to look like wood. It is designed to look "cozy" and would not be out of place in an old-time "cottage" type of home.
The lines of the deck are deliberately softened by the use of chamfered corners and octagons. Another common feature of a traditional deck is its use of trim moldings and decorative post caps.
Contemporary Deck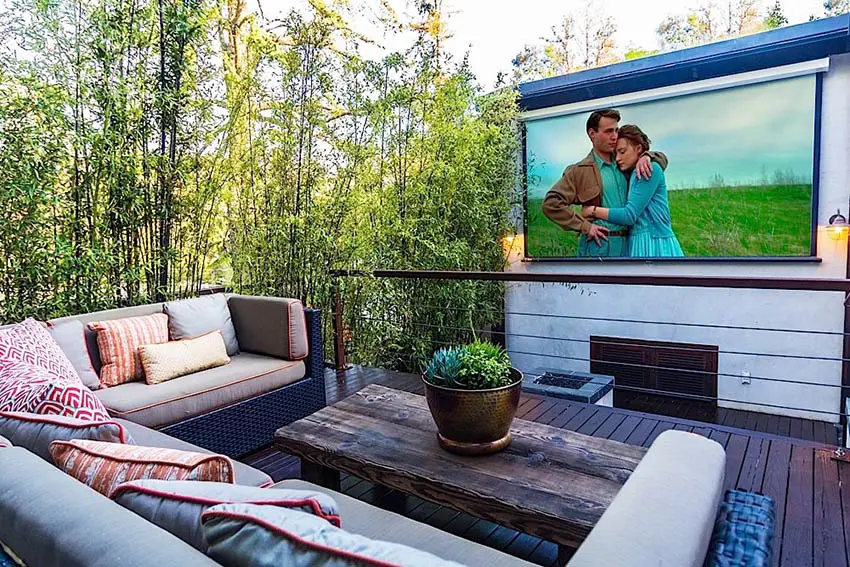 A deck designed in the contemporary style is sleek and modern. It is built around the idea that less is more. It will use a lot of basic shapes and feature clean lines. A deck can also be considered contemporary if it uses more modern, low maintenance materials such as composite materials, metal, PVC, or stone, rather than or alongside traditional wood.
A contemporary style deck can also bring in elements that are currently popular. A few examples could be a deck water feature, outdoor projector TV, fire pit, or custom bench made with the newest types of construction materials.
Modern Deck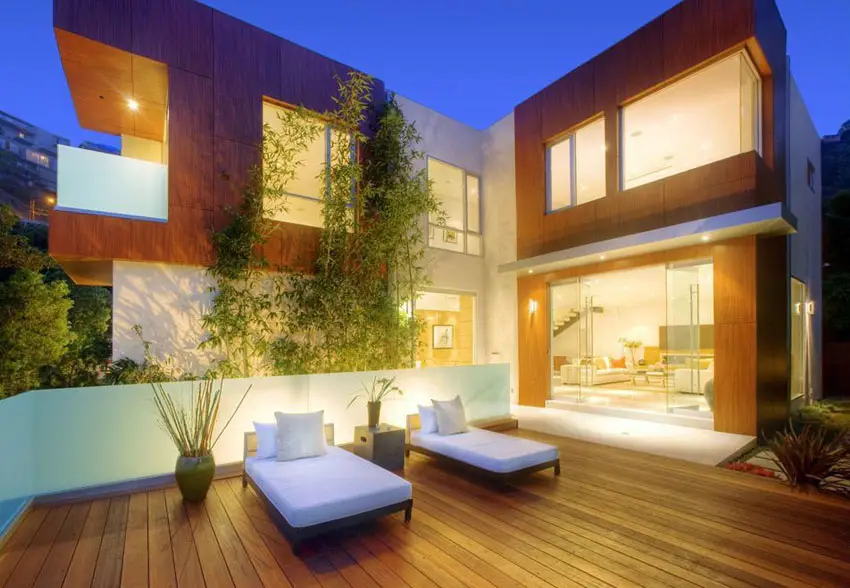 A modern deck designed using the characteristics of modern architecture. One hallmark of modern architecture is its use of "state of the art" materials such as steel, concrete and glass. There is also an emphasis on the idea that form follows function. A modern deck design is one that embraces minimalism and uses very little ornamentation for a sleek, stream-lined and modern look.
Coastal Deck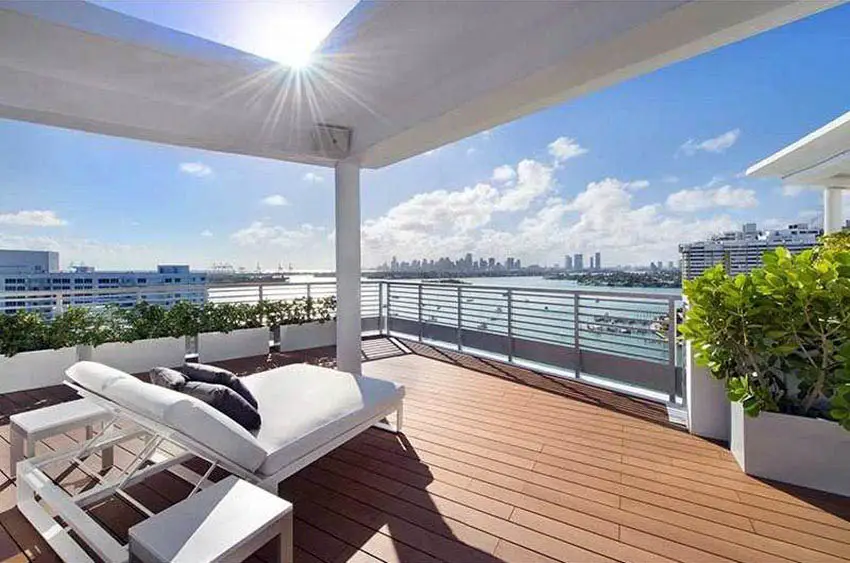 If you are lucky enough to live in an area with a view of the sea or any other body of water, a coastal style deck is a great choice. This sort of deck should be built to maximize views and hold up to adverse weather conditions.
A coastal style deck is usually made of weather-proofed wood or composite material. It also incorporates more modern materials such as metal or even glass in the deck trimmings such as the railings or the frames. It looks both charmingly traditional and reliably modern.
Colonial Deck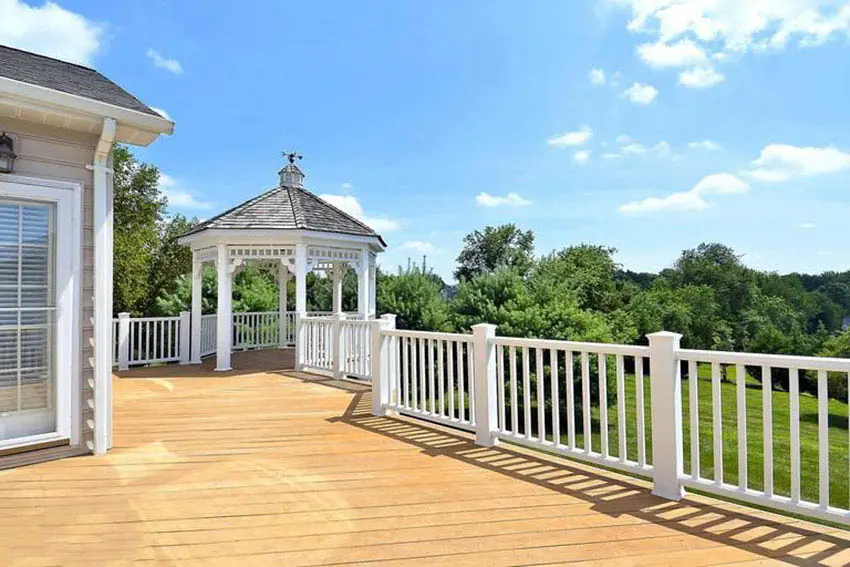 This deck is built along the lines of the colonial architectural style, with an emphasis on symmetrical design features. One standout feature of colonial style desks is the use of white deck railings and decorative post caps. They also often incorporate accent pieces such as pergolas and built in planters and benches.
Asian Style Deck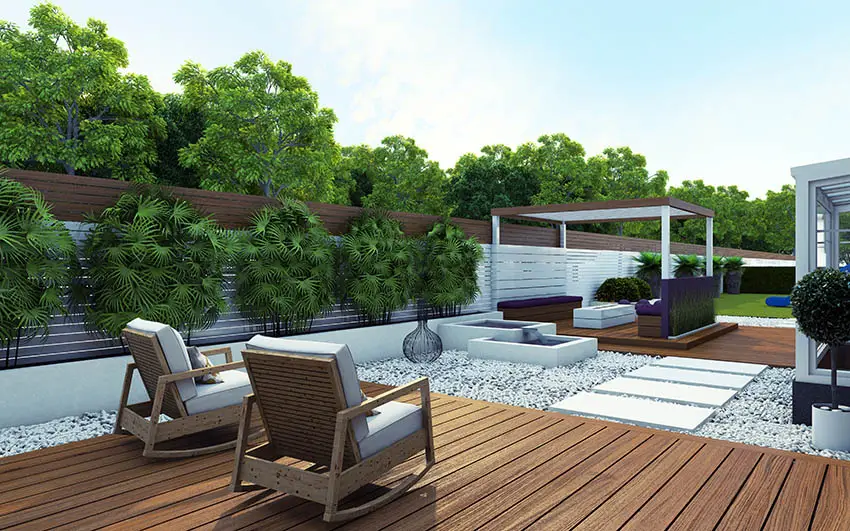 An Asian style deck embraces elements of eastern culture. There is great emphasis on "balance", such as creating contrasts between both dark and light colors and also rough and gentle textures. For a truly Asian deck, you might want to actually incorporate some feng shui ideas, but if you don't want to go that far, you can always add some Asian inspired décor.
Mountain Style Deck
This deck style is deliberately meant to invoke the feeling of being in a cabin in the woods. It incorporates rustic design features and can look range from looking contemporary to a little "rough" and unfinished depending on the budget. It will oftentimes have heavy looking framing and railings.
This type of deck is best built in a spot with a good view. It is meant to provide a "lookout" area where you can enjoy the natural scenery. It also can feature the use of nearby natural resources such as locally sourced lumber or stones.
Types of Deck Materials
After you have decided on the style and design of your deck, you should start thinking l about what type of material you are going to use to build your deck.
There are three factors that you should think about when deciding on decking material. The first is, will the material suits your vision of what your deck will look like? Second, will the deck material suit your lifestyle? Do you have the time to maintain a deck built with this material? Lastly, you should think about how much this material will cost and if it will suit your budget.
Here are some common deck materials that you can consider and some of their pros and cons.
Deck Wood Types
The most popular form of decking material has got to be wood. Wood decking materials are further classified into two types: softwood and exotic hardwood. The most popular types of wood for deck construction area cedar, redwood, pine, Ipe and Brazilian teak. Let's discuss a few of the most common types of wood for decking.
Cedarwood Decking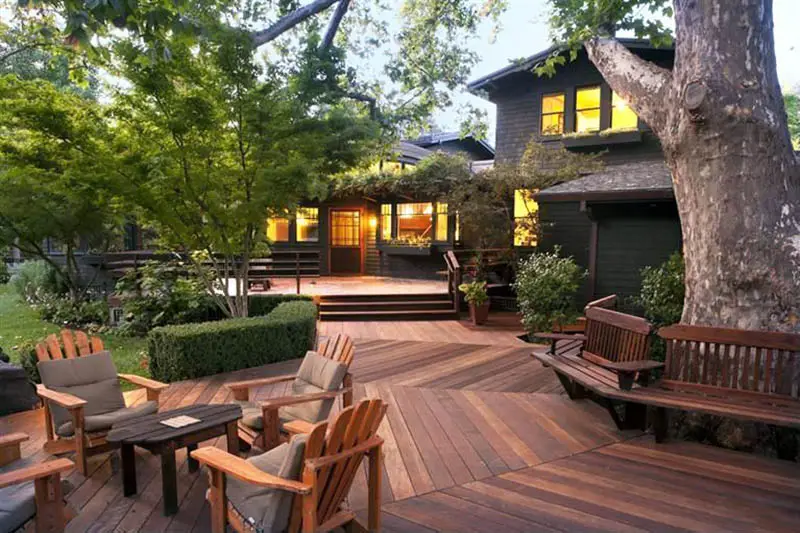 Cedar wood decking is a very popular material for decks as it is known to be quite weather resistant. Built properly, cedar wood decks are quite sturdy. They are also quite beautiful as, when exposed to the sun, cedar wood turns a nice soft, grayish color.
Cedar wood is a soft wood so it feels quite nice to touch. It is also easy to work with. Unfortunately, aged cedar wood is starting to become quite hard to find and can be very expensive. Most of the cedar wood that is available tends to be second growth cedar wood and, while it is still beautiful, you need to make sure that the boards you choose are still mostly heartwood and not sapwood otherwise they won't be as weather resistant.
Cedar wood decks can be rather high maintenance. While cedar wood is relatively weather resistant, constant exposure to cold, thawing, and a change from moist to dry conditions will age the wood. To keep your cedar wood deck in good condition, it's highly recommended that you clean the deck thoroughly and treat it.
While this may sound tedious, it will be worth it as, a well maintained cedar wood deck should provide you a great place to relax and enjoy the outdoors for at least 15 years.
Redwood Decking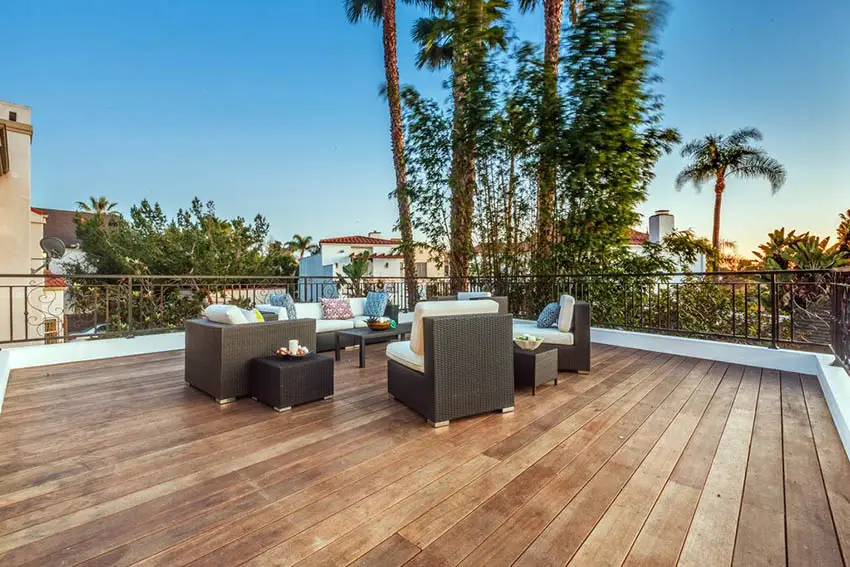 Like cedar wood, redwood is also considered a soft wood. It is popular as a deck material because it is easy to shape and cut with straight boards, thus making it easy to build with.
Redwood decking is quite beautiful, some might argue even more beautiful than cedar wood. Untreated, redwood is a smooth, reddish brown color. It has a smooth and soft texture but is still quite firm underfoot. Redwood decking does not crack or splinter easily.
The heartwood of redwood is sought after because it is resistant to decay. However, the heartwood can be hard to find and as such, expensive. Sapwood is usually easier to find and, while it has the beauty of heartwood, it isn't as hardy and will require more maintenance to prevent rotting.
Pressure Treated Wood Decking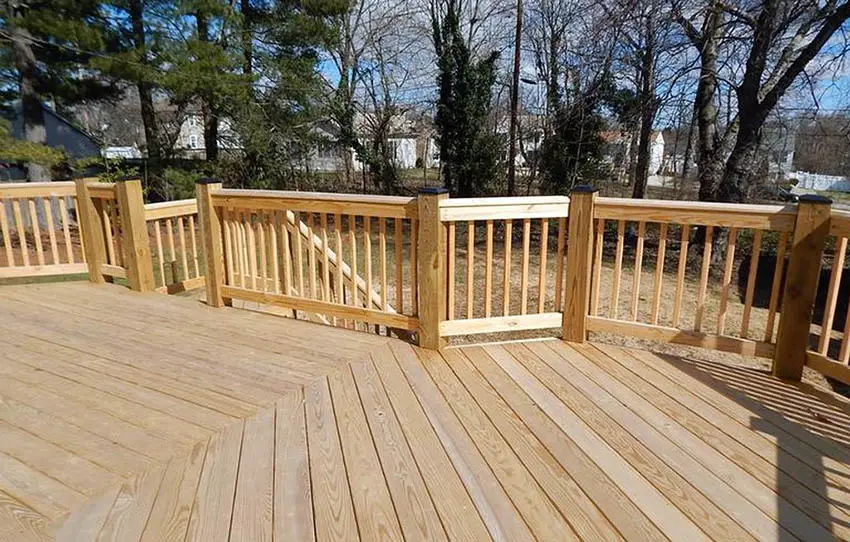 Pressure treated wood is wood decking that has been treated ahead of time to be weatherproof. Nowadays, most pressure treated wood deck boards are treated with MCA or micronized copper azole. As the name implies, there is a small amount of water soluble copper in the mix. These copper particles penetrate deep into the wood and help preserve it.
MCA treated wood ends up slightly darker in color then untreated wood so make sure to consider that factor when deciding for or against pressure treated wood.
Another way to create pressure treated wood decking is through thermal heating. When you thermal heat wood, all the sugars in the wood are rendered inert. It is the sugar in the wood that attracts bugs and bacteria. They feed on the sugars causing the wood to rot and decay.
Wood that has been thermal heated is also waterproof. Thermal heated boards won't absorb water as a chemical that causes water to adhere to wood is removed in the heating process.
Thermal heated wood can last for 25 years or more. However, the thermal heating process requires the boards to be exposed to a range of high temperatures. This requires a lot of energy and as such, raised the price beyond that of untreated wood.
Pine Decking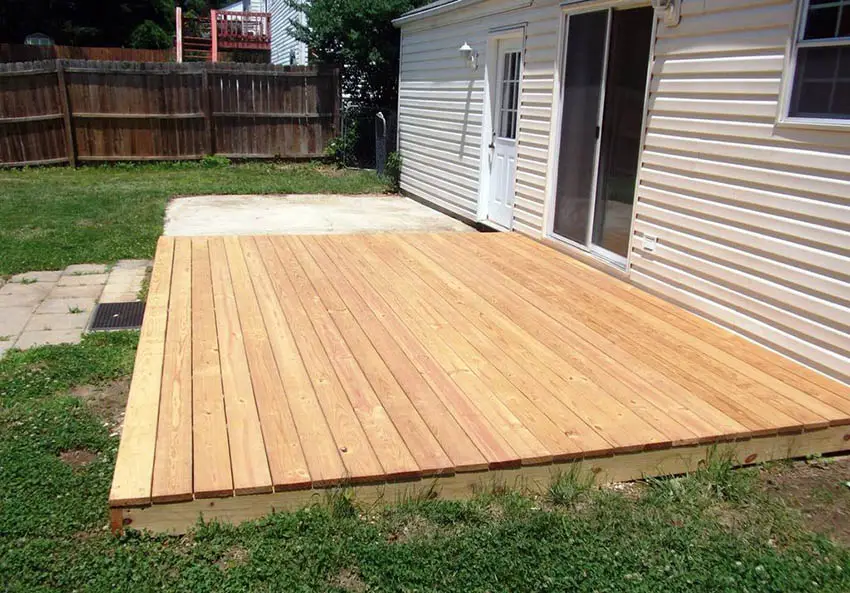 Pine is not always considered the first choice for deck construction since it tends to weather quicker than other types of wood. However, due to it inexpensive cost and availability it is still a common choice for decking.
Purchasing treated pine on the other hand can increase its lifespan to 15-20 years making it a solid choice. To help preserve raw pine decking one can paint or seal the wood to help increase its longevity.
Exotic Hardwood Decks
Exotic hardwood decks have been growing in popularity these past few decades. These are decks made from hardwoods sourced from trees that are endemic from countries outside of North America. These types of hardwoods are commonly found from South American or Asia.
Two of the most common types of exotic hardwoods used as decking material are Ipe and Brazilian Teak.
Ipe Decks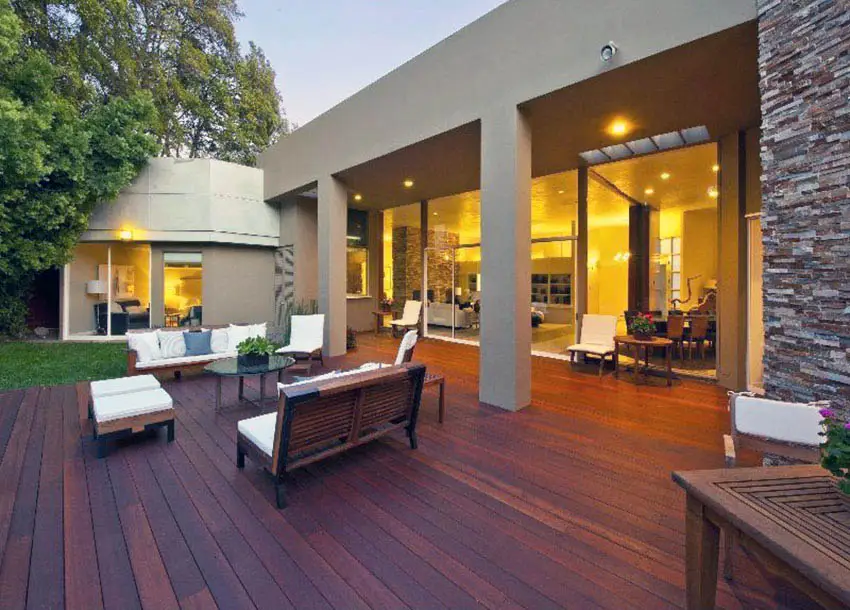 Ipe decks are made from a durable tropical hardwood that's also known as ironwood. It gets that name for a good reason, its wood is dense and hard and it is also rot and pest resistant. Ipe wood is so dense and hard that it earns a Class A fire rating, the same rating as concrete and steel.
Ipe wood is also popular due to the beauty of it's grain and color. It weathers to a nice shade of silver-grey. One good example of ipe woods durability and beauty can be found in Atlantic City. Most of the decking material used in the Atlantic City Boardwalk is ipe wood and has lasted for over 25 years.
One of the best things about ipe wood, it's hardness, is also one of the reasons why this can be a very challenging material to work with when building your deck. Because of the density and hardness of the wood, it's not easy to cut or shape. You might not be able to use nails or screws when assembling a deck of ipe wood. Instead, your going to have to drill pilot holes in the wood.
Because of the density of ipe wood, it's relatively waterproof as it doesn't absorb liquids easily. While this is an advantage when it comes to weatherproofing, it can be a disadvantage if you want to change the color or texture of your ipe deck surface. Most wood stains and sealers will not really soak into ipe wood, so you will be left with just a shallow layer on the surface of the wood that will wear off quickly or even peel when exposed to the sun or extensive foot traffic.
If you don't want to keep the natural color of your ipe wood deck, your going to need to use stronger coating then traditional stains. You might have to try a water-based urethane coating with pigments containing iron-oxide.
Brazilian Teak Decking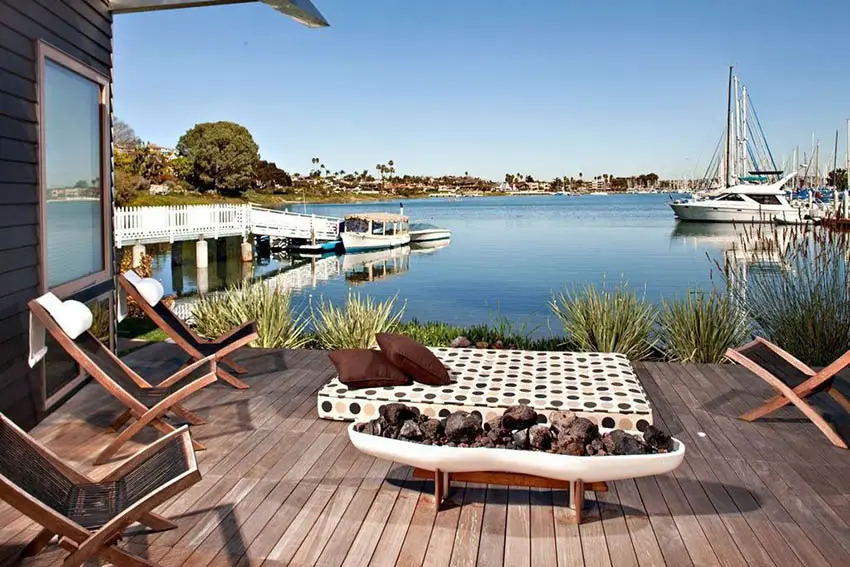 This exotic hardwood decking is called Cumaru wood and it is sourced from a tree that is native to Brazil. It is commonly known as Brazilian Teak.
It is a pretty wood to use as decking material as you can find Brazilian Teak in shades of reddish and light golden brown. It is also very smooth grained and nice to touch and walk on.
The pros and cons of Brazilian Teak decking are similar to that of ipe wood. Pro, as a hard wood it has a tight grain and is quite dense. This means that it is relatively waterproof and resistant to warping and decay. Without any special treatment, a deck made of Brazilian teak can last almost 25 years.
Unfortunately, like ipe wood, Brazilian wood is tough and hard to work with. It's density also means that it is tough for stains and sealants to soak in. Either your going to have to apply several coats or forgo staining and sealing.
Since untreated Brazilian teak is relatively waterproof, not being able to apply sealant is no big deal. With regards to staining, as Brazilian Teak naturally comes in some nice colors, either find a shade you like or work with another wood that can take stain better.
Interlocking Decks & Deck Tiles
Interlocking wood deck tiles – See at Wayfair
Deck tiles are basically deck material that are sold in the form of tiles, squares of material rather than planks or slabs. They are a cost-effective and easy way to build a deck floor.
Many deck tiles are made to resemble wood in color and texture, but there are also deck tiles that are made OUT of wood. You can also get deck tiles in stone or synthetic materials.
If you choose to use wood deck tiles, you get the beautiful effect of a full wood deck. You will also get some of the problems, depending on the type of wood deck tile you choose to use. Wood deck tiles are not going to be as resistant to rot or warping as decks made from synthetic materials.
You're also going to have to do periodic maintenance with wood deck tiles. The advantage of wood deck tiles over completely wooden decks is they are easier to install, replace and repair.
Deck tiles are designed interlock and snap together to form a sturdy and stable surface. If a few tiles are damaged, you can easily snap them out and replace them with new ones. So, if parts of your wood deck are weathered or worn and you are using deck tiles, you can replace the worn tiles yourself. Replacing tiles is also much more cost-effective then taking out and replacing wooden boards or planks.
When you build a deck with deck tiles, be they wood or any other type of material, you have built an interlocking deck. Interlocking decks are known as such because of the way they were constructed, basically by installing interlocking squares of materials in the form of tiles.
What is the Best Wood for Decks?
As we've noted, wood is still the deck material of choice.Cedar, redwood and pressure treated wood made from a variety of types are generally considered the top three picks for exterior decks. As far as natural beauty is concerned both cedar and redwood tend to look more attractive than pressure treated wood.
Cedar and redwood are also both naturally resistant to rot and boring insects, making them a good choice if these issues are a problem in your area. Pressure treated wood has been chemically treated to prevent insects and rot from occurring.
What type of wood you decide to use for your deck mostly depends on your personal choice. You need to pick a wood type that will fit your overall vision of what your deck will look like. It's also probably best if the wood color and texture matches the style of your home.
With regards to durability, as we've noted, the hardwoods – exotic and otherwise – tend to be more durable. They can be more expensive, but with proper maintenance, they will last you for at least a few decades, so they will be worthwhile in the long run. Even if you don't plan to stay on a property for that long, a sturdy, well-maintained wooden deck can be very attractive for potential buyers and will increase the property's value.
Composite Decking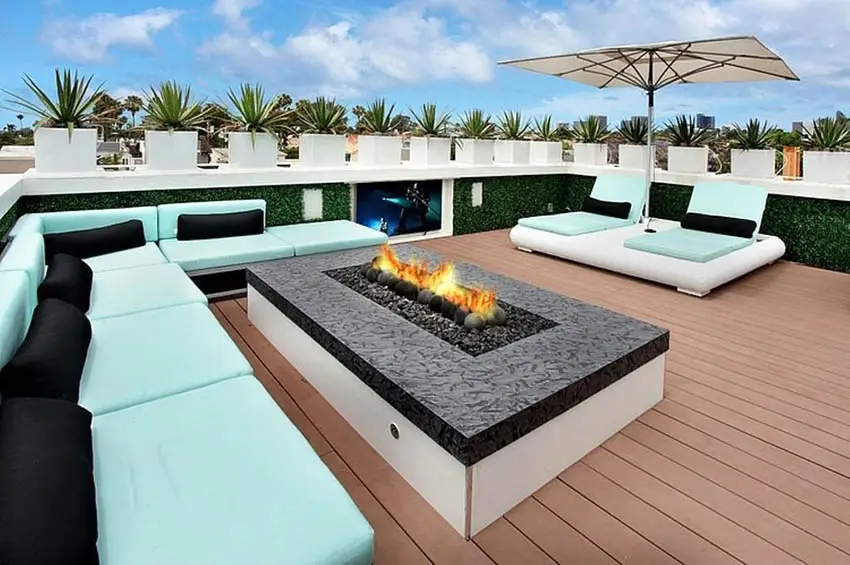 While wood is still the popular and more traditional choice for deck material, composite decking is probably the second most popular material available today.
Composite decking is now quite a common and popular choice among people who want to have a deck built in their home. It's popularity arises mostly from the fact that, compared to wood, it is much more durable and easy to maintain.
When you have a composite deck, you basically have a deck that is made from both natural and synthetic material. Composite decking material is made from plastics, chemicals AND wood filling materials. The wood material in composite decking is wood fiber or flower.
Composite Type Decking VS Wood
By using wood as filler, these synthetic materials are made to look and feel like wood. So they have the advantage of incorporating woods beauty and texture but are less prone to damage under prolonged exposure to the elements. Many synthetic deck boards and even railings are designed to mimic the look and even the grain texture of natural wood.
The major disadvantage of composite decking is its cost. It tends to be around twice the price of pure wood decks. Building a composite deck will probably cost you around 1 to 3 times as much as it would if you were building your deck with cedar wood.
Composite materials are also much heavier than wood and some might not span as long as wood so, depending on the size of your deck, you might have difficulty spacing the joists. You might also need special fasteners depending on the type of composite material you end up using.
While installing a deck with composite materials might cost you more, in the long run, it could save you in maintenance. Synthetic materials are less prone to warping and cracking due to exposure to the elements, so you're not going to have to replace your deck parts as frequently.
Composite decks are also much easier to maintain. They already come in a variety of colors that can match your home and tend to be immune from fading and treated so that they are stain resistant. There's no need for repainting or staining. Also, they are quite easy to clean. You just need to sweep or spray and wipe the boards and railings every now and then and your deck will look pretty much as good as new.
Trex Decking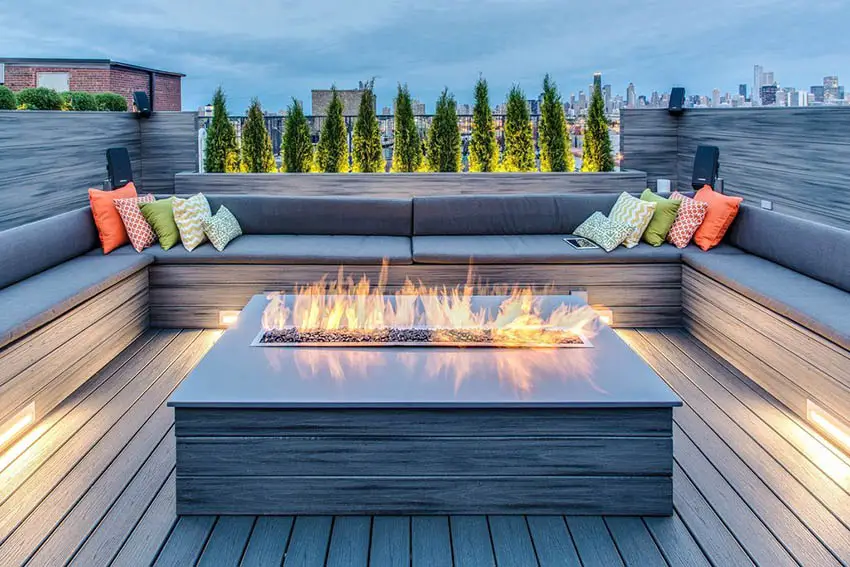 Trex is a common brand of composite decking material. Trex is made of a synthetic material called polyethylene. Polyethylene is a common plastic used in decking. It's usually a recycled plastic material mixed with wood flours to allow a more realistic and natural wood-like appearance and texture.
One reason why this type of decking material is popular is because of the wide array of Trex decking colors. Trex decking material is able to come in a wide variety of colors and can even feature shadings that mimic the streaking found in natural wood.
This makes it even more capable of giving your deck the look and feel of wood while keeping the durability of synthetic materials. Some popular trex decking colors are Spiced Rum, which is a warm and earthy umber shade and Lava Rock, which has reddish-black streaking, mimicking natural hardwood.
PVC Decking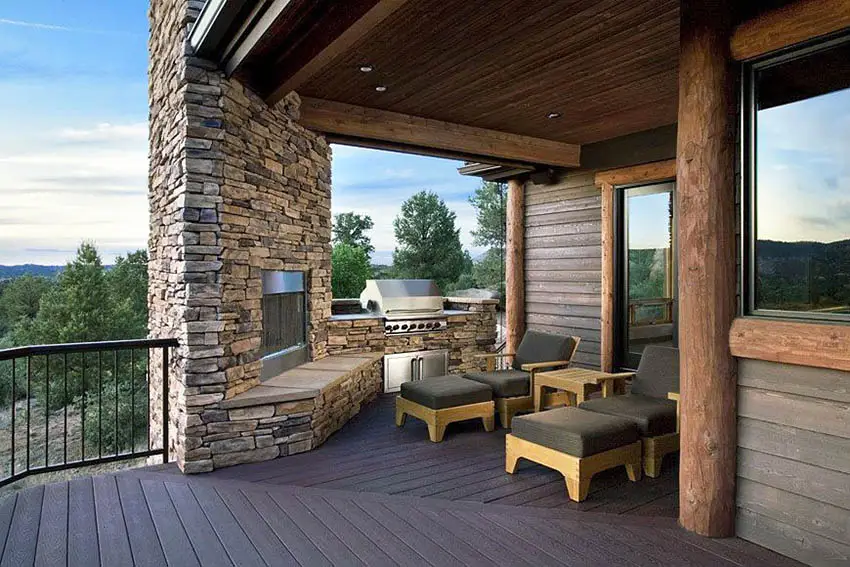 PVC decking is a synthetic plastic decking. It is a great low-maintenance decking material. It come is a variety of patterns and colors that mimic wood. Thus, it incorporated the beauty of natural wood, with the strength and easy cleaning of plastic.
The disadvantage to PVC decking is that it tends to expand and shrink lengthwise when exposed to hot or cold temperatures. If your building a deck out with PVC, make sure to provide adequate spacing between the boards.
Vinyl Decking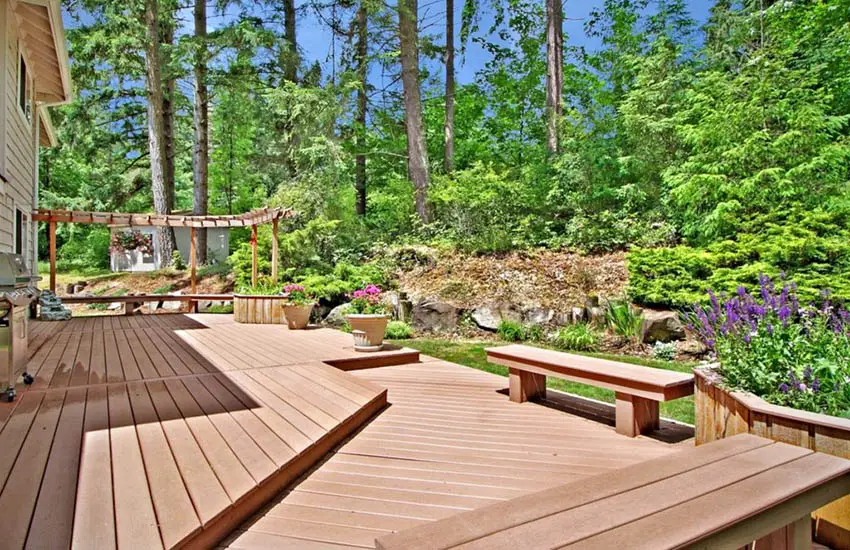 If you want a weatherproof and sturdy deck but don't have much time or patience to perform regular deck maintenance, you should consider using vinyl decking.
Vinyl decking comes in many colors and textures. You can even buy vinyl decking that mimics the look of the more traditional wood decking. Unlike wood decking though, vinyl decking requires almost zero maintenance.
Once you put up a vinyl deck, all you have to do is occasionally sweep the surface with a broom or swipe it with a mop every now and then. There's no need to sand or restain once or twice a year. Vinyl decking is especially popular in areas known for having wet weather as it will not warp when it gets soaked.
Aluminum Decking
Aluminum decking material is made of aluminum that is colored using powder coating. You can get aluminum decking in a variety of colors – including colors that mimic the more popular types of wood decking materials. They also come in a variety of wood grain finishes so aluminum decking can really look like natural wood.
Aluminum decking is practically maintenance free. You won't need to stain, seal or weatherproof it. It is also very easy to clean. Just sweep or mop it every now and then. You might also want to pressure wash to remove any stubborn stains, such as sap, but you can do that only once a year or as needed.
Aluminum is a very good material to use if your planning a raised deck with a storage area underneath. Aluminum deck boards snap together, with "fake" grooves in the surface to make it look like separate boards. Because of this though, water will not seep below into your decks underside, making a waterproof roof for your storage area.
What is the Best Maintenance Free Decking?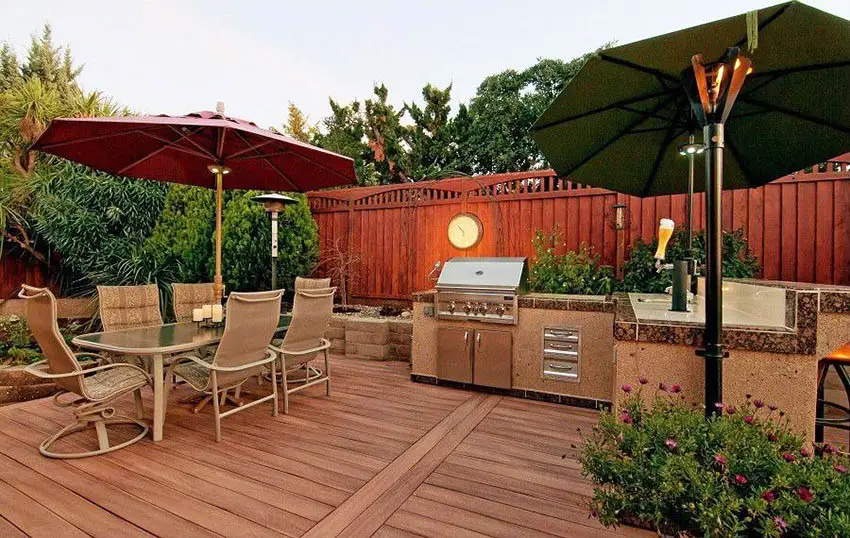 If you're looking for a low maintenance deck, you're probably best off going for a deck made of synthetic material such as Trex Decking or Vinyl decking. These types require less upkeep than natural wood which will need to be frequently stained and resealed to maintain its beauty.
Aluminum decking is also a good choice as you don't need to stain or weatherproof it. Also, unless there is some serious staining for some reason, you shouldn't need to pressure wash an aluminum deck. To keep it clean all you have to do is sweep or mop it every now and then.
Cost to Build a Deck
There are two major factors that will affect the cost of your deck. The first is the square footage, while the second is the type of material that you use.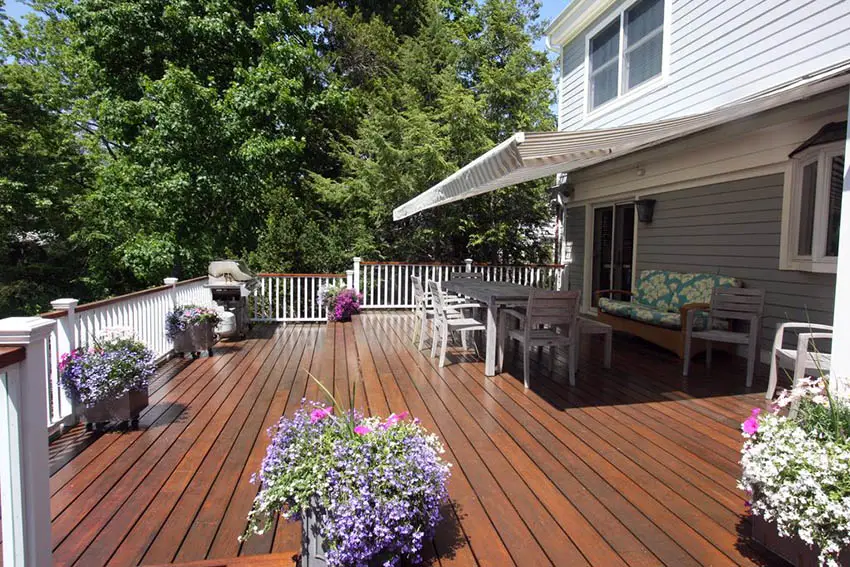 Deck Cost Per Square Foot
Most types of deck materials will cost about $15-30 per square foot. So, for example, you want to build a 350-foot deck out of cedar and cedar costs $15 per square foot, you are looking at a budget of $5,200. If, however, you want to use more expensive composite materials ($30), you are looking at a budget of $10,500.
According to Home Advisor, to build a deck of less than 200 square feet will cost an average of $4,836. A deck of 200-500 feet will cost an average of $8,142, while one of more then 500 square feet will cost about $14,504.
Wood Home Decking Cost
Home Advisor places the cost of different types of wood decking we mentioned in this post as follows:
Ceder decking: $3.75
Redwood decking: $7.75
Ipe decking: $22.50
Meanwhile, Specialty Lumber Solutions prices Brazilian Teak decking at $1.61 or $9.43, depending on the size.
Composite Decking Cost
Home Advisor places the cost of composite decking at about $35 per square foot.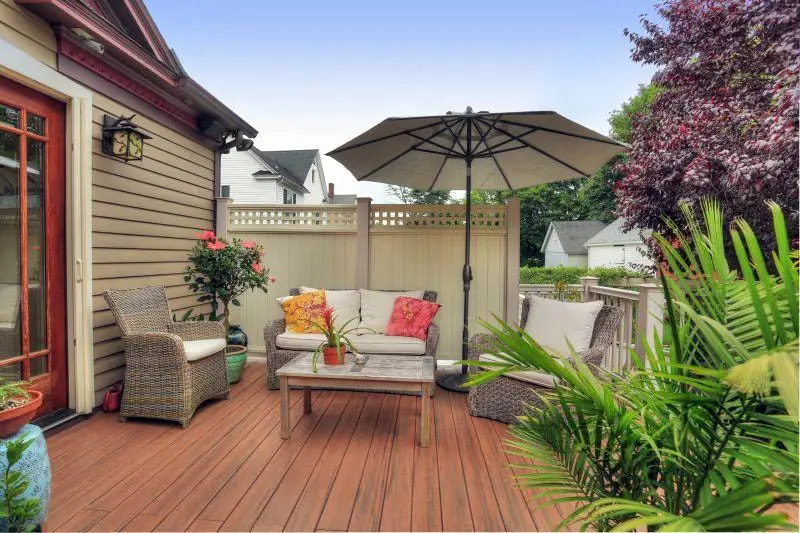 Trex Decking Cost
Home Advisor cautions that Trex decking installation takes a considerable amount of time and labor, so much of the cost comes down to installation. Installing Trex decking will cost an average of $8 per square foot.
They place the minimum installation cost of Trex decking at $6-8.50 per square feet. The maximum installation cost is placed at $8-9.50 square feet.
Labor Cost to Build a Deck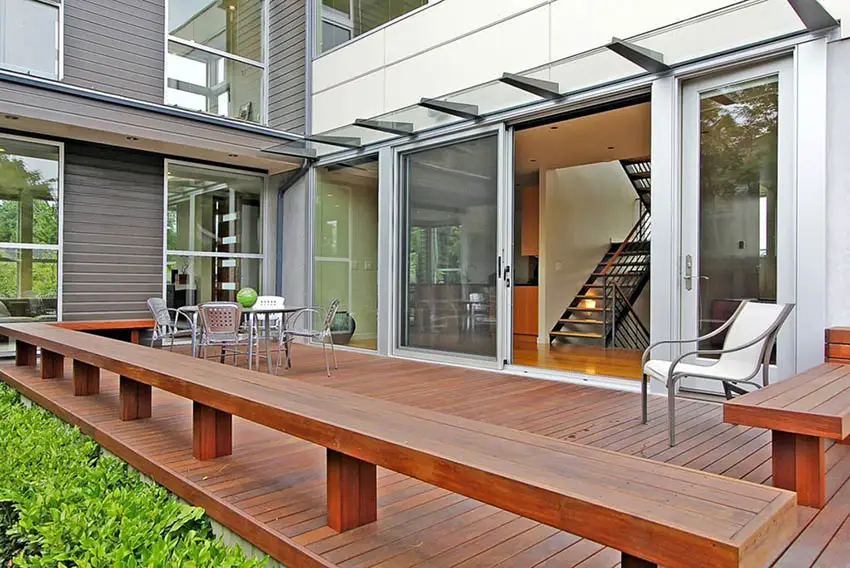 Unless you're going to build the deck yourself, you are going to have to factor in labor costs. Most deck contractors charge by the hour so you should look at your local listings and ask for quotations once you determine the size of your deck and the material that you will be using. Note that some materials are easier to work with then others, so that will factor into your labor cost.
Another factor that might affect the labor costs of your deck is the type of deck features that you choose to incorporate into your deck. For example, a single level deck will be much easier to construct than a multiple level deck so it will take your deck contractor less time and labor and they will charge you less.
Stairs can be quite labor intensive so above ground decks tend to be more expensive then ground level decks. Make sure to decide ahead of time what you want (flower boxes, planters, benches, gazebos, railings, etc.) and tell potential contractors about them so they can give you an estimate.
There are several online deck cost calculators out there that you can consult to find out the labor costs of building a deck and more. Here are a few:
https://www.homeadvisor.com/cost/outdoor-living/build-a-deck/
http://www.gempe.com/deck-cost-calculator/deck-cost-calculator.htm
Here is one specifically about the cost of installing wood decking:
https://www.homewyse.com/services/cost_to_install_wood_decking.html
Custom Deck Designs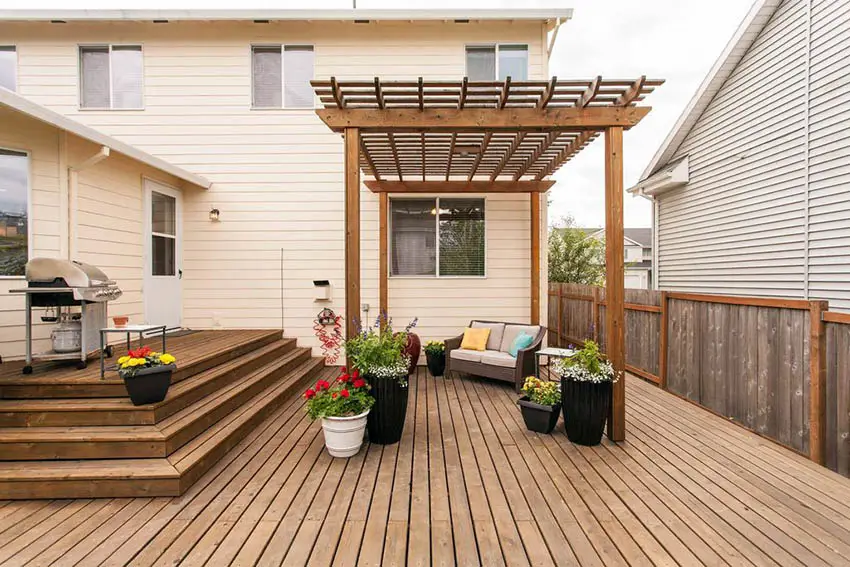 After you've decided on the style of deck, the design, and the materials, now it's time to find a way to make your deck stand out.
Think about what you want to be able to do on your deck. Do you need a designated space for barbecuing next to your kitchen? Would you like to maximize your backyard's views while sitting next to a fire pit? Or do you need it to be strong enough to support the weight of a spa? Carefully consider the features that will allow you the most enjoyment of your future deck. Visit this page for more custom backyard deck ideas.
Here are a few common deck features that you can incorporate into your deck design to ensure you customize it to your liking.
Deck Benches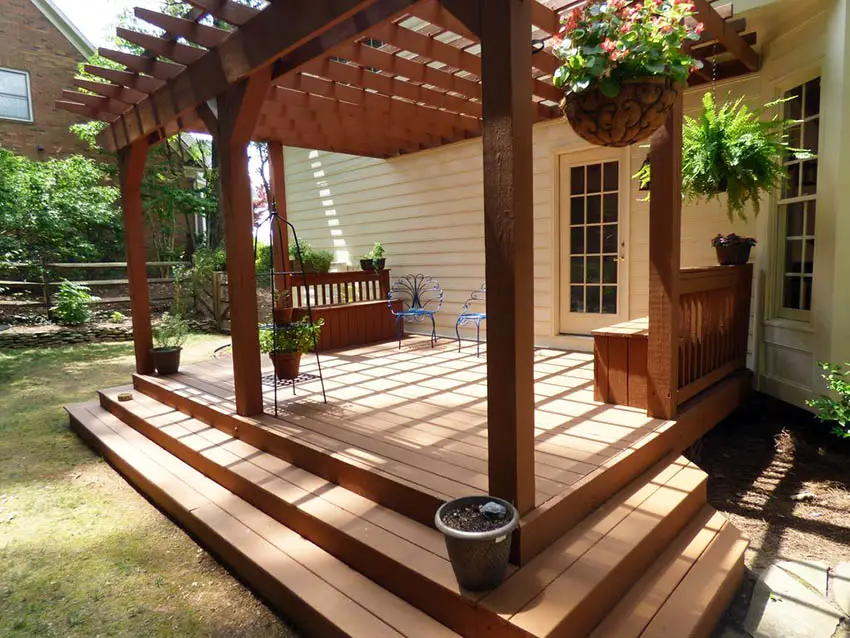 One of the main points of having a deck is so that you have a nice place to relax. For that reason incorporating deck benches is a great way to provide a deck design that's great for families and entertaining guests.
A built-in deck bench is often designed of the same or just similar material as the rest of the deck. It also often uses the existing deck railings as a backrest, though some have backrests built into their designs.
There are many different styles of deck benches but a good rule of thumb when choosing a deck bench that is right for you is to make sure the deck bench allows you to sit comfortably. Try and ensure that the seat of the deck bench is places so it is about 16"-20" higher than the deck floor. By placing the deck bench's seat at this height, you will allow for comfortable seating.
Pergola On Deck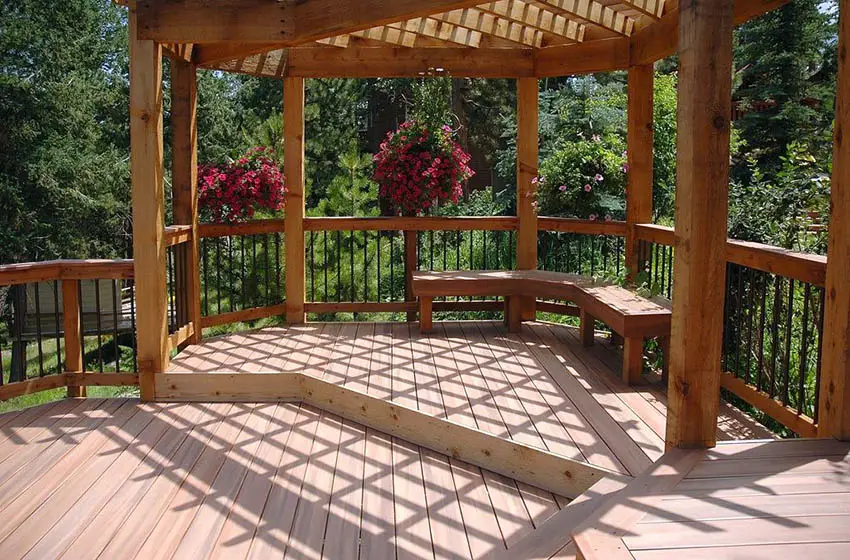 A pergola on a deck can provide an inviting sitting area that enhances the backyard space and can increase a home's resale value. Pergola's can be covered with hanging planters or creeping vines and are a nice addition to any outdoor space.
They are basically constructed by setting up crossbeams supported by corner posts. As there is no real ceiling, they won't really provide protection from the rain, but they do cast a nice bit of shade and will keep the rays of the sun from hitting your deck floor. Visit this page for more deck pergola ideas.
Deck with Gazebo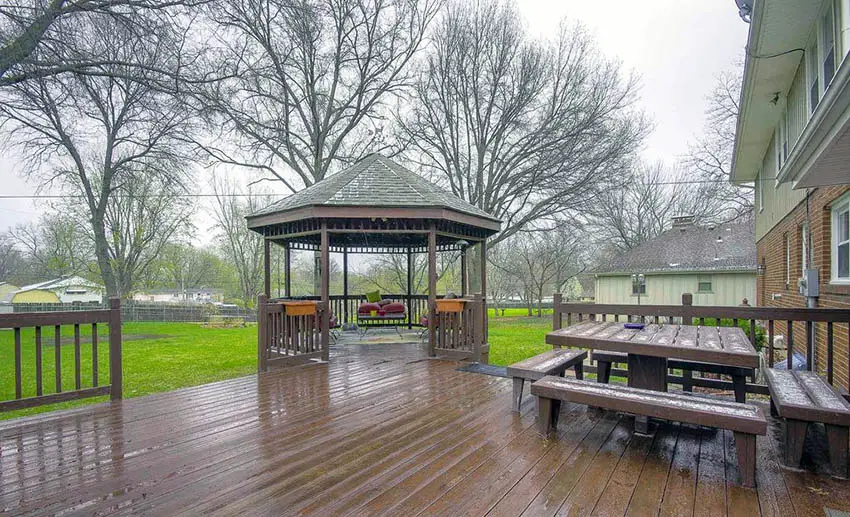 Similar to a pergola but, as it has an actual roof, it will provide you and your guests with more protection from the elements. Can be either built to stand on the deck or attached to the deck to provide more space.
Deck Planters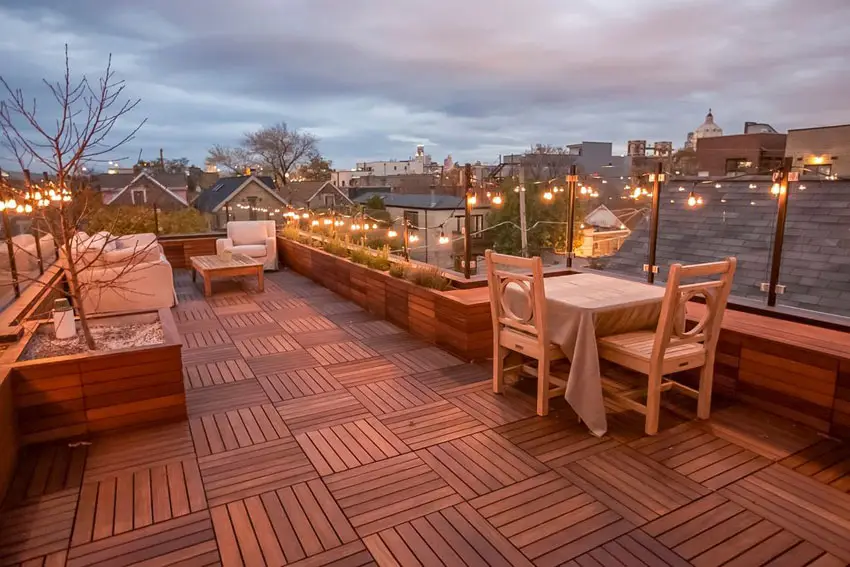 These can be placed around the deck to provide a place for plants to grow. A popular design is to have planters placed at the end of built in benches along your decks perimeter. You can also have fence planters placed on top of your deck rails or posts.
Deck Fire Pit
These can be tricky, especially if your deck is made of wood. But a sunken fire pit will make a nice and cozy place for you and your guests to sit around and enjoy the night air. You can even think about incorporating a grill or cooking area to have an outdoor barbecue or roast marshmallows at night.
When selecting a fire pit for the deck you'll want to choose one that prevents radiant heat from damaging the deck surface. Many portable fire pits or kits designed for the deck come with a built in thermal barrier. These fire barriers are often constructed of basalt (lava rocks) or other fire pad material to prevent the transmission of heat below.
As an alternative to a fire pit you may consider a portable Chiminea. These are similar to an outdoor fireplace with a bulbous end that has a light-bulb shaped design. Typically they have a wrought iron base with a clay oven top.
Deck Fireplace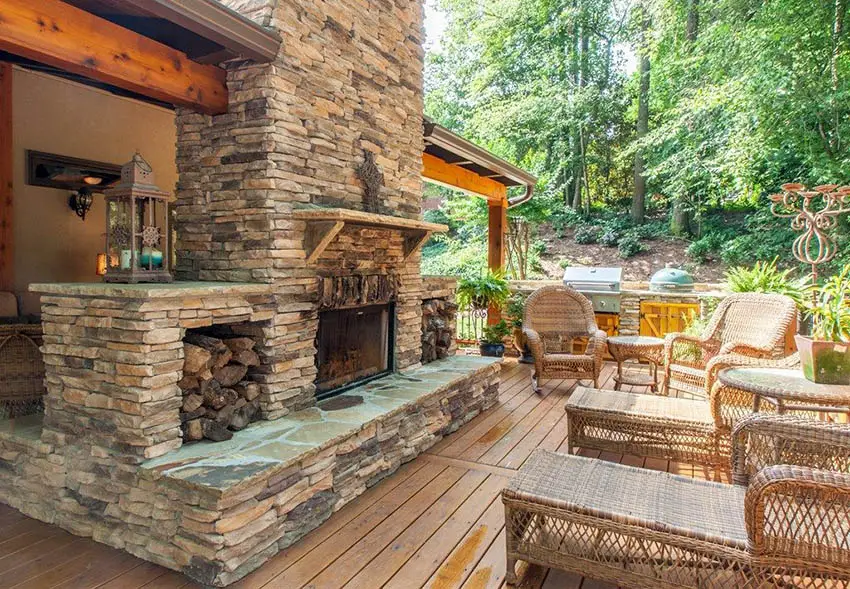 A deck fireplace can be an inviting place to sit and congregate with friends and family after dark. Whether you want to sit and star gaze, cook over an open flame, enhance your backyard ambiance, or just roast marshmallows, they can be an excellent way to get more use out of your deck.
There are many consideration to choose from when constructing an outdoor fireplace design. Primarily will it be gas or wood burning? Will it be traditional, contemporary, rustic or modern in style? Do you want a custom built design constructed by a professional stone mason or will you buy a prefab model and install it yourself?
All deck fireplace will need to be installed atop a fire resistant mat to ensure they don't damage the wood or cause a fire. In addition you'll want to ensure that there are no low hanging branches from shrubbery or tress that could create a fire hazard.
Deck Spa or Pool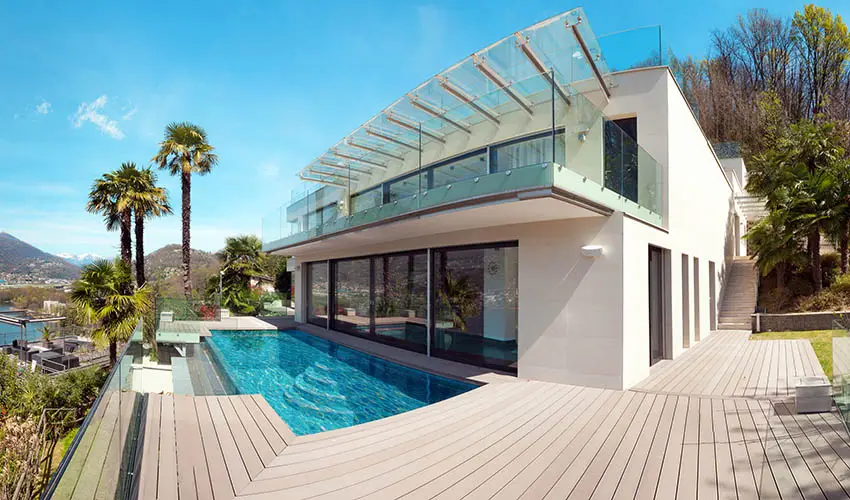 A small, raised spa or pool can be incorporated into your deck design. It will give you and your guests another way to relax and enjoy the outdoors.
When using wood around a pool or spa, care will need to be taken to properly water proof it. Many homeowners opt to use tropical hardwoods around pools which can increase the lifespan of the decking. Composite wood is a good idea since many types are ADA certified for slip resistance.
Deck Trellis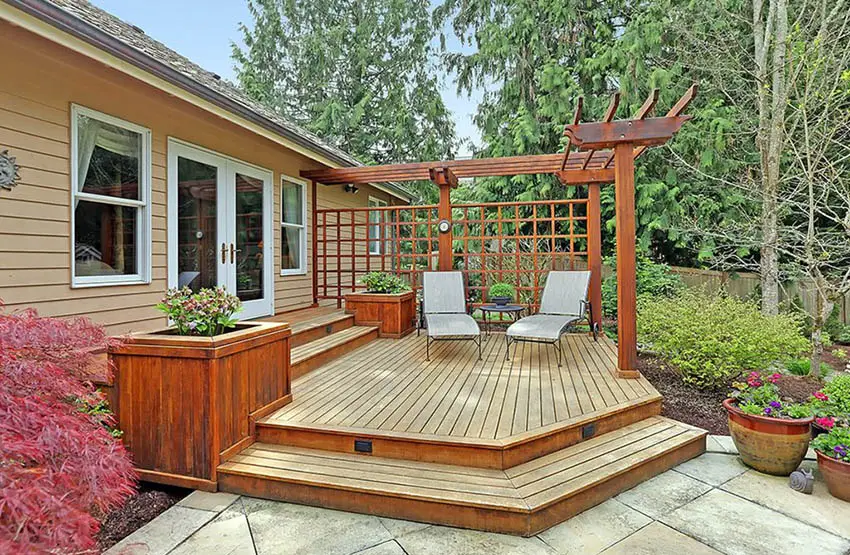 A trellis is a crisscrossed structure or latticework that is primarily used to hold climbing vines and plants. Both lattice and trellis can be used for a backyard deck. The difference between a lattice and a trellis is that a trellis is simply a structure constructed from crossed boards. A lattice is called a trellis when it is used for the purpose of supporting plants.
For those who want added privacy, shade or to grow hanging plants a deck trellis is the perfect solution. Not only are wood trellis sections easy to install, they are inexpensive and can be a great weekend DIY project. Visit this page for more lattice fence designs to enhance your deck.
Storage Space
If you have a raised deck or any deck style where in there's significant space between the deck floor and the ground, you should consider incorporating the space for storage. You can store outdoor equipment, gardening tools, and other stuff under your deck and save space. This works best when you have laid a proper foundation in order to prevent items laying directly on the ground where they can become wet and damaged.
If you need more storage space the addition of a backyard shed would be a useful addition to keep things organized. We have put together a post of the best shed design software for those who want to create their own.
Types of Deck Railings
Almost all types of decks can have deck railings incorporated into their designs. They are a safety feature, as well as a decorative feature.
The most basic type of deck rail designs starts with guardrails or railings that are placed along the parameter of the deck. Posts are attached to the deck frame, usually on the corners, and the top and bottom rails run vertically between these points. Then a system of horizontal rails are attached that run from the top to the bottom railings to run around the perimeter of the deck.
Depending on the style and design of your deck, you can have railings made of wood, metal, glass or even a combination of these materials. For example, wooden top and bottom rails but metal horizontal rails.
Deck Railing Height
Decks that stand higher than "30 above grade should have railings that also essentially function as guard rails. Decks that are attached to single-family detached homes must meet the criteria of the International Residential Code (IRC).
According to the rules of the IRC, guardrails need to be at least 36" in height. The height is measured by taking the distance from the decks surface to the top of the top rail.
Deck Posts
Your deck posts will help establish your deck's size and dimensions. You will need a post at least at every "corner" of your deck. You will also need to have posts to support your deck railings.
The IRC requires that railing posts be placed 6 feet apart, so it there is more than 6 feet in between your corner posts, you are going to need to place an additional deck railing post to meet IRC standards.
Normally, deck posts should be spaced about 8 feet apart but the maximum distance depends on the joist sizes. Larger sized decks will also require less spacing between the posts. Rule of thumb, a 16 x 16 foot deck can have deck posts spaced about 7-8 feet apart, anything larger then that should have deck posts spaced 5 feet apart.
The type of deck post material will also affect the spacing. Wooden posts will require the normal 8 feet or less, but metal posts, which can support more weight, can be spaced further apart.
It's also smart to check the local building codes of your area when deciding how many posts you need and how far apart they should be spaced.
The top of your deck posts can be shaped in a variety of designs. They can also be built to accommodate lights or lamp fixtures or hold planters or sculptures.
Deck Balusters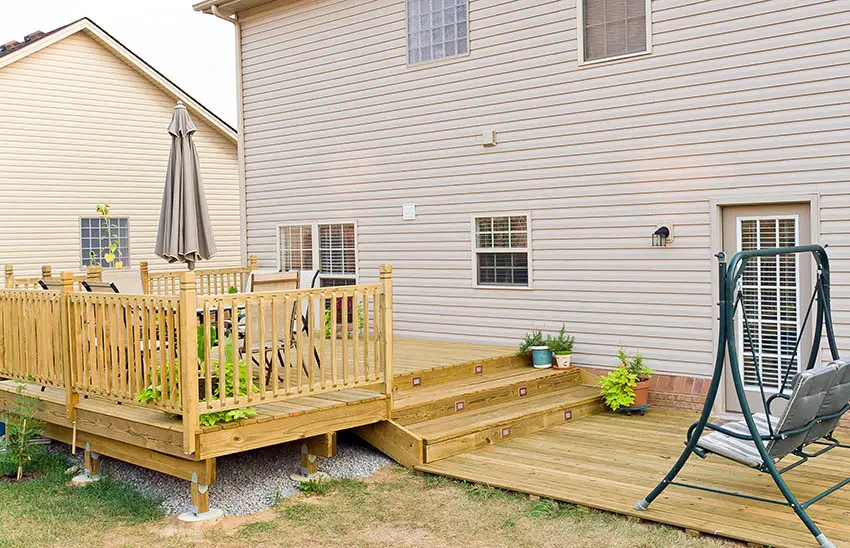 Deck balusters or pickets are part of a complete set of deck railings. They are basically the vertical supports between the horizontal top and bottom rails of deck railings. They can come in a variety of decorative styles.
Balusters are also governed by the IRC. According to the code, guardrails should not have any openings big enough to let a 4" sphere pass through so you need to keep that in mind when choosing your balusters.
Deck Step Lights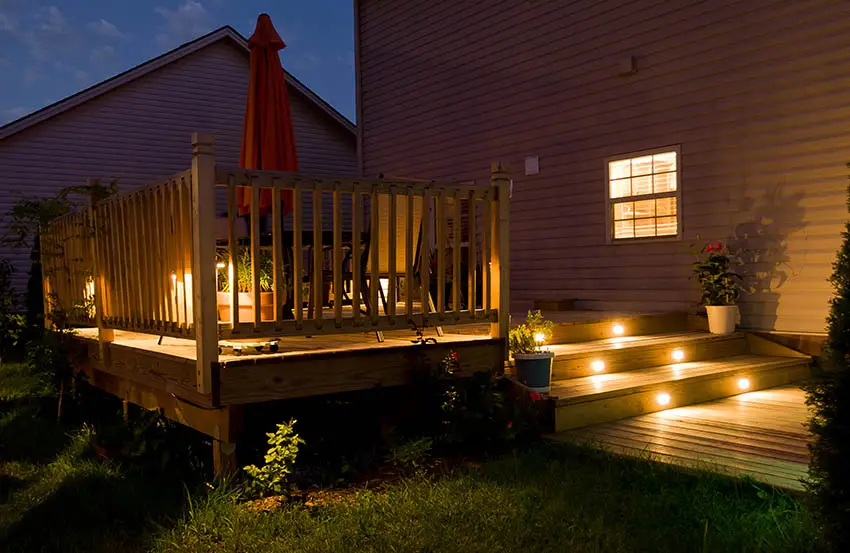 Lighting installed under deck steps can be effective for safety as well as increasing the ambiance of your backyard. Built-in lighting can greatly impact your deck area and make it more enjoyable after dark.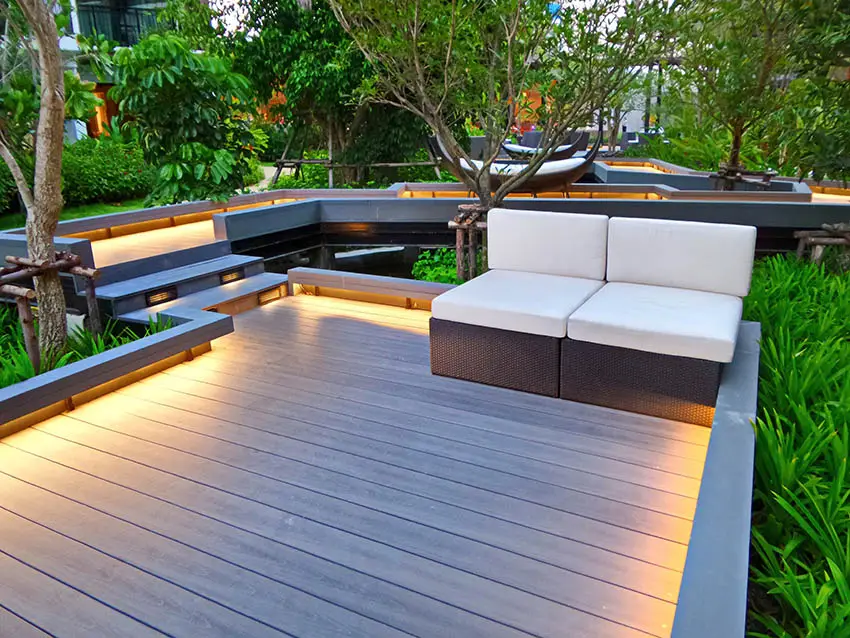 This deck uses lighting under the edges to light up the perimeter of the structure. This design looks sleek and is functional to ensure guests don't trip over the side.
Deck Post Lights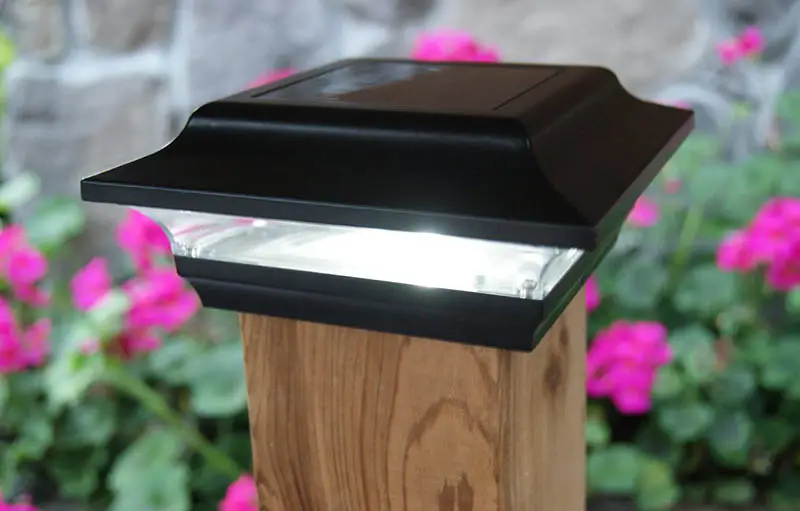 Solar powered deck fence post lights – See at Wayfair
Deck post lights are a simple and elegant way to ensure that you can enjoy your deck even in the evenings. You can buy deck post lights in several styles that will match your overall deck design. They can be easily mounted on top of your deck posts to provide illumination where you need it.
Many types of fence post lights are solar powered enabling to use them hassle free without the need to run power or swap out batteries.
Under Deck Drainage System
If you are building your deck on an upper level, you should consider installing a under deck drainage system. Having an under deck drainage system will ensure that, instead of collecting under your deck, rainwater will be directed outwards and away from your deck.
An under deck drainage system is especially important if you live in an area where it rains a lot or that is prone to flooding. If your thinking of using the underside of your deck as a storage area, this is also an important feature to incorporate.
How to Design a Deck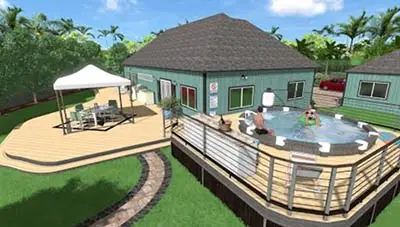 The most important thing to remember when designing your deck is that it should fit your overall vision for your home. This means that it should match your home's style.
It's also important that your deck should fit your "vision" of what sort of activities you want to enjoy on your deck. You should make sure that you plan your deck around the way that you plan to use it.
Deck Design Software
One of the best and easiest ways to design a deck that works is to use deck design software. There are several free deck design software programs available online that you can use. For more information check out our article on the best deck design software.
Deck Calculator/Estimator
Another online resource that you should use in order to get the deck of your dreams are online deck calculators and estimators. By helping you determine the cost of your deck and materials needed before you start building. This will help ensure that you get what you want at a price that you can afford without over purchasing materials.
Decks.com has a useful online calculator that can help you determine how many materials are required based on the dimensions of your deck project. You can find the tool here. They have a tool to determine the cost of materials here.
Free Deck Plans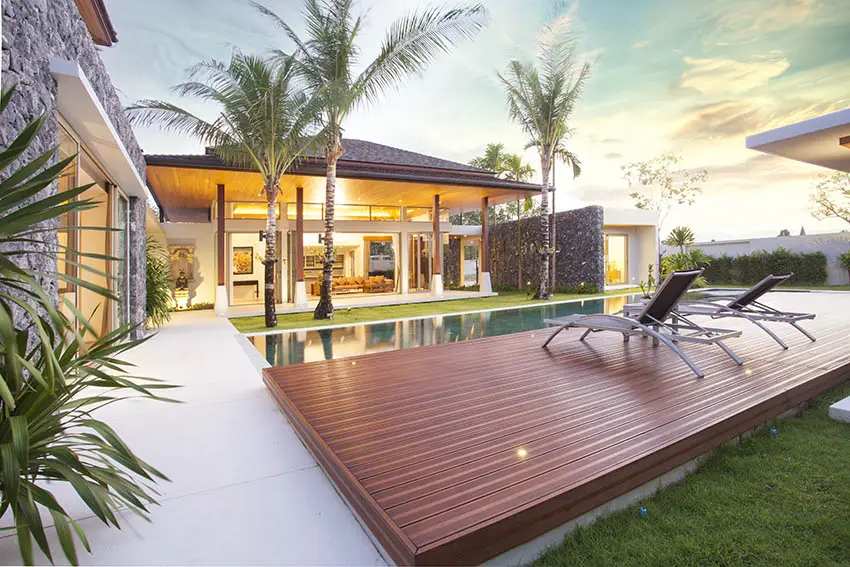 Aside from deck design software, another easy way to ensure that you have a good deck design is to find a good deck plan online. There are several online resources for free deck plan. Here are a few of them:
https://www.decks.com/deckplans
https://timbertech.com/inspiration/deck-plans
https://myhomeimprov.com/diy-deck-plans/
https://www.thespruce.com/free-deck-plans-1357115
https://www.goodtimesco.com.au/planner/
Wood Sundeck Plans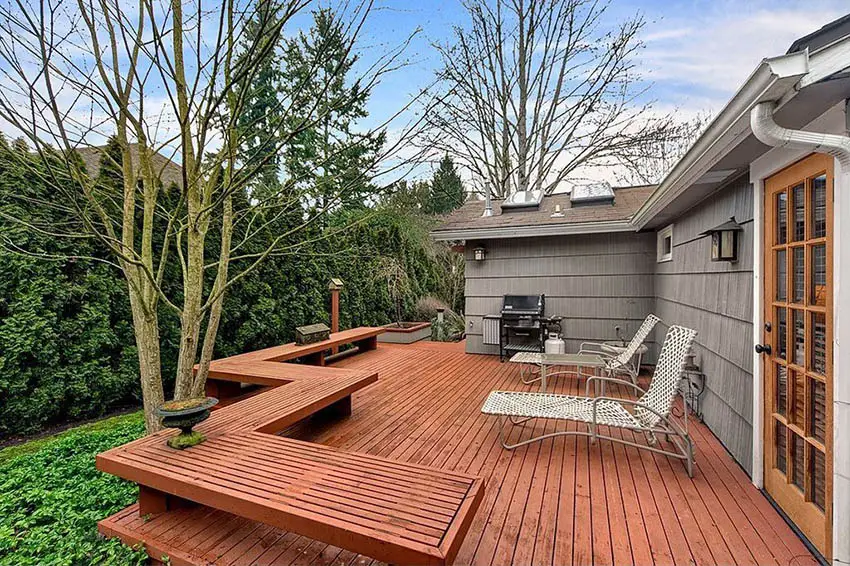 Most of the online deck planners we list above have different plans that are appropriate for use with a variety of different materials, including wood.
If your looking for specific examples of wood deck plans, check out these:

https://www.woodmagazine.com/woodworking-plans/outdoor/draw-a-plan-for-your-deck
Wooden Deck Kits
An easy way to get wooden deck designs without having to worry about labor costs is to D.I.Y with a wood deck kit. A ready-to-assemble kit contains several pieces that you assemble yourself in order to attach a wooden deck to your home.
You can find samples of wooden deck kits here:
https://www.homedepot.com/b/Lumber-Composites-Ready-To-Assemble-Kits/N-5yc1vZbql7
https://www.rona.ca/en/packages-all/package-deck

https://www.menards.com/main/building-materials/landscaping-materials/the-project-store/deck-projects/shop-all-deck-projects/c-9890.htm
http://www.goodtimesdecking.com/good-times-how-to-build-a-deck-project-kits.html#diy-project-kits
Hiring Deck Contractors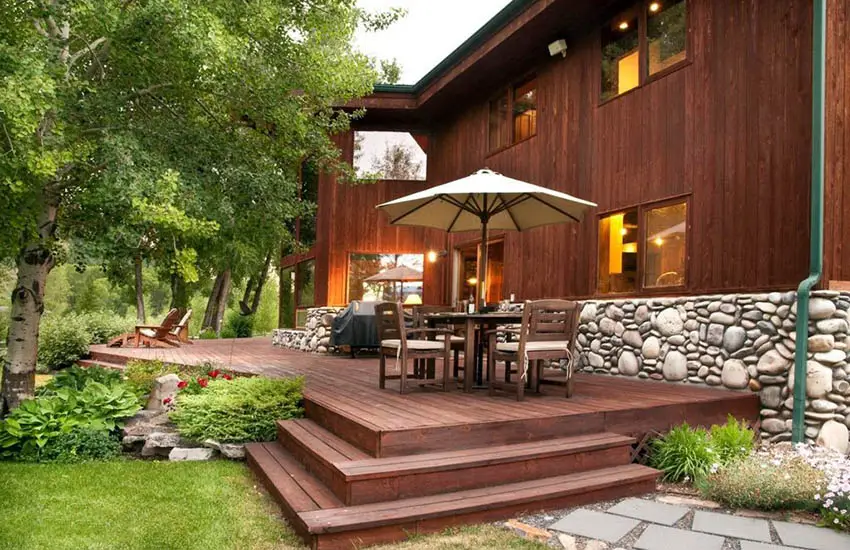 If you have found a good deck plan or deck design but are not sure about your ability to build it yourself, you can always think about hiring deck contractors.
The traditional way to ensure you get a good deck contractor is to first ask people you know for referrals. If you have a friend, family member or colleague who has a deck, or if you just see a good deck design in one of your neighbor's homes, ask them who built it for them and if they can refer you.
When asking for a referral for a deck contractor, you need to ask their former clients following things:
1. Was the project finished on time and on budget? If not, why?
2. Were you given updates on the projects status and informed ahead of time of the costs?
3. Was the contractor easy to work with? Did they handle setbacks well?
4. Did the contractor work with a good crew?
5. Would you hire them again?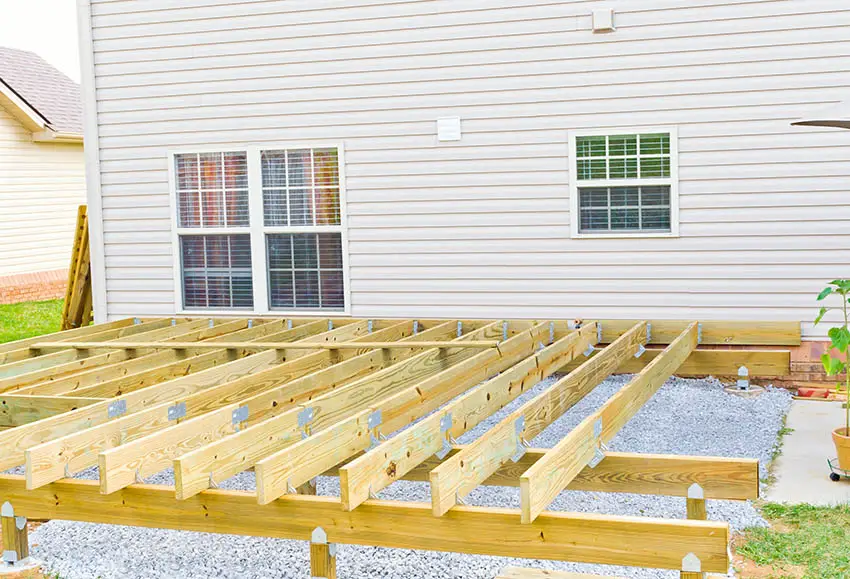 Once you get a referral, you should ask to interview the contractor. During the interview, you should ask the following questions:
1. How many deck designs have you built?
2. Who will take care of getting the necessary building permits?
3. Who will be the one to contact the local public utilities to get the underground lines laid out.
4. How early and late will you be working?
5. What is the payment schedule like?
6. What kind of insurance do you have.
If possible, you should also ask to visit a site that the contractor is working on.
You can also go online to find a local deck contractor. One good online directory for local decking contractors is Angies List: https://www.angieslist.com/. This site allows you to see the reviews and ratings given to the different contractors by their past clients.
There's also the National Association of Home builders. While the directory may seem intimidating, at least you can be sure that those listed here are professional and reputable builders.
Yelp and Thumbtack are also a good way to find and get in touch with deck contractors near you. They can provide you a list of contractors according to areas. Thumbtack also allows you to describe your project and ask contractors for a free estimate.
There is also Porch.com which matches people with contractors in their area (you input your zip code and some project details) who can help them with home projects. Yes, decks are included.
Wood Platform Deck Maintenance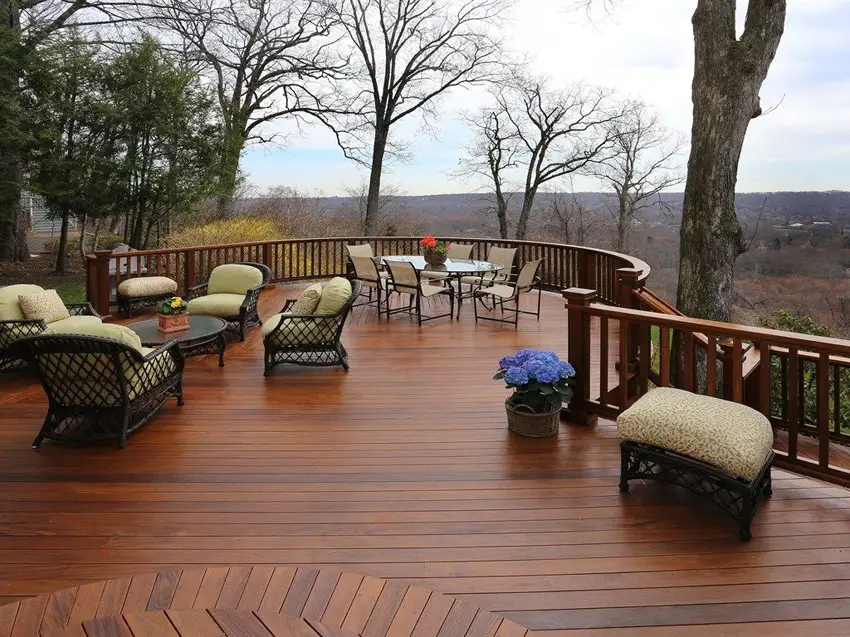 Before we go on, let's talk a little bit more about wooden decks. As we mentioned before, many people feel like wooden designs are the most beautiful types of decks. However, they are often quite difficult and time consuming to maintain. Here are a few things you will need to do in order to maintain your wooden deck.
Deck Waterproofing
The best way to ensure that your deck is protected from the rain, snow, ice, and even just from spoiled drinks is to use a weatherproofing stain or sealer.
Wood Stain and Sealers for Decks and Verandas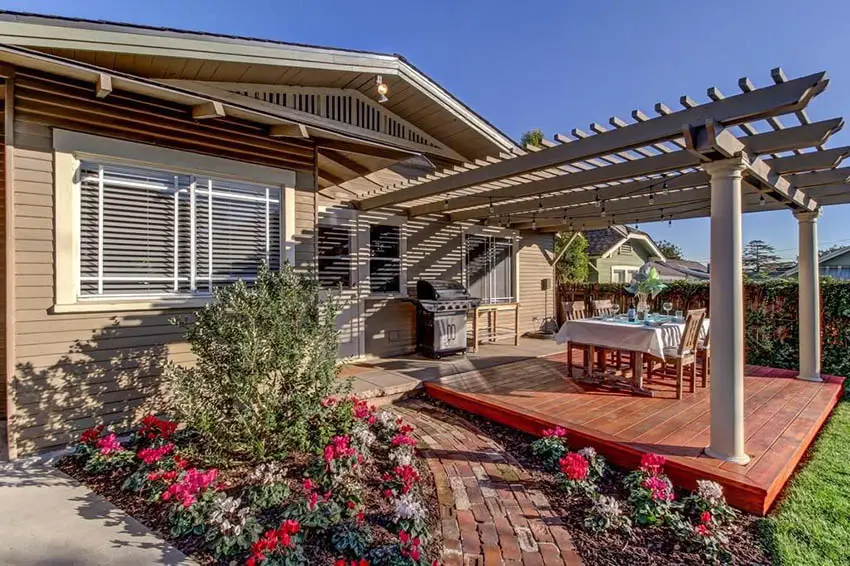 The restaining and sealing of a wooden deck are an important part of maintaining your deck. Uncovered decks are more prone to weathering, warping and weakening when exposed to direct sunlight, hard rain, and other elements. Stain and sealer can protect your wooden deck from the elements, but they are prone to evaporate. As such, you need to restain and reseal your wooden deck every two years.
When scheduling the restaining and sealing of your wooden deck, choose a time when temperatures are above 50 degrees Fahrenheit, maybe spring or even summer, and the sunlight that hits your deck is strong and direct. Stain and seal applied in these conditions have the best chance of really penetrating the wood and creating a protective surface that won't wash off or fade too quickly.
Best Deck Stain
Wooden deck stain fades with time because of exposure to the elements. According to Consumer Reports, the best type of wood stain will last about three to five years.
Stains were classified into three types: Solid, Semitransparent, and Clear sealer.
Solid stains are similar to paint in the sense that they hide the grain of the wood. The paint-like quality of solid stains make them the longest lasting. A good coat of solid stain should last three to five years.
The drawback of solid stain is that, like paint, there is a slight residue left over and, after applying several coats to the same area, over time it can peel or even crack.
Semitransparent stains allow the wood grain to be seen slightly. So this is a great choice if you want to show off the natural color and texture of your wood. They are not as tough as solid stains but you can probably expect a coat of semitransparent stain to last two or three years.
Clear sealer contains almost no additional pigmentation, so they really allow woods natural beauty to shine through. However, clear sealers have nothing in them that is capable of shielding the wood from UV rays, so expect fading. Also, they really don't last long so you will probably have to restain annually.
Consumer Reports has tested and reviewed 28 different deck stains according to how long they last and how well they perform. You should check out their reviews here: https://www.consumerreports.org/products/wood-stain/ratings-overview/
Another good resource for finding out which deck stain is best for you would be Deck Stain Help.com. They caution deck owners that their environment, where they live and what the conditions are like, should factor in to the choice of deck stain that they decide to use.
When you go to Deck Stain Help's page, they will ask you the answers to five questions to determine what type of deck stains would be best for you. You can try it here: https://www.deckstainhelp.com/what-is-the-best-deck-stain/#more-2020
Top Rated Deck Stains for 2019
1. TWP 100 Series
2. Restore-A-Deck Wood Stain
3. Armstrong Clark Wood Stain
4. Defy Extreme Wood Stain
5. TWP 1500 Series
6. Ready Seal Wood Stain
As a general rule, the moderators seem to prefer what they call penetrating semi-transparent stains. Almost all of the top rated stains for this year are classified as such.
According to them, the semi-transparent nature of these stains allow the wood grain to show, while the penetrating nature ensures the stain soaks in and makes reapplication easier.
Once you've decided on what type of deck stain you will be using, you should figure out how much of that particular stain you will have to buy and use to cover your deck completely.
On the average, a gallon of stain should cover around 150-300 square foot of deck. Measure your deck floor by taking it's width times length. Then get the measurements of the railings by getting the linear feet and multiply it by average height. If you have steps, measure how wide one is then multiply by number of steps.
Add all three of these measurements and you will have a rough estimate of the square footage of your deck. Take note, that if you have any other wooded deck features that need to be stained (benches, planters, pergolas, etc), you will need to measure them. But your basic guide to determining the square footage of your deck is the sum total of the measurements of your floor, railings, and stairs.
There are also online calculators, mostly from stain providers, that can help you determine how much stain you need for your deck designs. Check out a few here:
http://www.saversystems.com/index.php/how-to-resources/diy-tools/deck-stain-calculator.html
https://www.olympic.com/start-your-project/stain-calculator
https://www.behr.com/consumer/paint-and-stain-calculator
https://www.flood.com/stain-calculator
Sealers for Home Decks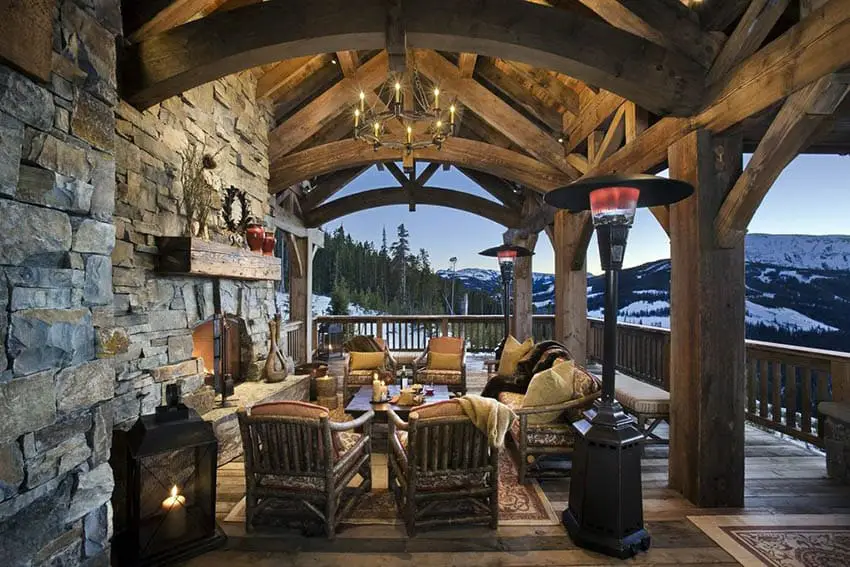 Wood deck sealer is technically what both Consumer Reports and Deck Stain Help refer to as clear stain or clear sealer. Deck stain and deck sealer are supposed to provide wooden surfaces with protection against moisture.
Using wood deck sealer instead of a stain allows your deck to look so natural it often seems uncoated or treated. It will provide your deck with protection from rain and moisture.
Clear stains or clear sealers, however, do not have any pigment mixed into them. While this ensures the natural texture and colors of the wood shine through, it doesn't provide the deck with protection from the sun.
If your deck is in a relatively shaded area, or you have a good awning or canopy system in place, you can probably just use deck sealer. Take note, however, that these don't last as long as stain and you might want to reseal your deck annually.
As we mentioned before, pressure treated wood has already been treated to make it weather proof. Because of this, a pressure treated wooden deck the best candidate among all the different types of wooden decks to be treated with clear deck sealer.
So what is the best clear deck sealer for pressure treated wood? Well, Deck Stain Help's highest ranked clear stain is Defy Extreme Clear Wood Stain. This is the clear version of semi-transparent Defy Extreme Wood stain line which is their fourth ranked best stain of 2018.
The Defy Extreme Clear Wood Stain is clear and transparent and provides excellent waterproofing without "blocking" the natural beauty of wood. It also, however, contains nano particles of zinc oxide. These nanoparticles doesn't affect the stains color or transparency but they do filter out UV rays. You will, however, still need to refinish every year or every two years or so.
Deck Paint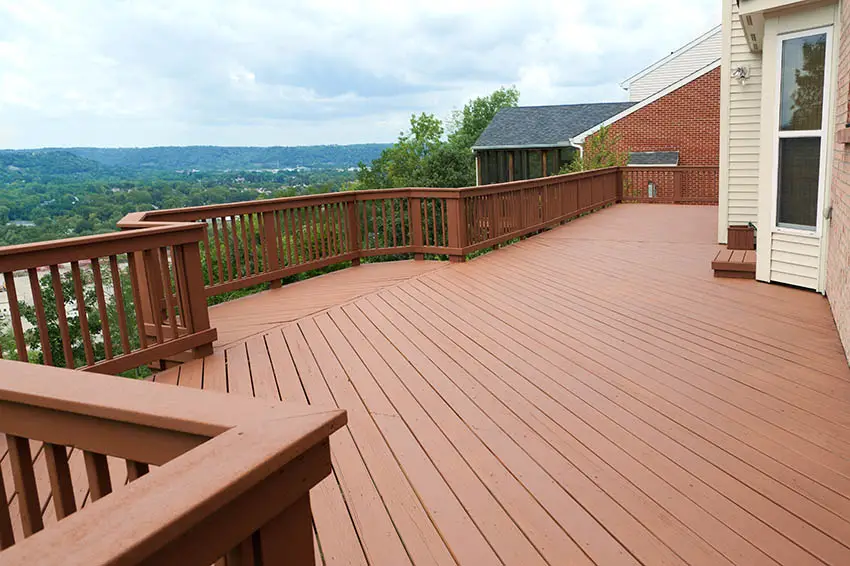 Deck paint is a great way to restore or breathe new life into an "old" deck. If you no longer like the color of your deck material, you can add a fresh coat of paint to update and refresh your decks look.
Deck paint is also sometimes considered solid deck stain. As we mentioned before, solid deck stains are heavily pigmented and they will completely mask the surface of the wood or other material that they are placed over. They provide the best UV protection and also last the longest, up to five to ten years.
One good reason to use deck paint instead of stain on a wooden deck is that it can help smooth over the cracks on old boards. Most deck paints are oil-based and acrylic and designed to resist cracking even when exposed to fluctuating temperatures. Many are also mildew resistant so that's another plus in paint's favor.
Even if you don't want to paint your entire deck, you might want to consider painting the high traffic areas, especially those around water features such as Jacuzzi's or pools. You can buy deck pain that has a no-slip texture for those areas to prevent accidents.
The major problem with deck paint is it doesn't really penetrate, so you've basically left with a film of colored material on the deck surface. This means that painted decks are prone to cracking or peeling.
Deck paint can also be more expensive than stain. It is also a bit more labor intensive as you can't really grab a brush and a can of paint and slap it on your deck. You're also going to have to apply a primer before applying or reapplying paint.
Best Deck Paint
Just to give you a hint of what "best" means for them, lets look at what they say is the best: KILZ Interior/Exterior Enamel Porch & Patio Latex Floor Paint.
They like KILZ because of its durability. This paint resists scuffing, cracking, peeling and fading. It has a smooth, low-luster finish that evens out rough surfaces and protects them from weather and heavy foot traffic. It is also easy to clean.
They also give a high rating to KILZ. While it comes in third overall, it is their best budget pick. Their top pick, however is Behr Premium Wood Finish.
They like Behr for its redwood tone finish and its waterproofing and weather protection. It is easy to apply and dry's in about four hours.
They also like KILZ, which comes in at number three. However, their favorite is Anvil-Deck-A-New. They like it because it's a slip-resistant paint that comes in 5 colors and can protect both wood and concrete. As a 100% acrylic paint, it stands up well to foot traffic and harsh weather conditions.
Wood Type Deck Restoration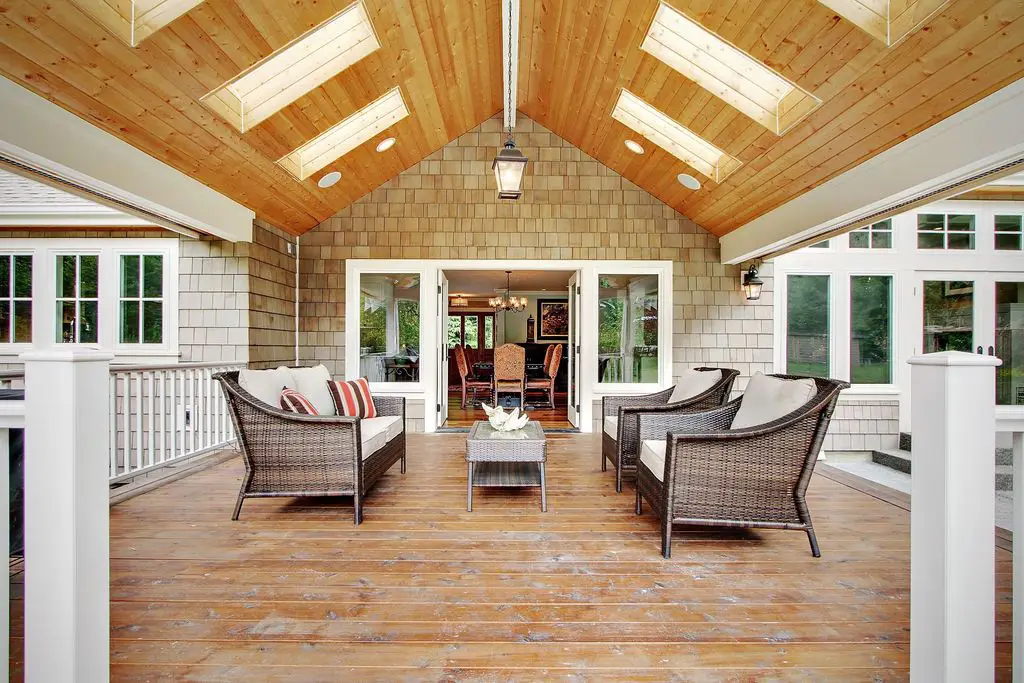 As we've mentioned throughout this post, well-maintained deck designs, be it made of wood or otherwise, will provide your and your friends and loved ones with a great place to hang out and enjoy the outdoors for years to come.
In order to ensure you get the most use and enjoyment out of your deck, it's important that you take steps to restore your deck every now and then. Here are wooden deck restoration steps that you will have to regularly take.
1. Check the Boards for Warping
One major attraction of wooden decks is the texture and feel of wooden deck flooring under people's feet. While you and your guests don't have to be barefoot or sit on the wood deck floor, you want to make sure that that option is always open to them. This means you need to ensure that your wooden deck surface is clean and smooth. You don't want people getting a splinter or tripping on an uneven board.
Your deck is exposed to the elements and the changes in climate. Sunlight, rain and snow, sudden head or cold, and humidity can cause wood to warp. When the wood boards of your deck floor start to warp, they will start to twist upward and not fit as smoothly as before. Warped boards are a tripping hazard you don't want to expose yourself to.
Examine your deck floor every few months to determine if there are any warped boards. If you find any it is best to remove them completely. Replace them with fresh boards and let these boards sit for about four weeks to allow them to dry out and acclimate. Then lightly sand the new boards and add some stain or paint if desired to make sure they match the old boards. Finally, you should apply some weatherproofing sealant.
2. Examine the Nails & Screws
If you use nails on your wooden deck board, these are another thing that you need to constantly inspect. You do not want any nails sticking up from your deck floor, especially if there are children around, as these can cause injuries.
If you see nails starting to stick up, it's best to countersink them right away. Hit the nail head with a hammer till it is more or less level again with the deck surface. Then take a nail set tool, place it on top of the nail and hit it with a hammer till the nail head is slightly sunk. The nail head should sit slightly below the surface of the board.
You should also consider just getting screws your deck floor. Screwed floors are a bit more labor intensive then nailed floors, so they tend to be more costly to install, but in the long run, screws are less likely to stick up or get uprooted so you will save on maintenance in the long run.
3. Cover Scratches with Stain or Paint
If your deck is exposed to a lot of foot traffic, it could get scratched or scuffed. Make sure you have some of the original stain or paint you used on your deck at hand to take care of these scratches.
Apply a generous amount of stain on the scratch with either a stain applicator or even just a damp cloth. Then wipe away the excess till the scratched surface matches the surrounding surface again.
4. Check for Rot and Apply Wood Filler for Decks
If you see small holes or damaged areas on your wood boards, this could be signs of rot. You will want to repair these small signs quick before they really start to destroy the wooden boards and ruin your deck.
You can repair small holes and other signs of rot by applying wood filler. Wood filler is designed to fill small holes in wood. It can also smooth out small discrepancies in the wood, such as the hole left by a missing nail or just patch a really deep divot in the wood.
Wood filler is made of a mixture of filling substances and a binding agent and often looks like putty. They come in a variety of color options so that they can match their surroundings.
Wood filler either comes in a tube, like epoxy, or tubs. Wood filler in tubes is easy to use as you just place it over the area to be filled and squeeze a certain amount in. Wood filler in tubs, however, allows you to get more coverage. You scoop the amount you need out with a putty knife then scrape it into the area.
Take note that, if you're planning to restain the wood, you are going to need to do so before applying filler. Some fillers end up penetrating the wood and could prevent it from absorbing the stain properly.
Wood Veranda Resurfacing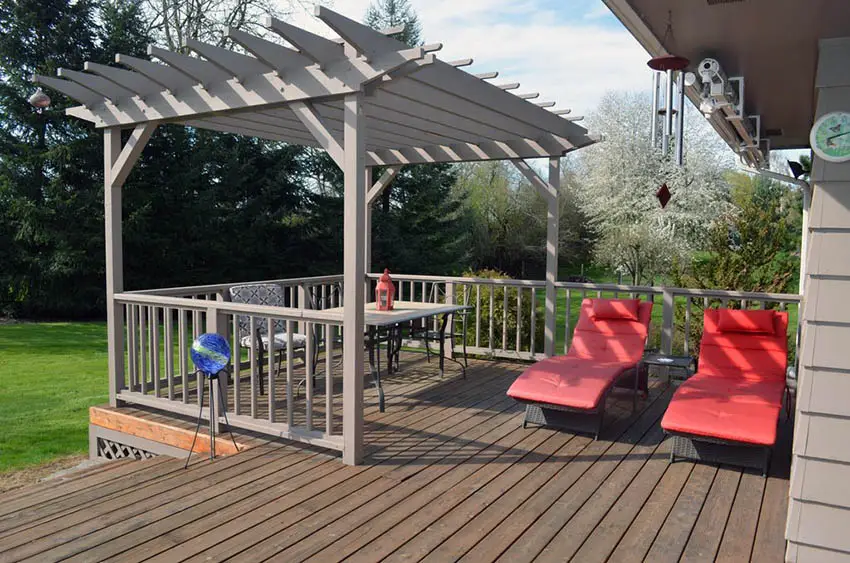 No matter how well you maintain your deck, there will come a time when cleaning and restaining just isn't enough. To truly maintain your deck's beauty, you need to resurface it every five years or more.
One good way to tell if your deck needs resurfacing is to take a close look at it after you've cleaned it. If your deck is too worn out, the cleaning will leave the deck looking a little blotchy. The blotchy bits are the parts of your deck that are to worn out.
To resurface you deck, you first need to strip it by applying deck stripper. Deck strippers remove any old or loose coats of deck stain or sealer. This will leave you with a clean surface to work with.
Afterwards, you need to apply deck cleaner. Deck cleaner will remove worn and frayed wood fibers from the surface of your deck and bring out a fresher wooden surface. If you find that you have black or green stains on your deck after stripping it, this is a sign of mildew. You are going to have to find a deck cleaner with a bleach base to get rid of this. Use the bleach based cleaner first then standard deck cleaner.
After you have stripped and cleaned your deck, wait for it to dry for a couple of days. Then you're going to have to reapply stain, sealer, or paint, according to your preference.
Deck Cleaning
You need to regularly clean your deck of leaves, twigs, and falling branches. Leaves on your deck can attract pests and even stain your deck. Make sure you clean them off and don't leave them to pile up on your deck. Limbs from nearby trees falling onto your deck can also damage the deck surface and even the boards.
As a general rule of thumb, it might be a good idea to keep a cleared space around your deck. Or, make sure any trees around your deck are trimmed so there is no danger of leaves or falling branches and twigs landing on and accumulating on your deck.
How to Remove Green Algae from Decks Made of Wood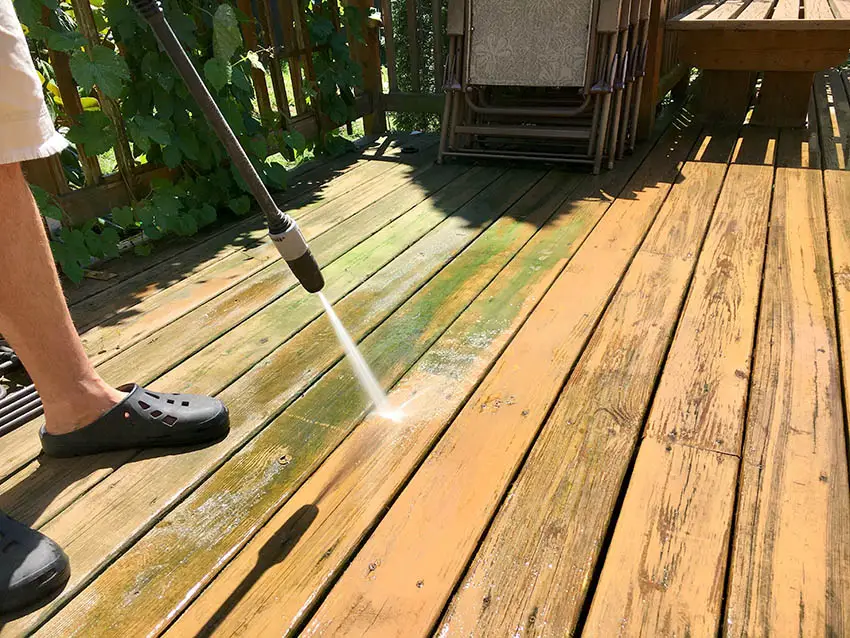 Normal cleaning methods, such as sweeping, mopping or even scrubbing will not be enough to get algae and mildew out so if you want to keep these from discoloring or even destroying your deck boards, regular pressure washing is a must.
You should power wash your deck once every year. Using a high pressure washer will get rid of deep-seated dirt and help remove troublesome staining that is otherwise difficult to remove by hand. Pressure washing will also ensure that mildew and algae do not have a chance to accumulate on your deck surface.
Normal cleaning methods, such as sweeping, mopping or even scrubbing will not be enough to get algae and mildew out so if you want to keep these from discoloring or even destroying your deck boards, regular pressure washing is a must.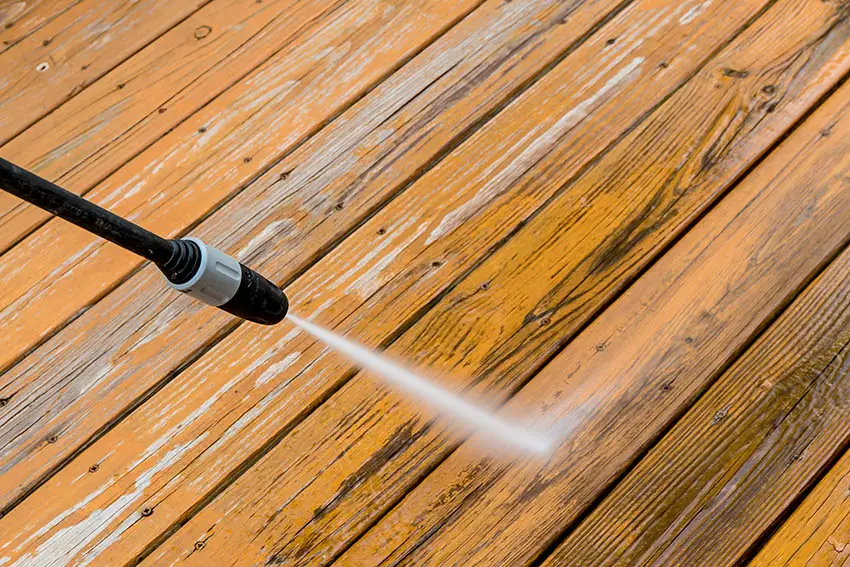 It's recommended that you power wash your deck in the spring. This is to ensure that, when the weather warms up and summer gets here, you have a nice, clean, and fresh deck where you can enjoy yourself.
You can hire someone to pressure wash your deck or just rent or buy a pressure washer and do it you. Rule of thumb, the amount of pressure needed to wash a deck surface will be about 1,500 pounds per square inch. Make sure that the pressure washer you use is set to no more than that, otherwise, you might damage your deck. It's usually a good idea to reseal or restain your deck after pressure washing. However, make sure you wait at least 24 hours after washing before applying anything.
Visit this gallery page for more pictures of wood deck ideas for inspiration for your next backyard remodel project.