Welcome to our gallery of beautiful fence planters. An old boring fence can sometimes be an unsightly view, but instead of allowing dull planks to become an eyesore in a beautiful landscape, try dressing up your fence with a variety of decor.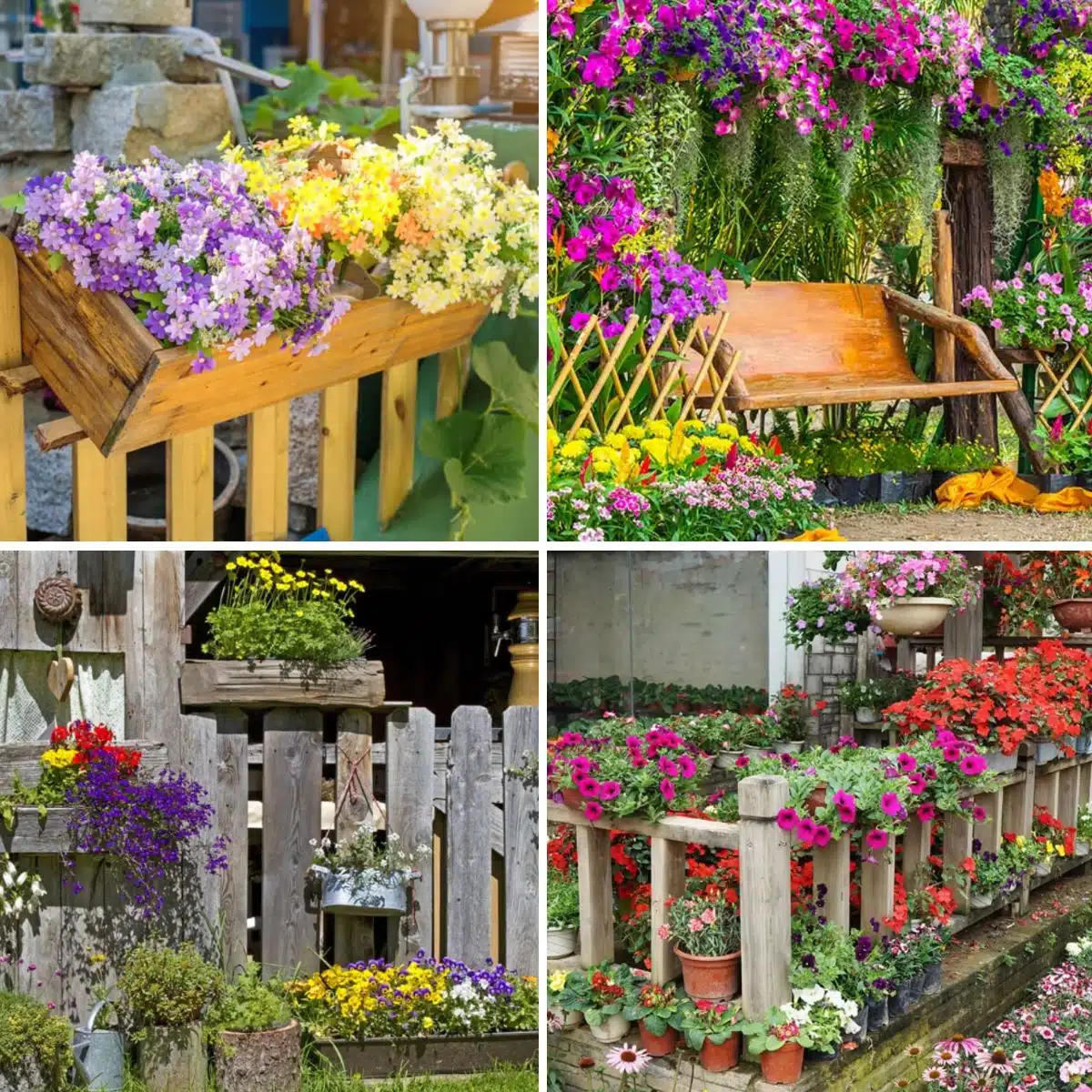 A fence can be used as a backdrop for an interesting focal point in a yard or an outdoor space. Below we share a variety of ways to improve your garden fence with flower planters and turn your yard in to something amazing.

A fence offers an opportunity to efficiently take advantage of any outdoor area, whether it may be expansive or limited in size. Commonly recognized as a neglected space, fences can be utilized to add stunning visual features for the home.
There are many ways to spruce up a fence. It can be done in a variety of ways – from store bought decorative pots to ingenious home solutions such as re-purposing and upcycling, but the easiest way to add visual aesthetics to it is by the use of fence planters. Flower filled planters instantly add a splash of color and style to fences without leaving a hole in your pocket. (This post is part of our fence designs ultimate guide)

Here are more benefits of using planters for a fence:
• It enhances the curb appeal of a home. Fence planters make a yard more appealing and inviting to guests.
• It provides a perfect opportunity to expand your garden. Fence planters are highly suitable for houses with very little yard space because it allows you to maximize an unused space. It is also an ideal way to try out vertical gardening.
• It can be used to cover unsightly views. Conceal perimeter walls by cultivating fast growing vines and trailing plants.
• It offers convenience in gardening. Plants are much easier to access and can be quickly switched when needed. It also eliminates the "messy work " like digging holes for garden plots.
• It increases the sense of depth and height in a fence.
• Fence planters also work well as an additional privacy screen .
• It softens architectural features and structural components of a house. Fence planters reduce the impact of urban elements because they contribute an organic feel. A fence with plant filled containers look more "natural" compared to a plain metal fence.
• It helps develop micro climate within a yard. A "living fence" which is covered with huge amounts of plants is well insulated as the plants regulate temperature by shading and cooling.
• It is cost effective. Fence planters are readily available in the market and cost as low as $3 per piece.
• It is beneficial to plants. Air circulation is better because they plants are raised from the ground. They grow healthier and there is less damage. Aside from that, there is also no need to worry about pets destroying your plants because it is placed at a higher level.
• It is easy to install. Fence planters are just usually hang on pickets with simple hooks or mounting hardware, there is no painstaking assembly required.
• In general, fence planters save you space, time, effort and money.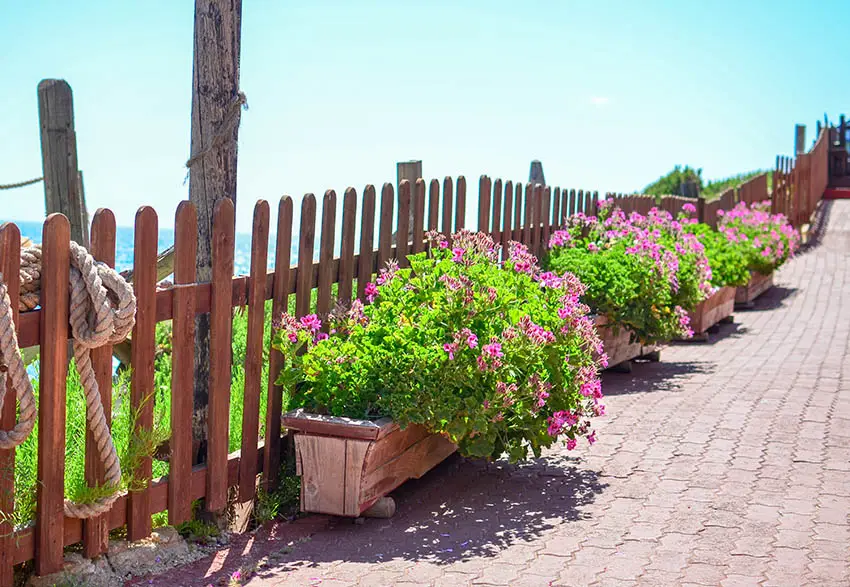 What types of plants are appropriate for use in fence planters? For plant containers which will be hung or fixed on fence rails, annual perennial types of flowers and plants are ideal because they grow all year long. Cascading types of flowers such as petunias, verbena, bidens, calibrachoa and chenille are perfect if you want to achieve a graceful "waterfall like" splash of color since these plants spill over the edges of containers as they grow.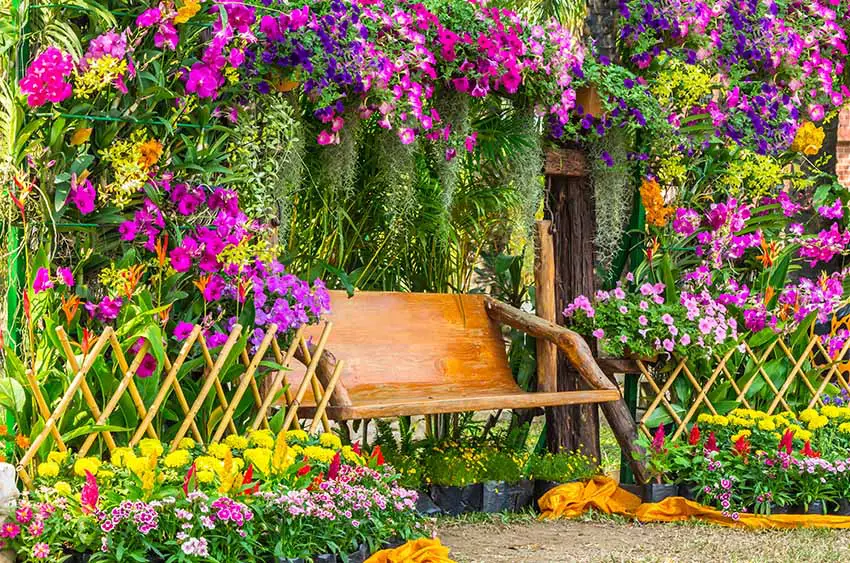 Wall shrubs and climbers are a top choice if you want to cover an entire perimeter wall or if you want to train vines to grow into your fence. Evergreen vines can make your fence look good all year round but they concentrate more on foliage such as the Persian Ivy, English Ivy, Boston Ivy, Creeping Fig and Carolina Jessamine. Flowering vines are also climbers but they offer luscious blooms. Some of its popular types will be discussed as you continue to read on our article.
Below are some decorative fence ideas ideas which you can explore as you spruce up your fence. We hope you get inspired as much as we are.
Fence Planter Boxes
A fence planter box is a rectangular container which is used for growing plants and flowers that is fixed, mounted or attached to fence rails or pickets. This type of fence decor is suitable for growing a wide variety and a large amount of plants because its size and shape can handle more compared to pots.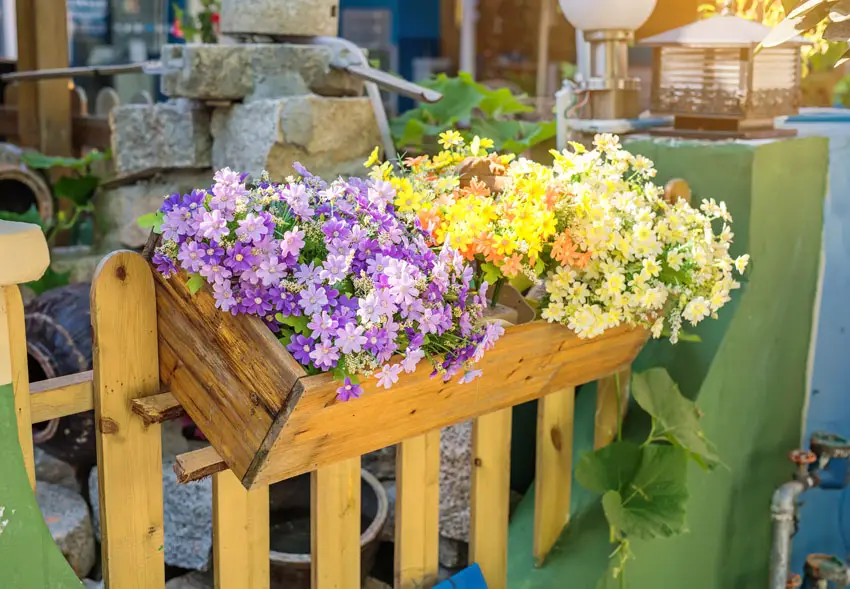 Mounted on top of this wooden picket fence is a piece of wooden flower box filled with a variety of purple, apricot and yellow dainty flowers. Fence planters can instantly upgrade the look of fences without having to exert much effort.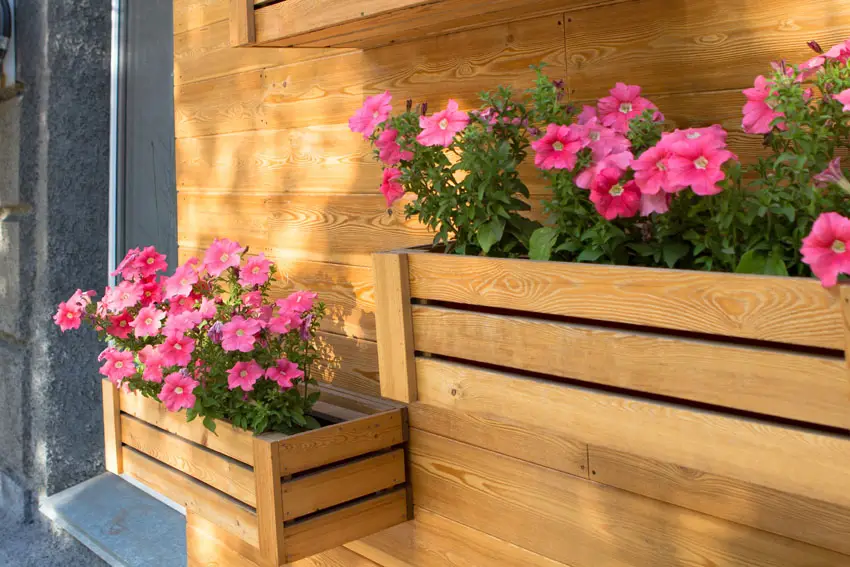 A free standing wall of crate planters with blooming pink petunias look gorgeous against a full cedar wood backdrop. This type of fence planter design can be made by securing old fruit crates together then mounting them using a support system.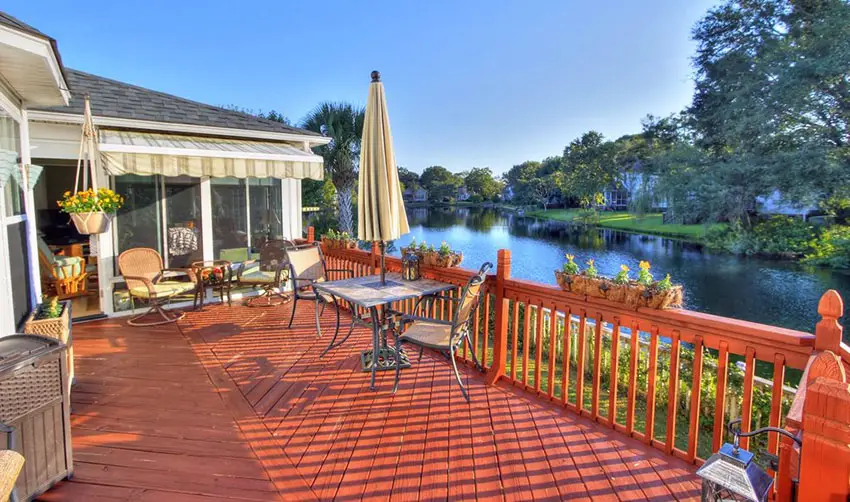 Movable flower boxes set on top of this patio's deck railings soften the architectural components of this outdoor space. This fence planter design makes use of a decorative metal cache box planter lined with moss fibers.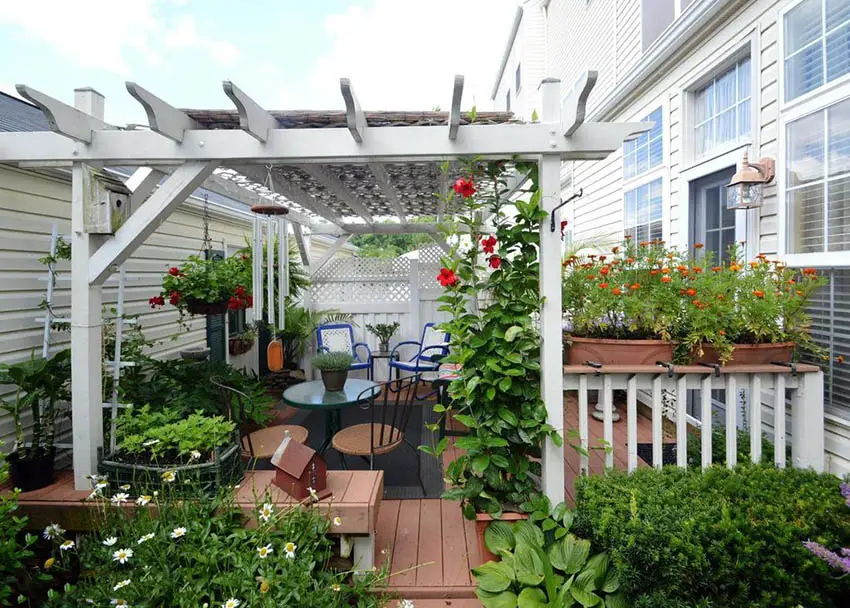 Plastic plant boxes can be easily affixed to deck railings with the use of brackets and hooks. This small deck patio is turned into an organic living space by cultivating a wide selection of verdant foliage and flowers in different kinds of plant containers. Fence planters are a great way to liven up deck designs and are especially useful for smaller spaces.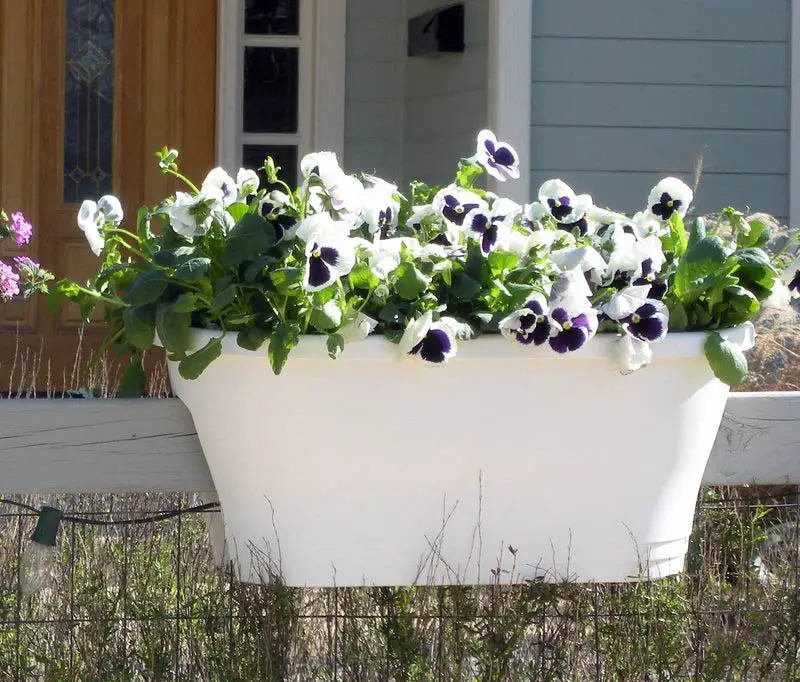 Resin Fence Rail Planter – Wayfair

This resin fence planter an be easily fixed atop fence railings because of the slot found underneath it. This type of material is easy to maintain, stable, insect proof and won't decay even with constant exposure to heat and moisture.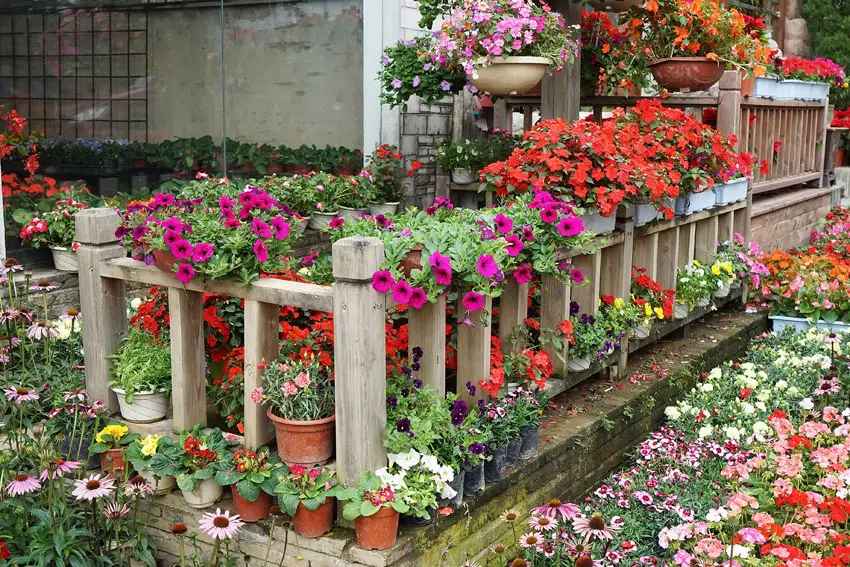 This garden is turned into a breath taking view as it is surrounded with a vast collection of vibrant flowering plants. The outdoor space comes to life with the use of different types of plant containers which are spread all throughout the fence railings – from hanging baskets, to terracotta pots and resin flower boxes .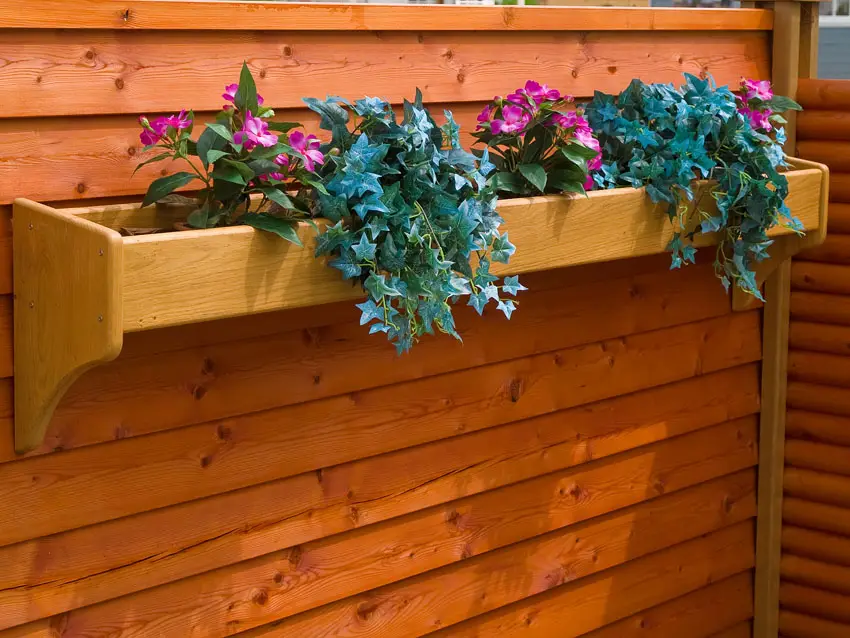 A long slim wooden box with side brackets create a simple yet effective planting bed for shallow rooted plants and climbing vines. Aside from being an excellent way to dress up a fence, it also complements the materials and natural beauty of the redwood fence behind it. These types of planters are also great as window flower boxes and can be hung underneath to brighten the views out.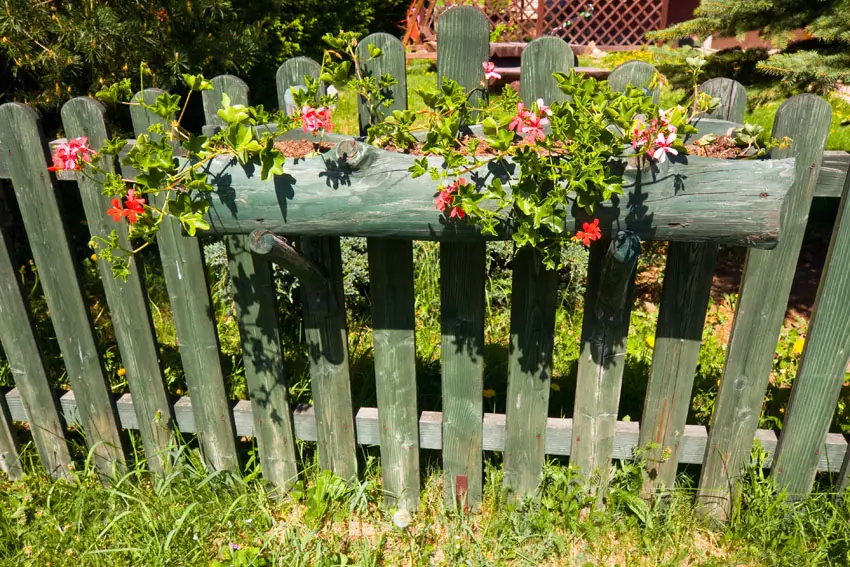 A piece of driftwood is creatively used as a hanging flower box for this wooden picket fence. The beauty of using this type of material is that its appearance dramatically changes as it ages giving your fence a distinctive natural weathered look.
Aside from training vines to climb up in order to fully cover a perimeter wall, take advantage of the vertical space by adding a water feature to your fence. Its surprising to see how plants can easily soften hard features and bring architectural components to life.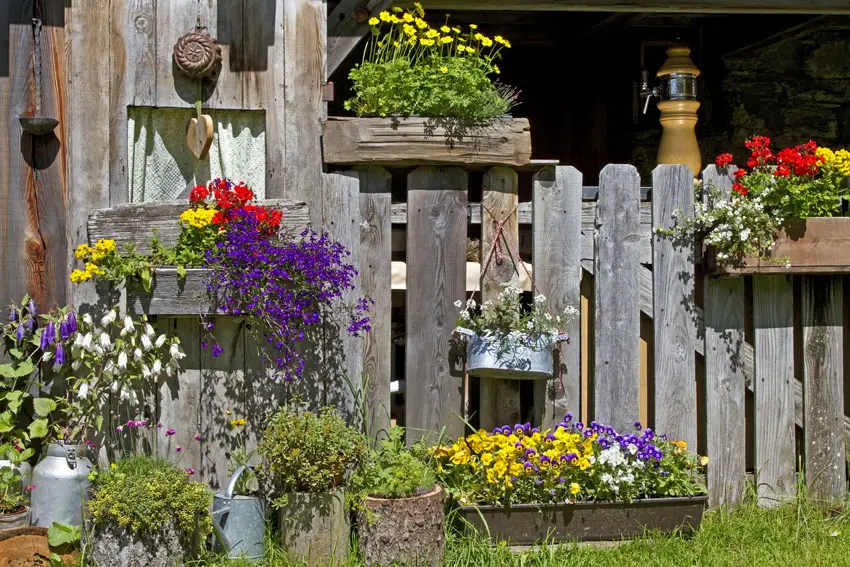 Reclaimed wood, old wash tubs and tin milk cans are perfect fence planters for "ranch style fences" as they give off a rustic country vibe. Colorful petunias and other vibrant flowers add visual interest and make this fence flourish with curb appeal.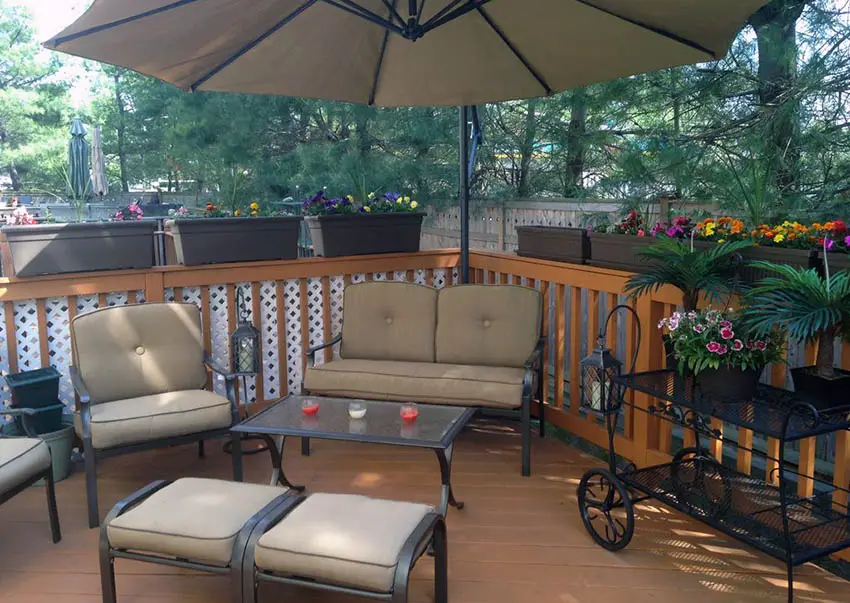 Rectangular resin planters placed on top of the railings also add height and privacy to this patio space. A lot of homeowners prefer this type of fence planter because its size can hold a wide collection of plants.
Decorative Metal Fence with Planters
Fence planters are ideal for softening architectural features and structural components of an outdoor space. Metal fences, for example, have a strong industrial look and some might find it visually lacking in color and decor. The easiest way to address this is issue is by hanging, mounting or setting flower filled containers along wrought iron or steel fences. It contributes the much needed contrast in color and adds variation in texture as well.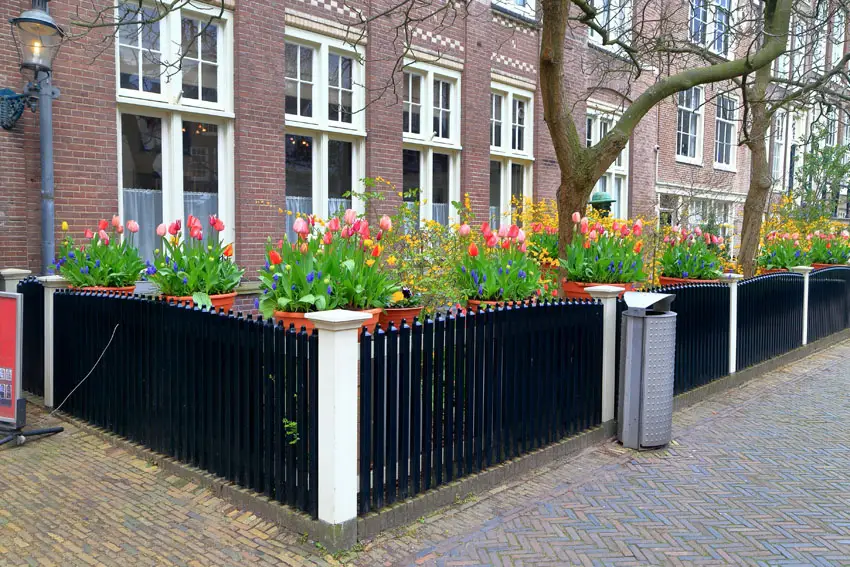 Radiant tulips fill the resin "terracotta like" pots which are hang on the horizontal rails of this metal picket fence. Aside from adding curb appeal, it also gives passersby an inviting and refreshing view to enjoy.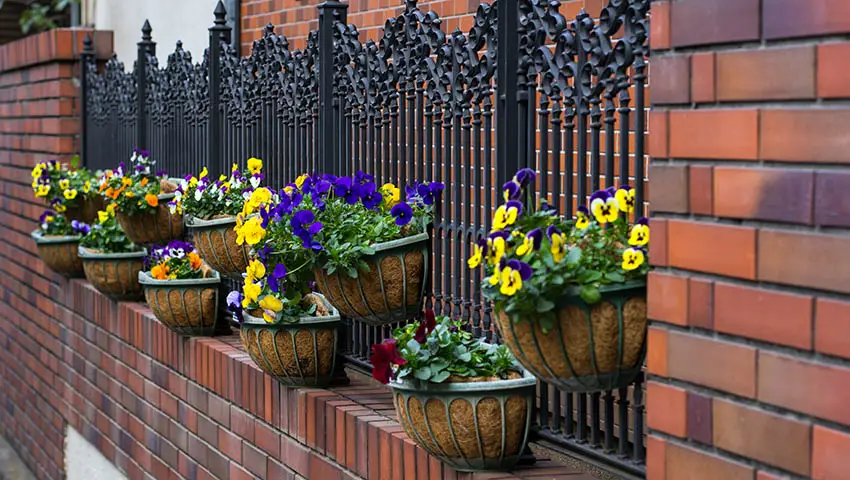 Decorative resin cache pots with moss fibers house colorful mixes of pansies which relaxes the formality of the black wrought iron fence and brick wall surrounding it.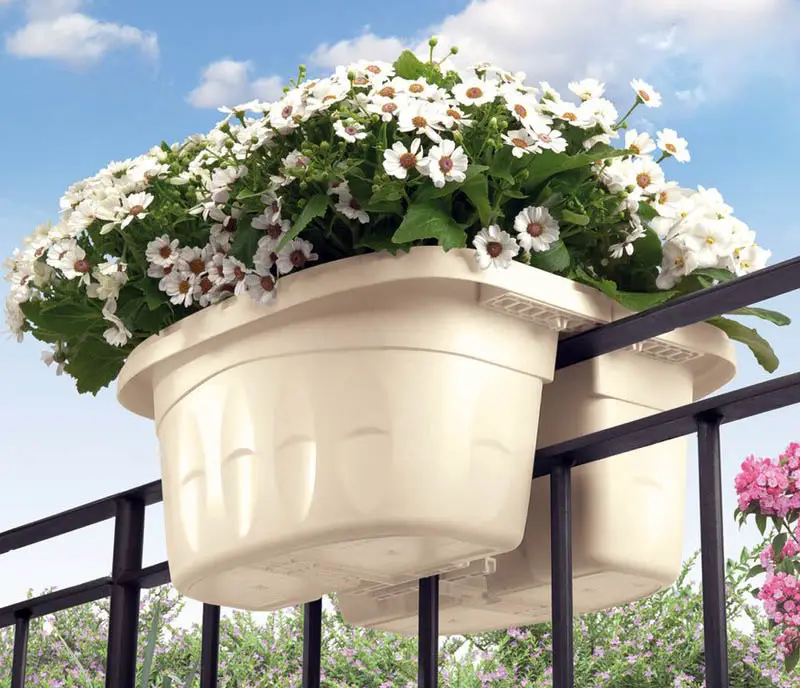 Metal Fence Rail Planter with Flowers – Source

This double sided resin planter allows homeowners to take advantage of spaces within and outside your yard, at the same time. They sit atop of fence, balcony or deck railing without the need for mounting hardware – a simple and very efficient way to keep fences alive with colors.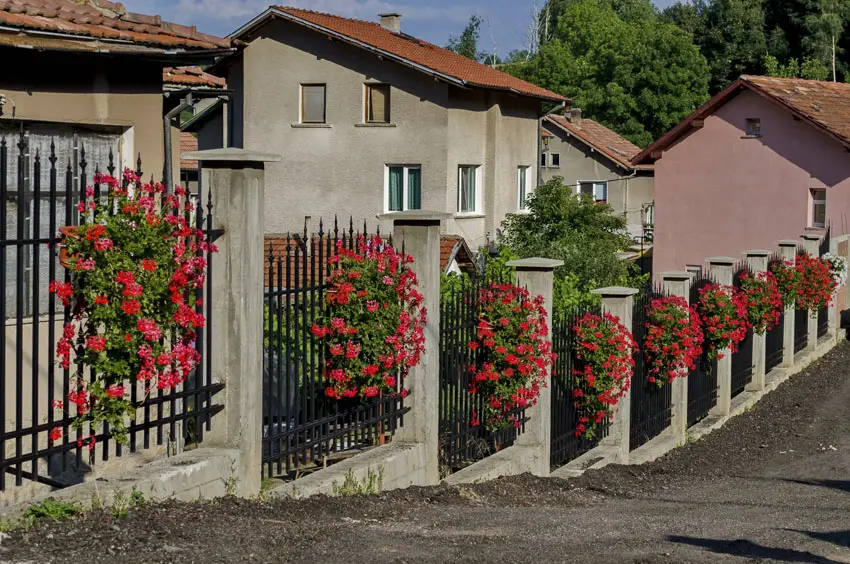 A waterfall of red flowers cascade gracefully over this concrete and wrought iron fence and brings strong curb appeal to the sidewalk of this residential space.
Hanging Planters for Fences
Hanging planters for fences is considered to be one of the easiest ways to dress up a fence. As most hanging fence planters come with a chain link or a hook, installation is as easy as dangling it along pickets or special hangers which are screwed to the fence.
Clips may also be used to firmly hold hanging fence planters in place. It may be hang alone or in groups, may be mixed with other materials and decor to form a stunning piece of artwork in your fence.
Common materials used for hanging planters for fence are metal with moss fibers, woven baskets, resin, plastic and wood. If you want to be innovative, you can also use your own material, such as glass jars, bottles or tin cans.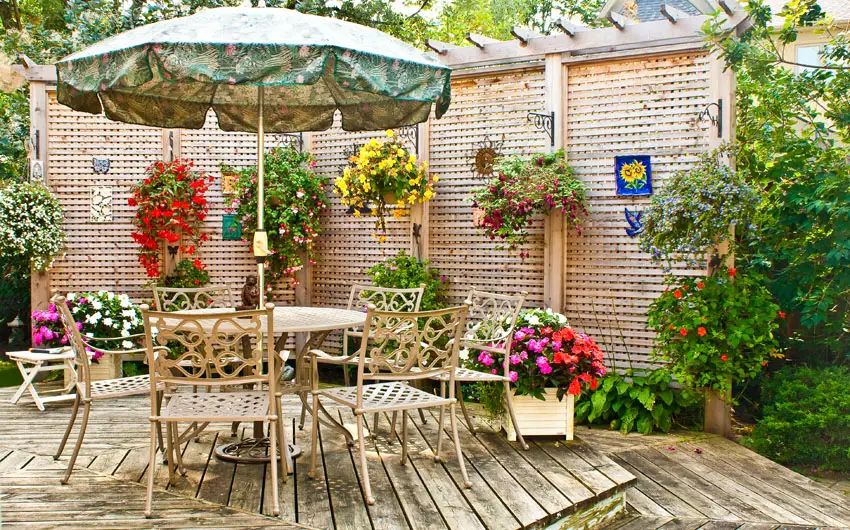 Hanging planters fixed onto lattice screens bring life to the simplicity of this patio. This outdoor living area looks more personalized as wall decors are added to give more character to the space.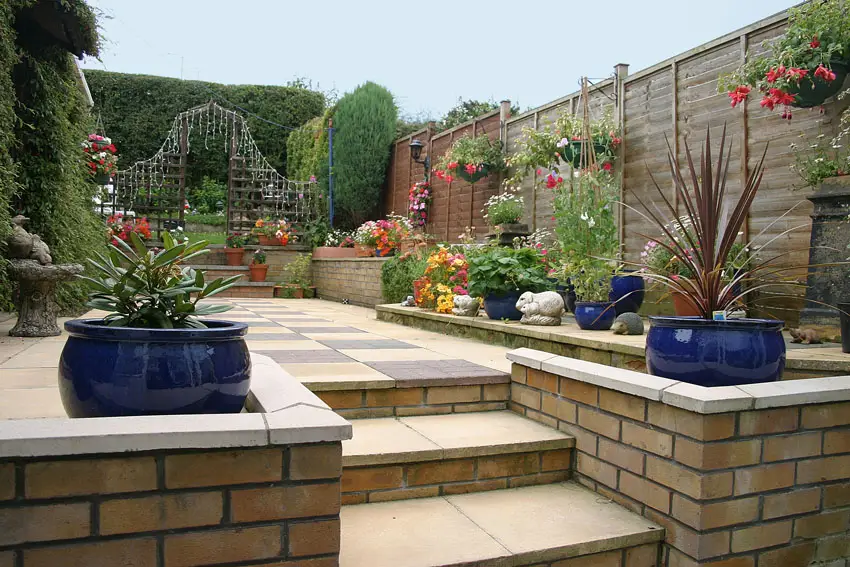 Glaze ceramic plant pots and hanging fence planters serve as decorative accents for this patio. Hanging baskets with cascading flowers are placed at a height to allow the vines to flow and cascade freely.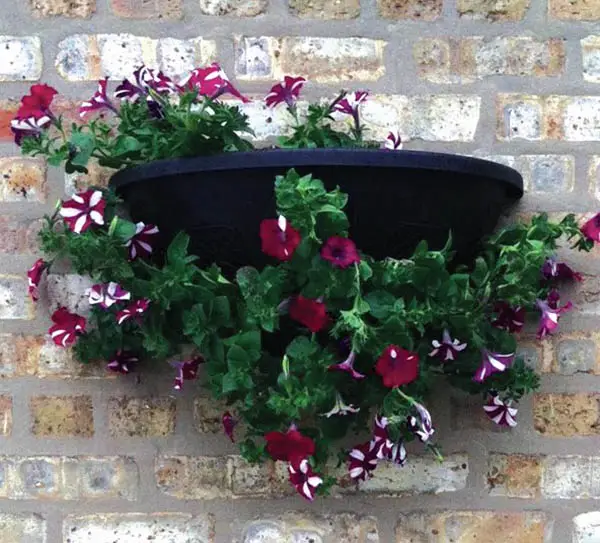 Plastic Wall Planter for Hanging Plants – Source

Plastic wall planters, like the ones shown above, have large openings which allows homeowners to grow and enjoy a large amount of blooms. It has a flat back which makes it suitable for mounting on walls and full privacy fences. In addition to that, its half round shape also looks good when filled with overflowing cascades of flowers and vines.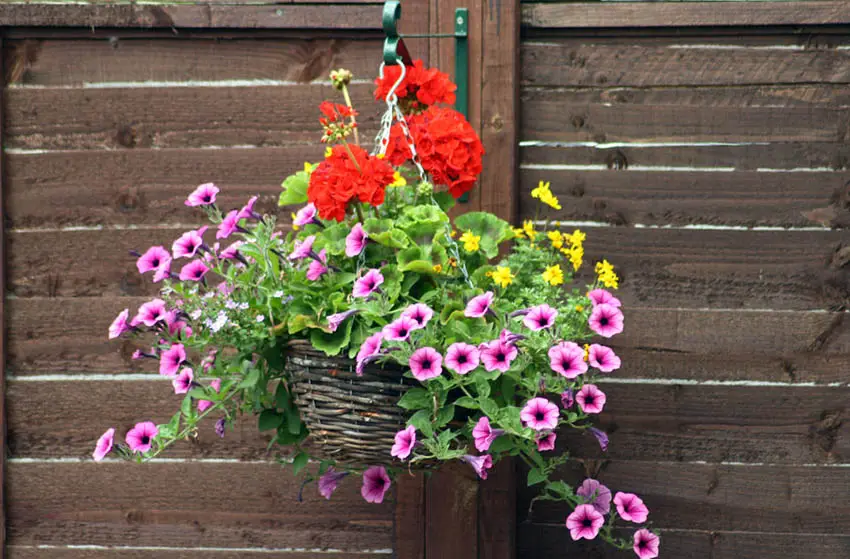 Hanging Planter on Fence with Flowers – Attribution #1

A woven basket planter hang on a piece of ornamental metal bracket on a full board fence. The natural wood color of the fence serve as a perfect canvass for the burst of colors from refreshing purple petunias, yellow marigolds and red geraniums.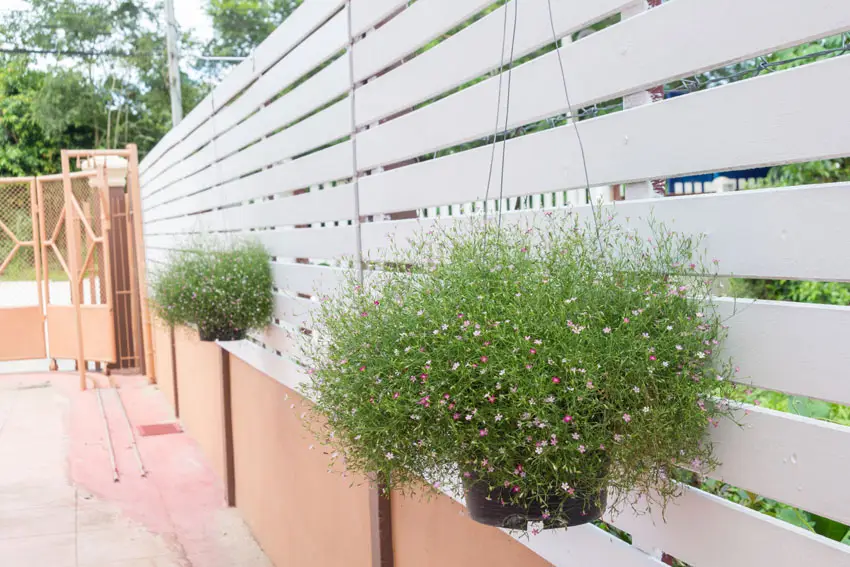 Potted shrubs with micro flowers hang on fences do not overwhelm the minimalist style of this outdoor space. This also breaks the monotony of the neutral colors of the fence rails, perimeter walls and gate.
Fence Flower Pots
Fence flower pots are freestanding, movable and ready made plant containers which are usually set atop fence rails. It can also be fixed or mounted on fences using hooks, brackets or supporting hardware. Fence flower pots are readily available from most stores and are very affordable. Compared to built-in fence planters, fence flower pots are portable and beneficial in terms of mobility. If there's a need to put the plants indoors or relocated to another area, then it can be transferred easily.
Design wise, fence flower pots come in a wide range of materials and a broad spectrum of colors. It is usually made up of plastic, resin, stone, terracotta and ceramic. Metal fence flower pots are also available in the market but typically function as decorative cache pots for housing ordinary plant containers. Fence flower pots are also considered to be the "go to" remedy of most homeowners because there is no installation required.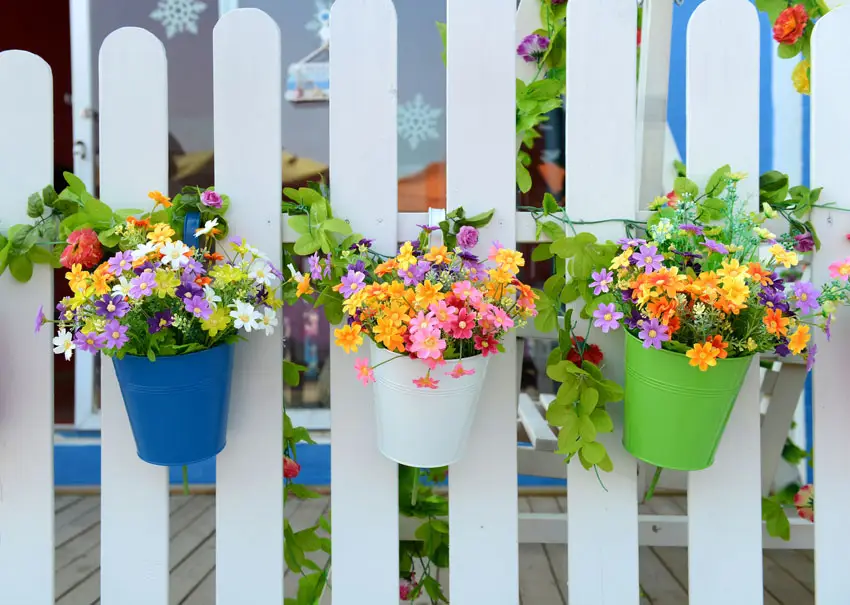 Colorful tin can flower pots are quaint, charming and lovely additions to this white picket fence. The interesting mix of dainty flowers and crawling vines contribute a myriad of bright hues which make this an eye catching design feature for the house.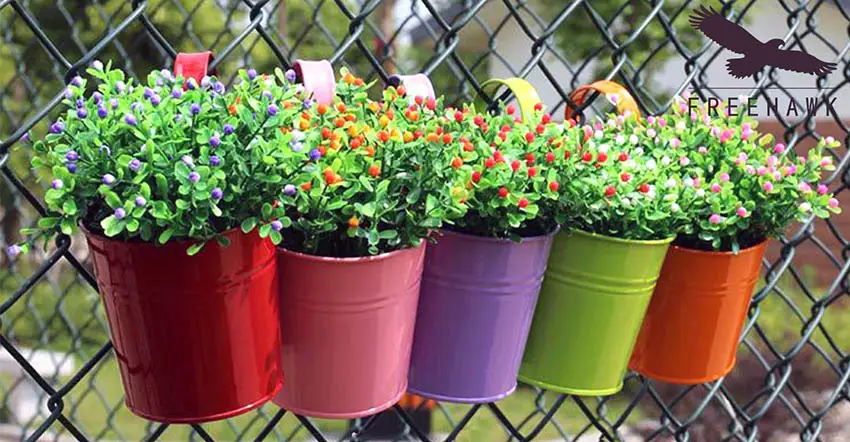 Colorful metal flower pots on fence – Source
These vibrant tin can pails are perfect accessories for chain link fences as they can be easily mounted in between the joints and spacing. They are ideal for mixing and matching small plants and flowers.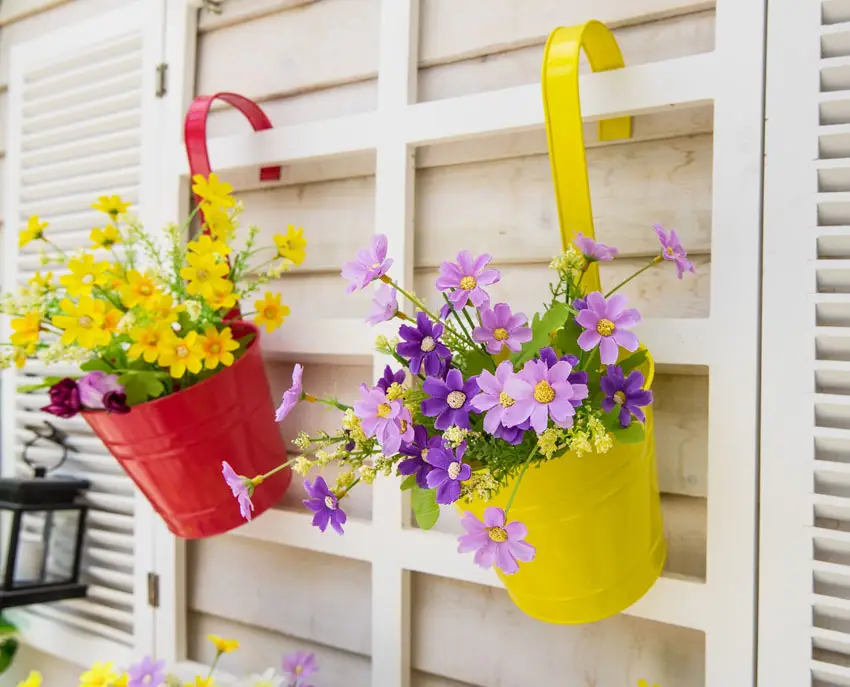 Metal iron flower pots are available in a wide spectrum of colors which give it versatility when it comes to design application. Lightweight and durable, it comes with a hook which means it can be hung anywhere – from windows, balcony railings, decks, fences and indoors.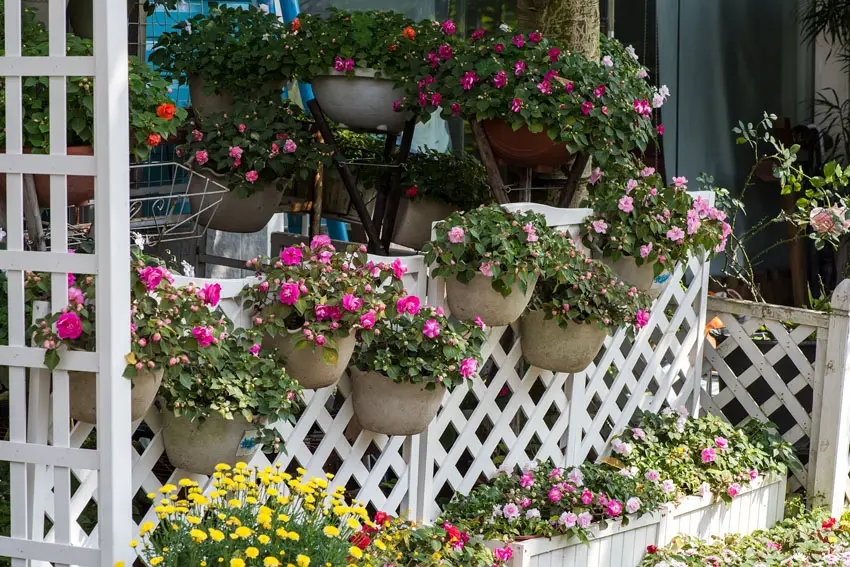 Lattice fences are already beautiful in itself, but why stop there when you can further enhance its aesthetics with the use of fence planters. These hanging ceramic pots that are overflowing with lavish pink geraniums add a decorative appeal to this white diamond lattice fence.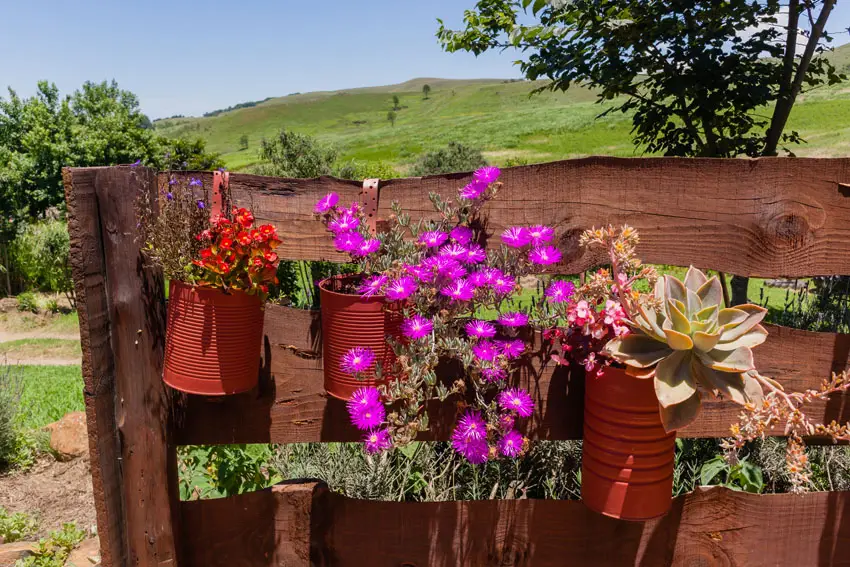 Salvage old cans by transforming them into beautiful hanging fence planters. All you need is a coat of paint and some striking succulents and blooms to instantly upgrade the look of a rustic wood board ranch fence.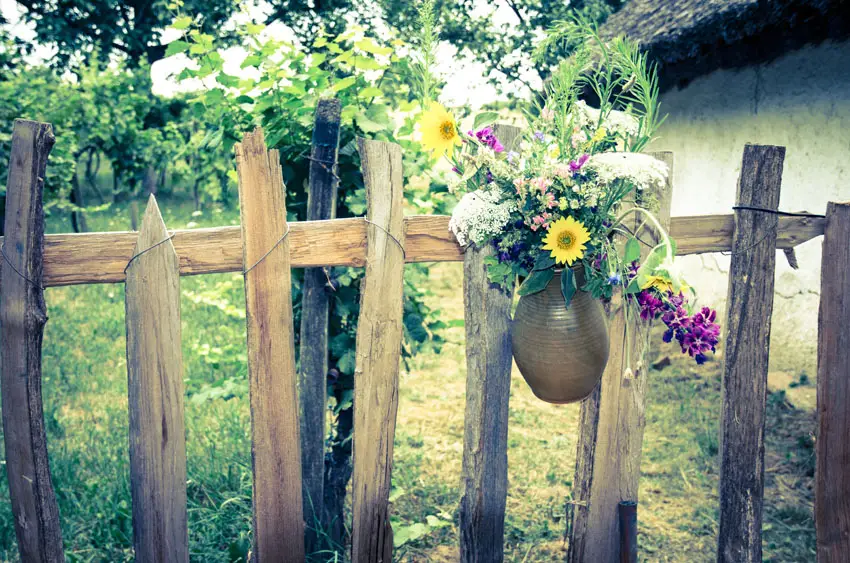 In here you see how a single hanging fence planter can create a striking visual impact when placed against a very basic makeshift picket fence. The color or the ceramic pot complements the finish of the fence, but the variety of flowers placed in it creates contrast in terms of color and textures.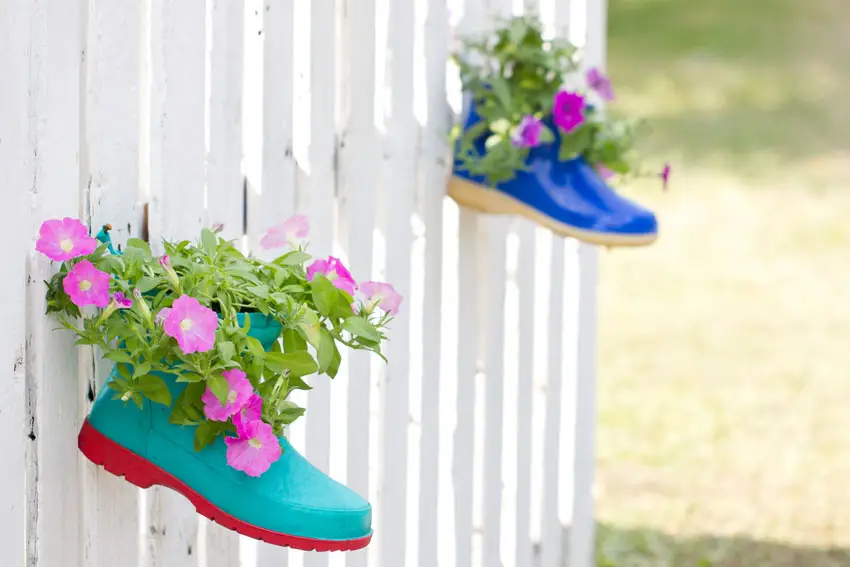 Old rain boots can be used as quirky fence decors too. Instead of putting outgrown boots into trash, don't let it go to waste. Fill them with soil, add some petunias or million bells then mount them into fence rails for that unconventional decorative flair.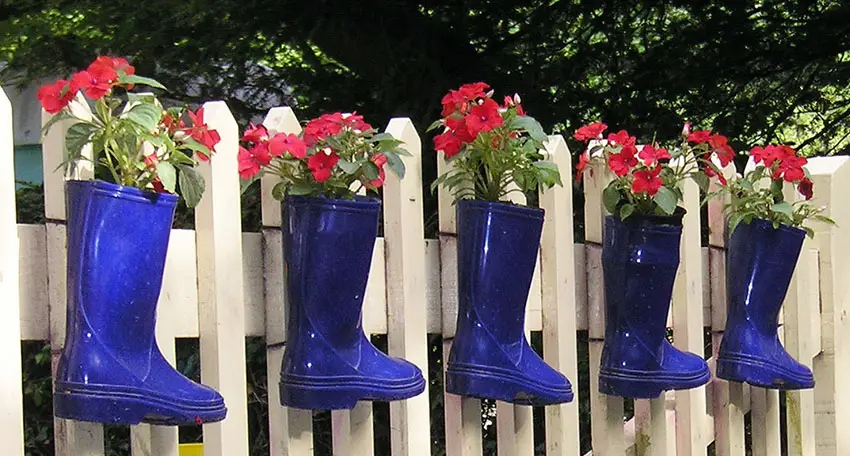 Decorative Rubber Boot Flower Planter on Fence – Attribution #2

Rubber boots are suitable for use as fence planters because they are firm and they have large openings which allow the plants to breath and the water to get in. Its variety in design and color is a plus, as it can make any fence flourish with character.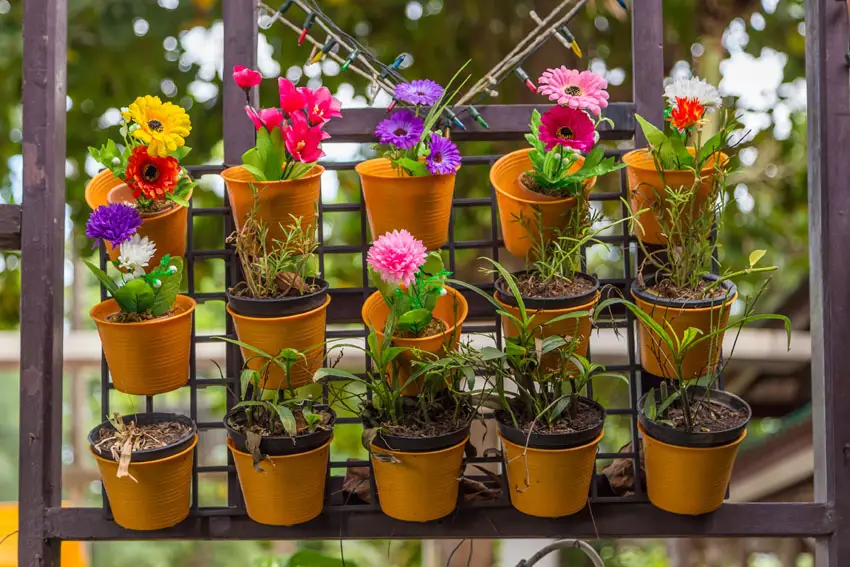 Small plastic plant pots filled with an assortment of flowers are hang on a piece of lattice panel affixed to a metal support. These type of fence planters are very affordable, versatile and easy to assemble.
Herb Garden on Fence
Fence planters offer a smart way to take advantage of minimal space as it allows you to grow plants at several levels. One type of plant which thrives and grows well via vertical gardening are herbs and several vegetables. Since they are grown in small quantities, they do not really need a big plot of soil for cultivation.
When grown in fence planters, herb gardens allow you to get more produce out of a limited space. Its advantages include convenience in terms of gardening because it lessens the messy and exhausting work of digging and cultivating. In addition to that, your herbs also get more care and attention because they are very accessible. No need to worry about pets or smalls animals destroying your crops plus who wouldn't want the convenience of easily getting or harvesting whatever you need at an arm's reach?
Herb garden planters are readily available for purchase in local home improvement stores and online sellers. They are cost effective and usually sold as sets. From canvass planters with pockets to small resin hanging pots, herb garden planters for fences come in a wide range of materials, design and sizes which one can choose from.
Chives are members of the onion family—one of the most popular and widespread culinary flavorings in the world. Native to Asia, chives have been used as a culinary seasoning for almost 5,000 years. – Herbal Houseplants, Susan Betz
Some examples of herbs which are usually grown in fence planters are chives, basil, oregano, sage, mint, parsley and cilantro. Micro greens are also ideal for vertical gardens in fences because they are frequently sowed and harvested.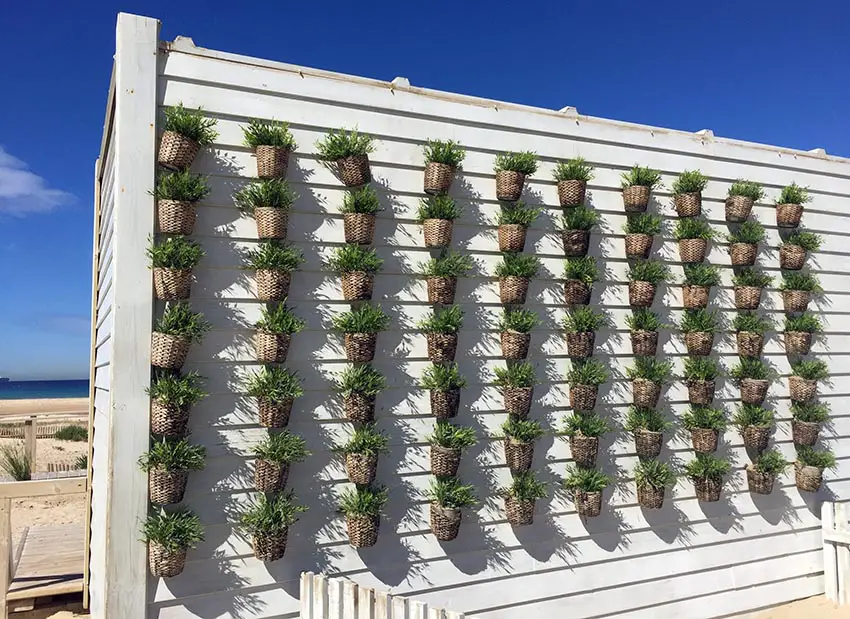 Turn plain boring structure sidings or fences into lush living walls which are full of plants and herbs. This design made use of a series dainty woven baskets which are hang on horizontal wall sidings.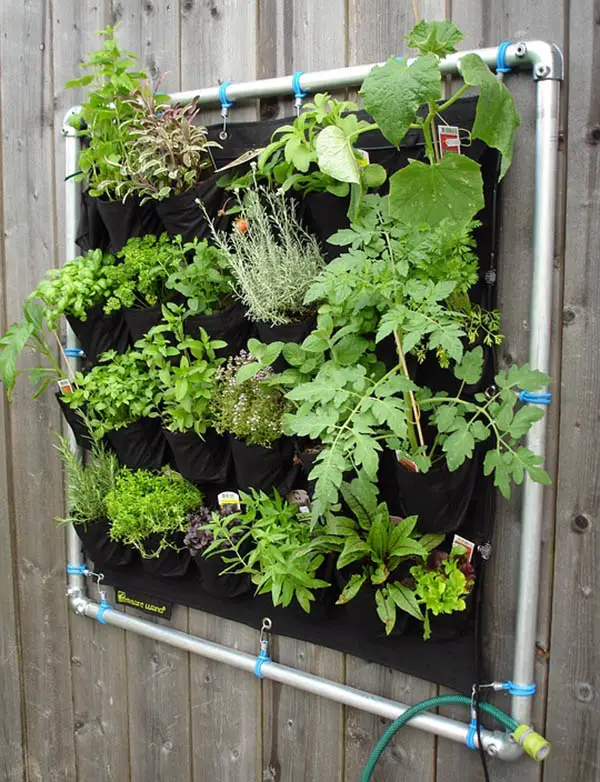 This ready made canvass herb planter is compact yet it allows you to grow over 20 different varieties of herbs in a single small space. Not only is it ideal for fences, but it is also highly suitable for patios, terraces, balconies, rooftops or even for indoor use.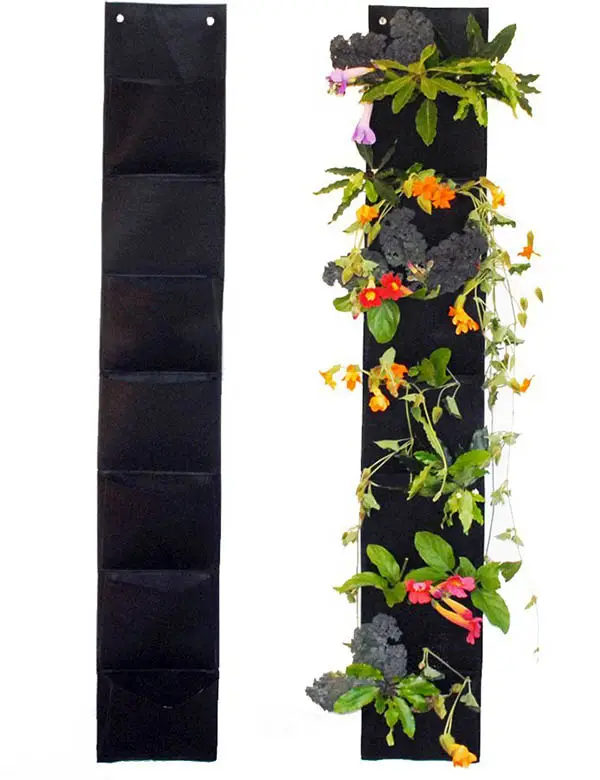 Hanging Herb Planter for Vertical Garden – Source

This seven pocket vertical hanging planter allows a simple yet ingenious way to grow your own food. An efficient way to utilize minimal space for gardening, the benefits of using this ready made planter include easy installation, convenience and accessibility.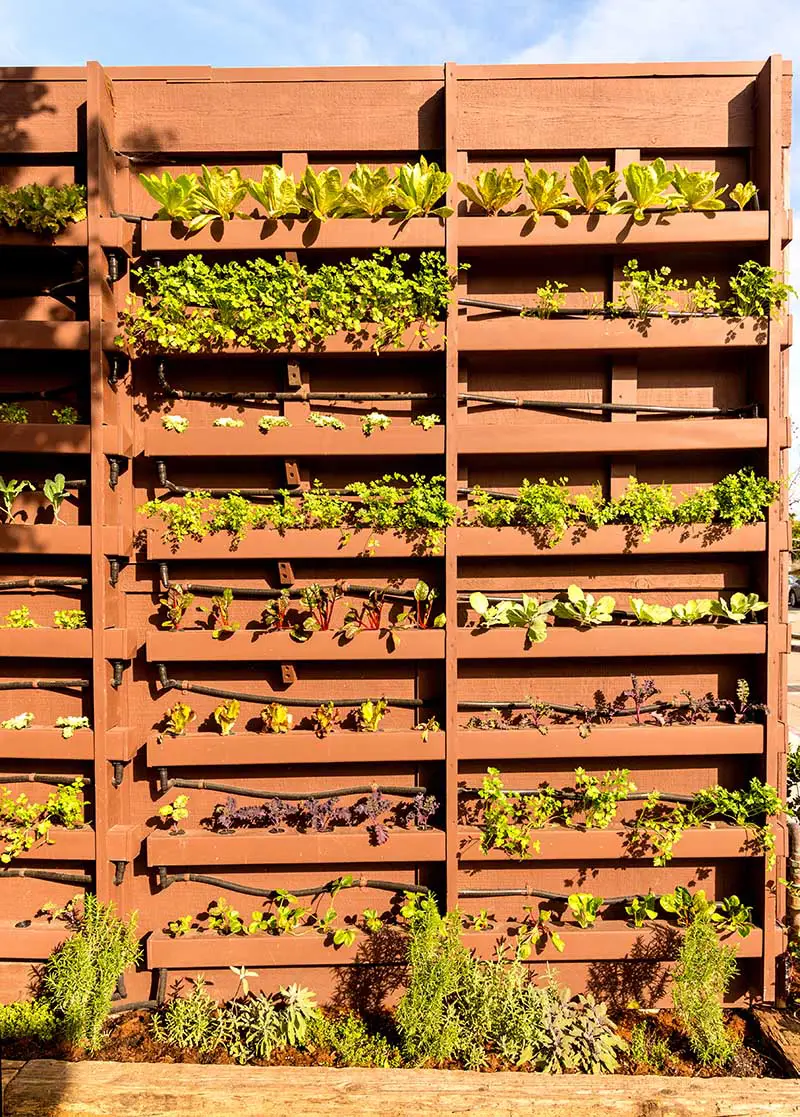 This vertical herb garden is a smart home solution because of its "DIY" irrigation system. A plain full board privacy fence is fixed with shelves which house a variety of herbs and vegetables. Not only is it a feast for the yes, but it is also fulfilling to grow everything you need within your home.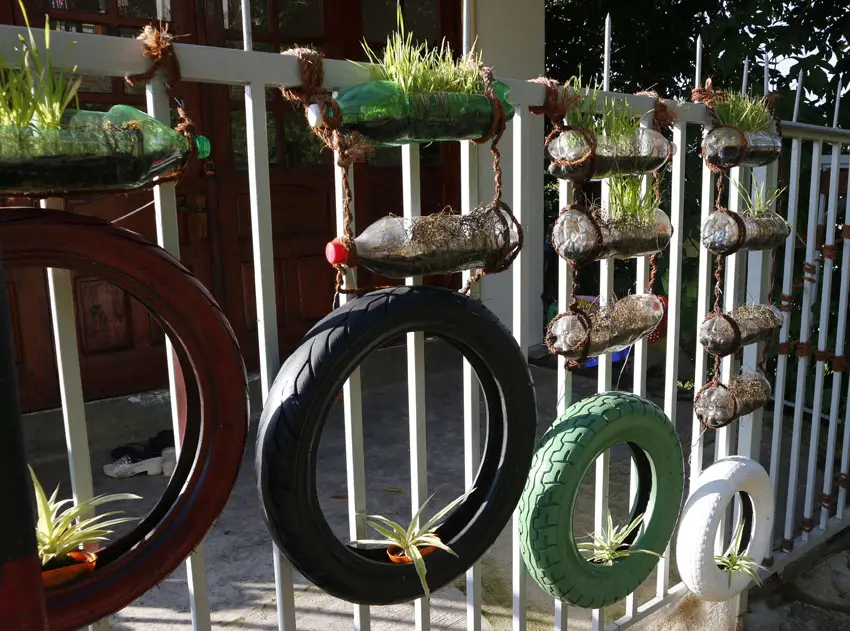 DIY Herb Garden
Up-cycling is a current trend for most "do it yourself" projects as it transforms used materials into something new. Instead of disposing old tires and plastic soda bottles , convert them into unique hanging fence planters for your herbs – not only will it save you money, but it reduces waste as well.
Best Climbing Flowers for Fences
Clematis – Clematis is a type of climbing vine which offers a wide variety of bloom colors, shapes and sizes. It is a perennial which grows from 3 to 20 feet tall and spreads 4 to 30 feet wide depending on the variety. Clematis is characterized by woody vines, chartreuse leaves and attractive flowers which are usually blue, pink, red or white in color. It is available in a dwarf variety which is ideal for growing in plant containers along fences, decks, balconies and patios, while the medium sized variety is ideal for covering perimeter walls and fences.
Clematis thrive in all four seasons – from fall to winter. Maintenance wise, it needs a moist well drained soil and full sun exposure to fully bloom and grow. In addition to that, it also needs only an inch of water supply per week and annual pruning. Additional benefits of growing Clematis include attracting birds and butterflies because of its fragrance and full adaptability to container gardening. Its most common species are Blue Ravine Clematis (lilac flowers), Duchess of Albany Clematis (tulip like pink flowers), Duchess of Edinburgh Clematis (double petaled white flower) and Blue Light Clematis (double lavender flowers).
Honeysuckle – Honeysuckle is a type of easy care and low maintenance climber which is characterized by clusters of tube shaped flowers and chartreuse foliage. It usually grows to a height of 20 feet and climbs up to 25 feet wide. Its flowers come in a variety of bright pink, yellow, red and white color which make it an attractive addition to gardens and plant containers .
Honeysuckles also have a distinct sweet fragrance and nectar which draws hummingbirds and butterflies. It needs the full sun to bloom which makes it heat tolerant and can survive in different soil types. Since honeysuckles are abundant and very easy to grow, it will take very little time to cultivate it to cover a large fence, trellis or perimeter wall.
Honeysuckle vines have over 180 different varieties but the most popular ones are the Common Honeysuckle Vine (pink flowers), Yellow Honeysuckle Vine ( yellow gold flowers which turn into red fruits), Gold Flame Honeysuckle Vine (bright yellow flowers) and Dropmore Scarlet Honeysuckle Vine (red flowers).
Trumpet Vine – Also known as the "Trumpet Creeper", the Trumpet Vine is a type of fast growing perennial which is characterized by clusters of bright tubular flowers which are usually yellow, orange or red in color with chartreuse leaves. It usually spreads up to 40 feet wide and can reach a height of 8 to 20 feet.
Trumpet vines are known for attracting birds to garden or landscape. It makes a perfect addition to plant containers and garden fences because it is easy to grow, spreads quickly and can cover an entire wall in a short amount of time. It is also very versatile because it can tolerate drought, but at the same time it can endure the cold months of winter.
In terms of proper care and maintenance, it needs the full sun to grow and periodic pruning to keep it under control. Also, if planning to cultivate trumpet vines, make sure to choose an appropriate location and a sturdy structure to hold it because it can quickly take over in no time. Its most common varieties are Common Trumpet Vine (orange flowers), Summer Snowfall Trumpet Vines (red orange flowers) and Yellow Trumpet Vine.
Wisteria – Wisteria is a type of vine which has fragrant, hanging, "grape like" blue, violet or lavender flowers. During the fall season, its leaves turn into a yellowish color which makes it more appealing. Its flowers fully bloom during spring and can reach up to to feet in size. The whole plant, however, climbs up to 30 feet wide and can reach a height of 8 to 20 feet.
Wisteria is easy to grow and spreads quickly, making it a popular choice for fences, walls, pergolas and outdoor structures. In growing this type of vine, put location as a top priority since it requires full exposure to the sun to fully bloom. It also requires a moist rich soil but it will thrive fairly in many soil types. Just like the Trumpet Vine, Wisteria has the tendency to be invasive as it proliferates aggressively, so make sure that it is adequately pruned and trimmed to keep it under control.
However, these vines can be trained as they grow by attaching an upright stem to a support. Another restriction to this plant is all of its parts, especially the seeds,are poisonous. Some of its popular varieties are Pink Wisteria, White Wisteria and Blue Moon Kentucky Wisteria (silvery blue flowers).
Black Eyed Susan Vine – Commonly used in hanging baskets and plant containers along decks, railing and fences, the Black Eyed Susan Vine is an easy care perennial that is grown as an annual. Characterized by coarse, heart shaped, medium green leaves and "daisy like" tubular five petaled flowers with a solid dark brown to purplish center. It is available in a wide range of rich colors such as orange, bright yellow, pale yellow and white.
The black eyed susan vine can spread from 2 feet to 3 feet wide and can reach a height of 6 to 8 feet tall, however, if grown as annuals it may not reach this mature size. This popular house plant is easy to propagate and thrives well in locations with a warm climate. It needs the full sun, a well drained moist soil and moderate water supply to survive. Unlike the other flower/vines which are mentioned above, this type of plant require special care. It needs to be pruned lightly and tied to structures as they grow.
Aside from that, it also has a tendency to contract pests such as whites, scale and whitefly. Some of its popular varieties are African Sunset (apricot/red/ ivory flowers with a burgundy center), Angel Wings (fragrant white flowers), Superstar Orange, Susie Mix (yellow, orange, white flowers) and Spanish Eyes (peach flowers).
Morning Glory – A type of vine that is grown as an annual, Morning Glory is ideal for covering trellises, perimeter wall and fences.This fast growing plant is characterized by heart shaped leaves and trumpet or funnel shaped flowers which open in the morning and close in the afternoon. It is available in a broad spectrum of colors such as white, pink, red, yellow, blue and purple. It can reach a height of 8 to 20 feet and climbs up to 15 feet. The flowers usually bloom during summer to fall or from the months of May to September.
It is a popular choice for plant containers too, because it requires low maintenance. When growing the Morning Glory plant, make sure to secure it in a location which receives plenty amount of sunlight. Water it once to twice per week but if kept in plant containers, give them an additional supply of moisture. It is also known for its tolerance to dry soil and ability to thrive in neglected or slightly disturbed areas. Some of its popular varieties include Glacier Blue Morning Glory (powder blue flowers with French blue stripes), Scarlett O' Hara Morning Glory (crimson pink flowers with white throats), Heavenly Blue Morning Glory (sky blue flowers) and Grandpa Ott Morning Glory (dark purple flowers).
Passion Flower – This type of vine is known not only for its charming exotic blooms but for its effectivity as a herbal plant. Available in a wide range of types, some of its variety are bushy, some are vines, while other produce edible fruits.Characterized by delicate flowers that have 5 to 10 flat petals with surrounding "stalk like" filaments which are usually ½ inch to 6 inches in size. Its leaves are usually lobed and forms vines that climb up to 15 to 30 feet and reach a height of 6 to 8 feet.
The passion flower has a powerful fragrance which attracts abundant wildlife. The best place to grow this type of vines is along fences, pergolas or trellises. It cannot tolerate extremely cold winter and needs partial shade to full sun exposure in order to bloom healthily. It is also highly suitable for container gardening as long as the soil is rich and kept moist. Pruning is also advised to keep the size in control. Its most popular varieties are Maypop Passion Flower (medicinal type) and the ruby Glow Passion Flower (fragrant cranberry and deep purple flowers).
Dutchman's Pipe – Also known as the "pipe vine" or "birthwort", this type of woody vine has uniquely "strange" looking speckled plum flowers which are shaped like curved pipes with heart shaped leaves. Not only does it have a striking appearance, but it also has a weird unpleasant scent which resembles the odor of rotting meat. Its size is usually 10 to 25 feet long and flowers bloom during late spring to early summer season.
One of its properties include the ability to attract beneficial insects such as butterflies. Dutchman's pipe prefers partial shade to full sun and requires a well drained moist soil and plenty of water. Due to its odor, it is not advisable to placed near doorways, but it can be grown in fences in controlled amounts.
Hyacinth Bean – Hyacinth Bean is a dynamic ornamental vine which is grown as an annual. It is characterized by exquisite pink, lilac to purple flowers with unique red violet pods that look like lima bean pods. These pods are not edible but are just purely ornamental. It is perfect for adding a vibrant splash of color and stunning visual interest to fences, balconies, pergolas, balconies and decks.It grows at least 10 to 15 feet high and requires a sturdy structure to climb in. Purple Hyacinth Beans can thrive in almost any type of soil but it can not survive cold weathers. Maintenance wise, it requires little care and regular watering.
Climbing Hydrangea – A trailing variety of the popular hydrangea plant, this perennial features large clusters of full blooming tiny flowers with a verdant foliage of deep green heart shaped leaves. It is commonly grown as a mounding shrub but can can reach a height of 30 to 80 feet and are considered to be vigorous climbers which make them highly suitable for fences, trellises, columns and other exterior support structures. Its growing behavior usually differs as sometimes its vines wrap themselves around a structure, while in other instances, it has aerial roots which cling to standing surfaces. Climbing hydrangeas are easy to grow and need a well drained, moist, rich soil and regular watering. To grow and bloom full, it needs partial shade to full sun.
Decorative Fence Ideas
There is no need to rely on conventional planters and traditional materials when decorating a fence. There are a variety of things, whether old or new, which can be hang, mounted or fixed atop fences to make them more lively and full of character. The use of extraordinary objects provide an interesting visual feature while allowing you to exercise your creativity, originality and resourcefulness.
Experiment on objects which aren't typically found in fences such as old rain boots, old milk cans from a flea market, or even tote bags. Repurpose old items like wood pallets, wooden crates, bottles and jars. Learn to mix and match decor and create a cost effective, trendy and one a kind solution to your own fence decor.
The main advantage of "do it yourself' fence decors is it provides a more personalized approach which is honed after one's needs and style preference. You can follow a specific theme or create a design which mirrors your personality. The design possibilities are endless when it comes to decorative fence ideas.(Visit this page for even more flower box ideas)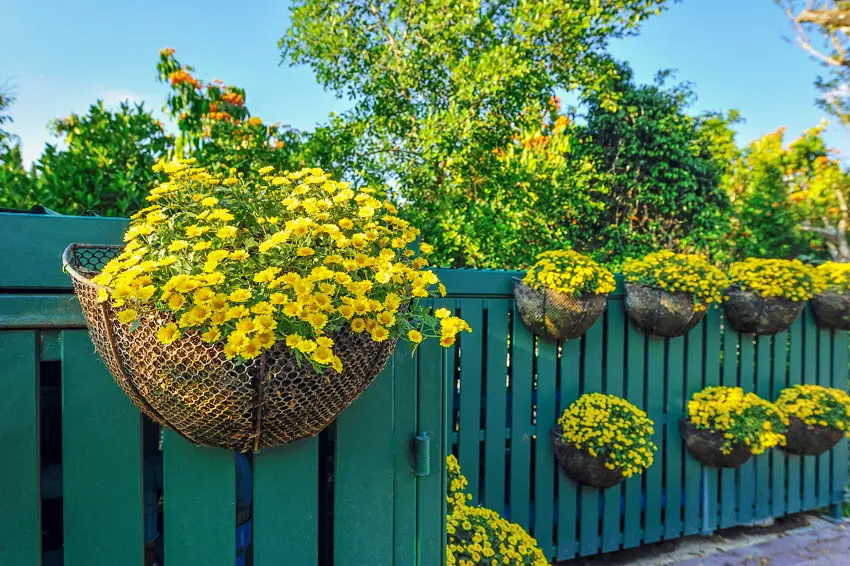 A single variety of flowers placed in hanging baskets are ideal if you want to add a burst of bright accent color to your fence. Repetitive metal hanging planters with small yellow flowers give this fence a warm "sunny" feel.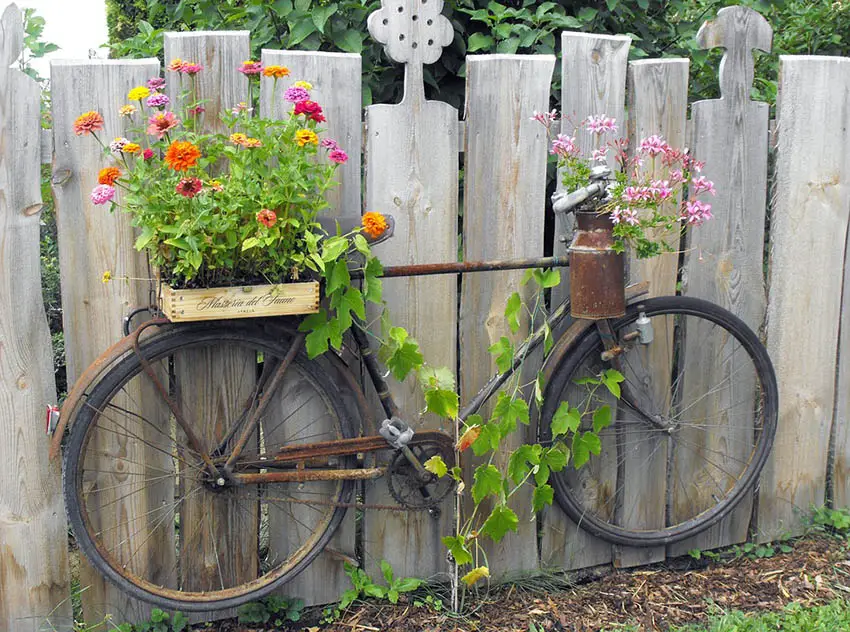 To make fences more interesting, think out f the box in terms of decor. Instead of throwing that old bike, mount it over a fence and use it to hold decorative flower boxes and rustic milk can planters. This "one of a kind" focal point will surely be a conversational piece for guests who come to visit.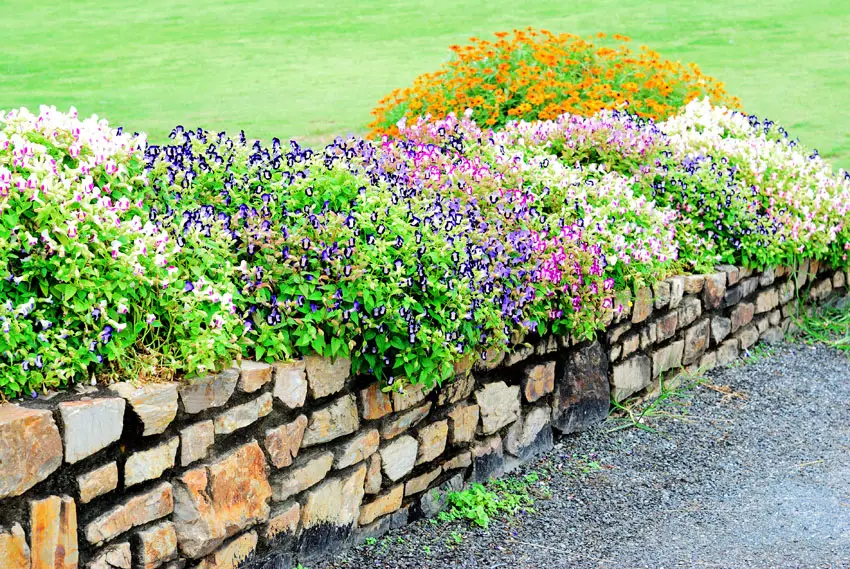 Natural stone fences can sometimes look too plain and boring, but the addition of well cultivated, luscious mounds of blooming petunias add a much needed splash of color which makes this outdoor area more lively and inciting.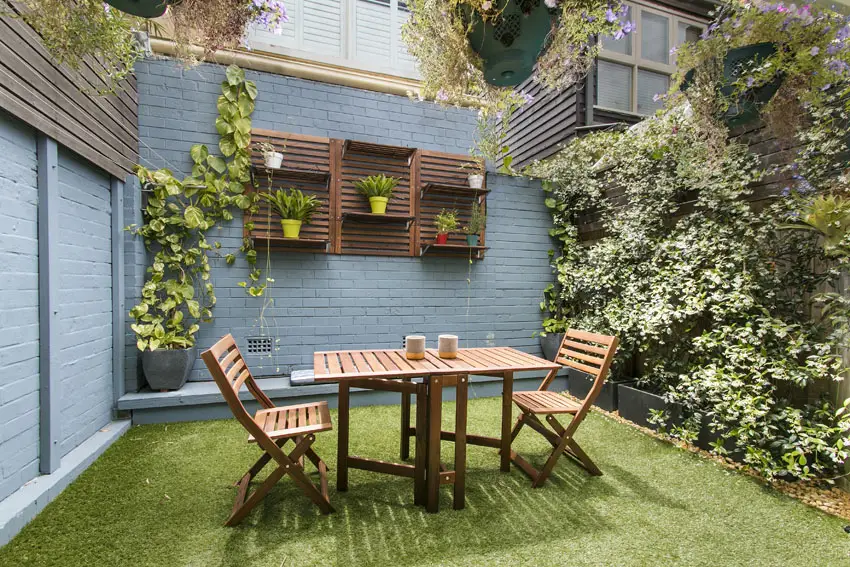 This fence planter design made use of a "shutter style" or slatted wood panel as a backdrop for holding ledges with colorful plant pots and containers. This decor is also a perfect match for the style of the wooden outdoor furniture in this small patio.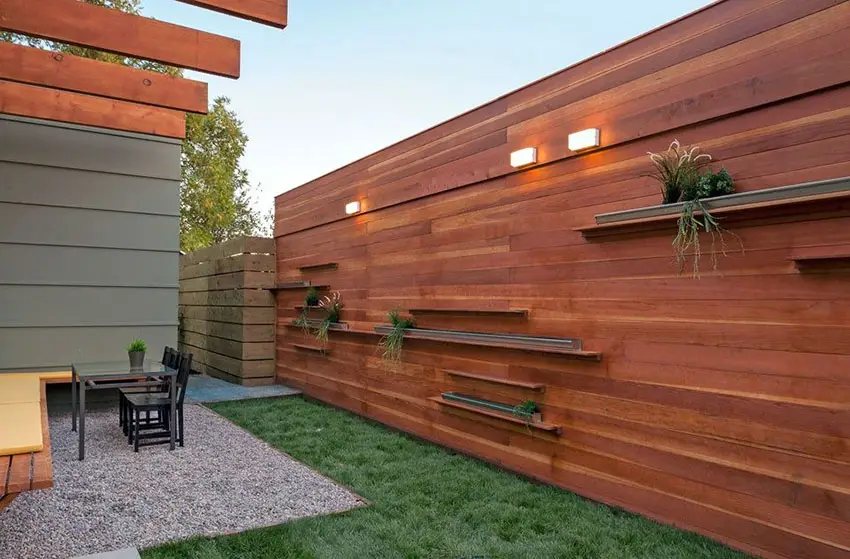 This huge tall privacy fence has slim multi level built in shelves which are filled with draping vines. Aside from being a minimalist approach to increasing gardening space for a yard, it also blends well with the surrounding modern inspired structures and elements.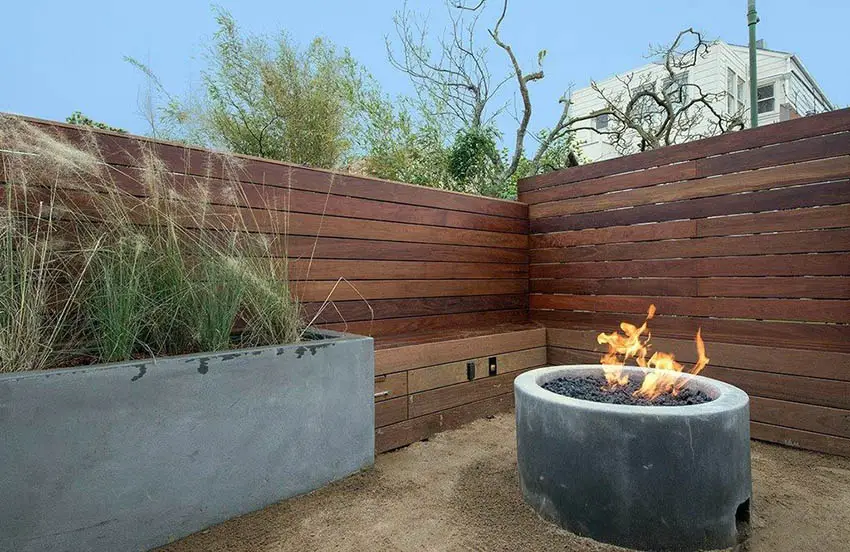 The unfinished look of this concrete fence planter complements the surrounding raw redwood horizontal flat board fence. It is then adorned with stalks of "cat whiskers" plant to complete the industrial and informal feel of this outdoor grill pit.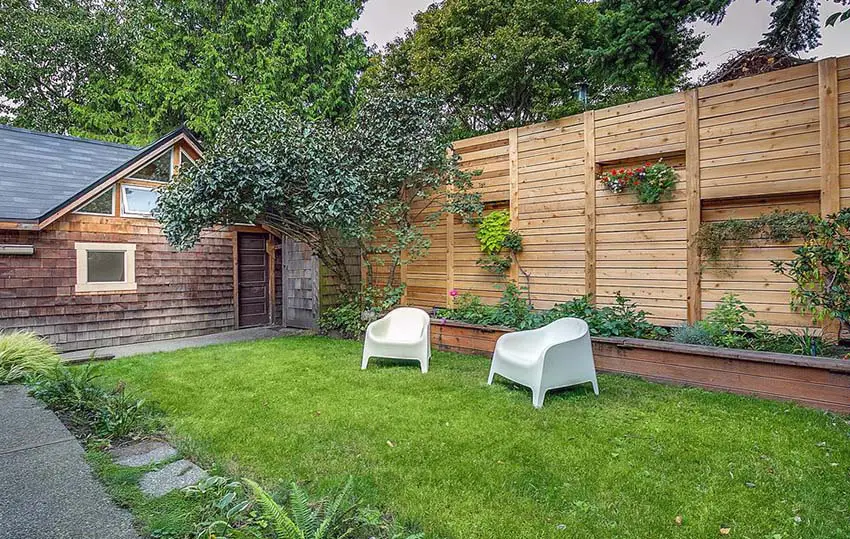 To break the monotony of this cedar full privacy fence, rectangular niches are incorporated into the horizontal boards and are used to house verdant foliage and flowers.
[expand title="Show Image Sources" swaptitle="Hide Image Sources"]
Attribution #1 KJPayne from Flickr (Creative Commons License)
Attribution #2 johnshortland from Flickr (Creative Commons License)
[/expand]
For more pictures visit our wheelbarrow planter ideas gallery here.