See the different types of fence gates including the materials, latches, locks, hinges, best dimensions, cost and gate design styles.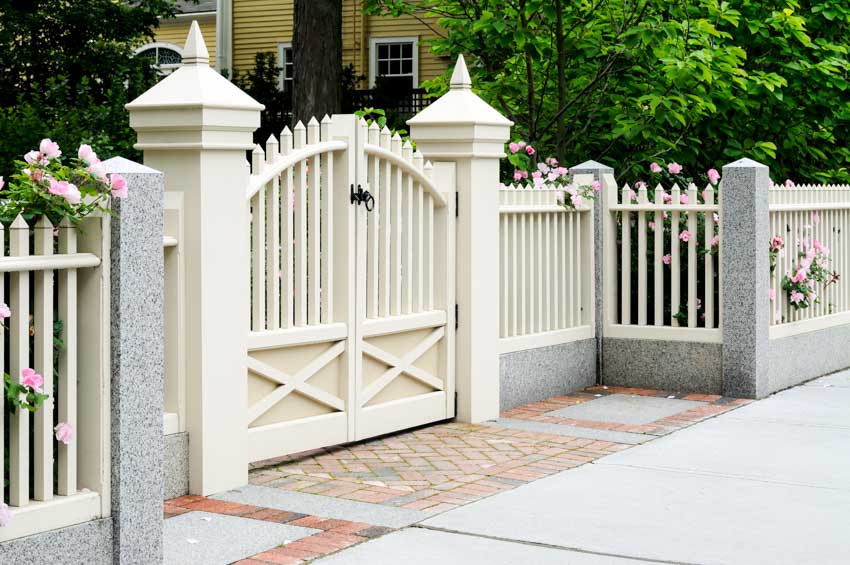 Every land owner understands how a high-quality fence and gate can transform the appearance of their home. Fence gates are a crucial and practical feature of the fence since they provide entrance and exit to the space that the fence encompasses.
Several districts need fence gates in the back to allow access to emergency assistance. You might also need a fence gate to go inside and outside of the garden or yard.
Truly, fence gates must always enhance the security and attractiveness of your home or office. However, different fenced-in locations require varying levels of access – and determining what level of access your fence requires is a critical consideration to make before deciding on a type of fence. Let us identify the different types of fence gates.
Wood Fence Gate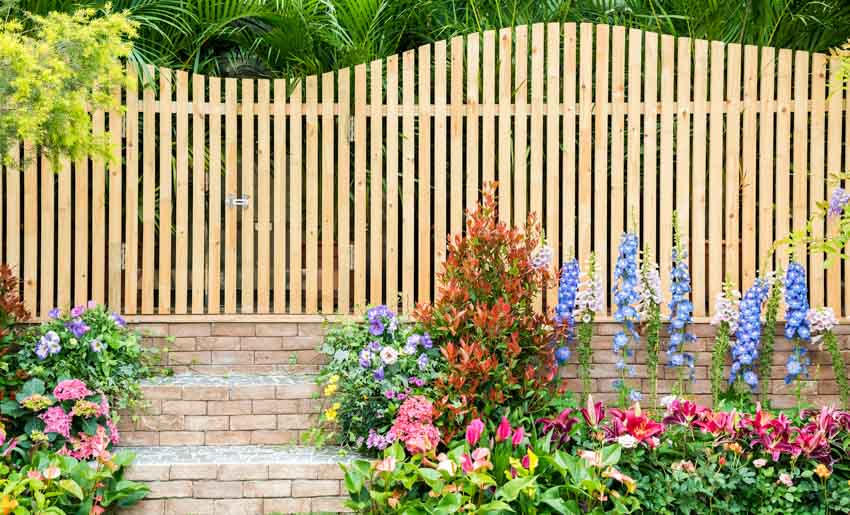 Wood is among the most classic fence gate materials available for your property. Wood is intended to have a vintage appearance. It provides a warm and friendly atmosphere to any location. It can be stained with a multitude of various stains.
Moreover, different types of wood fencing can be trimmed in a wide range of fantastic shapes since they can be constructed with certain pillar styles. You can also have the wood trimmed at the top to create some eye-catching effects.
A wooden fence gate will provide a location with a sense of security. This is due to the fact that wood is often thicker than many other materials. Wooden fence gates might even last a lifetime in your home if properly maintained.
A wood fence gate can even be painted in addition to being stained. The majority of gate opening hardware like knobs will mix in beautifully with a wooden framework.
In addition, when compared to vinyl or wrought iron gates, wooden fence gates are less expensive. These fence designs are a versatile, cost-effective, and visually pleasing solution that blends well with nature.
On the contrary, the wooden surface must be sealed periodically to avoid deterioration and rotting. This can also be quite weighty depending on the size of your fence.
Chain Link Fence Gate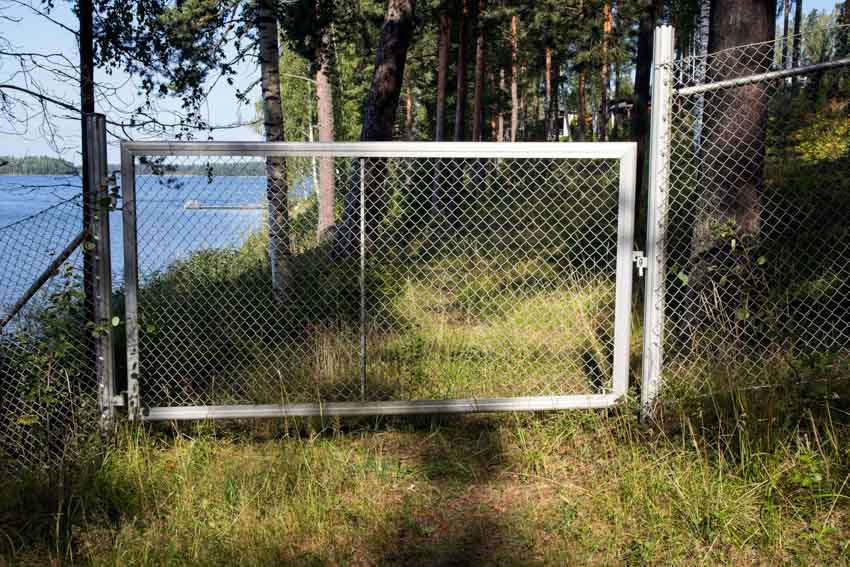 A chain link fence gate does have a simple appearance. This is merely made of strong metal such as iron. Individual metal bars are twisted together to form a robust open design.
This is commonly utilized in business buildings, but it can also be utilized in your property. You can get it in whichever configuration you choose. If you want the fence gate to look brand new, it should be thoroughly treated and maintained.
Because of the durable body of the metal utilized on chain link types of fence gates, it will indeed not wear out quickly. This is a highly powerful selection that emanates dominance. On the pinnacle of your fence gate, you can add a variety of decorative embellishments.
You can even place a few short spikes on top to make it more difficult for intruders to trespass above the fence. However, a chain link fence gate should be tall enough to make it challenging for anyone to easily jump over it.
Metal Fence Gate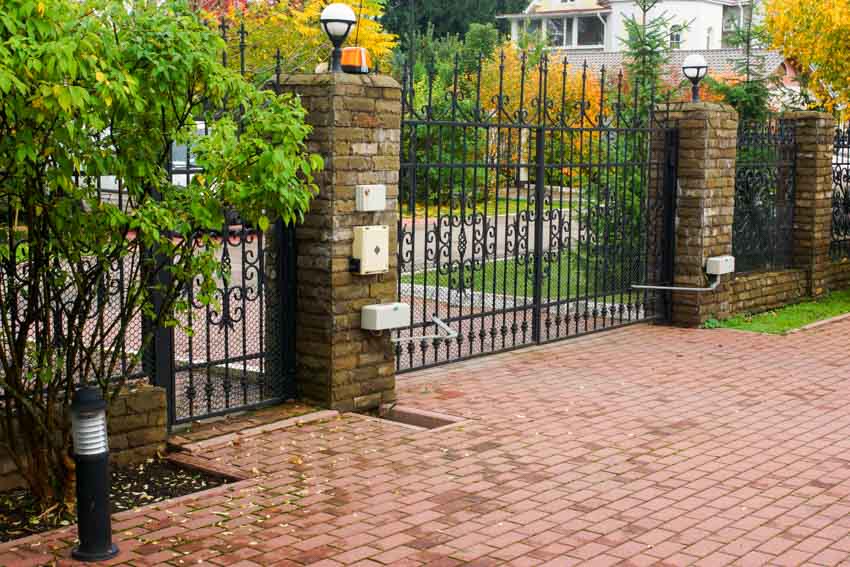 Metal fence gates provide a high level of security whether you are protecting your house, protecting your business and valuables, or maintaining public space. Gates constructed of metal are perfect for ensuring solid security and can be utilized for residential, commercial, or public applications.
Metal fence gates come in a variety of styles, which include:
Iron Fence Gate: Wrought iron is slightly harder and heavier than most types of metal. It is, nevertheless, an effective fence gate option that gives a touch of elegance and precision to any property fence gate to which it is added. Wrought iron is often a deep black color, though it can be painted if desired.
The most important feature of wrought iron is its strength. It will not quickly wear out or bend. This is, in fact, one of the main reasons why this type of metal is very much ideal for fence gates.
Furthermore, wrought iron can be embellished with a wide range of artistic motifs. Wrought iron fence gates with customized patterns etched on top can be ordered as can supplementary posts that lay on top of the gate. Cutting through wrought iron is also arduous for intruders. This is due to the thickness it offers.
Unfortunately, even if you can paint a wrought iron fence gate, the paint will eventually flake off. Thus, you should sand your wrought iron at least once every one to two years.
Aluminum Fence Gate: Because of its strong nature, aluminum is a preferred material for metal types of fence gates. It has a great luster and can be painted in a variety of techniques.
It is very lightweight and normally made out of recycled materials. This metal is also incredibly low-maintenance because it does not absorb water and does not corrode over time.
Aluminum can either be broad or thin. You have the choice of selecting any type of framing in this metal option for fence gates. The metal fence gate body can easily accommodate door knobs and other opening and locking accessories.
This fence gate material, on the other hand, is not suitable for usage in areas where the weather is likely to be severe. If there is significant rainfall or hailstorm, it may dent. Aluminum is also prone to scratching. You can find corrugated metal fencing made from aluminum that provides a cost effect option when compared to all wood or vinyl fence options.

Wire Fence Gate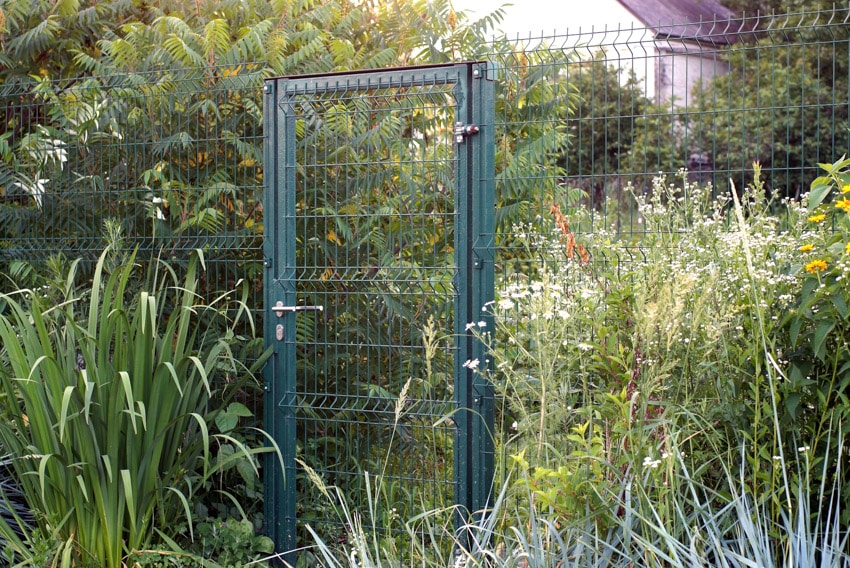 There are various options for how to wire fence gates, including welded and woven. The different types of wire fences have their distinct set of perks and downsides. Each is also more suited to specific applications than others.
When deciding on the proper type of fence gate for a home renovation project, the structure of the wire fence is a very important factor you have to consider.
Welded wire types of fence gates are made by arranging wires horizontally and vertically to make rectangles or squares. The wires are then joined together using a procedure known as spot welding. This produces sturdy, plain sheets of fencing that are also less elastic than typical woven ones.
Woven fence gates, as opposed to the welded ones, are made by weaving wires into complex geometries. A common example of woven wire fencing design is the chain link fence gate, as previously stated.
Woven fencing has a flexible structure that allows it to flex and twist with ease. Nevertheless, since the strands are intricately interlaced, cutting one thread might trigger the whole fence to collapse.
Vinyl Fence Gate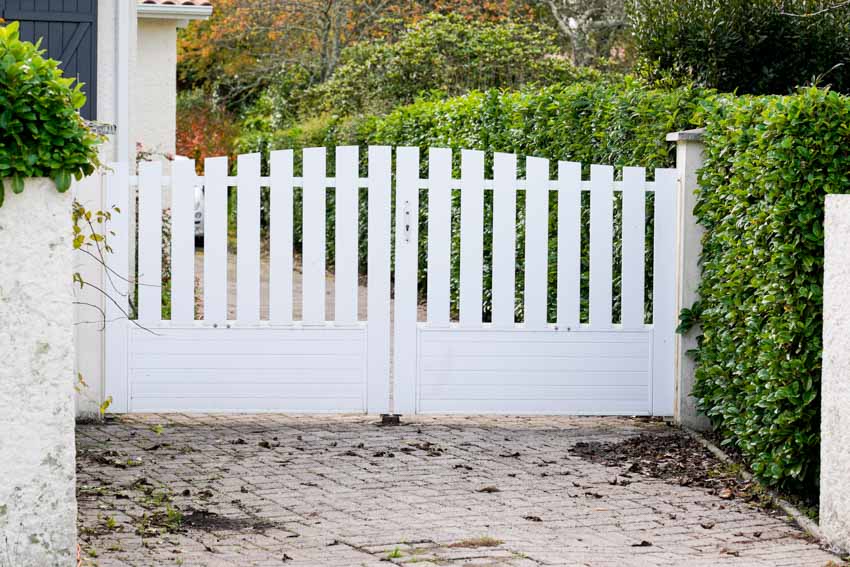 Vinyl has become a useful solution for fence gates for years now since it replaces wood with a synthetic version that is resistant to a variety of difficulties. It will not absorb a lot of water and will not scratch easily.
This fence gate material is composed of a mixture of chlorine and ethylene. It can be made in a cast and utilized in any shape that you like.
Furthermore, vinyl can be manufactured in any form and with natural grooves to produce a great wood-like design. This fence gate material will not deteriorate as a result of heavy rain. Water will simply glide off the vinyl.
However, the UV rays produced by the sun may cause vinyl fencing gates to fade. Thus, you need to apply a sealer to a vinyl fence gate to keep it pleasant.
Ultimately, you should avoid placing these vinyl types of fence gates in areas where children or dogs can easily gain access to them. Although the chemicals normally generated by a vinyl framework will vaporize relatively well outside, they can still be dangerous if someone is too close to it for an extended period.
Electric Fence Gate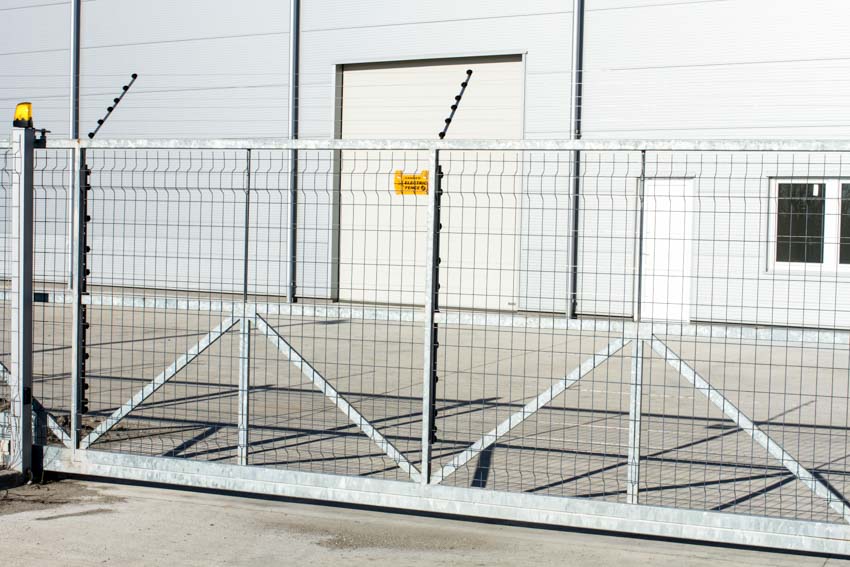 An electric fence gate is often constructed of thin aluminum or any type of steel. It is intended to stun trespassers when they meet it. Agricultural electric fence gates offer just enough power to make the person touching it frightened.
Certain electrified types of fence gates, such as those utilized for business or industrial purposes, may be intended to shock the perpetrator. Military- or security-level electric fence gates can be programmed to give a deadly dose of electricity, resulting in the death of any human or animal who gets into direct contact with it.
Outside of select jails and military installations, hazardous electric fence gates are not commonly employed anymore. When applied, it is normally protected against inadvertent exposure by placing it behind a non-lethal fence gate or hanging it high above walls or barriers where it can only be accessed purposefully.
Fence Gate Designs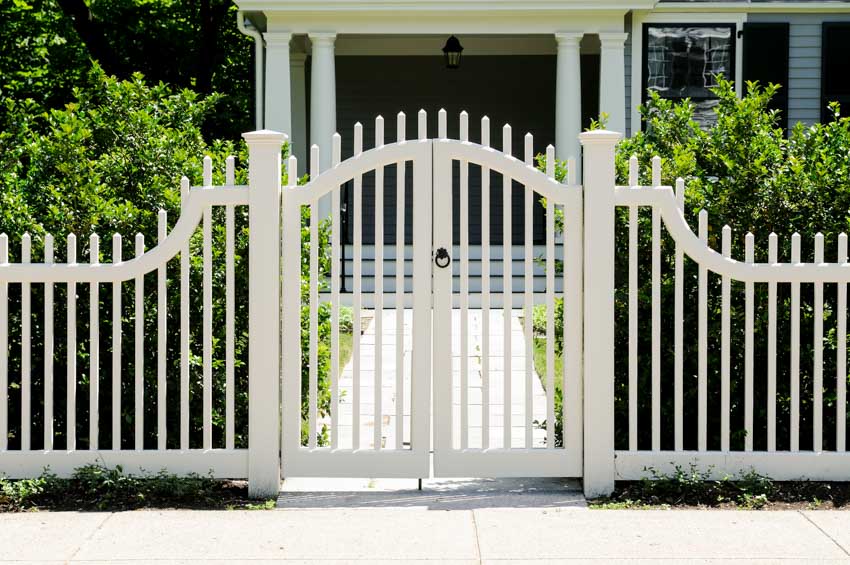 Here we share the different fence gates design styles for the home.

Privacy Fence Gate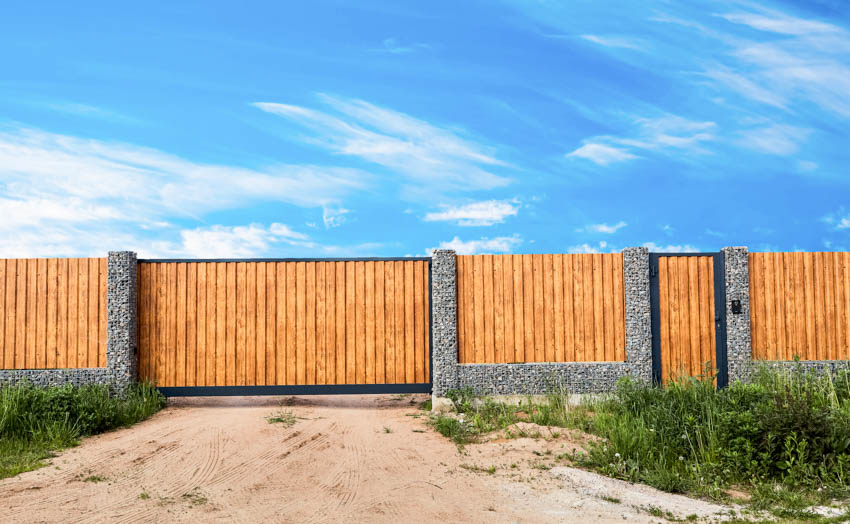 Privacy fence gates fall under a very broad category, which encompasses practically all of the fence gate designs that are extremely tall and are, more or less, a substantial gate that offers privacy to the area it surrounds. Privacy fence gates are normally composed of wood.

Sliding Fence Gate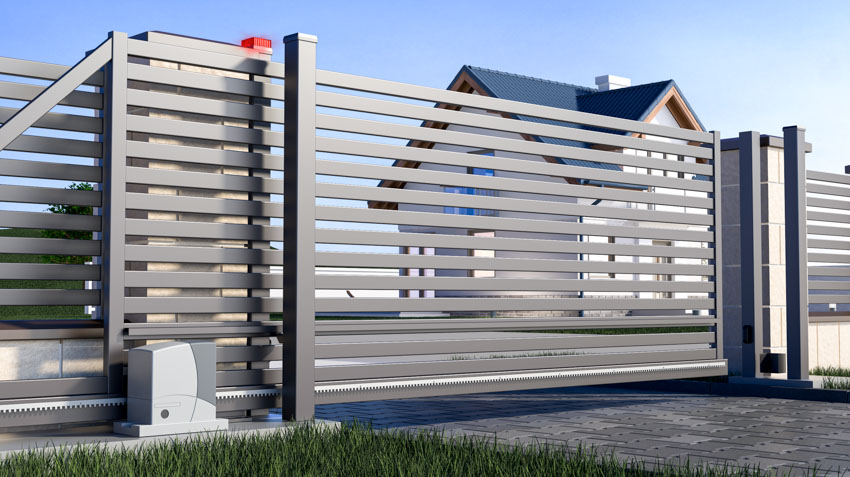 A sliding fence gate is among the most modern fence gates that may be slid to another side. Sliding fence gates offer a convenient, secure, safe, and easily identifiable entrance.
This type of fence gate is a movable fence with bottom rims. Because it lacks a turning circle, it can be very simple to open as well as close. Aside from that, a sliding fence gate stretches smoothly along an established fence and keeps out the course of human traffic. When opened, they occupy no additional space and can cover any size of yard or driveway.
Sliding driveway gate designs can be slid by hand or fitted with a motor to enable ease of entry. When equipped with a motor and remote they allow one entry through the gate without exiting the car.
Since sliding fence gates travel across a rail, they only necessitate one motor, even if the spacing is quite large. In locations with increased snowfall, sliding fence gates offer an edge over swing gates since they can move smoothly through the snow buildup and do not have to be dug out just to open the fence gate.
Swing Fence Gate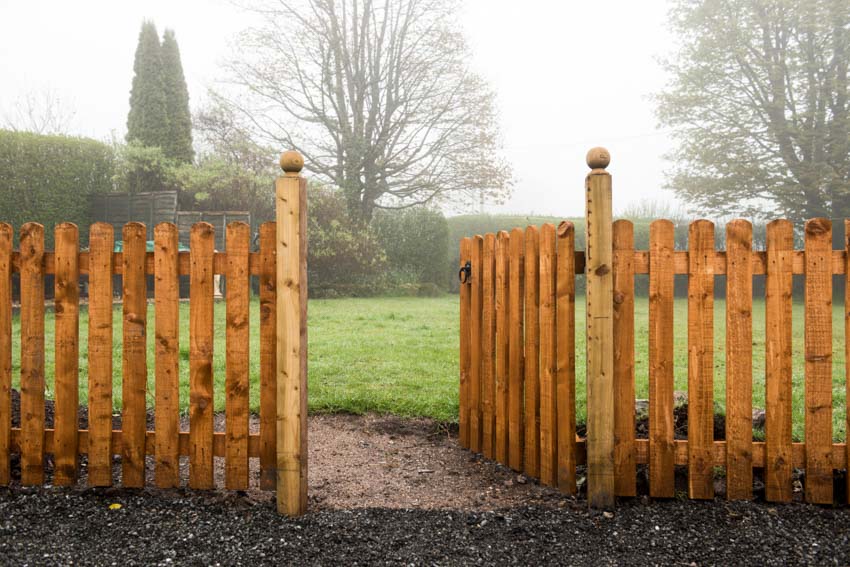 Swing fence gates are hinged and are especially beneficial in locations with limited space. Swing gates do not necessitate any form of rail to function, rendering them quicker to install in most circumstances and more adaptable for various types of property.
Furthermore, they are less expensive than sliding gate designs, making them a more cost-effective and practical solution. When installing swing gates they should always swing inward toward private property and away from public spaces whenever possible.

Split Rail Fence Gate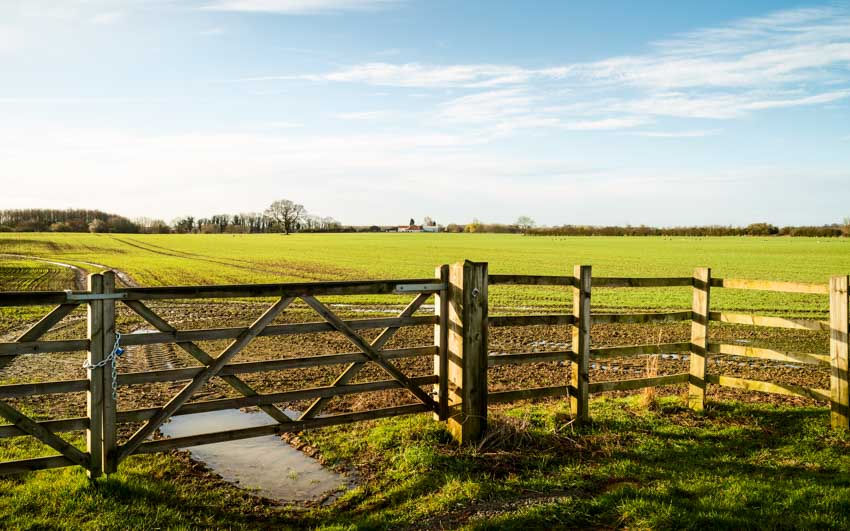 A split fence gate is one of the simplest and most typical gates you can build on a split rail fence. It is best suited to countryside areas. Moreover, this design is simple to build and utilize. Wood is a common material utilized to construct this fence gate design.
The split wood fence gate, as the term suggests, is built of split wood, much like the fence. You will give sufficient space for the splits when deciding where to build your gate. After that, you have to drill holes on both sides of the fence panels.
With this design, you should incorporate your timber splits into the holes. Make sure the wood can be pressed back through the openings to allow individuals and cars to pass over. To close the gate, opposite ends of the divides are in their corresponding holes in the fence.
Double Gate Fence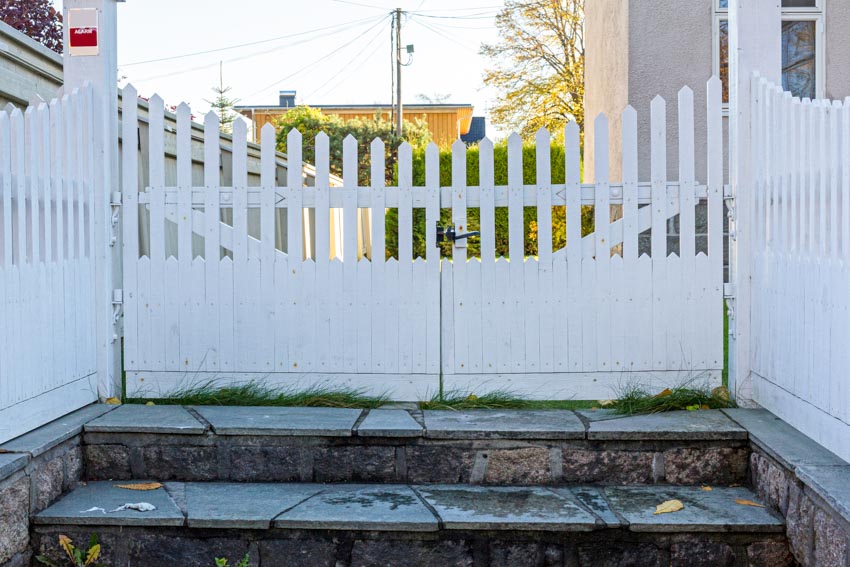 A double fence gate features two gate doors that are hinged to the fence slats on opposite ends. The gates meet halfway and lock. They are also a popular and simple gate to construct and mount on a split rail fence. Double gates can be lovely contingent on the material used to create them.
Because of its adaptability, double fence gates are frequently recommended. They provide easier access for larger trucks that may not be capable of fitting via a single gate.
Double fence gates are perfect for land entryways or border fences as well as gateways to stadiums or grasslands that require substantial machinery accessibility.
The challenge with double fence gates is maneuvering them. Since the gates lock together in the middle, you must frequently be able to draw both gates simultaneously to secure them.
Garden Fence Gate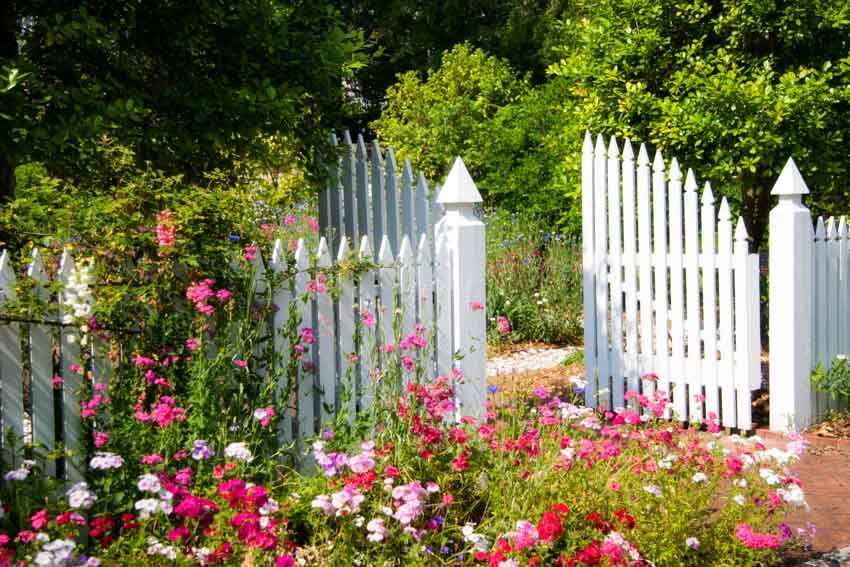 Fencing in a garden can be beneficial for keeping animals out, protecting a garden from damage, defining garden borders, or simply helping to arrange a garden space. These garden fences, nevertheless, should feature a gate.
A low and ornate fence gate would be a wonderful accent to add to a garden. Although not as safe as you would want, the appropriate garden fence gate can improve the aesthetics of your garden.
Picket Fence Gate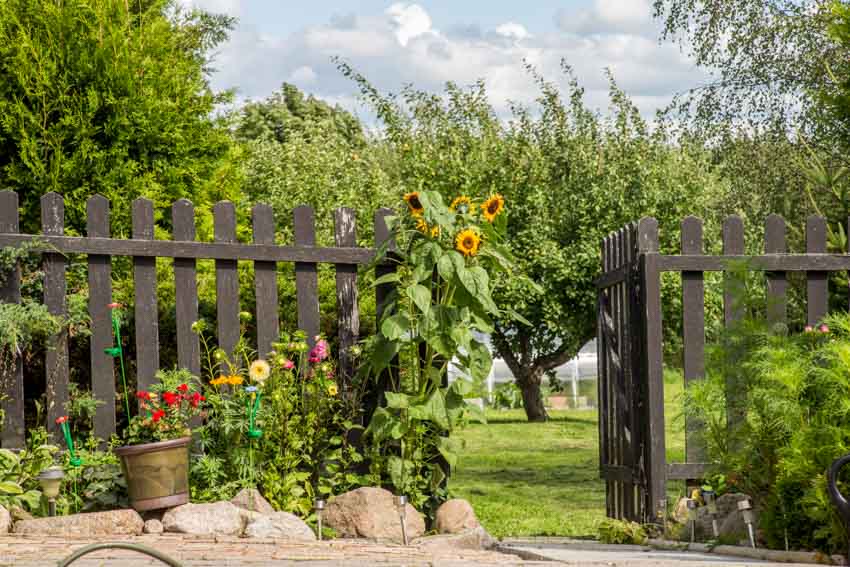 The picket fence gate is a small fence gate with gaps between the vertical timber that sets up the fence. It is an exceedingly common and well-known design of a fence gate.
Taller picket fence designs can function as protective fences to some extent, although they are largely aesthetic. You can also find spaced picket gates, which have wider gaps.
Driveway Fence Gate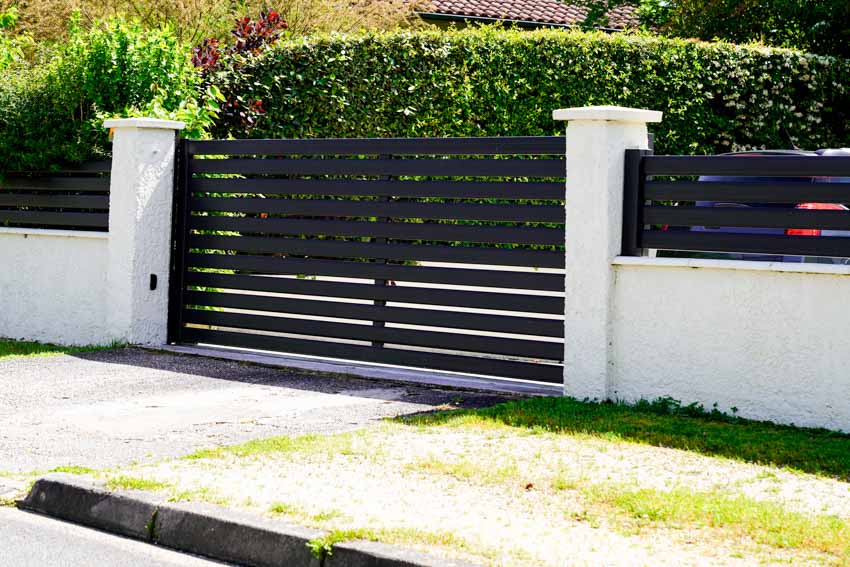 The majority of driveways are around 10-foot wide, thus you would want a gate that is approximately a couple of feet bigger to reduce the possibility of a mishap. Driveway fence gates can slide or swing open. Sliding driveway fence gates are often controlled mechanically. You can, however, install remote-controlled, swinging driveway gates with wheels to increase convenience.
Automatic Fence Gate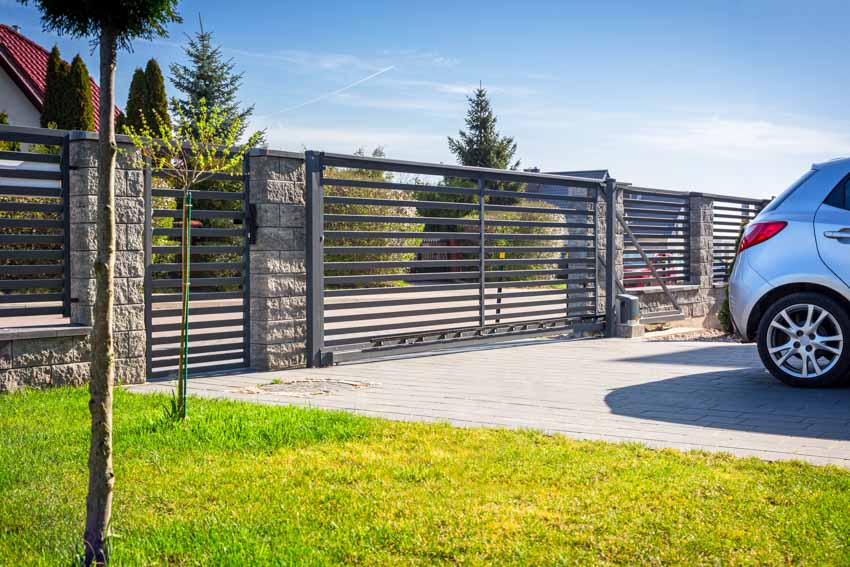 Automatic fence gates provide the ease of not needing to physically open and close the gate to get access to your property.
Homeowners can save time, maximize practicality, and improve security by installing automatic fence gates. Unlike manually controlled fence gates, automatically operated fence gates provide you with more control over who enters your premises while also eliminating the need to depart your car or house to unlock the gate for yourself or a guest.
There are several stylish, long-lasting, and dependable automatic fence gates that are widely obtainable in the marketplace these days. Furthermore, the automatic fence gate system can be put on any gate material, including your current gate. They provide an incredibly elegant touch to the exterior of your property.
Horizontal Fence Gate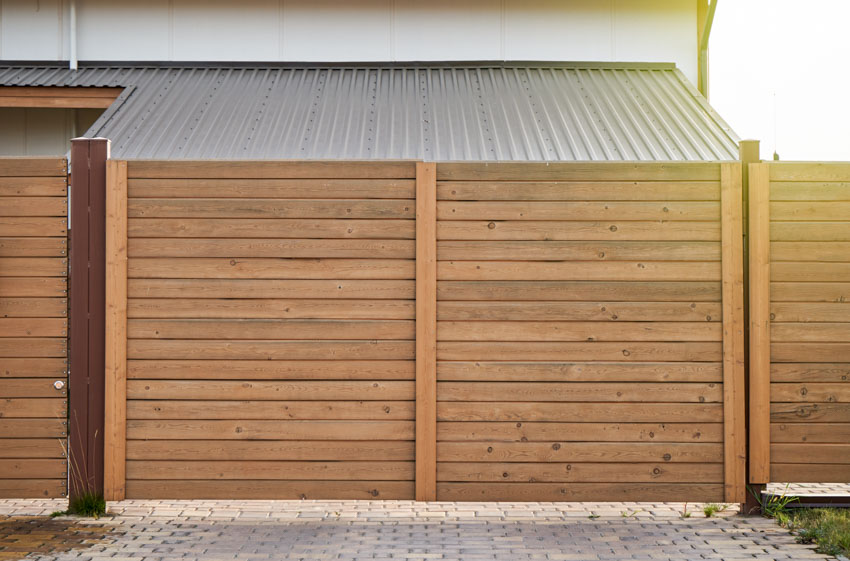 Fence posts and horizontally aligned fence slats are the primary components of horizontal types of fence gates. Stringers are not employed. Since horizontal fence gates need a superior grade of wood for the fence boards to eliminate the chance of slumping, they are usually more pricey than vertical fence gates.
Horizontal fences are the sole legitimate aesthetic for many residences and localities. Such fences are seen as modern, tidy, and updated. Fewer timbers are used because no stringers are necessary. Although the weather-sensitive board ends of vertical fences face vertically, the board ends of horizontal fences head to the side. This slows degradation and cracking.
T-Post Fence Gate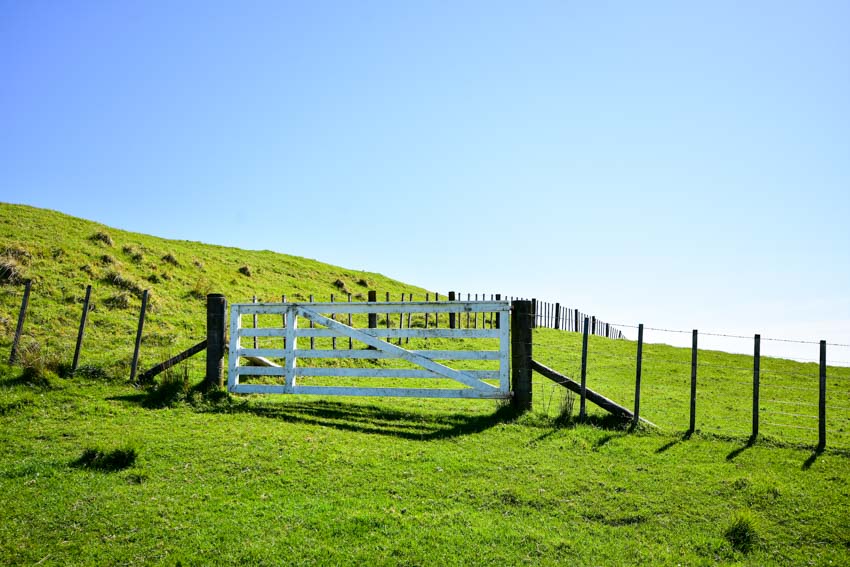 A t-post is a metal-made post with a built-in anchoring at the lower end. This anchoring secures the post in the ground, allowing it to strengthen wire fence gates and keep the wire taut along the fence rail. T-posts are particularly common since they are both inexpensive and efficient.
Pool Fence Gate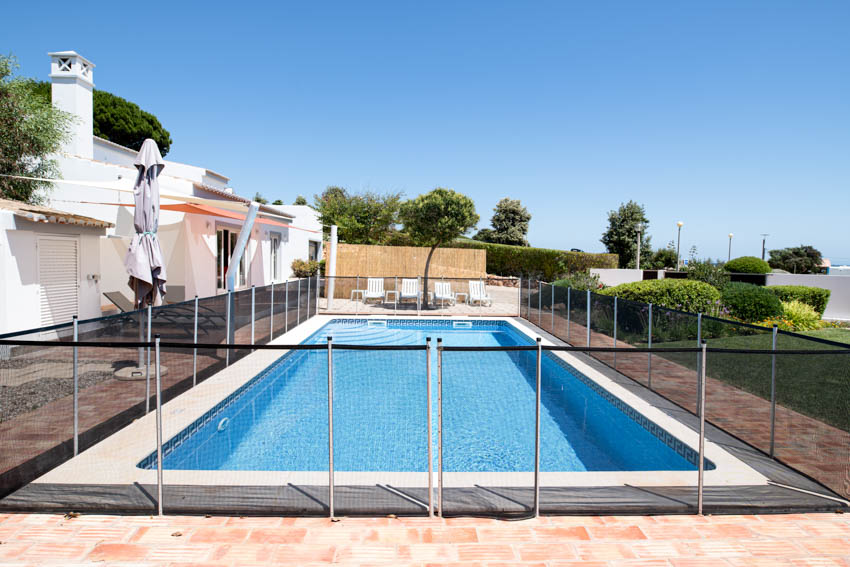 A self-latching or self-locking fence gate that opens outwardly from the pool must be included in your pool fencing. There are other recommendations for the positioning of self-latching mechanisms to prevent children from trying to reach over or through the aperture to unlock the latch.
We suggest that you choose a pool fence as well as a fence gate that not only offers an evident view from your house or backyard but also serves as a safe and stable barrier.
Fence Gate Latches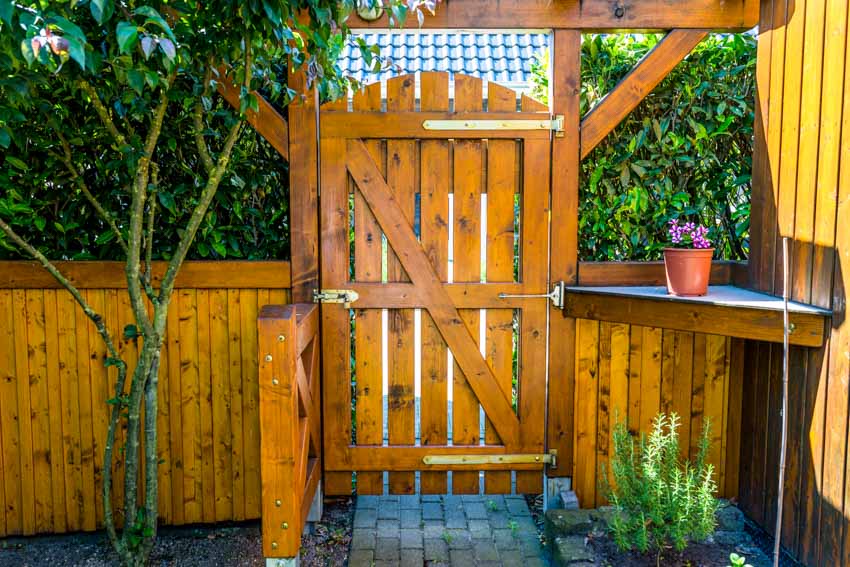 Gravity Latch: This latch is characterized by its working mechanism, which relies on gravity to secure the fence gate. It works by pushing the latch arm beyond the strike zone and enabling the arm to drop into the catching attachment as the barricade closes.
This is an appealing option since it can be self-latching, which means that if the fence gate is caught in the breeze and shut, the arm would click into place independently without any external assistance.
Since the arm must descend into the strike to operate, gravity-based designs are typically two-sided. On a wood barrier, the gate can be opened from both sides.
Although this solution is simple to operate, the basic form lacks security. If you prefer the barrier to be inaccessible, opt for extra locking solutions or add a secondary padlock or sliding bolt.
Depending on the gravity model you select and how many configuration alterations you want to perform, it might be a simple or difficult job. Installing gravity-based structures is typically a simple do-it-yourself project.
Lastly, several designs with locking options have a hole into which a padlock can be inserted. To use this function, you must either memorize a password or bring a key.
In terms of installation, double-sided gravity systems are typically employed with an in-swinging capability. Nonetheless, the arm can be installed on the street side and used with an out-swinging gate if the configuration is reversed.
Bolt Latch: Numerous individuals envision a bolt latch as a method of securing their fence. The typical lock design works via securing the door by sliding the rod into the closing bolt. Because it is a one-sided latch that can only be locked from the interior, this would be the easiest and least complex alternative for installation.
They can be fitted to in-swinging or out-swinging fence gates and could be locked with a simple padlock. These are often the most affordable models and are available in a diverse array of dimensions and materials.
Spring-Loaded Latch: Spring-loaded fence gates use a spring to aid in the closing operation. Spring types are generally more costly than gravity ones, but they offer a smoother motion on the handle while opening or closing the barrier.
Once pressure is applied to the spring that locks the arm, the latch arm clicks into position. Spring-loaded alternatives are always dual-sided. Such two-way variants allow the gate to be accessed from both sides and some are lockable.
Spring-loaded locks, similar to gravity types, are normally used on in-swinging gates; however, you can flip the setup for an out-swinging gate if necessary. Installation complexity might range from basic to challenging, depending on the design and brand you purchase.
Fence Gate Locks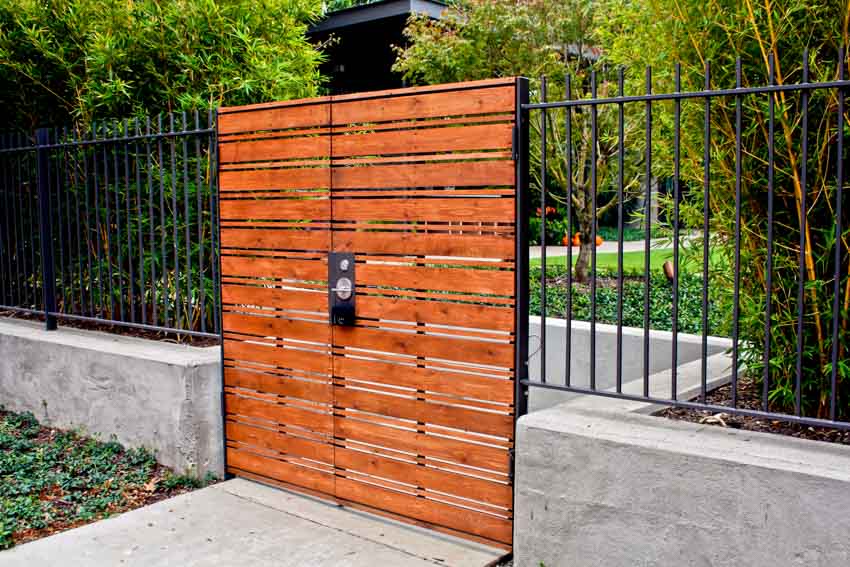 Thumb-Style Lock: The thumb style is only applicable if you do own an in-swinging fence gate. You can buy this locking mechanism that is always placed as a double-sided mechanism for enhanced safety.
This model operates by pressing the thumb depressor positioned on the ornamental plate on the exterior of the door. Pushing down causes the lock arm on the inside to raise, allowing you to open the fence gate.
As the gate closes, the arm collides with the strike, which goes up and down by itself onto the catching attachment. This design is a gravity latch based on how it operates.
Lever Lock: Lever lock designs, as the appellation implies, have a lever handle on each side of the barrier instead of just a ring. These can also be mounted on both in-swinging and out-swinging fence gates and can work with either gravity or spring-loaded technology. Most of the lever systems are lockable.
Bolt Locking System: Bolt lock designs are equally timeless and vintage, and they are only available in one direction. However, you have to keep in mind that if the bolt is secured on one side, you will not be able to enter from the other end, unless you stretch up and over to break away the lock.
Although bolt locks are based on an outdated design, there are several visually beautiful alternatives. They function by sliding a bolt into a catching attachment, and some options include a padlock slot to secure the fence.
Fence Gate Hinges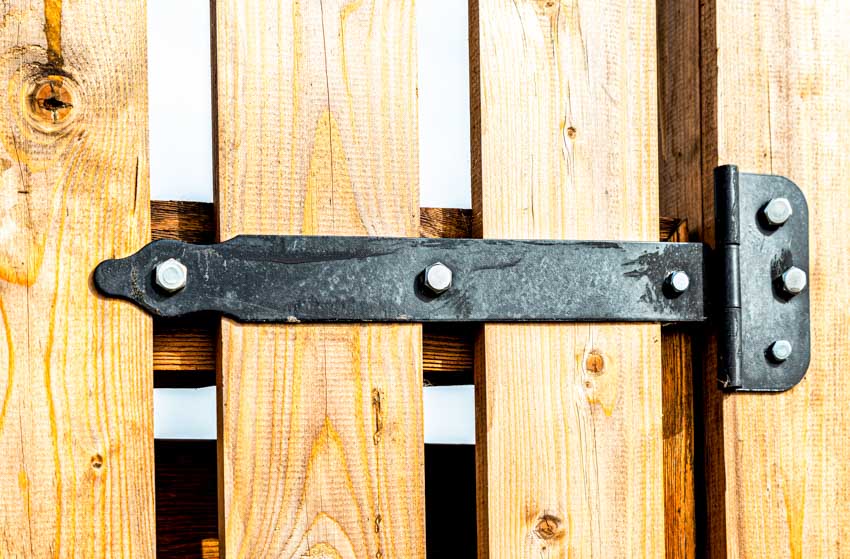 Spring Hinges (Single-Acting or Double-Acting): If your gate only swings in one motion and you need it to close automatically, you could use a single-acting spring fence gate hinge. Vary according to the dimensions and weight of the gate, one or more spring hinges should be used.
If reduced self-closing power is required, single-acting spring hinges can be combined with non-spring hinges of the very same size. A double-acting spring hinge is yet another option for making a gate that opens both ways. Such hinges will revert the fence gate to its closed or central orientation.
Bolt-On or Weld-On Heavy Duty Hinges: These heavy-duty bolt-on or weld-on hinges are often the best solutions for massive metal fence gates. Such hinges usually have the biggest weight rating, frequently reaching 1000 pounds per set.
These heavy-duty hinges are also incredibly cost-effective in comparison to how sturdy and long-lasting they are. Installation is typically more connected, thus this choice may not be the most convenient for a do-it-yourself homeowner.
This type of fence gate hinge also leaves a bigger space between the framework and the gate, making it unsuitable for a more inconspicuous design.
Butt Gate Hinges with Dummy Straps: Butt hinges and dummy straps are an excellent technique to suspend a heavy fence gate. Butt hinges are placed similarly to front gate hinges; nevertheless, mortising the hinges is frequently unnecessary.
Butt hinges placed in this manner can support a significant amount of weight. Dummy straps can subsequently be put on the surface of the door to simulate a strap hinge.
Pintle Hinges: Pintle hinges can be utilized on gates that can swing in both directions. For its size, this sort of hinge can support a significant amount of fence gate weight. Another advantage of this style of gate hinge is that the gate can be withdrawn once it has been placed by pulling it off the bolt hook.
Fence Gate Dimensions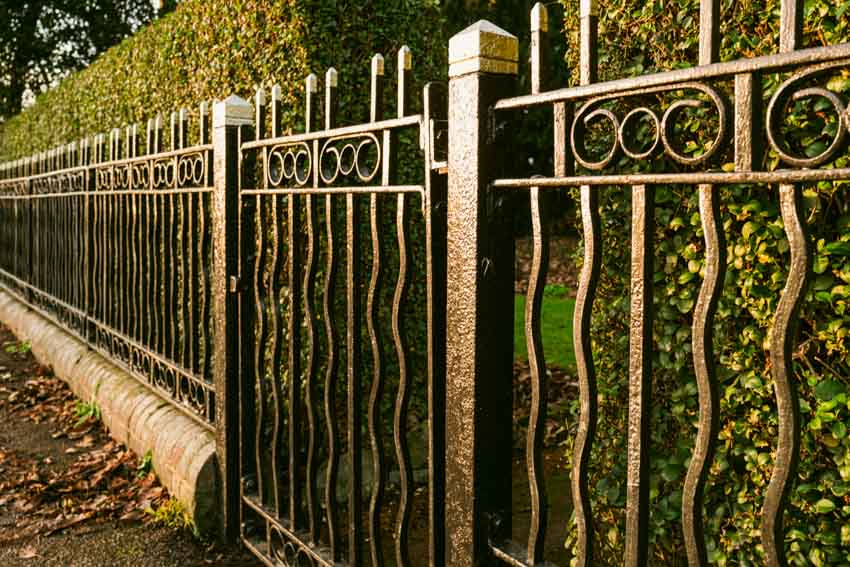 The usual fence gates you will put around your property are common sizes of 3 to 6 feet wide. However, the average width of fence gates is 10 to 12 feet wide, but some are even bigger.
Some fence gates are as wide as 14, 16, and 18 feet. Read more about standard fence gate sizes on this page.

How Much Does A Fence Gate Cost?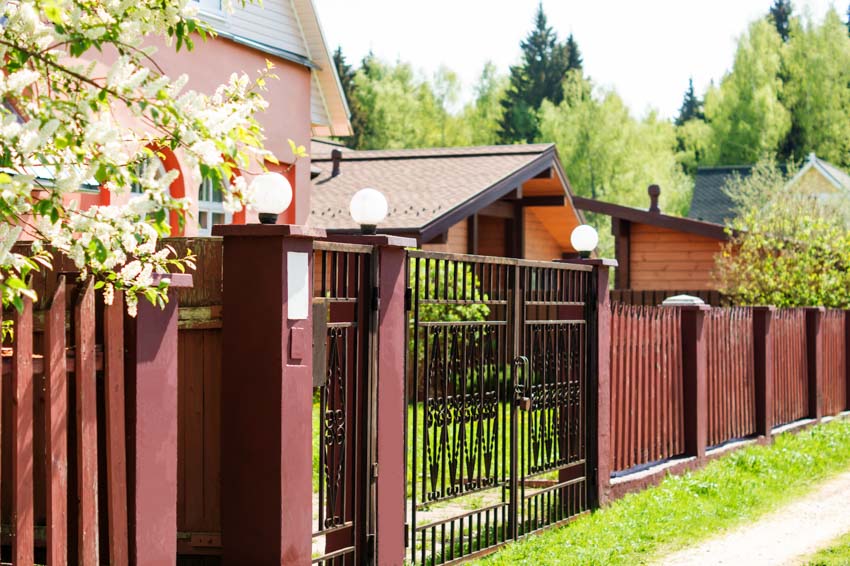 • Although prices vary depending on the style, most people spend roughly $400 to construct a standard fence gate.
• Depending on the height, chain link thickness, and dimensions, installing a chain-link fence gate can cost around $150 to $400.
• A vinyl fence gate can cost around $300 to $1,500, depending on the manufacturer.
• A driveway gate typically costs around $1,400 to $3,200, but integrating automated or remote-control operations might raise the price.
How To Keep A Fence Gate From Sagging?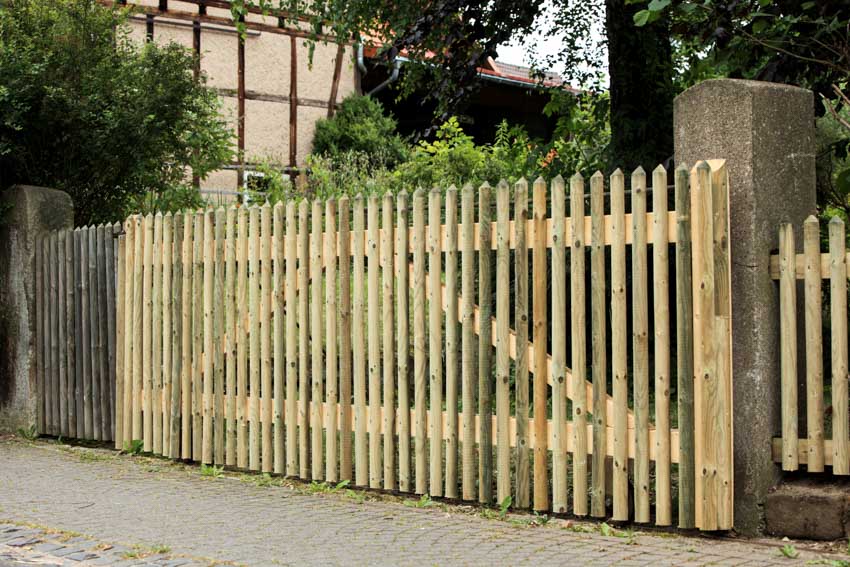 To keep your fence gate from sagging, you should first identify the source of the problem. In numerous circumstances, either the wood slats of the gate are sagging under its full weight or the posts are not properly parallel anymore.
Diagonal bracing can aid if the framework sags. Rectangles and squares are not as sturdy and solid as triangles. Attaching a diagonal bracing or tension rod linking one of the hinges to the opposing corner would be the simplest technique to reinforce a fence gate.
By doing this method, you can balance the tension on either side of the gate. Nonetheless, it will be only as strong as the main joint. If the posts are not level, you will have to fortify them. This could entail excavating them, laying concrete, and anchoring them to a more stable base.
The overall installation is crucial in keeping the fence gates from sagging. Hence, special arms must be embedded into the ground for support, both to the gate as well as the adjacent fence.
How To Fix Gap Under Fence Gate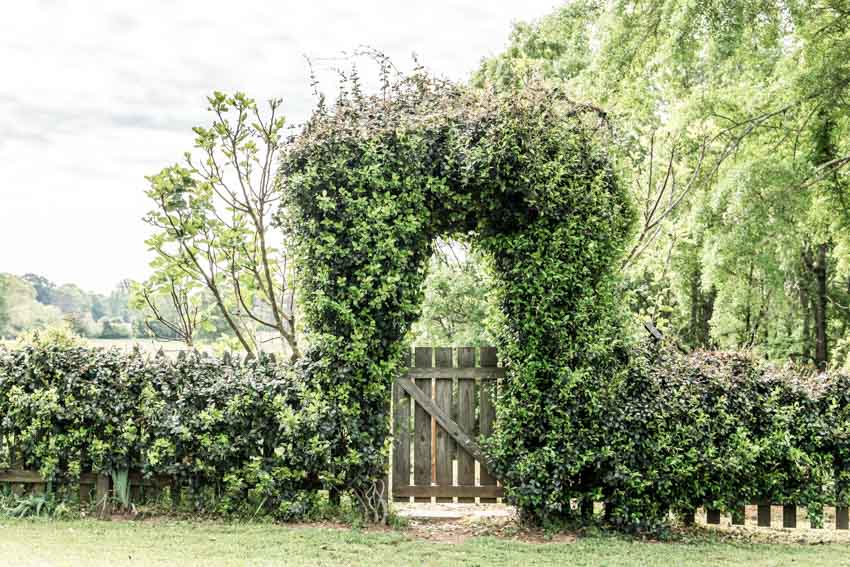 • A compact wooden step at the lower end of the fence gate will lessen the gap size while also increasing the fence's sturdiness. If you wish to expand your fence gate, a wooden plank across the bottom of the fence gate entrance is an alternative to consider.
• Placing chicken wire at the bottom of the fence can help to close a gap underneath the gate and keep your pets from crawling beneath your fence gate.
• Another effective approach to prevent gaps in wrought iron fence gates is to weld a bar at the lower end of your fence.
Truly, the best technique to close a gap is to install a little "speed bump" at the bottom of your fence. As recently mentioned, this can be accomplished by using chicken wire and dirt, putting concrete, or just placing a small piece of wood at the bottom of your fence.
See more related content in our article about the best types of fence design software on this page.