See our best hedge plants guide including suggested privacy shrubs & trees, low-maintenance and narrow plant options, and hedges to avoid.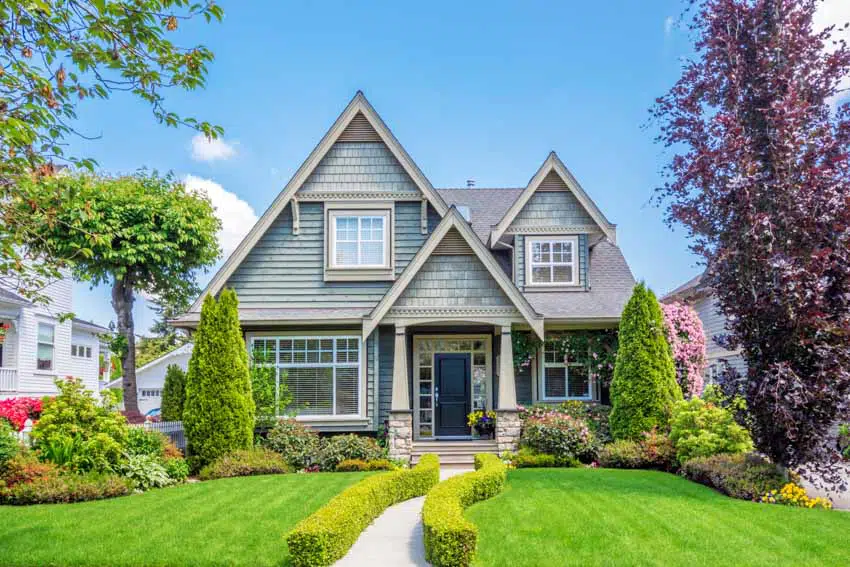 Finding the best plants for a hedge may seem like a simple task, but after a few trial-and-error experiments, you might find that it can be tricky to find just the right kind of hedge plants for your space.
Whether you're trying to reduce noise and increase privacy or just spruce up and frame your yard, it can still be quite a challenge. Hedges can serve tons of purposes, but getting them right takes some planning and careful consideration.
It's easy to head down to the nearest home improvement store and pick up a handful of nice-looking plants labeled to be used as hedge plants, but there's more to it than that.
Things to consider before jumping into a hedge project include your climate zone, soil type, irrigation capabilities, and even positioning for sunlight. Not to worry, though, because these things can be broken down simply into more easily understandable ideas.
Best Shrubs for Hedges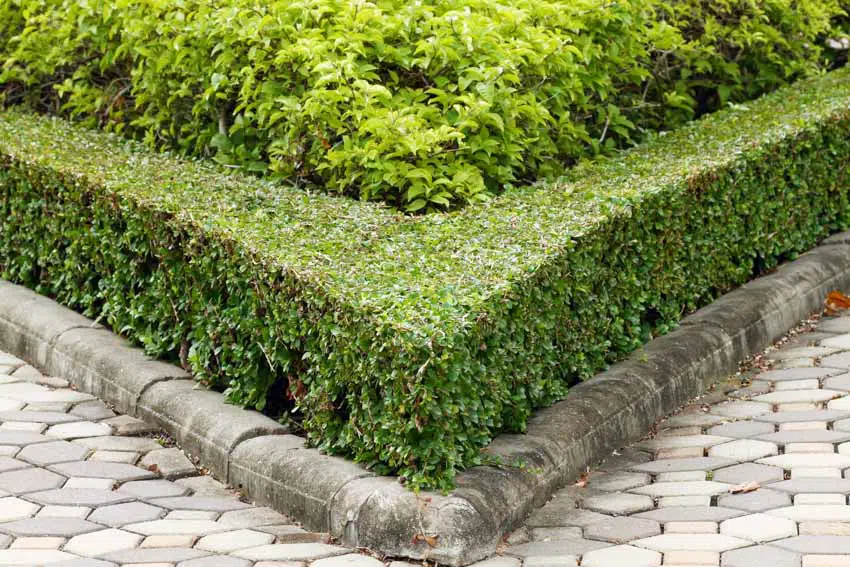 Your selection isn't limited to what you can find at a big box store; there are lots more options waiting to be discovered in local nurseries, landscaping businesses, and even tree farms, depending on where you live.
Try to picture what kind of hedge you would prefer, research a few species that can thrive in the conditions you have to offer, and narrow those options down to which style of hedge you would like to plant.
If you'd rather skip the tough decision-making process and head straight into getting some shrubs into the ground, then by all means, there are plants ideal for you.
Some of the most common hedge plants look fantastic in almost any setting, and can help provide a nice barrier without having to consider different privacy fence ideas. Here are a few of the most common plants used to plant hedges:
Boxwood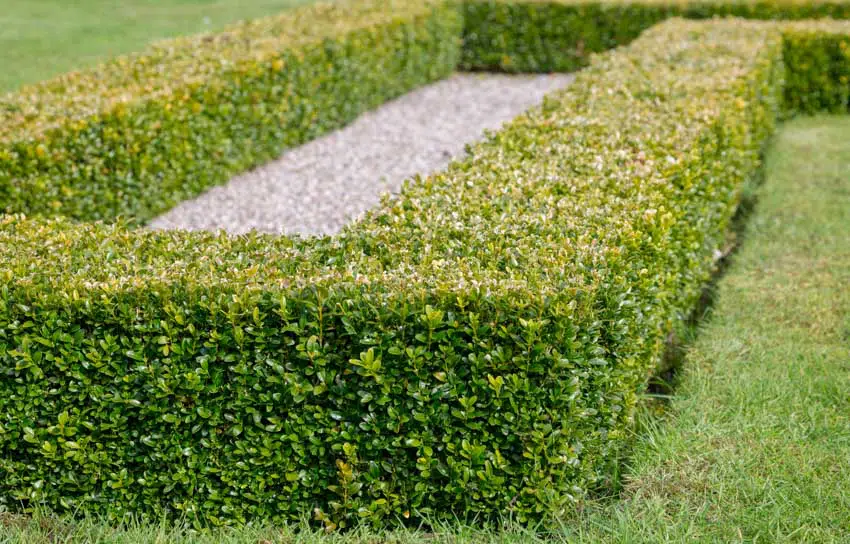 These short but sweet little plants can be trimmed to nearly any shape with enough skill and finesse, and their ability to grow even in the soggiest of climates makes them ideal for particularly gloomy regions.
Heavily endowed with small yet vivid green leaves, boxwood can be planted for small to medium height hedges, and are incredibly easy to care for. These are a beginner's best friend.
Juniper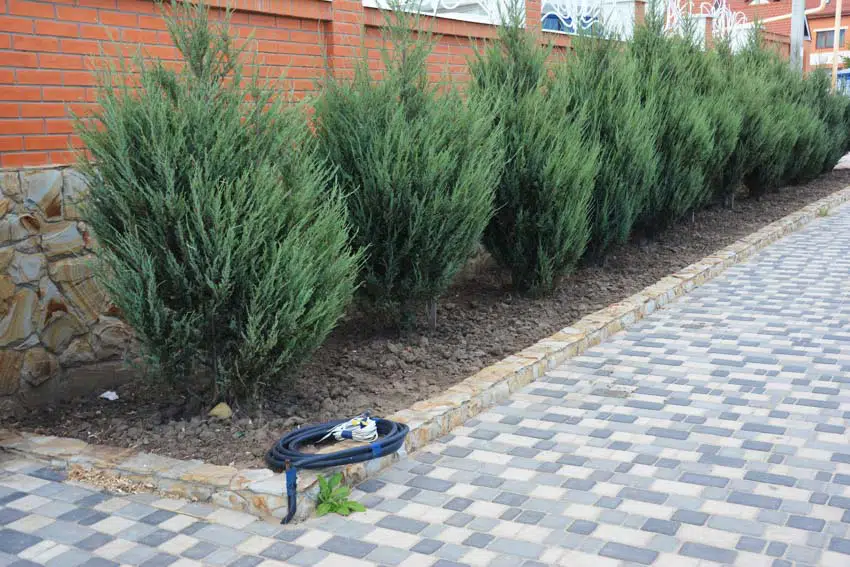 Prized for their endearing berries and gorgeous blue-green foliage, juniper is an evergreen with an amazing number of possibilities in the way of hedges. Super versatile and easy on the eyes, juniper can be shaped to provide more of a groundcover style or a more prominent border hedge.
This plant can withstand both chilling cold temperatures and the occasional summer drought, making it absolutely perfect for those with less time to spend on perfection.
Yew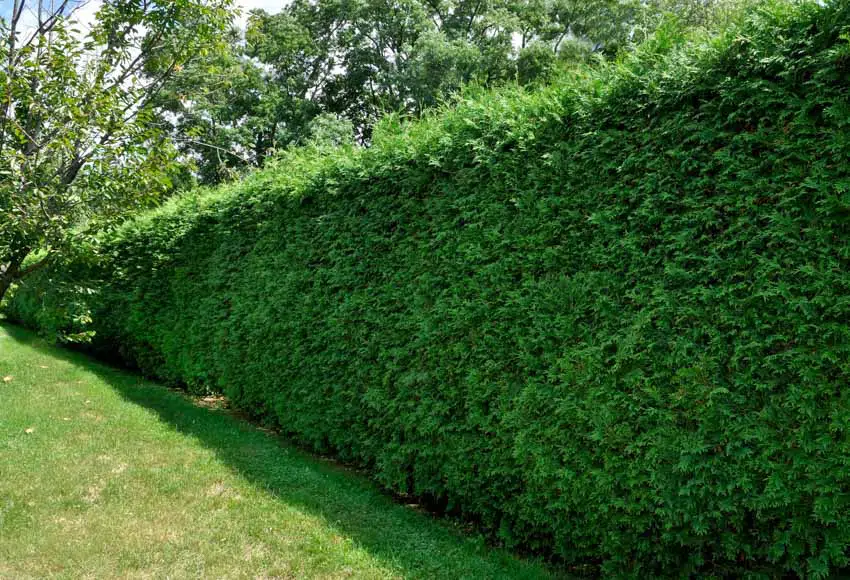 Versatile and evergreen, yew makes a fantastic hedge. Picture those photo-ready hedges that make up the bulk of fancy landscaping and yards in the upscale neighborhoods, and you can almost guarantee that you've seen these before.
Best planted for a medium-to-higher- hedge height, yew are thirsty plants, but can be cut back in larger volumes than most other hedge plants without sustaining lasting damage.
Magnolia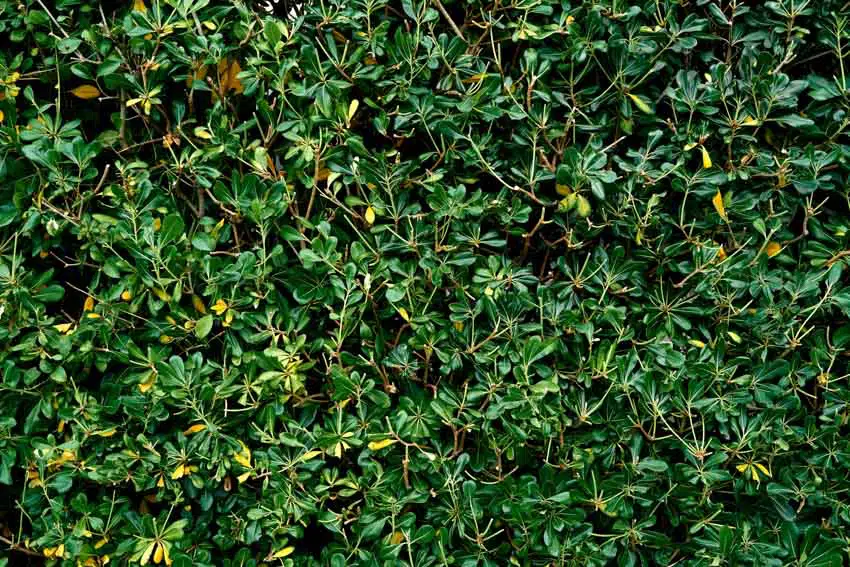 Slightly more complex than most hedge plants, magnolia are almost always an eye-catching showpiece full of bright white flowers against dark, luscious green foliage. The allure doesn't stop there, though; these flowers smell absolutely intoxicating.
Although these plants do require some effort to maintain, the extra try is worth it. Magnolia are best suited to rose-growers and experienced gardeners.
Best Trees For Hedges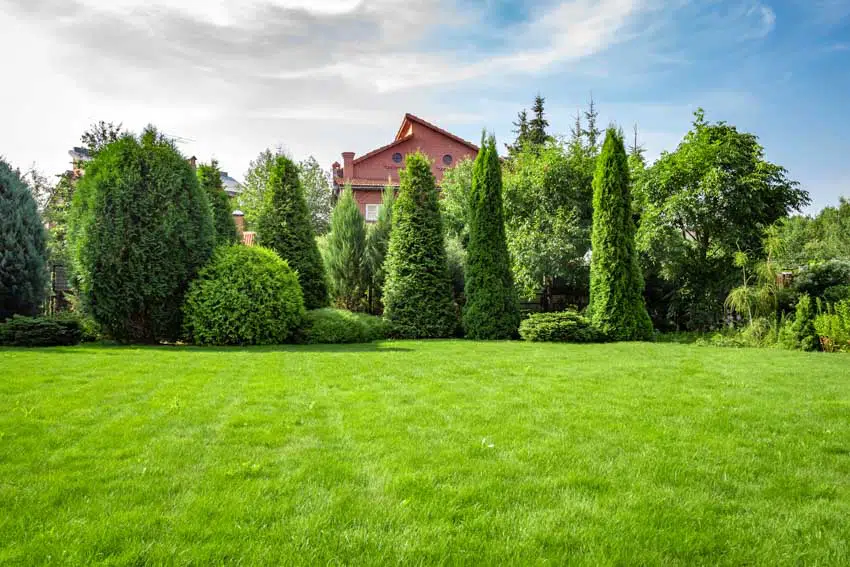 If you're looking for a little more privacy, then a taller hedge is the way to go. Despite taller hedges being a bit more work and pricier in general, their benefits outweigh these minor setbacks.
One major upside to tall hedges is that you can start them at nearly any stage; plants for taller hedges available for purchase range from seedlings to fully-grown and ready to provide ample privacy.
For anyone tired of road noise and nosy neighbors, this is the best option for a hedge. Plants in this height range can be either bushy and insulating or more open and flowering. Either way, the perfect species for you is out there. Here are a few recommendations for those with taller expectations:
Arborvitae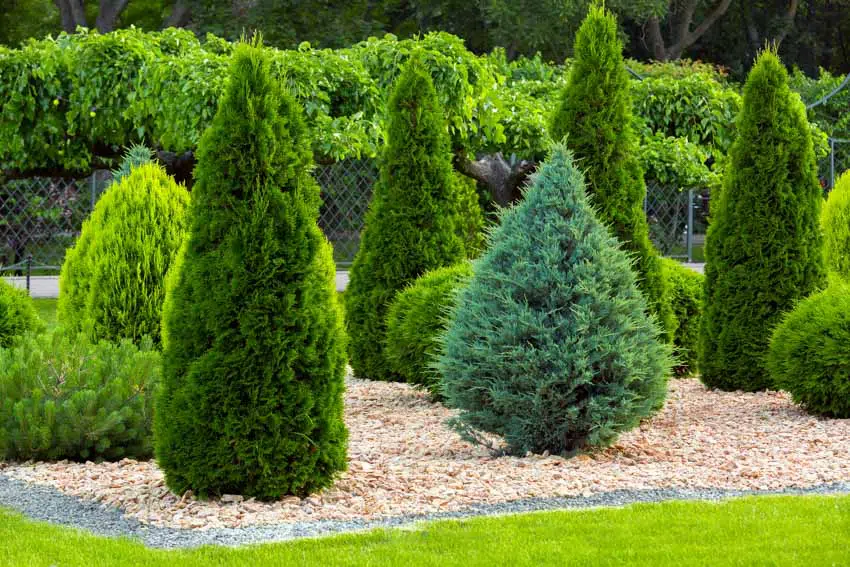 Full of thick, lush, and pleasantly-scented fronds, arborvitae trees are perhaps the gold standard in privacy hedges.
They can thrive in nearly any climate, save for sub-zero temperatures, and make for luscious, green walls that can be trimmed in what may be the widest variety of shapes or sizes out of any hedge plant. These plants, however, come with a higher price tag but are widely available and easy to source.
Climbing Roses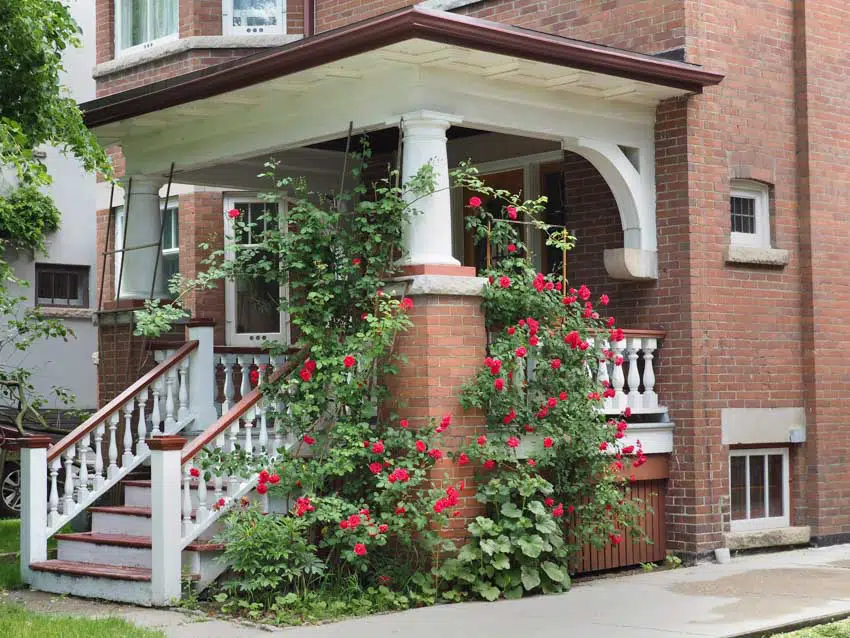 For the decorative type, climbing roses can be both a problem solver and a garden piece. Foliage colors range from bright lime to deep emerald green, and as you can imagine, come in every shade of gorgeous as far as flowers go.
Two aspects of roses to consider for hedges include placing supports and cleaning up after the annual petal frenzy is over, leaving piles of decay around the bases of the plants. The latter is nothing a solid leaf blower can't handle!
Cedar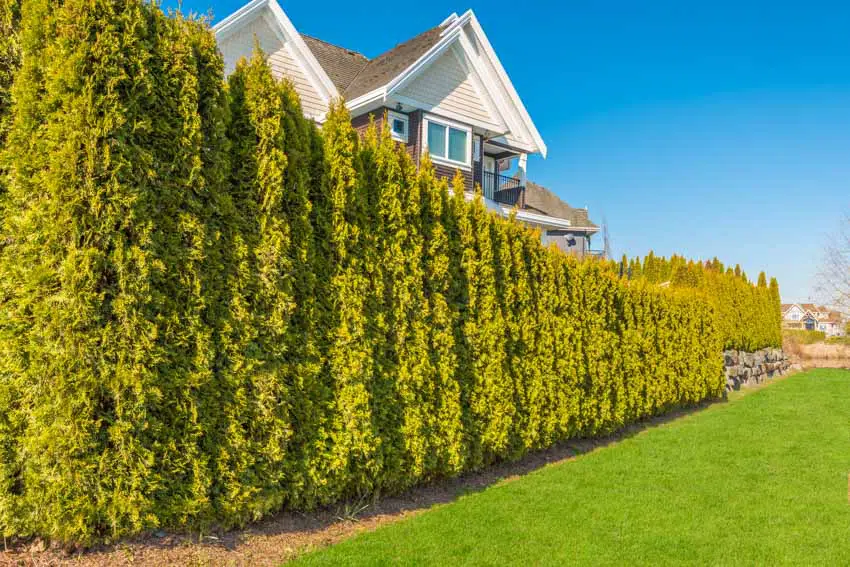 One of the most coveted trees for hedges, cedar not only looks amazing with its fascinating green fronds, but it also smells amazing every time you trim or water.
Cedar doubles as insect repellent, too! However, not just any cedar tree makes a great hedge; consider dwarf options that are bred for staying short and maintaining perfectly bushy foliage.
Low Maintenance Hedge Plants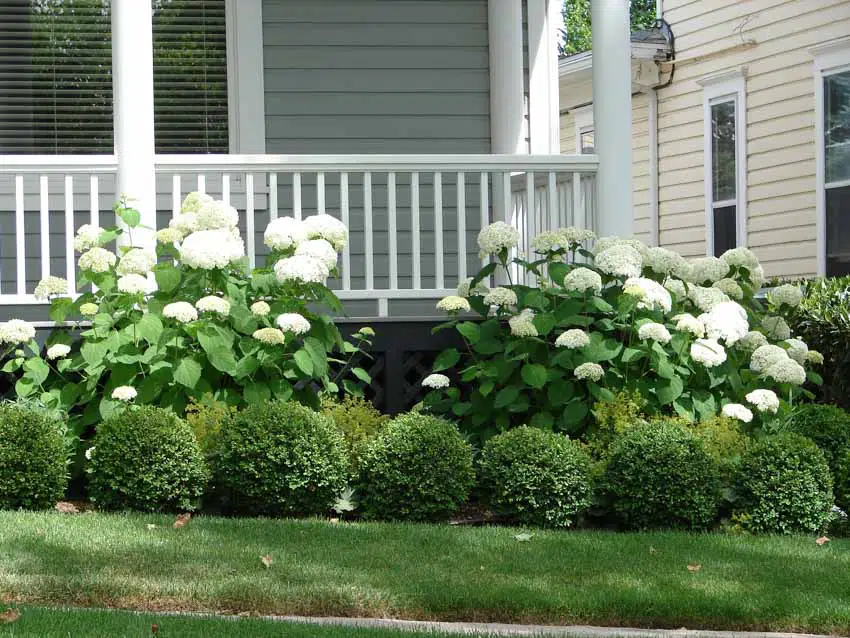 Sometimes in life, a high-maintenance hedge just doesn't fit the bill. Whether you're too busy for gardening, inexperienced, or simply not willing to invest all the time and effort that your neighbor across the street seems to have into your hedge, there are tons of situations where a simple, low-maintenance hedge will do the trick just fine.
A few good examples of where you might see a low-maintenance hedge just being nice and simple include shopping malls, corporate businesses, and small neighborhoods. Of course, with little maintenance comes little glory, especially if you're considering different walkway ideas on a budget.
But if you're willing to sacrifice dazzling blooms or large, deep green leaves, this is definitely the best way to go. Here's a small handful of easy hedge plants:
Evergreen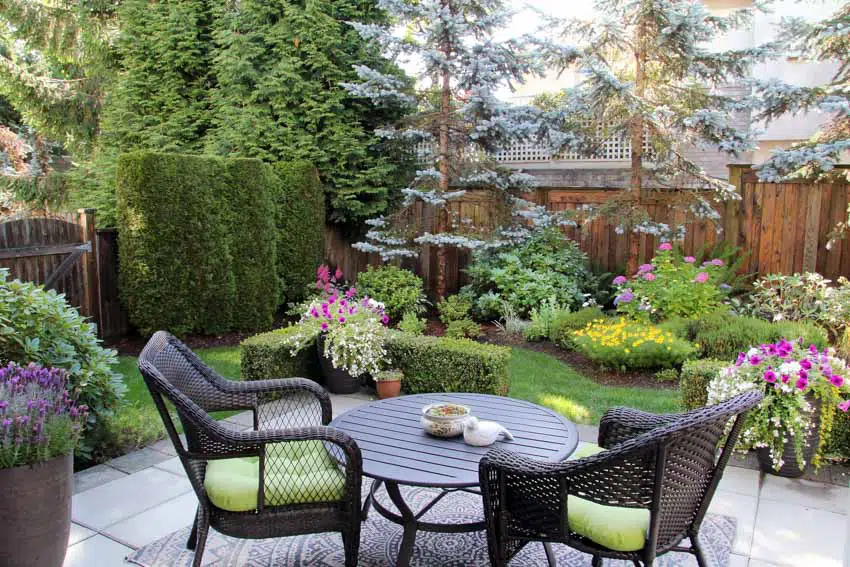 Tout and fluffy, evergreen is one of the most highly coveted species for being as easy to trim as just slicing away at the sides.
Most can get away with pruning just once per year, though some may prefer to maintain a certain shape by pruning twice per year. It's easy to see why this shrub is one of the easier-to-maintain choices here.
Dwarf Cypress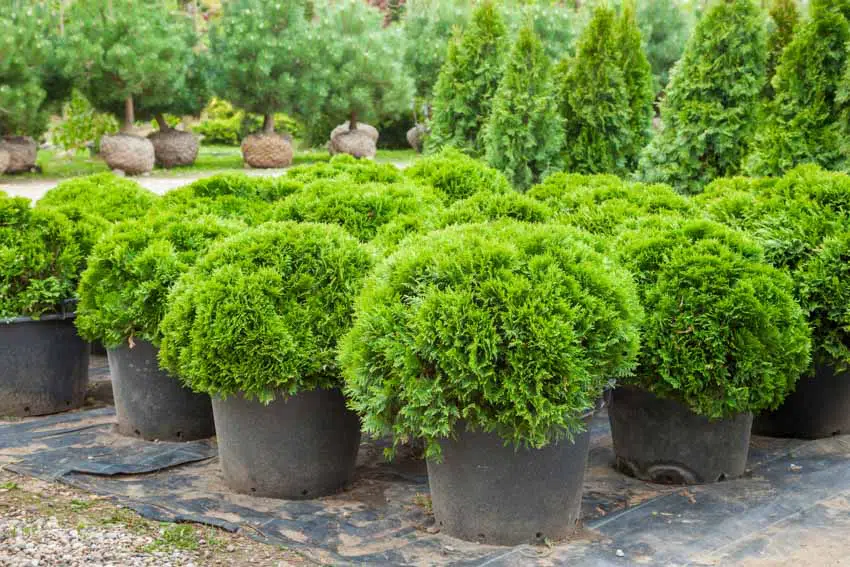 These lovely golden fronds make for the perfect low-maintenance hedge, with a maximum growing height of five feet and attractive foliage.
This shrub looks great even a year after trimming, given that no matter how it grows, it still looks intentional. Keep this in mind for your next hedge project if you prefer to hardly touch your hedges!
Forsythia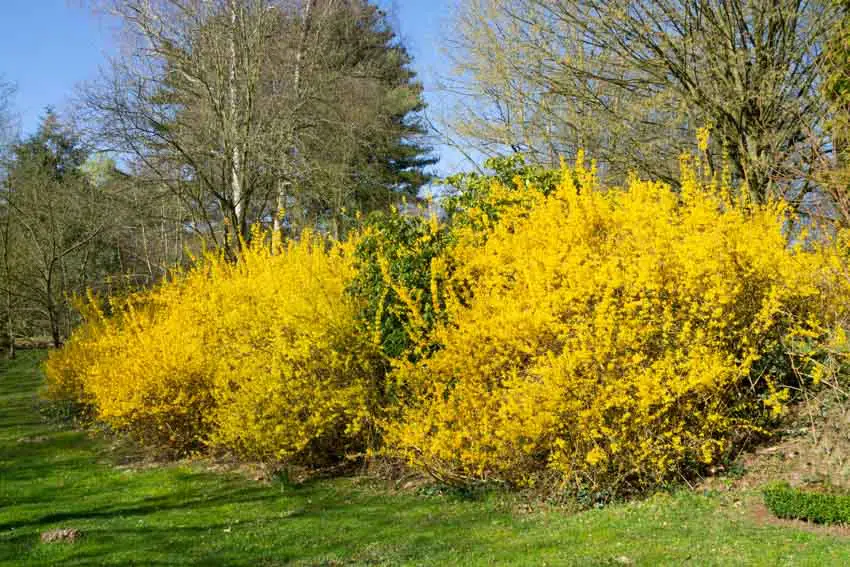 If you have the space, this eye-catching, glowing beauty is perfect for you. These shrubs actually look best when allowed to grow out in their natural shape.
They are absolutely fantastic for those with little interest in pruning and shaping. As an added bonus, forsythia turns either a bright yellow, orange, or red in the early spring , depending on the species.
A forsythia plant is also extremely fast growing and can reach heights of 10 feet and grows about 2 feet per year.
Narrow Hedge Plants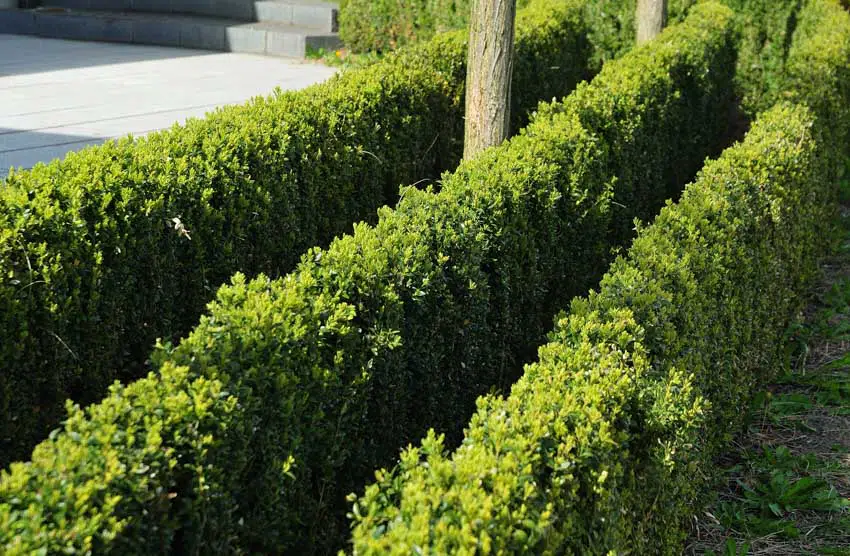 Don't have a huge space to plant a hedge? No problem. A few species are perfect for filling in smaller areas without bushing out into walks and driveways.
Try to consider where you will be placing smaller shrubs, as their health depends more on climate and care than larger varieties. It's generally a good idea to test your soil before planting smaller shrubs, as they will be affected by the acidity or a lack of nutrients early on.
Despite the limitations, smaller and narrower shrubs help to maintain natural elegance without further limiting space. Some can even be used for multiple purposes, making them a great investment that's easier to justify. Here are a few smaller plants to get you started:
Lavender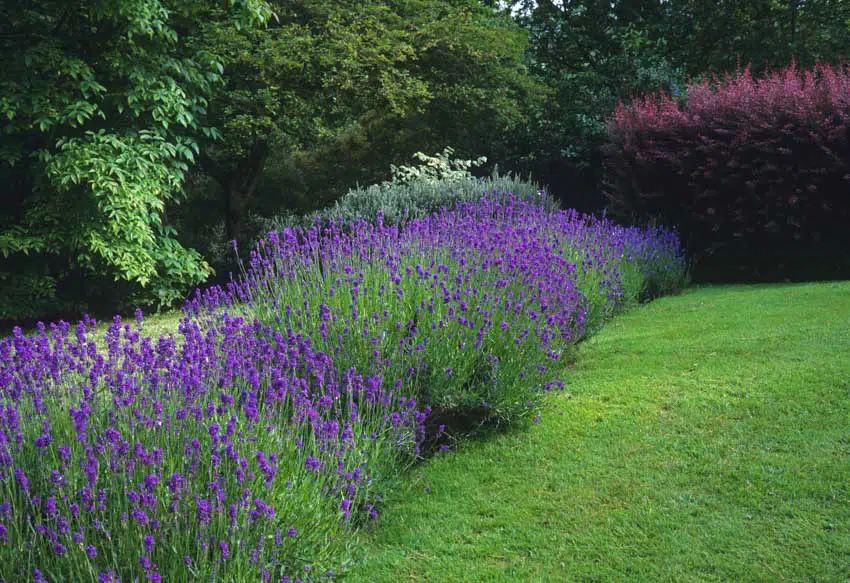 Everyone loves lavender. Calming and beautiful, these shrubs display dusty green foliage and delicate purple flower stalks booming with pleasantly-scented petals.
Lavender is also a wonderful, nutrient-rich resource for pollinators, which will flock to your garden once they get a whiff of this sweet and floral scent.
Rosemary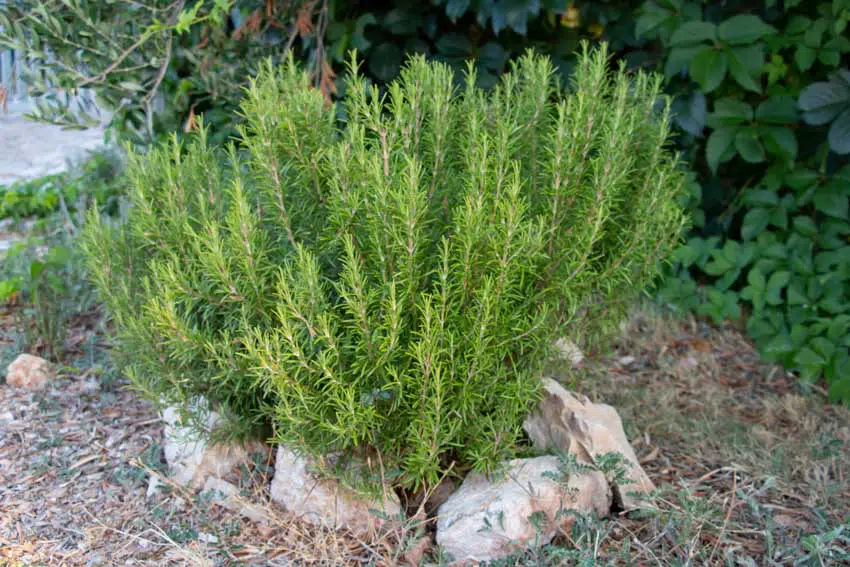 Great for a wide variety of climates, rosemary can be pruned to any size you need, not to mention that it can be used in all sorts of dishes.
Serving multiple purposes is a huge plus for hedge shrubs, considering that most of the time, they're just there for looks. Another bonus is how nice it smells when you brush by it!
Hibiscus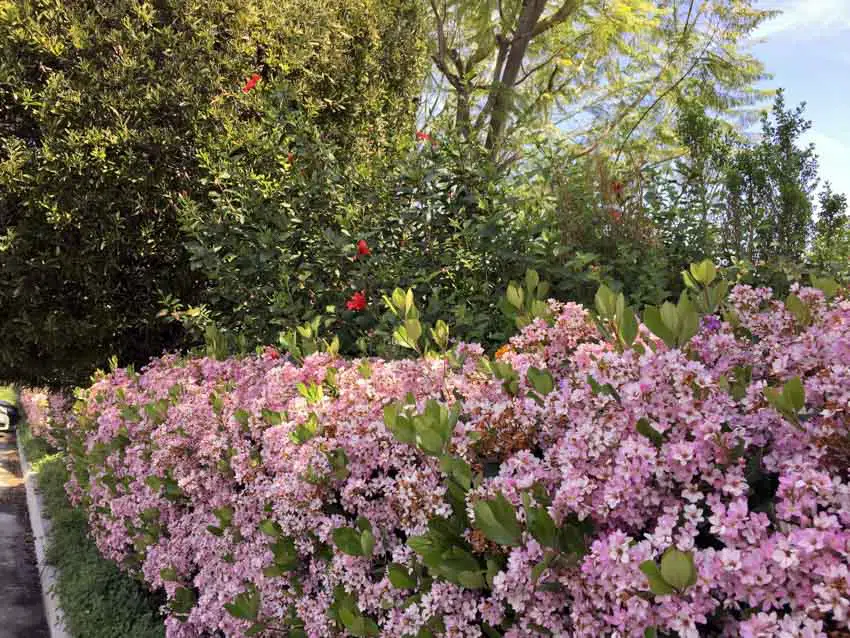 Tropical flower lovers: this one is for you. If you enjoy the variety of tropical flowers but have a hard time finding something that fits into your yard or garden design, along with all the backyard essentials, try adding some hibiscus shrubs as hedges rather than accents.
These shrubs grow narrow and can be tamed to grow only in certain directions, making them a perfect option for limited space.
Hedge Plants To Avoid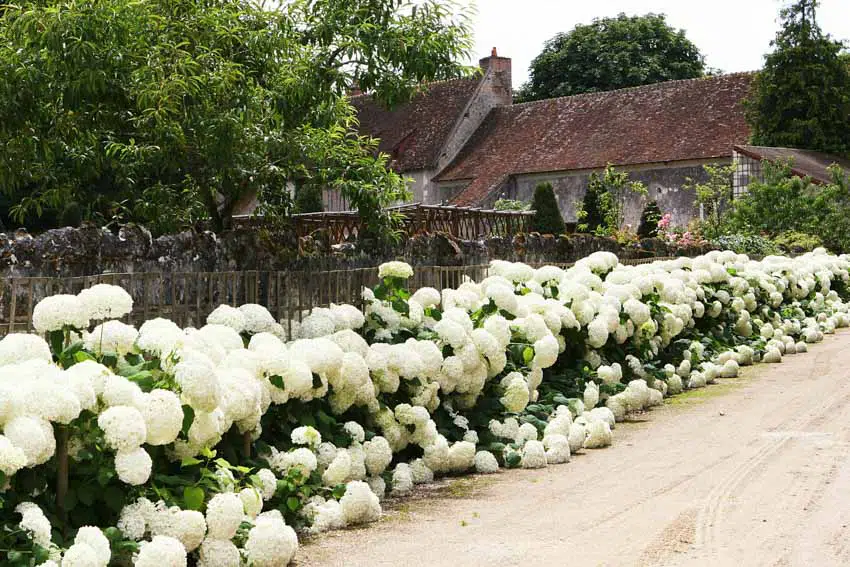 While the possibilities are endless, there are a few plants that should be avoided, for reasons including safety, size, and even aesthetics.
Keep in mind that while almost any shrub can be tamed to fit the needs of most hedge keepers, some just won't fit well into the hedge category for many reasons. Check if the shrubs you are considering come with any warnings or undesirable features before you decide.
A few points to additionally consider when choosing plants for hedges include whether there are children in your neighborhood, if the area is popular for dog walkers, or if your homeowners' association has any restrictions on plant species.
Here are a few species to avoid if you want to dodge some gardening bullets in advance:
Roses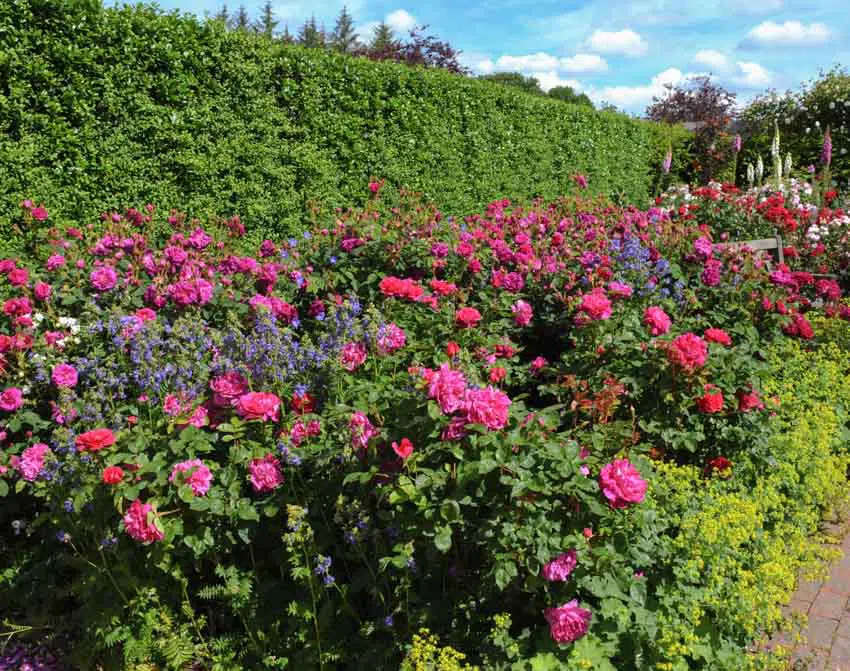 If you are an experienced rose gardener with years of careful practice under your belt, then roses might be right for you. However, roses require so much effort to maintain that they almost never look perfect.
They can also be a pain to work with, so if you hate being poked by sharp thorns, then it may be best to forgo the idea of roses for your hedge.
Hydrangea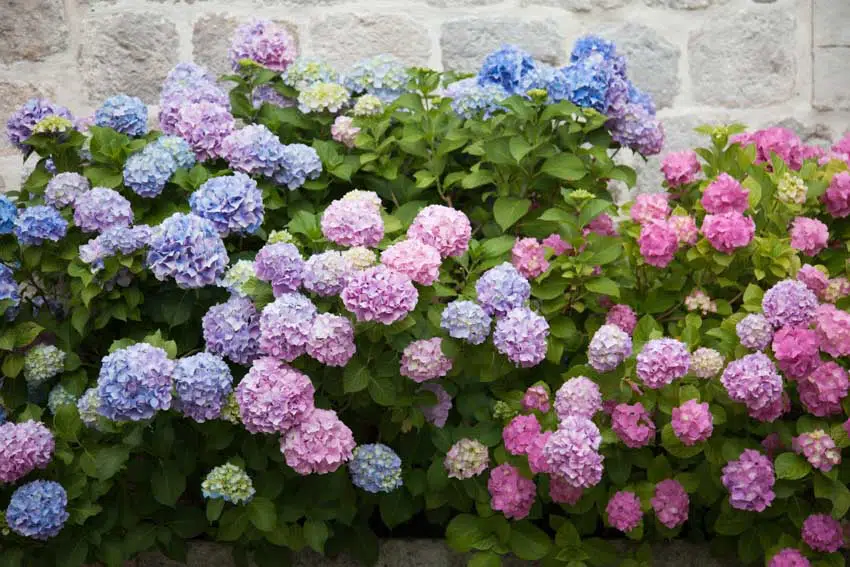 Unless you have a huge space to dedicate to large shrubs for a hedge, these are typically not a great option. Hydrangea tends to grow very long from the sides and not so much in height.
These can work well when you have a dedicated trellis or arbor design that can help them gain structure. Unfortunately, they also require constant pruning during the flowering season, which is really the only time these will impress.
Rhododendrons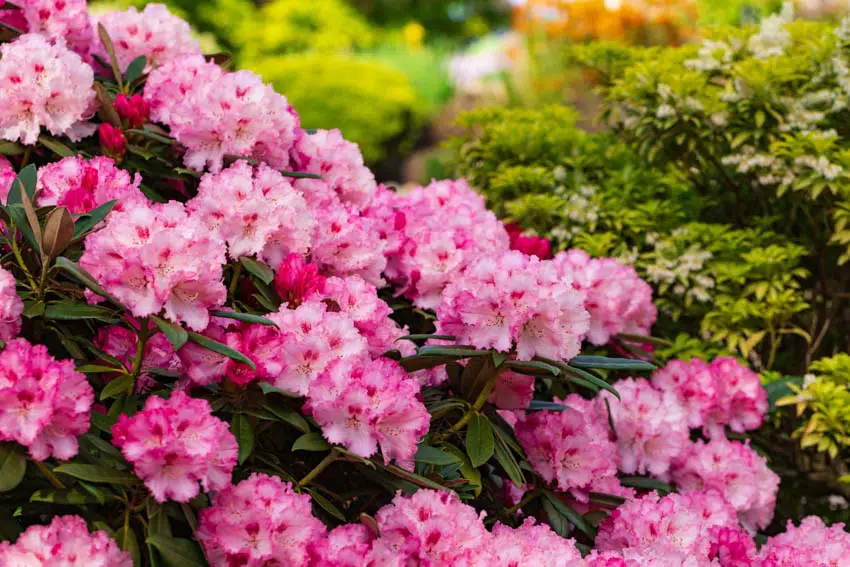 A bad idea in general, rhodies will quickly decay the ground beneath them, making for an unpleasant sight once the big clusters of blooms fall away for the season.
However, if you must have some sort of shrub from the rhododendron family, try a true dwarf variety or a dwarf azalea. They still need quite a bit of work each year and throughout the blooming season, but they will better accommodate a smaller area.
Holly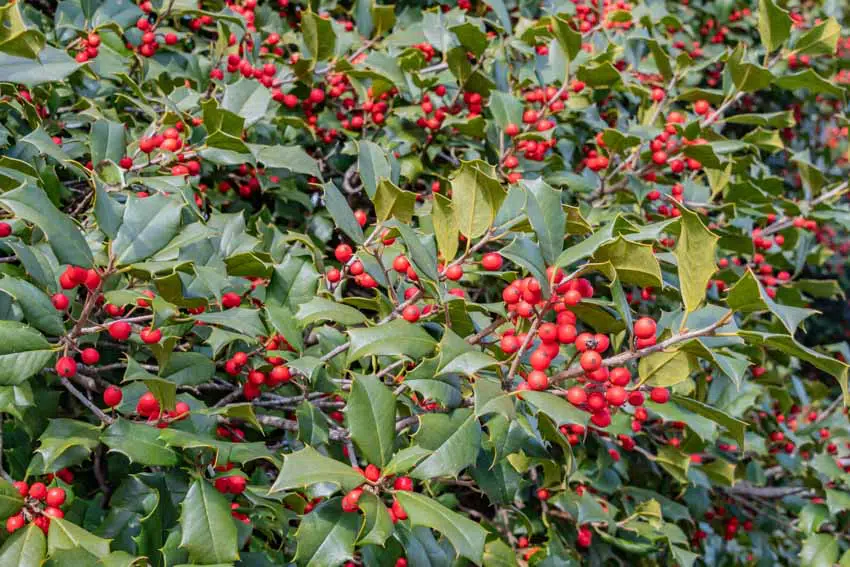 Great for looks, bad for maintenance, holly is one of those shrubs that makes you wish you had them but hate them if you do.
These shrubs are difficult to maintain due to their strong, waxy branches and prickly leaves. It can be difficult to shape them, too; getting the right shape can take ages, and once you have your desired shape, it grows out rather quickly.
Hemlock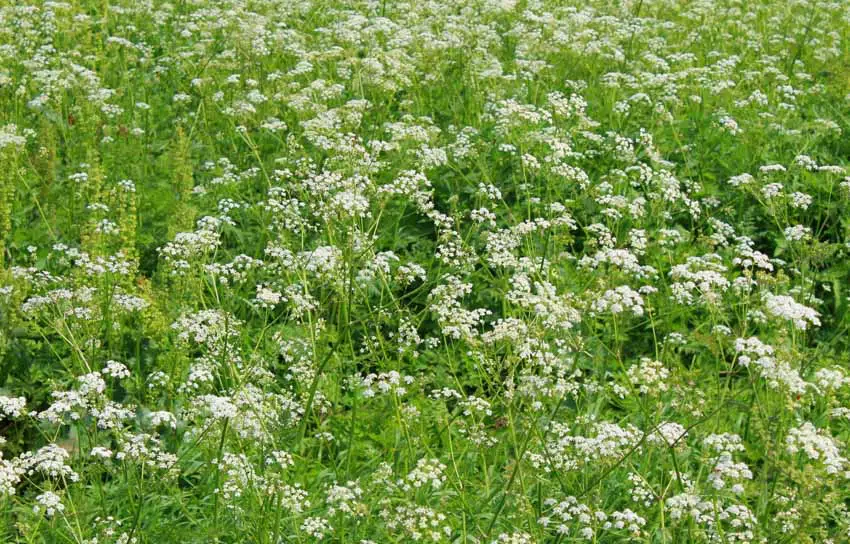 The toxicity of this shrub alone is enough to keep it out of neighborhoods with pets and small children.
A common allergy, hemlock is a shrub that gives most people a skin reaction upon touching the foliage. Hemlock is also extremely toxic if ingested by anything, so it's best to avoid this one for safety's sake.
Overall, finding the hedge plants can be frustrating, and you may even find yourself wishing you'd chosen other options once you're finished. With some research and planning, though, hedges can really pay off by adding a neat and elegant touch to your place.
If you find you need additional help with designing the right hedge, you can always consult with design specialists or master gardeners to find the perfect fit for your garden!
See more related content in our article about beautiful fence planters on this page.