Here's the different types of redwood fencing including the design styles, sizes, cost, staining tips, and if redwood fence boards are a good choice for your home.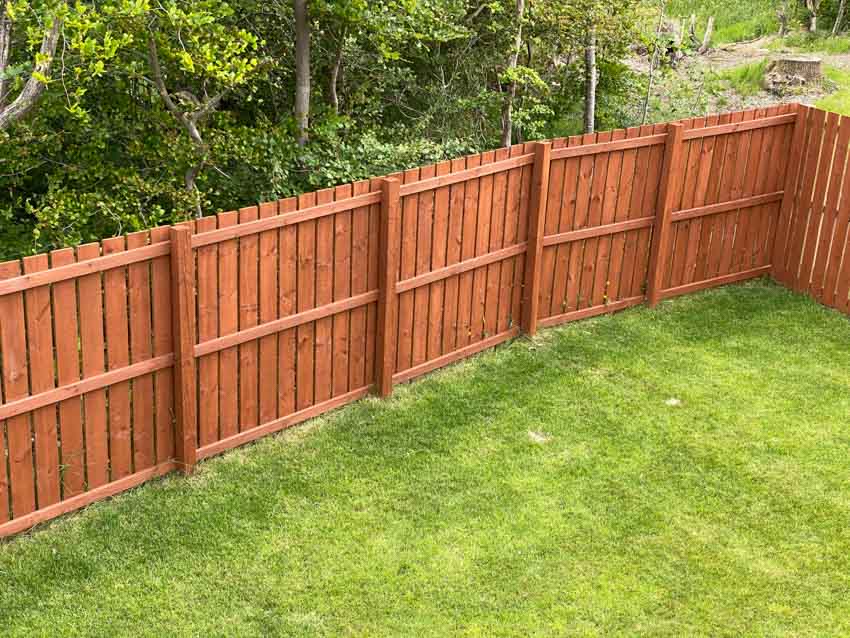 One of the best materials you could ever choose for fences would have to be redwood. The reason this type of wood is so great is because of its natural resistance when it comes to decay and rot. Due to these inherent qualities, redwood becomes the natural choice to make long-lasting and beautiful fences.
In the fencing industry, redwood is considered as a great choice especially if you don't want to go down the bland and generic route in fencing choices. It is sustainably grown and manufactured, making the wood widely available.
Redwood has also been noted to be quite easy to work with for craftsmen, this is a big plus as you're going to have to fashion plank pieces out of the wood in order to turn it into an actual fence.
Although generally considered as a more high-end fence design option, it costs less compared to its topical wood counterparts because of the fact that it's so sustainable and readily available. It can also stand up against termites and warping so it's quite perfect for the outdoors.
It's been said that conservatively and with little to no maintenance at all, that a redwood fence can last for a minimum of 25 years. Other types of wood will exhibit problems and will require replacements in half this amount of time. Here are the most popular redwood fence design styles.
Redwood Fence Boards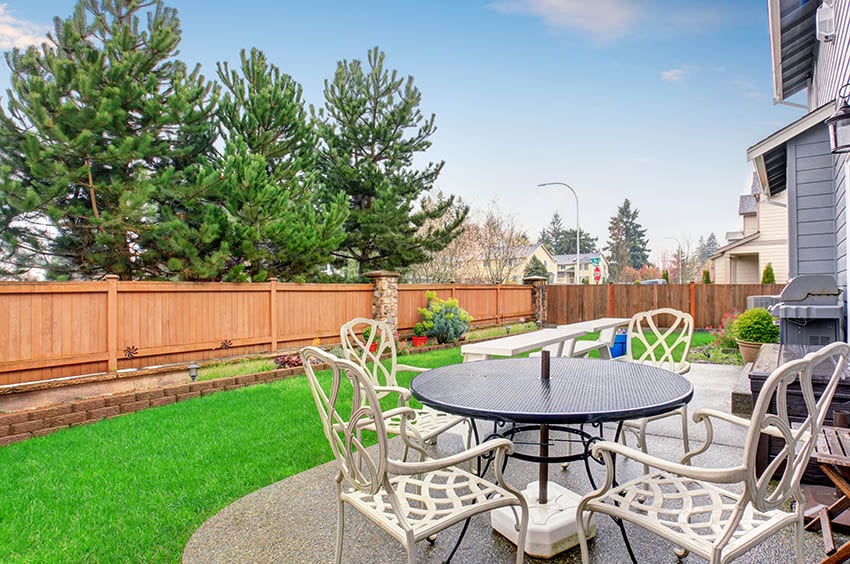 There are two primary redwood fence designs used by the majority of homeowners. These are nail-on flat top fencing and nail-on dog eared fencing. Basically, both designs have the fence boards laid side by side with the main difference being the style of the top of the boards.
Nail-on Flat Top Fence: This is one of the most economical styles available for redwood fences out there. It's simple and considered as relatively easy on the budget. Its construction is pretty basic.
Either one layer of redwood planks or boards are laid side by side with each other with a very trimmed and flat look on the top of it can have two layers of alternating panels.
This style is considered as strong and durable and more impressively, something that you can easily do on your own if you manage to have some basic carpentry skills tucked under your belt.
Nail-on Dog Ear Fence: This is considered as a bit of a staple in the fencing industry and has even been ubiquitous at one point in time. The redwood fence boards are arranged side by side.
What makes this style stand out is the dog ear curvature at the top of the boards, which explains the name of this fencing style. It looks great, is durable, and if you want a bit of variety, you can even play with having redwood boards of varying grades arranged alternately beside each other.
Redwood Fence Panels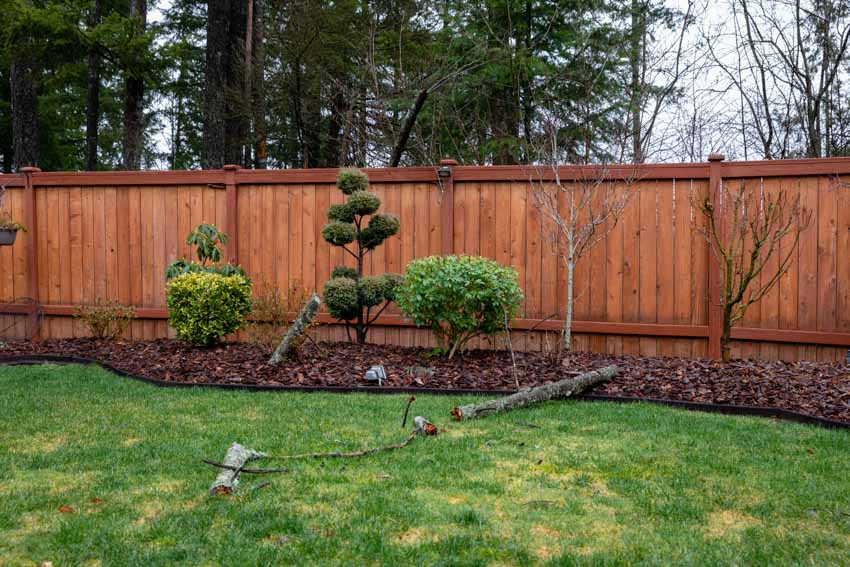 Here's the different types of redwood fence panel styles that are widely available.
• Redwood Lattice Top Fence Panel: There are a lot of different styles to this but ultimately, the style depicts having a planked surface for the bottom part with a lattice on its top part.
• Jumbo Lattice: The thickest or the heavy-duty lattices are oftentimes attached to the top rails. This makes for a very sturdy fence. With this type of latticework on top of your fence, there is absolutely no need for you to worry about it breaking down or getting blown over by strong winds at any point in time.
• Privacy Lattice: This is also nicknamed as the "triple lattice". It takes industry standards lattice and adds on multiple dimensions; three, to be exact.
It has three layers of privacy lattice layered side by side on the top rails of your fence, bringing in added privacy. It's great for when you want to keep prying eyes of outsiders off of your yard.
• Piano Key Lattice: This originated out of the picture frame-styled fences. This type of fencing style has a very customized look and feel so if you want a fence that's aimed to set your yard apart from the rest, this is the option for you to go for.
This fence style is constructed by having 2×2" thick redwood toppers spaced evenly apart (usually very small spaces in between), and arranged vertically.
• Arched Piano Key Lattice: This fencing style is nicknamed as the "Mercedes Benz" of fences. It's similar to the piano key lattice design but it has the added aesthetic value of the toppers being arranged in the likeness of an arch. This type of fence has tremendous aesthetic value and can dramatically pack on to your overall curb appeal.
• Square Lattice: This fencing style has a more modern feel to it. The lattice is oftentimes thick cut and arranged in a square pattern instead of the usual diamond one. If you want to veer away from the typical lattice look but still kind of want to retain some of its look and feel, this is an option you ought to look into.
Redwood Shadow Box Fence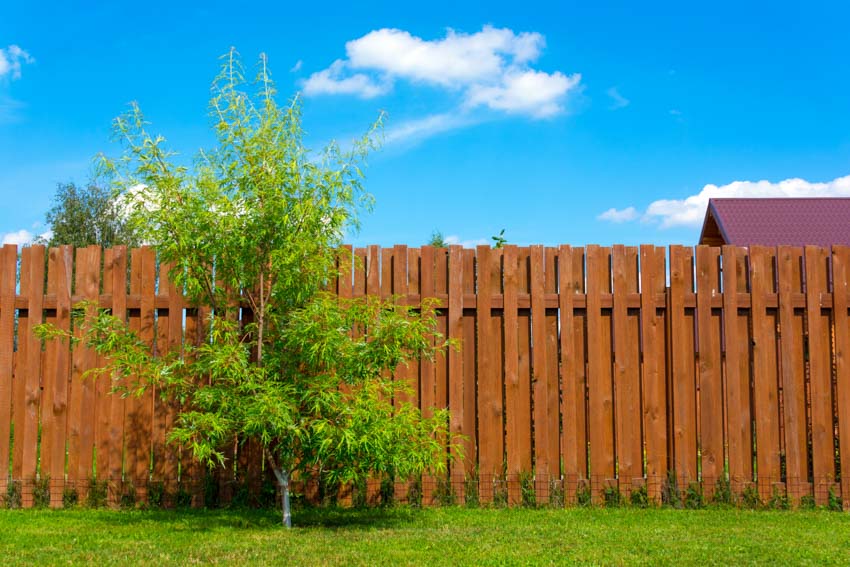 This fencing style looks simple yet cute at the same time. Redwood planks are spaced with three to five inches of spaces or gaps in between on one side.
These gaps are covered up on the other side of the fence as the planks are arranged similarly but strategically placed on the gaps created from the arrangement of the planks on the other side of the fence. Because of this open board look, it makes it recommended for windy areas so that the fences don't just blow over in the event of extremely strong winds.
Redwood Fence Pickets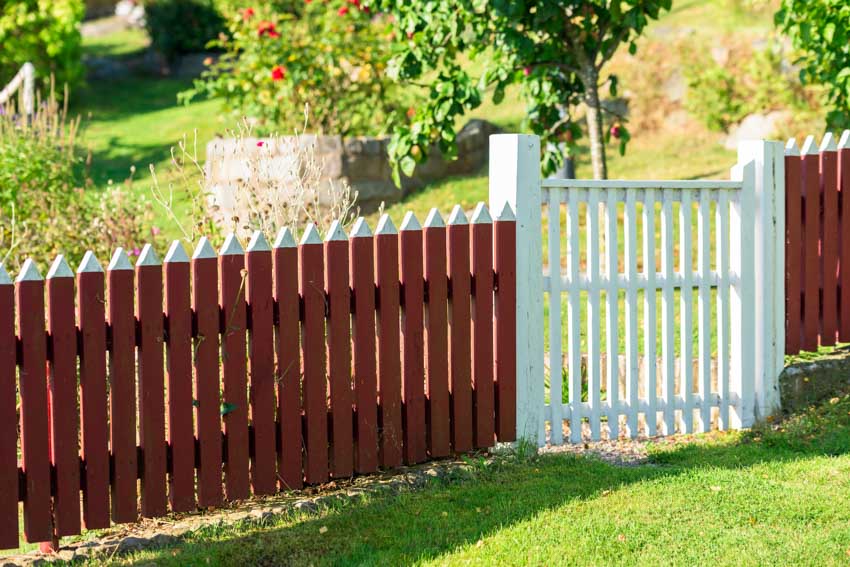 Basic redwood picket fence designs are as classic as it goes. It's comprised of a spare and clean look, with even gaps in between, and oftentimes with a spear top; just as how pickets should be or look like.
Having a picket fence is a great way of customizing your yard without having to try too hard. It's a great way to keep your kids or pets in or out of the fence while still giving your backyard an open-looking layout.
Redwood Privacy Fence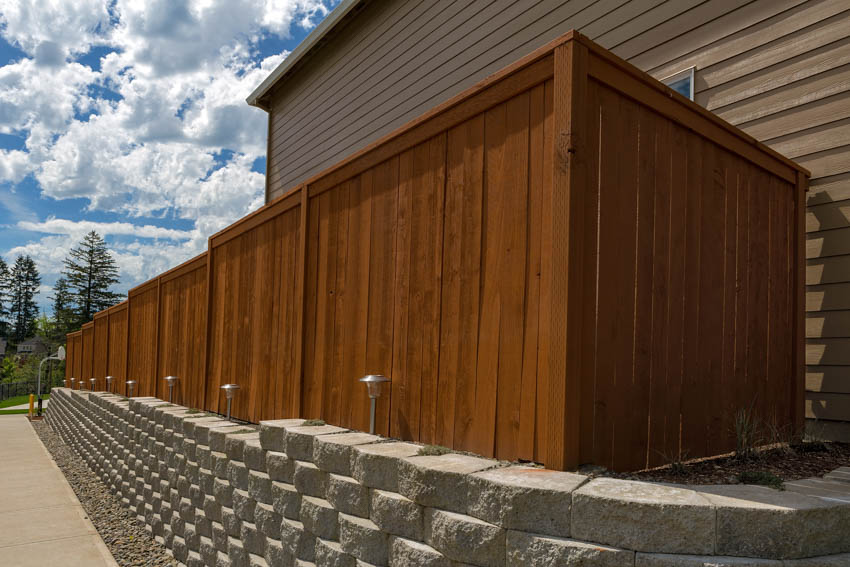 • Redwood Picket: This is usually 3 to 4 feet high and is widely spaced in between. The "pickets" are usually pointed at the top. This is meant to discourage being climbed on by outsiders as well as discourage moisture retention in the event of rain and other forms of moisture exposure.
• Post and Rail: This is among the inexpensive privacy fence ideas that are traditionally used for keeping livestock in but over time, homes have also kind of adopted the aesthetic.
It's great for putting in boundaries or demarcations between properties. It's a paddock-styled fence that's usually 4 feet tall or so.
• Wood Lattice: This fencing style is comprised of having redwood slats crisscrossed to obscure the view while at the same time still allowing air to pass through. This is not only great for limiting or obscuring the view, it's also great for ventilation and for allowing climbing plants to have some sort of privacy screen to thrive on.
It's great for gardens, patios, decks, and even pool areas. The lattice panels are usually 4 feet tall but they can be taller depending on what your preferences may be for your yard's layout.
Horizontal Redwood Fence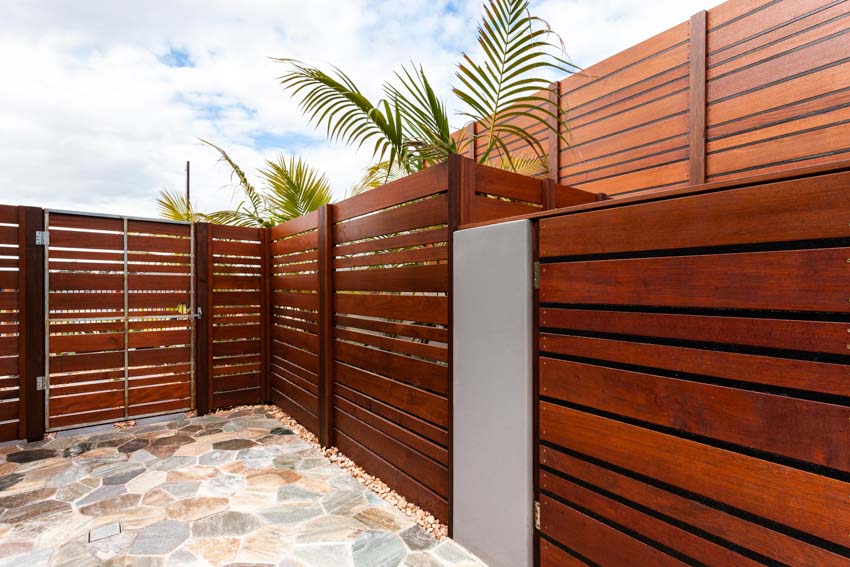 • Ranch Rail Fence: Whether this is something you want to use on the ranch or at home, a ranch rail fence has its own appeal and can be used in literally any setting you could possibly think of.
This fencing style is a great way to close off your ranch or a particularly large yard. It looks clean and simple yet it has levels to it as you can easily customize the size of the redwood planks you would like to use as well as the actual height of the ranch rail fence.
If you're a bit tight on the budget and you have a lot of areas to cover or fence out, then this is a great style for you to consider.
• Horizontal Fence Boards: This design is more modern and isn't the usual arrangement of how redwood fence boards are arranged. The planks are basically lain horizontally instead of vertically. It adds a bit of personality and substance to your backyard's aesthetic.
More than that, a horizontal fence is actually something that offers a bit more on the side of structural integrity. It comes as no surprise why it's one of the hottest in the fencing field these days.
Board On Board Redwood Fence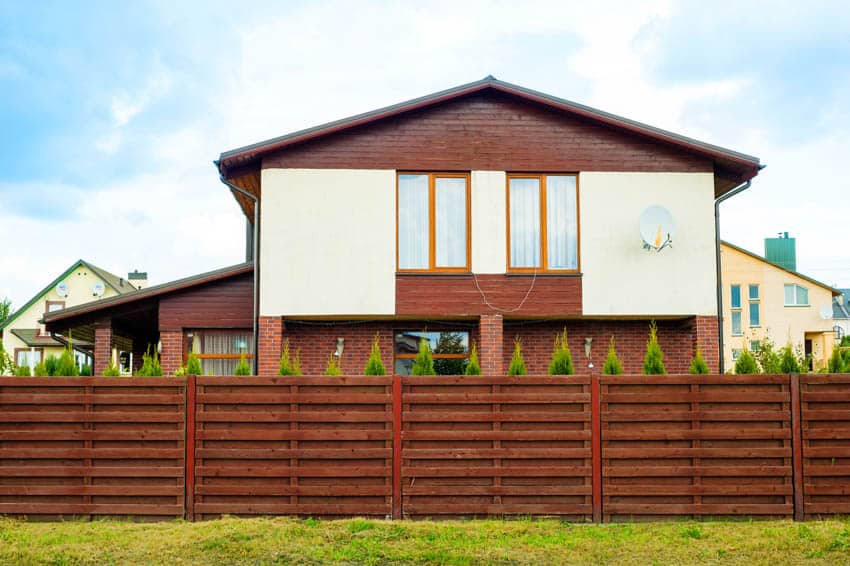 This is also at times named as picture frame board on board fencing. This fencing style is neighborhood friendly because it looks good on either side.
If what you're looking for is a marriage between privacy and aesthetics for both sides of the fence, then this is the perfect redwood fencing style for you. Not only is this fencing style impressively durable, it can also compete extremely well in terms of aesthetics.
This fencing style is oftentimes constructed with the use of 2x4x16 thick top rails along with 2×8 thick kick plates. This makes for an incredibly thick and strong fence. The thick-cut redwood boards overlap each other. For variety, some homeowners will play with different grades of redwood to play on color variations.
Picture Frame Louvered Redwood Fence
This is another staple in fencing styles. The Louvered fence style, similar to the board-on-board style, is also a neighborhood-friendly one. It makes the fence look great on both sides. It's fittingly nicknamed as a fan-style fence as the redwood planks are fanned out in a vertical clapboard-style arrangement.
Redwood Fence Board Sizes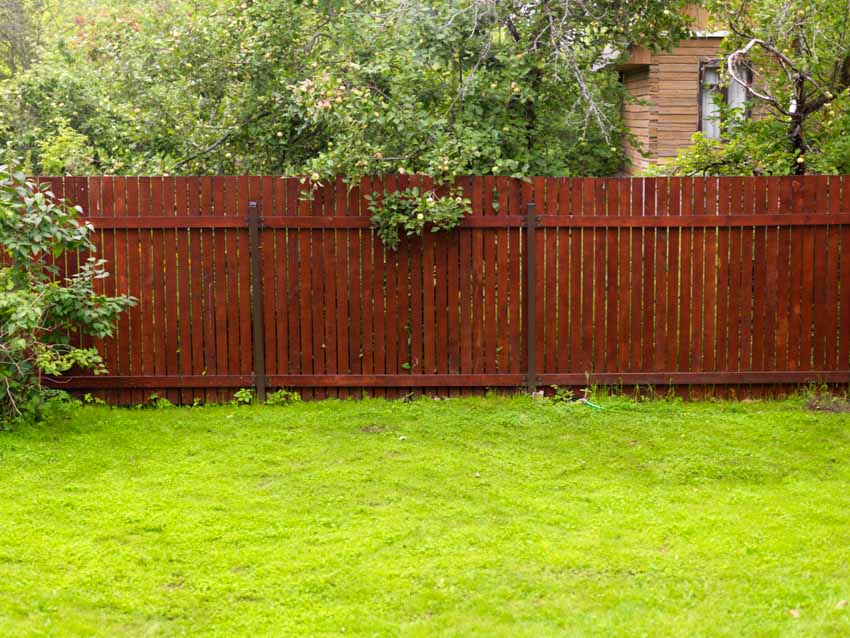 Fence panels can come in different sizes. Some might have heights ranging from 3 feet, 4 feet, 5 feet, all the way to 6 feet. Trellis panels, on the other hand, can come in heights ranging from 1 foot to 2 feet as these are usually used as wall or planter trellis and as fence toppers.
If your goal is to get a more increased sense of security and privacy, 5 to 6 feet of fencing should suffice or comes highly recommended. Not all fences are alike and not all dimensions are exact though.
At the end of the day, it all boils down to what your area's exact measurements are as well as what your exact specifications are.
Here are the popular fence panel sizes below:
• 6×3 ft fence panels
• 6×4 ft fence panels
• 6×5 ft fence panels
• 6×6 ft fence panels
The individual fence board dimensions are typically 4×4 inches in width and 8 feet long. They can at times be further processed as panels which may be at 1.25" thick and 6" wide. The length usually matches the wood fencing.
Here are the standard board sizes below:
• 1x22x4 inches
• 2×6 inches
• 4×4 inches
How Much Does A Redwood Fence Cost
When remodeling your fence, the worst thing you can ever come across with is budgeting issues. Hidden surprises can be a bit of a downer and in order for you to really get this done right, you need a good understanding of how much a redwood fence will actually cost you.
Here's a basic breakdown for you to consider: (This is based on a calculation of per 100 linear feet. There may be variances in the pricing based on your location but this is a ballpark average)
Redwood fence materials:
• $925 to $1150 for a basic fence
• $1275 to $1495 for a median fence
• $1525 to $1785 for a high-end fence
Installation cost:
• $450 to $475 for a basic fence
• $500 to $535 for a median fence
• $650 to 700 for a high-end fence
Total cost range:
• $1375 to $1625 for a basic fence
• $1775 to $2030 for a median fence
• $2175 to $2435 for a high-end fence
Redwood Fence Grades
Before you purchase redwood fence boards you'll notice that there are several different types of redwood fence grades. These redwood grades are Con Common, Con Heart, and Clear All Heart.
Con common stands for "Construction Common," and is the most common redwood used for projects like fencing and is the most affordable choice. This wood comes from the outer edges or sapwood of the log.
Redwood con heart boards, also known as "Construction Heartwood," come more from the center of the log. They are of a higher quality than con common and has less knots and a more vibrant color.
Redwood clear all heart boards are the finest quality boards and are free from visual defects and knots with a uniform wood grain. This type of wood grade is the best quality and not widely available for fence projects due to affordability and supply constraints.
How Much Is Redwood Fencing Per Foot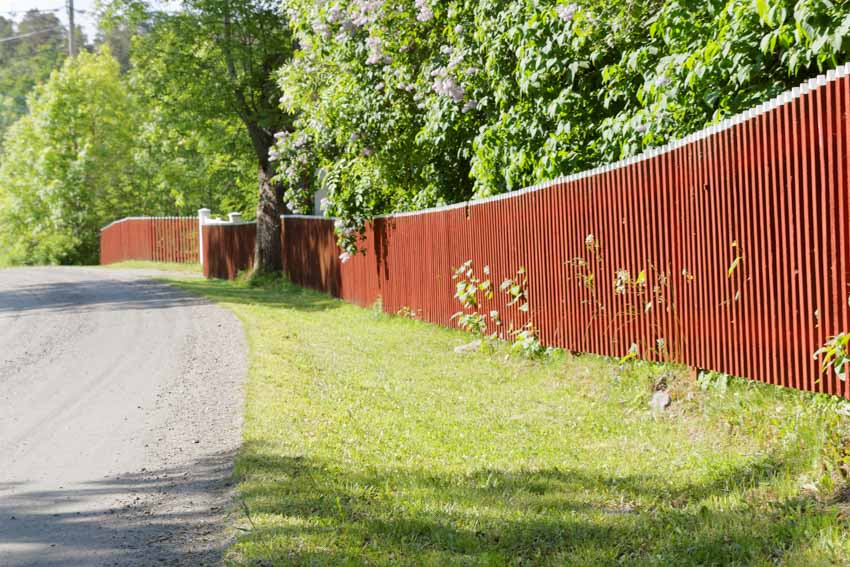 Total cost per square foot for a redwood fence:
• $15 per square foot for a basic fence
• $19 per square foot for a median fence
• $24 per square foot for a high-end fence
Additional guidelines on redwood fence pricing:
1. Estimates are typically free for new redwood fences so make sure that you get around 3 to 5 of them to ensure you're getting the best deal.
2. Fencing costs for redwood may vary greatly depending on the companies you're making inquiries with.
3. Pricing discounts are oftentimes offered aggressively during late fall or early winter. This is an off-peak season for contractors so try to take advantage of that.
4 Always set aside an extra 7 to 15% of the estimate's cost. This will account for any unforeseen expenses such as difficult landscaping, configurations, and other possible challenges in getting your redwood fence installed.
5. Take extra effort in visiting all of the supply stores that offer your particular brand of redwood fencing. Negotiating with each supplier may bear great rewards for you. It has been noted that negotiating it down can at times save a homeowner up to 20% in material costs.
6. Try to budget as much as you can as redwood fences certainly don't come cheap.
You can use one of the leading fence design software programs to plan your layout and add up the amount of materials you will need for your project based on its square footage.
Redwood Fence Stain

You should know right off the bat that as soon as your redwood fence has been installed, you need to get it stained straight away. You would also need to go for a type of stain that's graded for the outdoors.
This will ensure that your redwood stain not only looks great but is also protected from the harsh elements coming from outside. Here are some of the best-recommended stains (with sealer) for redwood fences:
Wood Defender Transparent Fence Stain REDWOOD 5-gallon
• Provides great UV protection against other weather conditions
• It reveals the redwood grains as the stain is transparent
• A large 5-gallon container should suffice for a fence
• Provides inhibitor protection
• Very easy to use and comes with instructions
Olympic Stain 56504-5 Maximum Wood Stain and Sealer
• Very easy to use, especially for DIYers
• It's a sealer-stain combo formula
• A 5-gallon container can cover 850 square feet
• Can make your fence withstand inhibitor factors
• Provides excellent protection against the elements
KILZ L832111 Exterior Waterproofing Wood Stain
• Top-notch durability
• 1-gallon container can cover 250 square feet
• Protects the wood from rot and decay
• Easy to use with little to no prep work
If you are trying to decide whether to paint or stain your fence check out our fence stain vs paint guide.
Do You Need To Stain A Redwood Fence?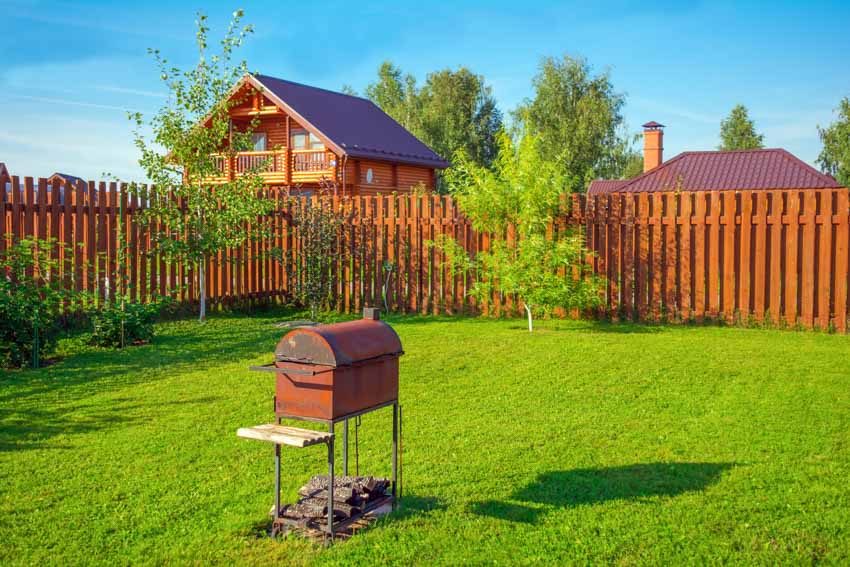 If you want to make sure that your redwood fence investment is protected and that it will last for years, then you need to take the extra measure of getting it stained and sealed.
If you're dealing with an old or pre-existing redwood fence, make sure that you clean the old surfaces up first with a coating of TSP or trisodium phosphate and water mixture.
Scrub it down with a nylon brush and pay special attention to any stained spots. For new redwood fences, make sure that you wait it out for a period of 1 to 6 months before staining and sealing your fence. This will ensure that your redwood is properly weathered and cured before your stain and sealer application.
Do I Need To Treat A Redwood Fence?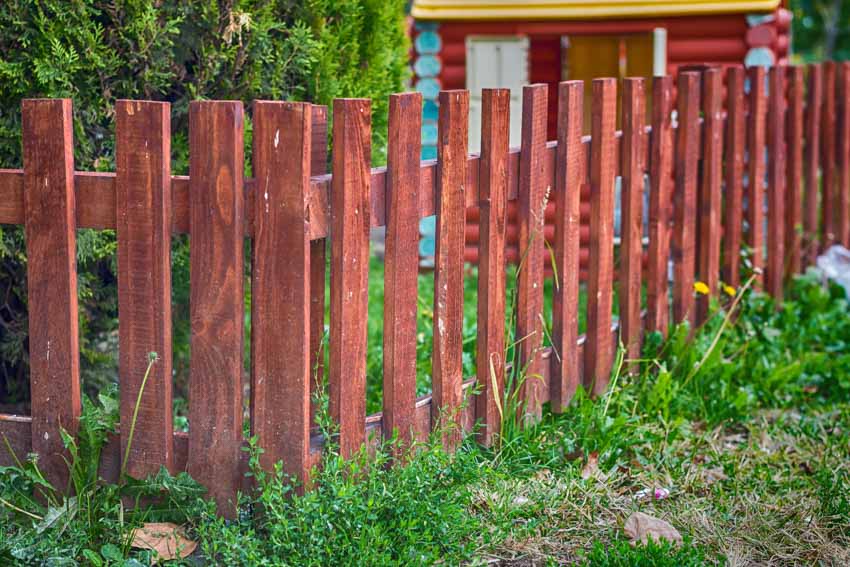 This is not a necessity. Wood treatments such as stains, sealers, and other forms of extra protection is not a requirement for your redwood fences. However, you need to note that if left untreated, your redwood fence's rich red color can weather out into a gray patina.
If this is an aesthetic you like, then leave your redwood fence as is. If you want to retain its vibrant red though, then make sure that you treat your redwood fence.
How Long Will Redwood Fence Last?
A redwood fence's life span is set at a minimum of 25 years with little to no maintenance at all. Treated redwood is known to last for much longer than this time frame, making it one of the best wood for fences.
Is Cedar Better Than Redwood?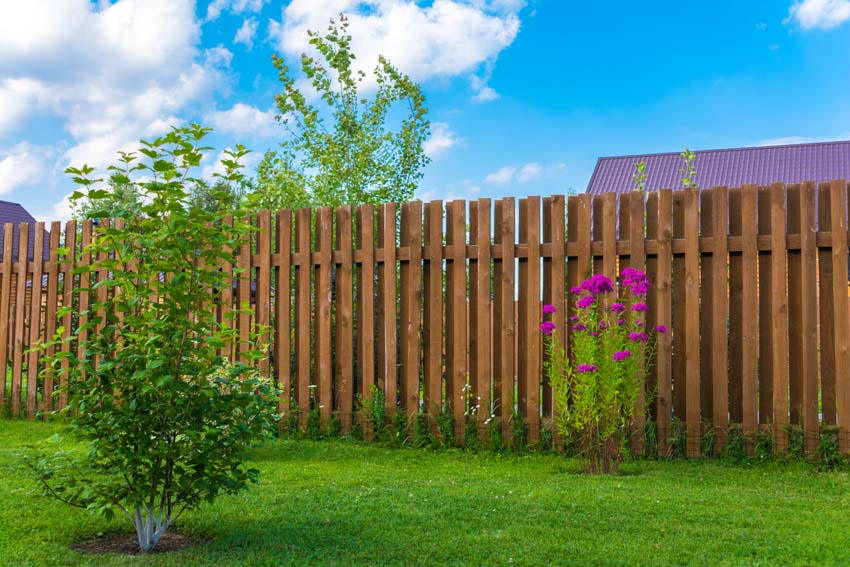 If based off of its intrinsic traits, cedar is not better than redwood for the reason that redwood has a higher Janka rating at 450 lbs. What this means is that on average, redwood is at least 23% stronger than cedar. Cedar has a Janka rating of 350 lbs.
Is Redwood Good For Fencing?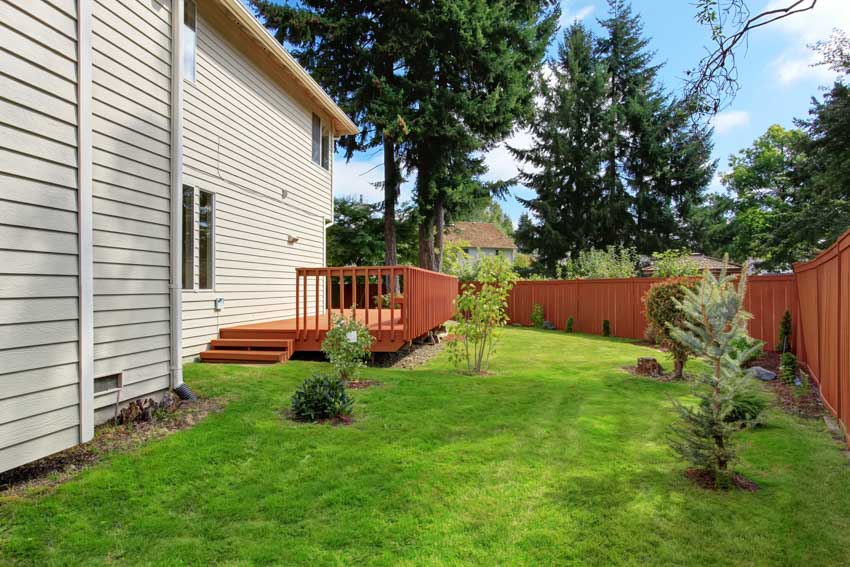 Redwood is an excellent choice for fencing. It's durable, and resistant to pests, rot, decay, and external elements brought about by being outdoors.
It's a type of tropical hardwood which means that it's high-end compared to the typical fencing materials you see on the market right now but it also isn't impossibly expensive for tropical hardwood.
It has an exceptionally long life span which means you're getting bang for buck value for your investment as typical ordinary fences made out of other wood materials last for only about 10 years or so.
See more related content in our article about the pros and cons of a Mahogany fence on this page.