Discover the different picket fence dimensions with the standard sizes, how big and thick the picket should be, and tips on spacing.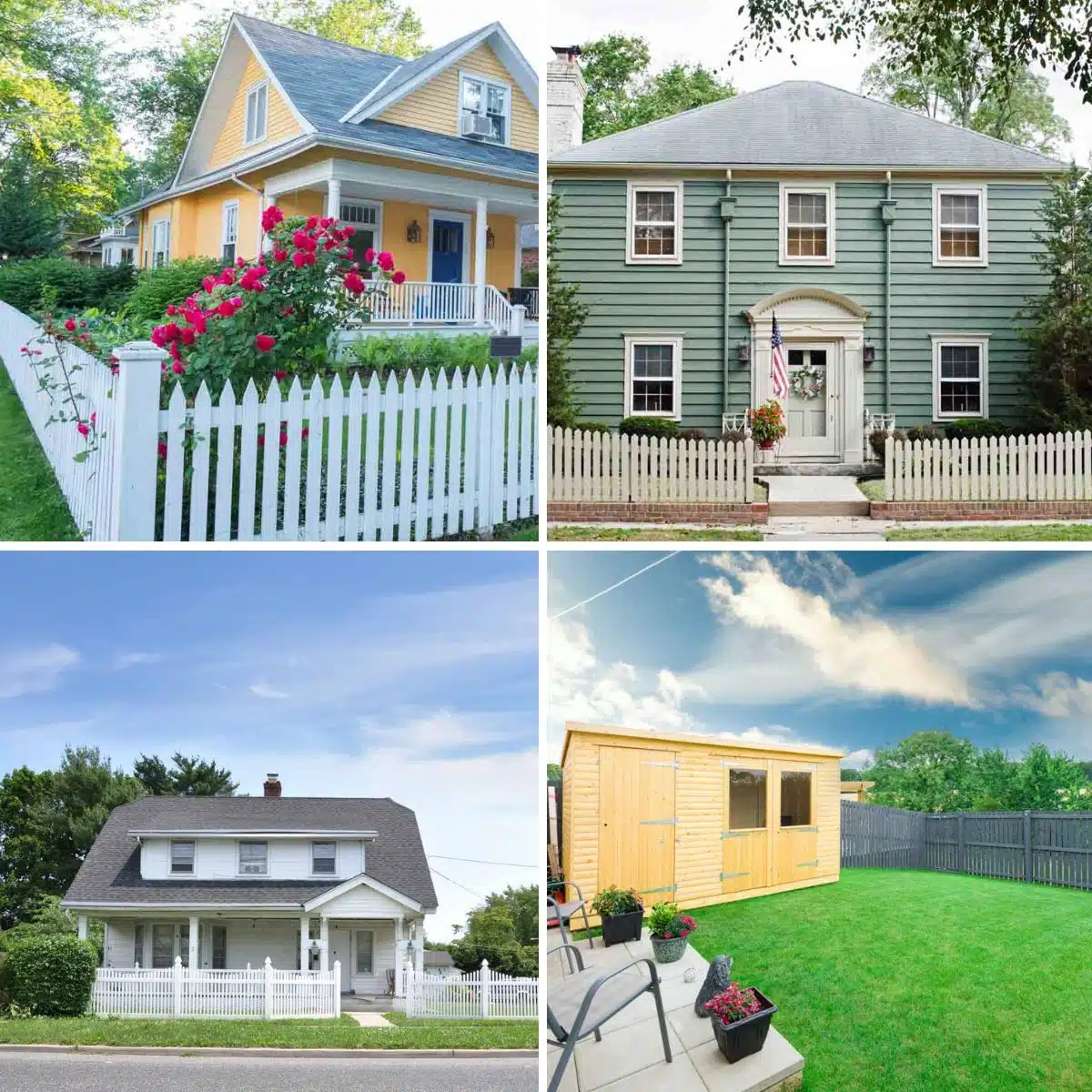 If you are looking to transform your backyard or patio into a charming family gathering spot, selecting the right kind of fence is crucial. The picket fence, a quintessential Americana symbol, is an appealing choice. Think about it, a white picket fence made of durable material like wood or vinyl, the mere thought of it induces a sense of charm and nostalgia that not every exterior design boasts.
The design factor of a white picket fence and its total aesthetic allure lies in getting it right with the dimensions and materials used. Other than making it look good, it will also dictate its functionality. From the height to the spacing to its structure including slats and posts, to the many styles of picket fence, there is a lot to consider. Getting the nuances right will transform your property into a picturesque haven.
Standard Picket Style Fence Dimensions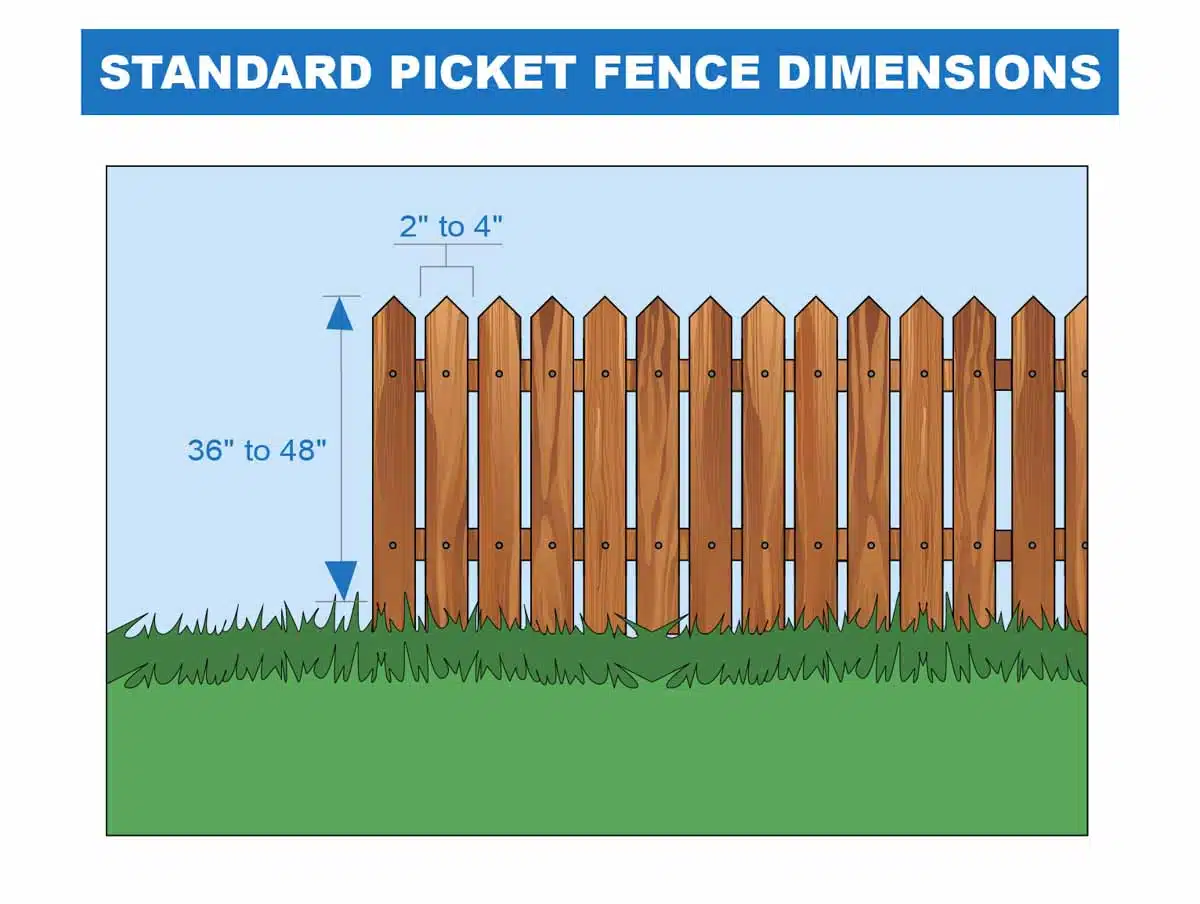 When deciding on the size of the picket fence, the standards are there. From there, homeowners can personalize the dimensions that can truly set them apart from the standard design, depending on the wood or other materials used.
Traditionally, a picket fence stands at 3 to 4 feet or around 36 to 48 inches. This height is set to ensure security but still is not too tall that it will feel unwelcoming.
The standard spacing for picket fence designs ranges from 2 to 4 inches or 5 to 10 centimeters. Like the width, spacing can also transform the overall feel and design of the picket fence. You can design a unique pattern or even a design with asymmetrical gaps.
One of the dimensions that are often overlooked is the width. The width can set the design apart since it offers more flexibility whether a homeowner wants a thicker or thinner fence.
One other thing to regard is the picket fence post. Normally, many contractors and builders use a 4 by 4 post. It can be beveled, carved, or rounded to fit a design requirement. This choice can make the difference with materials like varying-width vinyl or wood slats.
Very simple picket designs can be made more visually appealing by alternating between one broad, pointed picket and two narrow, flat-topped pickets. – How to Build Wooden Gates & Picket Fences, Kevin Geist
There is flexibility when deciding what works since it can be a focal point in the overall appeal of the fence, but getting the right one is important since anything too big will pull focus while a small picket fence post will get lost in the mix.
The fence gate sizes will mirror the height and width of the fence to ensure continuity. Usually, a picket fence rounds the house from front to back.
Fence Picket Sizes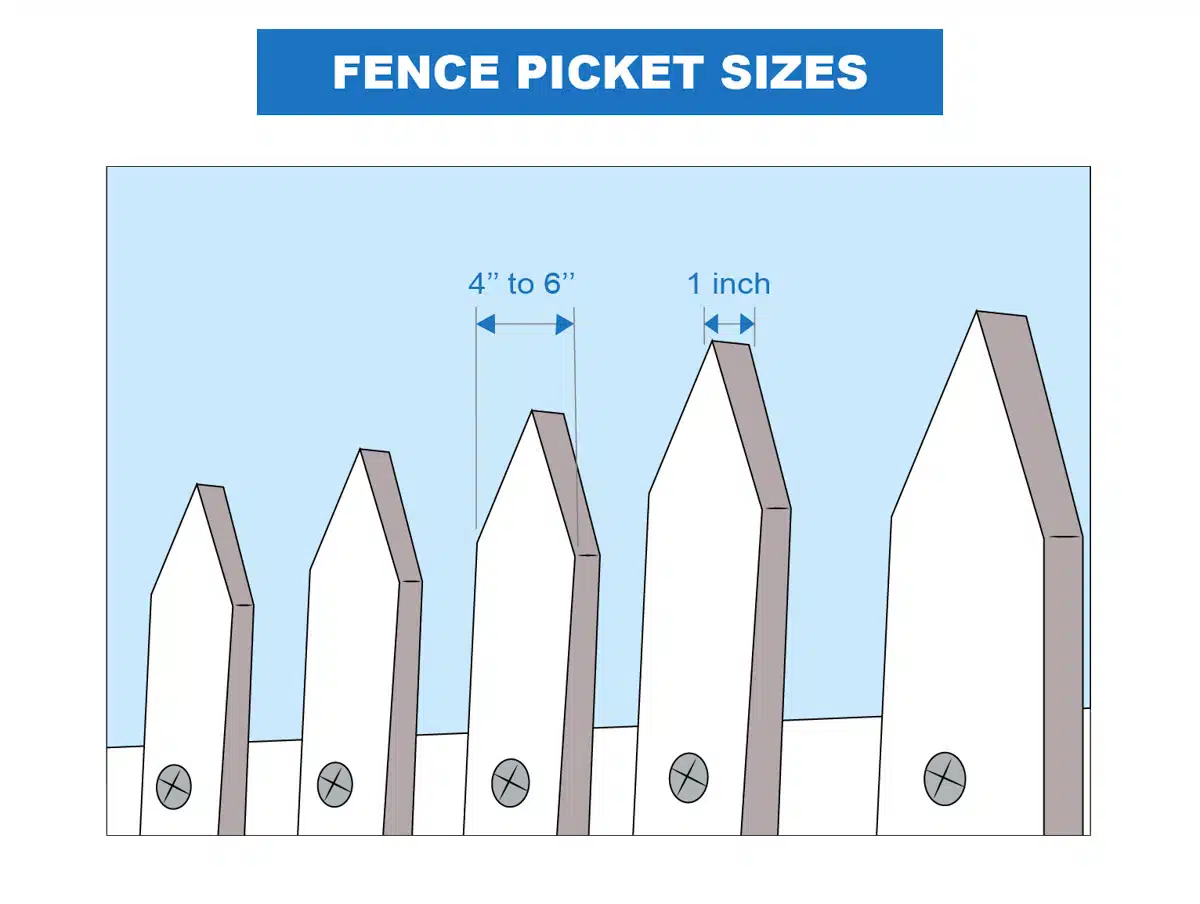 Fence pickets, as opposed to the traditional picket fence designs, offer more creativity when it comes to dimensions. While most fence pickets are 1 by 4 or around 1 by 6 inches, fence pickets, made from materials like wood or vinyl, can be adapted to fit whatever you need to meet that specific design requirement.
The thickness of the fence picket is a factor that can contribute not just to design but also to durability. On the other end, opting for thinner picket fences exudes a touch of elegance and is much preferred for cottages and gardens.
Some homeowners also like to play with varying heights of picket fence slats and posts. Irregular intervals add visual intrigue, and one can choose a fence that will add to security but also ensure that the neighbors can catch glimpses of the landscape and garden of the home. This is also the case with adapting asymmetry in the fence design.
How Thick Should Fence Pickets Be?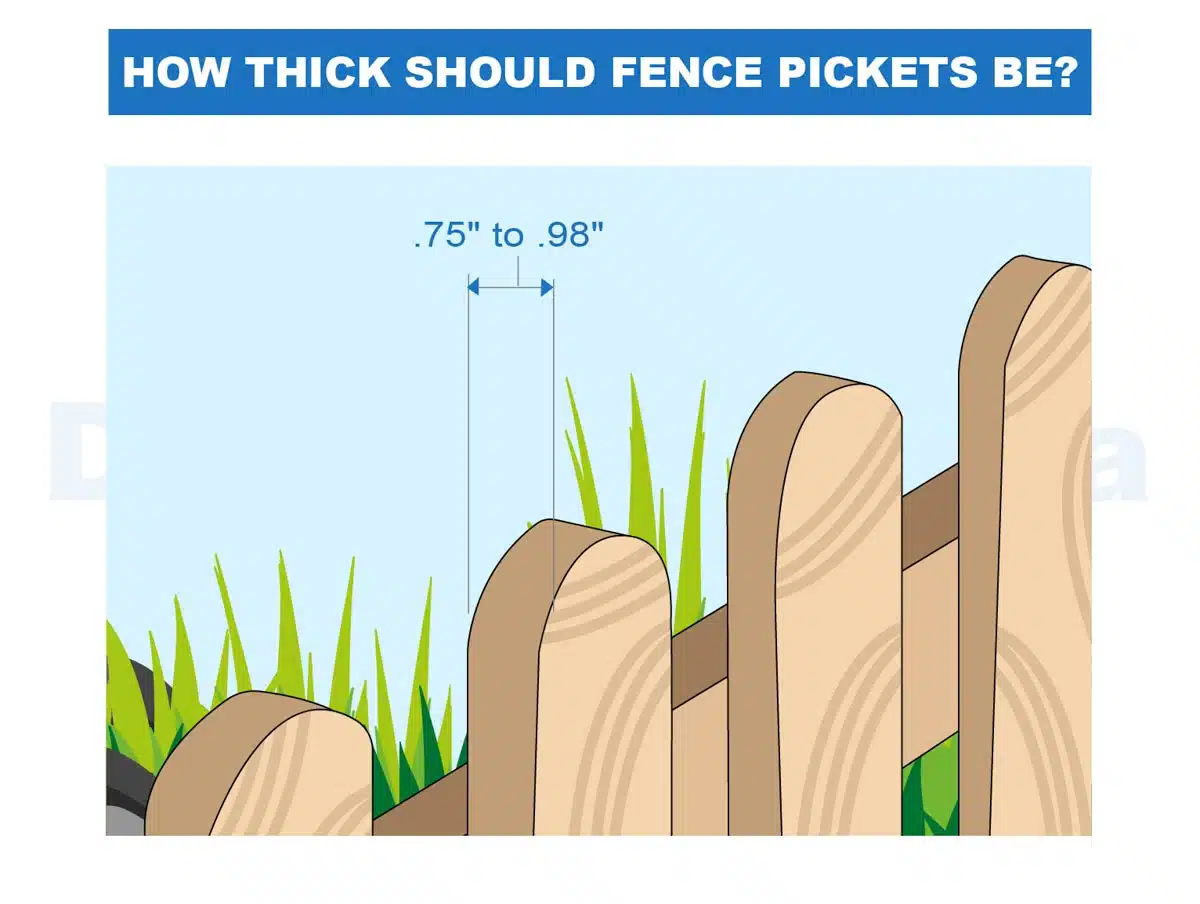 Specific needs and design requirements will dictate the thickness of the picket fence. The most common fence picket thickness people adapt is a fence ¾ to an inch thick or around 19 to 25 millimeters.
Opting for the thicker 1-inch fence will add strength and durability, making it resistant to impact as well as weathering. This will ensure longevity which is an excellent factor to consider for long-term solutions. Thicker fences, built with sturdy lumber and reliable tools, are also recommended for homes with more extreme weather conditions or pets, as they can withstand heavy use.
For thinner fence pickets at ¾ inch, this size is best for lightweight use, perhaps to enclose dainty panels of a lattice garden, or for people looking for a more romantic approach to fencing. These fences could be crafted using boards and brackets to form stylish picket styles. This can be great for decorative fencing on the home's landscape and may be adorned with unique picket styles depending on the style of your home.
Overall, there are many factors to consider before deciding on a thinner or thicker fence, from the purpose to design to location. Balance functionality and appearance and the necessity for a privacy fence in the decision process since this will dictate the lifespan of the fence picket in the long run.
Fence Picket Spacing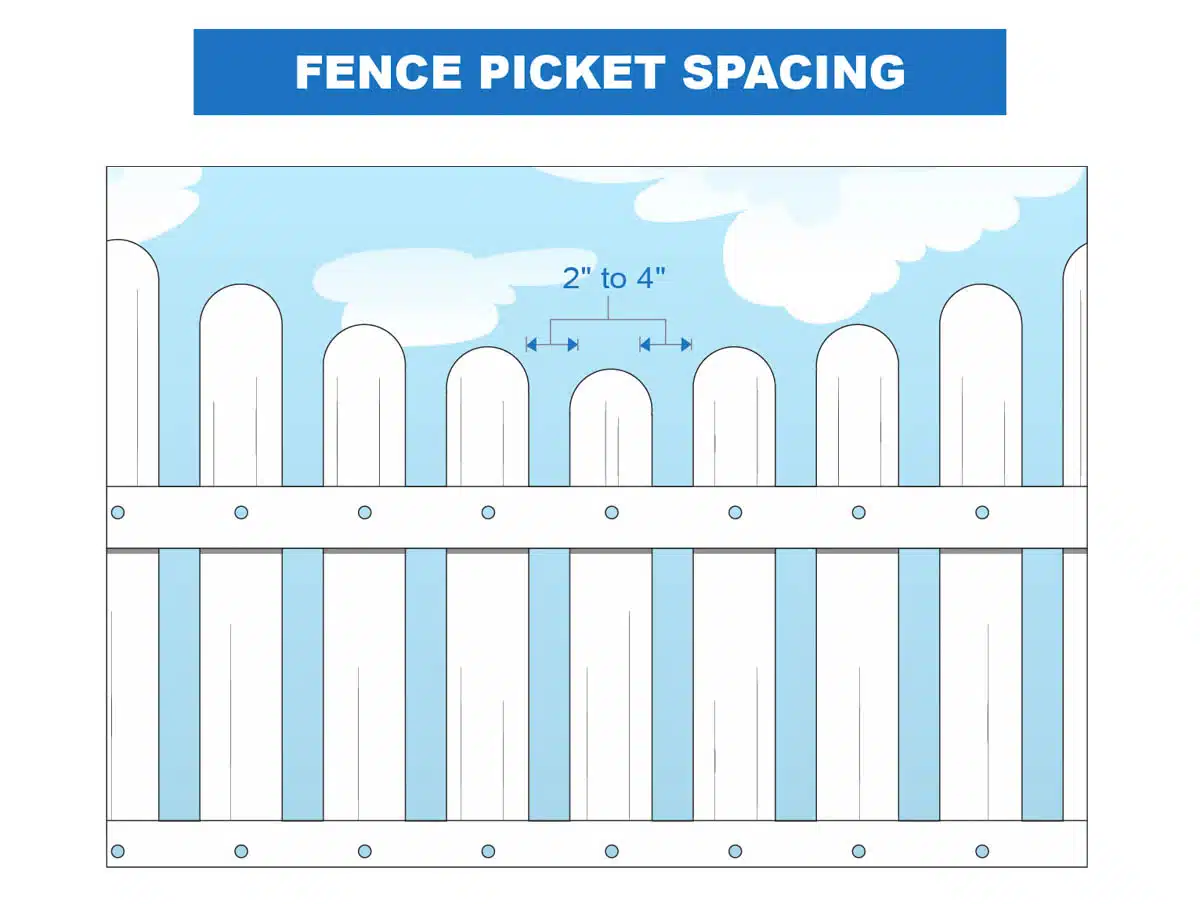 An aspect of a picket fence that could dictate aesthetics and functionality is how far apart the picket fence is in a fence design. This kind of side by side fence will dictate the level of security and visibility required by the homeowners.
Traditionally, the picket fence spacing is 2 to 4 inches or approximately 5 to 10 centimeters apart. The closer to 2 inches to spaces are, the more privacy it will offer. By limiting the gaps between the fences, it limits what people from the outside can see from the fence.
This is an ideal gap for people with seclusion from the outdoor space and keeping pets secured at the top of their requirements. These styles of fences could even incorporate lattice details to fill in the gaps and for extra charm.
On the other hand, wider spacing, like the 4 inches space, creates a sense of airiness and openness coveted by some homeowners. This is where the inside is more visible from the outside creating an inviting ambiance.
Wider spacing is most commonly seen in homes with gardens and front yards. This option is for you if you have privacy at the end of your list of concerns.
There is also the option to opt for irregular spacing. Some homes alternate between narrow and wider gaps in their picket fence to meet a pattern they want to produce. This adds character and charm to the home.
How Many Pickets Do I Need?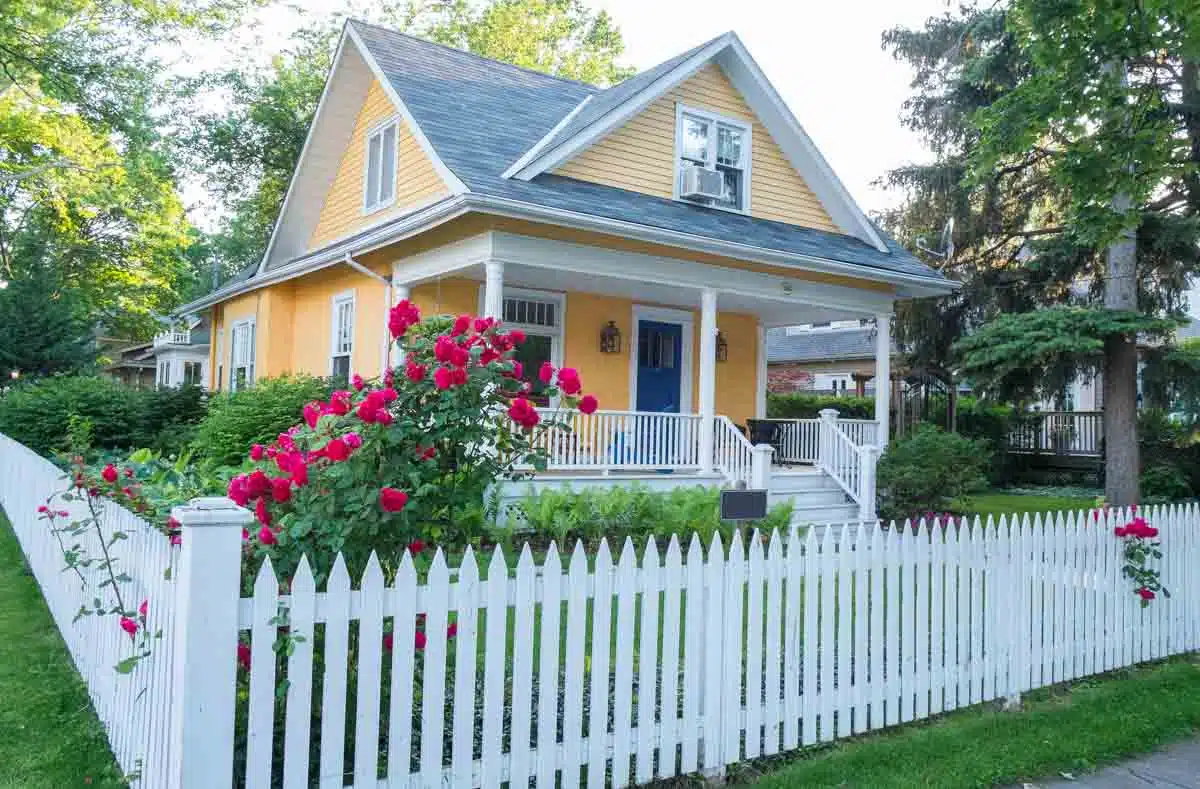 How many pickets one needs will vary on several factors, from the fence's lengths to the width of the picket.
• The first thing to get is the total length of the picket measured both in feet and meters.
• The second step will require you to decide between picket fence spacing whether it be 3 or 4 inches.
• Third will require the width of the picket fence. Once this last bit is collected, it will be easy to calculate.
Add the picket width and spacing, and divide the sum by the size of the picket fence's length. Let's assume that you have an 11 feet long fence that is 4 inches in width, with a spacing of 2.5 inches. Add 4 inches to 2.5 inches which will give you 6.5 inches. For the length, convert 11 feet to inches, which will give you the value of 132 inches.
Now, divide 132 inches by 6.5 inches which is 20.31 in total. Round this number up to the next whole value and it will give you 21. All in all, you need 21 picket fences for this specific fence length.
Did we cover all of the information you were looking for about picket fence panel styles, materials, and sizes? Share your experience enhancing the curb appeal of your home with picket posts and slats in the comment section below. See more related content in our article about board on board wood fence on this page.