Find out all about the best paint color schemes for a red couch with options like white, beige, light gray, greige, and bonus designer tips to consider.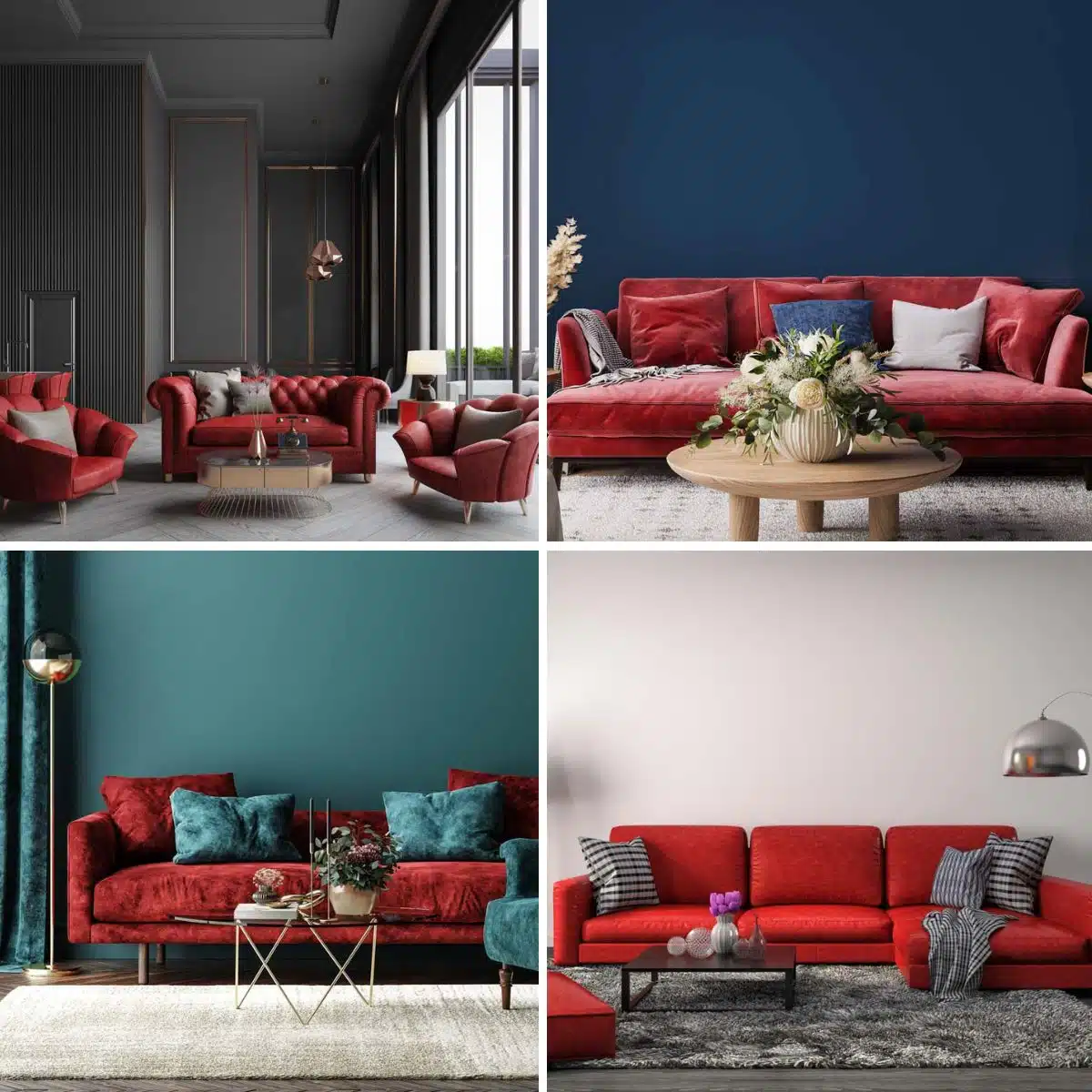 A red couch can easily become the focal point of the space. However, it can be a bit tricky to pull off and the colors of your wall paint can easily make or break the final look. The colors that you choose will play a crucial role in setting the overall tone and ambiance of your living room.
Below, we will give you our best recommendations for paint color schemes that go with a red couch, along with some practical design tips on how you can use it to its fullest potential.
Colors That Go With A Red Couch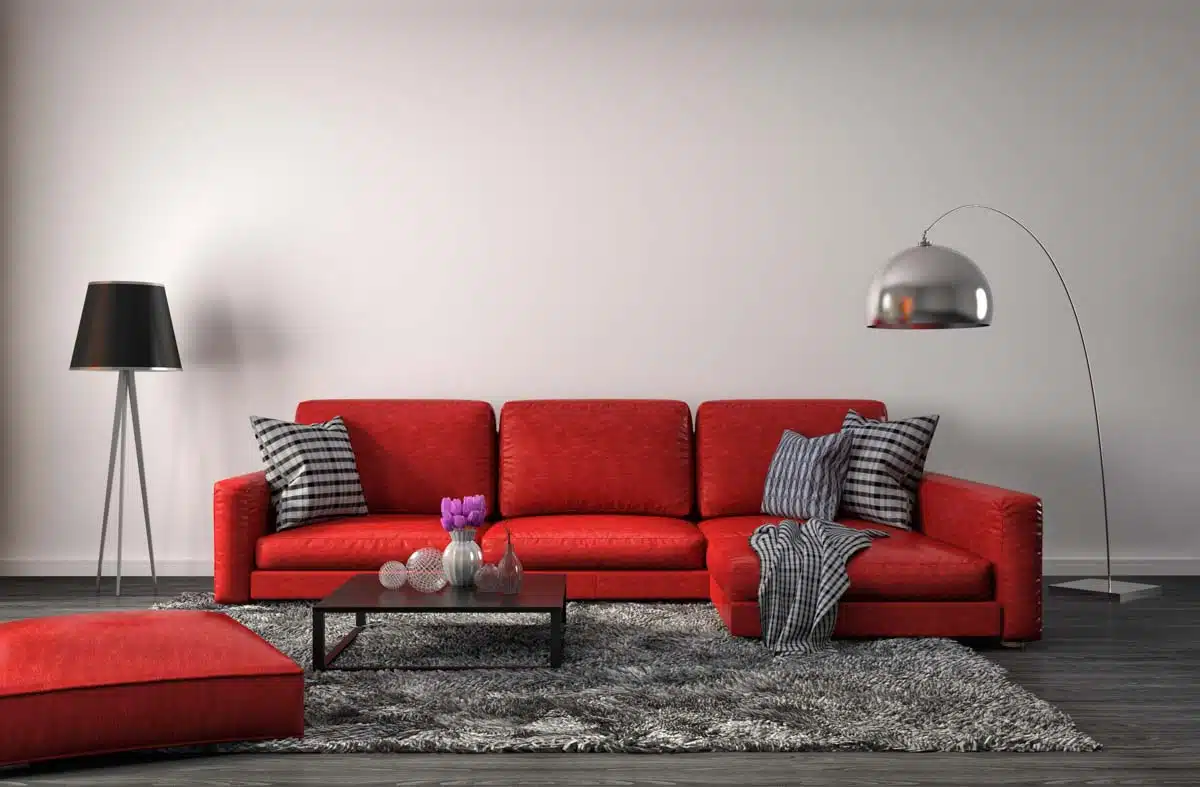 White
You can never go wrong with a classic white paint to match a striking red couch. White, being a neutral, can work well with any color, including intense, vivid hues like red. A bright, crisp white paint is the ideal color to use if you want your red couch to take the center stage.
It perfectly works as a plain canvas where a red couch can easily pop up. Together, these colors can make a fail proof combo where you can freely introduce other accent colors into the overall palette.
• Designer's Tip: Try "Atrium White" by Benjamin Moore for the walls and add in some indoor trees or plants to balance out your space. If you want to keep a minimalist aesthetic, stick with a two color combination like white and red. In this way, the red couch will take the spotlight.
Beige
Another neutral you can pair with a red couch is beige. Unlike white, beige has a warm undertone which perfectly matches the color temperature of red. When placed against a wall with a yellowish tone, the red hue of the couch becomes even richer. Together, they create a warm, inviting mood that is perfect for a living room.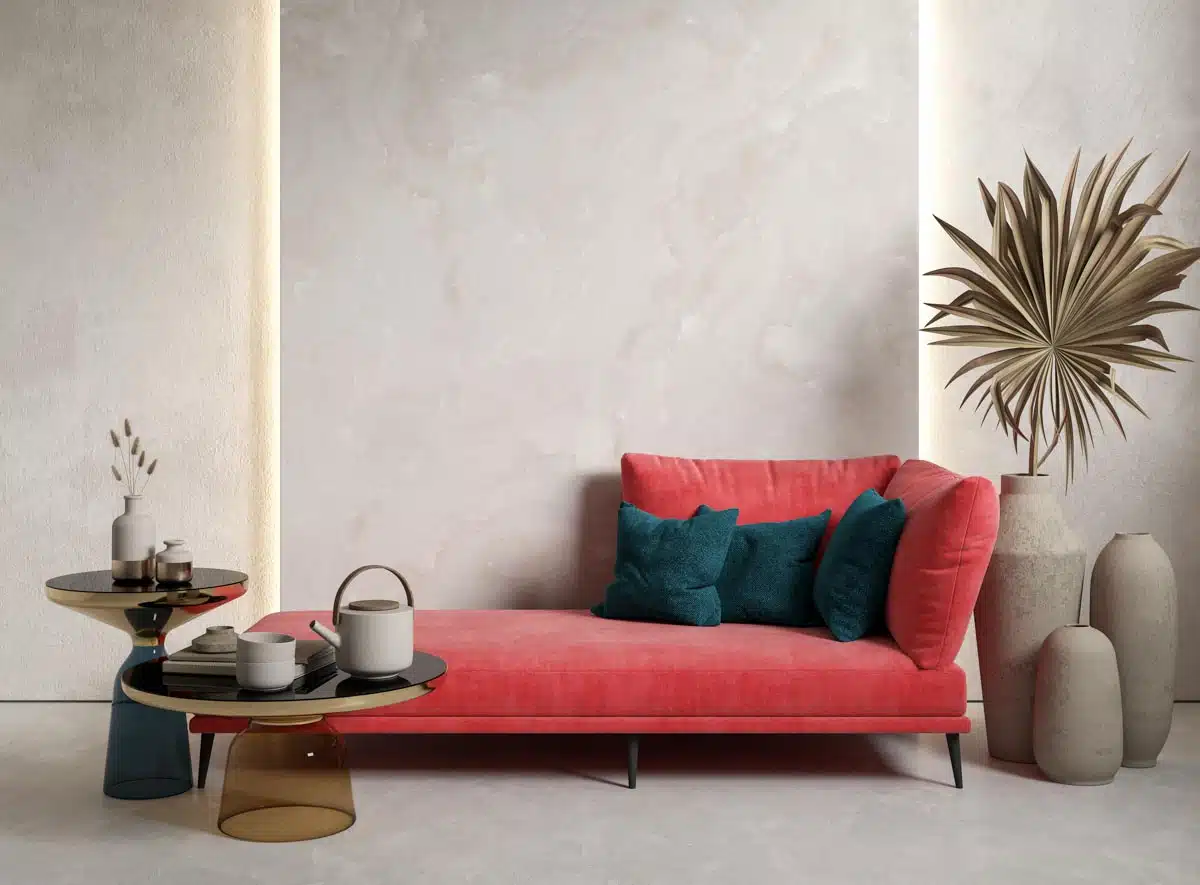 Light Gray
Considered as the "new neutral", gray is another paint color you can pair with a red couch. Light gray offers the same look of white paint but looks more modern. A light gray wall also renders a quiet statement in a space which helps balance out the bold declaration a red couch can make.
With a light gray wall, you can easily change your accent colors and accessories whenever you want. It's as versatile as white and can work with any style.
• Designer's Tip: If you want to ground your space, you can opt for a darker shade of gray like charcoal as it has an elegant depth to it. A charcoal paint can help highlight focal points like a red couch. Instead of painting the whole living room in charcoal gray, try applying it to only one wall to create an accent.
This bold color combination puts emphasis on the red couch and is best complemented with neutral colored accessories like white or beige throw pillows and area rugs.
Greige
Greige is another shade of gray that perfectly works with a red couch. A combination of "beige and gray", greige has the perfect balance of cool and warm tones that can help emphasize a lively red couch.
The best thing about greige paint colors is they work with any shade of red — so your couch can be a rich maroon, a vivid firetruck red or a charming rose color but the overall resulting palette would still be very versatile when it comes to accessorizing.
Light to Muted Shades of Yellow
If you want to create a very lively and cheery atmosphere, try pairing a red couch with paint in shades of yellow. Together this color combination can result in a welcoming space that exudes energy and eclecticism.
Yellow and red are both warm hues so they need to be combined with a neutral so they don't get too overwhelming. Creamy accents like beige and light wood like beech and birch are the best finishes you can combine with a yellow and red color scheme.
• Designer's Tip: Regardless of the shade of your red couch, the best yellow you can use to pair it with are light and muted versions like flax, mustard, mellow yellow and banana. To balance out your interior, introduce accent colors like green and beige through your accessories and soft furnishings.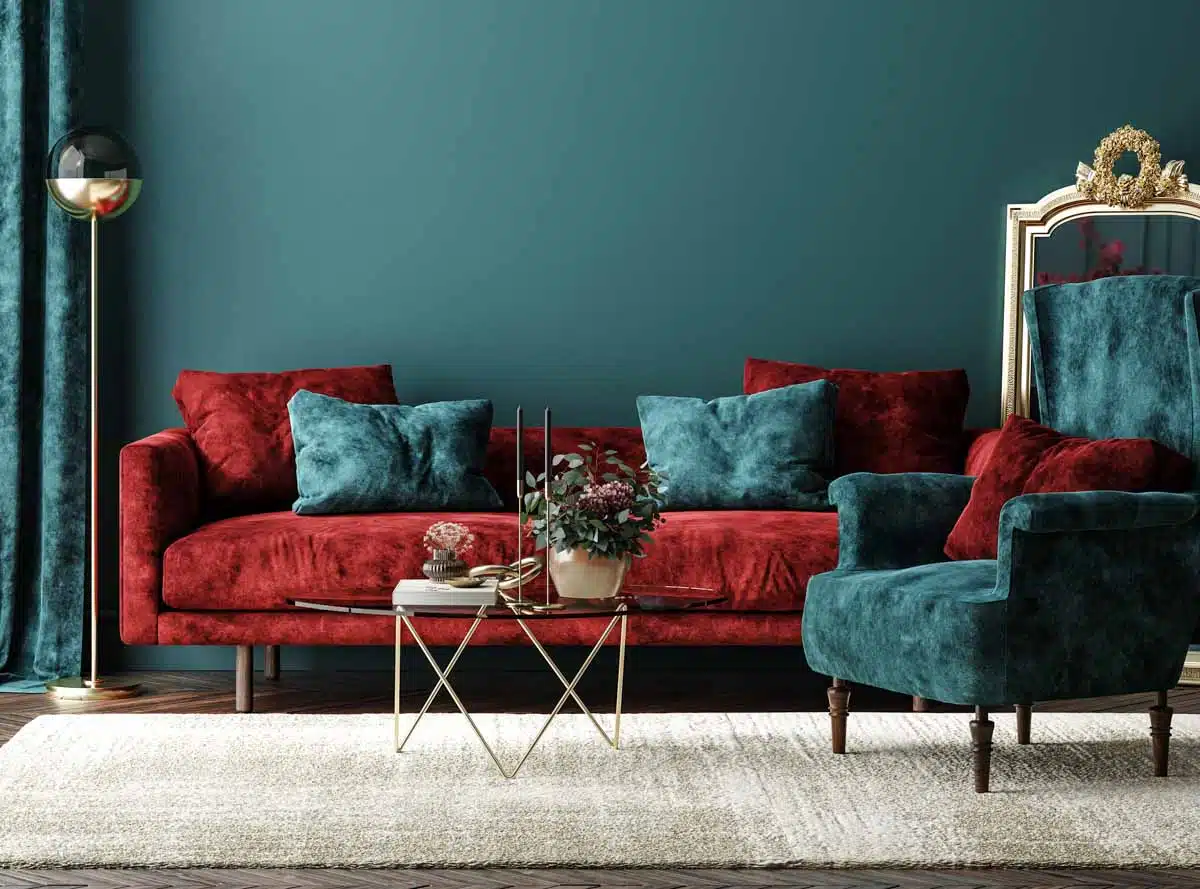 Teal
Together a red couch and paint in shades of green may look like a shocking combination, but they could actually work. In reference to the color theory, green and red fall on the opposite sides of the color wheel making them complimentary colors.
With the right shade of green like Teal, a red couch can look even more exceptional. When paired together, they bring in an interesting contrast to a space without overpowering each other. Teal paint also has a refined yet stylish feel to it. Its rich hue will work for those in need of traditional to contemporary living room ideas.
• Designer's Tip: Teal paint works exceptionally well if your red couch has a deep shade like wine, burgundy, maroon or carmine. Commit to this lavish color combination by pairing your red couch with lush teal pillows and a teal accent chair.
Olive Green
Another shade of green which works best with a red couch is Olive. When paired with a red couch, any shade of green will bring in depth and contrast to a space. The overall resulting look is organic and naturally refreshing.
Since olive green is deep and rich, pairing it alongside a deep red couch will create a dramatic glam look. Olive green paint will also work best for red couches that have plush fabrics like velvet, damask and silk. This is your best choice if you have a classical themed living room.
• Designer's Tip: A dark olive green paint and red couch combo looks exceptional when paired with gold toned accessories and metallic accents. Opt for mirror styled furniture, metal art, gilded frames and ornate accessories to complete a classical interior's opulent grandeur.
If you are looking for a lighter shade of green, opt for mint instead of olive. A softer and more subtle shade like mint green is the best color you can use to take the strong color of a red couch down a notch.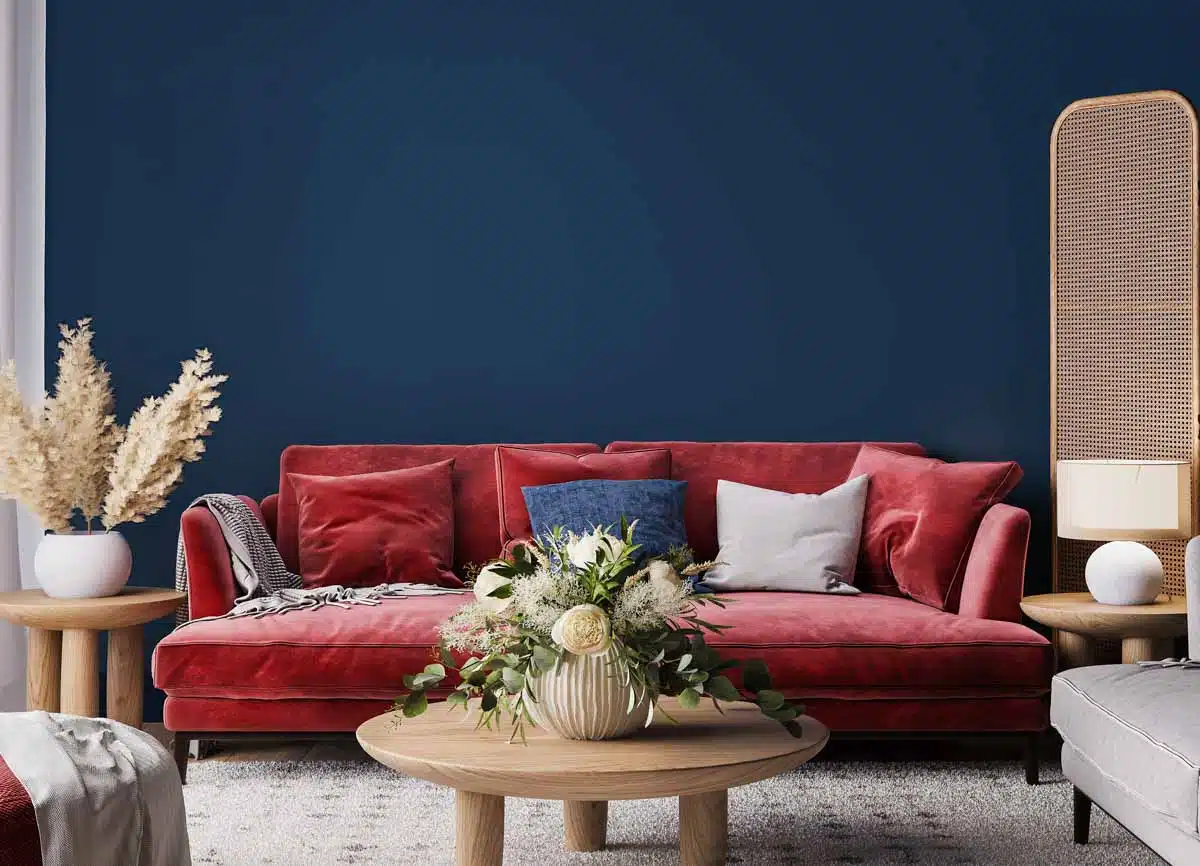 Blue
The color blue in general is a cool hue and has a calming, relaxing mood. Paint in shades of blue pairs well with a red couch because it can offset its warmth and can help tone down its energetic vibe. Depending on the shade, you can use blue paint for both traditional and modern living rooms.
For example, although the color blue is only one color and everybody can identify it, it includes numerous different shades with various meanings, ranging from dark navy blue to light cyan blue. – How Collages Reveal Your Deepest Thoughts: A Guide to Consumers' Minds, Philipp Pachler
Some of the best shades of blue which you can use for a red couch are azure blue, light blue, baby blue, midnight, navy and sapphire. The lighter the shade of blue paint, the more your red couch will pop.
Navy
If you want an alternative to the deep tone of olive green, another paint that you can try out for a red couch is Navy Blue. Navy blue pairs well with dark shades of red like burgundy, wine and maroon because they share the same richness and dramatic vibe.
Navy blue and red have different color temperatures that's why they perfectly balance each other — a navy colored wall offers a strong backdrop while the red couch can make the space feel lively.
The color Navy blue is sophisticated and can be used to create regal interiors and are well suited for formal styles like classical themed spaces. However, this color combination can also be applied to contemporary themed living rooms with the use of the right upholstery fabric and complementing decor.
• Designer's Tip: Since red and navy are both strong colors, you can pair it with metallic accents and accessories. If you want to tone down this color combination, add in lighter accents like beige and cool gray. You can also pair it with bleached wood like white oak or birch to create a more laid back living room.
Bonus Interior Designer Tips For Styling a Red Couch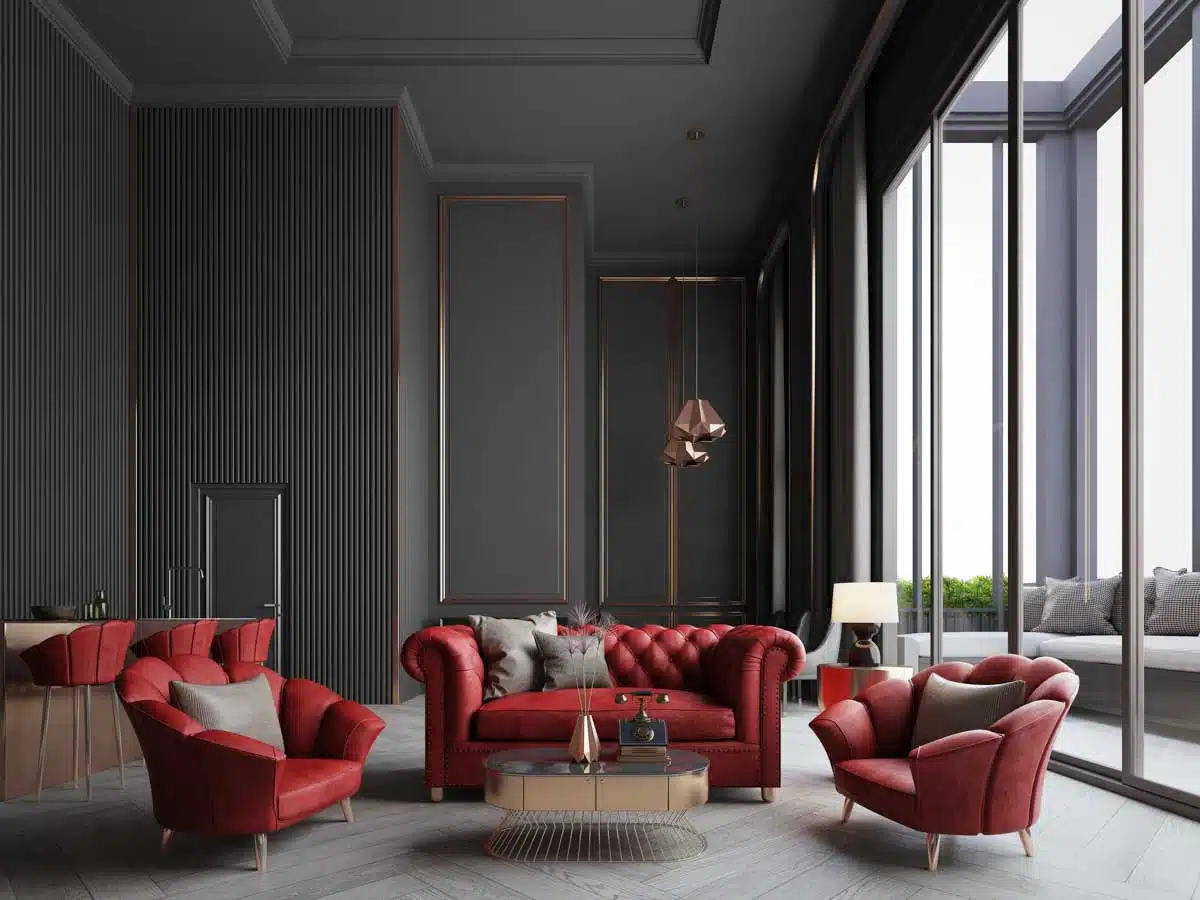 • Choosing the best paint color scheme will actually depend on the style of your space. Each interior style corresponds to a set of signature colors. Traditional interiors, for example, typically use dark and rich color palettes. Whereas modern spaces are typically dominated by neutrals with vivid accents like bright red.
• You can adjust the color of your paint depending on the shade of your red couch. If you want to enhance the drama in a space, opt for darker shades of paint paired with a dark red couch. If you want to tone down the intensity, opt for light colored paint and a lighter shade of red for the couch.
• If the space starts to feel heavy and overwhelming, make sure to introduce neutral and lighter accents.
• When working with contrasting shades like cool hues of blue or green, keep in mind that the lighter the shade, the more it helps in toning down an energetic color like red.
Here are some of the best color schemes you can try for a red couch:
• Cream colored paint, cherry red sofa and wood accents
• Teal paint for the walls, scarlet red sofa and beige accents
• Gray wall, venetian red and white accessories
• Dark blue walls, red and neutrals with pops of green
• Yellow wall, bright red couch and pops of blue
See more related content in our article about sofa vs. couch on this page.