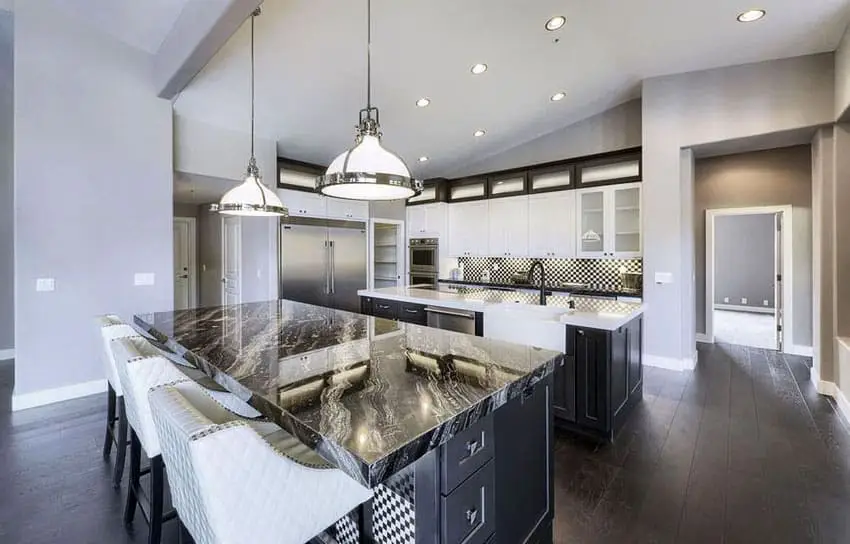 Welcome to our gallery of black granite countertops. Possessing a natural beauty and strong resilient qualities, black granite is well loved for its sharp and bold aesthetics.
Commonly used as a countertop material for modern and contemporary kitchens, black granite is a wise investment and practical choice for anyone who wants to add sophistication to their homes.
Below you'll find the most popular types of black granite countertops as well as get ideas for matching black granite with cabinets and backsplash. For additional information about granite countertops visit our ultimate guide page.
What is Black Granite?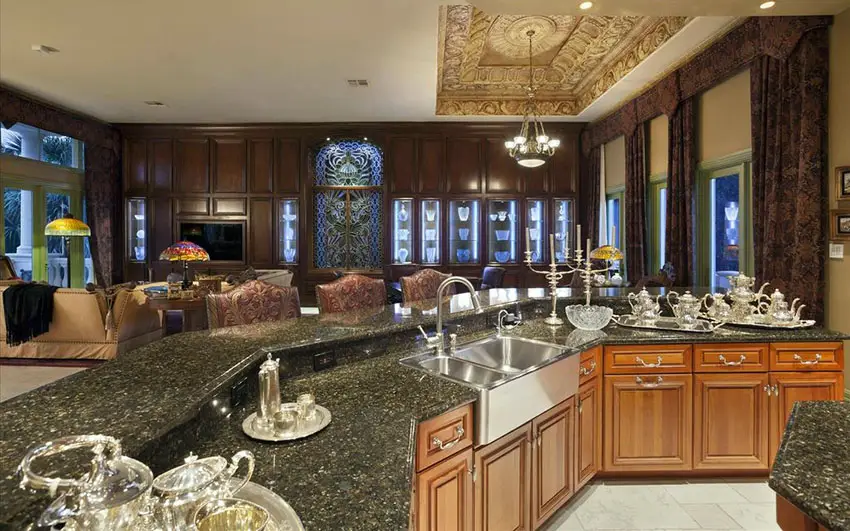 Black granite is a form of rock which may be diabase, basalt or gabbro. It is a popular building material which is used for both interior and exterior applications with colors ranging from pure black with little striations or blacks with a combination of secondary colors of white, gray and blue, brown, green or gold.
Its most common type is the Absolute Black granite and the Black Pearl granite. The resilience and durability of black granite makes it a popular choice for kitchen countertop material.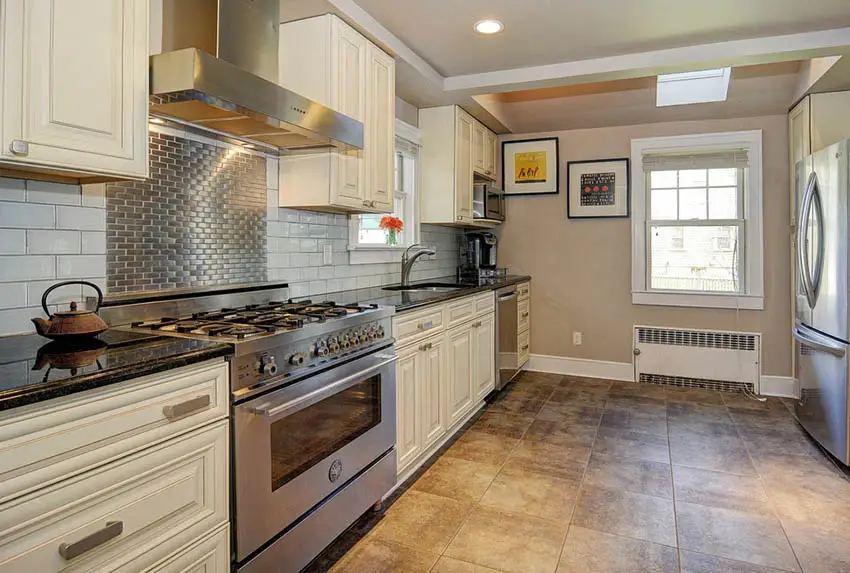 The kitchen features black granite countertops with two types of backsplash, a white subway tile in between the cream cabinets and a stainless steel backsplash above the stove top.
Black and White Granite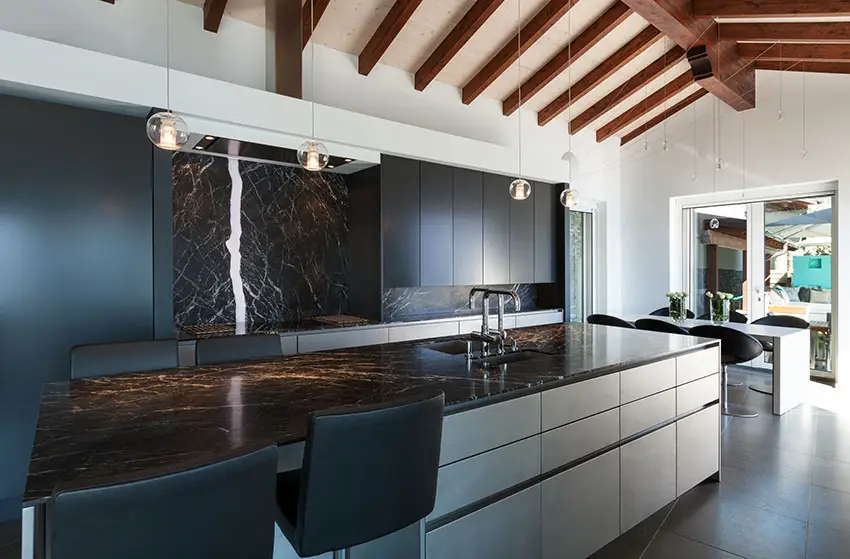 Black and white granite offers flexibility in design as it can blend well in any kitchen setting whether it may be with light or dark colored cabinetry. It creates a stark visual contrast and works a one of a kind focal point for the home. Examples of which are the Cosmic Black granite and the Black Forest granite.
Shown above is a modern kitchen with an exquisite Black Forest granite countertop and clean streamlined black satin finished overhead cabinets. The simplicity of the kitchen's overall design allows the granite's radiant pattern to stand out.
As one can notice, there is no need for additional furnishings in the space as the beauty alone of the black granite countertop can speak for itself. Its unique veining pattern breaks the monotony of the material finishes in the kitchen.
The Black Forest granite also extends to the wall which serves not only as a backsplash material but as an accent for the space.
This country kitchen features black and white countertops on a rounded island that's contrasted by white cabinets, bar stools, farmhouse sink and backsplash.
A white kitchen with black granite can work for a variety of design styles and provide excellent contrast and visual interest.
White Cabinets with Black Granite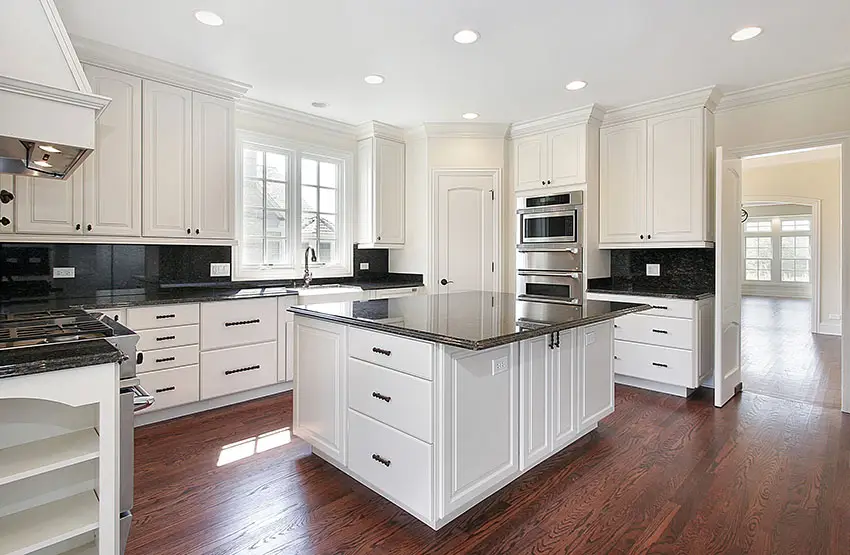 Contrast is one of the key elements in creating a striking kitchen design. Whether it may be in terms of textures or colors, contrast gives dimension to a space.
The easiest way to make your kitchen pop is by choosing a variation in terms of your cabinetry and countertop color. One common treatment is to pair light colored cabinets with a dark colored countertop or vice versa.
Black granite countertops matched with white, cream or ivory cabinets is a classic application of this principle. It is popularly used for contemporary and modern style kitchens.
Adding white to black countertops can make your kitchen look bright by breaking the darkness or heaviness of using too much dark colors within your kitchen color scheme It also creates balance between the light and dark.
A monochrome color palette is also an iconic design style which never goes out of fashion. It also allows you to easily introduce pops of accent colors in a two-tone canvas.
The picture above shows an example of black granite countertop with white kitchen cabinets. The glossy texture of polished black granite is an interesting addition to the "all white" look of the kitchen. Paired with dark cherry wood flooring, it makes the place more cozy, inviting while evoking a bright and airy ambiance.
Black Cabinets with Black Countertops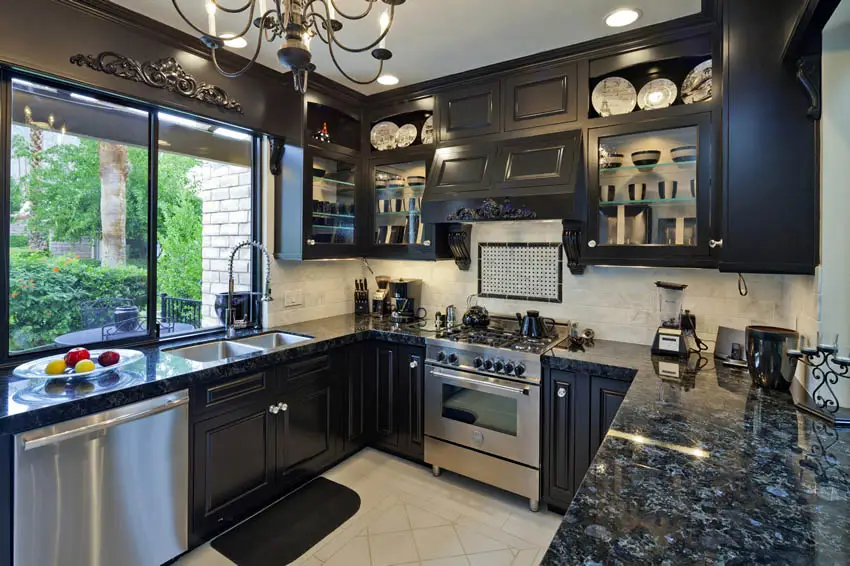 While using black cabinets with black granite countertops may appeal to some, it is not a common sight in new home construction or kitchen remodels. The most likely reason for this is that a black on black kitchen might be a little heavy on the eyes and too dark.
The kitchen above contrasts the dark finishes with an off white backsplash and ceramic flooring, as well as by being enhanced by an abundance of natural light, under-cabinet lights, recessed lights and a chandelier.
Kitchens sell homes and many homeowners prefer using neutral colors that tend to sell the best when they put their home on the market.
If you want black countertops with black cabinets for your own home, that's one thing, however if you plan on selling in the near future, or rent the home, you may want to consider some more contrasting colors when using black granite.
Honed Black Granite vs Polished Black Granite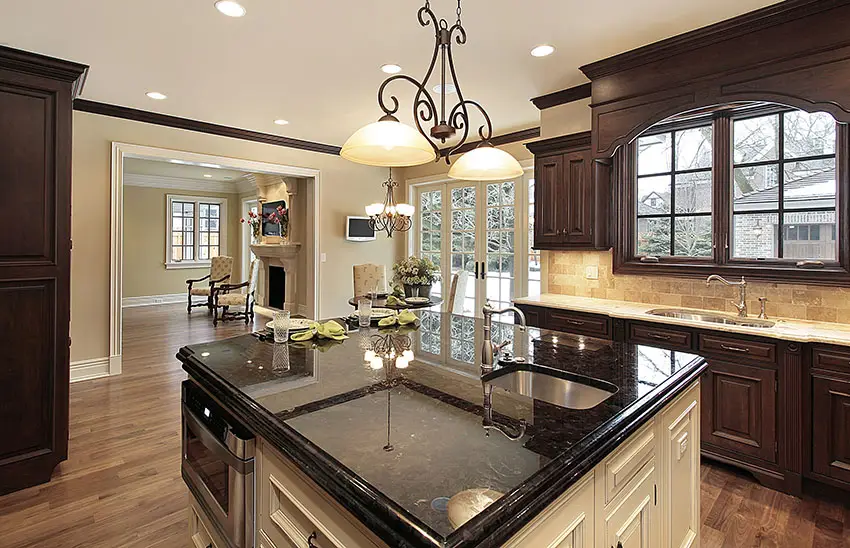 Granite is available in different textures and finishes. Aside from the practical function it gives, these finishes add beauty to any space by creating dimension and depth.
Choosing the right granite finish for your countertop will not only affect the look and feel of your home, but it will also affect the color of the stone and the level of maintenance it requires.
Comparing the common types of granite finish, there is actually no exact answer as to which one is the best because each one has their own pros and cons.
The final decision and choice depends on one's personal taste in design and the surrounding elements and existing specifics of the home. This will give you an idea on which finish will work best for your granite kitchen countertop.
There are three popular finishes of granite which are available in the market, the polished finish, the honed finish and the leathered finish.
Aside from these, there are also other variations such as the flamed finish, the brushed finish, the antiqued finish and the Tuscan finish. These types of surface textures are determined by where the finishing process ends.
One of the well known finishes for granite is the polished finish. Considered to be the finest finish of granite, this type of finish is characterized by its glossy appearance that brings out the full beauty of the stone.
It also enhances the natural elements of the stone making its color richer and darker. Polished granite has a smooth surface and a lot of shine, sleek and has a mirror like finish.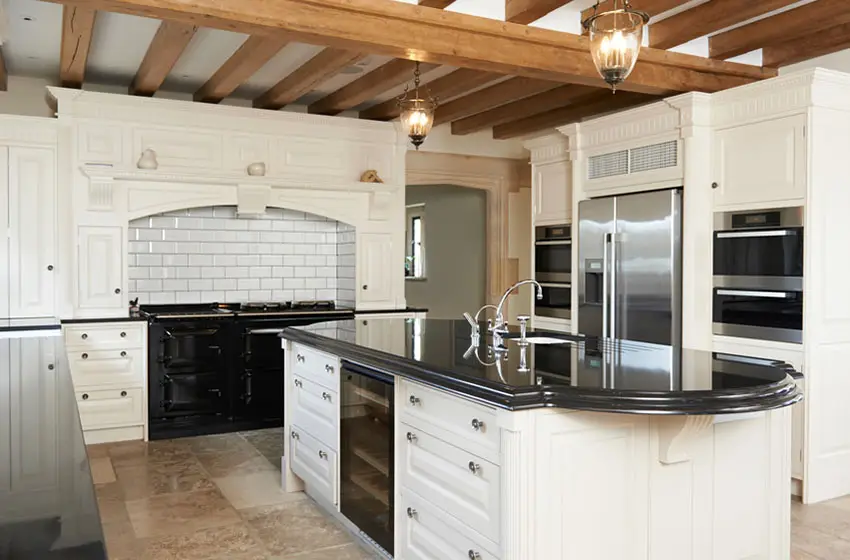 Maintenance wise, polished granite is easier to clean since it repels dirt and liquids. The process it undergoes to get its shiny surface seals the stone's pores protecting it against most stains.
It also doesn't harbor bacteria keeping food preparation more sanitized and it is also almost impervious to any chemical wear and other elements. This is the same reason as to why it is a common choice for kitchen countertops.
Polished granite countertop is usually used for traditional and classic styled kitchens. Its highly reflective surface brings timeless flair and classy appeal to any room.
Its shiny appearance makes a room appear more bright. Black polished granite is an ideal countertop for kitchens with white colored cabinets. They are highly sought after for bringing an edge to a luxurious traditional setting.
Another type of granite finish is the honed finish. This type of finish is characterized by a matte, satin surface. It also has a consistent, flat, smooth surface but has visibly lighter colors than the polished finish.
It is usually achieved by stopping the buffing and polishing process before the stone's surface becomes reflective and shiny. It is available in different variations namely Velvet finish, Satin finish, Diamond Smooth finish and Machine Smooth finish.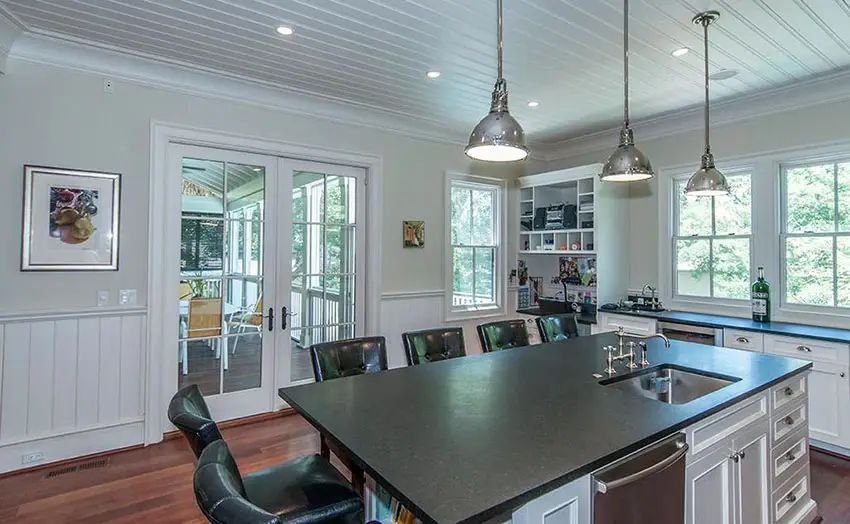 Although distinctive and beautiful in its own way, honed granite has a number of disadvantages. One of its flaws is that the lack of luster and shine hides the inherent characteristics of granite. Honing may cause the natural color of granite to fade.
Cost wise, it is more expensive than polished granite because of its availability. In terms of maintenance, it requires to be resealed more frequently than the polished finish because it is more porous and susceptible to water absorption and stains.
When strongly colored food or liquid is spilled over a honed granite countertop, it may cause discoloration and result to dark spots.
Acidic substances such as juices, alcoholic beverages and soda may even etch the stone's surface so it is best to take extra care when dealing with this type of granite countertop finish.
Also, a honed granite countertop does not hide fingerprints, grease and smudges well thus requiring frequent wiping and day to day maintenance.
This type of finish is perfect for contemporary and modern kitchens because it is casual yet very elegant. Its subtle texture brings mild contrast to the different textures present in a kitchen design.
Black honed granite countertops are perfect for creating a modern vibe in a kitchen. One of the black granite types which look exceptionally beautiful in a honed finish is the Absolute Black granite as its simple natural jet black color stands out in this type of finish.
Leathered Black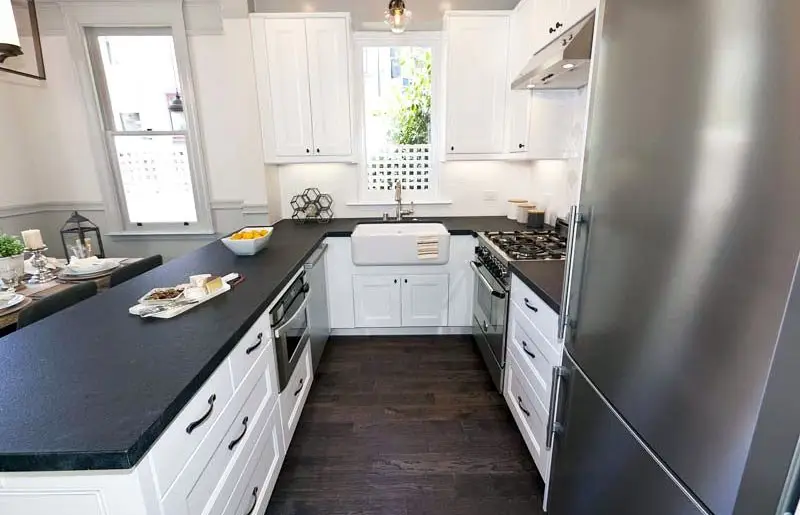 Leathered finish is one of the newer types of finish which is trending in the market. Also known as the "Antiqued Granite", this type of finish has more natural texture and shows the stone's original color.
Since the leathered granite is unpolished, it displays the stone's natural roughness and brings out its inherent beauty. It is characterized by a soft sheen which is more less shiny than the glossy highly reflective look of the polished finish. In other terms, it has a "minimal shine but maximum texture".
The leather type of granite finish starts with a honed stone surface then is achieved by moving diamond tipped brushes across the stone's surface to create texture.
The resulting texture varies on the composition of the granite as stones with more uniform and consistent color will have a more understated result compared to granite with more variation in its composition.
If honing tends to make the colors of granite fade, leathering on the other hand makes retains its natural color. Typically darker stones such as black granite are more suitable for leathering.
There are a number of advantages in using this type of finish for your granite countertop. One example is that it conceals fingerprints, water spots and smudges well.
But the downside is that it has dips where dirt and dust can hide in. It is not as much as stain resistant than the polished finish but it is easier to maintain than the honed finish.
Design wise, the leathered finish adds a subtle texture which makes it perfect for Rustic, Country and Antique kitchen.
Resembling the grainy appearance of leather, it adds appeal and richness to spaces. It creates an interesting statement for any kitchen since it is different from the usual standard finishes found in most houses.
Popular Types of Black Granite
Absolute Black
Characteristics : It is a type of granite is almost perfect black in color. With a consistent color and texture all throughout, Absolute Black Granite has a solid black base with very fine visible grains which make it a popular choice for modern kitchens.
Available in polished and honed finish, it is also known as Jet Black Granite,Jet Blacky Granite, Nero Absolute, India Premium Black Granite, Premium Black Granite or Telephone Black Granite.
Cost : $18 to $22 per square foot (3cm thick)
Country of Origin : India
Pattern Variation : Low
Black Galaxy Granite
Characteristics : Black Galaxy granite is a type of gabbro stone — an igneous rock which is dark and medium to coarse grained. It is characterized by a black bedrock with small gold and white flecks of crystallized minerals.
This is a popular choice for contemporary kitchens as it complements the colors of wood cabinets. It creates a stunning statement as it sparkles under good lighting conditions.
Also known as Star Galaxy Granite, Gold Star Galaxy Granite, Black Galaxi Granite, Black Star Granite, Galaxi Black Granite, Galaxy Black Stone Granite, Galaxy Gold Granite, Nero Galaxy Granite, Nero Star Galaxi Granite, Nero Star Galaxy Granite, Black Galaxy Granite.
Cost : $40 per square foot (3 cm thick)
Country of Origin : India
Pattern Variation : Low
Black galaxy granite works well for breaking the monotony of an "all white" kitchen. When used as a kitchen countertop , it adds contrast to light colored cabinetry while giving depth to the overall look of a space. As shown above, it can be used for contemporary style kitchens.
Black Pearl Granite
Characteristics : Also known as Silver Pearl Granite or Black Labrador Granite, this type of granite has a predominant consistent dark gray and black base with flecks of black, gold, brown and silver mica.
When exposed to lighting, the minerals have a shimmering effect which shows silver and gray speckles or sometimes dark blue or greenish flecks. The Black Pearl Granite can be paired with white cabinets in a contemporary or modern kitchen setting.
Cost : $16 per square foot (3cm thick) , $12 per square foot (2cm thick)
Country of Origin : India
Pattern Variation : Low
Cosmic Black
Characteristics : Also known as Cosmic Night Stone Granite, Cosmic Black Granite, Black Cosmic Stone Granite or Granito Preto Cosmico Stone Granite.
This type of granite has a black base color with a swirling pattern of soft flowing white veins and silver minerals. It has a unique appearance which resembles a galaxy. It is a popular choice for modern style kitchens and makes a distinctive addition to white colored kitchen cabinets.
Cost : $40 to $45 per square foot (3cm thick)
Country of Origin : Brazil
Pattern Variation : Low
Impala Black
Characteristics : Impala Black Granite is a type of gabbro stone that generally has a silver appearance resulting from the combination of black and gray minerals in a consistent pattern.
Also known as Eagle Black Granite or African Nero Impala Granite, it is a perfect match for both light colored and black kitchen cabinets.
The Back Impala Granite also has two tonalities namely Rusterburg D. and Rustenburg M. The Rustenburg D. has a more uniform and intense black color because of the high concentrated mineral deposit found in its surface. The other type ranges form medium to dark gray on color.
Cost : $40 per square foot (3cm thick)
Country of Origin : South Africa
Pattern Variation : Low
Black Forest Granite
Characteristics : A type of granite that has sweeping fine white, ivory and gray veins in a black background. It has a dramatic look which makes it versatile in terms of countertop application for any kitchen style. It is also known as Nero Foresto or Oscuro Mist.
Cost : $22 to $26 per square foot (3cm thick)
Country of Origin : India and Brazil
Pattern Variation : Low
Cambrian Black
Characteristics : This type of granite has a black base color with gray minerals and occasional flecks of light gray and fine white minerals.
It is also known as Royal Black Granite and the most popular finish for it is the leathered finish. It can be used as a countertop for kitchens with white and light colored cabinets.
Cost : $43 per square foot (3cm thick)
Country of Origin : Canada
Pattern Variation : Low
Black Marinace Granite
Characteristics : Also known as Black Mosaic Granite or Golden Marinace Granite, Aquarium Granite, Nero Marinace Granite or Black Morgan Granite.
This type of granite has a very unique inconsistent pattern of brown and bronze pebbles or river stones set in a black and gray background. Its appearance almost resembles a cobble stone road — hundreds of petrified pebbles in different shapes, sizes and a variety of neutral colors.
As a countertop material, it matches both light to dark colored wooden kitchen cabinetry and makes a striking focal point for any space. See more beige granite countertop ideas here.
Cost : $60 per square foot (3cm thick)
Country of Origin : Brazil
Pattern Variation : Medium
Angola Black
Characteristics : The Angola Black Granite has an overall dark gray to black color.
Other industry names are: Black Angola Granite, Angolan Black Stone Granite, Lapis Black Granite, Labrador d'Angola Granite, Labrador Black Stone Granite, Angola Labrador Granite, Black Labradorita Granite, Labradorita de Angola Stone Granite, African Black Stone Granite, Nero Angola Granite, Negro Angola Stone Granite, Negro de Angola Stone Granite, Nero Angola Granite, Preto Angola Granite or Gramangola Black Granite,
Cost : $45 per square foot (3cm thick)
Country of Origin : Angola
Pattern Variation : Low
Black Uba Tuba
Characteristics : This type of granite is dominantly dark green in color. It has a subtle pattern of white, green and gold specks against a dark gray and black background. It has a finely grained texture.
The Black Uba Tuba Granite has a consistent look all throughout and is highly reflective under good lighting conditions. It works well as cntertop for kitchens with light colored wooden cabinets.
Also known as Verde Uba Tuba Granite, Green Ubatuba Granite, Ubatuba Granite, Verde Ubatuba Light Granite, Verde Bahia Granite, or Bahia Green Granite.
Cost : $23 to $33 per square foot (3cm thick)
Country of Origin : Brazil
Pattern Variation : Low
Bengal Black
Characteristics : The Bengal Black Granite has fine white and gray grains which are distributed fairly in a black background. It is commonly used in adding contrast to white cabinets in modern and contemporary themed kitchens.
Cost : $30 per square foot (3cm thick)
Country of Origin : India
Pattern Variation : Low
Volcano Black
Characteristics : Also known as Nero Volcano Granite, this is a type of multi colored granite with an irregular pattern. It has a unique appearance which is characterized by a combination of brown streaks, white flecks and mottled clouding, silver and green minerals against a gray and black background.
Its dramatic appearance makes it an excellent countertop choice for adding drama and depth to a light colored kitchen setting.
Cost : $40 to $45 per square foot (3cm thick)
Country of Origin : India/ Brazil
Pattern Variation : High
Pros and Cons of Black Granite

Here's a quick breakdown of the pros and cons and look below for more details.
There are number of benefits of using a black granite countertop:
Has a distinctive look and a dramatic aesthetic appeal. Black granite usually comes in different patterns which are one of a kind. The contrast of silver mica crystals and other minerals on a black stone base resembles the brilliant stars in the night sky.
Creates a sense of depth and dimension from the lack of color. Black granite is perfect for creating contrasts and breaking the monotony of different color palettes for the kitchen.
Helps accentuate colors used in a space. A black granite countertop brings out the colors of the surrounding design elements in the kitchen.
Adds a power stunning presence in a kitchen. A black granite countertop contributes an interesting and unique dynamic to a space.
Evokes an elegant, dramatic and bold vibe.
Versatile. Black granite is also versatile in terms of design as it can be used as a countertop for both modern and traditional kitchen settings.
Many choices and patterns. Offers a wide range of choices which can be used for design as it is available in different patterns. The different types of black granite are fitting for any kitchen cabinetry color.
Hides stains and spills. Black granite countertops masks spilled liquids and food unlike the lighter colored ones. Lighter colored granite tend to show spots and discolorations more. Since it is more dense, it is less likely to absorb stains and liquids.
Looks cleaner. Requires less cleaning than beige or white granite countertops. Naturally lighter colored granite need a more thorough constant cleaning routine compared to darker colored granite.
Long-lasting. When properly sealed, black granite countertops can last for decades.
Here are some cons to using black granite countertops:
Prone to marks. Although dark colored granite can mask stains and spills, it does not hide fingerprints.
Black granite is more expensive. Dark granite countertops can be a little pricey compared to other granite colors.
Can be heavy and oppressive. Black granite can make your kitchen appear dark, especially when paired with dark cabinetry
Choosing Granite Counters to Match Cabinets
Here is a simple guide to choosing the right color of cabinetry for your black granite countertop. We will be discussing the most popular types of black granite and their corresponding matching cabinetry colors.
Absolute Black – Absolute Black granite is easy to pair because of its calm, clean and uniform look. Absolute black granite goes well with light and white colored cabinets for a contrasting effect.
If you prefer to pair it with dark colored cabinetry such as black or gray, make sure to balance off your color scheme with a light colored flooring.
For wooden cabinetry, Cherry cabinets work best with this type of granite since it compliments its color. Just remember this key tip in color matching, if using a dark shade for your cabinet and countertops use a light color for your flooring material.
Black Cosmic – Black Cosmic granite is the ideal fit for homeowners who are looking for a more adventurous, fun and modern countertop option.
It can be paired with white, tan or ivory colored cabinets as its veining pattern is highlighted against a light background. It can also be paired with dark cherry cabinets for a bolder statement. Its white streaks are a perfect neutralizer for dark features present in a kitchen design.
Black Pearl – Black Pearl granite offers a timeless and less traditional look. If aiming for a modern vibe, pair it with white cabinets for contrast as it creates an impeccable dominating feature in a space. For a more classy design approach, Oak cabinets will give it a classy and sleek flair.
Black Forest – Black Forest granite is another countertop option for homeowners who are leaning towards a more playful vibe for their kitchen. Because of its casual look, it is a strong fit for modern kitchens.
Pair it with black cabinets for a bold and dramatic statement or if settling for a classic look, choose white cabinets. Cherry wood is also a safe option for this type of black granite countertop.
Black Impala – Black Impala granite countertop can be paired with white cabinets for modern and sleek feel. While when paired with dark colored cabinets such as Cherry, it exudes timeless elegance. It can also be paired with Oak cabinets for a country cozy charm.
Cambrian Black – The creamy finish of Cambrian Black granite gives it a somewhat velvety smooth appearance. It can be paired with antique white cabinets for a rustic look.
When used as a countertop for dark colored cabinetry, it exhibits a harmonious and orchestrated beauty for the overall look of your kitchen.
Ash wooden cabinetry may also be used for this black granite countertop as its pairing gives off a light and airy ambiance to a room.
Key Interior Designer Tip: Just remember this basic principle in color matching, if using a dark shade for your cabinet and countertops use a light color for your flooring material so as to avoid making your space too dark or "heavy".
Choosing a Backsplash To Go With This Granite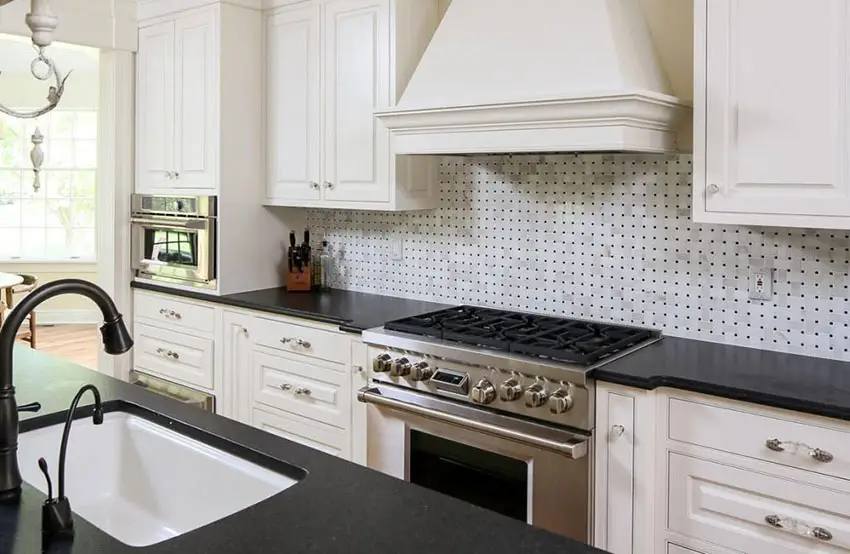 There are endless design possibilities when it comes to choosing the right backsplash material for a black granite countertop. The use of a black countertop works for any kitchen style because of its unique and versatile beauty making it appropriate for a number of backsplash materials.
In selecting a backsplash material for a black granite countertop, you can either create contrast by using something with a lighter color or if opting for a more dramatic effect for your kitchen, you can go with a dark colored one.
Perhaps the more common design approach of the two for current kitchen styles is the former, as most homeowners nowadays tend to prefer white backsplash materials for their dark colored countertops.
Backsplash Ideas
Marble – White marble offers a minimalist yet classy approach as a backsplash material for black granite countertops. It is perfect for adding a subtle contrast to the look of the space.
When combined together, white marble backsplashes evoke a refreshing feel to any space while the black countertop break the monotony of the space. If option for a traditional classic style, use white marble slabs as the uniformity of the surface is more formal.
While if gearing towards a more contemporary and modern setting, opt to have your marble custom cut as a square tile and set it in a diagonal pattern.
Subway Tiles – Subway tiles are small rectangular white glazed ceramic tiles usually 3 inches by 6 inches in size. It is a perfect backsplash material for modern style kitchens offering a clean crisp look.
When paired with a black honed granite countertop, white cabinetry and a wooden floor, it creates a simple statement blending cohesively with a contemporary setting.
Mosaic Tiles – Mosaic tiles are glass, porcelain or ceramic tiles which are usually 2 inches or 5 centimeters in size. It can either be square or rectangular and is usually readily available at local home improvement stores.
Mosaic tiles are a perfect pair for black granite countertops because of their variety of colors. When choosing the right color of mosaic tiles backsplash, use the colors of the flecks, streaks or veins present in the surface of your black granite countertop. These colors can act as a guide for creating a harmonious complementary scheme for your kitchen.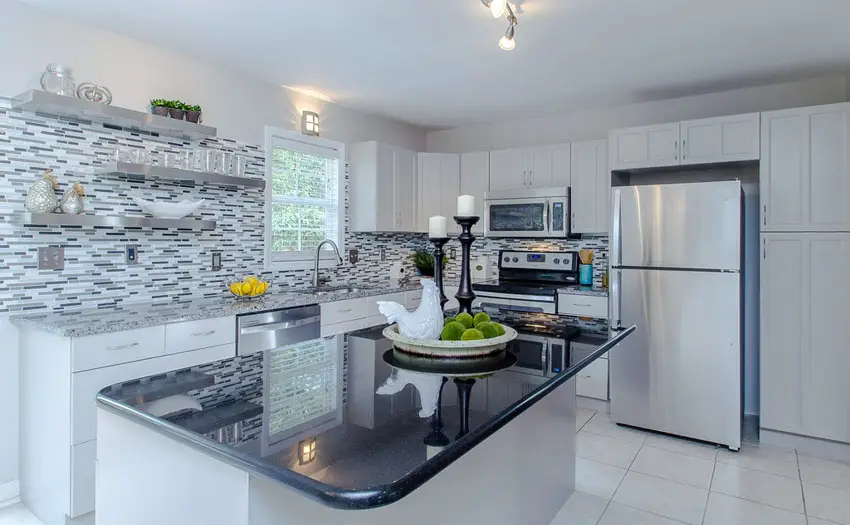 Remember to avoid pairing mosaic tile backsplashes with heavily patterned black granite to make your kitchen less overwhelming and distracting.
An example of an ideal application of this pairing is by matching cool gray mosaic tiles backsplash with polished Absolute Black Granite countertop and beige shaker style cabinets — the result is a relaxed contemporary kitchen which you will surely love.
Ceramic Tiles – Ceramic tiles are popular as backsplash materials because it is available in a broad spectrum of colors and the wide array of patterns.
A current design trend for such are graphic tiles in different prints or geometric patterns. If you choose to create a statement with your backsplash material rather than your black granite countertop, choose a ceramic tile which has a unique print as it catches visual attention.
Honed black granite countertops, light colored polished ceramic tiles backsplash and light colored cabinetry are a perfect equation for a contemporary style kitchen.
Slate – Slate is a type of natural stone which is usually bluish, green, gray or rust in color. When paired with a black granite countertop, it adds texture and warmth to a Rustic and traditional themed kitchen.
A slate backsplash and black granite countertop pairing works well when combined with wooden cabinets. It creates a homey and inviting atmosphere while giving emphasis to the natural look and textures of the different materials in the kitchen.
Travertine – Travertine is a form of limestone which is usually white or light colored and is common in both interior and exterior building applications.
When used as a backsplash material for light colored cabinetry, travertine allows a black granite countertop to pop allowing it to be the stand out accent of the space. Ideal for kitchens with an antique look.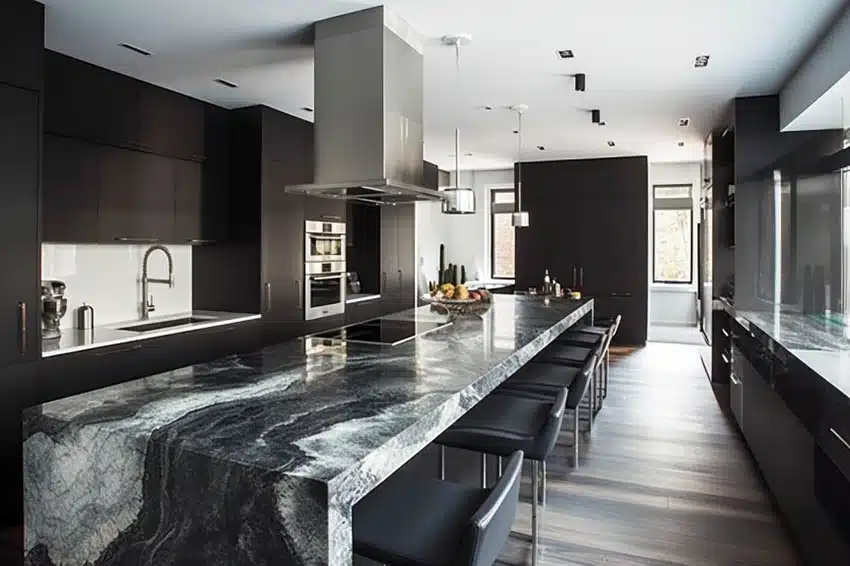 Glass – Glass is considered to be a modern kitchen backsplash material. Requiring less effort to maintain, it is a new innovative choice for backsplashes.
Graphic coat or back painted glass in light colors provide a stark contrast to black granite countertops while adding a modern vibe to your kitchen.
If on the more experimental and eclectic side, black granite countertops may be paired with bright colored glass such as red to create a retro or ultra modern look.
Stainless Steel – A stainless steel backsplash works ideally for modern kitchens as it is seamless and streamlined. It is ideal for creating contrast in textures and is a stylish addition to any kitchen with dark colored granite countertops.
Aside from its visual aesthetics, stainless steel is also scratch resistant and easy to maintain. When paired with black granite countertops, you may opt to keep the slab thicker than the usual for that extra stylish modern flair.
Maintaining Granite
Maintaining black granite countertops takes little effort. It requires the same cleaning process that other granite colors require.
Keep your back granite countertop clean with the use of a water and mild soap solution and preserve its natural beauty with periodic sealing.
Visit our gallery of granite colors for even more ideas for your next kitchen remodel project.