Here's our mudroom dimensions guide including different mudroom sizes for layouts, lockers, cubbies and benches.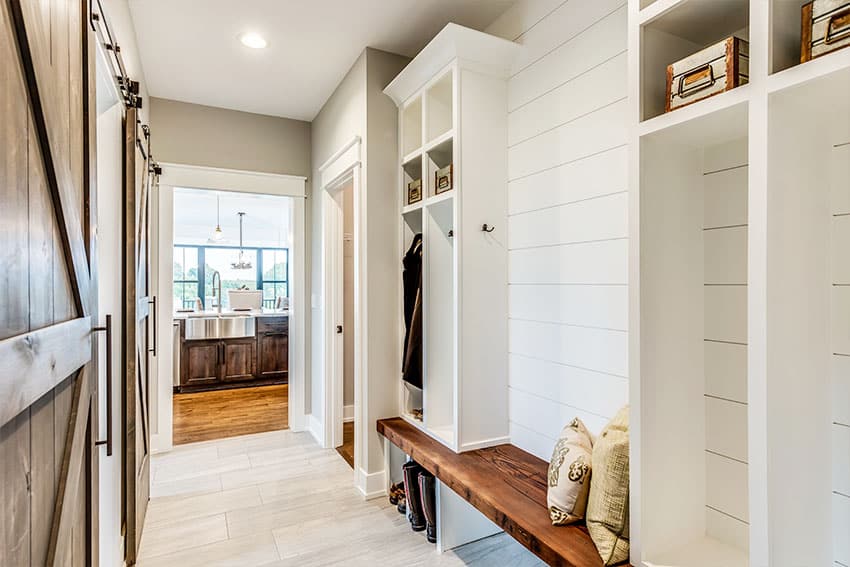 Mudroom, a must-have corner that reigns supreme, helps keep a home clutter-free and clean from wet coats, umbrellas, and muddy shoes. Sometimes referred to as a boot room, you can find it at the back or side entry of the house or the garage. But smaller homes have them by the front entrance, too.
When designing a mudroom, it can be as basic or as extravagant as you would like it to be. Most mudrooms come with essential features that can take a lot of space, like shelves, cubbies for your coats and jackets, a shoe cabinet, umbrella stand, hooks and racks, and a hamper.
Others even have a multipurpose mudroom that doubles as a laundry area or a nook for furry pets. With this in mind, the potential of your future mudroom depends by large on its dimension.
If you plan to renovate your home and turn a corner into a mudroom, it helps to familiarize yourself with the different mudroom sizes. Read along to explore your options.
Ideal Mudroom Size
The ideal mudroom size may differ for each home. For instance, a small to average-sized mudroom will suffice for a two-bedroom house.
A family home, however, may require more space to accommodate the needs of its members. But preferably, a mudroom should fit at least two people when they enter the house.
The space should be enough to allow movement with ease and accommodate furniture and fixtures. These include storage, closets, and shelves, to name a few. Based on this, the ideal size for a mudroom is at least five feet wide and 11 feet long.
Average Size Of A Mudroom
The average mudroom size is 7 ft. x 7 ft. or 49 square feet. With this floor space, you can install a long wall cubby to store your belongings. It may feel narrow, but try to be more resourceful by adding multi-purpose pieces of furniture to maximize your space and keep your entryway neat.
However, not all homes measure the same. It is best to allocate space for a mudroom proportionate to your needs and the size of your home. Below are the other mudroom dimensions.
Mudroom Layout Dimensions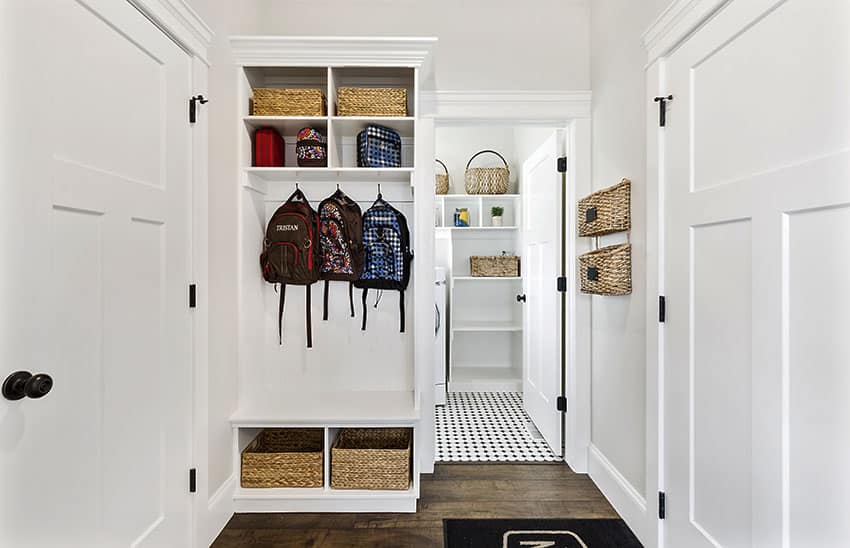 Mudrooms can range from 36 to 150 square feet.
For a house with limited floor space, a 36 square feet mudroom or a 6' x 6' mudroom may suffice. It can occupy a cubby and a side shelf. Adding hooks on the wall is also a great way to optimize your wall space.
A medium-sized mudroom is between 49 to 64 square feet, ideal for homes with over three people. It is spacious enough to accommodate a three-part cubby or a combination of wall cubbies, shelves, and a single locker. You can also add a sink to wash your hands, but keep in mind the location of your plumbing.
Finally, for luxurious homes, a large mudroom can be between 100 and 150 square feet. That said, they usually serve multiple purposes and are at the back of the house or in a separate outdoor mudroom.
With an expansive floor space, you can create a laundry room layout that fits two to three washers and dryers, a dog shower area, and a corner to keep your bikes. You can also have a separate corner for your gardening tools and other outdoor tools.
Besides considering the room dimension, knowing the different sizes of mudroom benches, lockers, and cubbies is critical to your layout. Take inspiration from our compilation of 45 mudroom ideas.
Mudroom Bench Dimensions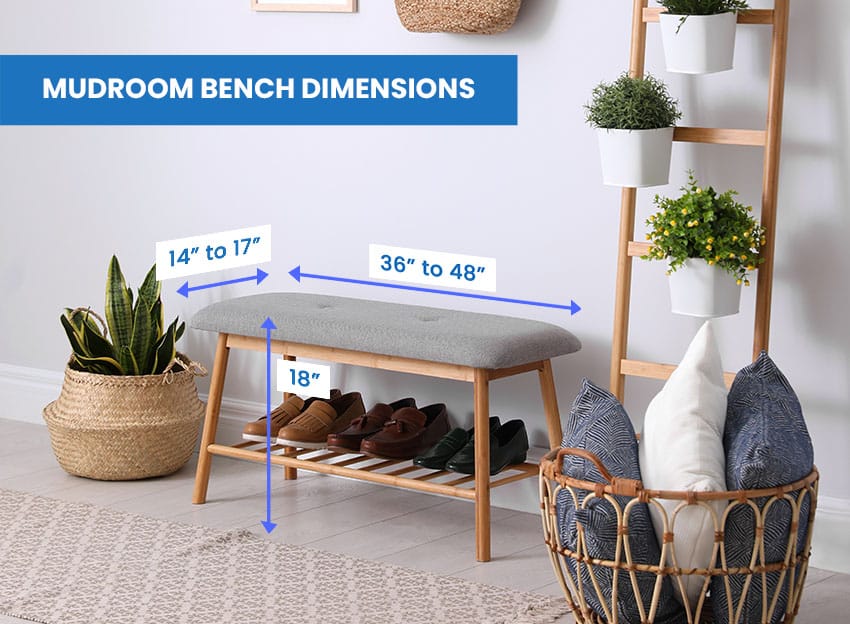 A standard mudroom bench has a length of 36 to 48 inches and a depth of 14 to 17 inches. The overall height of a mudroom bench is 18 inches. Unlike other benches, a mudroom bench serves two purposes: sitting area and storage.
Having a bench in your mudroom adds comfort when you have to wear your shoes. They also have open storage underneath to keep shoes, pullout baskets, or hidden storage space with a lift top.
With this in mind, it is vital to leave at least 20 inches of clearance space across the bench enough for legroom and when you need to pull out drawers. See our article about different bench dimensions here.

Mudroom Locker Dimensions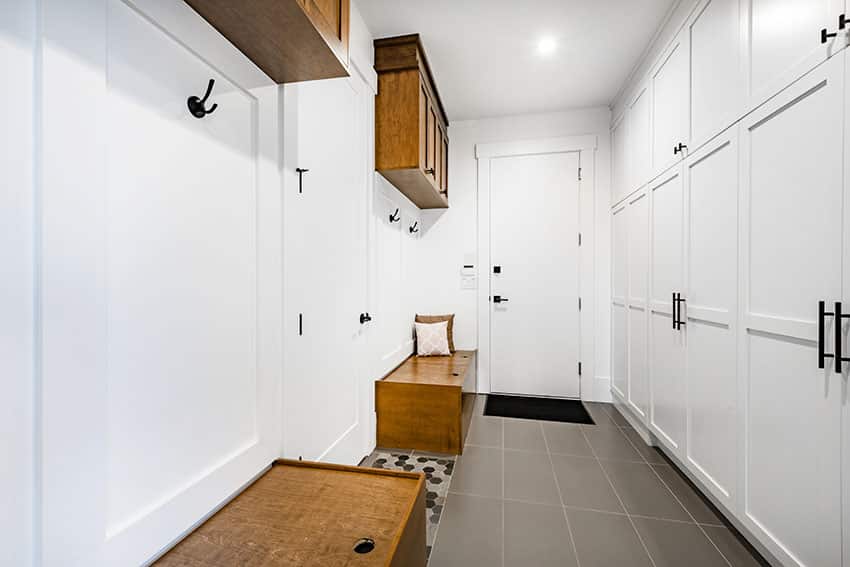 Lockers are enclosed storage for jackets and coats, ideal to avoid a cluttered look. This statement rings true, especially if your mudroom is by the front entrance.
Lockers are narrower than a regular closet, measuring 18 inches deep and 70 inches high. In terms of length, they come customized according to your available space. But you can also opt for modular mudroom lockers.
Modular lockers let you add more lockers whenever the need arises. You can also move them around easily compared to a single-unit locker with three doors.
Mudroom Cubby Dimensions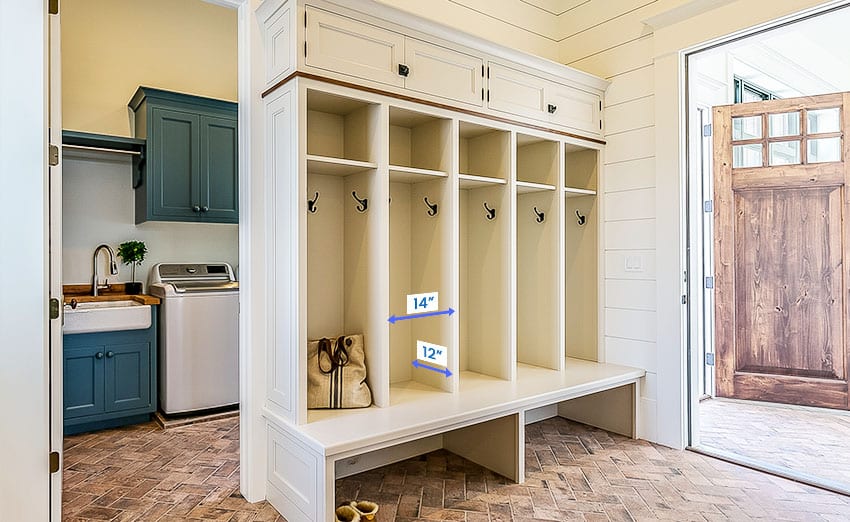 A mudroom cubby is a combination of open shelves and a coat rack. They are practical organizers, perfect for separating your things. For example, you can create separate spaces for wet coats, children's jackets, boots, and hats.
You may purchase stand-alone cubbies, but most homeowners prefer a customized built-in cubby that fits the interiors of their homes. Built-in cubbies are also more durable and provide more room for storage.
Cubbies are at least 12 inches deep and 14 inches long. But similar to lockers, you can have them customized to your required length. Some cubbies also include a bench with a deeper base for comfortable seating.
Which Mudroom Size Is Right For Me?
Understand your needs according to your lifestyle. Sometimes, too much space welcomes more clutter—albeit hidden, and unnecessary room features. Be practical and plan the layout of your mudroom based on its intended daily function.
Whether you seek to upgrade an existing mudroom or add a new one, you also have to consider the location of your mudroom and your available space.
If you want to add a laundry area, you have to ensure plumbing access and room ventilation. If you think the floor may constantly get wet, you need to choose a flooring material that deters water.
Finally, make sure your mudroom plan aligns with your budget. You can read more from our cost and design guide to adding a mudroom.