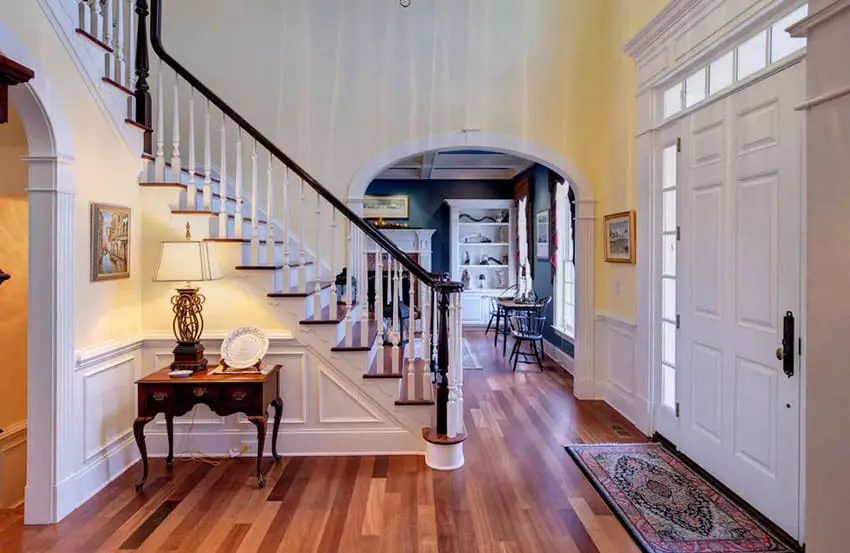 Is bamboo flooring the right choice for your next home remodel project? Bamboo is often considered as an interior designers favorite choice for flooring, as it's an excellent alternative to hardwood flooring due to its multiple benefits and exotic appearance. Bamboo is one versatile material that can serve many purposes. Below we'll cover some of the best reasons to use bamboo flooring including the pros and cons for use in your home.
What is Bamboo Hardwood Flooring?
Bamboo plant is a type of perennial evergreen plant that is actually one of the largest types of grass, with a diverse range of varieties. The making of bamboo engineered hardwood results in shredding the thin strips of grass to be heated under pressure and glued accordingly to form a wooden bamboo flooring board.
Strands of bamboo can be cut into many thin strips to be laminated to form a layer of plank. Or a thin membrane of bamboo can be laminated onto a plywood. Or else, the strand- woven bamboo is a result of mixing up of the strands to be locked together. These are varieties of bamboo hardwood flooring options that you can opt for your floor type depending on the requirements.
Bamboo Flooring Pros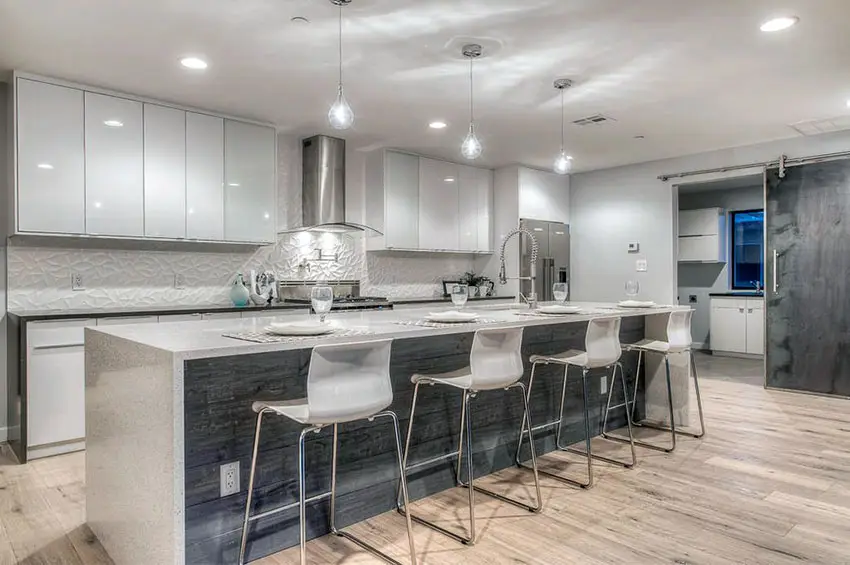 Eco Friendly – Bamboo flooring is quite an organic material that can be utilized for construction purposes. Eco friendly materials such as bamboo are a choice for the majority because of its added aesthetic appearance to fit modern households. Natural bamboo flooring is a very renewable resource that regrows quickly in the wild and is highly sought after by those who want a green eco-conscious home.
Elegance – The outstanding look of a floor can be easily achieved by installing a bamboo floor. The versatility of shades, strength combine in accentuating the overall effect of the flooring. If you need darker tones of bamboo, carbonized bamboo seems like the perfect solution. When bamboo is carbonized the flooring becomes much softer and turns darker.
Water Resistance – Bamboo's resistance to water is quite a convenience. The adaptability bamboo flooring inherits towards resistance of water is an added benefit. This leaves the homeowners the ability to install bamboo flooring anywhere within the household (except the washroom) despite the functionality.
Refinished – The beauty of bamboo floors result in the ability of being able to retouch and refinish. It is advisable to be sanded when the bamboo flooring starts to wear and distort. The option of retouching results in making the bamboo look decent even with the passing of time.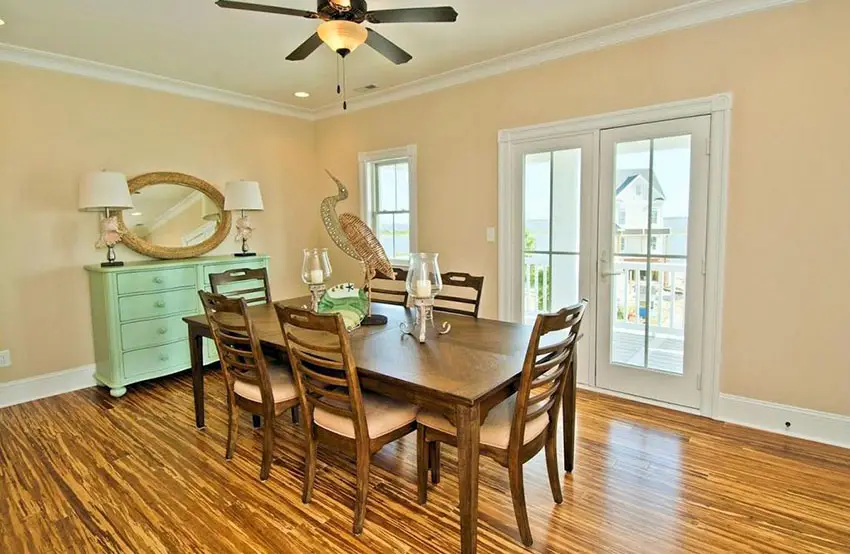 Easy To Clean – If cleaning sounds like the biggest hassle for you, bamboo flooring makes it so much easier for you. Installing bamboo can be resulted in an easy cleaning process from time to time. Just sweeping or vacuuming will do enough good for the bamboo flooring. Anyway, it is advisable not to damp mop since bamboo floors will be reluctant to afford the soaking. But if you opt for a trendy yet durable floor finish, bamboo is the ideal solution.
Abundance – What is cool about bamboo is the abundance of material. This results in saving the exotic types of hardwood otherwise need to be cut down for various human necessities. And, unlike other hardwood, bamboo takes not so long to mature. This is another major reason for the abundance of the material compared to other similar hardwood types that takes up decades to mature.
Versatility – It is important to be aware of the strength of bamboo depends on its manufacturing qualities. For an instance, carbonized bamboo flooring can result a shorter life span but contains a rich, organic shade. On the other hand types of woven bamboo flooring and un-carbonized bamboo flooring can serve longer and steadier. Bamboo floors, owning its unique characteristics creates a vibe of a clean and elegant design to fit the type of requirement.
Cost – Bamboo is quite affordable to install making it a great choice for home renovation projects. Bamboo flooring cost usually ranges from $2 to $4 per foot depending on the thickness, color and type, with stand bamboo being the most durable. Overall the cost of hardwood flooring is more expensive by a few dollars per square foot.
Bamboo Wood Flooring Cons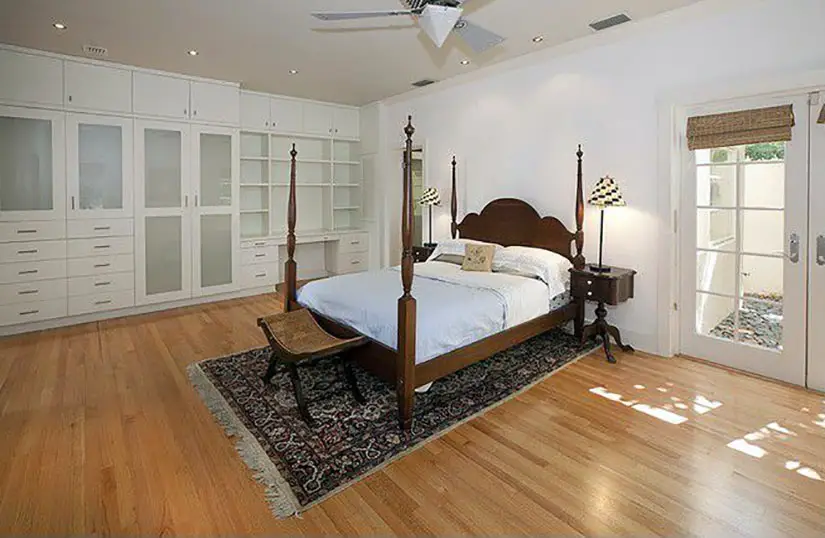 Humid/Dry Environments – However, bamboo contains its drawbacks too. For an instance, bamboo is vulnerable to the humid environments or very dry environments that can cause the bamboo flooring to shrink. Since the humid environments contains excessive air moisture, this results in swelling of bamboo planks. So it is equally important to be aware of the environmental conditions before an installation.
Vulnerable To Water – Even though we listed bamboo as one of the better wood types for water resistance it like all wood types is still susceptible to damp conditions. As much as bamboo flooring may seems like the best option, it is important to be aware of its vulnerabilities too. This type of flooring is not advisable to be installed in damp areas or in places that are prone to water leaks. Even though bamboo will not show its instant results, in the long run exposing into these kind of environments will only result in a shorter lifespan of the bamboo flooring.
Manufacturing Process – Bamboo flooring manufacture process uses a variety of chemicals since the material requires different types of chemicals to be glued together. It is equally important to be aware of the manufacturing process as the process can be a little sketchy especially depending on the reliability or the ethics of the firm or the brand.
Types of Bamboo Floors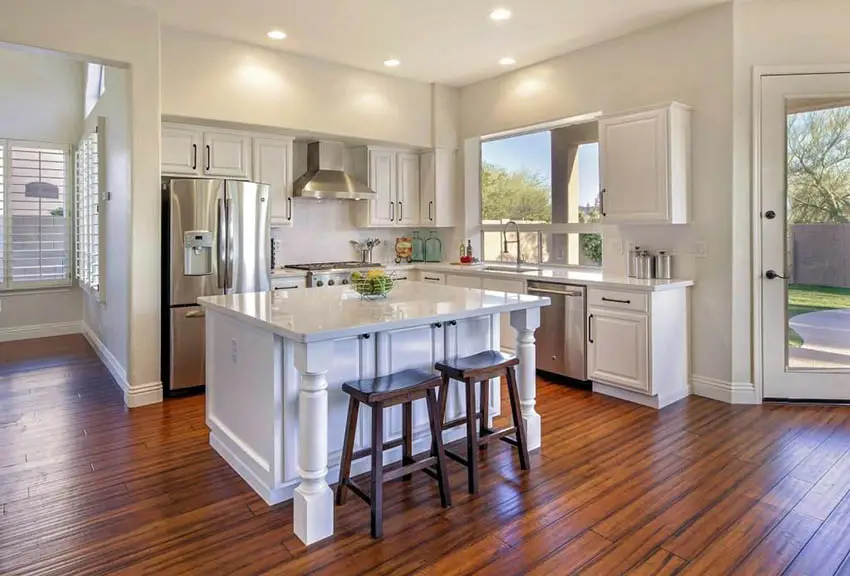 When is a bamboo not a bamboo? When it is in your floor. We typically think of bamboo as being a type of wood, but it is actually a reedy grass. Still, it looks, feels, and cuts like wood so we treat it like wood when using it for flooring. Knowing the different types of bamboo flooring ahead of time will make your trip to the floor showroom a quick and painless one.
Solid Bamboo Strip Flooring
Solid Bamboo Flooring is available in three different styles. Vertical grain solid strip is made from bamboo strips stacked on their edges and glued together. You see this type of construction in butcherblock countertops. See examples of bamboo countertops here.
Flat grain solid strip is what you see most in the flooring department of your major home improvement stores. It consists of stacked, flat strips of bamboo that are laminated together. Strand bamboo is made when the mix resins with shredded bamboo and press it into hard planks. These types of bamboo are typically available in tongue and groove planks, like hardwood flooring, and are installed in the same manner as a hardwood floor. The great thing about this type of flooring is that it comes pre-finished, so once installation is done, you can use your floor.

Engineered Bamboo Board Flooring
Engineered Bamboo flooring is typically found using the Strand method of mixing resins with the shredded engineered bamboo. A major difference between this and solid flooring is the installation method. Engineered bamboo flooring is installed as a floating floor, that means it is laid over a foam-rubber underlayment and isn't attached to the subfloor. One of the major advantages of this is that installation is much easier, faster, and cheaper than solid bamboo installation.
Engineered bamboo floors looks great in the living room, bedroom, dining room or kitchen. You can read more about types of engineered hardwood for the kitchen here.
What Type of Bamboo Style Flooring Is Right for Me?
Which choice is right for you depends on your budget, your needs, and what types of demands will be made on your flooring. If you live in a humid area, you might want to consider solid bamboo as it is slightly more tolerant to humidity changes than the engineered. Solid bamboo flooring tends to be a bit less expensive than engineered but the installation costs more for solid. Price doesn't always dictate quality when it comes to bamboo flooring, so take a look at the warranty. A longer, more encompassing warranty is a great indicator that you are looking at a quality product regardless of initial cost.
Finally, bamboo has a subtle, warm glow and we often see the softer, wood-toned shades displayed on store shelves but bamboo is available in over 50 stains, ranging from bright to soft tones, giving you several options to choose from. It wasn't too long ago that design magazines considered bamboo a trend. But this economical and eco-friendly flooring has proved it is here to stay.
As an affordable, easy to maintain alternative to hardwood, bamboo is now a top choice of designers and design magazines. No matter where you put it in your home or how many design phases you go through, bamboo will be there, providing that beautiful backdrop to all of your design needs.

Is Bamboo As Flooring Waterproof?
Bamboo flooring is pretty resistant to water but it means in no way that it is waterproof. Bamboo flooring owns its unique characteristics of a higher water resistance unlike other hardwood options. If you leave a puddle of water to be soaked on the floor over the time, that is when the flooring will start to react to swell or distort. Otherwise, this flooring with careful consideration of spills can successfully be installed in pantries or kitchens.
To note, special weaving methods results in the strength and durability of types of bamboo flooring which affects in terms of water resistance. Certain types such as woven bamboo flooring can serve pretty reliably than its average counterparts. Woven bamboo flooring is much likely to be less affected, if exposed to water. It is equally important to be conscious on the environment that the flooring will be installed. For an instance, it is advisable to install bamboo in areas where humidity doesn't fluctuate more than 15 degrees. Since it does not have uniform density a wide swing in humidity can cause shrinkage to occur in some situations.
Over all, bamboo flooring can be installed anywhere with the exception of the washroom. Even in kitchen or the pantry bamboo flooring can be of great help if maintained accordingly. The advantage bamboo flooring possess over other hardwood types such as the clean and aesthetic appeal results in brightening the space even more. Even Though bamboo flooring is not water proof, certainly types such as woven bamboo owns the characteristics of water resistance, more so than its average counterparts or other types of hardwood floors.
Is Bamboo Floor Pet-Friendly?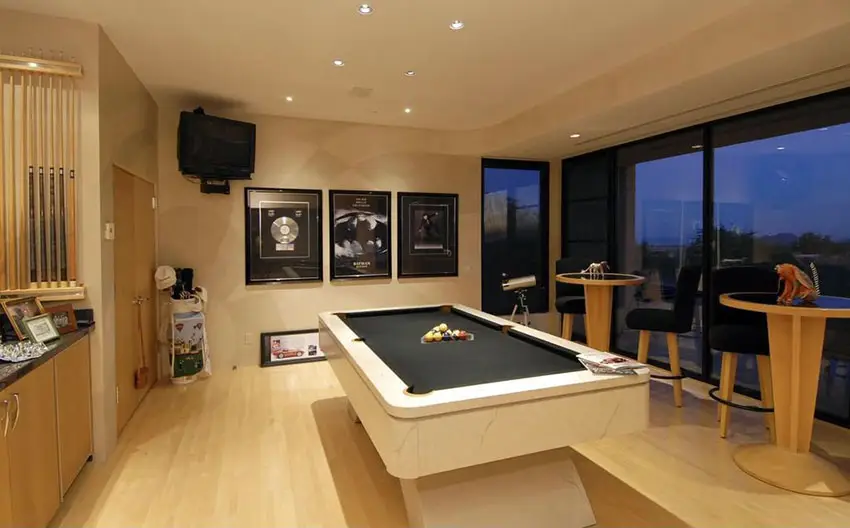 For a pet friendly household, bamboo flooring come really handy to save both your pet and the house. Although bamboo is not a hardwood, it shares the similarities of a hardwood. Bamboo has even been included in the Janka hardness test which is specified to determine the hardness of the wood types. It is generally agreed the more hard the wood is, the lesser the scratches are prone on any environment.
Even if that's the case, understandably for a pet friendly house in particular for dogs, scratches can be a little too common of a problem. Unlike many of the hardwood types out there prone to scratches, this type of flooring can result in a seemingly lesser amount of scratches overall.
Ideally, among the many types, strand-woven bamboo flooring which is one of the stronger counterparts of bamboo flooring is pretty much of an ideal solution for a pet friendly flooring option to look out for.
Bamboo flooring is also ideal for pets concerning hygienic reasons that it doesn't collect dust unlike carpets. The ease of cleaning process is another practical reason to be counted. Some bamboo comes with an additional approach of an anti-slip lacquer which makes it easy for the pets to move around freely as the flooring becomes less slippery. Additionally, the durability, and the go green concepts with clean aesthetics are combined in a bamboo floor which makes the majority of pet owners quite satisfied with the end results.
For more ideas visit our page on the different types of flooring here.