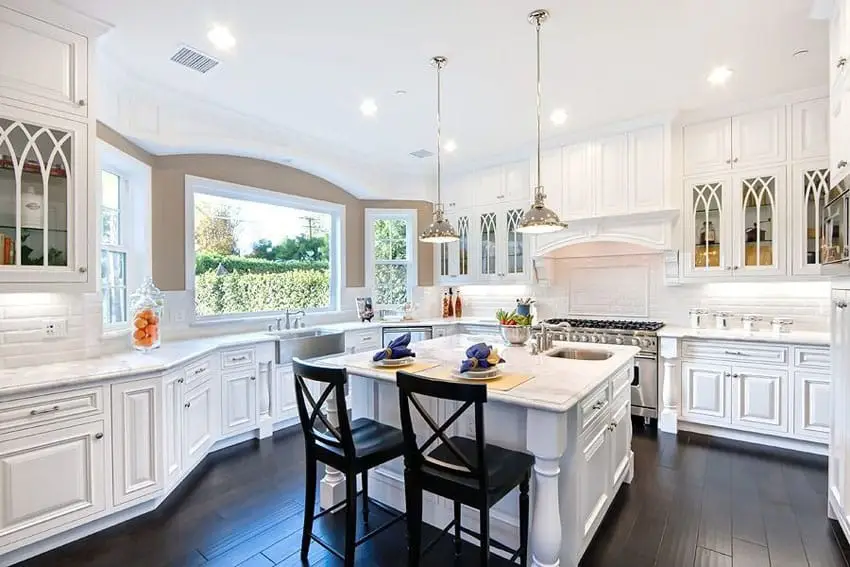 Welcome to our page showcasing the best types of eco friendly flooring. Twenty years ago, it was expensive, it was boring, and the choices were limited. But now the marketplace is flooded with options. From carpeting to stone and everywhere in between, there is a natural eco-floor for everyone. Below we'll cover the benefits of popular natural flooring choices and highlight what makes them great for use in your home.
Natural materials are a great foundation for beautiful design, even more so when they are manufactured in an eco-friendly manner. From the classic warmth of bamboo to the exotic crackle of lava stone, here are the eco flooring options that designers love to put in their own homes.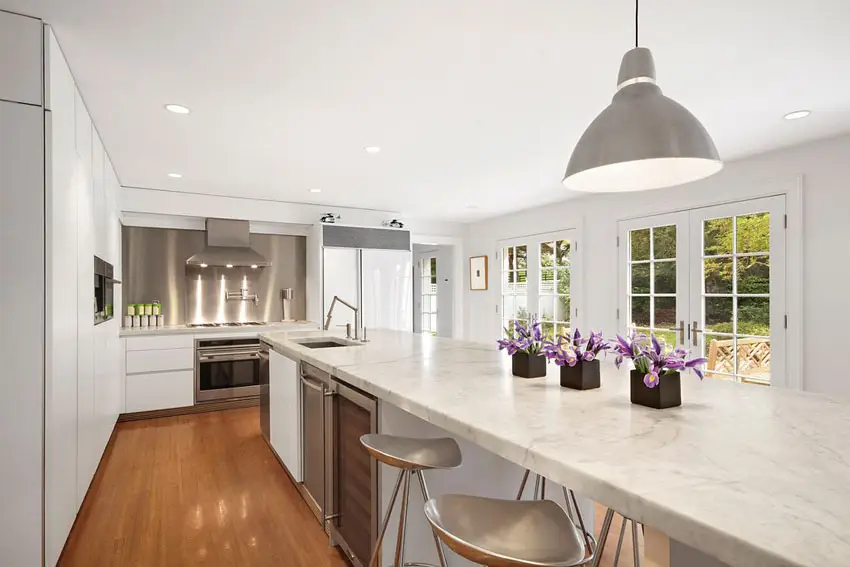 Bamboo – Bamboo is a chameleon, it can look modern or traditional, it can live comfortably in a farm kitchen in the country or in the most sophisticated of city lofts, and can definitely be an eco friendly flooring choice. Watch for manufacturers that use Formaldehyde and VOC's in their manufacturing process, if they are using these chemicals, they are not eco-friendly!
Bamboo grows quickly, typically reaching maturity in about 5 years, it is prolific and in some places, considered a nuisance plant, so it is a superstar among renewable resources. Owning a cork floor is easy, just sweep it or set your robotic vacuum loose a few times a week, damp mop when needed, no harsh chemicals or wax necessary.
Bamboo flooring is more water resistant that most hardwoods, but don't just let a puddle sit there, the boards can warp if you let the water sit. If you move into a home that has pet-damaged bamboo floors, don't despair, they are easily refinished by sanding and sealing, just make sure the sealant is low or no VOC to retain indoor air quality and remain eco-friendly. Because they can be so easily refinished, they are a life-long flooring that can transition through all of your design phases. Bamboo is a great choice when you want a something a little different than your typical hardwood, want to remain eco-friendly, and want a long-lasting, timeless material under your feet.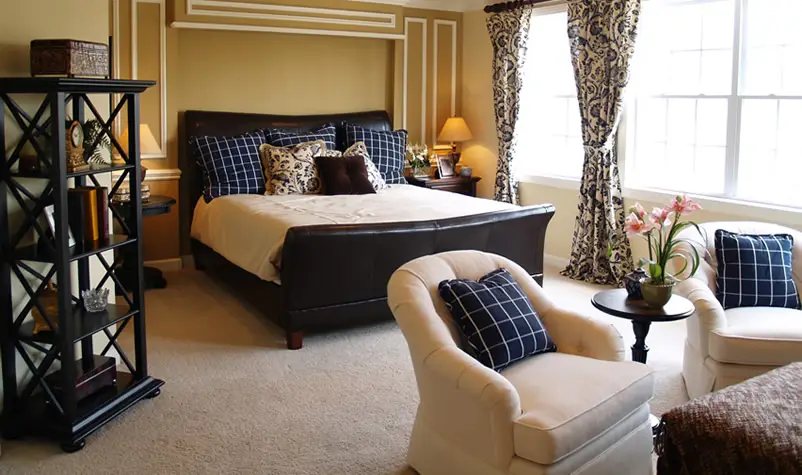 Wool – Wool carpeting, not only is it eco-friendly flooring, it is also durable, hypoallergenic, and contributes to better air quality in your home. Sheep are shorn every 9-12 months, which makes wool a completely renewable resource with little environmental impact. 100% wool carpeting is also bio-degradable and will decompose completely if buried.
There are many other great benefits to using wool carpeting in your home. It is hypoallergenic, acts as an insulator, and has sound absorbing properties. Wool is one of the most durable flooring materials available, it has naturally high elasticity, which means it will bounce back easily from being compressed, and the thickness of wool means that it will retain a pleasing appearance for many years to come.
The natural oils in wool make it soil and liquid resistant and difficult to stain. Another benefit to wool is that it is flame-resistant, doesn't melt, releases no toxic fumes, burns slowly, and can self-extinguish. Wool takes readily to dyes, is beautiful, durable, and sustainable, making it a perfect fit in any home.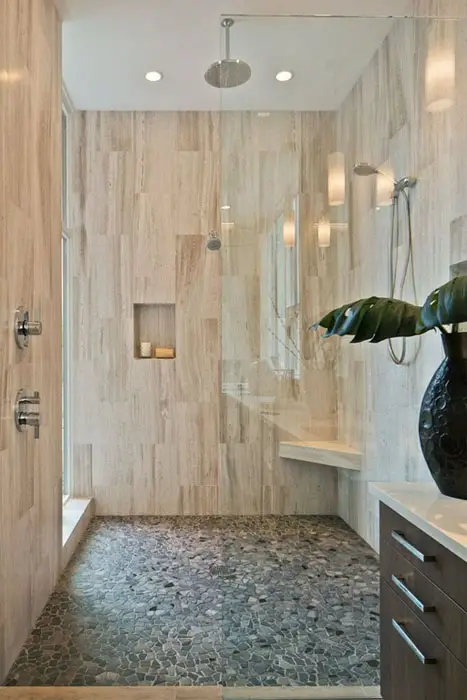 Lava Stone – Lava Stone made a splash when it hit the marketplace a few years ago. At first it was primarily used as countertops, but we are now seeing it in beautiful floor tiles. While you normally wouldn't think of quarried rock as eco-friendly, Lava Stone is an exception. Real Lava Stone is quarried by hand on volcanic slopes in France and Italy. Because it is made from hardened lava, it is a constantly renewed resource.
Lava stone is one of the more expensive renewable flooring materials out there, so if you are on a budget, a small bathroom would be a great place to showcase this gorgeous stone. It is a non-porous stone, which makes it nearly impervious to stains as well as being scratch resistant. Each slab that is cut is one of a kind, it can be glazed and comes in a wide array of colors so you can be sure that your Lava Stone floor is truly unique. Because of the nature of the stone and the way that it is fired, it has a smooth feel but looks crackled and crazed, it is truly one of the most beautiful eco-friendly flooring materials available.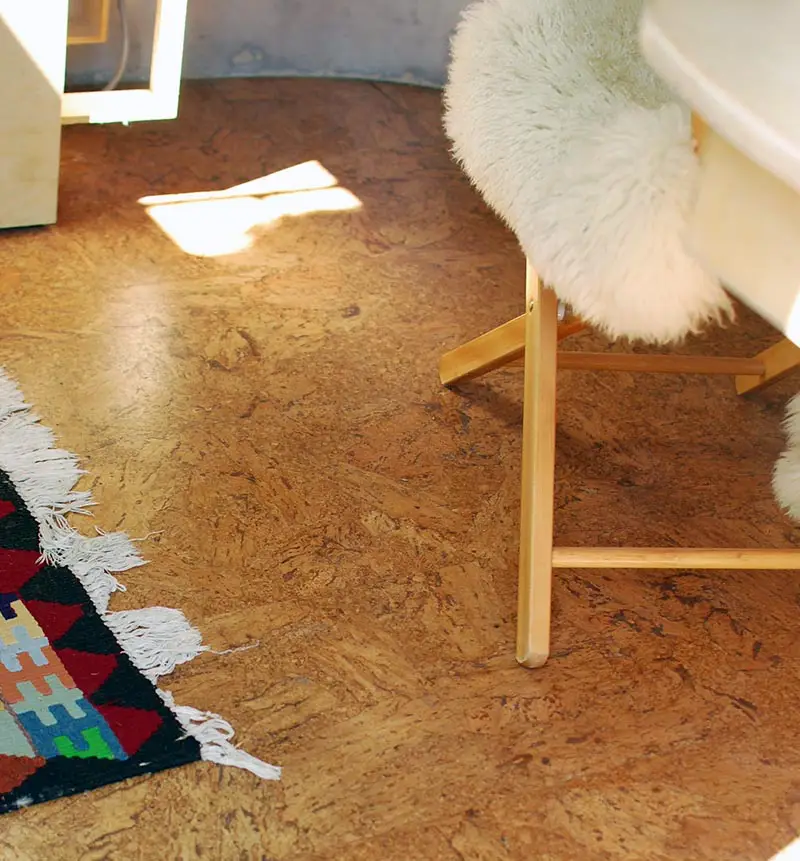 Cork – Cork, which is made by harvesting the bark of a type of Oak tree, it doesn't harm the tree and needs minimal processing to turn into flooring. To make sure that your cork is truly eco friendly flooring, make sure that your installer uses non-toxic adhesives and finishes. Cork is warm, absorbs impact so it is pleasant to walk or stand on, insect resistant, and comes in a vast selection of natural patterns and colors. Cork is also hypoallergenic, fire resistant, and is self-healing, which means it resists dents and scratches.
When you walk on cork, you'll instantly notice that your footsteps are soft, you won't wake baby when you peek in on them before you turn in for the night! You'll also notice that it isn't nearly as hard on your knees or back, that's because of the natural shock absorbing properties that cork has. It truly is a pleasure to stand in front of your stove for an hour if you have a lovely cork floor under your feet. Not only is it comfortable to walk on and easy to maintain, it will bring a warm glow to wherever you use it.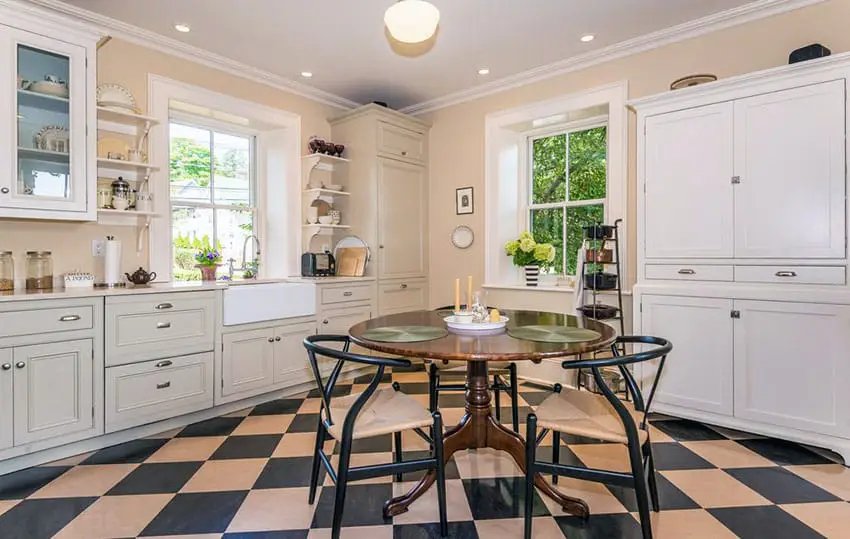 Linoleum – Linoleum is a composite flooring made up of wood flour, jute, rosin, linseed oil, and various pigments, it contains no VOC's, and is fully biodegradable. Some retailers label vinyl flooring as linoleum, or use the terms interchangeably, so make sure to do your homework when looking for linoleum flooring.
What makes linoleum extra-appealing is that it can be cut into just about any shape, allowing you to create intricate patterns and floor murals, if you desire. It is a long-lasting material and will look great for up to 50 years under normal wear and tear conditions. Linoleum is also antibacterial, which is great if you have kids who like rolling about on the floor. And, because it has anti-static properties, dust and dirt won't stick to it, which makes it a great choice for those suffering from dust mite and other indoor allergens.
Linoleum comes in every color of the rainbow, making it a perfect fit in any color palette or design aesthetic. Get it professionally installed to ensure that you love your floors in your home as much as you loved them in the showroom.
Whether you are remodeling an older home or building a new one, look to eco friendly flooring. Remember to also consider the materials needed for installation and choose carpet padding and adhesives that are made with natural, eco-friendly materials. You are no longer limited to bland, expensive materials, the explosion of eco-friendly products means that whatever your style or budget, there is a floor for you.
Related Interior Design Articles You May Like:
Types of Flooring Materials – Engineered Hardwood Flooring in Kitchen – Interior Design Software