Welcome to our gallery of built in bookshelves including DIY & custom design ideas for different parts of the home.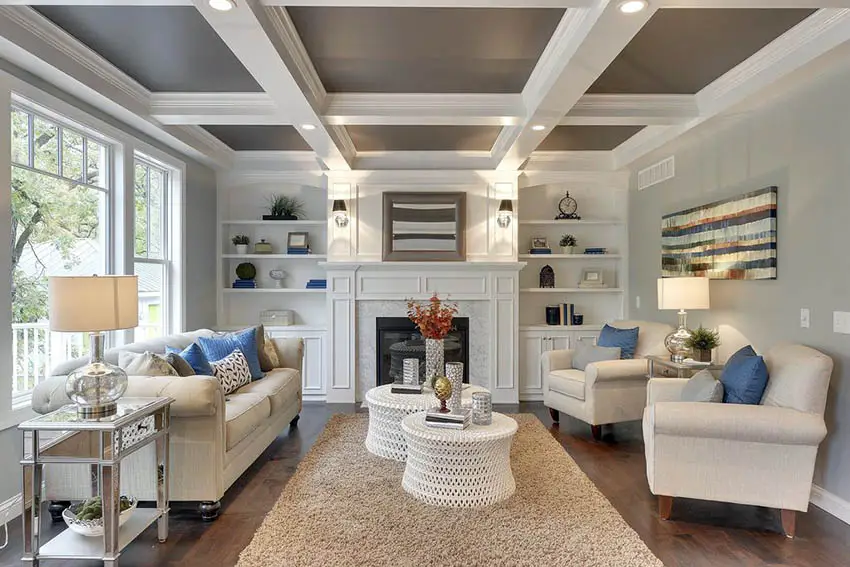 Built in bookshelves are effective and practical solutions for increasing storage space and minimizing clutter. They provide maximum flexibility as they can be used to hold and store almost anything — from books, decor, artwork, curios, gadgets, special collections to miscellaneous everyday items.
Built in bookshelves can be used in any part of the house, whether it may be a study, home office, library, common spaces like kitchens, living rooms and dining rooms to personal spaces like bedrooms and craft rooms. They provide ingenious ways to convert an often unwanted space in the house such as the stairs, a corner or basement into a whole new functional area.
Below, we give you our very own design guide on built in bookshelves along with some styling ideas which you can try. Find out why they make a valuable addition to your home and create your own built in bookshelves that meet your needs, taste and style.
Built-In Bookshelf Ideas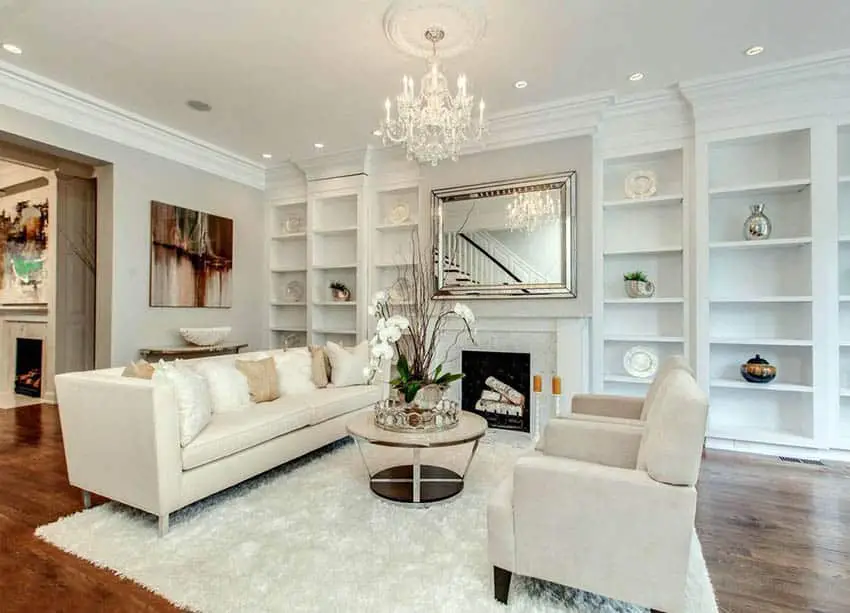 Varying the depths of bookshelves in floor to ceiling wall to wall units creates dimension and a more interesting visual effect. This sophisticated living room features a fireplace surrounded by floor to ceiling custom built in bookshelves with simple architectural details, baseboards, trims and cornices.
Costs of Putting Up Built-In Bookshelves
The average cost of built in bookshelves varies depending on a number of different factors,but in general,installation and materials are around the average of $ 2,500.
If you plan on buying the materials yourself and hire a skilled carpenter to do the whole project, the labor cost for installation ranges between $30 to $130 per hour. Expect for the total cost of the project to incur costs in the range of $1200 to $4000 depending on the material and size.
Factors That May Affect The Overall Cost Of Built In Bookshelves
There are several factors which may affect the overall cost of built in bookshelves. Here are some of it:
Materials. The materials that you choose significantly influences not only the performance and durability of your built in bookshelves but also its total cost.
Built In bookshelves can be made of various materials like veneer plywood or solid wood such as birch, douglas fir, pine, cedar, oak or walnut. Aside from the shelf itself, you will also be needing hardware and other support for installation.
Design. Built in bookshelves can be designed in any way you want, according to your own taste, preference, specifications and requirements. It comes in various designs and can be customized in different widths, height, depth and so forth.
When it comes to the total cost based on the general dimensions, it does not always mean that the bigger the built in bookshelves are, the more expensive it will be.
Again, the material you use will affect the cost significantly. For example, a 4 ft fall plywood bookshelf costs less than a solid wood bookshelf of the same size.
There are also other design considerations which may affect the total cost of built in bookshelves. For example, in terms of the height , bookshelves which are more than 10 feet in height will eat up more labor cost because they take up more time, effort and resources to install. The existing conditions of the space where you will be installing the built in bookshelves is also another cost factor to consider.
Fitting in a built in bookshelf into a room may sometimes require minor demolitions or removal of existing moldings, flooring and other design elements in the space. These additional works will also result in added labor cost.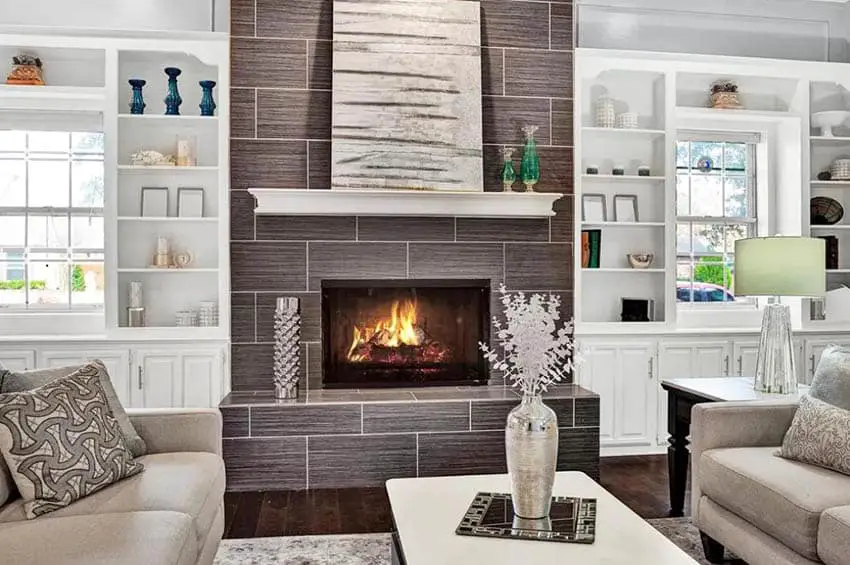 Other features such as doors, drawers, accent carpentry or carved embellishments may require added materials and additional time to construct. Likewise, accessories like hardware, special finishes and painting techniques will also translate to additional costs in terms of both materials and labor.
Construction. Cabinetry are classified into three general categories based on their construction — pre made, semi-custom and custom. Pre made cabinets are off the rack bookshelves or cabinets which you can buy directly from furniture stores. These are typically ready made and would just require assembly and installation upon delivery.
Semi custom cabinets, on the other hand, are prefabricated cabinets which can be modified for extra detailing. Semi custom cabinets allows you to change certain dimensions and offers limited custom features to meet your functional and aesthetic requirements. Pre-made bookshelves usually cost less than semi custom bookshelves.
The most expensive type of bookshelf based on construction are custom made cabinets. This type of cabinets are created from scratch based on all of your specifications and design requirements. Because of this, custom cabinets generally cost 15% to 30% more than semi custom cabinets.
This type of cabinet is more labor intensive and is typically built off site by a skilled carpenter or master cabinetmaker. Another reason why this type of bookshelf is expensive is because it takes longer to construct and can take weeks to a few months to complete. Expect to pay hundreds of dollars for custom made built in bookshelves.
Labor. For small built in bookshelves which have a simple design, professional installation may not be required and it may be undertaken as a DIY project.
However, if the design is more complex and if you plan on putting a lot of built-in bookshelves in your home, you may need to hire a handyman or carpenter. Expect to pay more in labor as this should take an additional $100 to $200 to the total cost.
Make sure you to talk to at least 3-4 professionals before settling on the right one. With the contract, be sure to have it include materials, payment schedule, start/finish date and how the work will be done. That way you can make sure they follow the guidelines and don't ask for extra money if they take too long.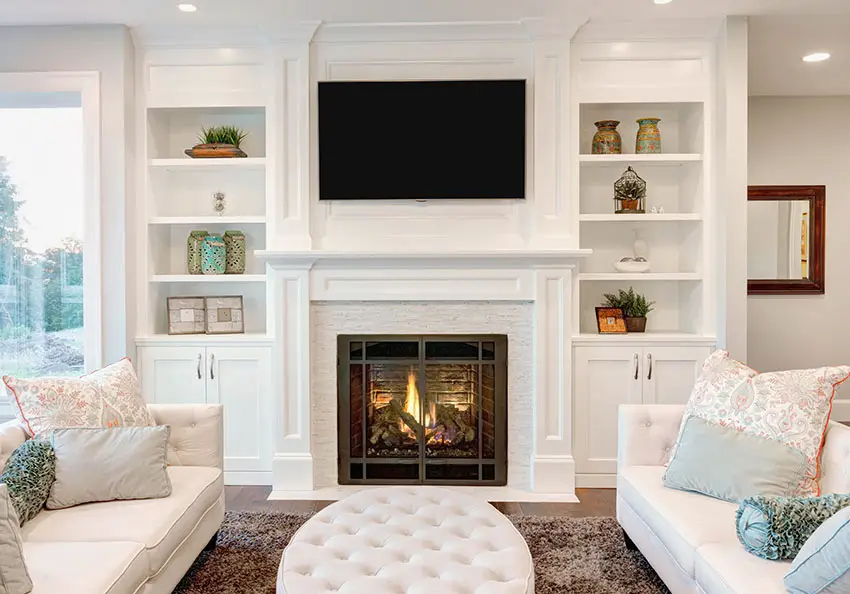 Built in bookshelves are a simple way to elevate the design of a blank wall. This all white living room, for example, features a fireplace with built in bookshelves as the focal point of the room.
Bookshelves with Cabinets
Built in bookshelves with cabinets give the best of both open and closed storage. By incorporating both, you have an open area where you can display accessories and a closed area where you can keep personal items tucked away.
Keeping a potion of the built in bookshelves closed using cabinets also maintains a more sleek look and an organized style.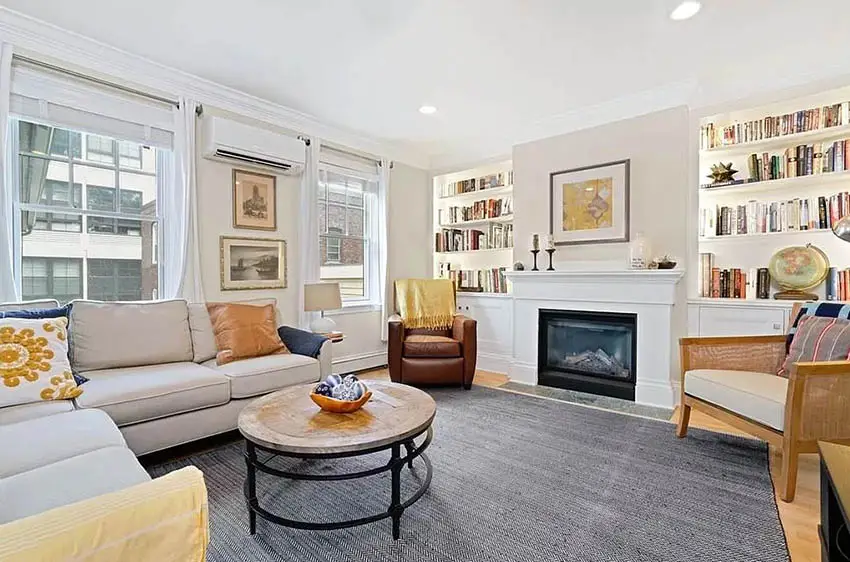 Cabinets at the lower part of built in bookshelves provide concealed storage for different items to prevent the wall unit from looking cluttered. This is extra useful if you plan on displaying tons of books as it helps in creating balance.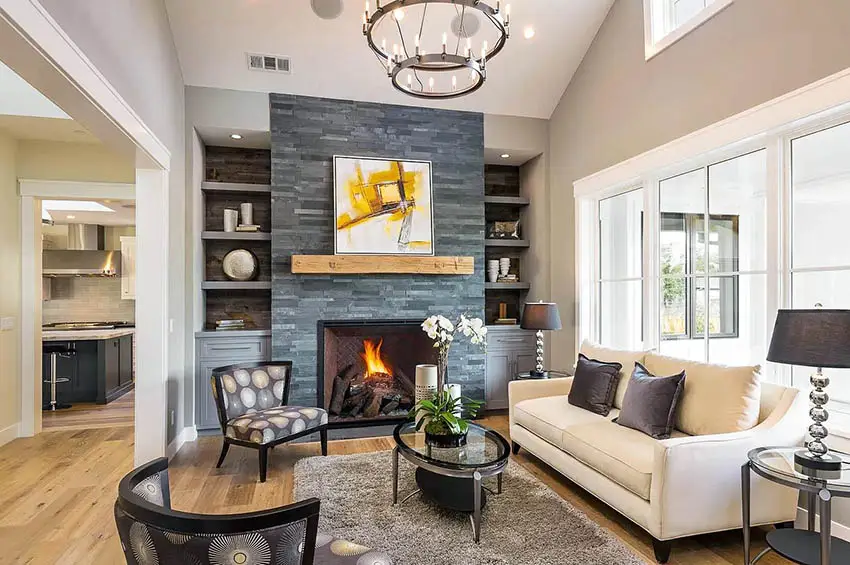 If you want to add some visual interest to a fireplace with built in bookshelves, use natural stone as a finishing material for the wall. The use of slate strip tiles, just the like one shown above, instantly turns the built in bookshelf into a stunning focal point of this elegant Contemporary Classic living room.
Custom Bookshelves with Fireplace
The most common treatment for a fireplace surround is built in shelves. Whether your fireplace is a traditional or a modern electric one, you can furnish it with storage to make it a unique focal feature of your home.
Some popular options for built in bookshelves for fireplaces are standard fixed or adjustable shelving units supported by a closed frame at the back.
Another design which you can try is to install an array of floating shelves on the wall. depending on your preference and the style of your home, the floating shelves can be laid out symmetrically or asymmetrically.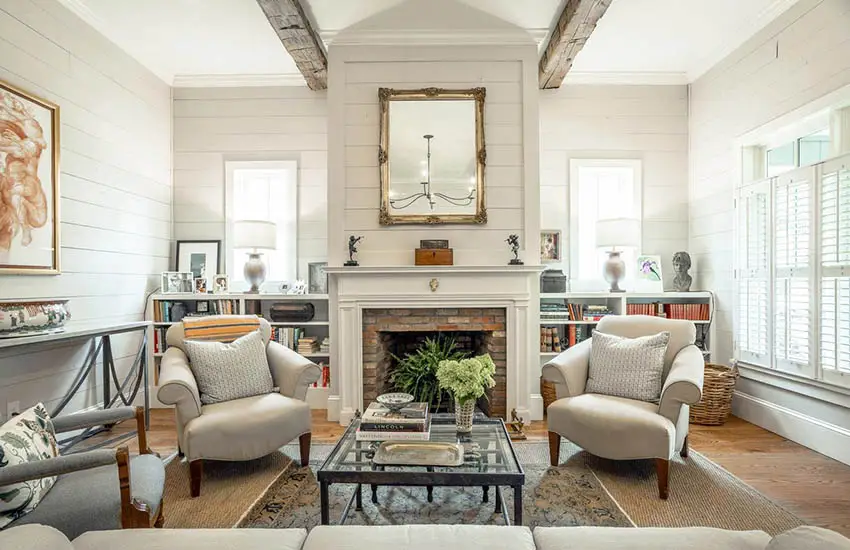 Built in bookshelves for fireplaces do not always need to be floor to ceiling. Building them half the height of the wall gives the room a more airy feel. In addition, you can also use the top of the bookshelves as a table for lighting fixtures.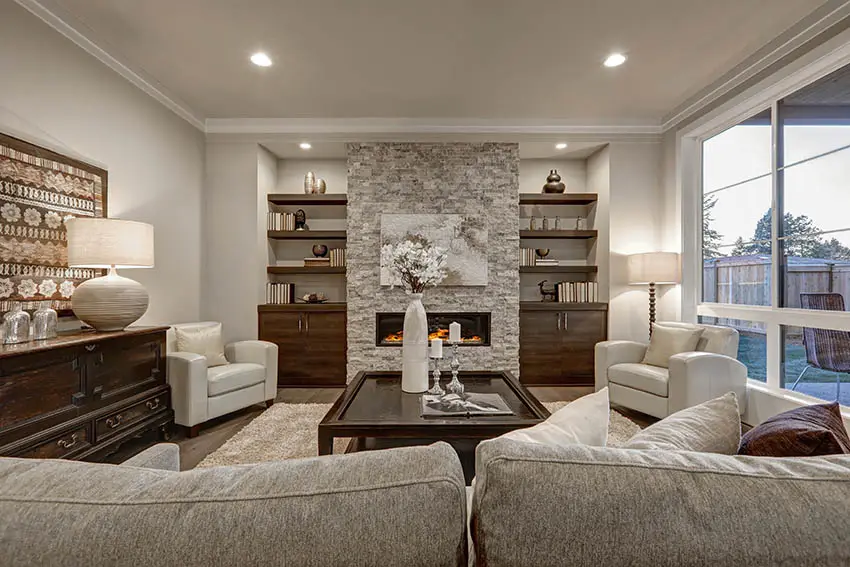 Forgo a mantle and use natural stone and symmetrical built in bookshelves that go up to the ceiling as a fireplace surround for a more sleek look. This sophisticated Contemporary living room makes use of wooden built in bookshelves that tastefully match the neutral brown and white overall scheme of the space.
Bookshelves with TV
Another popular built in bookshelf custom design includes a dedicated shelf for a television set. Built in bookshelves with TV's do a double duty because aside from serving as a place where you can display and store decor, it keeps all media devices well organized. This is very ideal for small homes since it eliminates the need to use separate furniture pieces.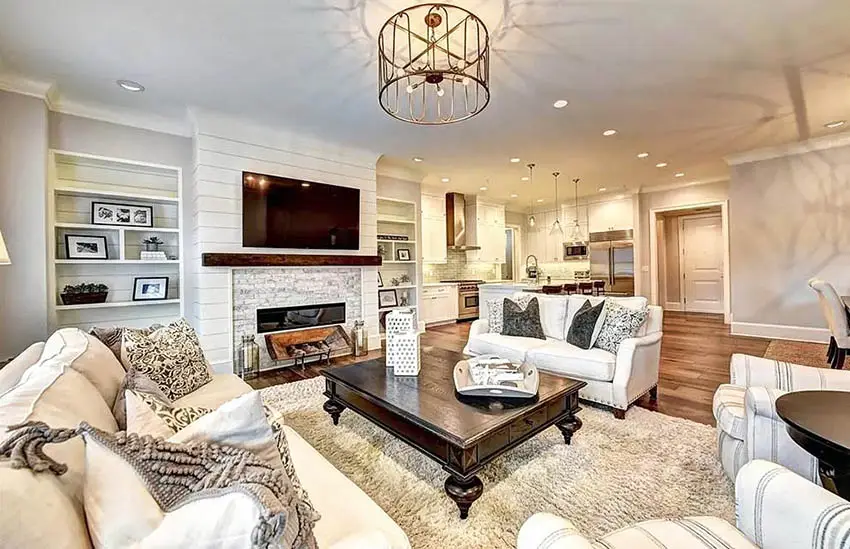 A wall mounted tv and fireplace can both be installed in the same wall to maximize space. Flank it on the sides with built in bookshelves for more storage where you can display accessories and precious framed items.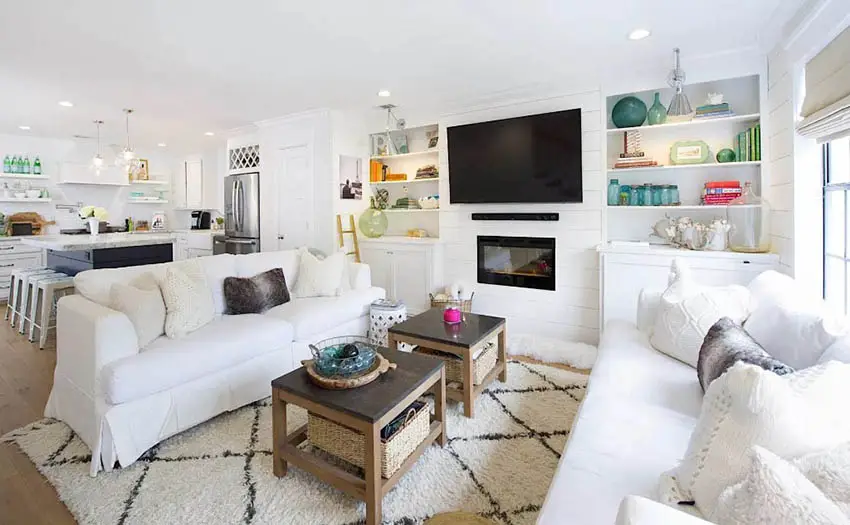 In this cozy, laid back white living room , white built-in bookshelves around a tv showcase a mix of accessories which bring in a splash of color to the space.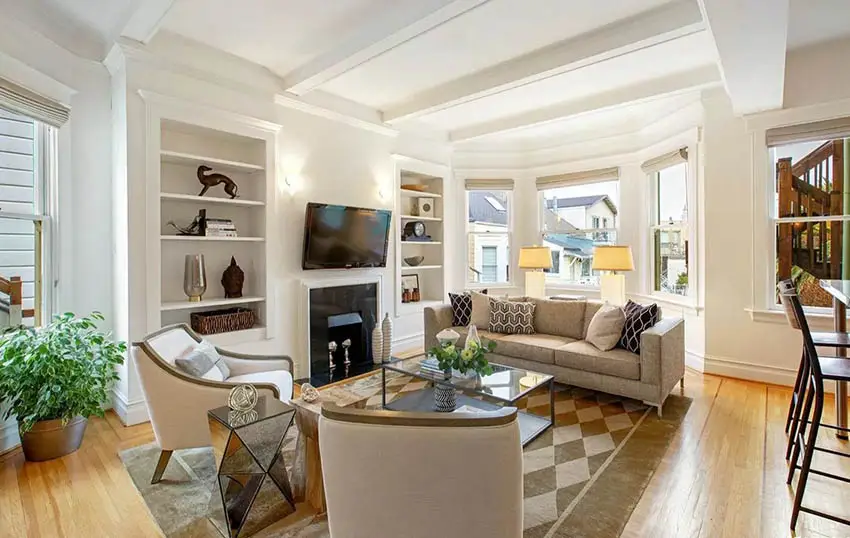 Lighting can be used to enhance the look of built in bookshelves. This built in storage with tv is furnished with two wall sconces on each side to highlight the wall. Symmetrical white built in bookshelves in the wall niche are flanked on both sides keeping the wall unit well balanced .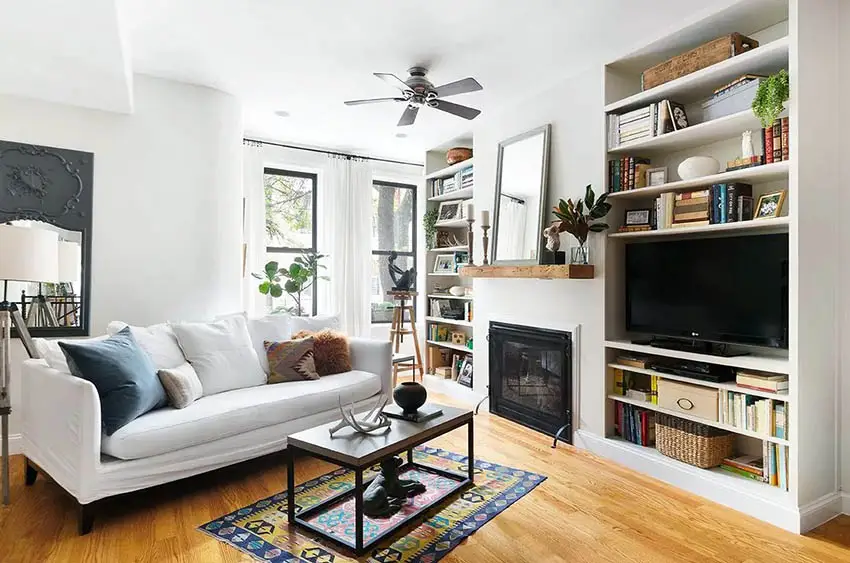 Let built in bookshelves do the double duty by incorporating a tv cabinet into the design. The rest of the shelving space can be used to store personal stuff, books and indoor plants.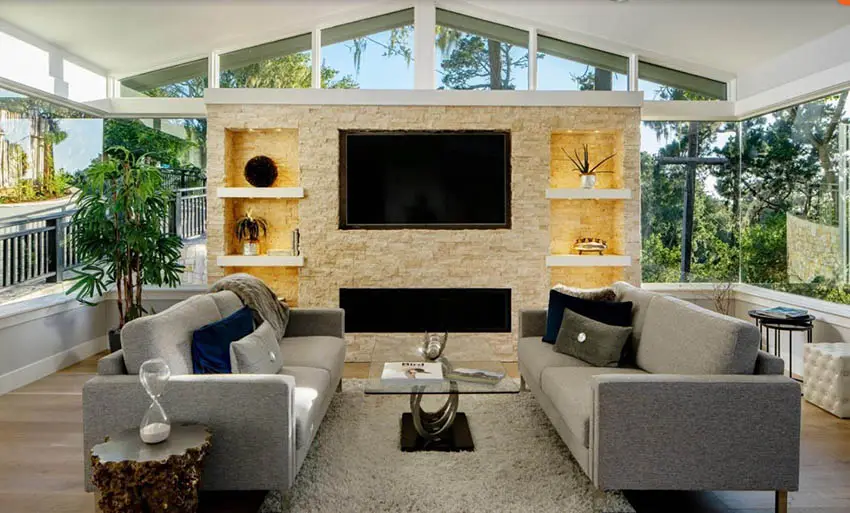 This unique living room idea features a stacked stone built-in accent wall with floating shelving and center TV and gas fireplace. The vaulted ceiling design and wrap around windows creates a light and airy environment.
White Bookshelves
The color white will always be a classic favorite among homeowners and designers alike. Being a neutral color, white works for any design style and offers versatility. It is one of the best colors to use in interiors, including built in bookshelves.
White built in bookshelves are timeless and have a very elegant and classic aesthetic. Styling it is also very easy. If you want to add color to your overall color scheme, play around with the colors of your accessories, while if you want something minimalist, you can match and coordinate your decor and accessories with your white built in bookshelves.
Unlike its dark colored or wooden counterparts, white built in bookshelves have the unique ability to brighten a space. Even if they are built spanning a full wall or from floor to ceiling, white built in bookshelves will not make a room look too cramped or overwhelming. This is simply because the color white is very easy on the eyes and makes a room brighter and more airy.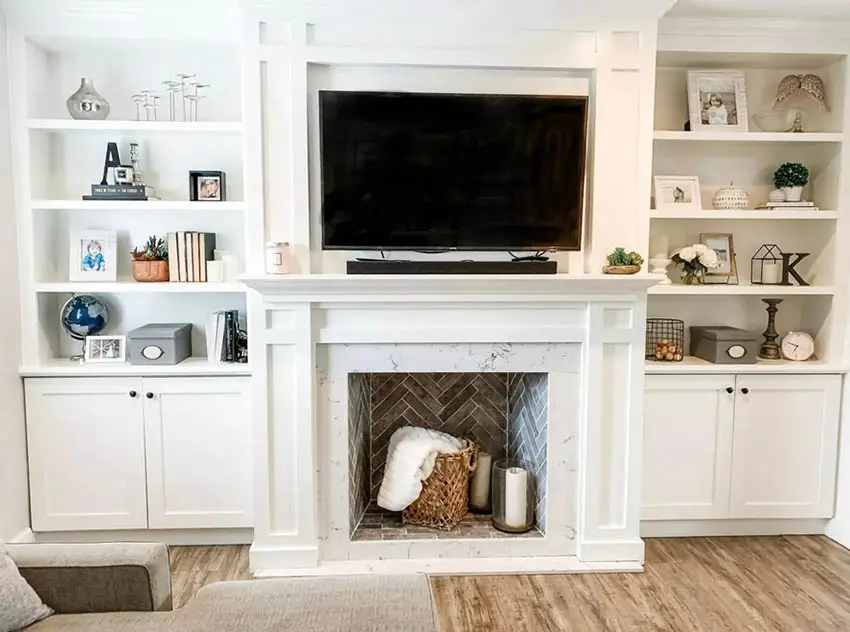 Built in bookshelves can instantly turn a dull, all white space into a cozy and inviting room. This wall unit, for example, makes this Classic living room feel more homey and welcoming through the use of personalized accessories and family photos.
DIY Bookshelves
Built in bookshelves can either be custom made or do it yourself. Custom made built-in bookshelves, just like any other cabinetry, are produced, fabricated and installed by a professional carpenter and typically cost more than ready made options. But for homeowners who would like to save on money, the best route you can explore is DIY built in bookshelves.
If you plan on installing and creating your very own DIY built in bookshelves, you can either buy pre made shelving units from local home improvement stores and mount them on a wall using brackets or frames. But you can also try building from scratch using raw materials if you have the required tools.
Building your own shelving, however, will run a lot of risk, so make sure you conduct your research first and follow the standards.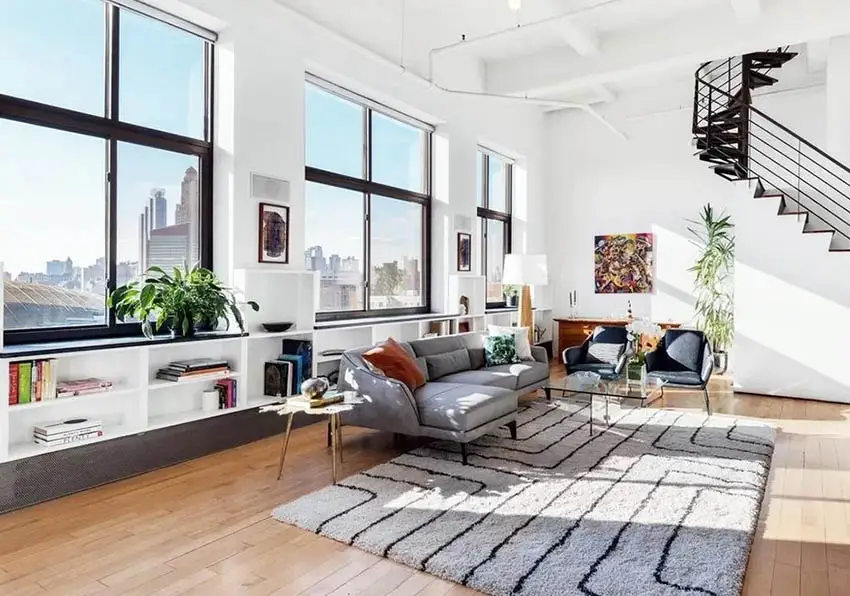 The space beneath the window can also be used for built in bookshelves. Unlike floor to ceiling, low units, such as the ones shown above, makes a space feel more open.
Here are some important design considerations for DIY built in bookshelves:
Type. Built in bookshelves come in various forms. It can be a : built in closed cabinetry for a home office, an entertainment center and built in shelving for TV's and other mediums, floor to ceiling built in bookshelf in library style, a built in desk with shelves or DIY built in bookshelves with cabinet below.
The design and layout will depend on the type of built in bookshelf you want. Determine first how you plan to use it and what items do you plan on putting and storing on your built in bookshelf. Then you can decide on the size and height as this will depend on the existing conditions of the space it needs to fit into.
Hardware and support . In designing DIY built in bookshelves, one of the most significant factors to consider is the hardware and support. As opposed to free standing furniture, built in shelving, or built in furniture of any kind, has to be fixed to the wall.
Bookshelves fall under the category, "wall unit" since they are essentially storage units constructed against a wall. They are considered to be a permanent feature of the home, meaning they are immovable, so they must have a reliable support or hardware which will keep them attached to the wall.
In addition, this type of furniture is also load bearing so you have to be sure that your bookshelves will not bend even if you put a lot of items on it.
Material. Built-in bookshelves bear a lot of weight so elasticity of the material is important. You need to check how much it can hold without sagging and cracking.
DIY built in bookshelves can be made from different materials,but the most common and readily available material is wood. Some common wood species which are reliable for making DIY built in bookshelves are birch, douglas fir, hard maple, white oak. Red oak, pine, cherry, walnut and cedar.
Solid wood is stiffer than plywood but stiffer than particle board. Marine plywood is an excellent choice if you want durable bookshelves without breaking your budget.
Common Shelving Sizes and Dimensions. Here are some of the common and standard depths and sizes for shelving :
Depth

can range from 6 to 24 inches; standard depth is 12 inches or 30 centimeters

Height

is 84 inches or 208.75 centimeters for maximum for ease of access

Shelf spacing

ranges from 7 to 15 inches, but for storing books 8 to 12 inches is enough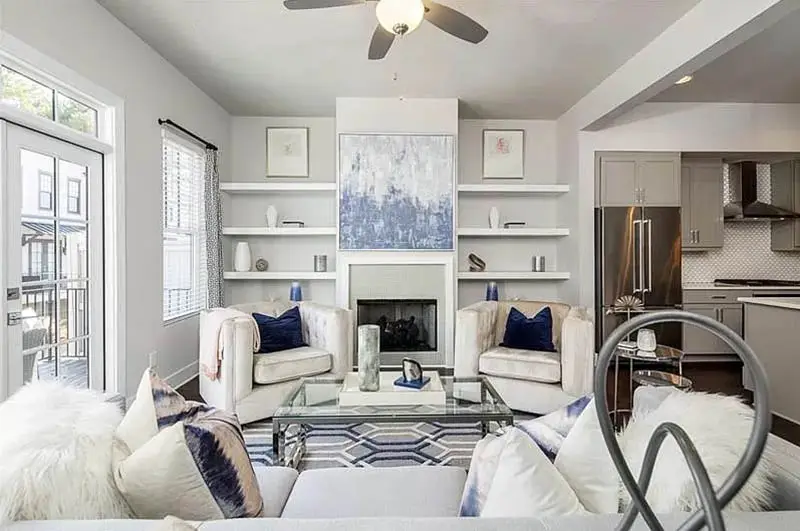 Sometimes simplicity is key to achieving an elegant built in bookshelf display. In this Contemporary living room, the principle "Less is more" is reflected through the use of few and minimal accessories that match the interior's classy white and blue color scheme.
Contemporary Bookshelves
When it comes to contemporary built in bookshelves, the design is characterized by a simple form, dominated by straight lines with little to no ornamentation.
Color and finishing wise, contemporary built in bookshelves are typically neutral – think of white, black, shades of gray,greige and taupe. Alternatively, wood in natural in stained finished can also be used for this particular style.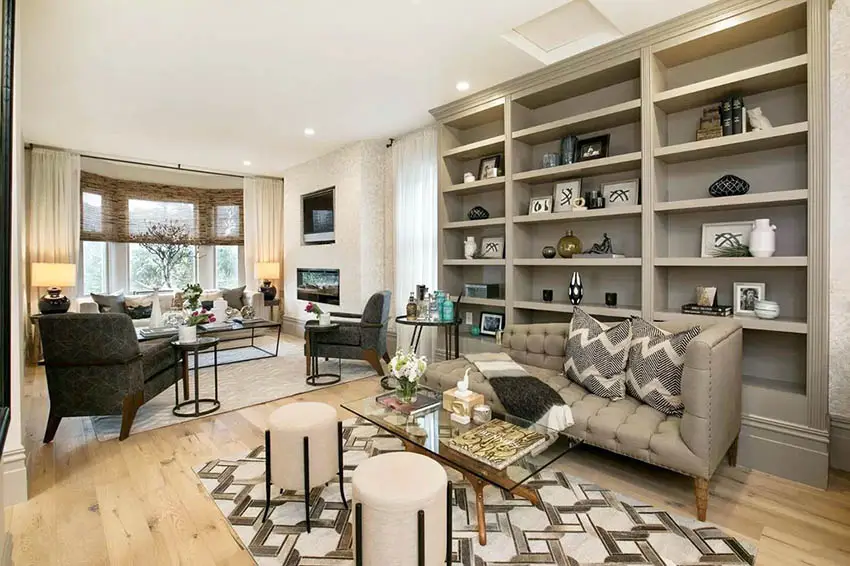 Taupe floor to ceiling built in bookshelves that feature fine architectural details add to the elegance of this cozy Contemporary Classic living room.
Adding accessories such as framed black and white artworks and vases that complement the neutral color scheme of the space also makes the overall look more cohesive and harmonious.
Modern Bookshelves
In general, the modern interior design style is characterized by a minimalist aesthetic, prominent straight lines, simple geometric forms and little to no ornamentation. When looking for built in bookshelves for modern spaces, it is ideal to stay true to this design principles.
Modern built in bookshelves typically have simple forms and have a no frills design – meaning there are no decorative columns, plinths or bases that feature motifs and other ornate details.
Modern built in bookshelves also usually blend into the space seamlessly. When it comes to the accessories, less will always be more. The decor also usually follow the overall color palette of the space which typically consists of neutrals such as black, white and gray.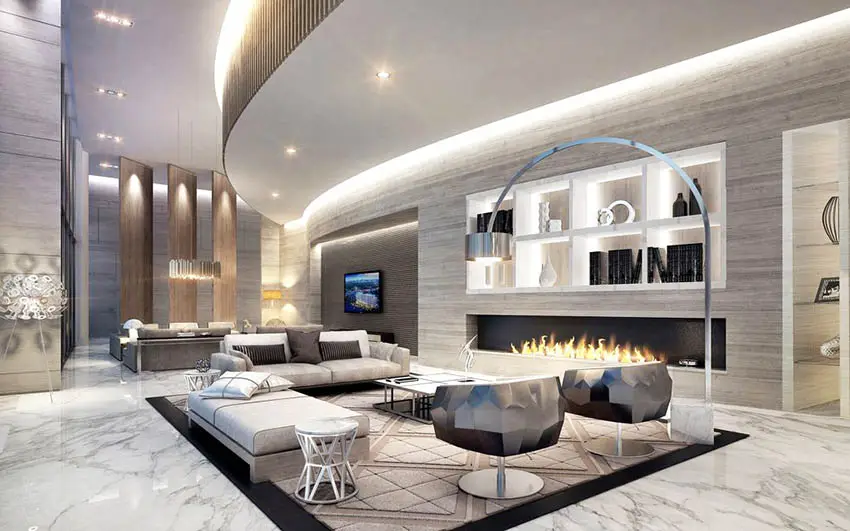 For modern interiors, streamlined and simple built in bookshelves are more suitable since they match the minimalist look of the space. look how the white built in bookshelves blend seamlessly into the wall of the living room shown above.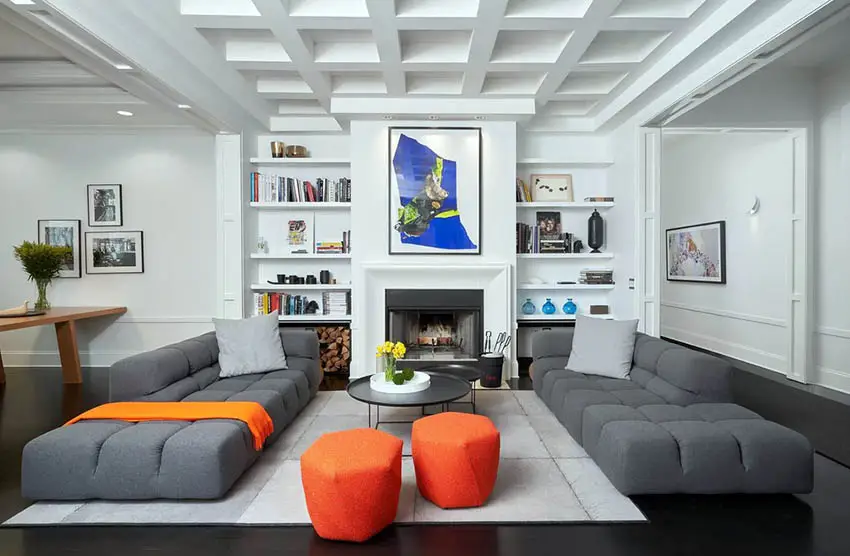 For modern living rooms, keep the design of the built in bookshelves simple and unadorned to fit the clean, simple aesthetic of the space.
Bookshelves Around Window
Built in bookshelves can also be used to frame a window. Rather than leaving the wall empty, flank floor to ceiling built in bookshelves beside a window where you can showcase books and other accessories. This will instantly turn your window into a stunning focal feature of the space.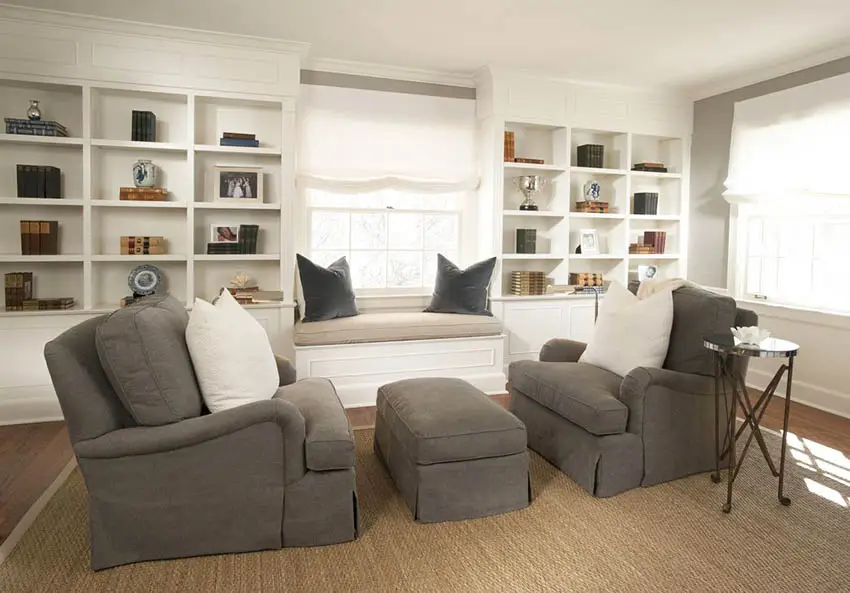 White floor to ceiling built in bookshelves flank the sides of the window of this contemporary living room. Adding a small window seat converts the space into a lovely, inviting reading nook.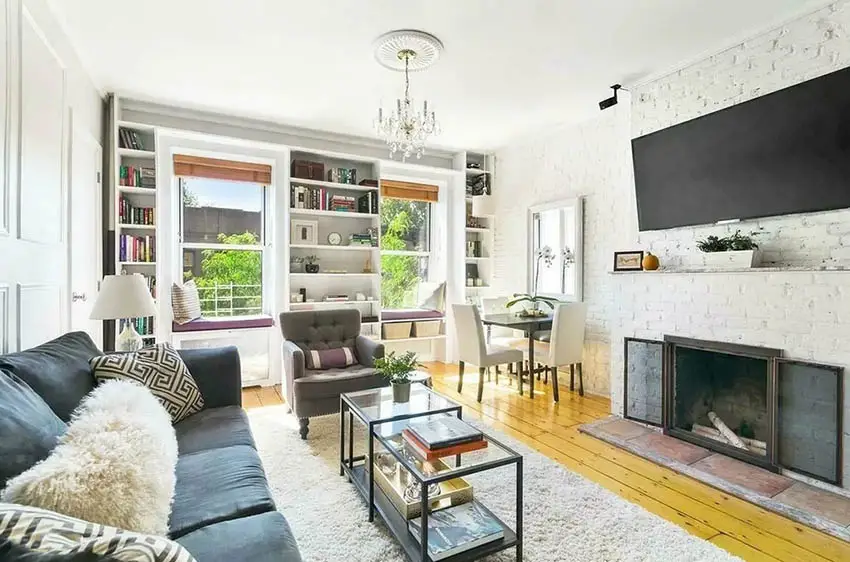 This modern living room also features white floor to ceiling built in bookshelves and two widow seats lined with purple cushions. Aside from maximizing the room, this simple design trick also helps convert simple, small, unused spaces into functional highlight of a home.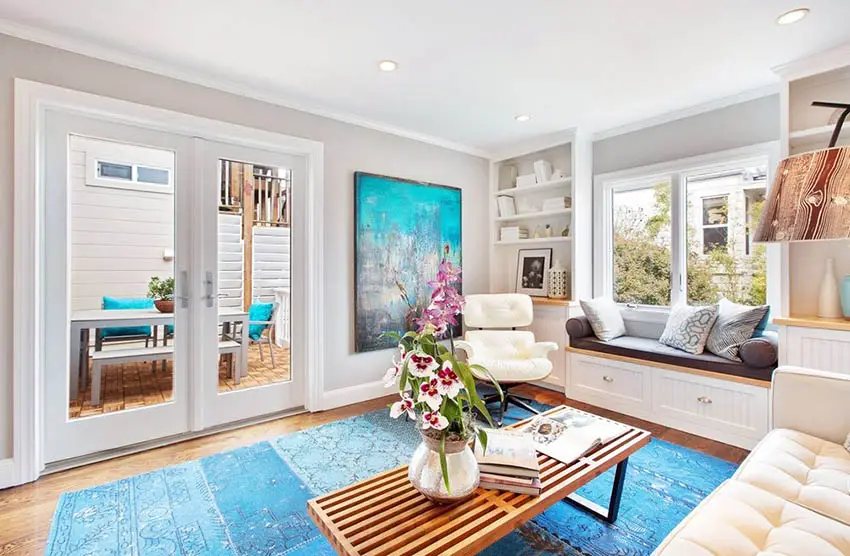 Make a window pop by surrounding it with white built in bookshelves with cabinets below. The shiplap details on the TV cabinet doors match the country chic aesthetic of this charming living room.
Floor to Ceiling Bookshelves
With origins dating back to hundreds of years ago, the iconic floor to ceiling built in bookshelf was reminiscent of the classic Greek Revival period. Private libraries displaying a collection of hundreds of books were a standard feature of traditional homes.
Nowadays, homeowners still adopt the same concept not only for their studies, home offices or libraries, but floor to ceiling built in bookshelves have become an added feature in living rooms and sometimes, bedrooms too.
No longer does one need to dedicate a separate room just to store books. Floor to ceiling built in bookshelves can be built in a corner of a room, as part of a closet, or as an accent to a wall.
It provides an ingenious way to convert a room into a multi purpose space while also maximizing your floor space and producing a smart storage solution.
Although governed by traditional inspiration, floor to ceiling built in bookshelves are now common in contemporary and modern homes. The designs are more sleek, streamlined and simple. Traditional inspired floor to ceiling bookshelves typically have plinths, columns, pillar and classic motifs engraved.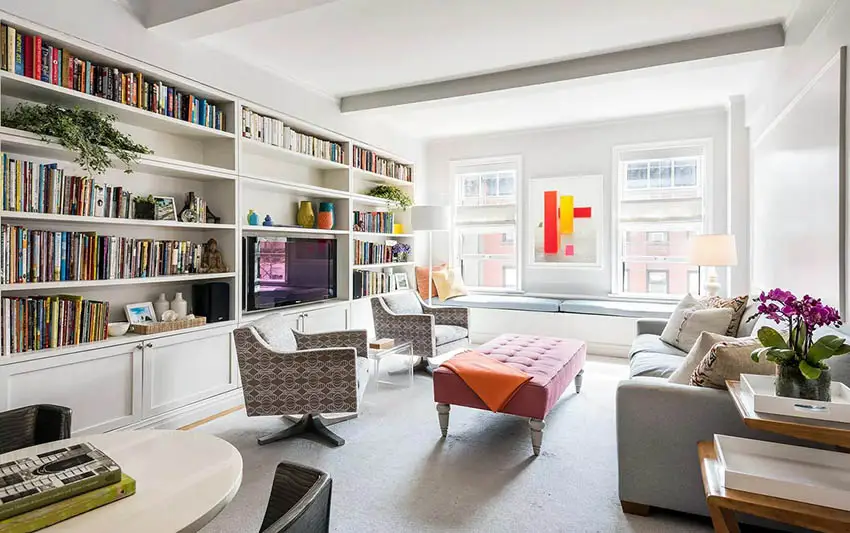 Create contrast in a neutral space by displaying bright accessories and collections of books that pop with color. The floor to ceiling built in bookshelves gives this gray themed living room a laid back library vibe.
Custom Bookshelves Under Stairs
The space under a stairs is usually a neglected part of the house. Contrary to this, it is actually one of the most functional spaces in a home. By putting built in shelving, you can easily convert this awkward area into functional storage or a practical reading nook.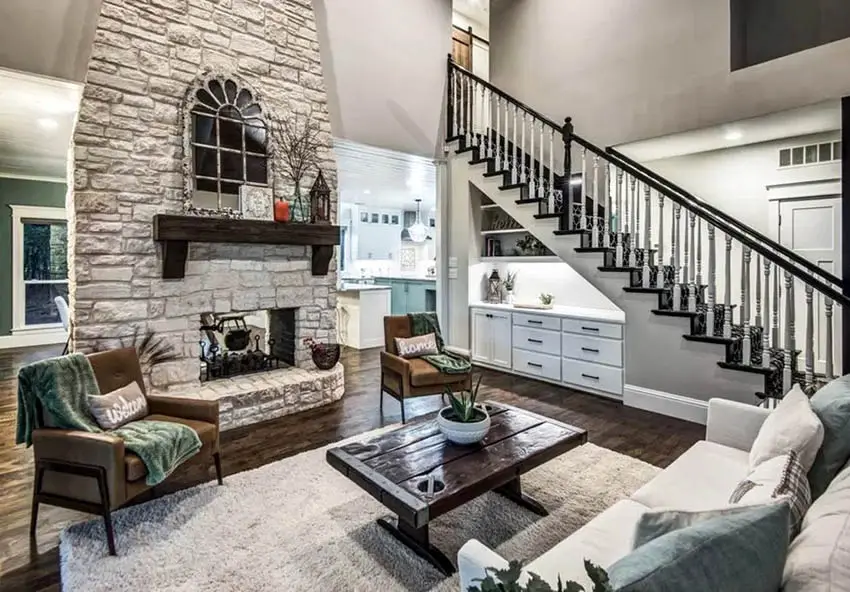 Rather than keeping the area blank, this rustic home's space under the stairs is furnished with white built-in bookshelves and closed cabinetry. Under cabinet lights emphasized the space and give it a a cozy ambiance.
Corner Bookshelves
The corners between walls are often a neglected part of the room but one of the best ways to put it into good use is by using built in corner bookshelves.
This is a clever design trick to use if you want to maximize space and storage. Built in corner bookshelves also have a more interesting design aesthetic and can greatly add character to a space.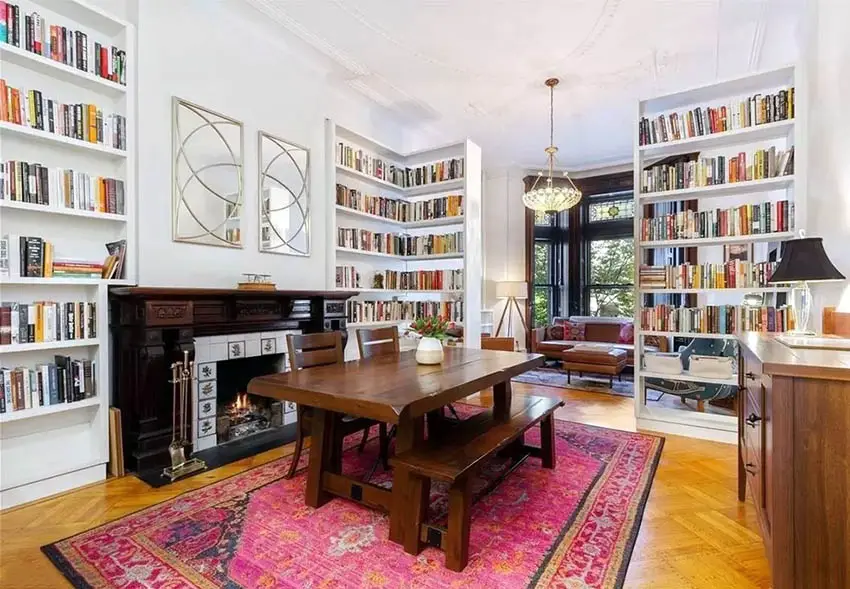 Floor to ceiling built in corner bookshelves give this eclectic dining room a library feel. The open shelves do not only serve as a storage but also functions as a creative divider which separates the adjacent living and dining areas. It also creates an open doorway.
Bookshelves in Office
The home office is one of the most common areas where built in bookshelves are used. These functional additions to the space is very ideal in keeping home office supplies organized while also providing a venue to creatively personalize the space by showcasing accessories.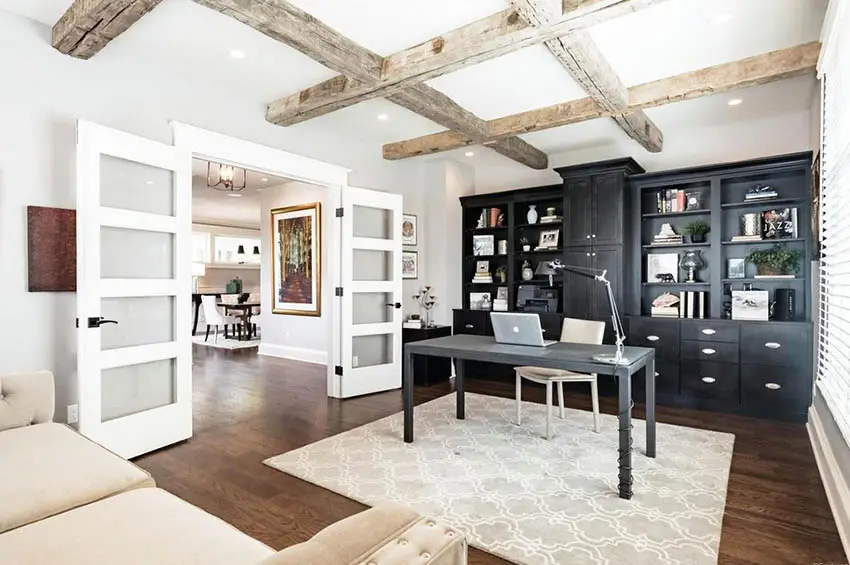 Black floor to ceiling built in bookshelves create contrast in this elegant Classic home office. A collage of framed pictures and accessories gives the space a more personalized feel and softens the room's "hard" aesthetic.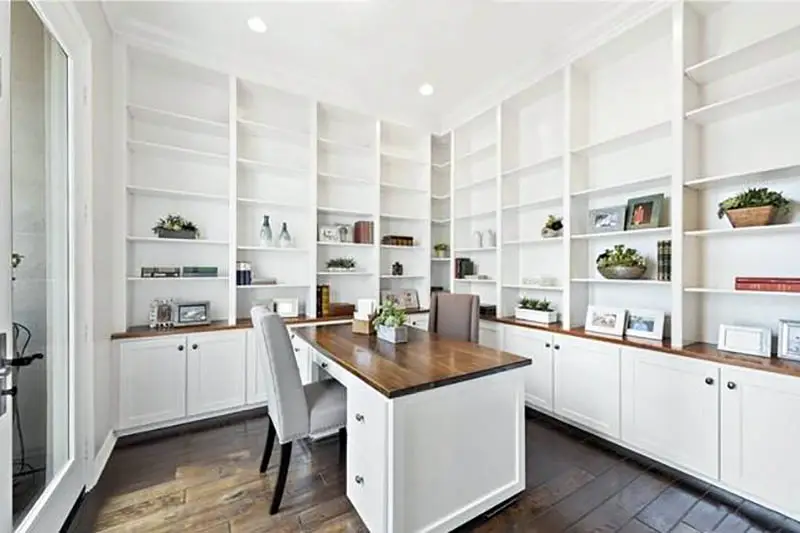 Maximize storage space by designing two wall-to-wall units. This all white contemporary home office is lined with floor to ceiling built in bookshelves that are furnished with a wooden top. The touch of brown wood gives the whole space more warmth and a welcoming feel.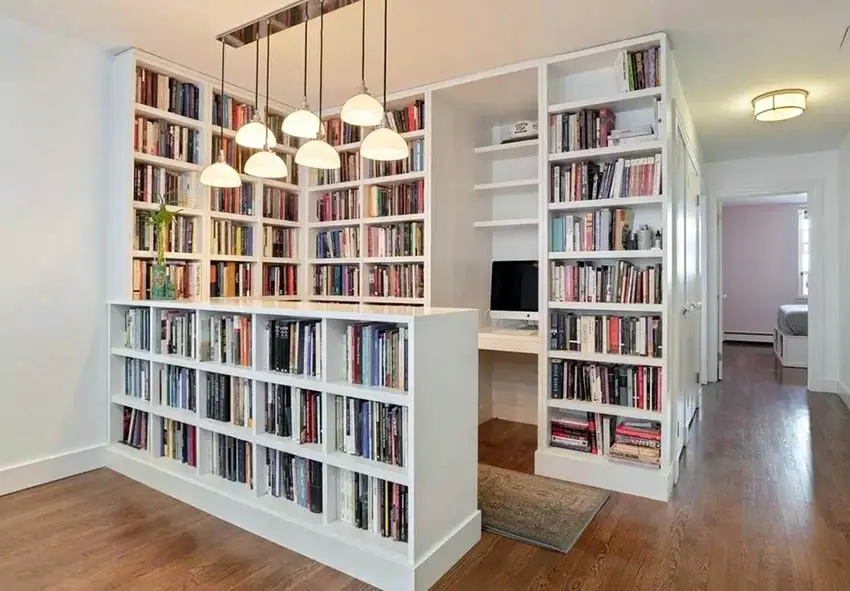 This custom office nook was designed for the book lover with a built-in desk and bookshelves all around. Multiple pendant lights help provide ample illumination for the space.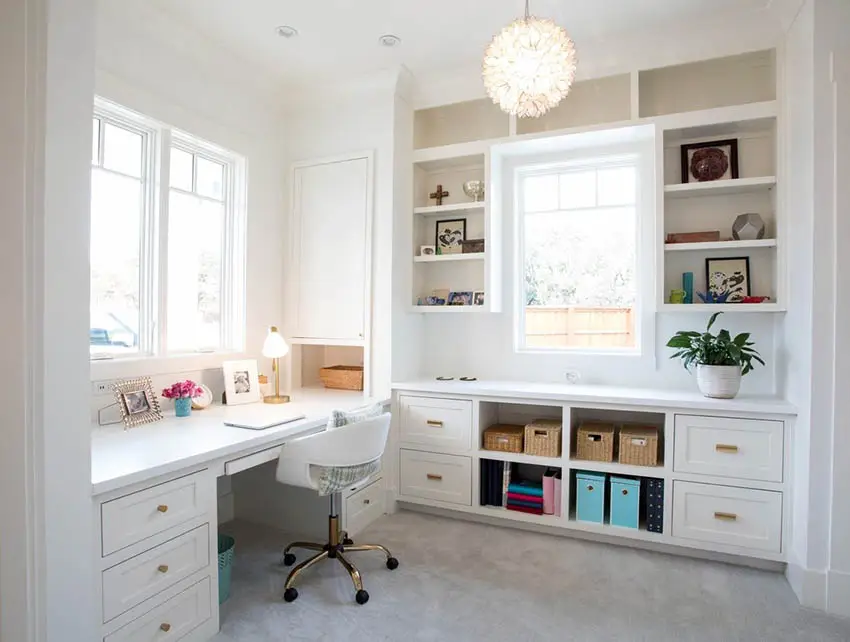 Room corners can be turned into charming a charming work space using built in bookshelves. Styling with decorative boxes, color coordinated decor and brass hardware gives this built in desk a soft, feminine feel.
Bookshelves with Desk
Built in bookshelves with desks offer a perfect way to create smart storage for a study or home office. Incorporating a shelf where you can store not only books but also stationery and office or school supplies allows you to keep your things well organized while giving maximum accessibility and work efficiency.
You do not need a big space to create a built in desk with bookshelves. It works even in small rooms and lets you maximize every inch of space you have.
The ideal size for a built in desk is around 60 inches wide by 30 inches deep by 30 inches high ( 60W x 30D x 30H inches or 152W x 76D x 76H cm).
They can vary in size, with widths ranging from 48, 60 and 72 in. (122, 152 and 183 cm) and 24, 30 and 36 in. (61, 76 and 91 cm) deep. The height, on the other hand, must be anywhere between 29 to 30 inches (74 to 76 centimeters).
The said dimensions are recommended and must be followed for the "table" part or the work space of a built in desk with bookshelves to make it comfortable for use.
With regards to the dimensions for the bookshelves and storage part, you can customize it according to the desk size and your specific requirements, design and needs.
The most common design for this is to incorporate the desk in a full wall to ceiling built in bookshelf.
Aside from home accessories and decor, you can also use built in bookshelves to house your desktop, printer, TV and multimedia devices. It offers one of the best ways to keep things well organized in a home office without affecting accessibility.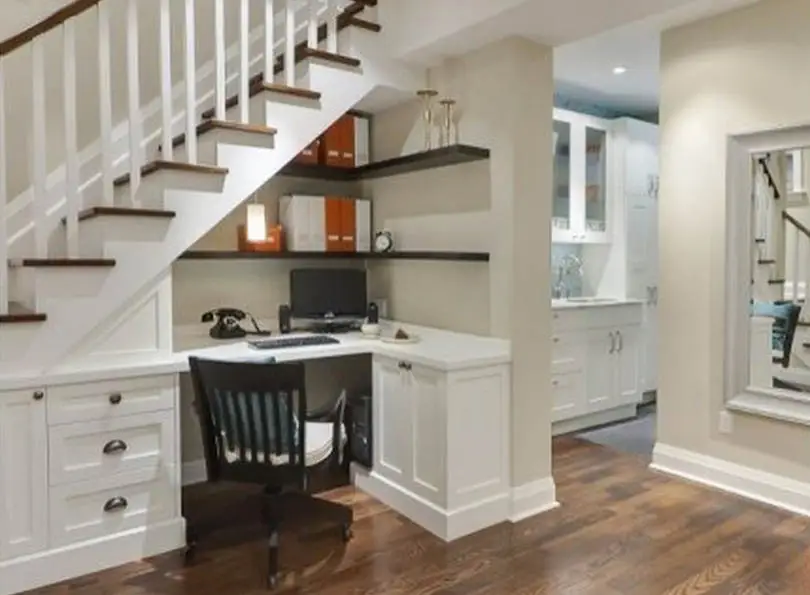 Even small areas, such as the space under the stairs, can be converted into a study nook or home office using built in bookshelves with desk.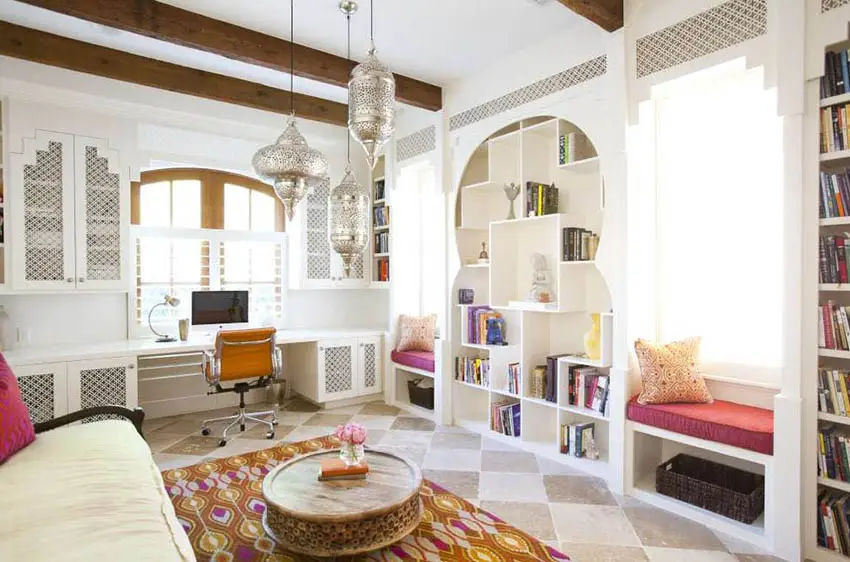 This Asian inspired room exudes a very fun and cheery vibe using a unique artsy built in bookshelves design. Cabinet doors with lattice work above the desk gives the wall to wall storage unit an interesting visual aesthetic. Bright pink window seat cushions also add a splash of color and a feminine touch to the room.
Basement Bookshelves
Basements are another ideal location to put built in bookshelves since it where storage is typically needed. This will help keep your things well organized and prevent the basement from looking too cluttered.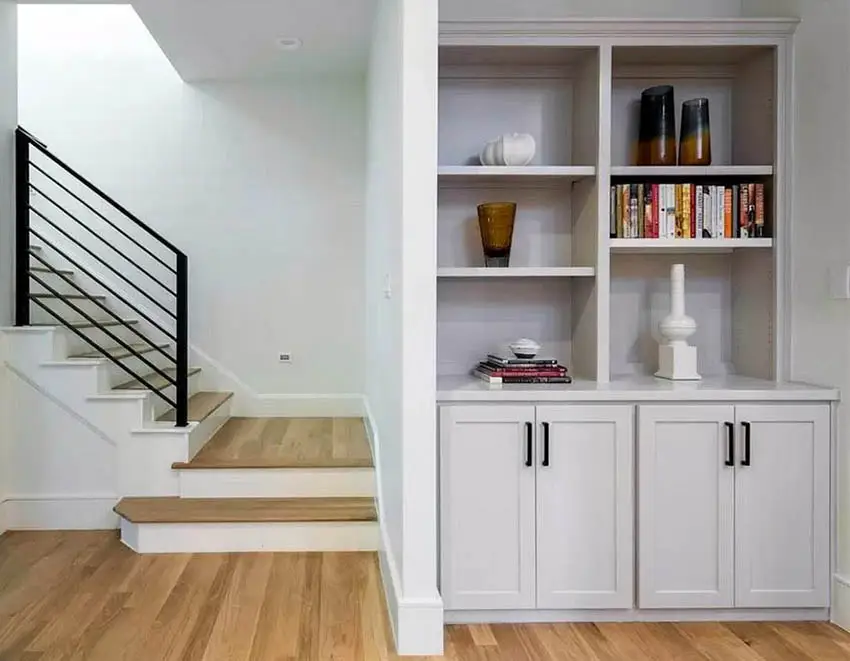 White built in bookshelves give this basement a very refreshing and clean feel. Keeping the accessories minimal, just like the one shown above, helps prevent the small storage space from looking too cramped.
Bookshelves in Kitchen
Cabinetry is the most dominant feature in a kitchen and sometimes filling the space with a lot of it can make it feel too "closed in".
One of the best tricks which can be used to create balance in the kitchen is by incorporating some built in open shelves and bookshelves. By keeping some of the storage open, the space feels and looks more airy.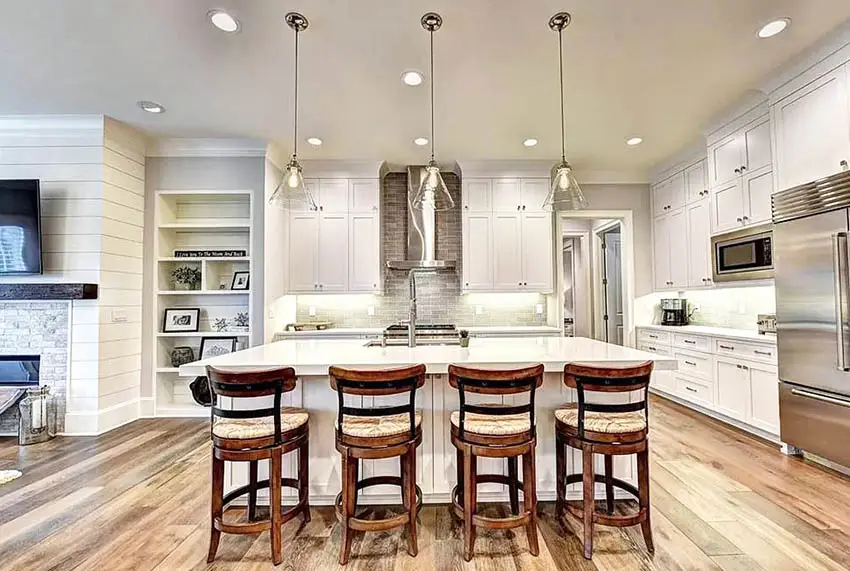 This stylish Country kitchen is furnished with white Shaker style cabinetry and a gray natural stone back splash.
The addition of the white built in bookshelves on the side provides a venue to add a personalized touch of the space through the use of framed black and white photos and some indoor plants. For more related ideas take a look at our gallery of kitchens with open shelving.
Kitchen Island with Bookshelves
The kitchen island is undoubtedly a very functional addition to a home. But you can still maximize its potential by incorporating some built in storage in its design. Built in bookshelves give kitchen islands a whole new aesthetic and can instantly transform it into a stunning central feature of the kitchen.
An added bonus is that you can use it to display not only cookbooks but also cookware and kitchen ware.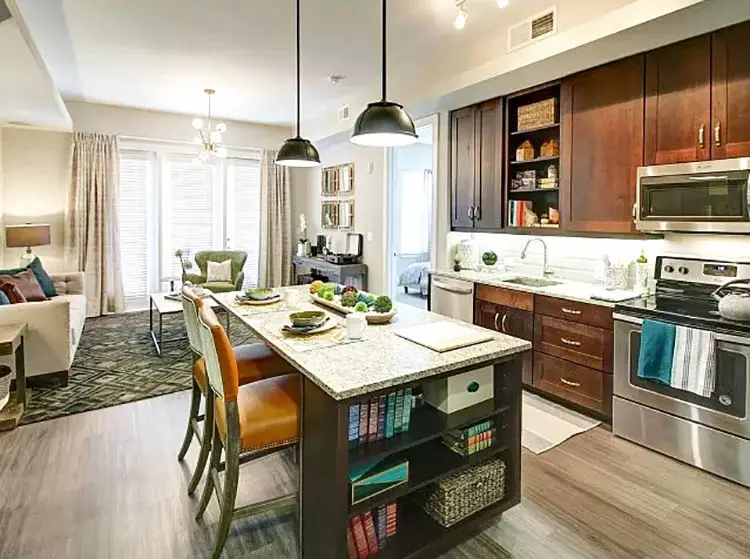 Built in bookshelves at the sides of this wooden and granite kitchen island serve as a storage for small cookbooks and decorative boxes.
Bookshelf Wall Niche
A wall niche is a hole or a recessed part in a wall which typically houses an open shelving. Wall niches can be used for creating built in bookshelves especially in homes with limited spaces.
Unlike floor to ceiling built in bookshelves, a wall niche will not take up floor space and just takes advantage of any wall in the room and converts it into a storage or display.
There are several ways to style built in bookshelves in wall niches. You can add wooden shelves, glass ledges or leave it as is, depending on what you intend to display.
Special finishing such as wallpaper or textured paint can also be used to give it emphasis. Accent lighting can also be added to a wall niche to highlight it and make it more noticeable.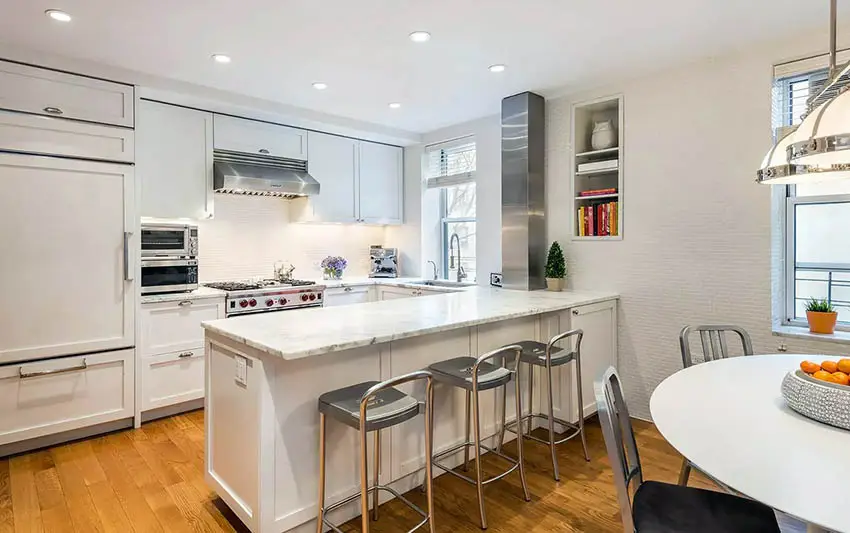 In this contemporary white and stainless steel kitchen, a small wall niche at the side of the kitchen island houses colorful books which gives the space a bit of added dimension and visual interest.
Living Rooms with Bookshelves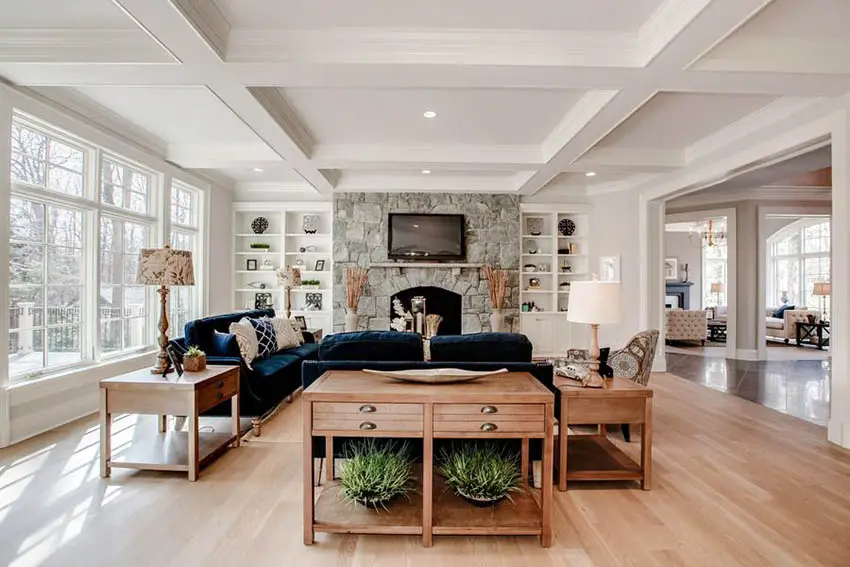 Built in bookshelves can help tone down the roughness of a stone fireplace. In this Country style living room, white built in bookshelves provide contrast to the gray cobble stone fireplace.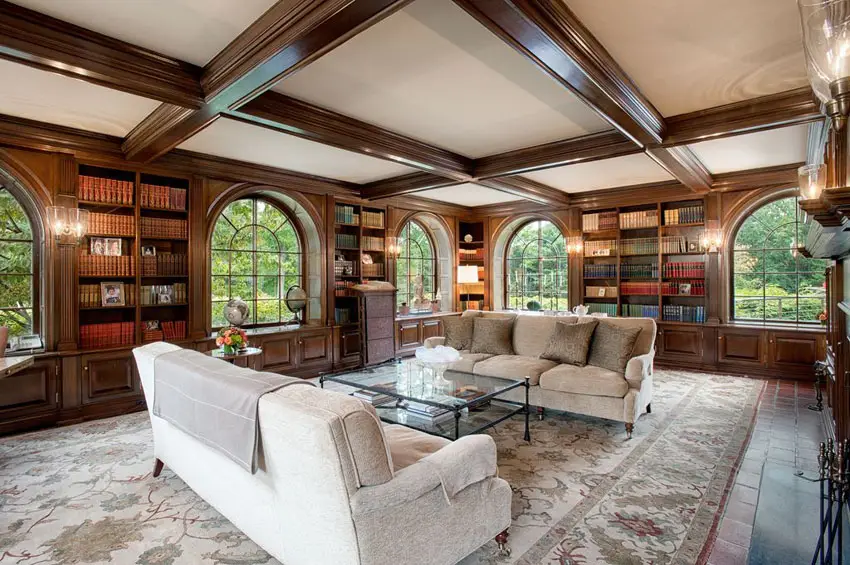 This vast traditional living room is converted int a private library through the use of warm wooden built in bookshelves that match the coffered ceiling.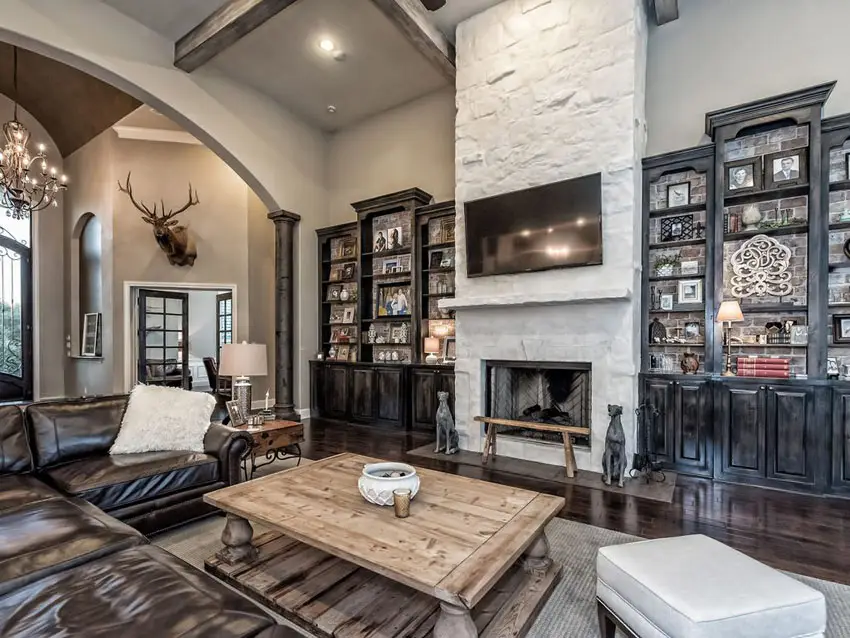 Personal mementos and framed photos soften the masculine aesthetic of this rustic – industrial inspired living room. Tall built in bookshelves, such as the one shown above, are ideal for spaces with high ceilings.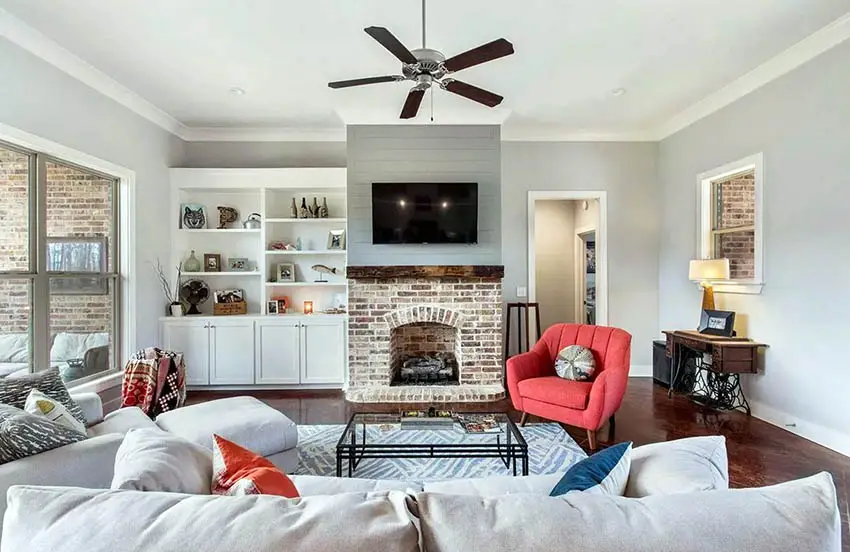 Asymmetry is one of the key design principles of interior design. In some spaces, you do not need to put built in bookshelves on both sides of a fireplace. Styling using asymmetry produces a unique visual interest.
Incorporating closed cabinetry under open shelving produces a more neat aesthetic. Combining different systems such as bookcases, drawer and base cabinets also provide optimum storage organization and capacity.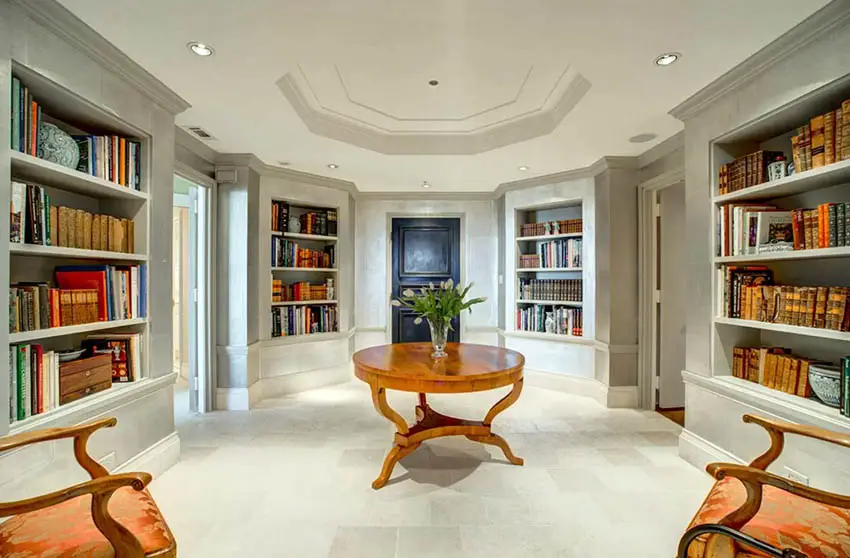 This stunning reading room boasts of classic style built in bookshelves for each side of the wall. Gray wallpaper and natural stone flooring complement the timeless style of this relaxing literary retreat.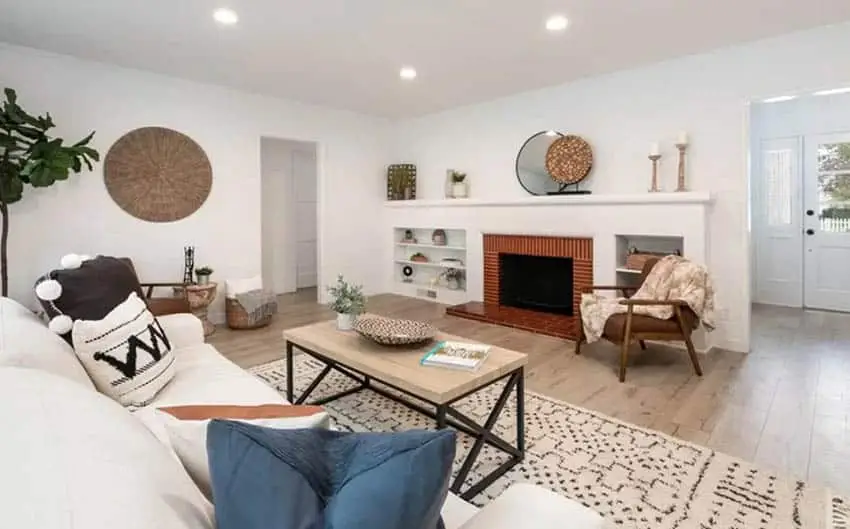 This simple and laid back living room has white built in bookshelves that contrast starkly with the red brick fireplace. Since they do not span from the wall to the ceiling, the space on top serves as a small ledge or table for holding large home accessories, candles and indoor plants.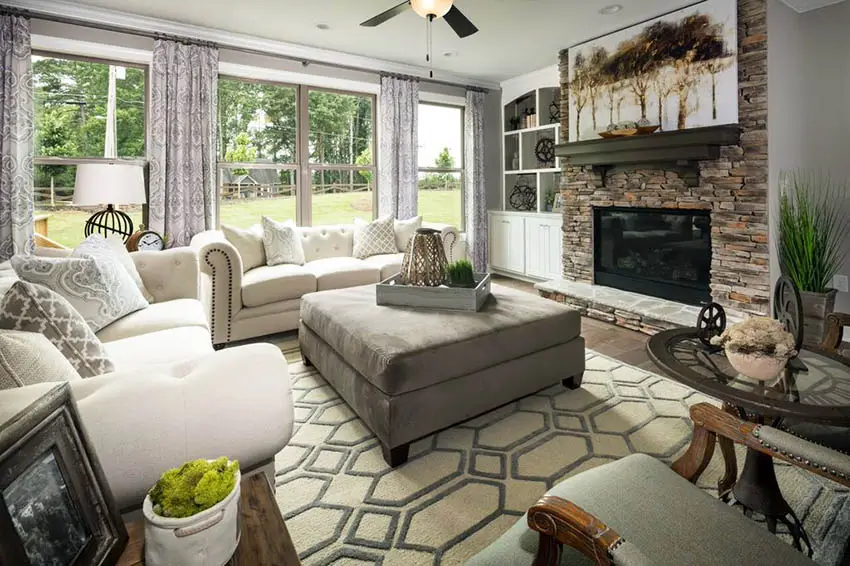 White built in bookshelves with cabinets below juxtaposed to the stone fireplace creates strong visual contrast between the colors and the textures of this traditional living room. Check out this gallery page for more living room remodel ideas.
Bookshelf Decorating Ideas
Aside from maximizing your storage, built in bookshelves provide the perfect venue to make your space feel more personal.
You can display whatever you want, in any way that fits your taste and style. However, it is easy to get too carried away in styling bookshelves because of their immense design flexibility.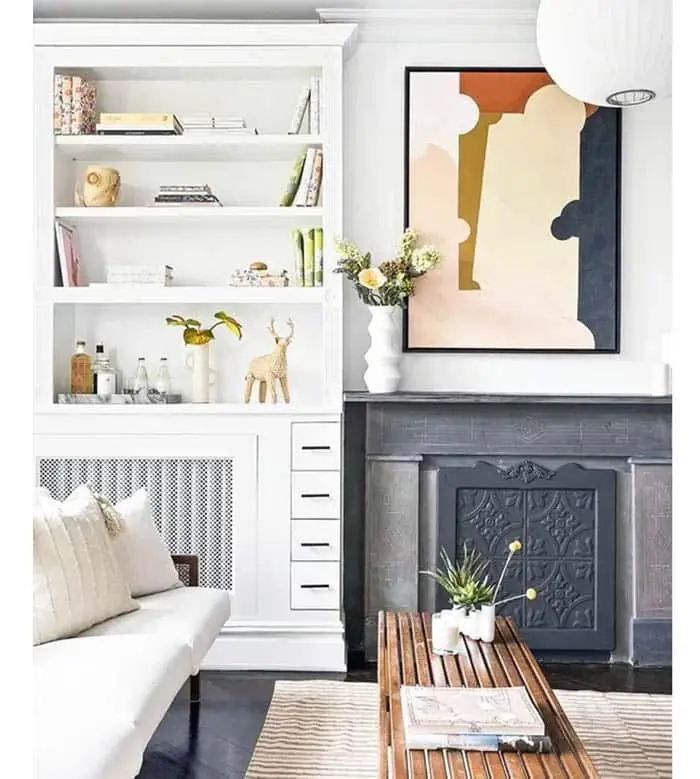 By varying the horizontal and vertical arrangements of the books in this contemporary living room's built in bookshelves, the display looks well balanced despite being minimal. Adding small drawers to the sides also gives the built in bookshelves more character.
Below, we give you a guide on the best places to put bookshelves, what to put on them and how to style them and make them a stunning feature in your home:
Here are some of the best place to put built in bookshelves in your home:
Use built in bookshelves as a room divider. Nowadays, more and more people are drawn to open plans. A good way to delineate the home's areas without walls or full partitions is to utilize a bookshelf as a room divider.
Alternatively, built in bookshelves can be used to provide privacy, can help make a hallway, or close off a pathway to a specific area of the home. A bookshelf will not make the space feel too closed in and it also helps you maximize storage.
This solution best benefits houses with limited spaces, as it maintains openness and will not mess with the illusion of a larger space. However, it will also work for larger space as it proves to be a more practical way to separate areas in a room.
Install built in bookshelves around a window or doorway. Bookshelves may be used to frame a beautiful view on a window or a doorway.
This is also one of the best ways to direct attention to a feature of your room. Let's say you want to make a window the focal point of the space, framing it with bookshelves makes it more noticeable.
You can personalize the built-in bookshelf with your favorite accessories and books to define the space. Alternatively, you can also use family keepsakes as it can make a simple window or doorway feel more alive.
Use built in bookshelves as a headboard. To maximize storage space in your bedroom, mount built in bookshelves above the bed as a headboard.
This also offers a great way to personalize the space as you can store your favorite books and items which you regularly need before going to sleep, like gadgets, iphone chargers, a night light or even toiletries which you use for your bedtime beauty regimen.
It does not only provide a unique feature in the bedroom but also keeps items easy to access, eliminating the need to stand and scour through a nightstand's drawer.
Turn an empty wall into a stunning accent wall through the use of built-in bookshelves. As we have mentioned earlier, a bookshelf is one of the best ways to direct attention to a space.
If you have an empty wall at home, turn it into the room's central feature by installing built-ins. Get creative with the layout and treat it like a giant piece of art by carefully curating the items for your display and adding some custom lighting.
Go traditional by framing your fireplace with built-in bookshelves. The most common fireplace surround is built in bookshelves.
Instead of keeping the area around a fireplace blank and dull, add some warmth and personality by farming it with interesting books. It can help make the fireplace the focal point of the room, while also providing some practical storage space for a lot of stuff.
Add in some books, photos and art to make your fireplace and living room more inviting and cozy.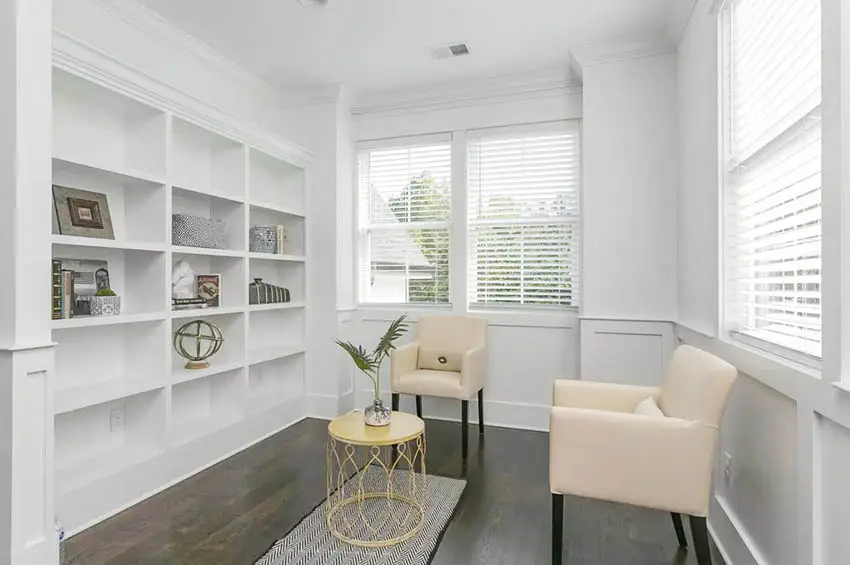 An all white space can easily look dull and boring if not styled correctly and one of the easiest ways to introduce decor and accessories into the area is by using built in bookshelves. Easily turn a monotonous living room into a cozy abode by filling open built in bookshelves with color coordinated frames, vases and art.
What to Put on a Bookshelf
Just because you call it a bookshelf, it doesn't mean that you only get to use it for books, right? These storage units offer design flexibility and versatility and can store and showcase almost anything you want — from functional items to precious decorative pieces.
Here are some of the things which you can combine to create a tasteful display for your built in bookshelves:
Books: Books are obviously the best items you can display. You can use old books, new books, smallbooks, large books, hardbound or paperback.
Just make sure that if you choose to display a very large amount of books, vary the way you display them by putting some horizontally and some vertically.
Get creative and add more visual interest by putting other decorative items as this will make the space feel less like a library.
Framed Items: Framed items like family photos are a great way to add a personal touch to the room decor. Small framed items can be layered in between books to create variation, depth and more dimension.
If you have floor to ceiling built in bookshelves, the best place to put framed items are between eye level and waist level. Putting them too high or too low makes them barely noticeable.
Also, keep in mind that putting too many small frames together can sometimes make shelving look cluttered. The best way to arrange them is to avoid grouping them together, scatter them throughout the span of the bookcases and limit them to at least three pieces per tier.
Artwork: A book shelf is also one of the best places to showcase art. Small pieces of art and artworks like paintings, small statues and sculpture, decorative vases and jars can be layered in between books to put variation and extra visual interest to the display.
If you have several pieces, you can arrange them according to their size and place the smaller items in front.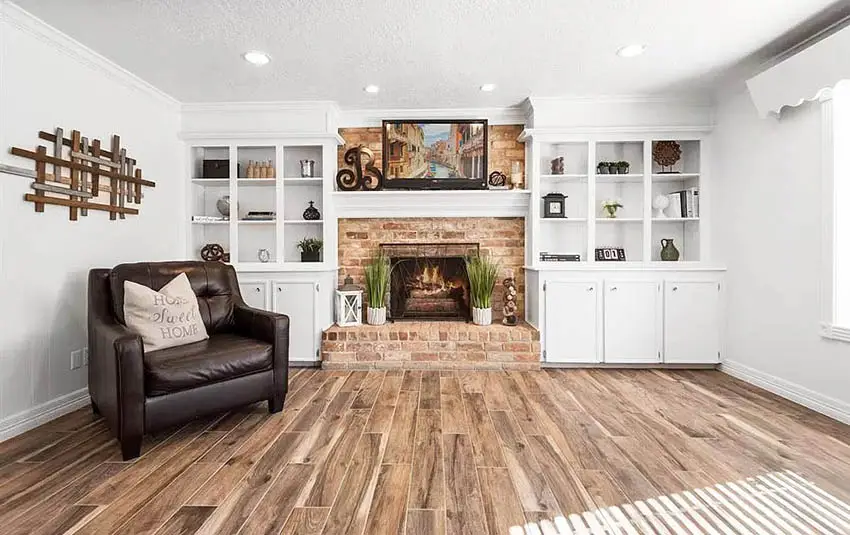 Mementos and memorabilia. For jet setters and travel enthusiasts, instead of keeping your collection of travel mementos in a keepsake box, a bookshelf is one of the best places to keep and display them.
You can also work around this theme and use it as a motif for the rest of the space. For example, souvenirs from trips to Asia such as relics or a small reclining Buddha can set the tone for a Contemporary Asian inspired living room.
Collections. Collections and knick knacks can easily turn into clutter, but a built-in bookshelf offers the perfect venue to showcase them as a unique part of your home.
Whether it may be antique items, mugs, clocks, retro appliances, vintage decor, colored glasses or basically anything which you collect, these items can be combined with books as [art of the decor for a built in bookshelf.
Decorative Boxes: Decorative boxes are most designers' and stylists' fail proof solution for filling empty spaces. The best thing about these storage pieces is that aside from being super stylish,they offer a great way to tuck away clutter, while also adding a unique decor to your space.
Decorative boxes come in different sizes and are available in a wide variety of colors, materials and styles which can fit any interior design inspiration and motif. You can either use a single piece of decorative box as an accent or stack several pieces and layer items on top.
Everyday items like phone chargers, school supplies, gadgets or remote controls can sometimes be an eyesore to a well styled space and one of the best solutions to prevent them from looking like clutter is to keep them in decorative boxes.
And if ever you need one of these items, you do not have to look for it all over your house since you can easily find them in one container on a built-in bookshelf.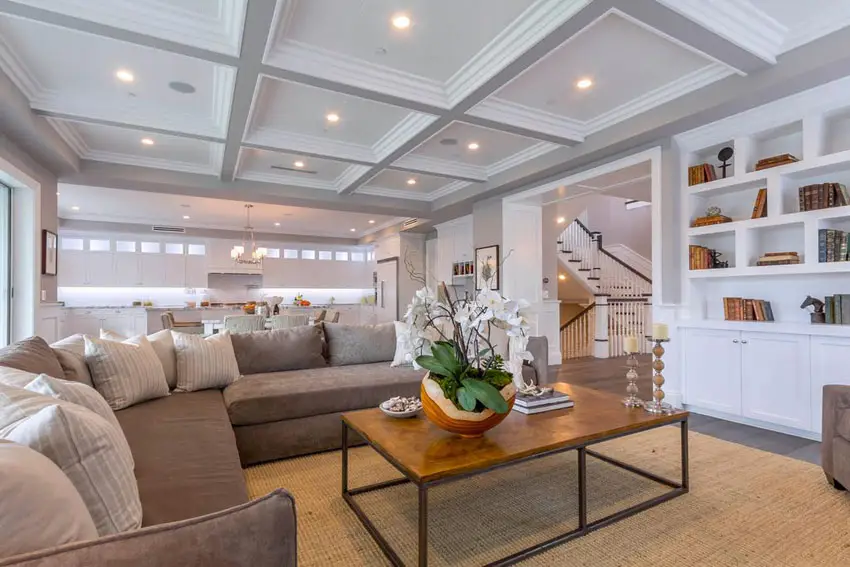 The way a built in bookshelf is styled can have a great impact to the overall look of a room. This neutral colored space, for example, looks extra inviting and warm because of the earth toned books displayed on the wall.
How to Style Bookshelves
Shelf styling or "shelfie styling" is one of the rising trends in the design industry today. Styling bookshelves, or any shelf in general, provides a venue for homeowners to add a personalized touch to a space while also adding a bit of stylish vibe and flair to their homes
Building the perfect bookshelf is actually not that hard. It's both art and science combined and It provides a great way to express your creativity and make your home more "you". Here are a few simple tips on how to style your built in bookshelf:
Styling a bookshelf is a little bit science and a little bit art. It's a lot like creating a new recipe. Sometimes you still have to play with the "ingredients" to get it right. Rarely does a bookshelf come together on the first attempt.
In a nutshell, effective shelf styling combines major design principles such as layering, size and scale, composition, contrast, symmetry/ asymmetry and color. Below we give you some tips on how you can apply these design principles in styling built in bookcase:
Be creative with the way you arrange your books. Combine both vertical and horizontal arrangements for the placement books. Align a stack of books to the left, right or center of the bookshelf.
If you have a vast collection to display, you can experiment with color too by arranging your books by color. This will not only make your bookcase visually interesting but it will also help you balance out the "weight" of the shelves.
Vary in terms in height and size, but keep in mind scale and proportion. Combine different sizes of items when arranging as this will prevent the display from looking too flat. In relation to size, you also need scale and proportion in order to create balance.
Begin styling your bookshelf with large items first such as big pieces of artwork or decorative boxes then continue to fill the shelves with smaller items.
Consider the right proportion of items — you don't want to display something too small that will just get lost in the bookshelf, in the same way you wouldn't want anything too big that will overwhelm the space.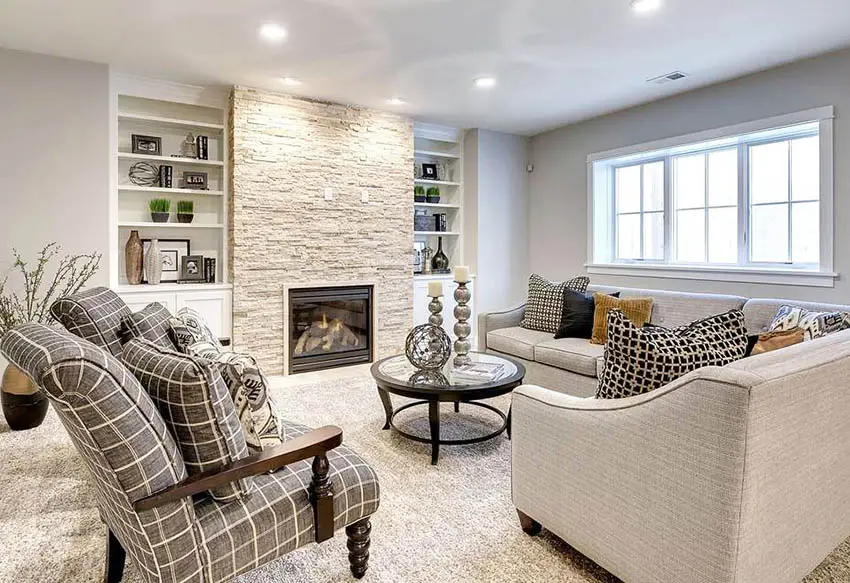 Aside from books, vary the contents of your display in built in bookshelves using vases, metal accents and indoor plants. Using mixed materials is an easy trick to add life to styling bookcases.
Layer items. Styling any shelf, should never be one dimensional. In relation to combining large and small items, layer them by placing large items at the back then put smaller items in front.
This will give the furniture piece more depth and will make it more visually interesting. Another way of layering items is by stacking them. You can put a small piece of decorative item on top of a stack of books.
Experiment with color. When choosing items to put on shelves, you can either follow the color scheme of the space and stick with color coordinated books and decorative pieces to produce a cohesive overall look.
Color grouping is one of the best approaches to shelf styling. If you want to stick with a single color theme, incorporate different tones, tints and versions of the color.
For example, instead of using just one shade of green, try lighter and darker shades, so that means your collection can range from mint to emerald to muted sage and olive. Variation in hue gives the whole built in bookshelf some dimension.
Alternatively, built in bookshelves also provide the perfect venue to introduce a pop of color to a neutral or monotonous color scheme to make the space feel more lively. For example, if your living room has an earth toned color palette, include accessories and books which have a touch of green, rust or yellow for a warmer look.
Introduce decorative items or natural items in your built-in bookshelf . Mixing in a few decorative items, such as treasured family heirlooms, travel mementos, and collections can instantly turn a boring bookshelf into a stunning design feature of your home. Include natural items like potted plants if you want an organic feel.
While if you want to project an "English library look", add some art pieces on the shelves and prop them with your books. Play around and mix the items until you achieve your desired arrangement.
Include different textures and materials. Sometimes going "matchy matchy" can make your bookshelves look too dull.
Mixing and matching is key to effective shelf styling. As we have mentioned, mix books and other types of accessories to make the display more interesting. Add a little bit of metal, glass, stone, wood or mirrors.
Try asymmetry and decorate using odd numbers. Asymmetry, being one of the basic design principles, is often the best approach to styling spaces.
Arranging items in quantities of odd numbers like one, three, five or seven can create an interesting effect. Strangely enough, odd numbered arrangements look more balanced compared to even numbered ones.
Elevate the style of your bookshelf by adding metallic accents. If you want to make your bookshelves more stylish, add a few pieces of metallic decor and accessories like gold, rose gold, brass, copper , silver or chrome.
You'll be surprised at how a few metallic pieces can instantly heighten the flair and drama of your bookshelf display.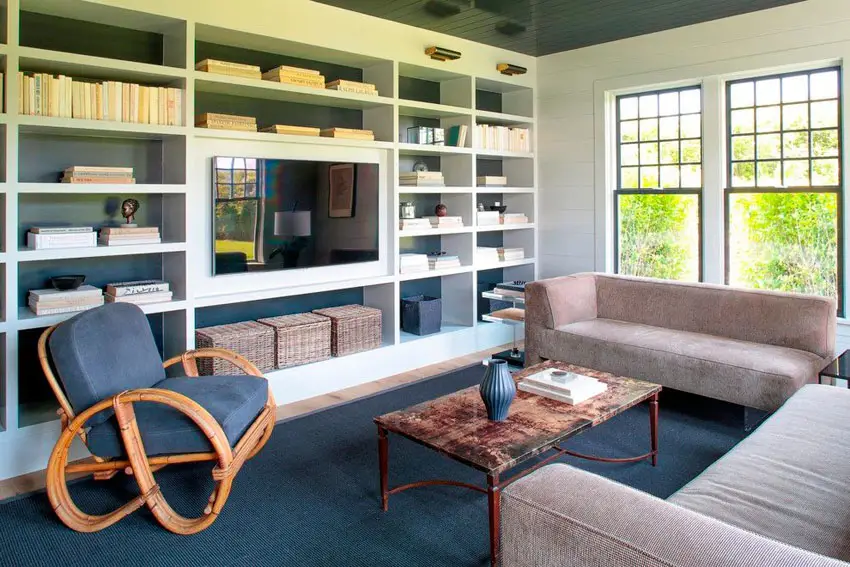 One of the easiest design tricks in styling built in bookshelves is to vary the horizontal and vertical arrangements of the books. As opposed to displaying them uniformly, varying their placement, the 'weight" of the whole shelf is balanced.
Painting Bookshelves
Bookshelves, whether built in or freestanding, can be painted in different colors to complement the overall color scheme of a room. It is a great way to give an old bookshelf an updated, refreshing look.
There are several options of paint and finishing materials which can be used for built-ins. The type of paint you can use will depend on the material the bookshelf is made out of and the type of paint or finishing material previously applied to it.

Types of Paint for Bookshelves
Wooden Built in Bookshelves. A wide array of paint products may be used to finish wooden bookshelves. Depending on the effect and look you want to achieve, you can choose from wood stain, enamel paint, acrylic paint, polyurethane or shellac.
If you want to enhance the natural color of wooden built in bookshelves, here are some of the best finishes you can try:
Consider applying two coats of the finishing material of your choice to your wooden built in bookshelf.
Polycrylic paint is a finishing option you can use if you want to preserve the natural beauty of wood. It is a protective finish, that is clear in color and will not tint your wood.
This fast drying topcoat is often used over bare wood, however you can also apply this over water based wood stains. This type of finish is ideal for use on wooden shelves that have a light color like ash, birch or maple.
Polyurethane is another finishing option you can use if you want to enhance the natural color of wood. It is a synthetic resin, essentially a liquid form of plastic, somewhat similar to varnish.
It comes in both water and oil based forms and comes in a variety of finishes from satin to glossy. Just like polycrylic paint, polyurethane will not add color to wooden shelves. This is ideal for any type of furniture that will not be exposed to weather extremes.
Shellac is also used for wooden shelving, but unlike the two options previously mentioned, this is a natural product derived from the lac bug. Shellac adds a warm amber color to wood and is the best option if you want to enhance the wood.
Varnish is a more popular variant of topcoat for wooden furniture. Varnish, just like all the products mentioned above, add a protective layer to wood.
It comes in different variants and colors, ranging from clear or natural to tinted ones like maple, mahogany, oak, walnut or ebony.
So aside from enhancing the natural color of wood, varnish is an excellent finishing material if you want to achieve a new color. It is perfect for staining wood shelves which have a light color.
Lacquer is also another top coat which can be used to paint wood. Compared to the other finishing materials, lacquer gives an intense gloss finish.
Not only does lacquer give a polished texture, but it also makes furniture extremely durable and resistant to damage. This is an ideal finishing material for built ins which are ultramodern or Asian-inspired.
If you want to give your bookshelves a new color, here are some of the best paint options you can try:
Acrylic Paint is a water based paint that dries fast. It is water soluble and water resistant when dry. Acrylic paint comes in a variety of colors and usually has a matte finish.
This type of paint can be used for wooden built in bookshelves. Acrylic is a great paint to use for a bookshelf because unlike latex paints,it does not get tacky and adheres well to wood.
Enamel Paint is a solvent based or oil based paint that dries into a hard, glass like shell. Enamel paint usually has a glossy finish.
Compared to acrylic paint, enamel paint takes longer to dry completely — about 6 to 24 hours. Enamel paint can be used for a variety of built in bookshelf materials like wood, metal or plastic.
Once you have decided on the type of paint you will use and have chosen the color, you can now determine the type of finish. Paint comes in different finishes — from flat, satin, eggshell, semi gloss to high gloss.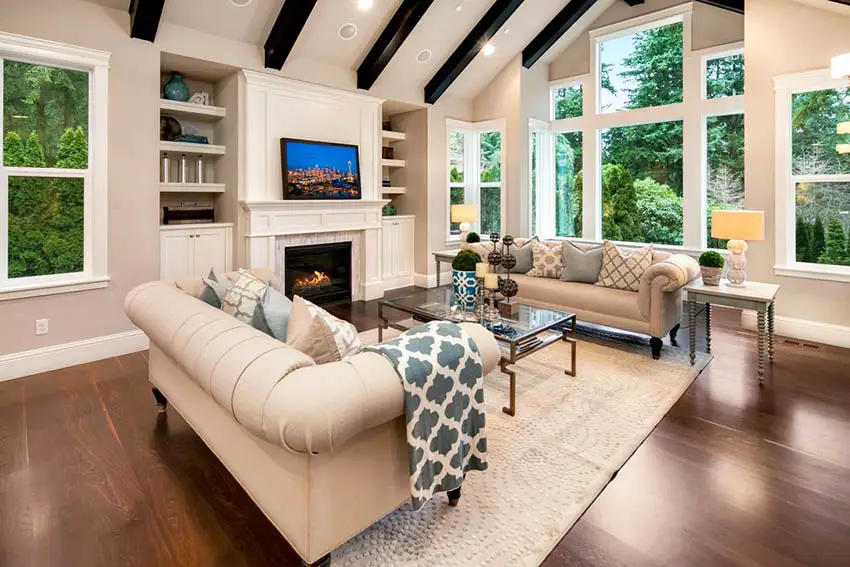 Another design trick which can be used in styling built in bookshelves is to match their color with the rest of the architectural details of the room such as the window trims and moldings. In this way, the color palette looks more cohesive.
Tips for Painting Built In Bookshelves
Painting over paint. If changing the paint color of a bookshelf that has already been painted, determine first the type of paint that was used before.
Enamel paint can be painted over with either enamel or acrylic paint, however acrylic paint can only be painted over with acrylic paint. Regardless of the type of paint, apply a coat of primer first, then apply two coats of your chosen paint color using a paint brush or roller brush.
Painting over laminate. Painting over a laminated built in bookshelf can be done but will require extra steps, more planning and careful application.
You can use either enamel or latex paint once the surfaces have been prepared. First, remove the laminate, then sand the surface to make sure that the [paint will stick.
Apply a coat of primer and two coats of the finishing paint color of your choice. Although the steps may sound easy, preparing a laminated bookshelf for painting is actually a tedious process and requires extra care.
How to Paint Bookshelves
Here's a quick tutorial and the materials needed.

Materials You'll Need:
Tarp, drop cloth or newspapers

Masking tape or painter's tape

Rubber gloves

Safety goggles

Bucket

Rags

120-grit sandpaper

Shellac-based primer

Acrylic paint, latex paint or enamel paint of your choice
Tools You'll Use:
Putty knife

Paint Brush (the finer the bristles are, the less visible brush strokes or lines)

Roller brush

Wooden paint stick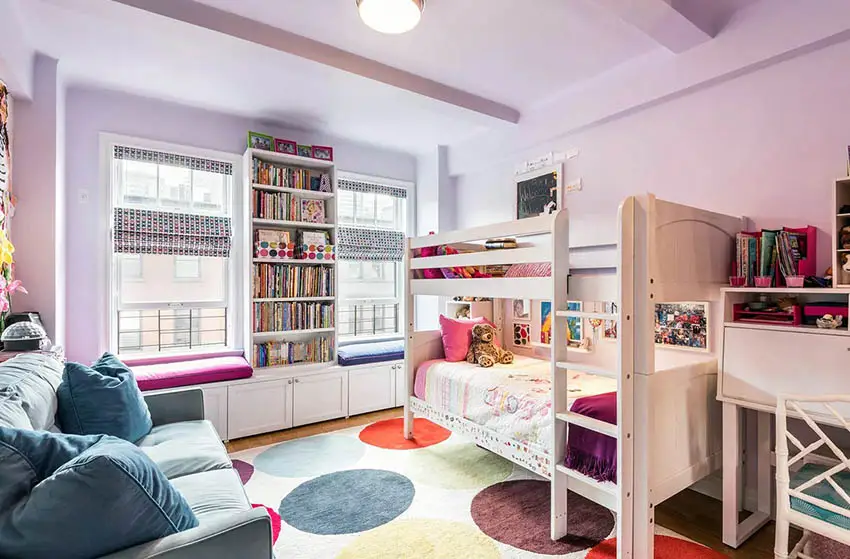 Keep a children's bedroom from looking too cluttered by taking advantage of built in storage. This girl's bedroom has a dainty reading nook furnished with cushioned windows seats and built in bookshelves that house the well organized collection of books.
Preparing to Paint a Bookshelf
Preparing the area. Lay down a drop cloth, tarp or some newspapers so you can catch any dirt or paint drips and prevent your floor from getting damaged. Using painter's tape, line the edges of your built in bookshelf and cover the surrounding walls with newspaper.
Also, ventilate your room by opening the door and windows. Majority of interior paints and water based paints do not emit fumes, but keeping the area well ventilated is a good precautionary measure to consider.
Wear the necessary safety gear such as gloves and safety goggles (to prevent any dust from entering your eyes when you start sanding).
Preparing the built in bookshelves. Using a150-grit sandpaper , sand the entire bookcase and its parts, including the shelves. You can do this by hand, but it may take a while. Alternatively, you can use a palm sander for quicker results.
Make sure to remove any paint from the previous finish. If your built in bookshelf has wood grains, sand in the direction of the wood grain. Stop sanding if you've taken away any shine that is on the surface. The wood should also still feel smooth after you sand.
Remove any dust residue from the bookcase using a vacuum. You can also use a dampened rag to remove the sawdust particles from the crevices of the bookcase.
Application of primer. Using a bristle paint brush, apply a thin coat of primer on the bookcase and shelves. Paint in the direction of the wood grain and make sure to cover all surfaces and crevices.
Let the primer dry. The drying time will depend on the type of primer you used, some may take only 10 to 20 minutes while others might need at least three hours.
Make sure to check and follow the instructions on the paint bucket. Applying a base coat of primer will help your chosen color of finishing paint to stick to your bookshelf.
Tip: When selecting which primer to use, choose a primer that is designed for use on the material of your bookshelf. The general rule of thumb is to select a latex primer for latex paints and an oil-based primer for oil-based paints.
Application of finishing paint ( enamel or acrylic). Stir your paint to make sure you get a consistent color. Using a paint brush, test a small amount of the paint of your choice on a small piece of wood scrap.
Practicing the application of paint will help you get the right brush stroke and will also help you determine the right amount of paint you need to load your paintbrush or roller brush with. Once you finish this step, you can start applying the paint on the bookshelf.
Dip the paint brush in the paint and rub off any excess to prevent it from dripping. Using long eve strokes, apply a light, even coat of finishing paint to your bookshelf in the direction of the wood grain. Work your way from the bottom of the bookcase going upwards.
Allow the paint to dry completely after the first coat of paint. The drying time will depend on the type of paint you use and this can vary anywhere between 6 to 8 hours. Once dry, apply the second coat of paint using the same technique.
The number of coats for the finishing paint will depend on the color and coverage you want to achieve. If planning to add a third coat of paint, let the bookshelf dry completely in between applications.
You can also wipe the top of the bookshelf before applying the next layers of paint, just so you can collect any dust that may have settled on the bookshelf.
For more information about the best paint finish for living rooms check out our article here.