In this guide to tier curtains, you'll see what they are, different materials, design styles, where to hang these types of curtains, and the tier curtain rods to use.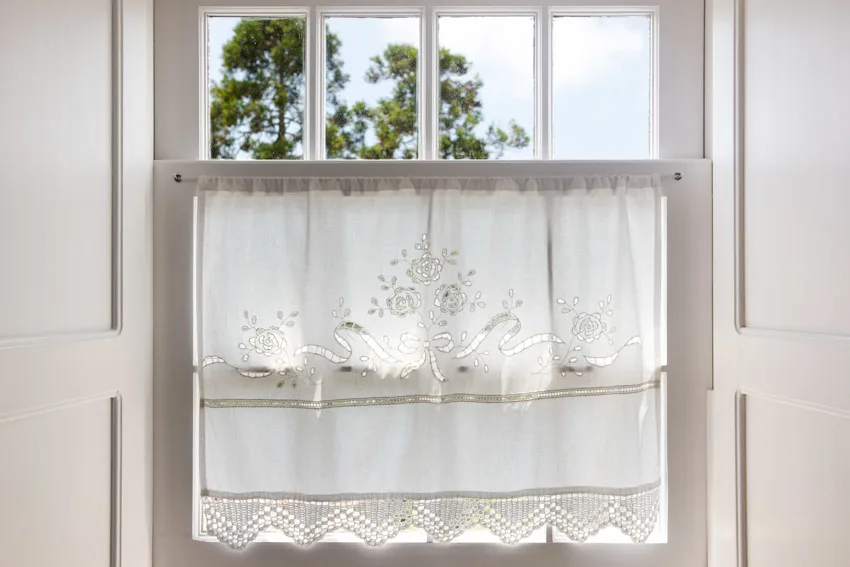 Tier curtains were traditionally used in kitchens and dining rooms, but these days they have numerous uses for interior design. They soften interiors and can bring a room together by coordinating the colors of the flooring, walls, as well as carpets.
The way these curtains work depends on what you want to produce and the sort of window you possess. You can try a single-tier curtain that surrounds your whole window if you simply want privacy while yet allowing daylight into the space.
Tier curtains are window treatments that are hung from the upper end to the lower end of your window frame. This article will show you all the things you need to know about these curtains, including what they really are, how they function, and what styles are commercially available.
What Is A Tier Style Curtain?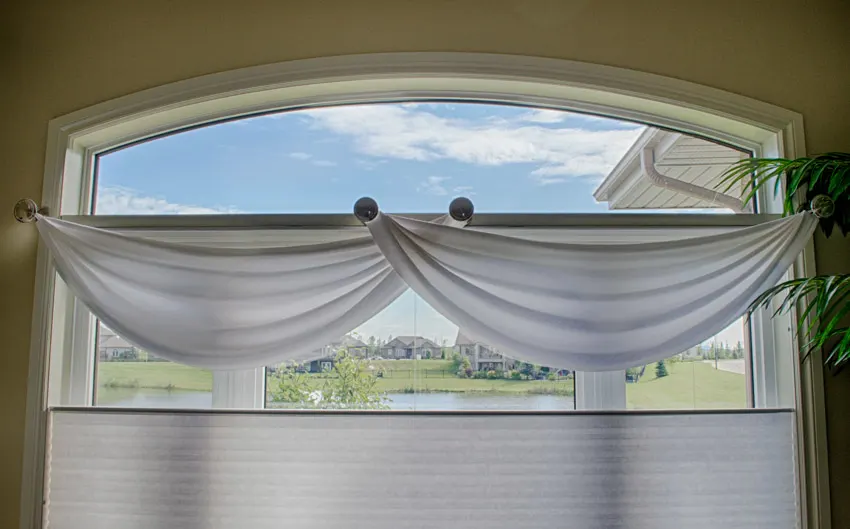 Tier curtains, also known as café curtains, are intended to hang from the center of the window sill down to its lower end. They give privacy while allowing light into the room through the upper part of the window.
Tier curtains, like most other curtains and drapes, are normally fixed with two panels per window. When greater lighting is needed, the panels can be moved to the side and entirely cover the bottom part of the window. This curtain type is typically composed of an unlined and lightweight fabric that is lace or sheer.
Originally, these curtains were white, but there are many more color and pattern variations available nowadays. This type of window treatment is usually ideal for bathrooms because it provides privacy without entirely obstructing natural lighting.
Moreover, tier panels are not often employed in bedrooms because they do not completely cover the whole window framing and glass, but they work well for individuals who prefer to wake up in the sunlight. Numerous people nowadays work from home and hence have home workplaces. Tier curtains are ideal window treatments for these areas.
Ultimately, tier types of curtains let in natural sunlight while still maintaining seclusion from neighbors and pedestrians, allowing you to concentrate on your household duties. Tier curtains are ideal for windows behind furniture in living rooms, such as sofas or accent tables because they do not need to be opened and closed constantly.
Furthermore, tiers can be employed whenever there is a need for both privacy and light passage. Full-length curtain panels or drapes can be draped over these curtains for added privacy at night and moved to the side during the daytime. This tiered method offers a variety of aesthetic possibilities.
Tier curtains can be made custom or found at a nearby fabric store. They are usually hung from the ceiling with hooks and then drawn back to expose the window pane beneath them. For attaching to the wall, you will need to have at least two sets of brackets for every rod, one per side.
Curtain Materials for Tiers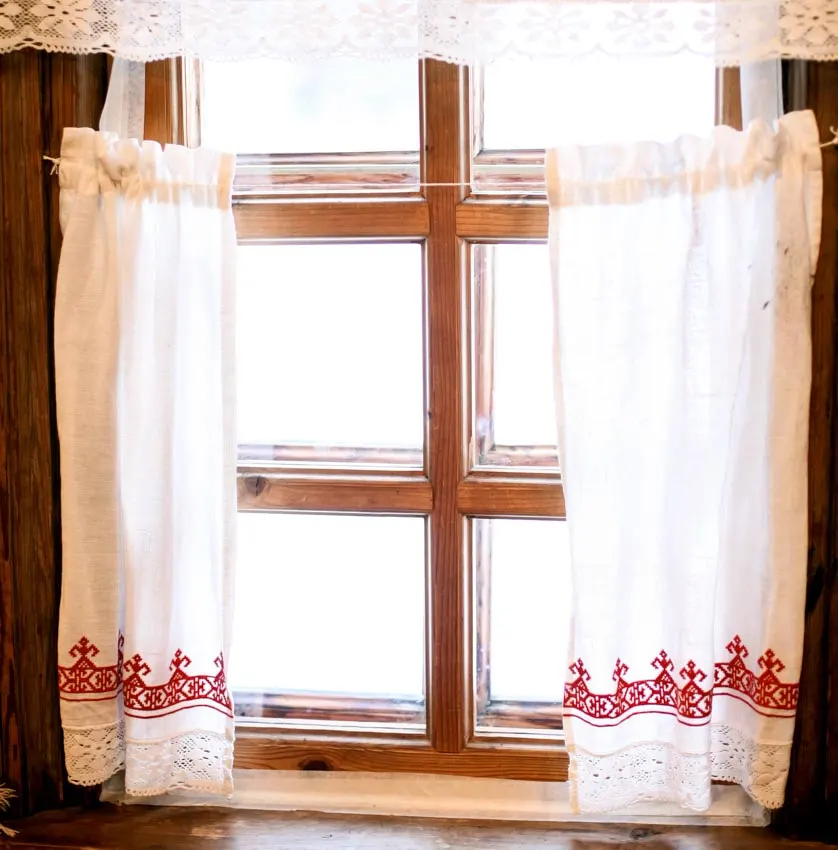 Polyester Tier Curtains: Polyester is a popular material for tier curtains as it is resilient, sturdy, and economical. Polyester curtains are low-maintenance and resistant to creasing, shrinkage, and stretching. This tier curtain material is ideal for new tier curtain users because it requires less upkeep. Polyester is an excellent choice for first-time home buyers.
Moreover, this fabric is great for bedroom curtains. Nevertheless, you must avoid using polyester curtains in your kitchen because this material is flammable, absorbs odors, and restricts airflow.
Polyester tier curtains come in a variety of colors, designs, and styles. If you have youngsters or windows in high-traffic sections, choose darker tier curtain colors because stains on polyester material can be difficult to erase.
Linen Tier Curtains: Linen is a much more billowy material that has a structured aesthetic, making tier curtains made of this material ideal for a casual dining area, airy bedroom, or modern living room. Linen hangs beautifully, and the translucent fabric does not obstruct the sun, allowing natural sunlight to flood your living room.
Linen tier curtains must be dry cleaned only and hung promptly to avoid creasing. This type of tier curtain material will breathe new life into your home, and these tier curtains will look stunning in any room where your household congregates.
Silk Tier Curtains: Silk tier curtains are somehow heavier than other types of curtains and hang beautifully, providing a romantic effect that is great for bedrooms or elegant dining areas.
Take into account that silk can only be dry-cleaned, making washing these types of curtains a time-consuming process. If you are hanging silk tier curtains in spaces with an abundance of ambient light, you may safeguard your investment by lining them with window shades or lighter-colored paneling as silk is highly prone to sun exposure.
Cotton Tier Curtains: Cotton or cotton mix curtains are excellent style choices since they provide a fresh, uncluttered feel that complements both traditional and modern décor styles. Cotton tier curtains drape beautifully, making them ideal for stately dining rooms.
You can pick cotton tier curtains with a firm weave or a lined cotton panel to filter sunlight in a vibrant bedroom or create seclusion in your living area. If you want your space to feel bright and breezy, choose sheer cotton drapes. Cotton tier curtains offer delicately diffused light in any area and are simple to clean, making them an excellent choice for your children's rooms.
Lace Tier Curtains: Because the lace is a highly translucent fabric, curtains made of it tend to disperse natural light and provide an open, breezy feel. Lace tier curtains can be used to lend a lovely touch to a historically fashioned dining room.
They can also be hung over French doors to create solitude without completely obstructing your source of natural sunshine. Lace curtains are often available in neutral colors like ivory and white, making them easy to match with any color palette in your space.
Blackout Tier Curtains: Blackout tier curtains, as the name implies, are great for keeping out sunlight. They are ideal for bedrooms with napping children or your bedroom if you want to sleep throughout the day. Blackout tier curtains are constructed of an impenetrable material that is backed with foam to keep half of the sunlight out of your space.
Velvet Tier Curtains: Because velvet is a heavy tier curtain material that keeps the cold out, such window treatments are excellent insulators for houses with drafty windows. Velvet tier curtains offer additional seclusion.
Moreover, these tier curtains are high-maintenance, but they hang elegantly, thus this style adds a refined touch to classic dining rooms, classically styled living rooms, or imperial master suites.
Tier Window Covering Styles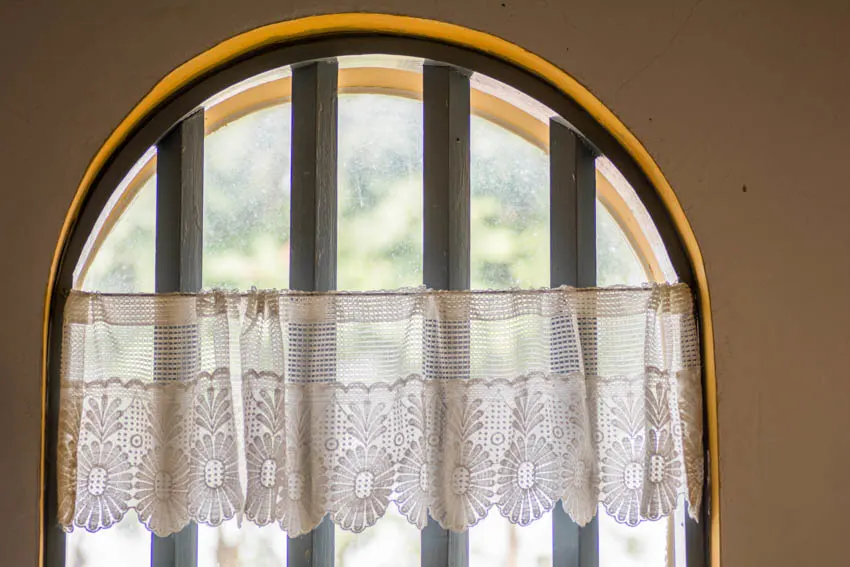 Here we share the different styles of tier curtains
Curtain Tiers and Valances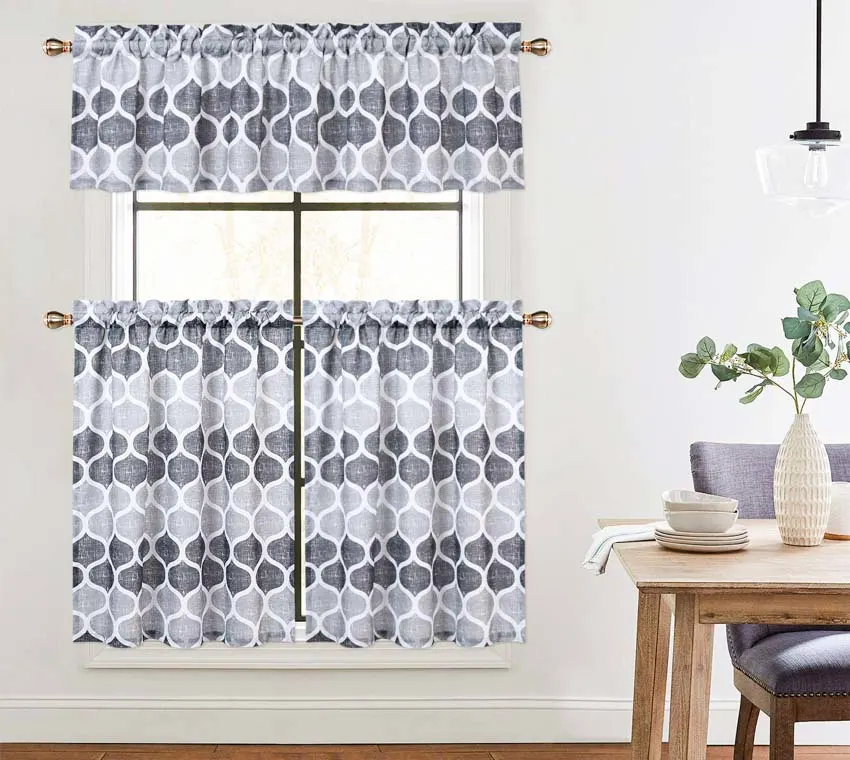 See this tier curtain and valance set at Amazon [sponsored link]
Curtain tiers provide privacy by covering the lower half of a window and can be used with a complementary valance to enhance the design. This style can be utilized as a whole window treatment on short-sized types of windows.
Cafe Curtains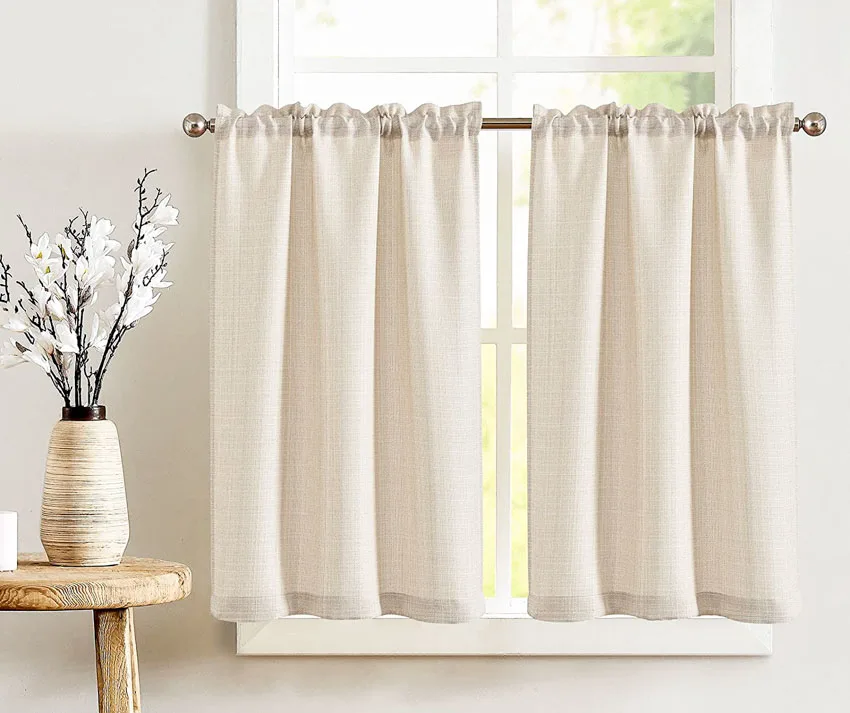 See this cafe tier curtain set at Amazon [sponsored link]
Café tier curtains are adaptable and may be utilized to create a stylish piece that complements any room's color scheme. Since they let natural lighting into the area while providing the proper level of obscurity, these curtains are a wise option for bedrooms, bathrooms, as well as kitchens.
If you want even more seclusion at night, you can hang full-length curtain sheets or drapes over café tier curtain types and drape them to the side with a valance during the day. This tiered method offers a variety of decorative possibilities.
Sheer Curtains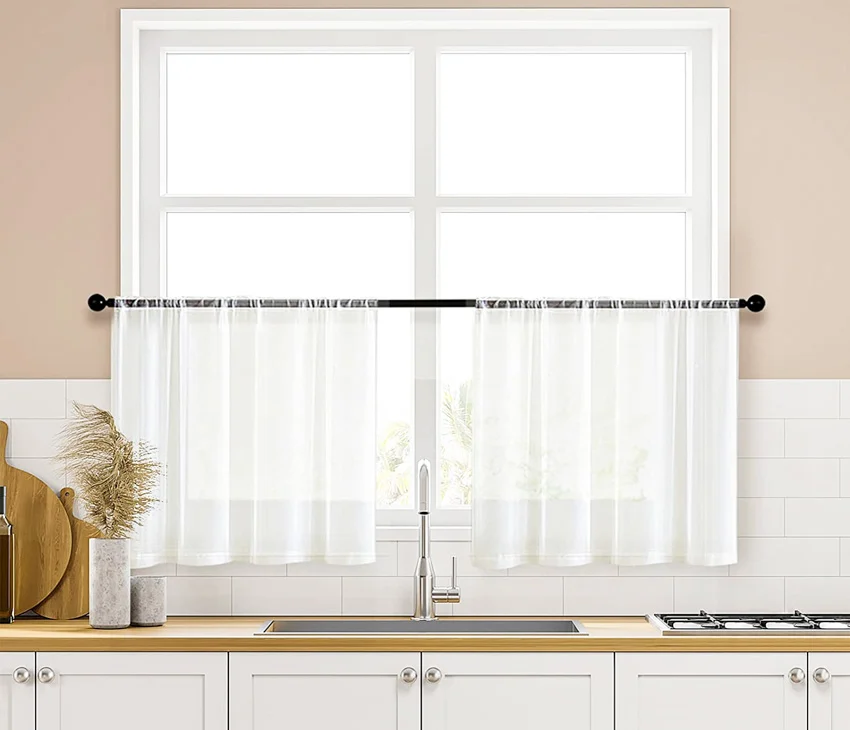 See this sheer tier curtain set at Amazon [sponsored link]
Sheer tier curtains let the perfect balance of sunlight into your kitchen, bathroom, or breakfast corner. They are composed of sheer polyester that allows natural light to pass through, making them excellent for bright environments.
These sheer tier curtains are lightweight materials that partially cover your windows, reduce the brightness in your home, and instantly add elegance to your interior décor. Sheer tier curtain types provide privacy while also complementing a layered window treatment.
Ruffled Curtains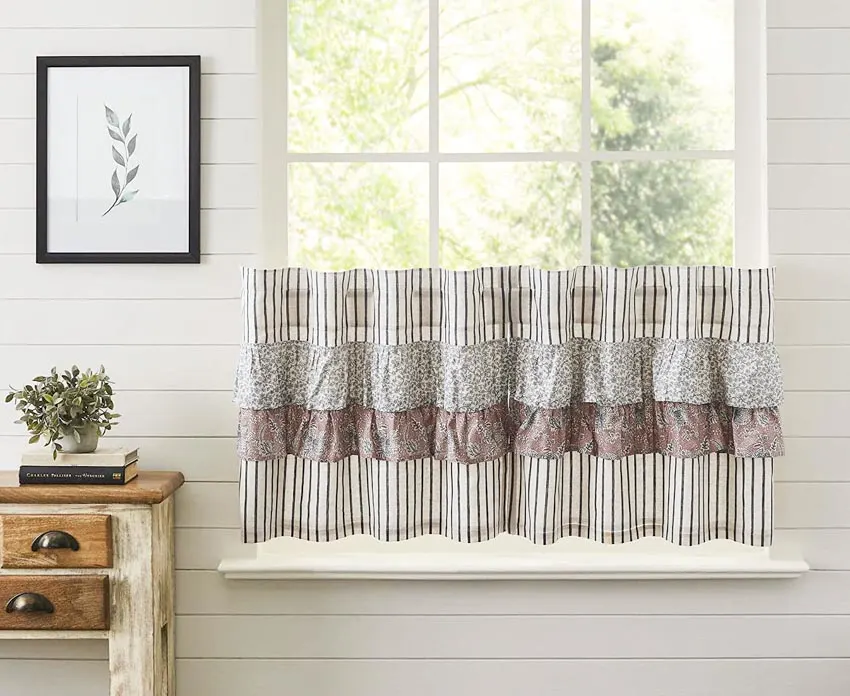 See this ruffled tier curtain set at Amazon [sponsored link]
Ruffled tier curtains are typically made of polyester with an airy and translucent weave that allows natural light to filter through and enliven up your lounge room or kitchen. The top border features a rod pocket for convenient hanging on your curtain rods. A subtle ruffle near the top provides textural complexity.
3 Tier Kitchen Curtains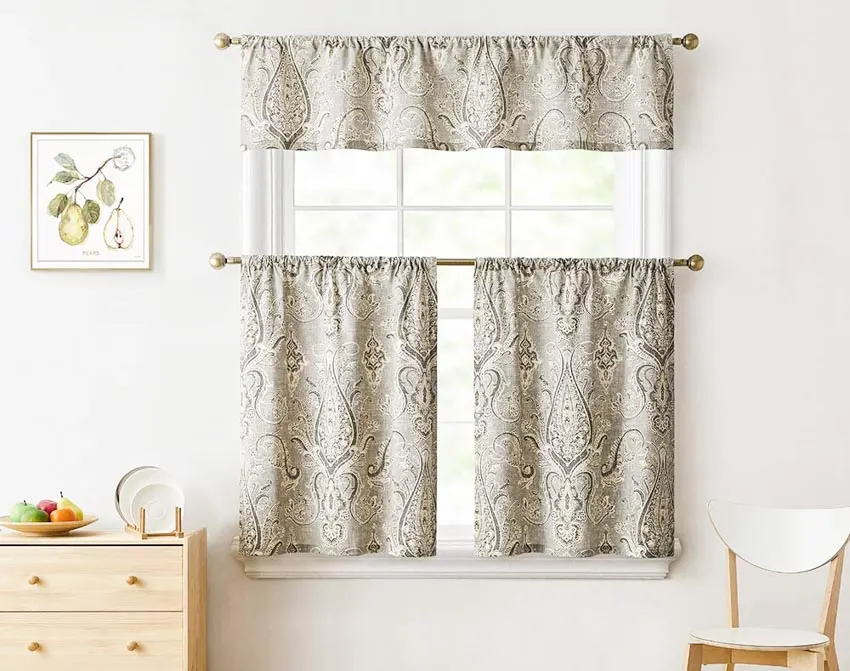 See this 3-tier kitchen curtain at Amazon [sponsored link]
Three-tier types of kitchen curtains are generally composed of three main lovely layers, one of these tiers is thread-woven into the core which serves to block out the light and minimally insulate. These tiers produce a velvety texture, which results in curtains that hang elegantly and are among the primary reasons they appear attractive.
These tier curtain styles are ideal for heat and cold reduction and are an excellent choice for bedrooms and living rooms because they are easy to maintain and drape nicely.
Tiered Shower Curtain
Tiered shower curtains hang from the top down to the middle section. This style of tier curtain is ideal for a house with a solo household member. These shower curtains are not meant to provide privacy. They are merely for decorative purposes to enhance the look of the shower area.
Insulated Curtains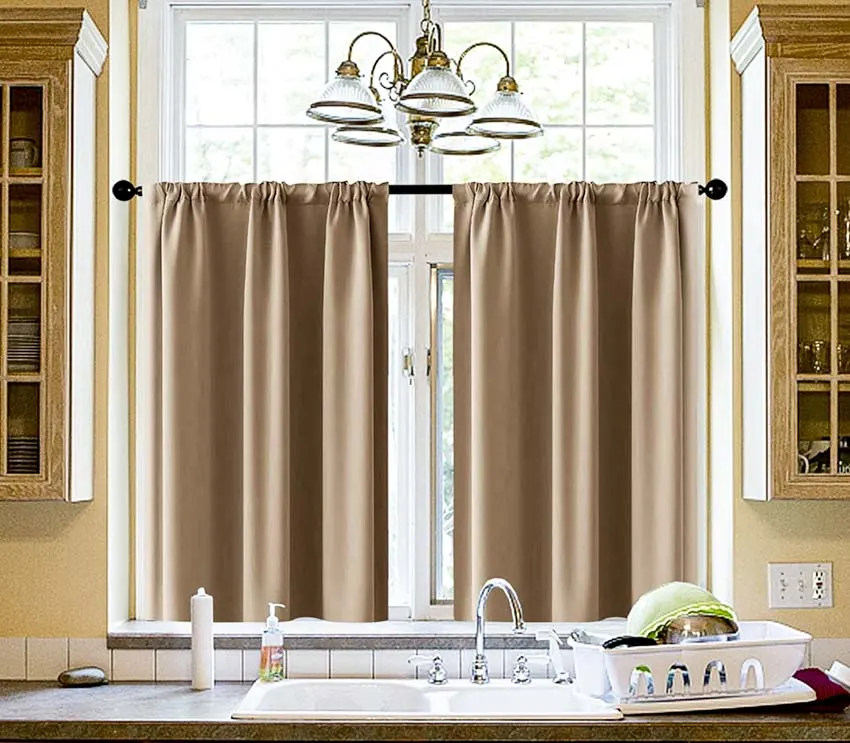 See this insulated tier curtain set at Amazon [sponsored link]
If you reside in a colder region, insulated tier curtain types might be an excellent choice for your house. These are frequently constructed of heavier materials like polyester or cotton.
Since insulated curtains are so substantial, they can provide extra insulation for poorly ventilated windows in your house. The thick fabric of such tier curtains will also boost the privacy of a particular space.
Rooms That Use Window Curtain Tiers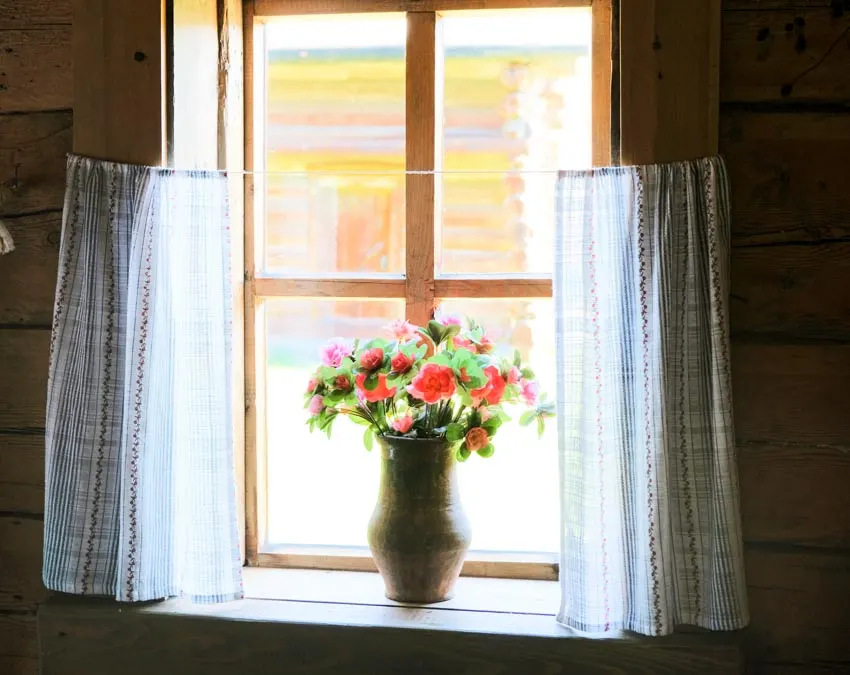 Tier curtains are multifunctional and can be utilized to produce a stylish accessory that complements any room's color scheme. Since they allow natural daylight into the room while also providing the desired level of seclusion, these curtains are a common pick for kitchens, bedrooms, as well as bathrooms.
We will discuss the room that often use tier curtains below:
Kitchen Tier Curtains: Indeed, you can keep your kitchen vintage and vibrant with this type of curtain. Kitchen tier curtains are often fitted or ruffled window coverings that hang from the center of the window down to the window sill.
A window valance, on the other hand, completely covers the top of the window. This type of kitchen window treatment can be used independently or in conjunction with blinds. They are also a preferred aesthetic solution for obscuring window hardware. Tier curtain sets can also provide a touch of elegance to your kitchen.
Tier Curtains for Bedroom: Bedroom privacy tiers are another name for bedroom tier curtains. They provide privacy by covering the bottom half of a bedroom window and can be used with a complementary valance to deliver the design.
Aside from that, these curtains can be utilized as a whole window treatment on small bedroom windows. Tier curtains are somehow a good idea as they give a bedroom a comfortable and relaxed appearance, which is beneficial for householders who want to fall asleep quickly.
Bathroom Tier Curtains: These curtains are ideal for bathroom windows because they provide privacy and sufficient insulation without totally blocking out ambient lighting. Normally, bathrooms are confined and receive very little outdoor lighting. Hence, it would be a great idea to place tier curtains to ensure that the light coming from the outside is not totally blocked.
Curtain Rods for Tiers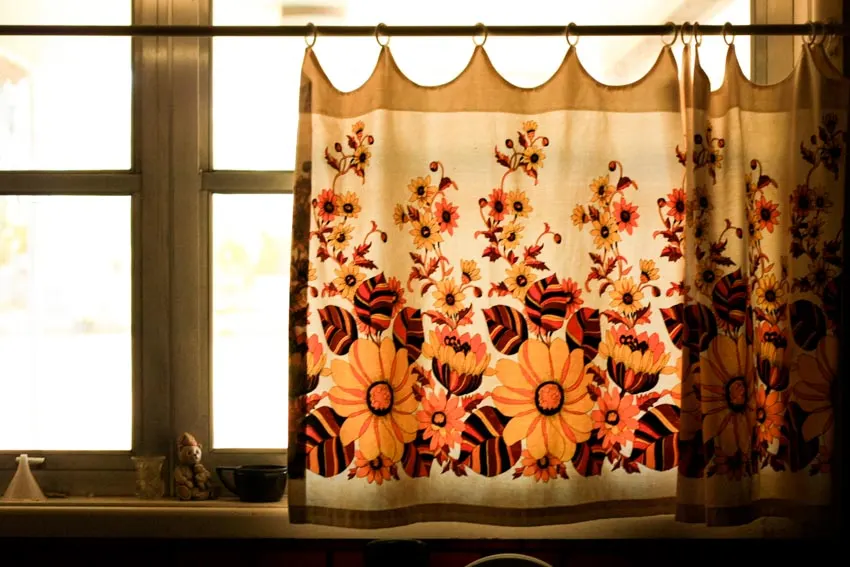 Tier curtains can be fixed with decorative café rods, standard curtain rods, spring tension rods, or net rods. There is no such thing as a "perfect rod" for tier curtains.
Indeed, these curtains will usually look excellent on any of the four varieties stated above. However, it all relies on the style you desire and the level of coverage you require.You can read more about curtain rod sizes on this page.
Here are the different tier curtain rods along with their brief descriptions:
Decorative Cafe Rod: Decorative café rods are meant to accept relatively short, but often fashionable, voile, or fabric-made panels with a slot upper end or tab-top (fabric loops) header, which is typically 10 to 14 inches long. They are more ornamental than functional and are intended to fit in the lower section of a window recess to provide seclusion and decoration.
Standard Curtain Rod: Standard curtain rods are typically made of wood or steel poles of varied sizes. Standard wood poles in typical lengths are available from retailers, as are adjustable steel rods.
You can get a single curtain rod or two rods that enable you to place sheers underneath private curtains. Standard tier curtain rods are frequently sold in sets with corresponding wall brackets, decorative accessories, and rings.
However, customized curtain rods are made to the customer's particular requirements by specialized manufacturers. Tier curtain rods that are made to order are significantly more expensive than off-the-shelf rods. A homeowner can customize the exact finish and setup with custom models.
Spring Tension Rod: Spring tension rods are an excellent choice for fast and simple window treatment applications. They enable these curtains to be placed without drilling holes in the window frame and are simply adjusted, moved, and removed. They are easily relocated or replaced.
Such rods are often small, hollow, and lightweight rods that function similarly to extendable poles in that they are made of two sections, with one rod inserting securely within the other to provide a changeable length feature. A twisting or unscrewing operation is often used to extend or shorten the rod.
Spring tension rods are engineered to be tensioned within a window recess without the use of screws or brackets, and the tension is accomplished by springs packed into the closed ends of the tier curtain rods.
Aside from that, if not overloaded or misused, these spring tension rods are exceedingly easy to install and quite effective for their intended function. They are meant to handle voile panels or sheer fabric materials with a slot-top or rod-pocket header.
Net Rod: A net rod is a relatively thin hollow rod that may be adjusted in length by sliding two rods of marginally different widths together. Net rods are normally tubular, oval, or nearly flat in shape.
They are also intended to hold lightweight voile curtains, sheer draperies, or ornate nets that do not open and close constantly. These tier curtain rods are often installed within a window recess in the same manner as spring tension rods, but net rods.
This includes a punched hole at either end that is fitted onto tiny angle screws that are installed within the window recess or straight into the window framing. Net rods are used to hang window coverings that have a slot-top or rod-pocket heading to offer seclusion and light dispersion.
Benefits Of Using Tiers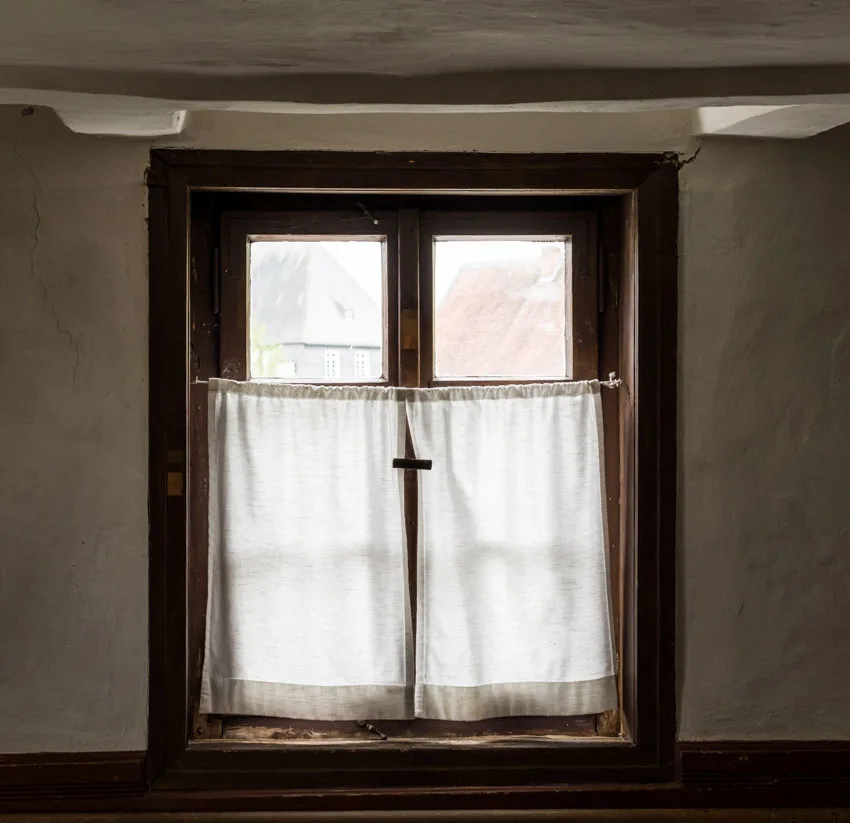 One advantage is that tier curtains can provide a decent degree of insulation for your house and assist in avoiding drafts during the colder months.
One other feature is that they are more ornamental than regular curtains because they have a three-dimensional impression with one panel in front and two panels beyond. When closed, this style gives protection without obstructing all of the light, and when opened, it still allows in sunlight.
Truly, there are numerous advantages to employing these curtains. They can be used in any room of the house, although they are most prominent in spaces that require seclusion such as bedrooms, kitchens, and bathrooms, as aforementioned.
Aside from that, these tier curtains deliver shielding in areas where adequate light management is required. This curtain type enhance the aesthetic attractiveness of your home.
Tier curtains are generally associated with an out-of-date appearance, but with the wide range of styles currently available, this is no longer the case. They are adaptable to any sort of house.
You can select a plain, solid-colored tier curtain with no ruffles or lace accents for a modern aesthetic. Placing your tier curtains on a stylish rod with clipping rings will also help to modernize this look.
These curtains with coordinating top treatments are also obtainable. Top treatments can either add elegance to your windows or serve a useful purpose. You can try to purchase matching tier curtains and valances or make your custom set of similar colors and designs. Valances are frequently included in bedding sets that may feature bedspreads and throw pillows.
Café or tier curtain types are a terrific solution to take into account when hanging window treatments. Not like any other style of curtain, these curtains balance seclusion, and light transmission. As we have just seen, they are adaptable in terms of style and arrangement inside the home.
Where Do You Hang Tier Window Curtains?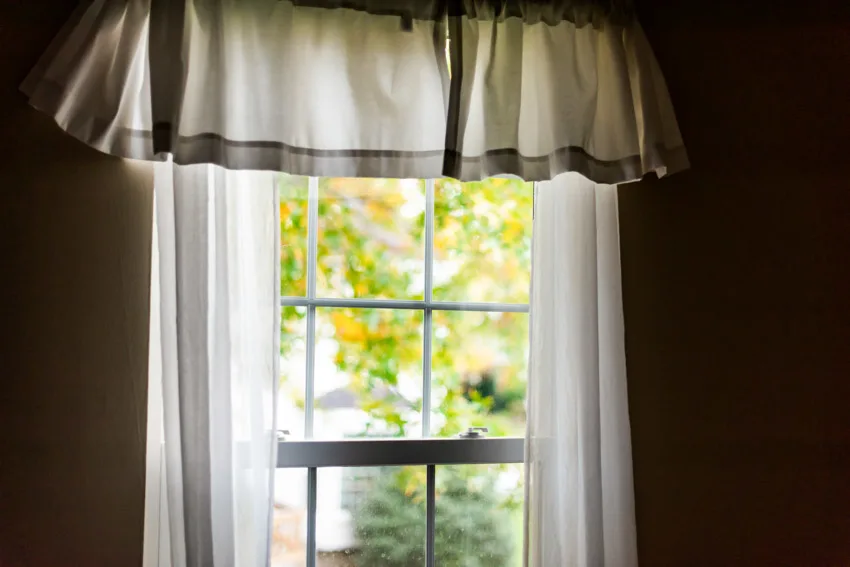 Tier curtains are supposed to hang from the top of the window sill to the lower part of the window frame. They give seclusion while allowing light into the room through the top half of the window. Tier curtains are normally hung with two panels per window, as with most other drapes and curtains.
Moreover, these curtains hang from the top down to the bottom, so keep this in mind when making your measurements. You can utilize pre-installed curtain rods on your wall or buy standard brackets and attach them yourself. The rods must be placed at least 1 foot apart from each window frame to allow for easy handling of the curtains whenever they are drawn.
How Long Should Tiers Be?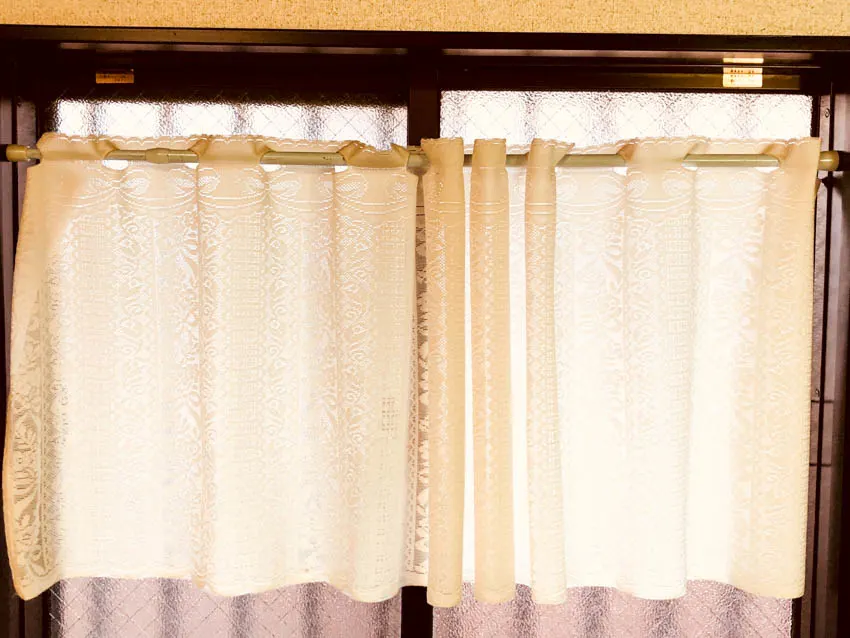 Tier curtains typically measure 12 feet in length by 7 feet in width. Tier curtain lengths, on the other hand, can differ contingent on the dimensions of the window, but they must be at least 6 inches longer than the width of the window you are placing the curtains. See our article about how high to hang curtains for more information.

How Are Tiers Measured?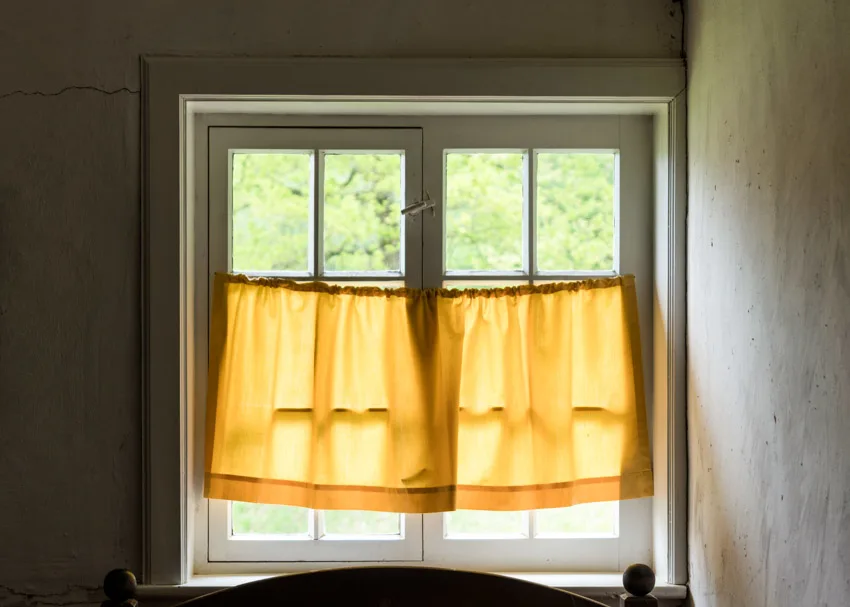 To determine your window height, you have to start measuring from ceiling to floor, multiply that measurement double, and then divide by two to determine the width of each curtain paneling. Keep in mind to leave enough room on each side of the window so you can easily open and close these curtains.
If you are not certain how many curtains you have to install at your home, you can try to measure from the top of the window frame downward and add 6 inches or thereabouts — this will provide you with an idea of what size your tier curtains will ideally fit.
Moreover, these curtains are particularly created for windows that are difficult to decorate with conventional panels or valances and will often fit even non-typical window sizes.
See more related content in our article about how to layer sheer and blackout curtains on this page.