Creating an appealing game area is a dream come true! The ability to shut oneself off and escape to another universe will remove anyone's concerns about the outside world. Here are popular game room paint ideas so you can have maximum comfort and enjoyment from your space.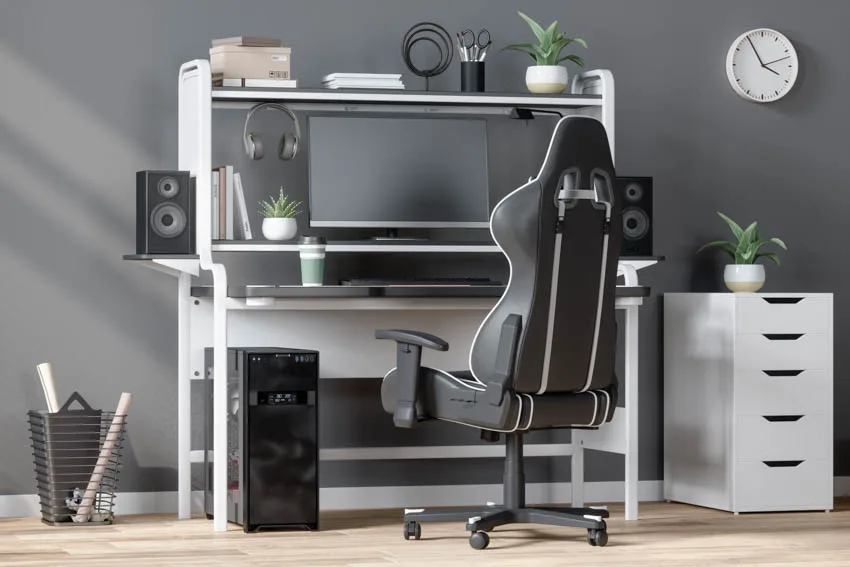 Whether you are a die-hard PC gamer or enjoy a wide range of adult or kiddie games, your gaming area can be anything you want it to be with the right design idea and a little know-how!
When developing gaming room ideas, consider the environment you want to create. It should provide comfort and convenience not just for you but also for your guests. Your walls are the place to start when creating a mood for your game room.
What Is A Good Color For A Game Room?
| Paint Color | SW Number | Description |
| --- | --- | --- |
| Habanero Chili | SW 7589 | A bright red that energizes the gaming space. Note: May increase hunger; consider extra snacks. |
| Peppercorn | SW 7674 | A versatile gray, it is ideal for rooms doubling as home theaters. Perfect backdrop for screen-based entertainment. |
| Gulfstream | SW 6768 | A vibrant teal for accent walls. It brightens the room but may be overwhelming if used excessively. |
| Glitzy Gold | SW 6691 | A lively gold that adds warmth without the need for darker tones. |
| Frank Blue | SW 6967 | A true blue that maintains a sense of calm and elegance, making the gaming area broadly appealing. |
Additional Paint Tips:
There is no single "correct" color for a gaming room; the one you choose is up to your own personal preference and room design
Don't rush the decision; consider the room's color scheme, and if in doubt, seek opinions from friends or interior design professionals.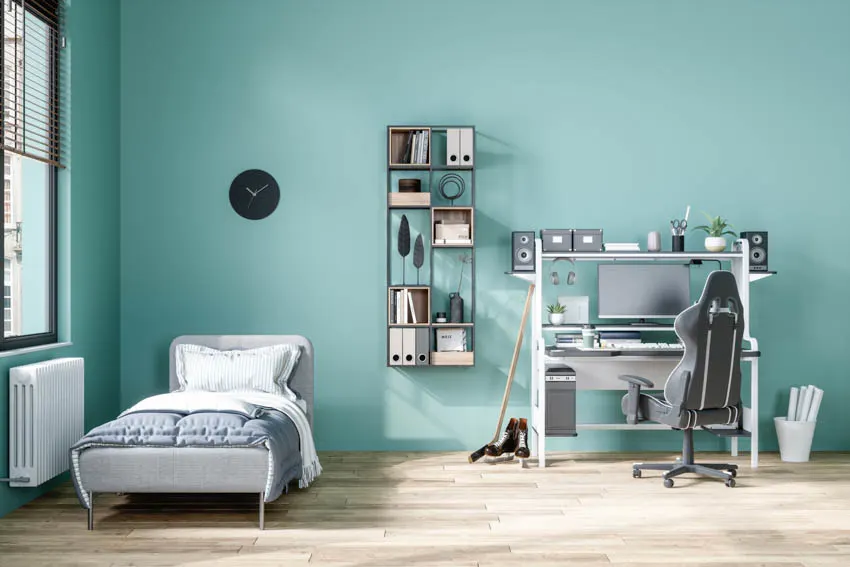 A game room is where people can play, have fun, and enjoy different forms of entertainment. In a gaming room, furniture alone is not sufficient. You must choose great colors that draw attention and enhance mood.
Gaming room owners and designers must adhere to a few basic guidelines to create the area properly. Let's look at the things to avoid when selecting a color scheme for a gaming room.
Don't make a hasty decision about which colors to use
Most individuals hurry to get their gaming rooms ready by overusing any color combinations. This option, however, is not viable; you must devote time to studying your room.
Getting the appropriate color paints should be the final item on your to-do list. If you find yourself in this situation, seek the advice of a professional.
Avoid choosing the first color you find

Don't get too enthusiastic and rush into buying anything you see at the first shop you go to.
On the first day, experts generally encourage individuals to go window shopping. Look for an example of the color combinations you need in your gaming room and take them home.
Allow others to compliment your color scheme
Most individuals choose their preferred color choices for their gaming rooms. However, such problems are among the most common blunders we make when working on these projects.
To obtain the best setup for you and other players, find harmonious color palettes and avoid making such errors if feasible.
Don't settle for dull colors if you want something vibrant
Most individuals like bright color combinations. Others, though, argue that the boring choices make it ideal for gaming rooms.
Before you do anything, choose if you need anything laid-back or spectacular. If you need a little light in the room, avoid using the brightest color choices.
Consider color psychology
There's the psychology of colors, which most people are unaware of. It is vital to learn about the significance of various colors before deciding on a color scheme for your gaming room.
Specific colors elicit a greater sense of serenity and emotion in individuals. The deeper green and other more relaxed choices are among the examples.
You must use colors that enhance a gamer's mood while creating a great gaming room atmosphere.
Color Schemes for a Gaming Room

Here, we share the different color schemes that can be used for a game room.
Red and Black
Many famous games, like Need for Speed, and even Final Fantasy, use the red and black color scheme. Because black is such a versatile hue, you can use it in almost any setting.
The black color helps the player concentrate on the screen's vibrant colors and noises. It also conceals unsightly aspects of the computer system, such as wires. Red accents provide exciting contrasts. This hue evokes feelings of joy, strength, and bravery in the players.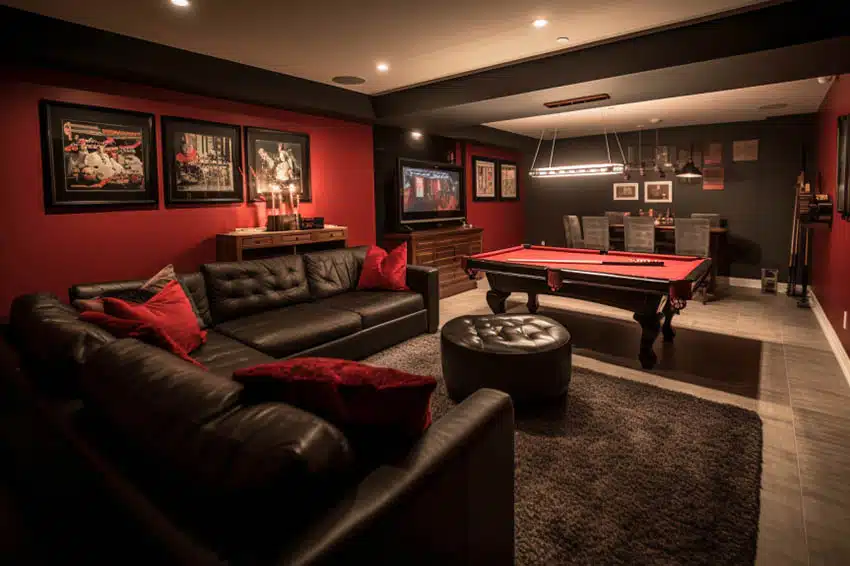 Strategic Color Theme
Make a checkerboard pattern of carpet squares on the floor and cover one wall with a vast Scrabble game. Pick two colors that go with the rest of the décor.
Add metal accents in chairs, tabletops, or work lights to the remaining walls, which should be medium gray with plenty of white trim and a white ceiling for light. Choose colors from the Scrabble board tiles for accessories in the room, such as throw cushions or bean bag chairs.
Vivacious Colors
A vibrant color palette brings a gaming room to life by creating a high-energy background for strategic moves. The room is bright, with a white ceiling, blue-green walls and trim, a gleaming black tile floor, and a glass chandelier.
Add a bright red-and-white checkered couch, curtains, and chairs. Keep black-and-white chess sets on display, and conceal the players' electronics in a polished black cabinet.
Large Space Inspiration

You can use large area rugs like zebra rugs to cover the flooring. Add blackboard to creamy off-white walls. Over the pool table, hang a chandelier with dimmable lights.
Strew table games such as tennis, hockey, and ping-pong around the area. Upholster extra seating for video gameplay and put huge images of African animals in black frames.
Transform a Basement

Transform a gloomy basement cellar into a timeless dream realm by filling it with arcade games. Paint fairy-tale images or Tarot card drawings in the insets to create a coffered ceiling.
You can also paint walls with pastel rainforests and gray stone walls. Put pinball machines, shooter games, and other iconic arcade games with pools of light. Place charcoal carpet to provide relief for your family and visitors' feet, backs, and legs. See more pictures of man cave paint ideas here.
Kids Play & Activity Room
If you want to create a space for fun activities for children, it is important to choose a color palette that brings out their creativity and imagination. It also needs to provide a sense of comfort and be appealing.
For a playroom, it is better to stay away from overly dark color themes, which will make the play area less inviting. When choosing, it may be a good idea to get the kids involved in the decision process to help them personalize the design. Here are a few children's game room color themes that work well.
| Color | Description |
| --- | --- |
| Bright Yellow | Stimulates and brightens a room |
| Sky Blue | Calm and peaceful environment |
| Grass Green | Vibrant, fresh and inviting |
| Candy Pink | Energizing and fun atmosphere. |
| Lavender | Peaceful while promoting creativity and imagination. |
| Orange | Warm and energetic – promotes social activity |
| Pastel Tones | Soothing and welcoming, without overstimulating |
| Multi-Colored | It adds character and fun. |
Game Lounge Paint Colors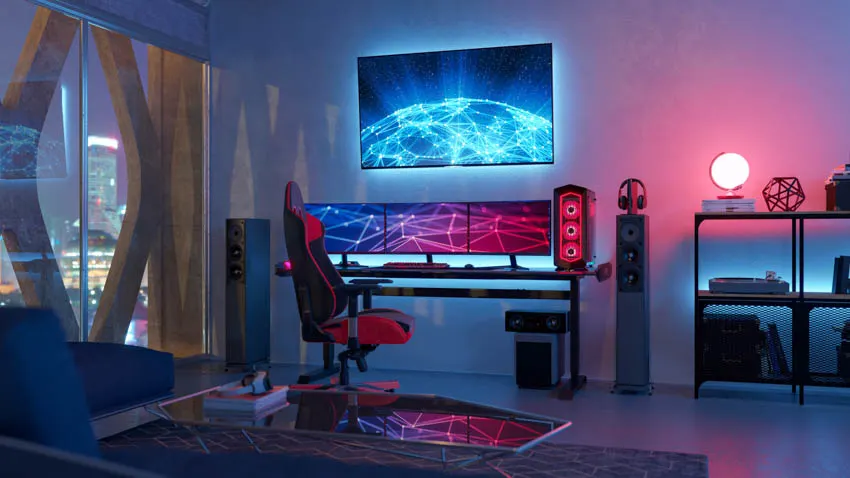 We have listed some of our favorite Sherwin-Williams choices to get you motivated to organize all of the movie nights and game nights on weekends:

Sherwin Williams Habanero Chili (SW 7589): Habanero Chile may be just what you want to spice up your gaming room. Red is a hue that will brighten up any room. Take note that red increases hunger, so prepare a few extra snacks just in case.

Sherwin Williams Peppercorn (SW 7674): Do you have a gaming room that also serves as a home theater? This beautiful gray might be the ideal backdrop for football games and Netflix marathons if that's the case.

Sherwin Williams Gulfstream (SW 6768): This teal-inspired hue will brighten your gaming area. This hue is excellent for an accent wall, but it may be too much for a room, so don't go overboard.

Sherwin Williams Glitzy Gold (SW 6691): Warmth must not be gloomy and depressing. Glitzy Gold is perfect to add a little warmth to the space without blacking out a wall or going completely dark.

Sherwin Williams Frank Blue (SW 6967): The song "Frank Blue" is just that—frank and to the point. This hue is probably somewhat similar to what comes to mind when you think of blue. This tempting hue will keep your gaming area looking elegant, calm, and widely attractive.
In a gaming room, there is no particular hue to use. Choosing a color scheme is influenced by several factors. Your personality, uniqueness, other people's perspectives, and other factors are all to consider.
Take your time and do it well. Window shop first to figure out what you will need for the space. Additionally, get input from friends and professionals on which colors they believe would work well in your room.
Ask the Interior Designer – Tips for Choosing Game Room Colors
For this section, we asked interior designer Maria Bott for her tips for choosing game room colors , and here's her response:
There are some key factors in designing a game room to consider to create the best gaming experience, which includes choosing your preferred style and incorporating it through the furniture and other extra features.
Moreover, the right color combinations for a game room are also an important element to be engaged in the game's world. Game room colors should be vibrant, and attractive as they will aid in improving the mood of the people in the room.
Color schemes have a great influence on the design of the space. It can encourage people to behave suitably for the different activities in the game room.
Studies show that colors are associated with the emotions people evoke. Specific color schemes can influence different sensations and excitement based on each individual's own personal energies as they walk into a room.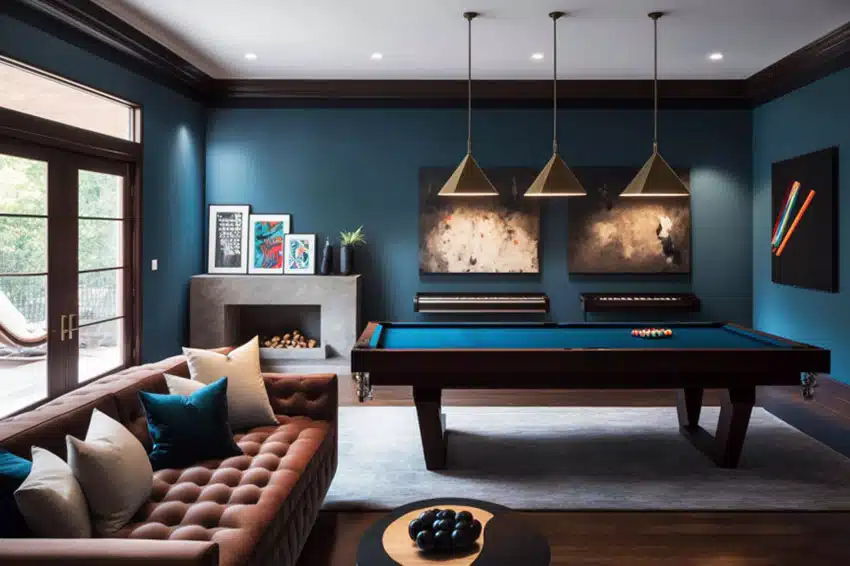 Blue and green colors are associated with water and nature, which encourages a calming, soothing feel and creates a relaxed ambiance. Using different shades and hues of these colors adds more energy and competence to a gaming setup.
Instead of having these colors on walls and ceilings, try incorporating them into your lighting and balance it with neutral colors , limiting your color scheme and equalizing the tint of the colors to achieve a quiet and restful effect.
Since a game room is a common space where you want to feel happy and have an energized vibe, use bright and warm colors such as yellow, orange, and red for accent walls and accessories.
Try combining your accent wall color with gray, black, or white walls; this will bring a refreshing and vibrant mood to the area. On the other hand, having dark colors for your game room will give a sense of a private sanctuary and a sense of security while reducing the tendency of light to bounce in the room.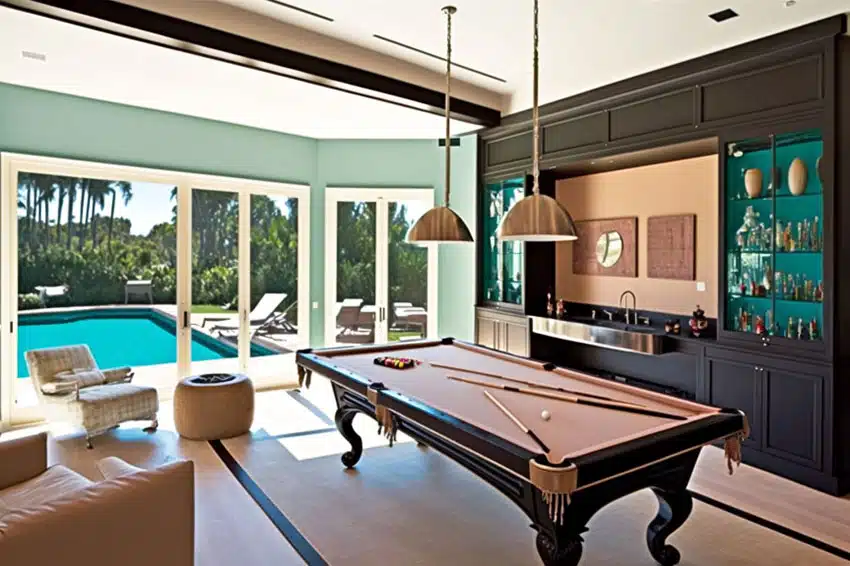 Experiment using neutral tones like brown, tan, or taupe and introduce colors such as dark green, teal, turquoise, forest green, lime greens, or hunter-greens for added depth. These warm and earthly shades will give your game room a cozy, comforting, inviting atmosphere.
Other top color combinations include combining orange with black, white, and blue accents since it draws attention to the aesthetic of the gaming setup without going overboard.
Orange is a color that is associated with excitement and offers the gaming environment a more engaging feel. For a confident, powerful, and trendy look, consider using pink on black as your color scheme.
You can also add shades of purple into the mix to create a color scheme that is enjoyably consistent with the technology and modern aesthetics of the gaming world.
Remember that the key is to decorate your game room with accessories and paint colors that will resonate with positivity and encourage the mood you want to create. Incorporate some contrast through a variety of textures and tones that are coherent with each of the elements.
See more related content in our article about man cave colors on this page.