Here we share our copper sink pros and cons guide including what is, reasons for and against, maintenance and cleaning tips, types, options, and if it is worth it.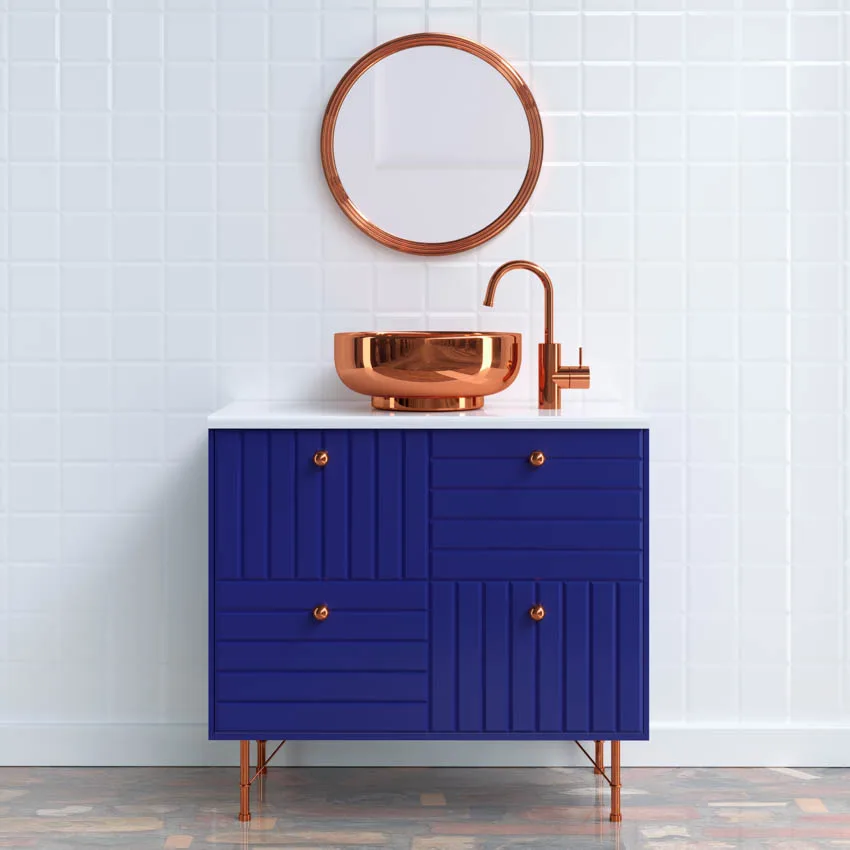 Are you searching for something unique for your kitchen? Yes, you can go with stunning countertops or beautiful backsplash, but if you genuinely want to make an impression and an intelligent kitchen decision, consider a copper sink.
Many people mistakenly think that copper sinks are brittle and unfit for intensive usage. Copper is not just an attractive, ornamental option; it is also solid, environmentally sustainable, and simply stunning.
What Is A Copper Sink?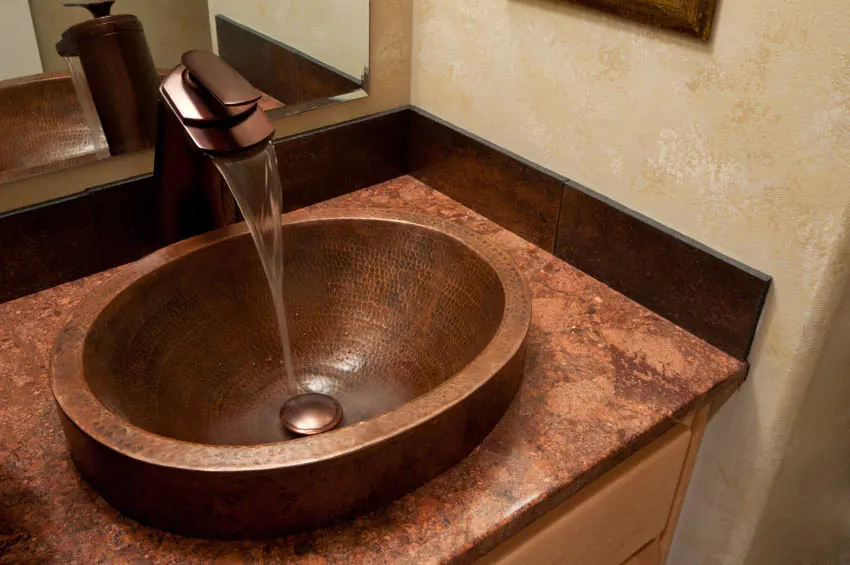 Copper sinks give a unique elegance to any kitchen or bathroom. They are from copper with a bit of zinc for strength and made typically by hand.
Copper is a beautiful element of nature. It is rigid but flexible. It is lovely, one-of-a-kind, and easy to preserve. You may recycle it indefinitely without losing its tensile strength.
Copper sinks offer beauty and flair, whether the home is a contemporary masterpiece or has a rustic farmhouse charm. They also enhance house buyer perceptions and boost the value of your property when it's time to sell.
Copper Sink Pros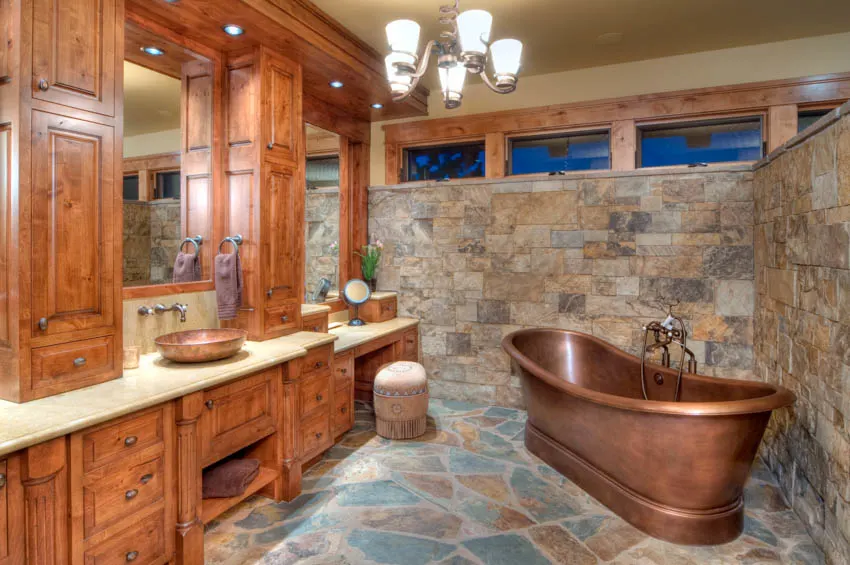 Lovely and timeless appearance: Genuine copper has richness and warmth, unlike any other material. Its timeless feel makes it ideal for giving your kitchen an update you will enjoy for years.
Copper's patina and color are all eye-catching, making them a powerful focal point in the room. They are also available in a wide range of styles.
Long-lasting and adaptable: Copper sinks are also very simple to maintain, as long as you understand the nature of copper and how it will alter over time. As you use your copper sink more and more, it will acquire a beautiful, distinctive patina.
It won't remain brilliant and shining forever, but if you prefer the appearance of worn copper, you will enjoy seeing your sink develop its personality over time.
Rust and corrosion-resistant: Copper sinks are very robust and stain-resistant. Copper is a beautiful middle ground if your family is too hard to go with porcelain but wants something with a bit more visual appeal than stainless steel.
Antimicrobial and environmentally friendly: Copper is naturally antimicrobial, so microorganisms in the kitchen die on contact, reducing undesirable smells.
Simple upkeep and extra-long life expectancy: Once you know which substances may harm a copper sink, avoiding those problems becomes second nature. A simple soap-and-water regimen every few weeks is sufficient. The copper sink will not discolor if you avoid very acidic meals and drinks.
Return on Investment: Because copper kitchen sinks are so attractive to purchasers, they help maintain or increase property value at resale.
Size: Because a copper kitchen sink has a deeper depth than a farmhouse sink, it may be used to hand-wash clothing, rinse the family pet, or even assist with infant baths. Large families benefit from the deep sink for more conventional usage.
Copper Sink Cons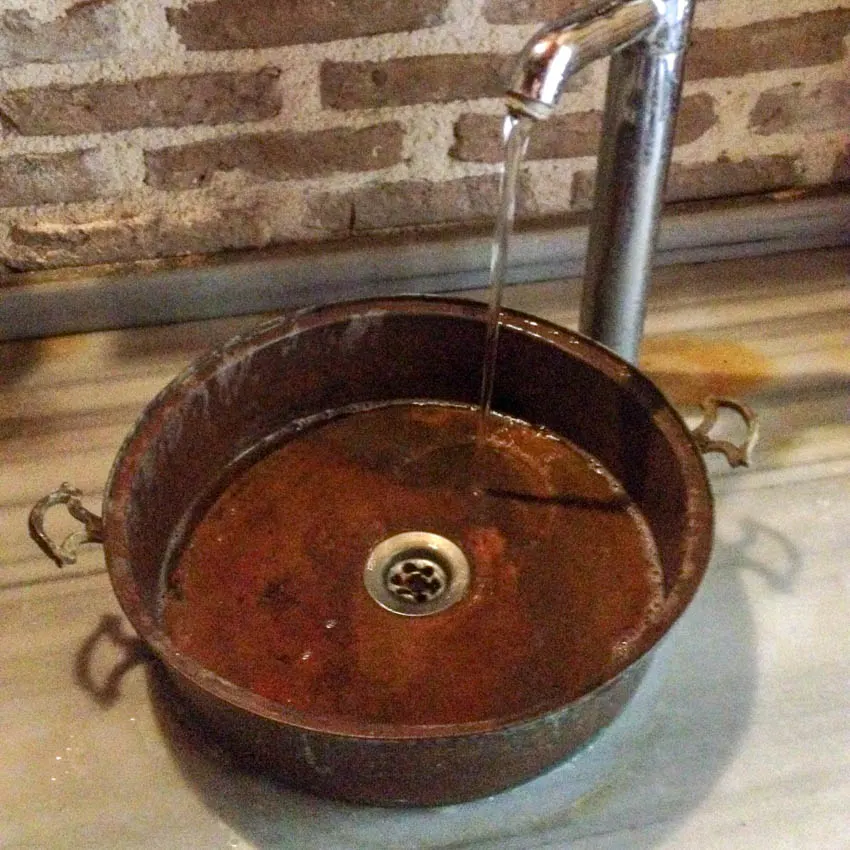 Fading: As previously stated, the brilliant, gleaming surface of your copper sink will fade with time. Depending on how you feel about copper's signature patina, this may be positive or negative.
If you prefer a spotless, clean appearance to an earthy, lived-in vibe, choose a material that won't alter significantly over time.
Prone to denting: While hefty copper sinks are robust, thin gauge copper is susceptible to warping and denting. Unless you plan to be very cautious with your sink, it is worth spending a little more for a heavier, thicker gauge that will endure daily wear and tear.
Cost: It is worth noting that copper sinks are not as expensive as a high-end material like marble, but they aren't as cheap as a standard stainless steel fixture. Designers recommend purchasing the thickest gauge available within the renovation budget.
Susceptible to acid, heat, and strong cleaning chemicals: Copper needs special care to avoid discoloration. The copper will darken as it acquires a patina over time.
Durability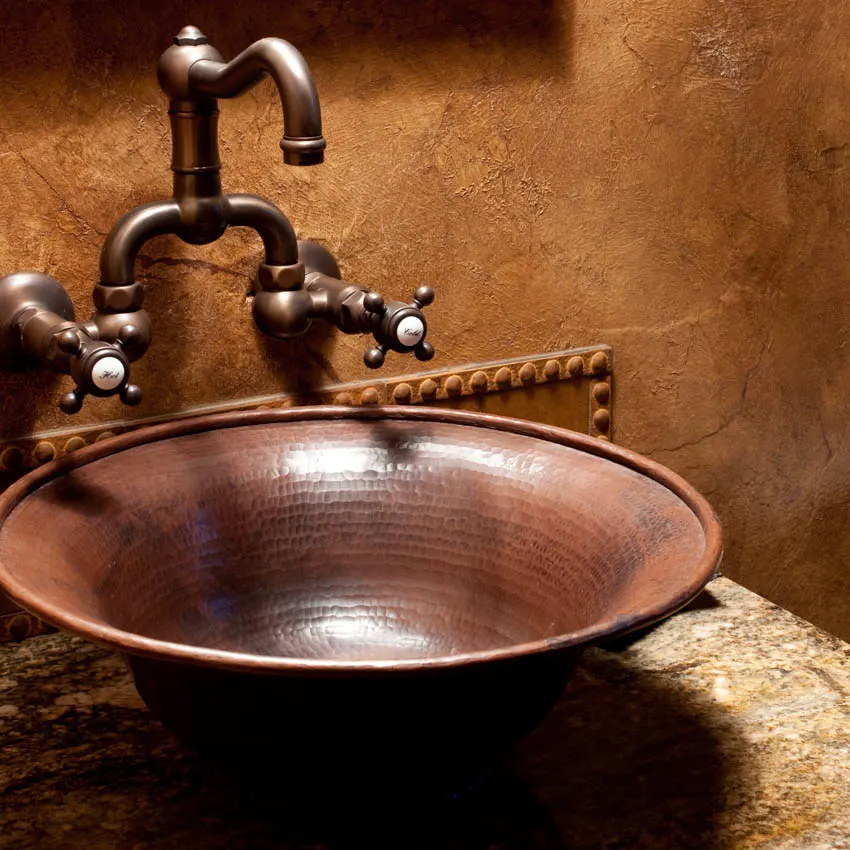 Copper is a durable metal that retains its strength, elegance, and integrity even after being recycled. It is prone to scratching, and smooth surfaces are more likely to be "dinged," contributing to the sink's charm.
Copper sinks of high grade are long-lasting and resilient to rust and corrosion. The robust 16-gauge construction ensures long-term endurance.
Maintenance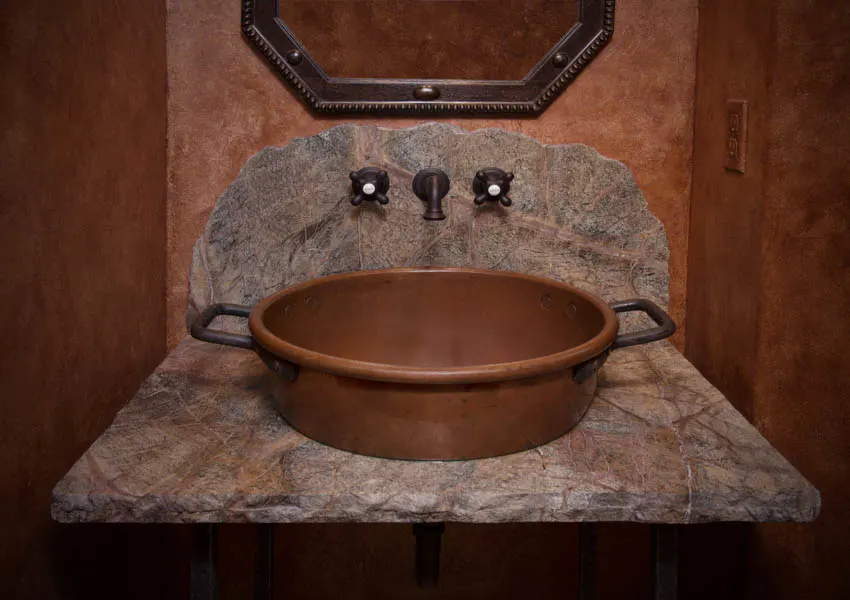 Many people believe that copper sinks are difficult to care for and need a lot of upkeep. While a copper sink is more distinctive than a stainless steel or porcelain sink, it is not hard to keep clean.
You can take certain tricks and additional measures with copper to clean and care for it a bit simpler. To maintain your copper sink in top shape, follow these steps:
• Avoid using abrasive or harsh chemicals, cleansers, or brushes.
• Avoid prolonged contact with acidic foods.
• Clean with water and mild soap.
• After each usage, pat dry with a soft towel.
• Waxing may help prevent water spots and mineral deposits.
• For optimum results, use a mild copper sink cleaning regularly.
If you selected a bright copper finish for your sink rather than allowing the natural patina to develop over time, you'll need to clean and wax it regularly to keep it looking shiny.
When you see the copper starting to darken or discolor, clean the sink with a copper polish. When the shine has returned, polish the sink with Carnauba wax or a special copper wax at least every six weeks.
Cleaning a Copper Sink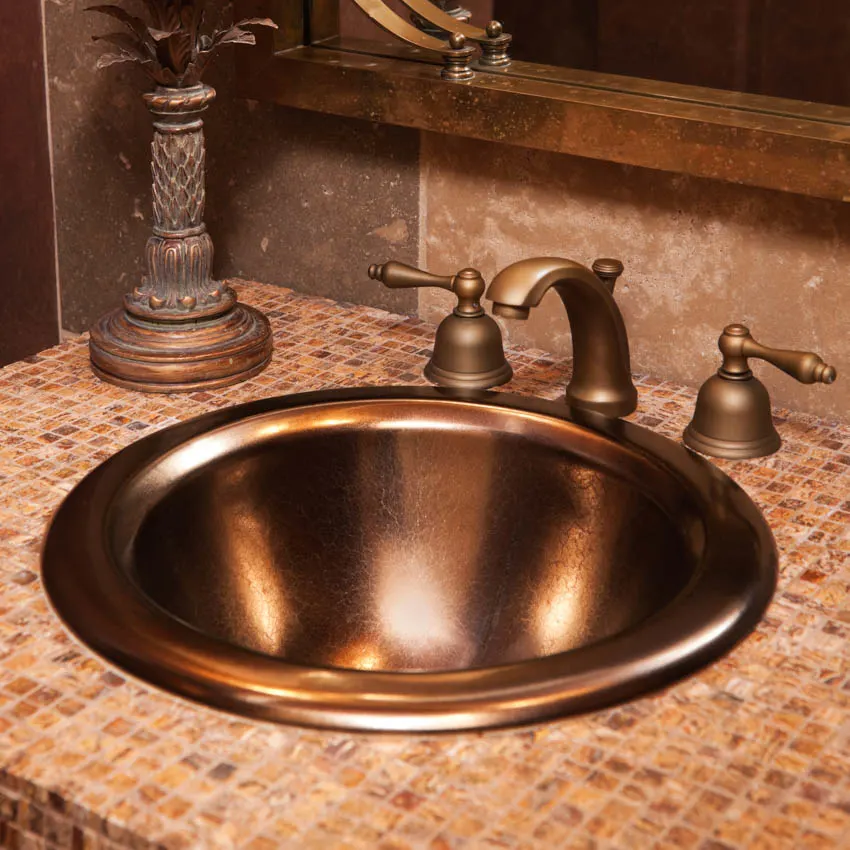 Cleaning a copper sink is, as you can see, relatively easy. It is essential to understand what you shouldn't do with copper and what you shouldn't use.
Use a mild soap, warm water, and a delicate cloth or sponge to clean your sink.
Never use any harsh scrubbing pad or steel wool.

If you do have discoloration on your sink, a water and vinegar solution combined with a soft sponge can be used. Use a circular motion to gentle remove the stain.
Like a pair of jeans, a copper sink will age depending on how much you use it. The copper's integrity or the sink's construction will never fail you, but the finish and hues may fade, darken, or brighten with time. Many copper sink owners like this aesthetic. A copper sink improves with age.
Copper Sink Price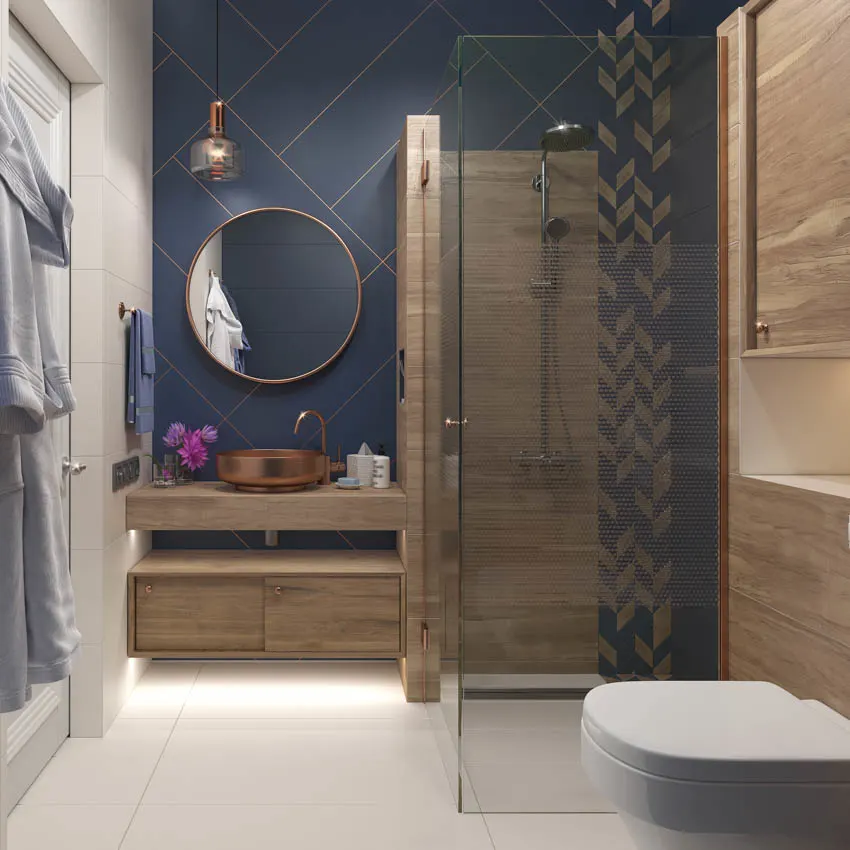 Copper kitchen sinks are more expensive than stainless steel sinks, but we all know that everything worthwhile in life comes at a cost.
Copper is one of the more costly sink materials, yet it is still within most budgets. Sinks vary in price from around $200 for a tiny bar to several thousand dollars for larger sinks. You will likely find a wide selection of choices in your price range.
Copper Sink Gauge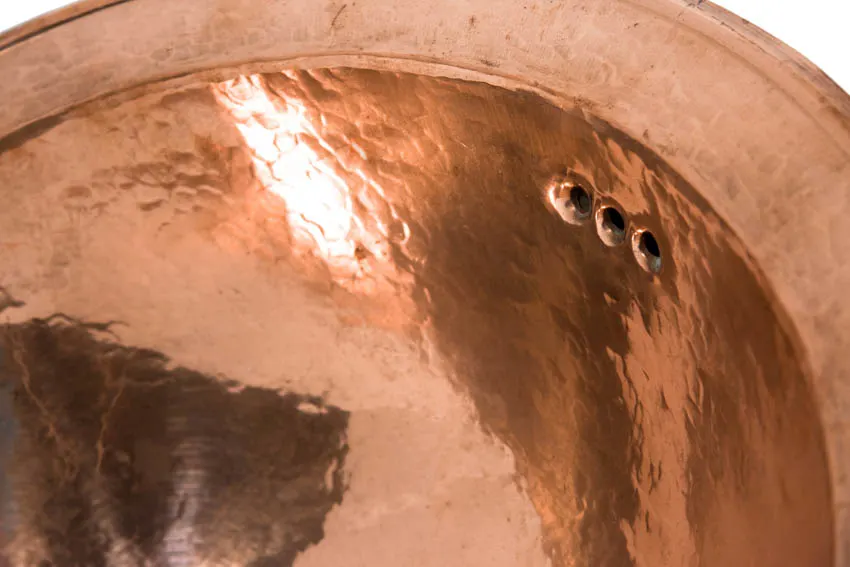 Copper kitchen sinks are often made from thinner gauge copper sheets by specific manufacturers. They would have a similar appearance and polish to a thicker gauge copper kitchen sink, but they would be less durable.
A copper kitchen sink with a thinner gauge would be less expensive. You should never compromise your sink's quality or longevity for a lower price. It is important to note that the smaller the gauge number, the thicker the copper utilized to make the sink.
Check that your sink's seams are welded rather than soldered for the most remarkable results. Soldering creates a weaker seam that is more likely to tear apart over time, while welded seams do not deteriorate or break.
Copper Sink Finish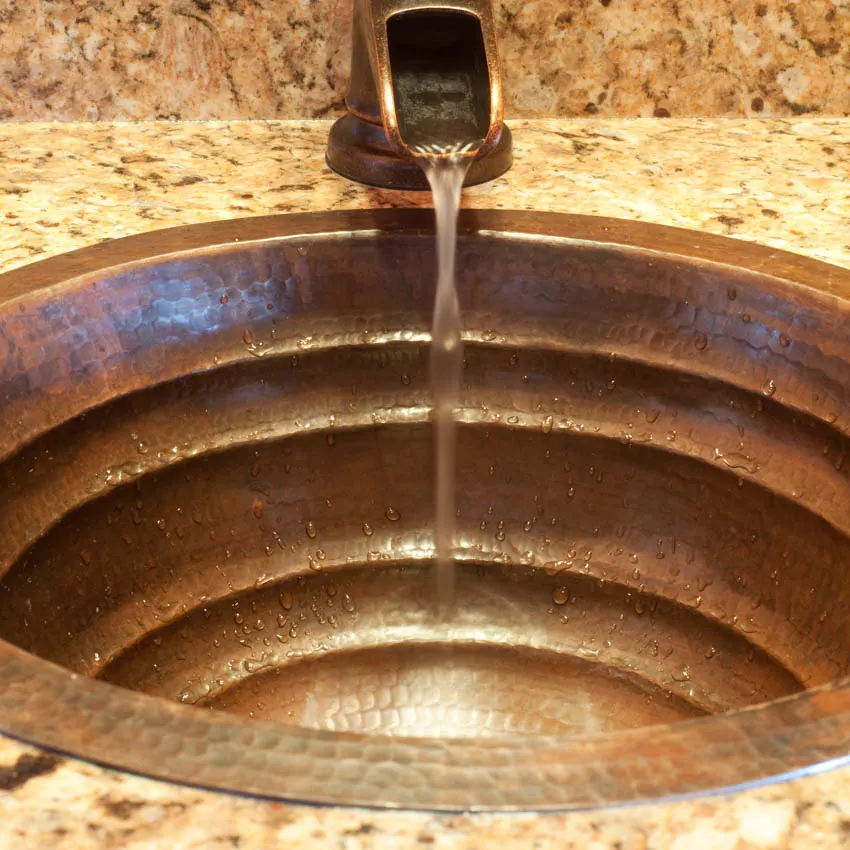 Copper sinks are available in various finishes, from the brilliant, raw copper of a brand new penny to a dark chocolate or espresso patina that develops over time. The copper finish you select is a matter of personal preference, but a more profound patina avoids the maintenance that comes with bright copper.
A copper finish changes color over time (except for lacquered copper). The patina process' rich highlights and undertones are continuously evolving. With the frequent application of wax's protective layer, you may significantly minimize this change.
Patina may also brighten. Copper reacts to acidic foods, very salty water used in ice cream production, and some chemicals.
Keep it dry while not in use, rinse it off after each use, and avoid acid-based cleaners and products if you want to slow down the patina (after it's achieved your preferred finish). Apply clear lacquer to protect the finish after you are happy with it.
Types Of Copper Sinks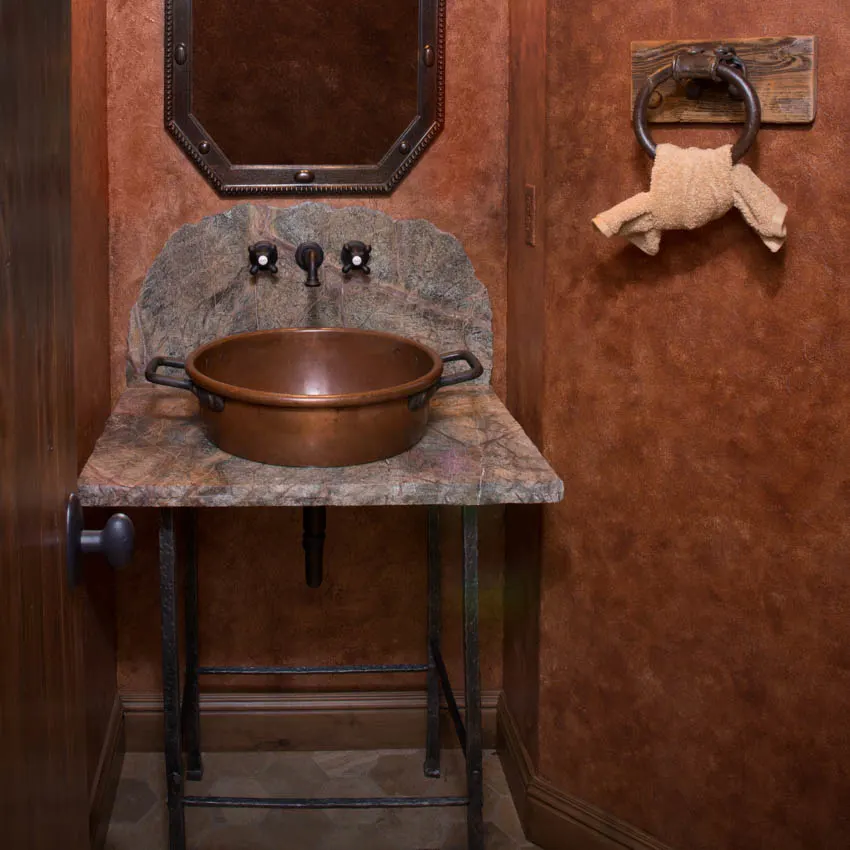 Copper kitchen sinks are available in three main styles: undermount, drop-in, and farmhouse sink styles.
Undermount sinks are copper sinks placed under the countertop surface. These sinks, whether for kitchens, bars, or restrooms, usually have a flat rim. The flat rim is utilized to attach the sink to the bottom of the countertop and enables the sink to lay flush under the counter's surface, eliminating any gaps.
Drop-in copper sinks are the polar opposite of undermount sinks. Drop-in sinks insert into a countertop cutout with the rim visible above the counter.
Drop-in sinks usually have rounded or slightly beveled edges because the rim holds the sink in place and prevents it from sliding through the cutout in the countertop.
Farmhouse sinks come in various sizes, shapes, and combinations, including single, double, and triple variants. Copper sinks lend themselves nicely to the farmhouse sink design because of their rustic character.
They are also known as farmhouse sinks since they are similar to those in old farmhouse kitchens. Read more about our guide on apron sink vs farmhouse sink here.
Copper Sink Options
Copper sinks come in various configurations – single bowl, double bowl, and triple bowl – to suit your cooking and cleaning preferences.
A single bowl copper sink is ideal for big loads and people who want elbow space when washing dishes. A double bowl sink separates dishes and glasses or dirty dishes and meal prep. A triple bowl sink offers even more versatility than the smaller bowls and double. Read more about the differences between a single and double kitchen sink here.

Copper sinks may be contemporary (smooth and glossy copper sinks), rustic (hammered and rich copper sinks), or any design in between, depending on the finish and arrangement.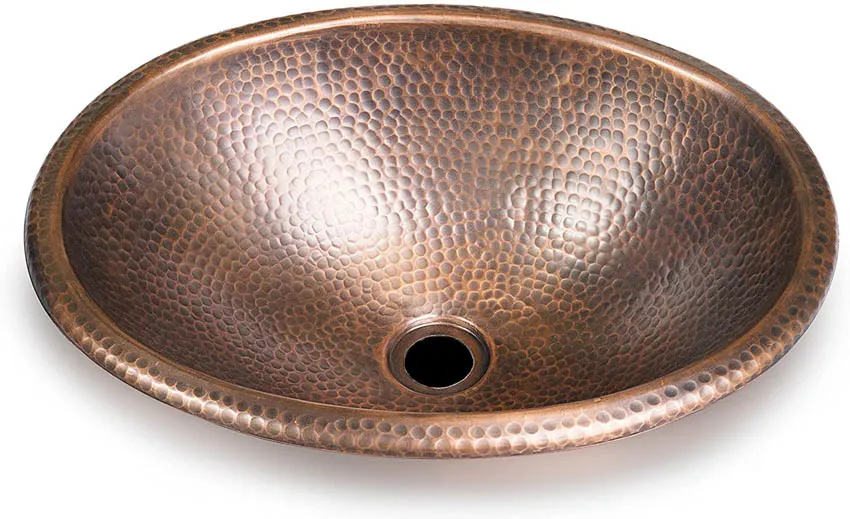 See this hand hammered copper vessel sink at Amazon [sponsored link]
Are Copper Sinks Worth It?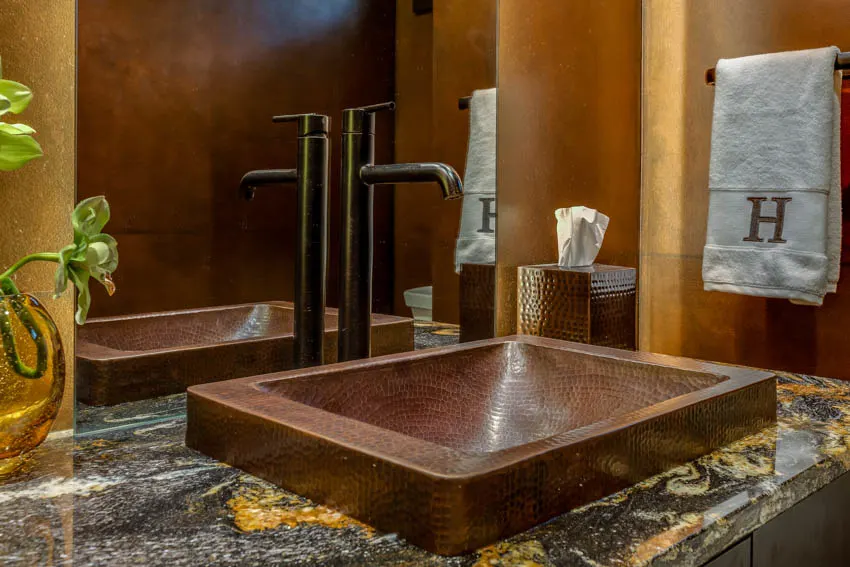 Investing in the kitchen and bathrooms is vital for transforming your house. Farmhouse sinks and features may help add 30% to your home's market price.
Rustic elements are more fashionable than ever in house design, and these craftsman-inspired characteristics may help homeowners market their homes for a higher profit.
Copper sinks look great in both contemporary and classic settings. As a result, they appeal to a broad range of tastes. While copper sinks may be expensive up front, they can pay for themselves in the long term as the attractive sink will enhance the value of your house.
Many home sellers will discover an additional value on their property if the copper sink adds an antique vibe or rustic appeal to the room since craftsman, farmhouse sink and exposed brick are popular real estate keywords.
Do Copper Kitchen Sinks Turn Green?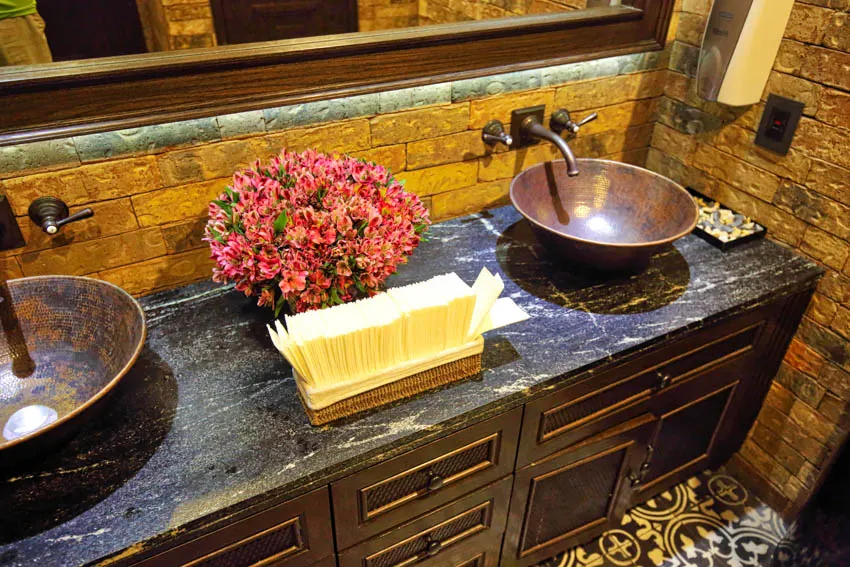 Green oxidation may occur on copper due to severe conditions (weather and significant temperature swings), saltwater, and other common elements outdoors. Copper is a living metal, so it has a remarkable ability to defend itself against the elements.
Green oxidation will never develop if a copper sink is adequately cleaned and cared for in your indoor kitchen or bathroom.
Before you commit to a copper sink, you must understand patina. The natural color changes with the patina may take some people off guard since they aren't expecting them.
If you choose a copper sink and the patina begins to fade, keep in mind that this is perfectly natural. So, when it happens, take a breath, sit back and relax, and let the patina process do its thing.
Copper's patina develops over time, becoming more affluent and profound, creating a glossy surface with vibrant color veins and depth.
When purchasing a copper sink, ensure that it is from high-quality copper, whether reclaimed or freshly mined and that a reputable firm with third-party certificates manufactures it.
Are Copper Sinks Hard To Take Care Of?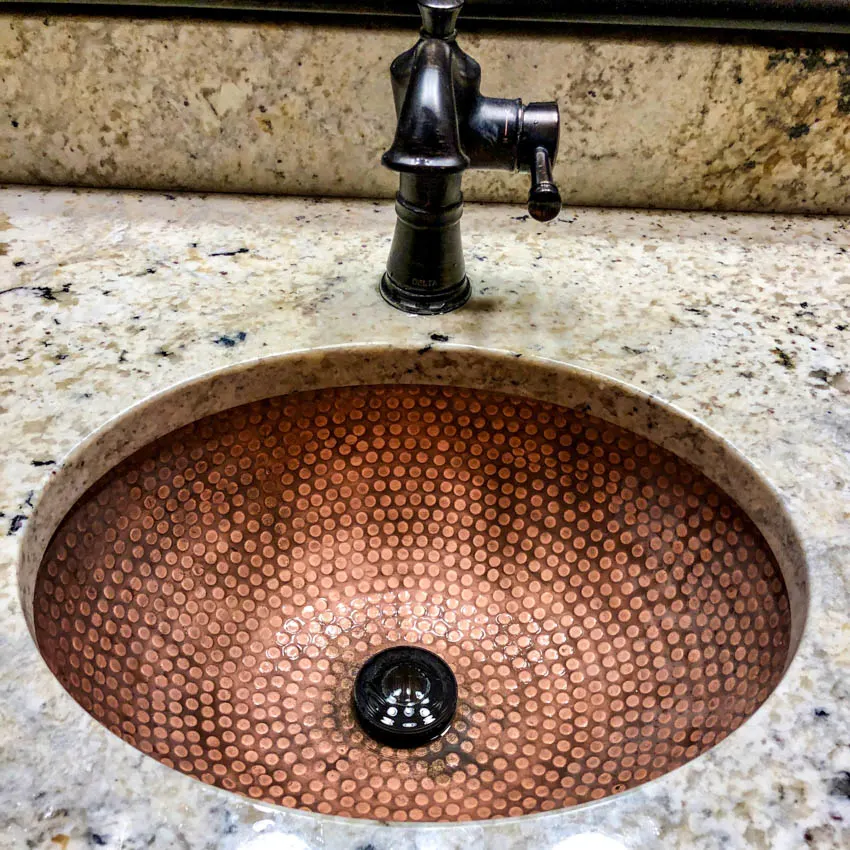 Copper sinks have an antibacterial effect that stainless steel and porcelain sinks do not. Unlike copper-bottomed pots and pans, they are easy to clean and maintain. The softer you are with a copper sink, the more attractive it will become over time.
Are Copper Sinks Toxic?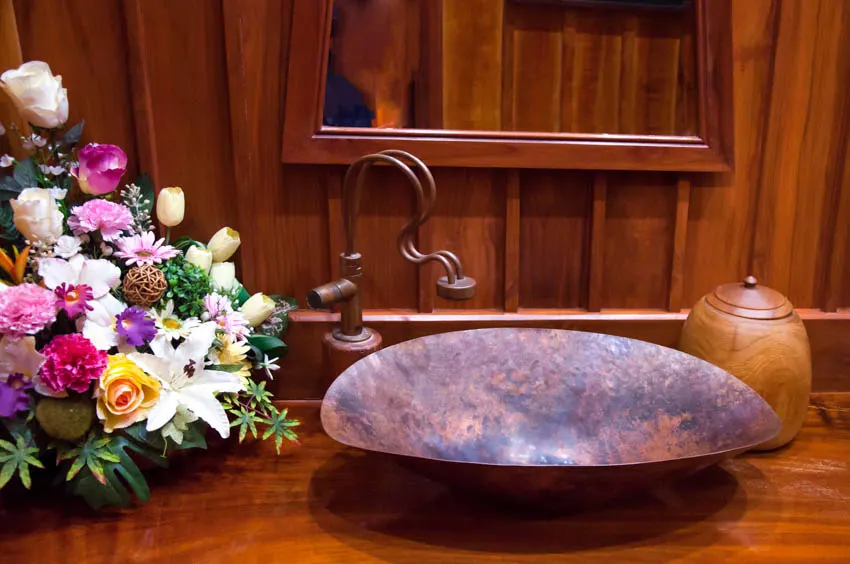 It would be best to avoid low-quality copper sinks since they are easily damaged and will not endure. A high-quality copper kitchen sink should include 99 percent copper and 1% zinc.
Many less-priced sinks have lead and mercury, so double-check the purity of your sink. Copper is the first solid metal with antibacterial characteristics that can destroy dangerous germs on contact surfaces.
This idea has led to a study into how hospitals and other healthcare institutions use copper sinks. Copper can help prevent the spread of flu in homes and cross-contamination of germs found in foods.
Copper Sink Brands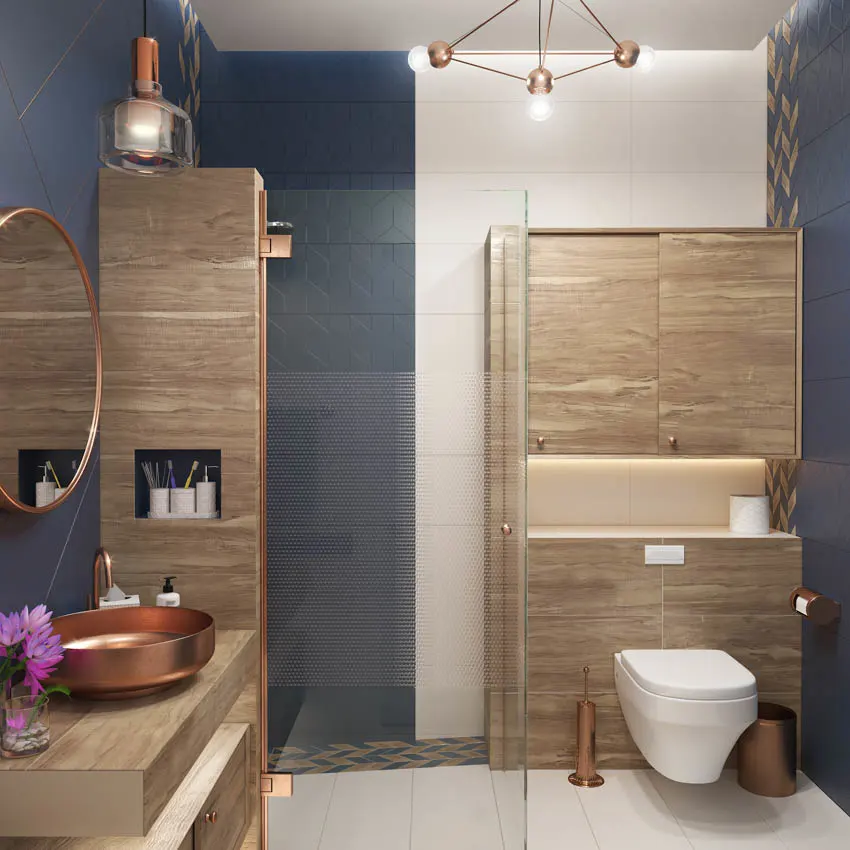 You can get high-quality copper sinks from the comfort of your own home! The exquisite copper sinks manufactured by copper experts Native Trails, Premier Copper, and Sierra Copper, among others, are highly recommended.
There are many various finishes and colors of copper available on the market, so you will likely find a sink that suits you best. When purchasing, keep in mind the quality of the materials used and the building method.
Though the benefits and drawbacks of copper sinks differ, the mainline is that they are a great addition to any kitchen. The finest copper sink may last a long time, provided it is properly cared for and maintained. See more related content at our article about the types of bathroom sinks on this page.