Here we share our closet office ideas guide including how to convert this space into a work space, materials, tips and organization suggestions.

If you happen to live in a small apartment or in a home that is otherwise tagged as "cozy", then you are probably all aware of the hassle of trying to find a space for a home office.
When you barely have enough room for certain pieces of furniture that are otherwise considered as "necessary", figuring out where to put in a desk for your office space seems like an impossible task.
However, there is a silver lining. If you're willing to sacrifice some storage space, then the closet can be a clear solution! Here are some ways for you to convert your closet into an office.
How To Turn A Closet Into A Office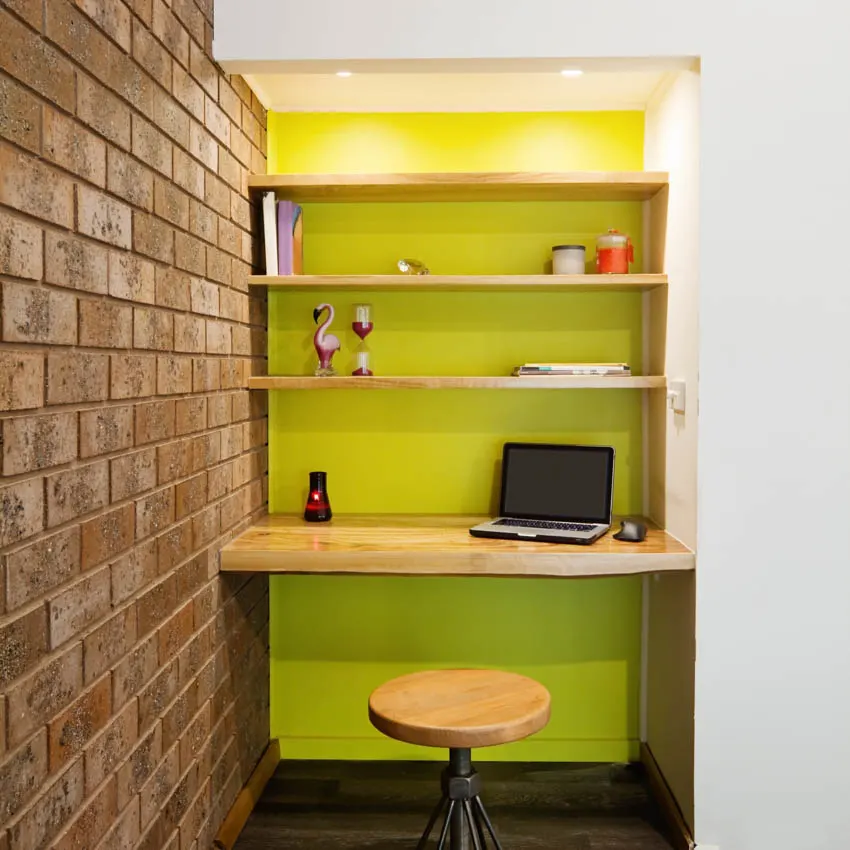 Turning a closet into an office, or a "cloffice" is definitely no easy feat. However, you are not alone. A lot of other homeowners have also come across this common struggle.
When the COVID pandemic hit globally, it has upped the need for people to have a home office. Here are a few tips and tricks you can do in order for you to successfully get it done.
Measure twice but only cut once: Take note that front and center, it really is all about the space and its measurements, and without that, you don't have much to go on further with. Take out that measuring tape or whatever measuring instrument you have and start measuring.
You need to measure the width, the height, as well as the depth for your targeted closet that you'd want to eventually turn into some sort of closet space. Depending on the type of closet you have, there's a pretty good chance that the depth doesn't go any deeper than the width of a hanger.
On average, you might have a good 17 to 18 inches in your depth. This might not work out as easily as you would think. After all, an average desk has a depth of 20 – 30 inches. No matter, you can worry about that later.
Next, you need to take measurements of the office tools and supplies you often use that you would have to fit into the space. You can cut paper templates out or measure outer edges with a pencil just so that you have visual markers of where you need to be.
And lastly, don't forget to include yourself in the equation. Pull out a chair and pretend to work in that space and see how you figure in with the rest of the space. This tests theory against practice and makes everything fit in like puzzles in your head.
Consider the location: Aside from the measurements, another important thing to consider for your closet office is the actual location. In order for you to work productively, you need to be slightly away from the rest of the hustle and bustle of the house.
For example, having one by the front door might not exactly be a good idea as you will be greeting all of the foot traffic coming in and out of the house.
Choose a spot that fits your taste and style preferences: It may be a bedroom closet, or some sort of nook under the stairs, or perhaps even a hidden office corner in the kitchen. The thing is, in order for you to be effective in your future closet office, it needs to be a spot that would inspire you to be effective and productive at work.
Decide on whether you want a door or no door for your office: Unless there is no absolute need for you to have some sort of privacy while working, you need to seriously consider the possibility of not having any door for your closet office.
Doors in enclosed or small spaces could make you feel a little claustrophobic and could remind you of what it feels like to be in a closet. Opening the space up by removing the obstructions of a door.
If you insist on some sort of privacy screen or separation, opt for a divider or some sort of curtain instead. Read more about our guide on the different home office door ideas here.
Remember that less is always more: Understandably, it is pretty great to have anything and everything that you could possibly want or need available in your home office. After all, nothing trumps the thought of having a fully furnished office with all of the provisions you could possibly think about.
However, you need to understand that compromise is key in succeeding to getting that home office set up the right way. Remember, function should always go ahead of form so less would always bring you more. Opt for a minimalist type of décor when considering these closet office ideas.
Go on the cloud: Everything these days is wireless or on the cloud. That being said, your typical office paraphernalia such as printers, scanners, fax machines, and so on don't all have to crowd up your office space.
Go for devices that have multiple functions and they don't always necessarily have to be in your office space unless you have a need for them, which isn't always every day. See more related content about setting up a home office for remote work on this page.

Be creative with your storage space: Traditional office cabinets probably won't work but you can definitely employ the use of out-of-the-box creative storage ideas such as having pegboards to hang your pencil holders and other files from off the wall.
You might also want to consider a mounted monitor instead of a standing one, or a flexible laptop stand that allows you to stow it away in a standing position when not in use. There are so many things you can do or use as a remedy for the tight space.
Run your shelves high up against the wall and maximize as much vertical space as you possibly can. This is one of the closet office ideas that can do wonders for you.
Materials Need To Convert A Closet To An Office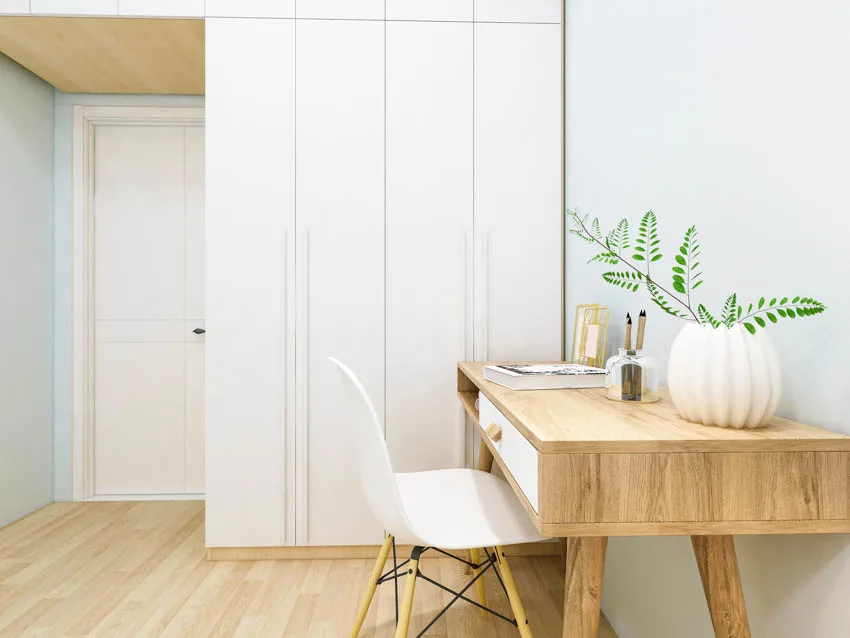 The materials we'll include below are for a typical standard-sized 7 x 2 feet deep closet that will be turned into an office space. Feel free to go ahead and adjust your dimensions accordingly as you see fit.
Wood glue

Shelf standards

Shelf clips

Veneer edging

Nails and nail gun pins

Cord grommets

Plywood pieces in the following measurements: 4×8 ft x ¼ ft plywood | 4×8 ft x ¾ ft plywood

Screws: 1- ¼ inch | 1 – 5/8 inch | 3 inch | 2 – ½ inch

Wood boards: 1x2x8 ft | 1x3x6 ft | 1x3x8 ft | 1x6x8 ft

20-inch full extension drawer sets
Closet To Office Conversion Tips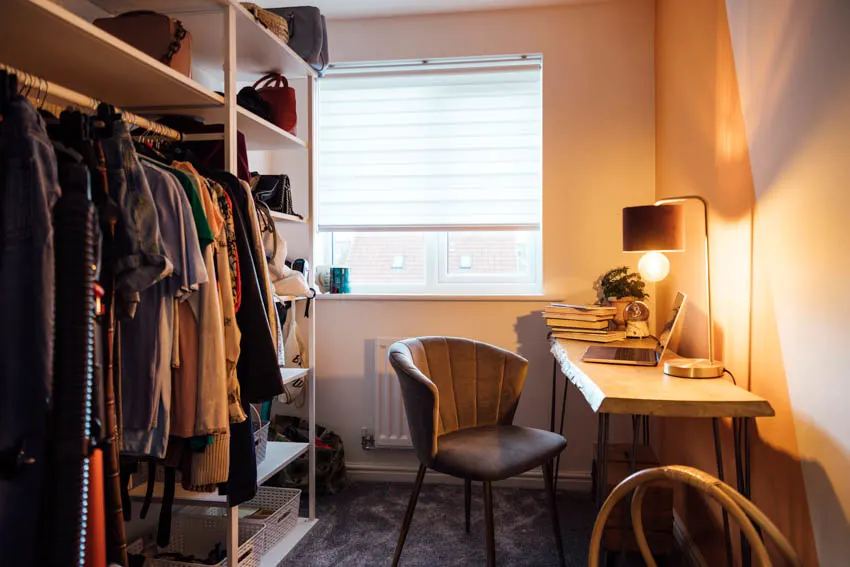 Light it up: If you're lucky, you will most likely have an outlet in your office and this means that lighting up your office space wouldn't be an issue. If you aren't so lucky though, please note that this isn't among the closet office ideas that you can DIY.
It would be best if you employ the skills of a professional electrician instead. Closets aren't particularly known to be bright nor do they usually get a lot of natural light.
Installing an overhead light might not be enough which is why you need to make sure that you have lamps, sconces, and other lighting fixtures available so that you'll be able to get ample lighting while working.
Some shelf lights or under-cabinet lights might also help in illuminating your desk. Read more about our guide on the different types of lighting fixtures here.
Don't be afraid to make it pretty: Just because you're converting your closet into an office, doesn't necessarily mean that your office has to look like the closet that it used to be. Don't be afraid to spruce it up and make it nice to look at.
You'll be spending a lot of your time working there, after all. Add in things that mean something to you such as picture frames, or maybe even a vase of flowers.
There are other things you can do such as adding a wall accent. The internet is a plethora of creative ideas that you can browse through and mimic so go ahead and explore and just experiment.
Consider soundproofing: If your closet is next to a noisy or high traffic area in the home you may want to consider adding acoustic panels to the door and walls. Soundproofing your home office will make it much easier to concentrate and be productive in your work space.
Consider getting an L-shape for your office: This means that you will technically be using a corner space. Among the closet office ideas you can consider, this one can give you so much more space as opposed to just having one that extends horizontally.
It gives you more in the way of moving room as well as overhead storage space without necessarily eating up a lot of the existing space or floor area. This is because corners are oftentimes ignored. You might as well make use of it, right?
Walk-In Closet Office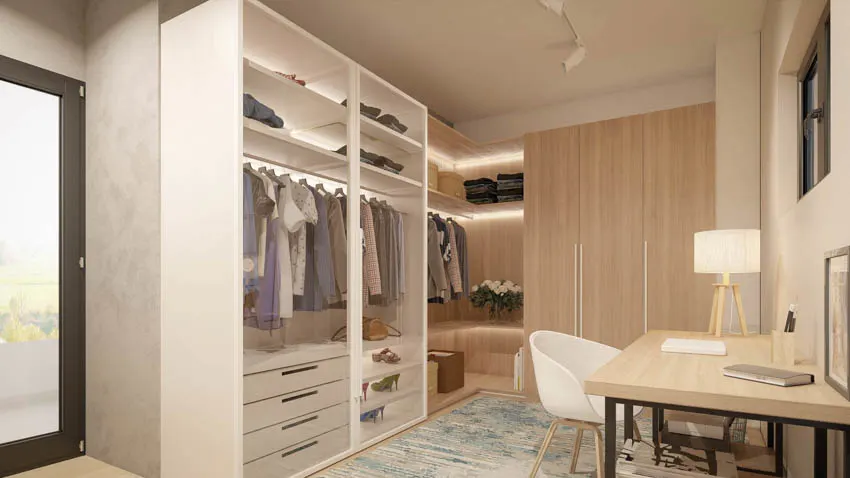 We get the appeal of keeping a walk-in closet. There's a sense of luxury, comfort, and success to it that's quite hard to deny.
Although storage is great, as with other things, having too much of it might not always be a good thing. With this in mind, it would make sense to consolidate your actual clothes in a dedicated closet space and transform your walk-in closet into an office instead.
It can be a quiet and cozy nook to work in and it can make a huge difference for you and for your home office work life. Read more about our guide on home office built in ideas here.
Office Closet Organization Ideas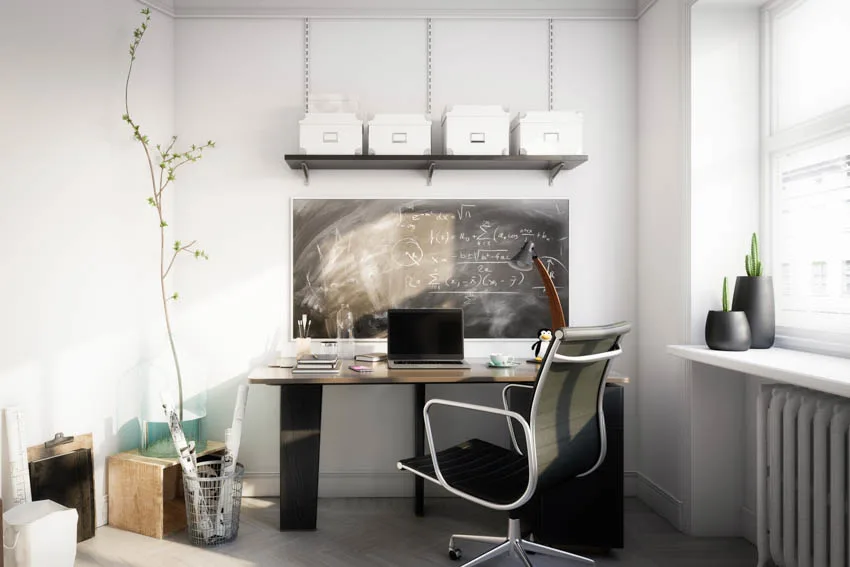 Even something as small as a closet office can be riddled with problems from wires to office supplies, various electronics, cables, to snacks, and so on and so forth.
Here are some of our favorite organizational tips to help you keep your comfortable work nook in check.
Purge all your clutter: Your home office is bound to have clutter all around and this is why you need to be extra diligent when it comes to purging the space of clutter.
Empty everything out and make an inventory of everything that's inside. Recycle what you can and do away with what you don't need and try to go as paperless as you possibly could.
Pay attention to shelf space: Customize your space to fit the rest of your work or office needs. For some people, that means a lot of shelf space.
Remove the door and have some sort of screen or curtain instead if you insist on having a certain degree of privacy.
Then fill up your office's front wall with shelves. Maximize it as much as possible. You'll be glad you did further on because it can take care of all of your office supplies storage issues.
Compartmentalize and create sections: Think of your office closet space in the same way that you'd think of how an office supplies store gets organized.
Think of a zone for the paper items, another one for where the writing implements are, another one for the metallic items such as the paperclips, staples, and so on.
This makes it easier for you to find things and it makes it easier to resist the temptation of putting things where they don't belong.
For more related content visit our article about basement home office designs.