Here we share our kitchen appliance storage ideas including how to organize and arrange small and large kitchen appliances.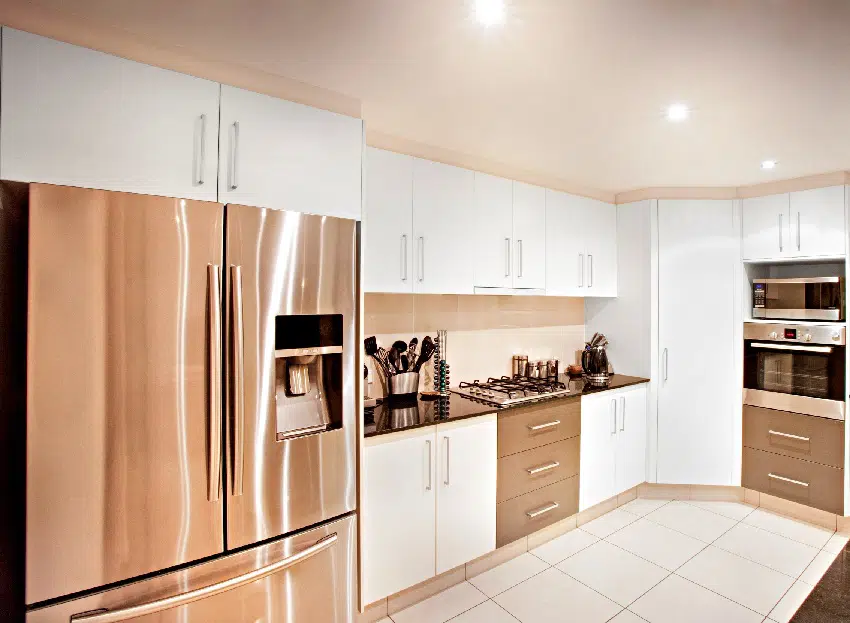 Feeling like your kitchen is getting more cluttered as you buy more and take in more appliances? Yes, kitchen appliances can consume a lot of space in your kitchen and it's up to you to control them dominating your space. How?
Well, one way to avoid that is by getting rid of appliances you don't use and need anymore. This can be painful to do, especially since it's difficult to let go of your own things. And let's not forget the money you've spent to purchase these appliances.
If you feel like you don't have the heart to let go of your appliances, the key is to use some sort of storage space where you can keep the appliances in. There are different ideas you can use to solve this little problem. But first, learn how to store a kitchen appliance.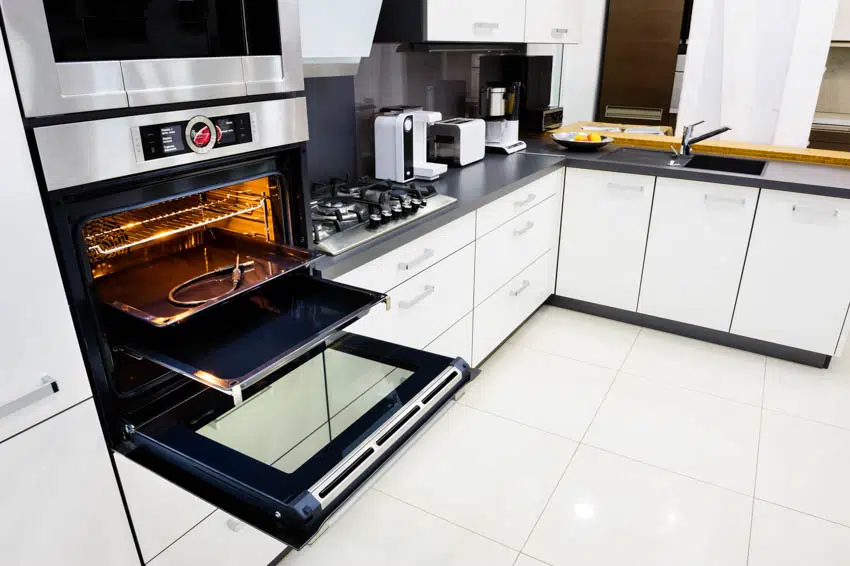 Similar to how this kitchen looks, if you can't get rid of your small appliances, you would want to arrange them in a neat and organized manner when in plain sight. As long as it doesn't look cluttered and at the same time limits your movement in the kitchen, you can always display them neatly on the counter.
You also have the option of storing them in one of the kitchen cabinets. This will help the kitchen look cleaner.

How to Store Kitchen Appliance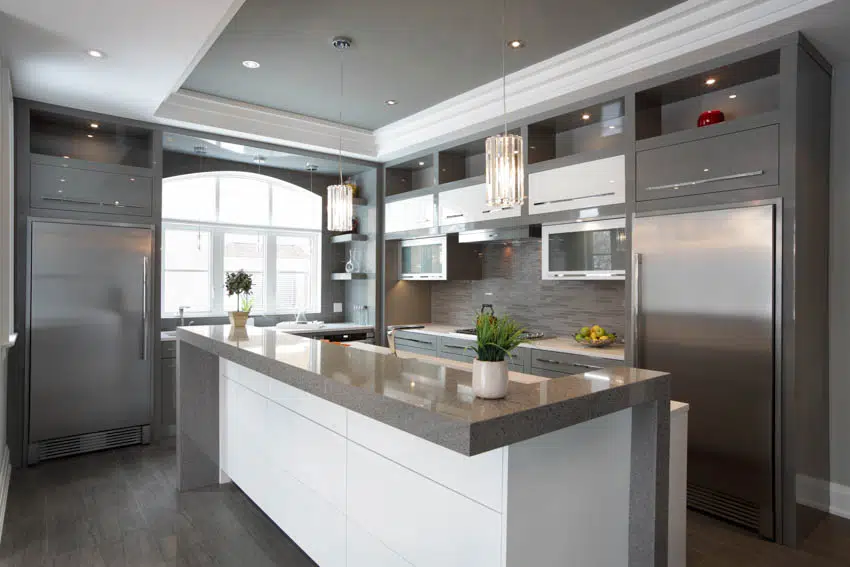 Getting rid of your appliances and decluttering your kitchen means you're going to lose something. It doesn't have to be that way if you just know how to store your kitchen appliances in a sleek and discreet manner.
If you have no idea how to do it, here are some ideas you can consider for your kitchen:
Built-in Organizer
Building your own organizer for small appliances can be a good option. Besides being good for your budget, you also have the freedom to do whatever you want in terms of style and design. And there are different clever ways you can hide your small appliance in a built-in organizer. Some options include:
Behind a Roller/Sliding Door

Slide-out Shelf

Appliance Lift Contraption

Pop-up Appliance from Below Countertop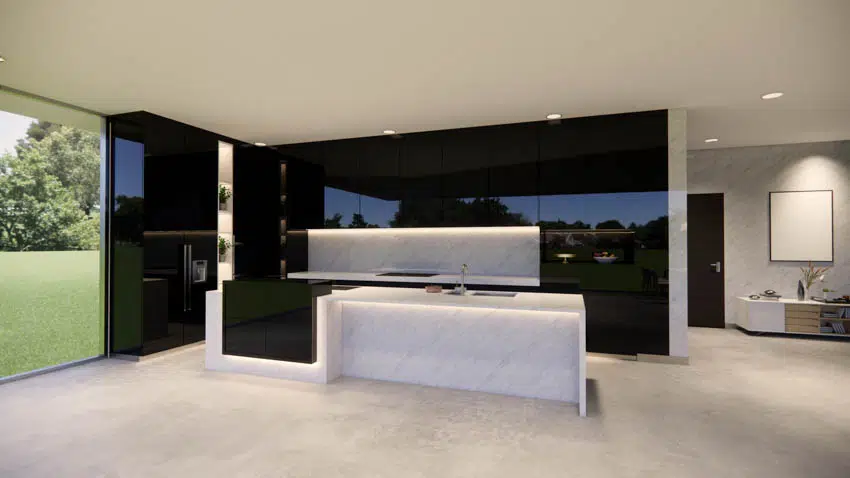 If you will be able to create these built-in organizers effectively and hide your small appliances, your kitchen will look as smooth and clean as this kitchen.
This modern-design kitchen seems bare to look at but you never know what could pop up from those sleek cabinets and drawers.
Walk-in Pantry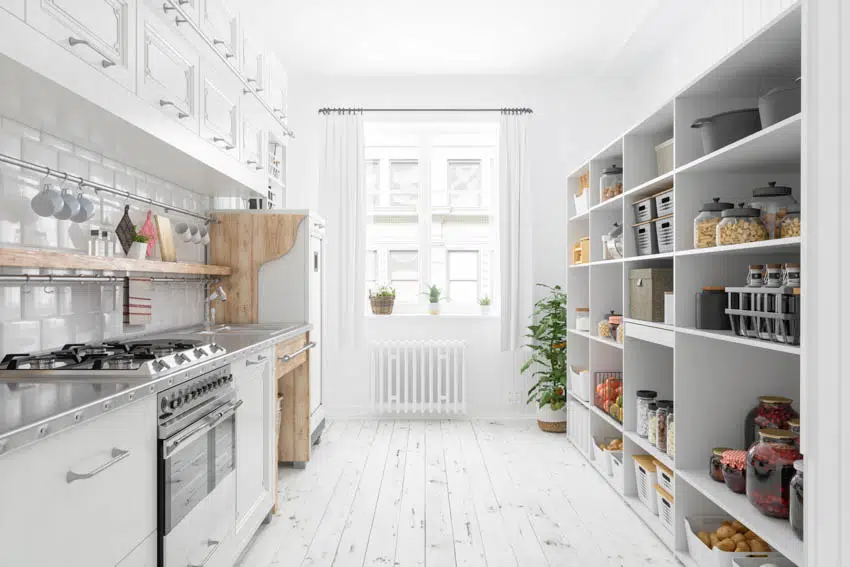 Who doesn't want a walk-in pantry? This option though will only be applicable for those with so much space to spare in their kitchen. You can use that walk-in pantry to store food supplies and hide your small appliances all in one place.
With your small appliances in a walk-in pantry, you can have more space in your kitchen and at the same time have these appliances close by in case you need them.
Appliance Center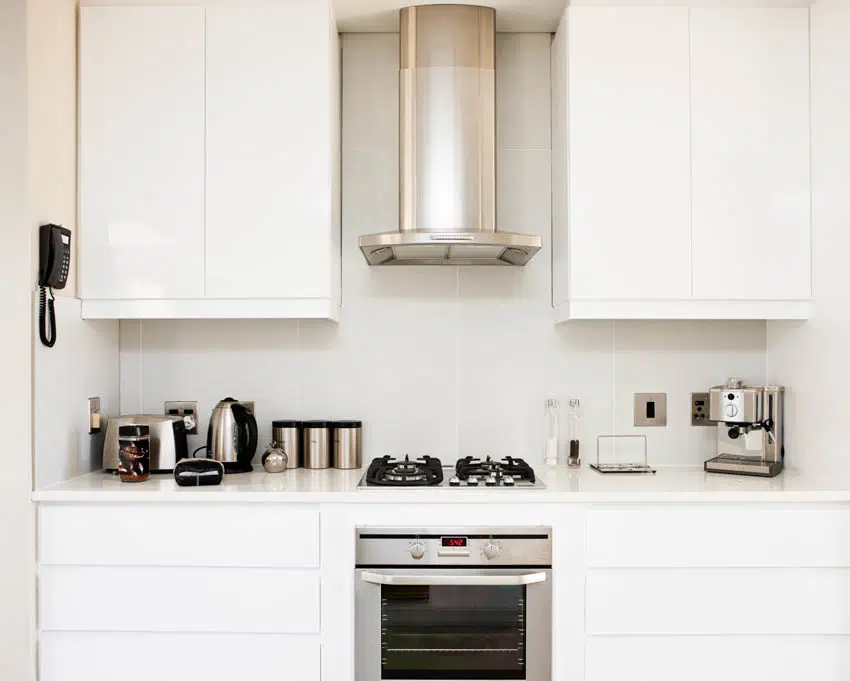 Installing an appliance center means you allot a special space for your small appliances. It would be up to you how you align them or keep them on sight or out of sight.
The important thing though is that they are arranged neatly and conveniently plugged in for immediate use. One example of an appliance center is a baking center, where you keep your mixer and other gadgets for baking in one area.
Kitchen Drawers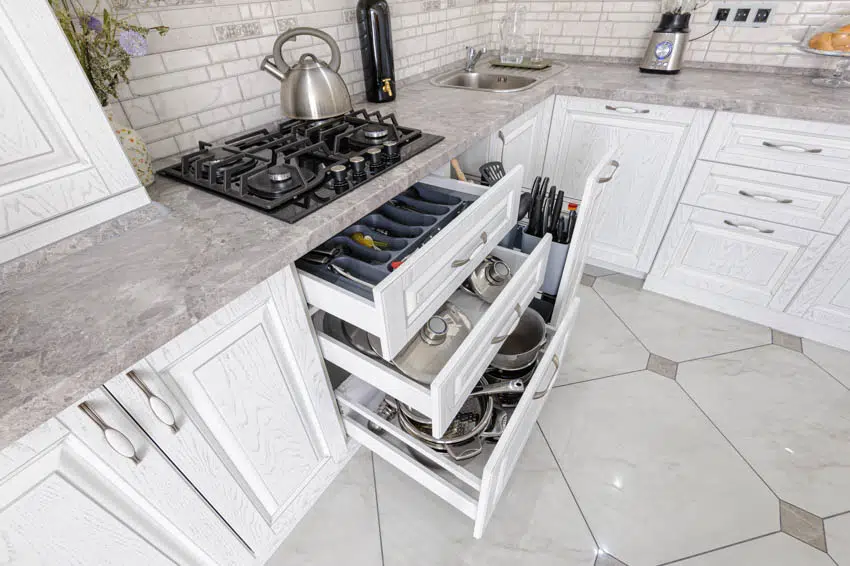 If you don't have the kitchen space, time, and money to build a pantry or an appliance center, make do with your kitchen drawers. Check out your drawers and see what small appliances can fit them.
Even if they're out of sight, make sure you store them neatly. And don't forget to consider the maximum load capacity of your drawers.
Kitchen Cabinets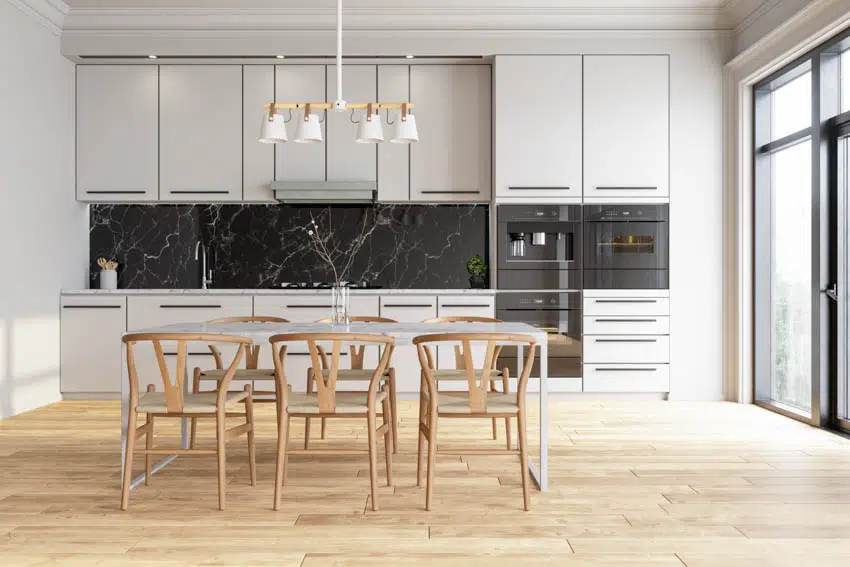 Can't fit your small appliances in the kitchen drawers? You can choose a piece of furniture with bigger storage space.
If you already have an existing cabinet in your kitchen, make the most of it by keeping your small appliances in it. You can add a shelf extension or a pullout shelf if necessary. Read more about our guide on the types of kitchen cabinet materials here.
Kitchen Appliance Storage Cabinet
When you go for a kitchen appliance storage cabinet, make sure you have the space to accommodate it. The good thing about choosing it though is that you will also free up space in your kitchen as you store your small appliances in it.
When you choose a cabinet and arrange your small appliances, make sure to keep the ones you use more frequently around waist level. This way, you won't have to reach down and rummage for the appliances when you need to use them.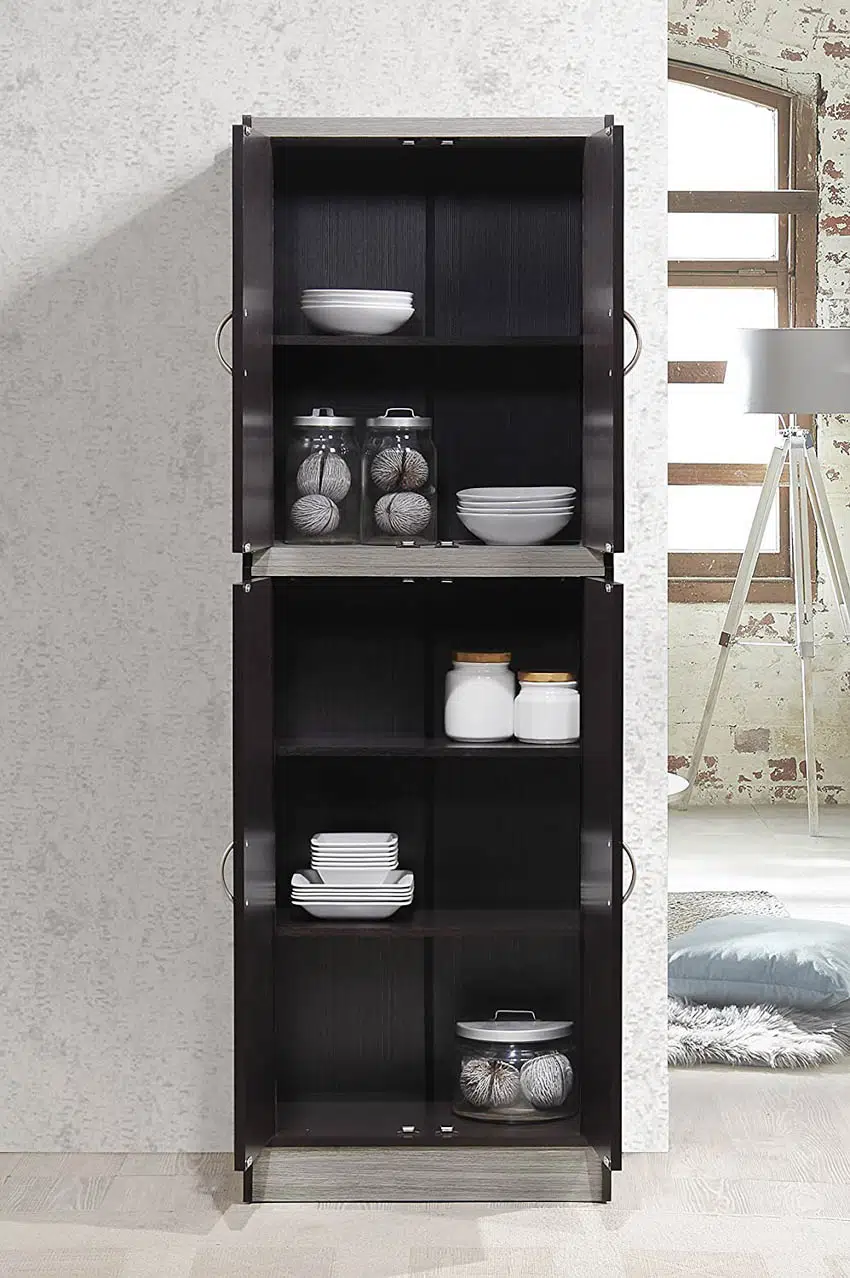 See this portable kitchen pantry at Amazon [sponsored link]
This chocolate-colored four-door kitchen storage cabinet has four shelves that can accommodate several of your small appliances. The three shelves are also adjustable, which can help you fit some of your appliances with varying sizes. This also helps your sorting and organization to be easier.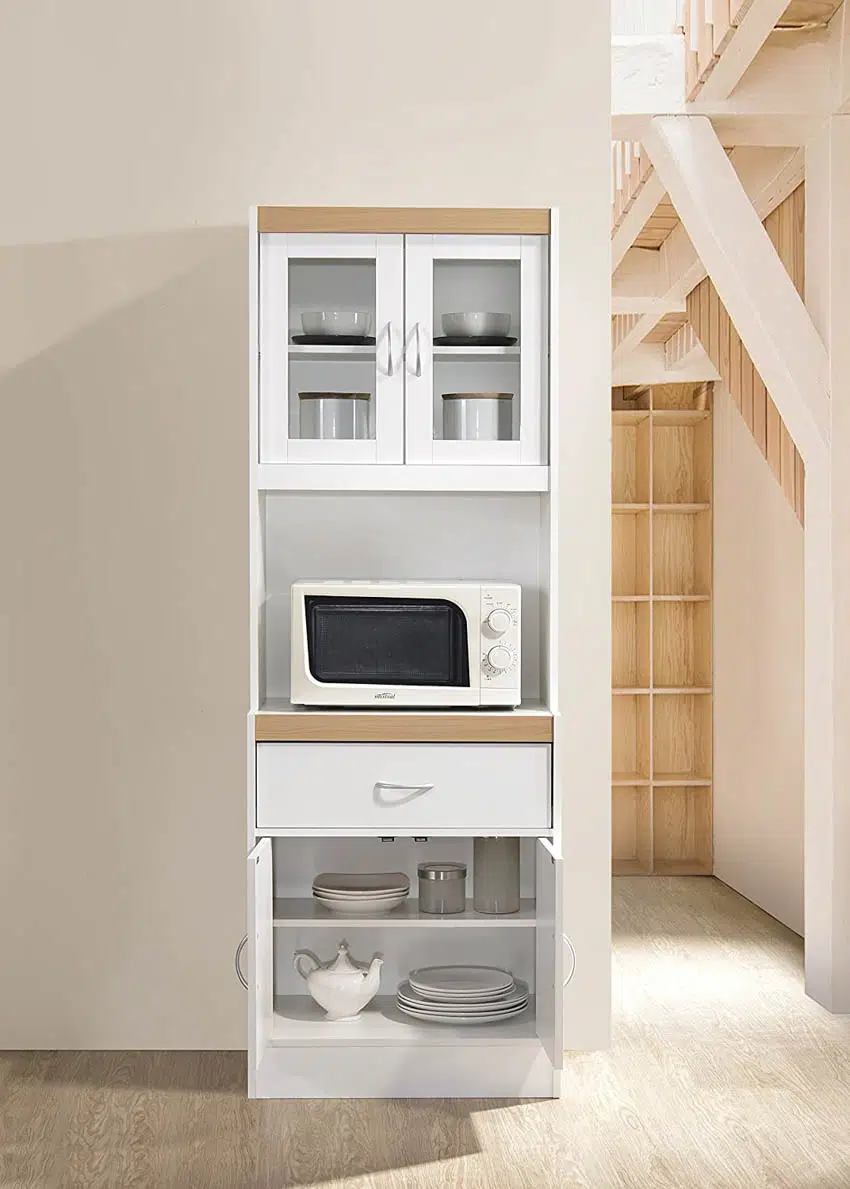 See this kitchen cabinet for appliances at Amazon [sponsored link]
If you are into a kitchen cabinet but don't want the traditional all-closed storage space, you can choose this long-standing white kitchen cabinet instead. The middle open space is perfect for appliances like a microwave or a toaster.
This wooden contemporary-style kitchen cabinet has two transparent doors installed on the top shelf so you can see what it contains. It also has a drawer and a small two-door cabinet at the button for additional space.
You won't have to be conscious about how you arrange your appliances in these closed storage spaces.
Kitchen Appliance Storage Rack
Cabinets can be closed off and if you want open storage space, a kitchen storage rack may be more up your alley. Compared to kitchen cabinets, access to your small appliances will be easier when stored in a kitchen storage rack.
Of course, you would have to be more careful and conscious of how you arrange your small appliances in a rack, especially since they are full-on visible compared to when they are kept in a cabinet.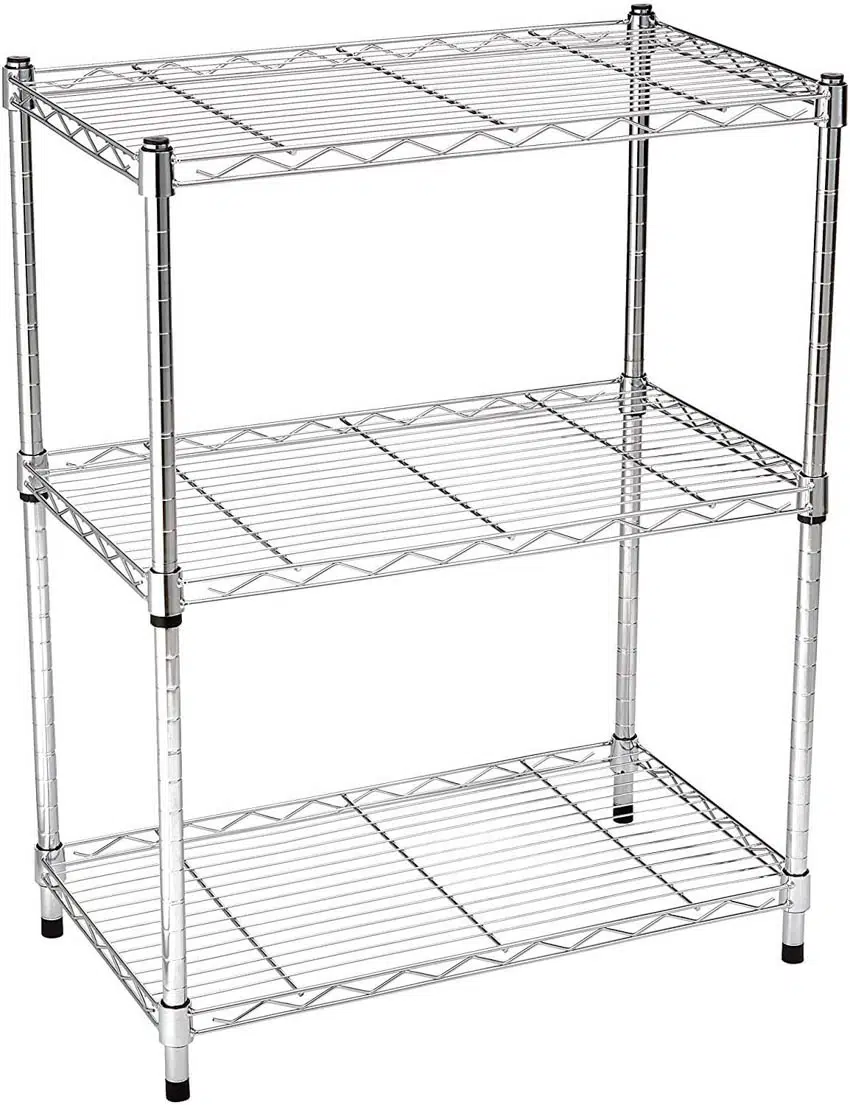 See this 3 shelf adjustable storage rack at Amazon [sponsored link]
This adjustable heavy-duty 3-shelf wire rack can be the perfect home for your small appliances. Each shelf can carry up to 250 lbs and they are conveniently adjustable so that you can keep appliances of different sizes and shapes all in one shelf.
All you need to do is to find the perfect spot in your kitchen to install this kitchen rack. And of course, make sure that you organized your small appliances neatly on them.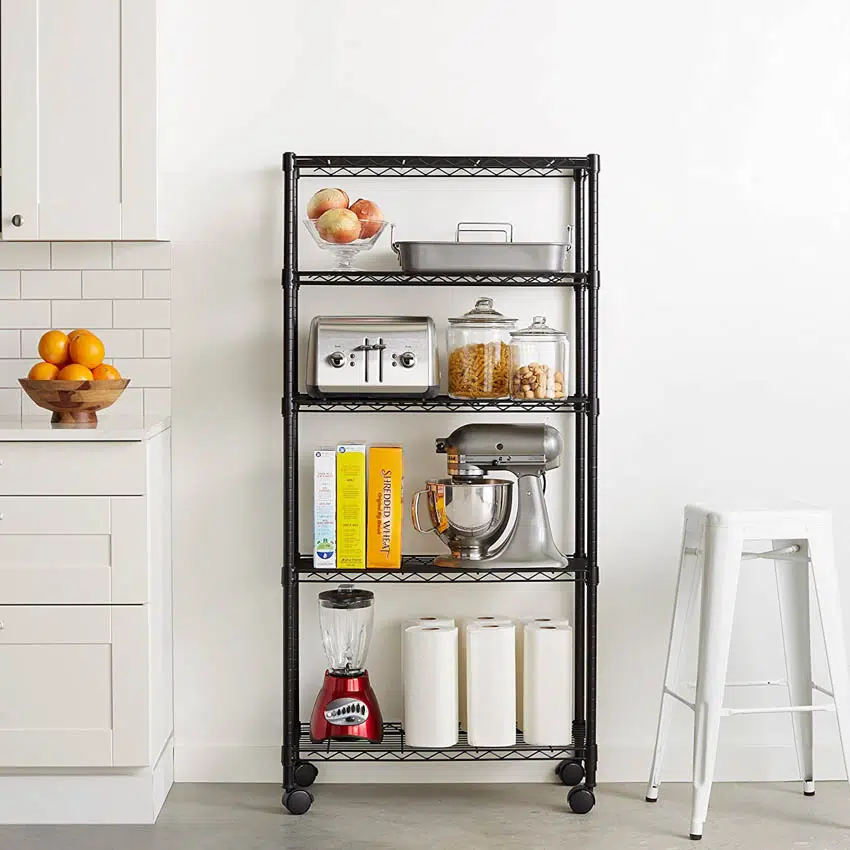 See this portable rolling kitchen shelving rack at Amazon [sponsored link]
There is also an option for your rack to have wheel casters on it, like this 5-shelf storage metal organizer wire rack. Made from durable steel, each shelf on this rack can carry up to 300 lbs when not in motion and 132 to 176 lbs with wheels.
If you feel like there is a need for you to transfer your rack and small materials every now and then, this is the best choice for you.
Small Kitchen Appliance Storage
Small kitchens have the tendency to easily look cluttered and messy, especially when you have many appliances and gadgets all over the place. With the limited space, you have to take care of the small appliances and gadgets and figure out where to keep them.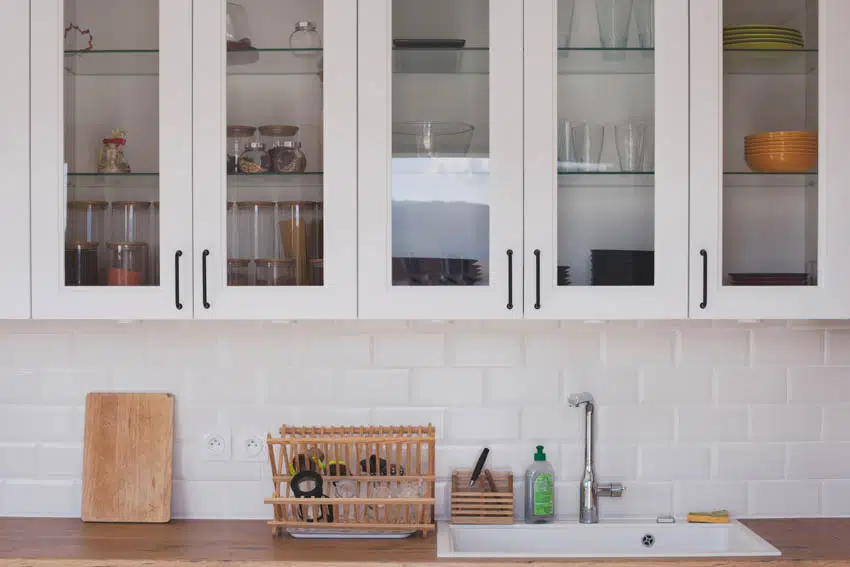 These white built-in kitchen cabinets can neatly house your small appliances. The best thing about is that since they are suspended, your kitchen space won't be affected if you install them in your kitchen. This is an example of where you can keep your small appliances.
Another thing you can do is to use every inch of space you have in your kitchen. Maximize the space and try to build cabinets that can seamlessly look cohesive with your kitchen's design.
If you are looking for cool ideas to store your small appliances besides a boring and traditional cabinet, here are some:
Drop-down Toaster Compartment

Small Appliance Garage

Doorless Corner Small Appliance Storage

Vertical Slide-out Cabinets

Freestanding Baker Hideaway Storage Unit

Pull-out Platforms

Flip-up Door Cabinet

Customer Cabinet

Convenient Carousel for Small Appliances
When you can't find the right option for you from this list, you have the option to cut the clutter in your kitchen and keep them instead in a separate kitchen cabinet.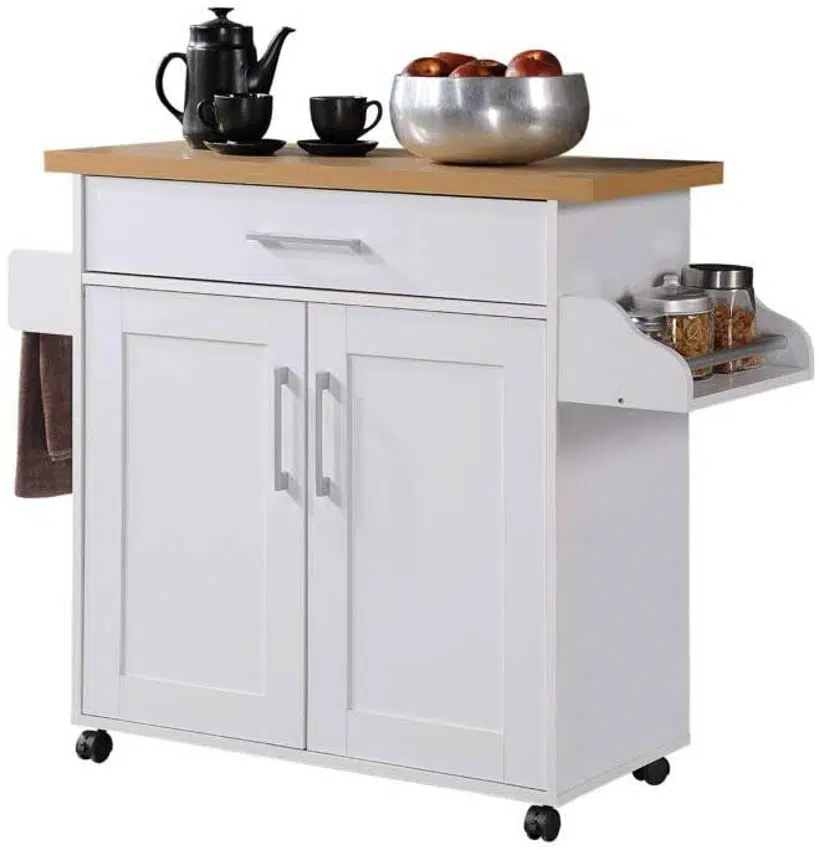 See this portable kitchen island at Amazon [sponsored link]
A roll-away kitchen cabinet or portable island can be a good option for small spaces. Not only can you store small appliances and other dinnerware, but you can also change its location and position to where you want it to be, whenever necessary. Read more about our guide on essential small kitchen appliances here.
Where to Store Large Kitchen Appliance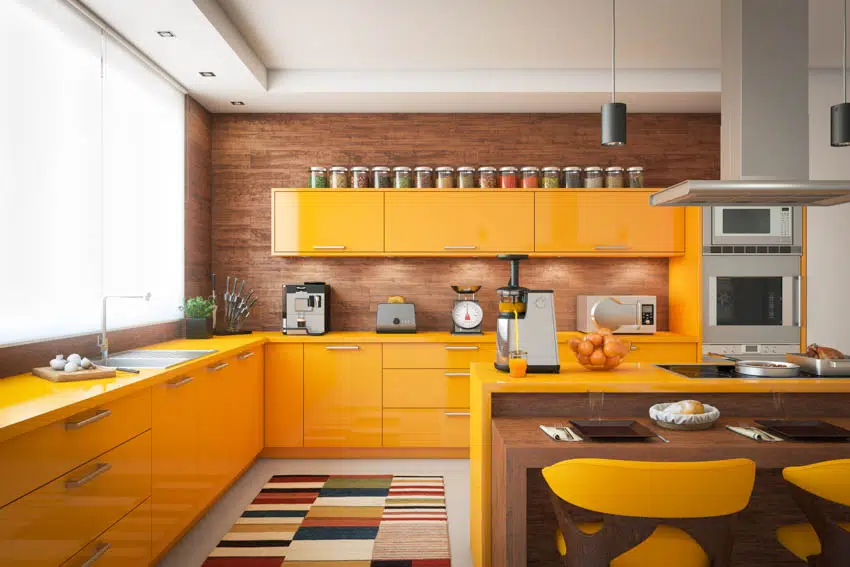 More than just small kitchen appliances, you also have to deal with large kitchen appliances. And for small kitchens, this can be a real challenge.
The rule though is that if you don't need it, give it away, sell it, or trash it. Do you really need that food dehydrator? Figure it out first.
Large kitchen appliances take up a lot of space but the best place to install them is in the lower cabinets of the kitchen, especially since they can be heavy and if they are rarely used.
It can also be dangerous to store a heavy appliance above eye level since there's a risk of the appliance falling when you reach out to get it.
How to Organize Kitchen Appliance
Organizing your kitchen appliances will take more than just putting them where they can fit. For large appliances, you have to plan ahead of time and if possible at the designing stage of your kitchen. If that's too late, here are the things you can do to help you in organizing your appliances.
Group your appliances based on the following:
• Size
• How often they are used
• Needed & Not needed anymore (to be thrown, donated, or recycled)
Appliance storage tips:
• When buying appliances, try to be on the lookout for multi-purpose appliances
• Make sure to wrap the cord around the appliance before storing them
• Store smaller parts of the appliances in a ziplock bag
• Use a step stool to reach higher shelves and drawers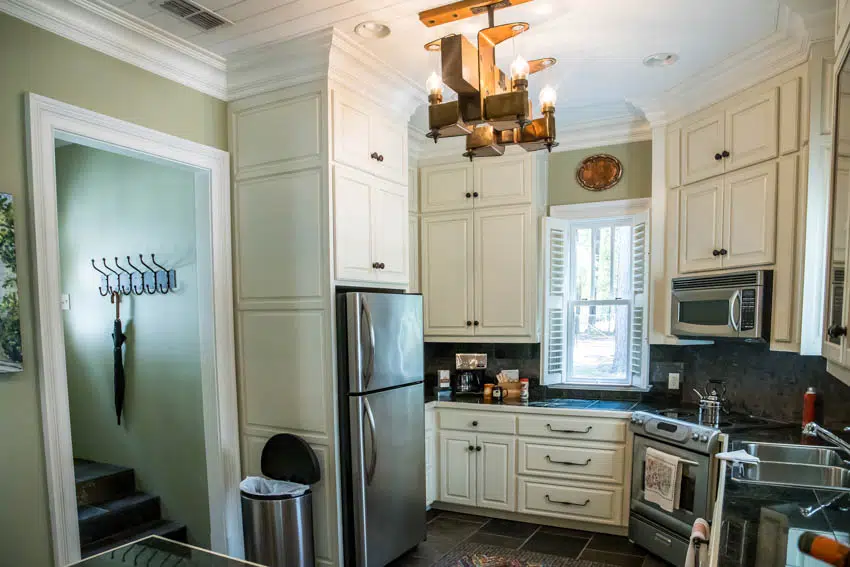 This is a well-organized kitchen, despite its size and the number of small appliances in it. The fridge and oven are installed in the lower cabinets while the microwave is suspended in the lower part of one of the handing cabinets.
There is a lot of room for storage with several drawers and hanging cabinets installed in the kitchen. Read more about our guide on kitchen cabinet dimensions here.
How to Arrange Appliance in Small Kitchen
When arranging the appliances in your small kitchen, the key is to be mindful of the space and storage capacity available.
As much as possible, limit the number of kitchen appliances you have on the counter. This can help your kitchen to look less cluttered.
What you can do is to choose the most often used small appliances (like every day) and put them on the countertop. Keep the other small appliances away and out of sight.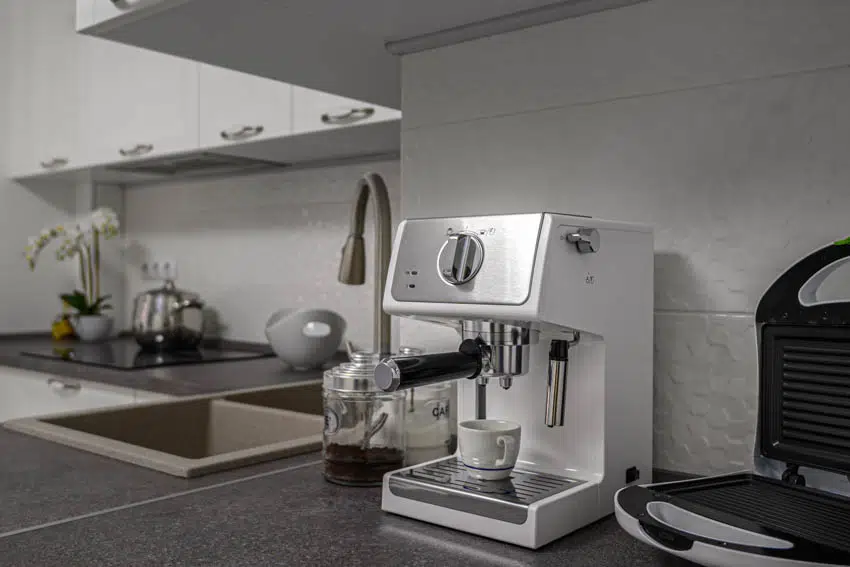 If you are fond of espresso and uses it every morning, then putting it on the countertop is a good decision. You won't have to get it out every day from the cabinet just to use it. Limit the number of small appliances on the counter as much as you can.
Make sure not to store your small appliances nonchalantly. Plan ahead and have a good and structured layout of where you want things to be.
And finally, invest in pieces of furniture that can help you maximize your storage space and in appliances that are multi-purpose. See more related content at our article about DIY small kitchen ideas on this page.