Here's our guide to kitchen cabinet dimensions and sizing for your kitchen storage cabinets.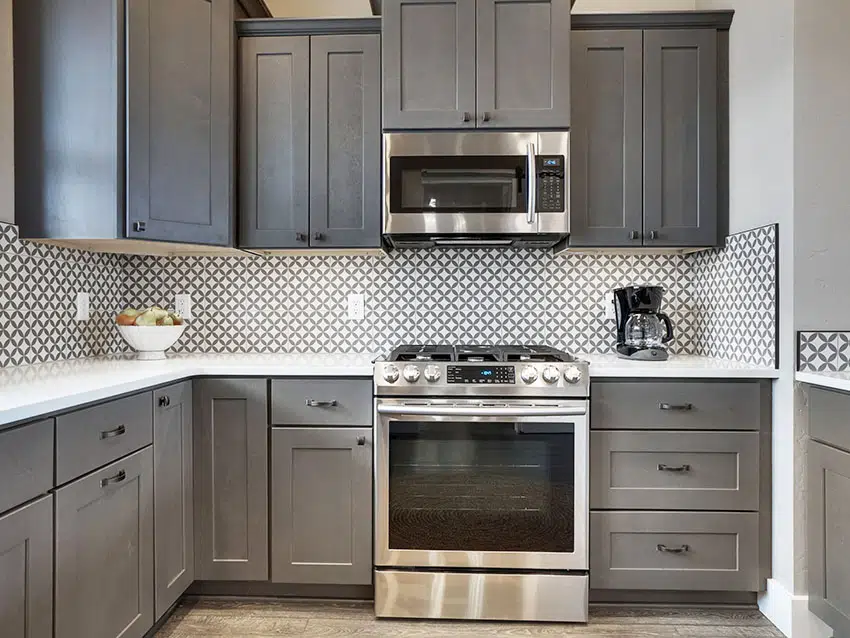 Kitchen cabinets are the basic workhorses of a great kitchen design. If you want to get your kitchen done right, it would help out a lot if you know the lay of the land when it comes to kitchen cabinet dimensions and sizing.
Custom cabinetry can be made into any size or dimensions you want. However, if you will be buying stock cabinets or pre-assembled ones, you might need to stick to a basic chart of standard dimensions that all cabinet manufacturers follow or live by.
Kitchen cabinets, or cabinets in general, come in a wide variety of stock sizes. No matter what type of kitchen you may have, there are bound to be options available to fill into nooks and crannies or odd spaces.
Ordering the wrong kitchen cabinet sizes could result to a non-functional kitchen. You need to take note of the fact that the kitchen is one of the busiest areas in the home.
It requires precise measurements in order for the guests and for everyone else to be able to move around freely without bumping into the edges of cabinets or countertops. Remember that every single inch counts.
Standard Kitchen Cabinet Sizes
If you aren't a professional such as an interior designer, contractor, or architect figuring out kitchen cabinet sizing might seem like rocket science. But this needs focus because a few inaccurate numbers here and there could result in you constantly bumping into edges, could mean there's a drawer lost somewhere, and so on.
Cabinet sizing can make or break your ease of access in the kitchen and can affect overall storage as well.
There are 3 main categories for standard kitchen cabinets: base cabinets, wall cabinets, and then tall cabinets. There are other basic cabinets such as corner and upper kitchen cabinets which we will also cover in the remaining parts of this article.
Base kitchen cabinet standard dimensions:
Height: 34.5"
Width: 6"-42" range
Depth: 24"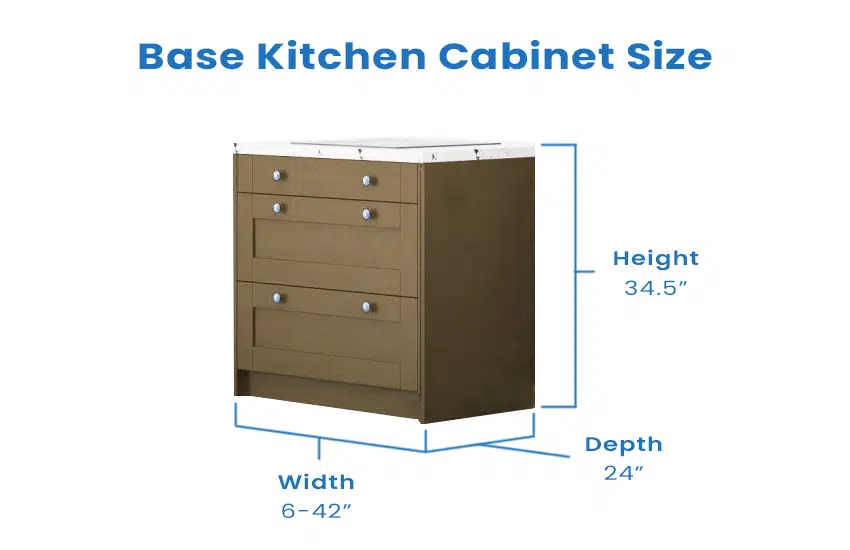 Wall kitchen cabinet standard dimensions:
Height: 30", 36", and 42" range
Width: 12"-36" range
Depth: 12", and 24" range
Tall kitchen cabinet standard dimensions:
Height: 84", 90", and 96" range
Width: 18", 24", and 30" range
Depth: 24"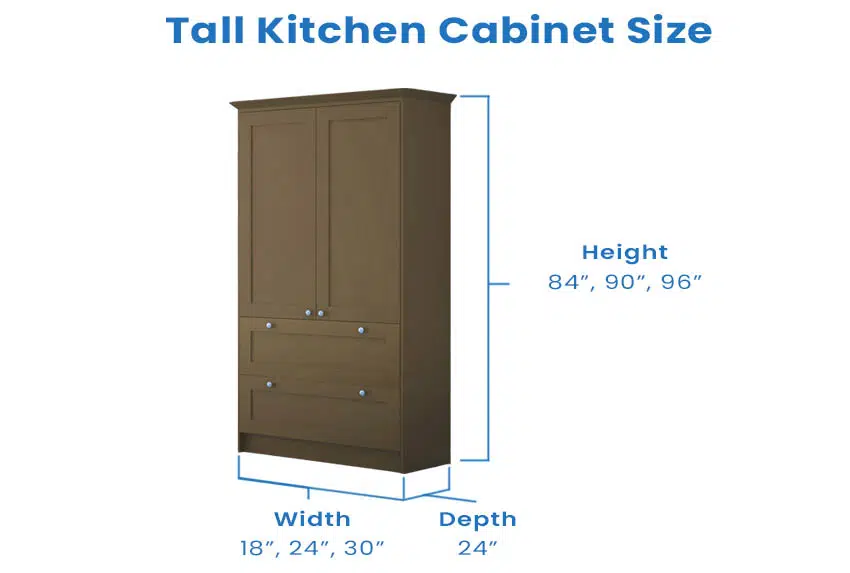 Dimensions for Corner Cabinet
Corner kitchen cabinets are also referred to as blind corner cabinets. These are the types of cabinets that you can't really see inside and are in the obscure areas or spaces in your kitchen where the random ingredients you've forgotten about, lost Tupperware pieces, and lost pot lids are usually hiding out.
With a well-designed kitchen though, corner kitchen cabinets can turn out to be lifesavers for storage and something that every homeowner should utilize.
The standard width for a corner kitchen cabinet would be at 91" x 91". Like we've mentioned, kitchen cabinets in general have a huge variety of dimensions and there is bound to be something out there for your specific kitchen space needs.
Here are some other dimensions for corner kitchen cabinet width:
90" wide (45" for the door)
100" wide (50" for the door)
110" wide (60" for the door)
The height and depth dimensions would still follow the standard for base kitchen cabinet measurements mentioned above which are as follows (for reference):
Height: 34.5"
Depth: 24"
A great tip for you to keep in mind when trying to figure out your corner kitchen cabinet dimensions is that the sizing would also depend on whatever additional mechanisms you might have inside of these cabinets.
There might be certain requirements for the door opening size as well as for the actual amount of space needed.
There are 2 types of corner kitchen cabinets: a straight one that runs from one section of the kitchen all the way out into the far end, and the second one is what is referred to as an L-shaped corner cabinet that will usually have 2 doors installed at a right angle to each other.
These doors will either open as a bi-fold door, will open attached together, or will open one in front of the other.
Size Of Corner Kitchen Sink Cabinet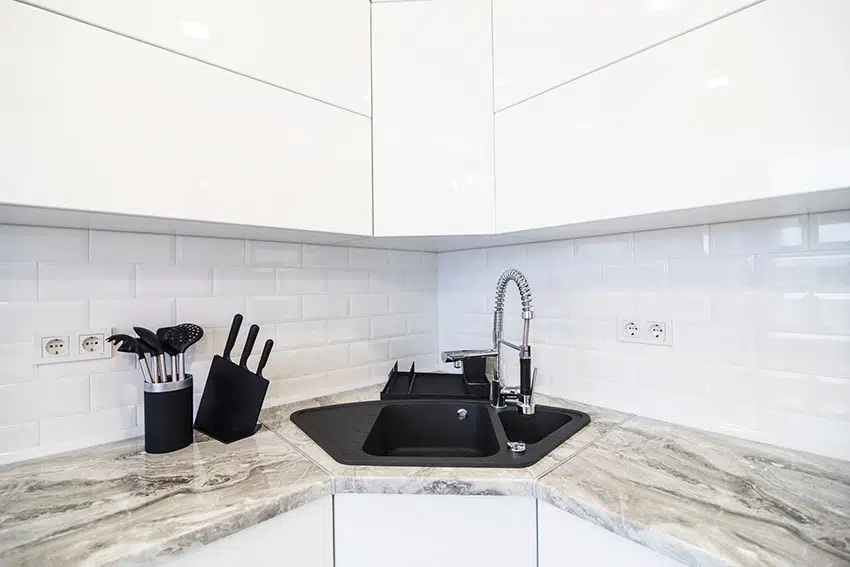 One of the biggest sources of anxiety when it comes to kitchen redesign is the thought of deciding on corner kitchen sink cabinet dimensions and sizes. Sink placement is always an issue especially when you plan on redesigning your kitchen from scratch.
Should you have your sink backed up on the wall? Should it have its own kitchen island? Or should you keep it at a window, where the corner usually is?
There's quite a division for homeowners, some love their corner kitchen sinks whereas some absolutely hate it. A few things to consider would be where you will be placing your dishwasher, the shape of your sink cabinet, or even the actual maintenance of it.
Here's a plus: you won't have a lot of backsplash tile if you have a corner sink
Here are the 2 basic corner kitchen sink cabinet dimensions to consider: 36" and 42". These inches mentioned refer to the length of the back wall. Meaning, you measure it out from the start of the corner to the actual edge of the cabinet.
Although these sizes might seem initially huge, the front face will actually be much smaller as corner kitchen sink cabinets usually taper out into a diamond shape.
For reference, these are how much smaller they actually turn out to be:
36" corner cabinet: front face measurement is at 17"
42" corner cabinet: front face measurement is at 24"
Ultimately, either size is fine for you but take extra care when picking out your dimensions because you need to consider your actual sink size here. Most people would prefer the safer choice and go for the larger sized 42" but then again, this is not a cut and dried solution.
Getting exact measurements relevant to your sink size would make all of the difference in the world.
Sizes For Kitchen Base Cabinet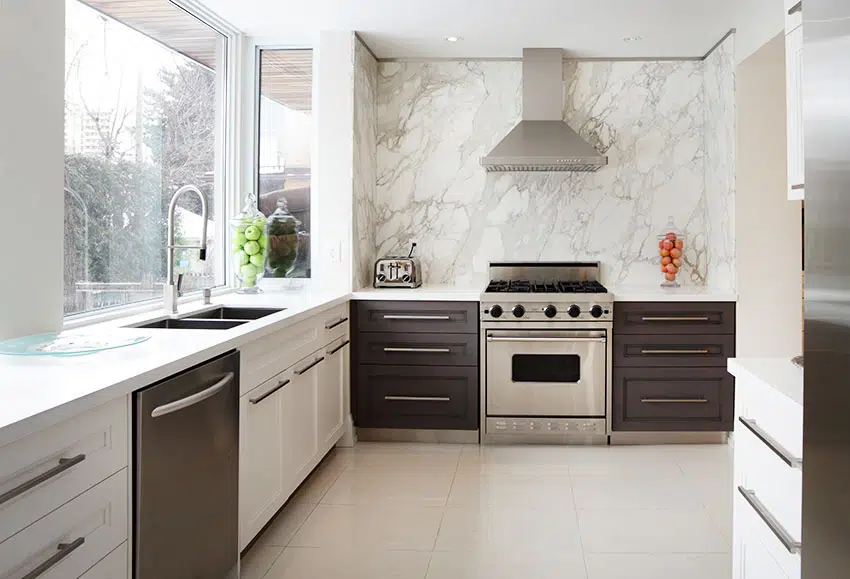 Kitchen base cabinets are essential pieces for the kitchen. They basically do the heavy lifting for as far as kitchen storage is concerned as they go right on the floor.
These are the cabinets where you would usually store large sized kitchen items and implements such as mixers and similar appliances, large pots and pans, and other heavy duty stuff that you don't usually use or pull out everyday.
Let's get right down to the dimensions, then:
Height without the countertops: 34.5"
Height with the countertops: 35"-36"
There isn't a lot of variance when it comes to the height of the kitchen base cabinets because there are building codes and general design practices that dictate how high they should go. Basically, in order for base cabinets to be up to code, their height needs to be accessible.
Width: 9"-46" range
Other width dimension considerations:
30" – for single basin sinks
33" – for double basin or offset sinks
36" – for double basin sinks on the larger end of the sizing spectrum
42" – largest base cabinet size
Depth without the countertops: 24"
Depth with the countertops: 25"-26"
The depth basically refers to the distance from the wall to the other edge of the cabinet. A kitchen base cabinet that's deeper than 24" would not be advisable as it would make it difficult to plug in appliances or to reach the back.
Countertops usually have an overhang of an extra inch or two to soften out the edges but usually nothing more than that. Read more about the most durable countertops here.
Upper Kitchen Cabinet Basic Dimensions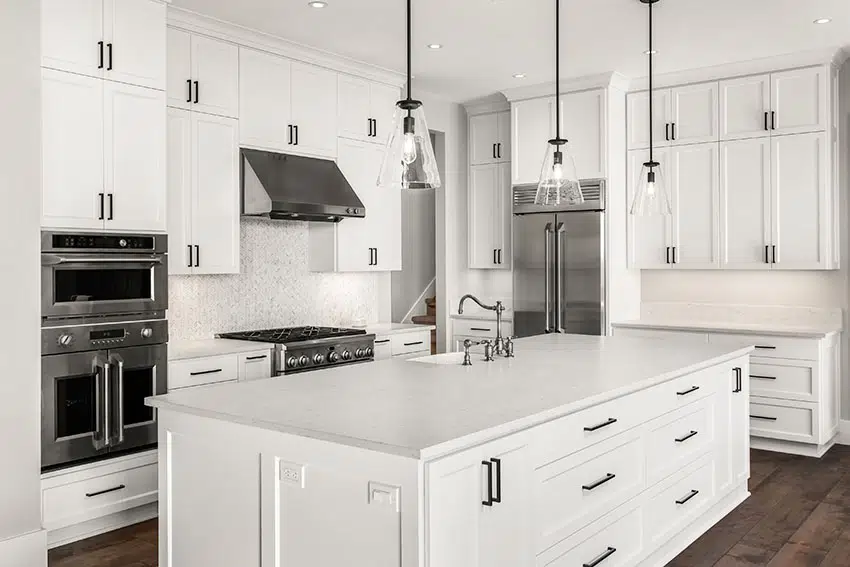 These cabinets aren't as heavy duty as the base cabinets as they don't really have countertops to support but they still need to be sturdy enough to actually support the weight of plates, glasses, and other cutlery that you might have up for storage. They also need to be properly mounted up on the wall.
Here are the basic dimensions for upper kitchen cabinets:
Height: 30", 36", 42"
Once installed over the base cabinets, its top should be at a range of 84", 90", or 96" coming from the 30", 36" and 42" height range, respectively. This means that the standard is that there should be around 18" of space between the base cabinet and the upper kitchen cabinet.
If you are planning to get them installed where there isn't a table or some sort of counter at the bottom, a great rule of thumb to observe is that the bottom should be 54" away from the floor. This would place the cabinet at the same height as if there was a countertop or base cabinet under it.
As for the depth, the standard is at 12" but it can go over as deep as 24". A common scenario is for when you have a fridge, stove or oven and you want the kitchen cabinet to line up along the front of the kitchen appliance.
See more related content in our article about kitchen cabinet styles on this page.