Discover ideas for terrazzo kitchen countertops, including designs, types of terrazzo slabs, materials, costs, pros and cons, modern terrazzo designs, and cleaning tips.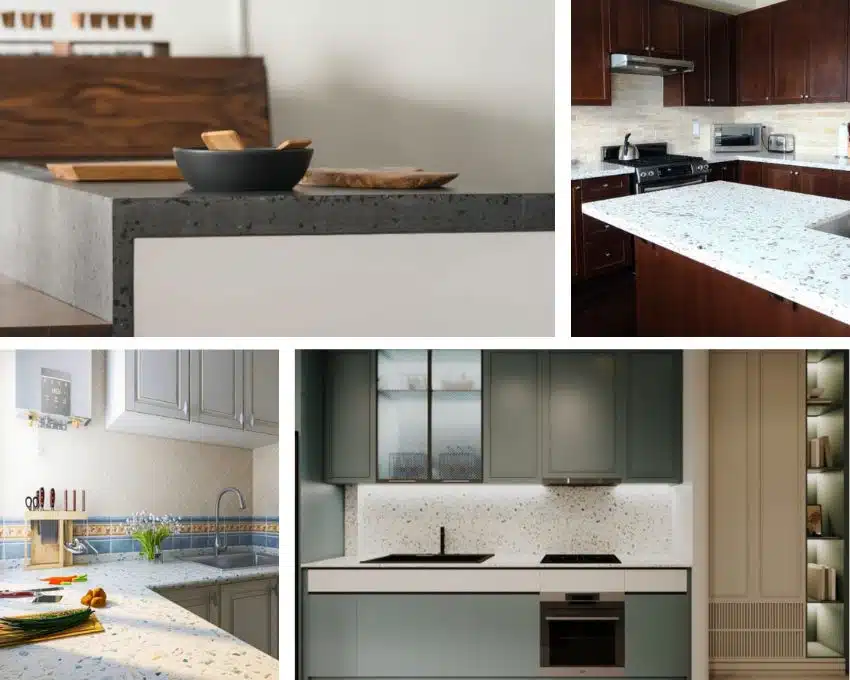 The modern take on the age-old terrazzo decorative surface offers elevated visuals that transform ordinary interiors into interesting, practical spaces catering to people with different styles.
As a kitchen countertop, you'll find it as a durable work surface that is water-resistant with the convenience of minimal maintenance when properly sealed.
The resilient terrazzo kitchen countertop makes it an ideal investment that can be enjoyed for an average of 75 years. The almost indestructible surface makes it a suitable worktop for the busiest of kitchens.
Understanding more about terrazzo kitchen countertops will help property owners in their design decisions and what to expect with regard to the cost, maintenance, and longevity of one's investment.
Quicklook: Terrazzo System Types
• Thin-Set Epoxy
• Monolithic
• Sand Cushion
• Bonded
• Rustic
What Is Terrazzo Material for Countertops?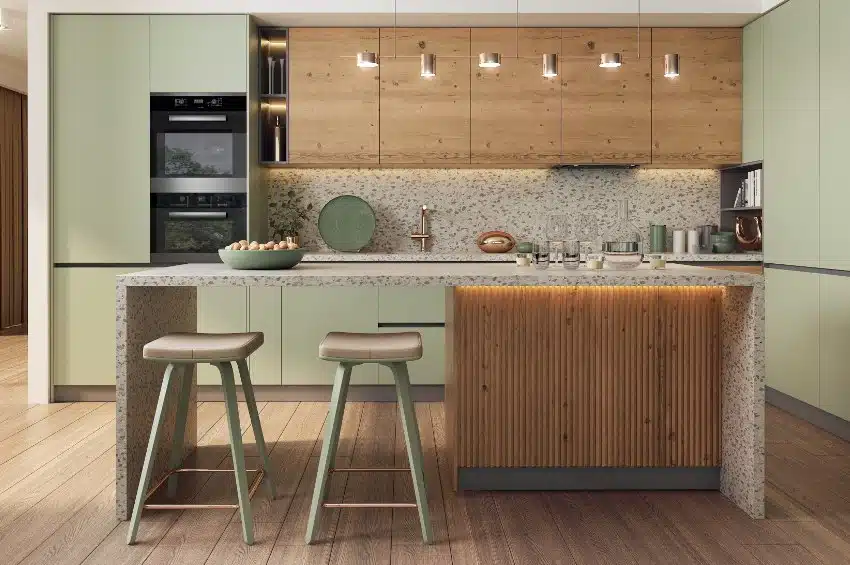 A terrazzo countertop is a pre-fabricated hard flat surface that is made from a stone-like material with embedded chips.
Like any ordinary countertop, a terrazzo countertop is a raised thick platform built as a worktop area commonly used in kitchens for food preparation and the placement of toiletries in a bathroom.
The size of a terrazzo countertop is based mainly on the base cabinet's dimensions, which helps supports the weight of the horizontal surface.
The embedded materials, aggregates, can include bits or chunks of recycled glass, pebbles, mother of pearl, marble stone chips, seashells, porcelain, or ceramic.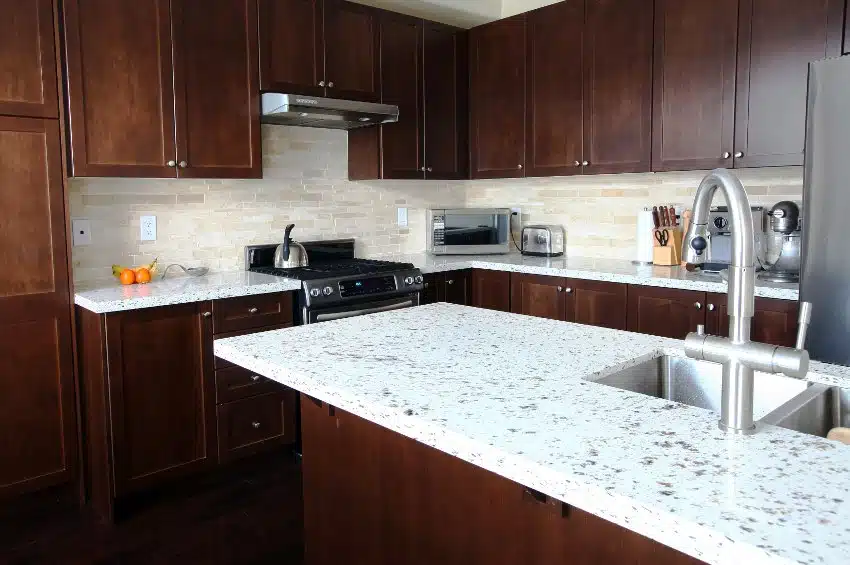 Traditionally, terrazzo is made by combining marble or granite aggregates and uses cement as a binding agent. It can be rough or smooth, like a mirror pane, finished to a high gloss.to create that polished look but can be left with a rough surface.
A traditional flooring material for hundreds of years, terrazo consists of small chips of marble or other stone mixed into a matrix of concrete. – Good Green Kitchens: The Ultimate Resource for Creating a Beautiful, Healthy, Eco-friendly Kitchen, Jennifer Roberts
Regarding terminology and history the term terrazzo is an Italian word that translates to "terrace." The usage of the term came 1500 hundred years ago when Venetian construction workers set chips of discarded marble into clay. The polished surface resulted in an attractive yet affordable finish, which gained popularity among people over time.
Modern Terrazzo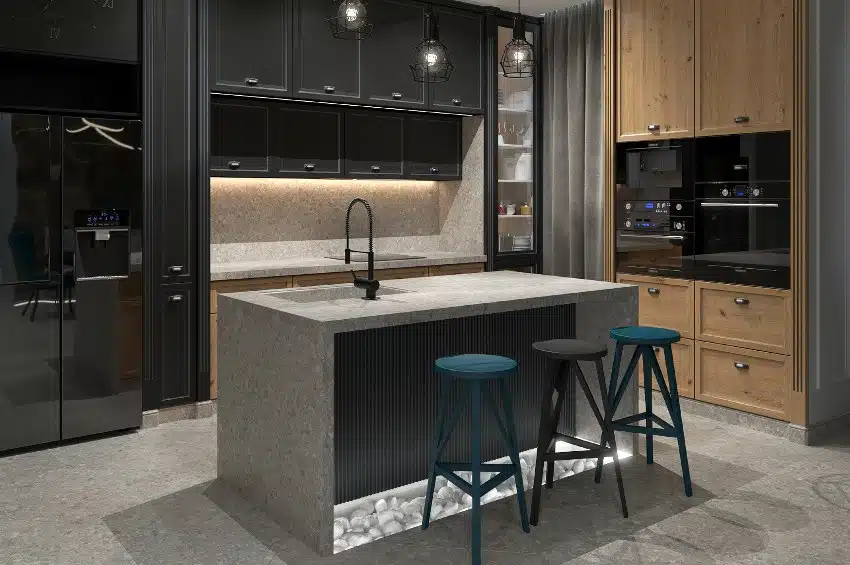 The modern versions of terrazzo differ from the traditional systems with regard to the availability of color, finish, and aggregates.
This paved the way for modern designs and a wide range of selections that can be matched with minimalist to maximalist-themed kitchens as traditional terrazzo with the cement-based version is limited, with dark colors.
Mixes of different colors and strips that function as separators is also introduced such as brass, zinc, rose gold and even colored plastic. These innovative components can transform tables, room décor, and various product designs.

The resilient material can be applied indoors (epoxy-based) or outdoors (epoxy and cement based) and be installed precast or as tiles. Combining aggregates with an epoxy or polyurethane matrix is the most common type.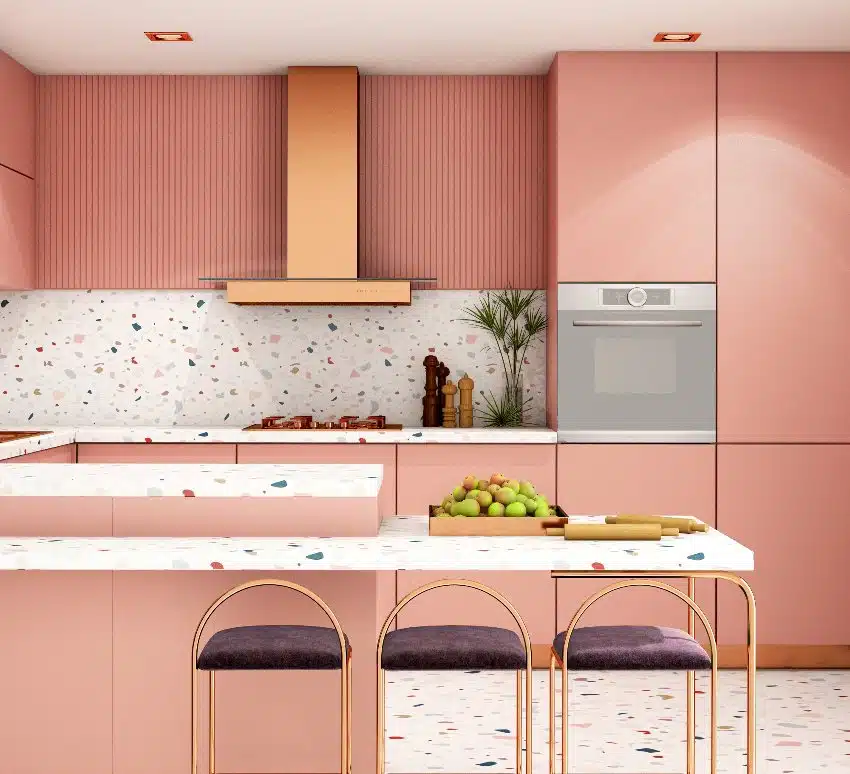 Modern Terrazzo Designs
1. Combination of metal accents and decorative stone aggregates.
2. Aggregate chips in subdued or pastel colors such as peach, mint, turquoise, or pale pink.
3. Larger pieces of stone are mixed randomly with small aggregates in between, creating visually appealing room décor.
4. The terrazzo design features larger chunks of aggregates that have smaller chips inside.
5. Wallpaper or peel-and-stick products with terrazzo patterns provide a versatile product option for updating your room.
6. Oversized chips lined with smaller chips.
7. Patchwork with larger chips creates a rustic appearance.
8. Backlighting underneath the countertop.
Art-Deco Terrazzo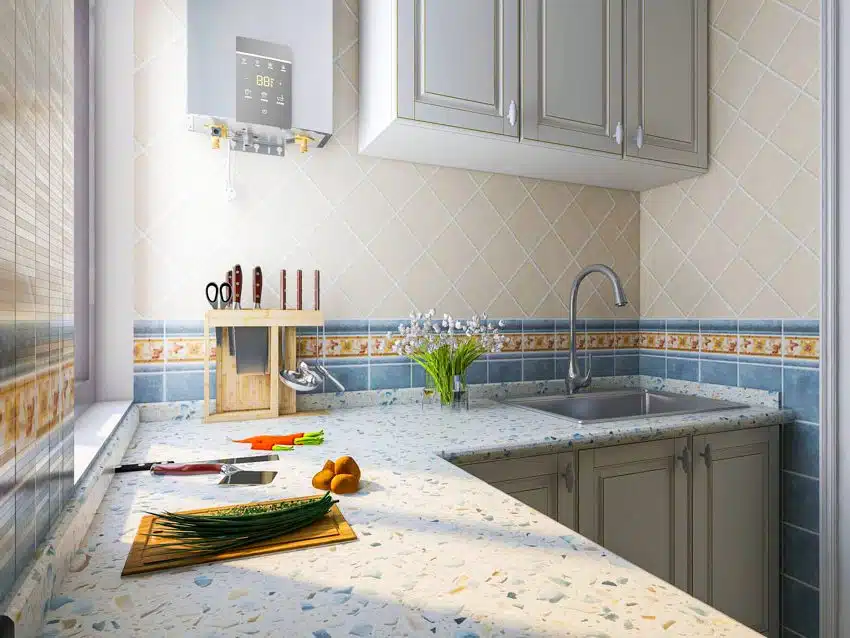 With centuries-old techniques, terrazzo materials are no stranger to the environment where old buildings have flaunted the speckled surface, such as lobbies, airports, or school buildings.
Terrazzo as a material came to prominence during the 1920s when Art Deco was the popular style primarily used for floorings. The Hollywood Walk of Fame and George Washington's Mt. Vernon home are the first places to use the speckled flooring.
Art Deco Terrazzo countertops frequently have a striking geometric pattern with bright chips arranged in contrasting bands or formations. They frequently include metallic embellishments, like gold or silver, which give the design a dash of glitz and refinement.
With a variety of colors, patterns, and finishes to pick from, Art Deco Terrazzo countertops can be specially built to meet the homeowner's unique design requirements.
In general, homeowners who wish to add a touch of Art Deco splendor to their kitchens or bathrooms might consider Art Deco Terrazzo countertops as a fashionable and long-lasting option.
Contemporary Terrazzo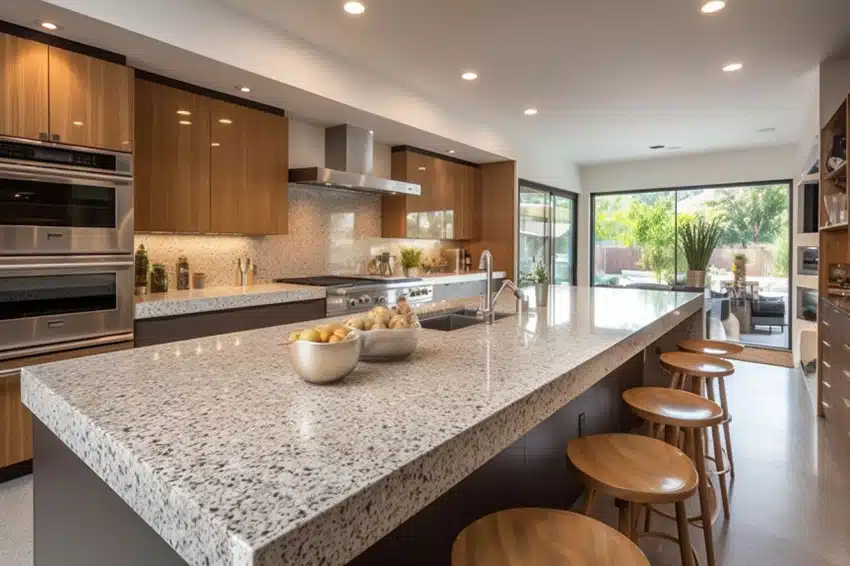 While innovations in the manufacturing process of terrazzo did extend the range of terrazzo variations, there are two general types of man-made stone, namely cement-based and resin-based.
The newest versions of the composite material use an epoxy coating resin that dries faster compared to resin and has easier workability as the ink layers do not mix, making it easier to handle.
Contemporary Terrazzo countertops frequently have a more restrained and minimalist style, with an emphasis on straight lines and neutral hues. To create a distinctive and contemporary look, they use tiny differences in texture, color, and pattern.
Contemporary Terrazzo counters may have a matte or honed finish for a more natural and modest style, as opposed to traditional Terrazzo, which may have a highly polished finish.
Contemporary Terrazzo countertops come in a variety of colors, patterns, and finishes so that they can be fitted to the homeowner's own design preferences.
For kitchens, they are a dependable and low-maintenance alternative that can be used in a range of design aesthetics, from modern to industrial to eclectic. The versatility of Terrazzo allows it to be the ideal ingredient to enhance any space and cater to varied tastes in décor and furnishings.
Terrazzo Slabs
For a seamless countertop with less maintenance, a terrazzo countertop slab is an ideal option which also conveys a more modern look.
The absence of grout, crevices, and walls means fewer areas for accumulating dirt, debris, and stains. The combination of shades and specks in this design, including marble chips, make it an attractive choice for kitchens featuring backsplashes.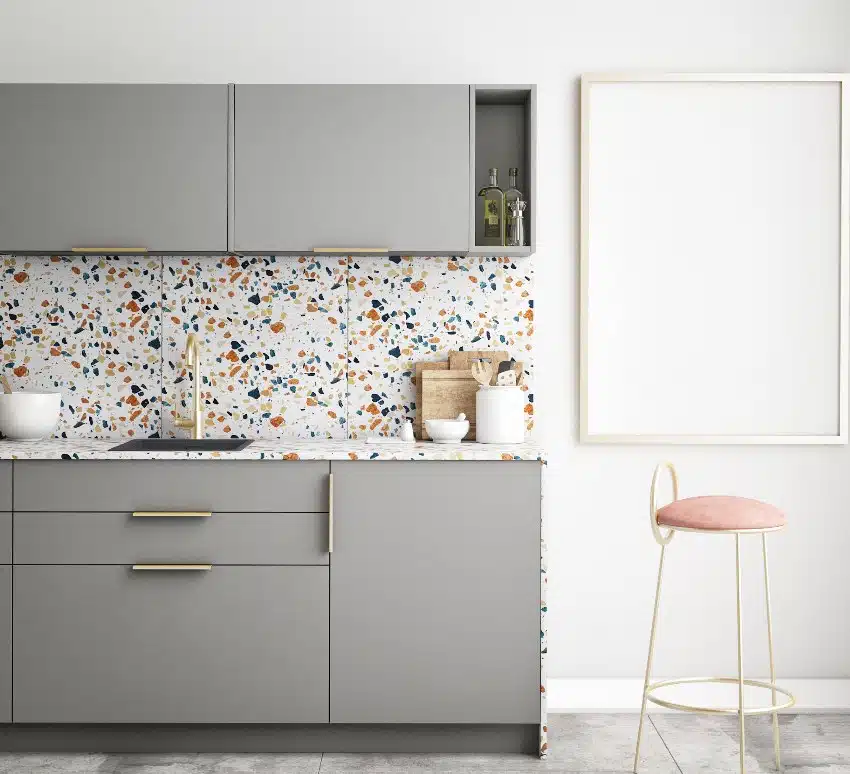 Terrazzo countertops in slab format are usually precast or poured onsite manually. The monolithic surface, particularly epoxy-based terrazzo, can expand long lengths, creating a continuous terrazzo design.
The common thickness for the terrazzo countertop slab is .79 inch to 1.18 inches or 20mm to 30mm. Slab thickness can also be specified according to the owner's preference as thin as .47 inches or 12mm for an epoxy-based finish, though customized thickness will cost extra.
Common edge details for countertops such as mitered, eased edge, bullnose edge, or drop-down mitered edge are all possible with the terrazzo countertop slab.
• Terrazzo Quartz Countertop: A quartz material that captures the speckled look of terrazzo countertops but is more resistant to stain with its impervious surface and slightly more durable surface. It incorporates marble chips and other materials within its design, making it a popular choice for kitchen backsplashes.
It has a uniform appearance, and the robust material is also less prone to stain with or without a protective layer. The only downside is that it can be vulnerable to heat damage, unlike the terrazzo quartz countertop that is heat resistant.
• Terrazzo Laminate Countertop: An affordable alternative that simulates the speckled surface, terrazzo laminate countertops are layers of laminated phenolic resins pressed on brown kraft paper with a printed decorative top layer.
It's a hardwearing surface that's also water resistant. The workability of laminate, with its lightweight composition, makes it an approachable DIY project.
• Concrete Terrazzo Countertops: When aiming for a more rustic look, the concrete terrazzo countertop is a great option, and unlike epoxy-based terrazzo doesn't allow vapor to pass through, preventing cracks.
For concrete terrazzo countertops, expect a limited color palette that includes pastel-like or darker colors.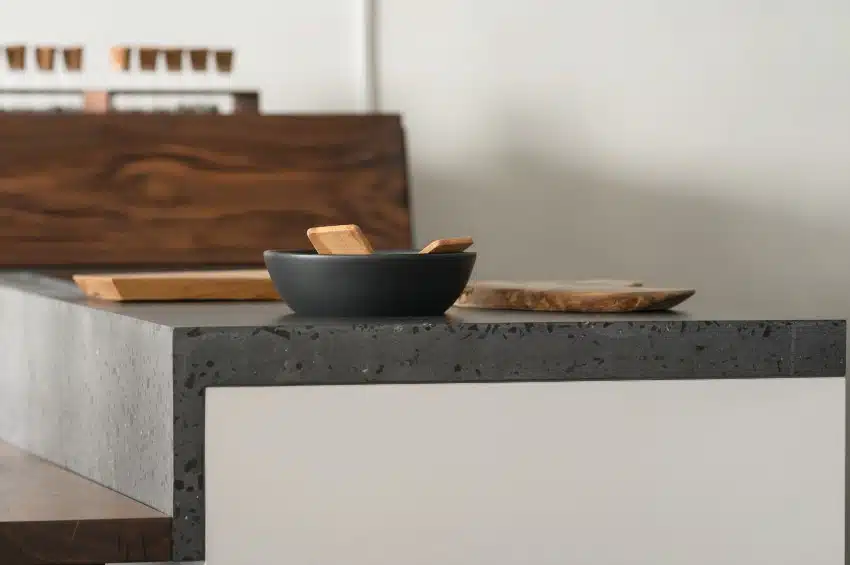 Moreover, only has a rectangular strip geometry in the region where flexural reinforcing bars are installed. This limits the length of a concrete terrazzo countertop.
• Epoxy Terrazzo Countertops: A versatile option for indoor kitchens, the epoxy resin that emerged in the 1970s brought a whole new wave of designs as new color palettes were introduced.
This flexibility, accompanied by the faster curing process of epoxy, made it a more popular type of terrazzo surface. Since it can be installed with a thinner profile ranging from 3/8″ to ¼," epoxy-based terrazzo is ideal for multi-story projects.
Compared to concrete, an epoxy terrazzo countertop will likely crack due to its flexibility. It can also be installed for longer lengths due to its unlimited strip geometry.
The disadvantages of epoxy-based terrazzo countertops are that they will require a moisture mitigation system once the concrete slab is out of tolerance. In addition, epoxy terrazzo countertops generally are not advisable for outdoor use because the UV rays can cause yellowing of the surface.
Although, there are many epoxy-terrazzo manufacturers who offer UV-resistant versions making it suitable for outdoor countertops.
• Faux Terrazzo Countertops: A wallet-friendly option, faux terrazzo countertops such as the terrazzo peel-and-stick countertop help owners achieve the look of a terrazzo finish without the hefty price.
In addition, faux terrazzo materials can be a DIY installation which means less labor cost, allowing you to feel a sense of accomplishment while impressing family and friends with your new kitchen look.

The peel-and-stick terrazzo can also be installed over an existing countertop, making it a quick and easy spruce-up for a kitchen, even working around heat sources and cabinetry. The peel-and-stick terrazzo comes with a strong adhesive backing.
Removable versions of the faux terrazzo countertop are also available with a wide range of designs best suited for temporary installations such as those renting an apartment. See more peel and stick kitchen countertop designs here.
Parts Of A Terrazzo Surface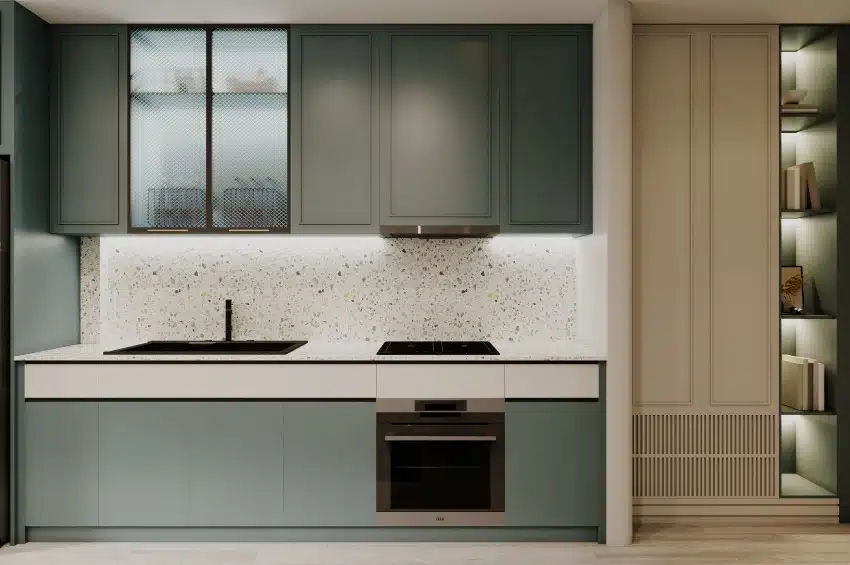 A terrazzo kitchen countertop comes in a slab and tile format with the same parts: the matrix, aggregate, divider strip, and top finish.
Matrix: A terrazzo matrix is a material that binds the aggregates with the substructure. It also makes the overall color of the terrazzo material. These binding materials can come as epoxy, resin, or cement.
Aggregate: These are the distinct chips embedded in the matrix, which can range from small to large pieces with varying materials. The most common are metal, glass, granite, marble, or shells.
The type and quality of the aggregate create the texture, coloring, and depth of the terrazzo tile or slab. The National Institute of Standards and Technology (NIST.gov) has a pdf diagram that covers the breakdown of the composition of generic terrazzo.
Divider Strips: Usually, for functional use, the divider strips act as spacers between sections of the terrazzo. This keeps the material from cracking with a cement substructure. They can also be laid to create particular designs.
Top Finish: The top protective layer that is manually or chemically applied to the terrazzo material. There are various finishes with additional protective properties.
The most common finish is polished and honed finishes. UV protection treatments are also applied, especially when used for outdoor applications.
Types Of Terrazzo Systems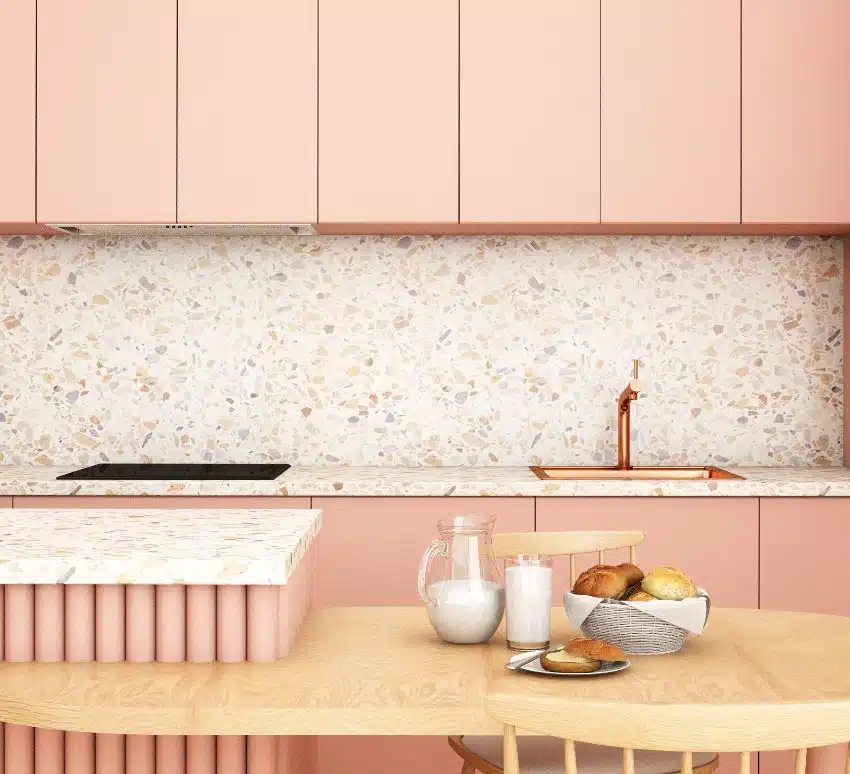 Thin-Set Epoxy Terrazzo: This type has a resin matrix topping with a ¼ inch or 3/8-inch thickness, making it suitable for glass, granite, marble, or synthetic aggregates.
Monolithic Terrazzo: A ½ inch cement matrix is laid on top with only a bonding agent included in the composition.
Sand Cushion Terrazzo: With ½ inch cement matrix topping, the engineered stone composes of sand dusting, an isolation substructure, a wire reinforcement, and an underbed. The sand cushion terrazzo will need a 2.5- or 3-inch depressed slab.
Bonded Terrazzo: Like the sand cushion type, the bonded terrazzo requires ½ inch of cement matrix topping and consists of sand, cement bonds, and a concrete underlaid slab. The substructure is poured with terrazzo to create the countertop. A 1.75-inch depressed slab is needed.
Rustic Terrazzo: The rustic terrazzo features a rough surface that is usually combined with the monolithic and bonded terrazzo, which composes a non-ground and textured cement topping matrix. A two-inch depressed slab is required.
Terrazzo Cost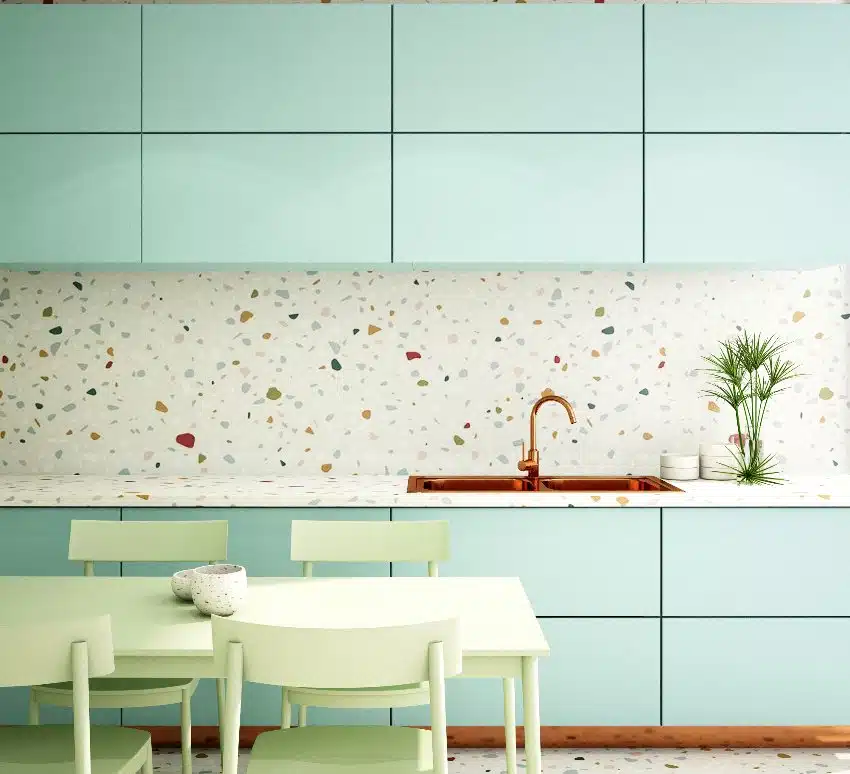 Terrazzo countertops generally cost between $40 to $75 per square foot, depending on several factors. As professional installation is needed, expect to shell out another $6 per square foot for labor costs.
A solid or slab countertop can be more costly, especially with a thicker slab, costing an average of $100 per square foot.
Terrazzo slabs are mostly sold in 16-foot sections with a thickness of 1 ½ inch. Take note that half-slabs and custom slabs are more expensive than standard slabs. Add around $10 to $15 per square foot for your custom slab.
Prepare to add 3.5% to 11% for complex installations such as custom edging. Cutting off the placement for sinks and faucets can also add to the labor cost.
Other factors to consider when planning for a terrazzo kitchen countertop project location as transportation, availability of a particular design, and labor costs will vary.
Countertops Made Of Terrazzo Pros and Cons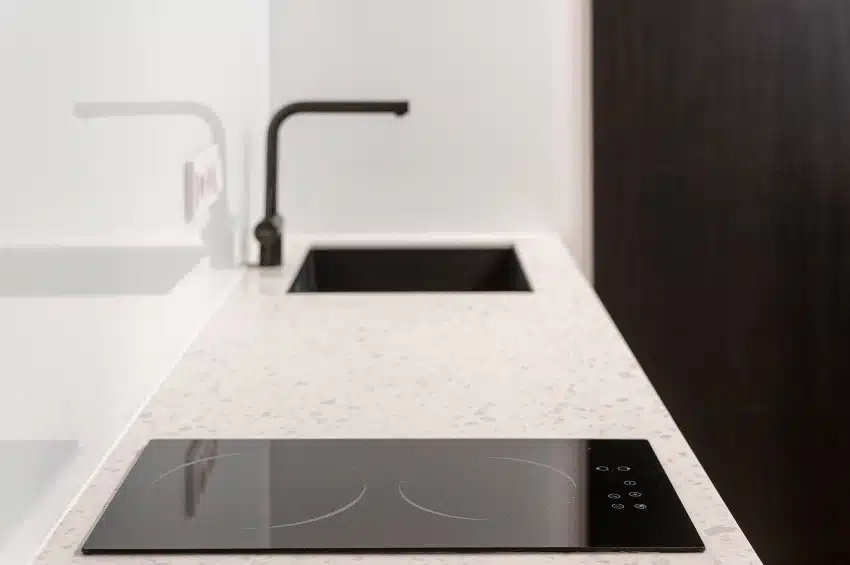 Pros of Terrazzo Countertops

• Compact and Durable: Using new manufacturing techniques such as high compressive strength and vibration process, a terrazzo countertop does not chip and can withstand heavy use.
For this reason, terrazzo surfaces are recommended for commercial interiors, particularly as flooring material. Mohs scale lists terrazzo having a measurement of hardness of 5.
• Customizable: Moreover, one can create a bespoke installation creating unique and creative designs with various aggregates such as mother of pearl or marble. Most terrazzo kitchen countertops are installed onsite, so you get a perfect fit for a particular base cabinet.
• Versatile: With so many styles and options, finding the perfect design to match a particular style is not hard. A terrazzo kitchen countertop is also perfect for adding a decorative element without overwhelming the look of the space allowing other elements to pop up from the scene.
At the same time, bold colors and room designs are also possible with a terrazzo material, such as dark backdrops with vibrant colors.
Terrazzo can be combined with other materials like soapstone, stainless steel, and wood to suit various styles of furniture and people's preferences.
• Heat Resistant: Terrazzo kitchen countertops are heat resistant like granite which means leaving hot objects on the surface won't scorch or darken your material. This also makes terrazzo countertops safe to install in areas near heating or cooking activities.
• Stain Resistant: With constant use for food preparation, a countertop kitchen will have poured liquids, chemicals, and other food items that can leave a stained surface. The nonporous surface cannot absorb spills from liquid or food with a properly sealed terrazzo kitchen countertop.
• Cost-Effective Maintenance: When properly sealed, terrazzo kitchen countertops are resistant to bacteria and can withstand most cleaning agents without damaging the surface. With a smooth surface, it is easier to mop and remove dirt without the need for extensive brushing.
• Eco-friendly: Along with its longevity, most terrazzo kitchen countertops are made from recyclable aggregates and do not contain VOCs or Volatile Compounds that are harmful to occupants and the environment. The longer service life of terrazzo materials also reduces the need for replacements.
• Long-lasting: With quality materials, professional installation, and proper maintenance, a terrazzo kitchen countertop can be enjoyed for an average of 75 years. See the most durable kitchen countertops here.
Cons of Terrazzo Countertops

• Cost: While it was originally created to find a more affordable finish centuries ago, innovation has created a stronger and more suitable terrazzo finish for kitchens and other heavily used surfaces. Which in turn means a more costly material due to its manufacturing process.
• Labor-Intensive Installation: It is recommended that terrazzo kitchen countertops should be installed by a professional to ensure quality and proper installation.
Most terrazzo suppliers offer installation services to maintain the warranty guarantee. DIY terrazzo kitchen countertops are mostly achieved with the faux versions of terrazzo.
• Epoxy-based Terrazzo is not Suitable for Outdoor Use: Though epoxy terrazzo countertops offer a variety of design options, they are not suitable for outdoor use due to the UV exposure they can incur over time.
The unprotected surface can discolor, usually turning into a yellowish color. There are terrazzo products that do offer UV-protected surfaces but are usually more costly than the untreated version.
• Needs Surface Sealing: In general, terrazzo is a hardy surface and won't easily be cheap, especially for a quality-made terrazzo countertop. But a protective layer is needed in busy areas such as the kitchen to prevent scratching or denting.
Is Terrazzo Good For Countertops?
A terrazzo countertop is a wise investment for owners who are looking for a unique look for their interiors. There are many options that can fit one's budget and preferences.
In general, authentic terrazzo is a practical material with the many benefits that come along with its costs, such as durability, stain-proof, hardness, heat-resistance, antibacterial, low VOC, versatility, and a wide range of design options. The lightweight epoxy-based terrazzo is an ideal material for multi-story projects and lightweight base cabinets.
Terrazzo has similar properties to engineered quarry in terms of staining and durability. Though will need surface sealing for terrazzo kitchen countertops that have marble aggregates.
How To Clean Terrazzo
Similar to the process of polishing natural stone, terrazzo countertops are maintained by using natural polishing methods.
Although a robust material, terrazzo surfaces are best cleaned with natural polishing methods to prevent deterioration of the surface material. This gives the terrazzo countertop a beautiful sheen without the need for any waxing or stripping.
For daily maintenance, dusting and removing grime should be done using a damp cloth or paper towel to prevent scratches on the terrazzo surface.
While sealed-off terrazzo surfaces are unlikely to stain, drying off spills quickly as possible should help maintain the smooth and glossy sheen of the terrazzo countertop.
Find a PH-neutral cleaning agent and avoid using solvent-based cleaning solutions that may have acidic compounds, especially for cement-based terrazzo countertops.
Do you have experience or information about using this material for your own kitchen ideas? Share your thoughts below. See more related content that can be found in our guide to the various types of terrazzo flooring.