Find out about the characteristics of Cape Cod style furniture for interior designs in the bedroom, living room, dining room, and outdoors as well as brand & color options.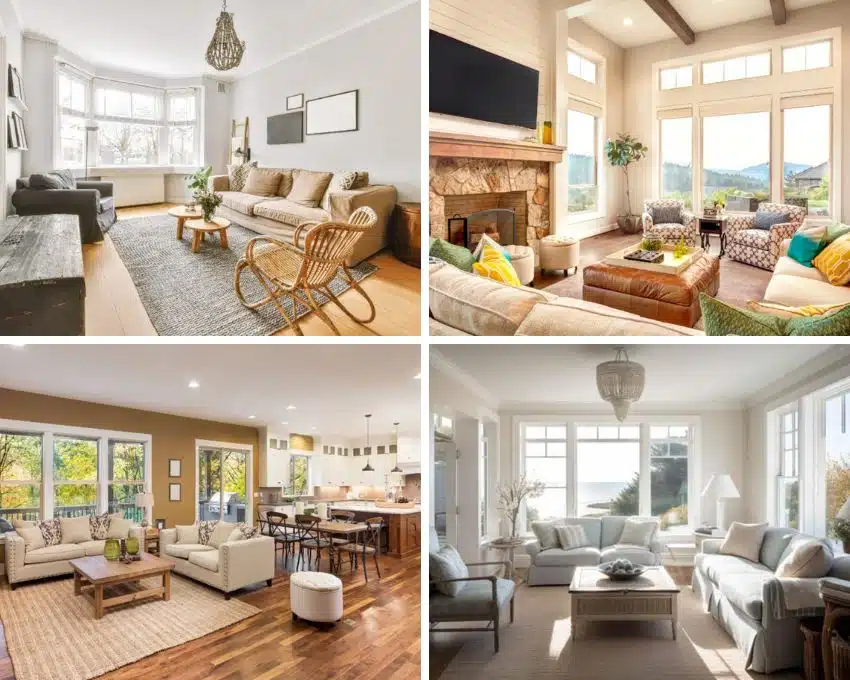 If you are interested in getting your beloved home a timeless, unique, and classic-style decor, we suggest including Cape Cod-style furniture in your interior design scheme. However, if you are wondering what this style of furniture is, allow us to give you a brief background.
The Cape Cod style is inspired by the cozy and picturesque homes of the Cape Cod region in New England. This style features furniture pieces with very functional designs that elicit homely comfort and a coastal vibe. Normally, this furniture style features sleek and purely white-stained or painted wood that promotes relaxation, neatness, and coziness.
So, if ever you are planning to add a touch of naturalistic, pristine, minimalist, and neat atmosphere to your interiors, setting up Cape Cod-style furniture would be an ideal option.
Characteristics Of The Cape Cod Style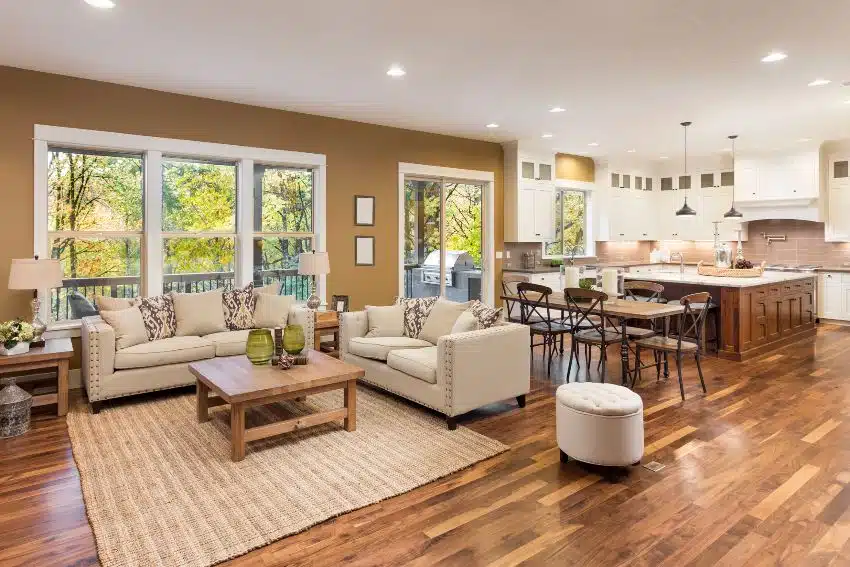 Simplicity and Minimalism: The Cape Cod style is known for its uncluttered lines and minimalistic aesthetic details. Their simple and neat layout adds a tremendous level of comfort and relaxation to all household members.
Usage of Natural Materials: Rattan, wood, vintage linen, burlap, and grasscloth are some of the most common materials seen in Cape Cod-style houses as they are reminiscent of vintage-style houses in the 1700s.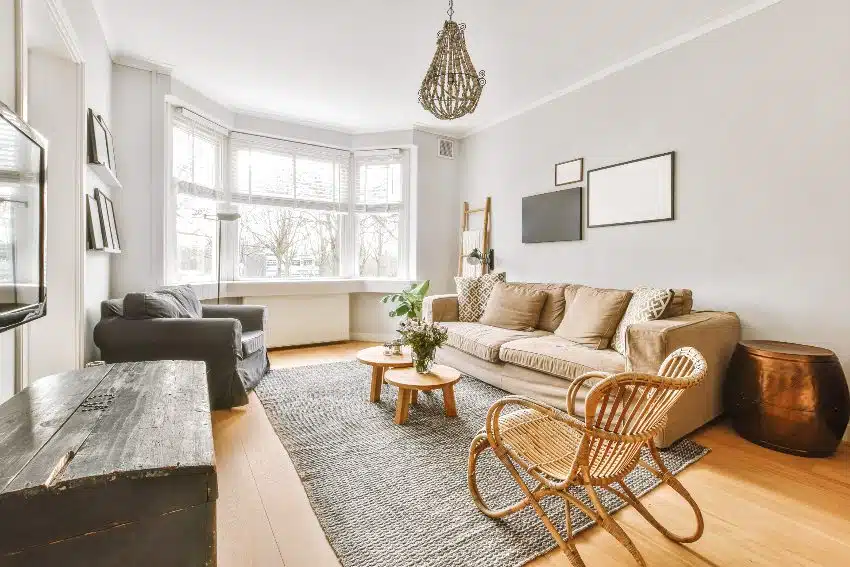 Nautical Colors (Beach-Inspired): Indeed, the Cape Cod style often incorporates colors that are often seen on beaches such as white, sky blue, and beige.
Classic and Distinctive Coastal Home Design: Cape Cod traditionally houses have steep roofs with gables, massive dormer windows, and double-hung windows that include wood shutters.
When Americans were looking for small, economical, housing during the 1930s and 1940s, the Cape Cod became a favorite style among middle- and working-class Americans. – New England, Greenwood Press
Hence, if you are designing or constructing a home interior in this design style, it would be ideal to adhere to the colors and elements seen in coastal homes.
Slight Shaker-Style Influence: Most Cape Cod-style furniture pieces are quite comparable to Shaker-style ones. In fact, most Cape Cod-style kitchens use shaker-style kitchen cabinets.
What Is The Cape Cod Furniture Style?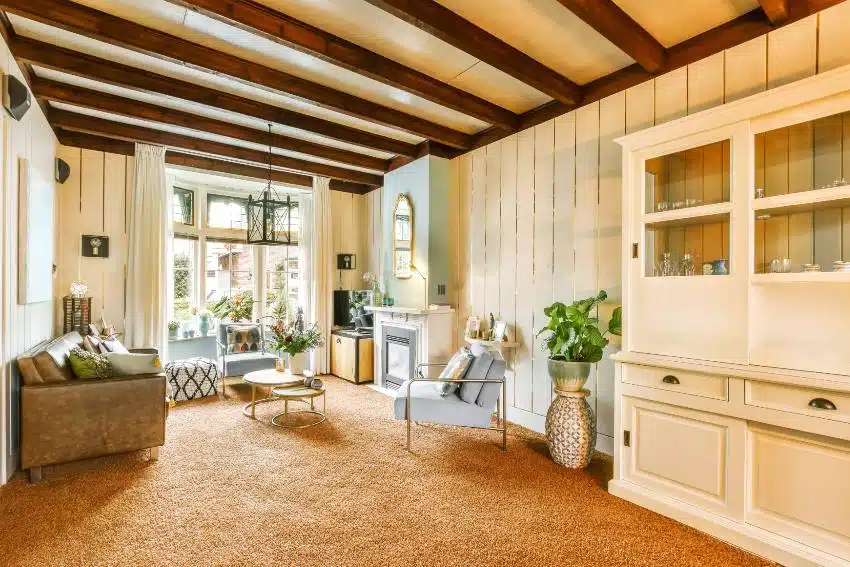 The Cape Cod furniture style was a classic and ideal choice in the 17th century in New England, as previously stated. Customarily, Cape Cod-style pieces of furniture have minimal designs, and clean lines, and are usually seen in light colors.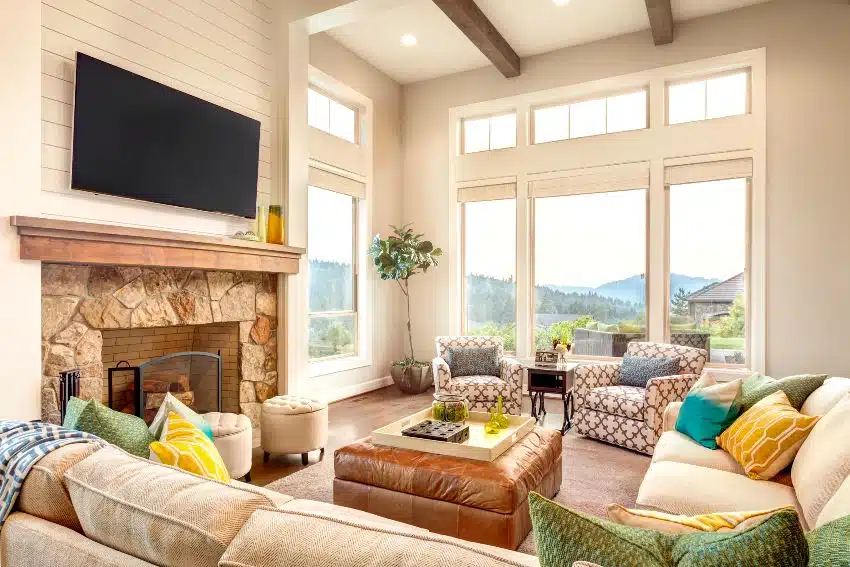 To give you a brief history, this furniture style was influenced by the colonists in New England who wanted and needed furniture items that are extremely durable and can withstand even the harshest environmental factors.
Therefore, we always see Cape Cod-style furniture pieces nowadays that are made out of naturally durable materials such as hardwood, rattan, and bamboo. As time goes by, although Cape Cod-style furniture has retained its classic appearance, some manufacturers build such furnishings that include more decorative elements and carvings.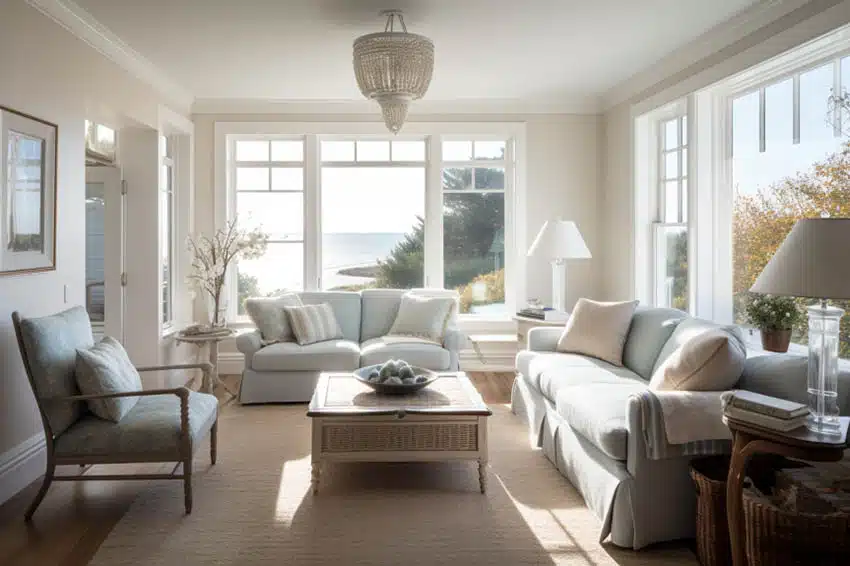 Curved legs and ornamented edges can now be seen in these furniture pieces to add a bit of complexity. In the 1920s and 1930s, numerous Americans started to link Cape Cod-style furniture with coastal or nautical themes.
Furniture pieces frequently use hard and stable wood species like maple, oak, and cherry. They are also commonly stained or painted with colors like white, sky blue, and beige.
However, some interior designers prefer having leaving furniture pieces unfinished to display and expose the wood's natural grains and texture.
Moreover, these furniture pieces such as tables and chairs may also have turned legs with slightly intricate design details to add a bit of complexity to their otherwise simplistic and plain design. Most of them also feature nautical-themed carvings including anchors, ships, or seashells.
Truly, Cape Cod furniture pieces are extremely versatile – they can fit almost any home decor, whether it is modern, contemporary, minimalist, traditional, coastal, farmhouse, rustic, and many more. And this sought-after furniture style plays a huge role in making the home atmosphere a lot more relaxed, calm, and timeless.
Cape Cod Style Bedroom Furniture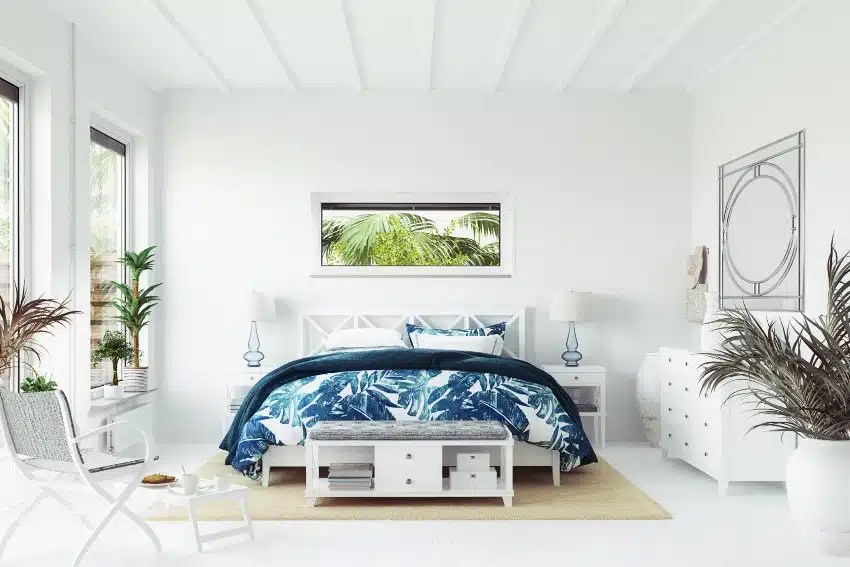 Numerous homeowners as well as interior designers adore the Cape Cod style due to the comfort and relaxation it provides. Hence, this style is also starting to become a favorite since it evokes a sense of neatness and coziness, which makes it a perfect style option for bedrooms. The coastal vibe that Cape Cod-style furniture provides makes the bedroom more inviting and comfortable.
The Cape Cod bedroom furniture set pulls together the finest of artisan styling for your bedroom, making it pleasant and welcoming. We have observed that some elements such as plank details, bun feet, elevated paneling, and carved finials all contribute to the casual aesthetic of the coastal feel.
Drawers, bookcases, wardrobes, desks, dressers, nightstands, and bed frames are some of the bedroom furniture pieces that can be fashioned in the Cape Cod style. These pieces are customarily made out of durable wooden materials such as oak, maple, cherry, and walnut.
However, they are often stained or painted with colors that are present in a nautical scheme. These items do not use extra-decorative details – they primarily elicit minimalism and neatness. However, one of the best things we love about this style of furniture is its ultimate versatility.
Whether you actually live in a house in front of a beach or just want to achieve a coastal-style bedroom in your house, it will surely look good and homely. With Cape Cod style, you can mix and match any decorations you want as long as you stick to a coastal color palette.
Cape Cod Style Living Room Furniture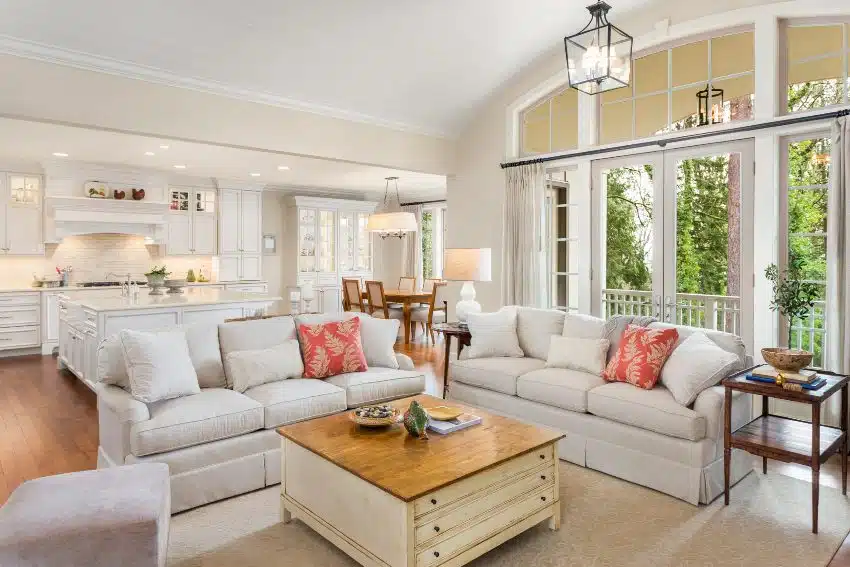 The living room is where we gather, get entertained, and relax as well. Hence, we as interior designers always recommend having furniture pieces that are incredibly comfortable, eye-pleasing, and streamlined. Fortunately, Cape Cod-style furniture pieces are quite a great option for living rooms as they have all of these qualities.
Cape Cod-style living room furniture is all about comfort, neatness, and functionality. For example, sofa frames in this style are usually made out of wood such as pine or oak.
Their sofa cushions are normally upholstered with fabrics that are in relaxing nautical colors such as white, blue, beige, or pale yellow. These colors promote peace and calmness, making the living room atmosphere extra cozy.
Other important living room furniture pieces such as ottomans, accent chairs, loveseats, coffee tables, and TV racks can all be designed in this furniture style.
If you are going for really authentic Cape Cod decor in your living room, you have to ensure that all of these furnishings are on the same nautical or coastal design scheme. Moreover, although the style exudes simplicity, it can still have a touch of natural elements in its living room furniture pieces.
Some might include woven baskets and beach-inspired accents like boats and seashells to make the living room look more interesting.
These elements could also include handmade mats, blue-shaded curtains and throw pillows, along with wooden picture frames and other paintings.
Cape Cod Style Dining Room Furniture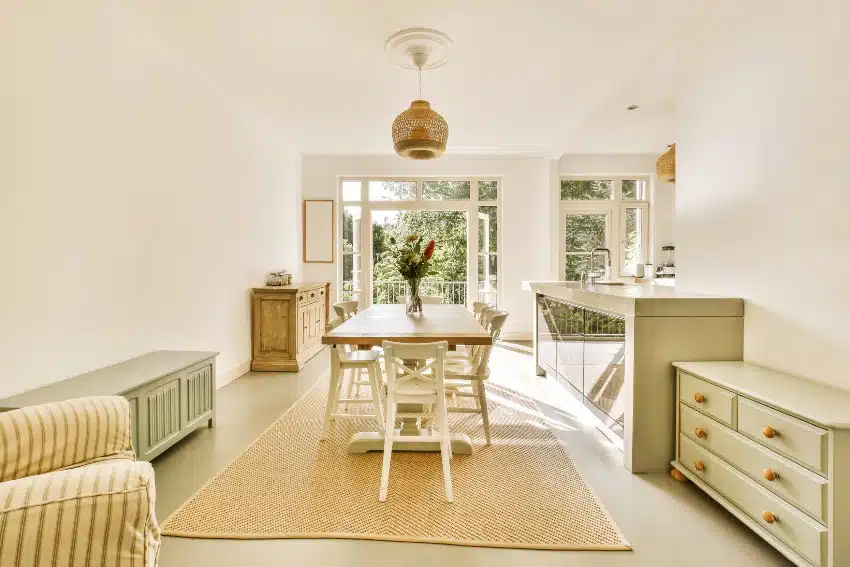 Distressed finishes, uncluttered lines, and coastal-themed accents are what define Cape Cod-style dining room furniture. We believe that this style of furniture is very much ideal for dining rooms as it functions an inviting and calm atmosphere, which can greatly help families and guests eat and socialize peacefully.
Dining room furniture pieces are often painted with coastal colors like beige, white, pale gray, and sky blue. However, some Cape Cod-style dining room furnishings are usually unfinished and distressed, which means they are either sandblasted, stained, or rubbed to achieve a rich patina that will make your dining room look a lot more naturalistic.
In addition, their dining tables are typically constructed from bamboo or wood. They normally have traditional design elements such as tapered legs and a pedestal base.
However, Cape Cod-style dining chairs are customarily made out of hardwood or woven rattan. They also use slat-made or curved backrests along with cushions that are either made out of faux leather or fabric.
Cape Cod Style Outdoor Furniture
Indeed, the Cape Cod style is not only for interiors but for outdoors as well! However, unlike interior furniture pieces that normally use oak, maple, or pine, Cape Cod-style outdoor furniture pieces alternatively use more moisture-, pest-, and rot-resistant types of wood such as teak and cedar as they are exposed to different harsh outdoor elements.
Furthermore, Cape Cod-style outdoor furnishings are usually painted in neutral hues like white, beige, or gray to blend in with the beautiful nature. However, if you wish to adhere to other coastal colors that normally define the style, you can paint your outdoor furniture items sky blue or pale yellow.
Just like the other aforementioned Cape Cod-style furniture indoor locations, the outdoor furnishings also feature simplistic designs like clean lines, and unadorned materials, with very minimal embellishments and curves.
Some of the outdoor furniture pieces that can be customized or fashioned to achieve a Cape Cod style include outdoor seats that can rock or recline, chaise lounges, chairs, or outdoor dining tables.
Such furniture pieces can be treated or painted with coastal colors and accented with carved legs or beach-themed carvings to further highlight the style.
If you wish to enhance the appearance of your Cape Cod-style outdoor furniture items, we suggest pairing them with classic accessories like huge umbrellas, lanterns, handmade outdoor mats, and wind chimes.
Cape Cod Style Furniture Brands
There are various furniture brands locally and internationally that offer Cape Cod-style furniture pieces. Each one of these furniture manufacturers has its specific selection of furniture sets, expertise, and brand reputation.
Here are some of the popular brands currently available:

Polywood Furniture
Superior quality, environment friendliness, and weather resistance are the fortes of the Polywood brand. Indeed, they offer various premium-quality Cape Cod-style furniture pieces and sets that are extremely durable, long-lasting, and moisture-resistant, making them ideal not only indoors but also outdoors.
Rocking chairs, Adirondack chairs, dining tables, and dining chairs are some of the furniture pieces that Polywood manufactures.
Trex Outdoor Furniture
This furniture brand is renowned for producing long-lasting, recyclable, and eco-friendly furniture sets since 2002. However, among their unique and interesting products include furniture pieces in a coastal style, which include environment-friendly outdoor dining sets, gliders, side tables, Adirondack chairs, and rocking chairs. All of their products are 100% recyclable, crack-, and shock-resistant.
Berlin Gardens Furniture
This furniture brand is known for selling different outdoor furniture pieces, although it also has a range of Cape Cod-style furniture sets. Berlin Gardens was established in 1990 and is located in the Amish Country, Ohio. This company uses a patented combination of poly resin as well as other long-lasting and eco-friendly materials to manufacture different types of furniture including related Cape Cod and coastal inspired pieces.
Lebello Furniture
This brand is recognized for its production of modern-style furniture. Lebello offers a range of related furniture pieces such as dining sets, outdoor chairs, lounges, and dining sets. Resin wicker along with stainless steel and aluminum are some of the common materials that Lebello uses for its furniture.
Highwood Furniture
This American brand specializes in manufacturing weather-resistant furniture. If you wish to beautify your outdoor space with Cape Cod-style furniture pieces, keep in mind that Highwood also offers such pieces that can withstand outdoor elements. Most of the related furniture items they produce are made out of recycled plastic, which makes them eco-friendly.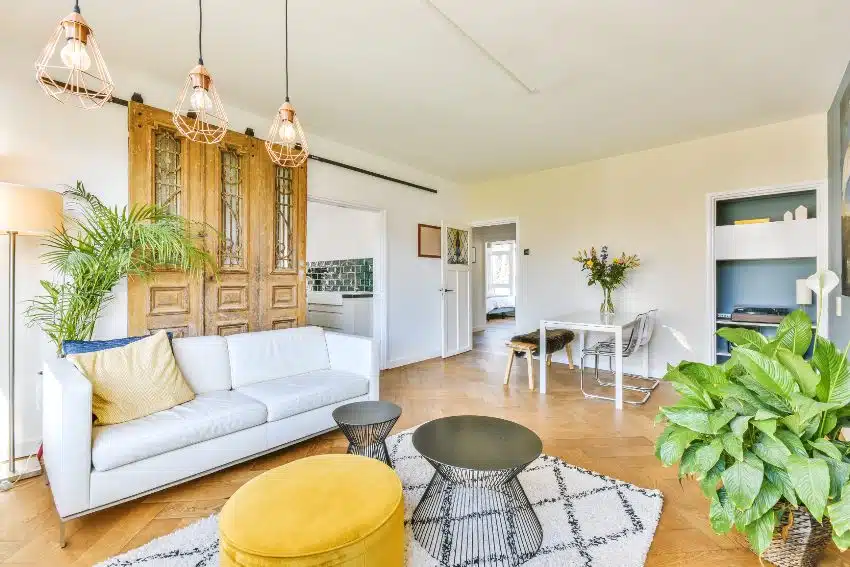 If you are now in the process of building or renovating your home, we must say that going with this style furniture would be a classic choice that will make your home feel more relaxed and welcoming.
Whether you live in a city or coast, we are sure that even professional interior designers will agree that this furniture style will be a good investment that will bring comfort and luxury to your beloved home.
Therefore, once you decide on building or revamping your bedroom, living room, dining room, or outdoor space, consider choosing the Cape Cod style.
Visit our Cape Cod kitchen design guide for more related ideas.