Find out what is a credenza including its uses, how to decorate a credenza, and how it differs from other types of similar living room furniture.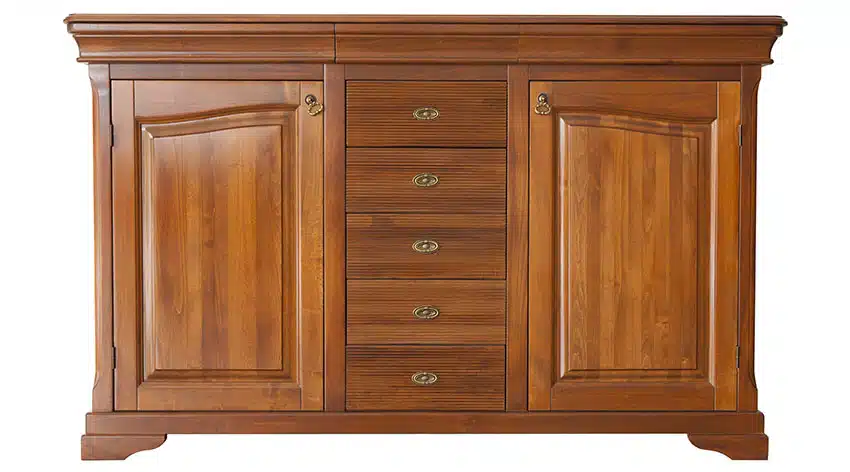 A credenza is a storage furniture piece that normally has short legs, though some versions have no legs at all. They typically include sliding doors or streamlined doors with no visible handles. This provides the space with a low appearance yet a formal vibe.
Credenzas are now largely used for storage and have become associated with buffet tables and sideboards, even though there are some significant differences.
The credenza was initially seen in households in the 14th century and was primarily an Italian furniture piece. The credenza was originally discovered in church buildings and cathedrals before being applied in households. Moreover, it was used to exhibit expensive dishes and serving vessels and for preparing meals.
What Is A Credenza Used For?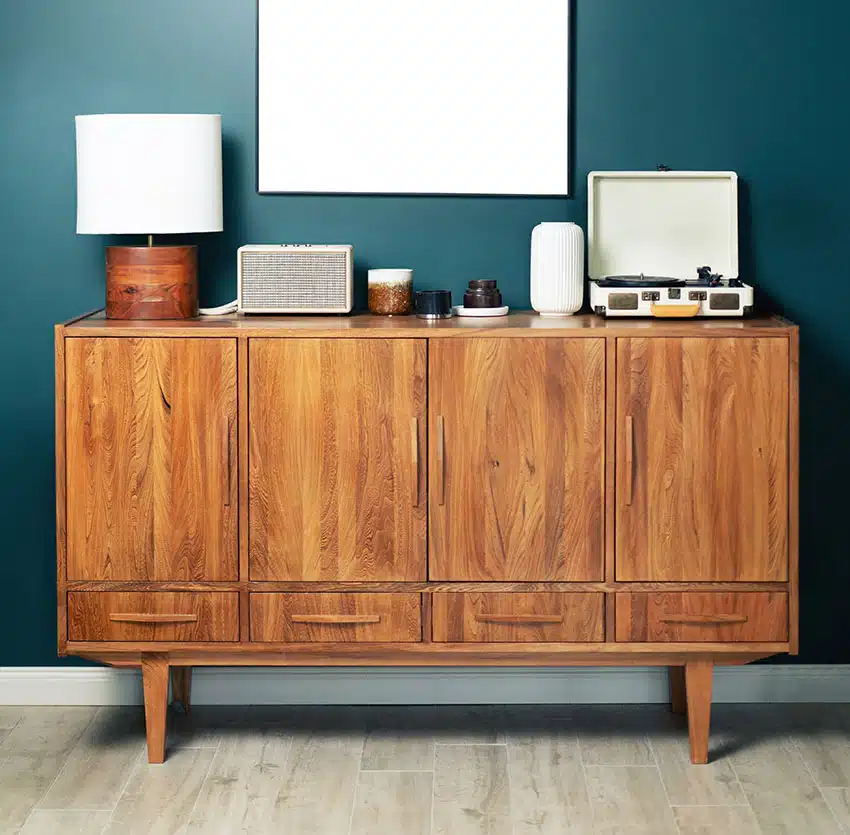 The purpose of using a credenza has shifted slightly in modern times, yet it remains a household classic. Modern credenzas are offered in a wide variety of forms and are normally used for storage, displaying items, and decoration.
In dining rooms, a credenza is commonly used as a buffet table or sideboard – it can be used to accommodate linens, napkins, delicate dishes, and many more.
Aside from that, it can be used as a media console in living rooms and as a workstation and storage in private offices. Plus, it can be placed anywhere as long as it is against a wall.
In addition, it can function as a bar cart for entertainment, a foyer console table, or a corridor storage box. This classic piece of furniture is sometimes used as a TV stand in the living room. It can be used for a plethora of purposes, depending on your current needs and tastes.
How To Decorate A Credenza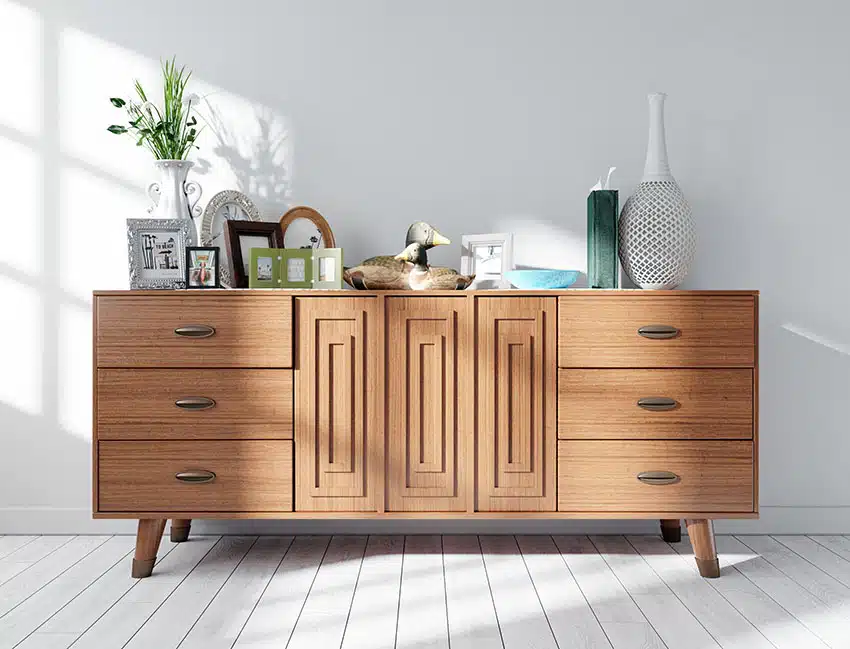 If you have a credenza in your house, probably one of the first things you want to do is decorate it. Here are some tips and tricks on how you can decorate your credenza like a pro:
Use Your Credenza for Storing Different Household Items
If your credenza is in your living room, remember that it can function as an outstanding piece of storage furniture that may be used to hold objects like books, photo albums, or office supplies. Baskets or other decorative containers can be used to organize the objects on top.
Display Different Decorative Elements
Above the credenza, you can lean or hang pieces of artwork or photographs, or you can just place them on top of the surface. You can consider arranging vases, bowls, or other decorative elements on the credenza's surface to deliver complexity and originality. If you are a nature lover, you can try to add a touch of greenery by arranging potted plants or flowers.
We asked our interior designer Brooke Carson about plant placement and she offered this.
When it comes to plant placement make sure to avoid crowding them too close together. Try utilizing plants at different heights throughout the room to create a pleasing affect. If you do place them on furniture, just make sure to do all your watering in the kitchen and let them drain well before bringing them back to their cachepots.
You can also leverage the credenza's top surface to establish a focal point in the space. This might be a huge work of art, a sculpture, or an assemblage of small artifacts organized in an appealing fashion. This might serve to catch the eye and generate buzz in the space.
Beautify the Credenza with the Proper Choice of Lighting
You may want to put table lamps on the top surface to add a touch of elegance and make the furniture piece more noticeable. Under-cabinet lights can also be installed to brighten the surface and the objects displayed on it.
If you want to highlight the artwork pieces or other decorative elements on top, you may want to use spotlights or accent lights.
Apply Contrasting Colors and Textures
Is your credenza dark-colored? Well, you can add lighter-toned items to the décor on top as well as the dishes or artwork items behind the glass. If you think your credenza is made out of light materials, you can add weight with darker lamp bottoms and a fair number of heavy sculptures.
To add excitement to the credenza and the space, you can combine different materials such as wood, metal, glass, or ceramics. Playing with different textures can help make it more eye-pleasing.
Select Different Shapes of Different Design Elements
If your area has many linear design features such as a rectangle table, bench, and brickwork, you can add complexity by playing with circles and natural shapes. A large round mirror or grand clock, for instance, positioned above, provides aesthetic value. Vases, houseplants, and lampshades that are free of sharp lines can assist in soothing the atmosphere as well.
Add Floating Shelves Above the Credenza
You do not need to put all of the objects that you want to display on the credenza itself. Alternatively, you can install floating shelves above the credenza.
These shelves will add a sense of style while also providing an extended display space for your precious items. This also helps in making the topmost surface of the credenza more useful for accommodating your other belongings.
Keep the Credenza Minimalist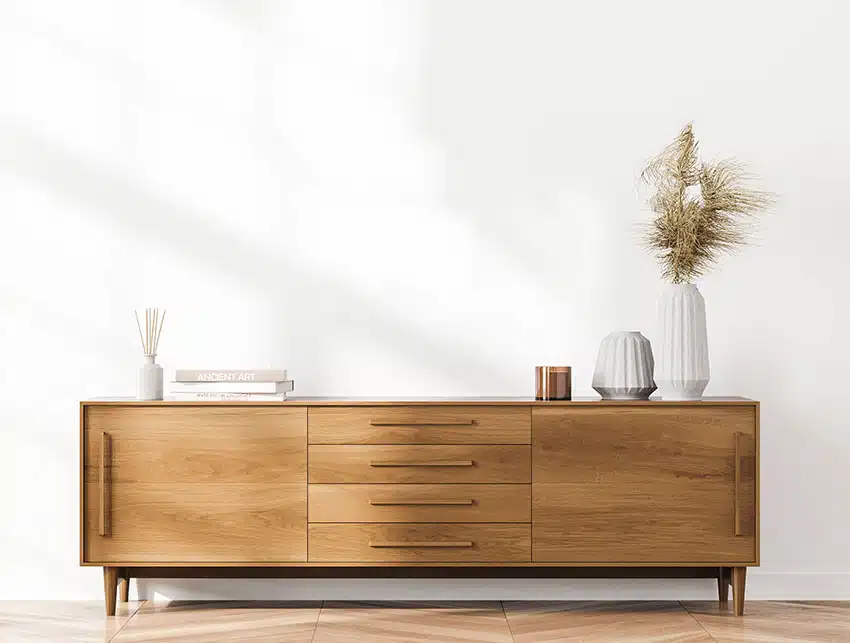 Credenzas, particularly the small versions, are often ideal for entryways and nestling into corners when extra storage is required. To avoid a chaotic impression, you can keep it minimalistic with a single light source and a pair of vases.
Take Advantage of the Decorative Elements You Can Put if Your Credenza Has Glass Doors
Your credenza's glass doors do not necessarily have to only display your luxurious serving platters. Instead, for a more expressive pizzazz, you can arrange artistic statement objects, organic decorative elements, and elegant timepieces behind the glass. It will make your credenza more interesting to look at.
Stow Away the Toys
A family with kids can take advantage of the living room storage by stowing favorite toys in an easy to reach spot. This gives the benefit of not having to shuttles toys back to the bedroom every night to clean up.
Make Your Credenza a Wine "Showcaser"
Using your credenza, you may establish a home bar beside your dining table. Your wine collection as well as your wine glasses can be displayed on top, while your more precious wines can be put inside the cabinets.
Add your vintage or antique piece to your living room of home office with your favorite decanter and drink of choice for a stylish look while entertaining.
Credenza Cabinet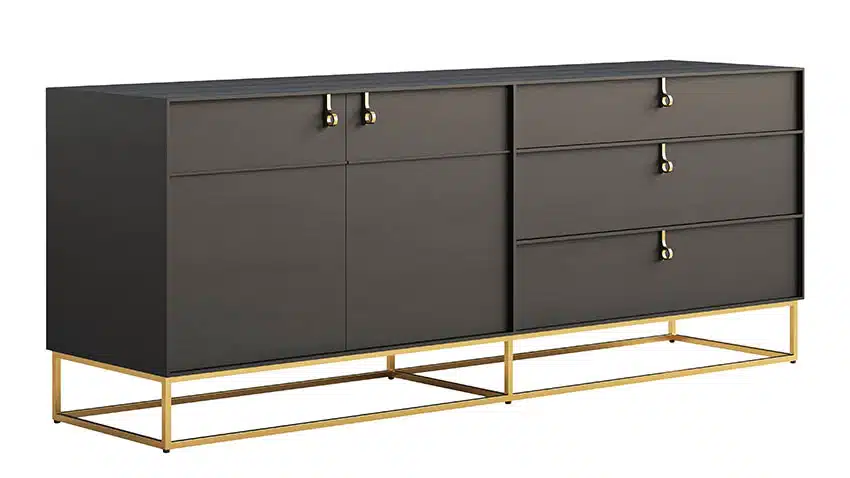 A credenza cabinet often features sliding doors (some are made out of glass) that open to reveal storage space for elegant dishware and other dining items.
It is a classic storage solution with an extra serving space thanks to its long and low design. It is typically placed against a wall and is intended to keep dinnerware, linens, decorative elements, and many more.
---
Decorating a Credenza Designer Tips
These credenza decor tips are provided by architect and designer Ellen Siloy.
Decorate your credenza like a pro with these simple yet effective design strategies making the most of your furniture piece. Once you have a eye-catching backdrop, look for mood-inducing illumination.
These are some simple yet effective ways to elevate the look of your credenza without having a major makeover.
1. A Storage with Style – Use Your Credenza for Storing Different Household Items
Take advantage of the space that a credenza offers especially when placed in a public space such as the living room. Showcase your collection of books, magazines, figurines, or photo albums. Add volume vertically by using attractive wicker baskets or containers to house objects on the top portion of your credenza.
2. Feature Wall – Display Different Decorative Elements
Create a vertical garden just above your credenza to add some fresh palettes to your credenza furniture. Hats and other handcrafts are also a trendy way to add personality to your credenza ensemble or personalize a gallery of artworks or photographs to have conversation pieces.
3. Strategic Lighting and Shadows to Set the Mood – Beautify the Credenza with the Proper Choice of Lighting
Set the mood with a beautiful lighting design. Highlight displays or add dramatic illumination during different times of the day or night. Layer lights by adding under the shelves lighting or spotlight display with track lights to add a modern vibe.
4. Create a Standout Piece – Apply Contrasting Colors and Textures
Make your credenza the focal point in the room. This is very advantageous for dark-colored credenzas. When surrounded by softer color palettes of décor, your credenza's features are emphasized without overwhelming the space.
Along with colors, textures are great in adding emphasis to items and can enrich the look of a space. Layer metal, glass, linen, and ceramics to create an interesting ensemble.
5. Enrich the Look with Layered Profile and Texture – Select Different Shapes of Different Design Elements
Break the monotony of things, with contrasting shapes. As most credenzas have that rectangular boxy profile, a curve element such as a round mirror or a cuckoo clock can add an exciting flow of lines adding rhythm and life to the look of your credenza.
6. Sleek Skyline Touch with Floating Shelves – Add Floating Shelves Above the Credenza
Floating shelves are an excellent way to extend the storage and display potential of your credenza. Just add thick slabs or planks above the furniture by attaching the tiers against the wall.
These can either be reclaimed wood for a more traditional rustic match or a clean sleek neutral colored wood to create a minimalistic look. Matching the color of your shelves with the wall meanwhile creates an illusion of having floating objects above your credenza.
---
We asked interior designer Rachel Razal Padilla, and these are her best credenza decor tips.
Convert your credenza into a mini bar – Whether you love entertaining friends over cocktails or enjoying a drink to cap off your busy day, a credenza is the perfect piece of furniture you can use as a mini bar. "Set up your credenza in your living room because it comes in handy when you have guests.
Reserve the top of your credenza for your best bar ware pieces like fancy rocks glasses, an old fashioned crystal decanter and a stainless steel ice bucket. You can then add some wine and liquor bottles as part of your display." said interior designer, Rachel Razal Padilla. "Do not forget to throw in a few decorative pieces like a nice vase or metal art to give it some life", she added.
A mini bar can be as simple as a piece of tray with some glassware and a stainless steel barware set. Liquor bottles and other drinks may be stored inside the cabinets. If you are a wine lover, you can also add in a wine rack and a wine glass holder on top of the credenza.
Dry bar essentials like serviettes, tea towels, stirrers or small plates for hors d'oeuvres may also be stored in the cabinets for easy access.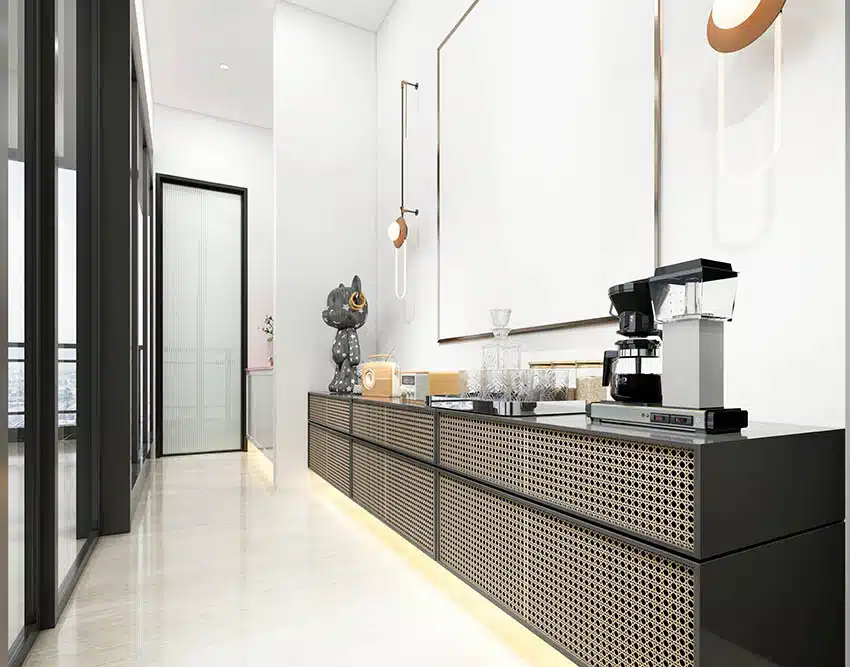 Turn it into a coffee station – If you are more of a coffee lover, you can alternatively transform your credenza into a coffee nook. Coffee stations have become very popular additions to modern houses because of the convenience that they offer — instead of going out, why not be your own barista and create the perfect brew at home?
"Before you turn your credenza into a coffee station, it would be very helpful to think of a theme first that you want to employ. Whether you're into mid century modern, vibrant retro or farmhouse charm, working with a theme will make it much easier to find the right accessories which will go with your credenza to complete your coffee station. In addition, it will give your coffee station credenza a cohesive look", Rachel said.
With the right materials and some artistic decorating, you can recreate the theme, ambiance and function of your favorite coffee shop right at home. "For example, if you decide to go with the farmhouse style, furnish the top of your credenza with mason jar or glass canister with wooden lids and white or brown coffee mugs.
Incorporate rustic elements into your design, like a reclaimed wood signage, some raw material decors and weathered baskets to bring out the farmhouse aesthetic. For the color scheme, it is best to stick with a neutral palette for a coffee bar", Rachel added.
For the coffee station credenza, you can put your espresso machine, coffee maker, hot water kettle and other small appliances on top of the furniture to make it the focal point of your display. If you do not have these appliances, you can do the same with a single brew coffee maker or a drip mug. You can also include a tray with a few of pieces of mugs and your coffee, tea and sugar placed in canisters.
Keep it simple with the essentials – Whether your turning your credenza into a dry bar, a coffee nook, a reading station or a display for your most favorite pieces at home, it is still best to keep things simple when decorating.
According to Rachel, it is best to stick with essentials and carefully curate your display because putting too much items on your credenza can make it look cluttered. If you decide on a coffee bar credenza, do not put all your mugs on display, you can keep the others in storage.
While if you opt to just display home accessories, you can choose a piece of oversized mirror combined with a table lamp or a conversation piece. Avoid putting too many small accessories because this can look too overwhelming.
Add some greenery to your display – Place a few potted plants on top of the credenza for a pop of greenery. " You'll be surprised at how indoor plants can easily bring life to a piece of furniture or interior. A potted plant brings in an organic element to a space and can effectively break monotony. It also introduces a refreshing vibe to a space.
A single potted plant combined with some candles or accessories can create an eye catching display. So whatever function you choose for your credenza, make sure to add in some greenery.", Rachel stated.
According to Rachel, when choosing natural indoor plants to go with your credenza, opt for the low maintenance kind. If you are not a plant enthusiast, you can try fake plants and artificial flowers as they can also produce the same look.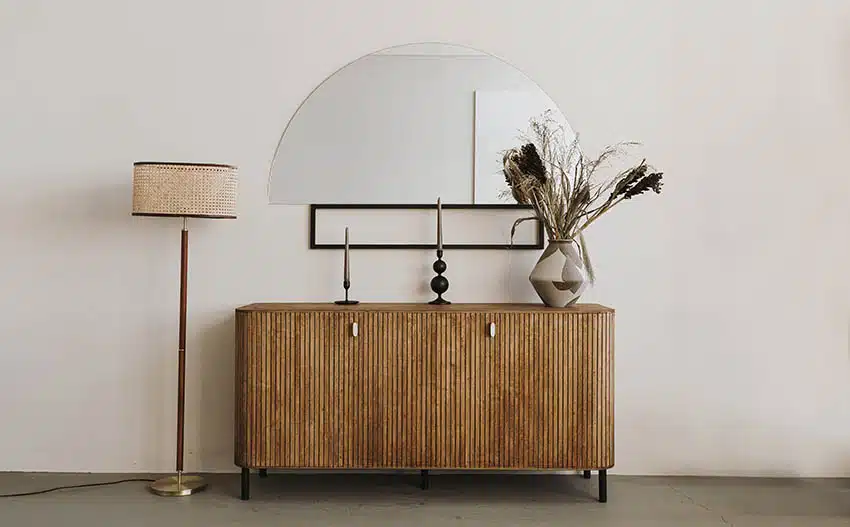 Create an illusion of space – A mirror is one of the most common decorative pieces used in a credenza, but it is also one of the most practical ones to use if you have limited area at home. Mirrors can create an illusion of a bigger space. If you have a credenza placed against a wall, you can put a large mirror on top of it.
Rachel reminds her clients that when choosing a mirror to display on top of a credenza, make sure that it measures at least three quarters the size of the furniture. Proper scale would create a proportional look.
---
What Is A Credenza Desk?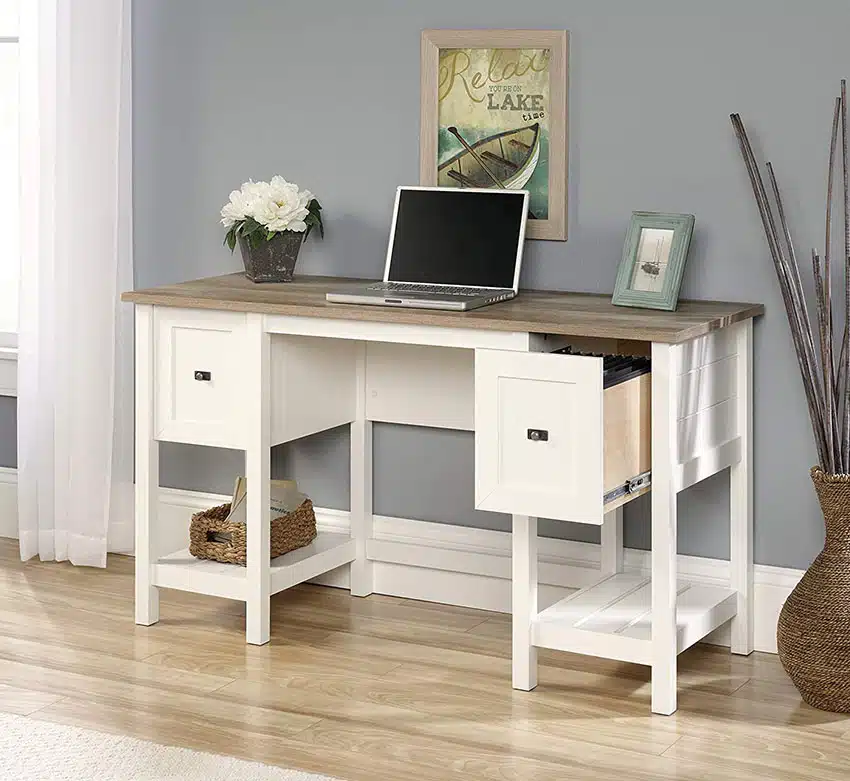 See this credenza desk at Amazon [sponsored link]
A credenza desk is pretty self-explanatory – a combination of a credenza and a desk. With this furniture piece, you have the storage capacity and overall look of a credenza with the function of a desk. Many credenza desks include storage compartments, shelves, or drawers for your office essentials or documents.
For extra security, certain credenza desks include components such as keyboard trays, file cabinets, and lockable drawers. They can be used in different working environments including executive offices, home offices, etc.
This type provides the added functionality of a traditional desk by providing space for your legs and a chair while remaining at an essentially comfortable desk level.
TV Credenza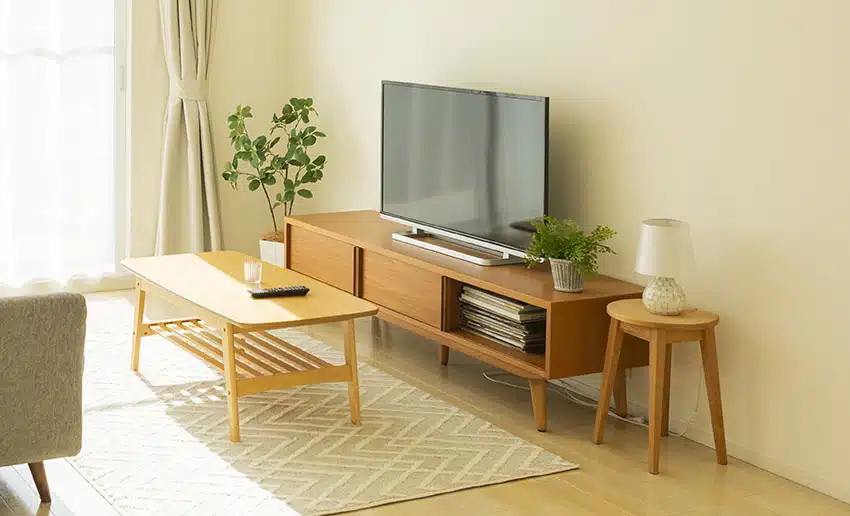 A TV credenza, often referred to as a TV cabinet, is a formal piece of furniture that serves as a platform for your television. A TV credenza will typically have cabinets, shelves, or drawers for storage, which is similar to traditional credenzas.
Additionally, a TV credenza is often a preferable solution for entertainment locations with a multitude of components. With this type, you can store extra TV parts like cable boxes, gaming consoles, and DVD players and keep the entire system more organized.
Modern Credenza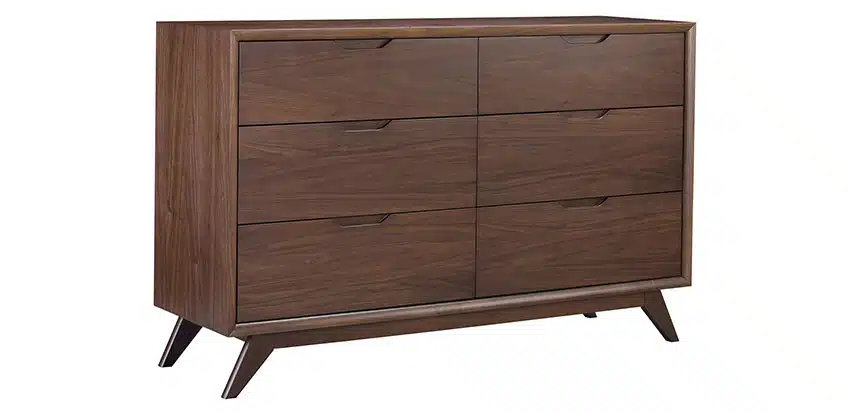 The vast majority of credenzas are ancient-looking, thus it may not be a good option if your home decor is minimalist or has a modern interior design. However, there are modern credenzas available on the market that might pique your interest.
A modern credenza is quite similar to a traditional one, except that it features a streamlined and contemporary design with clean lines and minimal decoration. The neat and simple design with a focus on usability is what distinguishes a modern credenzas.
Indeed, modern credenzas are more suitable for minimalist home decor and can still serve a range of functions including storage, presentation, or as a TV platform.
How Tall Is A Credenza?
Generally speaking, the average height of a credenza is approximately waist level so that the top surface will be convenient to access and use.
Nevertheless, the height can differ as it will depend on the design and use of the piece of furniture. For instance, a TV credenza is normally 1.7 to 2.5 feet tall since it is made to be suitably low so that watching television would be comfortable.
However, a classic credenza that is used for storage or as a sideboard in a dining room might be taller, measuring around 2.5 to 3.3 feet. Furthermore, a modern-style credenza can be shorter or higher in height than a classic credenza since it focuses on being minimalist, but it will still depend on its design and use.
What Is The Difference Between a Buffet And a Credenza?
A buffet and a credenza are both pieces of furniture that are used for storage and presentation, although they differ significantly in certain ways.
A buffet can function as a sideboard or cabinet that is typically used in a dining room to hold and exhibit dinnerware, silverware, and other eating-related objects. They are frequently taller and generally contain a balance of open shelves and enclosed drawers or cabinets.
Moreover, a buffet's topmost surface is frequently utilized as a serving area, making it an ideal piece of furniture for hosting dinners and conducting gatherings. A buffet can also function as a bar, containing wine glasses and bottles.
On the contrary, a credenza is a furniture piece that is employed in a wide range of settings as both a storage and display element. It is suitable for use not only in dining rooms but also in living rooms and home offices. It is often shorter than a buffet and might include storage components like drawers, shelves, or glass doors.
As previously stated, certain credenzas are expressly designed to store a television as well as other entertainment-related objects including a gaming console or cable box.
What Is The Difference Between a Credenza And a Console?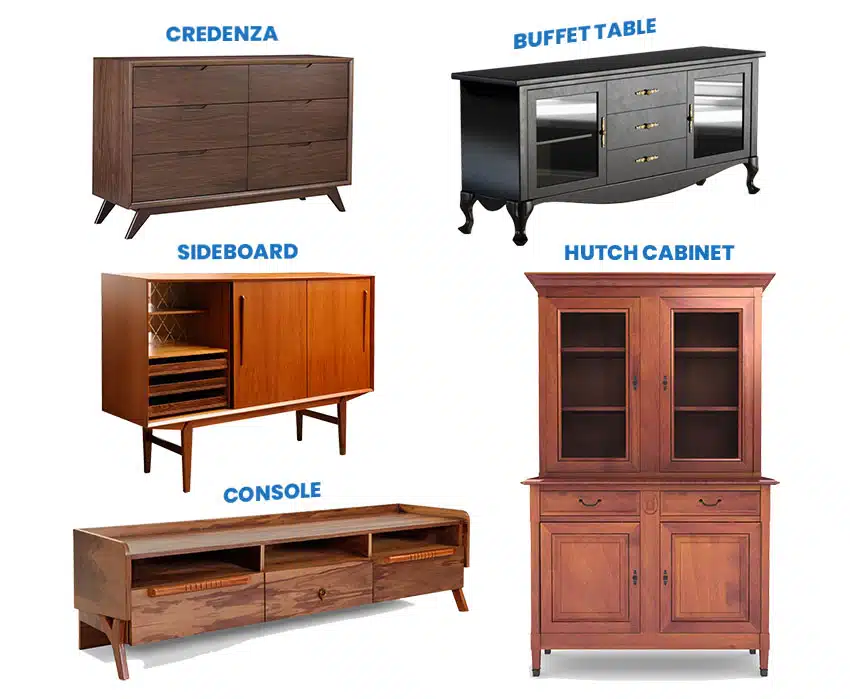 Credenza and console are different in that a credenza can serve as a sideboard or buffet whereas a console is just a cabinet that is built to stand on the ground and is particularly well-suited for housing home entertainment systems like TVs or speakers.
These entertainment consoles are often low-to-the-ground and shorter to keep the TV at a convenient eye level.
Credenzas, which are normally constructed of wood with glass, frequently contain drawers and doors for storage. However, a console is more stylish, has a more contemporary style, and may be more colorful with a range of forms, sizes, and colors.
What Is The Difference Between a Credenza And a Sideboard?
Credenzas and sideboards are almost the same, but they have slight differences when it comes to their design, size, and functionality.
A credenza has a low-to-the-ground aesthetic and is frequently associated with mid-century architecture. A sideboard, on the other hand, also serves as a piece of storage furniture, but they slightly differ in appearance.
Although credenzas have a low, simple design and often have cabinet-style sliding doors (sometimes glass doors), sideboards are larger and have taller legs and dresser-like compartments.
Compared to credenzas, sideboards are typically a little more traditional. It features a more formal appearance and can be made of various types of hardwoods like mahogany, oak, or pine, in addition to an increased number of accessories like legs or extra carvings.
What Is The Difference Between a Hutch And a Credenza?
A hutch differ mostly in terms of appearance. A hutch is usually a tall freestanding furniture piece that incorporates cabinets or a display area that stands on top of the drawer sets below, while a credenza is usually shorter, has no or very short legs, and comes with sliding doors.
Unlike credenzas, which can be used in a variety of settings such as living rooms or entertainment centers, a hutch is primarily used in the dining room only. Generally, the hutch displays fine china, glasses, and other ornamental accessories.
For more information like this visit our console table dimensions guide on this page.