Here we share our guide on what is a Papasan chair including its most popular types, frame and cushion materials, sizes, weight limits and Papasan chair designs.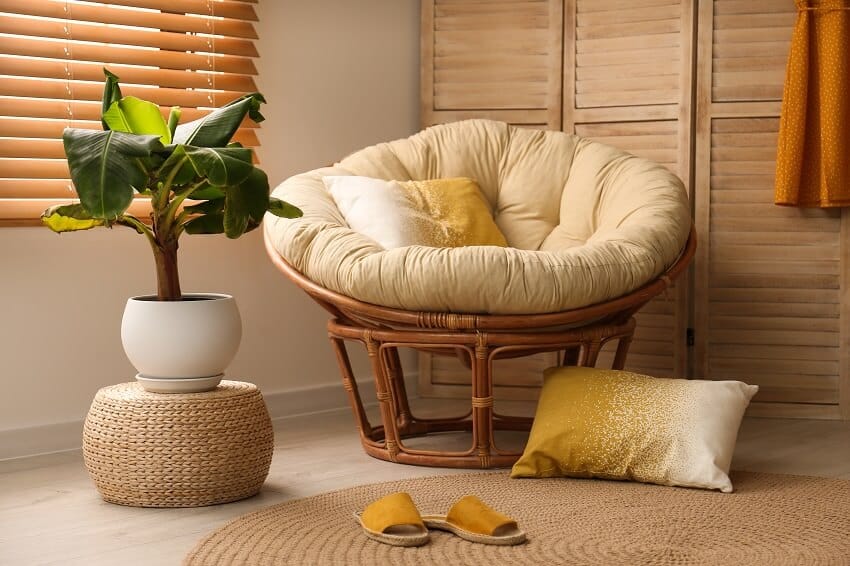 The papasan chair is also called moon chairs, bowl chairs, or nest chairs and known for their outstanding comfort and versatility. Traditionally, the papasan chair is made of wicker or rattan frame and short pedestal base which supports a rounded bowl shape chair made of the same material.
This type of chair originated from Southeast Asia, namely the Philippines and was introduced to the Western culture after World War II. The original design of the papasan chair does not have any cushions and only has an open woven type that keeps the occupant cool in hot climates. A papasan chair is as comfortable as it is stylish; it is not only iconic but also timeless.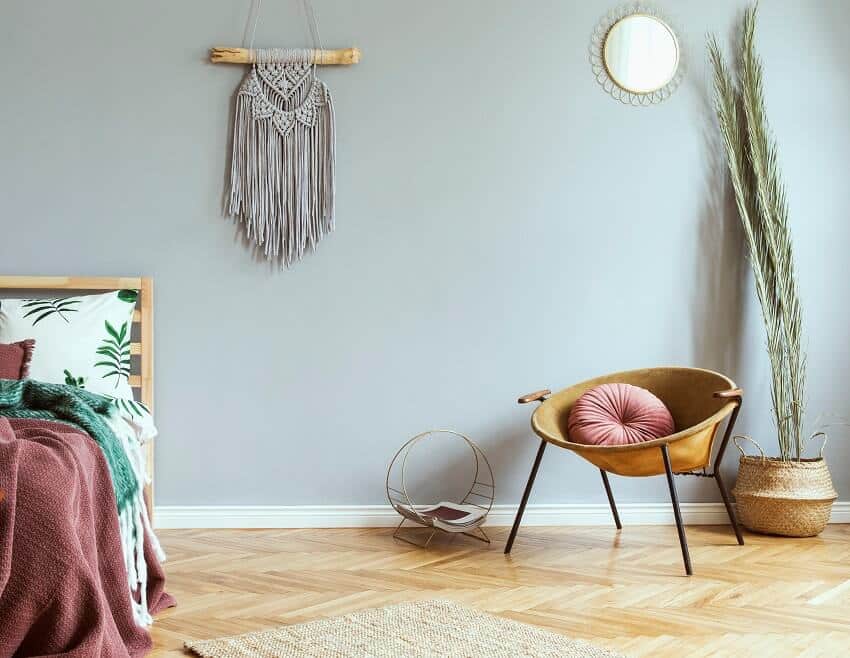 A papasan chair are designed to give the absolute best comfort where people can relax. The large rounded and thick cushion allows you to be in a curled position without feeling discomfort.
It is a deep, comfortable, and snuggly chair that offers good seating and relaxation when you just want to kick back and enjoy reading your favorite book or watch movies.
How Does A Papasan Chair Work?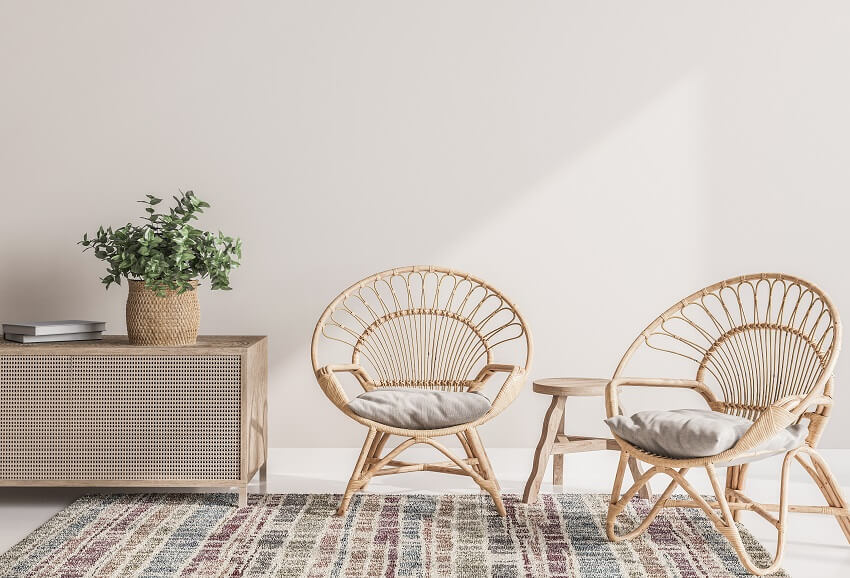 Usually, the papasan chair comes in three parts: the base, the rounded cushion basket, and the large cushion itself. The base is composed of two round openings: a large round opening on one end and a smaller round opening on the other end.
The narrow end needs to be placed on the floor making the wider end facing up, so the chair does not flip over. Then place the rounded cushion basket on the wide end of the base holding the underside of the basket positioned like a bowl shape chair. Lastly, place the cushion within the bowl of the basket chair.
The papasan chair is designed with so much versatility that allows you to adjust the basket with the cushion to a comfortable position for you to get in and out easily. The round cushion basket can be pushed back so that it sits off-center in the base and allows you to sit up comfortably.
The frame can also be positioned on the center of the base in order to have a total support on all sides when you prefer to curl up in a ball on the cushion. To make your papasan chair more cozy, you can add some throw pillows and your favorite lap blanket.
Types Of Papasan Chairs
Below are the different types of Papasan chairs.
Single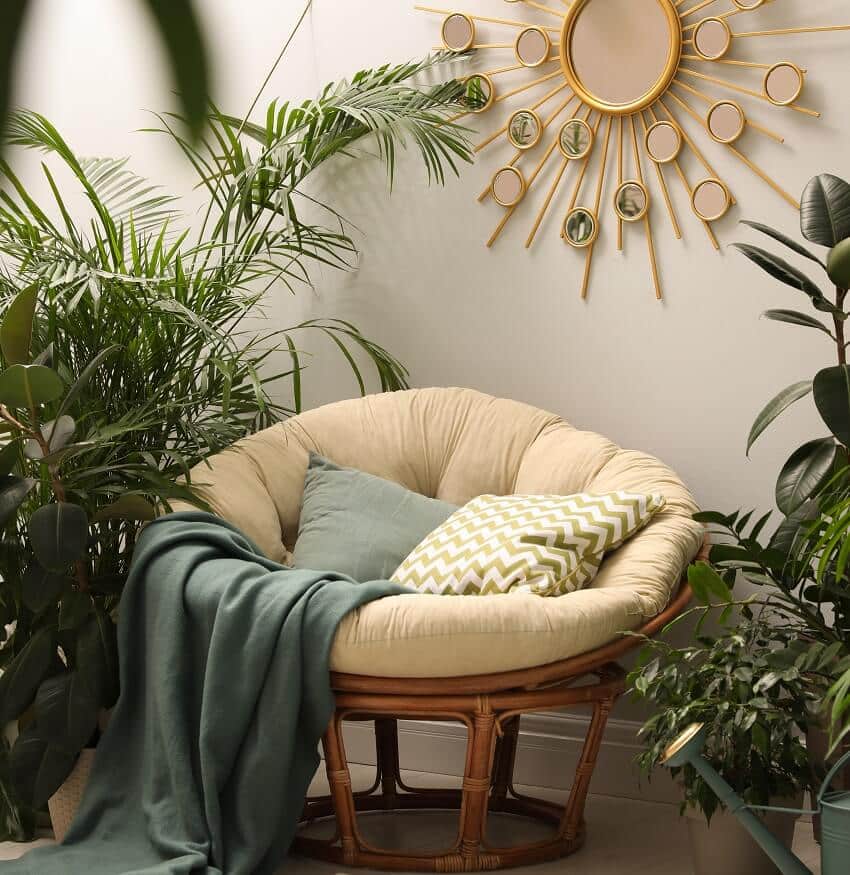 The single type of papasan chair is the standard model of the basic papasan chair design. It has a vertical frame that is slightly reclined and a rounded base, topped with a cushion that can be adjusted for support to your relaxing posture. The round bowl shape chair offers relaxation as well as luxury while you rest in the seat. Read more about cocoon shaped chairs here.

Double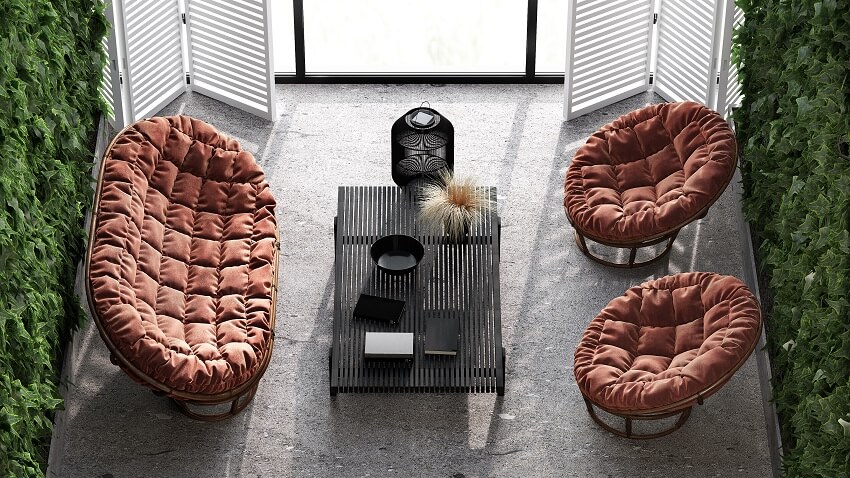 Double papasan are also called mamasan chairs that look remarkably similar to the original design except that they are elongated and has an oval shape instead of the round bowl shape.
The double papasan can also be used as a daybed and spacious enough to accommodate two people. The frame is crafted with an oval deep seat combined with a longer cushion.
Oversized
Oversized papasan chair guarantees extra comfort, and the design makes it very convenient and reliable. It is often referred to as a giant papasan chair, the oversized papasan chair is designed to be a massive chair with cushions and an upholstered back and arms making it a fully functional, completely formed armchair.
The best advantage of an oversized papasan chair is its spacious and large size seat that makes it more comfortable, stylish, and beautiful.
Of course, oversized papasan chairs would require an additional oversized cushion functioning as armrests and small cushions in the lumbar and headboard areas in addition to the soft and airy main seat and back area cushions.
Swivel
Papasan swivel chair have proven to be a stylish feature to any interior. The swivel element fixed to the base of the chair is equipped with a swinging spring unit that allows the chair to recline and rock while sitting on it.
The main difference with this design is that the upper seat can swivel a complete 360° movement on top of its sturdy pedestal support.
As it twists and turn, the papasan swivel chair both adults and children to fall asleep without much difficulty and it adds fun to your living room, family room or dorm, indeed a really awesome element of freedom. Check out our family room vs living room guide here.
Folding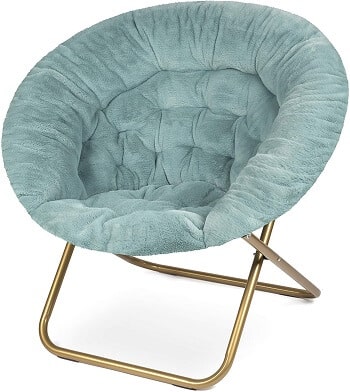 See this folding papasan chair at Amazon [sponsored link]
The folding papasan chair is one of the most popular models due to its design that allows you to sit with your back close to the backrest comfortably, because it is very easy to use and can fold up as quickly as they unfold. With such furniture, you will have no problem finding a storage place, as it is extraordinarily compact.
This lightweight furniture can turn into a comfortable and safe seat for both adults and children. Folding papasan chairs are stylish and general-purpose pieces of furniture which are easy to integrate both at home and in public spaces.
They are very convenient to transport since these chairs fold up compactly and take up a minimum of space in your car. The foldable papasan chairs are as comfortable as the original papasan chairs and are fit out with mechanisms that makes it safe for use.
Rocking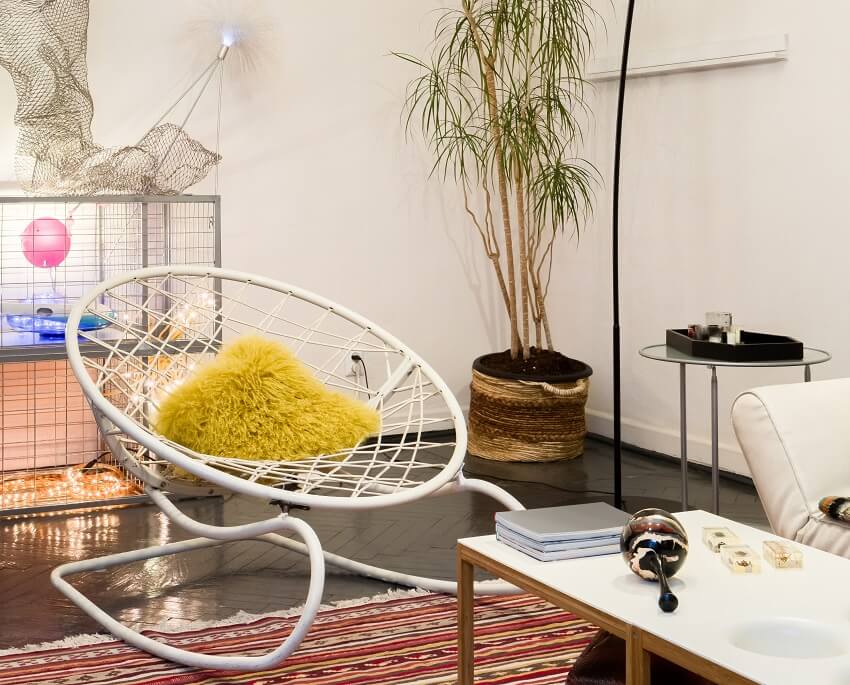 While the basic papasan chair is perfectly round shape, the Papasan Rocking chair has the same frame and cushion combination but it is positioned vertically upright.
The papasan rocker looks like a recliner than a regular conventional papasan chair and has the same thick, comfortable cushion. It is a combination of a comfortable papasan chair, and a cradle designed as a rhythmic rocking chair in which you can comfortably curl up inside and take a nap in style.
Kids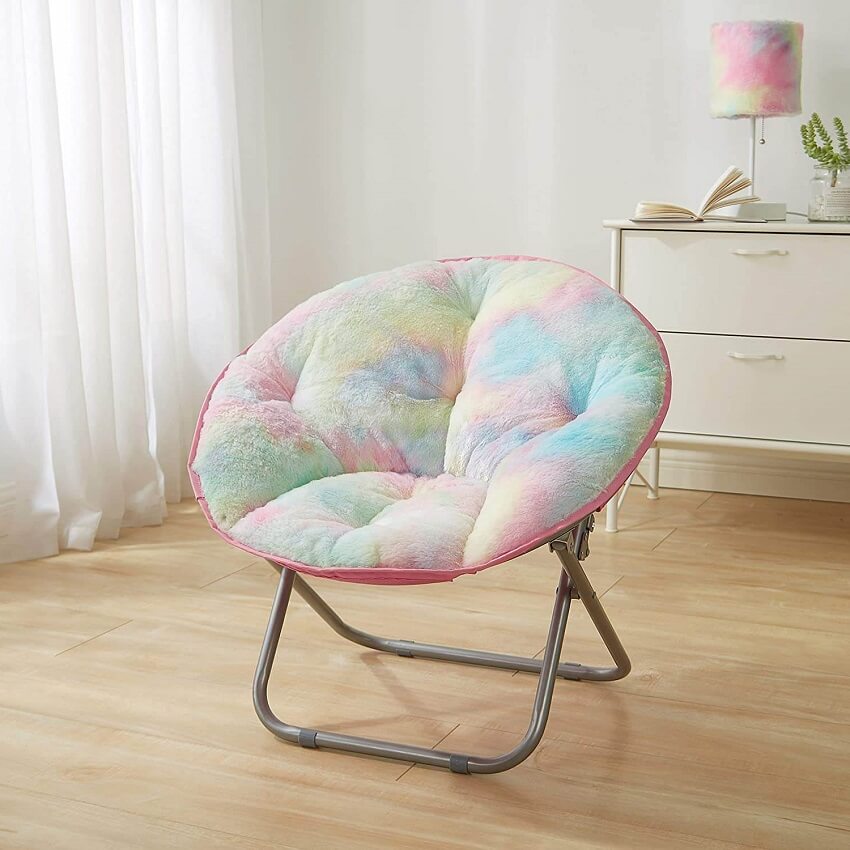 See this folding papasan chair at Amazon [sponsored link]
Another popular type of the papasan chair is the mini version of the regular sized chair which kids can use in their own room and gives them convenience, allowing them to read books, magazines, play with favorite toys, relax with gadgets in the comfort of their own room.
Since the papasan chair is designed with rounded edges, its simple and friendly shape, and adjustable seat provides safety for children and at the same time serves as an excellent decorative addition for children's bedrooms or playrooms.
Outdoor
Relaxation is an important part of our daily lives and there's no better way than to have a papasan outdoor chair as the comfortable seat and perfect addition to your outdoor patio furniture, which you could use to chill out, enjoy the sunshine and fresh air.
The outdoor papasan chair is the best and practical choice to bring with you for your next outdoor adventure. Outdoor papasan chair has an all-weather design concept taken in reference from its traditional material based on a wicker design.
The challenge lies on the lifespan of the natural wicker which eventually fades, becomes brittle and starts to splinter. The solution is to use a resin type wicker that is resistant to the harsh weather elements.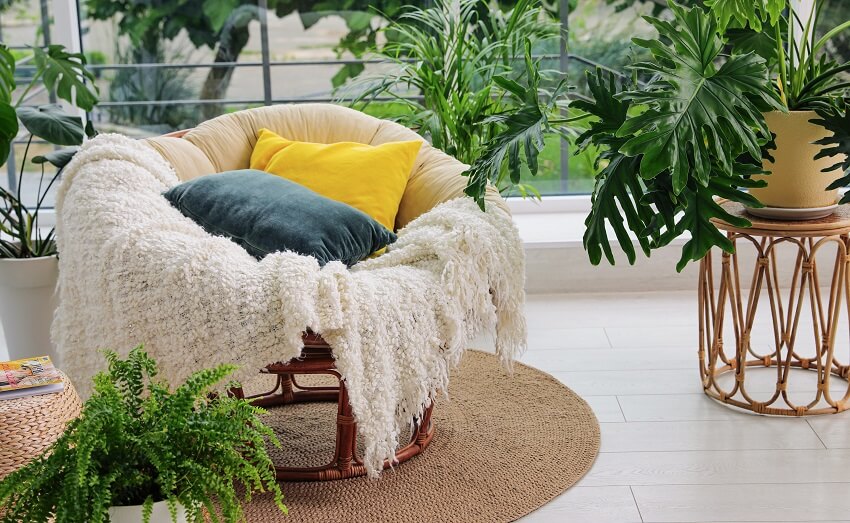 The durable steel frame has a weatherproof wicker design, with classic looks and superbly comfortable cushion and can go well anywhere in your garden or outdoor living space.
The cushions however are not waterproof and so it needs to be stored under cover if the papasan chairs are used outdoors in order to avoid the chance of receiving rain or excessive moisture.
Another idea of having a papasan chair outdoor is to remove the base and turn the seat into a swing and attach a rope or sturdy cord and hang it outside on your porch for the kids and adults to enjoy and not mind relaxing in it as well. Read more about maintenance free outdoor chairs here.

Papasan Chair With Ottoman
The papasan chairs paired with an ottoman or the so-called footrest offers the use of simultaneously beautiful, stylish, and also ergonomic, comfortable type of furniture. The ottoman is matched up with these types of chairs and used as a comfortable footstool on which you can rest your feet.

Papasan chairs with ottoman set offers the most comfortable furniture with high ergonomics characteristics because they follow the curves of your body and create the most comfortable conditions for healthy rest since it allows you to place your legs in a slightly elevated position which helps a lot especially if you have venous diseases.
The size of the ottoman may vary and can be adjusted to your personal preference but do keep in mind that the ottomans should not be too high or too low.
The best height should be exactly half the height of the papasan couch, in order to be able to provide your feet with comfort and a convenient position. See ottoman dimensions here.
Papasan Chair Frame Materials
Traditionally, the original papasan chairs are made out of rattan or wicker. Modern designers still give preference to these natural frames including bamboo.
Not only are these materials durable and can work harmoniously well in most interior solutions, more importantly these materials are environmentally friendly. In addition, with proper use and appropriate care, they can last for a long time.
Nowadays, papasan chairs made of many materials from plastic, resin wicker to metal as an option after the natural materials. These plastic and metal materials works well as a chair frame material for this chair, and they cost significantly less than the natural rattan and wood.
For outdoor seating, papasan chairs are being designed with alternative materials that are weather-resistant and more durable such as a stainless-steel frame. Papasan chairs that are made of wicker or rattan should be properly treated if they are to be used outside, this way it will be protected from the outdoor weather conditions.
Papasan Chair Cushion Materials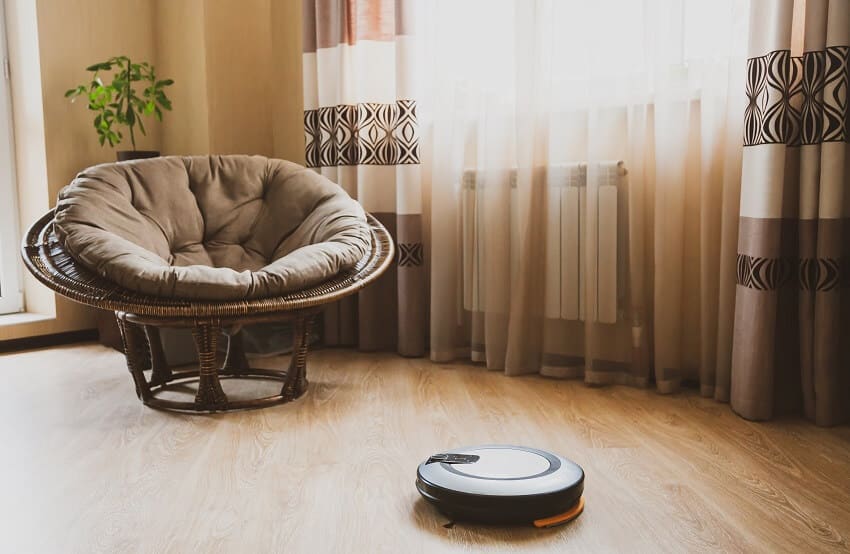 When choosing cushion materials for your papasan chair is crucial and you want to make sure that you get the best quality that is worth your money. This type of chair is really more about the cushion, the first one is the unsurpassed comfort, and it provides almost 100% chair functionality.
To add more comfort and convenience in its maintenance, typically the papasan chair cushion materials are made of polyester stuffing. Other cushion is filled with polyurethane foam crumb and hollow fiber which allows it to be fluff up when the cushion becomes flat, and it will obtain its lush again.
If you are using your papasan chairs on a deck or patio, it is best that you look for cushion upholstery that contains synthetic fibers, resistant to moisture, mildew, durable and prevents fading due to sun exposure. Look for cushions made of polyester that have been specially treated to withstand the different harsh weather elements. Read more about the types of cushions here.

Papasan Chair Sizes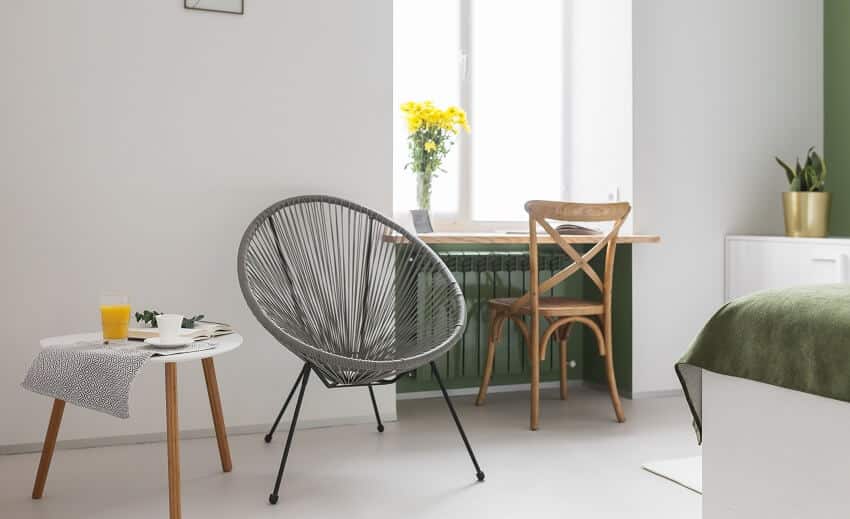 Keep in mind that the base of the papasan chair is larger than the top, and so it is wise to consider the amount of area taken up by the chair's rounded bowl shape cushion basket and not just the floor space which the chair will be placed. The cushion size ranges from 46 inches round to 78 by 58 inches oval.
Consider this, a 46-inch papasan chair will require a minimum of a 48-inch square of floor area or make sure that there is enough space for the person seated in the chair comfortably without feeling enclosed between walls or avoid being cramped up with the rest of the furniture.
Typically, a standard papasan chair measures between 35 and 60 inches broad and 35 inches deep.
Papasan Chair Weight Limit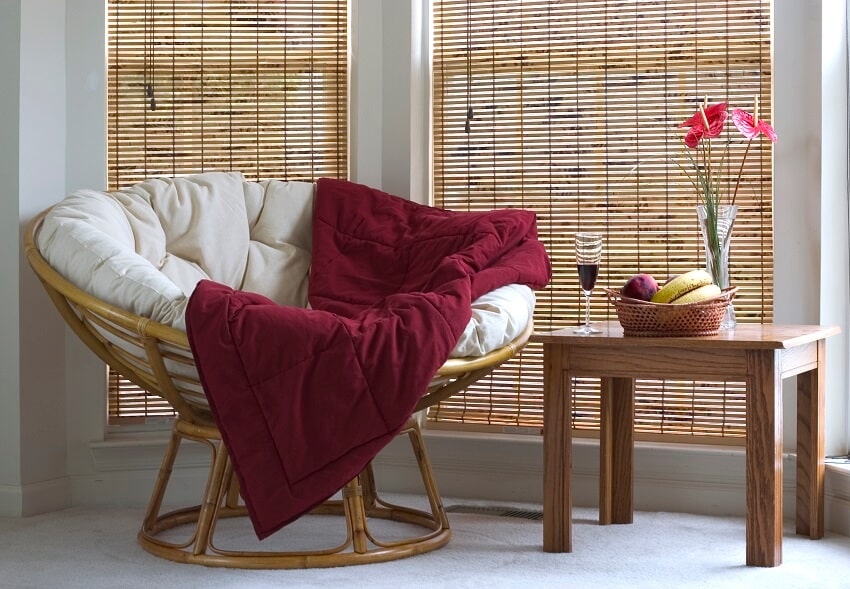 The weight limit of Papasan chairs varies depending on the model, including the frame material it is made of plus the weight of the cushion that goes with it, if there is any. Usually, the standard papasan chair is designed for people weighing around 200-300 pounds.
Will A Papasan Chair Fit In A Car?
Since the papasan chair comes in three pieces, it can often be dismantled and can be carefully and easily arranged in the car; while the cushion basket can often be a struggle to fit this chair in a car, due to its diameter which measures at 35, 40, or 45 inches.
Visit our guide on the best fabric for dining room chairs for more related content.