Below is the best fabric for dining room chairs including tips for choosing the right upholstery fabric and ideas on matching your dining room chairs with your color palette design.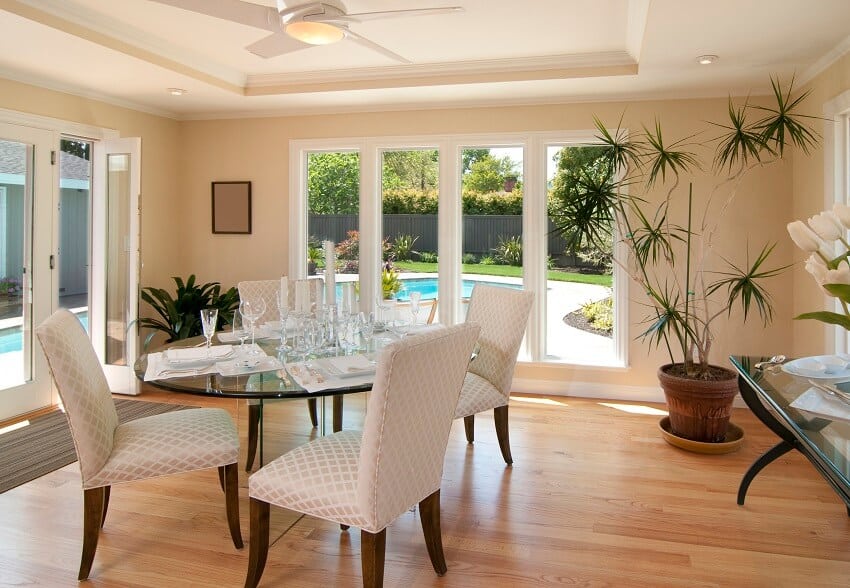 The chairs in your well-loved dining room must be aesthetically stunning to provide a welcoming environment and a wonderful experience for your visitors. You might wonder what fabric is ideal for a dining room chair. Fortunately, we explored various sorts of upholstery fabrics for each dining chair, whether it is made of metal or wood, trendy or classic in style.
Dining chairs could create a major impact, bringing distinctive flair into your home's dining area. Each modification may improve the comfort, design, utility, and potentially even the elegance of your dining chairs.
When choosing fabric for dining chairs, search for options that are long-lasting, quickly cleaned, or stain-resistant. Ideally, it should also come in a variety of colors or textures to match the overall décor of your house. Well, to make things much clearer for you, let us start discussing this topic in this article.
How To Choose Fabric For Dining Room Chairs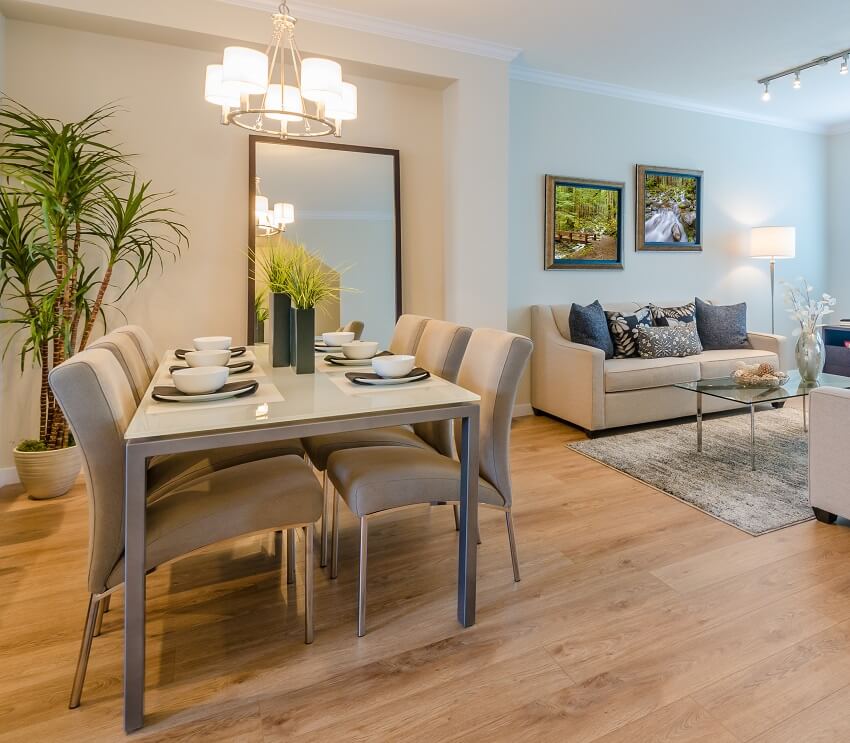 Here is some advice to determine the right fabric for your dining room chairs.
Ensure if it is Durable
Durability is extremely crucial to take into account when upholstering something that would be subjected to daily wear and strain.
The durability of upholstery fabric is measured by how well it performs in the double rubbing test, which is a back and forth movement that simulates the wear and tear of a person sitting on an upholstered chair throughout time.
The more double rubs there are, the greater the sign of strength and longevity. Opt for dining room upholstery fabrics that have been treated for performance, such as stain and water resistance or UV protection.
Identify How You Can Maintain the Cleanliness of your Selected Dining Room Fabric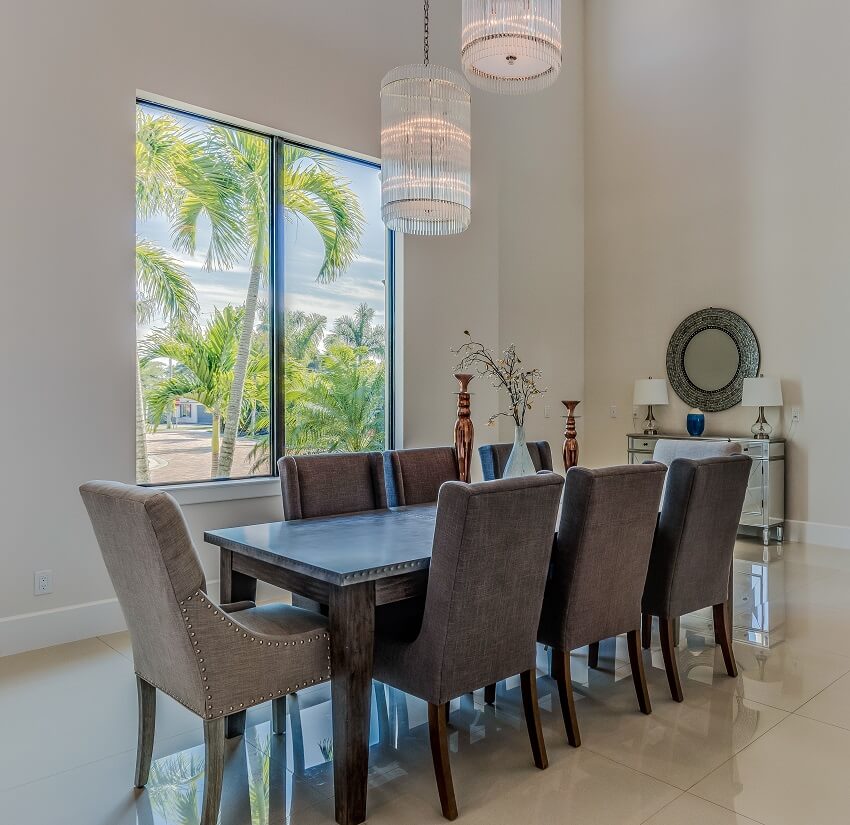 Once applied to your dining room chair, upholstery fabric will not be suited for standard washing or dry cleaning; thus, you should obey the manufacturer's directions and search for stain-resistant fabrics. It is also strongly advised that you use a fabric protectant spray on your finished chair.
Choose a Good Color that Complements your Dining Room Chair and Decor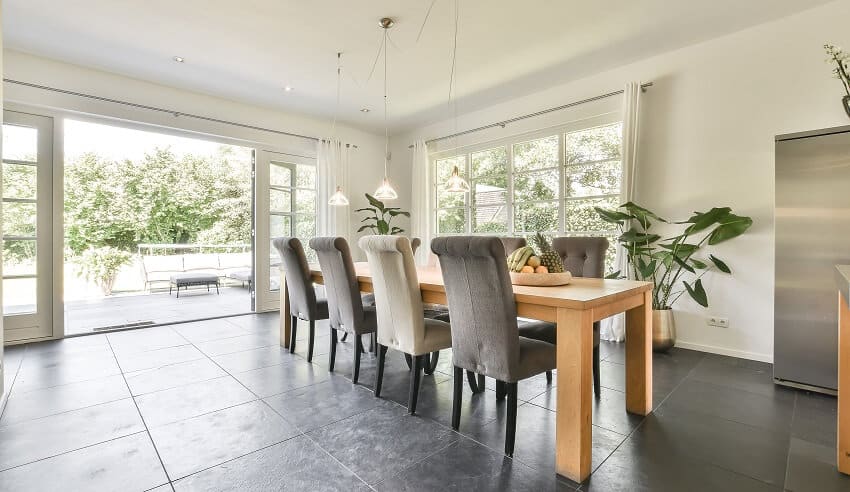 The color you choose will be determined by the type and style of dining room chairs you use. Natural beige color is a favorite option for obscuring dirt as well as being a neutral that may complement a wide range of décor trends.
Try using lighter solid colors to create an airy, welcoming atmosphere in a room. Darker shades and patterns are more effective in obscuring dirt and wear. as well. Alternatively, you may choose a bright color or a fun, bold design to create an impact in your room.
A furniture option to use is mixing and matching dining room chairs. For this design you can try using different color or pattern chairs at the head or the table that go well with the rest of the chairs.
Matching Dining Room Color Palette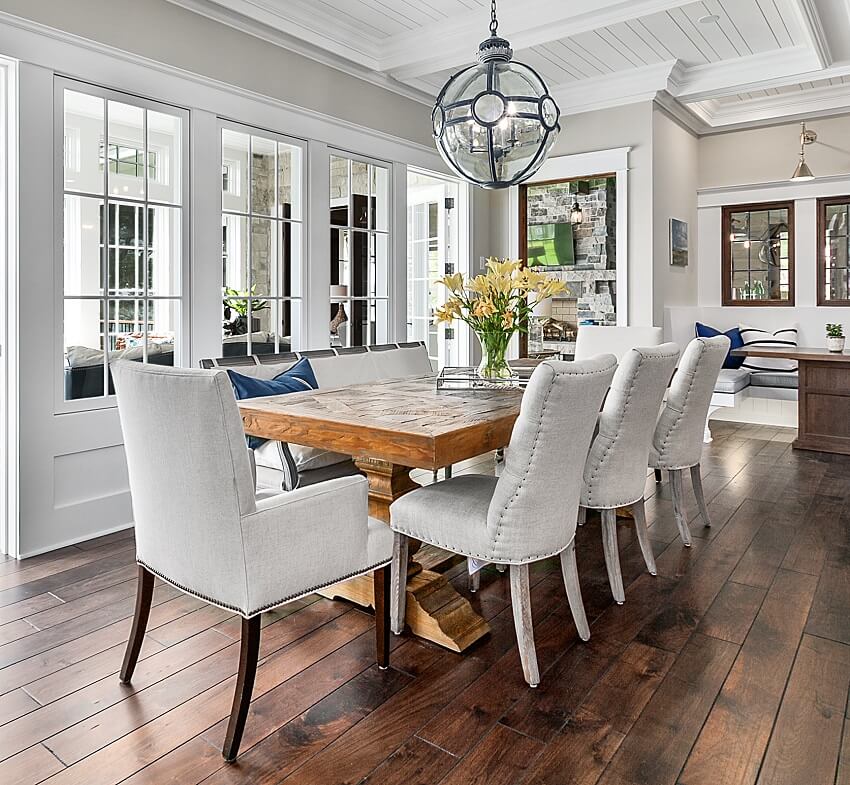 Using the Combination of Warm and Cool Colors
You can use a combination of warm and cool colors in your dining room. Warm colors are commonly regarded to be those that are more brilliant, such as red, orange, and yellow. Nevertheless, neutrals such as brown and tan are also present. Check out the best modern dining room ideas here.
Cool shades, such as blue, green, and purple, as well as gray, are on the other end of the spectrum. The atmosphere of the area will be affected by the choice of warm or cold colors.
Warm colors are ideal for party venues because they create an optimistic and friendly atmosphere. You can consider putting these shades in your dining room.
Using Complementary Colors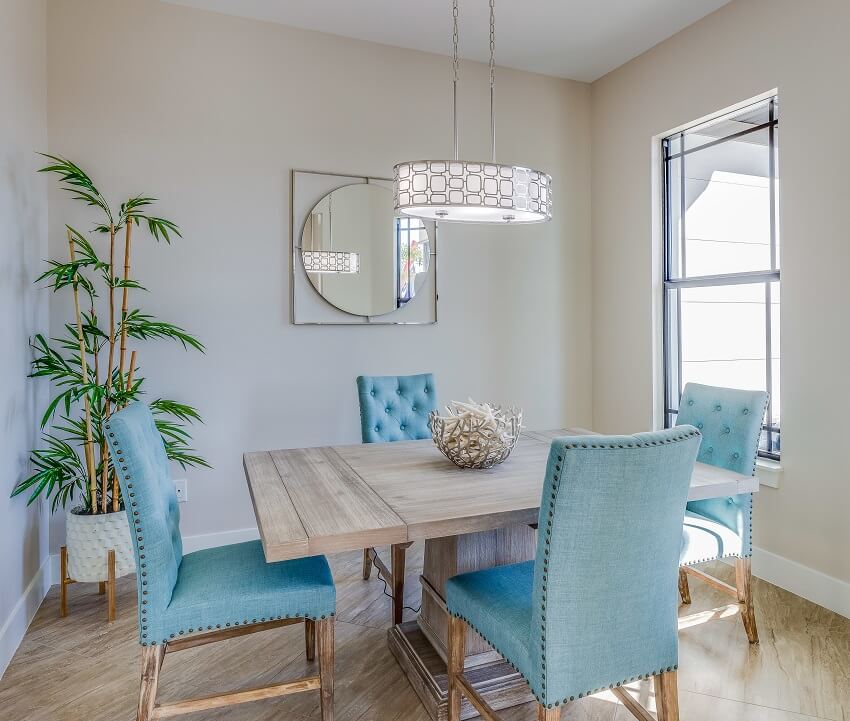 This matching palette is frequently regarded as the simplest of all the color guidelines used by interior designers. This is because this color scheme only uses two colors.
This color scheme employs two colors that are precisely contrary to each other on the color wheel, resulting in pairings including orange and blue, purple and yellow, or green and red.
Cotton Blend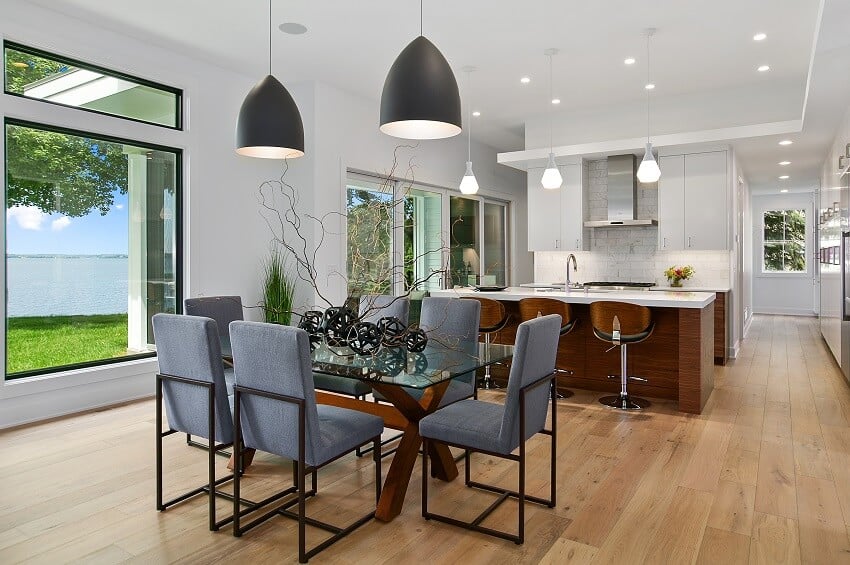 Although genuine cotton is a durable fiber by itself, combining it with synthetic fibers such as nylon or polyester improves the fabric's longevity.
The cotton-blend fabric could be used to achieve durability, stain resistance, wrinkle resistance, and lifespan of your dining chairs. By curing cotton-blend upholstery with a stain-resistant solution, you can easily keep it looking fresh and new at all times.
The downside, nevertheless, is that it absorbs moisture rapidly, which can result in wetness or set-in blemishes if unaddressed
Wool / Linen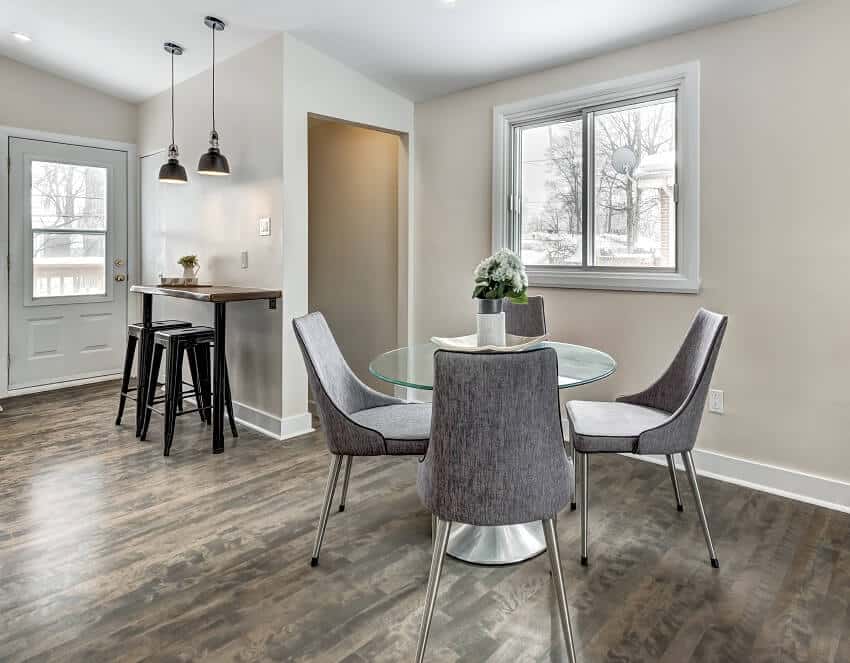 Overall, linen upholstery fabric is relatively simple to maintain. In actuality, clients may launder their slipcovers at home using a washer and dryer. Depending on the buyer's option, linen cloth can also be cleaned by hand or delivered to the dry cleaners.
Furthermore, linen has a reputation for wrinkling quickly, particularly after washing. When it pertains to linen upholstery, the great news is that removing wrinkles is a breeze. Moreover, it is quite long-lasting. This is owing to the use of durable natural flax fibers in their fabrication.
The linen also ages nicely and softens even after numerous cleanings. Other materials exhibit wear and tear after repeated usage, while linen does not.
One of the few disadvantages of using linen or wool is the cost. Cotton, for example, is less costly than linen. This is because linen fabrication is more extensive.
Faux Suede
Faux suede is a popular synthetic fabric as it has the aesthetic of genuine leather without the enormous cost. Faux suede is lightweight, easy to maintain, and lasts a long time. It is indeed one of the best options for upholstering your dining room chair because of its excellent affordability, longevity, and easy maintenance.
Lighter-colored faux materials could expose debris, filth, and minor blemishes. Unlike genuine leather, this plastic-based counterpart is cruelty-free and more resistant to stains and rips than genuine suede.
The only issue is that dirt and stains may be seen on a light-colored faux suede.
Velvet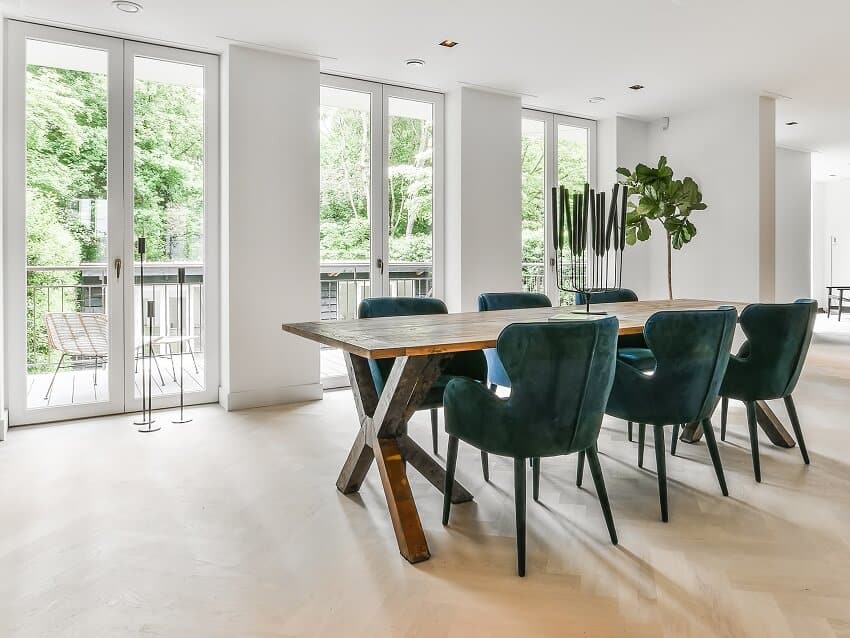 Having a dining chair upholstered with velvet is widely known since it is affordable, available in a variety of colors and designs, and has an extended lifespan.
Selecting velvet fabric would be a smart option because of its distinct feel, stain resistance, or weaving. To keep the fabric clean, regularly wipe stains and brush it gently.
These fibers, on the other hand, could attract pet dander. Another drawback is that prolonged exposure to strong sunlight may harm the material.
Vinyl
Pick vinyl if you want a fabric that withstands fading and sun damage while being easy to clean with a wet cloth. Vinyl is available in intricate embossed patterns, leather-like forms, and textural woven alternatives in bright colors. Vinyl is inexpensive, resistant to wear and tear, and maintains a glossy appearance.
Although vinyl has many advantages, it is nonetheless subject to cracking, rips, and tears once the material gets dried out.
Lampas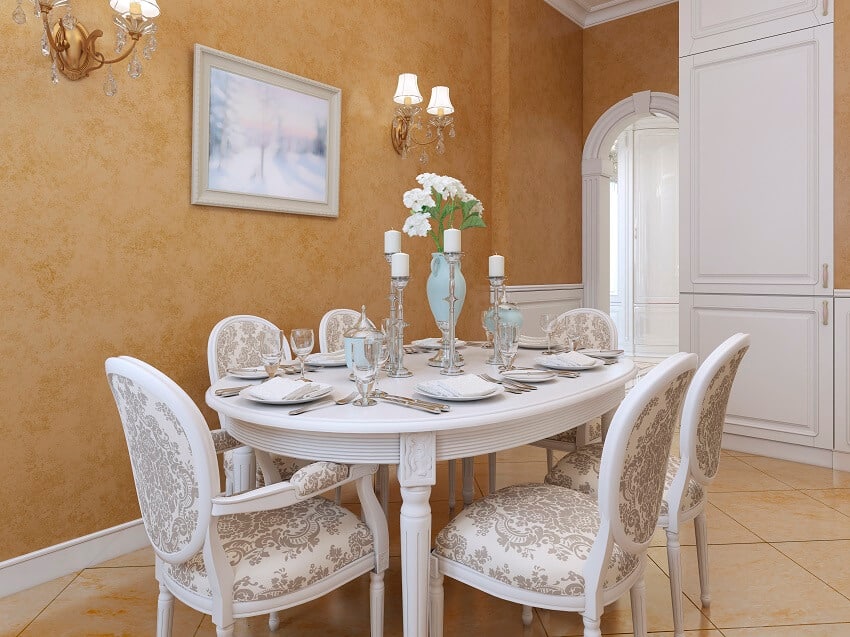 Lampas is a kind of premium fabric with a taffeta backdrop weft and supplemental wefts layered on top to produce a pattern. Lampas is traditionally woven in silk with gold and silver threading embellishment. This could be a great option for making your dining room chairs appear elegant and vintage.
However, this fabric style and composition may not complement some dining room chair styles and dining room decors.
Brocade
Brocade is a type of woven fabric with a raised floral or figured pattern that is inserted during the weaving procedure, typically using the Jacquard technique. The pattern is generally produced in a satin or twill weave and appears solely on the cloth surface.
The fabric used for the backdrop might be twill, satin, or plain weave. The rich, medium-weight fabric is widely used for evening gowns, draperies, and upholstery. This is indeed a fantastic option for dining room chairs, especially for flowery-themed dining rooms.
However, if the majority of members in your house are men, this could be an awkward option as it promotes a floral and feminine design.
Satin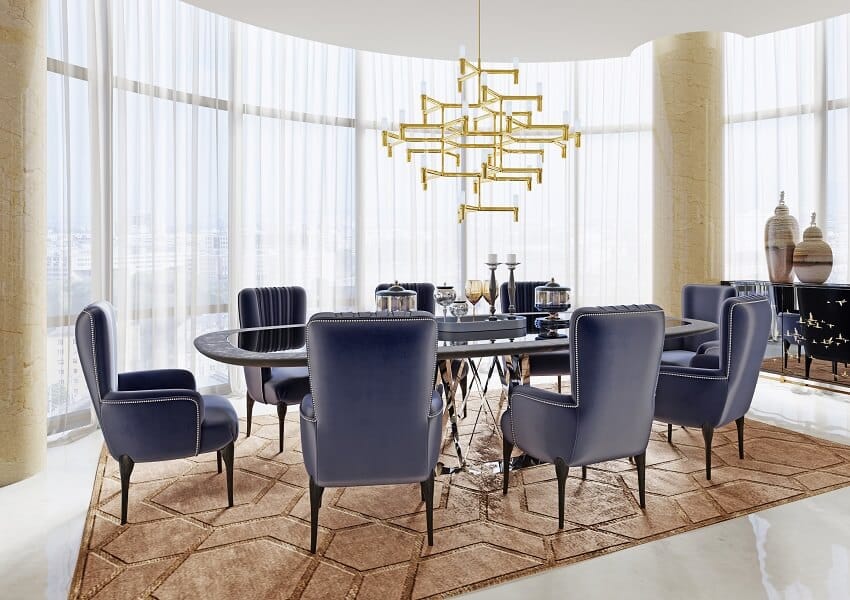 Satin is much more than a smooth and gleaming fabric that is commonly used for elegant garments. A satin weave may be made up of a variety of materials, and its applications extend beyond elegant upholstery for different types of chairs.
Satin pertains to the weave, not the material. Most satin fabrics have a silky, lustrous sheen that can be seen on anything from evening purses to furniture. Indeed, satin upholstery is a sophisticated choice in terms of beautifying your dining room area. It offers a very stylish look that truly revamps the value of your dining room chairs.
The downside, nonetheless, is that satin fabric can be difficult to sew and work with due to its slippery and shiny texture. If it becomes damaged, it will be hard for you to repair it.
Damask
Damask fabric is named after Damascus, which is the origin of this textile industry. This fabric is praised for its ornateness and is recognized for its elaborate and reversible designs.
Modern textile machines, on the other hand, make it simple to create highly complicated damask designs. Damask fabric was traditionally manufactured from silk, cotton, or linen, although synthetic damask weaves are also obtainable nowadays. Damask fabric has also been a great choice for upholstering dining rooms because of its unique and vintage style.
The only drawback of this option is that it might not complement some decors quite well, especially the contemporary and modernized ones.
Tweed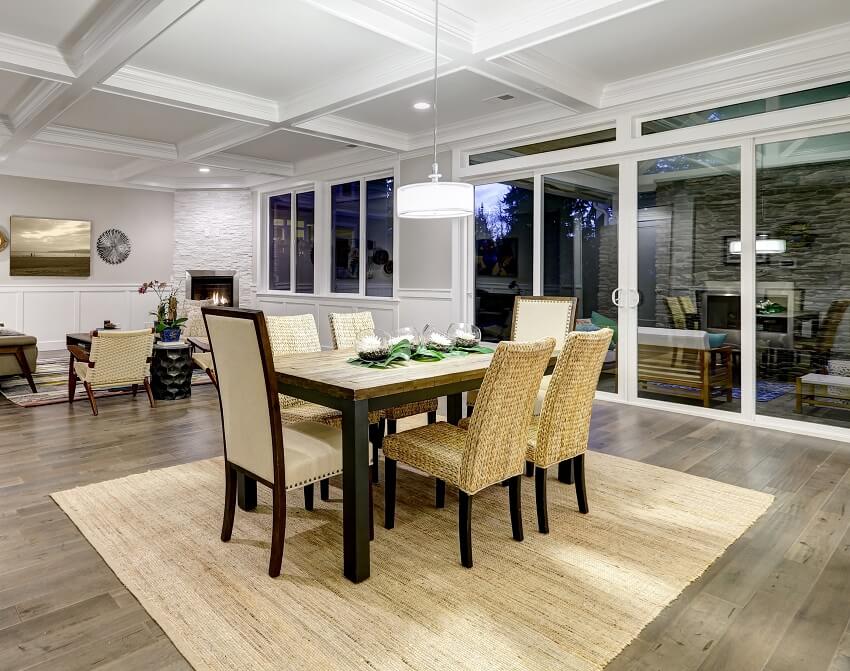 There are several benefits to utilizing tweed upholstery fabric. Tweed is constructed of long-lasting woolen fibers with inherent attractiveness and texture.
Although stains necessitate spot cleaning with a light detergent, tweed should also be vacuumed on a constant schedule. Tweed is a great choice for a refined, traditional dining room or a farmhouse-style residence.
The minor drawback of this option is that you are required to carefully choose what type of cleaning solution you will use to maintain the fabric as it can be quite sensitive to certain chemicals.
Microfiber
Microfiber is a stain-resistant polyester fabric that is very soft. For several reasons, this cloth is ideal for furniture upholstery. Its velvety texture ensures that you are constantly seated comfortably.
Moreover, microfiber is long-lasting and water-resistant, making it excellent for most-used furniture including dining room chairs. Additionally, the fabric retains its color well, so it will seem fresh and new for a longer period than many other materials.
The minor drawback of this fabric option is that it kind of requires a special way of cleaning to maintain it properly.
Best Fabric For Reupholstering Dining Room Chairs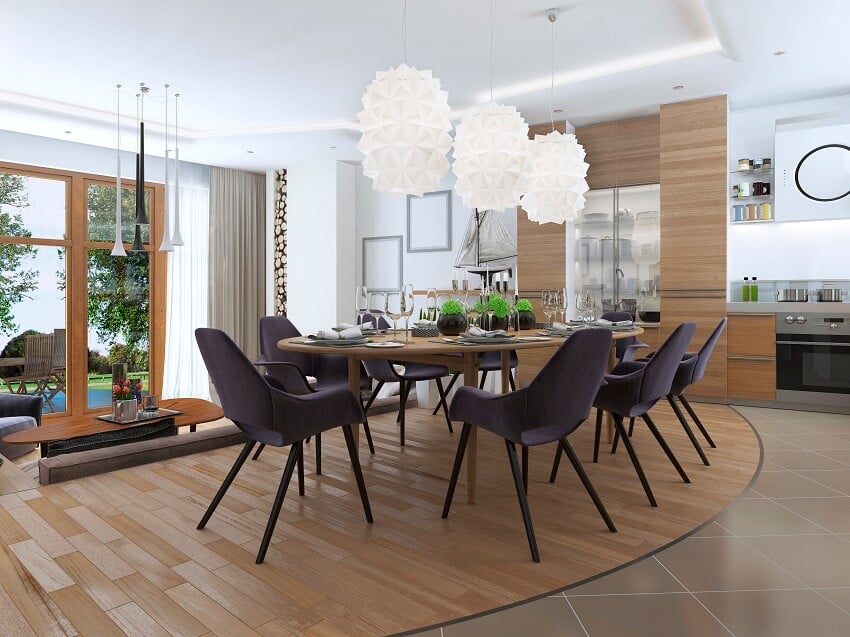 Faux suede is arguably the best fabric for reupholstering dining room chairs. Its quality, appearance, affordability, and longevity are quite excellent compared to other fabrics. No doubt it would be the smartest option in terms of numerous factors.
Visit our guide on sofa fabric types for more related content.