Here's our honed marble countertops design guide, including their pros and cons, durability, and sealing tips and ideas for better-looking kitchen countertops.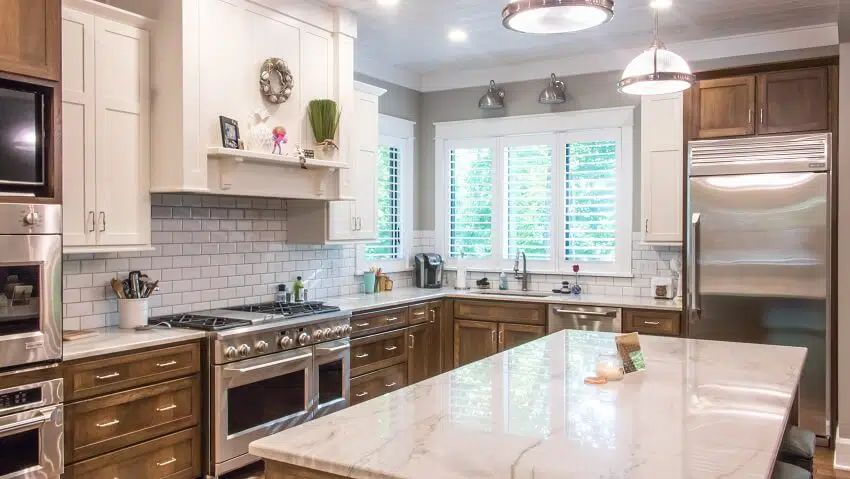 One of the most attractive materials for countertops has got to be natural stone, and one of the most beautiful natural stone countertops out there is honed marble countertops.
Marble is a widely used natural stone building material that has been used by cultures all over the world for centuries now. Currently, it's a popular material for countertops, especially for kitchens and bathrooms.
The stone's popularity can be chalked up to its attractive appearance. The most common color for this stone is white, often with black or grey streaks or veins, giving it a unique subtle pattern or mottling. Some also have goldish, bluish, or reddish streaks.
Other natural colors that marble can come in are beige, grey, black, brown, green, yellow, and blue. There are some manufactured stone products out there that come in more colors, but for this post, we're focusing on natural marble.
What Is A Honed Marble Finish?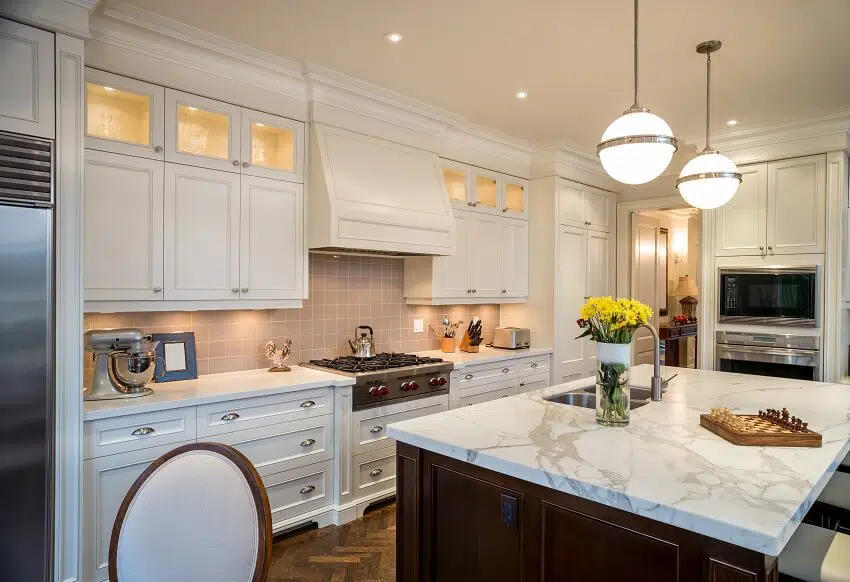 While this natural stone can come in many colors, there are only two common types of stone used for countertops: honed and polished.
Polished marble is stone that has gone through a polishing process. This creates a surface that is shiny and almost reflective.
Honed marble, on the other hand, has a matte-looking surface. The stone's surface is ground and sanded to create a flat and relatively smooth surface. Honed stone countertops are less reflective than a polished finish and look slightly more natural. Read more about honed vs polished marble for more related information.
Advantages Of Honed Finish Marble Counters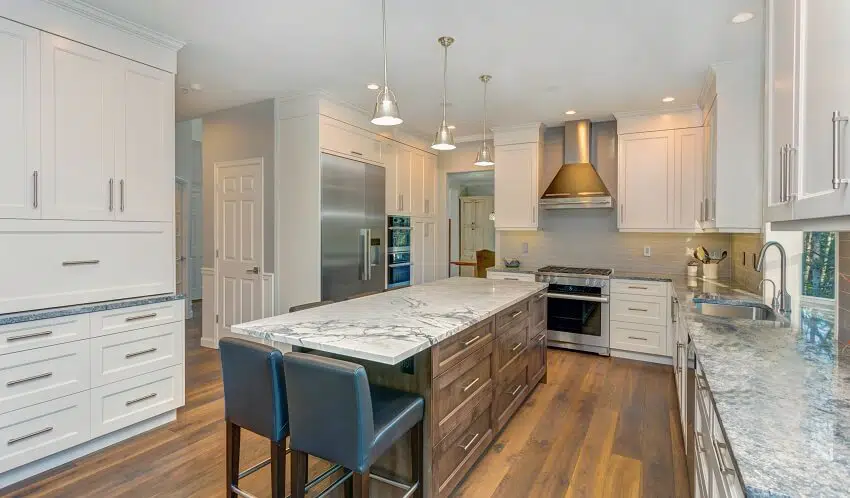 Beautiful surface – Honed marble countertops are durable as well as beautiful. The low sheen and smooth finish provide a naturally attractive look that resembles its original stone look.

Hide scratches – One reason this stone honed finish is popular for workspaces such as kitchen countertops is that the matte surface of a honed finish hides scratches when properly sealed. In contrast, the shiny, reflective surface of polished finishes will make scratches stand out and dull the surface.
Hides fingerprints and smudges – Compared to a polished finish, this surface doesn't show smudges from fingerprints as easily.
Easy to clean – Marble is relatively easy to clean; all you need to do is use a sponge or soft cloth to wipe it down. First, wet the countertop with hot water, then follow that up with some non-acidic cleanser.
Nice to the touch – The tactile feel of the honed stone finish offers a smooth, almost velvety texture appealing to the touch.
It does not reflect as much light – This effect can provide a more warm casual look than a shiny surface sheen with less glare from natural and overhead lighting.
This offers a consistent color perception, unlike glossy surfaces, which can have more varying hues. A stone surface that is honed is normally lighter in appearance than those that have gone on to be polished.
Disadvantages Of Using A Honed Stone Finish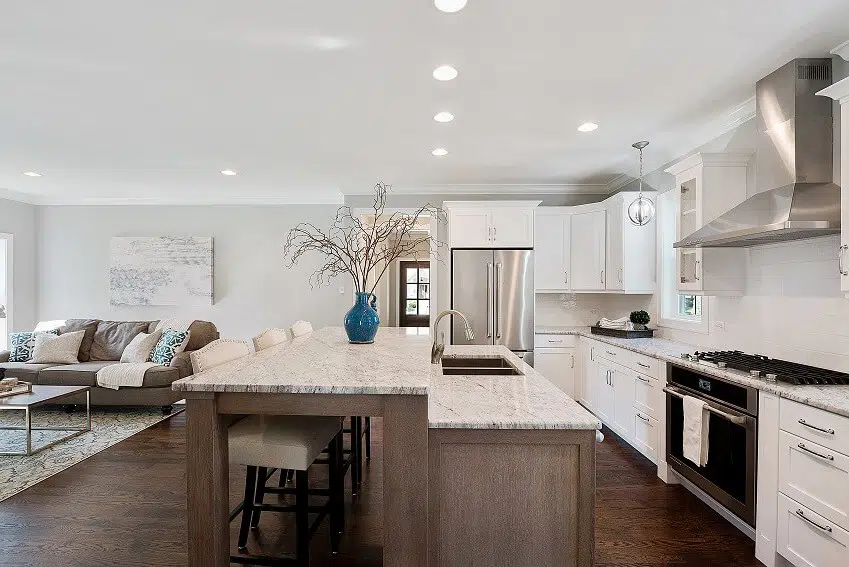 Can stain – The matte surface of honed marble makes it a little slippery when wet. It is also more likely to absorb liquid, so clean up spills as quickly as possible to prevent staining.
Spills should be cleaned immediately – It's especially important to clean up any acidic liquids on your honed stone countertops. Acidic liquids can wear down calcite stones like marble.
Needs to be sealed – Like other natural stone slabs, this finish needs to be sealed every six months to a year. As long as they are properly sealed, you should have no problem with staining, scratching, or etching.
You can conduct a water drop test every few months to check that your counters are properly sealed. If you drop water on the surface and it doesn't bead there, it is time to reseal.
Less shiny appearance – For those who want a modern, shiny countertop, this finish may be a disappointment. Since it does not reflect light in the same way as a polished finish, it may not look very interesting to some.
Is Marble Good For Kitchen Countertops?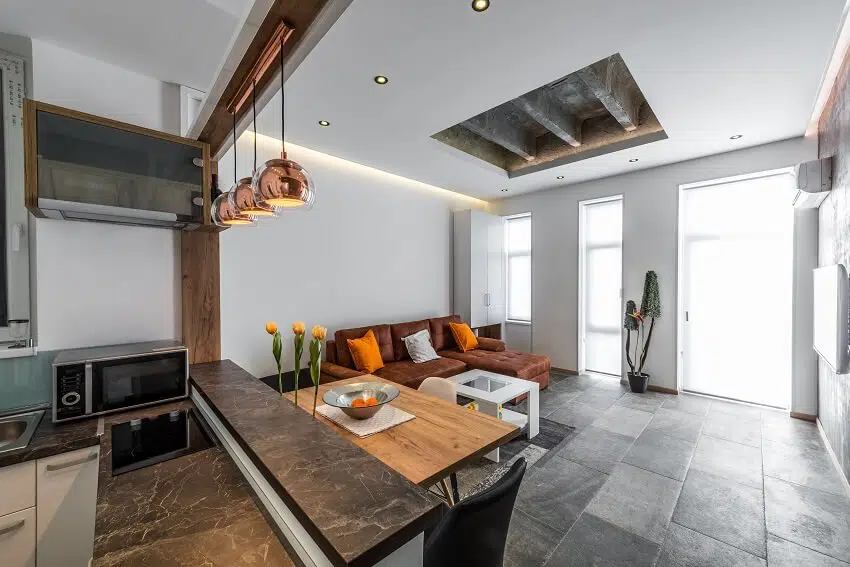 If you are considering honed marble for your kitchen, you might wonder, is it good for kitchen countertops? Read more about the types of kitchen countertops here.
As we mentioned, the matte surface of honed marble is good for hiding scratches. This makes it a good material for a workspace, such as a kitchen counter. The stone is considered a particularly good material for kitchen countertops because it is naturally cool to the touch and relatively heat resistant.
Though you want to avoid placing a pot or pan directly from the stove on your countertop, a slightly hot or warm dish – like a cooling pie — can safely be placed on your countertop. It is easy to clean, making this surface material attractive for the home cook or baker.
What might give some people pause over using this finish for kitchen countertops is its porous nature and susceptibility to staining and etching. However, as long as you regularly seal your countertops and clean up quickly after spills, the finish should stand up to regular food preparation activities.
Is Marble With A Honed Surface Durable?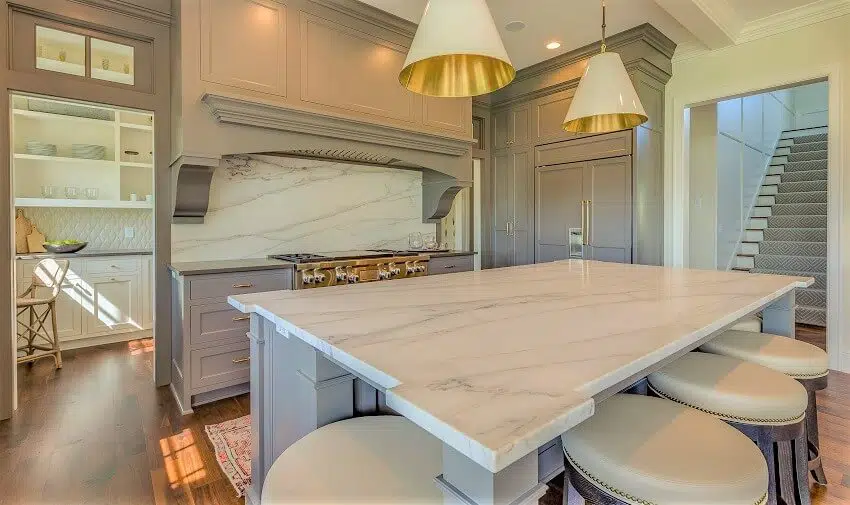 Honed marble countertops are durable and easy to maintain. As we mentioned, their matte surface ensures that any scratches that may occur are not as noticeable as they would be on a reflective surface such as a polished finish.
As long as they are regularly cleaned and sealed, these stone countertops should last a lifetime. After all, the National Association of Home Builders states that natural stone countertops should last over 100 years, and marble monuments and statues have been around for centuries.
Sealing Honed Marble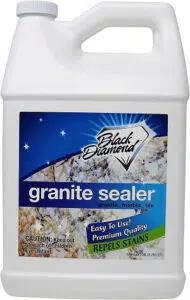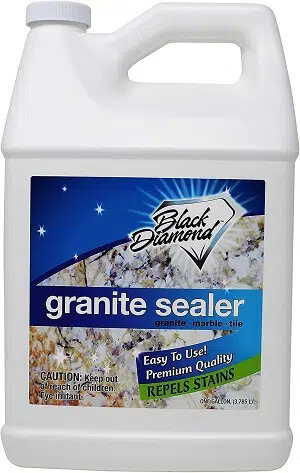 See this Black Diamond stoneworks sealer at Amazon [sponsored link]
One disadvantage to honed marble countertops is that the surface is porous. Since it is porous, liquids can penetrate the surface of the countertop. This is why sealing is an important part of marble countertop maintenance.
You should, of course, ask if the honed stone slab you are installing is sealed or not. Sealing the stone is relatively simple; you or your contractor must apply sealing material. You will then have to reseal your countertops every few years or so.
One way to test if the sealing of your countertop is wearing out is to place a glass of cold, ice water on the surface. If the glass leaves behind beads of water or condensation, the seal is working. If, however, you see a dark ring, then you need to reseal your countertop.
If you know the sealant originally used in your countertop, you can also check the label. Depending on the sealing material that you use, you can probably get away with sealing honed marble countertops only every three to five years.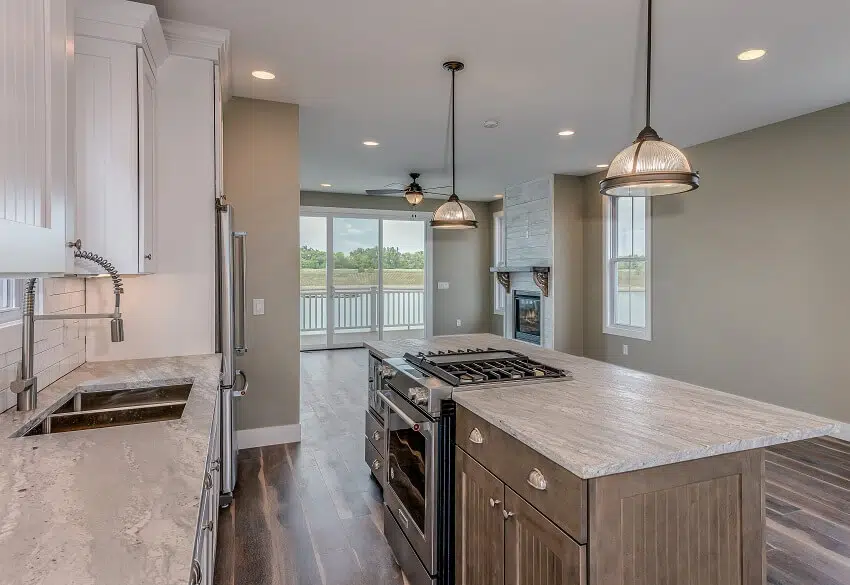 Resealing your countertop is a relatively easy DIY project. First, you're going to need to clean your countertop. This will ensure that the sealant is absorbed evenly by the marble's surface.
Wait for your counter to dry; sealants adhere best to dry stone surfaces. When the counter is dry, apply a coat of the sealant using a soft cloth or soft brush. Again, read the label of your sealant to know the proper application technique.
The sealant label will also tell you how much sealant should be applied. Some sealant manufacturers will advise you to apply only one coat of their product; however, they might recommend you apply two coats or more.
Resealing more frequently is advised if the surface is located around the bathroom or kitchen sinks. Use the 'water bead test' by adding a tablespoon of water to see if you get water soaking into the surface and a darkening effect. A properly sealed surface will bead together; otherwise, it's time to reseal.

Leave the sealed counter alone to dry. Again, the manufacturer label will have a recommended period for you to leave their product on. Then, wipe down the countertop to remove any excess sealant or residue.
Visit our guide on the cost of marble countertops for more related content.