Find out if countertop reglazing is right for your kitchen design including what it is, pros and cons, different materials, cost, and steps on how to reglaze countertops.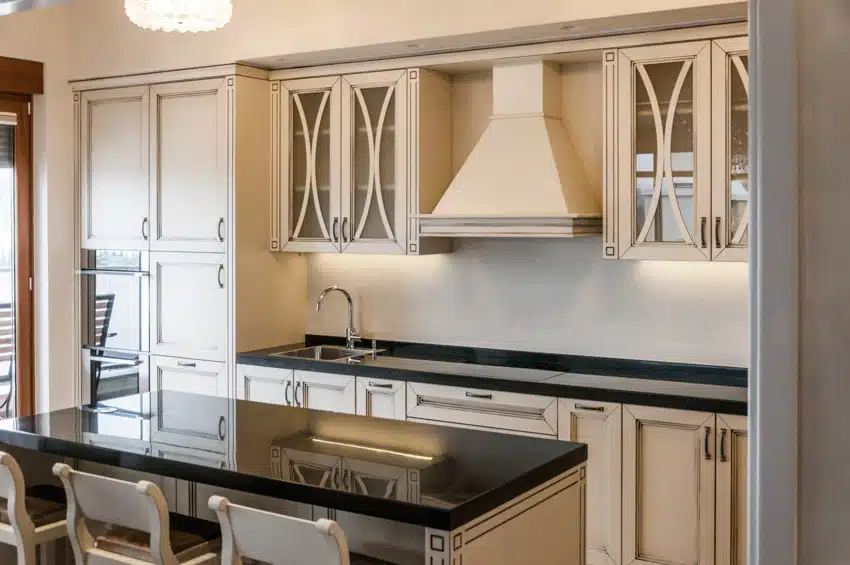 If the countertops in your kitchen or bathroom have seen brighter days, it is the perfect time to reglaze. Countertop reglazing is one of the fascinating home developments in recent years.
With kitchen counter reglazing, you can modify the look of your countertops in less than a day with almost no trouble at a fraction of the expense of replacing. There are no better alternatives for updating your home or for a super easy remodel than countertop reglazing.
What Is Countertop Reglazing?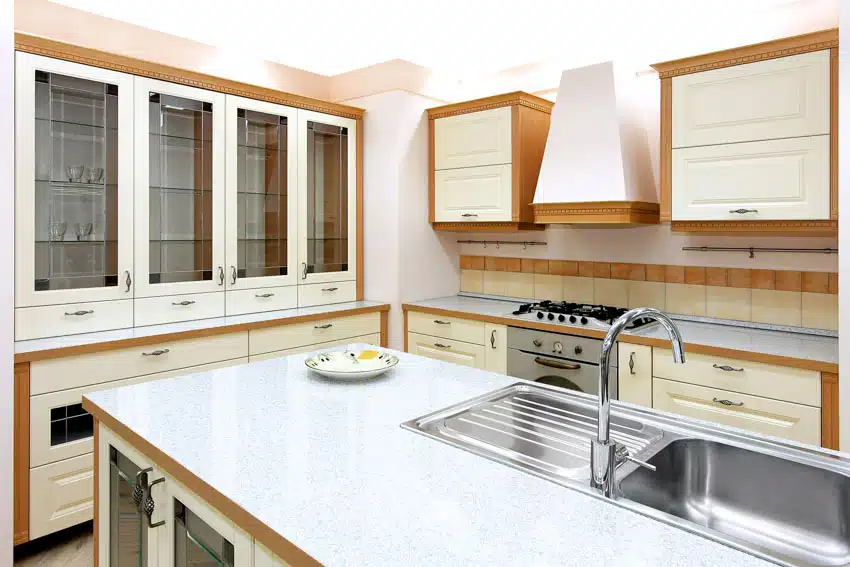 Countertops often occupy a significant amount of space, and the look of these central work surfaces significantly influences the kitchen's overall design. Simply altering the appearance of the countertops may quickly change the whole kitchen and establish the foundation of the style you want to take through the rest of the space.
Formica and cultured marble are typical materials used in many bathrooms and kitchens. These materials may fade and break over time while remaining structurally sound.
Tearing down your laminate countertop may seem the only way to restore its luster, but this job may be disruptive, time-consuming, and costly. Nothing is more enticing when contemplating a kitchen remodel than gleaming granite countertops.
A kitchen makeover may be extremely pricey and time-consuming if one considers changing fixtures, repainting, improving work surfaces, and renovating the floor. Taking on all this at once is not monetarily feasible for everyone, but there are several choices to consider when giving a room in one's home a new appearance.
Instead of replacing your kitchen or bathroom countertops, reglazing them includes fixing or replacing the damaged or worn laminate. Even though the support structure remains the same, this method will make your countertop look brand new.
Countertop reglazing establishes a new surface layer on top of your current countertop. When you decide to refinish your countertops, your contractor will begin by etching the previous surface with acid so that the new material has something to grasp.
Once the surface carves, your contractor will neutralize the acid so that the new surface adheres firmly to the old. The contractor will put the new surface on top of the old and apply epoxy primer and acrylic urethane to make your new bath or kitchen countertop durable and ready for use. The whole procedure may finish in 24 hours.
Compared to standard renovation projects, which may take weeks to complete and leave you without a usable bathroom or kitchen for that time, but leave you with a pile of debris The apparent winner is reglazing. Reglazing countertops is a highly economical method that also saves a lot of time and hassle.
Reglazing Countertops Pros And Cons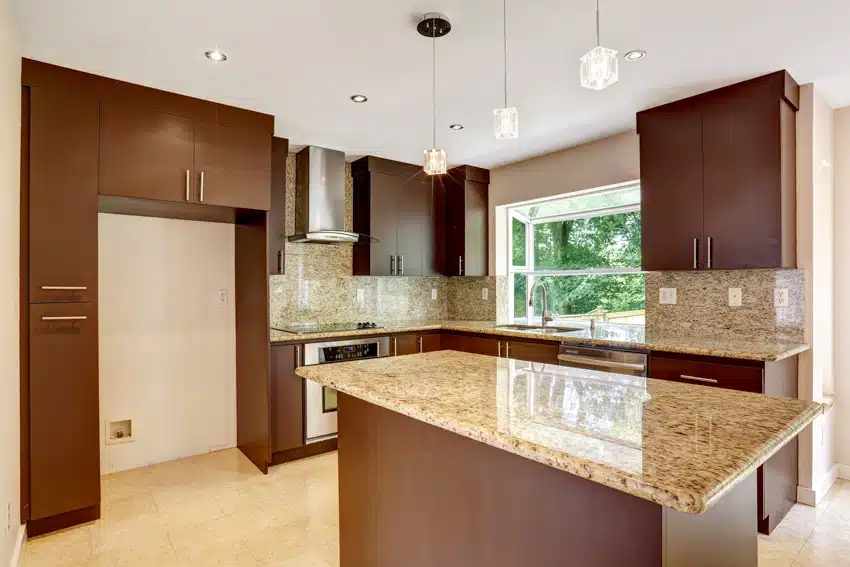 When it comes to bathroom or kitchen renovation, the area you want to rebuild — damaged in some manner, may be easily met with reglazing.
Listed below are a few advantages of countertop reglazing:
• Durable: Countertop reglazing has been stable for many years because it uses an acrylic coating. Counters composed of many materials, including Formica, cultured marble, Corian, Wilsonart, and others, may be refinished with reglazing.
• Practical and affordable: Regarding practicality and affordability, countertop reglazing is always preferable to replacing kitchen or bathroom worktops. It is very cost-effective and makes you save money on expensive countertop replacements.
Because of their low cost, you won't have to worry about "over-modernizing" your house, where you spend more money on modifications than they're worth.
• No mess and no cleaning required (eco-friendly): Aside from the low cost of refinishing countertops, there is also simplicity and minimum waste during installation.
• A variety of customization options: Because you are building a new surface, you have complete control over its appearance. You might select a countertop that looks exactly like the previous one when it was new, or you can choose a completely different color or design. The contractor will have an assortment of alternatives for your specific needs.
• Increase the lifespan of your current countertop by many years: A set of reglazed countertops may be what you need to make the area seem new, fresh, and contemporary.
• Convenient: Countertops are often manufactured in standard sizes, as are ready-to-buy laminated materials. They can also be a faster remodel project than installing new materials.

• Increases home value: As it covers up blemishes and flaws, it upgrades your kitchen and bathrooms – increasing the value of your home.
On the other hand, there are also some drawbacks to countertop reglazing:
• Countertops may chip quickly: Some countertop reglazing companies claim that their products are long-lasting and durable, but this is not the case for some. Some coating chips easily, especially around the corners and edges of the counters.
It may look good, but the damage will eventually show through. If you accidentally drop something on the counters, you may end up with a large crack right in the center.

• Cheaper appearance: We hate to say it, but some countertop reglazing results are as inexpensive as they are. Companies will advertise their countertop reglazing services as if they can replicate the look of natural stone, but sometimes, they cannot.
They may appear as tiles from a distance, but a quick inspection reveals that they are not. People will notice that you have fake stones in your kitchen, bathroom, man cave, etc.
• It may not last forever: Countertop reglazing is a technique you must repeat every few years to keep your countertops clean and smooth. When you add up the upkeep expenses, it is easy to understand why granite is a superior investment (if you have a budget, of course).
Kitchen Countertop Reglazing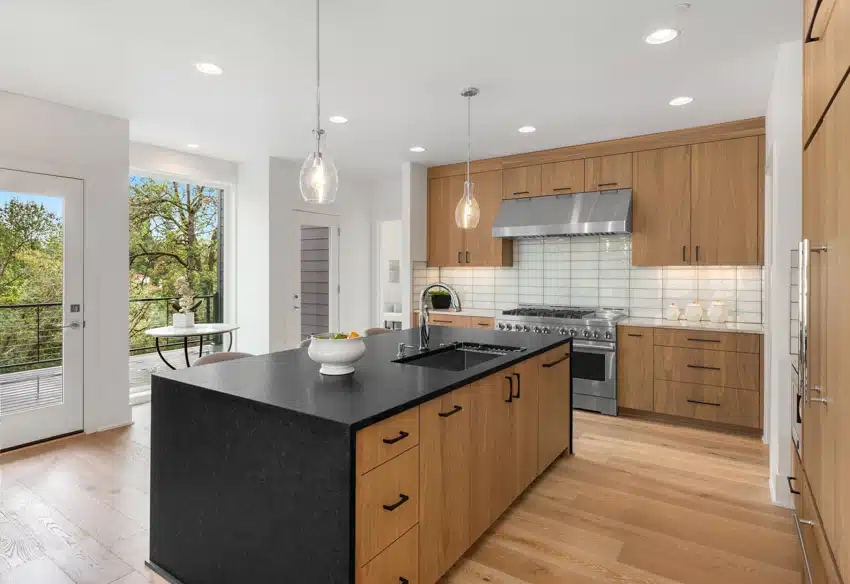 The phrases reglazing, refinishing, and resurfacing are now interchangeable. By adding chemicals to the surface of an already installed fixture in the kitchen, a new surface superior to the original may be produced, which may be dull, discolored, or worn out due to age and usage.
Another thing to remember is that it repairs kitchen countertop problems like chips, cracks, rust, and various other defects or damage before reglazing. Of course, all work is done on-site.
By reglazing, you may avoid replacing the fixture, increase its useful life, and make cleaning easier. Kitchen countertop reglazing entails removing and replacing the laminate or entirely re-covering it with a new layer of laminate (or even tile). It involves fixing the counter, sanding off stains, and recoating the original surface for a refreshed appearance.
Reglazing your kitchen countertops is still a cost-effective option—not to mention a low-cost investment that will endure for years. Depending on the scale of the job, the resurfacing procedure might take anywhere from 24 hours to an entire week.
Before you begin, keep in mind that any reglazing project will include the removal of sink basins and range tops; don't worry; they can be re-affixed to the new surface. Also, whether you use the current laminate or a particle board foundation, the surface must be level and smooth.
Reglaze Granite Kitchen Countertops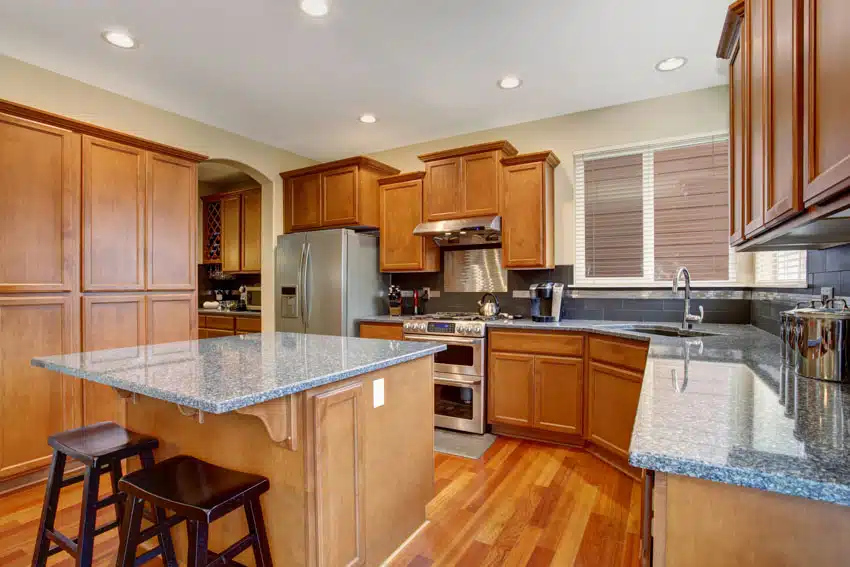 Granite kitchen countertops are very durable and long-lasting. However, there may come a point when your countertop may need replacement. You may sometimes update granite countertops with total reglazing. If you have dents or cracks, an epoxy patch may be able to restore them.
A new sealant application may suffice if water no longer beads on your granite. However, if the granite is in terrible condition, reglazing may not be enough to restore its appearance.
Professional reglazing may breathe new life into your kitchen countertops if soiled, chipped, or otherwise damaged. If you want to reglaze your granite, proceed with care. The resurfacing procedure is loaded with hazards unless you have a lot of expertise.
It is always advisable to contact a professional to do the job. If yours are particularly worn, you may discover that replacement is the finest and most dependable alternative.
Reglazing Kitchen Tile Countertops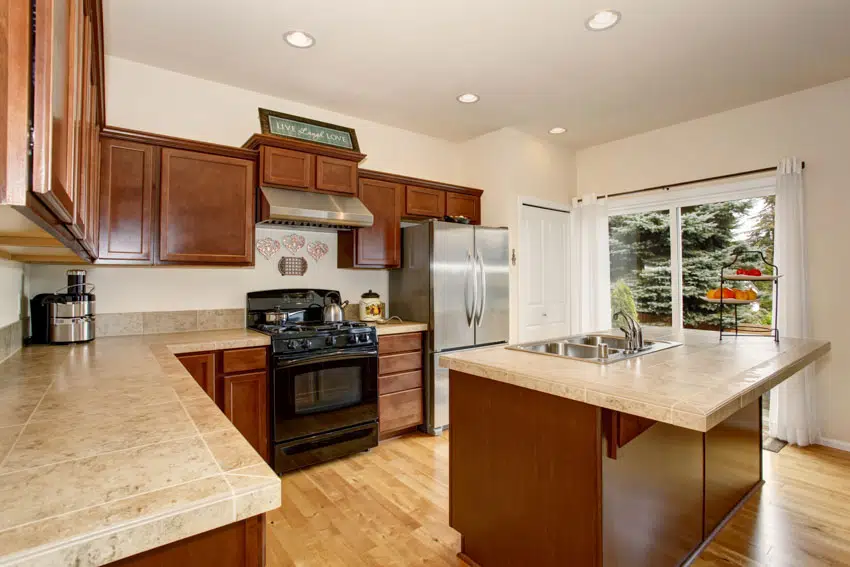 Some companies can resurface kitchen countertop tiles similar to genuine granite that many people mistake for the real thing. Reglazing kitchen tile covers the grout lines between tiles.
It protects your tiles against penetrating liquids – this improves the appearance of the types of kitchen countertops you're using and makes them stronger and more lasting.
You may extend the life of your present tile counters while staying current with a simple reglazing. Reglazing provides a high gloss finish that works well in kitchens. If your tile counters have chips or scratches, they may usually be reglazed rather than replaced.
You may fill, fix, and polish chips and cracks to the point that the tile looks new. Whether your tile countertops are broken or need replacement, countertop reglazing is nearly always less expensive and time-consuming.
Reglazing may save up to 75% off the overall cost of replacement. It is not only less costly, but it is also speedier. Replacing a tile countertop will need a messy demolition, and costly tile setup work. It will take days, if not weeks, to restore your kitchen after demolition and replacement. After reglazing, you should be able to use your kitchen for a mild workload within 1-2 days.
Reglazing Bathroom Countertop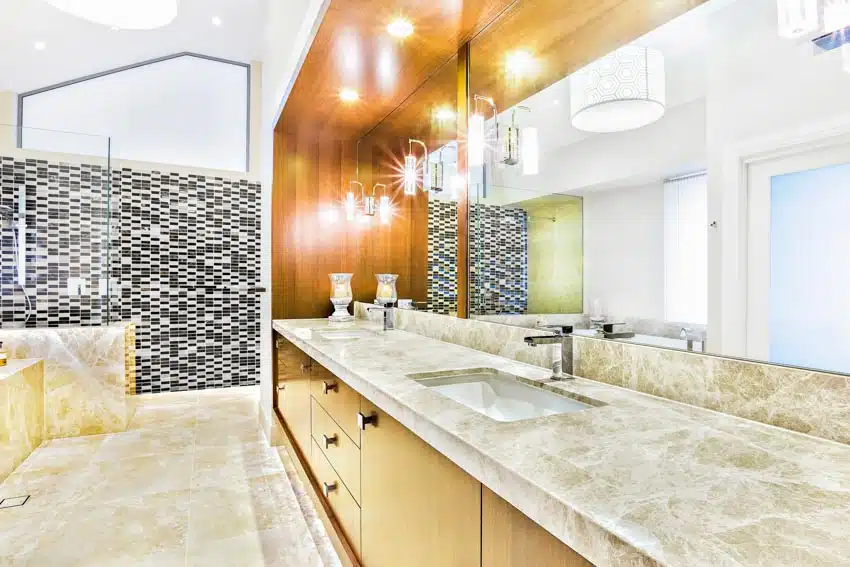 While it is a new trend in the thriving bathroom repair market, reglazing is quickly becoming its specialty. If your bathroom countertops are chipped, broken, discolored, or just plain unattractive, bathroom countertop reglazing might be the perfect solution.
Counter refinishing, also known as reglazing, revives ceramic or porcelain tile using coatings and unique bonding agents. Essentially, refinishing a countertop entails painting the surface with specially created bonding agents and finishes.
Countertop resurfacing is a procedure that recycles old countertops rather than replacing them. This method allows you to change the countertop's look, so it seems fresh. Resurfacing a bathroom or kitchen countertop is a cost-effective solution to guarantee the result is what you want for the area.
Consider countertop reglazing if replacing your vanity or bathroom countertop is out of the question. When it comes to reglazing your bathroom tub or countertop, you have a wide range of alternatives.
Most homeowners chose an epoxy option, which lets you have your countertops/vanities painted a brilliant white hue that contrasts sharply with the yellow cultured marble. The epoxy forms a protective, long-lasting shell over the top of the old countertop.
You paint bathroom counters with a robust and durable substance. Bathroom tile restoration includes not just the tile but also the grout. The benefits include:
• Taking care of ugly grout.
• Lowering the groove in the grout to make cleaning simpler.
• Eliminating the porous grout surface, which also makes cleaning easier.
Cost To Reglaze Countertops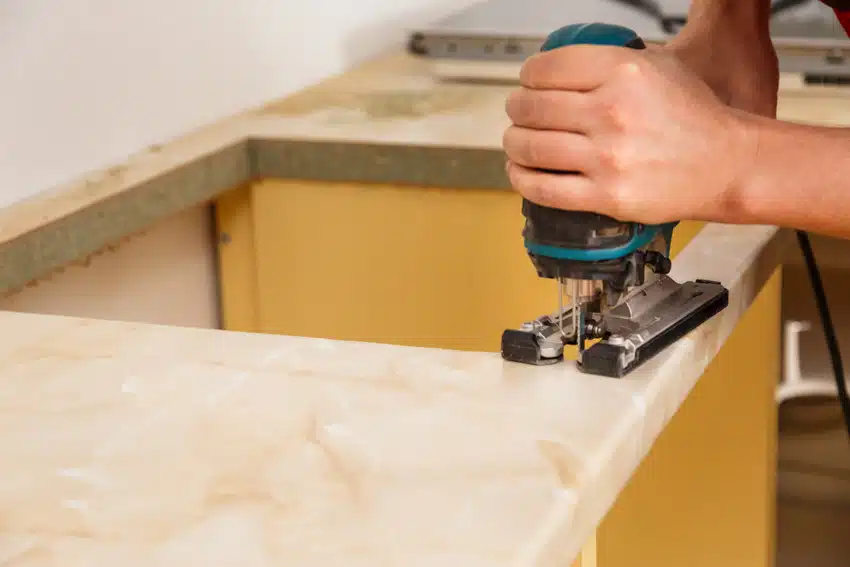 The cost of kitchen countertop reglazing is affected by many variables, including the intricacy of the operation, the materials necessary, and the size of the kitchen or bathroom counter. If you want to know the actual cost, reglazing companies or professionals will provide you with the quote before installation.
On the other hand, the national average cost of countertop reglazing varies from $250 to $550, with the majority of individuals paying about $350 on professionally applied epoxy coating for 60 sq.
Quartz countertops on the low end, painting and sealing 60 square feet, might cost as little as $150. The cost of materials varies by the type of finish desired by the customer. When determining your prices, you should consider how much you will pay for materials.
How To Reglaze A Countertop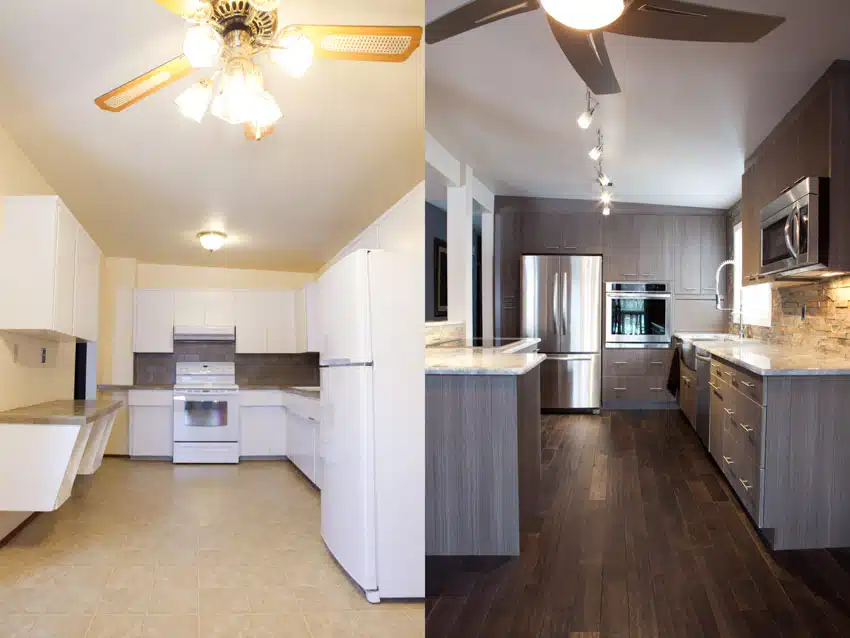 With the innovative reglazing method, you may transform a worn-out and aged counter into a complete, bespoke showcase that looks solid granite. With proprietary reglazing technology, it creates countertops that are very durable and long-lasting.
When you plan to reglaze your bathroom or kitchen countertop, here is what you should do:
1. Consult: First, ask for a free price and consultation from a professional company about your countertop concern.
2. Select a foundation color: For texturing, choose the color flecks and base colors. Companies usually give color flecks for the solidity and depth of your countertop.
3. Correct the flaws: Professionals will come to your home at a time that is convenient for you to repair any scratches, chips, or cracks.
4. Apply primer and paint: To give your countertops a long-lasting finish, they will apply an industrial primer and our proprietary paint suitable to the countertops.
There are various excellent processes for reglazing countertops, but no suitable consumer-level reglazing solution is available. It is best to select a provider that understands what they're doing when reglazing your countertops while guaranteeing a result you love.
See more related content in our article about the different types of kitchen countertop protection on this page.