Here we share the best ways to update kitchen cabinets, including creative DIY design ideas.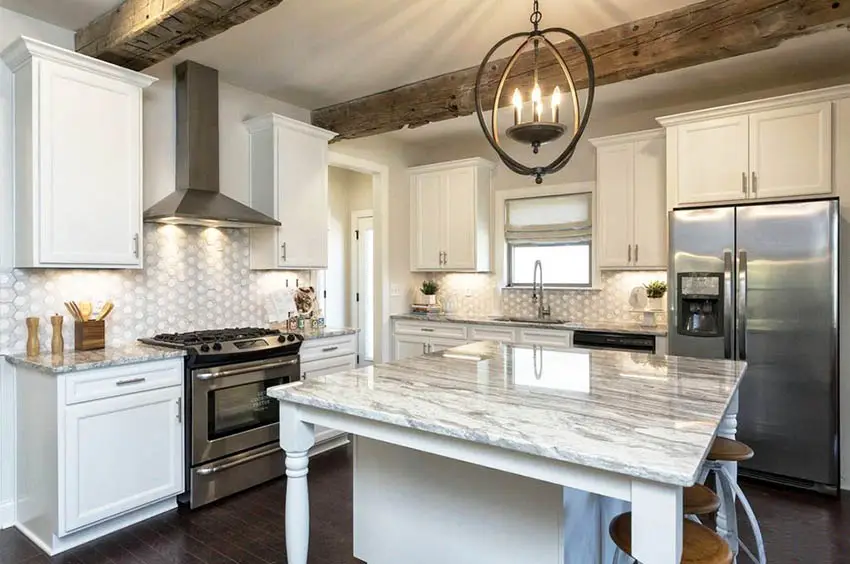 One of the best ways to bring a big change to your kitchen is to update your cabinets. There are a surprising number of ways to refresh the appearance of your cabinets. These range in the style you can achieve, the remodel expense, and the amount of remodel work required.
Revamping your kitchen cabinets can make a significant difference in how you feel in your cooking space without the expense and effort of replacing them entirely. By simply updating items like paint, stain, or even small embellishments, you can create renewed interest in your kitchen's design.
How to Update Kitchen Cabinets Without Replacing Them
Replacing your kitchen cabinets entirely can be a large and expensive job. Luckily, you can revamp their appearance without taking measures quite as drastic as this to make an impressive difference.
From paint to stain and even small embellishments can help you shake things up in your kitchen. We'll start with the most common way to refresh your kitchen cabinet design.
Paint the Cabinets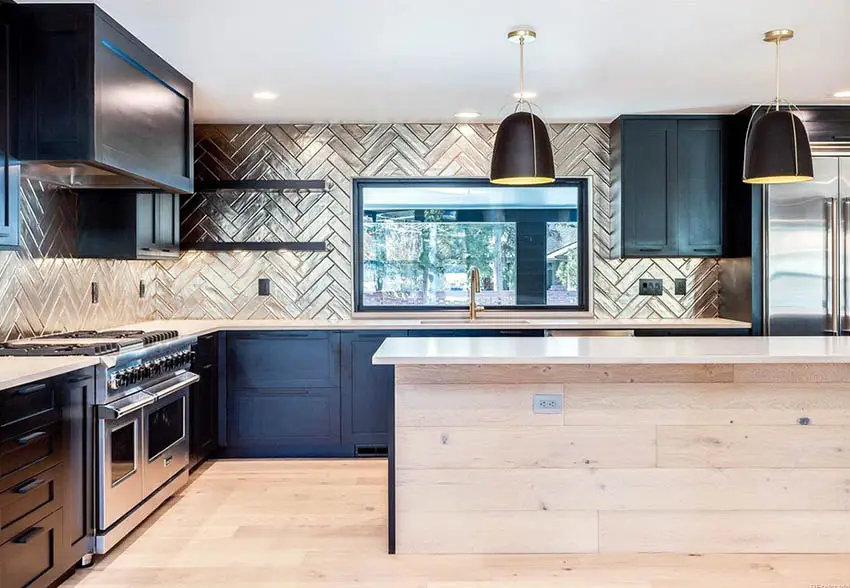 Nothing is quite as easy to do and as fundamentally changing as painting a piece of home decor. With a little work, you can transform the look of your space by painting your kitchen cabinets without having to invest in a full replacement.
The color you use on your cabinets can also set the tone of the theme in your kitchen. For instance, darker, matte cabinets tend to have a more modern appearance while pastel colors such as baby blue lend themselves to a more rustic design. An antique kitchen cabinet paint can be used to achieve an updated traditional style.
You can get even more creative than that too. With options like chalk paint, you can create a one-of-a-kind look that isn't just aesthetically pleasing but functional as well.
It can go a long way to be able to make a note on your cabinet while you cook or even add some whimsical doodles for a personal touch. This can also be a fun design in homes with children where the chance to "draw on the walls" is a fun as well as a welcome novelty.
Similarly, if you want a lighter appearance with the same functional aspects of chalkboard cabinets, there is also the choice of paint that makes your cabinets act as a whiteboard. This way, you can still jot down notes or add personalized designs without adding anything too dramatic if that better fits your taste.
Stain the Cabinets with Gel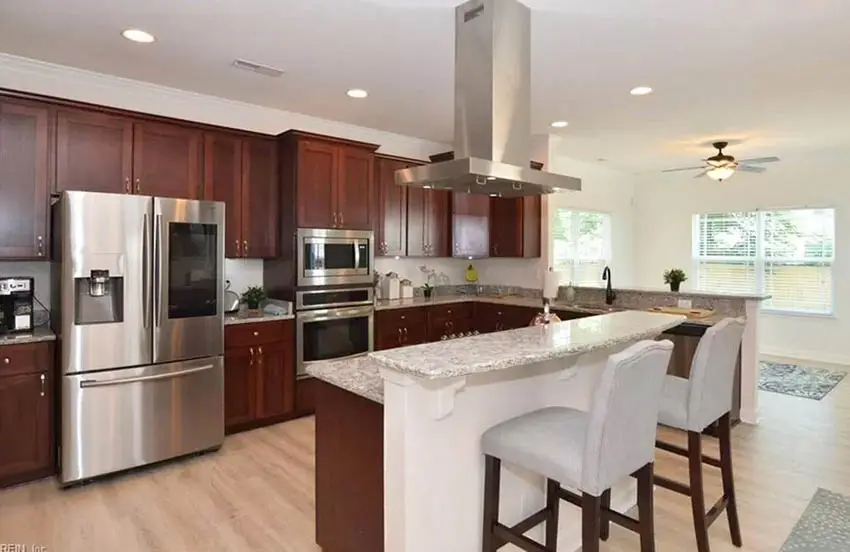 Staining cabinets with gel stain is another way to get a refreshed and revamped look. It's also a job that will only cost you under $200. If you already have the tools to complete the stain then the cost will be minimal.
You only really need a few tools for this job including the gel stain, some wood sanding blocks, steel wool, socks, and poly finish. It's also a good idea to lay down a tarp or covering to catch any spills and keep some paint thinner around for cleanup.
First, you'll want to remove your cabinet doors from their frames and remove any handles or hinges. Then, lightly sand the frames and doors down. You don't want to completely strip them but you do want a smooth surface to work on. Make sure to clean them after sanding.
Now, you can start to apply the stain with a sock. You don't need to use a lot – thin coats are best – but make sure you get into every nook and cranny. Let each coat sit for about 6 hours before using your wet steel wool to finish the coat off. You'll want to repeat the process until you have about four coats applied.
For the final coat, let it sit for a full day and don't use the steel wool tip this time. Instead, add a poly satin finish for a clean seal. You'll need about three coats. Once this has dried for another 24 hours, you can reassemble your cabinets.
Meanwhile, consider the other appliances in your kitchen, such as the faucet and sink, to ensure they match your desired aesthetic.
Distress the Wood Finish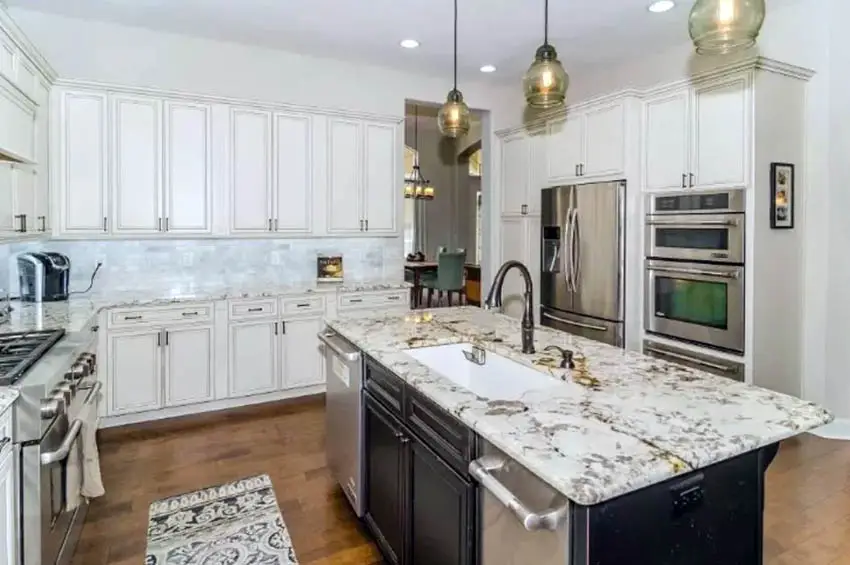 While cabinets that look shiny, new, and polished are attractive, they aren't your only option. In fact, cabinets that look a little aged can add a bit of rustic or farmhouse charm to your kitchen. The good news is that this design is easy to accomplish even with brand new cabinets.
Much like when you gel seal cabinet, the first step for distressed kitchen cabinets is to remove the cabinets fixings and to sand the cabinets down. Instead of sanding lightly, though, you're going to want to sand them enough to create a distressed appearance.
You can add extra touches by using a small sharp tool or nail to add deeper, more defined distress marks in places. Of course, an older cabinet may not need as much effort to distress due to its natural aging.
You can also use antiquing glaze to help you achieve a more distressed look on your cabinets. This tool can help you pull off an older, antique look without forcing you to manually age the cabinet by hand.
To help ensure the longevity of glazed cabinets, many homeowners decide to use a gloss varnish. If you're going to do this, you're going to need to make sure that you use a gloss that is compatible with antiqued cabinets so that their appearance is maintained correctly.
Change the Cabinet Hardware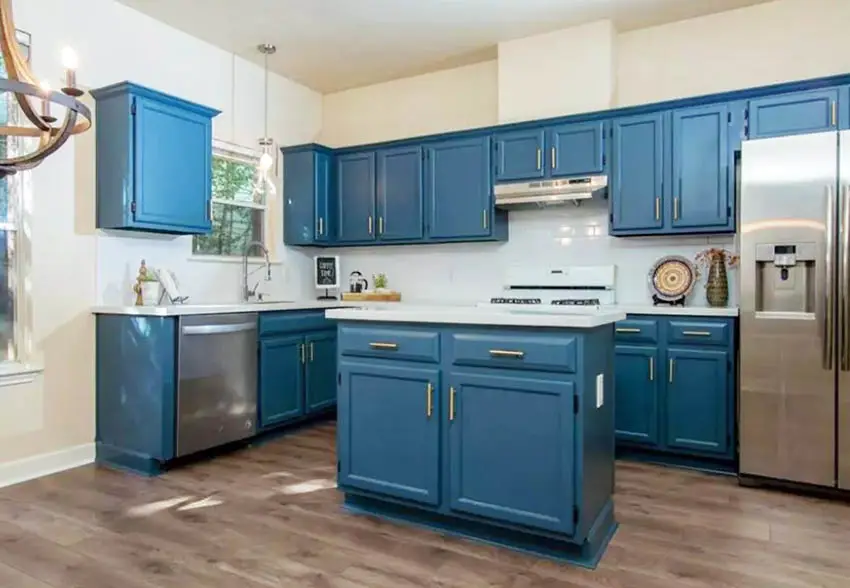 Aside from the appearance of the cabinet doors and frames themselves, you can change the hardware on your cabinets to update their appearance.
This includes touches such as the kitchen knobs and pulls and hinges. While you might not immediately think of these pieces of hardware as highly consequential to the overall aesthetic of your cabinets, they can actually change things up quite a bit.
Hardware on cabinets not only serve a functional purpose but they also add a decorative one. Just like the accents that you might put in your living room or bedroom, these details can refresh the look of your cabinets.
In addition, there are plenty of different types of cabinet hinges and handles that you can use to customize not only the appearance of your cabinets but how they function. For instance, certain hinges can change the way your cabinets open and how they look in function as well.
Add Trim and Molding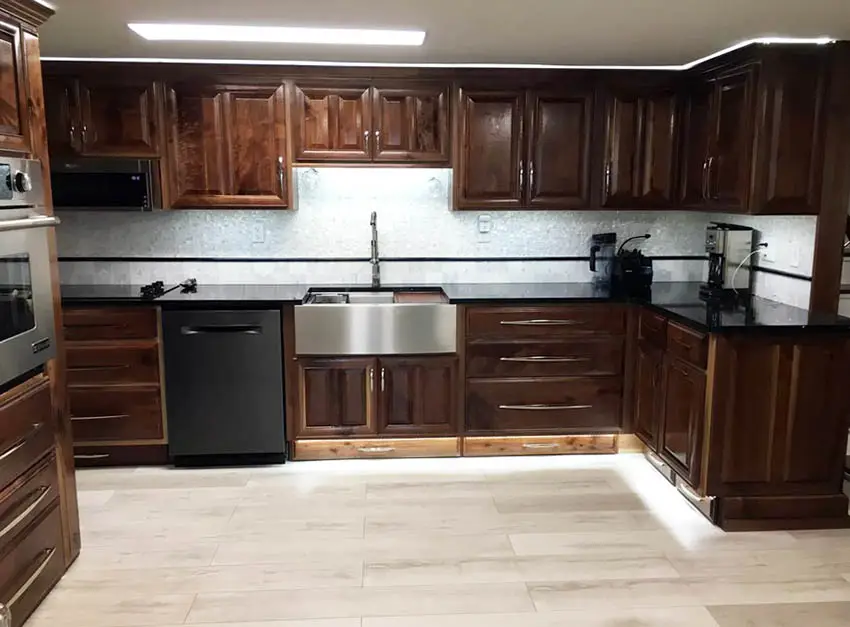 Adding trim and molding to your cabinets can add a little flair and tap into traditional design concepts. This design adds an extra few inches at the top and/or bottom of the design in the form of flaring out the frame.
This not only removes open space above the cabinets, but can also be used in conjunction with under or over cabinet lighting to give a dramatic effect.
This is also an opportunity to help tie the overall kitchen design together, ensuring the island, appliances, faucet, and sink all contribute to a cohesive, fashionable, and trendy space.
Add Beadboard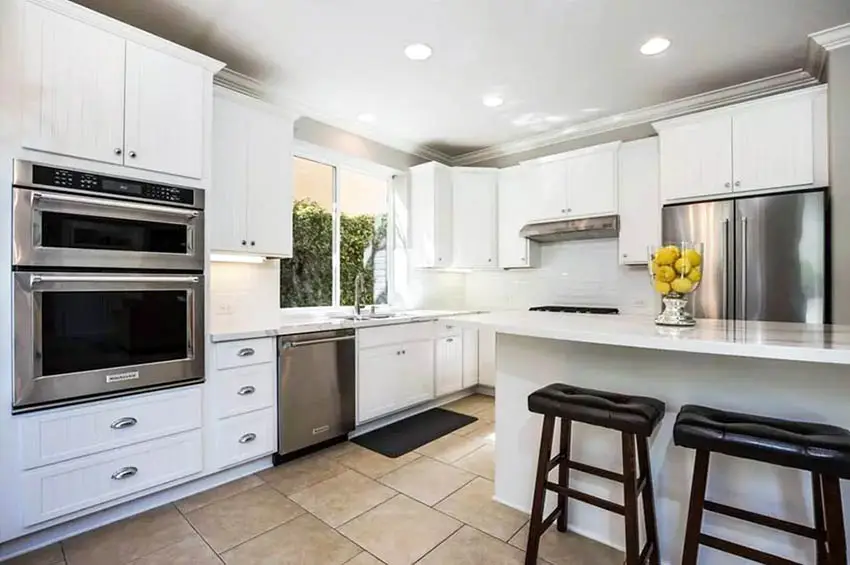 Beadboard is a great way to add some texture to cabinets that may have previously been smooth and lifeless. Even if you keep your beadboard cabinets the same color, this texture can help transform the aesthetic impact of a decor piece.
Beadboard can be added to cabinet doors or even as a kitchen island facade to achieve a farmhouse or cottage style look.
Add Height Above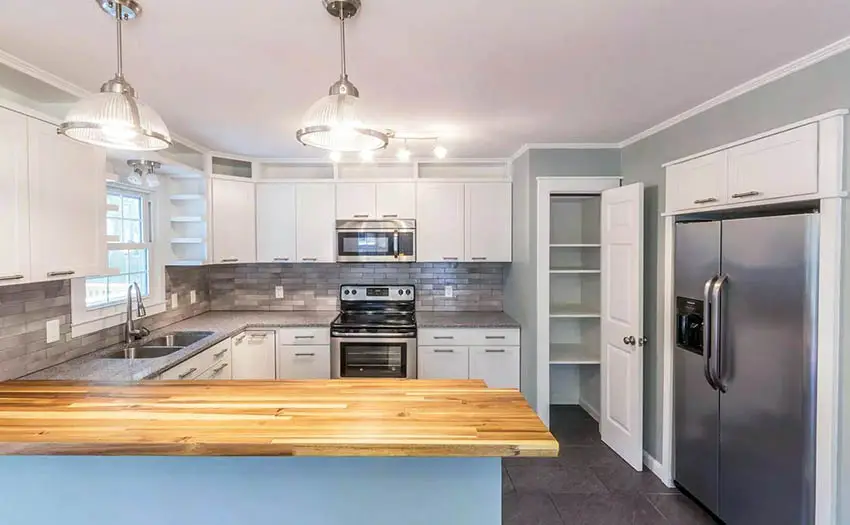 Changing the general shape of your cabinets is one of the best ways to ensure that you get a new look for your kitchen. In addition, giving yourself taller cabinets also means offering yourself more storage space. Since it's vertical height, it's also a great solution for smaller kitchens.
Besides enhancing organization and reducing clutter, this not only removes open space above the cabinets but can also be used in conjunction with under or over cabinet lighting to give a dramatic effect.
This feature is particularly appealing to people and customers in search of a cohesive and orderly store or kitchen layout.
Add Under Cabinet Lighting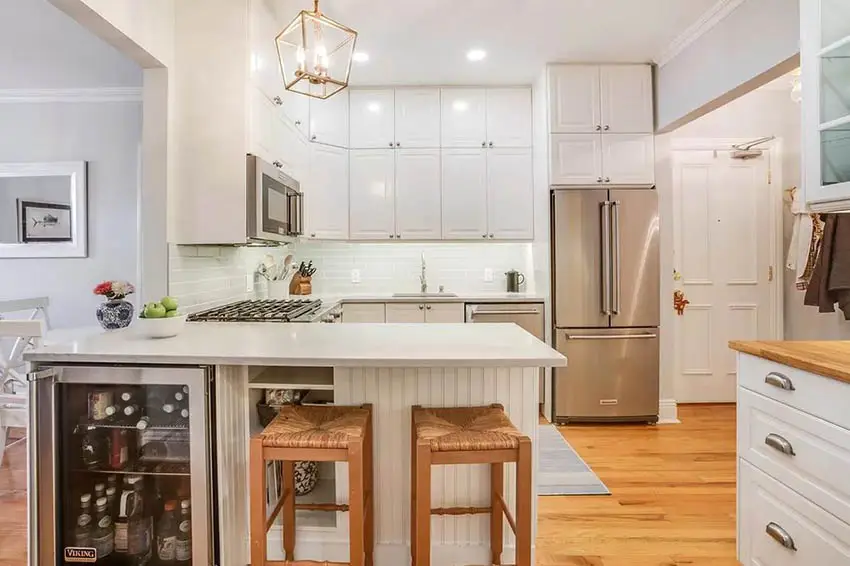 Especially if you cook a lot, adding lighting under your cabinets is an easy and inexpensive way to add extra functionality of your kitchen. These fixtures can increase the light you have in a kitchen as well as add a spotlight function when you're preparing food on the counter.
Add Feet to the Base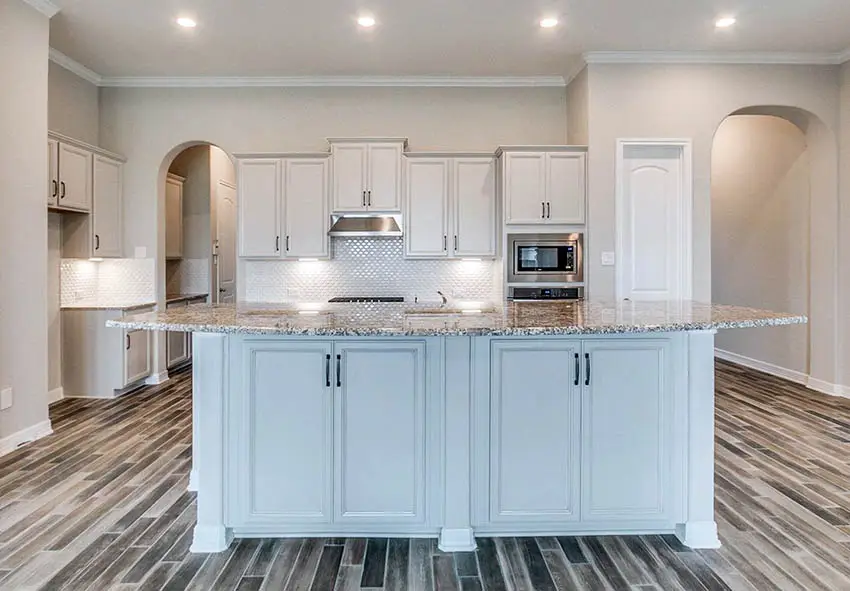 Many lower kitchen cabinets sit flush to the ground. However, by adding a set of feet to you're cabinet, you're changing the general aesthetic by changing the cabinet's shape. You can play around with the specific design to, so that you have something that fits your tastes.
Replacing the Cabinet Doors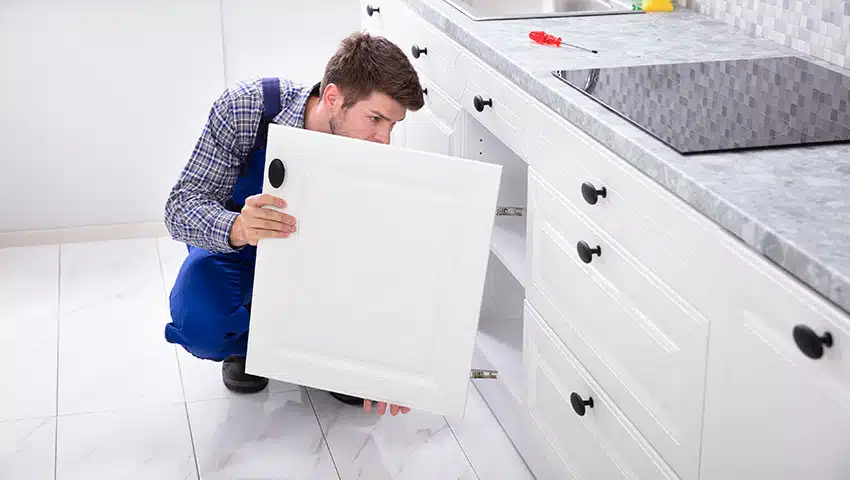 One option worth considering is replacing traditional cabinet doors and drawer fronts to get a completely new look. Replacing cabinet doors can save you thousands of dollars in remodeling cost and instantly give your kitchen the refresh it needs.
With cabinet refacing you can replace an older style design with a new looking shaker style door or any other types you desire. You can also get bold and transform the look with sleek metal ones or bohemian, by adding a touch of wallpaper to create a unique look.
Add Corbels Under the Cabinets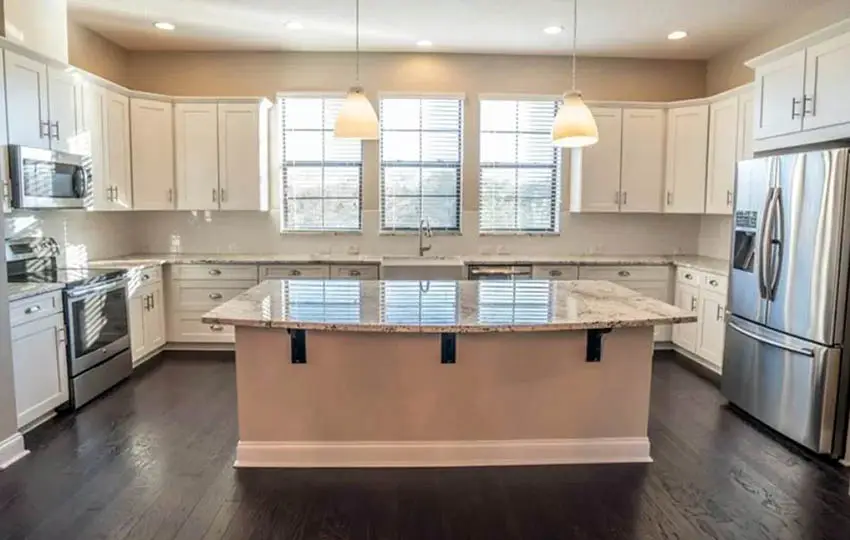 Corbels are embellished architectural tools that are made to bear weight. Because of their unique designs, these kitchen corbels can not only help to hold your cabinets in place but to add visual appeal to them as well.
How to Update Kitchen Cabinets Without Painting
Growing tired of your dated kitchen cabinets? Do you want to give those old kitchen cabinets a quick facelift that would better suit your style? Whether your kitchen cabinets are made of oak, cherry or even laminate – you can update them without spending too much on your budget.
Updating your kitchen cabinets without painting is an easy process. You can use many of the design changes discussed above such as corbels and beadboard without necessarily having to paint your cabinets. If you want to go a step further, you can opt for a total replacement as a change of pace.
Installing new kitchen cabinets can deplete your planned disbursement for restoring your kitchen. Here are some great ideas on how to help you do a "less is more approach" in refurbishing your kitchen cabinets.
One way to improve organization and reduce clutter is by making use of shelf space and storage bins. Move small appliances to a cabinet or storage closet to enhance the feel. These practical solutions can assist people in keeping their kitchens tidy and functional.
Update Oak Kitchen Cabinets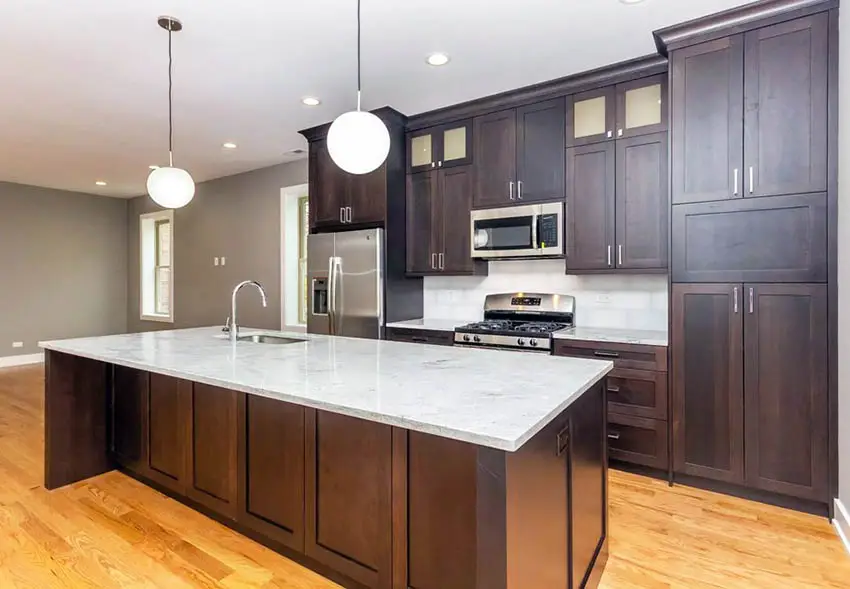 Oak is a very strong and durable type of wood. Its coarse and distinct grain pattern makes it a popular choice in traditional kitchen designs.
The most popular choice when it comes to updating oak cabinets is to refinish and stain them. This renews the appearance of even dated cabinets and gives you a chance to play with color.
The grain pattern of natural oak wood is often highlighted by applying a good quality wood stain. Since oak is considered a hard wood, it tends to absorb stains better and more evenly. Thus, it a great technique to use in refinishing oak kitchen cabinets and making your old kitchen cabinets more attractive.
It is important to consider the type of your cabinet door profiles when updating your oak kitchen cabinets. Shaker style cabinet door profile with either raised panel or flat panel is much easier to transform from an old and dated kitchen cabinets to a modern style look by staining or painting. While the cathedral style or the arched cabinet door profile requires more imagination.
Updating your oak kitchen cabinet can also mean changing those old and dated hardware such as handles. Hardware with antique brass finish gives a low contrast look with oak kitchen cabinets but still gives it a great facelift.
If you want to give your oak kitchen cabinets a bit of contrast, oil rubbed bronze finish hardware will give you that beautiful drama which fits perfectly with your oak kitchen cabinets.
For cathedral or arched style doors, choose handles with slightly soft, curved lines which will give your oak kitchen cabinets a perfect natural match.
For another design update, consider adding glass doors to a few key cabinets creating some artful value to your oak kitchen cabinets and will also lighten some visual weight of the oak wood. These glass doors can provide easy access to often-used items and enhance the overall aesthetic appeal.
If you still want your oak kitchen cabinets to be more appealing and more modern, you may want to consider painting your kitchen cabinets.
Just because it is wood, it doesn't mean that you can't play around with color but keep in mind that in painting, it is best to keep a low contrast in your choice of paint color.
How to Update Cherry Kitchen Cabinets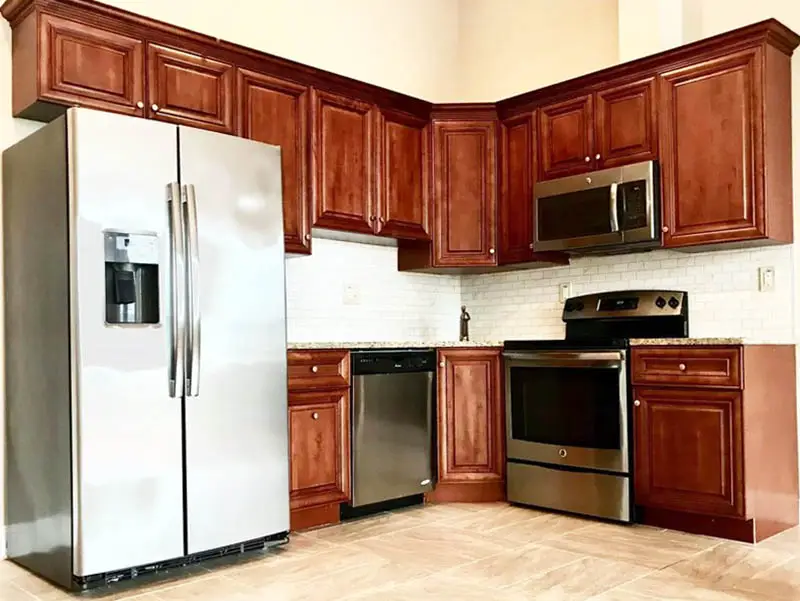 Solid cherry wood cabinets offers warm elegance and a luxurious look in a kitchen. The natural wood grains and durability of cherry wood makes it a practical choice for kitchen cabinetry. Cherry kitchen cabinets may be traditional, yet it is versatile and can match well with different design concepts.
Nowadays, cherry kitchen cabinets are being associated with a dated look. But, did you know that you can still keep your cherry kitchen cabinets and bring it up to date into fresh new design ideas?
If you want to preserve the natural darkness and beauty of the cabinets, it can be a good idea to consider structural changes such as increasing the height of the cabinets or adding corbels. Consider adding a crown molding to your top kitchen cabinets to increase its visual height.
Also, by adding valance to the bottom part of the upper cabinets you can have the opportunity to install under cabinet lighting which can create more dramatic appeal to your cherry kitchen cabinets.
For a more modern look, try installing a white subway tile backsplash – it is very popular and also a timeless choice. Try adding bright and bold color backsplash to help make your cherry kitchen cabinets stand out in contrast. For a complete overhaul, painting your cherry cabinets can be a good choice.
How to Update Laminate Kitchen Cabinets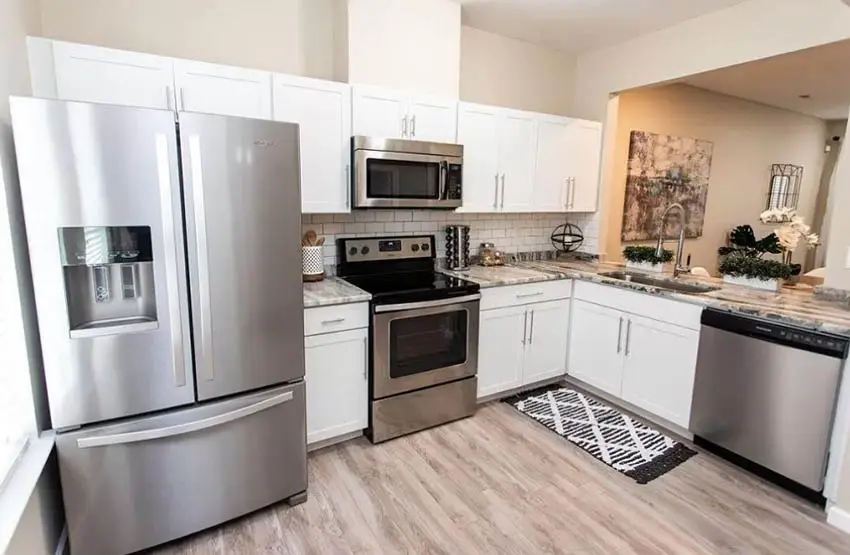 Visual and structural changes can alter your laminate kitchen cabinets significantly. When updating laminate kitchen cabinets, you may want to consider refacing them or paint over the laminated kitchen cabinets. The easiest and potentially most transformative choice is to paint. Both techniques cost less than replacing your laminate kitchen cabinets with custom cabinetry.
Refacing is mainly replacement of the cabinet "skins" by applying new veneer over the old and existing door and drawer face. Replacing the hardware and adding trim to the laminate doors and drawers will enhance a more new look of your laminate kitchen cabinets.
Repainting of outdated laminate kitchen cabinets is another affordable way of updating your laminate kitchen cabinets into a more modern cabinetry.
Do keep in mind that unlike wooden cabinetry, repainting your laminate kitchen cabinets requires different type of preparation, special paint and a unique way of applying paint onto the surface of the laminated doors and drawers.
When it comes to changing them structurally, adding trim to laminate cabinets is an attractive and popular choice. This is possible by applying a thin veneer of real wood or plastic laminate to the doors.
It's possible to fix peeling laminate cabinets by by carefully sliding a piece of sandpaper in between the substrate and the laminate material. By sanding there you can remove the left over adhesive that is no longer holding the laminate in place.
Next, apply a small amount of waterproof laminate adhesive in between the substrate and the laminate to create a new bond.
How Much Does It Cost to Update Kitchen Cabinets?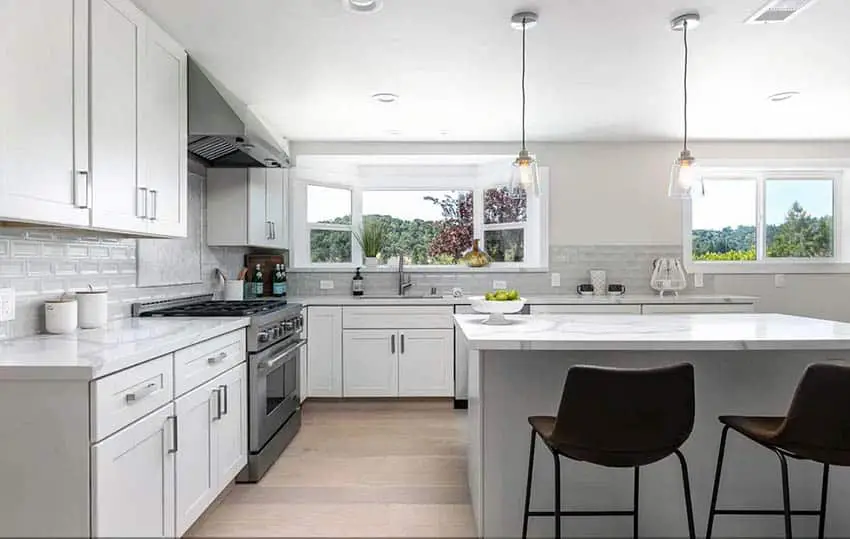 The cost to remodel your kitchen cabinets depends heavily on the exact process you use.
Repainting a standard kitchen cabinets has an average cost ranging from $1,200 to $7,000 while refacing with laminate veneer begin at $1,000 to $3,000 and real wood veneer cost can go as high as $2,500 to $6,000. For a basic gel stain as a DIY project the cost can run under $200 for all the supplies you need.
An average full-size kitchen generally costs $12,000 up to $20,000 to remodel depending on the process you choose to work with, materials you want to use, the size and layout of your kitchen.
Before paying for any remodel work it's a good idea to use kitchen remodel software to streamline the process. This can help you visualize the design you want before hiring a professional contractor or buying any materials.