This is our gallery of beautiful craftsman kitchen cabinets including a variety of door styles and designs.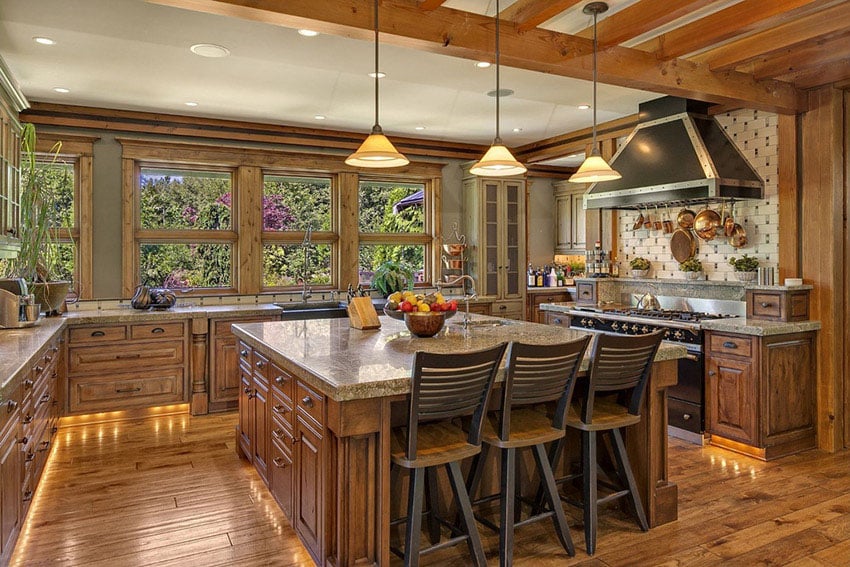 Craftsman style kitchen cabinets are a marriage of form of function. It strongly follows the principle,  "utility must have a precedence over ornamentation".  When we hear of Craftsman style kitchens, we often directly associate it with exquisite wood works and finely handcrafted cabinetry that are not only visually captivating but highly functional as well.
The Craftsman style originated in England as a result of the famous Arts and Crafts movement. The Arts and Crafts movement was an international movement that aimed to uplift traditional craftsmanship and reform design and  decoration. During this era, furniture were abundantly mass produced through the use of machinery in factories. Thus, causing a decline in design standards in terms of materials and quality. Instead of using natural materials, artificial materials were introduced, and instead of sticking to handcrafted details, furniture production was veered away from the traditional methods.
The Craftsman style was born as a reaction against the intricately decorated and mass produced furniture of the Victorian era. Its main goal was to put functionality above everything else. Compared to the flamboyance and ornate details of a Victorian inspired design, the Craftsman style put great emphasis on simplicity and highlighted craftsmanship. Overall, a craftsman kitchen design style is defined by three basic principles, a straightforward design with clean lines, high quality construction and minimal ornamentation.  Despite being utilitarian in nature, the craftsman style still became one of the most stand out design styles in history.
Below we explore some of the key design features of Craftsman style kitchen cabinet design to help you decide whether their remarkable simplicity is the right fit for your home. (This gallery is part of our larger guide to kitchen cabinet styles located here)

Craftsman Style Kitchen Cabinets Design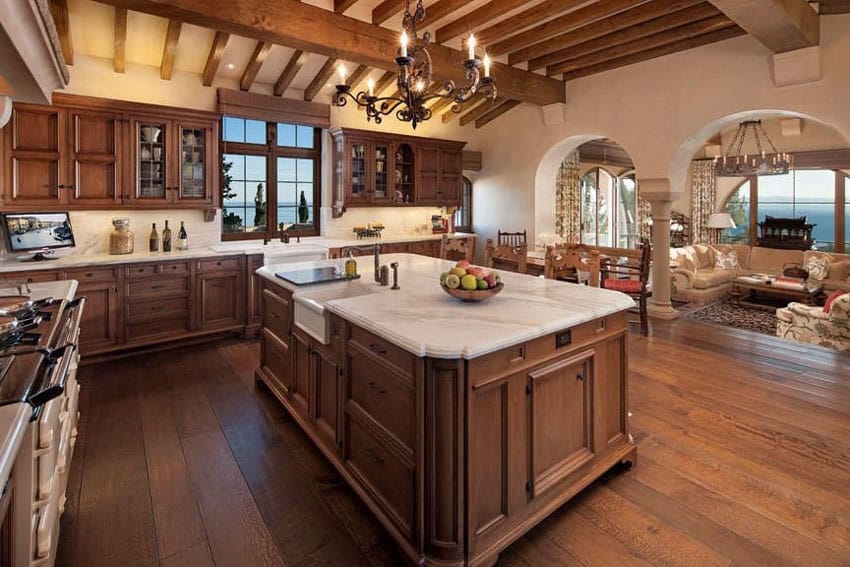 The Craftsman kitchen design is generally classified under the traditional style and it is commonly featured in country homes, bungalows and American houses. However, its simplicity, classic beauty and authenticity makes it also fitting for contemporary settings.

The main attraction for Craftsman style kitchens are its stunning wooden cabinetry. Overall, craftsman style kitchen cabinets are popular for their utilitarian nature. Putting emphasis on functionality more than ornamentation, craftsman style kitchen cabinets are governed by three primary design principles : clean lines, minimal ornamentation and high quality construction. Despite of being purely utilitarian in nature, craftsman style kitchen cabinets became well known in the home design scene for its highly captivating and stunning design.

Here are some other notable characteristics of Craftsman style kitchen cabinets:
Characteristics of Craftsman kitchen cabinets design
Straightforward design – Clean lines and basic forms make up the signature look of Craftsman style kitchen cabinets. It is characterized by a "no fuss" design and is governed by simplicity.
Minimal ornamentation – Unlike most traditional kitchen cabinet styles, Craftsman style kitchen cabinets do not feature elaborate decorative details such as crown moldings, cornices, plinths, corbels or legs.
Use of natural materials like durable solid wood – Craftsman style kitchen cabinets take inspiration from nature, thus it only makes use of natural materials such as rich solid woods in their natural colors.
Rich color palette – In general, Craftsman style kitchens take color inspiration from nature, thus its color scheme is dominated by earth tones such as shades of brown, golds and greens. Craftsman style kitchen cabinets are typically left in their natural color, rather than being treated with another hue using an opaque paint.
Focuses on functionality and a sturdy build – With functionality in mind, Craftsman style kitchens are built to cater to the user's needs, together with the goal of creating a long lasting design that can stand up to the wear and tear of everyday use.
Showcases fine craftsmanship – Craftsman style kitchen  cabinets  give more emphasis on high quality craftsmanship through the use of authentic details such as fine joinery techniques.
Timeless beauty – Aside from its practical benefits, Craftsman style kitchen cabinets possess a classic beauty that can stand up to the test of time.
Cabinet hardware and fixtures in deep or dark finish – Craftsman style kitchen cabinets make use of functional pulls and  handles with simple designs. These are typically finishes in a deep or dark color to give the cabinets an antique feel.
Built in furniture as part of the cabinetry – Built in furniture such as breakfast nooks are often incorporated as part of Craftsman style kitchen cabinetry for maximum functionality and to highlight fine craftsmanship through furniture like details. The practical benefit of an added seating area is that it eliminates the need for additional furniture pieces like a table and some chairs which may take up extra space in the kitchen. A small breakfast nook which features a solid wood bench matched with a built in dining table serves as a seating area for casual dining and entertaining with family or friends.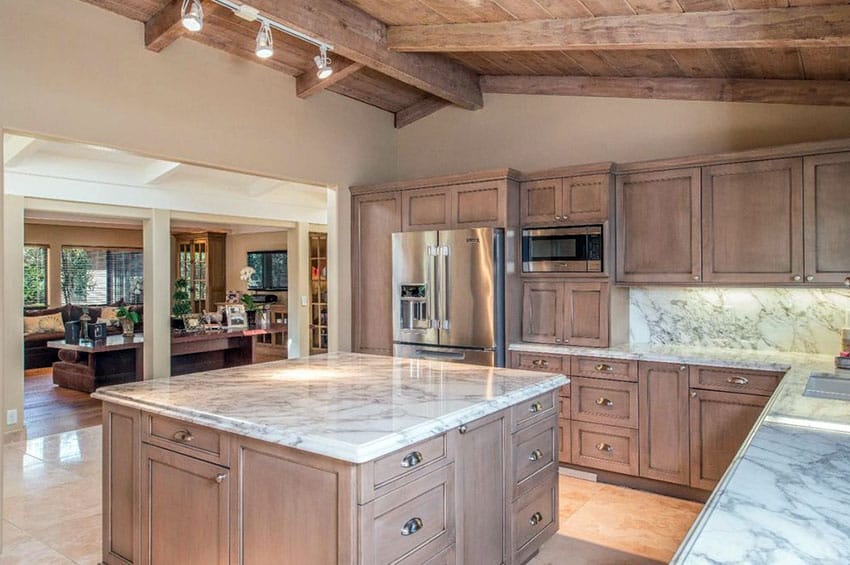 Materials used for Craftsman kitchen cabinets design
To stay true to its roots and authenticity, Craftsman style kitchen cabinets only make use of natural materials. The cabinetry, being the main feature in this kitchen style, needs to made up of a material with distinct inherent beauty and high durability. Rich woods define the authentic Craftsman style of kitchen cabinetry.
Dark, hardwoods are more common for Craftsman style kitchen cabinets, as opposed to lighter woods. True craftsman style kitchen cabinets make use of heavy woods such as oak, cherry, pine, maple and hickory.
Quarter sawn oak is the most popular species of wood used for Craftsman kitchen cabinets design. The inherent golden color and knotty appearance stands out more when used for exquisite kitchen cabinetry.
Oak may also contain streaks of yellow, green and black, depending on the mineral deposits present in the wood. White oak and Red oak can both be used for Craftsman style kitchen cabinets. Red oak has a warm color that has a slightly reddish, yellowish undertone to it. White oak, on the other hand, has a more golden color and a more subtle graining pattern, which makes it a rich material for Craftsman style kitchen cabinets. White oak is stronger than red oak, but the former is more expensive,.
Pine can also be stained into a darker color for a more luxurious look. Pine is usually pressure treated before use for cabinet construction. Species of pine which are abundantly used for kitchen cabinetry are Western white pine and Eastern white pine. When used for Craftsman style kitchen cabinets, pine wood's inherent beauty is enhanced with the use of clear or dark wood stains.
Cherry wood is another favorite for craftsman style kitchen cabinets. Cherry has a natural deep brown color with a reddish undertone. It's fine graining pattern and rich color contributes a luxurious and opulent look for traditional kitchen settings. Since Craftsman style kitchen cabinets are designed to last for years, Cherry wood makes a perfect choice, as it ages gracefully and changes into different colors over time. Cherry wood is also highly durable and can stand up to the wear and tear of everyday use.

Aside from pine and cherry, maple is another perfect material for Craftsman style kitchen cabinets. Maple has a smooth and uniform appearance that is accentuated with a fine graining pattern. Maple is a light colored wood, and its tones range from creamy white to reddish brown. When finished with a clear stain, its distinct whitish color stands out, however it can also be treated with any stain color as it accepts finishes well.
These woods are typically treated with a coat of clear stain to enhance their natural graining pattern or alternatively, stained with a darker color to produce a richer and more luxurious look.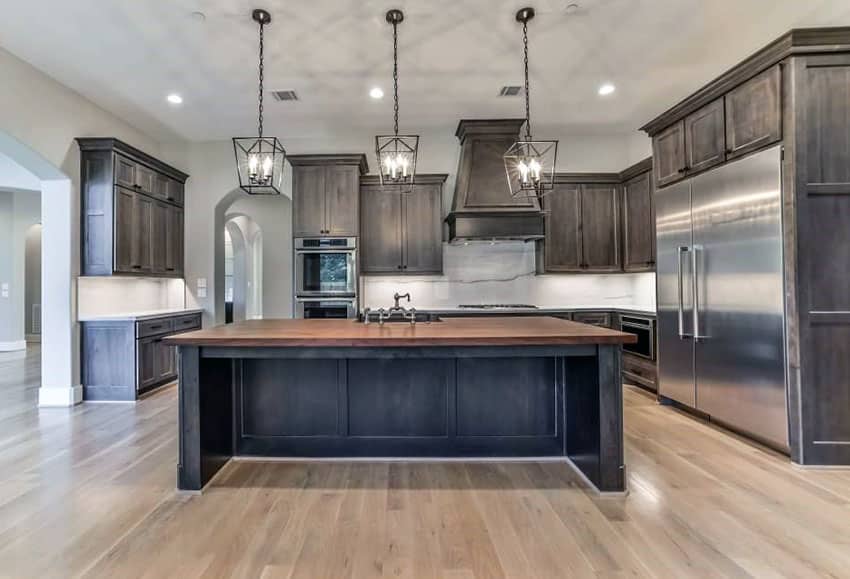 Finishes for Craftsman kitchen cabinets design
Craftsman style kitchen cabinets also put emphasis on the natural beauty of wood. So instead of covering with a coat of opaque paint, wood cabinetry are often enhanced with finishes that show their natural graining pattern more. Craftsman style kitchen cabinets can also be left unpainted, unfinished or true to their natural state, allowing their inherent distinct beauty to stand out, while giving the kitchen a more rustic feel. Or alternatively, it can be coated with a deep color of stain for a lustrous, warm look.
Staining – There is no other finishing technique that can amplify the beauty of real wood other than staining. Staining is the primary finishing technique that is used for Craftsman kitchen cabinets. It is a process that involves the application of a coat of colorant mixed with a finishing agent such as shellac, lacquer, varnish or polyurethane, in order to enhance the natural color of wood. This technique makes the natural graining pattern of wood prominent and gives kitchen cabinetry the full genuine, handcrafted look of solid wood  cabinetry. The knots and grains of the wood typically absorb more stain, leaving them with a more profound color and a highlighted appearance.Wood stains are very easy to apply, requiring only a piece of cloth and a simple hand rubbing technique. It is also less expensive compared to other finishes.
Painting –  Compared to staining, painting is seldomly used as a finishing for Craftsman style kitchen cabinets. As mentioned, the signature look of Craftsman style kitchen cabinets are rich, dark and heavy woods, and with that in mind, it is not necessary to conceal the natural graining pattern of wood nor treat them with another color. However, for those who do not prefer the richness of solid woods, painting is a good option.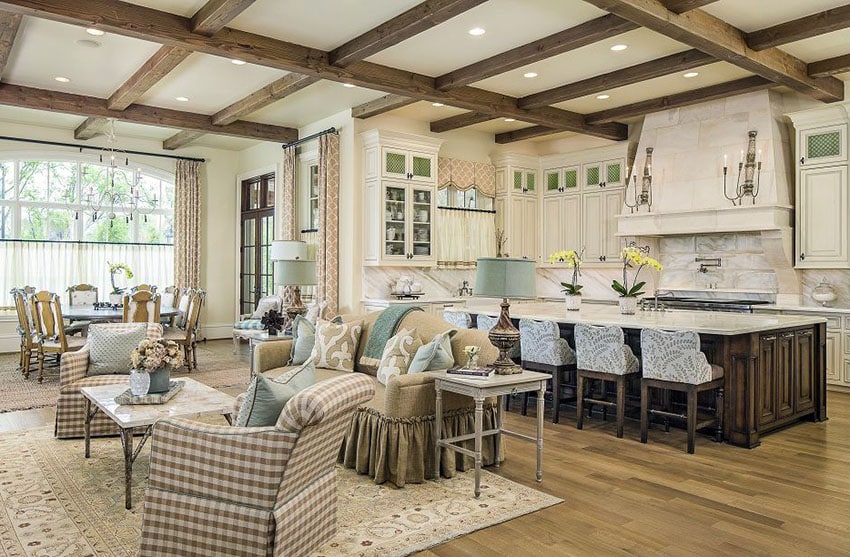 White paint can also be used for Craftsman style kitchen cabinets. As opposed to the heaviness and dramatic appeal of rich wooden cabinetry, white Craftsman style kitchen cabinets are more light, bright and airy. When using white paint, make sure to keep the other design elements in their natural color so as to keep their aesthetics at par with the true Craftsman style. Off white, cream and beige can also be used as an alternative to white.
Paint is also commonly used to create a contrasting island in Craftsman style kitchen cabinets. This design principle is popular for Craftsman kitchens as it brings some depth, dimension and contrast to the space, while also breaking the monotonous and heaviness of full wooden kitchen cabinets. When choosing a paint color for a contrasting island in a craftsman style kitchen, opt for muted hues such as olive green, gray or taupe.
Shellac finish – Shellac is also another type of finishing agent which can be used for Craftsman style kitchen cabinets. Although less popular compared to wood stains, shellac can also help bring out the natural beauty of wood, while giving them a protective layering that can last for years. The shellac finish has been used by woodworkers since the early 1800's.
Shellac has a very interesting origin, as it is derived from insects that are called "lac bugs" which are native to India and Thailand. It is essentially a type of resin, that is secreted by the insects and scraped from the barks of trees. The collected resins are then processed and sold as dry flakes which are light brown to orange in color.
Shellac that is used for woodworking is already dissolved and mixed with alcohol to make it more pliable and applicable. Typically, woodworkers use a mixture of two pounds of shellac flakes per every gallon of alcohol. Shellac in this form can be purchased from local home improvement stores.
Shellac can be used as a sealer for cabinetry before the application of a wood stain, or it can be mixed with colorants to give wood an entirely different look. Woodworkers apply shellac using two methods, namely padding and brushing. Brushing shellac takes long, even strokes with the use of a china bristle brush. Padding, on the other hand, makes use of a medium weight cotton muslin cloth to apply single, long strokes over the wood. The padding technique may sometimes require a form of lubricant, such as mineral oil, to ensure a smoother application process. The mineral oils will not affect the color of the cabinets. The final process for a coat of shellac is sanding. Compared to other finishing materials, shellac dries quickly that is why it requires a careful and even application to avoid blotchy areas.
The final result of the direct application of shellac over a wooden cabinet is a high gloss surface. But the sheen can be lessened through buffing. A more satin finish can be achieved using a steel wool and non silicone based paste wax.
However, when choosing the shellac finish for your Craftsman style kitchen cabinets, it is good to take note of its drawbacks. Shellac can not stand up to water and heat . When exposed to water, it becomes dull and may develop white spots over time.  However, repair can be simple as the water spots can be corrected by rubbing alcohol through a pad.
Other than wood stains, other top coats which can be used to improve the natural beauty of solid wood Craftsman style kitchen cabinets is varnishing. However, this finish creates a more lustrous and shiny look and is less preferred for the Craftsman kitchen style.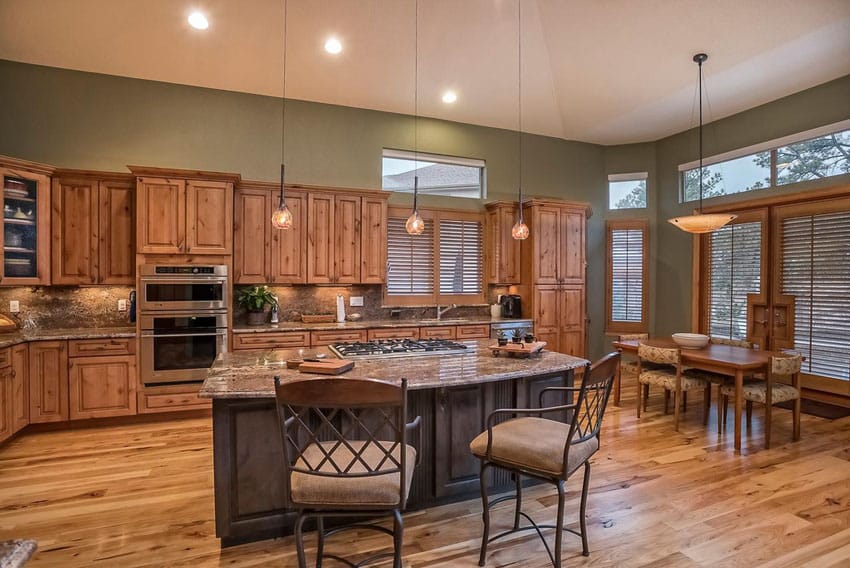 Colors for Craftsman kitchen cabinets design
Craftsman style kitchen cabinets are also characterized by their strong, deep colors which give a rich feel to the space. The Craftsman style takes inspiration from nature and its color palette is dominated by neutral tones and earth colors. Typical color schemes include shades of browns and tans and shades of green like rich moss greens or forest greens. Other popular accent colors are rich honey tones, golds, rust and deep oranges.
Craftsman style kitchen cabinets can also lend an antique feel to a kitchen, and for this reason they're often used with rich colors. This distinct richness and nature inspired theme is displayed through the dominant use of wooden cabinetry in natural shades of brown. Other alternative for Craftsman style kitchen cabinet colors are white, off white, cream, soft browns, tans, grays, rust colors and shades of green.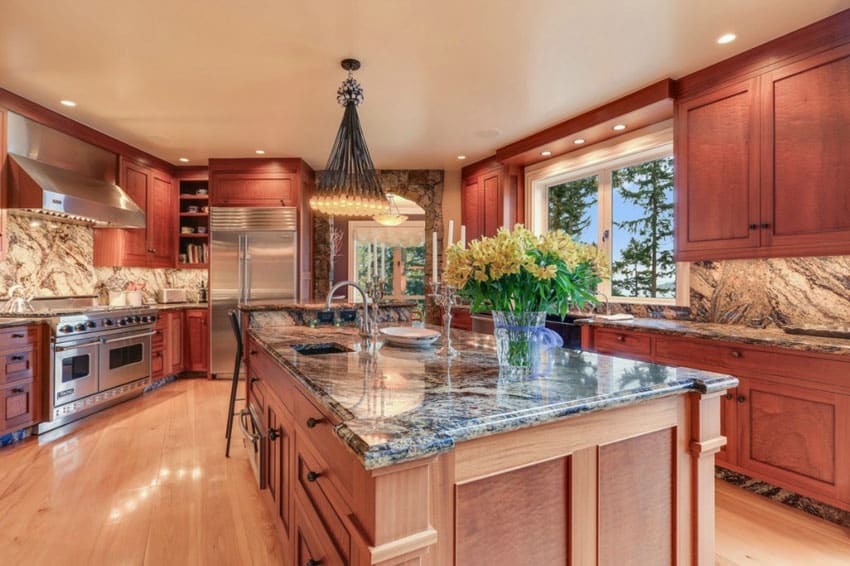 Most commonly used details in Craftsman kitchen cabinets design
Craftsman style kitchen cabinets do not put emphasis or ornamentation and favors functionality and a sturdy build. This kitchen cabinet style often feature simple paneled doors with very simple mill work such as a plain wooden trim which borders the central panel of the cabinet.
Furniture quality details are an integral facet of Craftsman style kitchen cabinets. Instead of showcasing heavily detailed carvings and elaborate ornamentation, it features joinery instead. Wood joinery are a mark of fine cabinet craftsmanship. A basic concept in woodworking, traditional wood joinery techniques are used by craftsmen to attach components of a cabinet or furniture together without the use of nails or screws. The wood pieces are typically cut in a certain manner, to make them fit with each other, then is reinforced with a form of binder or adhesive. Aside from producing a clean and uniform appearance, wood joinery techniques give cabinetry and furniture added strength, durability and toughness.
True Craftsman style kitchen incorporate fine wood joinery techniques. There are several kinds of wood joints used in Craftsman style kitchens cabinets to give them a more sturdy build. Below are some example of common wood joineries used in Craftsman style kitchen cabinet design.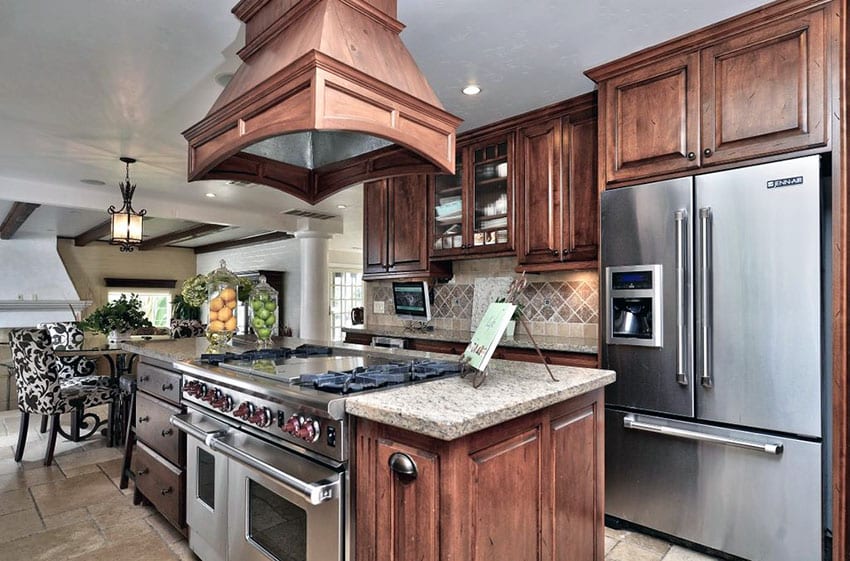 Types of wood joints for Craftsman style kitchen cabinet design
Dovetail Joints – Dovetail joint are used to combine the ends of two board together at a right angle. Dovetail joints have fingers that are interlocked together by diagonal cuts. These fingers have a trapezoidal shape that resembles dove tails, thus the origin of their name. A series of "pins" are cut to extend from the end of the boards, the fitted in between the spaces of the other board, to interlock with the "tails".
Among the types of woodworking joints, dovetail joints are the strongest type used in cabinet making. Dovetail joints are typically used in constructing drawer boxes, specifically for joining the drawers sides to the front. It does not require any mechanical fasteners and ensures a tight fit between the drawer components. The dovetail joint is also often referred to a fantail joint or a swallow tail joint and it has several variations such as the through dovetail, half blind dovetail, secret mitred dovetail, secret double lapped dovetail and the sliding dovetail.
Mortise and Tenon Joints – Mortise and tenon joints are known for their superior strength, which makes them one of the best joints for cabinetry and furniture making. Mortise and tenon joints involves one board with a stub or "tenon" and another board which has cut hole called the "mortise". To join the two pieces of wood together, the tenon is inserted into the mortise, connecting them in a 90 degree angle. The joint may either be reinforced with an adhesive, glue, pin or wedge to secure it in place better.
Mortise tenon joints are a trademark for Mission style furniture, however they are also used for Craftsman style kitchen cabinets. Although typically used to join major members of a furniture together such as chair legs to rails, stretcher to rails or slats to rails, mortise and tenon joints are traditionally employed to attach "frames and panels" together in cabinetry. Mortise and tenon joints are very simple, but proven to be sturdy.
Mortise and tenon joints also have different variations such as the keyed, blind, doweled and doweled through. The mortise and tenons also take different shapes, separately. Mortise have different types such as the open mortise, stub mortise, through mortise, through wedged half dovetails and wedged half dovetail. While the types of tenons are stub tenon, through tenon, loose tenon, pegged tenon, biscuit tenon, tusk tenon, top tenon, teased tenon, hammer headed tenon and half shoulder tenon.
Butt Joints – The most basic woodworking joint is the butt joint. Butt joints are simply two pieces of wood that are joined together at the ends, often at a ringle position, with no special shaping or cut outs on the wood involved. As the name suggests, the pieces of wood are simply butted into one another or on an edge-to-edge position. Although it is the easiest to build, it is considered to be the weakest of all wood joinery techniques. As a reinforcement, mechanical fasteners, nails, screws or dowels.In terms of kitchen cabinetry construction, butt joints are typically used for four sided frames and boxes.
Dowel reinforced butt joints are a very common method used for constructing Craftsman kitchen cabinets. In this variation, the butt joint incorporates a dowel that is placed in between the wooden members.This is frequently used for cabinet carcase and frame construction. Other types of reinforced butt joints are screwed butt joints, biscuit reinforced butt joints, butt joints with pocket hole screws and nailed butt joints.
Dowel Joints  – Dowel joints connects two pieces of wood together through the use of "dowels" or pegs that are inserted into pieces of wood that has holes. The drilled holes catch the pegs and ensure a strongly fastened joint. Dowels may also be used with other types of woodworking joints to reinforce their strength. These dowels are typically inserted in between the two pieces of wood, functioning in the same way a nail functions.
This wood joinery technique involves drilling a series of holes into a surface of each wooden member. The holes are drilled using a dowelling jig to ensure its precise placement and accurate size. The exact placement of the holes is very critical in this joinery method to ensure that the wooden members are perfectly lined up with each other. Dowels are inserted into some the holes and fastened with glue.
Dowel joints are much stronger than butt joints. However, they are not as sturdy as a dovetail joint. They are common in both frame and carcase construction, but not recommended for high quality furniture. Dowel joints can be used for face frame joinery, cabinet carcase construction specifically for joining the carcase sides to the top and bottom, for fixed shelvings and interior cabinet partitions.
Mitered joints – Also called as "miters", mitered joints are similar to a butt joint, but rather than being cut straight, the wooden members are beveled at a 45 degree angle. The wooden members are joined together to form a corner, resulting to a 90 degree angle. Miter joints in itself can be quite weak, but it can be strengthened through the use of splines.

Mitered joints produce an aesthetically pleasing surface because it does not show any end grain as compared to a butt joint. The overall result is a flushed look. Mitered joints are typically used for frame constructions.
Pocket joints – Pocket joints are constructed by cutting a slot and pre drilling a pilot hole at an angle, typically 15 degrees, between two wooden members. One of the wooden members is joined to the other with a self tapping screw. Glue or any form of adhesive is unnecessary for this type of wood joint because the screws function as internal clamps.
Pocket joints are typically used for cabinet face frames. This wood joining technique is very sturdy and can be used for similar applications which require a lot of strength. Other uses for a pocket joint are aprons, beveled cabinet corners and curves, edge bands, frameless kitchen cabinets, face frames, cabinet frames and carcase.
Other types – Other types of wood joinery techniques used for Craftsman style kitchen cabinet frame and carcase construction are dado joints, rabbet joints, biscuit joints , box joints and finger joints.
Craftsman Style Kitchen Cabinet Doors
A mentioned earlier, Craftsman style kitchen  cabinets focus more on functionality rather than ornamentation, thus the result is a straightforward and simple cabinet door design. Craftsman style kitchen cabinets typically  feature basic aesthetic elements such as square or straight edges.Some examples of popular kitchen cabinet door designs used for the Craftsman style are flat panel doors, recessed panel doors or  simple framed glass doors. In some cases, leaded glass doors are also used.  
Flat panel doors – Flat panel doors have a clean and unornamented design. These cabinet door design is characterized by a flat center panel, rather than being raised, recessed or contoured. It renders a clean and sleek feel to Craftsman style kitchen cabinets and can be used for traditional, transitional and even contemporary kitchen settings. Flat panel doors work perfectly for Craftsman style kitchen cabinets because of their simplicity, defined lines and minimalist aesthetics.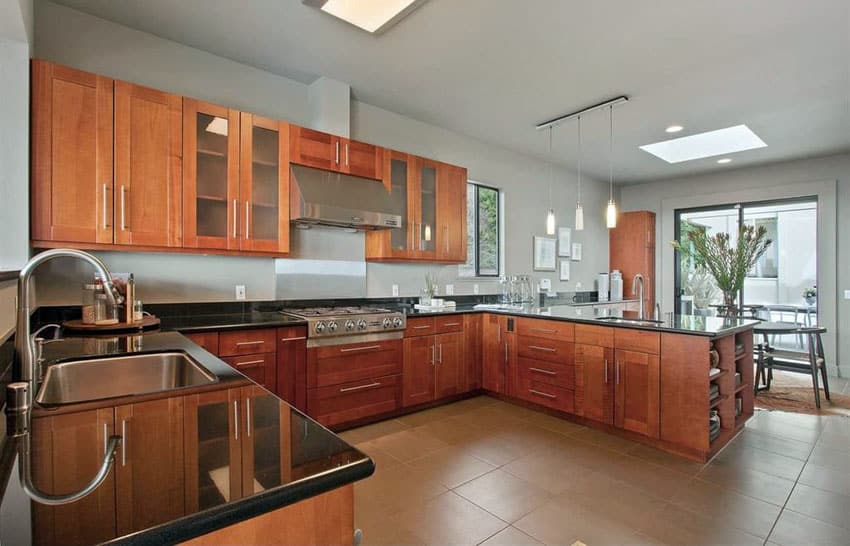 Recessed panel doors – Recessed panel doors also commonly used for Craftsman style kitchen cabinets. Compared to raised panel doors which fit elaborate traditional kitchen styles, recessed panel doors are less ornamented. This type of kitchen cabinet door design has a center panel which is slightly below the rest of the kitchen cabinet components. The popular Shaker style kitchen cabinet design is a type of recessed panel door.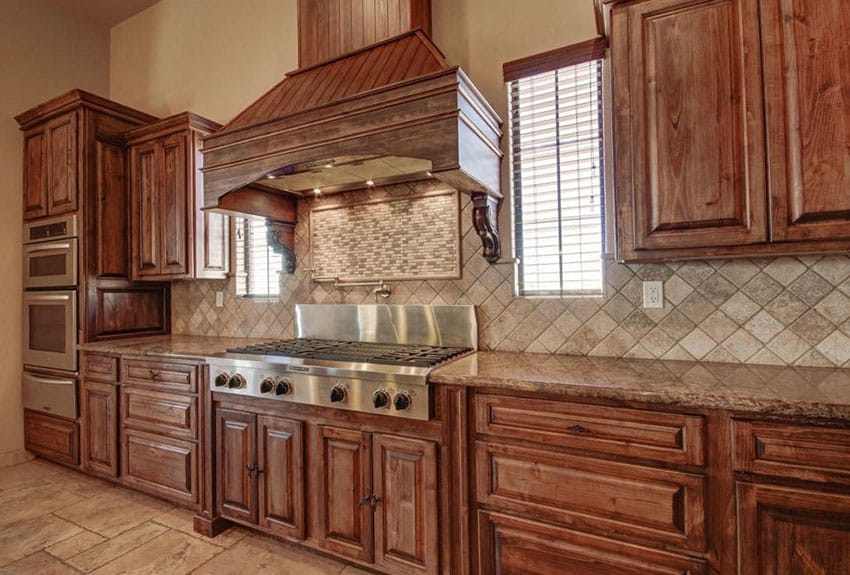 Raised panel doors – For raised panel cabinet doors the center part of the door is slightly raised creating an additional dimension. Not all raised panel doors are alike with some featuring a simple frame while others may offer a stepped design. Raised panel cabinets are good for highlighting the unique characteristics of the wood grain and its color.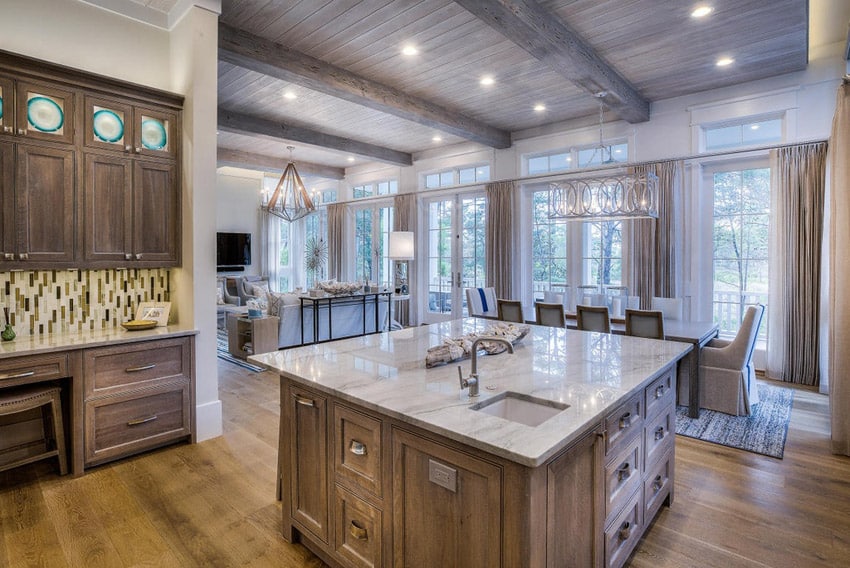 Shaker style doors – Shaker style cabinet doors are a popular kitchen cabinet door design that is commonly found in transitional, contemporary and traditional kitchen settings, such as the Craftsman style kitchen style. By definition, Shaker style kitchen cabinet doors are five piece doors with have a recessed panel. The Shaker style cabinet door is also characterized by a simple, functional aesthetics. Fitting the key characteristic of craftsman style kitchen cabinets, Shaker style kitchen cabinet doors have a utilitarian design that veer away from the use of heavy ornamentation.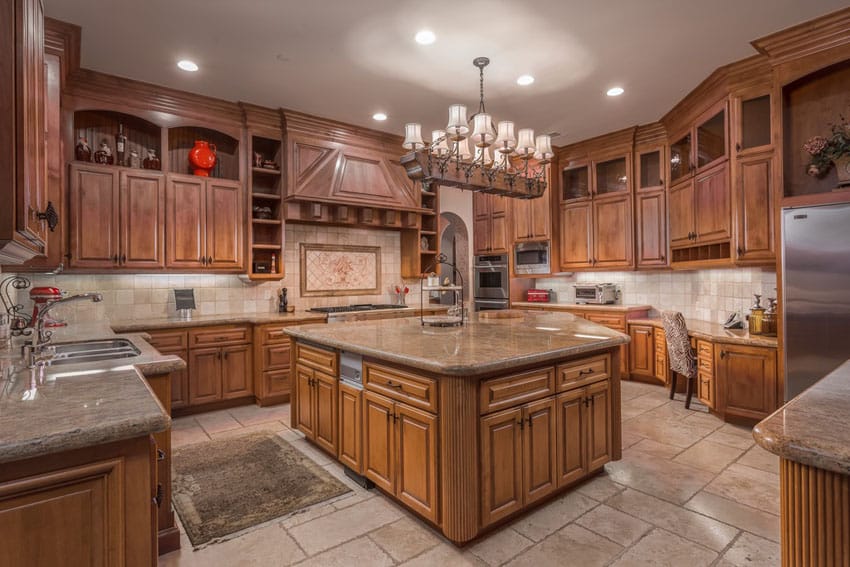 Accent cabinet doors – To add a little extra feature to Craftsman style kitchen cabinetry, accents doors are incorporated into its design. These are cabinet doors with glass inserts in mullion style design or in a single panel design. Accent doors are a great way to break off the heaviness of rich, wooden kitchen cabinetry. In addition to aesthetics, they also contribute practical benefits as the contents of the cabinets are more visible.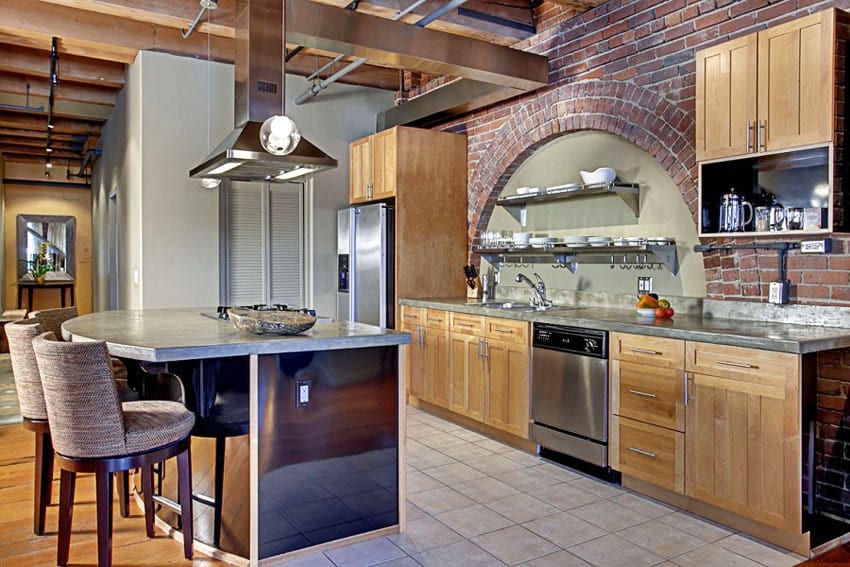 Frameless cabinet doors – Construction wise, Craftsman style kitchen cabinets can also be frameless. Frameless cabinetry offer better functionality and a more sleek aesthetic compared to framed cabinets. Frameless cabinetry, as the name suggests,  do not have a face frame that is attached to the front of the cabinet box. They are sometimes referred to "full access" cabinetry as they improve the accessibility of kitchen cabinets. In addition, they also improve the storage capacity of drawers because space is saved by not having face frames. Frameless construction also gives kitchen cabinetry added strength and sturdiness, since the cabinet box or carcass is thicker.  In terms of design, frameless cabinetry have a more simple aesthetic which fits the design requirements of Craftsman style kitchen cabinets.
Craftsman Kitchen Cabinets in White
The richness of deep, warm colored wooden cabinetry makes up the foundation of stunning Craftsman style kitchens. But not everyone prefers this look because dark colored woods can be quite heavy on the eyes, especially when used dominantly in a space. A good way to tone down the heaviness of Craftsman style kitchen cabinets is to paint them in a neutral color instead of a stain. And the most popular alternative to natural colored wood cabinets are white cabinets. Changing the color of the cabinets  from its natural color to white is alright ass long as the design details for the kitchen cabinetry and other elements in the kitchen are still intact with the Craftsman style.

Craftsman kitchens with white kitchen cabinets are more easy on the eyes and offer a lighter and brighter atmosphere. Compared to dark, rich wooden country kitchen cabinets, white cabinets have a more toned down and laid back vibe. White cabinetry also reflect natural light better, thus the space looks more illuminated.
White craftsman style kitchen cabinets work particularly well for small kitchens. Dark colored wooden cabinetry has the tendency to make a space feel more cramped to white colored kitchen cabinets create an illusion of a bigger space.
Another advantage of white craftsman style kitchen cabinets is that they are very versatile and flexible when it comes to design. It provides diversity when it comes to pairing with different finishes for the flooring, walls, decor, furniture and furnishings. It allows you to work with more options for countertop materials  and also look luxurious when paired with natural stone countertops. A neutral backdrop also creates a flexible setting for introducing splashes of color throughout your palette – like dark colored light fixtures, artisan tile backsplashes, earth colored walls and wooden floors, all of which tantamount to an authentic Craftsman style kitchen.
White kitchen cabinets also offer the perfect way to give Craftsman style kitchen a fresher look. It never goes out of style and is considered to be a timeless color which proves to be a classic choice that can stand up to the test of time.
When using white paint for Craftsman style kitchen cabinets, opt for creamy tones such as beiges or off white. Bright shades of white are more fit for the modern setting. In terms of cabinet hardware, white Craftsman style kitchen cabinets are best paired with black colored pulls, knobs and handles as they bring in added visual interest to the space using contrast.
Craftsman Kitchen Cabinet Hardware (Types and Finishes)
The craftsman style kitchen gives its own unique touch even up to the smallest detail of the kitchen design.  Conforming to the main design principles of the true Craftsman style kitchen, Craftsman style kitchen cabinet hardware have three basic attributes : (1) functionality, (2) strong architectural form and (3) a deep or warm finish.
Craftsman style kitchen cabinets are geared toward full functionality and maximum accessibility. With these in mind, Craftsman style kitchen cabinet hardware are usually large and easy to grip. In general, they have a no frills design that is easy to operate. They have no extra embellishments which may obstruct the cabinet hardware itself.
When it comes to design, cabinet hardware typically have a strong architectural style and defined lines. Compared to other traditional style cabinet hardware, which are ornamental, Craftsman style kitchen cabinet hardware do not have elaborate details such as intricate engravings or overly decorated backplates, however they can still have minimal decor like simple geometric lines and shapes.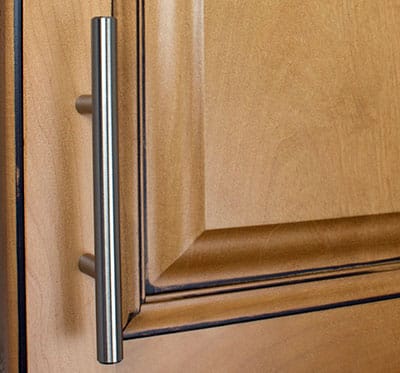 Some examples of types of cabinet hardware that are well suited for the Craftsman style are wire pulls, chunky cabinet handles, bin pulls and knobs. Artisan made hardware is also popularly used for this type of kitchen cabinets.
See more craftsman style door hardware on Wayfair
Here is an in depth description of the characteristics of the different types of Craftsman style kitchen cabinet hardware:
Chunky and architectural cabinet handles – Cabinet handles for Craftsman style kitchen cabinets are typically large and chunky as they are easier to hold. Craftsman style kitchen cabinet pulls and handles are typically made of metal, rather than wood,  plastic or ceramic. Compared to the regular kitchen cabinet pull, Craftsman style cabinet hardwares have sharper aesthetics and the lines are more defines. They typically have a large backplate that is accentuated with geometric shapes like a series of cut out squares and a protruding square or circular knob in the middle. Other have a fixed rectangular shaped backplate with a drop handle or a hanging pull that dangles.
Other popular cabinet handle design for Craftsman style kitchen cabinets are flat bars, drop pulls, ring pulls and pendant pulls. Aside from well defined rectangular and square shapes, Craftsman style kitchen cabinet handles may also have rounded edges or a slightly curved profile.
Cabinet pulls and handles for Craftsman style kitchen cabinets are typically black or deep brown in color.
Cup and bin pulls – Cup and bin pulls are tantamount to the traditional kitchen cabinetry design. Their old fashioned beauty and vintage feel makes them the perfect cabinet hardware for Craftsman style kitchen cabinets. Cup and bin pulls are known for their half moon or semi circular shape. This type of kitchen cabinet handle is installed with the open side facing downward and can only be operated from one side.  Cups and bin pulls are typically used for drawers instead of swing cabinet doors. Overall, they provide a fresh look to traditional kitchen cabinet pulls and handles.
Knobs – Knobs are the simplest type of cabinet hardware because they are the easiest to install. They take on different shapes like round, square and oval. Knobs for Craftsman style kitchen cabinets are typically dark in color, with little to no ornamentation involved. Some antique knobs which can be used  for this type of kitchen cabinet style may include decorative details such as  contours which border the perimeter of the knob, while others may feature small embossed dots or lines.
Artisan hardware – Artisan hardware are cabinet pulls, handles and knobs that are traditionally made and handcrafted. These are usually made up of dark metals and have an aged finish. A popular example of artisan hardware is a barn door hardware. In terms of appearance, they have a classic aesthetic and is usually black in color.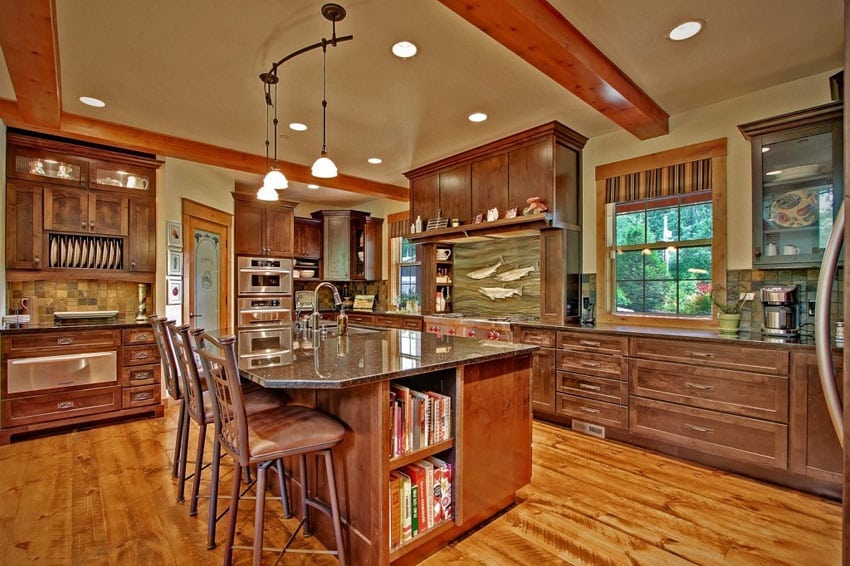 Hardware finishes  for Craftsman style kitchen cabinets design
The general appearance of Craftsman style kitchen cabinet hardware is antique, Old Word and timeworn. Aside from having a deep and warm color, they usually look "batten" or weathered.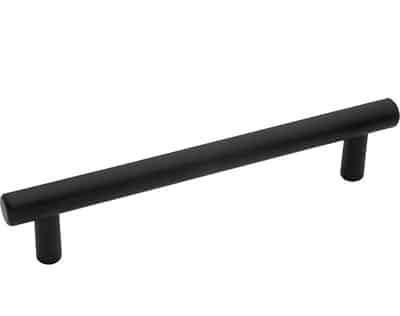 As a rule of thumb here is generally nothing too shiny in the Craftsman style kitchen when it comes to textures and finishes. Craftsman style kitchen cabinet hardware have a strong dark color and a deep, warm finish. Consider knobs, pulls and handles in an antique finish as they do not only give a historic feel, but they also match well with natural wooden cabinetry. These include oil rubbed bronze, antiqued brass, warm patinas and dark colored brushed antiques. Black metal hardware and pulls are also popular for this style.
Some of the common finishes for Craftsman style kitchen cabinet hardware are:
Black – The primary color and finish of Craftsman kitchen cabinet hardware, black brings a strong statement and bold contrast to wooden kitchen cabinetry.  Black comes in matte or gloss finish depending on the design style you like. Black kitchen cabinet hardware also reflects a vintage feel, and offers a the perfect way to offset the color of rich, dark wood kitchen cabinets.
See the matte black cabinet pull pictured here at Wayfair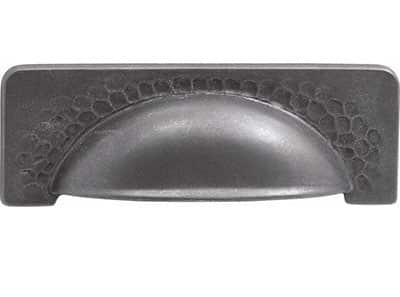 Old Antique – Old antique also bring a strong Old World feel to Craftsman style kitchen cabinets. It is characterized by a unique deep chocolate brown ad is well suited for both light, medium and dark colored wooden Craftsman style kitchen cabinets. The old antique finish also offers a timeworn appeal, which makes Craftsman style kitchen cabinets look more historic and time tested.
See the antique cabinet door pull pictured here at Wayfair
Venetian Bronze – Venetian bronze has a very dark color which is close to black, but has accents of deep brown undertones. It is darker than oil rubbed bronze and blends well with the richness or deep, warm colored Craftsman style kitchen cabinetry. Venetian bronze can also be paired with wooden cabinets that have a lighter color such as maple. Overall, Venetian bronze cabinet hardware finish adds a rustic vibe to solid wood kitchen cabinetry.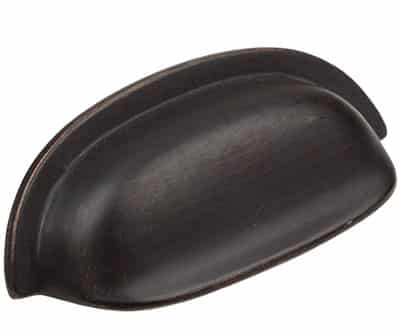 Oil Rubbed Bronze – Oil rubbed bronze simulates the appearance of aged bronze and is characterized by a very dark color which ranges from deep chocolate brown to dark gray with copper undertones. Compared to Venetian bronze, oil rubbed bronze has a lighter and more matte finish. Oil rubbed bronze brings a sophisticated flair to kitchen  cabinetry and is best paired with white Craftsman style kitchen cabinets. This finish also works for light colored woods like maple.
See the oil rubbed bronze door pull pictured here at Wayfair
Antique Iron – Antique iron has an weathered silvery color that is accentuated with dark grayish black blemishes. The appearance of antique iron cabinet hardware is weathered and filled with imperfections. One unique attribute which makes the antique iron finish stand out is that its inherent color changes depending on its exposure to light, so it can look either dark or light colored. Antique iron is perfect for Craftsman style kitchen cabinets because they create balance and contrast in the overall design.
Other types of cabinet hardware finishes which suits the Craftsman kitchen style are antique brass, aged bronze, antique pewter and antique brass.
To complete the look of you Craftsman style kitchen, pair antique cabinet hardware with matching faucets and other fixtures. Avoid sleek and lustrous cabinet hardware as they are often associated with a more modern style.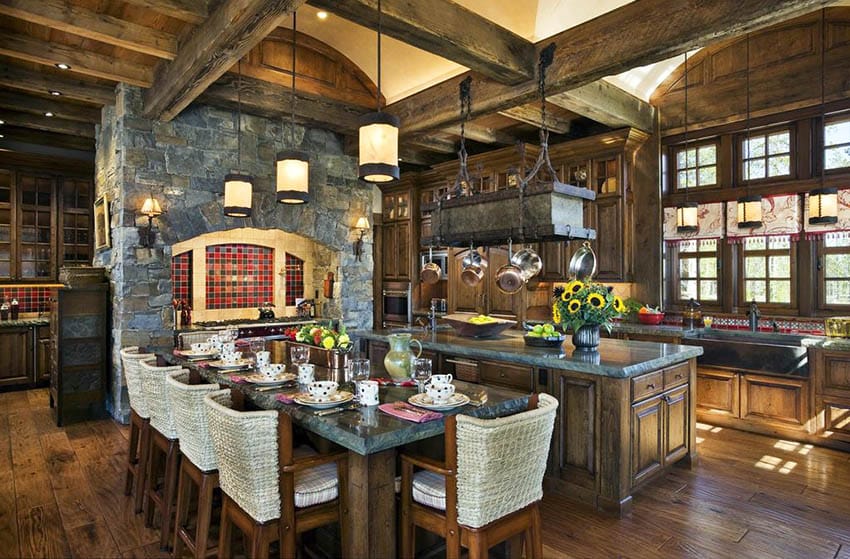 This beautiful dark wood kitchen showcases lovely raised panel cabinetry with glass door upper cabinets and antique style pull knobs. The transitional space includes plenty of room for a dining area, large island and custom stone range and oven alcove.