Welcome to our ultimate guide to shaker style cabinet doors including types of shaker cabinets, materials, design styles, cleaning tips, and pre-assembled & custom shaker cabinet ideas.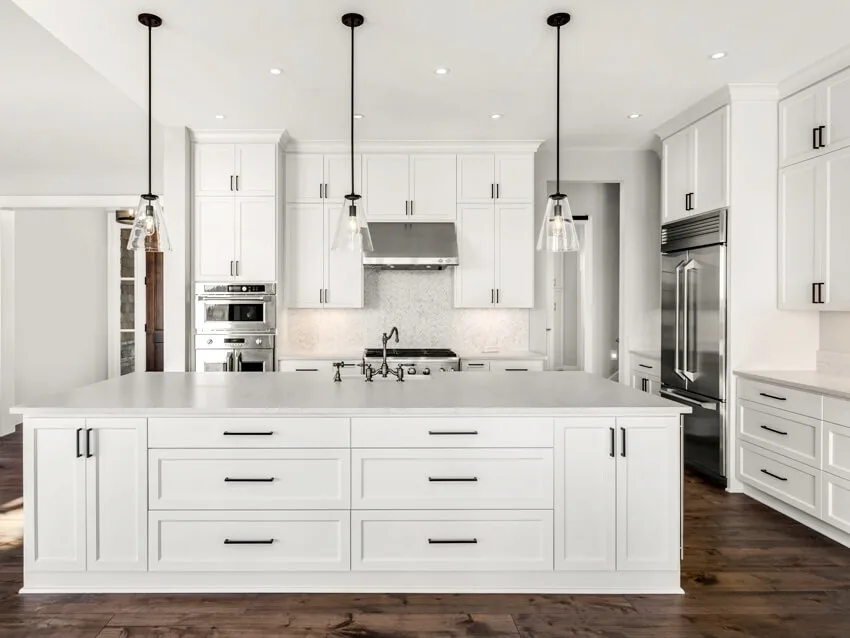 Designers, architects, and homeowners have a great appreciation for shaker style cabinet doors. This is due to their flexibility, rail-and-stile construction, less cluttered look and their versatile and timeless sophistication that are aesthetically pleasing in every home.
What Are Shaker Cabinets?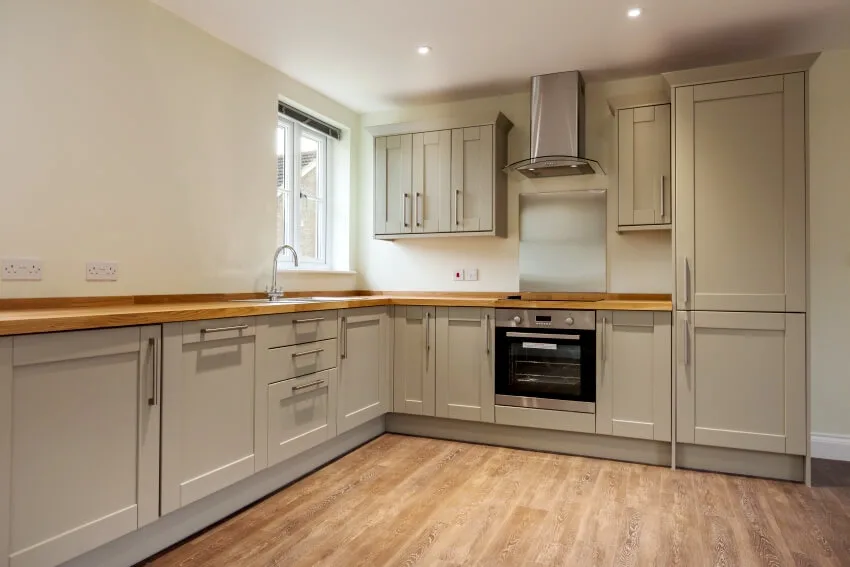 Clean lines, simplicity and using local American woods such as pine, maple, white oak, or even engineered options like mdf are the hallmark characteristic of the Shaker-style cabinets.

Shaker style cabinet doors are without veneers, inlays, or carving. The overall appearance of a Shaker cabinet door is a four-cornered frame with an inset panel.
The paneled doors, dovetail, solid wood frames, mortise, and tenon joints have become popular in many kitchens today.
A Shaker cabinet is composed of a panel, two stiles and two rails. The rail represents the inset panel's width-side overlay that fit between the vertical stiles which refers to the length-side overlay to form the frame with 90-degree angles.
Types Of Shaker Cabinets
There are a variety of different Shaker kitchen cabinet styles that are offered to get the look you want. Here's some of the popular cabinet design options.
Inset Shaker Cabinet Doors
The shaker cabinet doors are set within a frame and are constructed to fit the five-piece structure of the cabinet when closed. Inset cabinet doors are designed to sit flush against the face frame.
This type of Shaker cabinet highlights the simplicity of the design with a smooth, clean, streamlined appearance.
It increases the stability of the cabinets as the frame grounds them to the floor. Inset Shaker cabinet doors may have visible or hidden hinges and require knobs or handles to open them.
Full Overlay Shaker Cabinets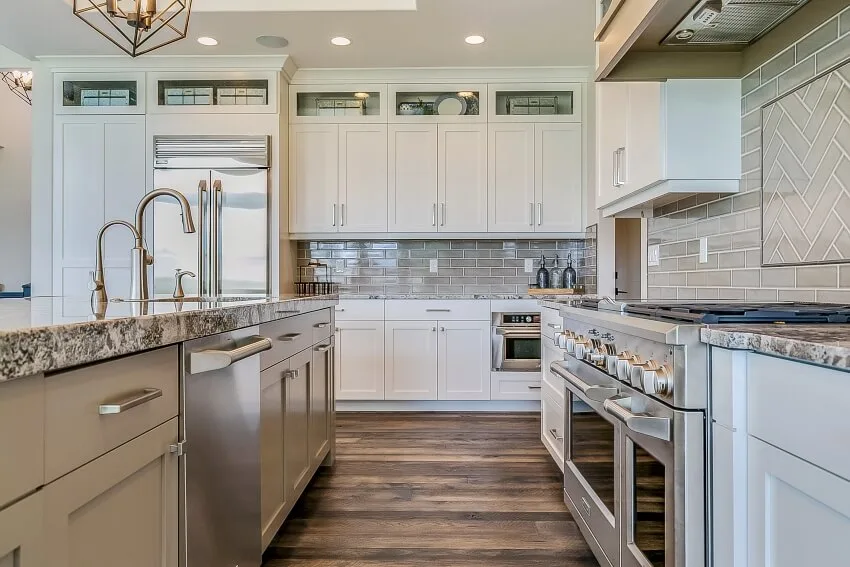 It is the most popular design and are preferred by most homeowners and designers alike. Full overlay doors are set outside of the frame and completely cover the cabinet face when closed and have no raised edges.
Full-overlay cabinets typically do not have frames and provides about an extra inch of space for the cabinet since the cabinet doors do not rely on actual cabinet space to close.
Cabinet hinges are hidden from view, has exposed corners and knobs, or handles are still needed to open the doors. Check our guide to knobs or pulls on cabinets here.
Partial Overlay Shaker Cabinets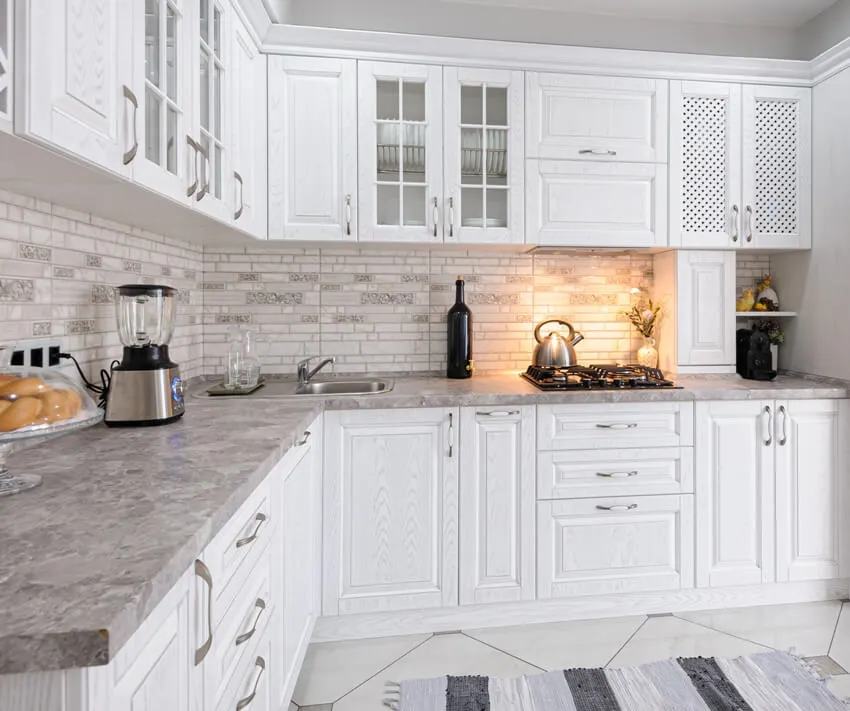 Shaker cabinets with a partial overlay are designed with half-inch overlay doors and drawer fronts. It has an inch to two inches of space around the sides between the cabinet doors and drawer fronts are the most visible and defining detail.
Another characteristic of a partial-overlay cabinet style is that there is a consistent strip of the frame visible across the entire face of the cabinets and creates a more traditional kitchen look. The framing and gaps enable the cabinet doors to be opened without any additional hardware.
Wide Vs Narrow Shaker Cabinets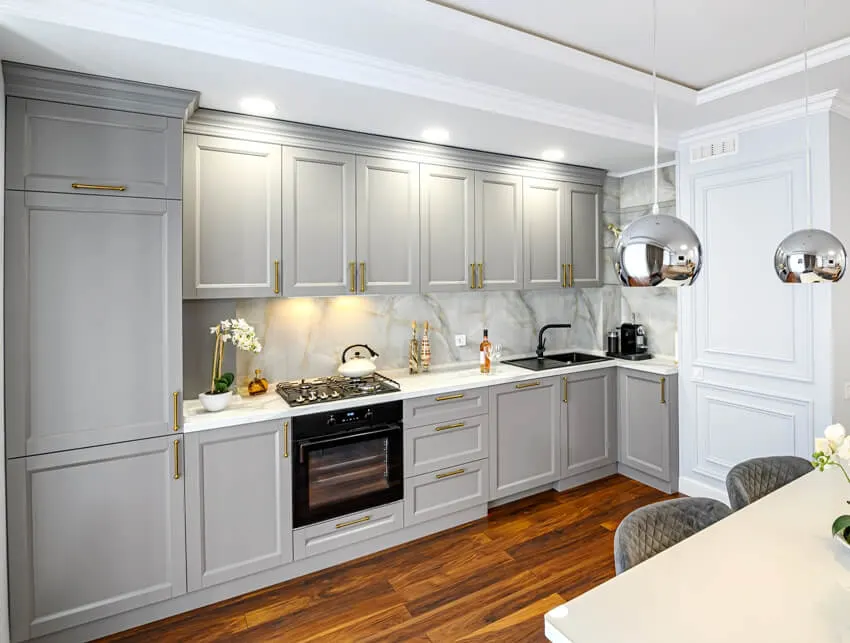 The size of your Shaker cabinets will vary based on your kitchen and is also determined by how much space you want between the doors when they lay closed.
Face-frame stiles for cabinets are always 2 inches in width, however for aesthetic purposes the stile may be altered by 1/2 inch depending on design. Though some custom cabinet makers use 3-inch stiles throughout the cabinet.
Any width you may opt for your Shaker cabinets, it is best that the stile should be continuous and have equal-width stiles on both sides, and equal-width rails at the top and bottom throughout the cabinetry.
With wide Shaker cabinet frames there is a possibility that you cannot get drawers in the same style since you will have difficulty putting hardware on the drawer without bumping knuckles since drawers can come in narrow skinny tray cabinets and some are pull-outs.
Moreover, these wide frames can limit your shelving and storage space options, which is why proper organization and storage solutions are essential.
While narrow Shaker cabinets with 2 ¼ inch wide rails and stiles are considered traditional, the wider rails & stiles have a more modern vibe.
However, it is also beautiful when you pair a shaker cabinet profile in with flat drawers for a touch of contrast, providing diverse storage solutions while maintaining the cabinet's functionality and style.
Pre-assembled Shaker Cabinets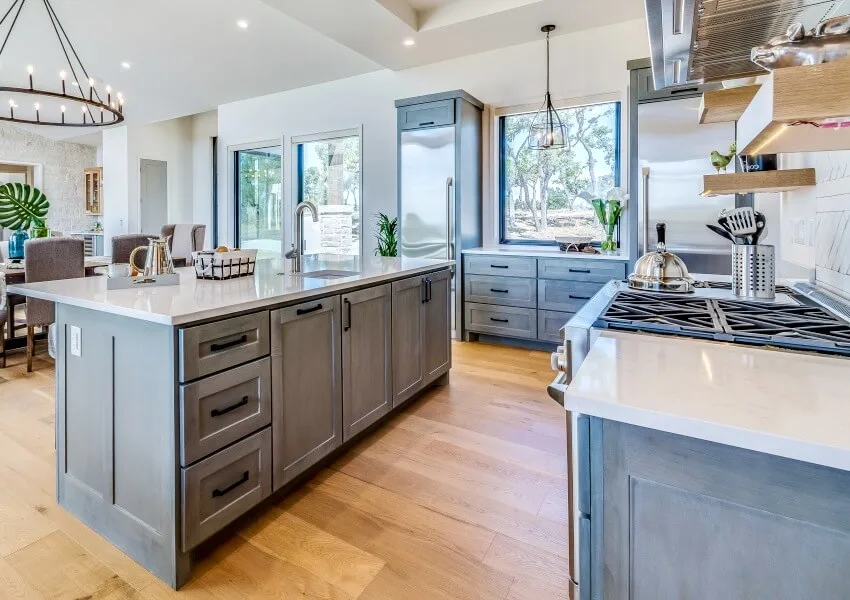 Pre-assembled cabinetry is a high-quality product, shipped already assembled by the manufacturer or supplier. Crafted from top wood species, these cabinets are a luxurious cabinet since the buyer does not need to put cabinet pieces together once delivered.
This allow them to be installed quickly, thus having the time-saving factor. They are made to offer DIY installation which you can install yourself.
Pre-assembled shaker cabinets are high-quality products and are made with outstanding craftsmanship assembled by professionals.
These shaker cabinets are made of top-quality products and guarantee durability and excellent aesthetic appeal. It is much more affordable option than having a custom-made kitchen cabinetry and fit it onsite.
However, pre-assembled shaker cabinets may have a longer shipping time and are slightly more expensive than flat pack kitchen cabinets. The warranty may not be as long as that of a custom-made kitchen cabinetry.
Custom Shaker Cabinets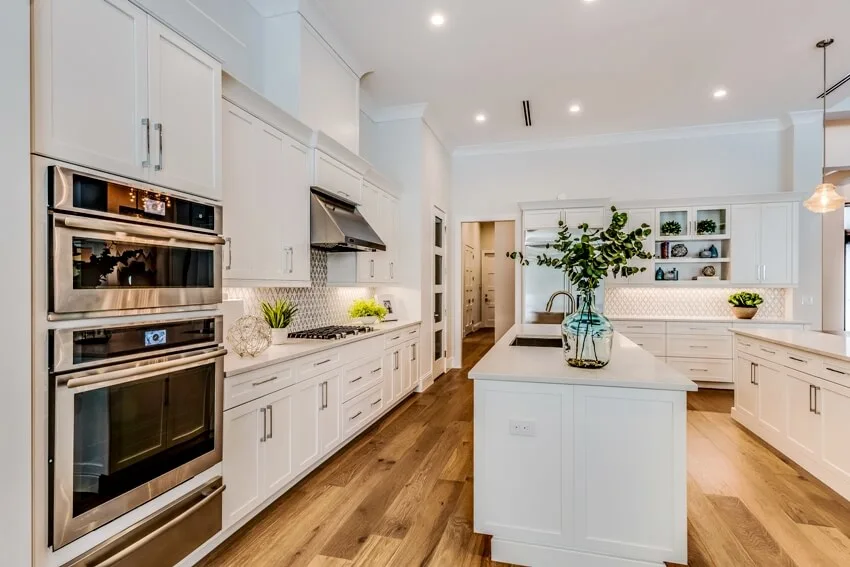 Custom shaker cabinets provide you with a quality personal customized selection of wood, style, finish, door styles, and hardware to address your goals and needs. They are built to fit uncommon kitchen layout or an unconventional floor plan, ensuring adequate storage space and organization.
Custom cabinet doors and drawers can be built to any size you specify and give you a fitted look unavailable with stock cabinetry. This custom approach ensures that your kitchen storage solutions are tailored to your needs.

Custom shaker cabinets are quality construction that is built to last. It also gives you a much broader choice of wood using local or domestic hardwoods that lessen the impact on the environment.
Cabinet making is an art and one of the best advantages of custom cabinetry is that the cabinets are constructed by talented, skilled craftsmen with a hands-on approach. Expert cabinet makers use only the topmost quality construction materials.
Shaker Cabinet Door Materials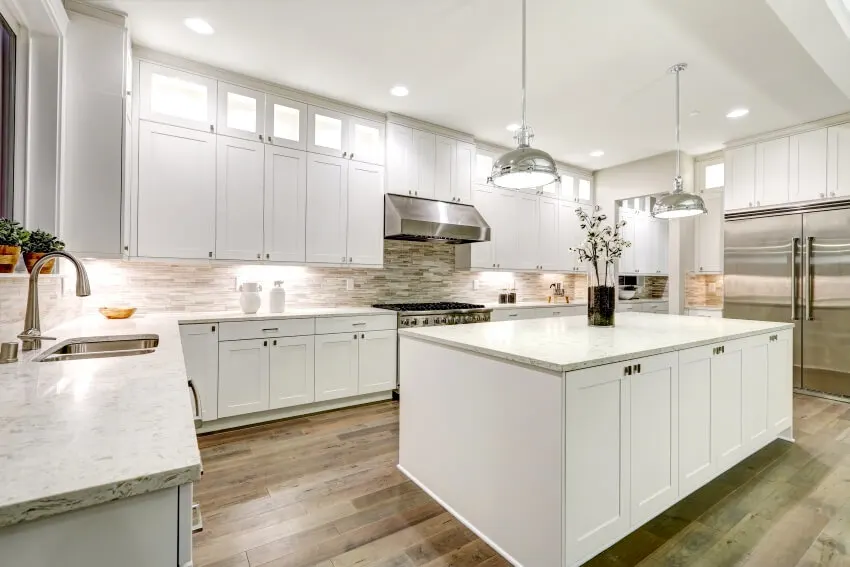 Shaker cabinet doors have a timeless look, and they are a popular style for kitchen cabinets, plus they are easy to build. If you have flat panel cabinets already, you can update them to be shaker style cabinet doors.
Usually, the recommended materials used for Shaker cabinet doors are 1×6 or 1×8 wood frame, ¼-inch matching wood panel or plywood and wood glue.
Shaker cabinet door frames are built out of four pieces of 1×3 solid hardwood lumber. If you want a painted Shaker cabinet door, a common closed-grain material options include softwood maple, pine, spruce, or fir.
These softwoods are easier to cut but not as durable as hardwood. For a more solid and substantial build, use hardwoods such as hard maple, oak, or birch. Hardwoods are more difficult to cut and are more expensive but would make a sturdier and more long-lasting solid door.
For the inset panel of kitchen cabinet doors, you may choose the same wood as the frames or any type of sheet wood that can be stained and coated or painted. Make sure that the inset panel has a 1/4-inch thickness, in a 4-foot by 4-foot panel.

Shaker cabinet doors use mortise and tenon joinery which allows you to construct cabinet doors without fasteners. These joints connect two pieces of wood. The side of the tenon is known as the cheeks of the joint for compact fitting and the depth of mortise for strength.
The mortise is the cavity into which the tenon is placed and should be one-third of the thickness of the stock. While the length of cheek should not be more than the width of the wood.
This type of joinery is also known as glue-only-joints where the wood pieces are held together with just glue. While painting the inset panel, ensure proper preparation by numbering the door for optimal results to avoid confusion.

How Much Do Shaker Cabinet Doors Cost?
Typically, shaker cabinet doors are one of the less expensive door options for your kitchen. For pre-assembled and ready to assemble Shaker cabinets, the cost varies depending on quality, availability, and the demand in the market.
Usually, a full kitchen in the shaker style may cost as much as up to $1,200 per linear foot while custom design is a pricier alternative. Solid wood is always the best choice when balancing price versus quality.
You could save money by buying unfinished and unpainted cabinets. However, this would necessitate an expenditure of time and energy and some skill to ensure they look professional.
The Shaker cabinet doors are also a great long-term investment because they can easily be refurbished. These are one of the less expensive doors options for your kitchen due to their versatility to fit into any type of kitchen. Its simple design helps keep the costs down.
What Hardware Looks Best On Shaker Cabinets?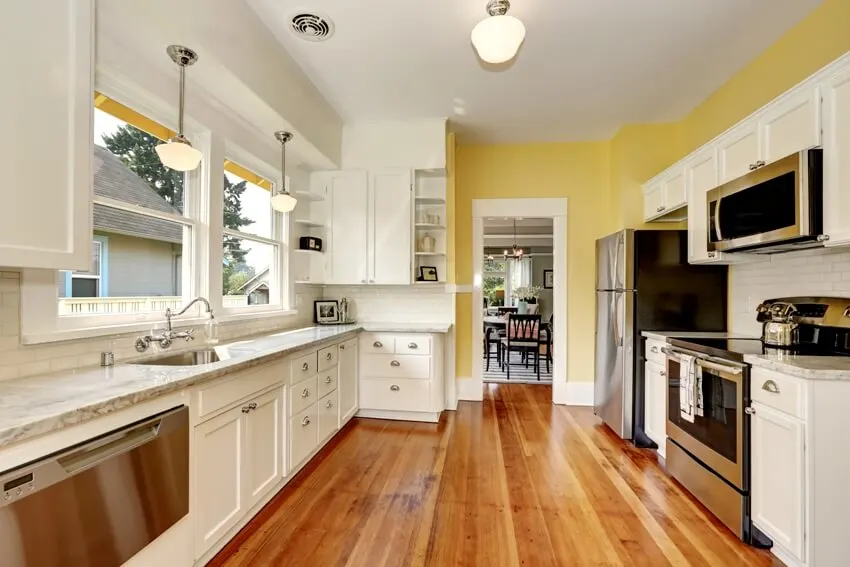 As versatile as it is and flexible style wise, Shaker cabinets can go either traditional or modern depending on what decorative elements you pair them with, such as hardware.
Cabinet hardware can really change the tone and overall style of your Shaker cabinets and it can really alter the overall look of your space.
Known for their simple, clean lines, you will see them paired with simple, unadorned cabinet hardware. A vintage-style kitchen with white Shaker cabinets is often designed with a combination of traditional nickel or steel knobs, on doors and timeless cup or bin pulls on drawers. If drawers are 30 inches or wider, it is recommended to use two bin pulls.
For a stained Shaker cabinet finish, you can create some contrast with the hardware by using a white glass knob. A vintage-style glass, also known as Depression Era glass, is a classic hardware choice for Shaker cabinets and comes with and without a face screw, and are available in an assortment of colors, such as transparent, opaque, and clear variations.
Another timeless traditional type of hardware that add a great vintage or industrial touch to your kitchen is the vintage pulls with exposed screws. It is clearly a reminiscent of vintage double-hung window hardware.
However, it can look completely different in a nickel finish than in oil-rubbed bronze on white Shaker cabinets or antique brass for a darker Shaker kitchen cabinetry finish.
For a modern touch, use nickel or stainless-steel tubular bar pulls to transform a traditional-style kitchen with Shaker cabinets into a contemporary style cabinetry.
Tubular bar pulls are also referred to as barrel pulls and are available in every hardware company. These pulls can be the perfect accessories to elevate your cabinetry.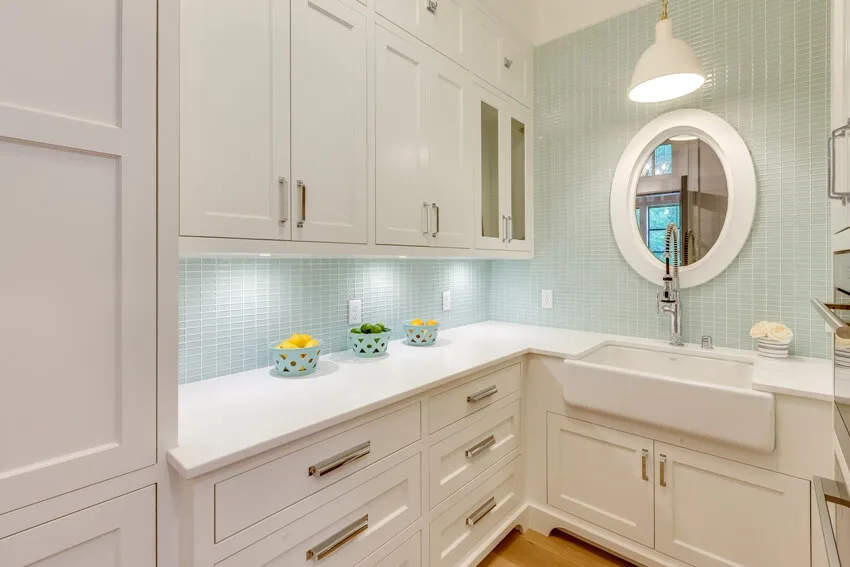 Still in the modern glamour design scheme, the flat bar pull's accentuated length and polished nickel finish add a touch of charm on your Shaker cabinets, even enhancing the coat of paint. This can transform the overall experience of the space and help address any questions you may have about design cohesion.
Flat bar pulls come in variety of lengths and finishes, including sleek stainless steel to hand-forged white bronze. It is a great way to modernize a Shaker-style cabinet since it matches the linear and squared-off look of the cabinetry.
Accented Wire Pulls are wire pulls with decorative details. This type of hardware allows you to add more decorative moldings and traditional elements such as plate racks, crown molding, bronze accents and decorative hood while keeping the cabinet doors in a classic Shaker style.
Arced and footed bar pulls style hardware are usually simple enough to adorn your Shaker cabinetry without being over the top.
If you find that the theme of straight, parallel lines, the stark sharpness of continuous squares and rectangles of Shaker cabinets to be a bit much for your taste, you may want to soften the look with an arc and footed bar pulls.
This type of hardware can also let you achieve a more modern or contemporary look. Drop pulls with back plate style leans towards something more eclectic.
This style features a hanging handle attached to a square back plate which mimics the rectangular shape of the Shaker stile & rail. Thus, prevents from clashing with the Shaker door style.
How Do You Measure For Shaker Cabinet Doors?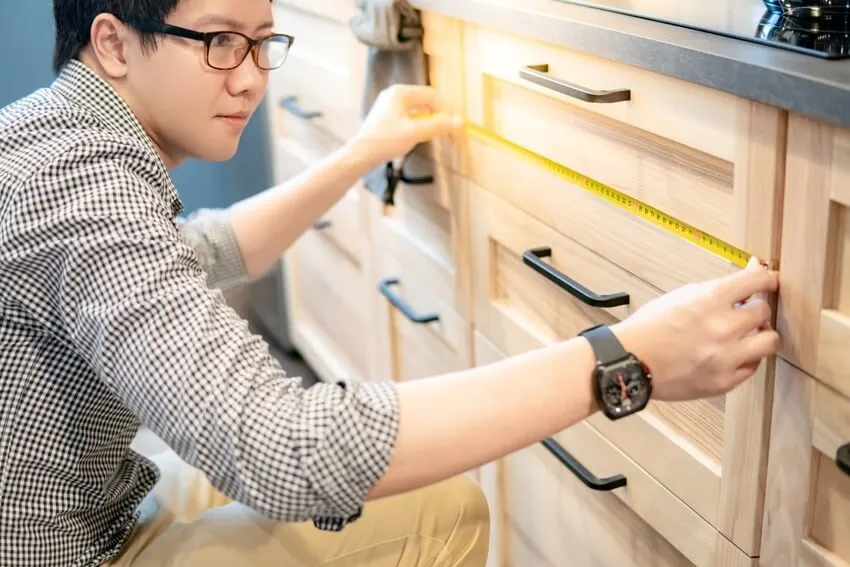 The standard structure of a Shaker cabinet door is no different than any other cabinet using hardwood face frames. It has a one-fourth inch step down to the center panel and can have a beveled or a 90 degree inside edge profile that is always three-fourth-inch thick.
Its rail and stile widths vary from 2¼" to almost 3½" wide with 1/4-inch wide at the bottom of the face frame, and 2-inch-wide rails between drawers and door openings. Shaker cabinet doors can be designed with an inset, full overlay, or standard overlay styles.
Each door needs two stiles (the vertical parts), two rails (the horizontal parts) and one panel. To measure the length of the stiles, determine the height of the door and add 1/8 inch. We recommend that you make the doors an extra 1/8 inch tall, so you can trim their ends after gluing.
To know the length of the rails, measure the total width of two stiles placed side by side, then subtract this number from the desired width of the door.
Make sure that you add 1/2 inch, the length of two tenons. Keep in mind that the stiles and rails must all be the exact same length with perfectly square ends.
Common width for shaker stiles on panels, doors and drawer fronts is customarily 2 1/4 inches. However, it is acceptable to use almost any width over 1 1/2 inches for the stiles, anything less than this measurement will already defeat the purpose of shaker design cabinet door.
Always remember that Shaker stile length is determined by the length of the door or drawer front opening, and the outside dimensions of the cabinet end panel.
The horizontal rails of the Shaker frame should always be at least the same width as the stiles, although you can add 1/2 to 1 inch to the width to create a more aesthetic appeal and make it appear more substantial.
There are two ways to assemble the panel, first is to measure and cut a 1/4-inch plywood panel the same size as the frame. Attach the plywood to the back of the frame using a pin nail, glue, and clamps.
Another way is to cut a dado or channel on the inside edges of the stiles and rails before assembling the door and insert the panel into the dado.
How To Clean Shaker Cabinets?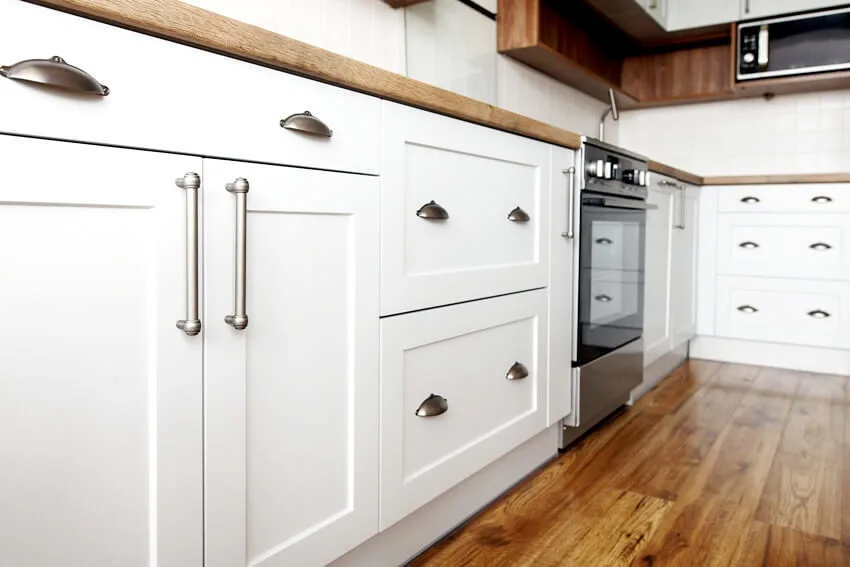 Shaker cabinets with their clean lines, simple flat surfaces make them easy to clean and that the only places you will have to worry about cleaning are the doors, and the knobs or pulls.
We recommend a basic weekly cleaning to freshen up your beautiful shaker cabinets. If you are wondering what the best homemade solution is you can use to clean your Shaker cabinets, you can mix wood cleaner or vinegar, half cup of water, and half cup of all-purpose cleaner and pour in a spray bottle.
Begin to clean Shaker cabinets by using a dry, soft cloth to wipe away dust and dirt from your cabinets.
Next, spray the surfaces such as the shelf as well as the sides of each cabinet door with this mixture making sure to clean one cabinet at a time.
With a sponge, use it to wipe down the cabinets once or twice to remove the cleaning mixture. Then dry your cabinets with a soft rag or towel.
What Style Is White Shaker Cabinets?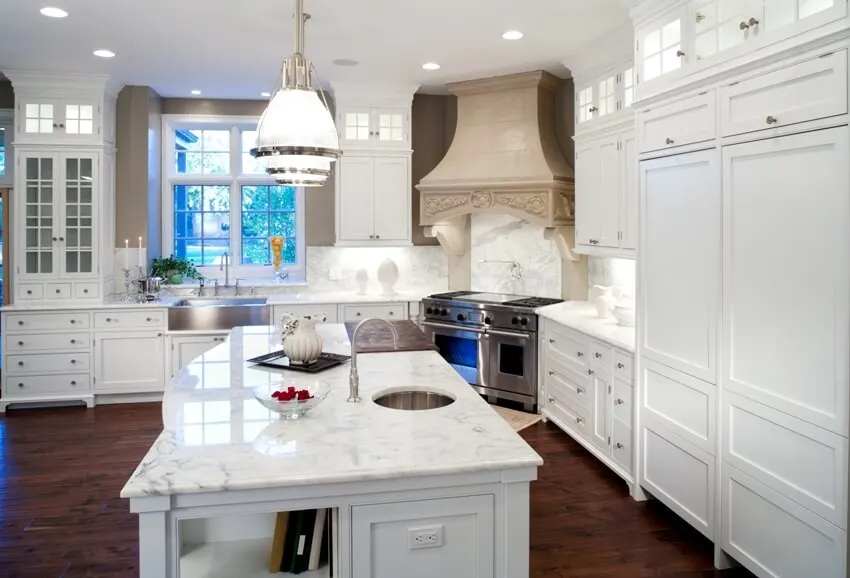 The Shaker style features clean lines, unsurpassed craftsmanship, and remained passionately committed to superior workmanship. The Shakers believe that simplicity, order, and neatness surpasses ornateness and served as the foundation for their no-frills designs.
The Shakers used white extensively to create a sense of purity, minimalism, modesty, and luminosity. It symbolizes the purity of their faith. Traditionally, Shaker cabinets are painted in white as they give off a light and airy feel to the space.
The simple cabinet door style introduced by the Shakers is still a favorite today, modern cabinet makers continue to follow the Shaker principle and the method of Shaker style construction which been tested through the years and have prevented warping as well as giving the doors superior strength.