These wood tile countertops ideas showcase designs with ceramic and porcelain tile, using floor wood tile for countertops, and tips on how to maintain them.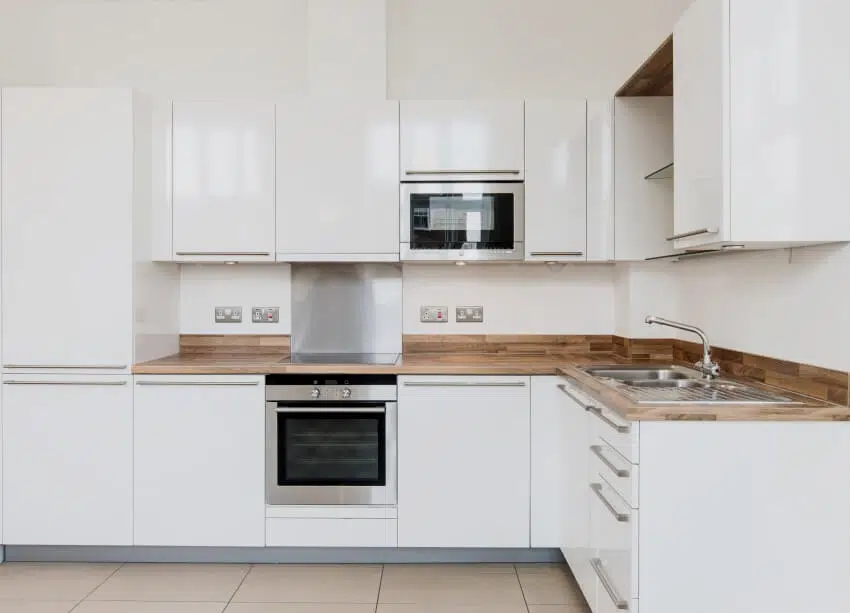 A countertop, whether it's for the kitchen or the bathroom, needs to be durable and aesthetically pleasing. And one of the most durable with stunning stains and designs is an authentic hardwood countertop.
The downside though is that they can be expensive so if you have a limited budget, this is not a good option. To get durability, excellent aesthetics, and lower cost compared to hardwood material, you can choose wood tile for your countertop instead.
While they may have started out as a fad, wood tiles became a constant in the market because they seamlessly gained popularity with homeowners as a more affordable alternative to hardwood countertops.
Yes, even with a limited budget you can now enjoy the elegant aesthetics of natural wood in your home. But what are wood tiles and what would you be dealing with if you choose this material for your countertops?
What Are Ceramic Wood Tile Countertops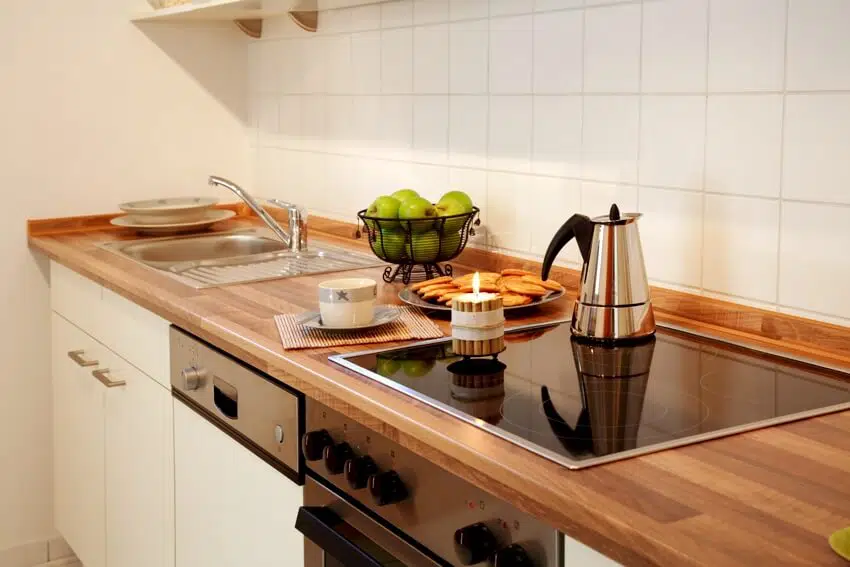 Wood tiles are generally designed to look like authentic wood but are actually made from porcelain or ceramic. Ceramic wood tile countertops are elements of the home that may look like wood but are manufactured from ceramic tiles, which usually come in planks rather than squares.
These tiles though can also be manufactured in unique shapes, proof of the material's versatility. See our guide on countertops that look like wood here.
For many years, butcher block countertops are popular, not just for the natural wood look with rich and varied texture. This is the reason why these countertops rule the kitchen of homeowners. This changed with the introduction of wood tile countertops, offering both affordability and versatility.
Manufacturing ceramic wood tiles make use of new technologies that allow the creation of new textures, shapes, and designs. The design looks so real that you won't be able to differentiate these tiles from authentic butcher blocks or hardwood countertops.
The wood-like tiles even have marks and chipped edges, creating even more realistic designs, along with particular patterns and wood graining.
Ceramic wood tile countertops are also more durable, able to handle scratches from pets and shoe scuffs at the same time. The tiles are also UV-resistant, which means that the color and designs don't fade even with sunlight exposure.
It is also bacteria-resistant, making it an excellent option for bathrooms and kitchens. Compared to porcelain though, ceramic tiles don't have excellent water protection.
Ceramic wood tiles are also easy-to-clean, making them easier to maintain. Well-maintained ceramic wood tile countertops can last longer than natural wood countertops, around 50 to 100 years, and look even brand new after then.
Wood Tile Countertop Ideas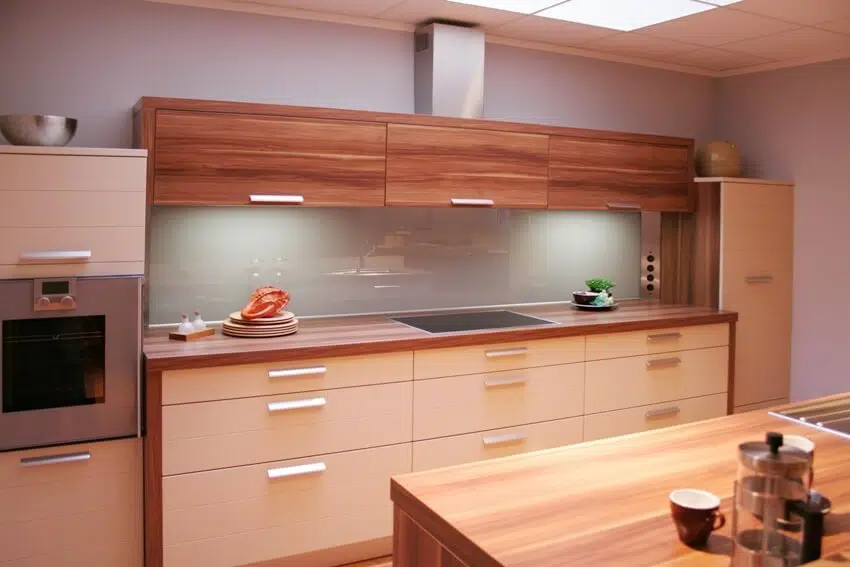 The best thing about wood tiles is their versatility, resulting in a variety of ideas you can integrate into your countertops. You will always need to consider all other elements in your kitchen or bathroom if you're planning on using wood tile countertops.
Check out these wood tile countertop ideas you can use as inspiration.
Fresh And Natural Look Countertops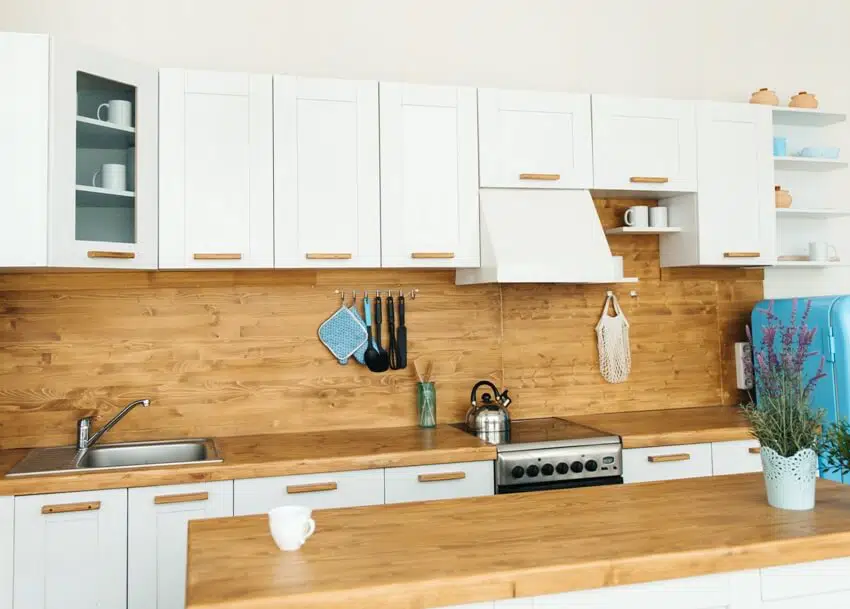 If you choose wood tile countertops, it means you are bringing an element of the outdoor inside your home. Despite not using a natural material, these countertops can imitate the realistic look of wood.
You can use them to go with a natural theme inside the home, with hardwood flooring and wooden pieces of furniture. Use neutral colors along with these wooden and wood-like elements in order to add warmth to the space in general.
Modern Wood Countertops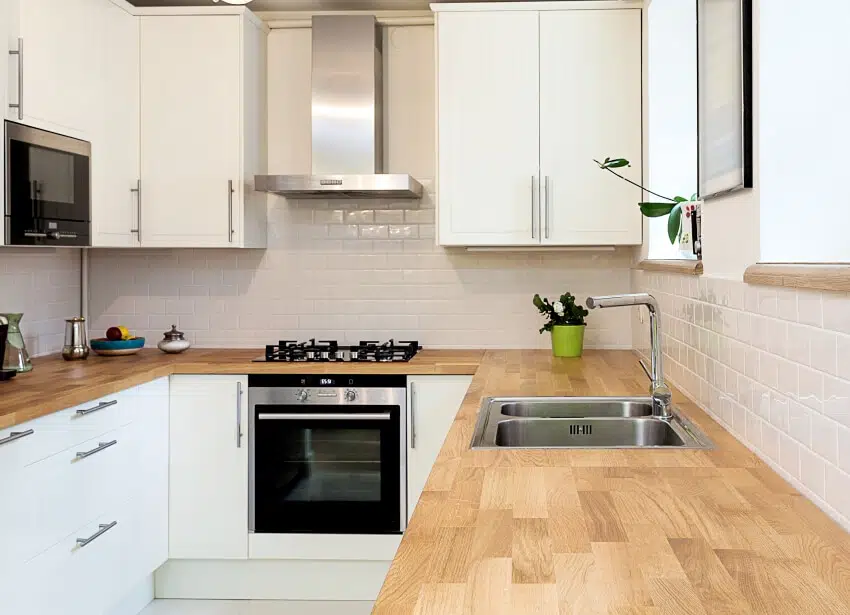 With the versatility that wood tiles offer, they can come in a variety of sizes and designs. This gives way to wood-like tiles with round ages and even an octagon shape, giving the countertops this modern look you wouldn't find in natural wooden countertops.
The new shapes create a unique countertop with an interesting edge, whether a smooth and contoured one from wound wood tiles to a countertop that has more corners than just a rectangle. Check out more ideas in our wood kitchen countertops design guide.
Can You Use Wood Look Floor Tile On Countertops?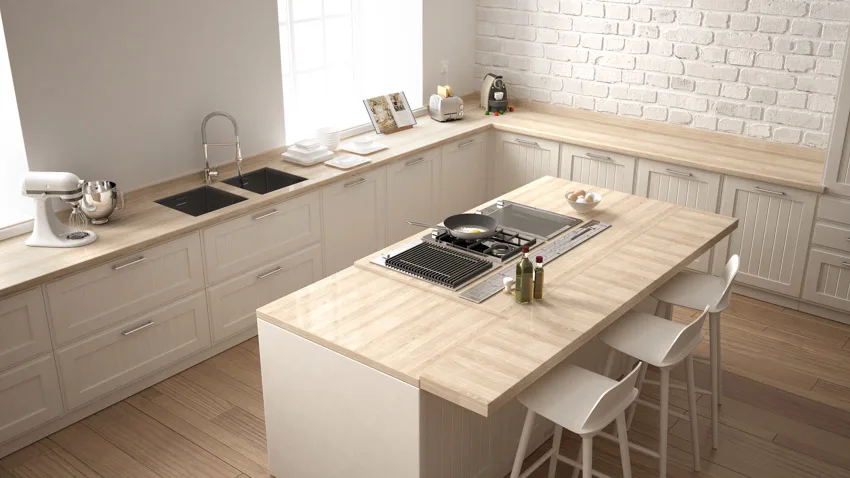 The most popular types of tiles used for kitchen countertops include quartz, granite, and marble stone, glass, metal and ceramic tiles. And wood tiles, while having aesthetics like wood, are made from porcelain and ceramic. So yes, you can use wood look floor tiles on your countertops, whether it's in the kitchen or bathroom.
Ceramic and porcelain wood tiles are materials that are heat-resistant and stain-resistant, with a variety of sizes, colors, and shapes. More than that, these tiles are also incredibly durable, making them great options for countertops that are abused every day from tasks like food preparation.
How Do You Maintain A Tile Countertop?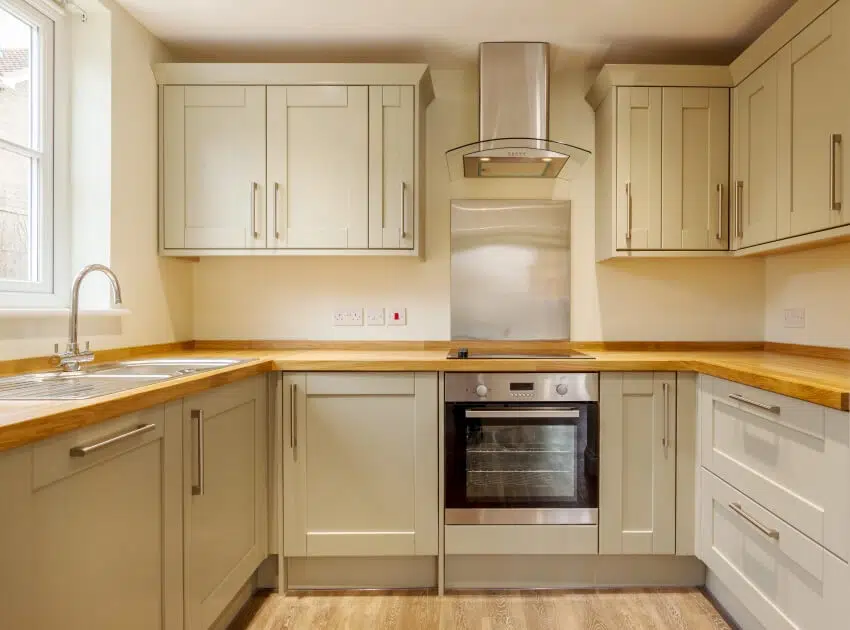 A tile countertop is a popular addition to one's home and one of the top reasons for that is that it's easy to clean and maintain. Unlike other materials, these countertops do not require thorough cleaning and meticulous maintenance.
If you use butcher block, you will need to protect the surface since the material is naturally porous. The sealant will protect the wood from moisture and other elements and oiling may also be necessary to maintain that glossy and stunning look. These are something you don't need to worry about with wood tile countertops.
Wood tile countertops offer the stunning aesthetics of wooden countertops without the rigorous cleaning and maintenance that come with them. These tile countertops are water-resistant, which means moisture is both something to think about. And if they are made from porcelain, bacteria won't be an issue either.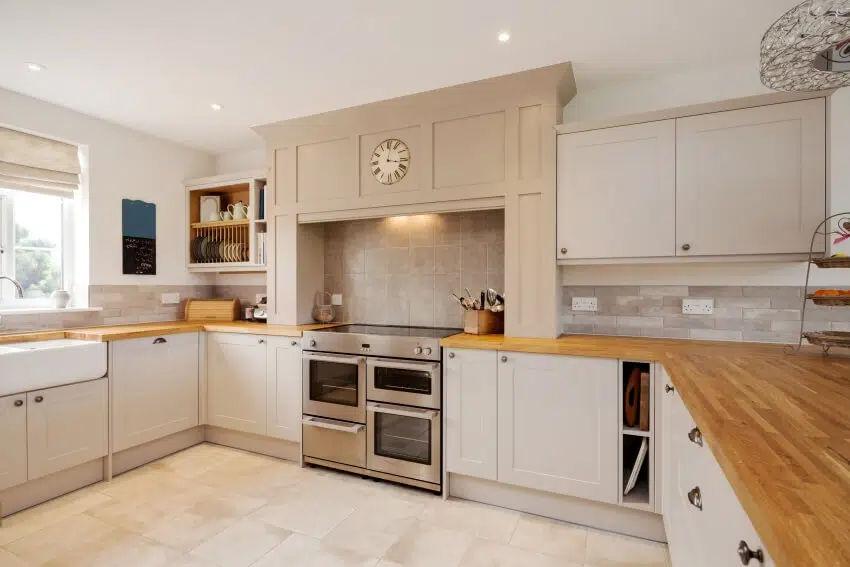 Here are some tasks you need to do to maintain your wood tile countertops:
1. Get a sponge or washcloth and wipe the countertops after food preparation
2. If necessary and if you see stubborn grime, grease, or dirt, spray an all-purpose kitchen cleaning solution and wipe it down after a few minutes
3. Wipe spills immediately from the counter after you see them
4. Scrub food deposits on the surface and grout lines of the countertops using a small brush
5. Do not use acid-based cleaners on the countertop like vinegar because they can damage the glossy surface of the ceramic or porcelain tiles
6. Make sure you seal the grout lines of the tiles at least annually because they are the part of the countertops that's porous and can be damaged by moisture and lead up to mold buildup
Regular maintenance is the key to keeping and maintaining the quality of wood tile countertops even with smaller tasks like daily wipe up. You might also want to consider deep cleaning and polishing every now and then but they are not required.