Here's our high gloss kitchen cabinets pros and cons including what they are, why you should choose this style and details on lacquer, acrylic & painted cabinet designs.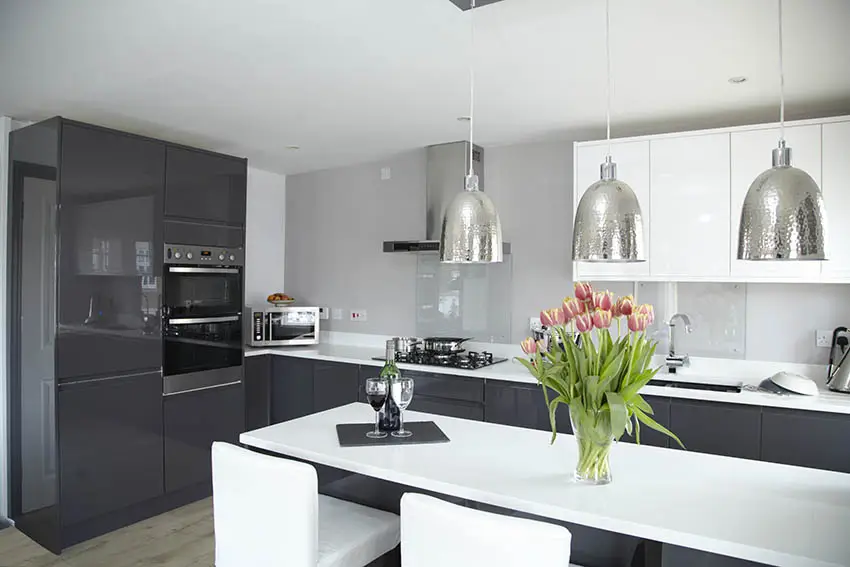 High gloss kitchen cabinets are a trendy modern design element. A high gloss finish can be most convincingly achieved with lacquer, although paint and acrylic are viable alternatives.
If you're considering installing high gloss kitchen cabinets for your next project, this article will tell you everything you need to know.
What are High Gloss Lacquer Kitchen Cabinets?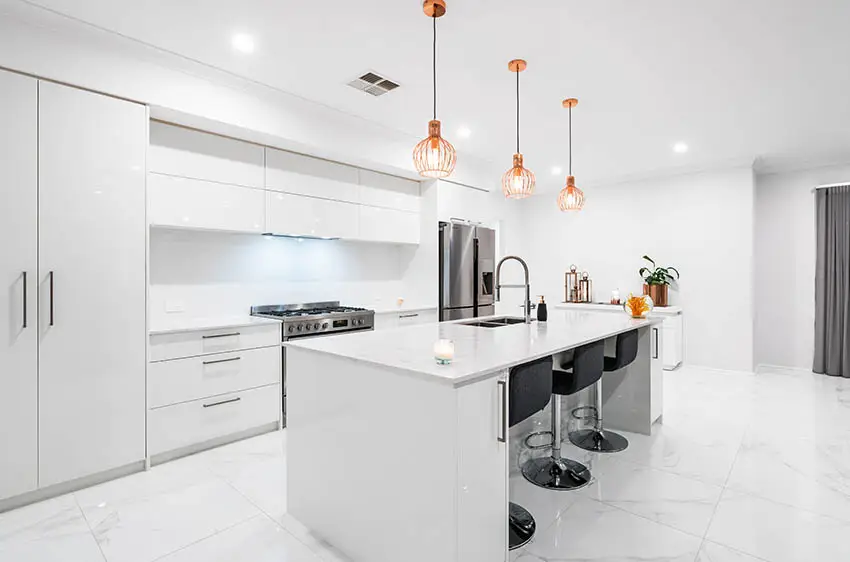 Kitchen cabinets can be finished in a variety of ways, each of which lends a different appearance to the surface of the cabinetry. When lacquer is used, multiple formulations of a paint/sealant combination are applied, usually to MDF.
Lacquers are applied using a paint sprayer powered by compressed air. When exposed to air, they begin to cure.
Matte lacquers harden to a flat finish that won't reflect much light. Glossy-finish lacquers are also available, and vary in the amount of shine they provide.
The shiniest, most light reflective lacquer finishes are called 'high gloss'. Semi-satin and satin refer to lacquers that reflect more light than matte finishes, but less than high gloss cabinets. Read more about lacquer kitchen cabinets here.
Now we'll cover the high gloss kitchen cabinets pros and cons starting with the pros.
High Gloss Kitchen Cabinets Pros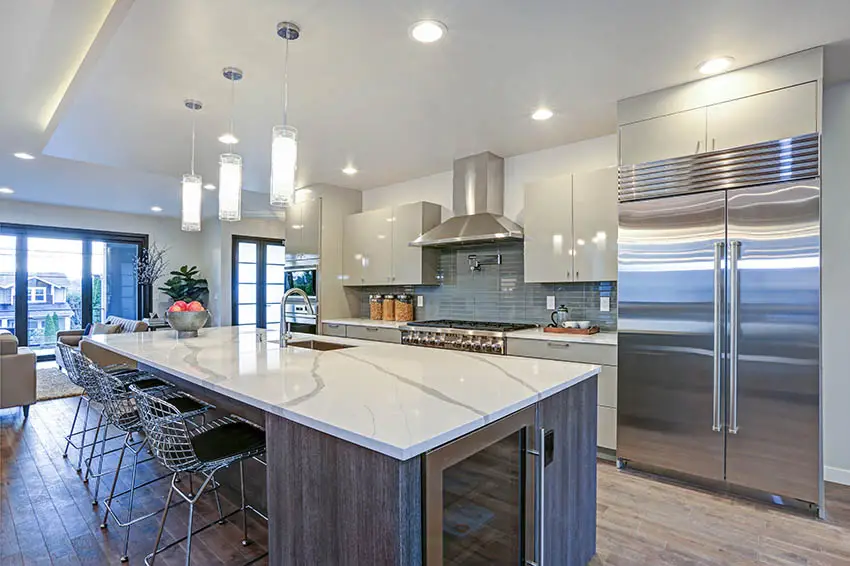 If you've ever seen high gloss kitchen cabinets in person, you've experienced their gorgeous appearance and the high visual impact they can have in a design scheme. That's certainly one benefit, but there are others as well.
Beauty – High-gloss kitchen cabinets are mesmerizing, drawing the eye no matter where they are installed. Lacquer has something that no other cabinet finish can match — depth.
The lacquer is built up, layer by layer, using as many as ten coats to achieve a high-gloss finish. The final product invites admiration and contemplation. If you're on the fence about how high-gloss lacquer would perform in your kitchen, many installers offer design tools.
You can upload pictures of your kitchen and use their software to experiment with different high-gloss finish options.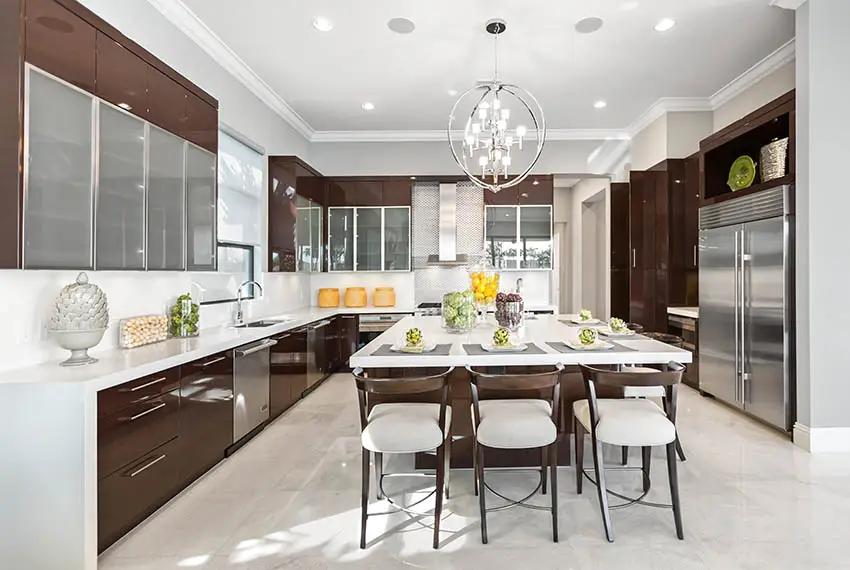 Style – When depth is combined with color and shine, the result is a kitchen cabinet finish that is reminiscent of high-gloss natural stone or glass tile, but without excessive weight. Lacquers are available in a variety of colors. Different suppliers may stock different product lines.
Popular colors for high-gloss kitchen cabinets include cherry red, deep forest green, and midnight blue. Some installation professionals are only willing to work with a limited range of colors, while others are willing to customize your cabinets.
Custom colors are more challenging and may be more expensive, because tinting lacquer is difficult. Solvent is used to make lacquer easier to spread. The concentration of lacquer to solvent used may vary in different environments or on different days.
Changing the amount of solvent in the lacquer will alter the tint. Professionals can adjust for all of this to ensure you get a perfect color match, but there is usually an additional cost.
Ease of Cleaning – A shiny, slick lacquer surface has another benefit — it is extremely easy to wipe clean. There are no nooks or crannies for dirt and grime to accumulate. Smudges and grease can be erased with a quick wipe.
Cheaper than Replacement – When your kitchen cabinets are looking tired, you may be tempted just to tear them out and start over. You may also reconsider this plan when you get the first quote.
Refinishing your cabinets with a high gloss lacquer typically costs 50-75% less than total replacement. The effect is just as dramatic.
If you're able to reuse your kitchen cabinet doors, you will save the most money, but purchasing new doors and coating them with lacquer is still a cost-effective alternative to replacing the cabinets entirely.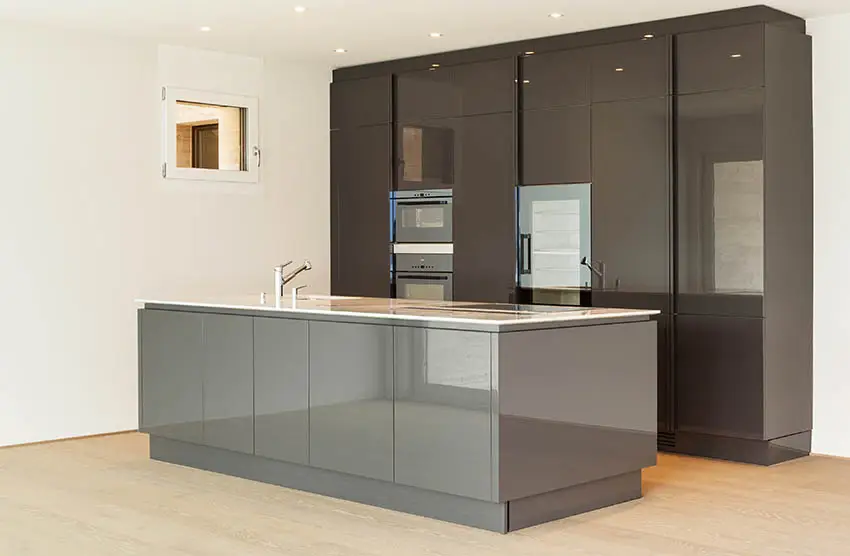 High Gloss Kitchen Cabinets Cons
Like any design choice, high gloss kitchen cabinets have their drawbacks. While none of them are significant enough to recommend against installing high gloss lacquer, it's important to understand the downsides that come with this exquisite finish.
Accumulation of Smudges – A high gloss kitchen cabinet bounces a significant amount of light back into the eyes of the viewer. Anything that blocks this light, such as dust or fingerprint smudges will stand out due to it's less-reflective properties.
Dirt shows up immediately on high gloss kitchen cabinets. If you install them, be prepared to wipe the cabinets off frequently. Luckily, the slick surface of high gloss lacquer doesn't hold on to dirt, so there's no scrubbing involved.
Expense – A high gloss lacquer finish doesn't come cheap. This exacting technique is best carried out by professionals, who can not only mix and tint to achieve the color you desire, but also apply the lacquer to achieve a smooth, bubble-free finish.
Lacquer is a finish that is built up layer by layer, and each layer must be perfect before a new one can be added.
To achieve a high-gloss finish, at least three to four coats of high-quality lacquer will be needed, and it's not unheard of to add as many as ten.
While lacquer dries to the touch in under an hour, it must fully harden for several hours to several days, depending on the environment. This can turn your kitchen renovation project into a much longer affair than you intended.
Expect to pay between $50 and $100 per linear foot to have lacquer professionally applied to your cabinets. For an average kitchen, with 20 linear feet of cabinets, this works out to between $1000 and $2000.
UV fading – If direct sunlight falls through your kitchen window onto your high gloss lacquer kitchen cabinets, you may start to see a clouding effect.
Clouding is a condition that occurs when lacquer is exposed to high humidity. To preserve a high gloss lacquer kitchen cabinet finish, consider installing solar film on your kitchen windows to block out UV light.
Longevity – The lifespan of your kitchen cabinets depends in large part on keeping moisture out of the central core. Lacquered kitchen cabinets are prone to developing micro-scratches — small scrapes that may be barely noticeable, but which can allow moisture to work it's way into the core of the cabinet door.
Peeling, cracking, and warping are all signs of excess moisture, and unfortunately replacement is the only solution.
High Gloss Paint for Kitchen Cabinets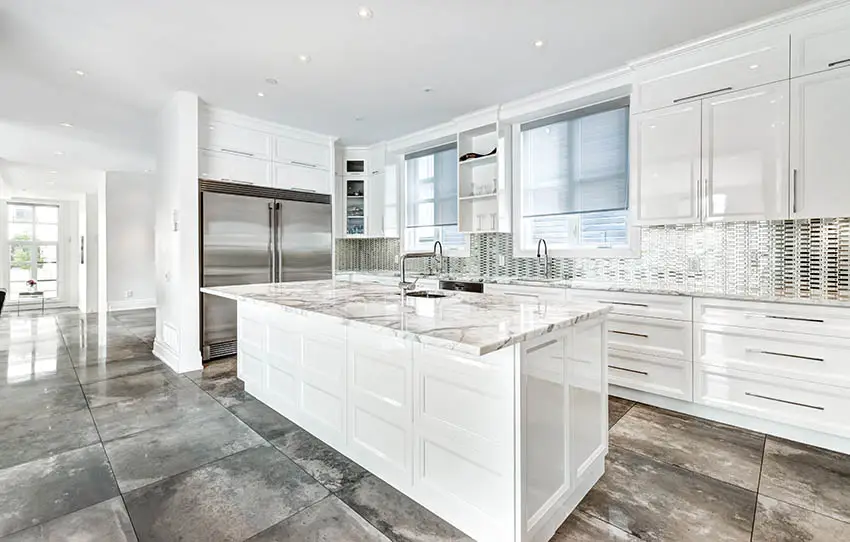 When paint is used to create a high gloss finish on kitchen cabinets, oil-based paint is the material of choice.
Oil-based paints adhere easily to wood and dry to a high-gloss finish without showing brush strokes. The hard, durable barrier they create protects the core of the cabinet door while helping it stand up to use and abuse.
While several coats of lacquer can be applied in a single day, oil-based paint takes 24 to 48 hour to fully cure. You will likely need fewer coats of paint than lacquer, and you won't need to sand between each layer.
For the easiest and cheapest high-gloss finish using paint, take your cabinet doors off the hinges and bring them outside on a calm, clear day.
Start with a spray primer, and allow it to dry for 12 hours. Follow the primer with a few coats of quick drying, high-gloss spray paint to reinvent your cabinet doors and achieve a gleaming kitchen in no time.
High Gloss Acrylic Kitchen Cabinets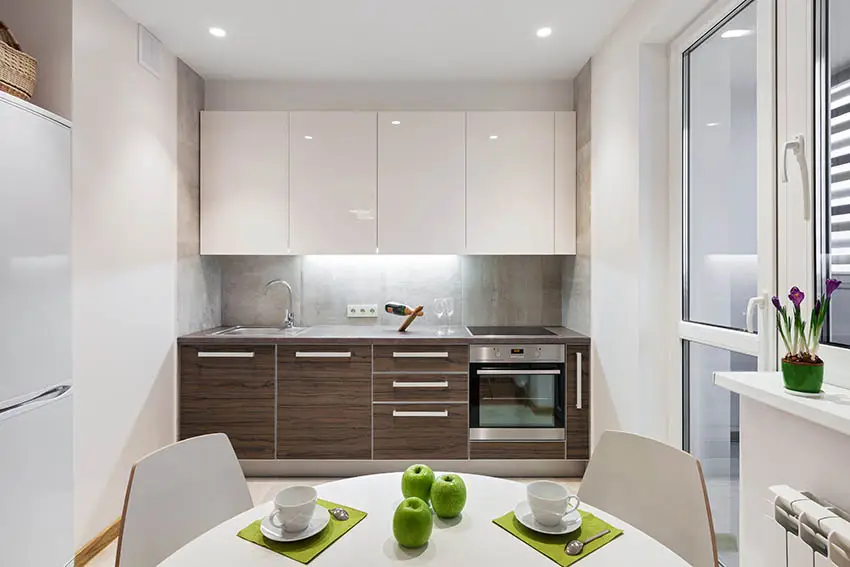 Another way to achieve high gloss finishes in the kitchen is to purchase and install acrylic kitchen cabinet doors.
Rather than a wood or MDF core that is coated in a finish such as paint or lacquer, acrylic kitchen cabinet doors contain no wood at all. This means that they are not susceptible to moisture damage, and will not warp, peel or twist.
An acrylic kitchen cabinet door is a solid piece of high-quality hard and durable plastic. It has no pores on the surface, so stains are unable to sink in and can be easily wiped away. Even permanent markers can't stick to acrylic.
The installation time is significantly less for acrylic cabinets than paint or lacquer, because acrylic cabinet doors are finished in the factory. When they arrive at your home, they simply need to be installed. A kitchen professional can help you order the exact sizes and hardware you will need to install new acrylic kitchen cabinets.
Another added benefit of using acrylic to get that high gloss kitchen cabinet look is the lifespan of the material. Acrylic cabinets can last up to 20 years without fading, yellowing, or warping. Any damage to the acrylic can be easily fixed with a commercially available repair kit.
High Gloss Flat Panel Kitchen Cabinets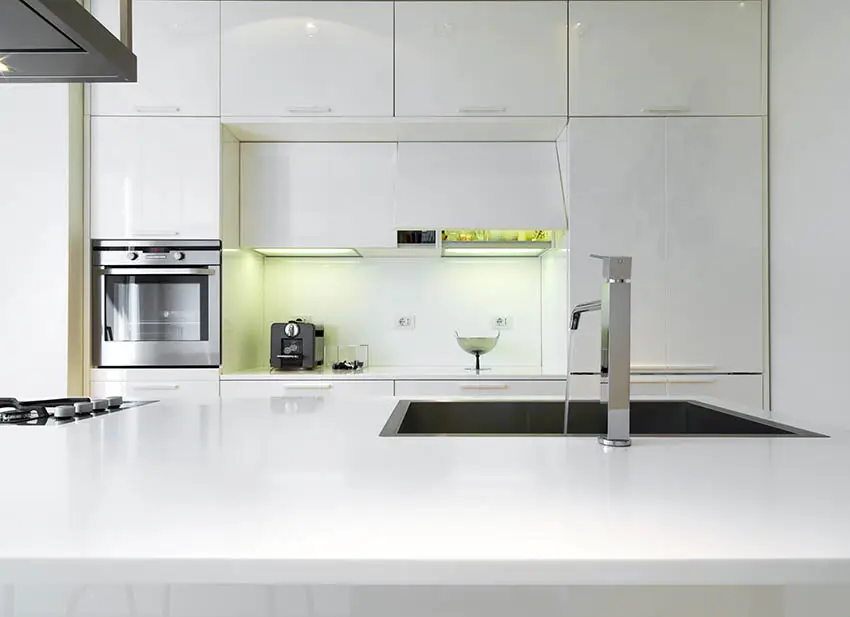 Flat panels are exactly what they sound like: one flat panel of wood. They are used in modern and contemporary design for kitchen cabinets and drawer fronts. When a high gloss finish is applied, whether paint, lacquer, or acrylic, they can assume center stage in your kitchen.
With rich and vibrant colors available that catch the eye by reflecting light, you can turn your kitchen's cabinet doors from dull storage to major design elements.
Handle-less cabinets, which open via grooves called 'channels', streamline and simplify small spaces by eliminating hardware altogether, and pair particularly well with high gloss flat panel kitchen cabinets.
If you are designing your own kitchen you can see different types of cabinet styles and colors by using a kitchen cabinet design software program. Many of these will allow you to design your own layout and see your creation in a 2 dimensional or 3 dimensional view.
What did you think of these high gloss kitchen cabinets pros and cons? Let us know if you have any experience with high gloss cabinets in your own home in the comments.