Here we share our gallery of kitchen office nook design ideas.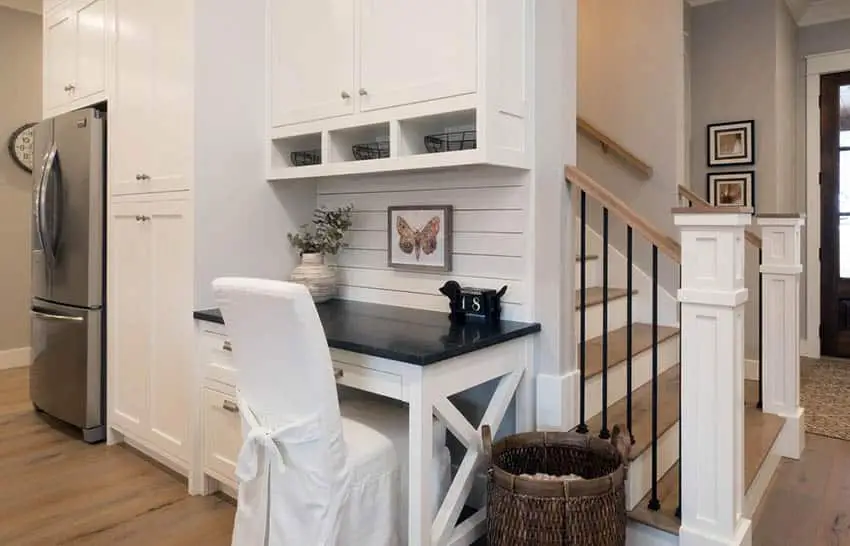 Good design always adapts to time, and the social, technological changes that come with it. We live in the digital age, where it has become possible to access your work emails in the comfort of your mobile phones. This is a time when you can simply ask Google or Alexa the weather instead of tuning in to the news.
Information moves quickly, and we have adapted to this quick lifestyle by constantly multi-tasking. The advancement of the internet has brought about changes in the work culture – a lot of people (and a lot of companies) are choosing to work-from-home because of convenience and less maintenance costs for the company. With these needs there's more reason than ever to have multiple work spaces in the home.
In a family home, the kitchen is usually the center of activity. A cozy, bright, airy, sunny, and cheerful kitchen can create a lively atmosphere in the house.
It might initially sound like a bad idea, but having a small, modern, stylish, and functional small home office nook in your kitchen space could be the best decision you could ever make. The right interior design, using a blend of colors and materials, can make this possible.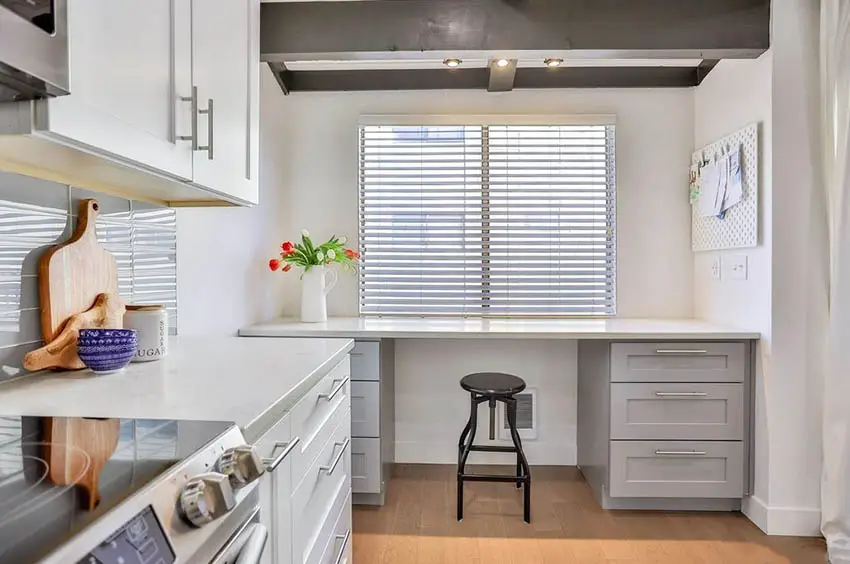 Here are popular reasons an office nook is right for your kitchen:
You have no extra room for a separate office – not everyone has the luxury of space, and the kitchen might be spacious enough to allow room for a small office space.
Keeping your kitchen organized – the kitchen is usually directly connected to the garage, and all the important letters and bills end up in the kitchen counter or drawers, so why not dedicate a space for all those documents and keep it safe from other real kitchen items?
Multi-tasking – you won't have to worry about over-cooking your turkey while you quickly check your emails when your small office nook is right in the kitchen. The small nook could also work as a study area for your kids, so you can easily assist them in their homework while you work in the kitchen.
A safe gadget area – kids and adults alike end up hanging out in the kitchen, so it is inevitable for charging devices to hang around in the kitchen. Keep your electronics safe from water & food. Having a small office nook will keep your gadgets (and you) away from danger!
Home office nook off the kitchen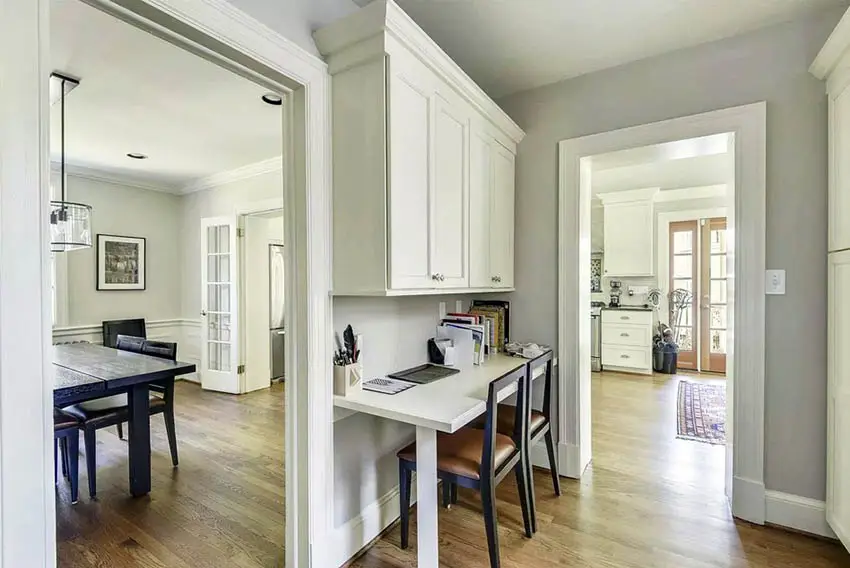 The pantry area is usually a dry area in the kitchen, and would be a good spot to place your office nook. Use matching style and finish as the rest of the kitchen cabinets so that your kitchen office nook blends in.
You can also use the same countertop material so that it's just as sturdy as you kitchen surface and matches the overall design. Choose from various countertop options and colors to find the perfect fit for your home office nook.
If you know you spend a lot of kitchen calculating bills, finances and checking your emails, then it's time you have a proper space for work! Make sure you have a dry area in your kitchen which you can safely assign as the office nook, and let's get productive!
Built-in desk in the kitchen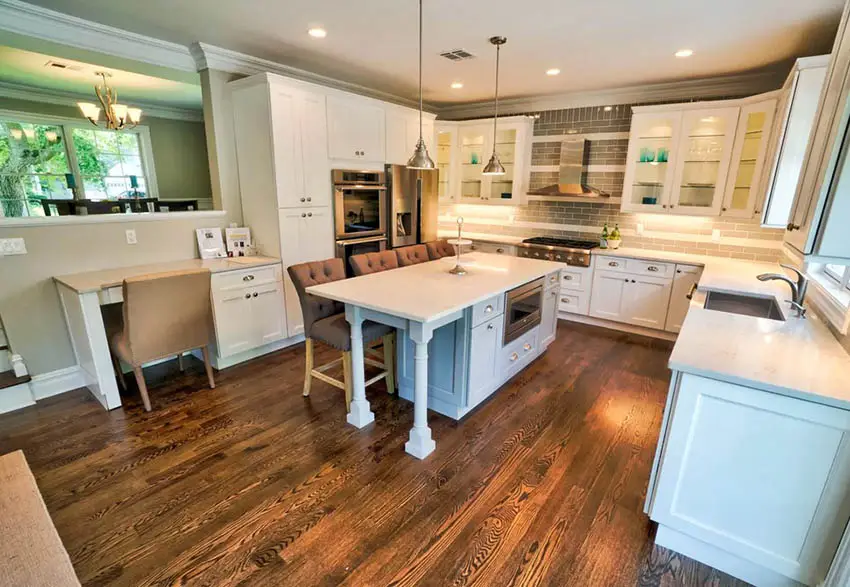 This small kitchen office nook is placed by the kitchen entrance making it a convenient drop-off point for letters and documents, and also placed far from the sink and the cooking area. The area is situated right by the dining area as well, so you have no worry of missing out while you check your finances.
Kitchen pantry office nook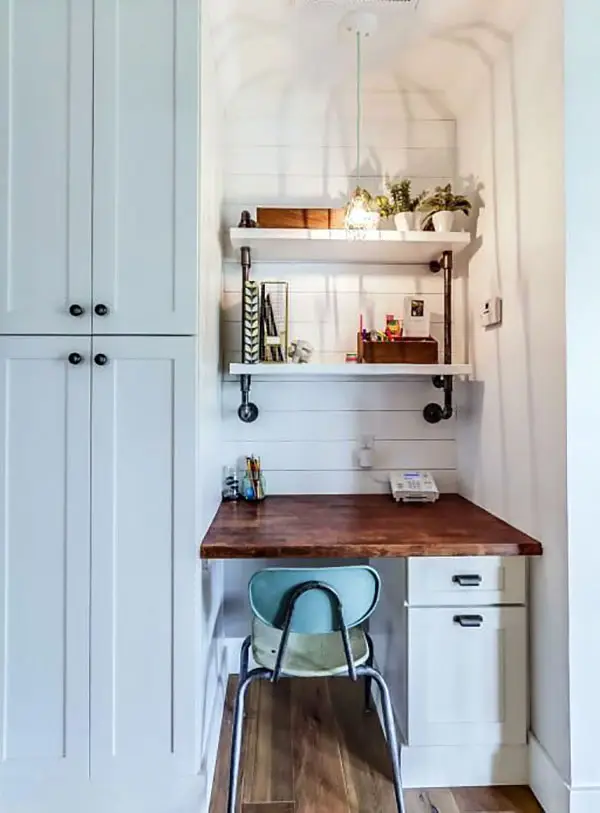 A small dry corner of your kitchen could easily be converted into a small office nook. Horizontal shiplap wall panels look especially nice with classic & country style kitchens, paired with reclaimed wood table top and pipe shelving. A small pendant lamp would also be a nice addition especially if you have no desk space for a table lamp.
Built-in Desk with drawers in the kitchen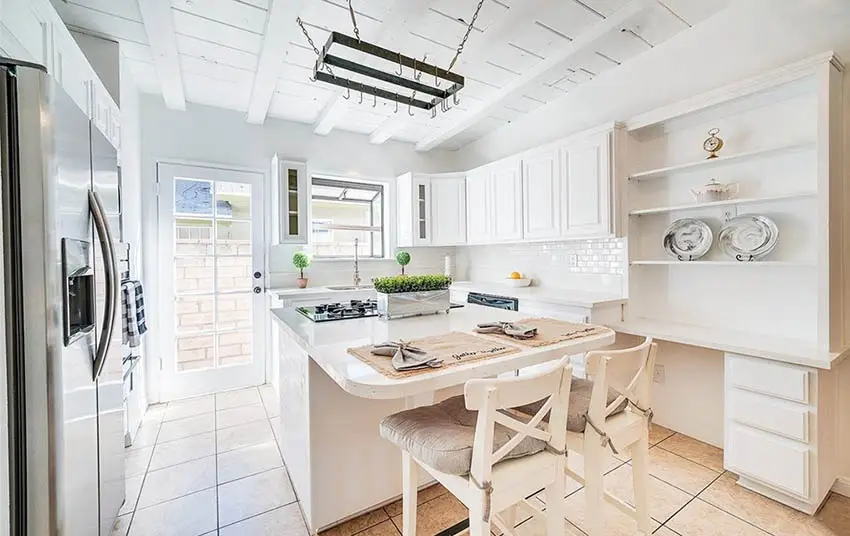 An old display shelf can easily be re-purposed into an office nook, by clearing out the base drawers/cabinets to create a desk space. Keep the existing shelves for your displays or for your office needs, and make sure to install an accessible outlet for your use.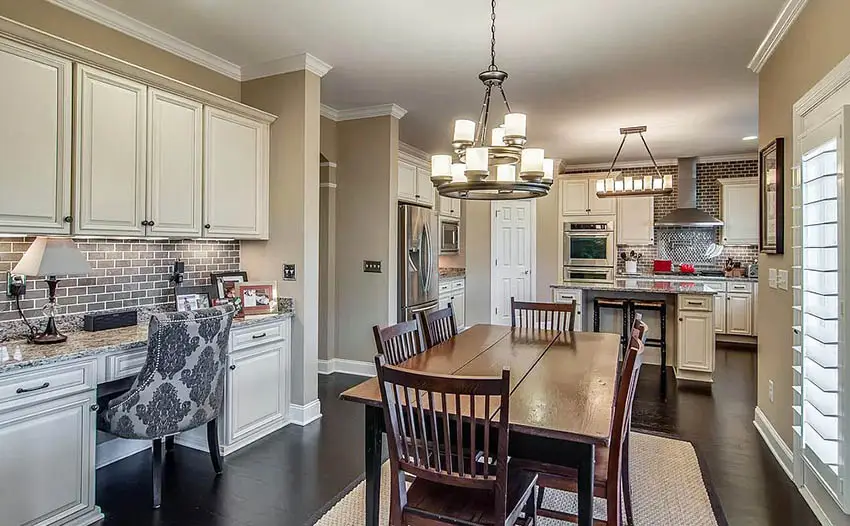 Aside from display cabinets, a dry counter area can easily be converted into a kitchen nook. This spacious kitchen/dining area has a wall counter that is quite away from all the moisture and fire, making it an ideal area to place the kitchen nook.
The base cabinet was simply removed to make space for the chair, and the wide counter area has enough space for you to work on! Install lights under the overhead cabinets or use a table lamp.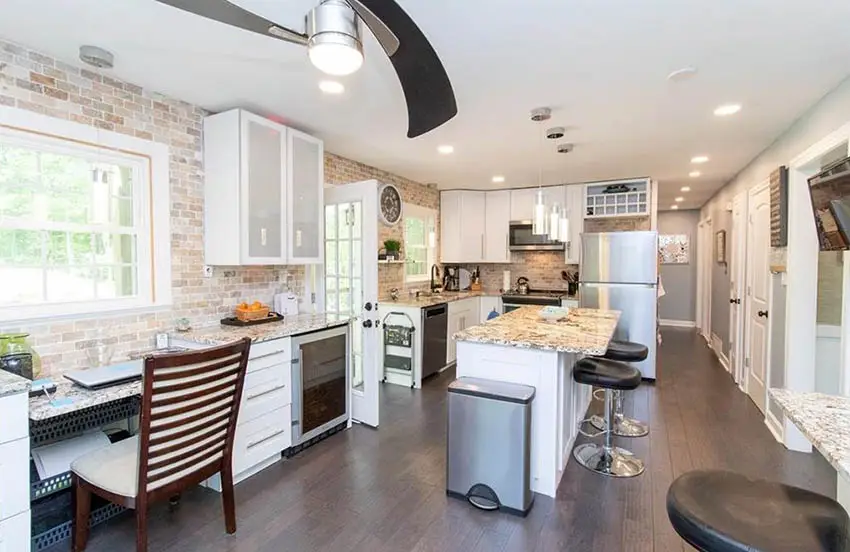 This large open concept kitchen has a lower built-in desk countertop with extra storage bins below. A large picture window provides an inviting backdrop for contemplation while working.
Small kitchen office nook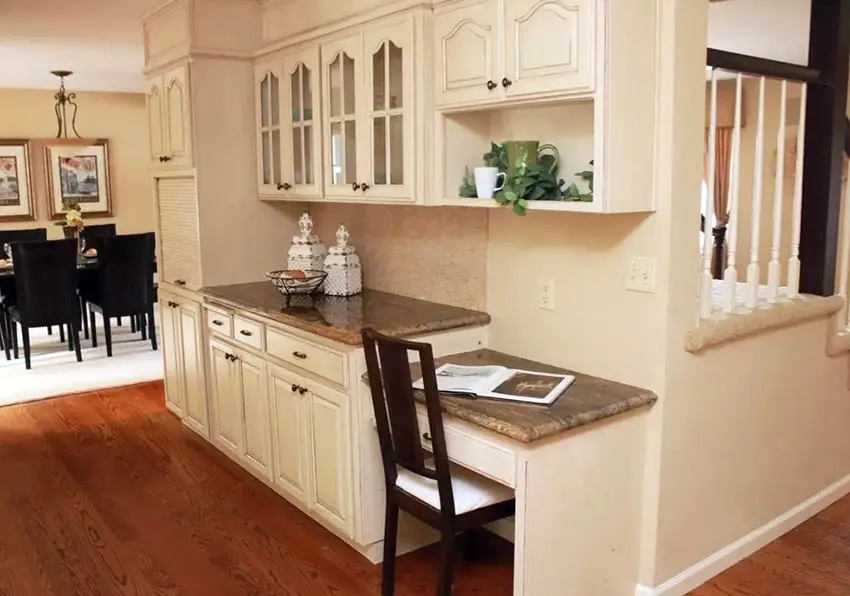 If you have an unused space that's supposed to be used for the fridge, it can also be a good candidate for an home office nook area.
This space usually has a dedicated outlet that you can use, and the free overhead space allows you to install a desk and overhead storage that perfectly fits your height.
Kitchen table with bench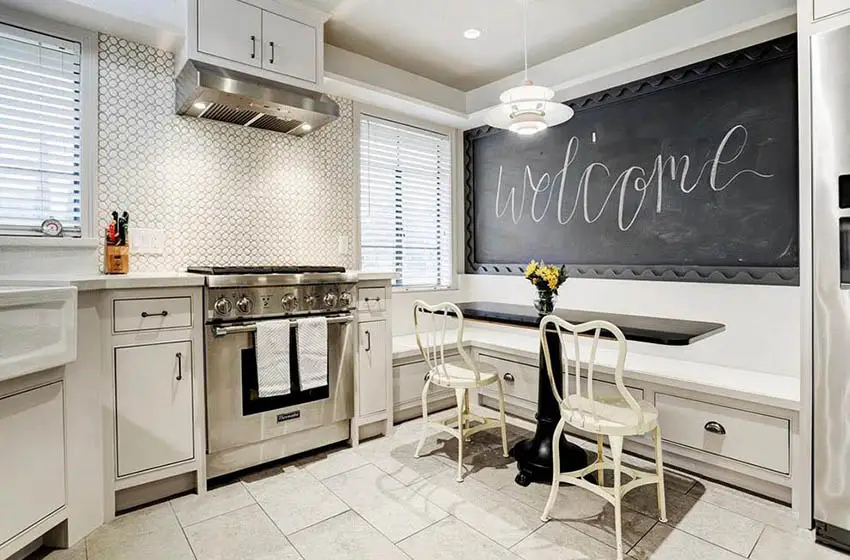 If you expect more than one person working or hanging out in the kitchen at one time, then a more multi-use kitchen nook would be a good idea.
This kitchen office nook is also a small breakfast nook, but also has a storage bench to keep documents dry.
It's layout is spacious enough to allow multiple persons to work in the area at the same time – perfect for families for doing home work after school or other work projects.
Kitchen with extended countertop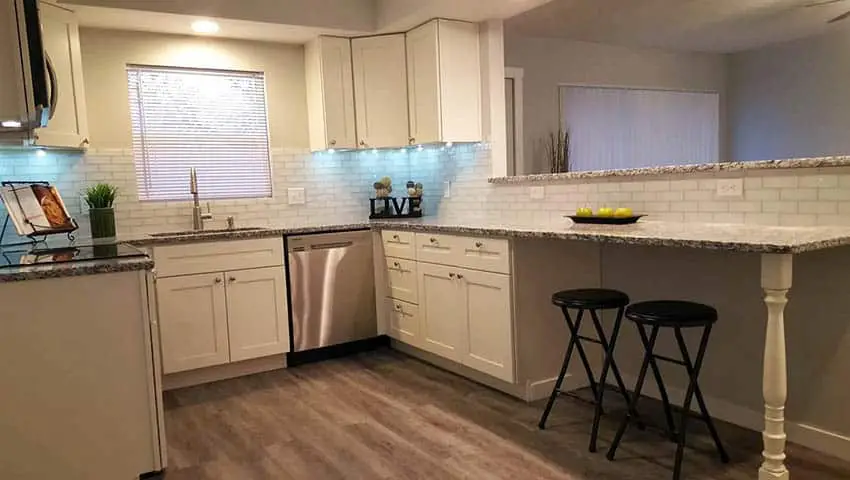 You kitchen office nook ideas can be fancy, or they can also be as simple as this – an extended counter area with lots of undercounter space.
This way, you can still have options to use the area for food preparation when not in use as a work area.
Kitchen with pass through niche countertop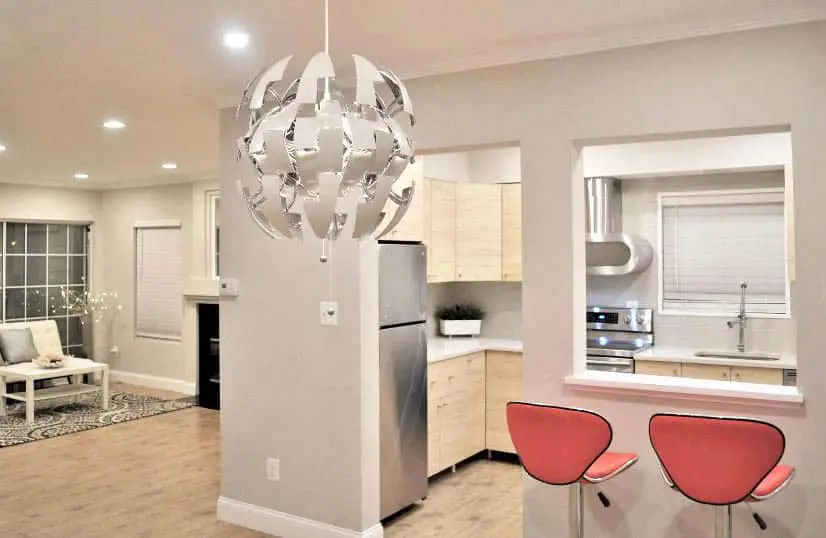 If you have a really small kitchen area, you can also consider opening up one wall and adding a small counter area that you can use for working, while still being away from spills and moisture. You can also use it as a small breakfast counter.
Kitchen with lower height counter for home office space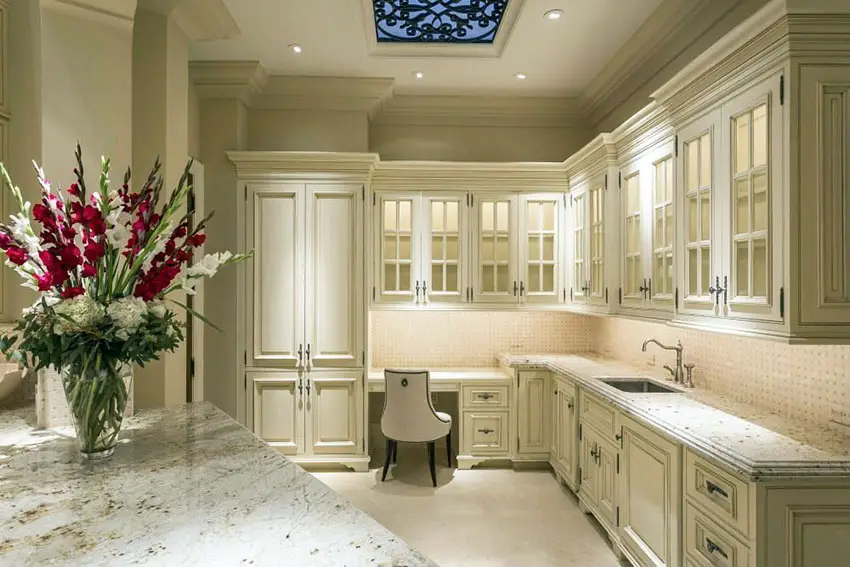 The normal counter height might be too high to use as a desk, so make sure you adjust accordingly for your comfort. This small kitchen office nook is just placed beside the pantry cabinet & blends right in with the rest of the kitchen cabinets.
If you have limited clearance from the countertops to the upper cabinets for desktop computer products you can consider a custom built-in computer desk for your kitchen office nook.
The desktop is a bit lower than the countertop for a more comfortable working height, and to have a visual separation between the work and kitchen surface.
To create your own home office nook ideas check out this list of kitchen cabinet design software.