Here we share lovely shiplap kitchens and our gallery of design ideas including boards on the walls, ceilings and islands.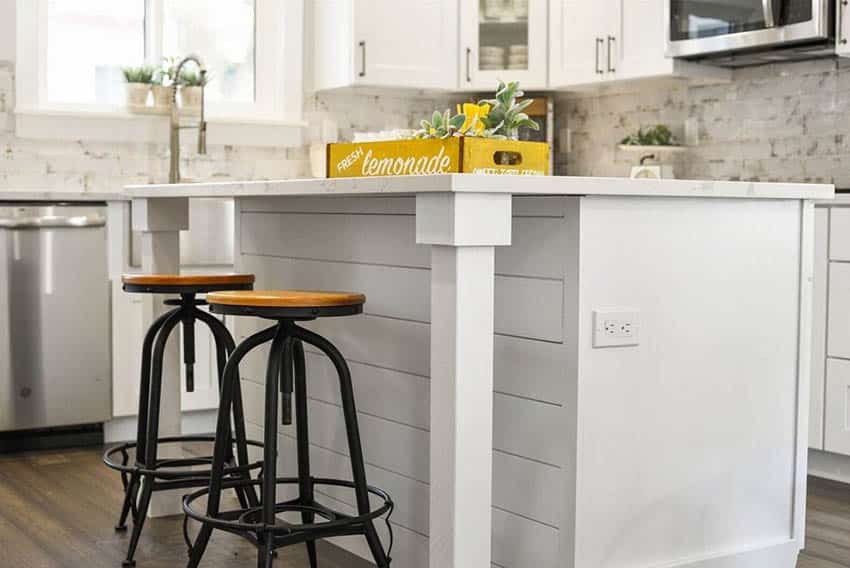 Lately interior design trends have been seeing a lot of comebacks from past styles, updated and contextualized into contemporary applications. One of those trends are modern farmhouses, which, as its name suggests, mixes the clean lines and simple elements of modernism, with the texture, rawness/rustic quality of farmhouses.
One particular aspect of farmhouses we have seen more often as of recent, are shiplap boards. Whether on the walls, ceiling or cabinetry, shiplap has been incorporated in many contemporary applications.
Shiplap is easy to combine with more contemporary styles because it's subtle enough to blend in, but also has a very distinct look that you can easily associate with farmhouse / rustic style interiors.
Aside from that, they're fairly easy to install, they are now made in a variety of materials (which you can choose depending on the area of application or your budget), and they also come in many different sizes and colors. It's a very easy way to "enhance" the look of any modern space.
If you want that really subtle touch of rustic feel into your kitchen, putting shiplap boards on your kitchen island or kitchen cabinets is an easy way to do it. The picture above shows shiplap boards on a small kitchen island. The boards were finished in the same color as the kitchen island, making it a very subtle and blend in the contemporary look of the space.
Shiplap Kitchen Wall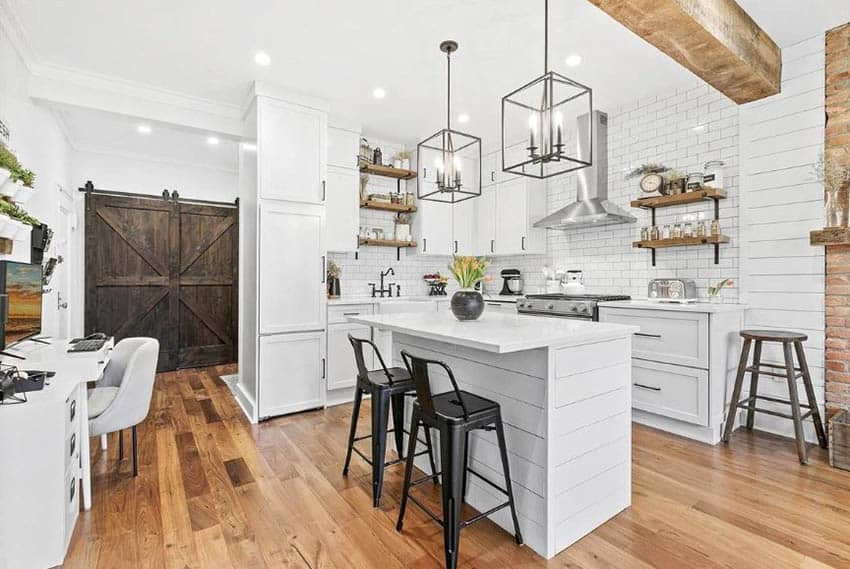 For kitchens with paneled cabinetry, it could be easier to install your shiplap boards on your walls instead. Depending on the effect you want to achieve, you can experiment with wide boards, narrow boards, or even horizontal and vertical applications.
A very basic white paint color on shiplap boards make it subtly blend into the background, yet still give enough depth and texture to your kitchen.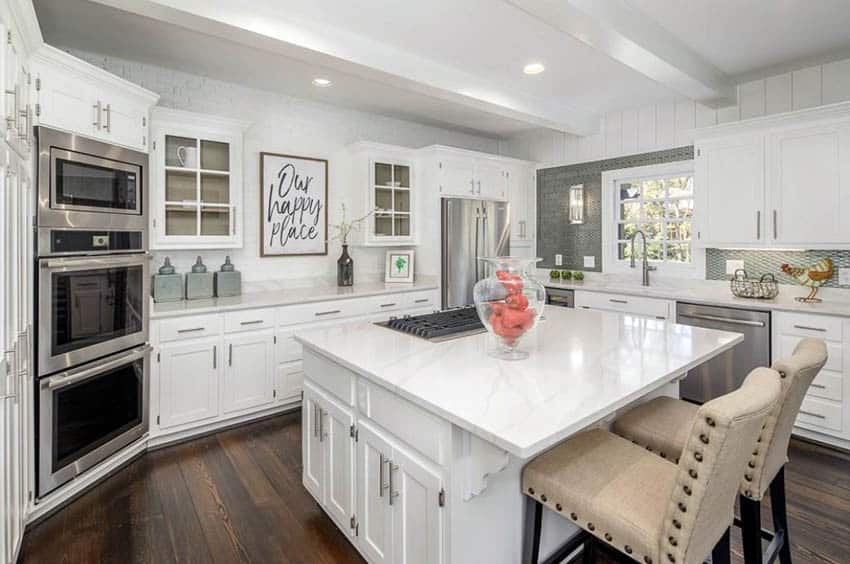 Featuring French style kitchen cabinets, this all-white kitchen uses vertical shiplap boards on its wall to give the illusion of a higher ceiling height.
By using a slightly narrower board and a muted light cream color, these horizontal shiplaps make the space look more balanced and symmetrical.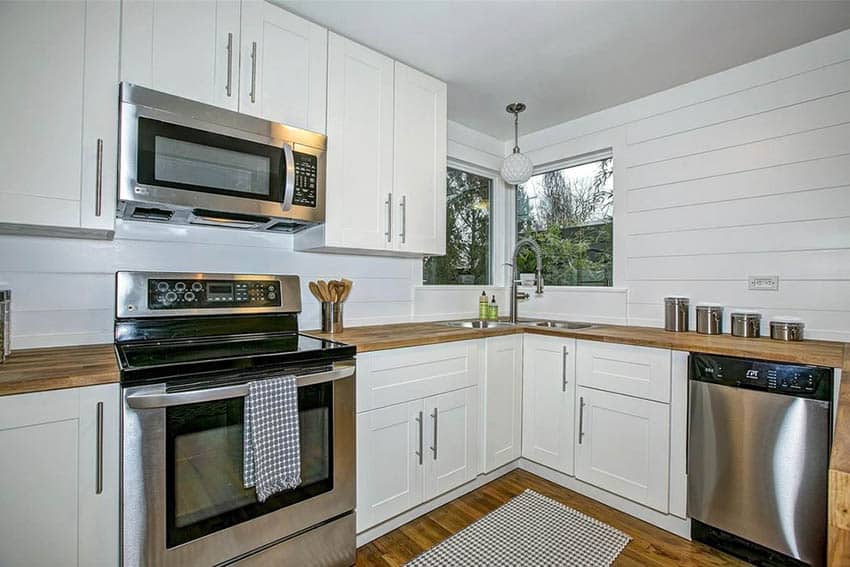 Adding the wide horizontal shiplap boards on these walls definitely completes the rustic look this kitchen is going for. The boards are also a nice "grid line" you can follow when installing wall-mounted shelves and kitchen accessories.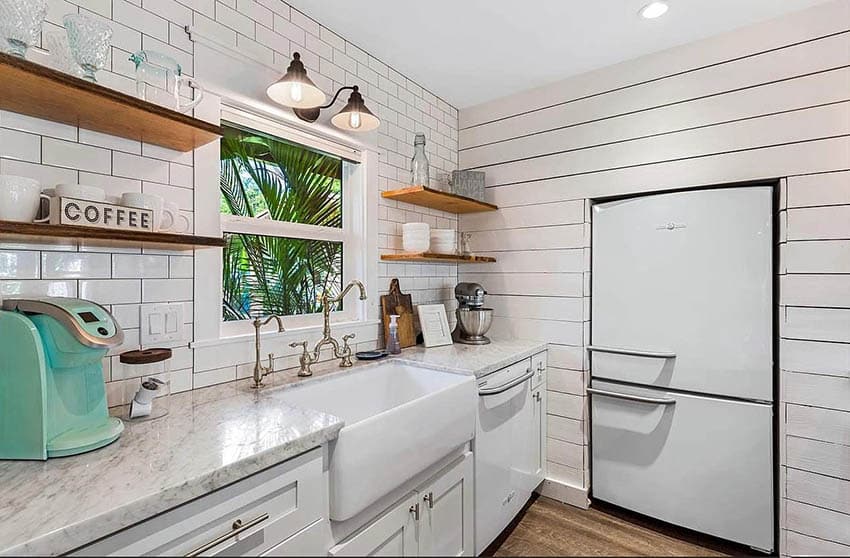 The shiplap provides a visual continuity to the pattern made by the subway tiles on the kitchen counter walls. But unlike subway tiles, shiplap boards a easier and faster to install.
If you don't have that much of wall space in your kitchen to play around with, you can also consider putting the shiplap boards as your counter backsplash. Keeping in mind to keep it on dry areas if you're using wood or other materials that easily warp with moisture.
You can also treat your shiplap kitchens backsplash with a waterproof and heat resistant clear coat sealer.
Kitchen with Shiplap Office Nook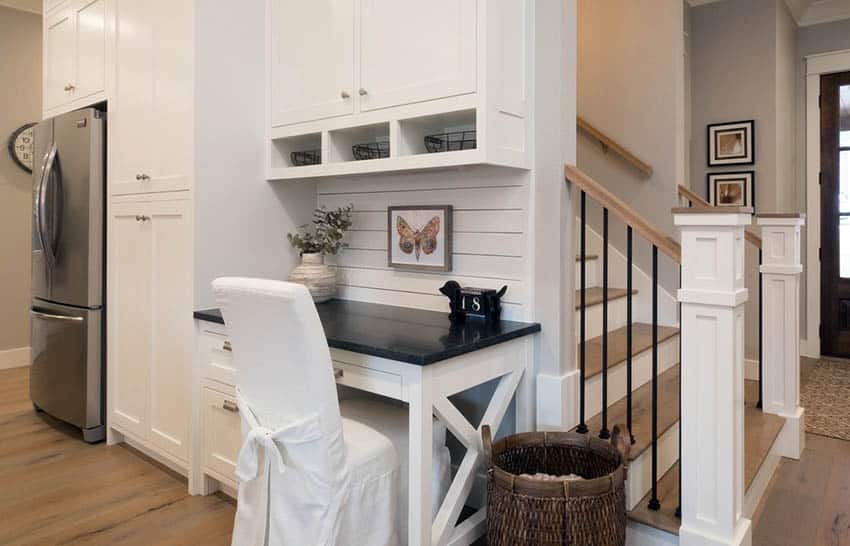 Horizontal shiplap boards on office nooks also adds a nice textural element to the surface, and is also a useful guideline for installing frames and other wall-mounted accessories.
Kitchen with Shiplap Bar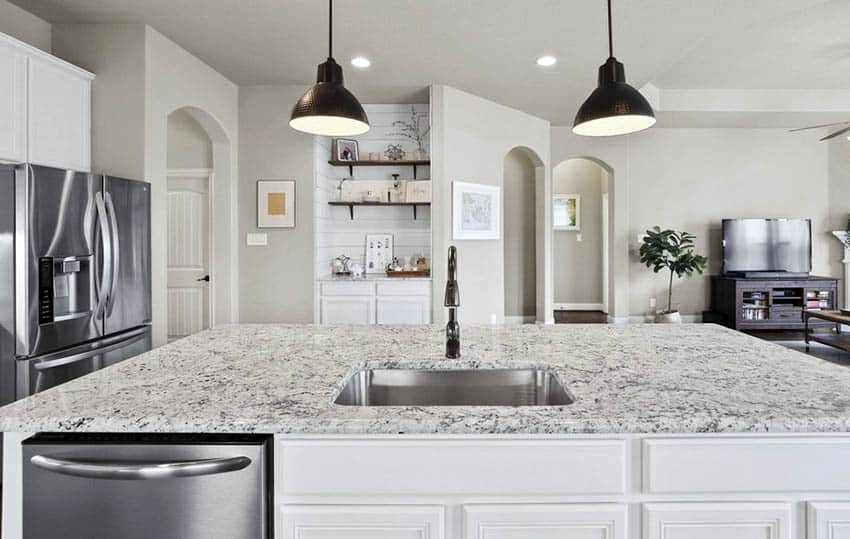 You can also install shiplap on areas you want to highlight or become the focal point. In this kitchen for example, the small bar nook's wall was clad with white-painted shiplap boards, making it stand-out against the light taupe-painted walls of the kitchen.
Kitchen with Shiplap Dining Nook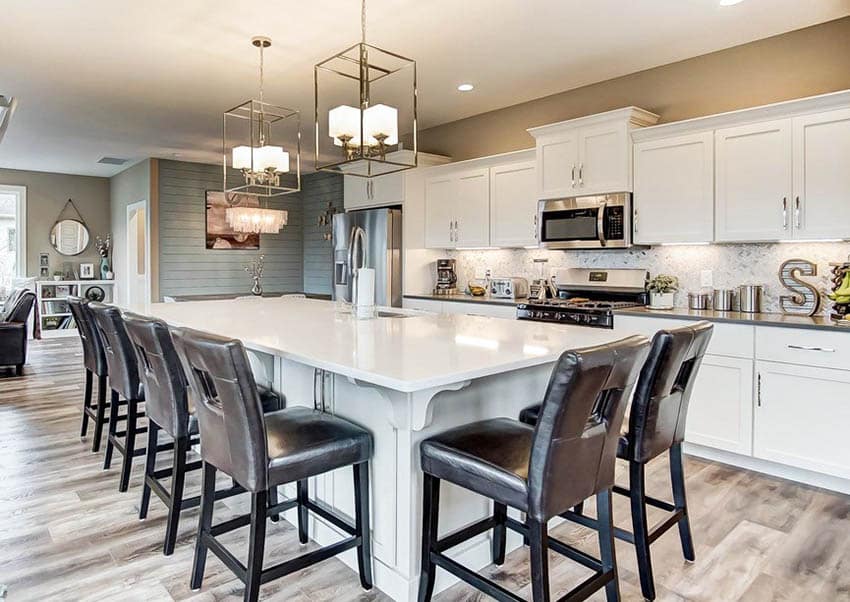 For this open plan kitchen, adding the light sage green shiplap boards on the walls of the banquette seating/dining area gives it an illusion that it is a separate space because of the difference in texture/pattern, even if technically, there is no wall separating it from the kitchen and the living area. See more shiplap dining rooms here.
Kitchen with Shiplap Wainscoting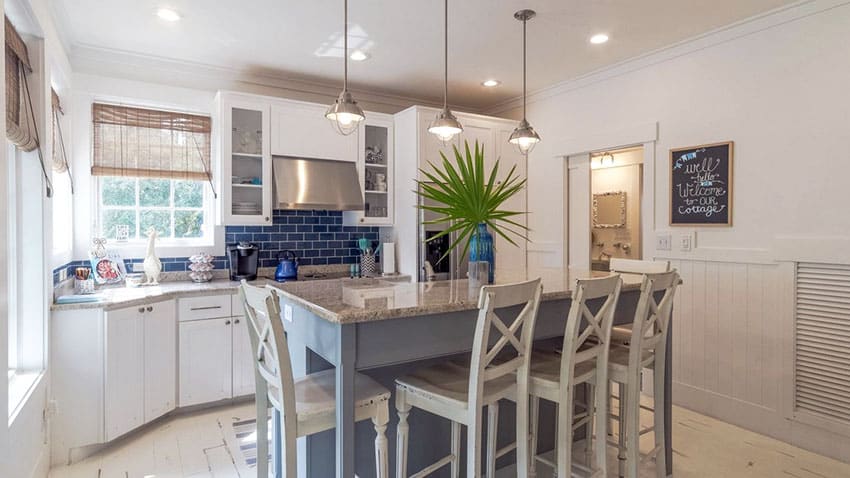 If you don't want to cover your whole wall with shiplap (especially for those who are concerned with dust/dirt build-up on shiplap grooves), and nice alternative is to install them on your walls as wainscoting. It gives that same subtle rustic effect, but is only installed in accessible heights, making maintenance easier.
Small Kitchen with Shiplap Walls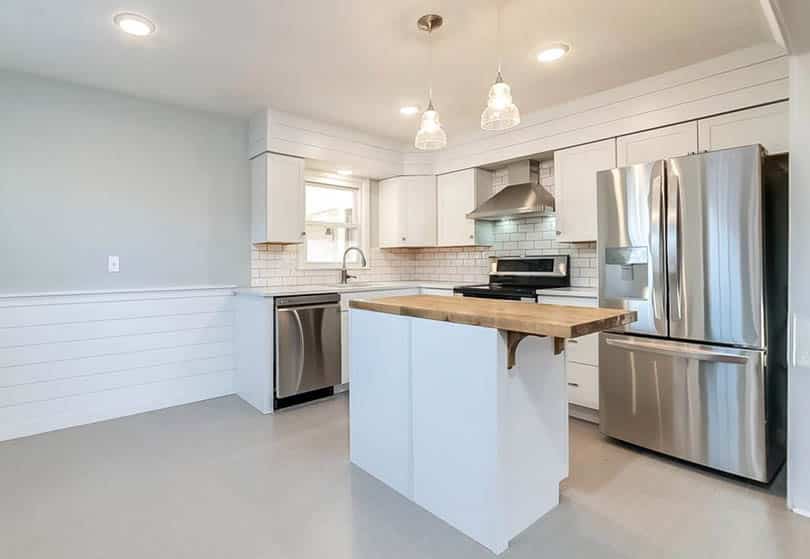 This kitchen shows a really creative way to conceal the unused space above your kitchen cabinets. Instead of keeping it open (which usually results in dust accumulation), false beams were added and clad with horizontal shiplap boards to make it part of the design story.
Shiplap Ceiling Kitchen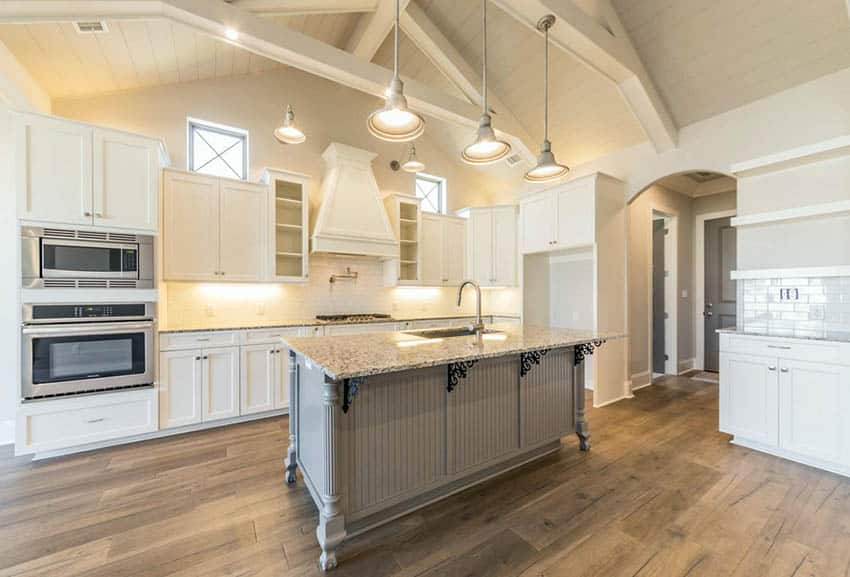 If your space has gorgeous gabled ceiling like this example, you can spice it up more by using boards to add texture and bring more attention to the ceiling. Nowadays, you can get them in a variety of materials, finishes and textures, so if solid wood is out of your budget or if your area is prone to termites, you might consider using uPVC shiplap with tongue and groove boards instead.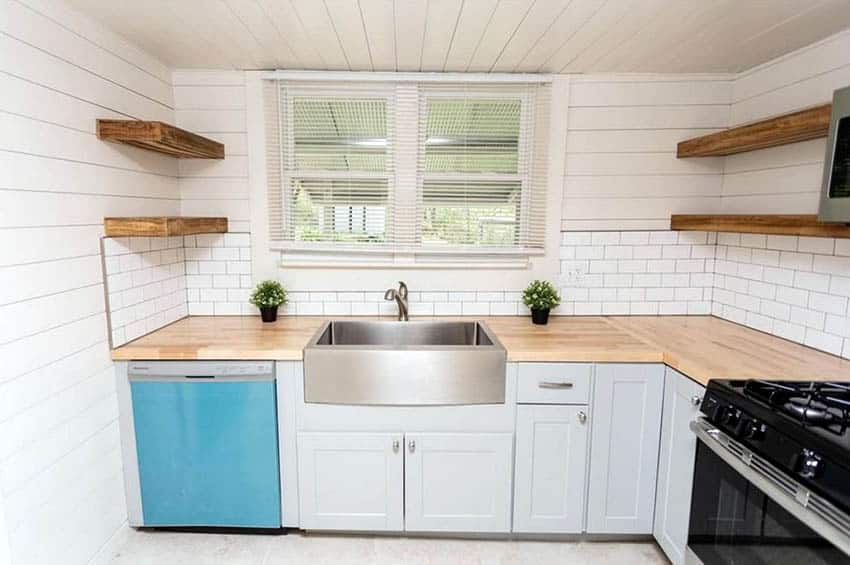 The horizontal shiplap used on the walls and ceiling add a sense of continuity and harmony for simple rustic style shiplap kitchens.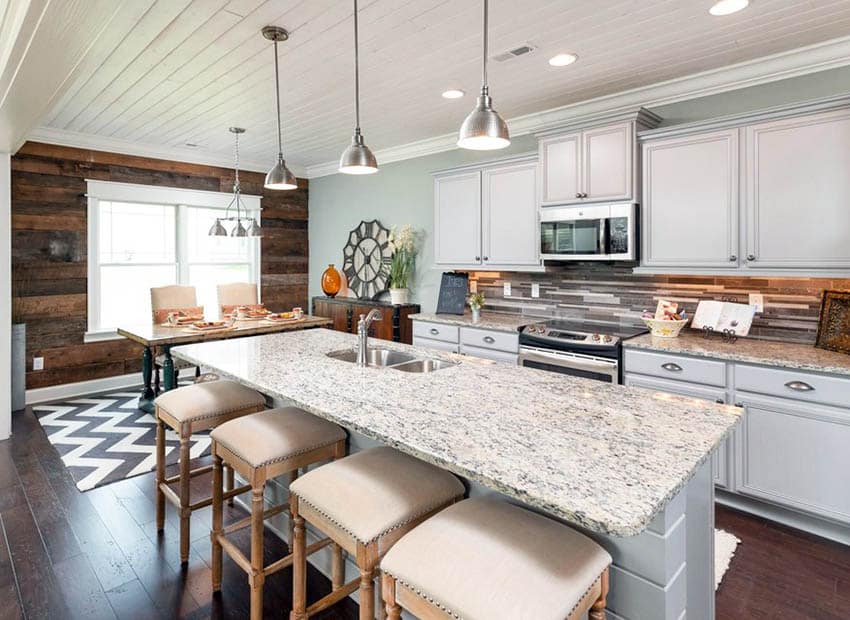 Using a plain white shiplap ceiling design helps tone down the dark, warm tones of the flooring and the accent wall, creating a more balanced look for this kitchen and dining space.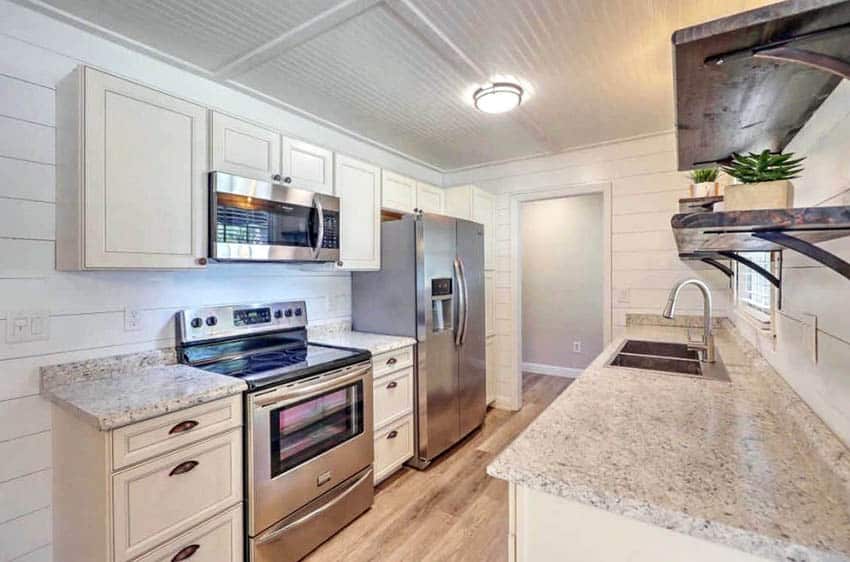 The narrow boards used on the ceiling of this small galley kitchen gives it a very retro vibe that perfectly matches the over-all style of the space.
Shiplap Kitchen Backsplash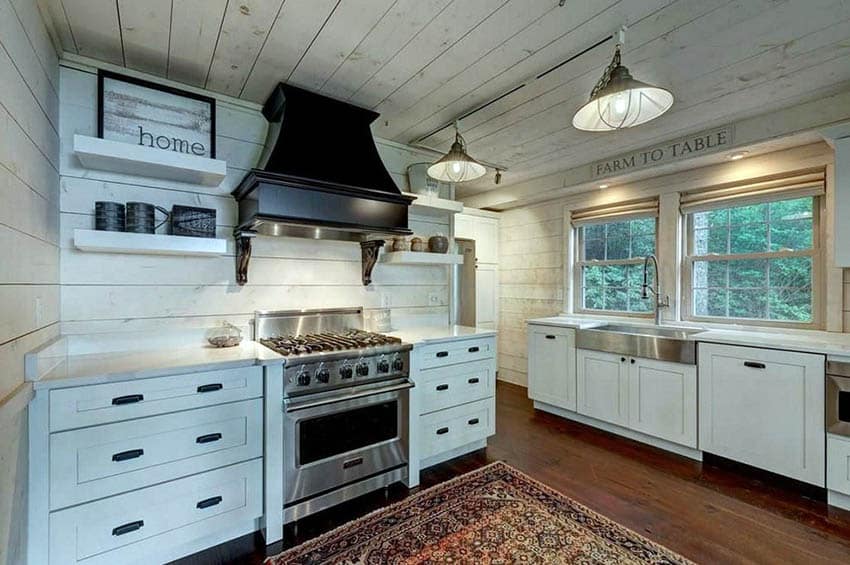 For areas not exposed to too much moisture or heat, adding shiplap on the backplash instead of using stone gives it a bit more grit and character, typical of country style homes. See more pictures of shiplap kitchen backsplash here.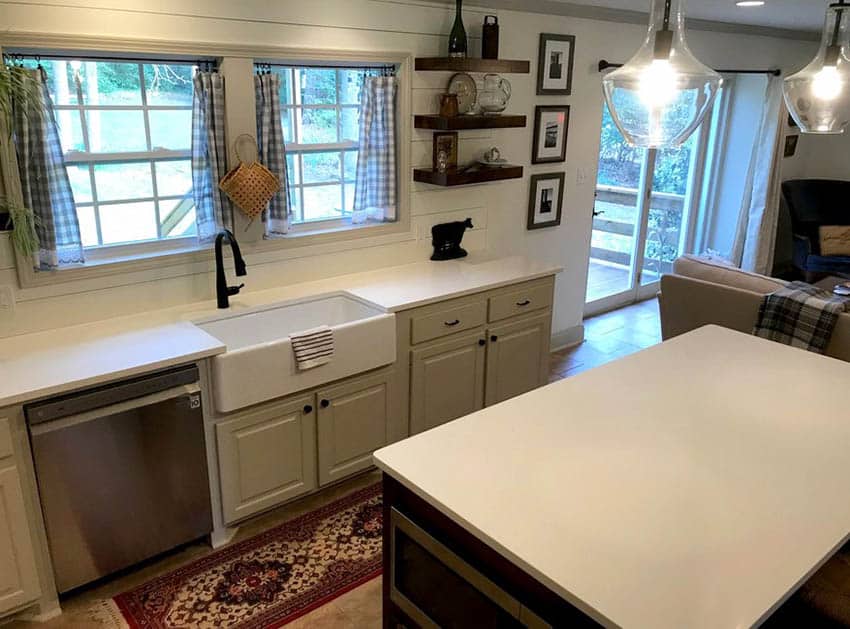 The use of shiplap for the backsplash in this example demonstrates how it can be used a visual guideline when deciding on your open shelf heights.
Shiplap Kitchen Island
If you're not ready to invest on covering your whole wall or ceiling with boards, maybe applying shiplap on your kitchen island is be enough to achieve the look you want. However,using shiplap for the ceiling and island together create a harmonious kitchen design that work well together.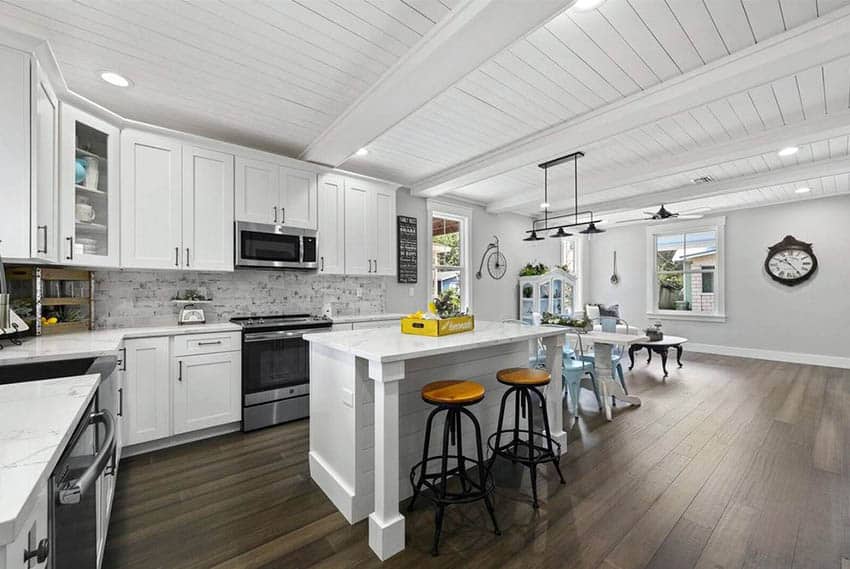 This shiplap installation on the kitchen island fascia is subtle yet is enough to give off that rustic home vibes.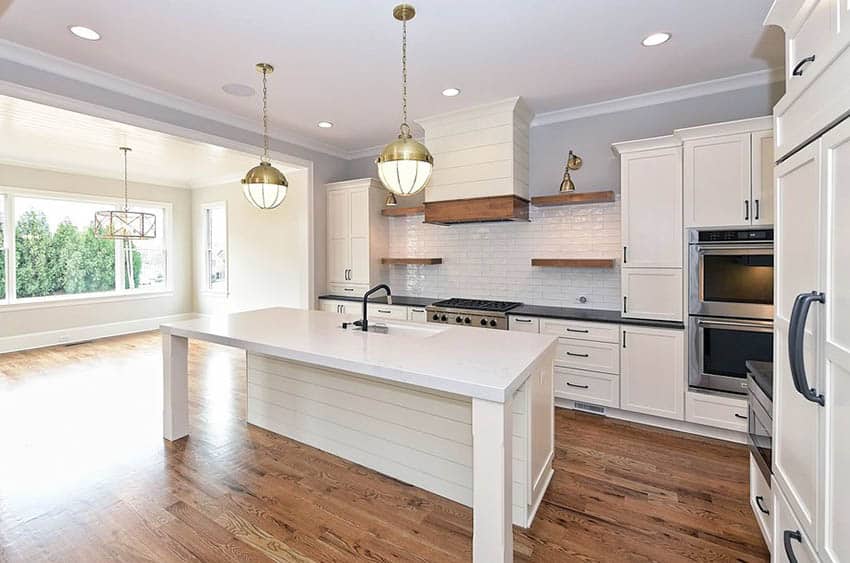 This is another great example of kitchen islands with shiplap boards. The kitchen island boards perfectly matches the shiplad cladding used on the range hood cover, creating symmetry and harmony in the overall look.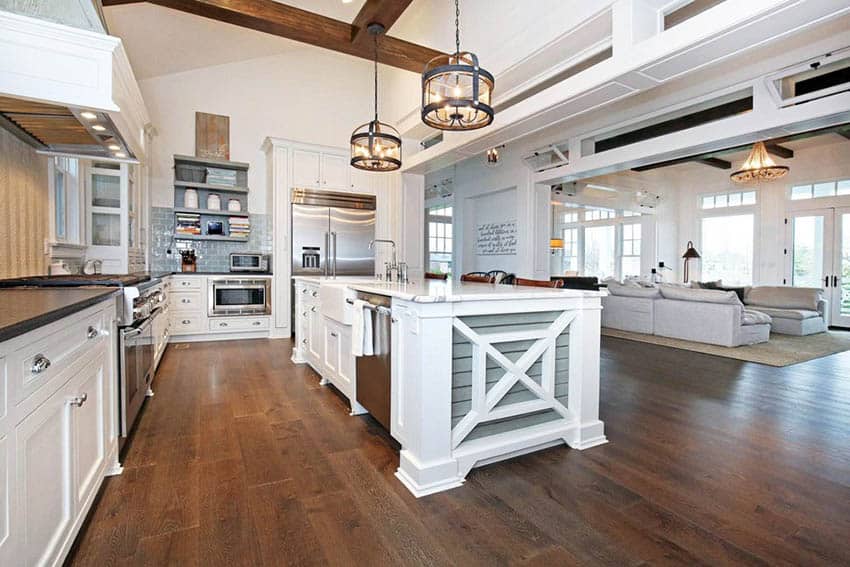 This beautiful kitchen design uses subtle gray shiplap accent boards for the sides of its large island. The color of the boards perfectly matches the gray subway tile backsplash and provides a soothing contrast to the white shaker style cabinetry.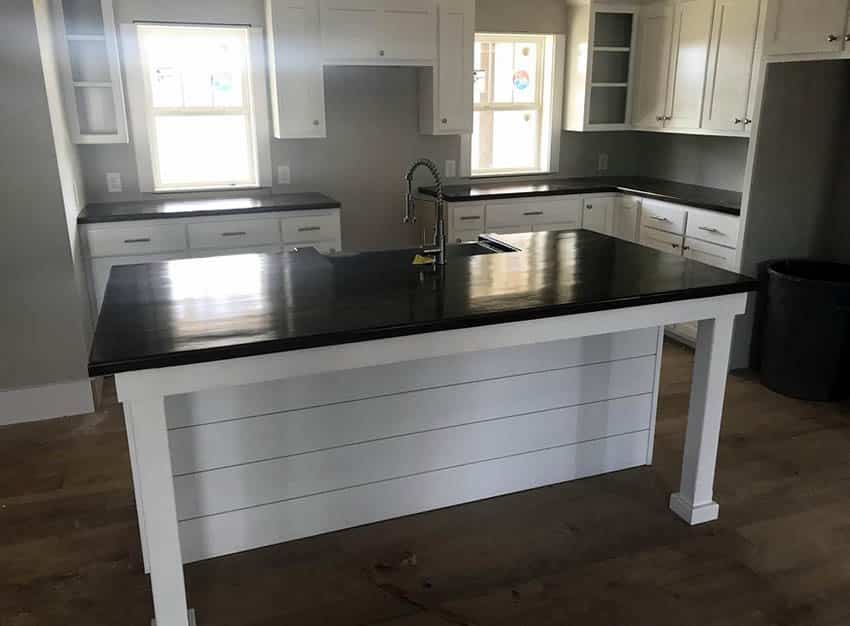 Shiplap kitchens can implement the design style on the front of an island with great results. By using wider boards, this kitchen island definitely looks bigger than it actually is!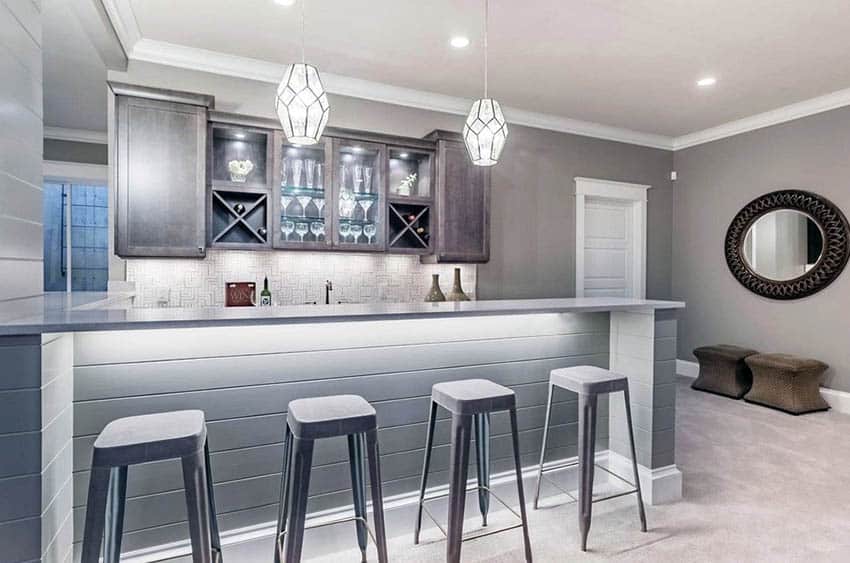 Rather than a regular kitchen design this space is a basement home bar with shiplap peninsula and bar stool seating. The light gray paint used for kitchen peninsula contrasts nicely with the darker wall paint and dark wood cabinetry while pendant lighting, light color carpet and geometric backsplash helps to keep the overall design bright.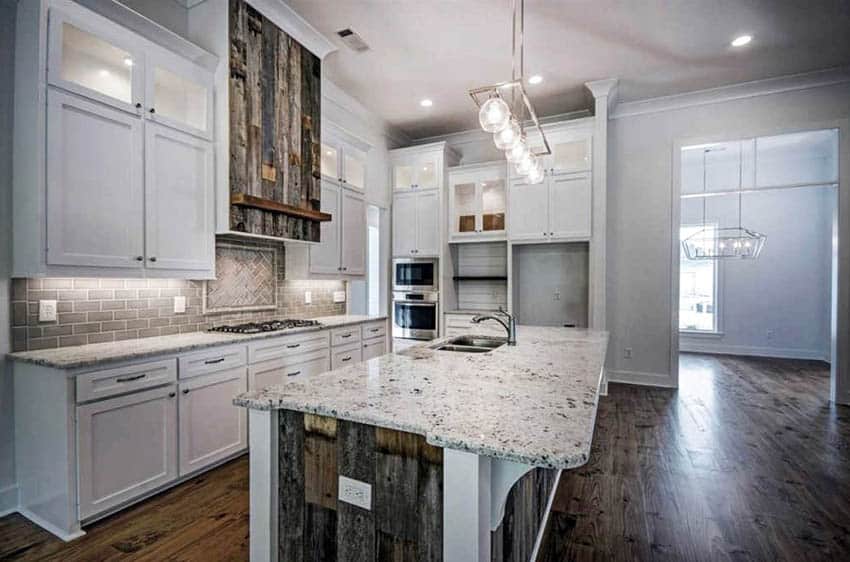 This example is a great reminder that shiplap boards don't come only in white (although it's the most popular). The kitchen island in this example is clad with weathered wood planks, giving each board a unique tint and texture. Visit this page for more reclaimed wood kitchen islands.