This gallery of walnut kitchen cabinets includes what they are, natural color & grain patterns, different types, cost, and if walnut is a good choice for kitchen cabinets.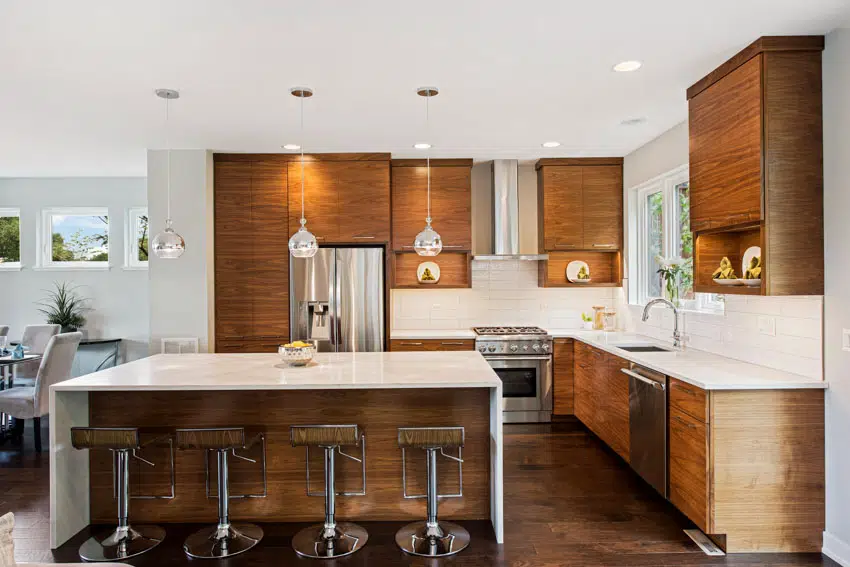 Walnut is a refined type of wood that is frequently utilized in carving crafts, bespoke craftsmanship, as well as top-quality cabinets. It is a moderately hard and dark-colored wood that keeps up well under usual operations.
Indeed, there is something unique about walnut cabinets. Its bold, rich color exudes warmth and refinement, effectively enhancing any room. Furthermore, its longevity ensures that you will be able to genuinely love your gorgeous home for many years ahead.
Walnut cabinets are an excellent selection for cabinets that ooze timeless beauty. Their classic style will make your house appear sophisticated and modern.
Whether you choose a classic or more modern home design, walnut cabinets would always be an interesting choice. Let us go through some more details about walnut kitchen cabinets in this article.
What Are Walnut Kitchen Cabinets?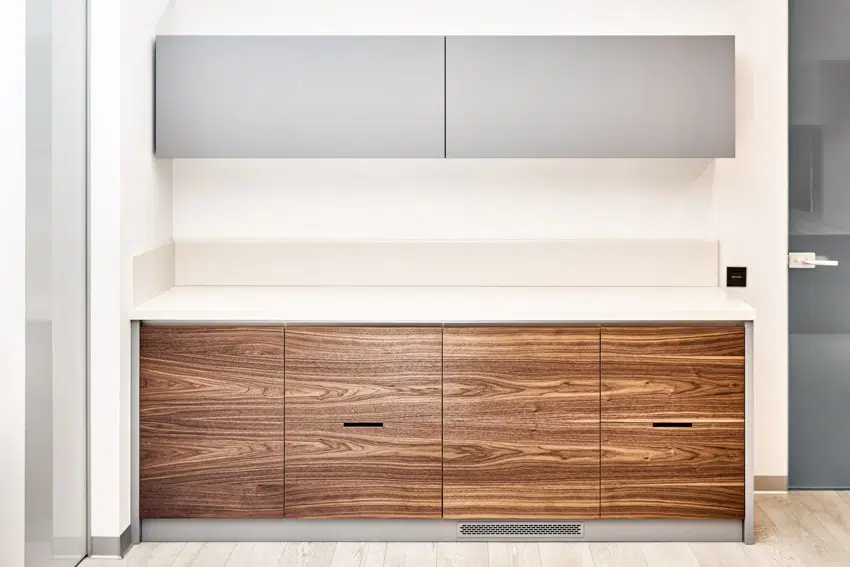 Walnut kitchen cabinets are produced from this walnut, which adds great durability and elegance to your home. Truly, purchasing walnut kitchen cabinets is a wise purchase that will continue to bring value for generations to follow.
The durability of walnut, along with its aesthetic and ageless attractiveness, renders it one of the most desired forms of furniture. Walnut kitchen cabinets are useful in more ways than one. They provide numerous benefits to homeowners.
Walnut is among the most long-lasting wooden materials on the marketplace, with higher resistance to degradation than other wood species. They have excellent durability and strength meaning they can have a long lifespan. A high-quality walnut cabinet will last for many years before it needs to be replaced.
Walnut cabinets are visually spectacular due to the wood grain texture and the deep hue of walnut. They are also available in a range of finishes, including naturally stained, clear-coated, unfinished, raw, and painted, as well as a variety of patterning, allowing you to try out different designs and combinations.
Furthermore, for several decades, walnut cabinets have indeed been utilized to construct exquisite furnishings with intensely rich colors and a genuine elegance that is difficult to replicate using other woods. The organic oils found in walnut cabinets provide excellent natural protection against different harmful elements.
Cabinets made out of walnut are generally more resilient than oak or maple and can be refinished and repainted effortlessly. Walnut has a high scratch and impact resistance, making it difficult to see scratches or cracks from massively sharp objects.
Although it was formerly thought to be quite expensive, walnut may reduce your energy expenses as it has shown to be environmentally friendly, making it a smart investment that will raise the value of your house.
Walnut cabinets are also often built from eco-friendly materials, which are beneficial for you. They are particularly advantageous to your lungs since the substance collects very minimal dust, not like the other cabinet materials.
What Is The Natural Color Of Walnut Wood?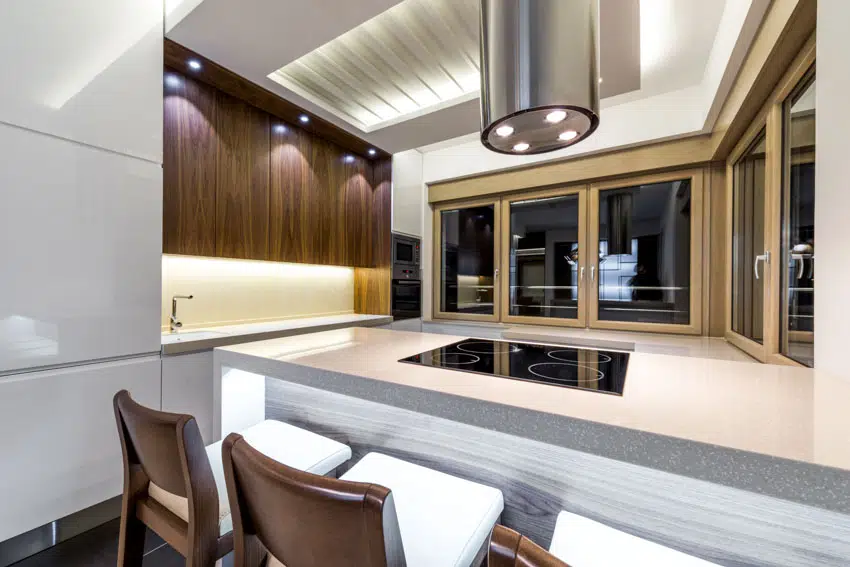 The natural color of walnut wood can either be flat or golden brown with rich brown to deep dark brown tones. The 'sapwood,' or outer part of a Walnut log is paler yellow, while the 'heartwood,' or inner part has more darker shades of brown.
The color of walnut wood can vary greatly as it depends on the type of walnut timber as well as the drying process employed. For instance, walnut timber that has been kiln-dried to expedite the drying procedure is often flat brown.
Walnut is darker than most woods and will be darkest when first cut. As time goes by the wood will actually become lighter with more honey overtones as it ages and dries. Maple and cherry woods on the other hand actually get darker over time.
There are also a lot of walnut cabinets nowadays that are in different colors as they have already been stained. You can also use finishing oils such as boiled linseed oil, or an oil based varnish which are two additional options to seal the surface from moisture.

Types Of Walnut Kitchen Cabinets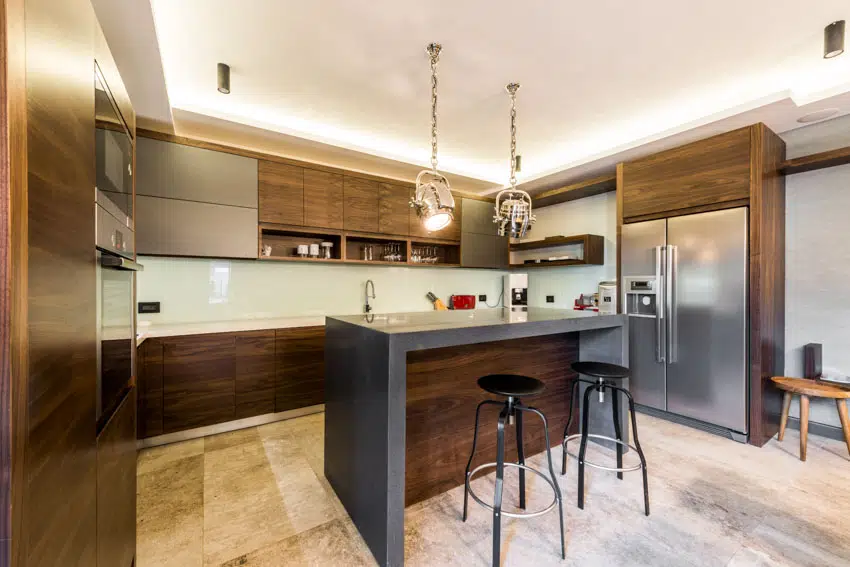 Walnut cabinets are available in many styles. It is critical to understand all of your options to select the best type of walnut cabinet for your needs.
Here is everything you need to consider about the many types of walnut cabinets.
Natural Walnut Kitchen Cabinets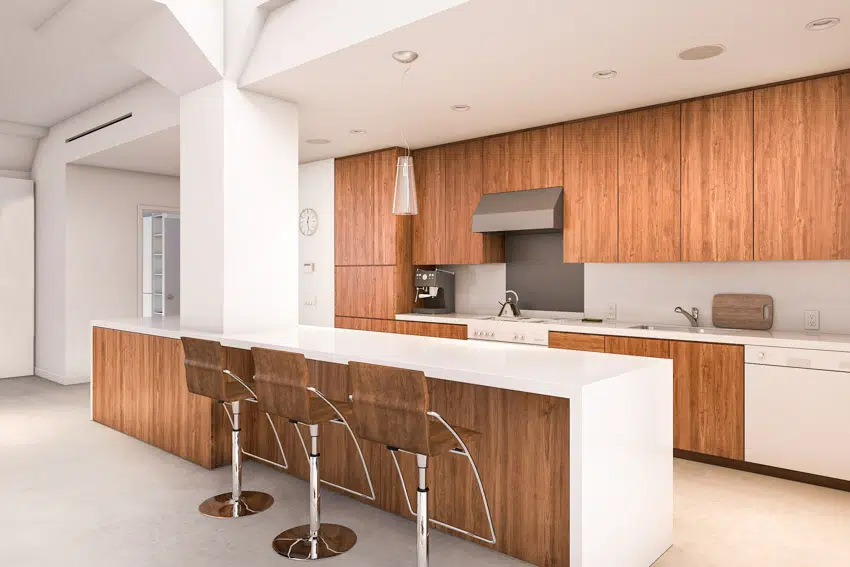 Natural walnut cabinets have long antiquity dating back to Greek and Roman times. Indeed, natural walnuts are very soft to the touch and boast an inherent richness that you will not find in any place.
Furthermore, natural walnut is an eye-catching option for those in need of rustic kitchen cabinets. They give a classic and authentic charm to the décor and are available in a variety of hues and styles.
Natural walnut cabinets complement rustic décor because they complement rough pines, salvaged wood, marble, stone, and even tiles. They are rustic yet exquisite, will endure a lifetime, and can be handed down to future generations.
A lot of homeowners appreciate walnut cabinets for their luxurious appearance, whether they are bright or dark, large or compact. The reason for this is that numerous wood furniture enthusiasts consider this furniture to be attractive in its sense.
Natural walnut cabinets have not been repainted or finished, which alters their natural aesthetic. Even if oil or varnishing sheen is used, the goal is to protect the walnut cabinet surface from pests that might destroy the woodwork.
Solid Walnut Kitchen Cabinets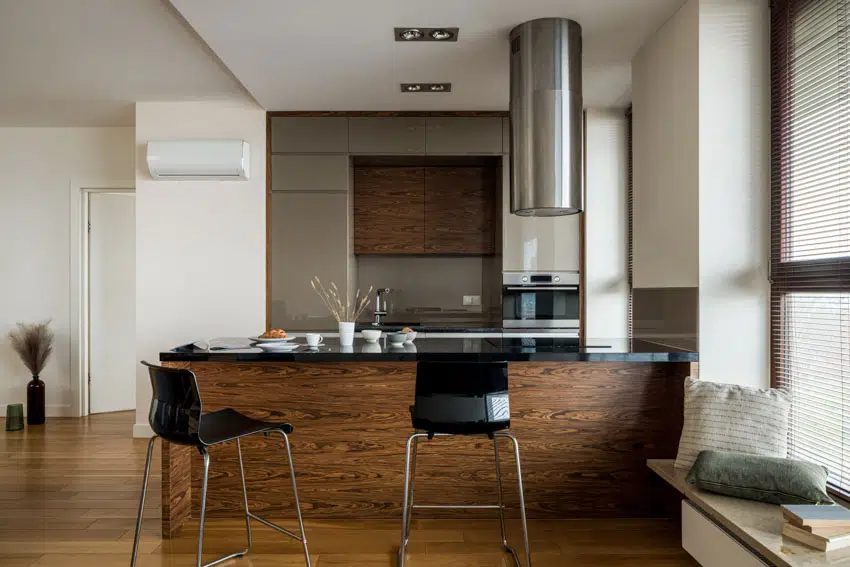 Since they are made from the actual source, solid walnut kitchen cabinets have the best features of walnut. Notwithstanding its premium price, this type of walnut kitchen cabinet will make the homeowner feel pleased and comfortable while admiring its appearance.
Aside from that, solid walnut kitchen cabinets are not usually handmade, despite the use of genuine resources. There is presently a lot of industrial furniture constructed of this material with stunning designs. You can also create a customized model to perfectly suit your needs.
When searching for walnut kitchen cabinets on the marketplace, you can usually choose between solid wood and wood veneer walnut. Solid walnut is generally more difficult to locate and significantly more pricey, but it is also the superior quality alternative of the two.
It is much more robust, so there is no need to fret about the veneer peeling or flaking over time. Solid walnut is an exquisite and high-end element in the kitchen cabinet industry. It can withstand sanding and re-finishing better than its veneered equivalents.
American Walnut Kitchen Cabinets
The sapwood of American walnut kitchen cabinets is creamy white and is typically identified by its compact grain and silky surface. The wood is commonly oriented in linear forms, but it sometimes has a curled or wavy grain that gives off a lovely impression.
Furthermore, its unique marks make it an excellent selection for a classic-style kitchen. Walnut cabinets that are ready to be assembled have a very seamless finish and are popular as an accent to add a widely differing hue to light-colored cabinets.
To acquire excellent American walnut kitchen cabinets, you must use ready-to-assemble cabinets, which keep the stain and paint very efficiently. Indeed, American walnut kitchen cabinets are still well-known for their stability and strength.
English Walnut Wood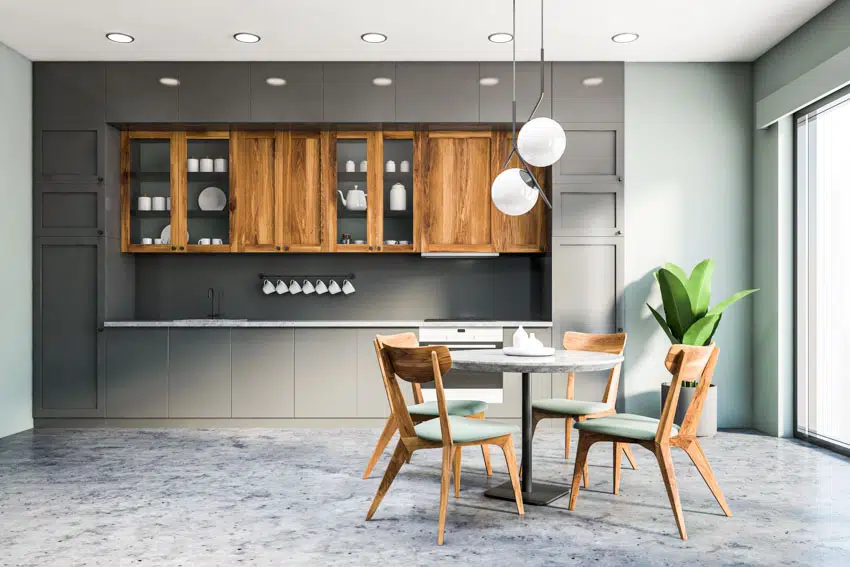 English walnut is widely maintained for its high-quality edible seeds, which are marketed internationally as walnuts. Cabinets are made from dark fine-grained wood, which is comparable to black walnut.
English walnut wood is derived from the trees that produce the most safe-to-eat walnuts. French, Circassian, European, and Persian walnuts are some of the names given to it.
English walnut trees can be found all over the eastern part of Europe as well as the western part of Asia. They normally grow up to 115 feet in length and 6 feet in width. However, English walnut woods are quite pricey. This is one of the reasons why it is commonly seen exclusively in veneer versions.
Moreover, the English walnut heartwood can span from light brown to dark cocoa brown, while the sapwood is practically white. It may have streaks of different hues as it will normally depend on the drying procedure.
In addition, a gray, purple, or reddish color is frequent in English walnuts. Take into account that, while English walnut is considered generally robust, it can be vulnerable to pest infestation.
Black Walnut Kitchen Cabinets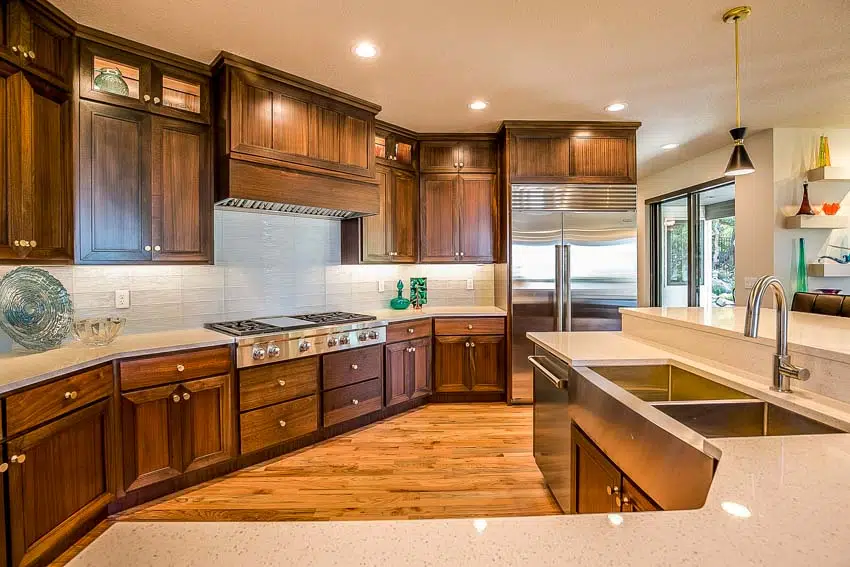 Black walnut kitchen cabinets are not merely a fashion statement. Such walnut cabinets are more resilient and solid than lighter-colored options. Walnut wood has a rich hue that combats stains as well as discoloration. When the time comes that you want to modernize your kitchen, these cabinets will deliver an exquisite upgrade that will last for decades.
Furthermore, black walnut kitchen cabinets are attractive as they have a luxurious and refined appearance. They are abundant in brown tints, which give them a natural and rustic appeal that is very relaxing and warm while also combining wonderfully with other colors in your kitchen décor.
Black walnut wood is primarily widespread among furniture makers throughout the United States. It is not only sturdy and uncomplicated to deal with, but it is also dimensionally stable and shock-resistant. One can often find black walnut kitchen countertops and tables due to their shock resistant surface.

Additionally, black walnut wood is sourced from trees found throughout the eastern region of the United States. They can evolve up to 121 feet long. The heartwood hue of Black walnut wood, such as that of English walnut, spans from pale yellow to rich cocoa brown. Its sapwood, on the other hand, is often pale yellowish gray to nearly white.
If you want a wood that is both strong and resistant to decay, black walnut would be the way to go. Consider the fact, nevertheless, that black walnut wood, similar to its relative, which is the English walnut, can be prone to pest infestation.
Ultimately, the best part is that Black walnut wood is widely obtainable. Imported walnuts are still expensive, although they are often more inexpensive than the local ones. Because of its low cost, many individuals use it to construct pieces of furniture, particularly kitchen cabinets.
The darkness of black walnut is great because it rarely needs stain, and looks absolutely beautiful in its natural color.- interior designer Savannah Phillips.
Light-Colored Walnut Kitchen Cabinets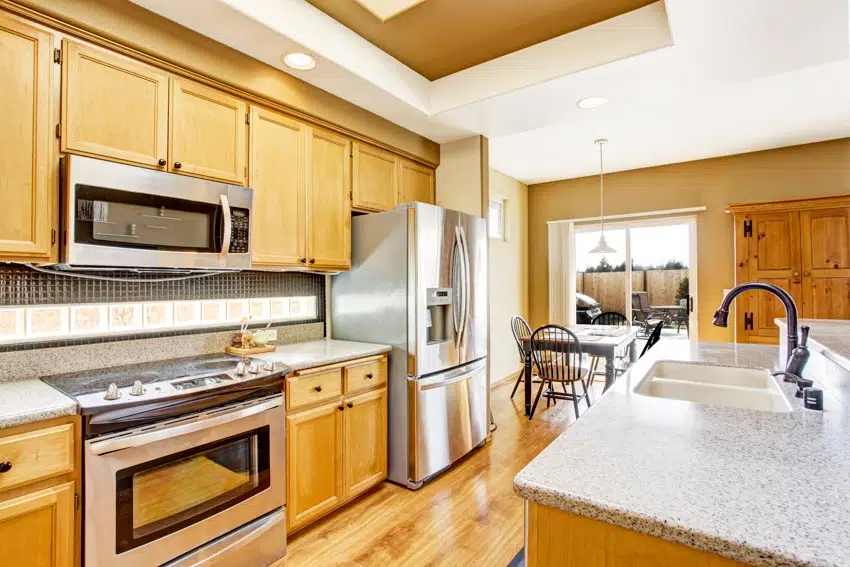 The color of walnut is often dark. Nevertheless, certain walnuts have brighter tones, particularly if they are very young. Indeed, for walnut kitchen cabinets, a light hue might also be an appealing option. Every moment you enjoy your time in the kitchen, this light color will create a vibrant and enjoyable mood.
Light-colored walnut cabinets might be more expensive than other types of cabinets. These walnut cabinets, on the other hand, are regularly complimented for their adaptability and beauty.
Light walnut kitchen cabinets are an excellent choice for a tiny kitchen with limited natural light because they end up making the space appear larger and brighter.
Such cabinets will enhance the inherent charm of any kitchen. Plus, these light-colored walnut cabinets can be easily paired with other furnishings as their color is very neutral.
Shaker Walnut Kitchen Cabinets
Shaker cabinets are distinguished by their circular wooden handles, tapered frames, and gentle curves. These characteristics contribute to the conventional, soft appearance of shaker furniture.
Although maple wood appears to be the primary wood for most shaker furniture elements, numerous modern models utilize walnut as well as other American wood.
This solid type of walnut cabinet has significant spiraling details that accentuate the wood texture of walnut. Its warm dark tone is ideal for achieving a fancy yet inviting appearance that is guaranteed to catch your guests' attention. Regardless of your kitchen décor style, shaker style cabinet doors made of walnut would undoubtedly provide a dramatic touch to your kitchen.
Cherry stain is used on certain shaker walnut kitchen cabinets. These models usually have a soft closing mechanism, dovetail compartments, and full-overlay doors.
These cabinet lines are an excellent combination of efficiency and modern appearance. The numerous moldings and attachments for shaker walnut cabinets available will match any kitchen style.
Grain Matched Walnut Cabinets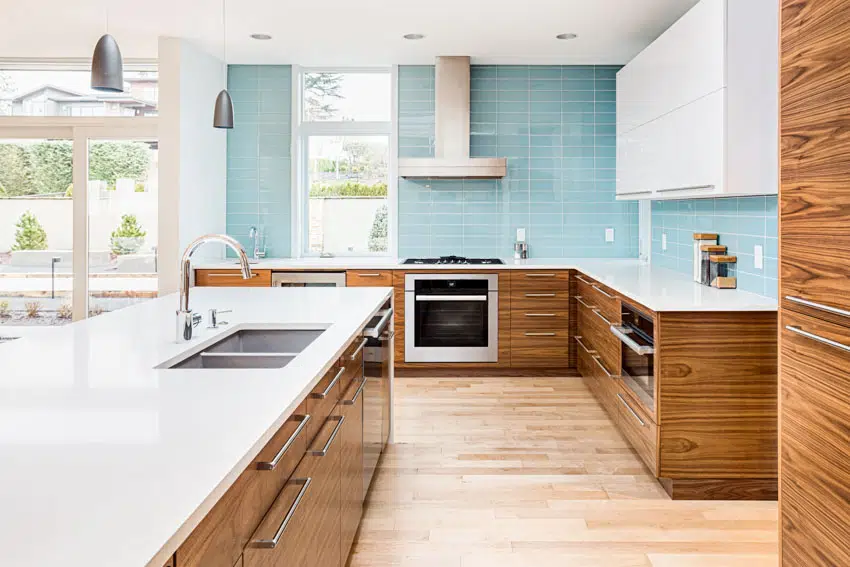 Grain-matched walnut cabinets offer a uniform and continuous patterning from the door-drawer zone to the other door-drawer zone or from cabinet to cabinet. However, it will depend on the orientation of the grain. This is certainly relevant for a striking grain pattern in walnut, which will accentuate a design magnificently.
Furthermore, as demanded in designer-class residences, this type of walnut kitchen cabinet gives a top-quality furniture product. Depending on preferences, the grain of this walnut cabinet can either be vertical grain or horizontal grain, and it is precisely trimmed to achieve the right match. The matching has the effect of spreading the intrinsic qualities of the wood throughout the whole surface.
Walnut Kitchen Cabinets Cost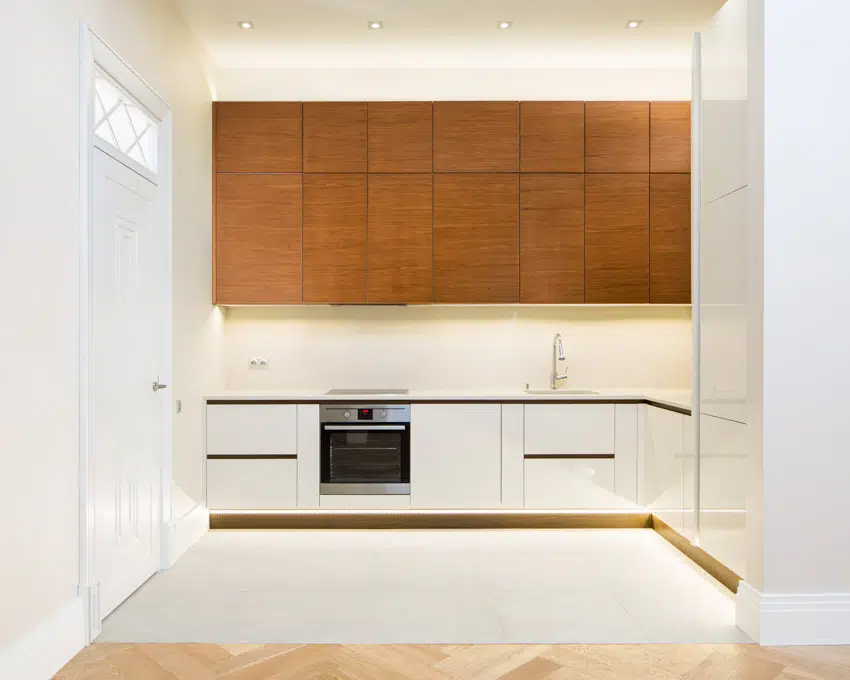 Solid walnut cabinets are significantly costly, and it is usual to pay at least $4,000 to $6,000 for a conventional 10 × 10 kitchen with no additional features.
If you choose prefabricated wood or a walnut veneer, you can expect to pay around $1,000 to $2,000 for 10 × 10 kitchens, which would save you a considerable amount of money. However, you will have a less durable product and you will be unable to refinish eventually if necessary.
When purchasing walnut cabinets, it is critical to determine if you are purchasing genuine (solid) walnut wood or a walnut veneer. Whenever you purchase from a huge home improvement store or merely a larger manufacturer, in particular, you are not always expecting to receive solid walnut cabinets. Rather, you will receive a veneer.
For higher-grade materials, you must work with specialized cabinet manufacturers. To be certain, you must inquire about the walnut kitchen cabinets that you are thinking about buying.
Is Walnut A Good Choice For Kitchen Cabinets?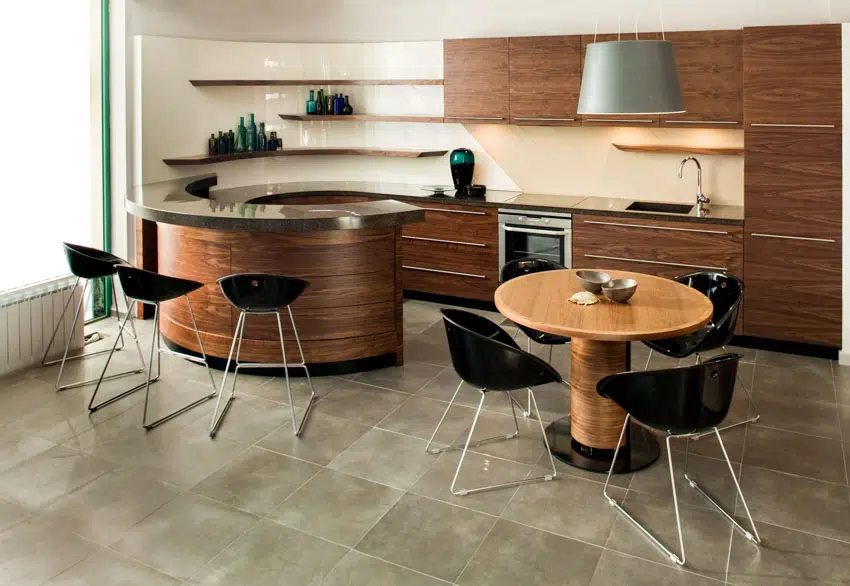 Yes, walnut is among the popular and elegant types of kitchen cabinet materials. It is frequently used for bespoke carpentry, such as high-quality kitchen cabinets.
This dark-colored, medium-hard wood can sustain everyday usage. The wood has remarkable grain textures as well as deep swirling. These features make it appealing to homeowners.
These are just some reasons why it is a good choice. But to sum it up, extreme durability, longevity, attractiveness, value, and availability are what make walnut kitchen cabinets a great choice.
Do Walnut Cabinets Fade?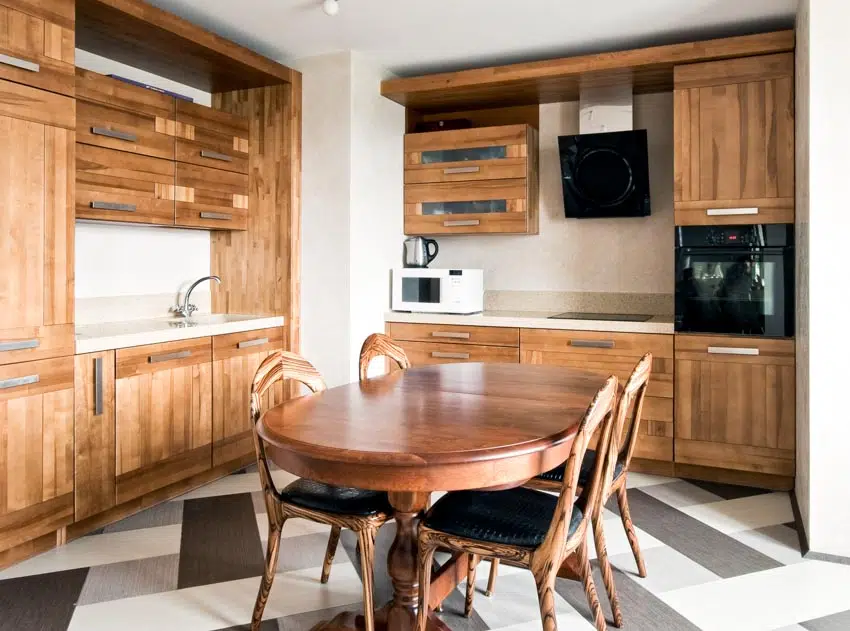 Walnut, unlike many other types of wood, will fade over time. The uniform deep or golden brown color of walnut will gradually fade away after several years or decades.
When exposed to light, it transforms into honey-like, pastel color hues above its initial dark brown colors. The very same thing might happen to walnut-finished kitchen cabinets.
Sun damage is the primary source of walnut fading. However, the pace of fading over a period is determined by the overall quality of the walnut. The majority of the fading processes will happen gradually and gently during the first several years, but you will notice a substantial difference in hue within several months. This is due to the UV rays that are inherently present in sunlight.
Walnut wood is particularly sensitive to solar energy, which implies it will respond to sunlight. Even if we put our walnut furnishings distant from direct sunlight, humidity and air will continuously discover microscopic channels in the walnut.
Another major source of walnut color transition is the constant exposure to air as a result of the oxidation cycle. Natural woods, such as walnuts, have a variety of complex compounds that are triggered by oxidation and allow the color of the wood to fade.
What Colors Go Well With Walnut Wood?
Light gray paint normally complements walnut cabinets. Not only that, but off-white, emerald green, grayish-blue, French vanilla, and creamy white tones are excellent selections to brighten up the kitchen with walnut cabinets.
When choosing colors, no doubt, it will be very easy as walnut wood has a neutral tone, which means you can practically select any color you want and it will still go well with walnut wood. This task will be even much easier if you have light-colored walnut cabinets.
However, at some point, all you have to do is experiment with new color combination ideas and let your thinking go daring.
What Floors Go With Walnut Cabinets?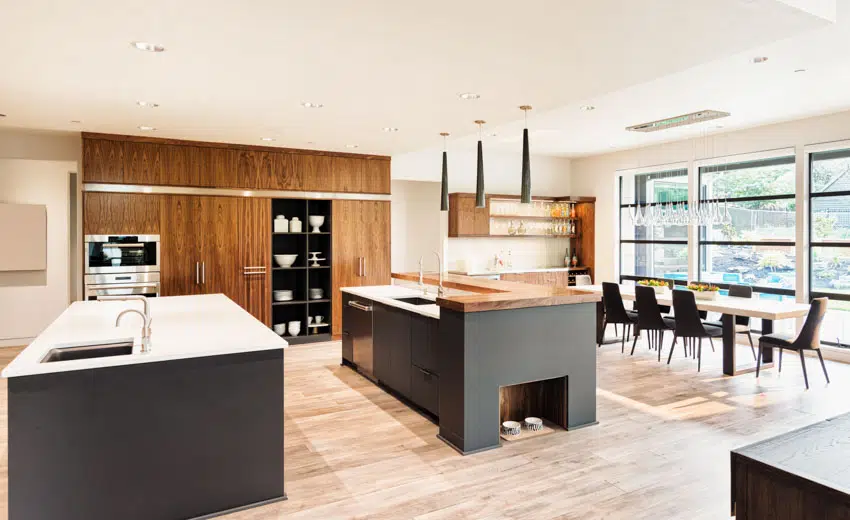 To make your kitchen look extremely earthy, classic, and elegant, you can choose maple and oak floors as they will complement your walnut cabinets very well.
See more related content in our article about walnut hardwood flooring on this page.