See industrial kitchen backsplash designs and find out what it is, the materials used, and tile, concrete, wood & metal industrial style backsplash ideas.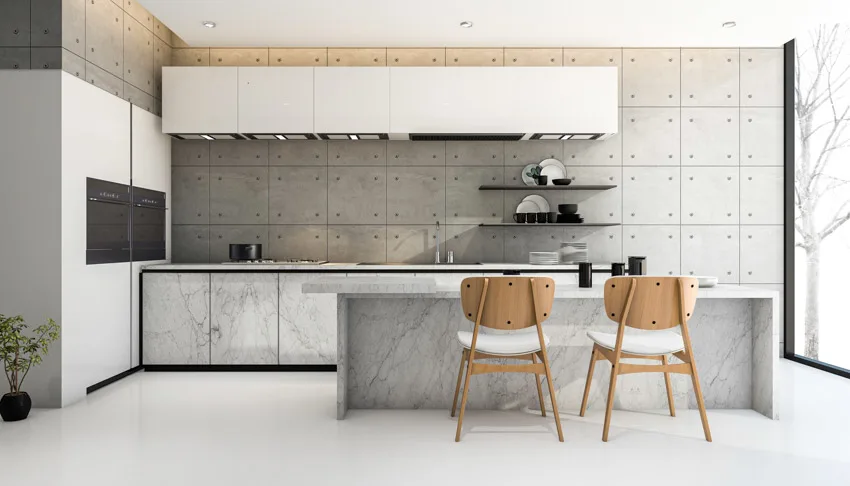 If you want a unique style for your kitchen that utilizes raw textural building materials combined with modern materials the industrial design may be for you. An industrial design in the kitchen often features exposed brick walls, open ceiling piping, reclaimed wood, and stainless steel surfaces.
What Is An Industrial-Style Backsplash?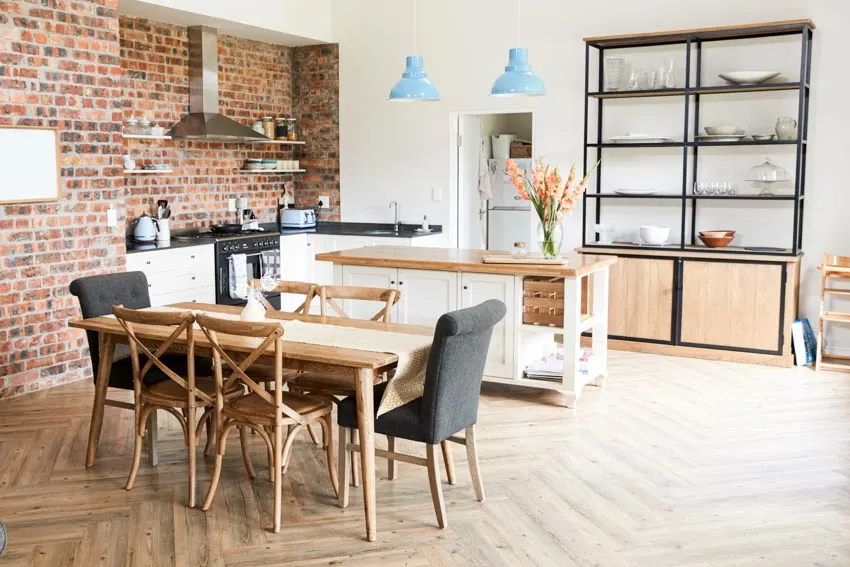 Bare and simple features characterize industrial-style kitchens. It combines purely vintage aspects that exude contemporary sophistication, offering a welcoming and dynamic feeling. The natural light streaming through the large windows and lighting systems balances the use of darker colors.
Backsplashes add beauty and functionality to any kitchen. Industrial style backsplash designs call for a dark and moody aesthetic, functional décor ideas, salvaged items, and a reminiscent of an old factory or industrial warehouse. Creating this mood includes incorporating brushed and polished metals such as – iron and steel, concrete, and bare brick effect wall finish.
Industrial Kitchen Backsplash Materials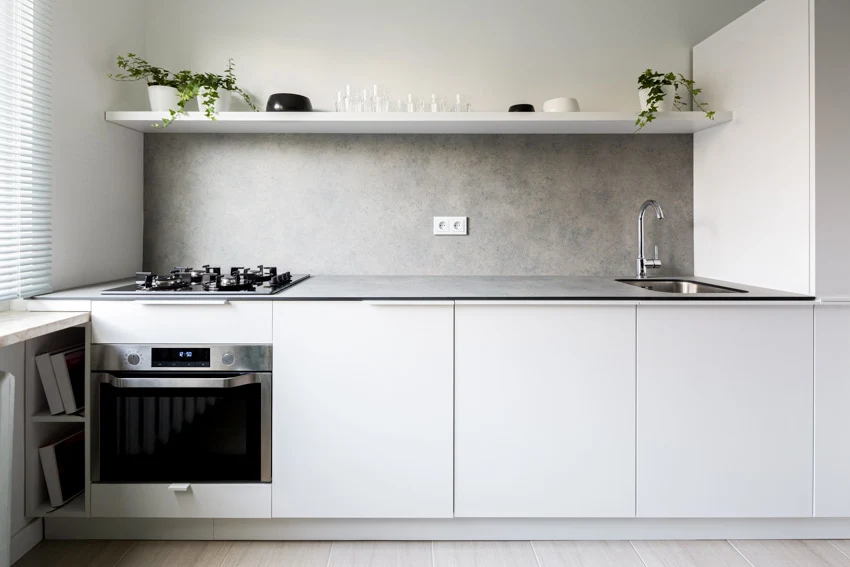 Industrial kitchen backsplash is known for using raw materials and creating a balanced design scheme. Something that is both reflective of its industrial history and a blend of colors, textures, and patterns can bring a warm, comfortable, and relaxed ambiance to an otherwise cold space.
• The texture and finish of cement have become the essential elements for an industrial kitchen design. It provides a perfect finish to make your kitchen backsplash look spectacular. This material is highly resistant to scratches, UV, stains, fire, heat, and abrasion.
• Exposed bricks will bring out the soul and personality of your industrial kitchen backsplash. Unfinished, unrefined, and unpainted brickwork highlights industrial kitchens' "naked look" trademark. Leaving these bricks as a backsplash bare will allow you to achieve an instant industrial aesthetic that delivers on charm and personality.
• Antique or reclaimed wood will offer warmth to any industrial kitchen backsplash. It brings nature in and adds contrast and warmth. Wood enhances a sense of personality – industrial meets rustic makes a feature kitchen backsplash.
Plus, it increases the value of your home and makes it more appealing to potential buyers. It compliments both light and dark types of kitchen countertops and cabinetry.
• Distressed or pressed metal works very well in an industrial kitchen backsplash since it always complements the visual appeal of an industrial-style kitchen. It uncovers the beauty of perfect imperfections and features a striking textured backdrop.
• Stainless steel is another essential element for an industrial-style kitchen backsplash as it blends seamlessly and elegantly with stainless appliances and fixtures.
It is easy to clean, hygienic enough to prevent bacteria, durable, and resistant to heat and water. Stainless steel backsplash absorbs and reflects light giving the kitchen a luxurious, high-end industrial atmosphere.
Industrial Backsplash Tile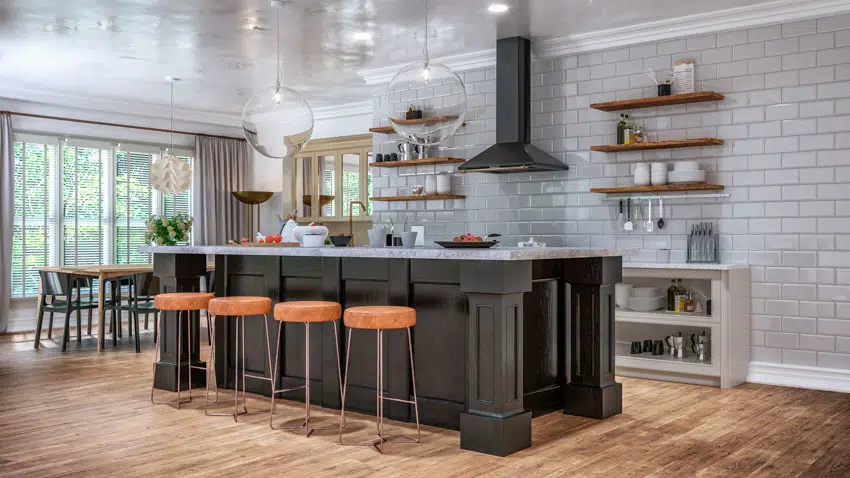 Tiles are the most favored kitchen backsplash choices due to their textures, colors, sizes, patterns, heat, and scratch resistance.
• Mosaic tiles backsplash add interest to an industrial-style kitchen. The modern hexagonal pattern of stainless-steel mosaic tiles offers a decorative element for an industrial backsplash tile.
• Faux metal backsplash from porcelain tiles with a metallic glaze emulates real metals' shimmer and shines. Porcelain tiles are a low-maintenance and resilient choice for the industrial backsplash.
• Subway tiles execute simplicity with timeless elegance and combine perfectly with the darker finishes and fixtures of the industrial kitchen style. See pictures of kitchens with subway tile backsplash here.

• Metal tile is not typical for a backsplash since it tends to get hotter than most materials. However, it offers any kitchen a modern, industrial look and adds texture, brightness, and depth to your kitchen.
Metal Backsplash For Industrial Kitchen Design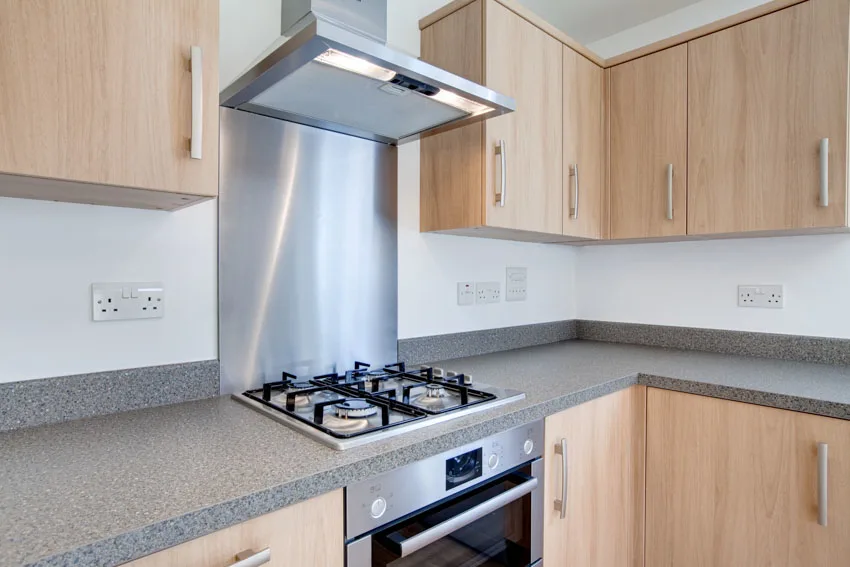 Inspired by the hardworking ethic of workers in factories, metal backsplash for industrial kitchens can also be at the same time elegant and robust. Metal backsplash emphasizes function and durability more than anything else.
The highly polished and reflective natural metal quality makes these backsplashes the perfect modern industrial elements that make the whole kitchen feel more spacious.
A metal kitchen backsplash is easy to install, sanitary, mold-resistant, and easy to keep clean. They do not rust, even when exposed to water. Metal backsplash is the perfect material to install behind a stove or oven since it is fireproof. A high-quality metal backsplash for industrial kitchen design is both stylish and a wise investment that will last for years.
• Zinc backsplash is non-porous and naturally antibacterial. It is a reactive metal that can evolve and develop a patina that grows with age and use, creating light and unique dark patterns.
• A brushed stainless-steel backsplash can also build a patina that offers texture and character. It is easy to clean and will show fewer marks or fingerprints than polished stainless steel.
• Aged brass backsplash adds a touch of class and timeless appeal that combine the beautiful patina of classic material with the practicalities of an industrial kitchen design. It has natural antimicrobial properties and adds warmth and stylish luxury.
• The copper backsplash offers a natural reddish, glowing feel with an elegant tone that brightens throughout the kitchen. Copper panels, when exposed to air or seawater over time, form a natural patina of green or greenish-blue pigment called verdigris.
Also known as "copper green," this oxidized copper creates a rich and striking hue that offers vibrant energy to the industrial-style kitchen design scheme.
Industrial Kitchen Backsplash Ideas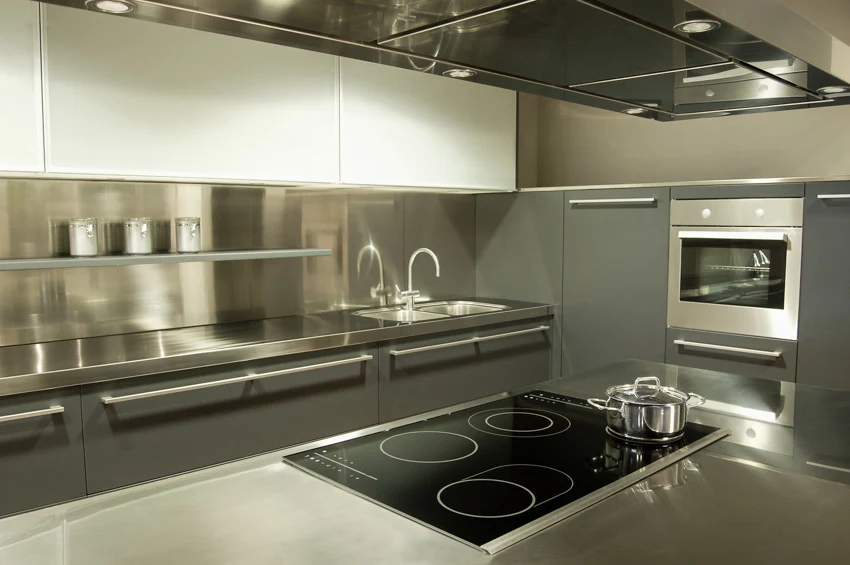 The unique concept of industrial style allows you to incorporate other design styles. The essence of the industrial concept includes metal or stainless steel, bricks, and wood. Using these materials for backsplash can add drama and color to the kitchen.
Integrating these metal details and wood accents creates a neater modern industrial look. Contemporary industrial kitchen backsplashes feature more elaborate, unique materials, textures, raw finishes, and metal highlights.
Wood Paneled Backsplash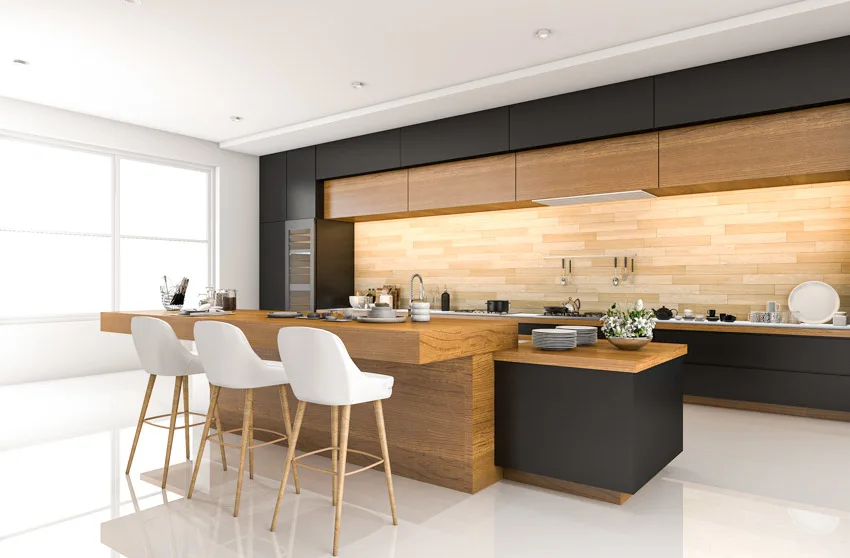 The natural textures and wood grains add a more fresh, warm, and contemporary aesthetics to the industrial kitchen designs. Wooden types of kitchen backsplash are a timeless material that offers a chic and creative look through textures and shades. A stylish wooden backsplash also provides contrast to the other industrial-style materials.
Distressed Mirror Backsplash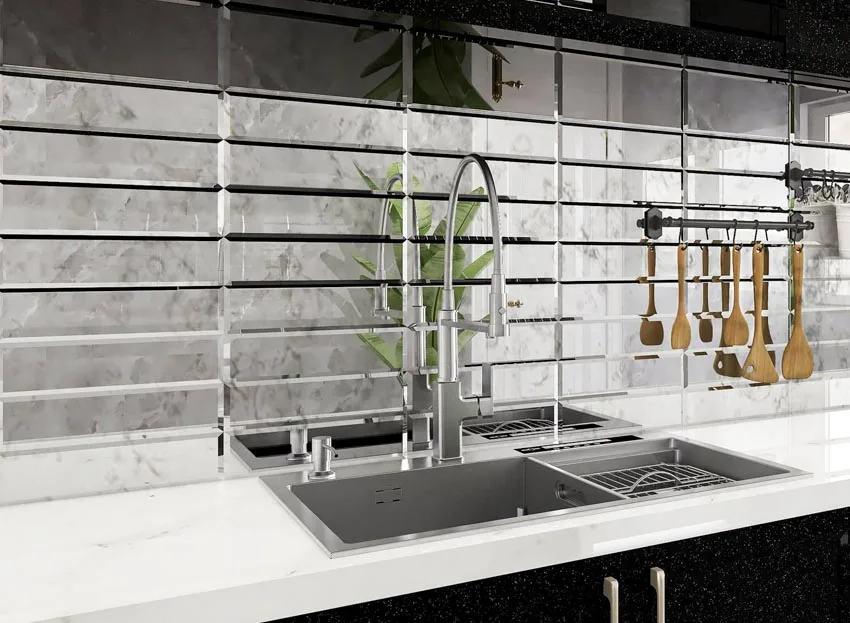 See this mirror tile backsplash at Amazon [sponsored link]
For a more dramatic vintage effect for an industrial-inspired kitchen backsplash, a distressed mirror backsplash offers a fashionable, elegant and impressive look. It is excellent for reflecting light and gives a unique antique feel.
Chalkboard Backsplash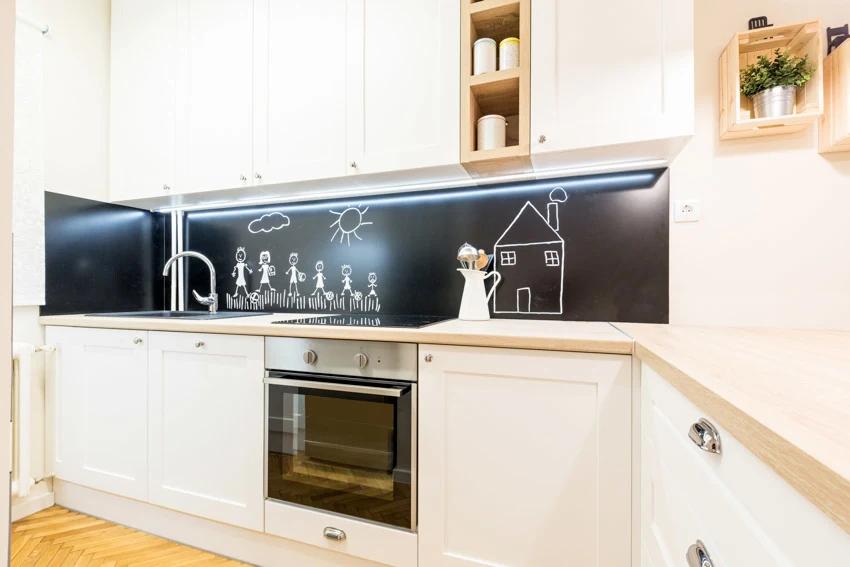 Using a black chalkboard brings a homey feeling to an industrial kitchen backsplash. It gets inspiration from a meeting room within a factory that uses the chalkboard for brainstorming. This industrial kitchen backsplash idea allows you to fill it with family recipes or motivational words for cooking.
Textured Black Matte Backsplash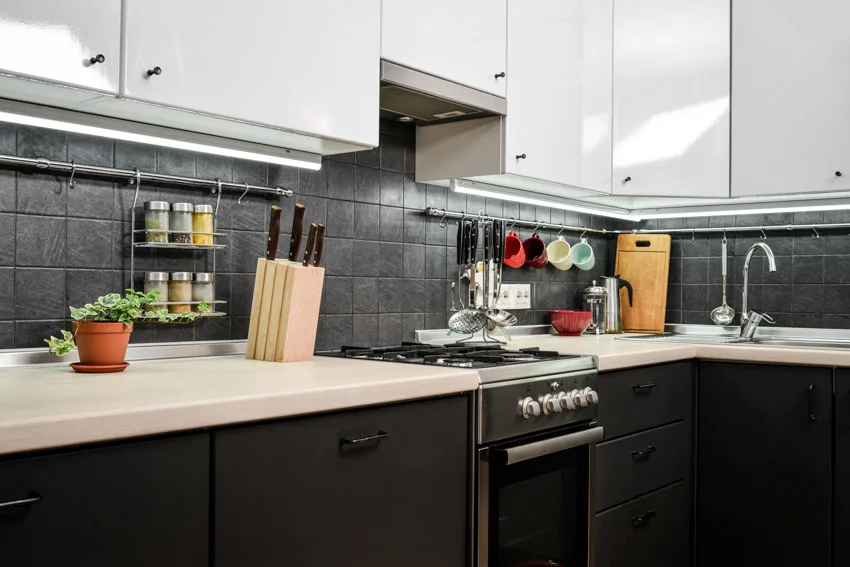 Black has been a trademark color of industrial-inspired design style. Incorporating a textured black matte backsplash creates an elegant, robust, and dramatic effect when combined with wooden cabinetry.
Rustic Industrial Kitchen
The mix of influences in industrial and rustic kitchen design styles is on the rise since they perfectly complement each other. The outcome is a modern space with welcoming and homelike vibes. The industrial technique sometimes appears too cold and sterile.
Adding a few rustic accents can spice the room and add warmth and coziness. The warm colors and rich details of rustic elements fused with the metal finishes and simplicity of industrial style add a lovely visual touch and feel to both the rural and urban worlds.
Stainless steel already has an industrial feel, completing the aesthetics with rustic cabinets, exposed brick walls, and wood shelving as an elegant accent to achieve the perfect style fusion.
There is an element of balance when rustic comfort meets industrial style with sleek furnishings that offer a bold impression to the space. While industrial style highlights the beauty of the unfinished textures, exposed wood beams add rustic vibes to the area achieving the perfect balance between warmth and sophistication.
Exposed brick walls bring a relaxing feel and warmth to the space; when integrated with a concrete ceiling, both create a harmonious combination of unfinished textures. Incorporating decorative elements such as antique mirrors and soft textured materials establishes a balance between the rough aesthetics and a touch of coziness.
Modern Industrial Kitchen Backsplash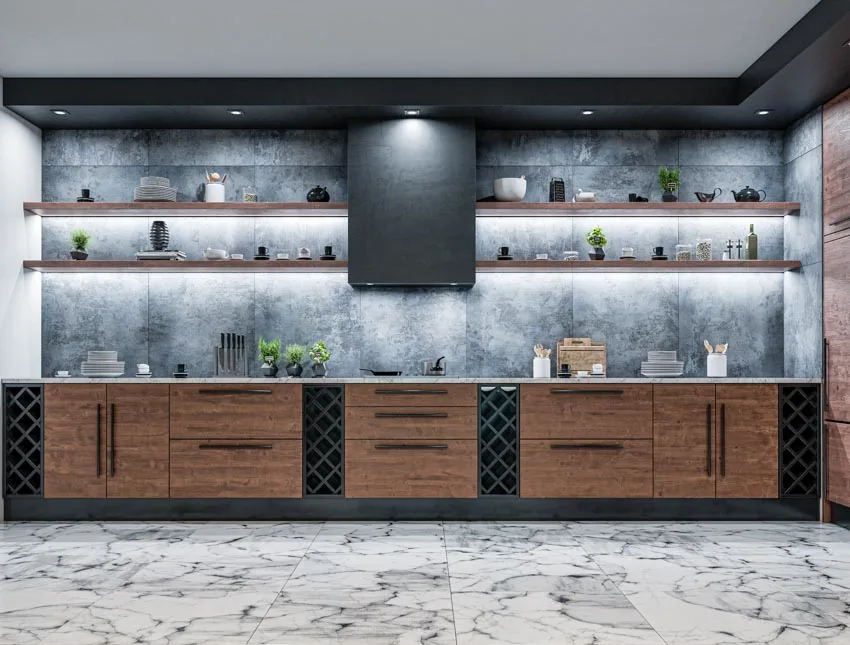 If you like a modern kitchen atmosphere but also want industrial aesthetics, you do not need an industrial kitchen to achieve an industrial look. The modern industrial kitchen gives a sense of space that creates rough textures to blend perfectly with smooth steel surfaces to form harmony.
Simplicity is also a consistent element for a modern industrial kitchen backsplash. For example, a textured glass tile backsplash is one of the most popular materials for a modern industrial kitchen due to its refined elegance and textured variation that offers a solid focal point within a modern industrial design style.
Industrial kitchen backsplashes emphasize distressed wood elements and exposed bricks while adding brass and copper to accent the weathered-looking pieces from a turn-of-the-century industrial era, creating a modern twist.
See more related content in our article about wood tile kitchen backsplash ideas on this page.