This gallery of the types of ladder back chairs features pictures of the different designs, slat back styles, and tips on how to update a ladder back seat.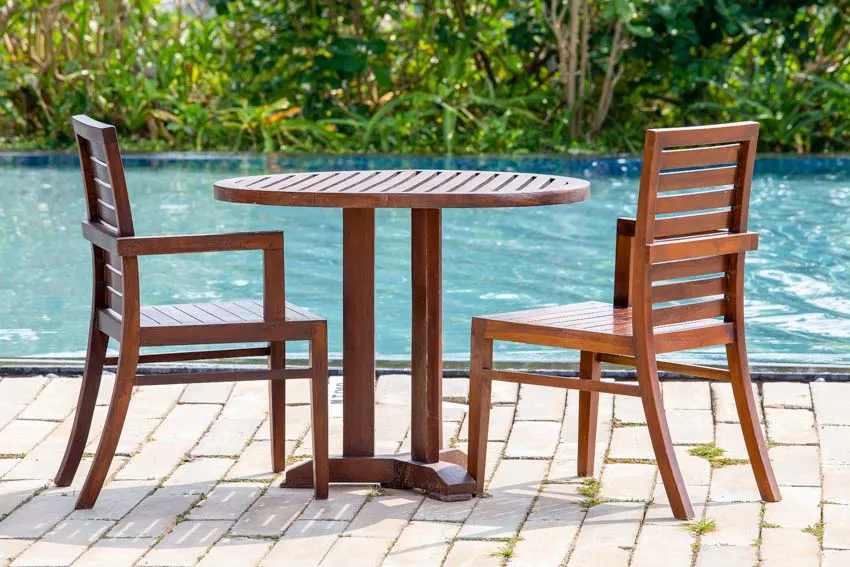 Since the time of the ancient Egyptians, ladder-back chairs have been used for generations. The first ladder-back chairs were constructed of wood and featured a straightforward design with four legs and a backrest. Such chairs were used for daily activities like sitting, sleeping, studying, and working.
Indeed, ladder-back style seats remained popular over the years and are still used today. Although their design has remained mostly consistent, they are now constructed of more advanced materials like plastic and metal.
Ladder-back chairs are a timeless design that will always be in style. They will offer a sense of beauty to your house whether you use them for daily tasks or special events. Let us define a ladder-back chair in this article. And later, we will go over its different types.
What Is a Ladder Back Style Chair?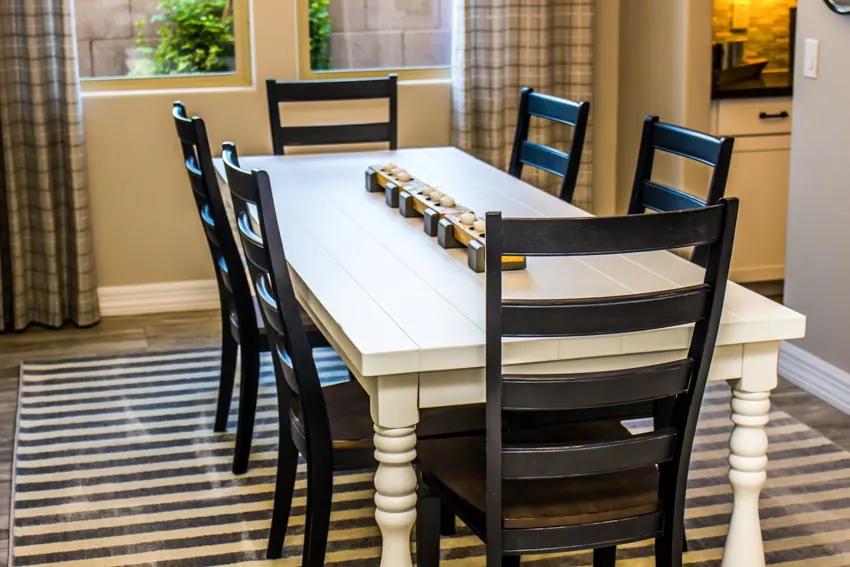 A ladder-back chair, also referred to as a slat-back chair, is given the name after the horizontal slats that run over the backside. This is similar to the steps of a ladder.
The slats are normally uniformly spaced and can be composed of various materials, including wood or metal. Ladder-back chairs have a traditional appearance and can be utilized in both professional and casual settings.
A tenon and mortise joint connects the slats, normally two to six in quantity, to the straight backing posts. The chair's posts are perpendicular to one another, and they are typically turned or rounded on a machine.
The traditional design has a high back and a braided rush seat. While chairs without arms were widespread, most ladder-backs got them in the 18th century. Some are rockers, but others are not; rockers were occasionally added afterward.
The architecture of ladder-back chairs transformed over time. Ancient Europeans began to incorporate increasingly elaborate designs, including armrests and headrests. These designs have become more elegant as time passed and were frequently employed on ceremonial occasions.
Ladder-back chairs are still used in modern interior design. Most furniture manufacturers provide reproductions of 18th and 19th-century chairs. In antique shops and auctions, you can still find the original models. With their rustic charm and sense of antiquity, vintage ladder-back chairs looked stunning in contemporary spaces.
Ladder Back Chair Designs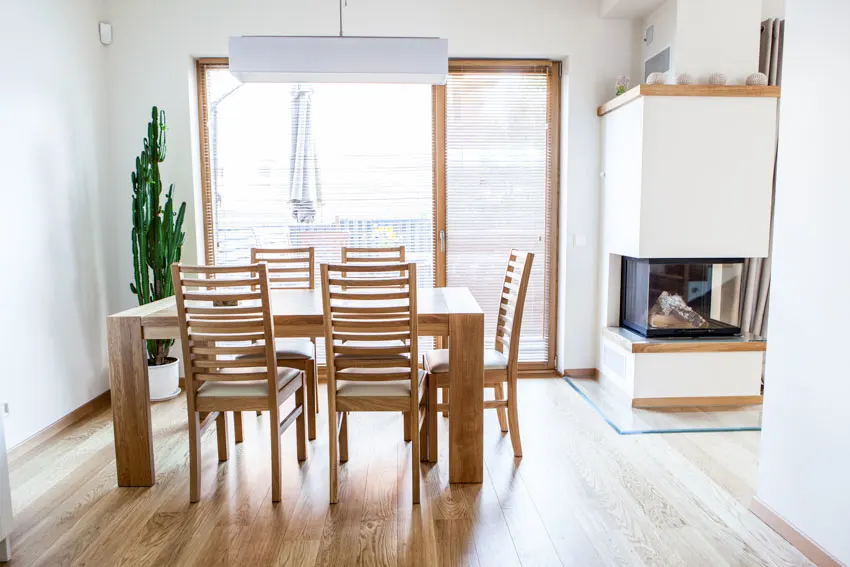 As previously stated, ladder-back chairs are available in different types and designs. Let us start to know them one by one.
Arm Chair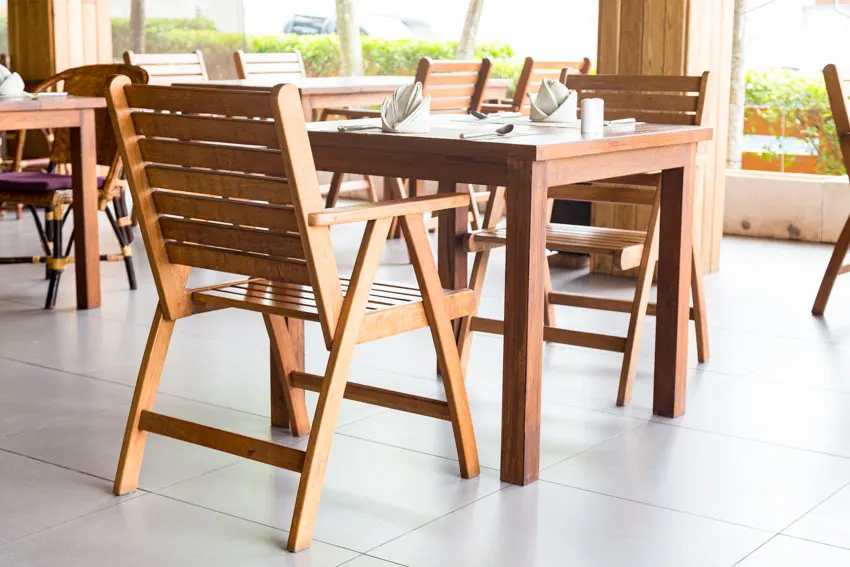 Armchairs feature a somewhat raised seat above the ground and usually have arms on both sides. This design is ideal for relaxing and may function as a dining room chair. Ladder-back styles are often made of wood and can be found in several styles.
The armrests are the distinguishing characteristic of an armchair. Armchairs, on the other hand, come in a range of structures to meet a variety of purposes, and they are often linked with comfort. Many furniture business owners sell armchairs, and you can even make your own or purchase customized versions to match your requirements.
Several products, for instance, are composed of solid materials, including wood, metal, plastic, or other industrial byproducts. Others are lavishly cushioned, making them incredibly cozy to sit in.
For those who take their relaxation seriously, some products come with coordinating footrests, while others transcend the line and become recliners, featuring sections that swivel to allow the backrest to swing back and allow the occupant to lounge or even take a nap.
Side Chair
The rear of the side chairs is perpendicular to the seat. The backrest may or may not be cushioned. However, these products are normally intended to be comfortable with upholstered seats. They are commonly found in living rooms and bedrooms, but they can also be found in offices.
A side chair usually has no armrests. It has a straight back, traditionally found in dining room settings, but they have numerous additional applications. Most furniture manufacturers sell these products in various sizes and styles to meet specific design requirements.
Furthermore, vintage side chairs can be acquired in restored condition or in less refined forms that necessitate some specific maintenance to be usable. A side chair's design is simple but very adaptable. The design must be armless and have a straight back to be regarded as a proper side chair.
Accent Chair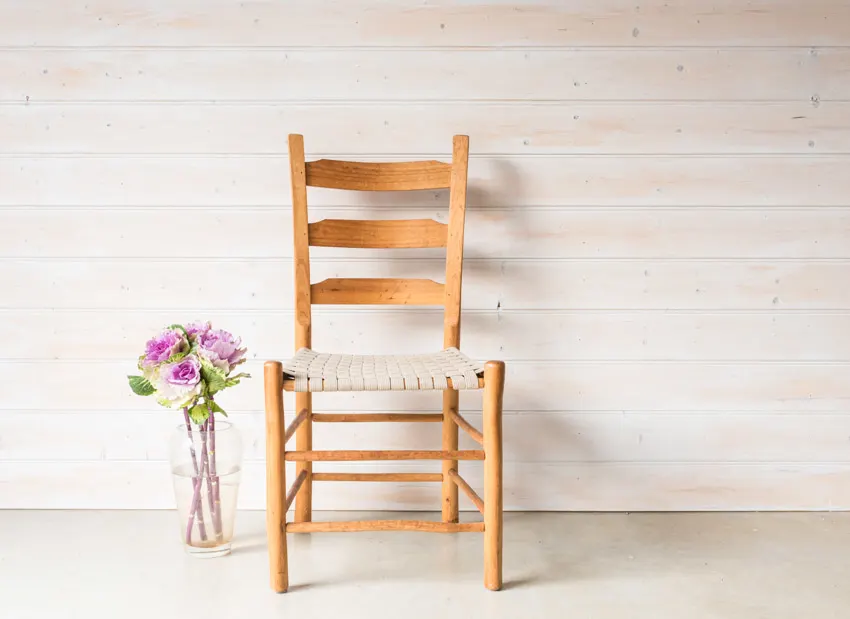 Accent chairs are added to places to give comfortable seating and create eye-catching visual elements. Smartly designed rooms feature ladder-back types of accent chairs to capture the viewer's attention and encourage them to explore the space.
Picking an accent chair to complement your room, however, can be a completely daunting process, with options available in many styles, colors, sizes, and materials.
A beautiful accent chair is more than simply an extra seat; it's a unique vibe. With the perfect style and seat material, you can convert a once-drab and dull corner into an inviting and pleasant study hideaway.
If you choose the wrong design, you and your visitors may shun the space entirely. Choosing an accent chair for home décor requires artistic talent and imaginative expertise.
Barrel Chair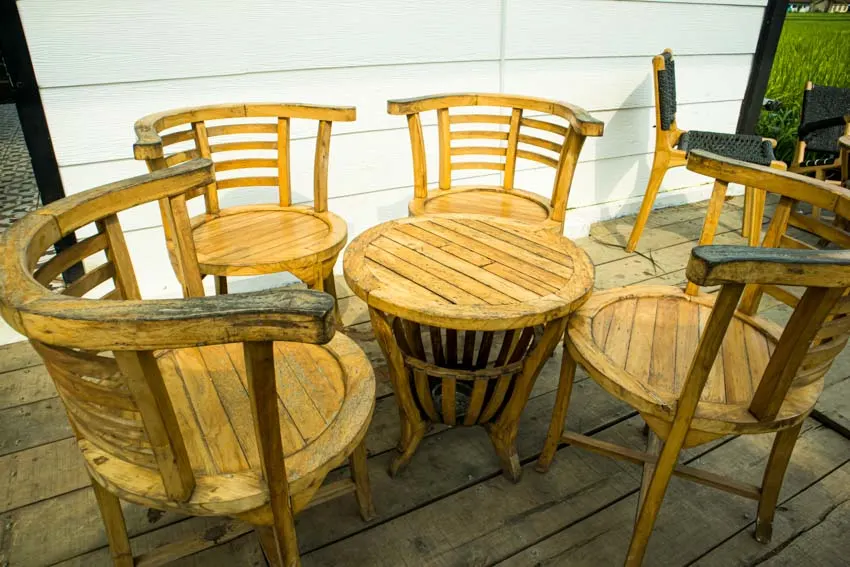 A barrel chair features a rounded back and arms, and the seat and back are usually upholstered. Wood, metal, and plastic are common materials for these products. It is a cushioned, comfortable chair with a high solid rounded back that resembles a barrel with a cut-out section.
Armless Chair
An armless chair's back comprises vertical slats that are uniformly spaced. The seat is connected to the front two legs, which are fractionally splayed. This design is often constructed of wood and has a minimalistic layout and construction.
Moreover, armless varieties provide a flexible seating option for the office. They not only accommodate a wide range of seating types but also provide for effortless mobility in and out of the seat.
When they are not in use, armless ladder-back chairs can be snugly nestled into desks or tables. This is extremely useful in learning rooms, meeting rooms, and other collaborative or conference facilities.
Club Chair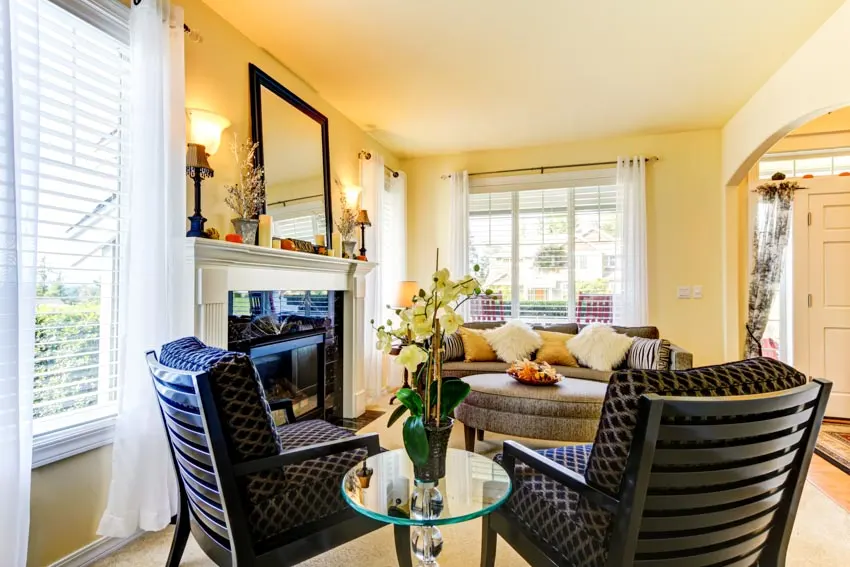 Club chairs are both comfortable and fashionable, and they make an excellent complement to any house. These designs are often upholstered in a wide range of materials and have high backrests and armrests.
Club designs, sometimes known as smoking chairs, are leather-made armchairs frequently featured in traditional home designs. They are linked with class and luxury, and they even have a touch of history. Including this type in your home is a terrific approach to improving the appearance and feel of the area.
The sizes of several club chair models and the widths of their armrests vary. Some padding is denser than others and can be made up of various types of cushioning.
Some backrests are broader, curvier, or tufted than others. The finish is smooth and comfortable in all versions, while the overall texture is luxurious and perfect for reclining.
Captain's Chair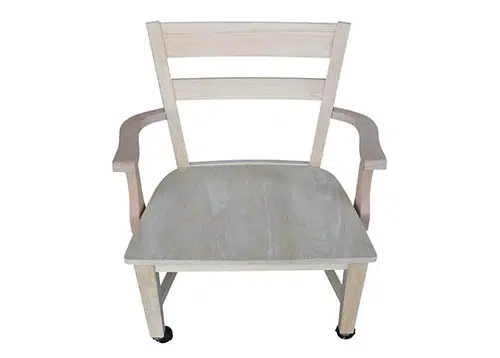 See this captain-style seat at Home Depot [sponsored link]
A captain's chair has several definitions, but historically, it is defined as a piece of sitting furniture with vertical support that serves as a backrest and horizontal arms that serve as armrests. The traditional type is frequently connected with nautical-themed furnishings, but this connection is based on craftsmanship rather than its actual purpose.
Additionally, a captain's chair is typically made of wood. It is indeed common in settings with workplaces and dining areas, and it is also a widely known selection in restaurants.
It has to include both armrests and lumbar support to match the moniker. In a conventional design, the primary horizontal line at the upper end of the construction, which serves as the top of the armrest and backrest, is frequently the same height.
Nowadays, a captain's chair describes different types of back supports and armrests that do not fit the criterion of having more than two vertical supports. Some people use this term to describe designs with fabric extended between two supports for both the seat and backrest, as long as they also have armrests.
Wingback Chair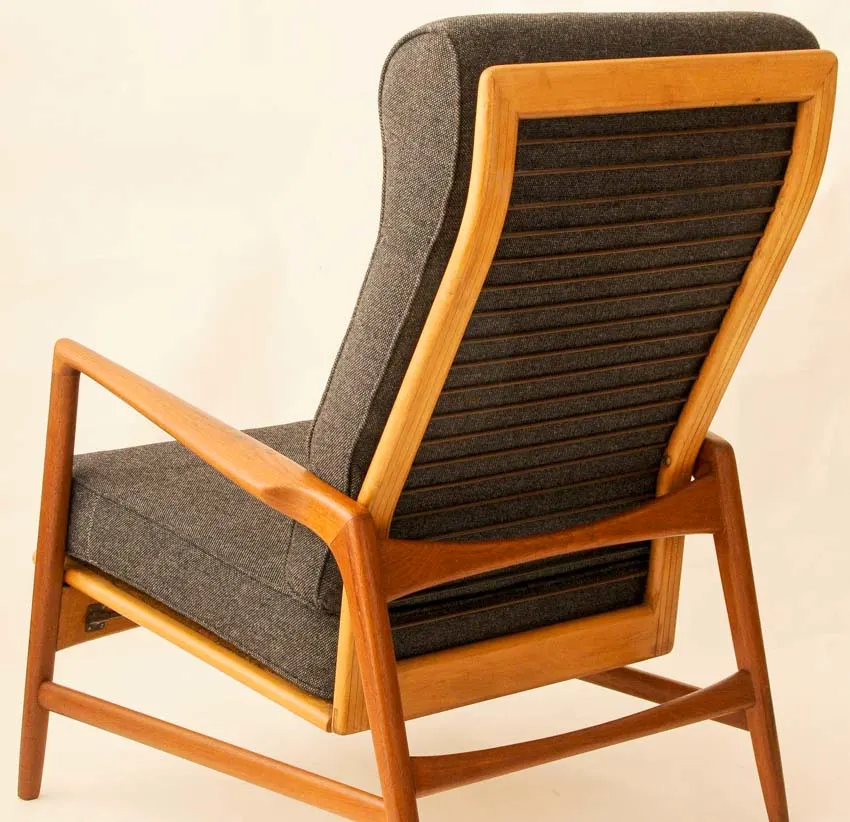 Wingback chairs have a curving back that goes down to the armrests. They are often covered in fabric or leather and come in various colors and designs. Wingback chairs are frequently utilized as decorative items in living areas and bedrooms.
A wingback ladder-back chair is a distinctive piece of furniture. This design has significant antiquity and serves an important purpose. Wingback designs are distinguished by their wings.
The function of the wings and arms is to protect the upper body from severe heat and to trap heat emitted by the fireplace. Wing seat designs can be suitable for use in the drawing area or personal library, where one can study, interact, or rest.
Rocking Chair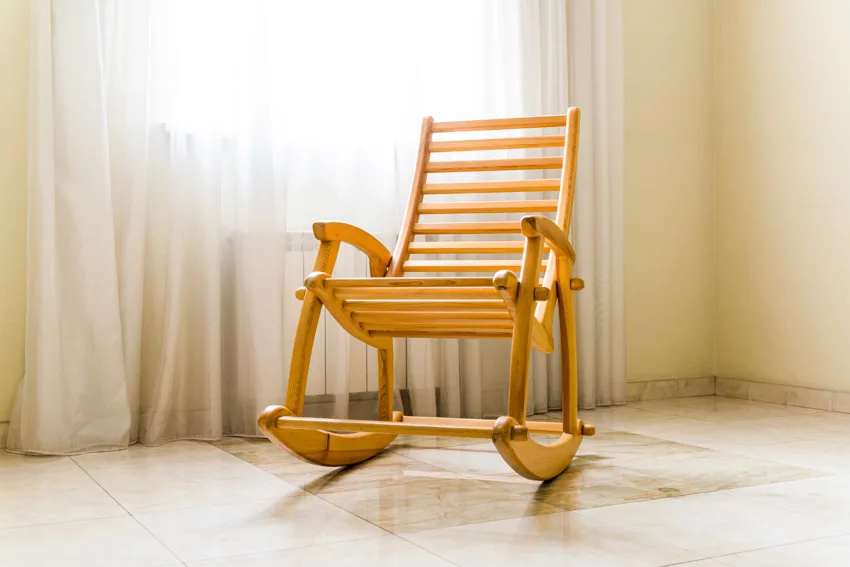 Rocking chairs feature an arched back that pivots back and forth. This motion can help with relaxation and pain reduction. Rocking chairs are frequently used in nurseries as children's seats, on a front porch, and even in senior citizens' homes.
Furthermore, ladder-back types of rocking chairs are employed as veranda and patio furniture. They can be made of several materials, such as wood, metal, wicker, and plastic. These products are typically upholstered in linen or cotton fabrics.
Wicker, wood, and cushioned rockers are more frequent in houses. They are also commonly connected with baby rooms, as rocking babies are particularly comforting to help them sleep. Large recliners, or gliders, are significantly different in design from original wood ones, are among the styles that rock nowadays.
Folding Chair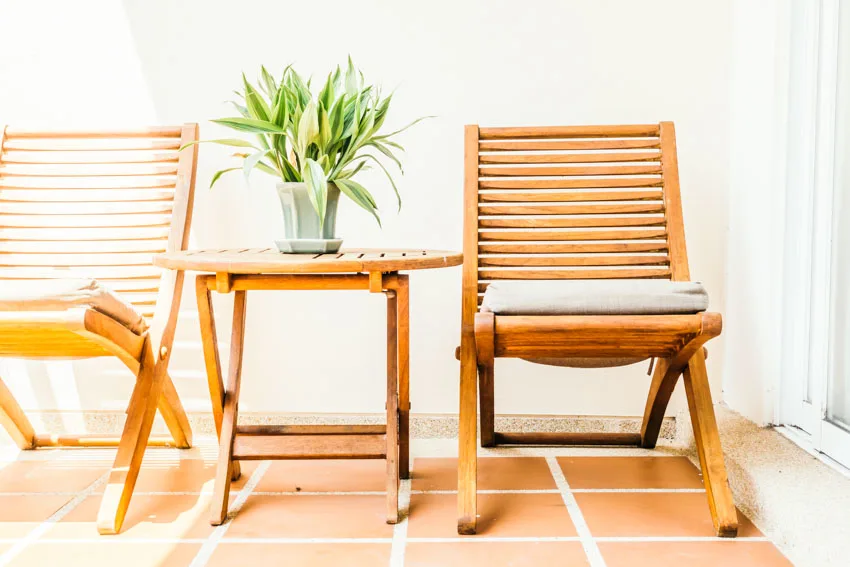 A folding chair is lightweight and transportable and can have a ladder-back design that folds completely or to a more compact size and can be kept in a stack, row, tall closet, or cart. Folding chairs are normally employed when permanent seating is neither necessary nor practical.
Funerals, college graduation ceremonies, religious occasions, and athletic events are examples of situations that normally require folding ladder-back seats. Folding chairs are also employed in the house for any occasion requiring additional seating.
Parties, table games, and temporary seating at the dining table are all examples of this. The legs of a folding chair can rotate to fold either under or at the seat. The majority of foldable chairs rotate closed at the seat level. The seat is positioned between the backrests.
Parsons Chair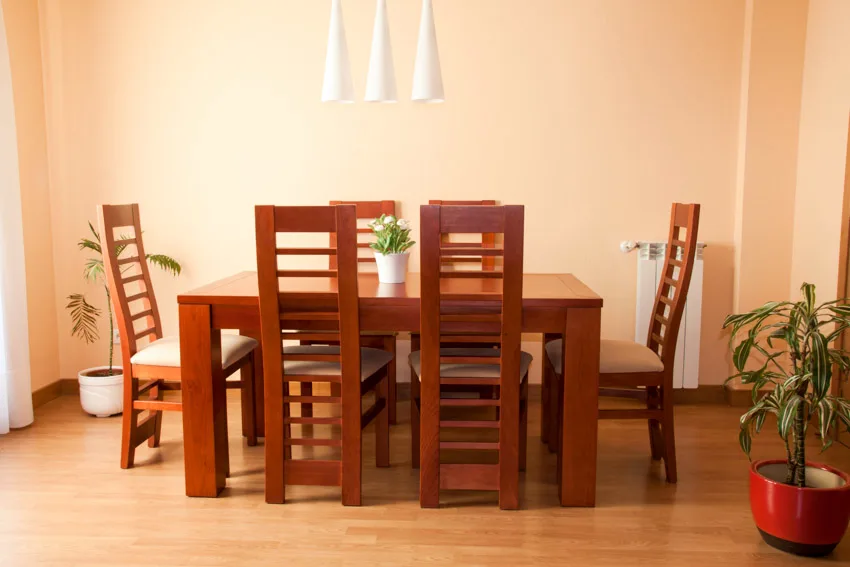 A ladder-back chair with four legs and a basic, rectangular seat is called a Parsons chair. Generally, its rear is longer than the front, and the sides are linear. Wood, metal, and plastic are all common materials used to make Parsons chairs.
Furthermore, while Parson's designs are commonly used in dining rooms, they can also be seen in other house rooms, such as the living room or bedroom. These products come in many styles, such as conventional, modern, and mission.
Desk Chair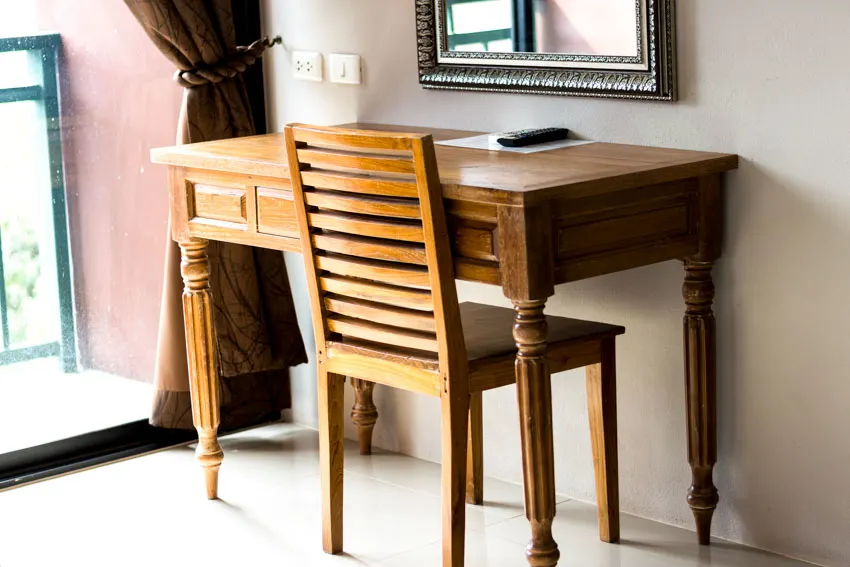 An office chair, often used at a desk, is designed to be used at a workstation in an office. It is typically a swivel chair with wheels for portability and a customizable height.
Modern types of office chairs often have a single, separate, load-bearing leg located beneath the seat. Traditional ladder-back desk seats, on the other hand, are uncommon unless used with plenty of cushion material in the seatback.
Styles for Slatted Type Chairs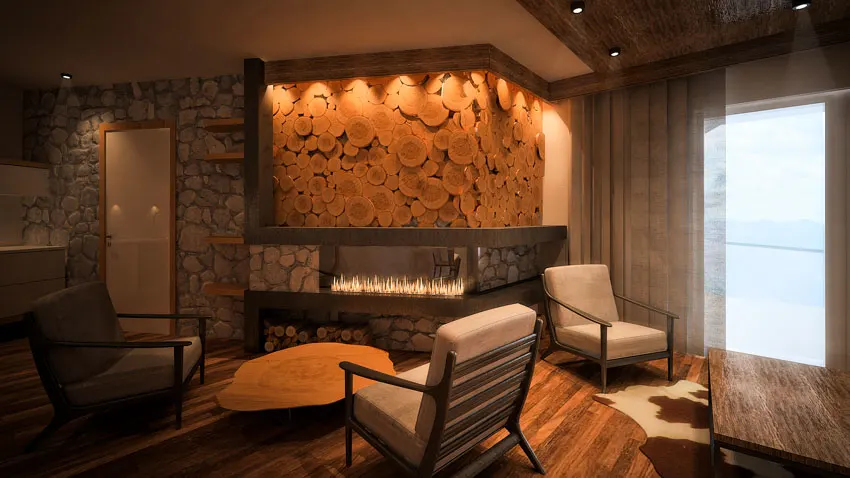 Ladder-back chairs also differ in style and configuration. Below are some of them:
Shaker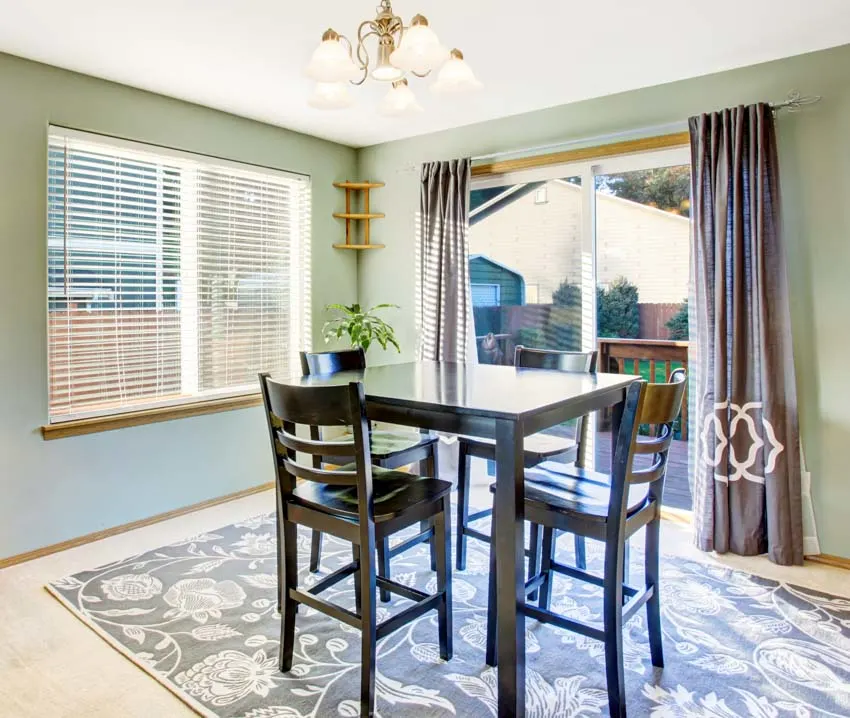 The shaker ladder-back chair is a timeless design that has stood the test of time. It is possible to utilize this kind in many different settings, and it has a minimalistic and elegant appearance.
The ladder back provides maximum support and comfort, whereas the slats enable ventilation and ease of maintenance.
Shaker ladder-back chairs are ideal for every room in the house, including the kitchen and living room. Models with high legs can be used as a bar stool and work great cozied up to a breakfast bar peninsula or island in the kitchen.

Farmhouse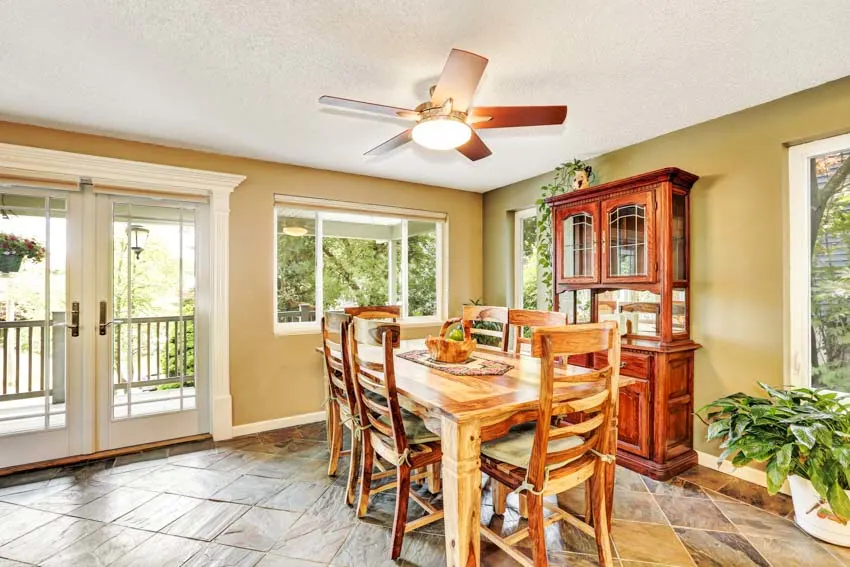 This style of ladder-back chair will look great in any farmhouse-style household. Its ladder-back structure and natural finish offer a rustic appearance that will go with any home décor.
The chair is also very solid and well-made; hence, you can be confident that it will survive for many years.
French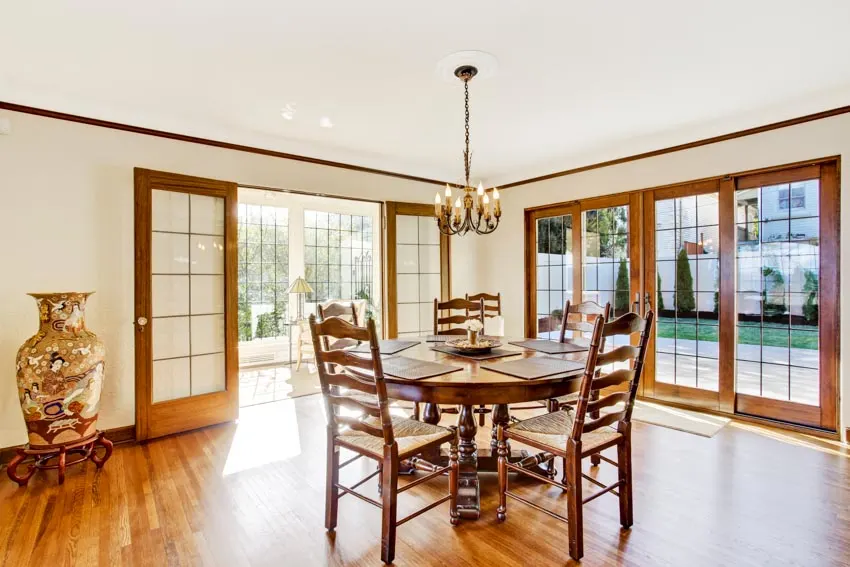 The French country ladder-back chair will give a touch of refinement to your house interior. The ladder-back design and rustic texture make it ideal for any room.
This chair is extremely durable, featuring a comfortable seat. It is extremely simple to put together and comes with all of the essential hardware.
Mid Century Modern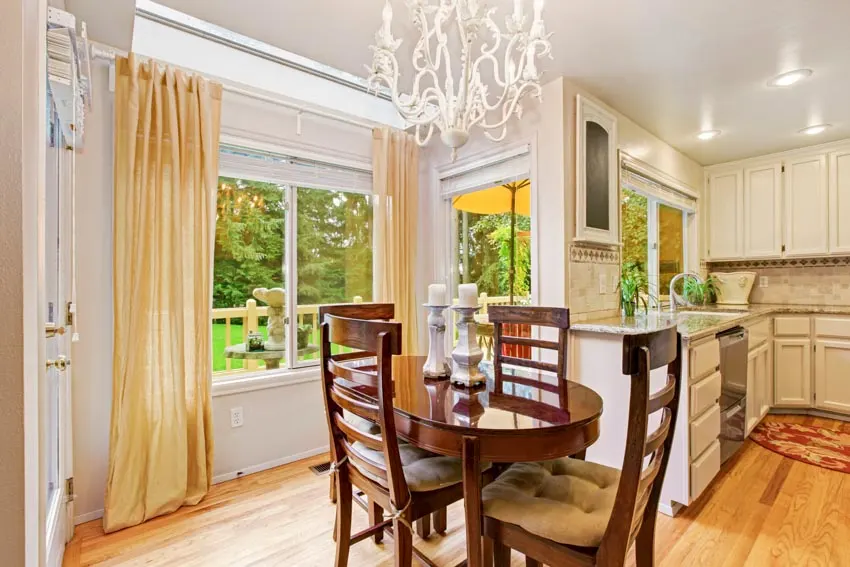 A mid-century ladder-back chair is an attractive and antique masterpiece that is distinguished by its sleek design as well as minimalistic elegance. Mid-century ladder-back chairs are often composed of high-quality materials and are extremely durable. This style has many qualities that make it ideal for any home beyond the mid-century design.

They wonderfully combine comfort, functionality, and design with their simplistic yet striking form, which typically has tapered legs and wood as a significant material as an accent, if not the dominating material.
As a result, they are an ideal choice for modern homes as their visual appeal and aesthetic impact will never clash with much-needed comfort and utility.
The mid-century ladder-back chair's streamlined form is the first thing you might notice. The design features a high backrest and a ladder-back style. The design includes a curved seat and an upholstered back as well. The style is suitable for every room in your house.
The chair seat is built of high-quality foam, which makes it extremely pleasant to sit in. It is also quite simple to modify, allowing you to find the ideal configuration for your needs.
Amish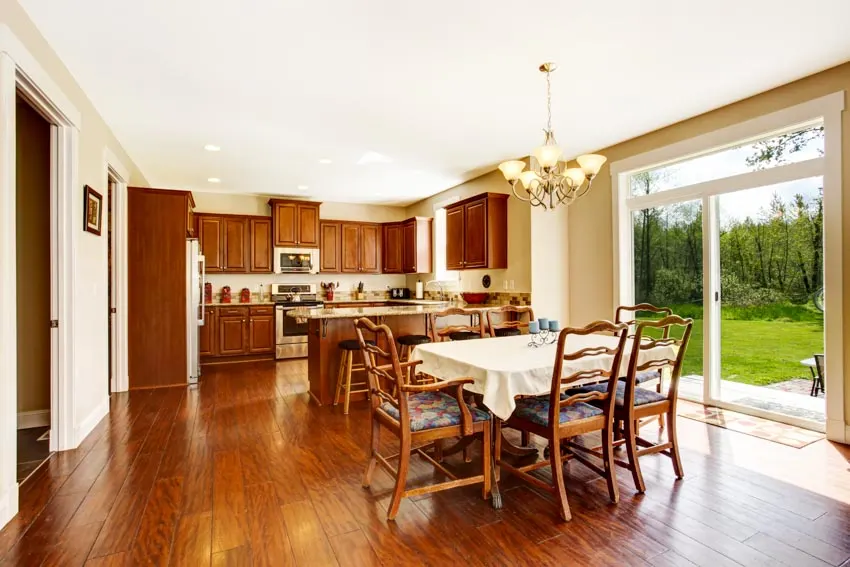 Amish ladder-back chairs are made by the Amish, who reside predominantly in Pennsylvania, Indiana, and Ohio. It is commonly renowned for being entirely composed of wood with no particleboard or laminate. The styles most commonly used by Amish woodworkers are more historical in style.
The Amish are well-known for creating high-quality, robust wooden furniture with simple, elegant designs. Thus, Amish-style ladder-back chairs are suitable for large homes, mansions, and vintage-style residences. While the price of an Amish-crafted chair may be high, it can pay off by becoming an heirloom piece passed down over time.

What Style Is This Chair?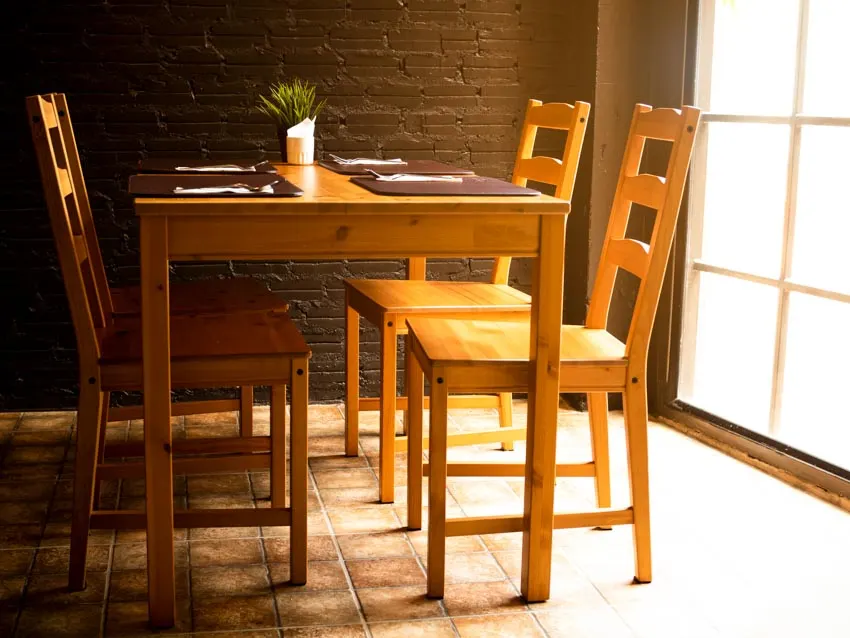 Ladder-back chairs are classified as rustic or antique-style furniture pieces. The introduction of the Victorian style of furniture in the 19th century reduced the prevalence of the plain ladder-back.
It was once popular in parlors and front porches, but it has since been relegated to kitchens, secondary bedrooms, and even attics. The classic antique or rustic ladder-back seat type is pretty straightforward, but you may see a few modifications in antique shops and online auctions.
There are both eating and parlor chairs. Dining chairs are often lower in height than parlor designs. Ladder-back chairs are generally available in natural wood and stained in several colors. They are commonly seen in rustic settings.
What Is a Slat Back Chair?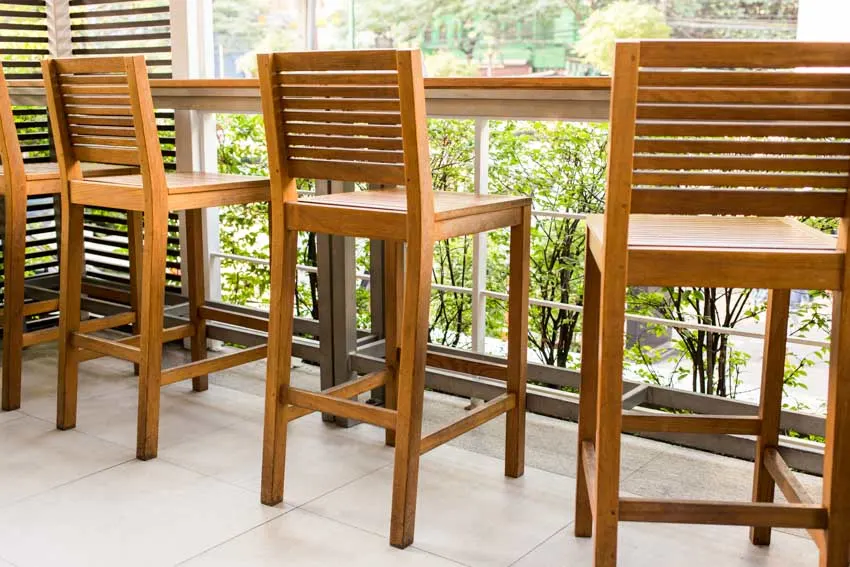 The slat-back chair has one of the most conventional styles of seat backs. This traditional style has a rectilinear shape and vertical slats. The slatted style is classic and is frequently seen in casual dining areas or kitchen nooks. A slat-back seat is the other term for a ladder-back design.
The back comprises three large, horizontal slats with straight upper borders that have been chopped away at the ends. The slats are arranged in a progressive pattern, with the tallest at the top.
Chairs with slat backs might be seen in modest and wealthy residences, providing useful, everyday seating alongside more trendy and expensive forms. The slat back design is made of solid hardwood and has bonded mortise and tenon joints and solid hardwood support rails on the frame.
How to Make Ladder Backs Look Updated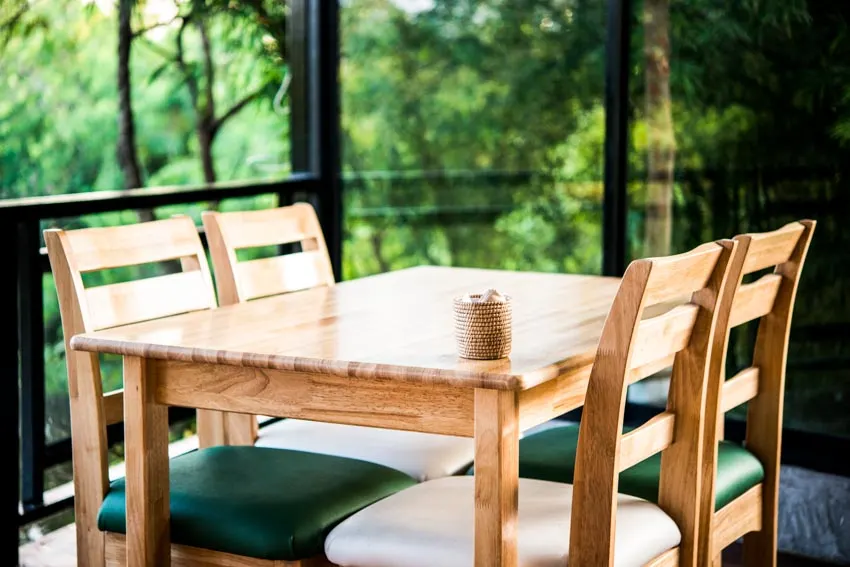 Updating antique ladder-back chairs can be as simple as a new paint coating or as involved as changing the slats or seats with other materials. Here are some ways to do that:
By Painting
A ladder-back seat, like other aged or outdated pieces of furniture, can be revitalized by applying a few coats of paint. Sand the slats and any visible wood pieces, then assess the wood's quality.
If it is solid hardwood or an unusual specimen from another era, skip the painting, and alternatively, repair and restore the wood frame. If you decide to proceed with the painting, start with a primer and apply many coats of the preferred color.
Remember that chairs undergo a lot of use; hence, seal them afterward. Paint the horizontal slats in a complementary color to provide contrast. Play with different faux painting methods like marbleizing and stippling.
By Decoupaging
Decoupaging is a technique for updating the appearance of ladder-back chairs and customizing them. You can gather unique paper artifacts and pieces of fibrous components to make an artistic remark on its surfaces for a one-of-a-kind upgrade.
Only a sufficient amount to cover the back slats is required. Paint or stain the other chair parts with a contrasting color. Explore various flat objects to add dimension, considering the final product must be pleasant enough to lean upon.
By Applying Fabrics
You can produce covers for the rear ends of the chairs out of bold, vibrant fabrics and coordinating cushioned seat covers. If you prefer more subdued colors, you can look for ones with modern patterns and motifs.
Avoid floral designs and textiles with fading tones to maintain a contemporary look. Create a fitted fabric seat cover over the entire item to conceal the slats entirely.
If you have an open concept plan with a living room and dining room, you can match the upholstery to the sofa or loveseat to create a cohesive design.

An easy update is to replace the seat cushions. You can find comfy pillows that breathe new life into old furniture and add color to your design. That's a cinch to swap out, depending on your mood or the seasons.
By Replacing Several Parts of the Chair
Even though this method will be time-consuming and difficult, you can always try to replace the chair slats with a more industrialized building material like steel or aluminum. This can convert the furniture into a piece of urban architecture.
Disassembling the chair and having replacement slats custom-made to fit into preexisting grooves is necessary. You may also wish to change the seat covers, especially if constructed from natural fibers like wicker.
See more related content in our article about the different dining chair dimensions on this page.