Here's our guide to crib mattress sizes including selections of crib mattresses from reputable baby brands for future parents who are planning to setup a nursery room or space.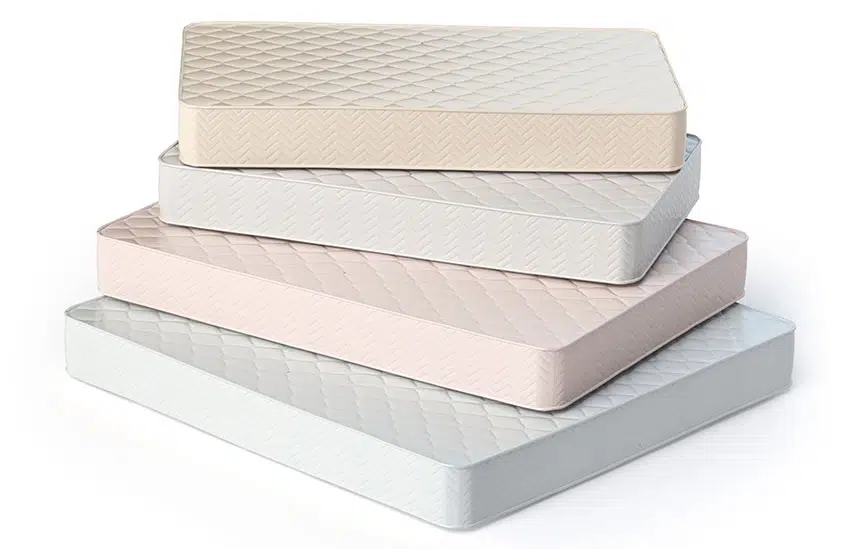 Welcoming a baby can be an exciting yet overwhelming experience. Aside from picking out clothes, baby bottles, and other necessities, future parents need to set up a nursery room or space.
Among the major purchases for this room is a crib mattress. Babies spend at least 14 hours sleeping in a day, and like adults, the quality of their bed affects their sleep and safety.
In addition to the design and comfort features, you'll have to decide on the right crib mattress size.
Arm yourself with all the information you need as you read through our comprehensive crib mattress sizes guide.
Standard Crib Mattress Size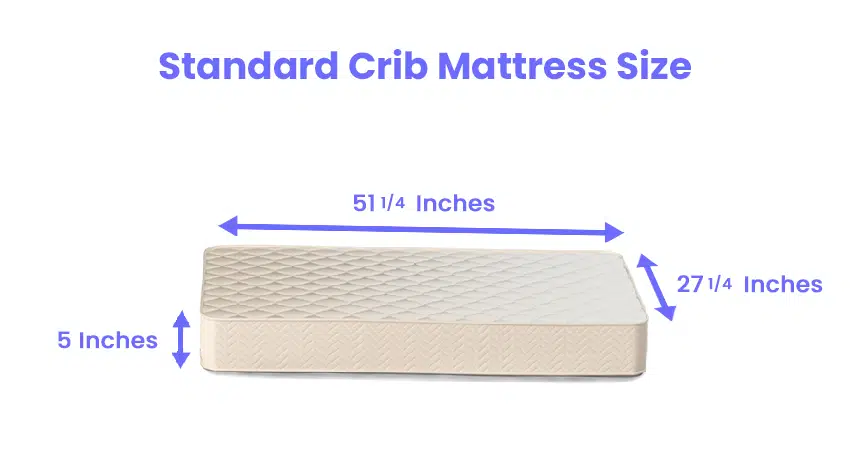 According to the US Consumer Product Safety Commission or CPSC, full-size crib mattresses follow a standard dimension of at least 51 ¼ x 27 ¼ x 5 inches.
This snuggly fits the interior measurement of a full-size crib which is around 28 ⅝ in width x 52 ⅜ in length.
The narrow gap between the crib and the mattress lessens the likelihood of head entrapment and suffocation should the baby roll over to the side. A standard crib mattress can last you for at least 18 to 24 months.
Non-full size baby cribs do not follow a standard measurement as they vary in shapes and proportions.
Full Size vs Mini Crib Mattress Dimensions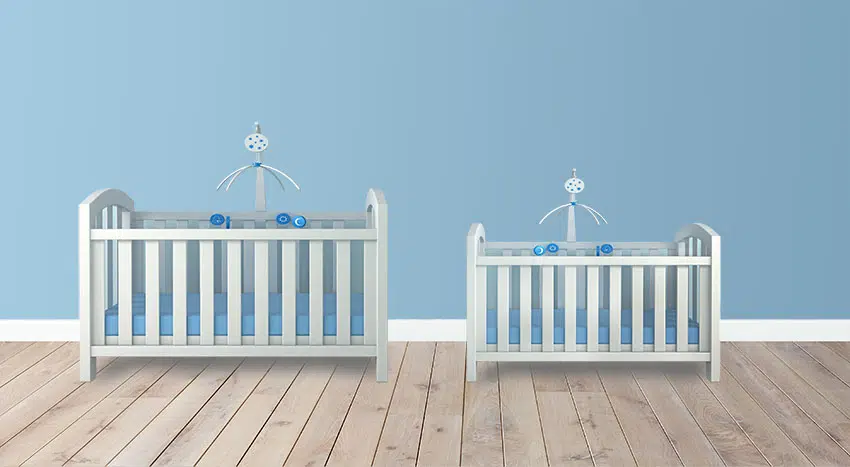 Anything smaller than a full-size crib is considered a mini crib. Unlike full-size cribs, mini cribs already come with mattresses measuring at least 38 inches x 24 inches. Their thickness ranges from one to six inches.
Mini cribs are flexible. You can fit them in small nurseries or in your bedroom. Some even come with wheels and are lightweight. But most importantly, they are portable and budget-friendly, too.
On the downside, finding sheets for mini cribs is tricky as their size varies and may not be widely available. Mini cribs with wheels can also be unstable, so don't forget to lock them for safety.
Crib Mattress Size vs Twin Bed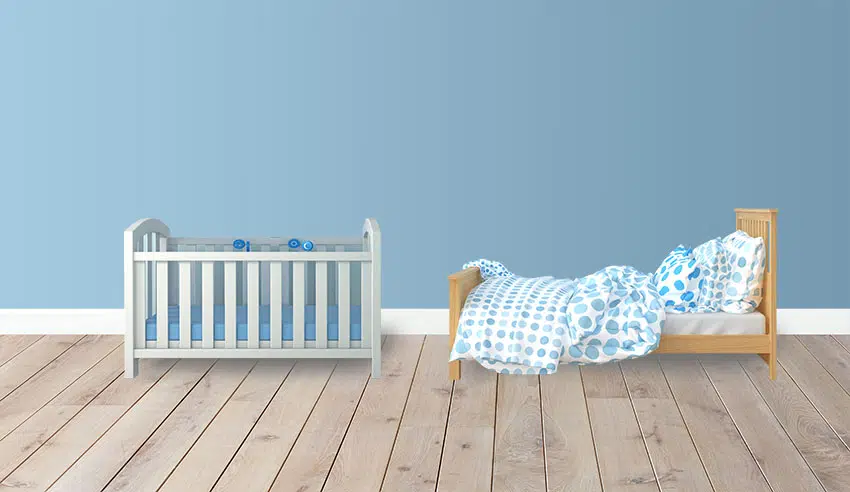 As babies grow, their beds need to adjust too. Once they turn three, they become more mobile and risk falling when they climb their cribs. Switching to toddler beds may prevent this risk.
Conveniently, a full-size crib mattress is compatible with most toddler beds. Some cribs are savvy and can turn into toddler beds or day beds.
Compared to crib mattresses, a twin bed measures 75in x 38 in and is at least 8 inches thick. Crib mattresses are firm to avoid suffocating your baby.
While twin mattresses have more comfort layers, making them softer and more appropriate for toddlers or older kids.
Twin beds are big enough for kids aged four years old and up. If you choose this route, remember to go for a low-height bed frame or add a rail guard to prevent your child from falling.
Below are the following selections of crib mattresses from reputable baby brands.
Delta Children Crib Mattress Size
Delta Children is an established furniture brand for kids that carries two main models: Natural Slumber Two-Stage Crib Mattress and Cool Lux Two-Stage Crib Mattress. These mattresses are 52in x 27.5in x 5in, perfect for full-size cribs.
Delta Children produces mattresses using natural materials like waterproof woven fabric, fireproof natural cotton, and cotton foams. Their Cool Lux mattress contains a cooling gel memory foam for maximum comfort.
In addition, they have a limited edition Twinkle Stars mattress that you can purchase from Amazon.
They have co-created mattresses with other brands like Serta and Beautyrest that are full size and vary only in thickness and materials.
IKEA Crib Mattress Standard Size
IKEA is the number one choice for affordable furniture finds, including cribs and mattresses. Despite their low prices, IKEA crib mattresses adhere to the US safety standards down to a tee.
All their crib mattresses are 27 ½ inches x 52 inches and are compatible with non-IKEA full-size cribs, too. The options only vary in thickness and materials depending on the model you choose.
Below are some of their crib mattresses.
Krummeleur mattress

: 27 ½ in x 52in x 3 ⅛ in

Pelleplutt mattress

: 27 ½ in x 52in x 2 ¾ in thick

Jattetrott mattress

: 27 ½ in x 52in x 4 ¾ in thick
Pali Crib Mattress Size
With over 100 years of furniture making, the Italian brand Pali is known for its traditional and durable cribs. They are made from solid wood and are long-lasting.
Some Pali cribs can also transform into a toddler bed, child's day bed, or full-size bed. They have an adjustable mattress feature with three height settings.
Unfortunately, you need to purchase the crib mattress somewhere else. Pali cribs range from 54 inches x 29.5 inches to 60 inches x 32 inches and are compatible with most full-size mattresses in the market.
DaVinci Crib Mattress Size
Featured as one of the best crib brands by Forbes, DaVinci manufactures cribs using sustainable pinewood. To complete the look, you can purchase GREENGUARD Gold certified mattresses from mini to full-size crib mattresses fit for their DaVinci Jayden Crib.
Their Deluxe Coil Dual Sided Crib and DaVinci Complete Slumber Waterproof crib mattresses come in full-size and mini crib dimensions.
Deluxe Coil Dual Sided Crib Mattress:
Full-size crib mattress: 52in x 27.75in x 5.5in

Mini crib mattress (7.5lbs): 37.5in x 24in x 4in
DaVinci Complete Slumber Waterproof Crib Mattress:
Full-size crib mattress: 52in x 27.75in x 5.5in

Mini crib mattress (8lbs): 37in x 24in x 4.50in
Baby Bjorn Travel Crib Mattress Dimensions
A Baby Bjorn Travel Crib is a mini crib that is great for quick trips, like when you're visiting grandma. This lightweight crib is easy to set up in less than a minute.
The PU mattress for this travel cot is thinner, measuring 24 inches x 41 inches x 1.2 inches. When not in use, you can fold and tuck it away.
Keep in mind that travel cots are best for short naps. Long hours of sleep require a more solid surface for optimum body support.
Aside from choosing the right crib mattress, improve your baby's sleep by soundproofing the nursery. Like babies, parents also deserve a good night's sleep. Visit our comparison guide for different types of mattresses.