Welcome to our bathroom vanity sizes guide including different types of bathroom vanity dimensions and how to choose the right bathroom vanity size.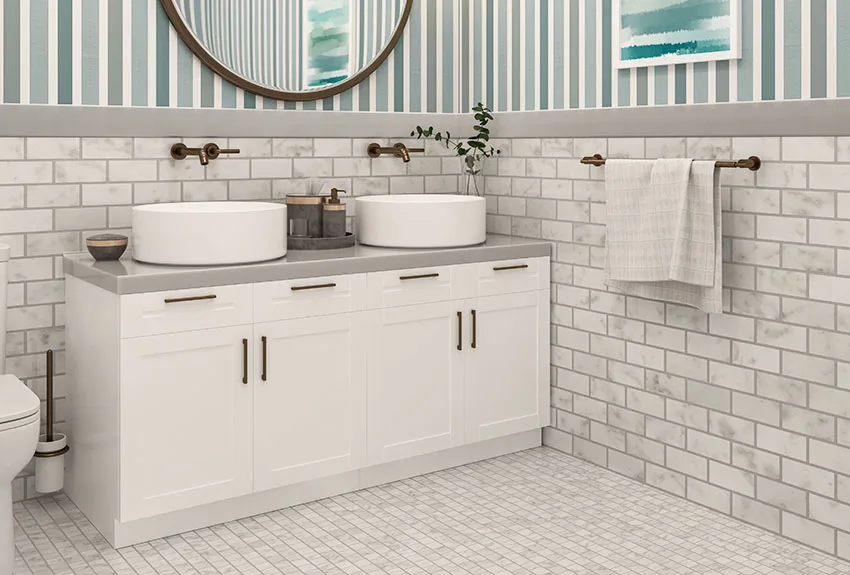 An essential room to every home, the bathroom is critical to everyone's daily routine. That said, it is only practical for your hygiene and beauty must-haves to be within reach by having a bathroom vanity.
A bathroom vanity comprises a sink and a storage unit to help you organize. Formerly a Victorian-era fixture, vanities have evolved into the modern-day age with a plethora of options. But achieving the right look also requires picking the bathroom vanity size that best fits your bathroom layout.
Learn about the different bathroom vanity dimensions and see what is ideal for you.
What Sizes Do Bathroom Vanities Come In?
A must-have in residential bathrooms, vanities come in different sizes and shapes. Below are some common bathroom vanity types and their dimensions.
Standard Bathroom Vanity Sizes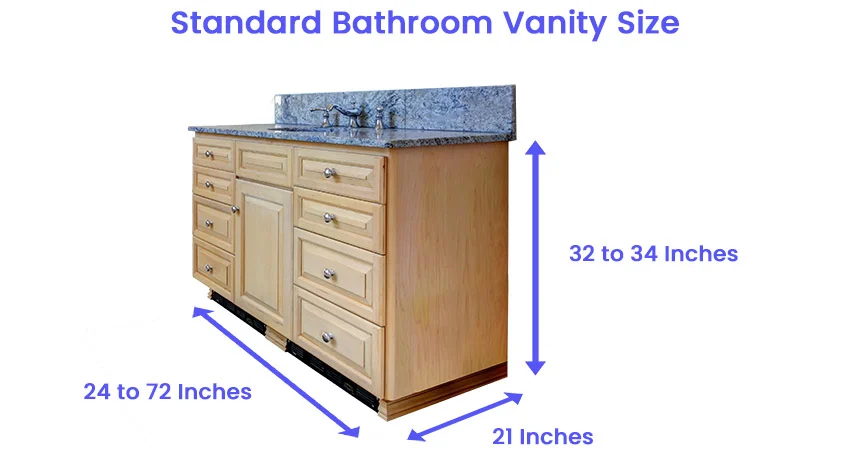 There isn't a single standard dimension for bathroom vanities. Changes in residential designs and bathroom layouts over the years culminated in a range of standard measurements for vanity sinks.
These measurements adhere to the National Kitchen and Bathroom Association (NKBA) codes. But always check with your local building codes as they may vary per city or state.
Standard bathroom vanity height
The recommended vanity height by the NKBA is from 32 to 34 inches. Traditional homes had lesser floor space and as a result, kids and adults had to share the bathroom. This led to the majority following a standard vanity height of 32 inches.
But as time passes, modern homes got bigger, allowing for multiple bathrooms. Children's bathrooms are customized to their height or parents let them use step stools instead.
Many homeowners now prefer comfort height vanities at 36 inches to avoid bending low when using the sink.
If you prefer a vessel sink vanity, measure the floor to the top of the sink to determine the total height. Not sure which sink to get? Refer to our bathroom sink type guide.
Standard bathroom vanity width and depth
The standard width of a bathroom vanity is anywhere between 24 and 72 inches, based on your sink type or your preferred countertop space.
Typical homes use a 30 inches, 36 inches, or 48 inches bathroom vanity. The latter size can either be a spacious single sink vanity or a narrow double sink vanity.
The standard depth for vanities is 21 inches. Calculate depth by excluding the countertop overhang, if any. Measure only from the wall to the edge of the door or cabinet panels.
Bathroom Vanity Sizes Depth
The clearance space in your bathroom is crucial when considering your bathroom vanity's depth. On average, bathroom vanities are between 20 and 23 inches deep and are enough to hide the plumbing and provide extra storage.
In comparison, smaller bathrooms demand narrower bathroom vanities. Shallow depth bathroom vanities can be from eight inches to 18 inches, which works well if you have limited clearance space. But some homeowners also choose shallow vanities and match them with oversized vessel sinks for style.
Single Sink Bathroom Vanity Sizes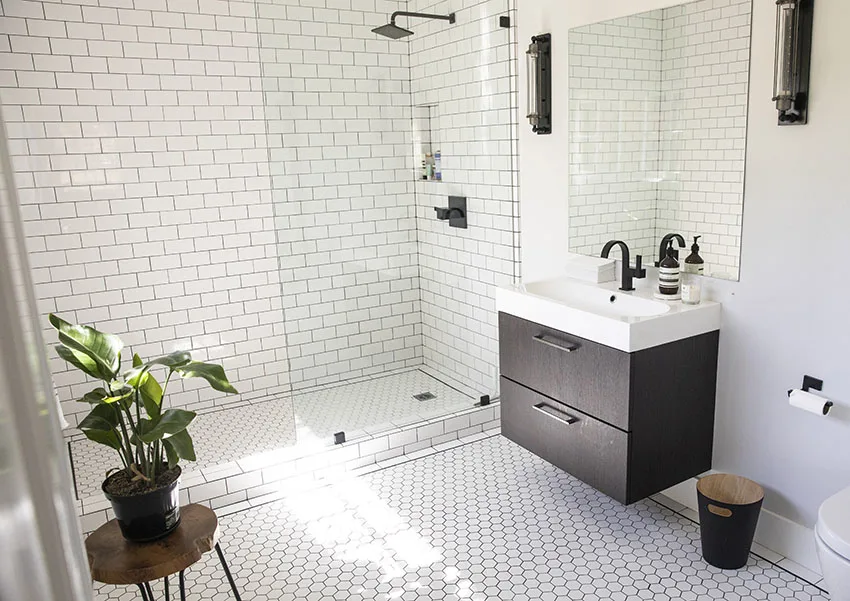 A single sink bathroom vanity can measure between 24 inches and 48 inches in width. Whether you have a small or average bathroom, you can easily fit a 24-inch bathroom vanity. But if your space allows, it is best to upgrade to a midsize (36in or 48in) single sink bathroom vanity for a larger countertop and storage capacity.
Proportion is vital to your bathroom's layout. If you have large bathrooms, you can get two side-by-side single sink vanity or a double sink bathroom vanity instead.
Double Sink Bathroom Vanity Sizes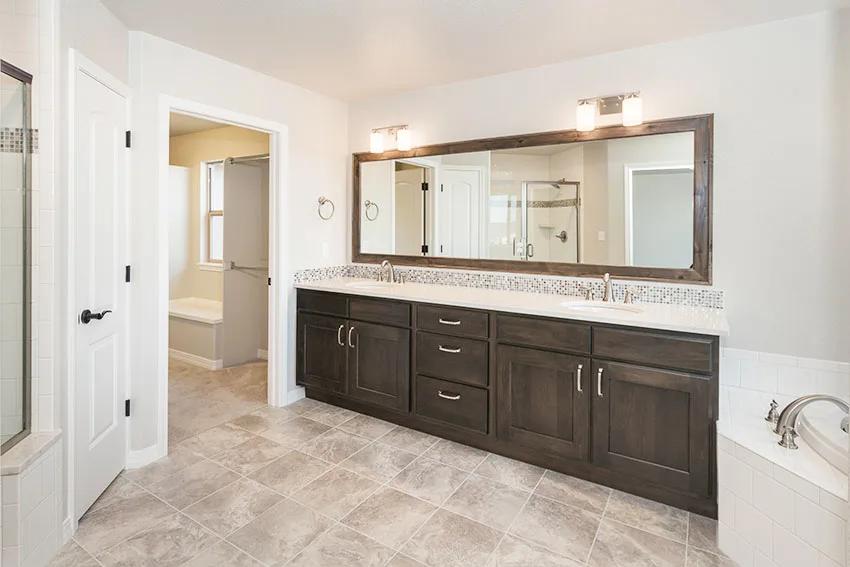 Double sink bathroom vanities in master bathrooms range from 60 to 72 inches wide, perfect for couples. But if your bathroom is cramped for space, you can opt for a 48-inch double sink vanity.
With double sink bathroom vanities, you get enough elbow space and separate cabinets for your things. You can also avoid long waits before taking your turn in the morning.
Keep in mind that two sinks also mean having two pipes occupying your cabinet and lesser counter space. Consider adding an overhead cabinet or wall shelves if necessary.
Corner Bathroom Vanity Dimensions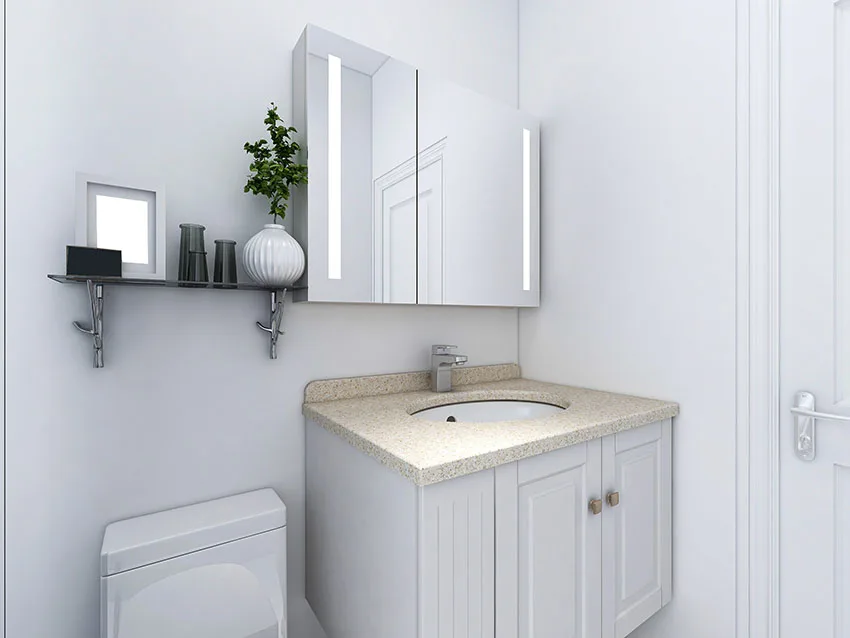 Make every inch in your small bathroom count when you install a corner bathroom vanity. This compact vanity can measure between 16 and 36 inches wide and 18 to 24 inches deep.
Unlike other vanities, a corner bathroom vanity is for bare essentials only, with the pipe occupying most of the storage space.
This type of vanity works well for half bathrooms and outdoor toilets. Although compact, you can get creative and customize it with a pop of colors and textures.
Consider purchasing a wall-mounted corner vanity to avoid having a hollow space behind.
Child-Size Bathroom Vanity
There are low-standing vanities for kids but are not practical for home use in the long run. With the existence of step stools and pull-out steps, you can install a 30 inches high vanity in your child's bathroom instead.
You can also use adjustable legs or raised platforms as your kid grows. For depth, opt for an 18 or 20 inches deep vanity for easy faucet access.
How To Choose The Right Bathroom Vanity Size?
Check your floor plan. Refer to your bathroom layout and check for space. Your bathroom vanity should not block your door openings, trims, electrical wires, and other features. Ensure that you have at least 30 inches of clearance space for your vanity's doors or drawers as well. Finally, it is crucial to locate your vanity near a plumbing system.
Read more about bathroom dimensions to see how you can maximize your space.
Factor in your needs. Single sink bathroom vanity may suffice if you live alone, but couples or shared bathrooms may benefit more from a double sink bathroom. If space and storage are your priority, pick wider vanities. A corner bathroom can also be a great space saver, especially in small powder rooms. Keep in mind that your bathroom vanity must always be proportionate to your bathroom.
Determine the best height for you. Getting a bathroom vanity at a comfortable height for you may improve your bathroom experience. But consider others as well, especially in shared spaces. When in doubt, follow the standard dimension instead.
Ready to take the next step? Try our suggested bathroom remodel tools and refine your design layout before implementing them. Check out our bathroom remodel ideas as well.