Welcome to our ultimate guide to types of bathroom sinks including pictures and design ideas.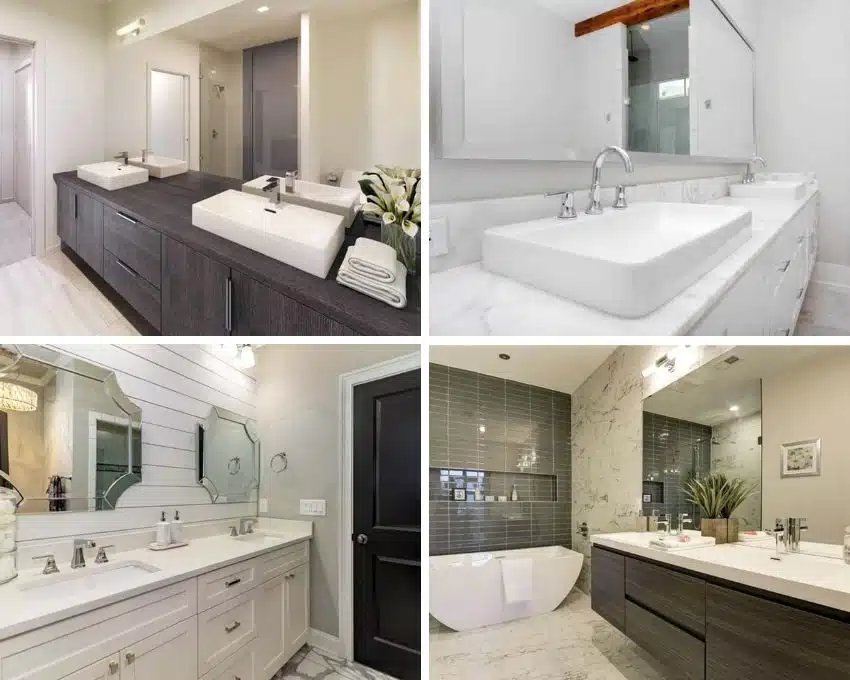 When changing up your bathroom decor, the sink is one of the biggest focal points. So, it only makes sense that you might want to change things up. You might be surprised that this choice isn't as simple as you might think. There are plenty of types, designs, and options. With this guide, you'll be able to make an educated decision on which bathroom sink is the best for your home.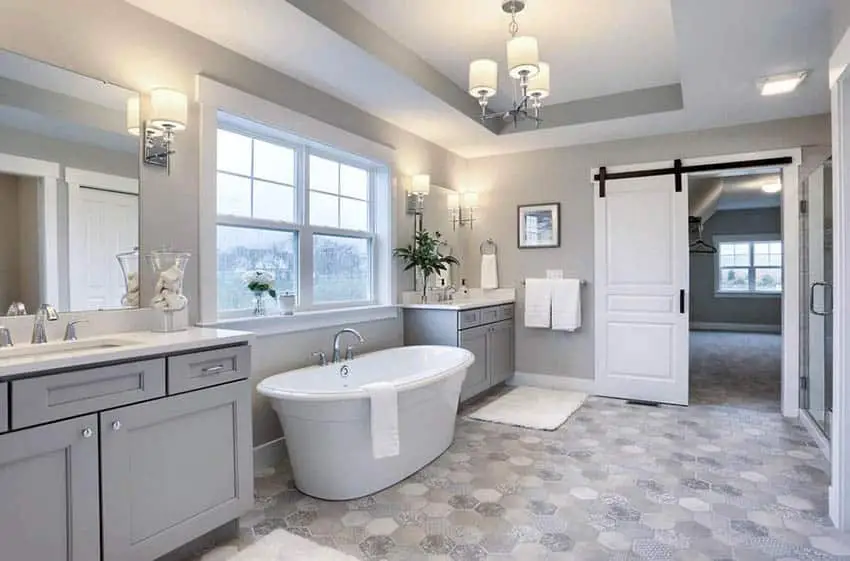 When it comes to bathroom sinks, the first thing you'll notice is that there are a lot of different types. Before making a decision, it's important to know the differences between them to help you choose the right one for your space.
Sink Styles For Bathrooms
Here are the most popular sink styles including information about mounting options.
Undermount Sink
First, let's take a look at undermount bathroom sinks. These are also known as under-the-counter sinks. This is because they are installed under the counter. They are very much like drop in sinks which we will look at later.
These are installed by sealing the basin of the sink to the underside of the countertop. This gives the sink and countertop, from above, a sleek and uniform appearance.
There's no lip protruding up from the counter. Due to their functionality, these types of bathroom sinks are often found in public places such as public bathrooms, restaurants, and even hotel rooms. The design also lends itself to giving the bathroom more space around the sink.
See more undermount sinks at Amazon
Wall Mount Sink
Wall mount bathroom sinks were once considered a primarily industrial choice. However, in recent years they have grown in popularity for private residences.
These sinks, as the name suggests, mount directly to the wall instead of being installed into a countertop. This typically leaves piping exposed which is what gives it an industrial or even vintage ambiance. These sinks are usually squares or rectangles but there are round options and corner sink options available.
This type of sink is frequently used in small bathrooms because it gives the illusion of space. It is also one of the more affordable sink types to have installed.
Bathroom Vessel Sinks
Vessel sinks are incredibly popular and a great way to get a high-class design look without the high-class design price. The basin of a vessel sink sits on top of the counter much like washbasins used to.
Most commonly, these are simple round designs but designers have come up with some beautiful and unique options as well. They come in a variety of materials as well with some of the most often used being glass and copper.
It should be noted that these sinks aren't quite as durable when it comes to pressure as other types of sinks. If, for example, a child is pulling on the sink trying to reach the controls, the sink is more likely to get damaged. Read more about vessel sinks pros and cons here.
Pedestal Sinks
Pedestal sinks are another unique option. They are mounted to both the floor and wall. The portion leading up from the floor to the basin is a single leg or pedestal.
There are, of course, pros and cons to this type of sink. On the positive side, it doesn't take up space and, like the wall mounted sink, gives the illusion of more space.
This makes it a great option for small bathrooms or half baths. They are also easy to clean and due to their lack of a countertop they virtually eliminate any clutter from accumulating.
On the other hand, they don't offer any counter or cabinet space. They may also be more challenging to install depending on your level of plumbing expertise.
See this pedestal sink at Amazon
Console Sinks
Console sinks, when broken down, have two main parts. This includes what is known as the console – or stand – with a pair of legs. The second part is the sink basin itself. This basin is mounted to the wall and is also held up by the legs.
For these sink types, there isn't a cabinet below the sink and the piping is exposed. They are often associated with modern and contemporary bathroom designs.
A feature that is incorporated in many console sinks is a bar between the legs to hang a towel. While they don't have traditional counter space, the sink is usually wide enough to leave space on either side of the faucet controls.
See this console sink at Amazon
Drop In Sinks
Drop in bathroom sinks – sometimes referred to as self-rimming sinks -are often what people think of when they first think of a bathroom sink. These sinks drop into an open space in a countertop. The lip of the sink sits just above the countertop to support the weight of the sink.
These types of sinks are usually great for bathrooms that are larger – such as master baths – that need plenty of storage room. This is because these sinks usually have ample counter space as well as cabinet space below the sink.
These sinks can be expensive to install if you don't already have a model like this installed in your bathroom. This is due to the fact that they require a counter with a drop in cut into them.
See this drop-in sink at Amazon
Corner Sink
Corner sinks are made to fit into the corner of a bathroom rather than on the flat surface of a single wall. These are a great way to add a contemporary touch to a smaller bathroom.
While these can have a small cabinet beneath them, they often have exposed pipes instead. While these sinks save space, they don't offer space for toiletries.
When installed, corner bathroom sinks have the main fixtures situated from the corner where the walls meet. Extra support is placed on the sides of the sink on each wall.
Trough Sinks
Trough sinks are often associated with European design. These are large sinks that can be used as an alternative to double sinks if you want a different choice.
Most trough sinks are rectangular with clean, defined lines. However, there are other options available. For a more sophisticated look, smaller trough sinks are more often utilized.
Families with children might enjoy larger trough sink basins, alternatively, because they are easy to clean. Larger trough sinks do come at the cost of counter space.
A way to add a custom touch to your trough sink is to mix and match the hardware.
ADA Compliant Sinks
The Americans with Disabilities Act was passed in 1990 and aimed to set standards for safety and ease of use for disabled Americans. Sinks that are ADA compliant are made to be easy and safe for anyone to use.
The ADA requires these sinks to be installed at specific heights and depths to be accessible to all. Specifically, these sinks need to be installed in a position that someone in a wheelchair would be able to operate the sink. This includes the space under the sink is clear and a depth of 17 inches or more away from the wall.
Sink Designs
As you consider sink types, you'll also want to think about what sink design is best for you. Here are some well-known sink models that you might want to use in your bathroom.
Square Sinks
Square sinks have the same width as the front-to-back measurement. It's important to note that they don't necessarily have an equal depth and the basin may drop straight down or slope.
Because of the clean lines of a square bathroom sink, they are often favored in modern design.
They especially favored in smaller bathrooms compared to rectangular sinks since they usually take up less area.
See this square sink at Amazon
Rectangular Sinks
Rectangular bathroom sinks have a larger width than front-to-back measurement. This is a shape that is often used in sink types such as trough sinks.
Like a square sink, the defined lines of a rectangular sink work well in modern design and they don't have a defined depth.

Oval Sinks
Oval bathroom sinks are a traditional choice and are often the first thought associated with drop in sinks.
They aren't as well-liked in modern design since they aren't geometric, but they do work well in rustic design.
While they are often associated with drop in sinks, the oval shape can be used with any style.
Double Sinks
Double bathroom sinks feature a pair of basins rather than a single one. These can be in any type of sink but most homeowners choose a pair of drop in sinks.
Unlike double kitchen sinks, these usually aren't directly side-by-side but have a bit of space between them.
Double bathroom sinks are most often used in master bathrooms. They are also used in shared bathrooms connecting two bedrooms. Overall, they are generally best used in bathrooms that might have multiple concurrent users.
For example, a bathroom that is shared between multiple people trying to get ready in the morning, a pair of sinks can be useful. Drop in double sinks also often have plenty of counter space and cabinet space for toiletries.
Above Counter Sinks
A design that is becoming increasingly popular is the installation of above counter bathroom sinks. The most popular type of this design is the vessel sink basin type that we looked at earlier.
While vessel sinks sit completely on top of the counter, above counter sinks may also be recessed. These styles are slightly sunken into the counter but still protrude above it.
This installation style is used to offer the benefits of a standard vessel sink while adding extra stability.
As discussed when covering vessel sinks, these sinks do have a downfall when it comes to cleaning. It can be difficult to clean the juncture between the counter and the basin of the sink.
Floating Sinks
Floating bathroom sinks look like they are independently hanging on the wall of a bathroom. They don't have legs or supports connecting it to the floor and, sometimes, the plumbing is concealed.
These types of sinks are an effective way to utilize a smaller space. They are also an interesting statement piece to use since they aren't as common as sinks such as drop in sinks or even console sinks.
The biggest downside to these types of sinks is that they don't offer much storage space. This is because of the lack of cabinet space underneath. They typically don't have space around the basin for storage either.
Apron Sinks
Apron bathroom sinks or apron-front sinks are sinks with the front of the basin exposed. In other words, they are recessed into a counter – much like a drop in sink – but there isn't a strip of counter in front of the sink. These are often chosen for their vintage appeal.
These were once a rather expensive option because they required specially made cabinets to be installed into. Now, these are often designed so they can be retrofitted into existing counters.
An apron sink is often appreciated in kitchens for their impressive depth. For bathroom sinks, shallower models are usually installed. These may be overmount sinks in which the lip of the basin protrudes slightly above the counter. Alternatively, they may be installed as undermount sinks with the counter covering the lip of the sink.
Copper Sinks
Copper sinks are rightfully lauded as a beautiful choice. They are often used to add a touch of elegance to bathroom design.
Even better, they offer this beauty while being easy to maintain and antibacterial. If the sink uses thinner copper, alternatively, more maintenance might be needed to deal with warping and denting.
While they have a low risk of staining, harsh household cleaners will cause damage. Over time, copper does develop patina meaning it will darken. Some homeowners like this look but it can also be prevented by applying a sealant to the sink.
These sinks also add value to a home. Unfortunately, this is partially due to the fact that they come at a higher cost than other materials.
See this copper sink on Amazon
Glass Sinks
Glass bathroom sinks are made of tempered glass. This type of glass is processed with thermal and chemical treatments which helps them to be stronger than other types of glass.
This means you don't have to worry about cracks, chips, shattering, and other breaks as much as you might think with a glass bathroom sink.
The biggest drawback to glass bathroom sinks is that hard water can leave marks on it. Hard water is water that contains a high level of dissolved materials in it which most tap water does. Fortunately, these marks aren't impossible to erase and can be easily handled with household cleaners.
Stone Sinks
Stone sinks can add a one-of-a-kind look to any bathroom. They are incredibly diverse, coming in a myriad of shapes, sizes, and designs. These sinks are usually carved from a single slab of stone and may be in standard or irregular shapes.
The sinks are incredibly durable, so they won't chip or crack easily. It is important to note that to get the most out of this durability, these sinks need to be sealed.
This will make them non-porous so they won't stain. The finished design of most stone sinks also make them easy to wipe clean as well.
The biggest drawback to stone sinks is that they can be a massive investment. Some estimates put these sinks at as much as $1,000.
Concrete Sinks
Concrete sinks aren't commonly used, so they're a great way to give your bathroom a distinct design.
Even among other concrete sinks, each one tends to have a distinct characteristic. They often add a modern touch to a bathroom.
As you would expect from concrete, this is an incredibly long-lasting material. The biggest problem when it comes to durability is that concrete tends to crack, so it will need to be sealed from time to time. When these chips and cracks happen, it's important to deal with them immediately so that they don't get worse.
These sinks are rather expensive. This is often because they are sometimes installed as a sink and counter in a single piece.
Stainless Steel Sinks
Stainless steel is a popular sink material choice, particularly in kitchens. These sinks are held in particularly high regard because they are smooth in appearance and resistant to water stains.
These sinks don't add as much monetary value to a home in their standard form because they don't offer a particularly unique appearance.
Stainless steel sinks are worth slightly more when elevated levels of nickel are incorporated into its construction. With nickel added, the sink basin will be even more resistant to dents and staining.
You can determine the durability and nickel concentration of a stainless steel sink by considering its gauge. The lower the gauge number, the thicker and more durable the steel is and the more nickel present.
See this stainless steel sink at Amazon
Porcelain Sinks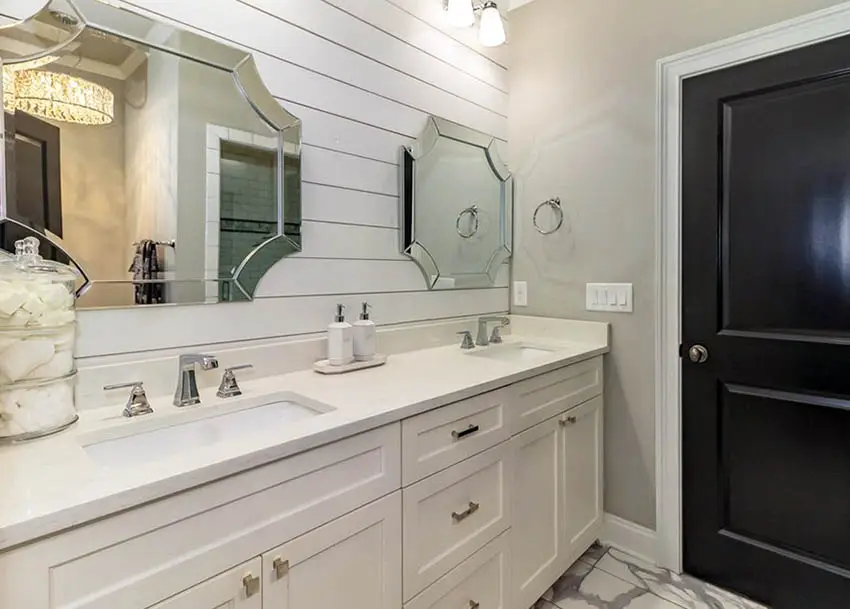 Porcelain also known as ceramic sinks are made of a blend of clay, metal, and glass. This is a common building material in bathrooms as it is often used in tile too.
This material is fantastic for a sink because it has a low moisture absorbency, meaning it won't leak and they're less likely to suffer water stains. The downside of porcelain sinks is that they aren't the most durable option available. They can easily chip or crack but they aren't easy to repair.
Porcelain sinks are about the same price as stainless steel sinks but they can run higher if a custom sink is being installed.
Corian Sinks
Corian is a brand of materials including acrylic polymer and alumina trihydrate. The material is mainly used as a countertop. As such, when it is used as a sink material, it is often installed as an undermount or integrated sink to give the sink and counter a seamless appearance.
Corian is often referred to as Corian quartz and contains up to 93 percent quartz material. Quartz is a highly durable product that is heat and scratch resistant.
What makes Corian so crowd-pleasing is its durability. It is resistant to heat, scratches, stains, and even chemicals. Because it is often installed as an integrated sink and countertop, it can be a more expensive option.
Infinity Sinks
An extremely novel and modern choice when it comes from choosing a bathroom sink is an infinity sink. These sinks don't have a traditional circular drain. Instead, they use a slot around the edges or one edge of the sink.
They also aren't usually very deep. This shallowness, paired with the fact that the drains don't have a stopper, don't allow the basins to be filled.
These sinks work well with modern design. They may be installed above the counter, as a drop in, or as floating bathroom sink. They may come in any shape from a standard shape to a custom, irregular one. There are even infinity sinks that resemble flat countertops.
Farmhouse Sinks
Modern farmhouse decor ties together rustic design – which we will look at later – with modern design. Specifically, it uses the simplicity and hospitality of a farmhouse and the clean lines that modern design uses.
When it comes to sinks, this means that you'll want to choose a square or rectangle sink shape. As far as types, apron sinks and pedestal sinks are popular. Drop in sinks are also used in calling on farmhouse design.
Sinks fitting in with this design are often white or beige rather than a darker finish. Porcelain is a material regularly used.
Modern Sinks
Modern design, as stated earlier, focuses on clean lines. It also employs neutral colors, minimalism, and – at times – an emphasis on environmentally-friendly materials.
To call on the texture-adding contrast and environmental touches of modern design, a stone sink can be interesting.
However, to stick with the sleek elements and clean lines, these rectangular and square sinks are the best choice. Circular sinks – especially above the counter sinks – can be another choice.
Floating sinks, vessel sinks, console sinks, and under the counter sinks are all options that lend themselves to modern design. Even more modern would be an infinity sink. Neutral colors are best too, so a white or black sink would fit in well.
Rustic Sinks
Rustic design takes the other half of modern farmhouse design and runs with it. This type of decor is usually focused on warm colors and natural beauty. It doesn't focus on defined lines like modern design and is more laid-back and organic.
The obvious choice straightaway is a stone sink. It emanates natural beauty and irregular and custom shapes would be welcome. Alternatively, an apron sink or pedestal sink offers an old farmhouse feel. Drop in sinks are also synonymous with this theme.
As said, warm colors are best in rustic design so your sink has to complement that. Most choose to keep their sinks a basic white or cream.
See this rustic bathroom sink on Amazon
Sink Parts
The basin of the sink is the main portion. This is the portion of the sink that holds the water when another part of the sink, the faucet, is turned on.
The faucet is turned on and off by controls. These might be knobs, levers, or handles. The sink also has a stop that can be used to block the drain in the basin.
The plumbing of a sink is typically made up of copper pipes. These pipes are held together and made waterproof by fixtures such as washers and seals.
When replacing the parts in a sink, the primary piece is the pop-up sink drain assembly. This is typically sold as a kit that will contain all the parts required to replace the existing sink parts. Just make sure that the one you purchase matches the finish, is corrosion resistant and is for the type of the sink you have.
Sink Dimensions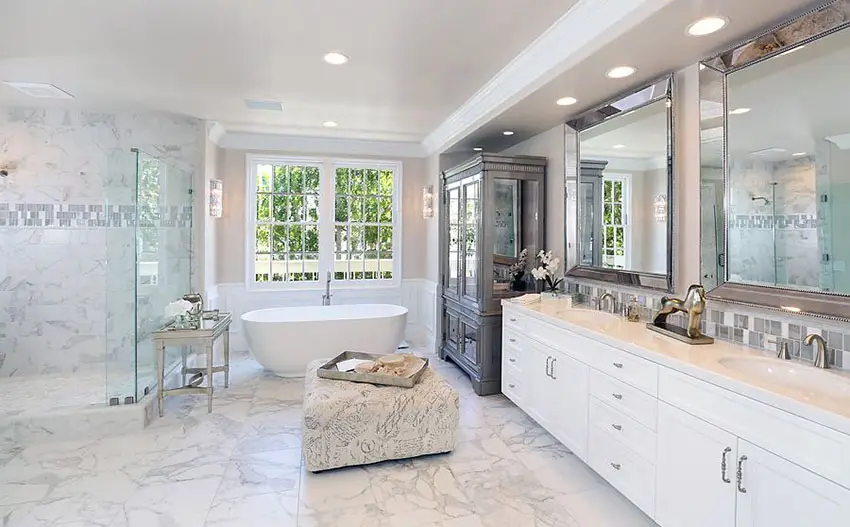 Just like any other part of interior design, it's important to find a bathroom sink that fits your bathroom. If a sink takes up too much room in your bathroom or looks oddly small, it will throw off your design. So, it's important to measure the space you have for a bathroom sink and choose a sink that fits in its place.
How To Measure A Sink
To replace a current bathroom sink with the same style, measure the length, width, height, and depth.
To measure length and width, use a tape measure and measure from edge to edge of the sink. This includes from one side to the other and from front to back.
The depth of the sink is within the basin. It helps determine how much the basin can hold. So, determine the distance between the top of the basin and its deepest point.
Height is a different measurement. This is the exterior of the sink. How far from the ground is the top of the sink? For standard drop in sink sizes, this would be the distance between the top of the counter and the floor.
If you are looking for a new drop in sink, measure the counter space you have and subtract about 4 to 6 inches on either side. This will give you plenty of counter space around the basin for toiletries.
Measuring a Bathroom Sink Video
What Is A Good Size For A Sink?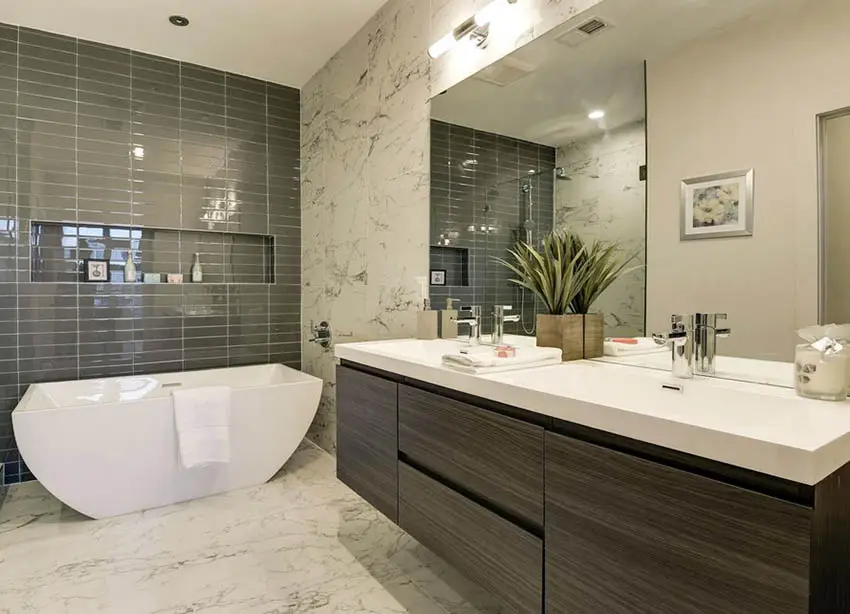 The best size for a bathroom sink will depend on the size of your bathroom. For a standard full bath, the dimensions for a round sink usually sit between 16 and 20 inches in diameter. Rectangular sinks usually have a width of about 19 to 24 inches and a measurement from front to back of 16 to 23 inches.
As far as depth, most bathroom sinks are about 5 to 8 inches.
What Is The Best Material For A Sink?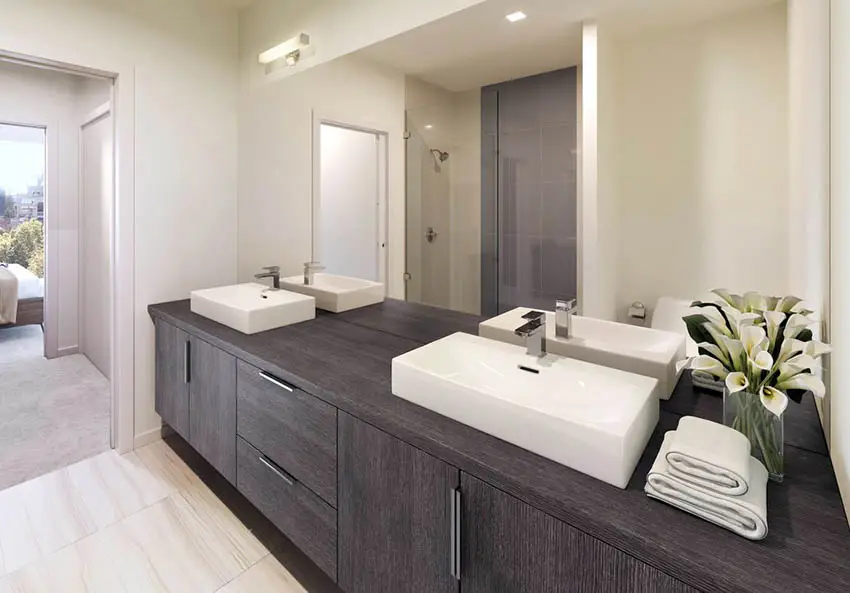 Sinks, in general, are most often made of stainless steel or porcelain as these are the most budget-friendly, durable candidates. Stainless steel is more likely to see use in the kitchen whereas porcelain is more likely in the bathroom sink.
Technically, every material that can be used for a sink has its pros and cons. Which is best depends on your personal needs and tastes.
A stone or copper sink is great when you are looking to increase the value of your home but not as ideal if you're shopping on a budget. Glass sinks are an excellent way to create a focal point vessel sink but you'll have to be careful of watermarks. Concrete sinks might be best if you want something that's incredibly durable but it does need a bit of maintenance to handle cracks.
To find the material that's best for your bathroom sink, step back and think about what you want and compare the pros and cons.
Sink Replacement Cost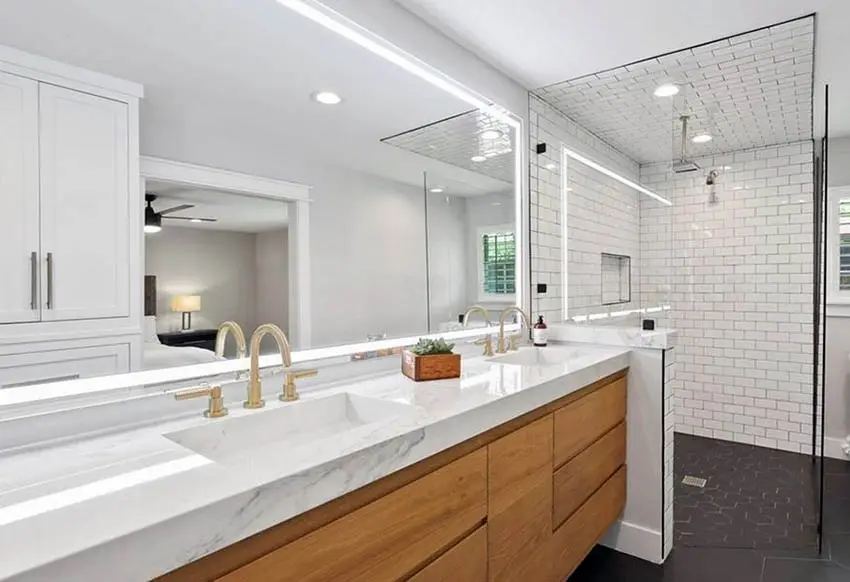 The exact cost of a bathroom sink replacement will depend on a few factors. This includes the type of sink, what it's made of, and how labor intensive it is to install.
The national average of a sink replacement cost with labor in the United States is about $380. The typical range sits around $207 and $551 but can be less or more depending on who you work with, if you install it yourself, and the model being installed.
Reglaze A Sink
Reglazing a bathroom sink is a great way to make an old bathroom sink look like new. It's a particularly good idea if you like the type of bathroom sink type and there aren't any damages such as cracks. Reglazing can be a great way to save money versus paying for a total replacement. Of course, if you are looking for a total revamp with a different sink type, reglazing probably won't be enough.
The process of reglazing a kitchen sink is as follows.
Before you begin make sure you have goggles, a respirator and protective clothing. To ensure the glaze does not damage nearby surfaces apply newspaper or tarp to the area you are working in. If you are working at the sink counter mask off any tile backsplash or countertops to avoid discoloration.
To begin the process you'll want to thoroughly clean the surface of the sink using a standard all purpose cleaner to remove any dirt or grime.
After that you'll want to remove as much of the silicone caulking as possible. By using a silicone digester you should be able to remove more of the silicone residue.
The next step is to put on a pair of safety gloves and carefully scrape the sink with an acid paste (acid etching solution) to remove any additional debris. It should be let to dry for 15 minutes.
As a final cleaning step before glazing, apply a degreaser to ensure the sink surface is ready. Rinse the sink thoroughly and let it dry completely.
Now that you're ready to begin glazing your sink, apply an epoxy primer using a brush with even strokes. If you have a sprayer, make sure it is held a couple feet away. Apply the epoxy evenly to all areas of the sink.
The next step requires you coat the sink with acrylic-urethane resin and let it set for 15 to 20 minutes. Finally apply a polyurethane coating to get a shiny sink surface.
After the sink is dry you can apply silicone caulking using a caulk gun. Apply the caulk at an angle as evenly as you can.
Can You Paint A Sink?
The good news is you can paint a bathroom sink! However, painting a sink isn't the same as painting a wall. Here's a quick guide to how to do so.
To start, remove the faucet and handles so you only have the sink to deal with. It's also a good idea to wear a mask while painting the sink to handle any fumes.
Then, clean the sink well so you don't paint in any debris. You'll need to use epoxy, not wall paint, on your sink for it to withstand moisture.
Apply a light coat with a high-quality brush – don't worry about brush strokes, the epoxy will settle. If your sink is a darker tone, you might need to apply further coats once the previous layer dries completely.
Sink Faucets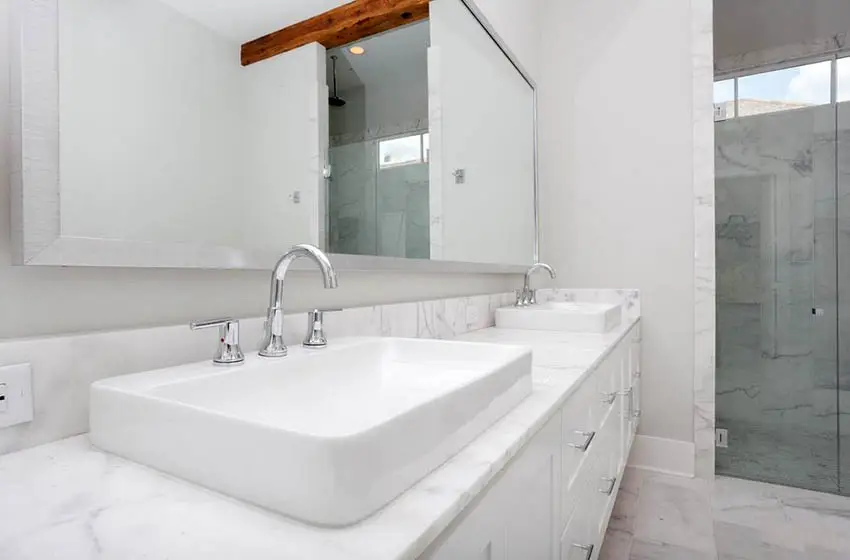 The first thing that you need to do when choosing a faucet is to look at the number of holes that your sink, counter, or wall has. For most sinks, there is space for a faucet with controls on either side. Faucets are sold in four forms:
● Single hole
● Centerset
● Widespread
● Wall mount
Then, you'll want to consider size. If you don't have a lot of space, you aren't going to want to buy a large faucet. Once you have the technical specifications figured out, you can look at styles and finishes.
One interesting choice for bathrooms is a waterfall sink faucet. These faucets offer a wider and less forceful spray and are made to imitate naturally falling water. For many, this gives a bathroom a much more calming atmosphere.
Bathroom Vanities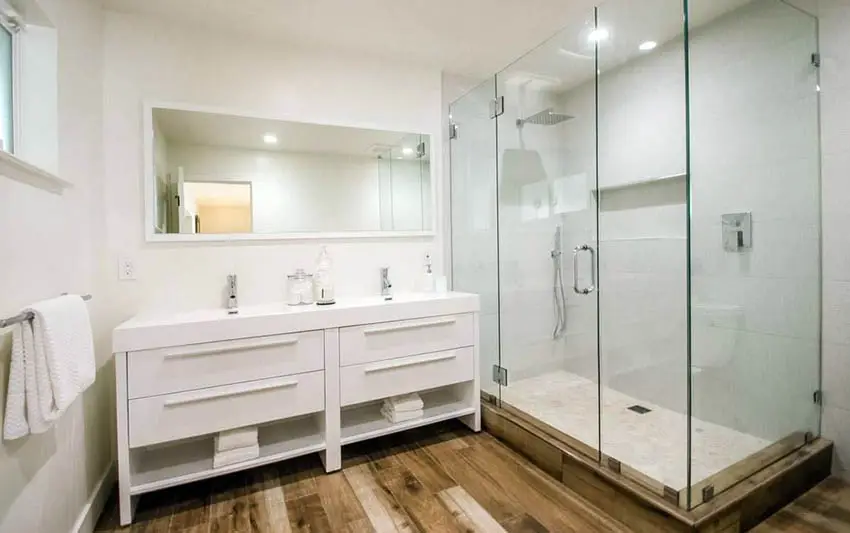 Bathroom vanities are setups that include a sink, a cabinet, and, at times, counter space. The plumbing pipes on bathroom vanities are concealed within a cabinet. These cabinets – and often ample counter space – serve to give users more storage space in the bathroom.
They also often are paired with a mirror to make them perfect for fixing hair, doing makeup, and overall getting ready for the day.
How to Choose a Sink Vanity
It's often useful to choose a vanity before the sink of your bathroom because it allows you to think of what you have room for first but, you'll want to keep in mind the type of sink you want. This way, you can consider accounting for its installation such as space for a drop in sink.
When considering a vanity, you'll also want to think about how much storage space you need. If you need more, cabinets with drawers can be a helpful choice.
Double Sink Bathroom Vanity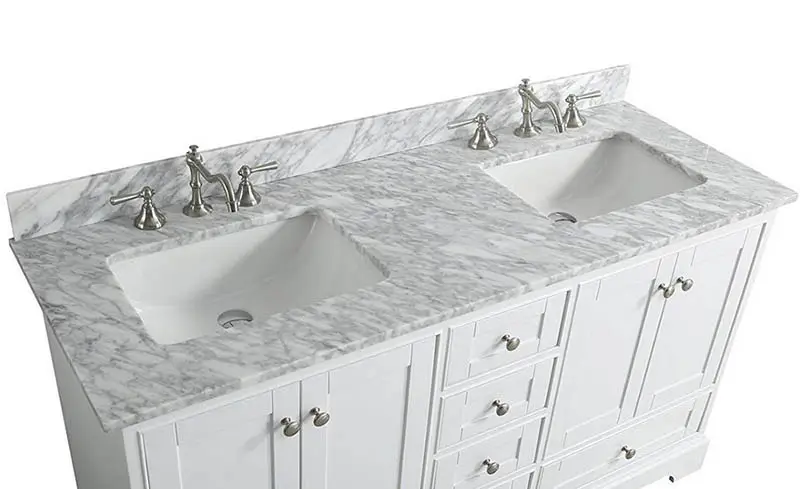 See this double sink bathroom vanity at Amazon
Double sink vanities are a good choice for shared and master bathrooms as they allow for multiple vanity users at once. In smaller bathrooms, they aren't typically a very viable option. When a double sink is used in a small bathroom, it is usually one of two ways.
The first way would be to use a pair of drop in sinks side-by-side with no counter space in between. A more intuitive design that is sometimes used is a large trough style sink with a pair of faucets.
Corner Sink Cabinet
Corner bathroom vanities are a great way to have a vanity in a smaller space. These fit into a corner and offer cabinet space without taking up a massive amount of room in your bathroom.
If you have extra room and need more storage space, cabinet and counter space can be extended along the walls.
With corner vanities, above the counter or drop in sinks can be used. The sink is usually slightly smaller, though, making trough sinks a rather unpopular option in this type of vanity.
Freestanding Sink
Freestanding vanities are a great addition to almost any bathroom. These vanities can be smaller to fit into smaller bathrooms or they can be the size of full vanities to cater to a master bath. They are usually larger than choices such as a pedestal sink.
A freestanding vanity stands apart from the wall rather than connecting entirely to the wall. Many do decide to seal their freestanding vanity countertop to the wall with caulk. This helps to prevent any water from leaking between the wall and vanity.
Sink Countertops
The countertop you choose with your bathroom sink can elevate the design. There are a lot of options out there, each with their own pros and cons.
Many of these counters are the same you might choose for your kitchen. These include materials such as granite, marble, concrete, and engineered stone. There are other options that are well-liked bathroom remodels as well such as tile or laminate countertops.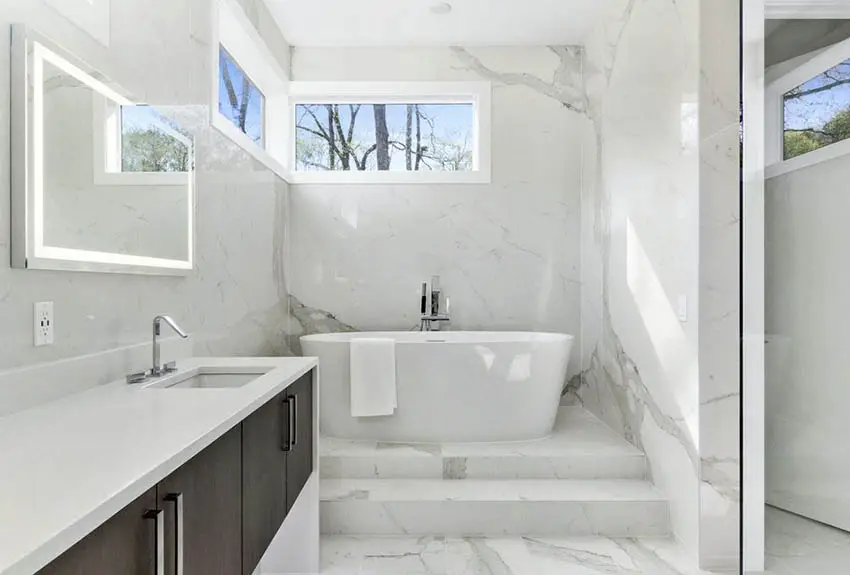 The advantage that bathroom countertops have over kitchen countertops is that they won't run into high heat issues such as cooking spills. The most important trait that homeowners will want to consider when choosing bathroom counters is how well the material holds up to humidity.
How To Clean A Sink
Once you install your bathroom sink, you'll want to make sure to keep it in top shape. The best way to do this is to keep it clean.
First, there are some things you'll want to make sure to do regularly. For one, wipe it down with a vinegar and water mix to avoid staining. You can also use a baking soda paste to deal with tougher messes.
For deeper cleaning, start by filling your sink with a few inches of water. Throw in some of your preferred cleaner and a couple cups of vinegar. This will start to clean the sink itself while you can dip a rag in the mixture to clean aspects like the faucet. Let it sit for at least ten minutes and then drain it and wipe the sink down.
It's also important to make sure hair doesn't get stuck in the sink. If you see the sink draining slower, remove the stopper and try to take care of the clog. In the case that you can't, there are plenty of de-cloggers on the market to help you out.
How to Remove a Bathroom Sink
Turn off the water via shut-off valves before starting. These are usually located behind the sink. Then, use a wrench to disconnect the sink from the water supply tubes.
Next, you'll want to remove the P-trap which is actually U-shaped in the drain pipe. Pliers work great for this and you might want a bucket below for any leaks.
Look for any clips, bolts, or fastenings that connect the sink and countertop and remove them. If they have to be broken off; be careful to not damage the countertop. A utility knife can be used to cut the sealant between the sink and the counter or wall. The sink should now pull away easily.
How to Install A Sink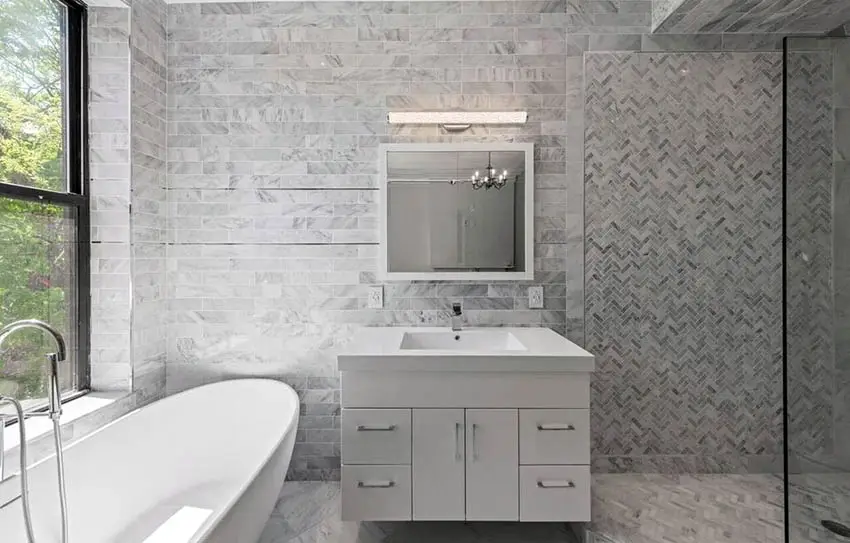 The exact steps to installing a bathroom sink will vary depending on the type of bathroom sink you choose. As such, you'll want to follow the manufacturer's instructions for the specific steps.
Watch this video on how to install a new bathroom sink and faucet:
Generally, most people suggest the order of installing faucets, handles and spouts, and then the sink itself. This way, it's easier to feed flexible water hoses to the faucets before sealing the sink into place.
When installing the sink itself, use plumber's putty to lock it into place. Use a putty knife to remove any excess. When attaching the water line, beaded silicone works well as a waterproof seal.
Interested in remodeling your bathroom? There are many bathroom remodel software programs available to help you visualize your designs before purchasing any materials. These programs can help you layout your floor plan and try out different finishes & materials to help you get exactly the bathroom you want.