Here's our gallery of the types of bathroom faucets including the different design styles, materials, finishes, features, cost, and how to measure a bathroom faucet.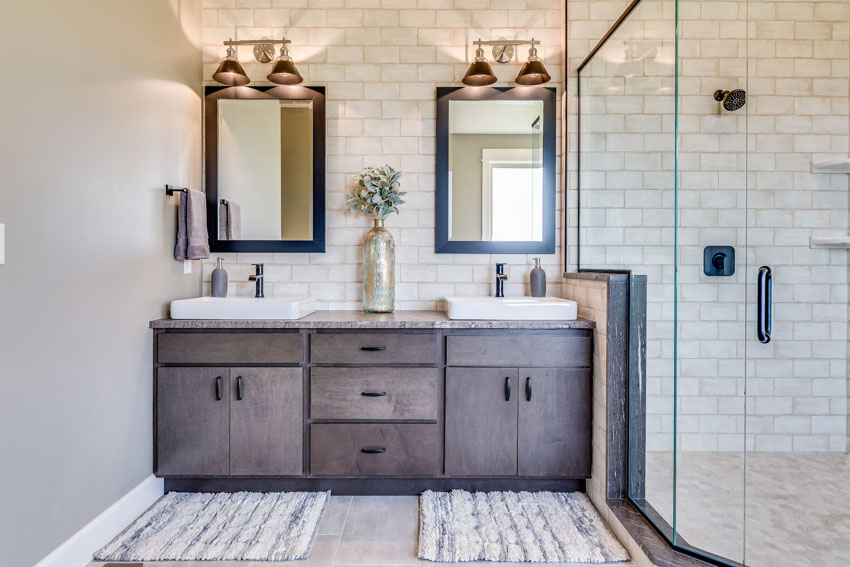 Choosing a bathroom faucet may be more difficult than you think. Indeed, bathroom faucets come in an extremely wide range of colors, materials, layouts, and sizes.
The bathroom faucet you will pick should be of high quality because you will be using the exact faucet for many years to come, and it must complement the general vibe and design of the space as well as your other bathroom fittings.
You can take a moment to do some thorough study into what bathroom faucets you are searching for, whether you are doing this task as a DIY activity or hiring an expert to install it. We have compiled a comprehensive selection of faucet options for you to browse.
Bathroom Faucet Styles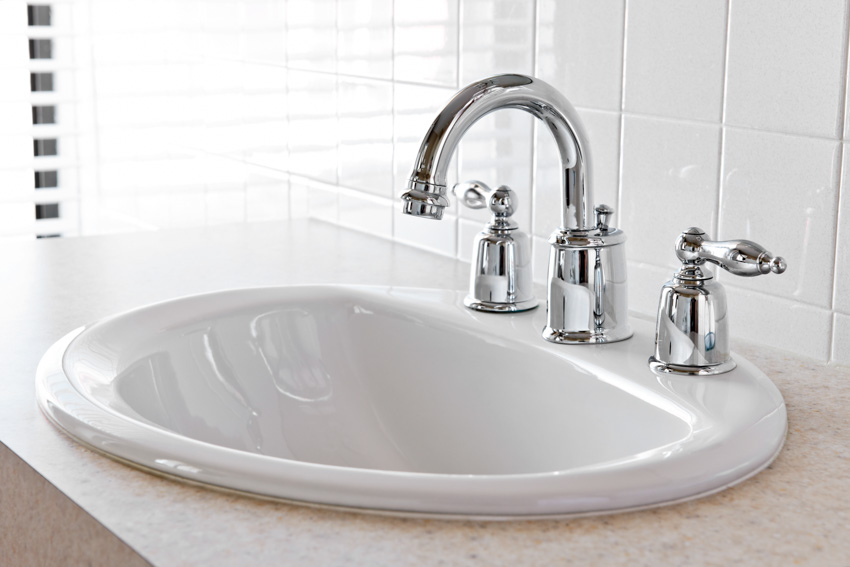 Installing a resplendent bathroom faucet is a fantastic way to improve an existing flawless bathroom design. A well-designed faucet must be something that is both properly detailed and prepared to shine out. Because after all, it is the focal point of your bathroom.
When flushing a toilet or turning on a faucet requires no thinking, you know the bathroom is well-designed. This convenience is due to the careful selection of bathroom faucets and knobs. Now, we will take a closer look at various bathroom faucet styles.
Single Handle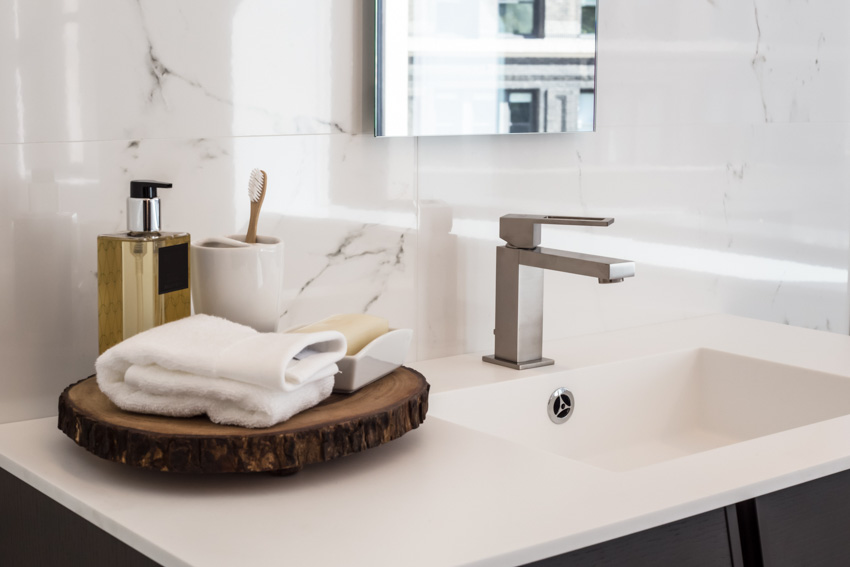 A single-handle faucet does precisely what its name implies. It is a faucet with a single handle that controls both the temperature and the water pressure at the same time. The handle can either be placed to the right, left, or straight over the spout. Single-handle faucets are frequently used in kitchen sinks as well.
Since it does not require a lot of drilling to tighten, this type of faucet can have a considerably smaller mounting space. It can nestle in a two or three-inch-wide space. This is the simplest sort of faucet to install on your own.
Furthermore, the majority of single-handle bathroom sink faucets only require one or two openings. This implies that these faucets will only need one hole in the bathroom vanity or counter to be installed. If there are more holes, several faucets include a mounting bracket to cover them.
Centerset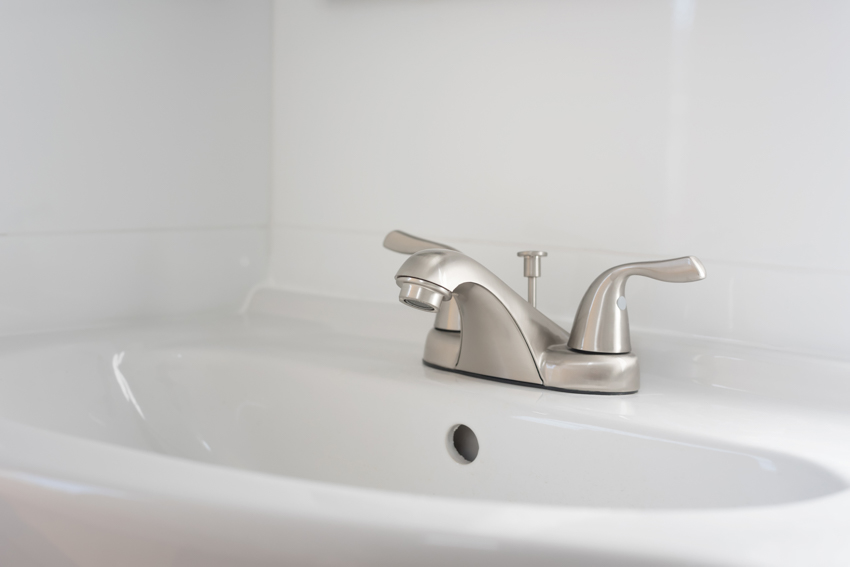 A center-set-style faucet is one of the most prevalent styles of bathroom faucets found at home improvement and hardware outlets. This faucet has a compact faucet housing with one or two handles or sliders for controlling water flow and temperature.
Center-set bathroom faucets are usually compatible with three-hole sinks. Moreover, handles on center-set bathroom faucets are typically 4 inches apart. These faucets have a spout as well as two handles, one on every side of the bottom unit.
Several center-set faucets, on the other hand, have two knobs that are placed onto a 6-inch frame on the bathroom sink. If you reside in New York City and have limited space to free up, this would be an excellent option as it normally comes with a shorter spout. Read more about bathroom sink sizes here.

Spread Fit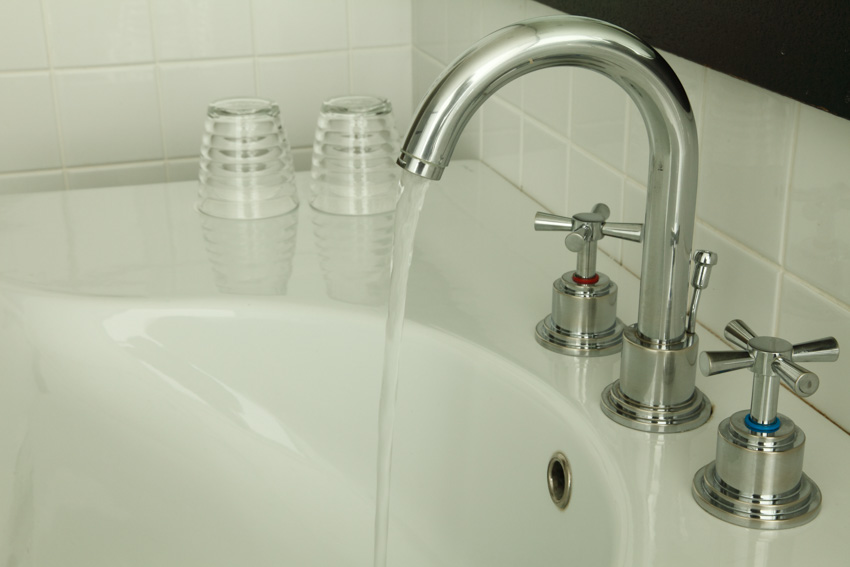 A spread fit faucet, like a center-set faucet, has three independent components that protrude outward from the surface of your bathroom sink, but with more abundant spacing.
The knobs or handles of this style of faucet are not crammed, and they are fully prepared to supply whatever temperature of water you want. This luxurious faucet style will undoubtedly make you feel as if you are in a 5-star hotel.
Spread-fit faucets hide the linkage beneath the bathroom sink deck. Typically, the openings for such sink faucets are spaced up to 10 inches apart.
These faucets can also be installed in non-standard arrangements. For example, you can place the spout in the back corner and the faucet knobs to one side, making the entire installation much easier.
Widespread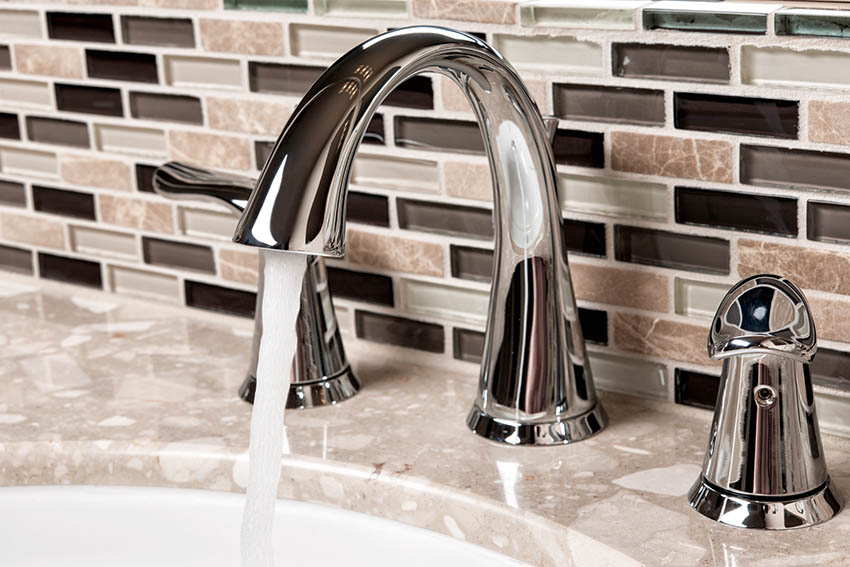 The fundamental distinction between a widespread faucet and other styles of faucets is that widespread-style faucets feature cold and hot-temperature handles that are separate from the spout.
The cold and hot handles can be installed explicitly on bathroom or kitchen countertops or sinks. Most common faucets can be installed on sinks with three separate holes: one for the faucet itself and two for their handles.
The connection for cold and hot water is hidden beneath the sink surface with widespread fitting faucets, keeping it clean as well as appealing. The advantage of having a widespread faucet is that you can position it in unconventional locations.
As an idea, you can try to place your spout on the rear of the countertop and your knobs or handles on the side. Indeed, this type of faucet could be a good pick if you have an oddly shaped bathroom sink. Widespread faucets are the finest choice if you have a massive counter space as they occupy more room than other styles of faucets.
Bridge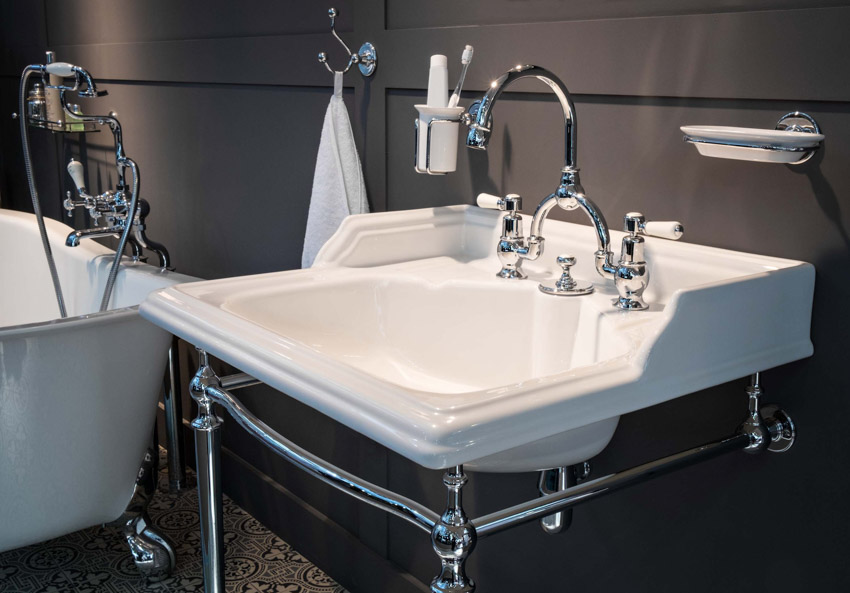 The bridge faucet's name ought to be self-explanatory. With its beautifully streamlined bridge-like shape, you can see why it was given that appellation. These are frequently found in professional sinks where cleanliness is a top consideration.
Two independent knobs manage the temperature, and this type of faucet is frequently paired with a pull-away spraying spout.
Bridge faucets are a great way to merge old-world style with cutting-edge technology. The word 'bridge' also refers to the fact that the levers and faucet all split out of a single component.
Instead of three holes in the bathroom vanity, this necessitates only two. Additionally. bridge faucets are frequently seen in under-mount sinks. This arrangement allows you to experiment with the sink faucet.
Wall Mounted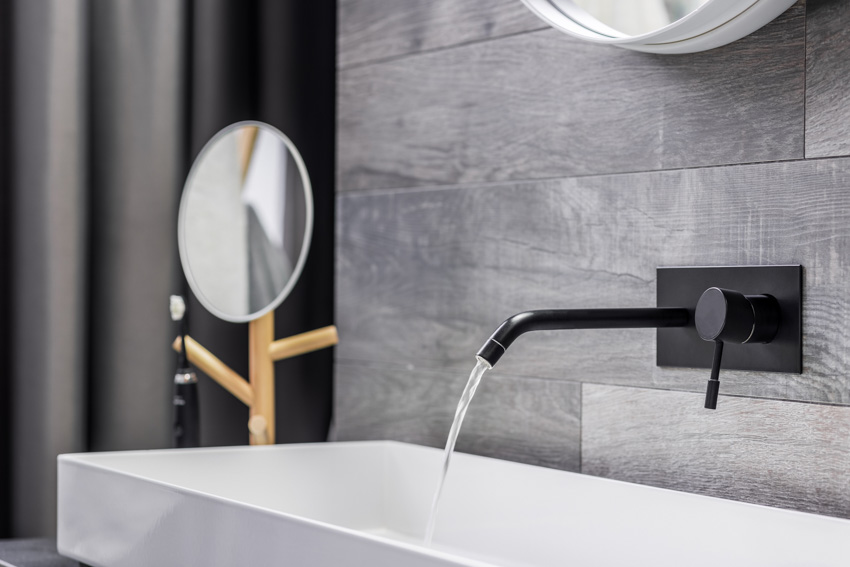 Wall-mounted faucets, as the name suggests, are directly installed on the walls. The plumbing fittings in this arrangement are situated above the bathroom sink surface.
These faucets are suitable for hanging sinks that do not have predrilled holes. The spout is broader in this particular instance, allowing the water stream to meet the basin.
The wall-mounted sink, which was constructed with hovering sinks in mind, is well-suited for more trendy and modern-style bathroom designs.
It would be awkward to get a faucet that does not reach the corner of your sink, hence you have to take several measurements. Having a faucet mounted to the wall allows you to easily switch out sink basins.
Waterfall
A waterfall faucet, as the name suggests, mimics the naturalistic action of falling water. The waterfall tapping, featuring its flat and larger spout, causes water to flow, which is both pleasant to the ears and aesthetically pleasing.
The spout on waterfall faucets is incredibly narrow and virtually flat. On the hole is also an aerator, which modifies the curvature of the water stream to simulate a waterfall. Because of the calming effect they create, these faucets are highly prevalent in spas.
Vessel Sink
The vessel-style is a sink basin that rests on the upper end of a bathroom countertop or vanity as opposed to being insets like typical drop-in or under-mount sinks. Any type of material can be used to create a vessel sink basin.
These bathroom sinks can either be made of fired porcelain, glassware, stainless steel, ceramic, marble, copper, or stone. Ceramic and glass, on the other hand, are the most preferred materials for vessel sinks nowadays. Vessel sinks are typically used in a bathroom rather than a kitchen.
The openings are machined into the worktop or bathroom vanity for the faucet setup on a vessel sink. You can select a vessel sink faucet with a single- or double-hole structure. You can also pick between a wall-mount and a deck-mount faucet for a vessel sink.
In addition, some faucets are designed specifically for vessel sinks on the market. These faucets exceed the vessel sink basin's high rim. The majority of these sink basins require a faucet with a clearance of four inches.
Touchless
Touchless faucets utilize new technologies that allow you to turn on the water stream without touching the faucet. Therefore, simply placing your hand underneath the spout will get the water flowing, and it will automatically stop when you remove your hand.
Touchless or automatic bathroom faucets are very practical to use, and truly, they improve hygiene. An automatic faucet detector is often located at the rim or bottom of the faucet's spout.
Rather than just featuring a motion sensor, these touchless bathroom faucets include presence sensors that recognize the movement of a hand beneath the spout.
When the detector senses hands beneath the spout, it activates the faucet. Withdrawing your hands will cause the sensor to turn the faucet back off. The majority of touchless bathroom faucet sensors have a little infrared light that sits near an infrared sensor.
This sensor activates the faucet valves whenever your hands are near a few inches of the spout's rim, reflecting infrared light off your hands and into the sensor.
However, to function, every touchless faucet requires a power source, which can vary. Although several faucets are powered by dry-cell batteries, others employ low-voltage power from an AC generator.
Tub Wall Mount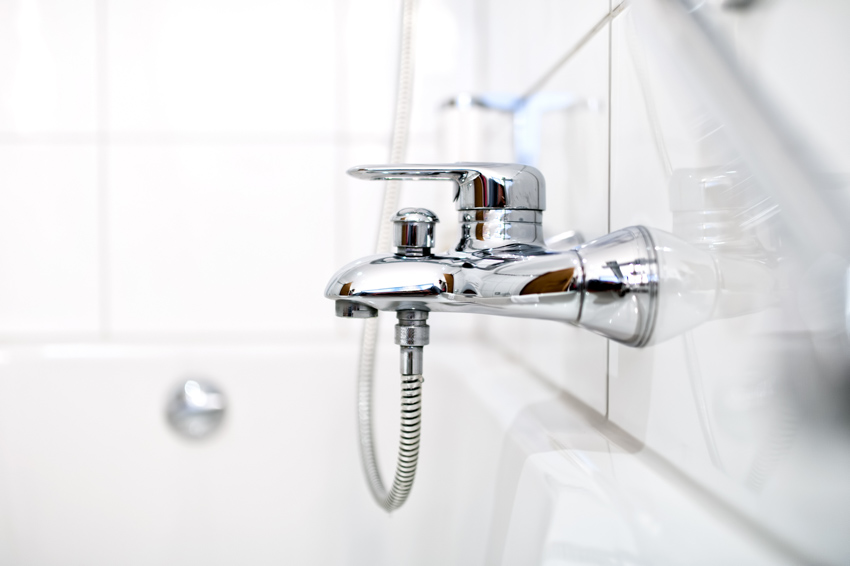 Wall-mount faucets and tub wall-mount faucets are practically the same. The only distinction is that they mount to the tub wall rather than the bathroom wall. Both the spout as well as the faucet handle are inserted directly into the tub.
This implies that they will not operate as a shower spout. However, if you only need a faucet for a freestanding tub, this would be an excellent option.
Tub wall-mount bathroom faucets are not commonly found in ordinary, built-in bathtubs. Instead, they are commonly used for standalone or clawfoot bathtubs.
This requires a bit more work during installation because you will need to ensure that the faucet can be connected to the waterline. This might also need the use of a diverter type of valve.
Aside from that, it would be a smart idea to measure the faucet openings in your bathtub before purchasing a tub wall-mount faucet. Nonetheless, for many people, this type of faucet mount is extremely rewarding. If you want a more traditional look, you can take into account installing a tub wall-mount bathroom faucet.
Deck Mount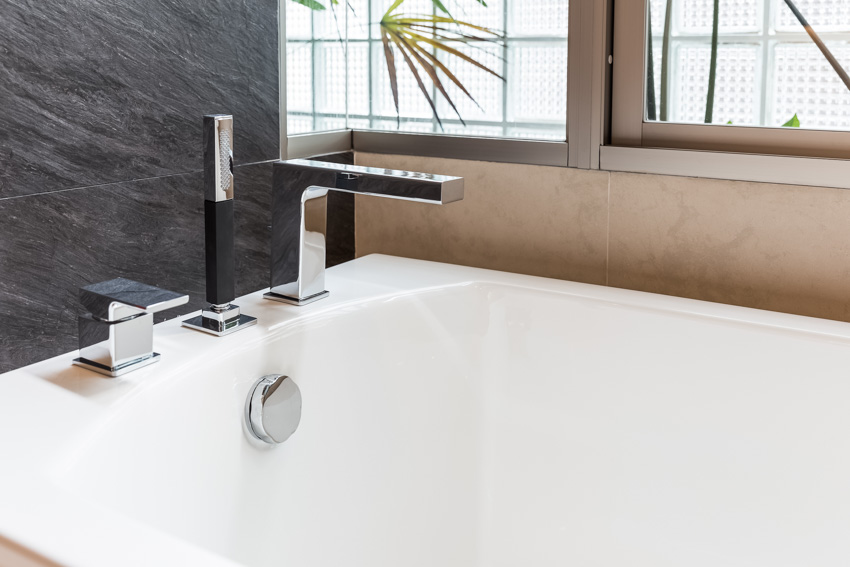 On bigger bathtubs, deck-mount bathroom faucets are common. Once more, this option is mainly designed for a freestanding bathtub rather than a shower.
Rather than extending from a wall, these bathroom faucets rest on the lip of the tub. They are an excellent option if your bathtub has a broad rim that prohibits access to the wall.
However, keep in mind that the installation can be complicated because you will need to connect the faucet to a supplying connection before you can connect it to the waterline. Deck-mount faucets, on the other hand, lend to a neat, streamlined, and very contemporary appearance.
Roman Tub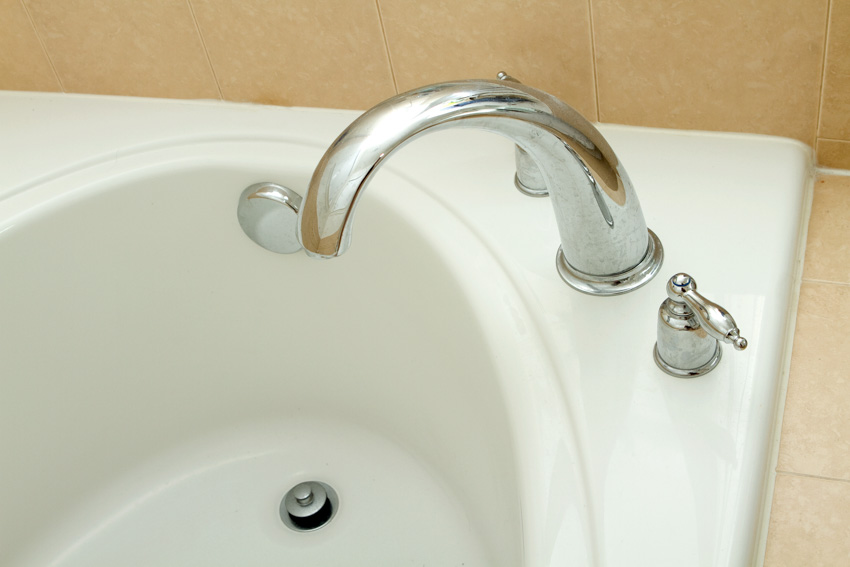 A Roman tub bathroom faucet accurately resembles a deck-mount faucet; however, there are a few distinctions. Understanding these distinctions will still be helpful, and if you are looking for a faucet for your huge bathtub, you will want to be aware of these. In both cases, the faucet is mounted on the bathtub's rim.
A supply line linkage is also essential for both types. The form of the spout is what distinguishes them. A Roman bathtub outflow usually has an arched design, whereas conventional deck-mount faucets will have a more ordinary appearance.
A hand shower is occasionally included with Roman faucets. This hand shower essentially combines your bathing and showering experiences into one.
Furthermore, a hand shower is essentially a shower spray that you can hold with your hand and control as desired. If you prefer that ability with your Roman bathroom faucet, you will have to drill an additional opening in your bathtub.
It takes a little more effort at first, but consider the fact that the handheld shower choice can be extremely beneficial to persons with mobility restrictions.
Freestanding Bathtub Faucets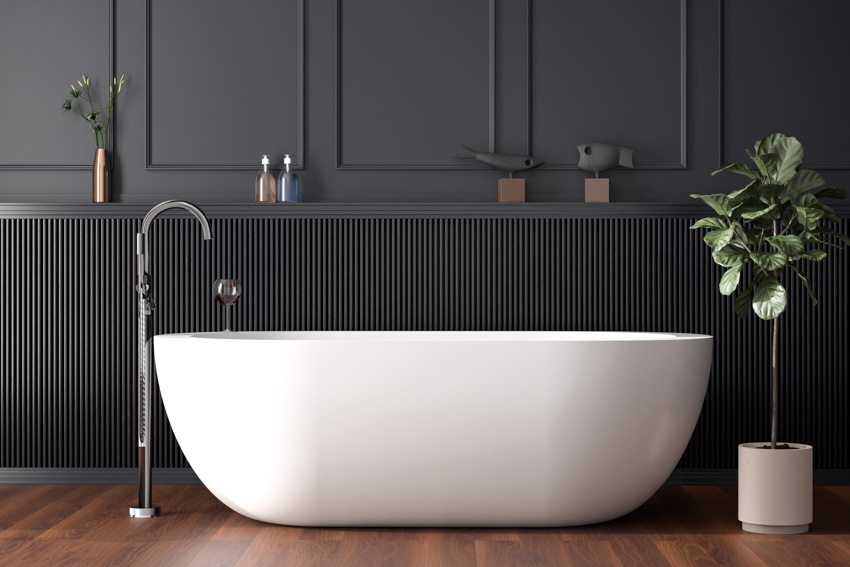 A freestanding tub faucet spout is frequently used with a clawfoot tub or another type of standalone tub. This style of the faucet may also be found in an exotic-looking shower. This faucet is attached to the ground specifically. It can add to a variety of aesthetics, such as vintage and industrial.
This faucet's design features exposed piping, thus consider that when you make your selection. A freestanding tub faucet can either have a spout that extends over the bathtub and pours it from above, or it can be attached straight to the bathtub through pre-drilled openings.
Ensure that you have under-floor accessibility to the waterline before purchasing this type of faucet. A water connection pipe might also be required.
Bathroom Faucet Materials
There's a wide assortment of bathroom faucet finishes and materials available. Popular faucet finishes are chrome, nickel, stainless, brass, bronze and matte black.
Some of these come in different light or darker styles. You can also find varieties such as matte, brushed or polished depending on the look and feel you like. See the different types of bathroom faucet finishes here.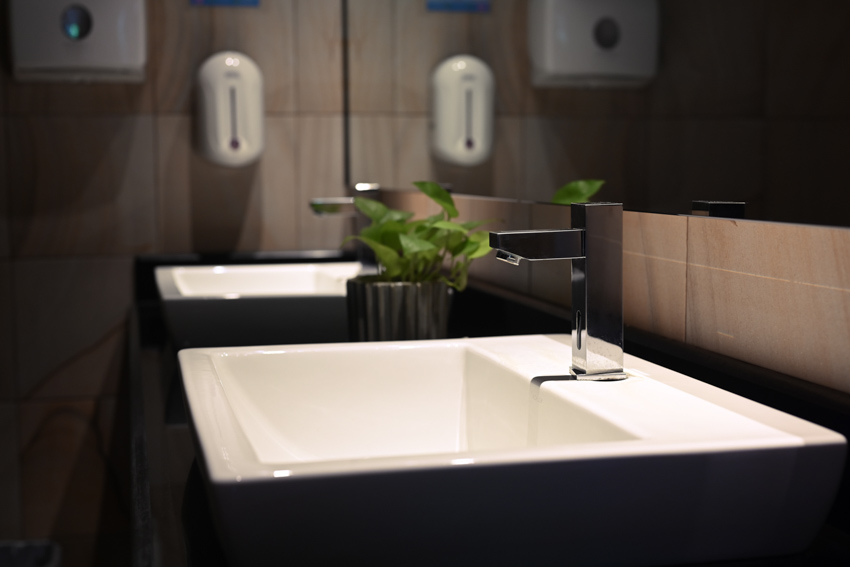 Here we share the different materials for bathroom faucets and their finishes.
Stainless Steel
When applied correctly, stainless steel materials can offer a stylish aesthetic to your faucet. It is a more durable material than brass and contains nickel and chromium to produce a gleaming silver-like sheen. This material has a strong feel and will not dent or fade out easily.
When it comes to bathroom faucets, stainless steel is indeed the material of choice. Stainless steel faucets are resistant to abrasion, wear, and rust. It also features a lustrous finish, which adds to the visual appeal of any bathroom.
The main drawback of stainless steel is that it shows watermarks, hence if you want a gleaming finish, you must always have your preferred cleaning agent around you.
Chrome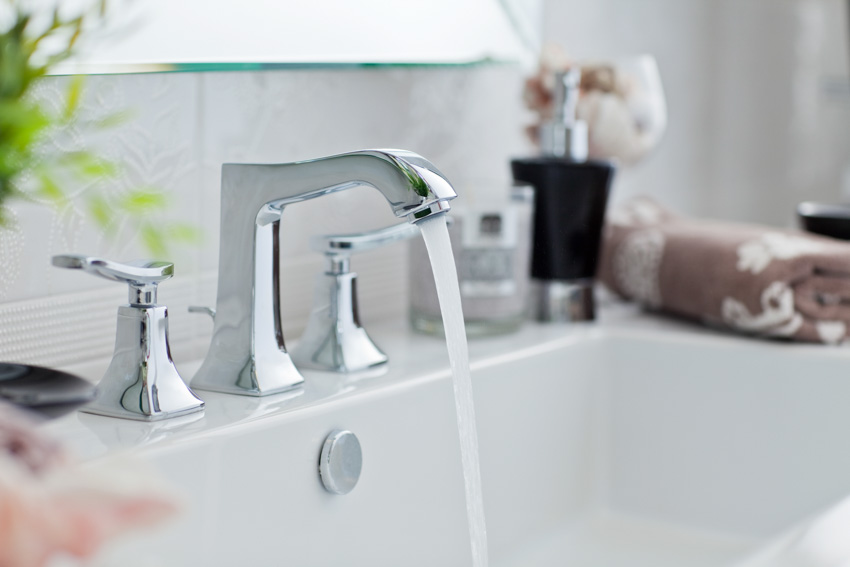 When it pertains to tub and shower faucet options, the chrome-plated spout is indeed a timeless classic. It is also one of the most famous bathroom faucet alternatives, henceforth it is reasonably priced, and there are many varieties to select from. It also complements a wide range of styles.
The majority of chrome spout finishes accompany a vast array of bathroom colors, thus if you choose chrome, your faucet will be less inclined to conflict with the remainder of the bathroom. Another advantage is that it is simple to clean.
On the other hand, remember that chrome is less robust than some of your other selections. Therefore, although you will spend minimal funds initially, you might have to replace your chrome bathroom sink fixtures much sooner than you would in other spout materials.
Zinc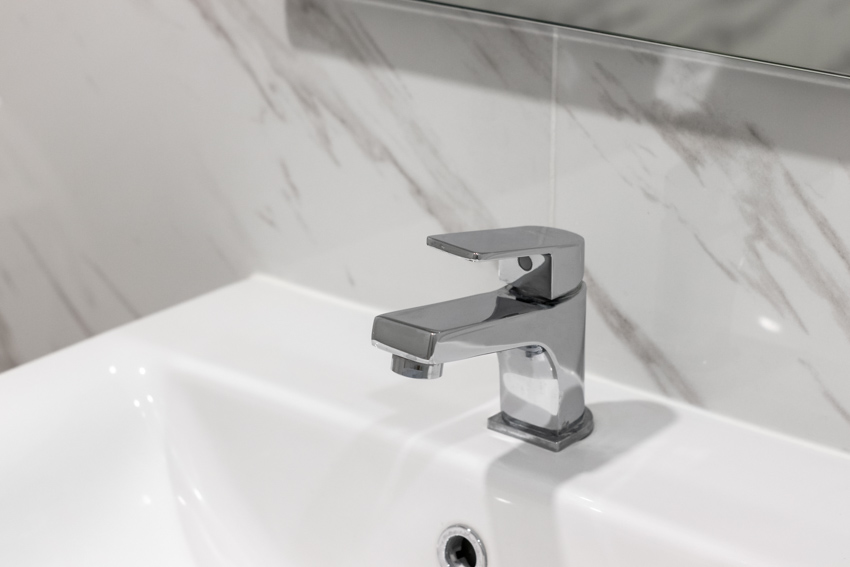 Because of its low cost, zinc has long been employed as a substitute for brass. It is normally plain gray; however, it can be plated with a chrome accent to make it more appealing. Its plated variants are superior and complement any faucet.
Moreover, zinc is both corrosion-resistant and lightweight. Yes, zinc is a less expensive choice, but take note that it is less durable than brass.
Brass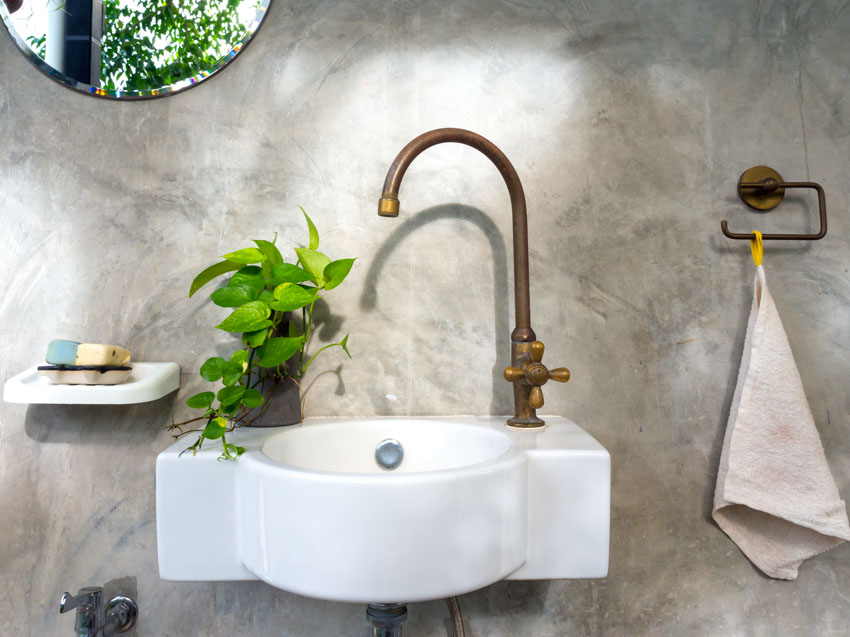 Brass is a popular material due to the way it mixes zinc and copper to form an alloy. It has a vivid yellow hue that is incredibly eye-catching. Brass is a favorite option among homeowners because copper, which is used to build brass, is an antibacterial agent and an excellent choice for clean and healthy water.
Moreover, aluminum can be incorporated with brass to make it firmer, more durable, and more resistant to corrosion. Tin materials can sometimes be applied to avert dezincification, which occurs when brass is persistently exposed to water and loses its zinc features.
Copper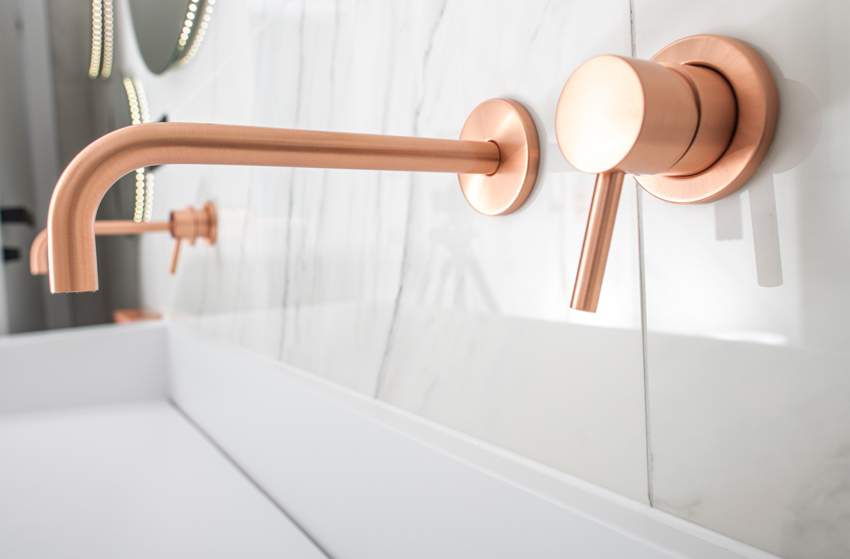 Another great material option for your bathroom sink faucet is the copper finish. This warm-toned faucet finish gives a tub or showerhead a rich and opulent impression. Because copper is not a typical finish, bathrooms with copper finish shine out from those with other faucet finishes.
Copper, nonetheless, is more costly, less hard-wearing, and more difficult to maintain than some other bathroom faucet materials, which is why several people prefer a polished brass tub faucet rather.
For some, though, copper is the ultimate finish that can create the perfect aesthetic for their new bathtub or shower. If this is the case for you, you might as well try copper finish for your bathroom faucets.
Brushed Nickel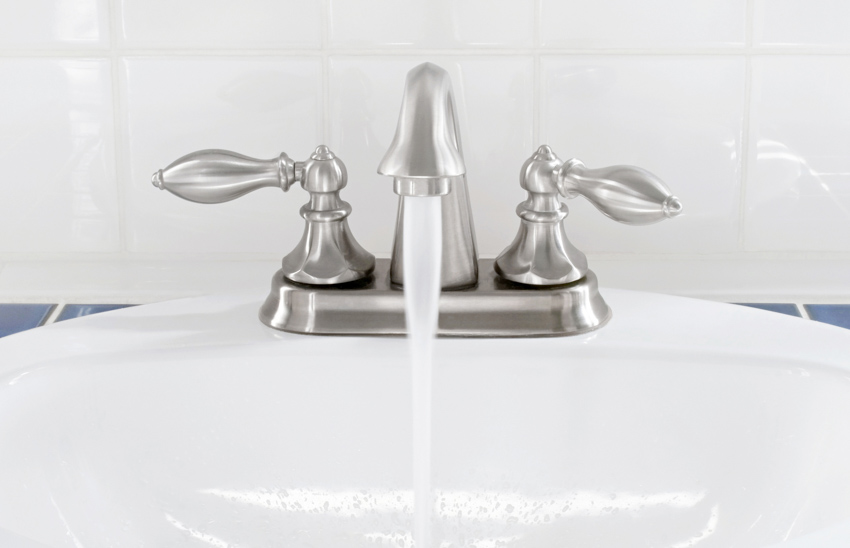 Nickel faucet styles are quite similar to chrome faucet finishes, even when it comes to their color. Nickel features the same silver tone as chrome, even though brushed nickel is a little more vibrant. There are several other distinctions. The first difference is that nickel shines better than chrome.
If you want the vintage aesthetic of a chrome faucet but with a little additional shimmer, nickel is the way to go. Aside from that, nicker is far more robust than chrome, thus it will endure much longer.
The disadvantage of nickel is that it is more costly. A nickel-finished spout may cost a few hundred dollars more than a chrome-finished spout.
PVD (Physical Vapor Deposition)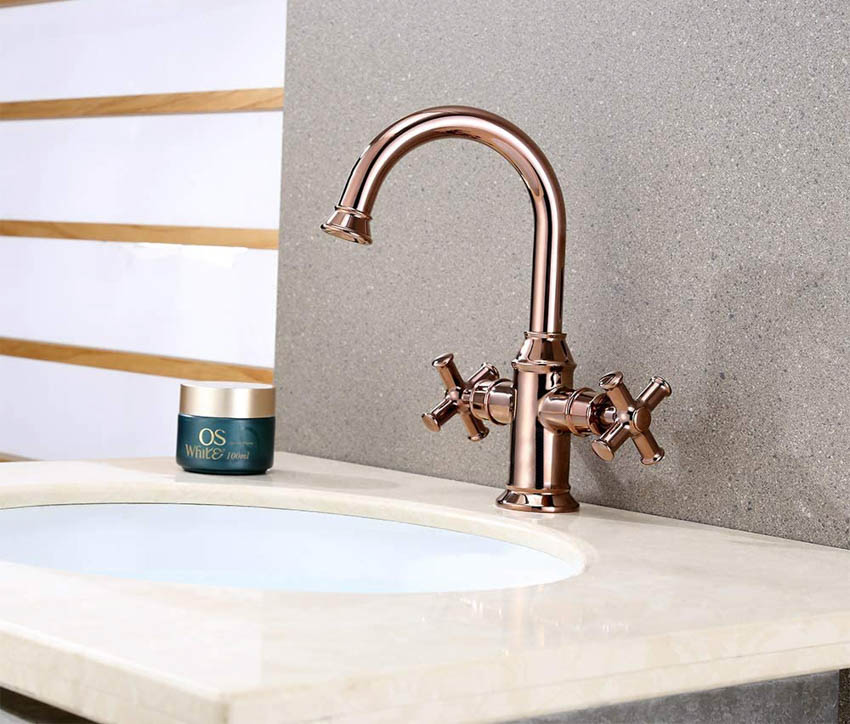 See this rose-colored PVD-finished bathroom faucet at Amazon [sponsored link]
This cutting-edge faucet finishing method forms a molecular link with the faucet, which results in the most lasting finish currently available. PVD-finished products will never rust, tarnish, or discolor.
This is how it is made – chrome-plated components are thoroughly cleaned before being put into a vacuum container. Once inside the container, the components are molecularly cleaned with gas ions before an electrical discharge is used to evaporate metals from a solid substrate.
PVD finish is a high-technology vacuum depositing method that distributes coating material on a particular atom or molecule standard, resulting in a highly flawless and high-performance finish. Without a doubt, this faucet material finish is quite robust and well-designed.
Plastic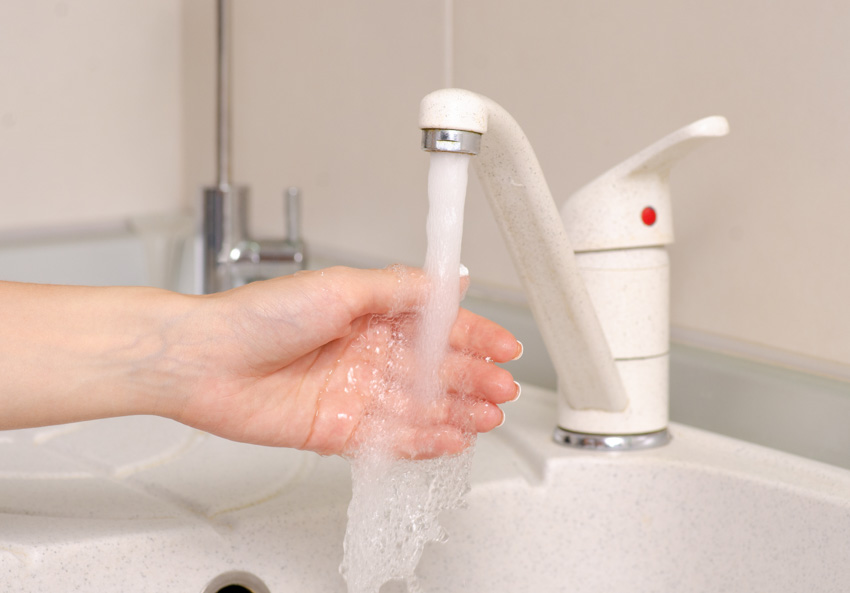 Plastic is the least expensive bathroom faucet material. As a result, plastic faucets are the greatest alternative for consumers on a tight budget. Polyethylene is the most ideal option among all plastics. It is more resistant to high impacts. Furthermore, it does not disintegrate when exposed to water.
Plastic is commonly utilized in numerous faucets due to its low cost and ease of installation. Polyethylene is a good choice since it uses cross-linked fibers to build a strong, long-lasting body. Moreover, it does not chip off.
You can also choose a faucet with an exquisite design that incorporates, among other elements, a pattern of faux crystal accents on the control handles.
You have probably seen it previously, where mold grows between the plastic handle as well as the knob beneath. Thus, you have to avoid purchasing clear plastic.
Oil Rubbed Bronze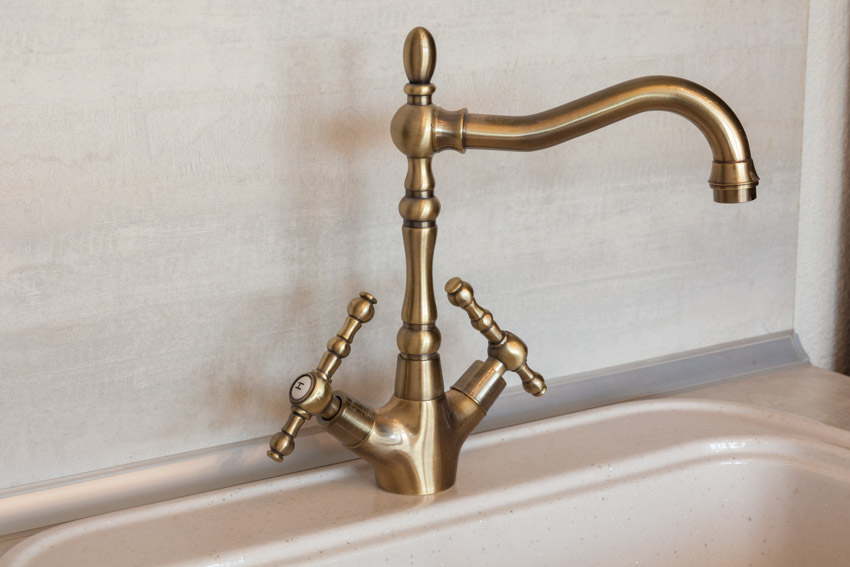 One of the least popular varieties of bathroom faucet finishes is oil-rubbed bronze. This faucet finish is costly, but purchasers gain a great deal for their investment. For starters, they appreciate the silky texture, which contributes a wonderful touch to the whole bathing pleasure.
It also has a warmer tint than a chrome-finished tub faucet. If you want to go for a vintage aesthetic, oil-rubbed bronze would be a good choice. This type of faucet looks fantastic in clawfoot bathtubs, but it also works well as a freestanding shower spout.
Bathroom Faucet Features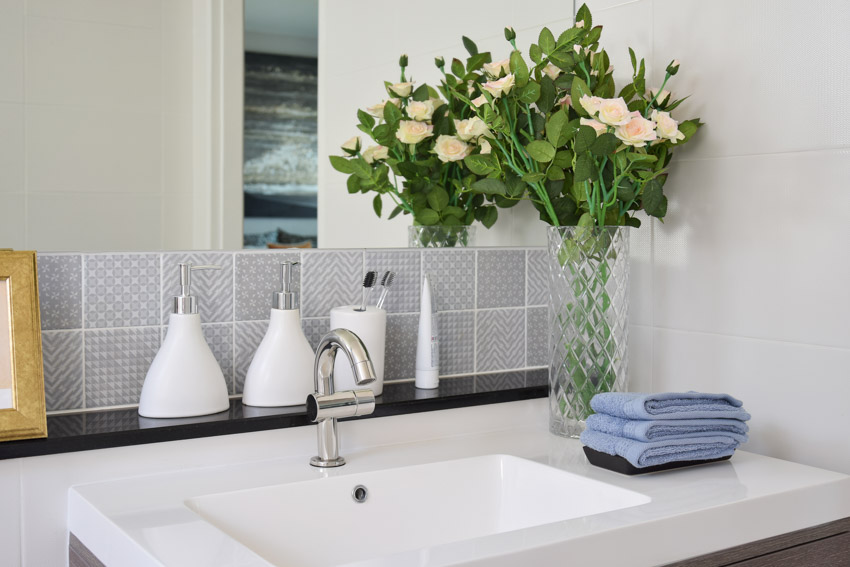 Anti-Scald: Anti-scald faucets are mechanisms installed in the plumbing of your shower that prevent the water from becoming overly hot. These devices, which are normally required by structural regulations, assist in keeping you safe and preventing serious burn-related accidents.
Anti-scald systems are inexpensive. While most authorities in the United States require anti-scald procedures in building rules, they may not be put in older or modern homes' plumbing systems.
Furthermore, these anti-scald systems maintain a pressure equilibrium between entering cold and hot water streams. When there is insufficient coldness, the gadget detects it and controls the hot water pressure.
One form of an anti-scald system contains thermostatic valves within. As the warmth of the water shifts, they expand and compress. When the water becomes too hot, that element increases, limiting the volume of hot water that may enter the chamber.
Filtering: Water filtration is a broad word that pertains to any method or process that removes particles and impurities from the water that flows from your faucet. Water filtering also refers to any process that eliminates particulates, sediments, germs, and the chlorinated taste from water.
There are numerous types of water filters obtainable, and your purchasing decision will be determined by the current state of your water.
To begin, if you want it to be potable, you will need a technique to remove or kill hazardous germs, minerals, and contaminants. Your local water specialist is the ideal person to help you weigh your options.
Filtering devices can incorporate activated carbon filters, which can be built into a container or fitted as part of a faucet-mount or tap-mounted filter, UV light units, water distillers, reverse osmosis, or other types of water purification processes.
It is important to note that not all charcoal filters, especially bigger units, are the same in terms of effectiveness. There are variations in the filtration levels or phases, and also the material composition. That is where you must go over the product specifications thus you can know what the device can do for the water that comes from your bathroom faucet.
Common Valve: For regulating water supply in newer faucets, ball, cartridge, and ceramic-disk valves have largely overtaken the previous compression-style valve. Selecting a faucet with the appropriate form of the valve ensures that it will infrequently require repair.
However, choose your faucet carefully. The fact that it is pricey does not imply that it has the best valve. Style frequently takes precedence over longevity.
Ball Valve: Ball valves are commonly seen on single-handle faucets. The water mixes and enters the faucet's spout when the cold and hot water supplying connections are lined with the openings in the hollow ball.
This type of valve contains more mechanical components than any other type of faucet valve, which makes it more susceptible to leaking and may necessitate more frequent upkeep. After some time, rubber seats, springs, as well as ball components may have to be changed.
Cartridge Valve: This valve is made consisting of a hollow stem that revolves within a metal- or plastic-made sleeve and is attached to a water supply connection. Both contain a hole in them. When you rotate the faucet's handles, the opening in the stem corresponds with the opening in the sleeve, allowing water to pour.
Ceramic-Disc Valve: Ceramic-disc valves are thought to be the most durable and leak-proof among the three. This sort of valve is made up of two completely flat, fire-hardened ceramic discs with corresponding holes that regulate the circulation of water.
When you turn on the bathroom faucet, the top disc scrapes against the bottom disc, leveling the openings. Mineral and silt accumulation, which can harm other valves and cause leaks, is removed by polishing.
Adjustable Flow: Faucets with adjustable flow normally use laminar technology. Since laminar technology does not incorporate air into the water flow, you will not experience the sharp needles-like components of an aeration nozzle.
Laminar bathroom faucets and taps, on the other hand, divide water into bigger separate streams and frequently have an adjustable function that allows you to choose between a mild spray and a vigorous soothing motion.
Laminar technology is also employed in overhead rainfall types of shower heads, which provide delicate bathing that numerous people find relaxing. This showerhead does not generate as much vapor as an aerating model, which is beneficial in inadequately ventilated bathrooms where excess vapor can harm paint, wall panels, as well as cabinets.
Water Conserving: Water-conserving faucets are often known as low-flow faucets. According to an EPA research, choosing water-conserving low-flow faucets might save you around $170 to $200 or more in water bills annually depending on your water consumption practices and the number of your household members.
Upgrading to more economical bathroom faucets and fixtures will soon compensate for itself, but the most compelling argument to replace your old water-squandering ones is the quantity of water you will save.
Furthermore, WaterSense-certified faucets and faucet attachments (like aerators) are high-performance, water-efficient bathroom fixtures that will assist you in reducing water consumption in your house and saving funds on water expenses. You may conserve even more money by upgrading the entire bathroom with WaterSense branded fixtures.
Bathroom Faucet Cost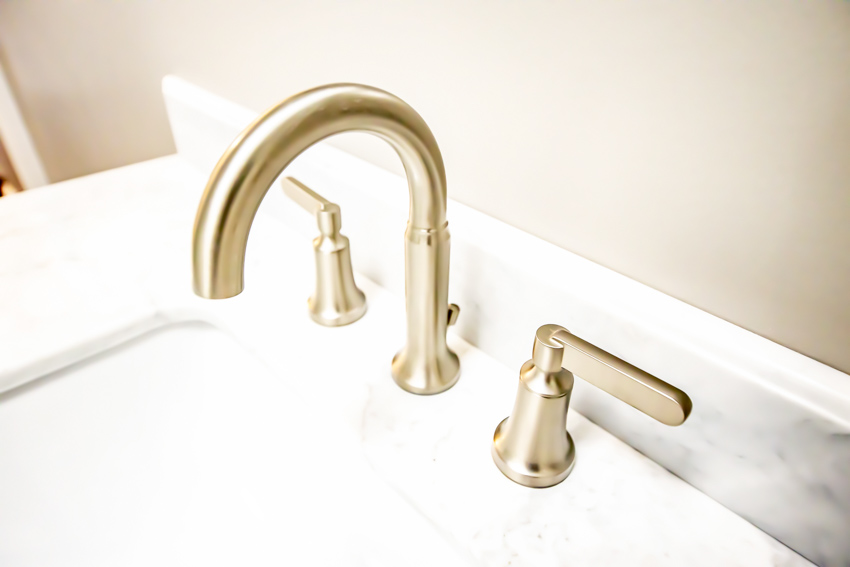 The approximate cost to install or replace a bathroom faucet is around $130 to $350 for labor alone and around $230 to $680 for the faucet, hardware, and construction.
The costs may also vary depending on location, intricacy, kind of faucet and materials, and whether or not the countertop or vanity needs to be drilled to complement the style of the faucet you will attach.
For labor alone, the usual cost of installing a bathroom sink and faucet would be approximately $400 to $1,000. The average cost of adding a new bathroom vanity ranges from $300 to $2,500, depending on whether it is prefabricated or custom-tailored.
Excluding installation, the bathroom sink faucet cost varies from $70 to $250 on average. Prices vary according to brand, material, handle design, spout form, flow frequency, and functionalities including motion-detecting, waterfall, customizable stream, or flexible hoses.
How To Measure Bathroom Faucet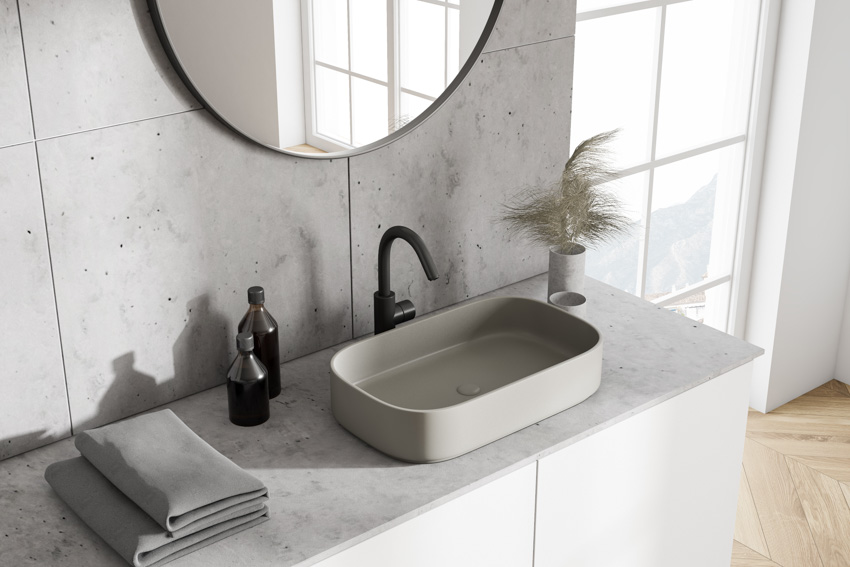 Here are the basic steps on how you can measure your bathroom faucet:
• Allow excess water to drip from the faucet by leaving it open. Disengage or deactivate the water supply underneath the sink, in the bathtub, or at the control valves where it enters the home.
• To collect leaks underneath the sink, place a bucket or any container beneath the water lines. Remove the hoses from the faucet's water source.
• Using a screwdriver or the like, carefully remove the unit faucet off your bathroom sink, countertop, or wall where it was originally attached. To avoid damaging the sink or countertop, place your prying tool on a soft cloth or thick towel.
• Take your measurement from the center of the exterior openings on a sink or countertop. This will provide you with the inches-on-center measurement you will need to buy a replacement single-unit faucet.
• Disconnect the handles from the faucets with spouts and knobs that are installed onto countertops or sinks. Detach the ornamental cap and the locking screw on the top, or simply detach the locking screw on the sides to expose the stems that regulate the operation of the faucet. To determine the distribution of these faucets, measure from the center of every stem.
Bathroom Faucet Design Tips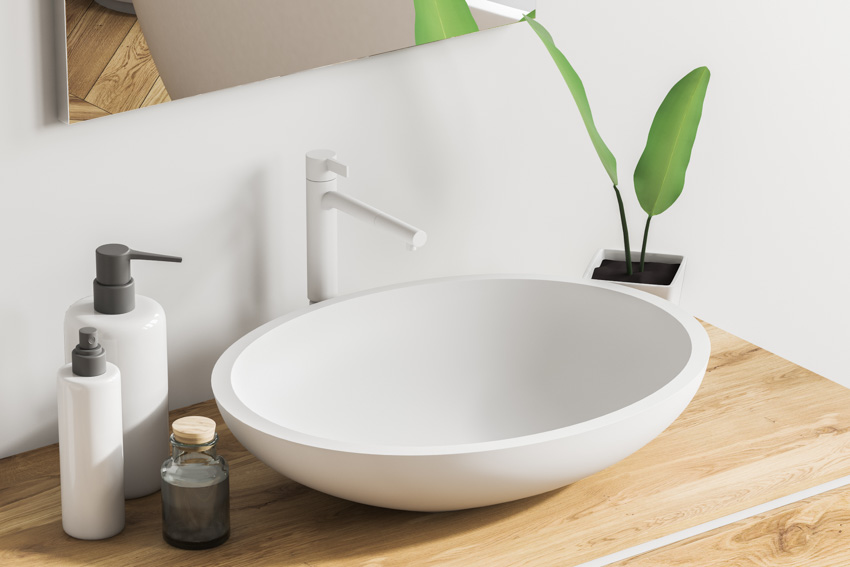 Do Not be Deceived by the Faucet's Appearance: Most individuals select a faucet based only on its appearance. That is a blunder. Appearance matters, but you can typically acquire the style you desire without sacrificing efficiency or long-term reliability.
As Much as Possible, Do Not Overspend But Do Not Save Too Much As Well: You may obtain a beautiful faucet for less money, but you are more inclined to acquire a low-quality faucet.
If you spend a lot more money, you are most likely paying for extra amenities or elegance instead of basic dependability or durability.
Determine the Spout Height and Reaching Span: The height and reaching a span of faucet spouts differ greatly, but fortunately, you can simply choose the style you prefer. A high-sized spout, on the other hand, might not match if you have shelves over the sink.
A spout with a limited reach might not reach all of the basins in a three-bowl bathroom sink. Whenever you clean your hands, a bathroom faucet with a limited reach may cause water to pour behind the spout. That is why you have to determine your needed spout height and reaching span as they will play an important role in your sink or tub.
As Much as Possible, Go for Ceramic Valves: You can always pick ceramic valves if you don't want a dripping faucet. Other valve types are normally drip-free for years, but they cannot compete with ceramic's long-term durability. Faucets that use ceramic valves are roughly the same price as conventional faucets.
Determine the Number of Holes in Your Sink or Tub: If you wish to shift from two knobs or handles to one, you must take into account the number of openings in your tub or sink.
The majority of sinks feature three openings: one for the handle that releases hot water, one for the handle that releases cold water, and one underneath the spout.
A covering plate is included with certain single-handle faucets to conceal the excess openings. However, some do not so you should always review the label.
How To Clean Bathroom Faucet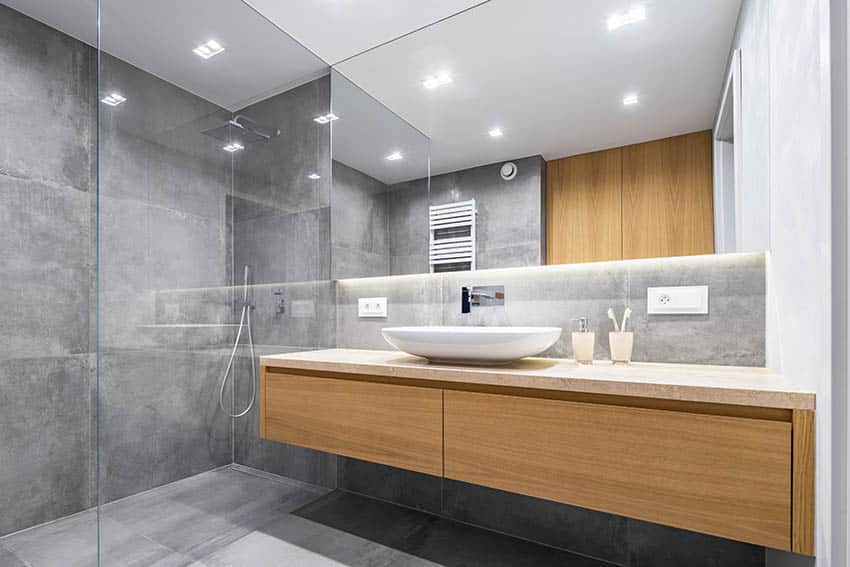 Before you begin, make sure to read the manufacturer's directions for your faucet's material or finish. Although the most popular forms of faucets are made of strong, easy-to-clean brass or chrome, other types may require specific upkeep. Without further ado, here are the fundamental steps:
• Most faucets may be cleaned with plain water or gentle dishwashing soap and water solution. After cleaning, using a dry cleaning towel to dry the faucet will enable you to restore the shine. This will also aid in the prevention of spots on the faucet finish.
• If water and dishwashing soap are incapable of eliminating the muck from your bathroom faucet, white vinegar might be the second ultimate solution. Watermarks and smears can be removed with a cleaning cloth dipped in a mixture of half amount of vinegar and half water as well.
If you are not sure about the finish on your faucet or want to be extra cautious, you can try the vinegar-water solution in an inconspicuous location to ensure the finish will not get damaged.
• Most faucets accumulate grime around the corners where the sink and faucet come together. To clean the corners, employ dishwashing soap and pure water as well as a brush as your cleaning tool. Using a microfiber towel, wipe the faucet dry.
• The drain portion of a faucet is frequently the part that requires the most cleanup. To clean this part of the faucet, use a non-abrasive cleaning tool.
How To Choose A Bathroom Faucet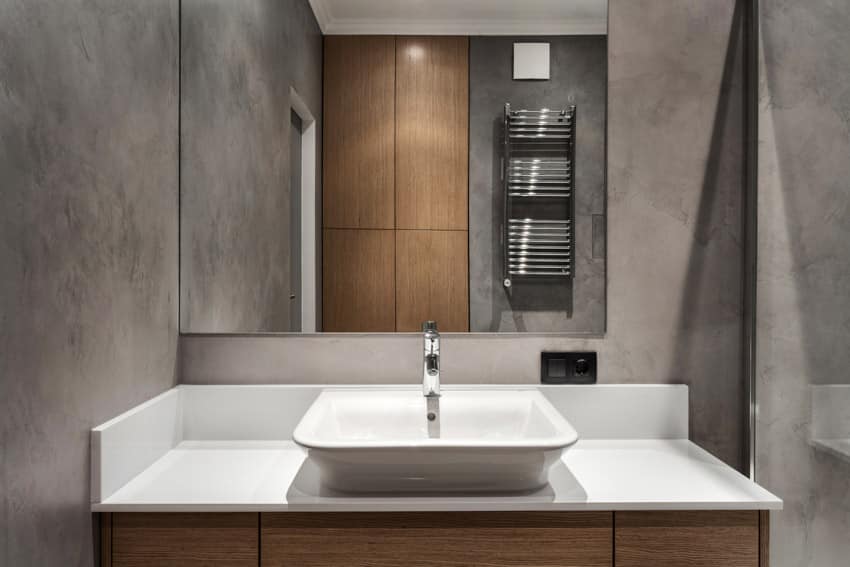 Here are the factors you have to consider when choosing a bathroom faucet:
Locate Your Faucet Center: Start measuring the centers of your faucets. This is the measurement in inches between the pre-drilled faucet openings in the sink or countertop, measured from the exact center of the left opening to the absolute center of the right opening.
Such center points must be aligned with the central connections of the faucets that will be mounted there. Apart from that, it is necessary to measure the distance between the faucet openings and the wall, as well as to consider any additional obstacles like cabinets and mirrors.
Determine Which Type of Faucet You Want in Your Bathroom: The type of faucet you select is primarily determined by the location of the sink, vanity, or countertop within your bathroom. Before making any purchase decisions, take note of how many installation openings are provided.
If you locate a faucet design you want but there are not enough openings or holes to mount it, your bathroom renovation project will become a partial remodel since you will need to buy a newer sink or vanity.
It is indeed critical to identify the sink design and the type of faucet installation style beforehand. You can review the different types of bathroom faucets to help you decide what is the best for your needs and preferences.
Choose the Most Ideal Faucet Handle Type and Design: The faucet handles influence the appearance and operation of your faucet. The handles balance the water temperature in the outflow before it flows into the sink by controlling the flow of water from the cold and hot water sources.
Furthermore, the handle designs on the bathroom faucet should match the spout design and any additional fittings, including the bath or shower faucet. Strive for consistency in the aesthetics of each fixture. Additionally, it would be a wise decision to coordinate the faucet design with corresponding hardware for the bathroom's cabinets.
Select the Right Faucet Finish: There are numerous finishes available to match the bathroom furnishings and color palette with your faucets. Complement the faucet finish along with the lighting fixtures' metallic finishes and apply a new layer of paint to enhance the brightness and accents of the colors.
Do Bathroom Faucets Come With Drains?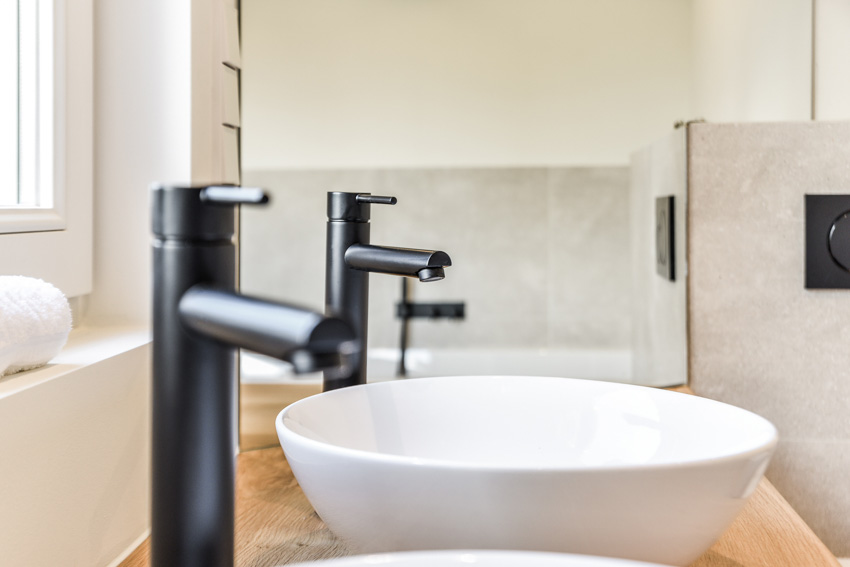 The majority of bath faucets include drains. To guarantee that all of the plumbing fixtures in your bathroom match, the faucet finish should complement the finish on the drain flanges and drain stop. Because faucet manufacturers understand how important a matching appearance is to customers, most faucets feature a corresponding drain set.
How Far Should Faucet Extend Into Bathroom Sink?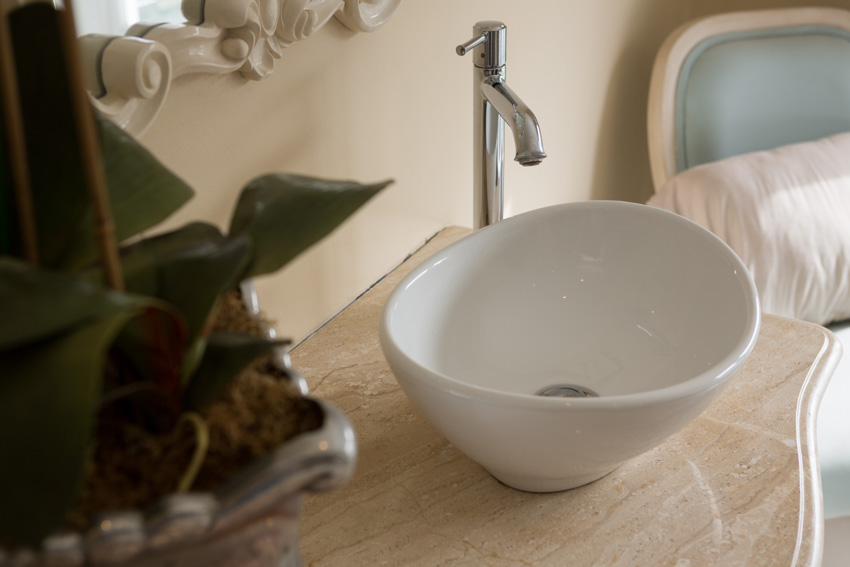 When washing your hands in your bathroom sink, the faucet must be extended far enough so that the water reaches your hands and does not cascade over the sink, whether in the rear or front area. When it comes to getting the right reaching span, there are a few factors to consider. Whatever the activity, it is critical to maintain a safe distance.
Numerous sink faucets have a standardized reach that is 5.5 inches deep. It has a maximum height of 8 inches. If the sink bowl is slanted, a 6-inch deep faucet is recommended. This provides you with a bit more distance and enough space to clean your hands.
How Long Does It Take To Replace A Bathroom Faucet?
It is frequently more difficult than you think to remove an outdated bathroom faucet. However, if you wish to replace your bathroom faucet, you might be curious how long the installation process will take so that you can correctly plan for the expense of employing a qualified plumber.
The time it takes to replace a bathroom faucet will vary depending on the chores needed. A plumber would often replace a bathroom faucet in around 30 minutes to 1 hour for basic repairs or upgrades.
Nonetheless, a full faucet installation takes roughly 7 hours to accomplish because the operation includes preparing and safeguarding the area, detaching the old faucet, and connecting the replacement faucet to your existing supply lines.
See more related content in our article about bathroom shower designs on this page.