Welcome to our wall mounted faucets design guide with popular types for the kitchen and bathroom, materials and pros & cons.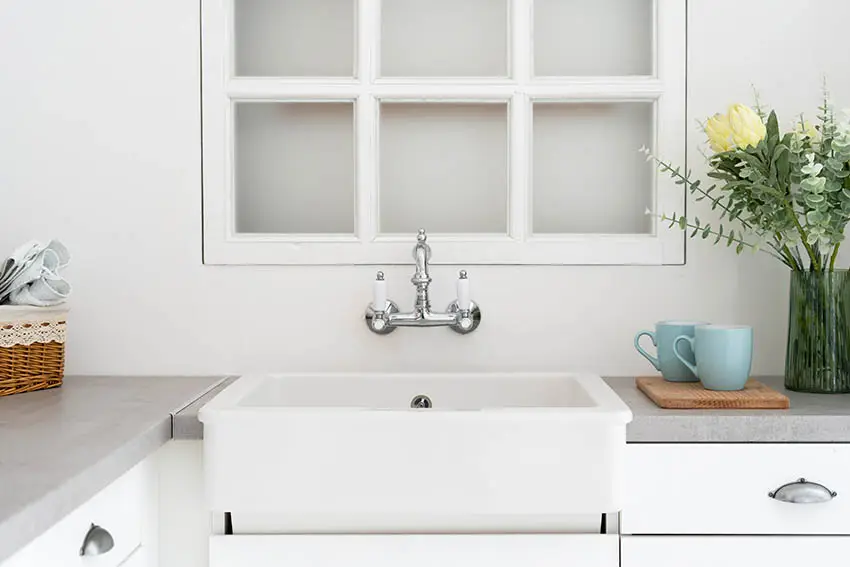 A wall mounted faucet can be a stylish addition to a kitchen or bathroom design. There are many different features and materials that can fit practically any style. A wall mounted faucet can help your room stand out from the norm and add some visual interest to the space.
What Is a Wall Mounted Kitchen Faucet
Most faucets are mounted onto the counter. The contractor's term for this is 'deck-mounted'. Some faucets are mounted directly on the sink itself. In contrast to these two methods, a wall-mounted faucet is installed into the wall behind the sink.
There are several reasons this is a good idea. For one, the counter behind the sink is easier to clean, with no faucet and handles to clean around.
The faucet itself tends to stay cleaner, since it is out of the way of splashing debris. And, from a decor perspective, wall-mounted faucets are visually interesting and can be used to support the style of your choice.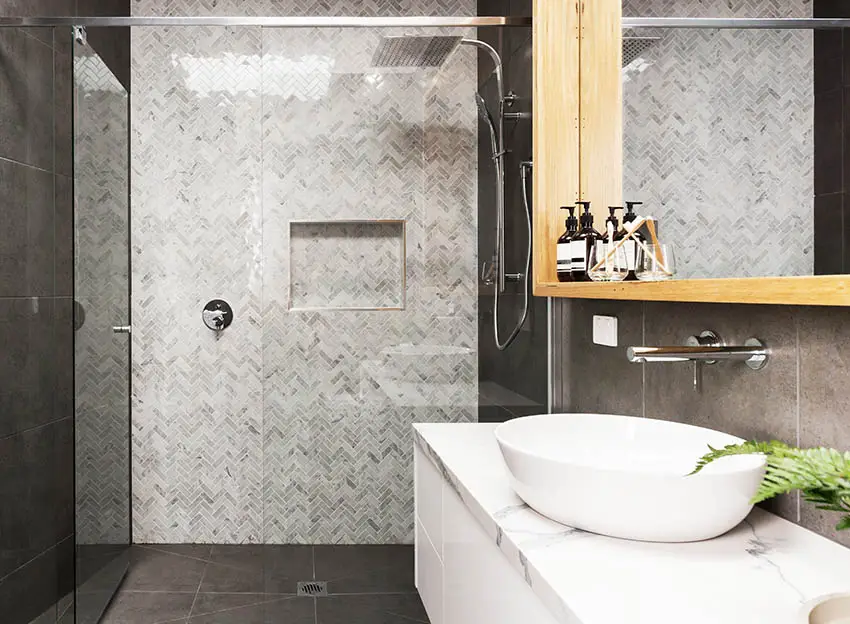 Wall-mounted faucets aren't without their drawbacks, though. A deck-mounted faucet can be installed, repaired or replaced at any time, by a confident DIYer. The pipes are accessible underneath the counter or sink.
A wall-mounted faucet hides the pipes in the interior of the bathroom wall. It must be installed before the walls are closed up, and repairing or replacing it will require the wall to be destroyed, rebuilt, and recovered.
All of this adds up, and is one of the reasons that wall-mounted faucets are 30% more expensive than the deck-mounted alternative.
Types of Wall Mounted Faucets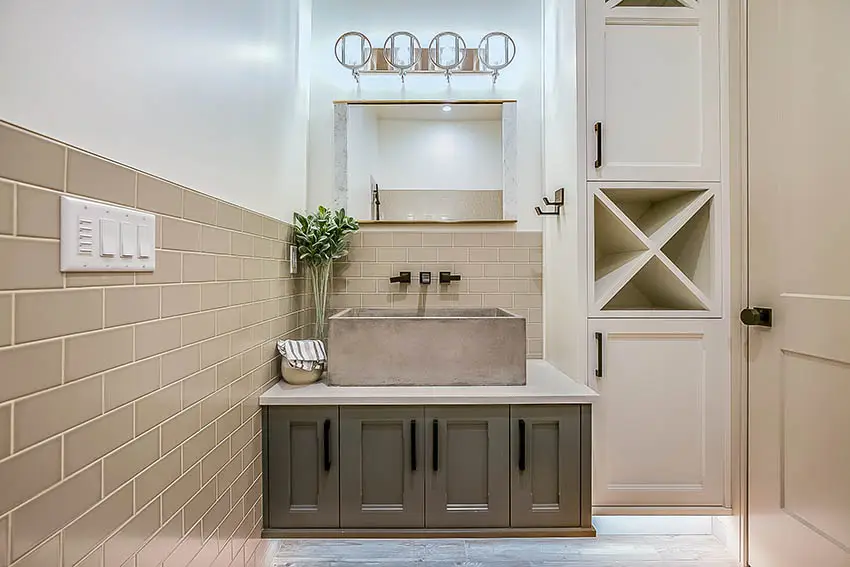 Here are some of the most popular features found with wall mounted faucets in the kitchen and bathroom.
Waterfall
A waterfall faucet has a wide faucet head, which is oriented at an angle. The water flows through the faucet and spills over its edge into the sink below, mimicking the way a waterfall cascades over a cliff face.
When mounted on the wall, waterfall faucets are often paired with vessel sinks, which sit atop the counter.
Waterfall faucets look beautiful, but use significantly more water than other types of faucets. They are also prone to splashing, especially if installed high above the sink. For this reason, waterfall wall-mounted sinks are better suited for installation in the bathroom than the kitchen.
With Sprayer
In the kitchen, there's no doubt that a spray nozzle is a useful accessory to have installed by the sink.
Usually, they are mounted on the sink or counter, with the extendable hose sitting below the countertop. But demand is on the rise, and there are a growing number of wall-mounted models available that combine the faucet and the sprayer into one unit.
Single Handle
On a single handle faucet, one lever is used to adjust both the temperature of the water and the amount of water that flows through the faucet head.
The lever or handle may be mounted in the wall. However, it is more common for the adjustment mechanism to be mounted on the faucet itself.
Single Hole Wall Mount Faucet
When both the water temperature and the pressure are controlled by one handle, a faucet can be installed using a single hole.
This is the most common type of faucet used in kitchen sinks. In bathroom sinks, a three-hole installation is more common. Wall mount faucets are available in both single hole and three hole designs. The advantage of a single hole wall mount faucet is it's sleek, ultra minimal appearance.
Wall Mount Sensor Faucet
There are two types of sensor faucets that can be installed via wall mount; touch and touchless. Touch faucets turn on and off when an electrical current is completed.
Touching your bare skin, such as a finger, forearm, or back of your hand to the sensor will complete the circuit. The sensors are usually located in the body of the faucet. Sometimes, the sensor is at the base.
When the faucet base is mounted to the wall, it can be more difficult to reach for children, adults with short reaches, and people with mobility challenges.
Touchless Wall Mount Faucet
The other type of sensor faucet that can be mounted to the wall is a touchless faucet. These work in one of two ways. The first uses invisible infrared beams to create a 3D field below the faucet head. When the field is disturbed, the faucet turns on.
When the disturbance is removed, the faucet turns off. The other type of touchless faucet emits a single infrared beam into the sink.
When your hand or a pot disturbs the beam, the signal is reflected back to its source and picked up by an infrared detector. The infrared detector is responsible for turning the faucet on and off.
A touchless wall mount faucet is the height of elegance and simplicity around your sink. With a simple wave of your hand you can control the flow of water without transferring any grime or bacteria.
Wall Mounted Kitchen Faucets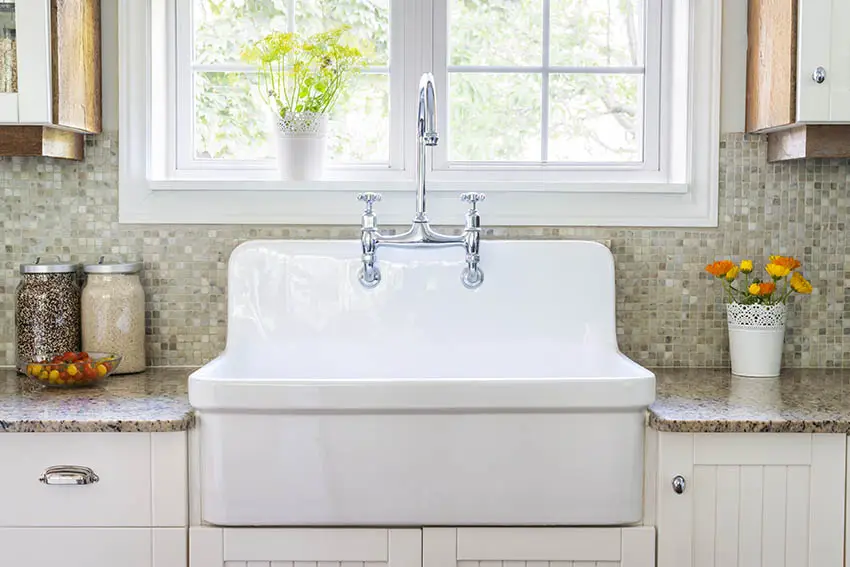 Industrial and restaurant kitchens have been fitted with wall-mounted faucets consistently over the past few decades.
Wall-mounted faucets were once popular in residential kitchens, but faded away with the invention of sink and deck-mounted tapware. Now, they are regaining popularity, and have started popping up in new residential construction in the last few years.
While the number of wall-mounted faucets on the market isn't as big as traditional deck-mounted faucets, you should be able to find something that suits your style, no matter what type of faucet you're looking for. See additional different types of kitchen faucets here.
Pullout
A pullout faucet is a combination spray nozzle and faucet head. The hose of the spray nozzle is threaded through the faucet casing.
By unhooking and pulling on the faucet head, the angle of the spray can be manipulated. This is useful for rinsing down cutting boards and cookie sheets. It also comes in handy for blasting food off dishes before popping them in the dishwasher.
If the hose extends far enough, you may be able to use it to fill buckets without having to lift them in and out of the sink basin.
Single or Dual Handle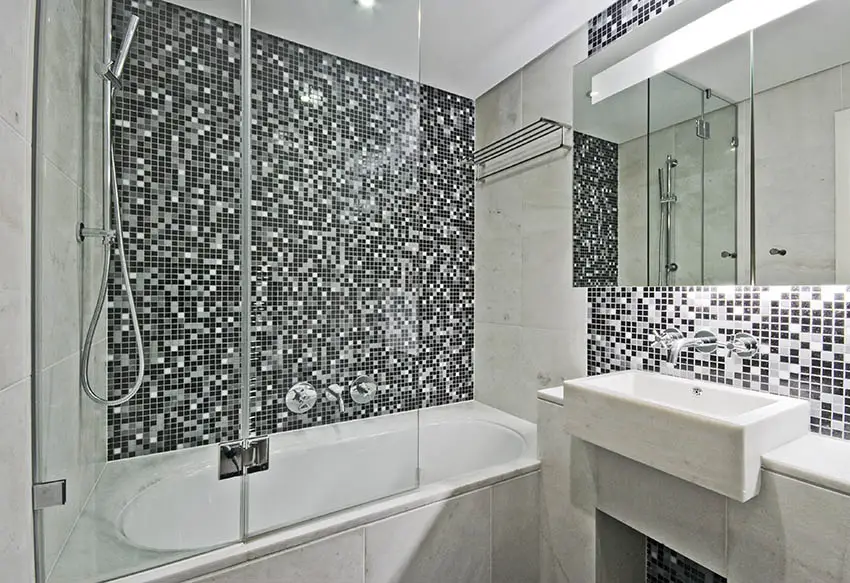 Dual-handled faucets allow the flow of hot and cold water to be controlled separately. They let you make precise adjustments in the pressure and temperature of the water.
Single-handled faucets, where one handle controls both temperature and pressure, are less precise but easier and more convenient to operate.
Separate Spray
When the spray nozzle is not integrated into the main faucet head, this is referred to as a 'separate spray' faucet. They usually have longer hoses and weaker pressure than pullout faucets.
Adding a deck-mounted separate spray nozzle to a sink with a wall-mounted faucet will ruin the effect you're going for. Instead, look for a wall-mounted faucet with an integrated sprayer.
Pot Filler Faucet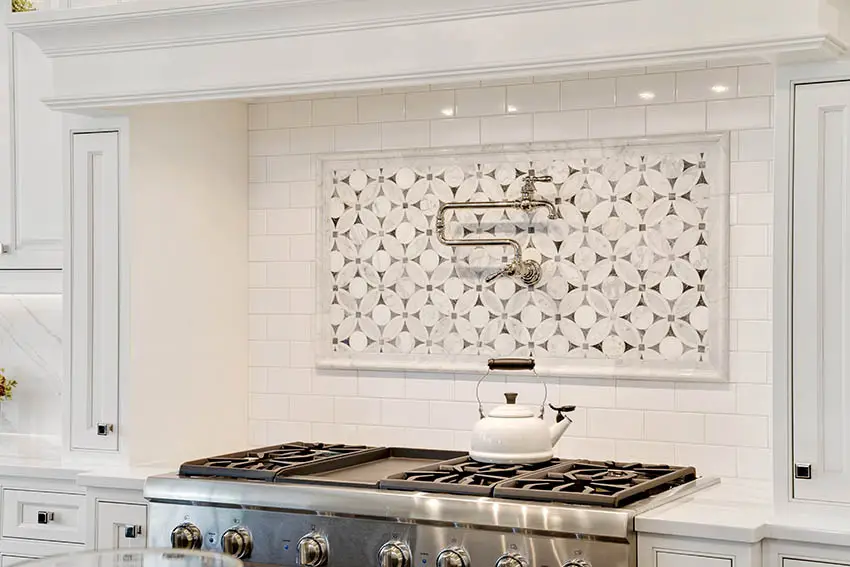 A pot filler faucet is mounted above the range cook top to make it easier to fill large pots for cooking. They are designed with faster output than traditional kitchen sink faucets to make it quicker to fill large pots.
The faucet is built with an articulating arm to pull the faucet head to wear you need it rather than having to move the pot under the faucet spout.
Bathroom Wall Mounted Faucets
Wall-mounted faucets in the bathroom cut down on cleaning time and give a sleek, sophisticated vibe. Match them with a wall-mounted toilet for an extra clean look. For different designs visit our page on the types of bathroom faucets.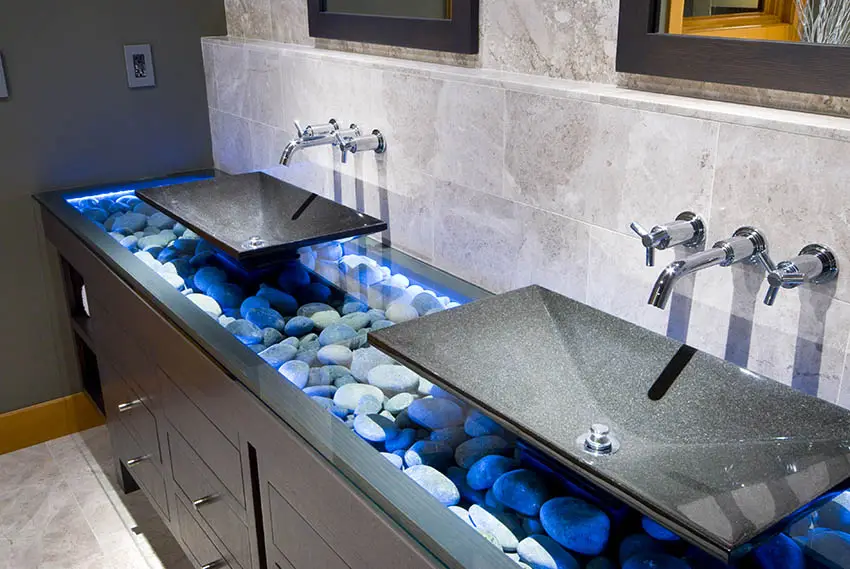 Vanity
A floating or wall-mounted faucet on a bathroom vanity is most commonly installed above a vessel sink. In small bathrooms, a vessel sink and wall-mounted faucet combo is a great way to eliminate counter space.
Vessel sinks, which can be made from any shape and any material, sit on top of the bathroom vanity. They are different from undermount sinks, which are sunk into the vanity countertop.
Bathtub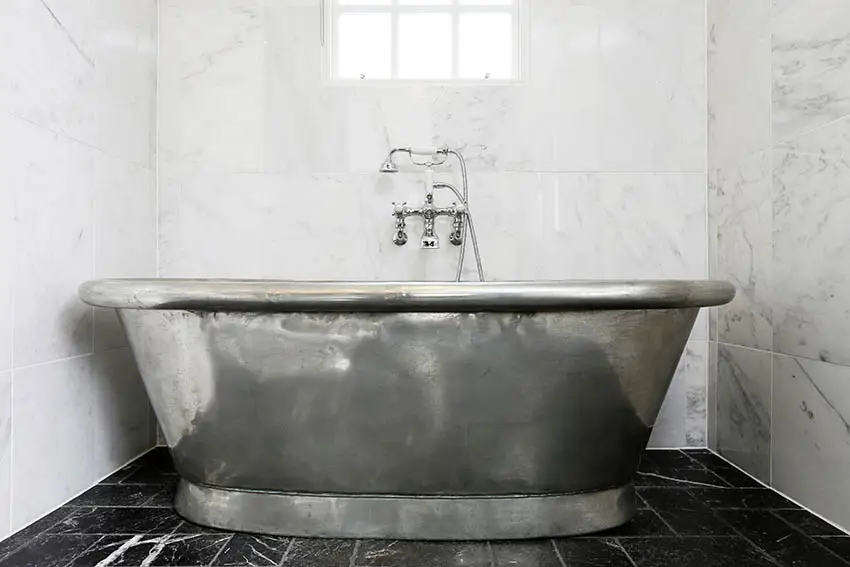 While there are certainly faucets that mount directly to the surface of the tub, it's just as common, if not more so, for bathtub faucets to be mounted in the wall. It makes sense to install wall-mounted faucets in a bathtub for a few reasons.
First, the lip of the tub will stay cleaner and accumulate less gunk, reducing the amount of scrubbing you have to do.
Second, you can replace or recover the tub without changing out the faucets.
Finally, repair or replacement of the faucets usually requires tearing out the tub or the wall, and sometimes both, so there's really no reason not to choose wall-mounted tapware.
Tub Faucet With Hand Shower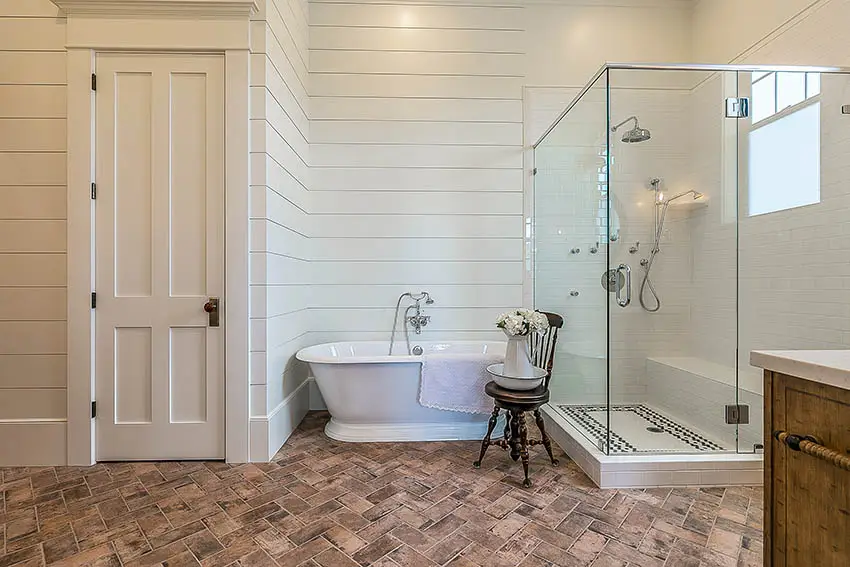 For generations, the classic tub/shower combination has been a wall-mounted showerhead that spills into a bathtub, with a second tap a few inches above the tub lip for filling the basin.
However, a new trend sees the wall-mounted showerhead being discarded in favor of a handheld shower nozzle.
The sleekest designs incorporate a hand shower into a wall-mounted faucet, making it easy to rinse out the tub, wash the dog, or just shampoo your hair in the bath.
Utility Sink
A wall-mounted faucet is the perfect fit for a utility sink. By definition, utility sinks are multipurpose — one day you might be washing paint rollers, and the next you need to fill a bucket to mop your floor.
A wall-mounted faucet at an appropriate height will allow you to get awkwardly shaped objects in and out of the sink. Further flexibility and versatility is provided by a faucet that can swing 180 degrees.
If you want your utility sink to be really useful, consider adding a wall-mounted spray nozzle in addition to the regular faucet.
Wall Mounted Faucets Materials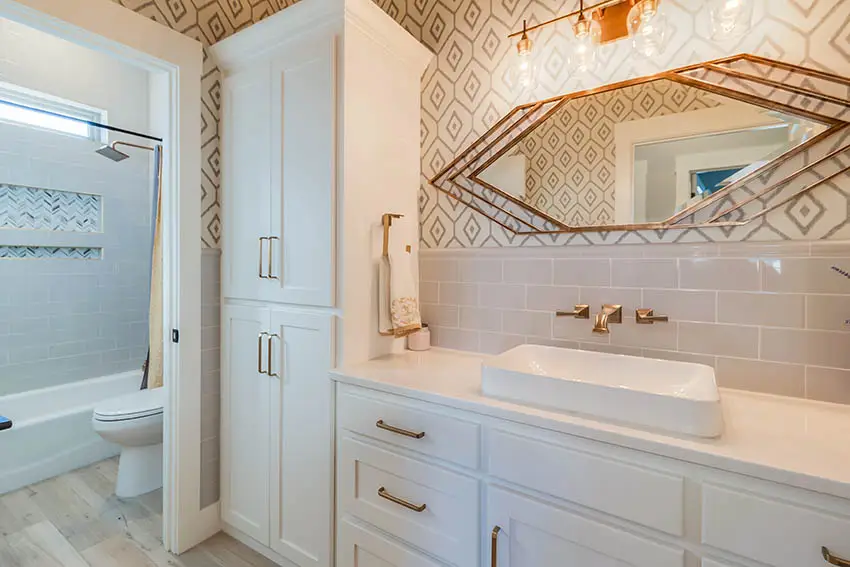 The materials used for wall-mounted faucets are no different than those used to make deck or sink-mounted faucets.
Brass, stainless steel, and zinc alloy are the three most common materials for faucets. The finish on the faucet could also be brass, but other metals are also used, such as nickel, pewter, or gold.
Most kitchen and bathroom faucet finishes are shiny and reflect light, but not all of them. An emerging trend in wall-mounted faucets is the use of matte black finish tapware. A matte black wall-mounted faucet looks elegant and a bit futuristic, whether floating above your kitchen sink, bathroom vanity, or bathtub.
Wall Mounted Faucets Pros and Cons
Here are the pros and cons of wall mounted faucets starting with the benefits.
Pros:
Saves counter space: Wall-mounted faucets eliminate a source of countertop clutter, making it easier to get and keep the back of your sink clean.
Matches many bathroom styles: They can be used in concert with tile or other backsplashes to make a decorative statement. They are well-suited to industrial and modern design, but can be paired with almost any style of decor.
Easier to operate the faucet: When a jointed faucet is installed, the range of motion is greater than a sink or desk-mounted faucet, making it easier to swing the faucet back and forth between sinks.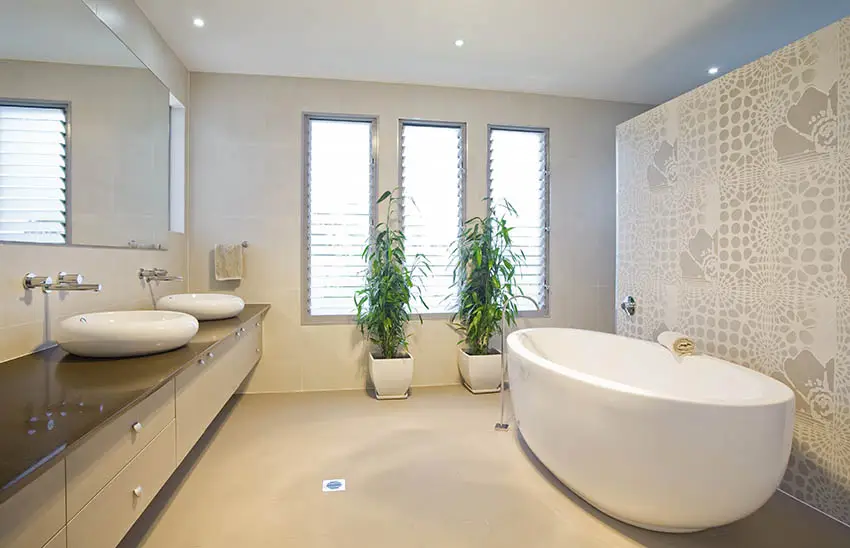 Cons:
More Costly: Wall-mounted faucets generally cost 30% more to purchase and install than their deck-mounted or sink-mounted countertops.
However, the functionality and polished look of wall-mounted faucets justifies this extra cost. The predominant drawback of a wall-mounted faucet is that they are difficult and costly to repair or replace.
Most do not include a spray nozzle: In the kitchen, many homeowners prefer to have a spray nozzle accessible. While some models of wall-mounted faucets include sprayers, most do not, which could force you to install a separate sprayer on the surface of the countertop or sink.
Wall Mounted Faucet Height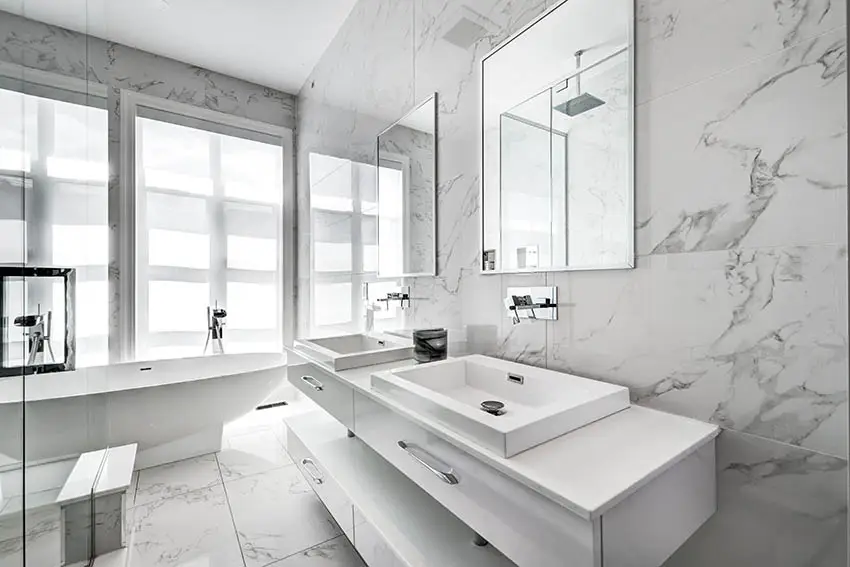 Finding the perfect height for your wall-mounted faucet is important. Too low, and it will be irritating to navigate around. Too high, and you run the risk of splashing water all over the room.
The minimum allowable distance between the countertop and the faucet head is one inch. However, most faucets are installed higher than that for user comfort. The perfect height for a kitchen faucet is 8-10 inches. A bathroom faucet can be installed at a height of 3-5 inches.
For the placement of the faucet in relation to the sink, make sure to consult a professional. Generally, seven inches is needed from the head of the faucet to the back of the sink, in order for most people to comfortably wash their hands.
However, adjustments may be desirable to prevent splashing, based on the depth and shape of your sink and the water pressure in your home.
Wall Mount Faucet Installation
Like the name suggests, wall-mounted faucets must be installed in a wall. Make sure you purchase a faucet that indicates it is compatible with this kind of mounting.
All the hardware to mount the faucet should be included in the package. If you have a window directly behind your sink, you'll have to choose another kind of faucet.
Another consideration is the weather in your area. If the temperature drops below freezing, and your pipes are installed in an exterior wall, you run the risk of frozen and burst pipes. A reputable contractor can help you make choices about insulation to prevent this.
If you want to change out a deck or sink-mounted faucet for one that is mounted on the wall, consider that doing so will leave behind unsightly and open holes in the surface of the countertop or sink. You'll have to cover the holes or, ideally, replace the countertop or sink.
If your backsplash is tiled, you'll also need to take your tile pattern into consideration. Ideally, the faucet and handles would be evenly spaced with the grout lines.
How to Install a Wall Mount Faucet Video
It's best to hire a professional to install and finish your wall-mounted faucet. This is one area where there is no room for error — the measurements need to be exact, and if there's a mistake, you're pretty much stuck with it once the wall is sealed up.
Any errors are costly to repair, so for the sake of your wallet and your peace of mind, leave this one to the professionals.
For another related guide see our page on the types of outdoor faucets.