In this types of screen doors guide you'll see the different models, materials, design styles, benefits, sizes, measurement & installation tips, and the best options for your home.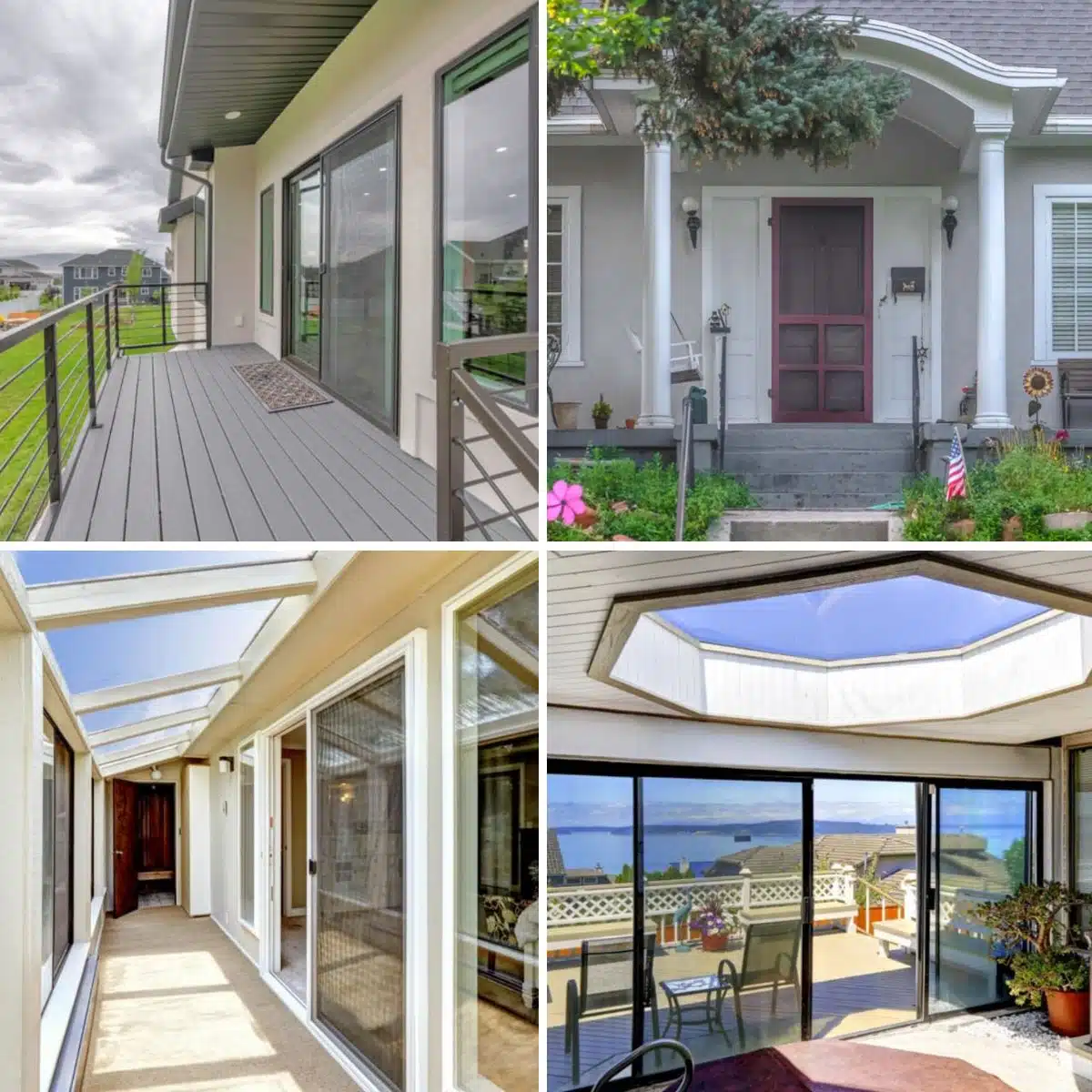 A screen door is a great way to offer a little fresh air while still offering the security that an entryway offers against things like those pesky summer bugs. However, there are quite a few different options out there when you're looking for a screen door for your home.
Don't worry, though! We'll break down everything you need to know in this guide to screen doors from the different types to a few common questions you might have.
Hinged Type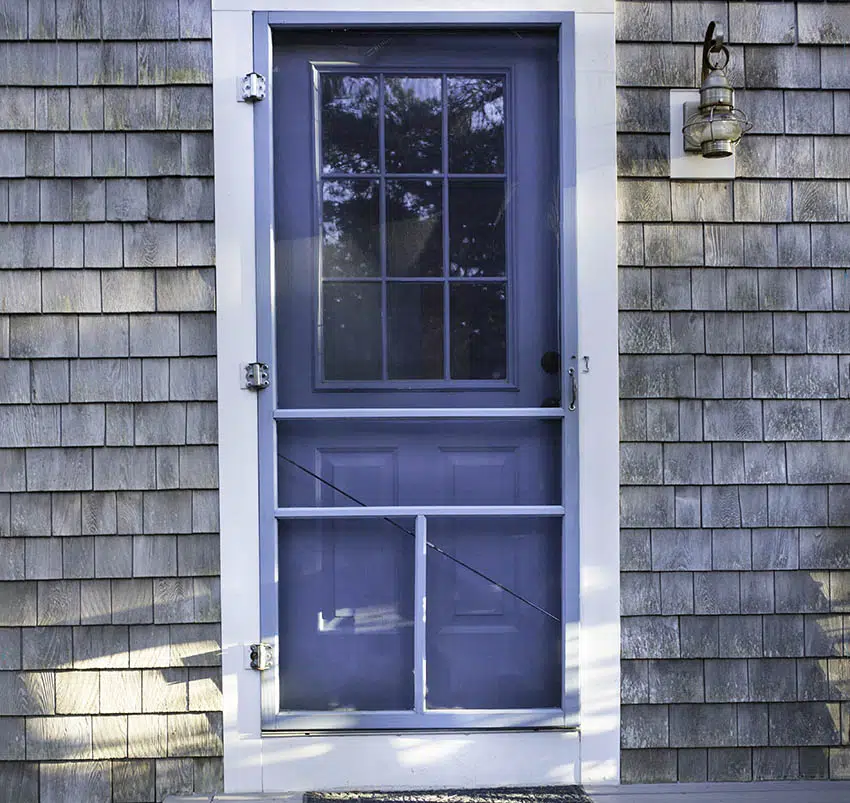 A hinged screen entryway is the most traditional execution of the concept. In fact, they're also often referred to simply as "traditional screen doors," or "swinging screen doors."

Like your front or bedroom entryway might, these doors swing open on a hinge. As such, these doors are usually installed either in the place of or along with a standard door.
For instance, you could use a hinged mesh entryway to finish off a screened-in porch or as a second entryway in your entryway, allowing you to let in a little bit more air than just having the door completely closed.
Aside from how they function, the options for hinged mesh doors are nearly limitless, so you can find something to fit almost any decor style. You can even paint many of them to add a personalized flair!
However, a popular way to style these types of mesh doors is to opt for a more rustic or farmhouse style. That being said, you could work them into almost any aesthetic scheme.
Sliding Type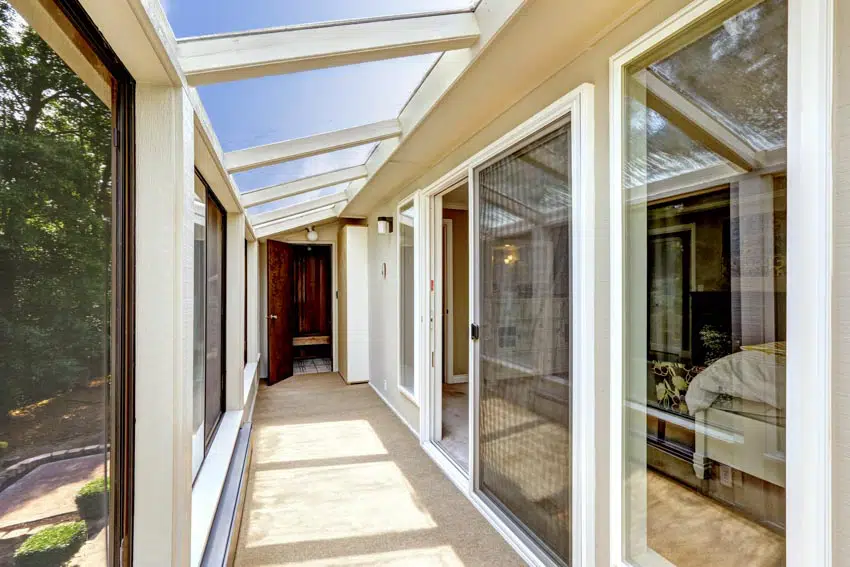 If you want to cater to a more modern home design scheme, though, you might want to consider another type of screen door: a sliding screen door.
Much like a sliding glass door, these types of doors slide out of the way, usually over a stagnant panel, when you open them rather than swinging open on a hinge. A great attribute about these types of sliding doors is that they're streamlined, meaning they don't open out creating awkward cramped situations. In addition, they can let in a lot of air and natural lighting.
On the other hand, this option doesn't offer as much security and they don't always lock. As such, they're not usually a primary choice for front doors, for instance.
Yet, their open concept design can give you a great view of your carefully cultivated backyard. Not to mention, it's an excellent way to connect an indoor and outdoor space without isolating them from one another which can be useful when you're hosting guests.
Retractable Type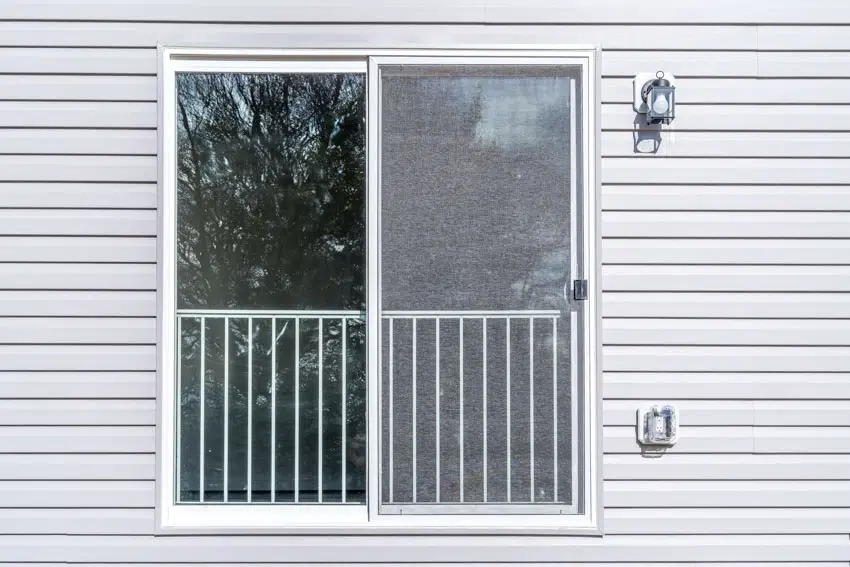 A retractable screen door is easy to confuse with a sliding screen door. Yet, the two types of screen doors have a few key differences that set them apart.
What makes a retractable screened entryway so appealing is that it doesn't simply slide to the side on a track, usually overlapping a stationary panel, when you open it. Rather, it slides into the housing, completely pulling it out of sight.
Much like most types of sliding doors, this kind of screen door offers the benefit of not forcing you to account for the room the entryway needs to swing wide. You will still need to account for the horizontal space, of course.
Another great benefit of these doors is that if you're in a home with pets and kids, it can help the slamming that often comes with a entryway swinging on a hinge. This is another trait that retractable and sliding screen doors have in common.
Magnetic Type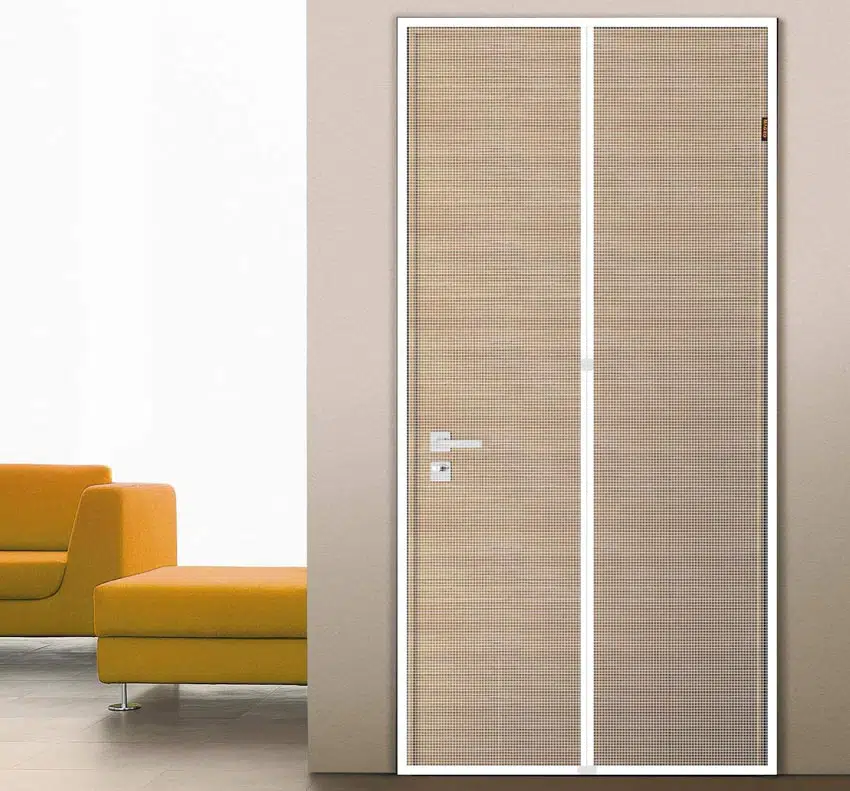 See this magnetic screen door at Amazon [sponsored link]
Magnetic screen doors are made to offer you all of the benefits of a screened entryway without a lot of hassle. Rather than fixing the door on a hinge, you usually affix these as a cover over the door. Don't worry – this mesh isn't just going to obstruct your door.
The mesh in these screen doors is split down the middle, allowing you to push through it like a curtain. The "magnetic" feature refers to a set of magnets that help the mesh screen clip itself neatly shut after you pass through.
This is a great option if you want something temporary such as a screen throughout the warmer months of the year. Once again, this is another option that helps prevent slamming doors as well.
Since you don't have to account for a full installation or a swinging entryway here, magnetic screen doors are also a reliable option if you want something that will save space.
Security Screens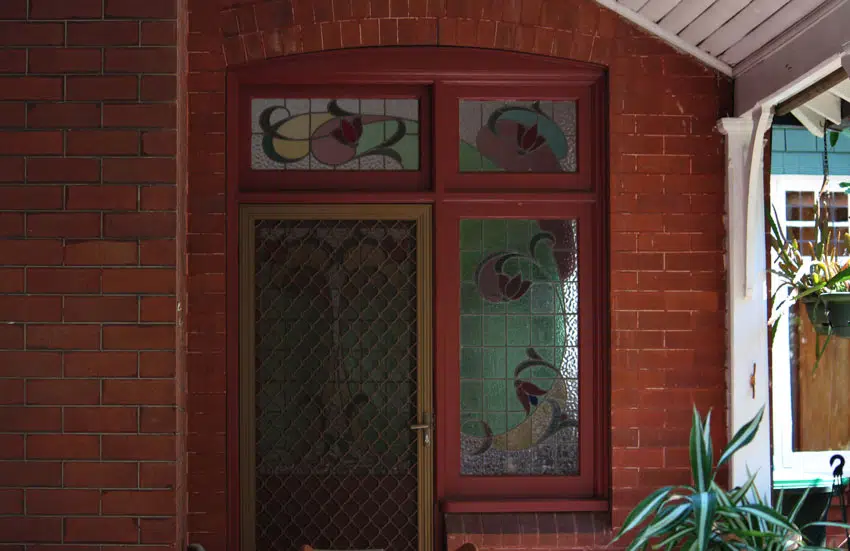 If you're particularly worried about security, you can opt directly for a security mesh entryway. These unique doors aren't exactly what you might think of right away when you consider adding a mesh entryway to your home, but they come in elegant designs and are designed to keep intruders out if you're concerned.
This is primarily because they don't always have mesh screens in them but there are options out there if you want a screen too. Because of this, you might hear these doors more broadly referred to as security storm doors.
The entire point of a security mesh entryway is that it makes it harder to enter through malicious means, usually by employing metal bars.
Still, they often feature eye-catching designs that complement a variety of decor styles. They're a popular choice leading up to architecture like brownstones or even the door leading to a Victorian house.
Pet Screens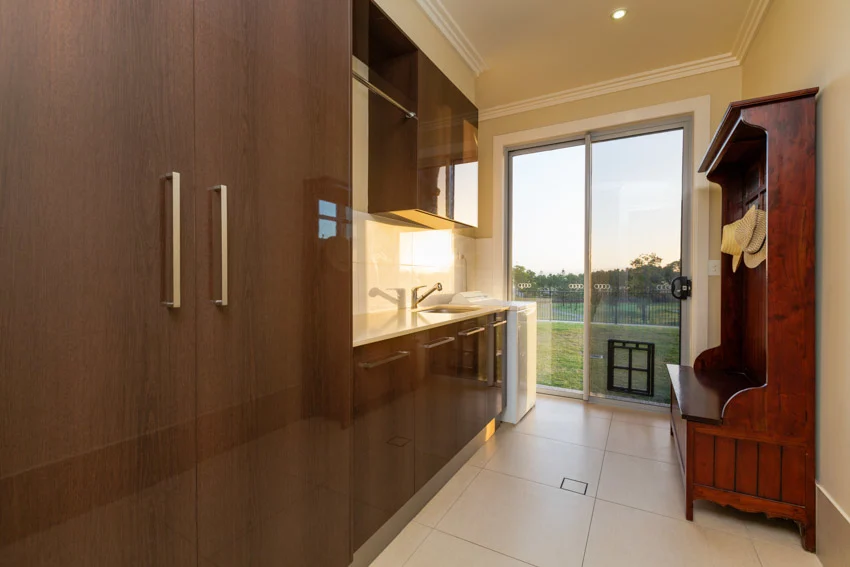 If you have pets that like to come and go between inside and out, you might not always want to get up and down every time they need the entryway opened. In these cases, a pet door or "doggie door" can really come in handy.
Also, if your dog is a door-scratcher, a doggy entrance could deter the behavior. After all, his real desire is to open the door, and a doggy entryway will allow him to do just that – Dog Lover's Daily Companion, Wendy Nan Rees and Kristen Hampshire
You might be worried that if you install a mesh entryway, your pet entryway will be out of commission. The good news is that there are screen doors with pet doors and there are even ways to add one of your own.
You can design your own pet door insert with some heavy-duty mesh, a frame, and a few tools like scissors or something to cut the mesh with and a way to fix the frame in place when you're ready.
Remember, if you're opting for a pet grille door, make sure you look for or create a screen that fits your dog's size. Running a few quick measurements can save you a lot of headaches in the long run. Read more about dog door sizes here.

Garage Screens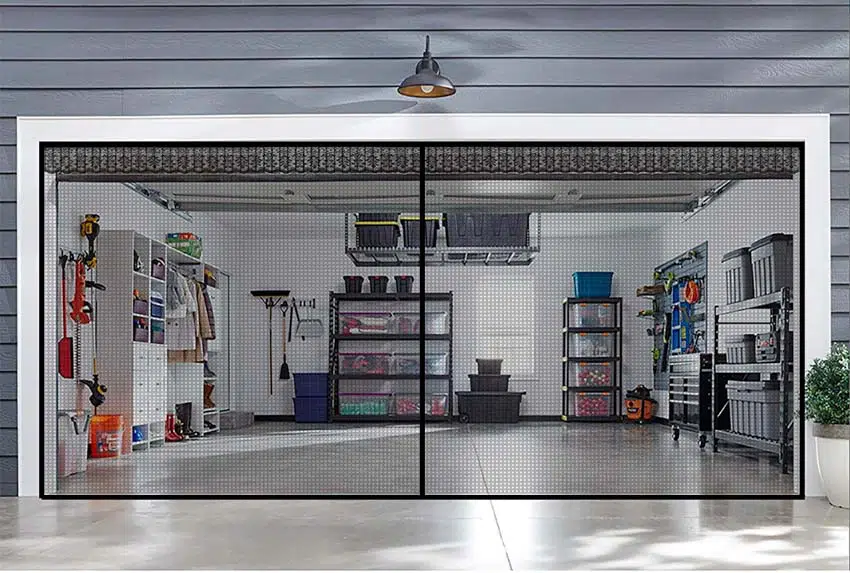 See this garage screen door at Amazon [sponsored link]
Garages are already an open concept. After all, if you really want some more fresh air while you're in the garage, you can always open the doors that you usually drive your car through.
The only problem with this is that it offers fresh air with no additional protection. This means if you want to enjoy any of the benefits of a mesh entryway – such as spending time in your garage with a bit more airflow without inviting in any extra insects inside – you're going to want to turn to a garage door privacy screen.
Naturally, you could use the term "garage screen door" to describe any mesh entryway in your garage. However, as far as a type of mesh entryway, this term usually refers to a screen entryway that covers your overhead doors in a garage. This way, you can enjoy the breeze while working in your garage without enduring any mosquitos or bees.
Storm Doors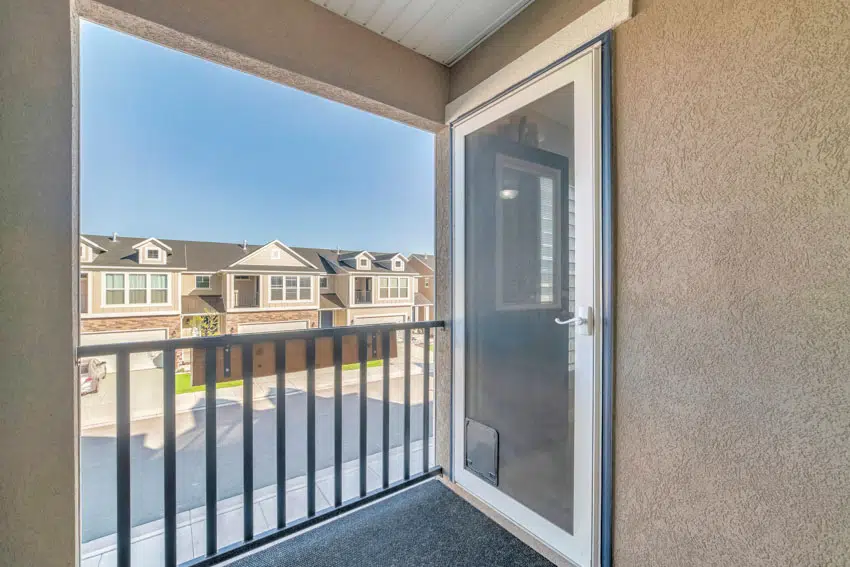 We've already mentioned that screen doors aren't always used independently. It's not uncommon for a screen door to have a door in front of it. These doors offer additional privacy, protection, and insulation.
Storm doors are also paired with another door – usually a front door. As to their relation to screen doors, they replace a more classic screen door.
Don't worry, though, you can use them as a screen door, it just depends on the type of storm door that you have. Given their sturdier nature, since they aren't always just a mesh screen, offer a bit more security.
Full view storm doors allow you to swap out the entire door panel for glass or a screen option. On the other hand, a ventilating storm entryway uses a sliding panel to take out some of the heavy lifting.
If you want a little more privacy, you can opt for a storm door that only has a window of glass and a screen in a roll screen storm door.
Screen Materials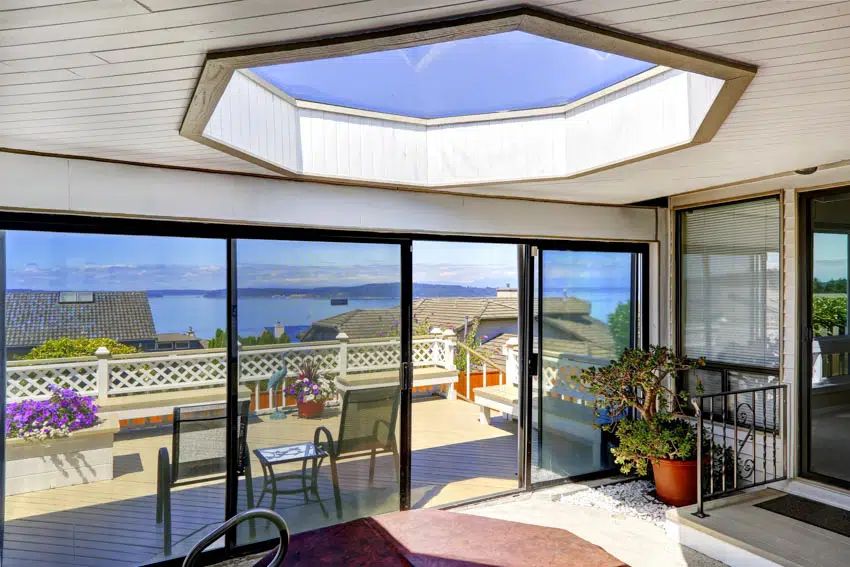 Understanding the construction of a screen entryway can give you an idea of its quality and how to take care of it. Considering screen doors are often at least partly open to the elements, it's a good idea to make sure that they're made from strong enough materials to stand up to the job.
On the other hand, that durability must still allow both the visibility and airflow that we normally associate with screen doors.
It's common knowledge that screen doors use a mesh but there are two materials that are commonly employed for this use: aluminum and fiberglass.
These materials are then woven into a mesh but exactly how tight that weave is can change. You can check how tight the aluminum or fiberglass mesh is woven by checking the number of strands per inch.
Of course, the mesh only makes up part of the screen door. The rest of the entryway can vary much more in materials including options like wooden, glass, metal, vinyl, plastic, and even fiberglass or aluminum.
Screen Styles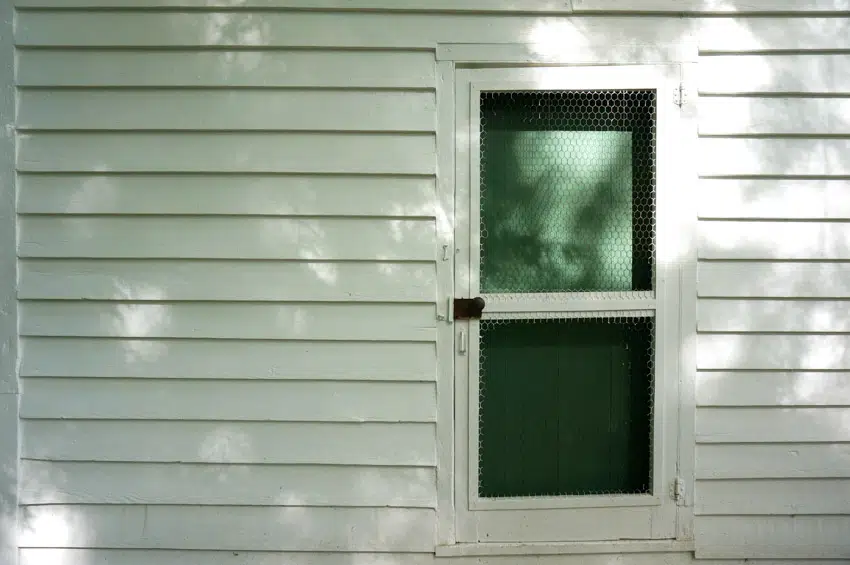 It's worth noting that even aside from the types of screen doors, there are differences among specific door designs. As such, it's useful to know the options you have and the vocabulary to discuss screen door styles as well.
Fullview: The name of a full-view door is rather self-explanatory. After all, this type of screen entryway or storm door offers you an open view from top to bottom.
Naturally, you have a range of more specific options when you're looking at the exact design of a fullview door. For instance, some offer a solid pane of smooth glass, and some offer design options like a beveled glass door.
While these options do offer a full view, some do have a horizontal bar that crosses the center of the door. This could do a few different things such as simply break up the panels or even accommodate a sliding panel as we discussed with a roll screen storm door.
Given that these types of doors don't offer a lot of privacy, they're often used with a thicker, opaque door.
Midview: A midview screen door is a little different and the name is less self-explanatory. No matter what it sounds like, you aren't just opting for a waist-heigh view here. In fact, you keep a large portion of the view that a fullview screen door offers.
These types of doors usually have a see-through panel or two with just the bottom of the door being opaque. This isn't just for aesthetics, though. That opaque section serves a practical purpose.
Unlike glass or screen, the bottom of a midview door is much more durable. As a result, they're a great choice for a door that you have a lot of traffic in and out of.
With a visibility of about 3/4ths here, you can rest easy knowing you have your view, the fresh air, but much less of a risk of accidentally breaking the door.
Highview: The final type of screen doors or storm doors are highview doors. These usually feature even less visibility and typically only feature a glass panel or screen at the top of the door. This way, your view is still eye level while you let in the fresh air.
On top of that, these types of screen doors often offer a bit more security and privacy, given that the most fragile part of the entryway only makes up so much of the overall design and you can easily find a curtain or set of blinds to cover the window when you want to.
Additionally, this offers the added durability to the entryway that a midview door offers, giving you a little bit more ease of mind in high traffic areas of your home like a front or back door.
Benefits Of Screen Doors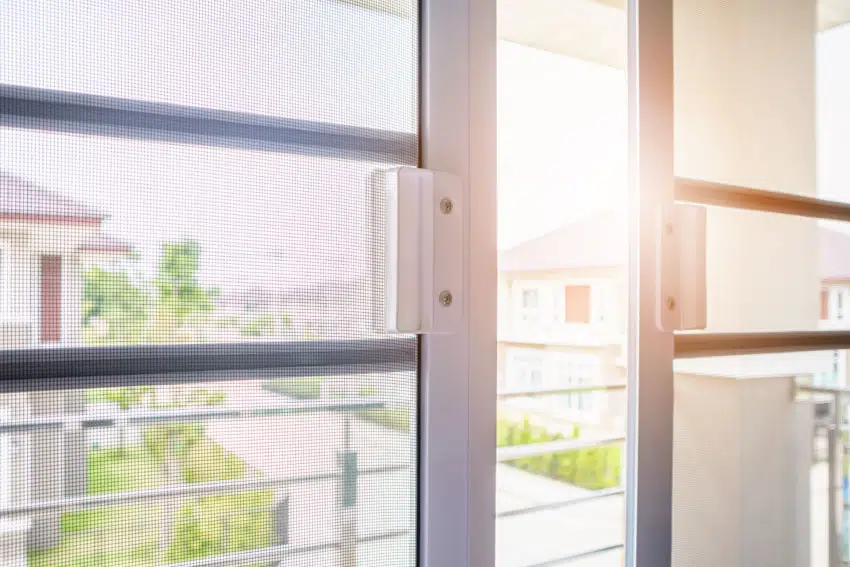 We've looked a lot at your options for screen doors so far. So, let's get into some of the questions surrounding those options. To name one: why would you want a screen entryway in your home in the first place?
There are actually quite a few reasons to invest in a latticed door! Some of the ones we've touched on so far include concepts like improved ventilation by offering a natural breeze and some sunlight in. At the same time, it won't let in any bugs during the process either!
Another appealing benefit is that adding a nice mesh entryway can potentially raise the value of your home as well.
There are a few other benefits we've looked at that pertain to specific types of mesh doors such as the additional protection that options like security mesh doors can offer.
With this in mind, it's a good idea to consider the types above not only for their aesthetic value but what matches your needs best as well.
How Much Does It Cost?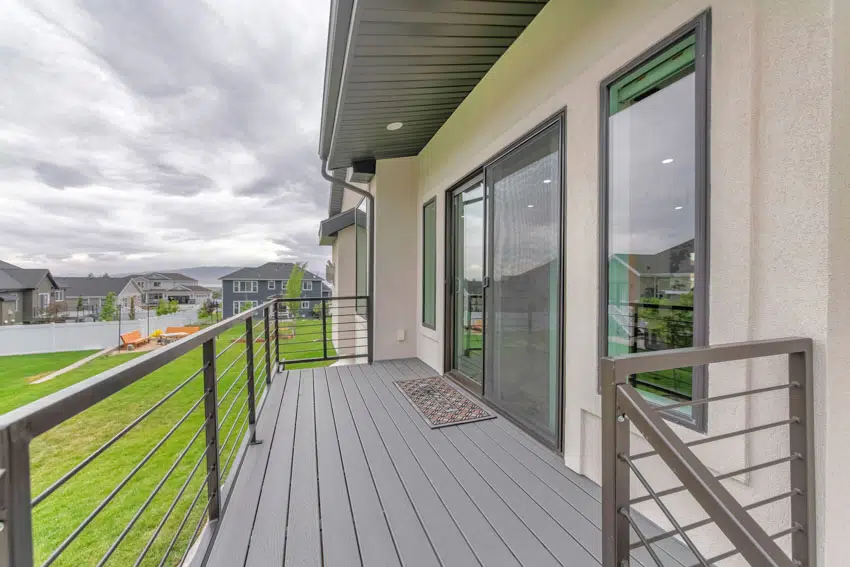 It makes sense that the cost of meshdoors can vary quite a bit. After all, we've already gone over various types and styles that give you a lot of freedom but also create quite a range when it comes to calculating an estimated cost for mesh doors overall.
To give you an idea, just taking all types of mesh doors as a whole, the average range can go as low as $100 or as high as $1,500.
All the factors around the types of mesh doors can create quite a price range. For the average single mesh door, though, you can expect an average of about $300 for a single mesh entryway
A single-hinged mesh entryway is likely the most inexpensive option with a similar but slightly higher range for storm doors, capping out at $400 for the average. Larger mesh doors like a sliding latticed entryway or garage mesh entryway will naturally increase the cost due to their size and setup.
What Is the Standard Entryway Size?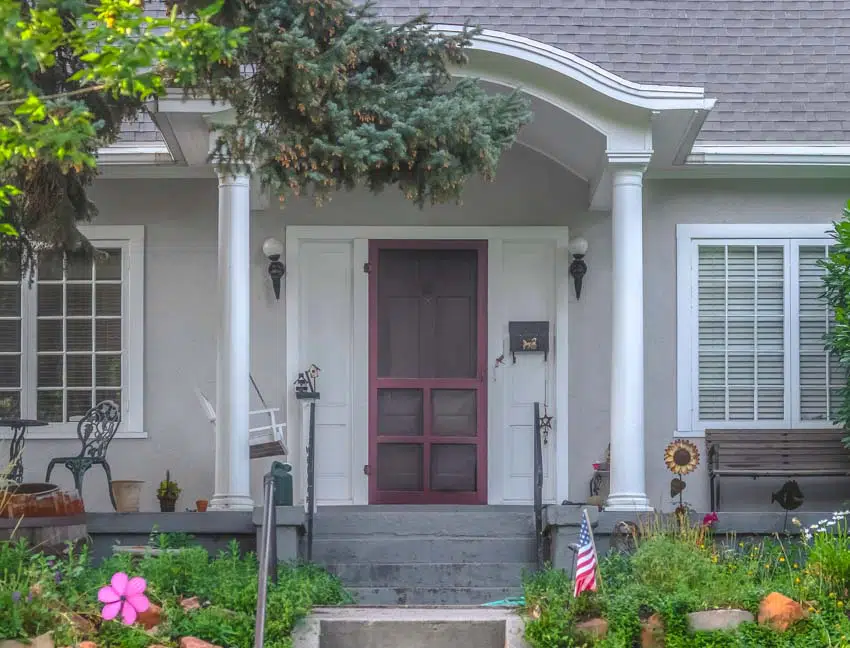 We've already gone over how you can measure your entryway frame to fit it with a screen. With that information, it's often helpful to know what measurements you're likely to come across.
It's worth noting that the exact averages can vary from place to place. Yet, in the United States, the average measurement for a mesh entryway is 32 to 38 inches wide and you'll commonly find options that come in 32, 34, 36, or 38 inches wide.
You'll also need to account for height when you're measuring for a mesh entryway as well. On average, you'll probably find that your entryway is either 80 or 81 inches wide.
Standard Mesh Door Size
32″ to 36″ wide x 80″ high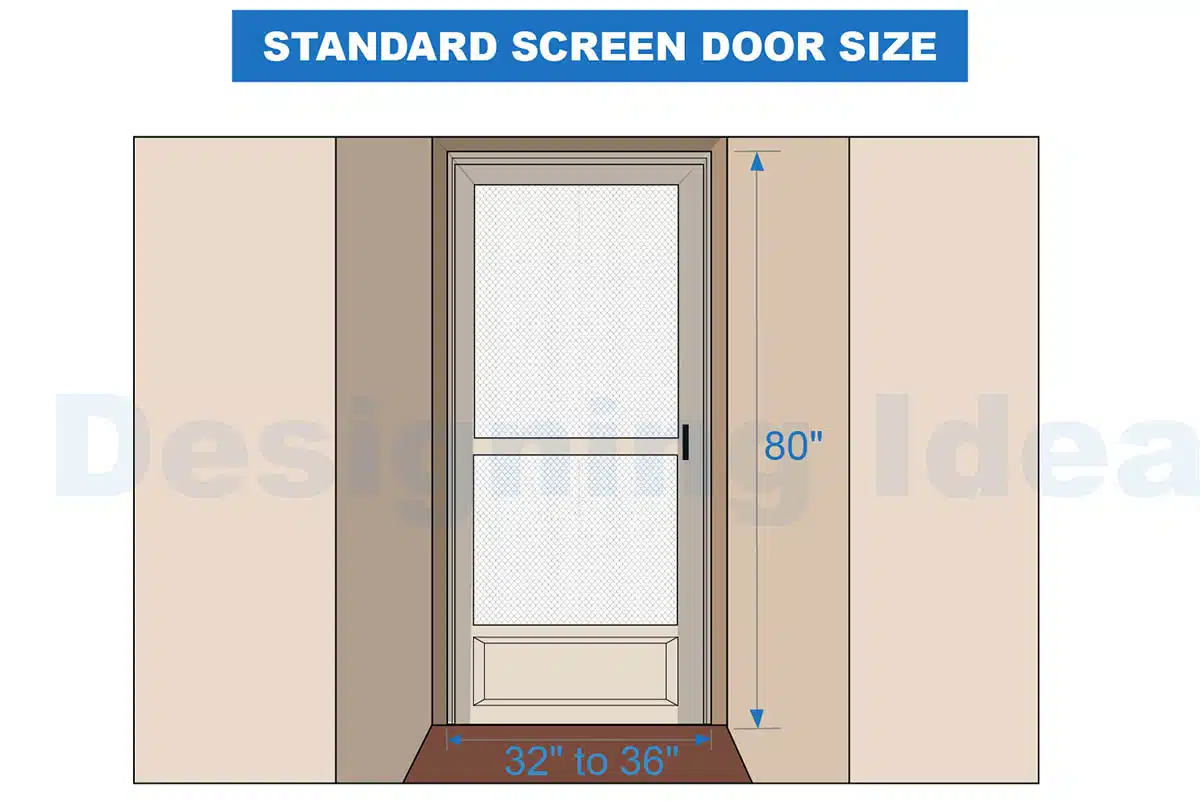 Standard Sliding Mesh Entryway Size
72″ wide x 80″ high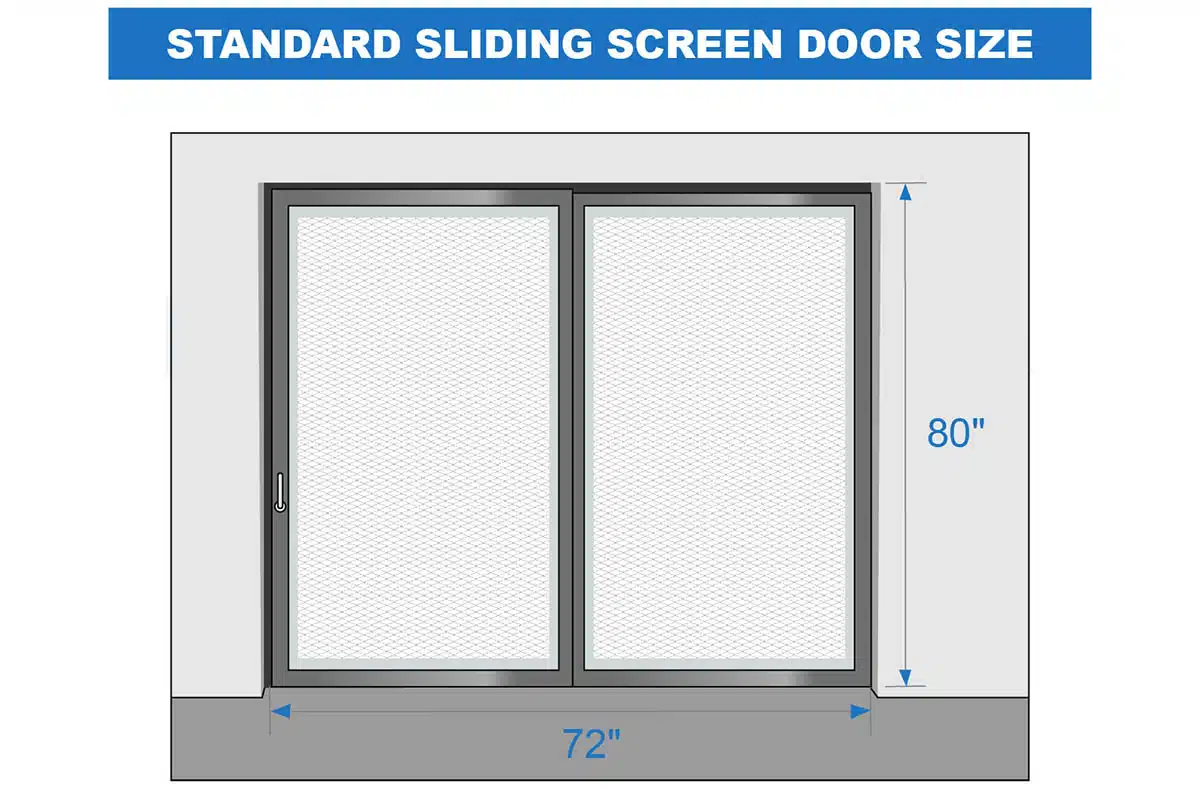 Remember: these measurements are only averages. This means that not every single door frame is going to meet these measurements so it's a good idea to always measure and re-measure rather than assuming your door fits one of these sizes. Read more about interior door sizes on this guide.

How to Measure the Space for This Kind of Door?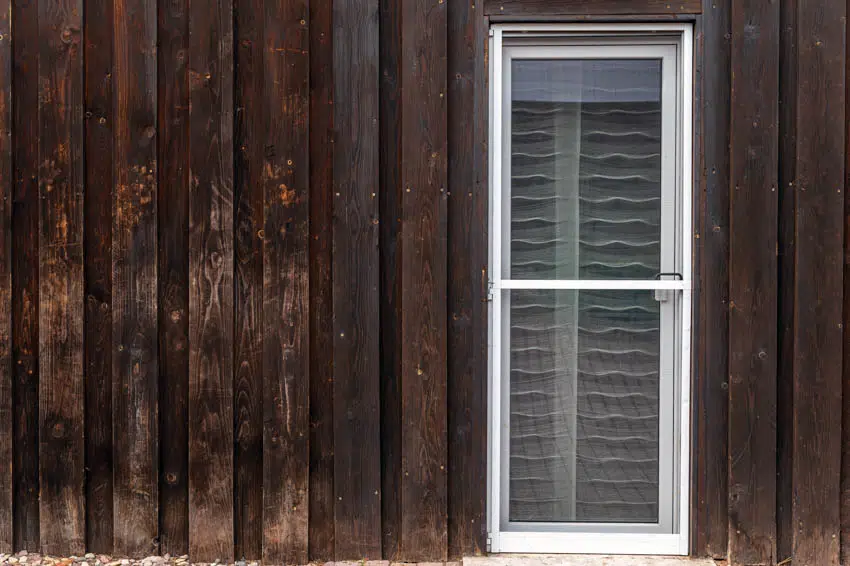 When you're off buying a door, it's important to ensure you get one that will fit your space. Otherwise, you risk coming home with a entryway that doesn't fit your entryway frame.
Of course, this also means you'll want to take care while you take your measurements – don't be afraid to measure twice! You can read more about how to measure a door on this page.
First, take measurements of the opening for the entryway for the width and height of the door. Measuring the width near the door's top, bottom, and center is a good idea.
In addition, remember to measure the entire entryway frame, not just within the jamb. Instead, measure from the trim.
From there, you must take those measurements and compare them to the dimensions of the mesh entryway options you're looking at.
Can I Install This Door by Myself?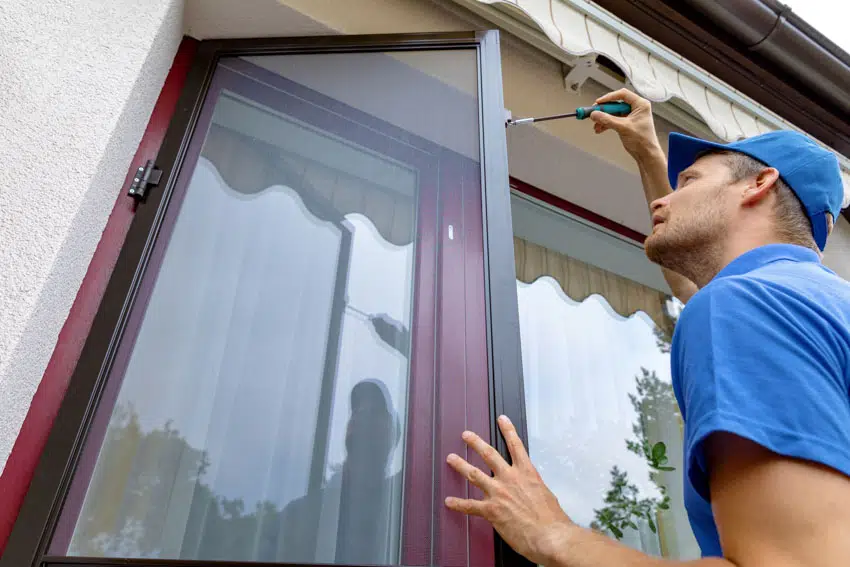 Yes! In fact, installing your own mesh entranceway isn't even a particularly complicated DIY either. This is a general concept, though, and more complicated types of mesh doors may be harder to install than others.
The easiest portal with netting to add yourself is a simple hinged mesh entranceway. That's because all you need to do is fit the mesh entranceway in the opening and then add on hardware like hinges and handles.
By comparison, an option like a retractable mesh entranceway would prove more complicated since they need a housing rather than to swing open on a hinge. The manufacturer of the door is likely to offer additional insight on how to install different models that you might be considering
What Type of Mesh Entranceway Is Best?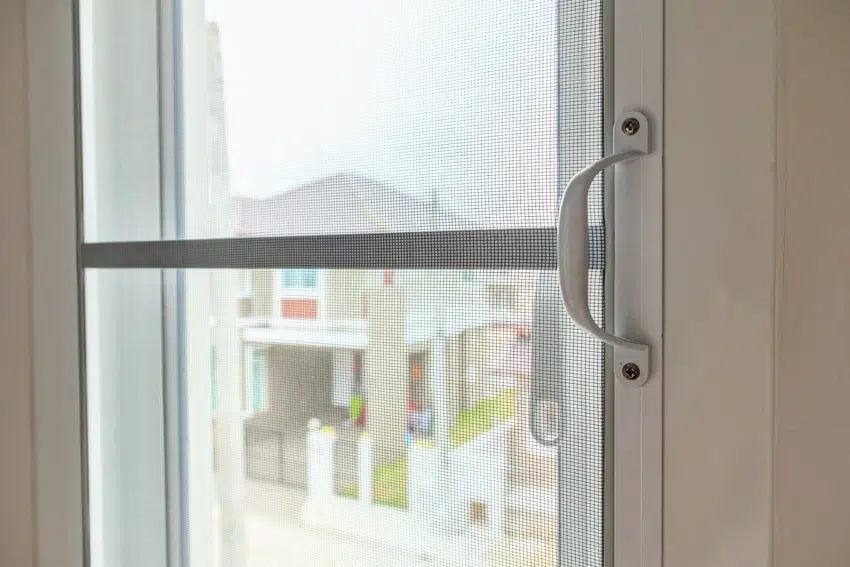 We've gone over a lot of options here, so what's the best choice when considering a type of mesh entranceway? While all of these options offer their own unique advantages and disadvantages, some have a distinct versatility that offers more benefits than the others.
If you want the option to have a screen or glass plus all of the security, fresh air, view, and durability that this type of entryway has to offer, a storm entryway is actually a great choice.
In particular, an option like rollover storm doors or ventilated storm doors that will allow you to switch between using the glass and screen without much effort on your part.
As for the materials that make up the door, opting for a metal option like a steel mesh entranceway will give you the most strength and durability.
Screen doors offer a lot of benefits from giving you a breath of fresh air to just opening up and connecting the indoor and outdoor parts of your home a little more – like a screen opening out to a back porch. We hope with what you've learned here, you'll have no trouble finding the perfect type of mesh entranceway for your space.
Leave us a comment below if there's something we missed or to share your favorite type of mesh entranceway See more related content in our article about how to cover glass doors for privacy on this page.