Here's our dog door sizes guide including the different dog door dimensions by breed and how to measure dog door size.

So, your dogs are now trained, and you are now ready to install a doggie door for them to get the freedom they need, but you don't know where to start. Read on, and we will give you an introduction to dog door sizes. Ready? Let's get to it!
Small Dog Door Dimensions
There are variations of dog doors available in the market, and all you need is your pet's measurements to choose the right dog door for your home.
Smaller dogs are dogs like Pomeranian, Maltese, Chihuahuas, and many other dogs with a shoulder height of 5 inches to 15 inches or an overall weight of 25 pounds or less.
The dog door that is advisable for them should have a passage opening of 6 1/2 inches by 12 1/2 inches and a rough opening of 8 1/2 inches by 14 1/2 inches. This height and width will allow the small medium to tall small medium dogs to come and go as they please.
Medium Size Dog Door
Beagles, Pekingese, Cocker Spaniels, Poodles, and Dachshunds are some of the dogs categorized in the medium size. These dogs have a shoulder height of 12 inches to 20 inches, and they can weigh from 10 to 45 pounds.
For medium-sized dogs to have the proper exercise they are required to have for the day, then a right-sized dog door is needed. The dog door for a medium-sized dog should have a passage opening of 8 1/2 inches by 16 inches and a rough opening of 10 1/2 inches by 18 inches.
Large Dog Door Size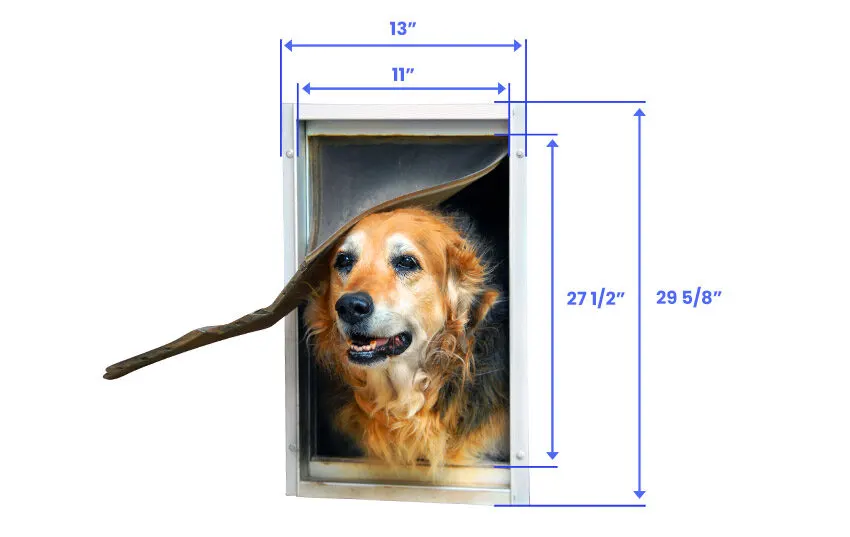 Some of us have larger dogs, especially if you are a larger family and live somewhere with an expansive lawn or even in an apartment.

Bulldogs, German Shepherd, Golden Retriever, Doberman, and Labrador are some breeds considered to be large dogs. Contrary to popular belief, a larger dog is actually more child-friendly because larger dog breeds can tolerate rough play and loud noises like yelling better.
In order for the larger dogs to walk around freely in an apartment or to run free from the house to a large lawn, the dog door size needed should have a passage of 11 inches by 27 1/2 inches and a rough opening of 13 inches by 29 5/8 inches.
These dimensions will be excellent for dogs with a shoulder height of 15 inches to 31 inches and weigh 40 pounds to tall, slender dogs weighing up to 110 pounds.
Extra Large Dog Door Dimensions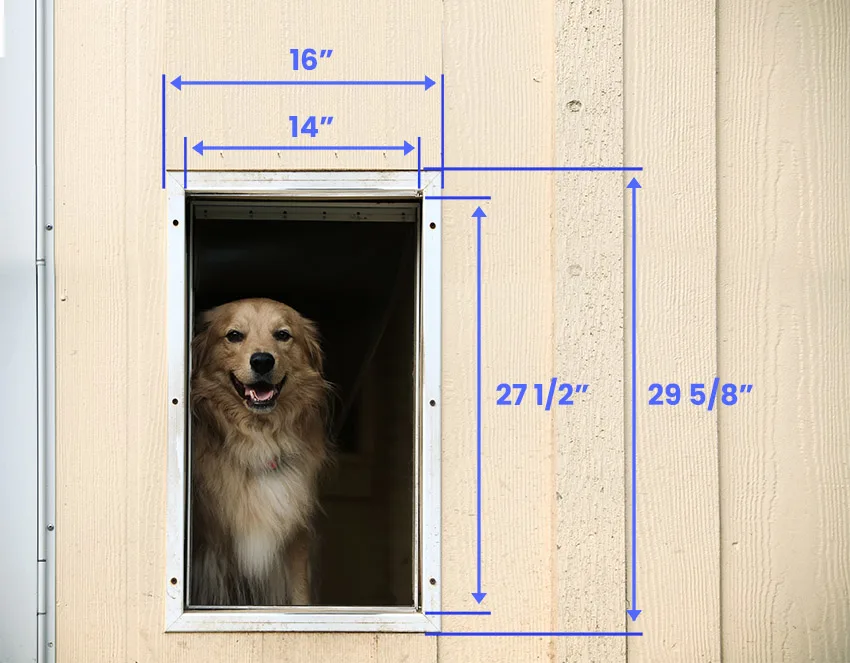 The thin demarcation line that separates the large dog breed from the extra-large or giant ones is weight. Large dogs typically weigh between 45 to 90 pounds, while giant dogs typically weigh 100 pounds and over.
Some of the giant breeds are Irish Wolfhound, Newfoundland, English Mastiff, Saint Bernard, Great Pyrenees, the coveted Tibetan Mastiff, and the contender for the biggest dog breed in the world — the Great Dane, which go up to 34 inches in shoulder height.
These giant dog breeds and many others are known to be friendlier, more intelligent, more trainable, and are known to have fewer health problems than the smaller breeds.
In order to provide for a dog door for these gentle giants, a passage opening of 14 inches by 27 1/2 inches and a rough opening of 16 inches by 29 5/8 inches is required. This size door will make both the inside and outside of the house available for your giant pet dog.
Dog Door Sizes by Breed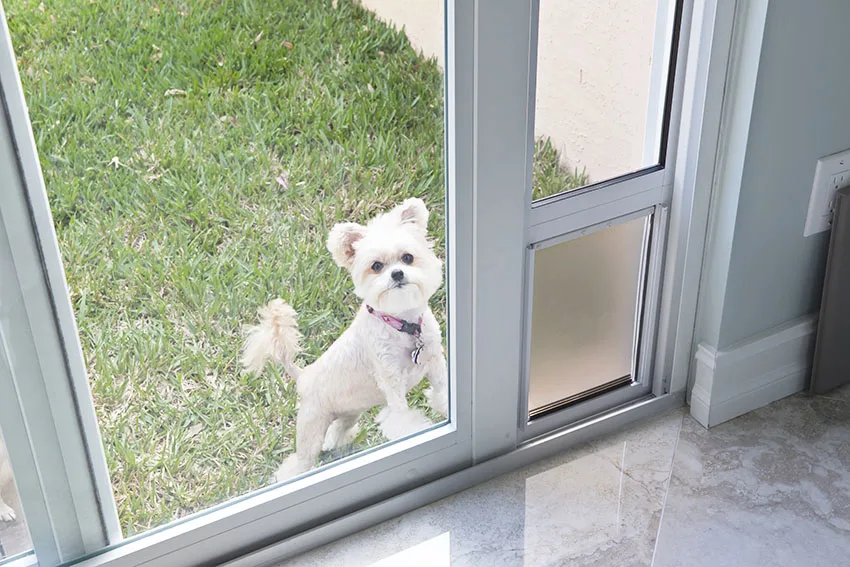 Dog door sizes by breed will be impossible to list one by one since there are 175 dog breeds the American Kennel Club recognizes and almost 361 dog breeds that the FCI or the Federation Cynologique Internationale recognizes.
The easiest way to determine the dimension you will need for your dog door is by measurement, and we'll teach you how as you read on with the article.
What Size Dog Door do I Need?
You need to consider many things, and height and width are the only two items on the list. With that in mind, here are some other considerations.
• Animal Intruders – especially for southern states like Florida, where alligators and raccoons entering homes through dog doors are prevalent. This problem is usually solved by using higher placed doors.
• Outside Environment like questions about where your dogs are exiting to or did you already install some precautionary measures to prevent your dog from escaping are also important.
• If you have children at home, it's essential to make sure that they are safe, and you might want to consider the more expensive electric dog door models with a lock option to avoid accidents. This problem also applies to little puppies.
How to Measure Dog Door Size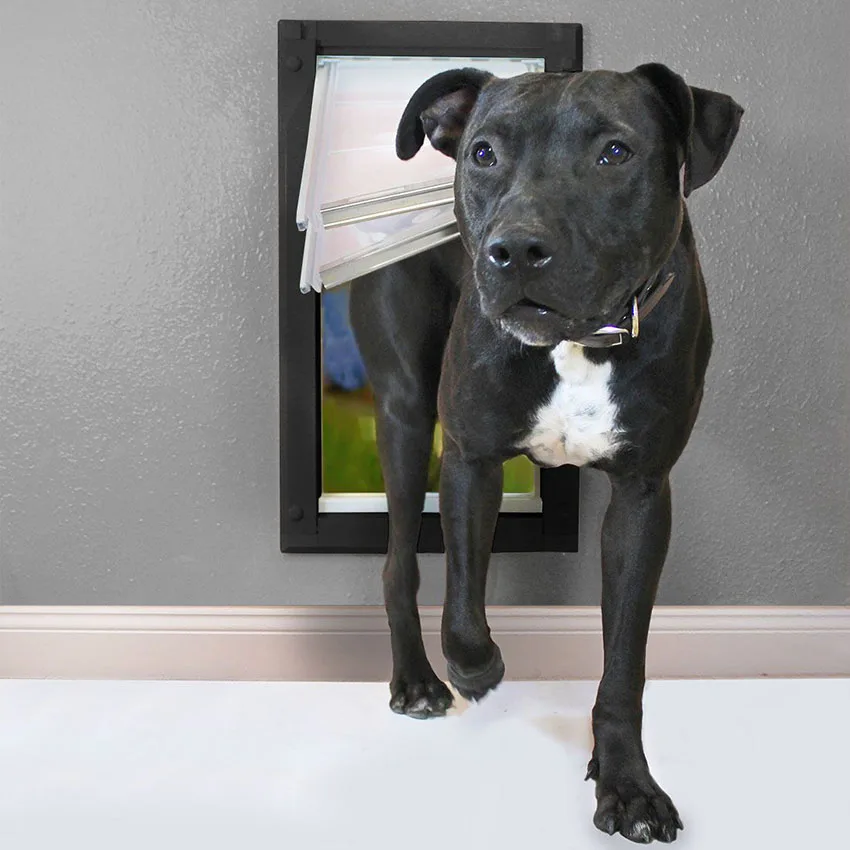 Having the right dog door installationwill not only benefit your pet by teaching them independence and making them feel confident in taking care of their biological urges, but it will avoid accidents happening to your fur babies.
Measuring is pretty foolproof, and all you need is a measuring tape, and some dog treats to keep your dogs in place.
To measure the top of the pet door frame opening, you will need to keep a height allowance of 1.5 to 2 inches above your dog's shoulders.
This height allowance will ensure that not only is the dog able to run through efficiently on the dog door, but it will also avoid accidents happening on their back and will guarantee that your dog door flap will last a long time.
It will also prevent back and hip problems for your fur friends brought about by crouching down if the dog door height is too low. So, the first thing to measure is your dog's shoulder height, and you do this by measuring from the bottom of a front leg to your pet's nape.
A thing to consider is also the distance between the flap door's bottom to the ground. This is called the step-over, and for the most part, this is the first thing your pet will touch as they use the doggie door. You measure the depth by measuring your dog's front legs.
Did we miss any important information about pet doors or do you have questions we didn't cover? Share what size door you like to use for your pet below in the comments. For another related article like this visit our best floors for dogs on this page.