Here are the types of patio doors with the different door openings, materials, design styles, cost, and the most energy-efficient patio door options.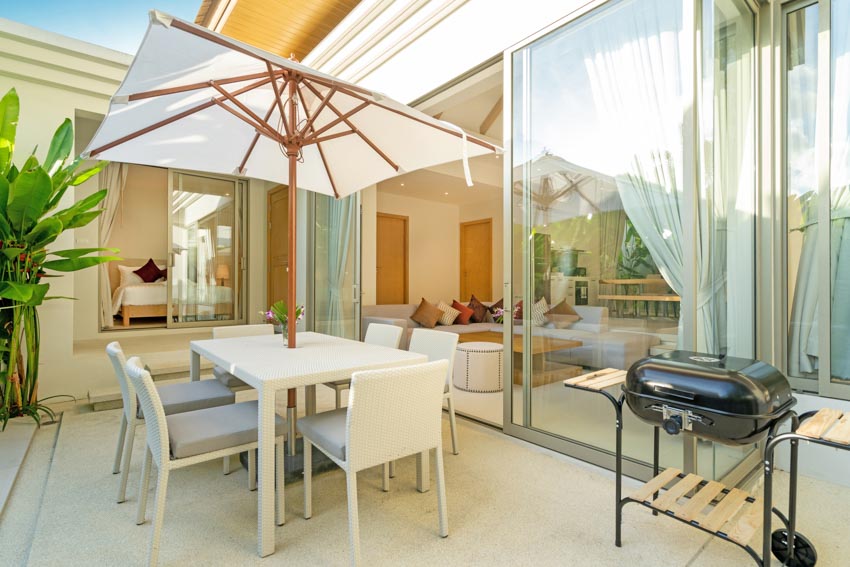 One of the best choices you can make when it comes to renovating or remodeling your home is to not just focus on the changes that are aesthetically pleasing but to choose changes that will add value to your home. Adding a patio door can do just that and more.
When it comes to choosing the best type of patio door, there is a lot of decision to make. Below we break down the differences so you can make an informed buying decision and get the right one for your needs.
What Is A Patio Door?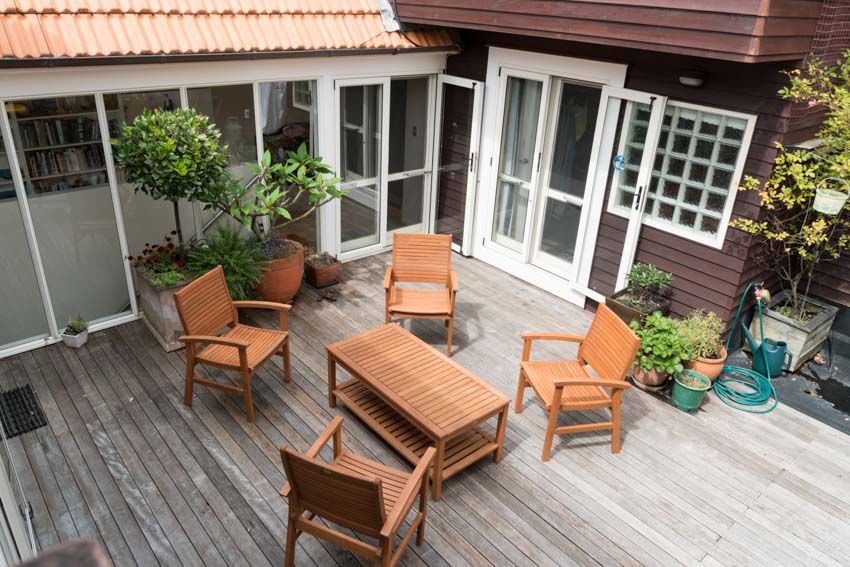 Allowing an indoor-outdoor living experience, a patio door is a large entryway made from glass panes. This easily allows natural light inside the home.
The indoor-outdoor living experience is a modern idea where your home feels like an open area because of the glass-paned door and the use of natural light inside. A patio door delivers an incredible combination of security (which is the basic function of a door) and aesthetic appeal.
A patio door can have a regular look or it can take up a big space like an entire wall. It can even have multiple doors but this might lessen the security you have at home. Make sure you choose a safe middle between the door's security function and the aesthetic freedom you have in making the man look even more presentable.
Besides these two factors, you also need to consider the budget you have allotted for the patio door, and the space you have at home. It is also necessary to consider which among the different types of patio doors has the proper thermal performance and if it can help with the home's insulation or has an opening mechanism capable of affecting the door's energy efficiency.
Patio Door Openings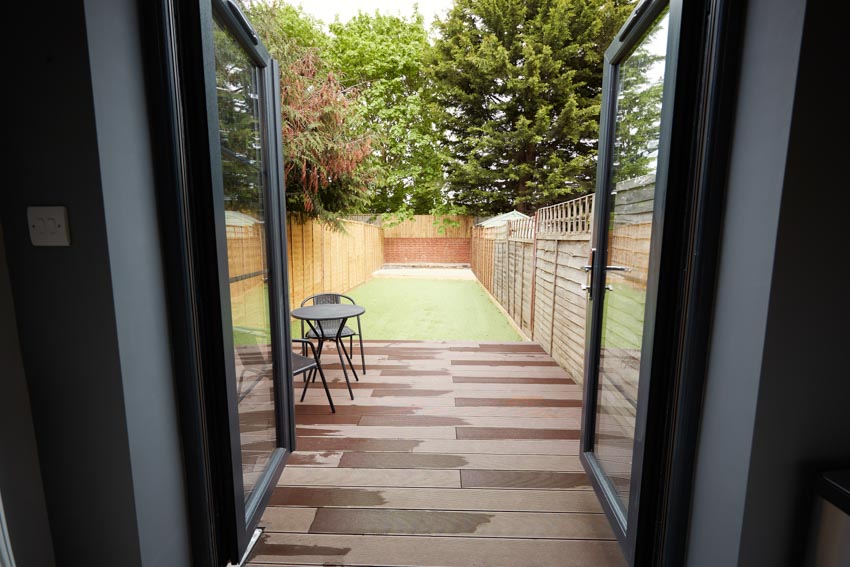 There is a wide variety of options you can choose when checking the different types of patio doors with specific aspects that differ from one another. One of the said aspects is the patio door openings.
Traditionally, there are only two types of door openings to consider, including sliding and hinged. Technically though, there's more than that.
In deciding on the ideal patio door opening, consider the space you have in the patio door area. Some openings require more, which is something you may not have. Check out the following patio door openings to help you make a decision.
Sliding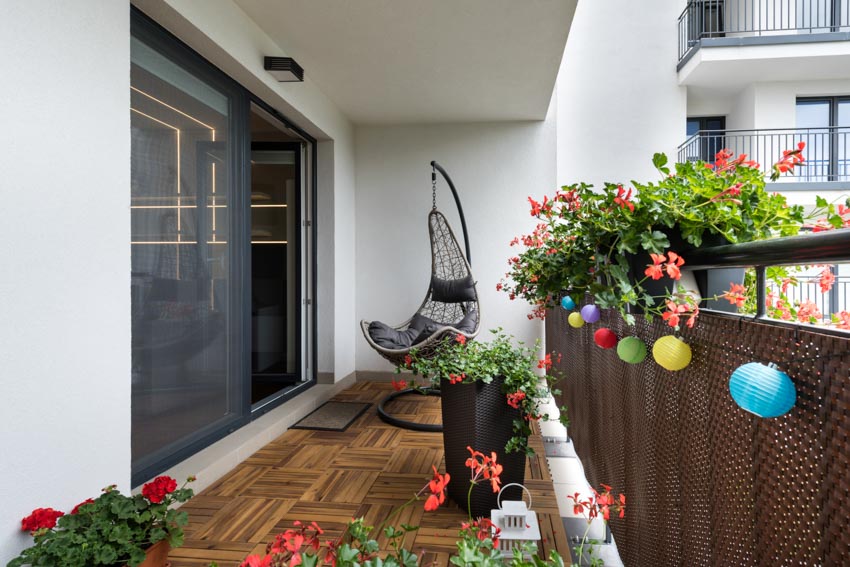 Considered the most popular patio door opening, sliding patio doors is an option that many homeowners prefer because of the following advantages it offers:
• Easy-to-use opening mechanism: Kids can easily open and close this type of patio door.
• Affordable: There are different types of sliding doors for patios that are on the affordable spectrum. When considering these options, you can choose between $1,000 to $3,000 plus the installation fee.
• Highly customizable style: You can add a screen door for a bit of customization and additional protection or you can have a longer sliding rail or an oversized glass panel to have something different.
• Conveniently space-saving: Since you don't need to swing a door, the sliding patio door only requires minimal space
• Energy-efficient: Sliding patio doors help you save energy because of their overlapping panels.
Along with these pros though are the following disadvantages:
• Sliding doors are difficult to secure. Use a bar for a better locking mechanism
• Less durable and easily gets damaged
• Must always be maintained and well-oiled
• Offers less entry space
• Functional but less aesthetic appeal
Hinged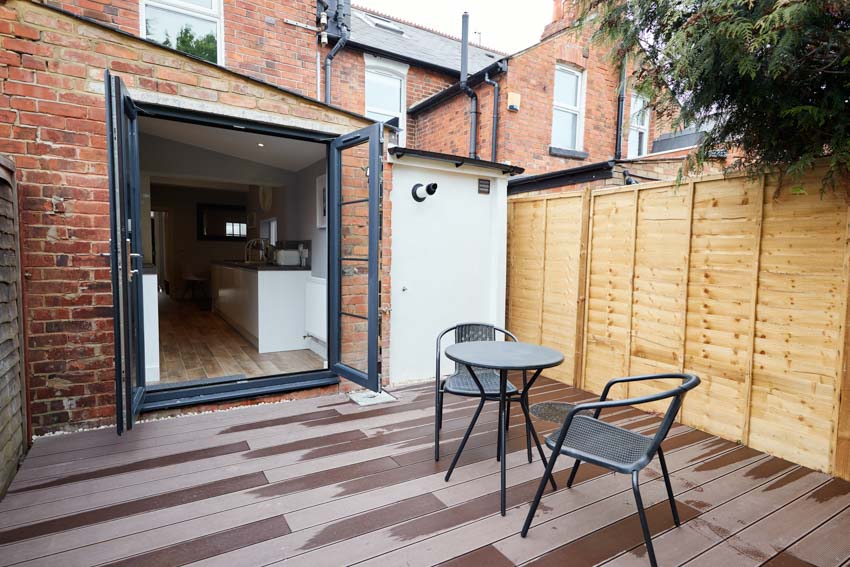 A hinged patio door is a popular option to consider that operates by swinging either in or out. This type of patio door requires enough space to function effectively. Placement of this patio door is highly vital since you would need to consider the available space around it.
Also known as a french door, a hinged patio door is famous for its security function and sturdiness. It usually comes in 2 or 3 sets of panels, where either 1 or 2 can be opened and the remaining panel acts as a door-length window.
With the same size as the sliding door, it measures around 30 to 72 inches and can be customized but may set you back around $10,000 for it. This type of patio can also be made from aluminum, vinyl, or wood.
Here are some advantages of hinged patio doors that are worth noting:
• Highly durable: It does not have moving parts that make it vulnerable.
• Offers excellent security: Comes with a knob lock and deadbolt for security.
• Versatile design: With an option to decorate the door however you want to by its molding, the grills on the windows, and even the handles.
• Low maintenance: You don't need to keep it well-oiled since it doesn't have rail tracks that can get stuck.
• Easy-to-use: You can easily and quickly open and close the door.
Partnered with these advantages are the following drawbacks you have to face:
• Limited view: Hinged doors come with large frames that may limit your view of the outdoors.
• Limited entry space: Can have congestion when you have guests at home since it offers a smaller clear opening for entry space with the frames and the swinging panel.
Bifold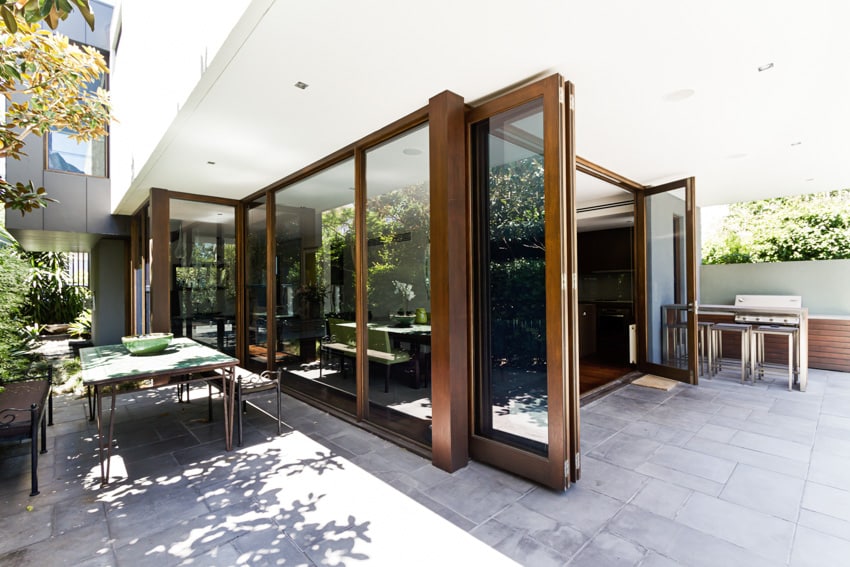 A bifold patio door has a similar mechanism to that of an accordion since it has several panels that can be slid and folded together when opened. It also comes with a hinged door so that quick entry and exit are possible without the need of folding it entirely.
Standard folding patio doors with three panels measure around 70 to 92 inches and can cost you $1,900 to $3,600 for the bifold patio door alone. It can be made of aluminum, fiberglass, or vinyl, depending on your preference. You can install around 2 to 8 panels, depending on the home's space and your preference.
Here are the benefits you can be guaranteed in using a bifold patio door:
• Space-saving: You don't need to allow that much space just to open the door like a hinged one but you still need enough space to keep the stacked panels when opened.
• With modern style: Unlike the traditional sliding and hinged patio doors, the mechanism of a bifold is quite modern, as well as its look.
• Dual-locking feature: Delivers incredible security without having to limit the wide openings and views offered by this patio door.
• Versatile usage: You can open the bifold as little or as much as you want, depending on your preference. You can either partially stack a couple of panels or slide them all in.
• Larger view and opening: since you can glide and stick the panels altogether, you are left with a large opening both for entryway and for viewing.
You also need to check out the following disadvantages of using a bifold patio door to know what you're dealing with.
• Requires large space: If you install a bifold patio door, you need an entire wall to accommodate its panels and the wall needs to be furniture-free to avoid being a hindrance to this patio door.
• Can be expensive: Can easily cost around $3,000 to $10,000 and this is without the labor fee.
• Vulnerable to insect options: Since you won't be able to install any screen, your home may be subjected to insect issues.
• Complex installation: You need an entire wall for a bifold patio door so you definitely need the help of a professional in this.
• Less durable: with the panels moving, the patio door is then less durable than the sliding patio door.
• High maintenance: With many panels and folds, this is difficult to maintain and clean.
Pivot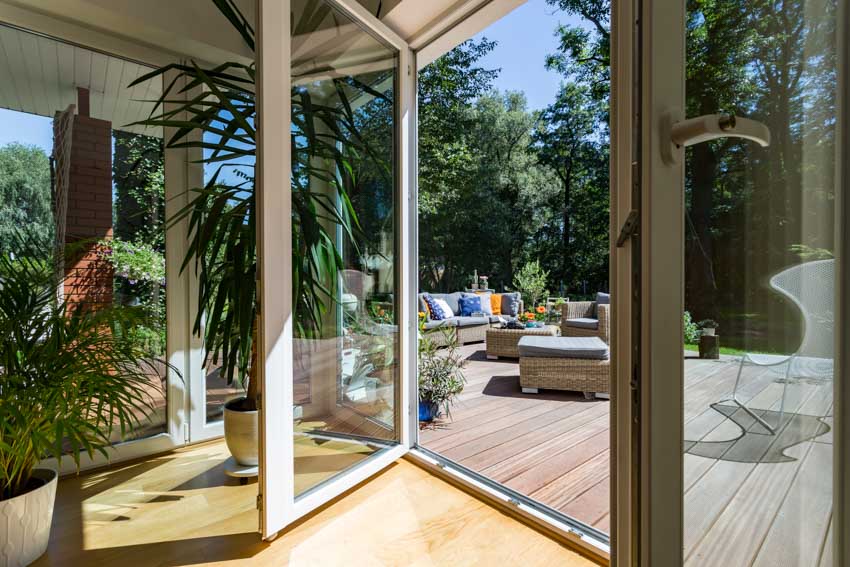 A pivot patio door operates in a rotating motion, which is why it's called "pivot". The doors are attached both at the top and bottom, allowing the circular movement of the door. This also means that it is able to take and use both outdoor and indoor spaces.
Also known as revolving doors, this style can either be a single pivot door or a group pivot door. The former only has a single panel and rotates vertically while the latter is made up of several panels grouped together, opening up a much larger space and can be installed at different angles, making it more stylish.
Take note of the following advantages you can make the most of when using pivot:
• Fun yet classy: Who doesn't want to play with a revolving door when they are young? The modern mechanism is what makes it fun.
• Stress-free mechanism: No bulky framing and butt hinges to worry about.
• Modern aesthetics: Showcases chic appeal and clear-cut lines.
• Easy-to-operate: Makes use of a simple setup that provides quick access to the deck or the patio.
The big downside of a pivot patio door is that it can be expensive. This is also the reason why it makes sense that they are mostly installed in big commercial buildings and offices.
Garage Style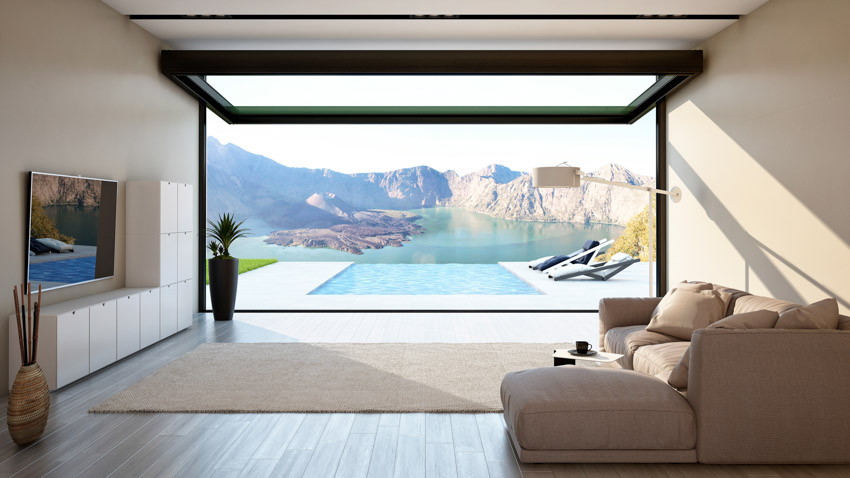 The garage-style patio door delivers a more industrial look, especially since it is usually made of metals like steel. With the use of metal, it also needs something stronger to pull them up.
Enough and a substantial amount of space just to effectively use the panels of a garage-style patio door. Make sure to consider the electric fixtures of the home as you go along. Better yet, go to the professional for better consultation and installation of garage door panels.
Patio Door Materials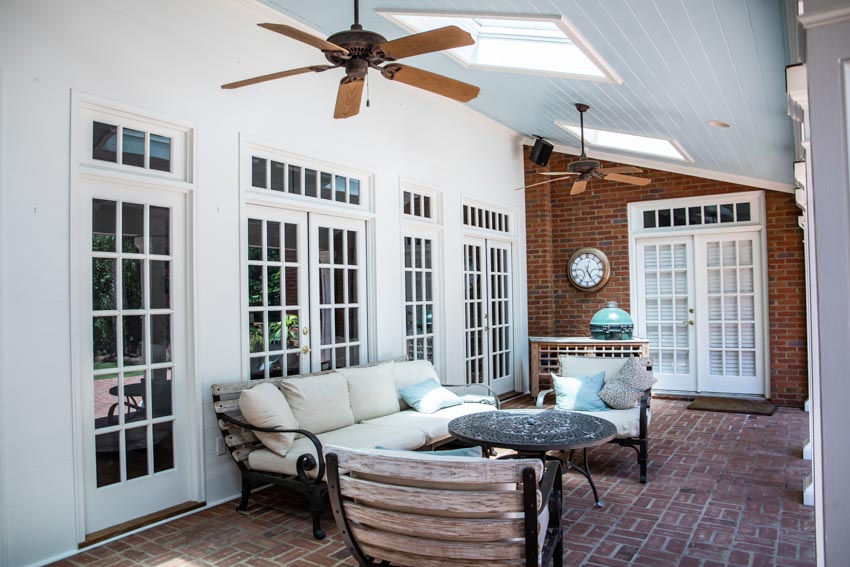 More than their openings, patio doors also differ based on the materials they are using. While many patio doors make use of glass, there are other materials that can also fit well with a patio door.
Here are the different materials you can also consider for your patio door. Make sure to check them out before actually constructing the patio door.
Vinyl: Vinyl is an affordable yet durable material you can use for your patio doors. With its durability, it is an excellent component for exterior hiding. And it doesn't easily peel, corrode, rust, warp, or dent so it is guaranteed to last longer too.
Despite being affordable, vinyl can keep extreme heat and cold out. It is also an energy-efficient material you can consider. You can get creative on your patio door with vinyl since it can be shaped to look like metal or wood, and also comes in a selection of colors.
Aluminum: Aluminum is a light metal considered a popular option for patio doors. It is particularly a good option for exterior patio doors because it withstands weather changes and elements without getting affected (chipping, peeling, or warping). It is a more affordable metal option compared to steel but is less durable and energy-efficient.
Aluminum patio doors are vulnerable to rusting so it is vital that you have yours treated with an anti-rust agent. While this effectively protects the material, make sure not to scratch or dent it so that the protection can last longer. Denting is also a big no because this material is difficult to repair.
Wood: Wood is a constant when it comes to building and construction and this is the same way when creating your patio doors. Patio doors made from wood are popular but less durable. They offer a sturdy classic look that you will find in most patio doors in the past. They are also soundproof and can easily be painted with any color you prefer.
The downside with wooden patio doors though is that despite being expensive, they can warp and rot because of moisture and other weather elements. This is the reason why treatment is required or else you will be forced to replace them every 15 to 20 years.
Traditionally, only french doors for patios make use of wood. Today, a popular trend came out where wood is installed on the indoor side of the door while weather-proof material like aluminum or vinyl is installed on the outdoor side.
Fiberglass: Quite similar to vinyl, fiberglass is another durable material you can use for your patio door. The big difference though is that it is more durable and so comes with a higher price tag. While lightweight, this material is solid and flexible enough that it can be styled however you want to, even looking like a smooth wood finish.
Steel: Steel is another metal option similar to aluminum but it's more durable and expensive. Weather-resistant, steel patio doors do not chip, peel, and warp and can also be considered energy-efficient.
The material still needs to be treated with an anti-trust agent though so that is understandably more expensive too. Weather-resistant, the material does not chip, peel, warp, or dent. It is the energy-efficient option you can use for your patio doors.
Despite being weather-resistant, steel needs to be treated with an anti-rust agent for additional protection against damaging and rusting. Make sure that you avoid getting the metal scratched in order to still benefit from the treatment and to avoid the metal from denting because the repair is incredibly difficult.
Patio Door Designs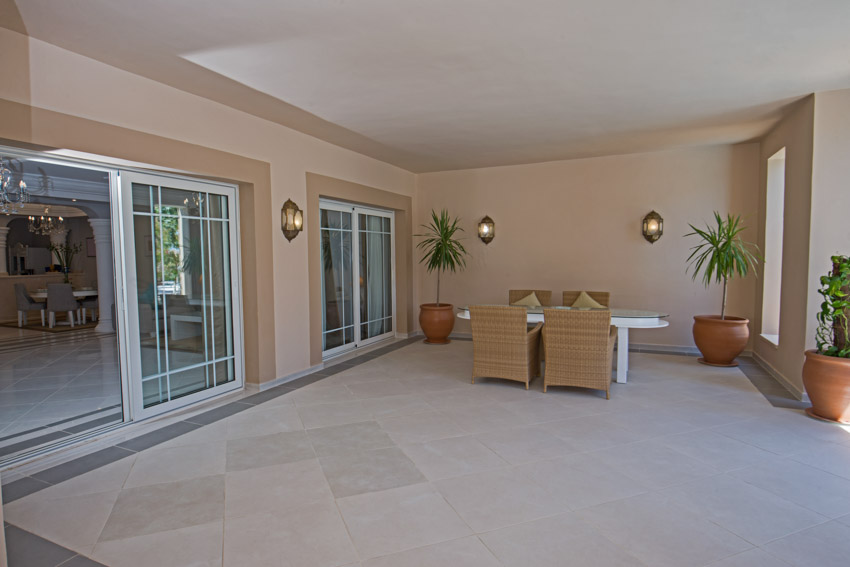 Besides their mechanisms and materials, patio doors also have a variety of designs you can check out and match with the current vibe of your home.
Here are some of the different design styles to consider.

French Door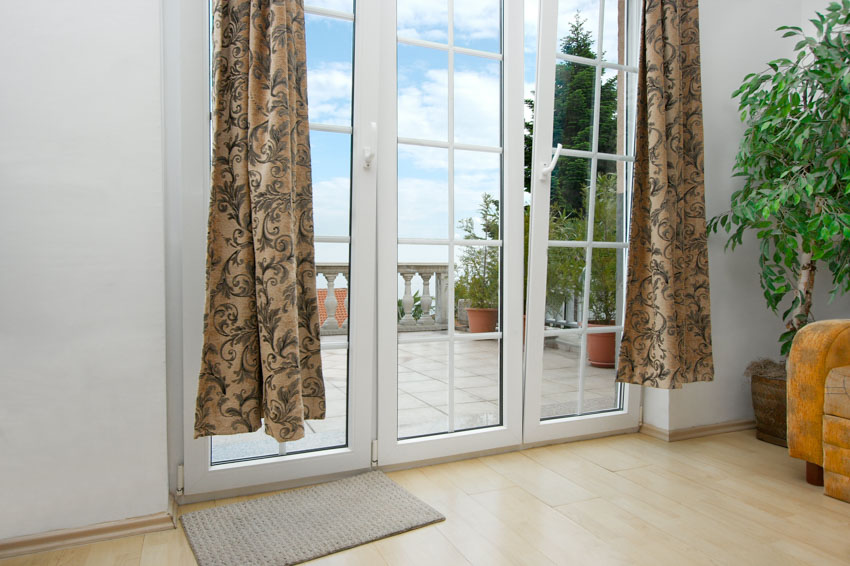 A french door normally consists of a pair of hinged doors that either swing in or swing out, depending on your preference. An in-swing french patio door is perfect for homes with limited patio space while its outswing version is ideal for homes with limited indoor space but expansive patio. Just make sure that nothing can obstruct the doors once they're swung open.
French types of patio doors come with glass panels, delivering modern and classic appeal in one go. It is an element of the home that many homeowners covet and look for because of its aesthetic value.
The glass panels can either be left alone for a minimalistic appeal or sometimes integrated with latticework, making it more desirable for homebuyers.
Frameless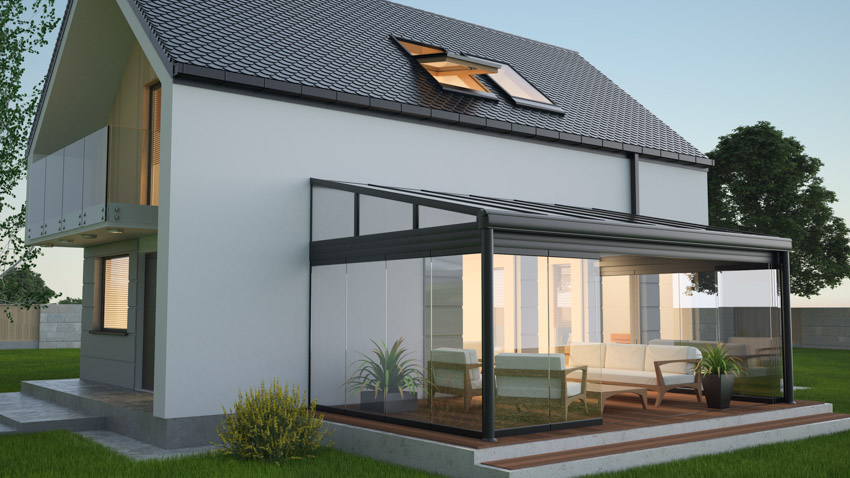 Frameless types of patio doors stretch from the floor to the ceiling, giving the illusion that the door is seamlessly floating, which is why most of the frameless patio doors are made of glass panels.
This design makes you feel like both indoors and outdoors are connected without any obstruction in between. If you constantly want to feel like nature, this is a great option.
Stacking Patio Doors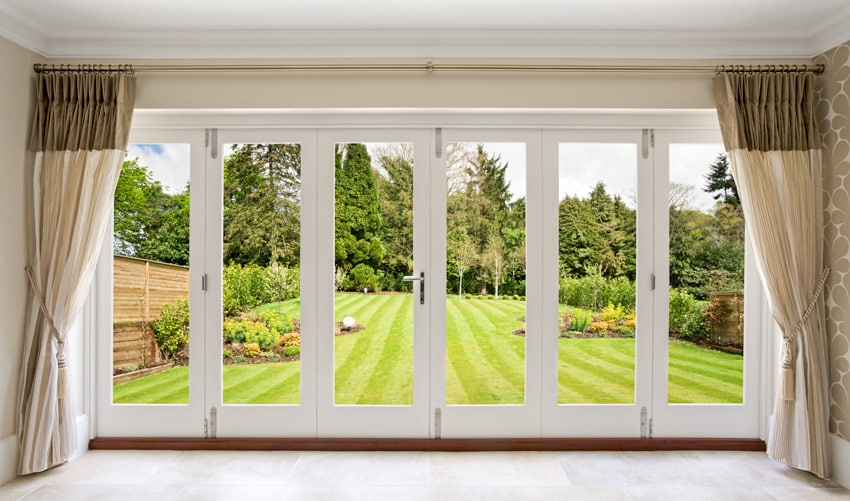 A stacking patio door is similar to the bifold patio door, where the panels are stacked together on one side when the door is opened. The door has its own railing like a sliding door but this also means that it needs to be well-oiled and maintained.
• Frameless Glass Stacking Doors: A frameless glass stacking door is an elegant version of stacking types of patio doors. The glass panels are normally connected using a stainless steel linking mechanism.
The downside though is that it would be less durable and so you need to be more careful with sliding and stacking the glass panels together.
Integrated Shade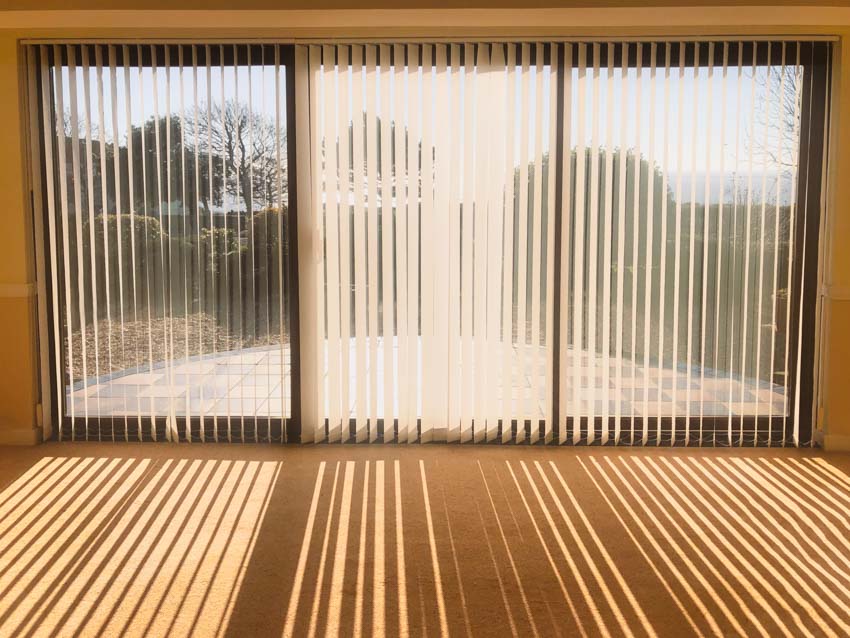 An integrated shade is part of the sliding door system that slides in and out of the wall. This option takes out the need to install blinds and at the same time helps you maximize space with its thin frame.
The integrated shade is popular for helping the home cool down when the sun is at its hottest without taking out the option of enjoying the breeze at night.
Double Glazing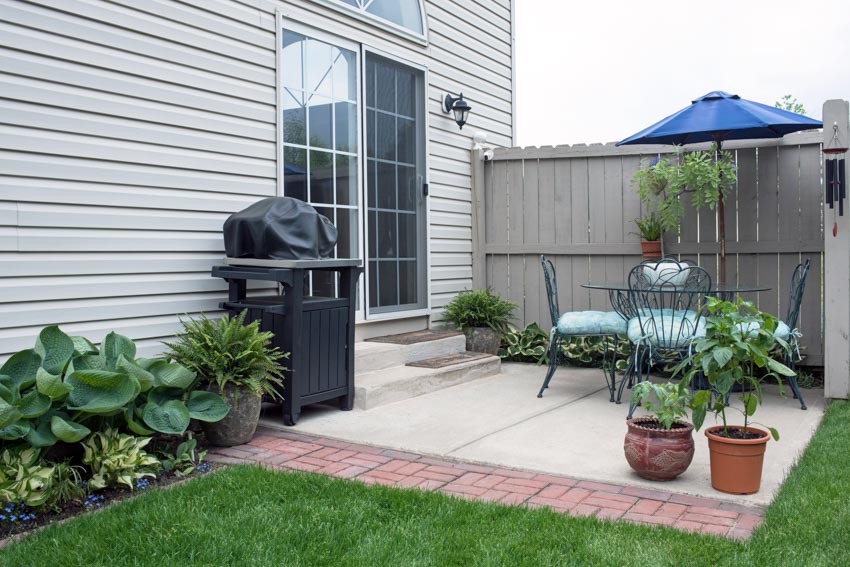 A double-glazing door, also known as gas-filled glass or double-paned, offers a slim and seamless option that can deliver minimalist appeal if that's what you're going for. The panels are paired with stainless steel frames that remain perfectly aligned at all times.
Pocket Sliding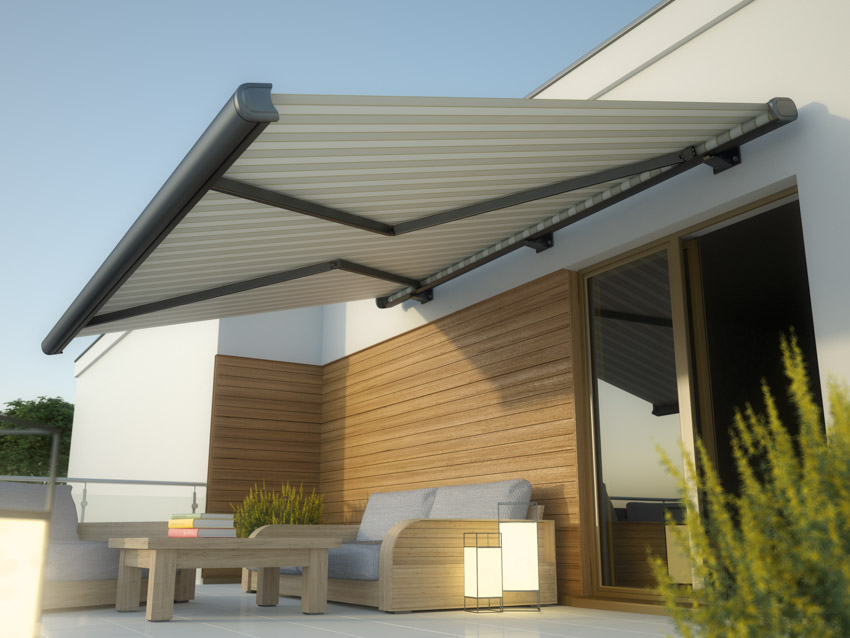 A pocket sliding door is similar to a normal sliding door except for the pocket inside the wall that's been built precisely to tuck the door safely inside it. Not only is it a clean design but it also saves space since you won't have to slide it somewhere else.

How Much Do Patio Doors Cost?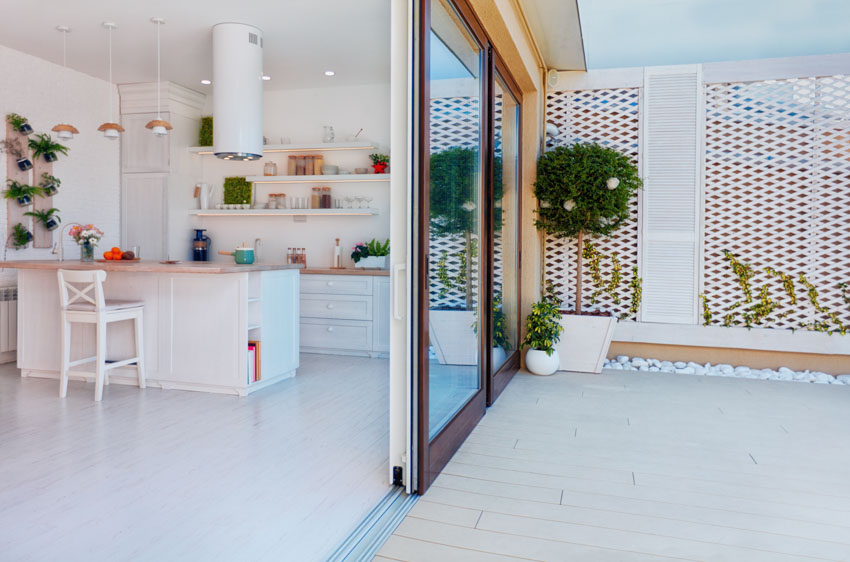 There are different factors to consider when it comes to the cost of a patio door, including the types of patio doors, the material it's made of, the size of your door, and the installation costs. Patio doors don't come cheap and so if you're planning to have one in your home, you need to be ready for what it can cost you.
Typically, the cost range from $1,200 to $10,000 but there are different factors to consider, including the following:
Materials
Size & Measurements
Door Trim
Labor & Installation
With these factors, here is a list of the range of cost you may pay for:
| | |
| --- | --- |
| Quality of the Patio Door | Cost |
| Low-quality | $1,200 |
| Average | $2,500 |
| High-quality | $10,000 |
Cost of Patio Doors Based on Type
For more specific costing, here are the costs you will encounter in terms of the types of patio doors you can install at home:
| | |
| --- | --- |
| Types of Patio Door | Cost |
| Sliding Patio Door | $1,000 to $2,600 |
| | $300 to $1,500 |
| | $700 to $3,000 |
| | $2,000 to $5,000 |
| French Door | $500 to $4,000 |
| Telescoping Patio Door | $1,500 to $5,000 |
| Bi-fold or Folding Patio Door | $3,000 to $10,000 ($500 to $900/linear sq. ft.) |
| Anderson Patio Door | $1,500 to $3,500 |
Cost of Patio Doors Based on Materials
More than just the different types of patio doors, there are also different materials involved in creating patio doors that can affect the cost. Here are the costs of patio doors based on the materials they're made of, including the door trim.
| | |
| --- | --- |
| Materials Patio Door is Made of | Cost |
| Glass | $150 to $1,000 |
| | $150 to $300 |
| | $250 to $450 |
| | $350 to $600 |
| | $400 to $600 |
| | $700 to $1,500 |
| Aluminum | $300 to $1,200 |
| Fiberglass | $800 to $3,500 |
| Vinyl | $300 to $1,200 |
| Wood | $1,500 to $5,000 |
Cost of Patio Door Replacement
The cost of patio door replacement will depend on the materials and the size of the door, which can cost around $700 to $5,000 with the doors priced at $400 to $1,800 and the labor at $300 to $600.
The national average cost of the patio door replacement is priced at $1,700. To be specific, here are the costs you need to take into account:
| | |
| --- | --- |
| Parts for Replacement | Cost |
| Full Door | $600 to $5,000 |
| Sliding Panel | $450 to $750 |
| Rollers | $95 to $170 |
| | $20 to $40 |
| | $75 to $130 |
| Knob | $120 to $250 |
| | $40 to $100 |
| | $75 to $150 |
Other Patio Door Costs You Should Know About
The installing and replacement of patio doors do not just involve the door and labor themselves. These are additions you can include for your patio door to improve its functionality and even aesthetics. Here are some of these additions and the costs they come with.
| | |
| --- | --- |
| Miscellaneous Factors | Cost |
| Screen Doors | $100 to $250 |
| Insulation Cost | $300 to $600 |
| Patio Enclosure | $4.50 to $6.50/square foot |
| Security (Dual Point Locks/Locking System) | $30 to $300 |
| Hard Frame Style (Hinged or Motorized) | As much as $400 |
| Project Waste Disposal | $100 to $600 |
How To Measure A Patio Door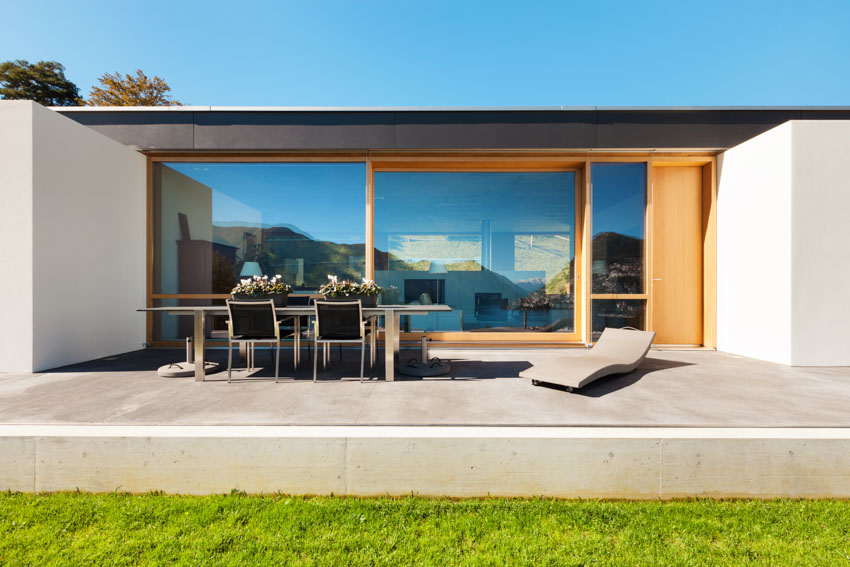 Measuring your patio door is a necessary task before you can even start installing and replacing your patio door. This will also help you have an estimate of the cost you need to pay for the new patio doors.
Follow these simple steps as a guide when measuring a sliding patio door:
Step 1: Prepare all the things you will need for the measurement – Get a tape measure, a pen and paper to record your measurement, and a measurement guide to match what you have with the common measurements for patio doors.
Step 2: Measure the width of the patio door – Step outside, and measure the door starting from the center by extending your tape horizontally towards the sides and edges (from one siding to another). Make sure to record the measurements on your paper.
Step 3: Measure the height of the patio door – Extend your tape and measure the door vertically:
From the header to the bottom of the door sill
From the siding to the bottom of the door
From the edge of the stucco to the bottom of the door
Optional Step: You can measure both exterior and interior just to be sure that what you've recorded are the correct measurements. Here is what you need to measure from the interior side of your patio door:
Width of the patio door – From the casing trim or the inner wood return towards the sides of the existing patio door
Height of the patio door – From the casing trim to the floor
Here is the guide for the actual measurements of patio doors:
| | |
| --- | --- |
| Width | Height |
| 59 inches | 80 inches |
| 60 inches | 80 inches |
| 71 inches | 80 inches |
| 72 inches | 80 inches |
| 96 inches | 80 inches |
| 89 inches | 80 inches |
| 107 inches | 80 inches |
| 143 inches | 80 inches |
How To Remove Sliding Patio Door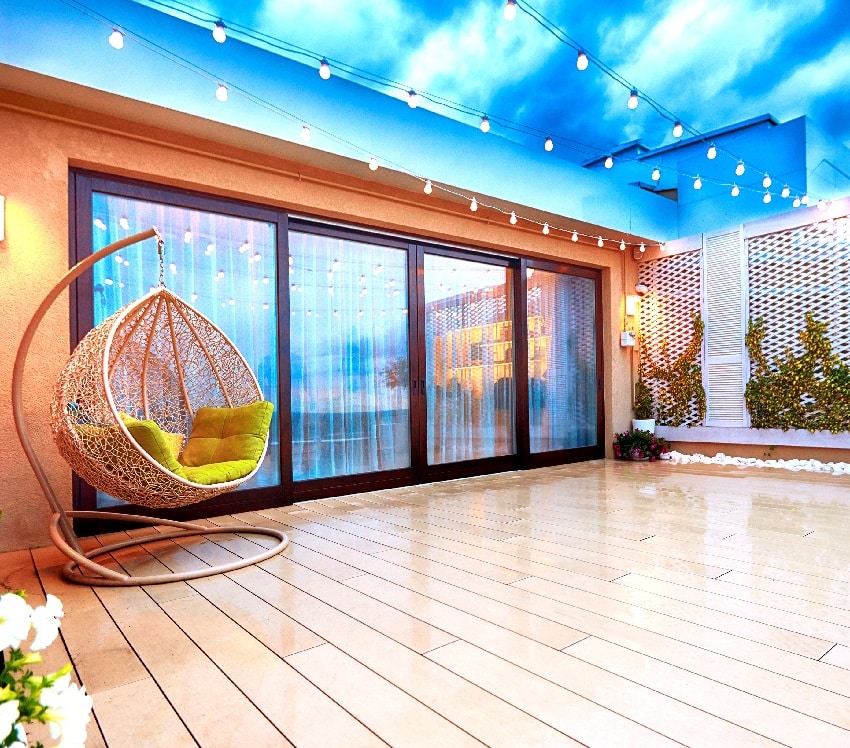 Removing sliding types of patio doors involves a step-by-step process you need to follow. First, make sure you prepare a screwdriver and foam sheets or layers of comforters and heavy blankets. If you feel like it's a heavier task than you can do alone, ask someone for assistance.
1. Place the foam sheets or comforters on the floor because it's where you will set the sliding door down (Very important if your sliding door is made of glass).
2. Use a flat-head screwdriver to carefully life the rollers off the track then move the screen to a safe place
3. Remove the stationary door and use a flat-head screwdriver when necessary. Free it from the tracks and lift the door. Lay it down on the prepared sheets.
4. Remove the sliding door by starting at the bottom of the track. Slide the door until you feel it hit a certain point and use a screwdriver to remove the adjustment screws. Lift the door out from the track and set it again on the sheets.
Tip: Never forcefully remove the sliding doors or they might crack and get damaged.
How Long Does It Take To Install A Sliding Glass Door?
If you hire a professional to install sliding glass types of patio doors, it will take them only around a day to accomplish the task. If you choose to DIY though, it can take days depending on your free time and effort.
Inswing Vs Outswing Patio Doors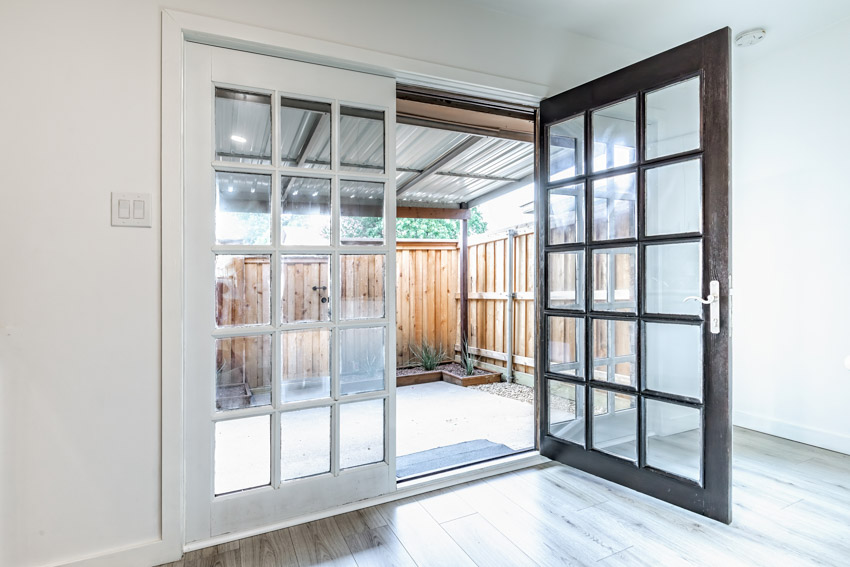 Inswing patio doors are perfect for homes with a small patio but you need to make sure that you have enough space indoors to accommodate the door when it's opened in. Free the space indoors surrounding the patio door from furniture and other possible obstructions.
Outswing types of patio doors are ideal for homes with small spaces indoors but have a large patio. The doors can freely be swung towards the patio with ease. Deciding on which kind of patio door to choose depends on the spaces available in your home and patio.
What Type Of Patio Door Is Most Energy Efficient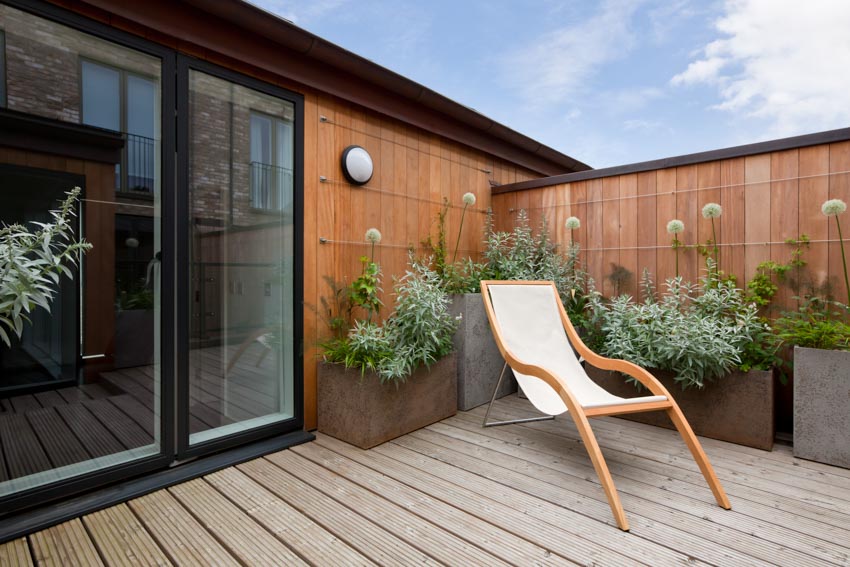 A patio door that's energy-efficient can be made from two panes of glass (insulated with argon in between) with a frame made of wood, vinyl, or fiberglass. Make sure that the installation is professionally done to guarantee its tight fit.
For the type of patio glass doors, though, a sliding option made of glass is more energy-efficient than french patio doors. Warmth and natural light can enter your home with the sliding glass door. But there are also available energy-efficient french doors you can buy from the market.
See more related content in our article about the different types of patios on this page.