Here's our artificial grass patio design guide including what it is, pros and cons, cost and the best types for your backyard patio, porch or balcony.

There's nothing better than walking outside and enjoying the appearance of a lush lawn. However, having real grass on your patio comes with some drawbacks.
For one, you have to put in a lot of effort to make sure that your yard stays manicured and healthy such as mowing, watering, and fertilizing. On top of that, it's hard to keep a lawn looking perfect year-round.
If you want the appeal of grass without the same effort, you can upgrade your patio with artificial grass. In this guide, we'll break down everything that you need to know about artificial grass for your patio.
What is Artificial Grass for the Patio?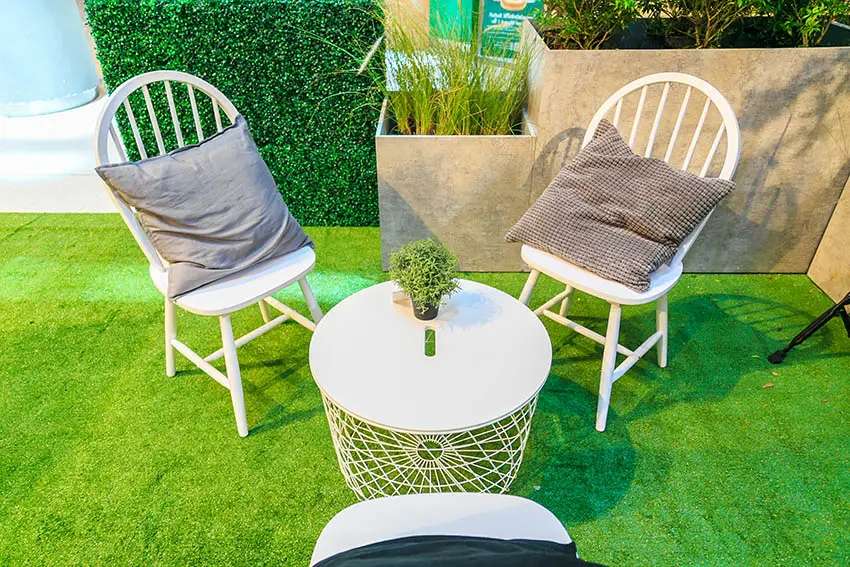 Artificial grass for the patio is made from synthetic fibers to resemble natural grass. The primary materials used to construct artificial grass are polyethylene, polypropylene and nylon. There have been three generations of artificial grass with the newest variation being much more resistant to UV light and wear and tear.
Adding natural grass to your patio is a great way to break up textures, add a bit of color, and add a bit of nature to your patio. The only problem is that this can drastically increase the upkeep of your patio and suffer during the colder months.
However, if you want the benefits of grass without the maintenance, you do have an option that works well. That's where artificial grass comes in for patios. This way, you can install artificial turf that looks like grass, giving your patio a fresh new look without worrying about the regular upkeep that a traditional lawn entails.
With artificial grass, you can take advantage of the benefits of grass without having to worry about pulling out a lawn mower every weekend.
Fake Grass for Patio Pros and Cons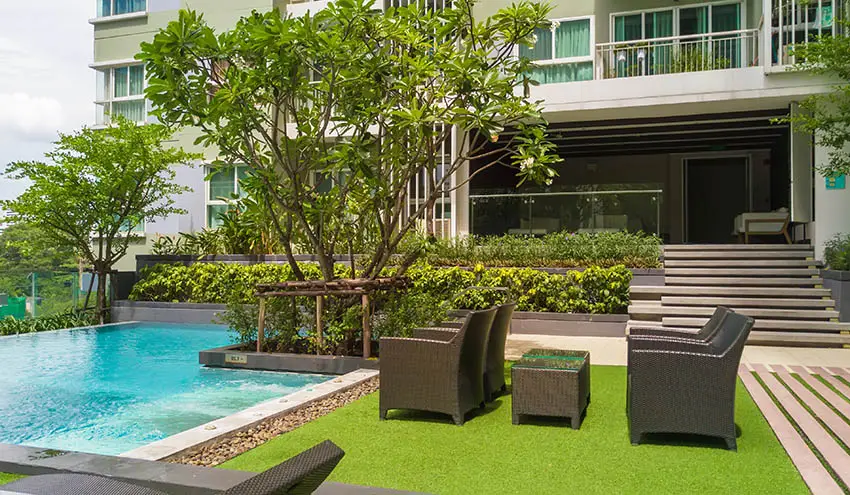 A big part of making any home renovation decision is to consider not only the advantages but the disadvantages that a renovation can lead to as well. Just like any other home renovation, fake grass from your patio comes with pros and cons, both of which we'll take a moment to break down here.
Fake Grass for Patio Pros
Low maintenance – Let's start with the positive aspects. For one, the aesthetic appeal of fake grass is obvious. It offers you all the enjoyment of a lush lawn while not requiring any of the extensive maintenance that comes with real grass.
No pesticides or fertilizers needed – Fake grass will maintain its healthy and manicured appearance without the need for steps like mowing or watering. This also means you won't have to employ the use pesticides or fertilizers which can sometimes come with the maintenance of real grass.
Drys quickly – In addition, you can rely on artificial grass to dry rather quickly after it rains. This means that you can enjoy your patio almost anytime without worrying.
Durable – Artificial grass is often more durable than a traditional lawn as well. This means that if you have a lot of foot traffic on your patio or it will be a place where kids play, you're less likely to see the wear and tear that this type of activity will show on natural grass.
Dog and cats can use it to pee and poop – A great thing about artificial grass compared to natural grass is that dogs and cats can use it to urinate and poop without ruining it.
There will be some maintenance such as washing off any urine and picking up poop. However, unlike real grass it will not discolor and die off. To help remove any pet urine smell from your artificial grass one can use one of the cat and dog outdoor odor removal products.
Fake Grass for Patio Cons
Still, there are some drawbacks to artificial grass to consider before you add it to your own patio. These are the tradeoffs that you should be aware of.
Can get hot – On a hot day, you'll want to be careful on your artificial grass patio. In the sun, it can heat up and is usually hotter than the ambient air around it. The good news is that this isn't damaging to the artificial grass itself as it is just uncomfortable underfoot if you aren't wearing shoes.
Chemical composition & off-gassing – The other major concern with artificial grass is concerning the chemicals involved. There are some artificial grass options that use more harsh chemicals than others, though, so it's a good idea to do your research on the company you're considering buying from before making a final decision on your artificial grass option.
Another concern with artificial grass is that when it rains, the chemicals in the artificial grass can lead to runoff to water sources nearby. This is particularly a problem during severe weather like heavy rain or thunderstorms.
Artificial Grass Patio Cost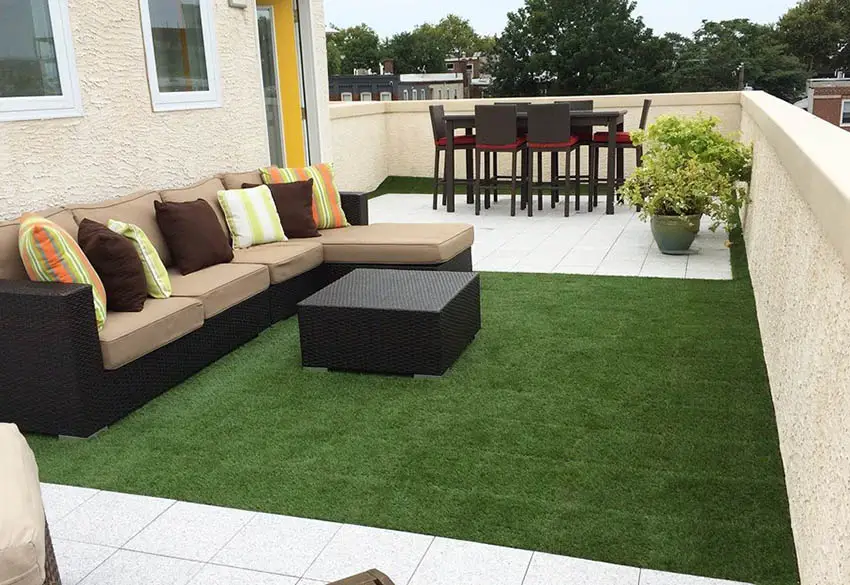 See this artificial grass patio with drain holes at Amazon [sponsored link]
Aside from just knowing the pros and cons of the material, it's important to know whether an artificial grass patio works with your budget.
Artificial grass is often sold in a range that sits between $5 and $20 per square foot with an average of about $12.50. Of course, this price can vary depending on where you source your artificial grass and varying installation costs.
This is much more expensive than laying down sod which can cost less than a dollar per square foot. Yet, it's worth noting that this only takes the upfront cost of the materials, not their maintenance over time.
These additional costs can add up fast for sod given the level of maintenance for living grass. Artificial grass has fewer ongoing costs regarding maintenance, making it a worthwhile investment.
Best Fake Grass for Patio
You have a lot of options when it comes to shopping around for artificial grass for your patio. However, that doesn't mean that every decision is as good as the last one. That's why it's worth noting some of the best choices for features you have when it comes time to look around at options for artificial grass.
As we've already said, you'll want to look for something as environmentally friendly as possible to reduce the carbon footprint that your artificial grass will have.
Of course, you'll want something durable as well. This way, your artificial grass will last quite a while. To ensure that your artificial grass retains its vibrant color for years to come, it's a good idea to choose artificial grass that features UV protection.
Another concept to consider is the texture of the artificial grass options in question. If possible, it's best to choose artificial grass that's softer for a more realistic experience. Plus, it will be much more comfortable to walk on if you ever want to spend time on your patio barefoot.
Finally, the installation for your artificial turf, while following a general template, can vary between options. If you want to keep the project as straightforward as possible, it's best to consider artificial grass with an easy installation period.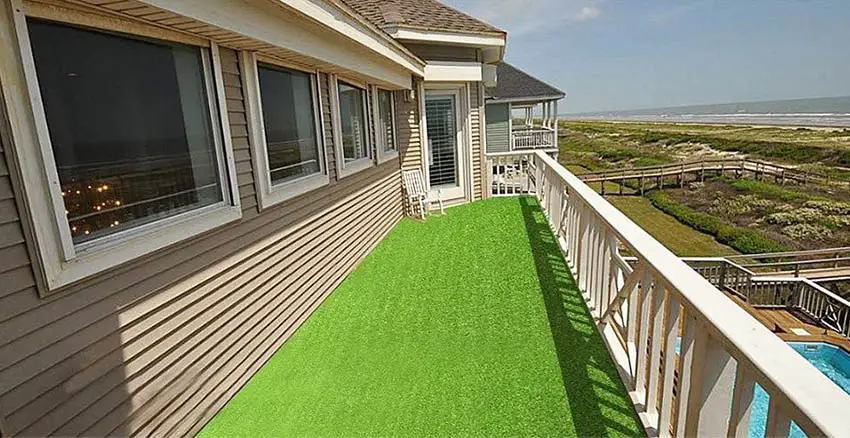 See this Pet Grow PG1-4 artificial grass rug at Amazon [sponsored link]
The best overall artificial grass is Pet Grow PG1-4 artificial grass rug. This can be positioned where you need it without worrying about a permanent installation.

See this 5ft x 8ft synthetic artificial grass product at Amazon [sponsored link]
A great choice for the patio or balcony is the Petgrow synthetic artificial grass turf. This product comes packaged in a 5ft by 8ft roll. It's designed with drainage holes and the polypropylene material is easy to clean.
For more related information see our article about artificial grass around the pool.