Here we share our gallery of stamped concrete patio designs including brick, flagstone, cobblestone and Roman slate ideas.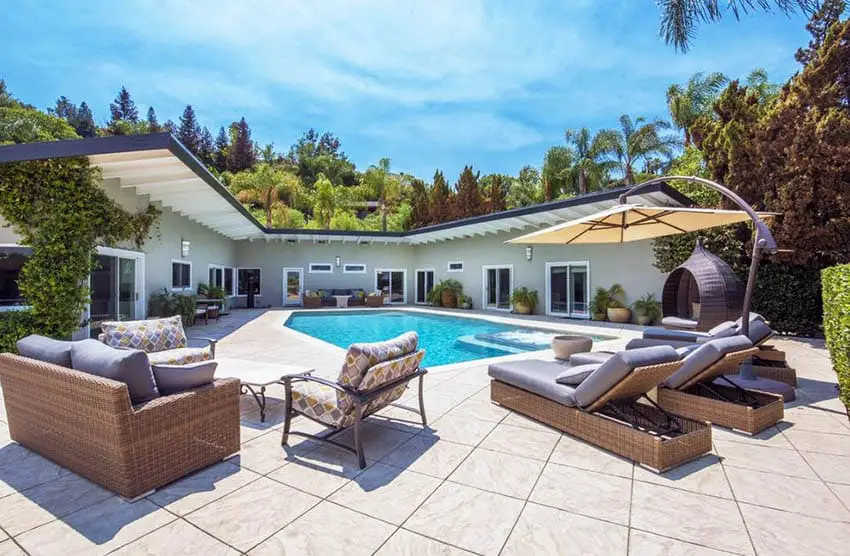 Your patio is an important part of your home. It can serve as the place that you entertain friends during a summer barbeque or having a relaxing poolside afternoon. Since it's such an integral part of your home, you're going to want to make sure it looks good. When you first start looking around, the choices you have can seem overwhelming.
Today we're going to break down one of those choices into everything you need to know: stamped concrete patios. For stone patio designs visit this page.
What Is Stamped Style Concrete?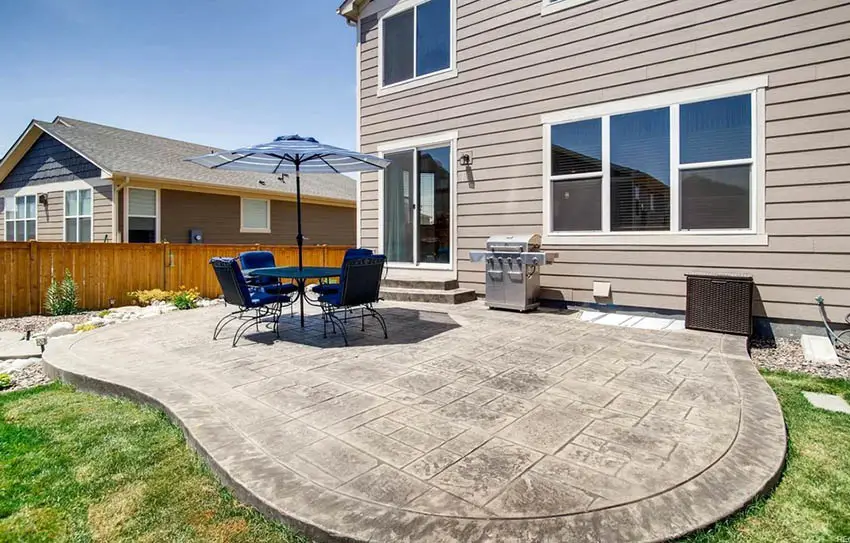 Stamped concrete is a great way to get high-end designs without the high-end cost. The way this type of patio is installed is through concrete being poured into the patio area – just like a plain concrete patio. Once the concrete is poured, its stamped with your choice of a wide variety of designs.
To make these patterns, a flexible and large polyurethane stamps. Each of these stamps is usually around 2 feet by 2 feet and an inch or couple of inches thick.
Your contractor might press these into the concrete themselves or they may use a tamping tool to do so. The contractor will also spray the stamp before use to ensure that no concrete sticks to it while being used.
Because of this process, most homeowners vouch for a professional installation rather than taking it on as a DIY project. While a seasoned DIYer might be able to pull it off, it's a difficult process with specialized tools and any mistakes risk being permanent.
Stamped Pattern Concrete Styles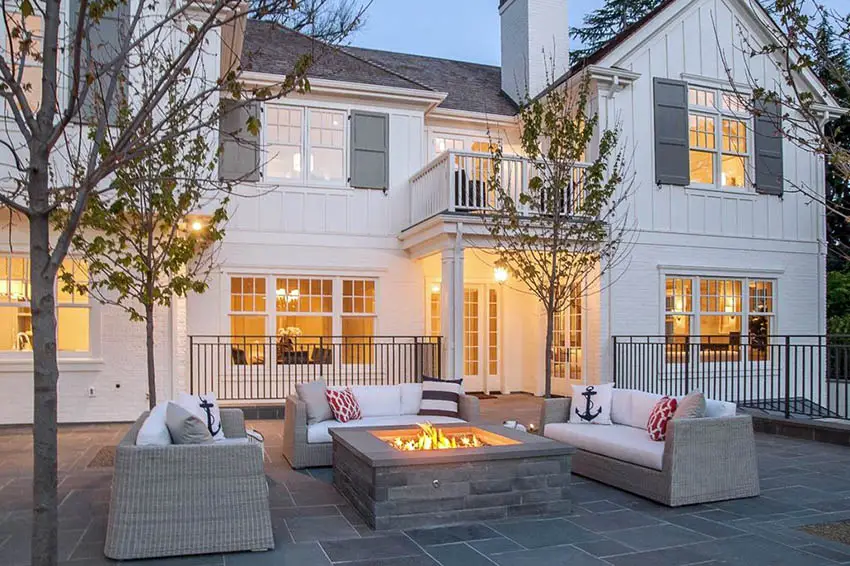 When many people think of concrete patios, they think of simple gray slabs. As we've already discussed, this isn't the case when it comes to stamped concrete.
With so many options to choose from, it can be overwhelming to not only choose but know what options you have to consider. So, let's take a look at some of the most popular patterns to get an idea for it.
Stamped Brick Concrete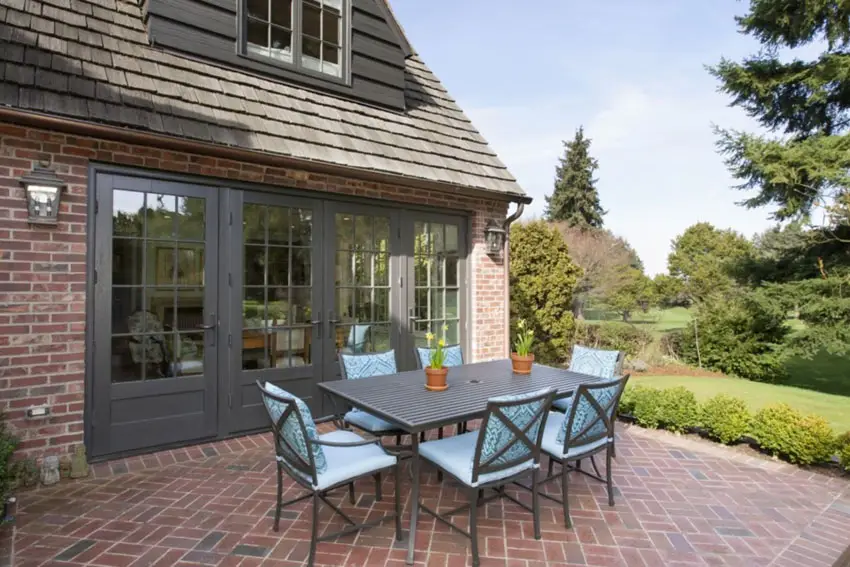 Genuine brick patios can cost you as much as $20 per square foot. This means it's great news that you can get that same pattern for a fraction of the price. Brick stamped concrete is a good way to give your patio a classic and uniform appearance.
Brick stamped concrete doesn't just use a set of rectangles to create the shape. A full illusion is given by stamping in a textured brick pattern with coloring meant to resemble the real thing. In other words, you can get a pretty spitting image of a brick layout.
It should also be noted that any brick pattern can be used. The most commonly used pattern is a running bond – this is the pattern most brick walls take on. Stack bonds follow the same thread but stack vertically.
When it comes to patios, many want a unique brick pattern. Basket weaves are popular and they use an alternating horizontal and vertical surface. Diagonal basket weaves use the same idea with a slight slant. Herringbone designs use a "zigzag" pattern that can be traced back to paved streets in the Roman Empire.
A Spanish bond is beautiful but, in traditional bricklaying, rather difficult. It involves a pattern of four, full outer bricks wrapping around a center half-brick. Each section makes up about a square foot. Since stamped concrete doesn't require bricklaying, this can be a great way to get a more complicated style.
Stamped Cobblestone Concrete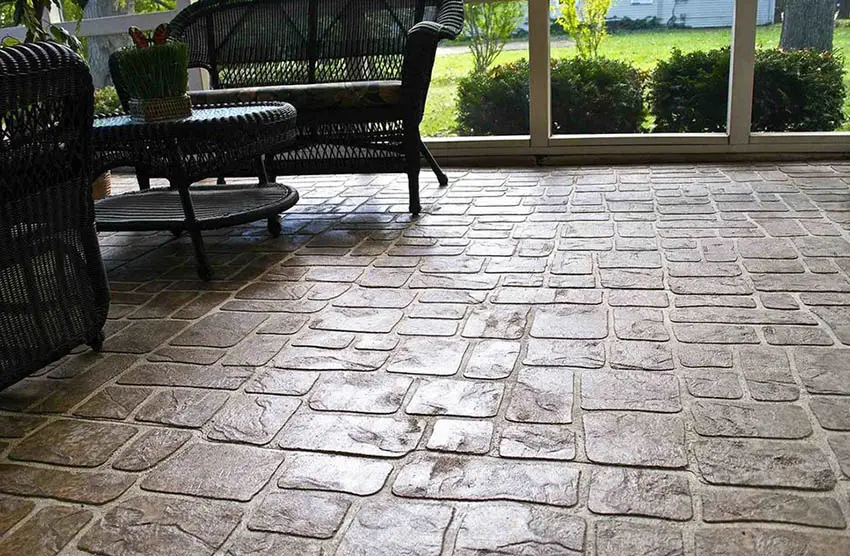 Cobblestone is often revered for its classic beauty. We tend to associate it with roads for horse-drawn carriages and historic preservation sites. Because of this, it can be a great compliment to older houses or ones that have adopted similar themes.
Just like bricks, there is a lot of freedom in the patterns of cobblestone. They can be a standard running bond or even square imprints side-by-side. It can also take on more circular patterns flowing into one another to create a beautiful design.
If you really want a historic feel with your cobblestone, you may go for the original, rougher pattern. This usually includes copying the shape of irregular, rounded stones with deeper impressions between them.
These uneven patterns are more faithful to how cobblestones started, but it could be challenging for someone with limited mobility to navigate.
Stamped Flagstone Concrete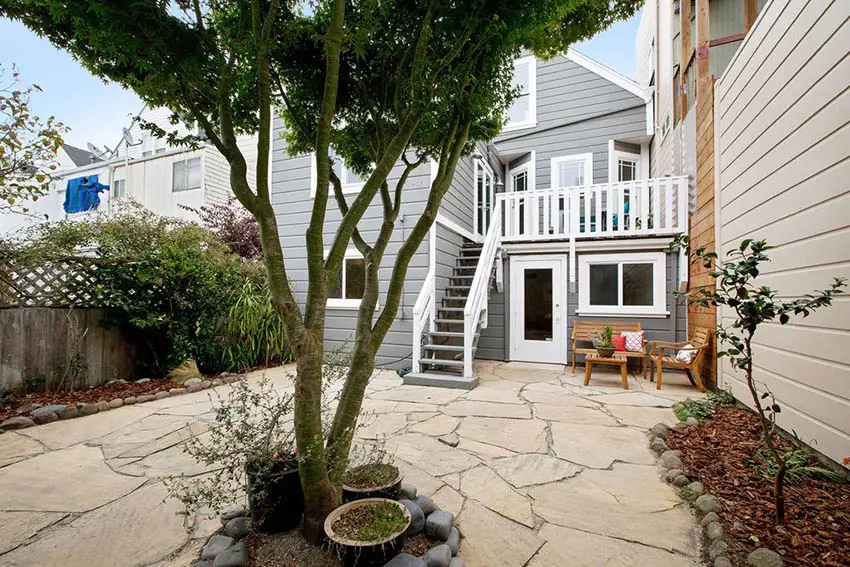 Flagstone is a flat stone used for walkways, patios, flooring, and fencing. While more modern than cobblestone, flagstone patios have been a popular choice for quite a while.
Stone patios of any kind are appreciated for their one-of-a-kind appearance. These stamps typically resemble stones with irregular shapes, meaning even patios with the same concept may look wildly different.
Since this type of stamping is meant to resemble stone, it can also yield unique color patterns as well. The caveat is that if you want a realistic-looking stone stamp, it usually includes hand-stained designs and more intensive installation, so it potentially comes with a bit of a higher price tag than other patterns.
Flagstone is also praised for its smooth surface. While using varied shapes, the surface is usually rather flat.
Stamped concrete is also at an advantage over real flagstone because the risk of grass growing between stone shapes is virtually unheard of with the right upkeep. This advantage makes it one of the easier options to navigate.
Stamped Wood Concrete
Stamped wood concrete is an option that provides the aesthetics of wood without some of the downsides of choosing wood.
Wood flooring and patios require a significant amount of maintenance over the years, whereas wood stamped concrete only needs to be re-stained in the case that the color begins to fade.
Wood stamped concrete is also much more durable than genuine wood flooring which can be prone to gaps and scratching.
This style of concrete can be stained to resemble virtually any kind of wood, so it can easily be made to match the existing decor in the home.
This also gives homeowners a range of options as to what fits their decor. Essentially, they have nearly as many options as they would have when choosing wood styles – even down to the imitation of grain patterns.
Another advantage of wood stamped concrete is its affordable price, which is lower than that of traditional wood.
Stamped roman Slate Concrete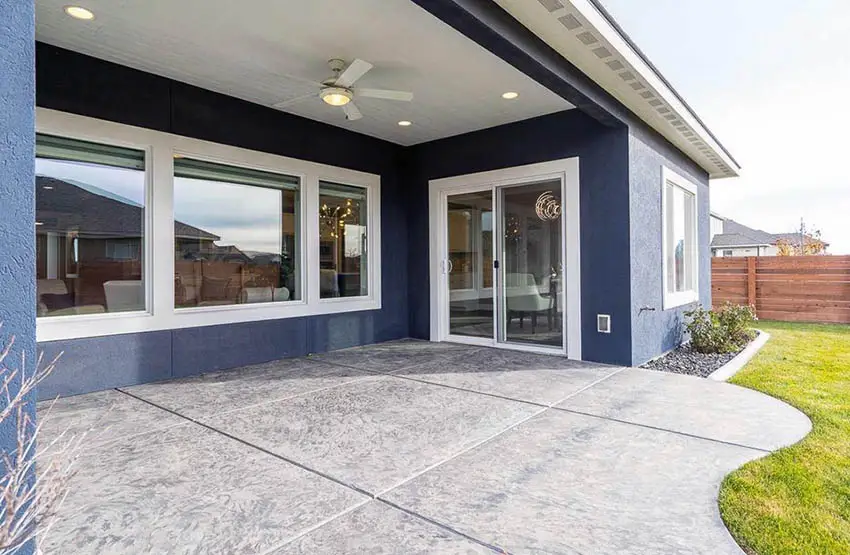 Roman slate is probably one of the simpler design options you have while still offering a distinct difference from the standard smooth concrete finish.
Much of this comparison comes from the fact that roman slate is often used in large tiles or even large, more continuous slabs. Roman slate can also take on more of a brick-shaped pattern, but this isn't its most popular form.
Even accounting for its layout, there are distinct differences in Roman slate versus plain concrete. Namely, it's textured.
Roman slate stamps are made to resemble the natural patterns you'd expect from stone which gives it what many think of a more high-class appearance.
These textures are also paired with interesting color patterns. Since they are meant to be natural, it's common that shades or pairs of colors come into use.
This texture is also praised for its versatility which allows it to fit in with almost any architectural design. Because its surface is slightly ridged without having deep depressions, it's a common choice for poolside patios since it's easy to walk on and helps add more traction than unstamped concrete.
Stamped Colors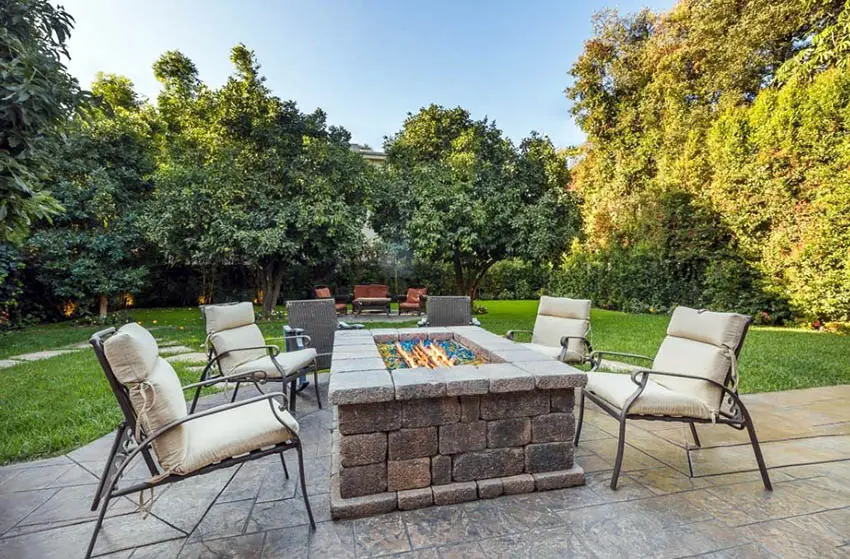 A big appeal to stamped concrete, aside from the imprints themselves is the color choices among them.
While dyes can be mixed in with the concrete before pouring it dry color pigments on the surface of the concrete before stamping it stands as another way. It's worth taking a closer look at these processes.
For one, there are integral color pigments. This is done through infusing the concrete itself with colors that rich and resistant to fading during the mixing process.
On the other hand, there are dry-shake color hardeners. That comes as powders. These are used directly after concrete laid. While initially broadcast by hand then instilled deeper by use of a float or trowel. These are the colors that are laid on before stamping.
Instead of depending on one or the other between these, many contractors use them together. This allows them to create more in-depth and longer lasting designs.
There are a few color options when it comes to stamped concrete. There are a few patterns that are used more often than others.
White-on-white designs have a lot of appeal. To start, it creates a high-end, sleek, and modern look. In addition, it stays cool even under an afternoon of the hot sun. This keeps it in especially high-demand for pool decks.
Varied colors are also common, especially with brick-stamped concrete. These can be done to mimic the look of natural stones. These may cost more since many contractors color this concrete by hand or use custom mixes.
Overall, the aim of a concrete patio is, typically, to match the existing design of the architecture of your house. This way, the design is seamless and doesn't clash.
Stamped Decorative Concrete Cost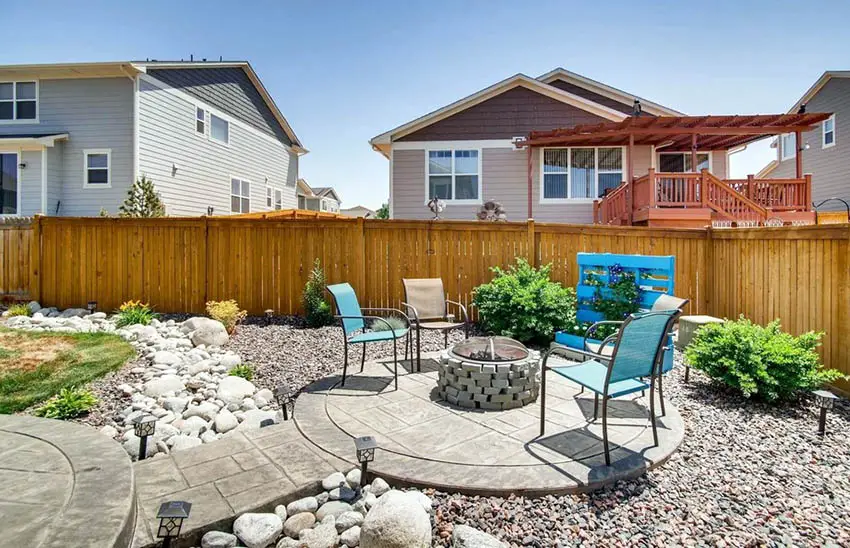 While aesthetics weighs heavily on home design decisions, the cost of that design plays a huge role for most homeowners. Here, we are going to break down the cost that goes into purchasing, installing, and maintaining a concrete patio as well compare it to alternative options.
So exactly how much does it cost to put in a stamped concrete patio? Stamped concrete isn't as expensive as you might think but there are variations on price depending on what you choose.
If you're going for one color and one pattern, you can expect to pay around $8-$12 per square foot. Two to three colors and a contrasting border will bring it up to $12-$18 per square foot. The price can jump higher for more complex patterns or hand-stained designs.
By comparison to the actual material that stamped concrete mimics the patterns of, though, this is a much more affordable price. Brick, for instance, costs $14 to $20 per square foot while stone, marble, or slate sit in a range of $17 to $28 per square foot.
The cost of a stamped concrete patio depends on more than the cost of the concrete alone. As mentioned before, it also depends on the type of pattern you choose. Choices such as hand-applied stain accents and multiple design patterns will run at a higher price.
How Long Does Patterned Concrete Last?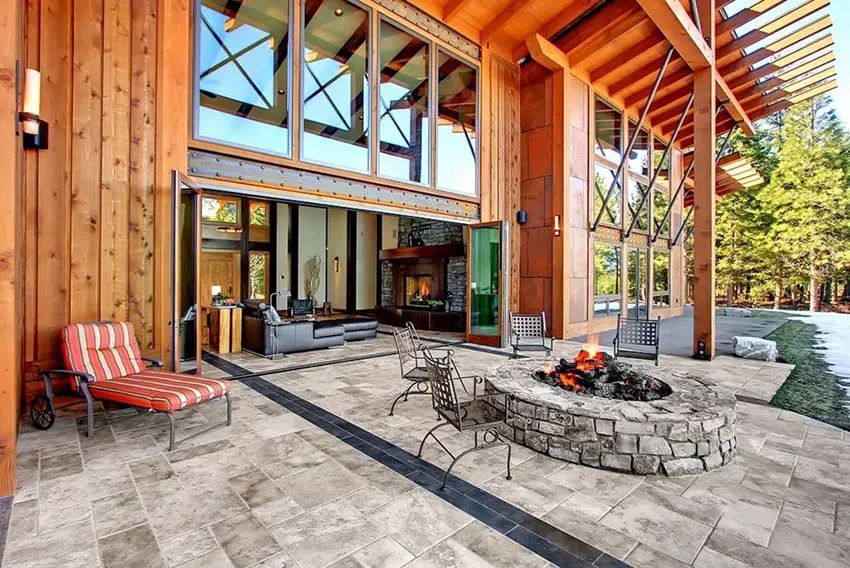 As with any other home renovation, the longevity of patterned concrete is an important factor to consider before it is installed. With the cost of installation as it is, it's important that the product will last as long as possible.
In the past, stamped concrete was prone to premature cracking, and therefore a shorter lifespan than traditional concrete.
In recent years, however, stamping the concrete to a uniform depth has become easier, increasing its durability and lifespan significantly. Patterned and textured concrete now has a lifespan similar to that of traditional concrete, lasting about 25 years.
The sealants used in stamped concrete may actually make it last slightly longer than its traditional counterpart. These sealants are added to protect the quality of the design and color, but can also prevent cracking.
As stamped concrete ages, it may begin to look chalky or faded. This can be reversed by adding a fresh layer of sealant, which should be done every three to four years.
Problems With Concrete That Is Stamped
Of course, while it offers a lot of value, stamped concrete has its drawbacks just like any other material you might use.
For one, the surface colorants used in stamped concrete don't always last as long as the concrete itself. Luckily, this can be combated by having dyes mixed with the concrete before it's poured and stamped as discussed earlier.
There's also the concern of deep depressions but this also comes down to design choices. If you choose a deeper set design, it could be a problem for those with limited mobility.
ADA guidelines suggest no ridges should be higher than ¼" when accommodating for those with limited mobility.
One more problem to consider is that if the concrete is laid improperly you may have ridges around the stamped patterns. To avoid this, it's a good idea to look around at what people say about the contractor they're considering before hiring them.
One point that some may consider a drawback is that concrete takes a while to set. During and after installation, you should be prepared to avoid your patio for as much as 3 to 5 days not to damage the design. It could help to get the job done during a time of year that you don't frequent your patio. Read more about stamped concrete pros and cons here.
Stamped Vs. Pavers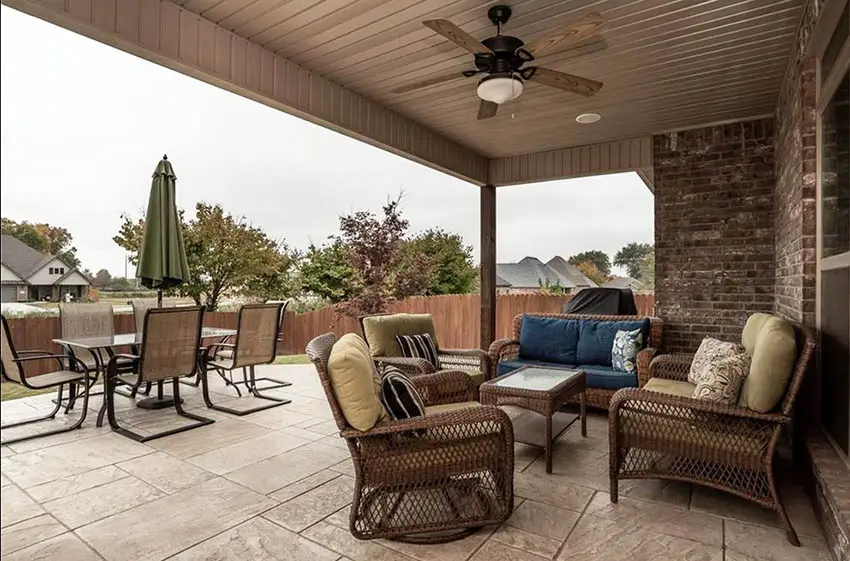 Of course, when considering a patio design, it's important to think about a wider range of options. Alongside stamped concrete, the choice of pavers frequently comes up. So, it's necessary to think of these choices measured against one another.
First off, both designs allow for a lot of variation but there is a point when stamped concrete wins out. While pavers are mostly limited to stone designs, stamped concrete, as we've discussed already, can imitate almost anything.
There is also the matter of safety against trips and slips. While smooth concrete is associated with the danger of slips and trips, the texture of stamped concrete helps to reduce the risk.
Pavers can also get slick on rainy days but the grout lines help with drainage. As for other weather conditions, you may see that pavers are just slightly easier to put your bare feet thanks to their low heat absorption.
The level of upkeep between concrete and pavers are both a give and a take. While concrete needs resealing once every few years, pavers also need the lines between slabs filled periodically.
Stamped Design Concrete Vs. Pavers Cost
Cost is another key to this comparison. As we've already explored, the cost of stamped concrete can vary anywhere from $8 to more than $18 per square foot depending on the design you go with.
When it comes to this distinction, though, concrete has a clear advantage over most paver options. The cost of pavers depends on the material being used as a paver.
At the lower end, a stone patio is relatively inexpensive and does beat out most stamped concrete for an average of $4 to $8 per square foot. Moving up from there, brick pavers cost about $10 to $15 per square foot and slate averages about $15 to $20 per square foot.
There is also the upfront and long-term costs to consider, however the upside is the enhanced curb appeal and home value. Some point to paver as the better choice because it's an easier DIY but renting or buying everything needed to do it adds up fast.
Pavers are also more likely to need replacement or repair. The maintenance for concrete mostly lays on resealing which can cost as little as $0.05 to $2.50 per square foot.
Can Existing Concrete Be Stamped?
Being able to stamp your existing concrete patio can depend on a few factors. First and foremost, a concrete patio that's heavily damaged may not be able to be resurfaced. You can usually contact a contractor to see if your concrete can be stamped and get an estimate on it.
The second factor is placement. Laying a bit of new concrete over the old is going to add about an inch or two to the height. This is usually fine but can be an issue if it touches your siding or interferes with step placement.
If your patio fits this criterion, stamping your concrete should be doable. It also is potentially cheaper, since the concrete isn't being laid from the ground up.
Can This Concrete Be Painted?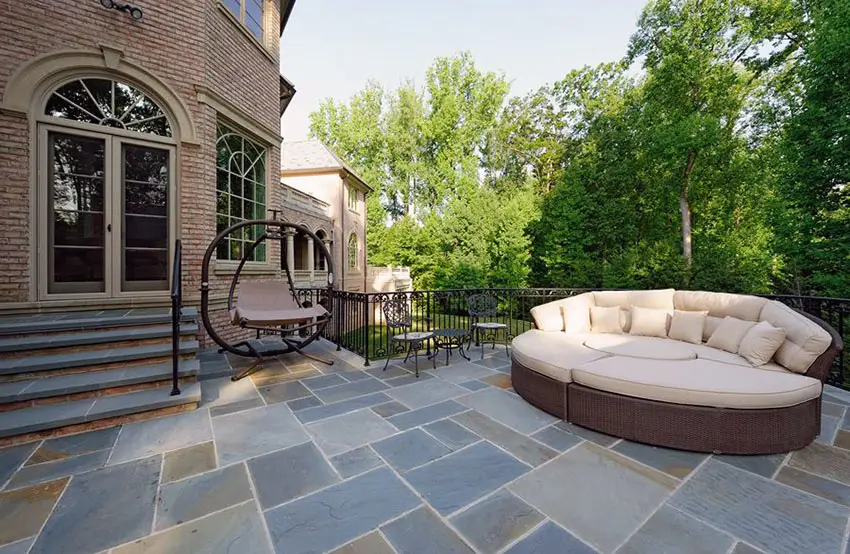 As home decor changes, it may become prudent to paint stamped concrete so that it matches the rest of the home.
Concrete is a porous material so it easily soaks up paint when applied. In addition all concrete patios will tend to fade over time. So whether you want to change the overall look due to changes in style or sunlight you can restain, or repaint to give it a brand new appearance.
Unlike traditional concrete, however, stamped concrete has a texture that can affect how the paint collects on the surface, resulting in pooling in the grooves. This can be prevented by hand painting the concrete, rather than rolling or spraying it.
Before the stamped concrete patio can actually be painted, there are a few steps that need to be completed so that the concrete accepts the paint as best as possible.
First, the stamped concrete must cure for at least one year before paint is applied. If the paint is applied before the concrete is cured, the salt and moisture within the concrete will cause the paint to loosen from the surface.
Stamping a Concrete Pool Deck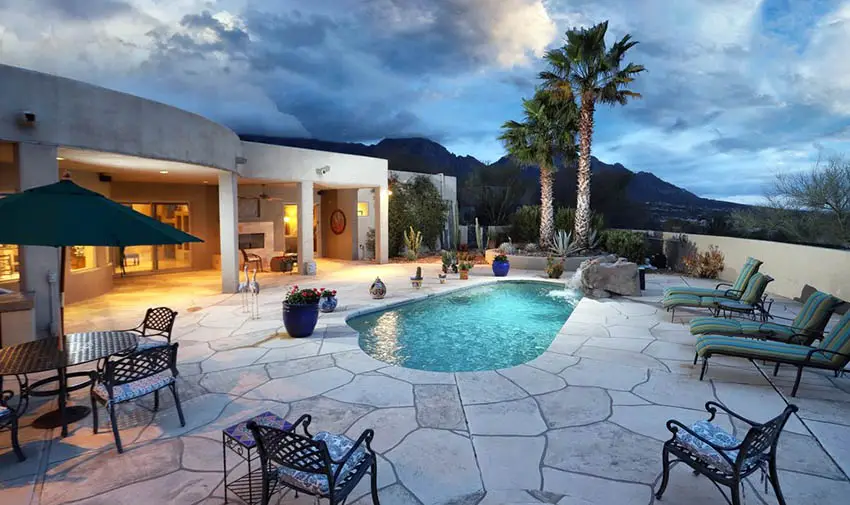 Stamped concrete works as a great material for pool decks. It can be made to resemble stone that may not otherwise be ideal for the deck. When sealed properly, stamped concrete is resistant to wear from pool chemicals such as chlorine and performs well with water exposure.
The deck will need to be resealed with some regularity, however, to ensure that it continues to resist wear over the years.
Most contractors suggest sealing your concrete pool deck at least every few years for the best results. But, as we pointed out earlier, this isn't anywhere near as much of an investment as the initial installation.
Are Stamped Surfaces Slippery?
When choosing materials for a walkway or pool deck, it's important to pick a material that won't spell out trips and falls for wet feet.
Luckily, because stamped concrete has texture, it is significantly less slick than conventional concrete. It's important to remember, however, that even stamped concrete can become slippery if it's wet.
There area few ways to increase the slip-resistance of stamped concrete to keep everyone safe on the poolside or in the rain.
Stamping the concrete with a deeper or more detailed design is one way to increase the slip-resistance of your walkway or deck.
Another way to decrease the chance of falls is to add a non-slip additive to the stamped concrete patio. to work with you to ensure that the walkway or deck is slip-resistant.
Visit our gallery of patio designs for more ideas for your home's backyard.