Here's our guide to cedar decks pros and cons with information about different types, board sizes, cost, stain and maintenance.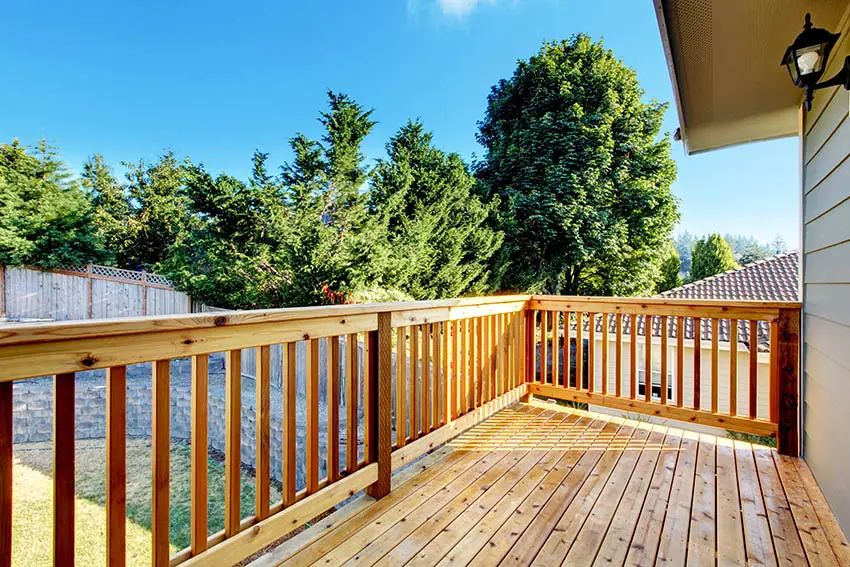 Cedar is a durable wood species that has been widely used for building houses and backyard decks. The wood has a natural resistance to insects, rot and resisting moisture. It also has a beautiful appearance, long lifespan and low maintenance that makes it an attractive choice to use for a wood deck.
What Is Cedar Decking
Cedar is a coniferous tree that grows well in mountainous climates, but has been cultivated all over the world. When logged and turned into planks, it can be used as a decking material.
Cedar decks have many advantages over alternatives like pressure-treated woods and composite decking.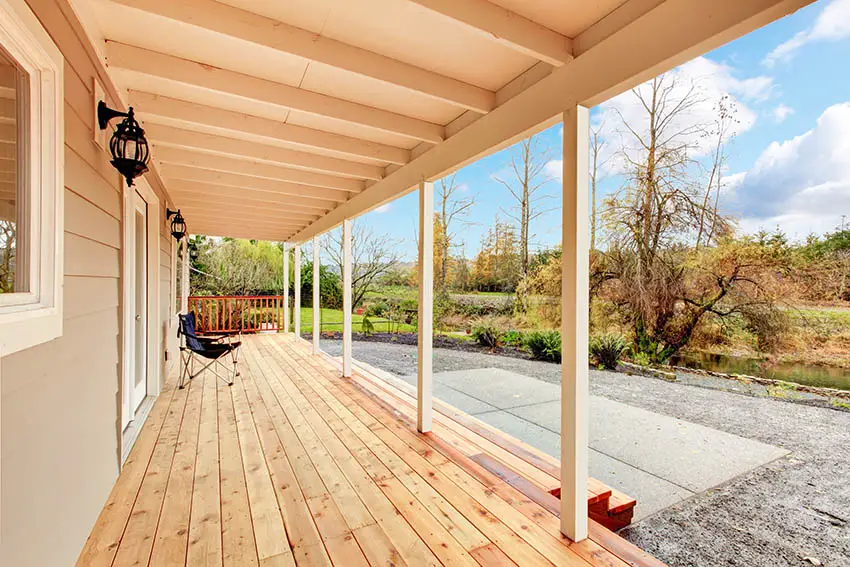 Pros of Cedarwood Patio
When it comes to cedar decks pros and cons there are many more pros. Here are some of the top reasons cedar is one of the best choices for a wood deck design.
Tight wood grain – Cedar has several properties that make it an ideal decking material. It has a tight, small, even grain with an almost liquid appearance, and a pleasant, fragrant aroma. No resin or sap is present in cedar boards, so they easily and evenly accept stain.
Straight boards – They are extraordinarily stable. Because pressure-treatment often does not penetrate the full depth of the board, decks made of this material are susceptible to warping, cupping, and twisting when the untreated core is exposed to changes in moisture or temperature.
Cedar decks avoid this pitfall. Planks cut from cedar trees lay flat and stay straight — exactly the qualities you want for the surface of your deck.
Naturally resistant to insects & rot – In terms of longevity, natural preservative oils present in the wood help fend off damage from insects and rot. When sealed appropriately, it has resistance to fungus and mildew, as well.
Left exposed to the sun, cedar will gradually weather to an attractive gray. However, if you want to preserve the color of your cedar deck, UV protective sealants will do the job.
Assortment of colors – Cedar planks come in a wide range of colors, from light honey tints to deep brown with russet tones.
Long lifespan – Cedar wood has long life span of between 15 to 30 years with proper care and maintenance.
Thermal properties – Unlike composite decking, which traps heat from the sun and scorches bare feet, cedar has thermal properties that allow it to absorb and distribute heat, keeping it comfortable to walk on all summer long.
Less expensive than composite decking – Cedar is also significantly less expensive than composite decking material.
Eco-friendly – Cedar is a renewable resource, and can be harvested responsibly. Check that the lumber you purchase is FSC certified. This certification, awarded by the Forest Stewardship Council, indicates that the product is a result of responsible forest management.
Accept stain – DIYers love cedar planks because they are uniform, easy to work with and accept stain well.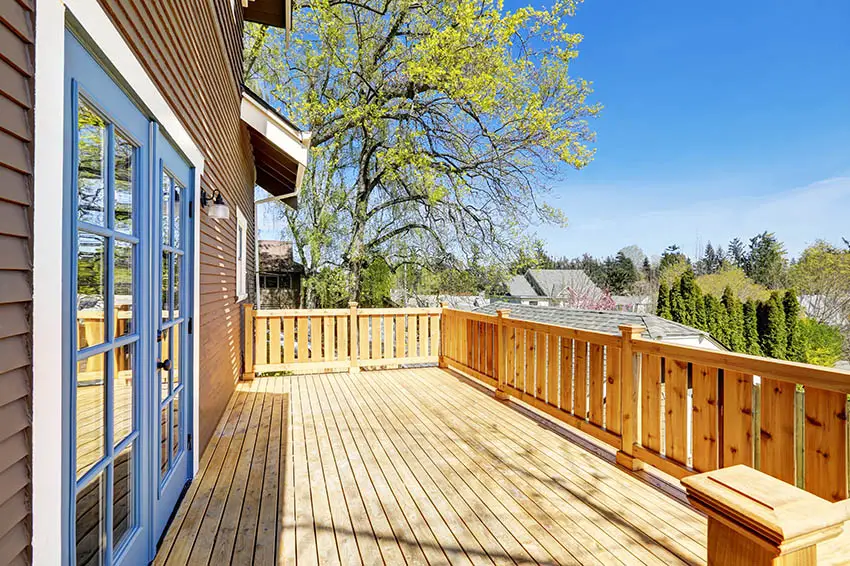 Cons of Cedar Rustic Decking
Can dent or scratch compared to composite – If you're considering cedar for your new deck, there are few things you should keep in mind. Unlike composite decking, which is virtually indestructible, it's possible to dent or scratch cedar planks. The most common culprits are heavy deck furniture and pet claws.
Leaves should be removed to avoid mildew – The build-up of leaves or pine needles can trap moisture inside the planks, making mildew and fungus more likely.
Requires more maintenance than composite decking – No matter what material you choose for your deck, it's going to be outside and exposed to the elements.
Keeping it in good condition will require some maintenance. In the case of cedar decks, they generally need to be power washed and resealed at least every other year.
Read more about two popular types of composite decking at our Timbertech vs Trex decking article.
Cedar Boards for Decks
Once you've decided on cedar for your deck material, it's time to source the lumber. Here are some terms you might encounter, and what they mean.
Western Red Cedarwood Decking
The most common type of cedar used for decking is Western Red Cedar. Western Red Cedar is widely available in the US. The heartwood is resistant to decay.
The large size of the Western Red Cedar tree, when compared to other varieties, means that large boards can be planed from a single tree.
Boards cut from Western Red Cedar are subject to minimal shrinkage during the seasoning process.
Clear Cedar Timbered Patio
'Clear' is a designation given to lumber by the Western Red Cedar Lumber Association, or WRCLA for short. Architect Clear grade lumber is available seasoned or unseasoned, and is usually manufactured to order.
This is the highest grade of cedar available, and will have no knots or defects. Custom Clear is the second highest grade, is highly machined, and will contain very few defects.
Alaskan Yellow Cedar Wooden Decking
Technically, Alaskan Yellow Cedar isn't cedar at all — it's cypress. This extremely strong and durable wood is produced from trees along the Pacific coast of Canada and southern Alaska. It is more expensive than Western Red Cedar because of limited availability.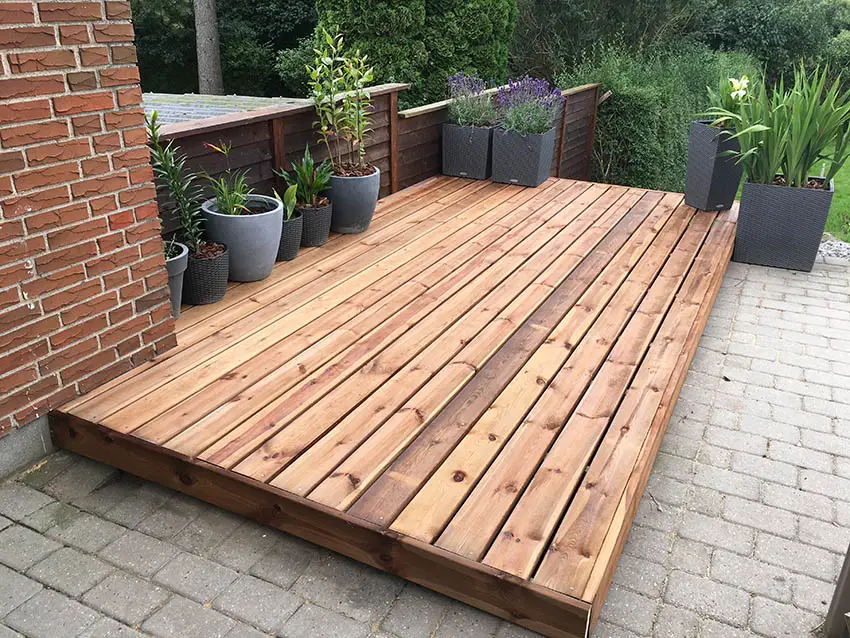 Cedar Deck Board Sizes
If you've never ordered lumber before, the process can be very confusing. Plank sizes are assigned after the board has been rough cut. Then, the plank is planed, reducing its size. This leads to a confusing phenomenon where the actual width and depth of the plank is less than what is shown on the label.
1×4 Cedar Plank Dimensions for Decking
For decks between 16 and 36 inches from the ground, narrower boards are advised to avoid excess movement and cupping. 1×4 Cedar Deck planks actually measure ¾ x 3½".
5/4×4 Cedar Board Sizes
The actual dimensions of 5/4×4 cedar plank are 1×3½". Lumber of this size is also appropriate for cedar decks at least 16" above ground.
5/4 x 6 Cedar Deck Boards
With the same susceptibility to cupping as the other 6" boards, 5/4×6 decking is suitable for installation at least three feet above the ground. At the time of sale, 5/4×6 lumber measures 1 x 5½".
1×6 Cedar Timber Decking Dimensions
1×6 cedar planks are actually ¾ x 5 ½". They are great for balconies or decks that are at least three feet off the ground. When installed closer to the ground, the underside of the board is exposed to moisture, while the top of the board is not. This can lead to cupping, where the sides of the boards look higher than the center.
2×6 Cedar Wood Plank Sizes for Decking
Planks labeled as 2×6 actually measure 1½ x 5½". Like 1×6 Cedar decking, 2×6 is only appropriate for decks with more than 36" of ground clearance.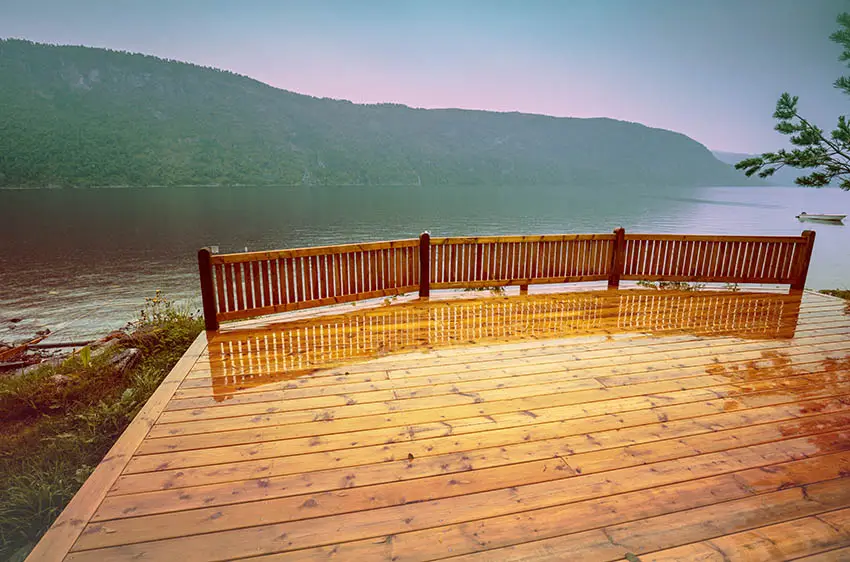 Cedar Wood Board Decking Cost
To calculate the expected cost of your cedar deck, plan on material costs of between $9 and $14 per square foot.
If you are hiring professional labor, expect to pay $20 to $40 per square food. The average cost of a 10×15' cedar deck is $4,500.
Cedar Veranda Railing
You can match your railings to the surface of your deck for a beautiful and natural look. Cedar's rot-resistant properties make it a suitable material for deck railings.
However, the same maintenance requirements that apply to your decking will apply to the railing — it will need to be resealed at least once every other year. See more deck railing ideas here.
Cedar Terrace Screws (What to Use)
Cedar has natural protective oils that help fend off bugs and rot. Certain types of metals react when introduced to these protective oils, resulting in rusting, stains, and streaks. In the worst case scenario, the metals can actually disintegrate.
This makes the choice of fasteners particularly important when it comes to cedar decks. Copper and electro-plated nails and screws are not resistant to corrosion and cannot be used to assemble a cedar deck. Instead, choose fasteners that are hot-dipped galvanized or screws and nails made from stainless steel or aluminum.
Screws are graded based on their composition. 304 grade screws are appropriate for most applications. If the deck will be exposed to salt air, a higher grade of corrosion resistance is required, and 316 grade screws should be used.
When it comes to length, the fastener must penetrate at least one inch to the support beam, or one and a half inches for structural components.
Some homeowners are opting for a fastener-free deck surface. Blind fastening systems are made up of clips and brackets that are attached to the bottom or sides of the board, keeping it securely in place and providing a smooth, unbroken walking surface on the top.
If you are designing your own cedar wood deck their are many deck design software programs that can help with the process. A few of these will allow you to create and visualize your project and provide the amount of materials you will need to complete the job. This way there is no wasted money spent on materials.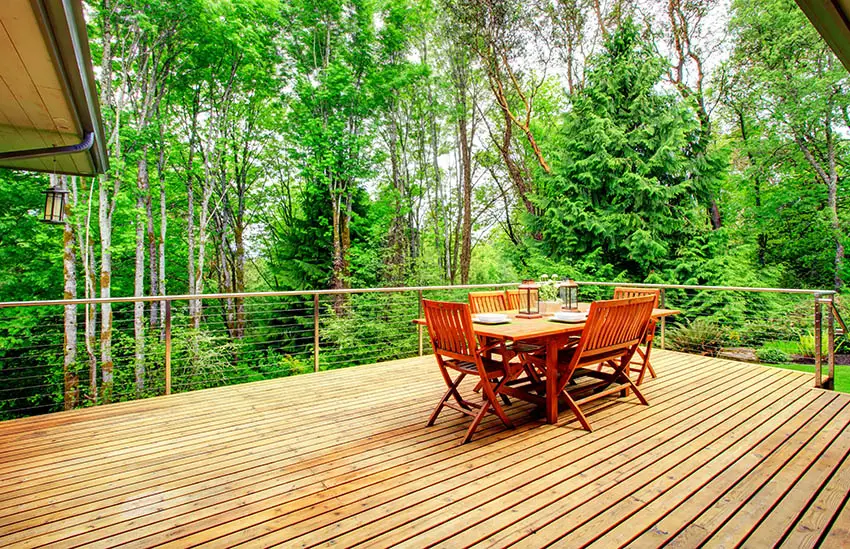 Cedarwood Stain
Some professionals recommend waiting for three months to stain your deck, to allow the wood to dry out and become more porous. Before staining cedar for the first time, use a sodium percarbonate wood cleaner to remove the shiny surface layer known as 'mill glaze'.
If you want to allow the grain and color of the wood to show through, you can skip the stain and simply apply a sealer, or choose a semi-transparent stain.
Solid color stains will significantly alter the appearance of the wood. Note that some oil stains and sealers can take up to 48 hours to dry, and two weeks to fully cure.
Best Stain for Cedar Wood Decks
The best stain for a cedar deck is an oil-based, semi-transparent combination of stain and sealant. The sealant must provide protection from ultraviolet light.
Fungicides and mildewcides should be among the ingredients.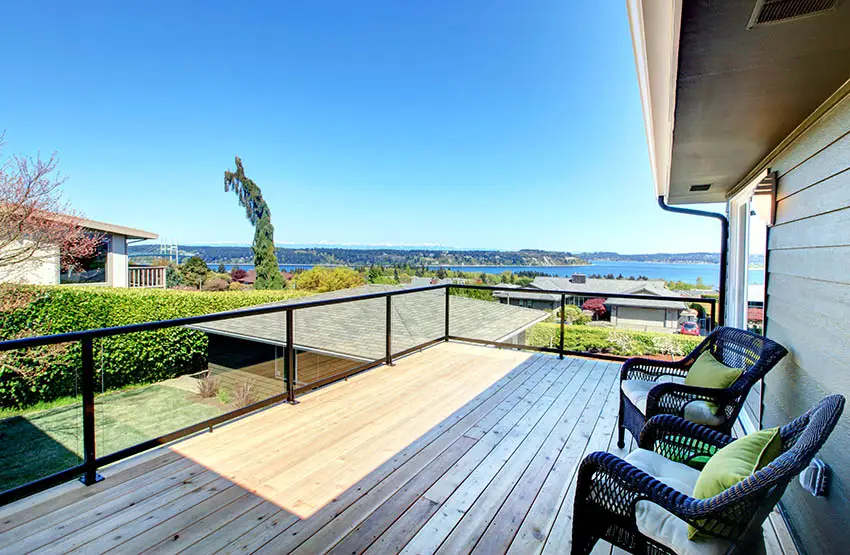 Cedar Balcony Maintenance
With proper maintenance, a cedar deck can be expected to last 15 to 30 years. Ideally, the surface of the deck would be swept on a regular basis, and leaves or pine needles would not be allowed to accumulate.
When it rains, allowing the deck to dry completely can help extend its life. Sometimes this requires moving planters or benches so that the sun can dry the planks underneath.
Plan to power wash and reseal your cedar deck at least every other year. Do not use varnish or film-producing sealants, as they tend to flake and peel away with heavy use.
Instead, opt for penetrating, oil-based products. Your sealant should be water-repellant and contain UV protection, fungicide, and mildewcide.
What do you think of these cedar decks pros and cons. Add your thoughts in the comment section below to let us know how you feel about cedar decks. For more backyard deck ideas visit this gallery page.