Here's our guide to quartz shower walls pros and cons including how they rank for durability, maintenance and design.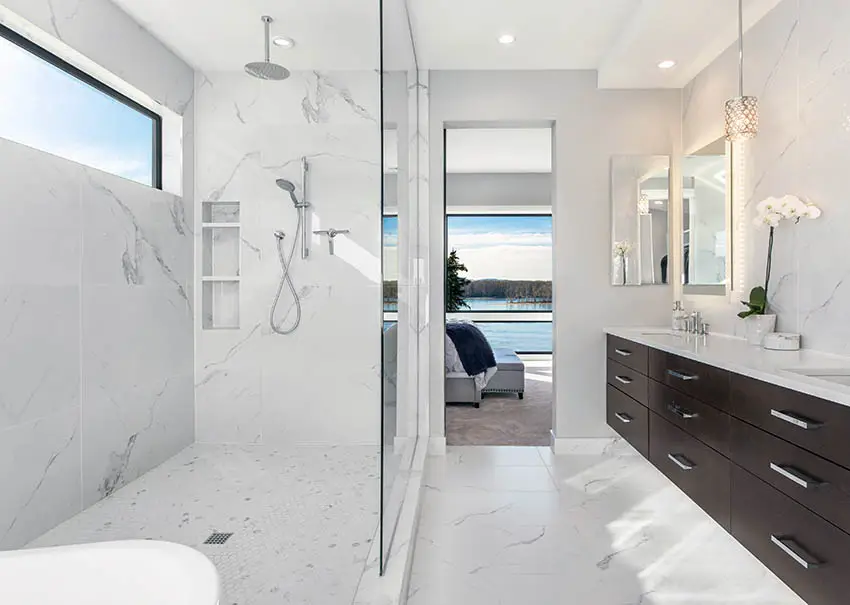 If you're ready to update or remodel your home, interior design trends now include using traditional materials in non-traditional settings.
Quartz, a solid, durable engineered stone, is typically associated with kitchen counters; however, quartz is gaining popularity used in bathrooms for counters, flooring, benches, and shower walls. Quartz shower walls are stunning and offer unlimited design and color options.
A shower is an important functional part of a bathroom and includes an enclosed single shower stall, a shower and bathtub combination, or a shower stall in a wet room.
Besides being functional, a shower adds to the bathroom style and décor. Using quartz for shower walls provides durability and an opportunity to create a relaxing focal point in a bathroom.
Quartz makes a sturdy shower wall and does not have seams such as tiling. It's stronger than natural stone and is a non-porous, engineered material but requires little maintenance.
In this ultimate guide on quartz shower walls pros and cons, you'll find information to help you decide whether using quartz for your bathroom shower walls fits your bathroom design needs.
What are Quartz Shower Walls?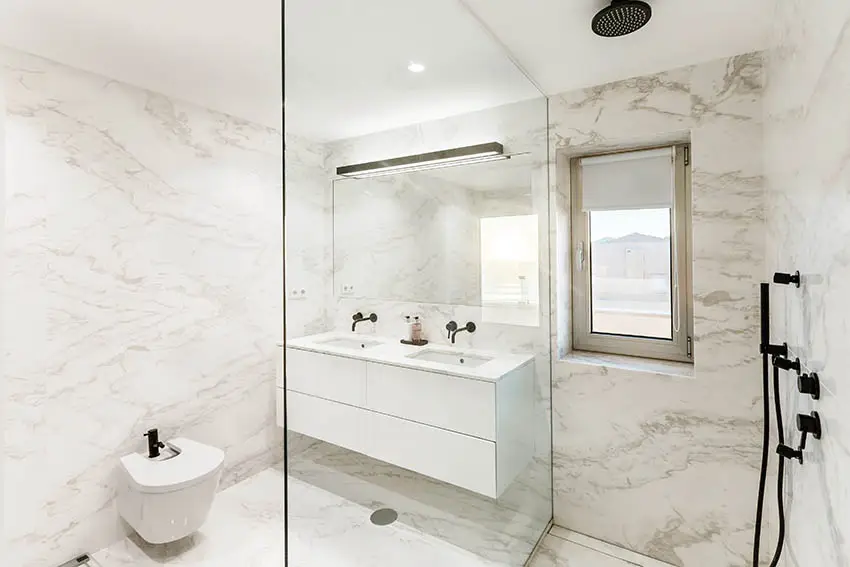 Shower walls make from quartz are manufactured in sheets that are ¼ and ½ inch thick. The slimmer thickness helps the sheets to be easily installed versus much thicker slabs of quarts as for a countertop.
By using quartz for shower walls, there are no joints to caulk or cause leaks. Quartz shower panels are luxurious looking and provide long-life durability preventing repairs and removal.
The choices for quartz include many color combinations, patterns, prints, and include slabs manufactured to mimic the look of various natural stone and other textures.
Quartz Shower Walls Pros
Although quartz is engineered, it's made of approximately 93% natural quartz and 7% resin and pigment.
Combining this ratio of quartz and man-made materials makes quartz products such as shower walls very customizable. Below are the pros of quartz shower walls.
Pros:
Durability – Quartz has a non-porous surface preventing germs and bacteria from penetrating the surface, and the finish is water-resistant.
Quartz is resistant to chipping and breaking, and if properly maintained, this shower wall surface can last a lifetime.
Low Maintenance – Quartz shower walls are easy to keep clean. Simply wipe the quartz shower walls with a damp cloth and non-abrasive cleanser.
For more shine or to remove any dullness from water stains, use a mixture of vinegar and water sprayed on and wiped dry with a clean, dry cloth. Glass cleaner also works well.
Multiple Design Options – As mentioned, quartz is man-made, and the manufacturing process allows different pigments and patterns to either mimic other natural stone such as marble with finely-done veining.
Quartz can also be manufactured to look like leather, gravel, or any fabric, natural element, or artsy design you need for your bathroom.
Stunning Design – Quartz shower wall panels create a sleek, sophisticated, and minimalist look and a feel much like the shower in a five-star hotel.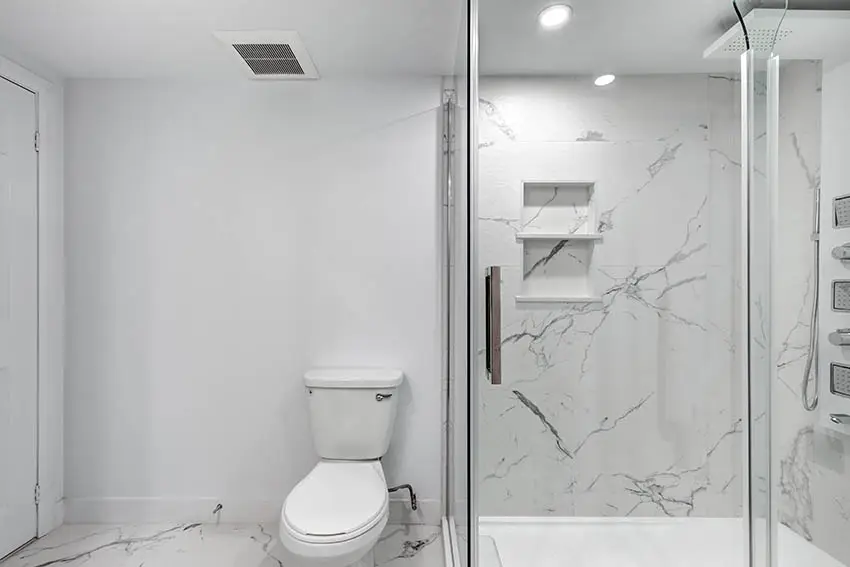 Quartz Shower Walls Cons
Quartz shower walls are very sought after and provide a polished contemporary look. They're easy to maintain and long-lasting. However, quartz does have a few cons to consider.
Weight – The weight of quartz slabs exceeds traditional bathroom shower wall materials such as tile and fiberglass. It's essential to check the flooring and weight limits where the slabs will be installed.
Chemical Cleaners – Cleaners used on quartz cannot be made with high acidic content or alkaline ingredients. These chemicals are likely to damage the quartz shower wall's surface.
Installation Expense – Laying quartz on a floor or using it for bathroom countertops is a generally easy installation process.
However, installing vertical quartz slabs in a shower is more complex and requires additional tools and more than one installer. This makes quartz shower walls more expensive to install.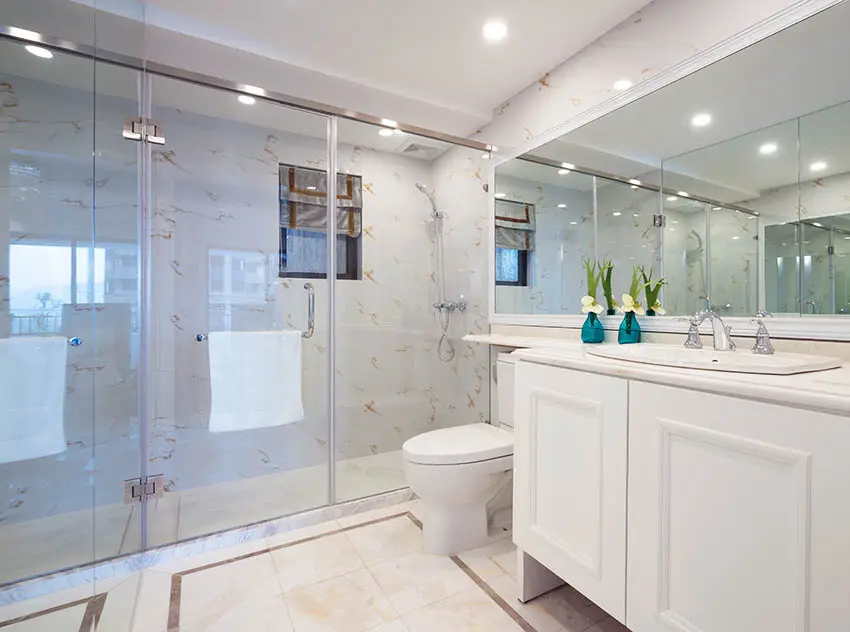 Is Quartz Good For Shower Walls?
Shower walls must be covered by waterproof material that will not crack or leak. Water that gets behind the surface of a shower wall will cause rot and mold.
Quartz makes an excellent material for shower walls due to its non-porous surface, water resistance, low degradation element, and easy maintenance.
Is Quartz Ok for a Bathroom?
Bathrooms are often designed as private retreats within a master bedroom suite. Quartz is an excellent material for any bathroom offering contemporary design to renovate a traditionally decorated bathroom.
Slabs made from engineered quartz are great choices for bathroom floors, shower walls, shower floors, bath benches, countertops, and bathtub or Jacuzzi tub surrounds.
Being impervious to water, quartz is a smart choice for bathroom surfaces, and when using quartz slabs, a visual continuity gives the bathroom a clean-lined finish.
There won't be tiles and grout to break up the quartz design. Quartz will stand up to everyday wear and tear for main bathrooms inside as well as bathrooms in a pool house or outdoor shop.
If you want to remodel or design your own custom bathroom using quartz you can use a bathroom design software program to help visualize your ideas.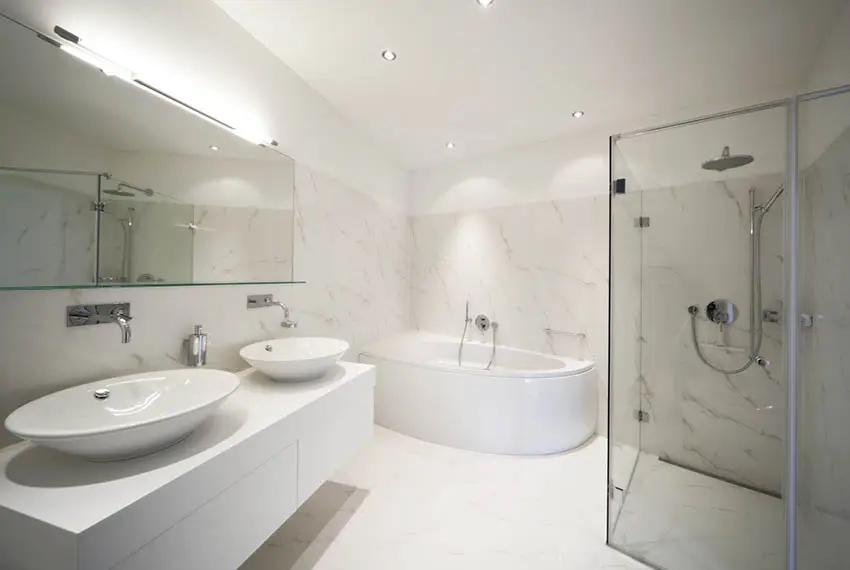 What Is The Best Material to Use for Shower Walls?
Fiberglass and Acrylic – Many showers, especially in new homes built with standard materials, are covered with fiberglass or acrylic. Often the shower walls have a one-piece fiberglass wall molded to fit the interior of the shower.
These fiberglass or acrylic shower walls are a good choice to contain water and look and perform better than walls with seams. They are inexpensive but are prone to scratches and fading.
A popular brand is a Corian shower which comes in many different colors and can mimic the look of natural stone.
Tile – The standard for most shower walls through the years includes tile. Although beautiful tile and patterns are very attractive, the chance for leaks and grout failure can mean a lot of upkeep. See more bathroom tile ideas here.
Stone – Stone tiles are beautiful, but natural stone is typically porous and absorbs water and soap residue. These tiles have to be thoroughly cleaned and sealed regularly. Tiles for a granite or a marble shower are more expensive and prone to crack.
With the many options for shower wall coverings, quartz offers a viable option providing protection from water damage, allowing beautiful design options, and little to no maintenance. Shower walls covered with quartz slabs are a beautiful and durable asset for any bathroom.
For more related designs visit our article on travertine shower ideas.